Just because it's winter, doesn't mean you need to stop hiking. Since it can be tough to find trails without snow, I've put together the an absolutely enormous list of snow-free hikes in Vancouver for you. These are trails in Vancouver that you can hike year round… and there's over 120 of them! I've got snow-free hikes for every part of the Lower Mainland.
This is a sensitive wilderness area. Learn how to Leave No Trace to keep the wilderness wild. Make sure you are prepared by bringing the 10 Essentials. Get ready for adventure with this checklist of things to do before every hike.
Hey there: Some of the links in this post are affiliate links, which means I earn a small commission at no cost to you. Thanks for your support. -Taryn
Best Snow-Free Hikes in Vancouver
This post has over 120 options for Vancouver area hikes that are snow-free all year. Many of the hikes are short and easy nature walks, but there are a few gems.
Here are my picks for the best snow-free hikes in Vancouver:
But First, Be Prepared
Winter hiking requires more preparation than summer hiking: the weather is cold, the trails are often in poor condition and there are less people on the trails to help you if you get into trouble.
Snow-Free Hikes in Vancouver
1. Stanley Park: This urban park has a beautiful forested interior with one of the best short and easy hikes in Vancouver.
2. Pacific Spirit Park: A great patch of wilderness almost right in the city with tons of trail options.
3. Point Grey Foreshore Trail: A beautiful walk along the coast past several out-of-the-way beaches. Note: This trail passes through Wreck Beach, a nudist beach. While there are far fewer nude sunbathers in the winter than the summer, be prepared to see naked people any day of the year.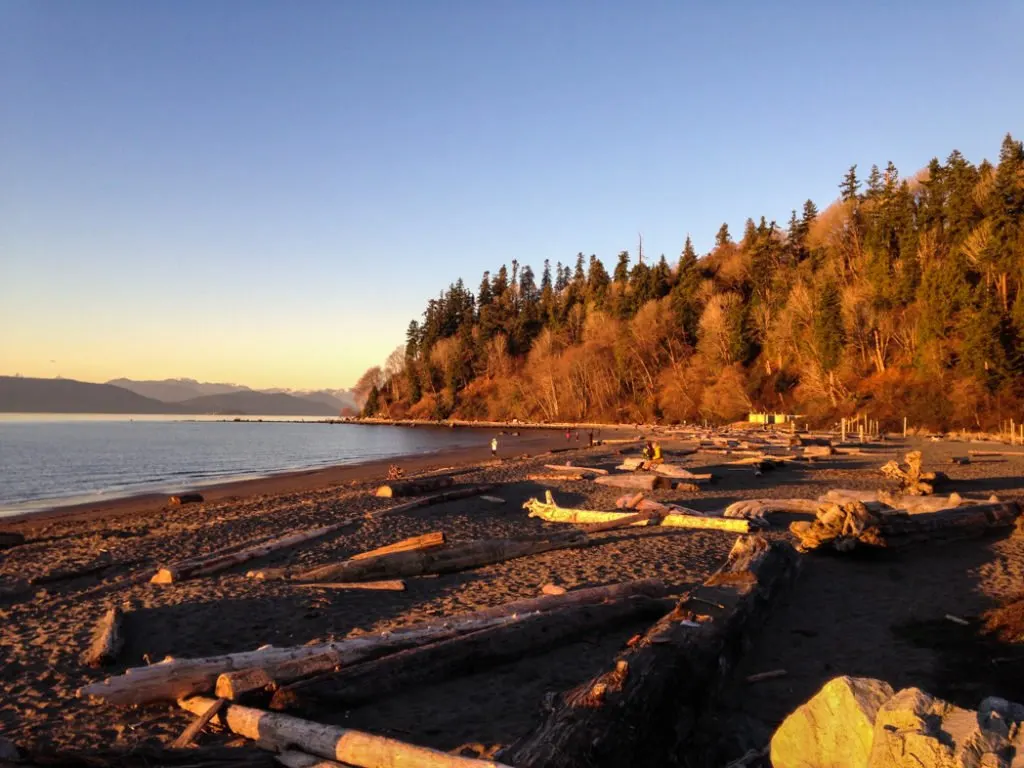 Snow-Free Hikes in North Vancouver
Deep Cove
4. Quarry Rock: A short forest walk to a beautiful viewpoint over Deep Cove. This is a great hike to do in the winter. In the summer the trail is REALLY busy since Quarry Rock is pretty Instagram-famous.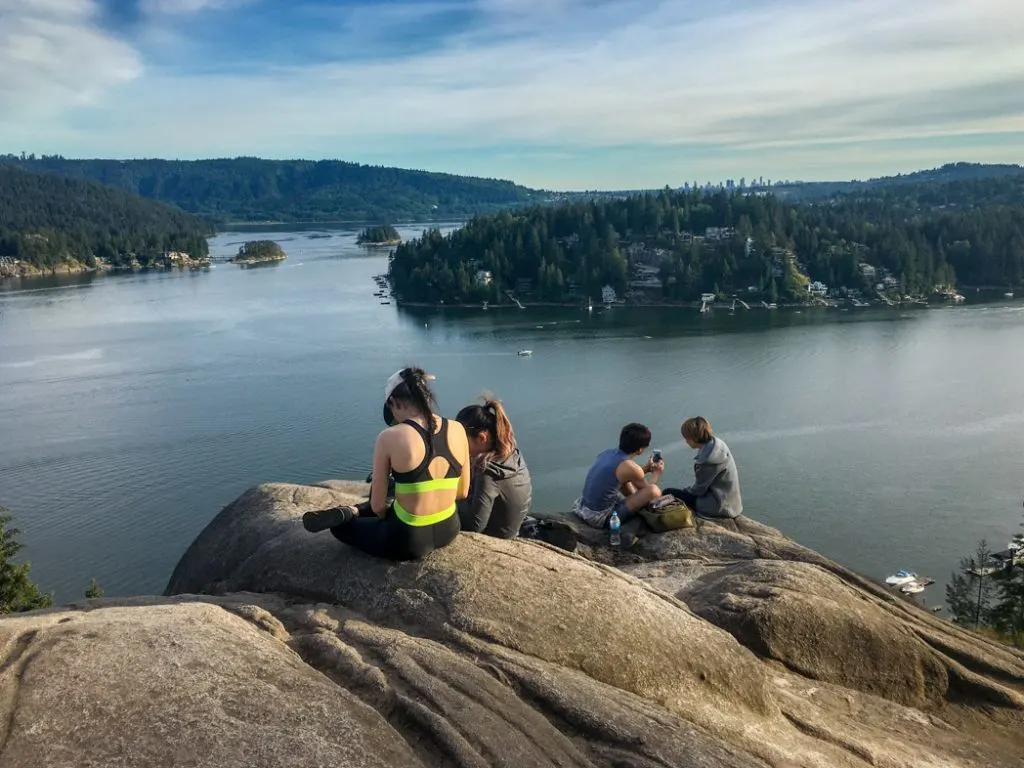 5. Baden Powell Deep Cove to Lynn Valley: A quiet walk across the lower flanks of the North Shore Mountains.
Lower Seymour Conservation Reserve
6. Seymour Valley Trailway: A beautiful paved trail along the length of the Seymour River Valley. Consider taking a side trip onto the Figure 8 mountain bike trail to walk through a huge hollowed out cedar tree. It's one of Vancouver's most unusual hikes.
7. Rice Lake: An easy walk around a small lake that's popular with families and fishers.
8. Fisherman's Trail: An easy walk along the banks of the Seymour River. Watch for the hidden tunnel part way along.
9. Homestead/Twin Bridges Loop: A short loop down to the Seymour River from the Lower Seymour Conservation Reserve parking lot.
Dollarton Highway
10. Maplewood Flats: An easy flat walk through tidal flats on Burrard Inlet. A great spot for birding.
Lynn Valley
11. Lynn Canyon Suspension Bridge/Twin Falls: A picturesque walk along Lynn Creek with views of the spectacular canyon. This is a great Vancouver area hike for beginners or tourists, plus it's on the list of Vancouver's top 10 most Instagrammed hikes.
12. Baden Powell Lynn Valley to Grouse: A low-level, snow-free hike along the flanks of the North Shore Mountains.
13. Kennedy Falls and the Big Cedar: A challenging hike to a giant cedar tree and a beautiful waterfall. This is my favourite snow-free hike in Vancouver.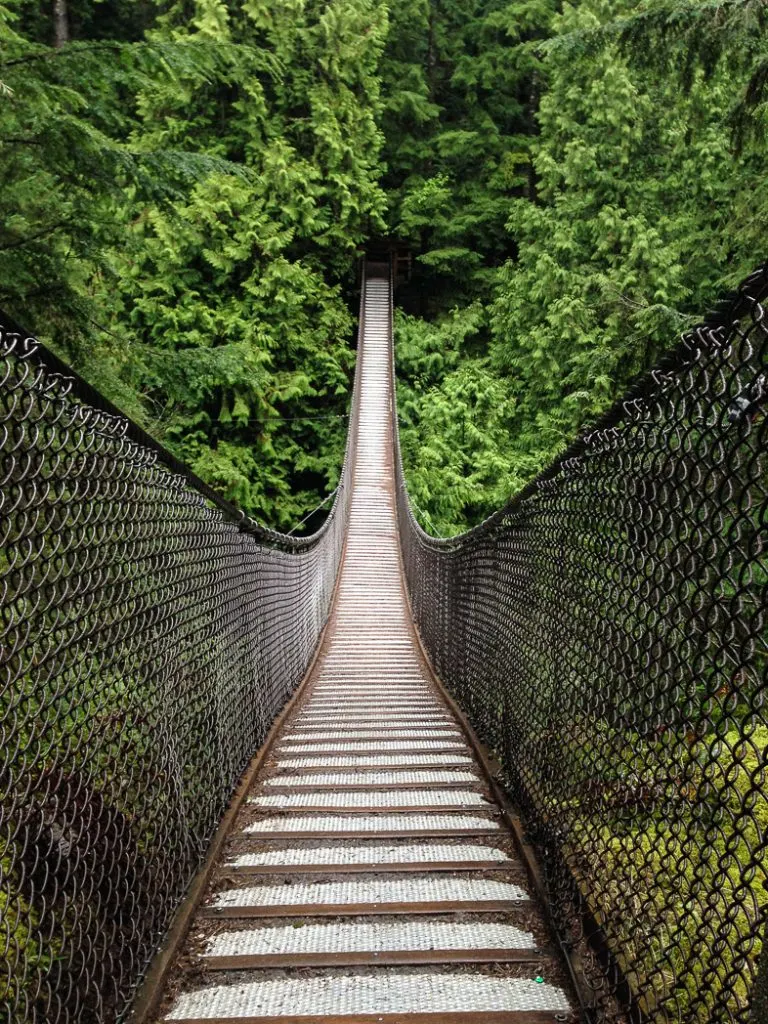 Lynn Headwaters Regional Park
14. Lynn Loop/Cedar Mills Trail: An moderate loop through the forest and next to Lynn Creek
15. Varley Trail: A short walk through the forest with lots of boardwalks.
Snow-Free Hikes in West Vancouver and Lions Bay
Capilano Valley
16. Capilano Pacific Trail: This trail along the banks of the Capilano River stays snow-free all year. Note: This trail has a significant washout but there is a detour.
17. Capilano Canyon Trails: A fun network of trails with views of the Capilano Canyon and Cleveland Dam.
British Properties
18. Brothers Creek Forestry Heritage Walk: A beautiful forest walk through some old-growth forest in West Vancouver. (The Brothers Creek trail continues further up the mountain, but this loop stays low to avoid the snow.)
19. Lawson Creek Heritage Walk: Another snow-free forest walk in West Vancouver. Make sure you take a moment to enjoy the Hollyburn Fir, a 1000 year old tree.
20. Mountain Path and Trestle Bridge: A short walk through the forest on the lower slopes of Cypress. A newly built trestle bridge has great views.
Horseshoe Bay
21. Cypress Falls: This short hike to a series of waterfalls makes it a beautiful choice for snow-free hikes in Vancouver.
22. Whyte Lake: An easy hike through the forest to a cute lake that's low enough to have no snow. It's also the site of Vancouver's nicest outhouse.)
23. Lighthouse Park: This hike around the coastline is really scenic, which is why it's on the list of Vancouver's most Instagrammed hikes AND Vancouver best easy hikes.
24. Whytecliffe Park: A small oceanside park with a few snow-free trails and beautiful views.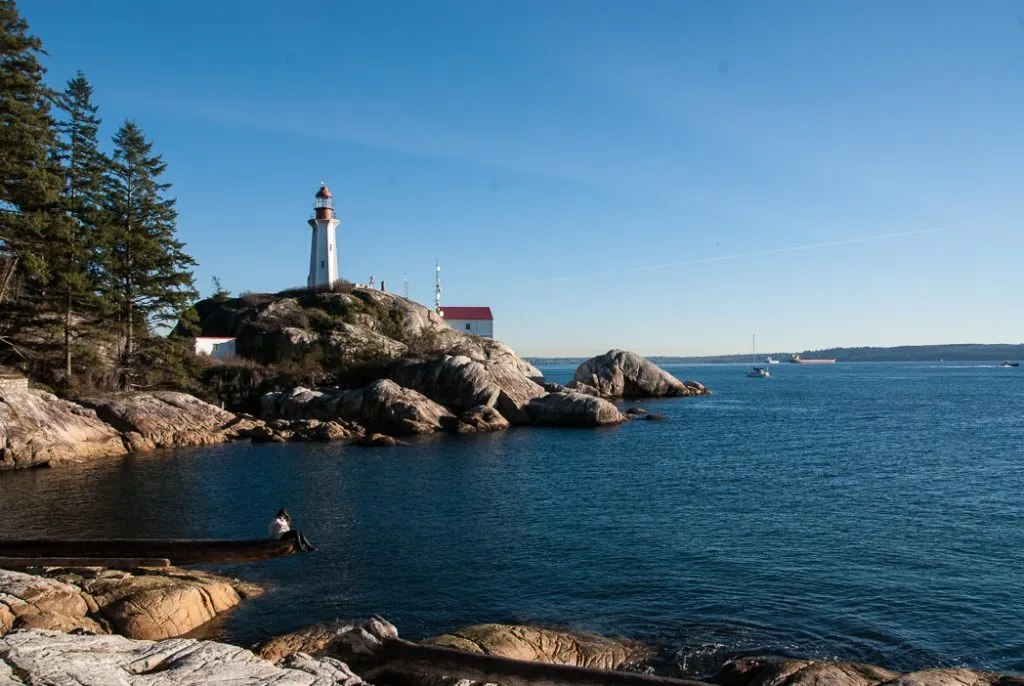 Lions Bay
25. Lions Bay Loop: This short hike in Lions Bay visits a waterfall and has great views of Howe Sound. It's low enough on the mountains that you can hike here year-round.
Snow-Free Hikes in Burnaby
26. Burnaby Mountain Trails: There are lots of snow-free hiking options on Burnaby Mountain. One of my favourites is the Velodrome Trail, which climbs steeply up the north side. Some people call it the Burnaby Grind.
27. Burnaby Lake: An easy 10km loop trail goes around the lake.
28. Deer Lake: Walk around the lake or on the trails to the east.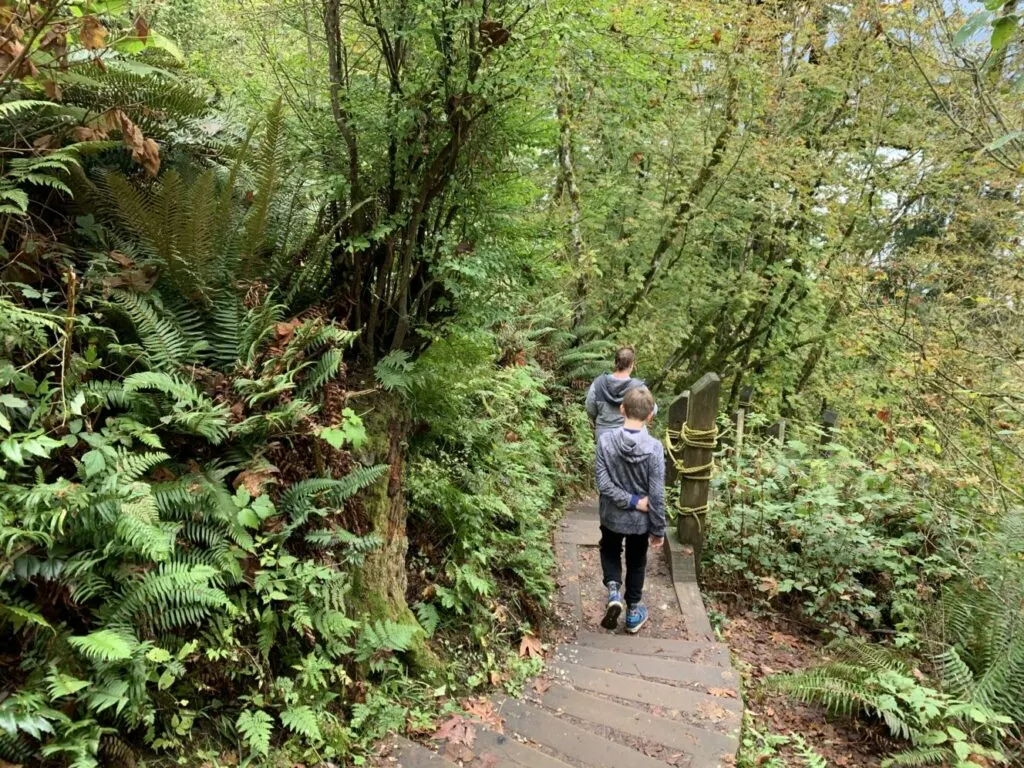 Snow-Free Hikes in Richmond and Delta
29. Iona Beach: This oceanfront walk is best done at low-tide since it's all on the beach.
30. Reifel Bird Sanctuary: Stroll around the ponds at sanctuary to spot all kinds of migratory birds, ducks, and owls. Admission charged.
31. Deas Island: A pleasant loop walk through the forest with views of the Fraser River.
32. Delta Watershed Park: A maze of trails leads through the forest. Most are shared with mountain bikers.
33. Burns Bog Delta Nature Reserve: Explore the edge of the huge bog on a network of boardwalk trails.
34. Brunswick Point: An easy walk on top of the dyke with beautiful ocean views.
35. Boundary Bay Regional Park: Explore the trails through the dunes at Centennial Beach.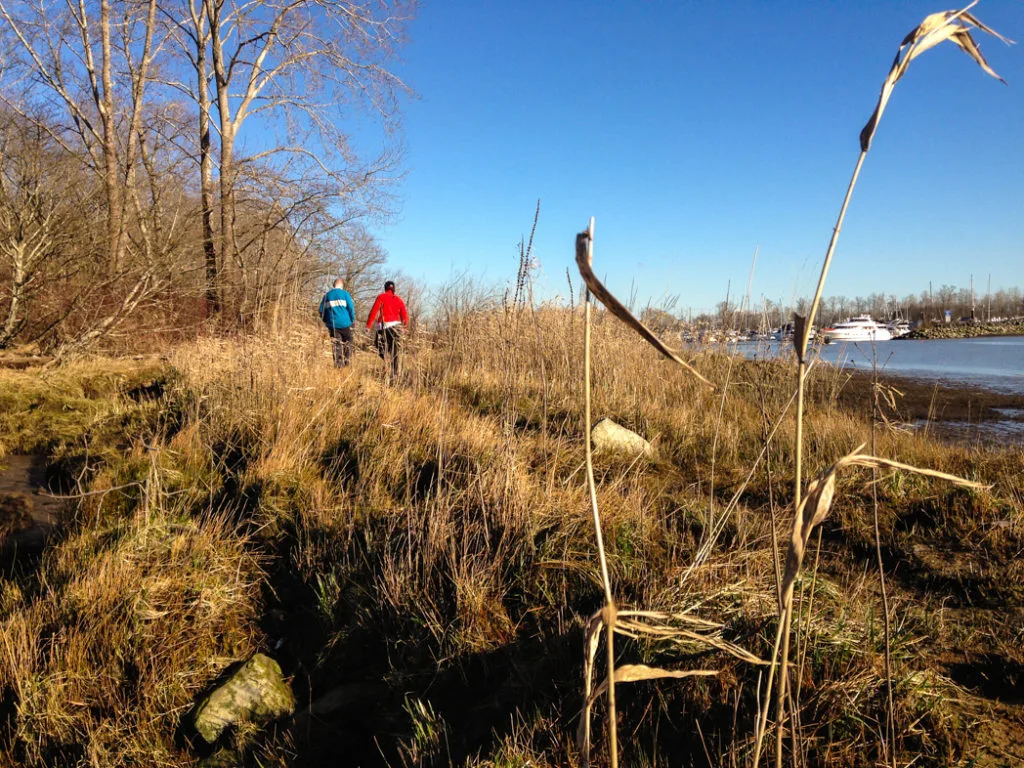 Snow-Free Hikes in the Tri-Cities
təmtəmíxʷtən/Belcarra Regional Park
36. Jug Island: A beautiful forest trail leads to a small beach on Indian Arm with a view of tiny Jug Island.
37. Admiralty Point: Walk along the shore of Burrard Inlet, stopping at lots of oceanside viewpoints.
38. Bedwell Bay: A short trail to a small and quiet bay.
39. Woodhaven Trail: A an easy walk around an interesting swamp.
40. Sasamat Lake: Hike around the lake through beautiful forest.
41. Sugar Mountain Trail: An off-the-beaten path trail that connects Sasamat Lake to the Buntzen Lake trails.
42. Buntzen Ridge: A steep trail behind Sasamat Lake.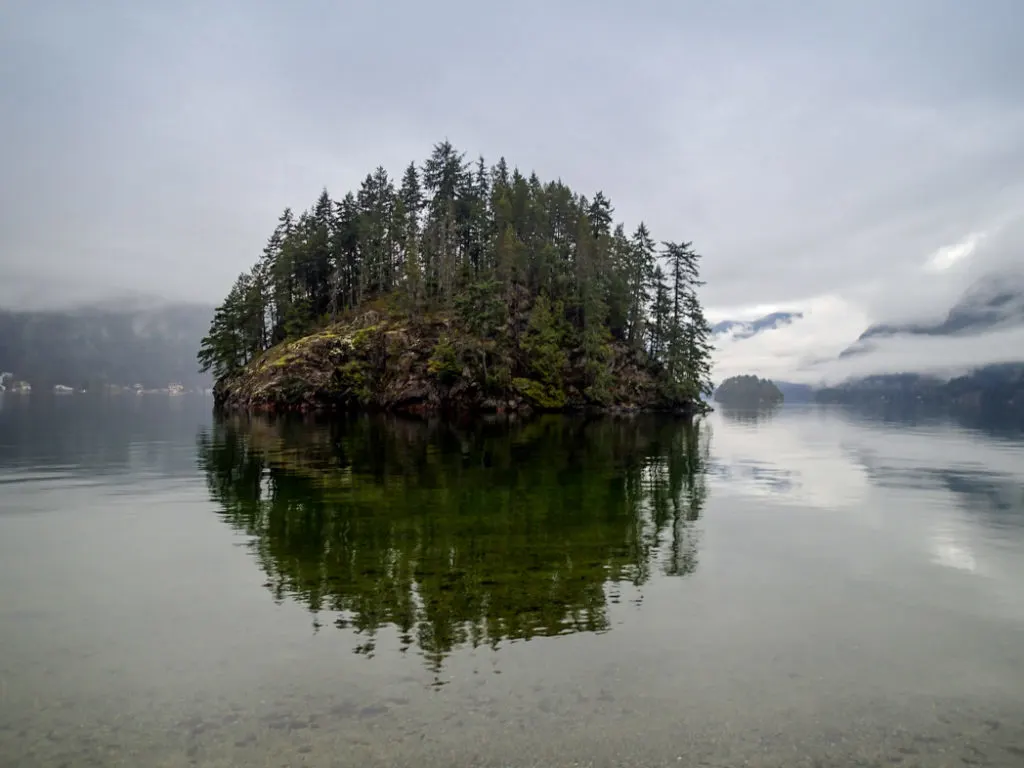 Buntzen Lake
43. Buntzen Lake: Beautiful 10km hike through rolling terrain around Buntzen Lake. This is one of my favourite snow-free hikes in Vancouver.
44. Lakeview Trail: A less-travelled trail above the western shore of Buntzen Lake.
45. Academy Trail: This quiet trail leads from the park entrance towards the lake.
46. Swan Falls Viewpoint (The trail continues up past the viewpoint to the Falls and to the crest of the ridge, but if you venture further than the viewpoint in the winter, you are likely to encounter snow.) Note: As of 2023, this trail is closed due to a rockslide.
Port Moody
47. Bert Flinn Park: A huge maze of trails in the Heritage Mountain neighbourhood.
48. Shoreline Trail: A beautiful waterfront path around the end of Burrard Inlet.
Coquitlam
49. Coquitlam Crunch: Coquitlam's answer to the Grouse Grind, this steep trail is great for a workout and stay snow-free all year.
50. Mundy Park: A network of forested trails in one of Coquitlam's largest parks.
51. Woodland Walk/Sawblade Falls: A walk through regenerating second growth forest to a pretty little waterfall.
Port Coquitlam
52. Traboulay Poco Trail: A flat 23.5 km-long route encircling Port Coquitlam alongside the Pitt, Coquitlam, and Fraser Rivers.
53. ƛ̓éxətəm (tla-hut-um)/Colony Farm Regional Park: A network of trails through the Coquitlam River estuary.
54. Minnekhada Regional Park: An easy hike around a marsh to a great viewpoint overlooking the Pitt River.
Snow-Free Hikes in Surrey
55. Green Timbers Urban Forest: Explore over 10 kilometres of trails in Surrey's urban forest.
56. Tynehead Regional Park: Wander along the banks of the Serpentine River or through the nearby rolling hills.
57. Sunnyside Acres Urban Forest: Walk the four-kilometre-long Nature Trail through natural second growth forest.
58. Serpentine Fen Nature Trail: This short nature trail makes a loop through marshes and meadows next to the Serpentine River. It's a great spot for bird watching.
59. Surrey Bend Regional Park: Explore the shores of Parsons Channel, a side channel of the Fraser River.
60. Fleetwood Park: This popular park has a 30 minute nature trail through the forest.
61. Bear Creek Park: Wander through the forest to discover several short trails alongside Bear Creek and King Creek.
62. Elgin Heritage Park: Explore marshes, meadows, and forests on a nature trail next to the Nicomekl River.
63. Blackie Spit: A five-kilometre-long network of trails leads around the mouth of Nicomekl River and the shores of Boundary Bay.
64. Mud Bay Park: Bring your binoculars to spot birds as you walk along the flats of Mud Bay.
65. Redwood Park: Short trails lead through a planted forest of exotic trees. Don't miss the treehouse and fairy forest.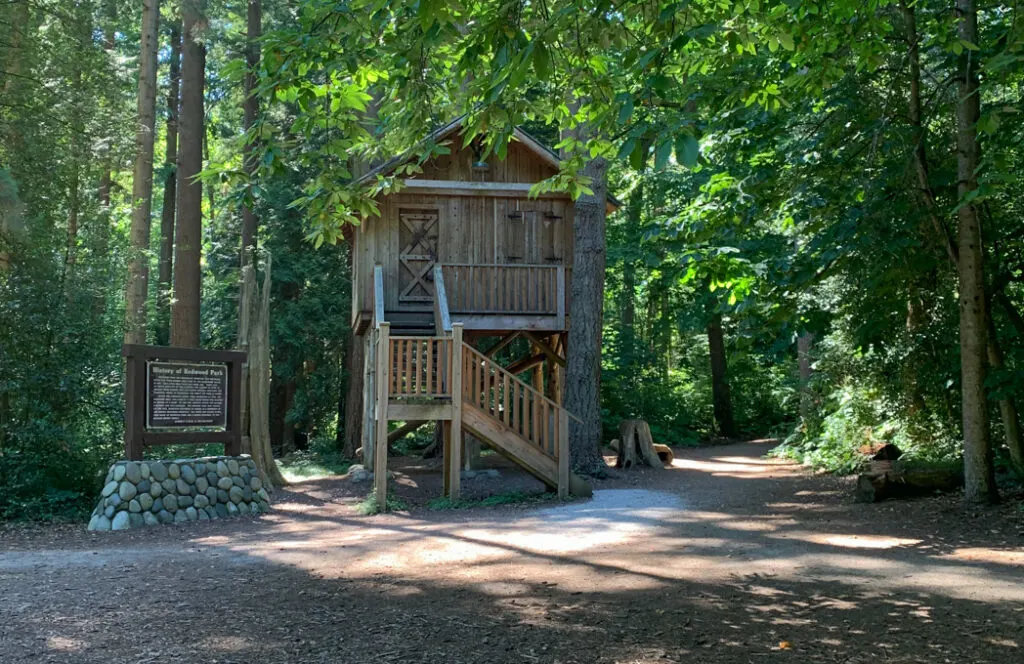 Snow-Free Hikes in Pitt Meadows and Maple Ridge
Pitt Meadows
66. Pitt River Regional Greenway: Follow dykes alongside the Pitt River.
67. Pitt Lake Dykes: Explore the marshes next to Pitt Lake on a series of dykes.
68. Widgeon Falls: Hike through the forest to a spectacular waterfall. This hike starts with a canoe trip. There is a canoe rental place at Grant Narrows, but they may not be open in the winter. Call them at (604) 836-7117 before you go to avoid disappointment.
Maple Ridge
69. UBC Malcolm Knapp Research Forest: A huge network of trails in a working forest. A popular option is an 8km loop.
70. Kanaka Creek/Cliff Falls: A short walk to a picturesque waterfall with curved pools.
71. Kanaka Creek Riverfront Trails: An easy walk along the Fraser River.
Golden Ears Provincial Park
Note that the gate at the entrance to Golden Ears Provincial Park is sometimes locked in the winter if it has snowed or the roads are icy. Always check the park website for gate opening info before going.
72. Mike Lake: A short loop around a small lake.
73. Alouette Valley Trail: A multi-use trail that roughly parallels the park road through the forest.
74. Menzies Trail: A forested route along a long-abandoned logging railway line.
75. Lookout Trail: A steep trail to a lookout over the valley.
76. East & West Canyon Loop: A pleasant loop on both sides of Gold Creek. Now that a new bridge connects both sides of the loop, it makes a great snow-free hike in Vancouver. (This trip is also in my book, Backpacking in Southwestern British Columbia.)
77. Gold Creek Falls: A short and flat walk to a beautiful waterfall.
Snow-Free Hikes in Langley
78. Campbell Valley Regional Park: A pleasant walk along boardwalks beside the Campbell River. A spur trail goes to an abandoned race track.
79. Fort to Fort Trail: A multi-use path along the banks of the Fraser River.
80. Derby Reach Regional Park: A network of trails beside the Fraser River and through the forest.
81. Brae Island Regional Park: Stroll through the forest on Brae Island in a quiet side channel of the Fraser River.
82. Aldergrove Regional Park: Hike through wetlands beside Pepin Brook and get views of Mount Baker from a 14-kilometre-long network of trails.
Snow-Free Hikes in Mission and Harrison
83. Rolley Lake: Walk around the small lake, then take a detour downhill to visit a tall waterfall. You'll have to park outside the gate in the winter and walk the access road into the park which adds about 1.5km to the hike.
84. Hayward Lake and Steelhead Falls: Hike 17 kilometres around the perimeter of Hayward Lake, a hydro reservoir. Or make a shorter out-and-back hike to visit Steelhead Falls.
85. Cascade Falls: This hike is very short, but steep. It ends at a spectacular suspension bridge in front of the waterfall.
86. Whippoorwill Point: Walk along the shore of Harrison Lake to a beautiful viewpoint.
87. Hicks Lake: This easy hike circles around Hicks Lake in Sasquatch Provincial Park.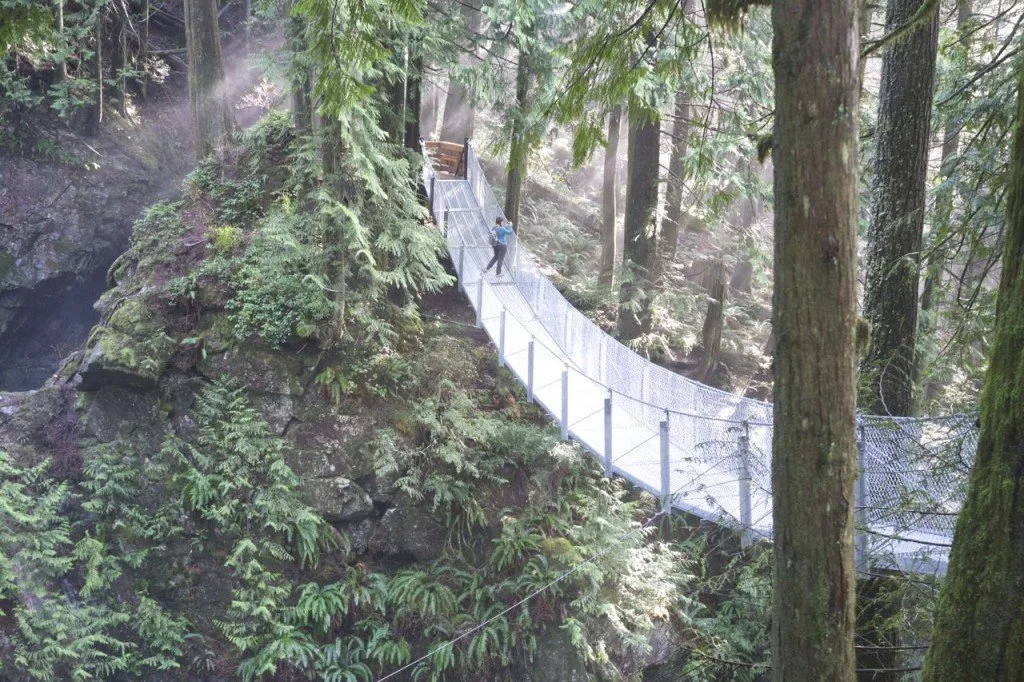 Snow-Free Hikes in Abbotsford
88. Abby Grind: This challenging hike is also known as the Glen Ryder Trail. It climbs up to Taggart Peak and is a well-known alternative to the Grouse Grind.
89. Downes Bowl, Clearbrook Park: Walk on boardwalks through the marsh next to Downes Creek.
90. Matsqui Trail: Hike beside the Fraser River by the Mission Bridge.
Snow-Free Hikes in Chilliwack and Hope
91. Tea Pot Hill: This is one of the most unique hikes in Vancouver thanks to the literal teapots along the sides of the trail.
92. Seven Sisters Trail: This trail to leads to a grove of old-growth trees.
93. Mount Thom: Make the steep climb to the top of this small mountain for great views.
94. Chilliwack Commu4ity Forest: This new volunteer-created trail network includes several loops through the forest.
95. Cheam Lake Wetlands Regional Park: Watch for birds on the short trails through the marsh.
96. Bridal Veil Falls: A short hike to a spectacular waterfall. The park gate is closed in winter so you'll have to walk in, adding a few extra minutes to your hike.
97. Flood Falls: This easy hike leads from Highway 1 to the base of a huge waterfall.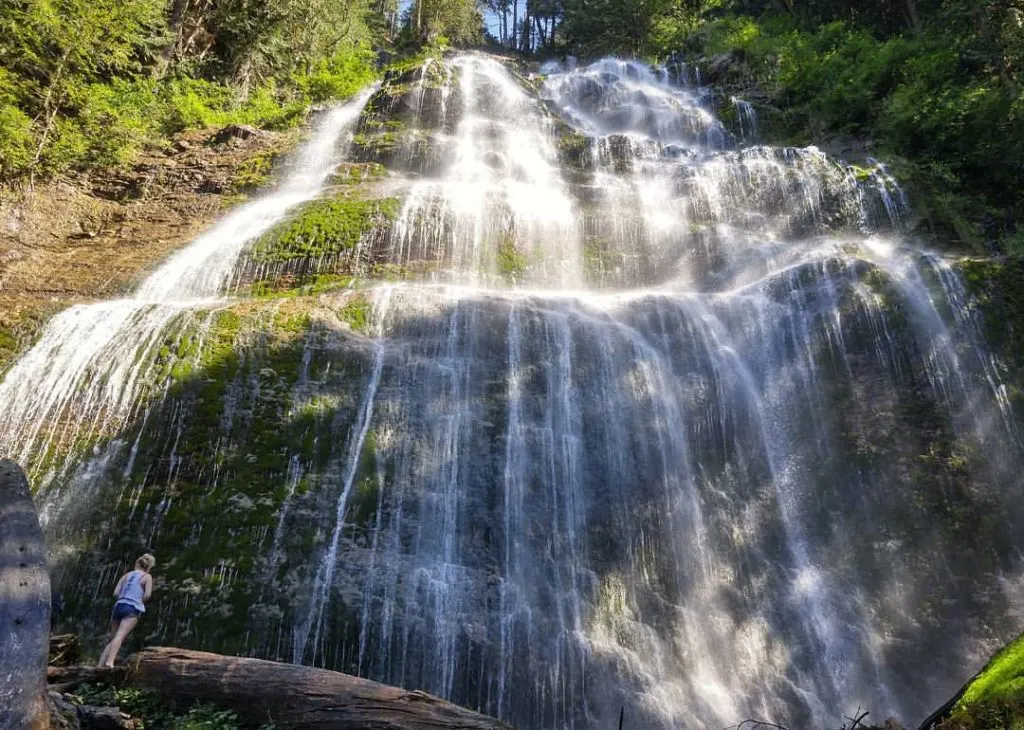 Snow-Free Hikes in Squamish
Despite being at sea level, Squamish gets more snow than Vancouver and there may be snow on these trails during sustained cold weather. These trails are all on my list of the best hikes in Squamish.
98. Murrin Park Trails: Explore granite outcroppings above Browning Lake. Be careful when it's slippery as there are lots of cliffs.
99. Shannon Falls: A very short walk to the base of the third-tallest waterfall in BC.
100. Upper Shannon Falls: Follow the first section of the Sea to Summit Trail to reach the upper part of Shannon Falls. (This trail continues on to the top of the Sea to Sky Gondola. If you climb higher than Upper Shannon Falls you will certainly encounter snow.)
101. Smoke Bluffs Park: A network of climbers trails leads to lots of cool rock outcroppings and viewpoints.
102. Mount Crumpit: An off-the-beaten-path network of trails that leads to a great viewpoint. Since I moved to Squamish, this has become my favourite place to hike year-round.
103. Estuary Trails: Flat trails through the Squamish River estuary with lots of opportunities for bird watching.
104. Four Lakes Trail, Alice Lake: A beautiful loop hike that passes four lakes and travels through lush forest.
105. Brohm Lake Interpretive Forest: Take the loop trail around Brohm Lake, hike up to an old fire lookout, or explore trails to the south for great views of the Tantalus Range.
106. Crooked Falls: A steep and rough trail to a unique waterfall that changes directions midway down.
107. Sea to Sky Trail: The Squamish to Cheakamus Canyon section of the Sea to Sky trail passes a beautiful lake and has incredible views of the Cheakamus River.
Snow-Free Hikes on Bowen Island
108. Mount Gardner: A hike to the tallest peak on Bowen Island with great views of Howe Sound. (The summit of Mount Gardner is at 719m so the top of the trail can sometimes get some light snow.)
109. Dorman Point: An easy walk to an oceanside viewpoint.
110. Killarney Lake: A short walk around a lake.
Snow-Free Hikes on the Sunshine Coast
I used to live in Gibsons so I've done a lot of hiking on the Sunshine Coast. All of these snow-free hikes are on my list of the best hikes on the Sunshine Coast.
Gibsons
111. Langdale Falls: A short hike through a mountain bike trail network a waterfall.
112. Soames Hill: A beautiful hike up a hill to a gorgeous viewpoint.

Roberts Creek
113. Roberts Creek Falls: A short walk to a little-known waterfall.
114. Cliff Gilker Park: A wonderful network of trails through lush forest, passing several small waterfalls.
Sechelt
115. Chapman Creek Trail: A network of neighbourhood trails alongside Chapman Creek.
116. Burnett Falls: An easy walk to a beautiful waterfall.
117. Hidden Groves: A huge network of trails that visits several huge old-growth trees.
118. Kinnikinnick Park: A series of loop trails through a community forest.
Halfmoon Bay
119. Triangle Lake: A loop around a marshy lake that starts in Sargeant Bay Provincial Park.
120. Big Tree Trail: An easy walk to one of the biggest trees on the Sunshine Coast.
121. Smuggler Cove: An easy hike to several coastal viewpoints.
122. Homesite Creek Falls: A small waterfall that's an easy hike from Highway 101.
Pender Harbour and Egmont
123. Francis Point: A hike along the rocky shoreline to a bluff viewpoint.
124. Mount Daniel: A steep hike to the top Mount Daniel, which is low enough to remain snow-free year-round.
125. Pender Hill: A short but stiff climb up to the best viewpoint on the Sunshine Coast.
126. Skookumchuck Narrows: A hike to a viewpoint over Skookumchuck Narrows, an impressive tidal rapids.
Snow-Free Backpacking Trips Near Vancouver
With snow in the mountains between November and June, you'll have to look to low elevation trails to go backpacking in Vancouver in the off-season. See my list of the best spring backpacking trips in British Columbia for recommendations on where to for a snow-free backpacking trip in March, April, and May.
How many of these snow-free hikes in Vancouver have you done? Do you have even more to add to my list? Let me know in the comments?
MORE VANCOUVER HIKES:
WINTER TIPS: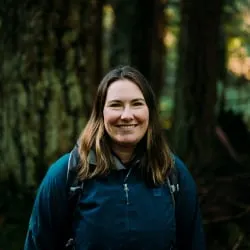 Latest posts by Taryn Eyton
(see all)