When you think of waterfalls in Squamish, you think of Shannon Falls or maybe Brandywine Falls. Those are both amazingly tall waterfalls with easy tourist-in-flipflops-friendly walks to a viewing platform, overflowing parking lots and tons of people with selfie sticks.. But what if I told you there were other awesome waterfalls in Squamish that you could actually hike to, then have them all to yourself? Welcome to Crooked Falls in Squamish!
Heads up:
This trails is in a sensitive wilderness area. Learn how to
Leave No Trace
before you go to keep the wilderness wild. Make sure you are prepared for an emergency by bringing the
10 Essentials
on every hike.
This waterfall is interesting because… well it's crooked, like the name. In cascades down the Sigurd Creek directly into a rock bluff, where it makes a sharp 90 degree turn before flowing downhill. And you get to stand on the rock bluff! (I shot the video from there.) It's a bit of a drive to get there, but the hike isn't too difficult and the views are certainly worth it.
FYI! There's no cell service out there. Download my FREE PDF trail guide that you can use offline on your phone or print out to take with you. Sign up to get access!
Driving Directions to Crooked Falls
Click on the map for full driving directions from Vancouver. (But if you do use these directions, be aware that you will lose cell service outside Squamish so you'll need an off-line version of the map).
Drive highway 99 to Squamish. North of Squamish turn west (left) on to Squamish Valley road – this is the same intersection as the entrance to Alice Lake Provincial Park, but you want the road on the other side of the highway. Follow this road to a bridge over the Cheakamus River. Immediately after the bridge the road forks – go left to stay on the Squamish Valley road. The road has speed bumps as it passes through the Cheakamus Indian Reserve. Follow this road for about 19km past some homes and ranches to the end of the pavement.
Past here you will be on the Squamish Forest Service Road, which is gravel and can be dusty, but any 2WD drive car can make it to the trailhead. About 1km after the road turns to gravel, watch for a big bridge on your left – it may be signed Ashlu Main Forest Service Road or Squamish Riverside Campground. Turn left to cross the big bridge, go past the campground (on your right), then cross another smaller bridge. Stay on the main Ashlu road for another 2km or so, then cross two smaller bridges over the Ashlu river. Right after the second bridge, park your car. The overgrown logging road heading uphill on the lefthand side of the road is the trailhead (and it has a sign that says Sigurd Trail).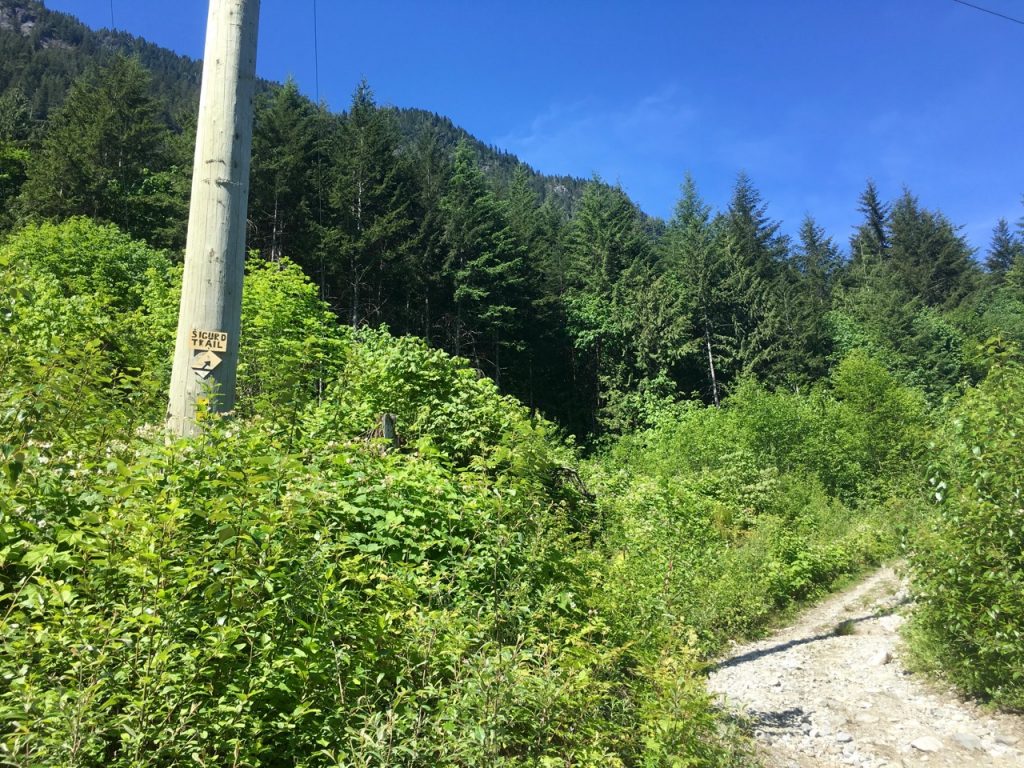 Crooked Falls Hike
Distance: 7km round trip
Elevation gain: About 400m
Hikeable all year round since maximum elevation is around 500m so you are unlikely to encounter snow in the winter. Best in the spring if you want to see the falls at maximum flow.
The BCMC (British Columbia Mountaineering Club) built and maintains the trail as it accesses some mountaineering and scrambling objectives higher up the mountain. The trail is well-built and well marked with orange squares so it is easy to follow. From the trailhead where you parked your car walk about 15 minutes uphill on the old road. At a switchback where the road curves right, look for a trail heading left with a "Sigurd Trail" sign.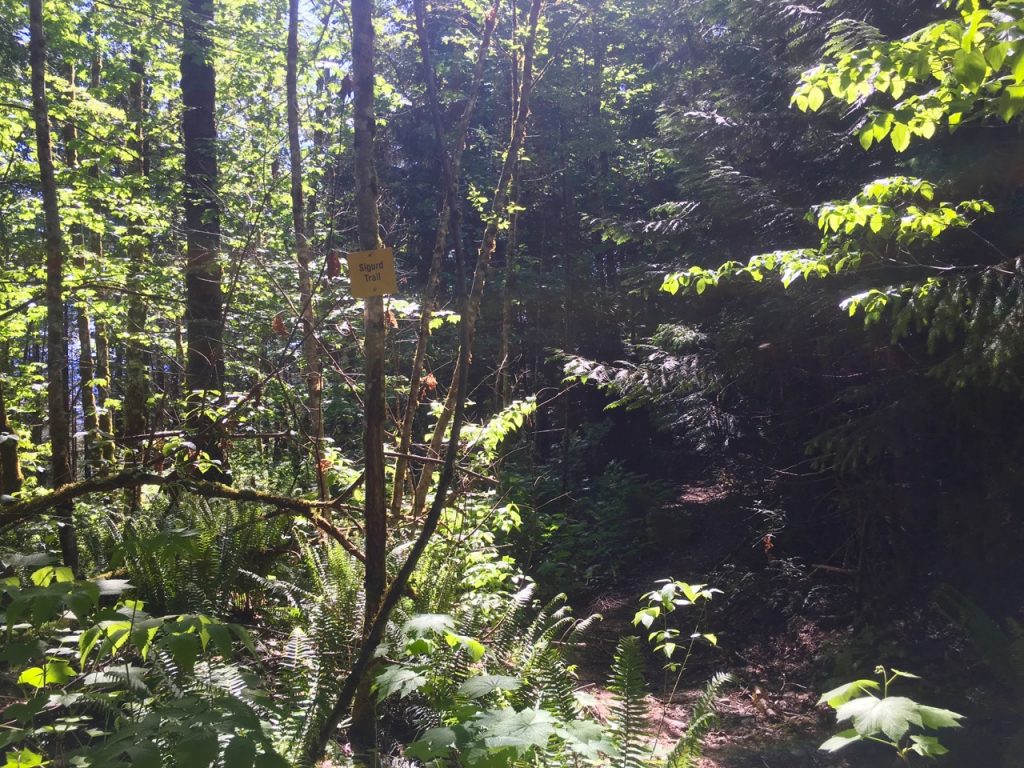 At this point you are on a narrow trail that sometimes widens up enough for you to tell that you are on another, even older road. You'll pass below a huge rock wall covered in dripping moss and get glimpses of the Squamish valley through the trees. After a few hundred meters you'll pass another trail sign indicating that the trail heads sharply up the hill.
The trail climbs steeply uphill for a few minutes before popping out on a rocky bluff with a great view of the Squamish River valley.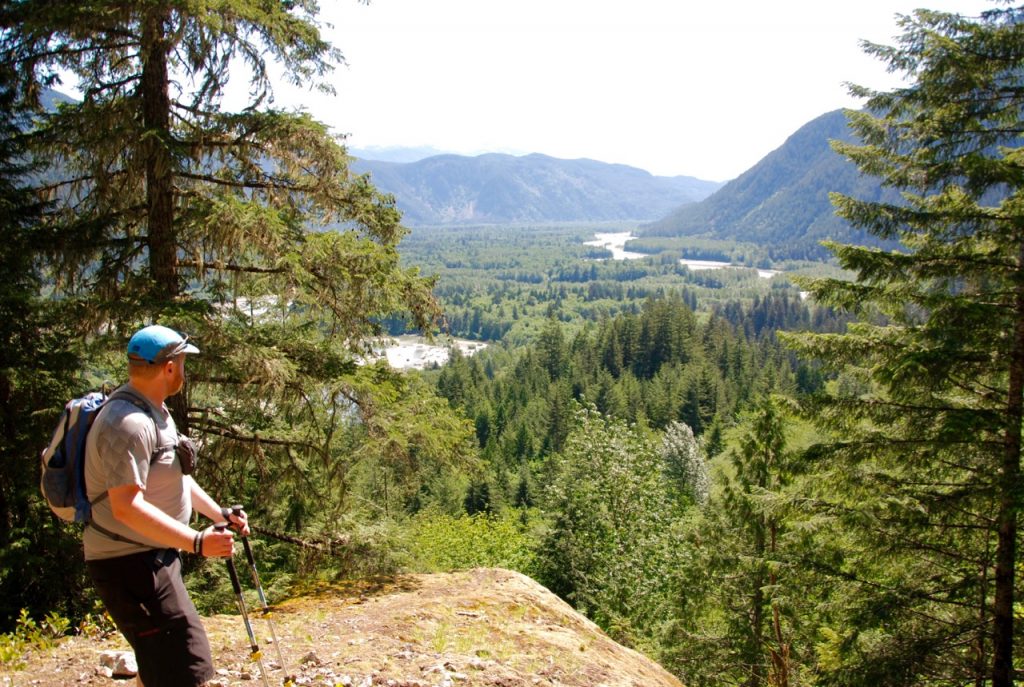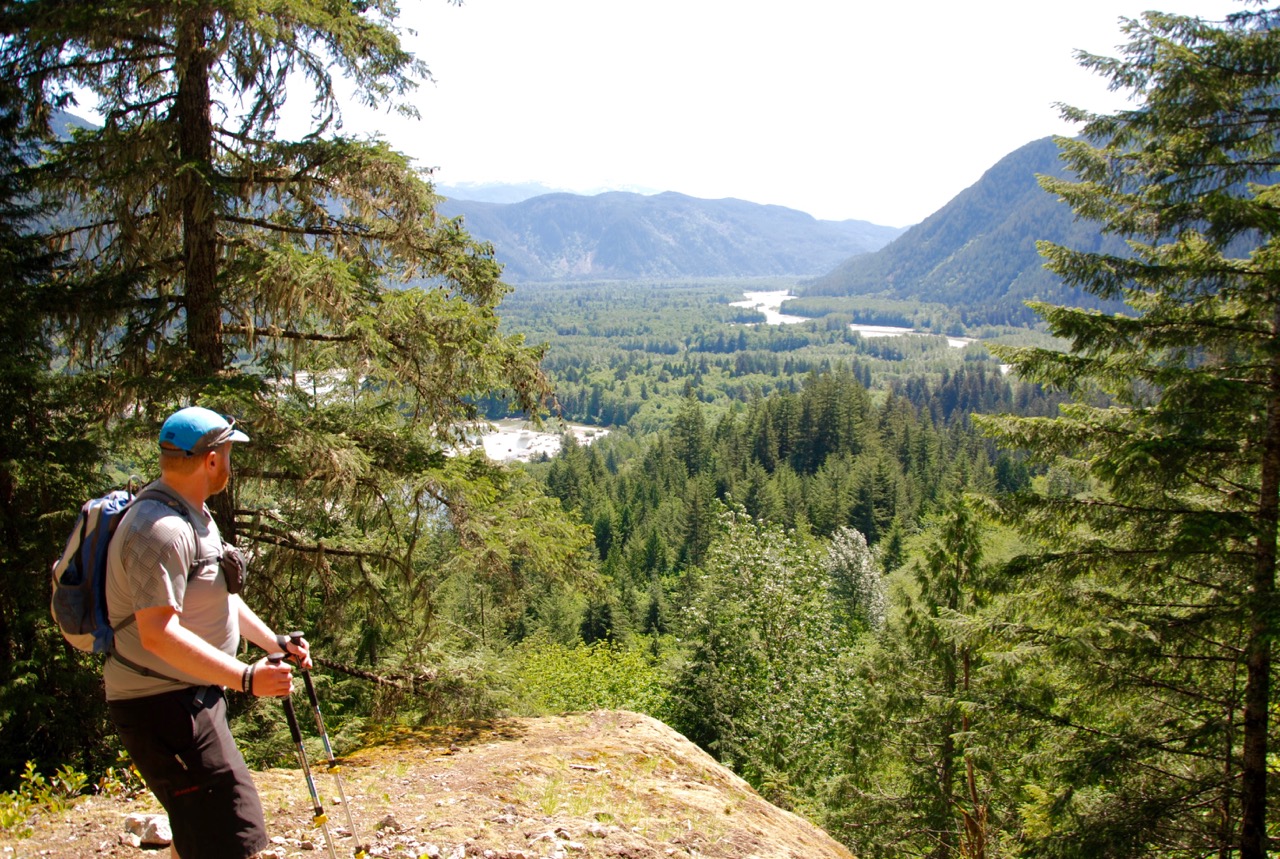 Past the viewpoint the trail climbs steeply with a few breaks and passes lots of mossy rock walls, a giant boulder and a few patches of more mellow forest.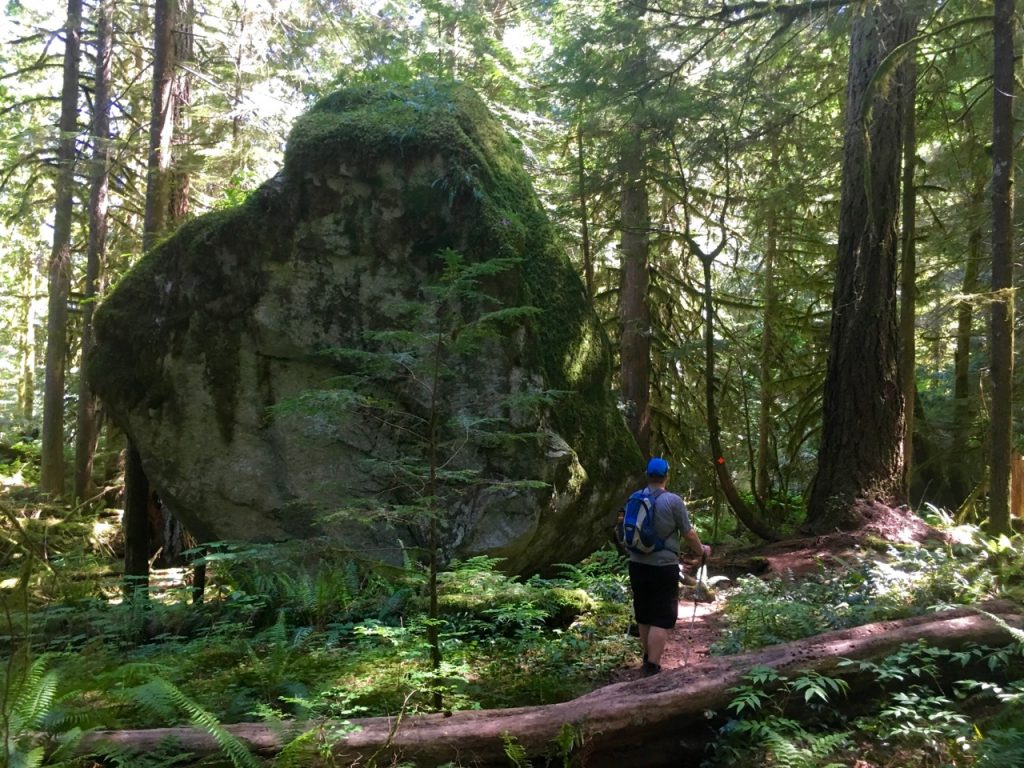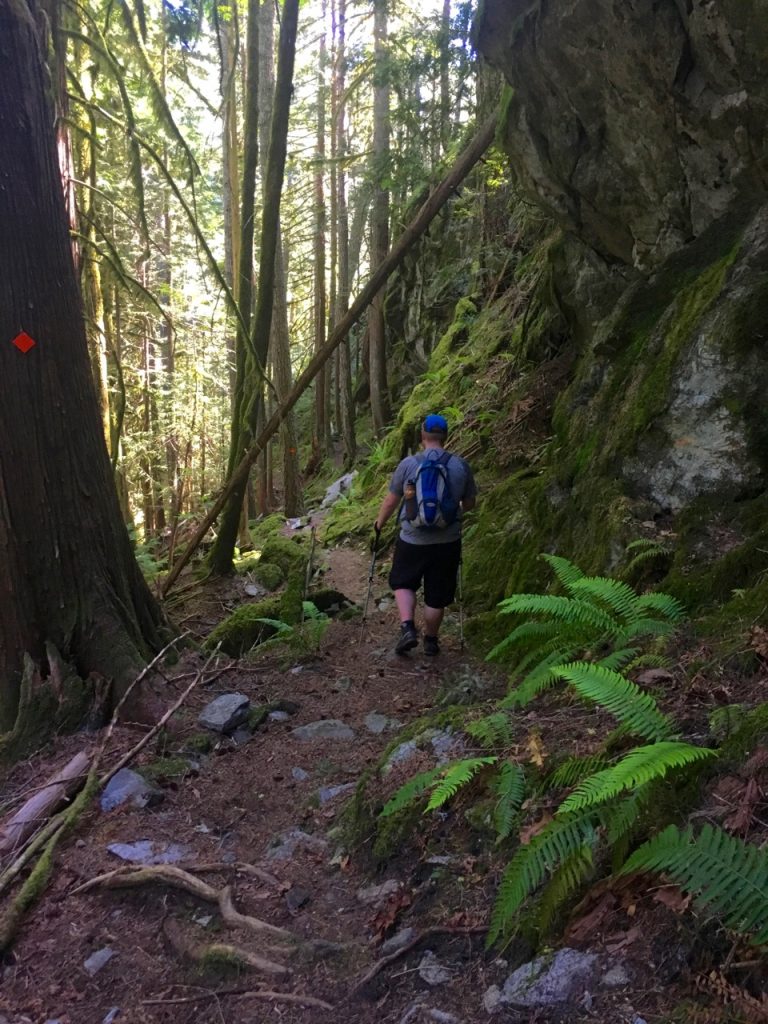 After about an hour of hiking you'll come to a junction. The trail to the falls heads off to the left, while the trail to the right travels all the way up into the alpine to the mountaineering routes on Sigurd Peak and Pelion Mountain and Ossa Mountain.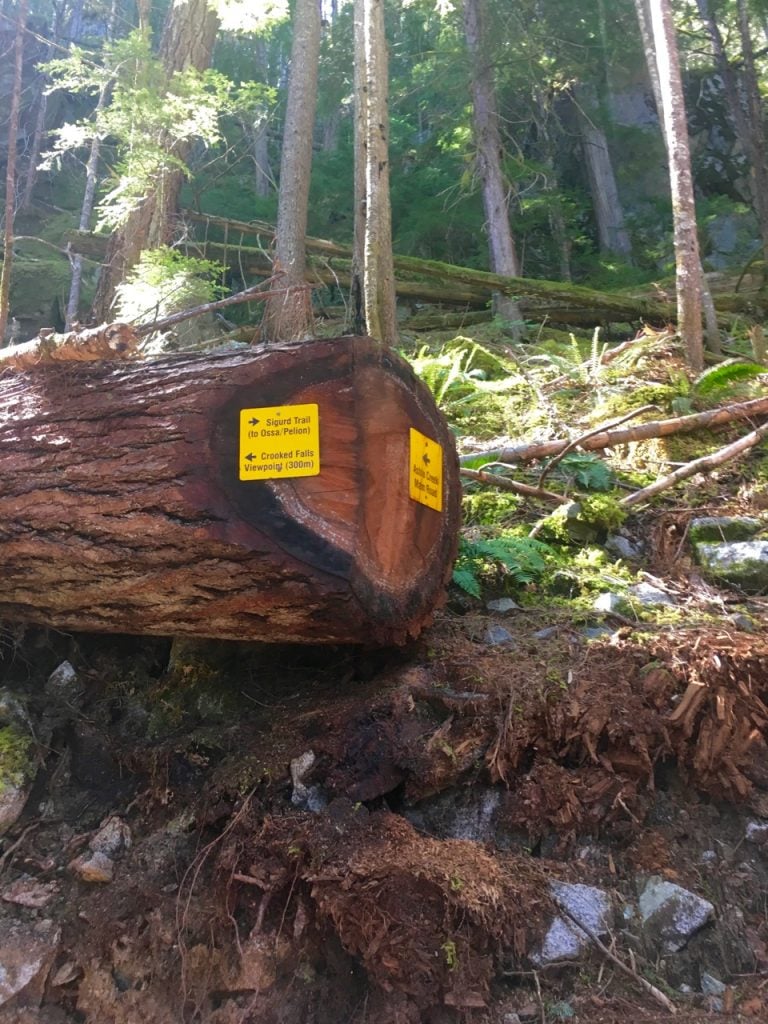 From the junction Crooked Falls is only a few hundred meters away. The trail to the falls sidehills along on some steep slopes and loses a little bit of elevation. As you get closer you can start to hear the roar of the falls.
Viewing Crooked Falls
The trail will take you to the main (central) viewpoint for the Crooked Falls which is also the closest you can get to the falls. In the spring when snowmelt is at it's peak, the falls are spectacular and kick up a lot of spray so it's hard to keep your camera dry, let alone yourself – it's a bit like walking too close to a sprinkler! When we were there it was so wet that even though it hadn't rained in weeks, there were puddles and mud at the viewpoints from all the spray.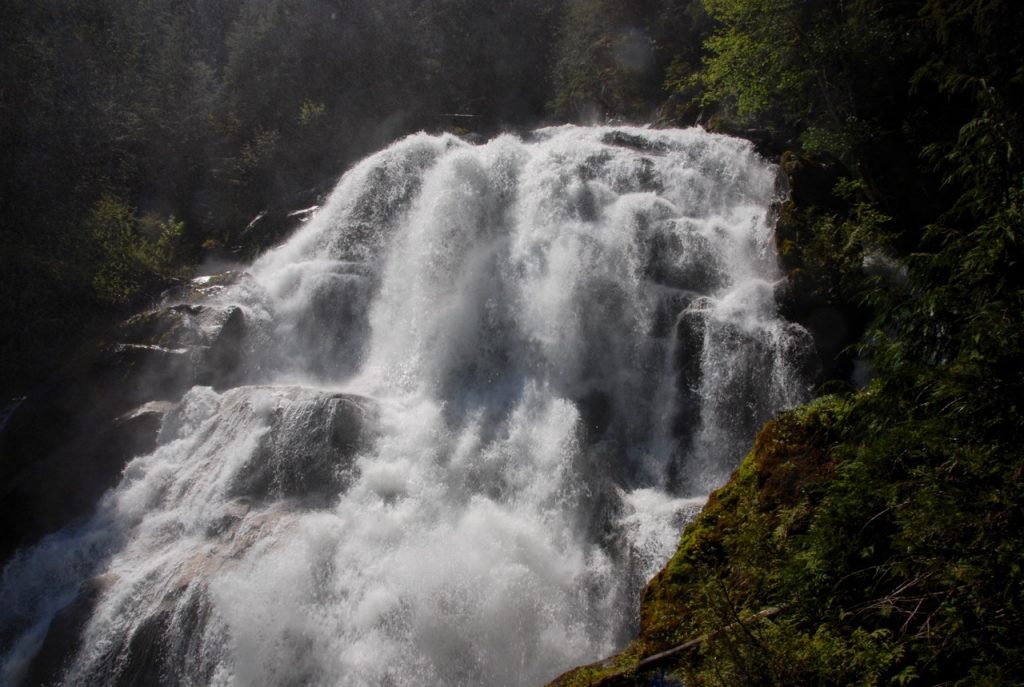 If you head steeply downhill to the left of the main viewpoint for a few meters you'll emerge on to a rocky outcropping – this is the left viewpoint (which you can see from the main viewpoint). You have a slightly more pulled back view of the falls from here, but if anything, it's even wetter.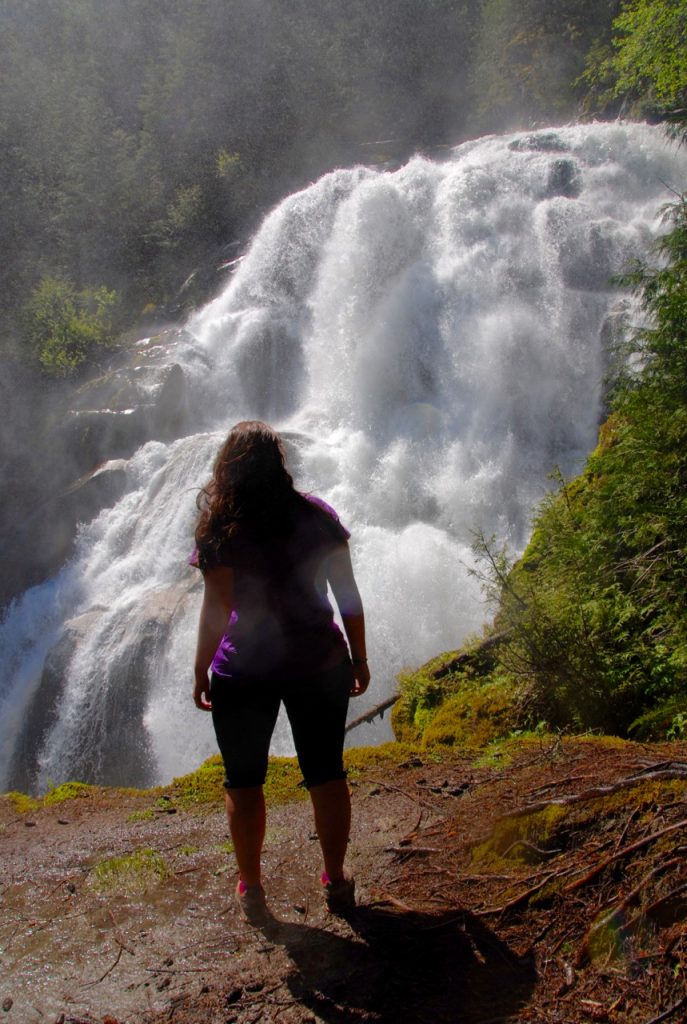 For yet another perspective you can take a faint trail heading right from near the main viewpoint. This trail goes downhill a few meters to a small gully back at the base of Crooked Falls. You can scramble down nearly to water level to a point where it feels like you are just behind the falls. You can even look out across the falls to the mountains in Garibaldi Provincial Park. How cool is that?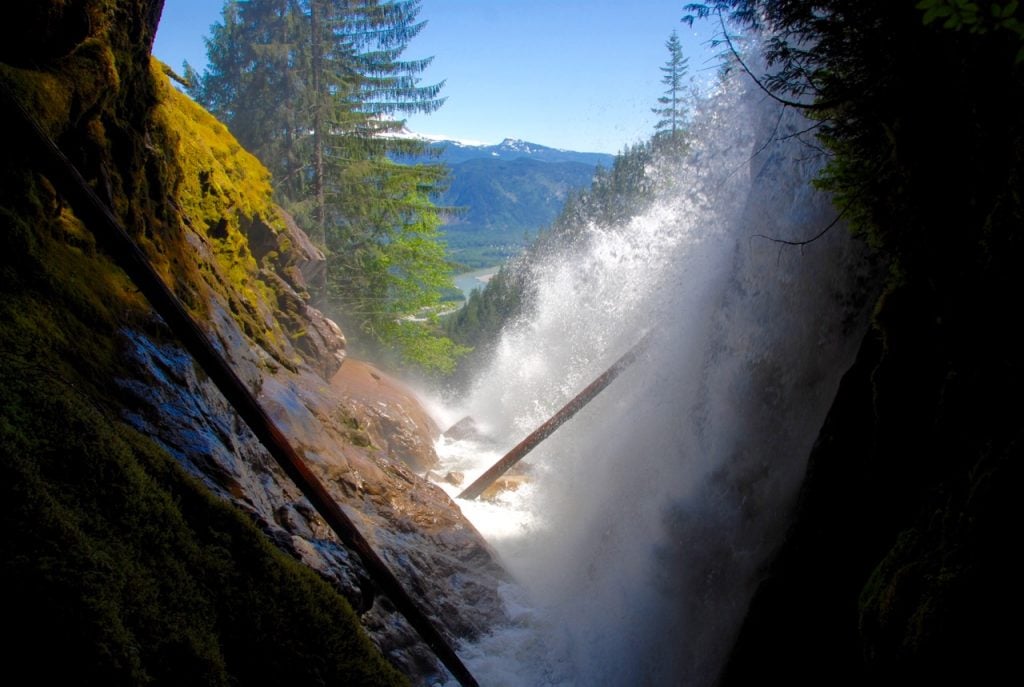 Once you are done seeing the falls from all three viewpoints, retrace your steps back down the trail to your car. After your hike you can drive back towards the Squamish River to find a nice place put your feet in the river and enough the views.

FYI! There's no cell service out there. Download my FREE PDF trail guide to this trail that you can use offline on your phone or print out to take with you. Sign up to get access!
Have you hiked to Crooked Falls in Squamish? Do you have any other underrated Sea to Sky waterfalls to share?
More Things to do Near Squamish:
The Best Hikes in Squamish, BC (From a Local)
Hike to Mount Crumpit in Squamish
Photo Essay: A Winter Weekend in Squamish
Photo Essay: Garibaldi Lake in Early Winter
More Waterfall Hikes:
40+ Waterfall Hikes Near Vancouver
Langdale Falls Hike on the Sunshine Coast, BC
Fraser Valley Waterfall Hike Road Trip
Chasing Waterfalls in Wells Gray Provincial Park
Love this post? Pin it on Pinterest.