While Vancouver is a beautiful city with lots to offer, sometimes you just want to get out of town. Living here my whole life, I've been on more weekend getaways from Vancouver than I can count. I've put together a great list of over 20 weekend trips you can do from Vancouver.
There's something for everyone on this list from city-breaks to beach-town chill outs, to adventurous mountain towns, to foodie destinations, to luxurious glamping.
Since, I'm an outdoorsy person, most of the trips have an adventure focus, but there are lots of options for less sweaty activities too. All of these trips are a few hours' drive (and in some cases ferry) away, and some of them you can do without a car.
So here are my picks for the most beautiful weekend getaways from Vancouver.
Hey there: Some of the links in this post are affiliate links, which means I earn a small commission at no cost to you. Thanks for your support. -Taryn
Here's a custom Google Map I made for you. It shows all of these beautiful weekend getaways from Vancouver, plus a few of the attractions, restaurants and attractions that I recommend.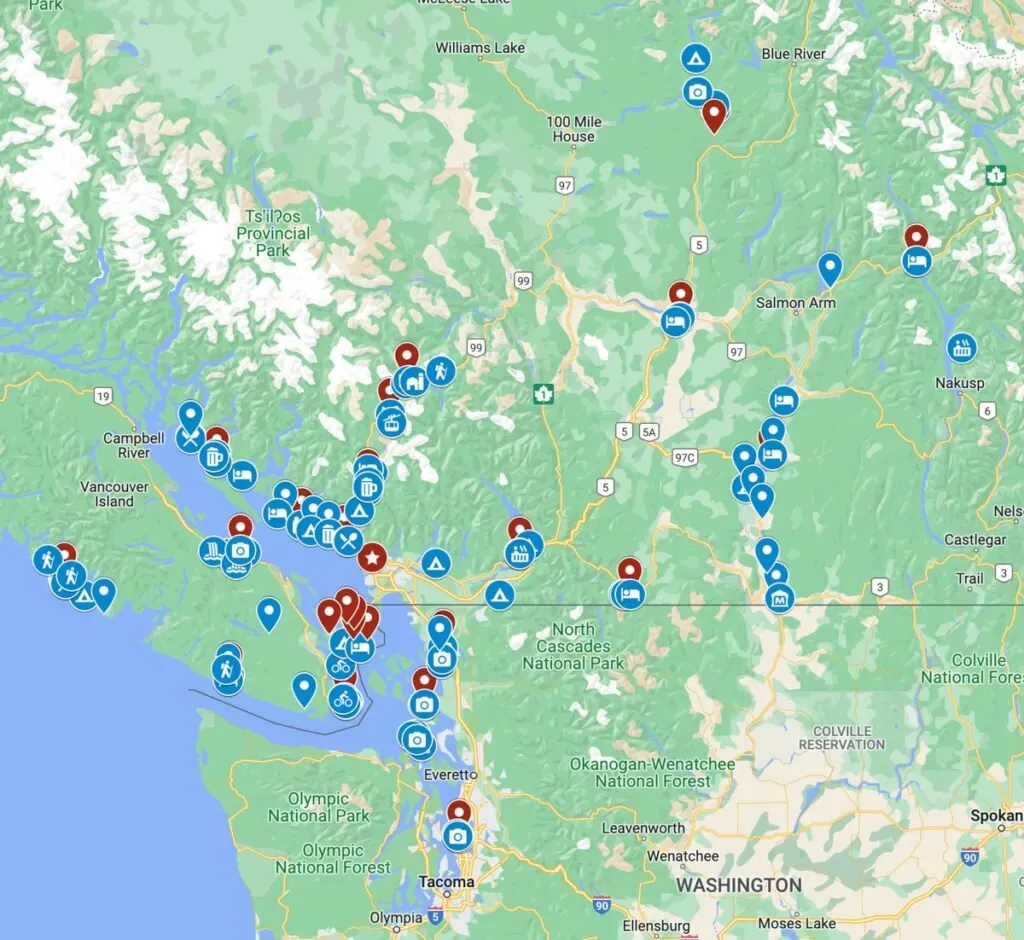 Bowen Island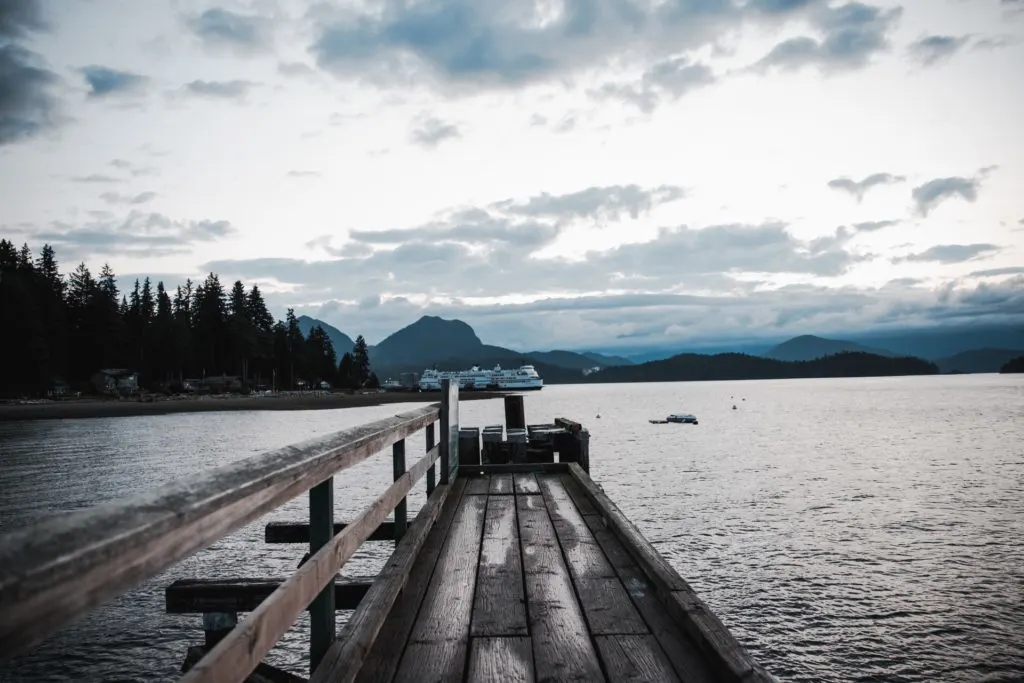 Tiny Bowen Island is just minutes from Vancouver but feels worlds apart. This Howe Sound island is mostly forested, with lots of small beaches, which makes it a great place for kayaking and hiking.
The village of Snug Cove at the ferry dock has a few restaurants to choose from, but the pizza at Tuscany Restaurant is amazing. If you have a sweet tooth, check out Cocoa West Chocolatier for incredible (but expensive) handmade chocolates. Yoga and meditation are also really popular here, with several retreats on the island.
Where to Stay on Bowen Island
Artisan Suites: This all-suite hotel is located in Artisan Square just a few minutes from the ferry terminal. It's the in same complex as tons of cute boutiques and Cocoa West Chocolatier. Book now.
Cabin Rentals: There are lots of really cute cabins on Bowen Island for rent. The Wildwood Cabins are gorgeously rustic and get amazing reviews. Book now.
READ NEXT: Cozy Cabins near Vancouver Perfect for a Weekend Getaway
Squamish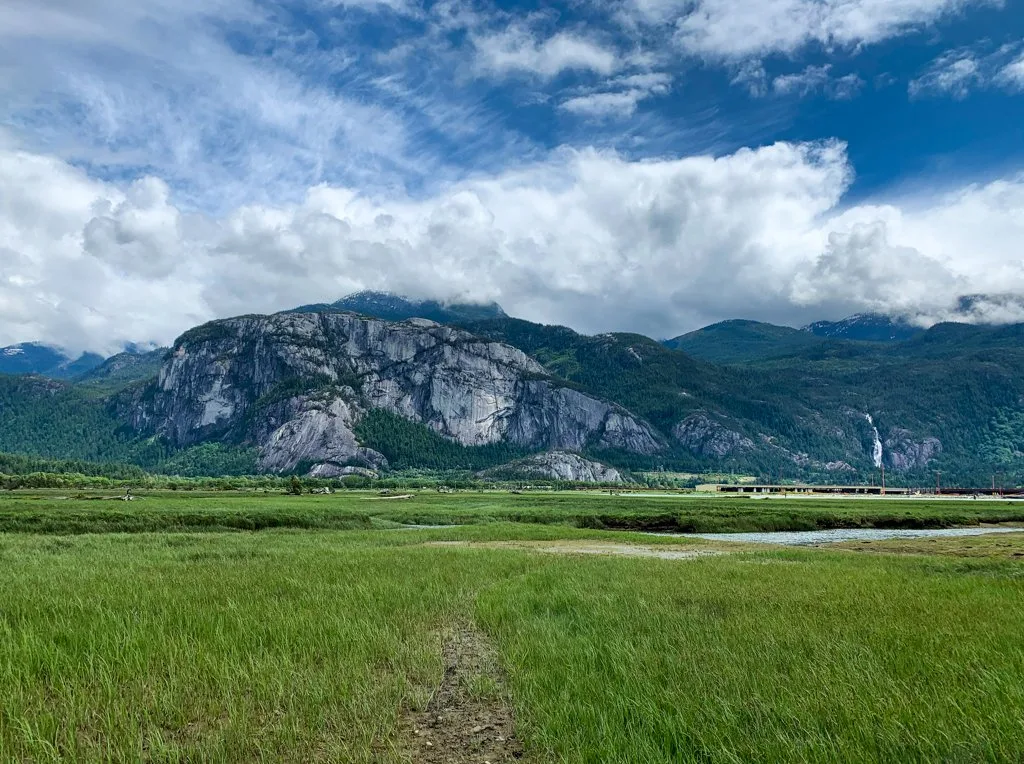 For the last two years I've lived in Squamish, known as the adventure capital of Canada and one of the best small towns in Canada. It sits at the head of Howe Sound sandwiched between mountain ranges. It has world-class hiking, rock climbing, mountain biking, and kiteboarding.
For less heart-pumping adventures, ride the Sea to Sky Gondola up to a gorgeous mountain viewpoint, visit Shannon Falls, or swim at one of the lakes. If you get hungry, stop by Luz Tacos for burrito, Joe Pestos for woodfired pizza or Backcountry Brewing for pizza and craft beer.
READ NEXT: 70+ Things to do in Squamish (By a Local)
Where to Stay in Squamish
Sunwolf Riverside Cabins: We stayed in these adorable cabins on a winter trip to Squamish. Bonus: Fergie's Restaurant is on the property so getting the best breakfast in town is easy! Book now
Howe Sound Inn: This boutique hotel in the heart of downtown has a great craft brewery downstairs. Book now
Alice Lake Provincial Park Campground: The large campground here is really popular. More info. (Or check out my list of the best campgrounds near Squamish.)
READ NEXT: Sea to Sky Highway Road Trip Guide: Driving from Vancouver to Whistler
Whistler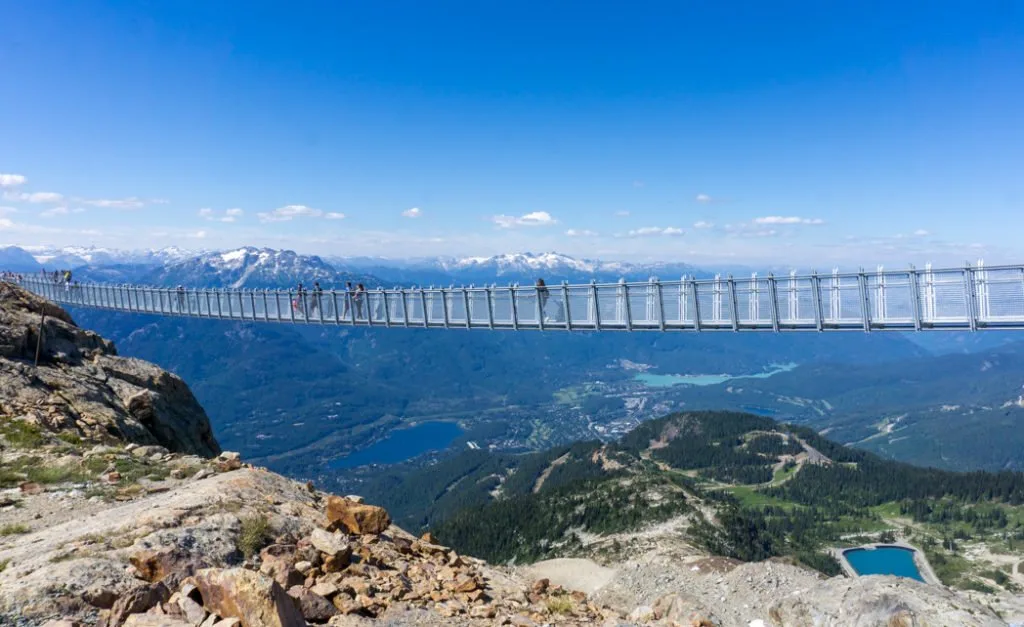 Whistler is a great weekend trip from Vancouver at any time of year. In the summer you can ride the Peak 2 Peak Gondola up the mountain for amazing views, go swimming in the lakes, stroll through the village, or hit up the famous mountain bike trails. Whistler also has some of the best hiking trails around.
READ NEXT: The Best Hikes in Whistler: A Guide to All the Trails
In the winter you can downhill ski and snowboard of course, but there are also has plenty of beautiful snowshoeing trails. Read my guide to the best things to do in Whistler in winter.
READ NEXT: Where to Go Snowshoeing in Whistler
Whistler Village has a huge variety of restaurants, cafes, and coffee shops. I loooove the baked goods from Purebread. We usually stop at High Mountain Brewing after a hike – it's the original spot to get craft beer in town.
READ NEXT: 80+ Things to Do in Whistler (By a Local)
Where to Stay in Whistler
The Westin Resort and Spa: If you want to splurge, this is the place. My now-husband took me here to impress me when we were first dating. Book now
Summit Lodge Boutique Hotel: Apartment-style suite hotels are really popular in Whistler. This one is right in the village and gets great reviews. Book now
Camping: My guide to camping in Whistler has details for 18 campgrounds near Whistler.
READ NEXT: 40 Cheap and Free Things To Do in Whistler
Pemberton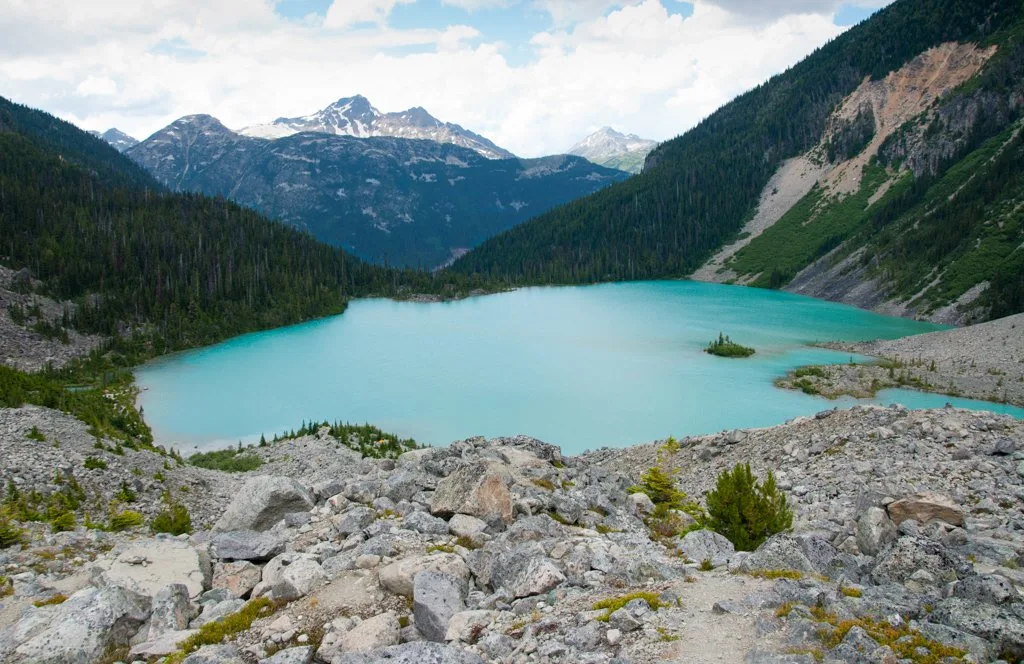 Pemberton often gets overshadowed by Whistler, its flashier neighbour to the south. But Pemberton makes a great weekend getaway from Vancouver. It's a chill, small town surrounded by mountains with lots of hiking and mountain biking trails. (Nearby Joffre Lakes is gorgeous.)
But it also has a strong farming and ranching history. Head to North Arm Farm for u-pick berries, a produce stand, and a cafe. Or book a horseback ride – Pemberton has more horses per capita than any other place in BC!
Where to Stay in Pemberton
Pemberton Valley Lodge: Highly rated all-suite hotel near downtown Pemberton and an easy walk to the One Mile Lake trails. Book now
Cabins: There are lots of cute cabins and tiny houses for rent near Pemberton. This rustic (but luxe) log cabin looks amazing. Book now
Nairn Falls Provincial Park Campground: I've stayed at this campground a few times. It makes a great basecamp for day hikes in the area. More info
Sechelt and the South Sunshine Coast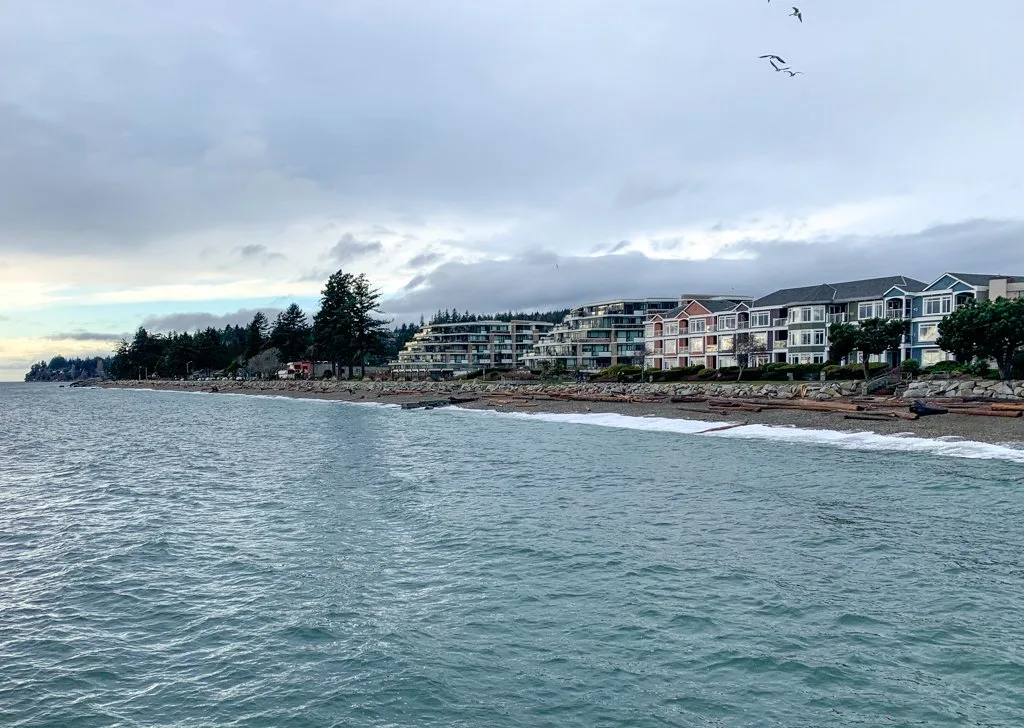 Sechelt is located on the Sunshine Coast, a short ferry ride from Vancouver, making it the perfect weekend trip. Make sure you also check out the nearby villages of Gibsons, Roberts Creek, and Halfmoon Bay next to the Pacific Ocean, surrounded by forest. There are tons of opportunities for hiking, mountain biking, and kayaking. But lots of people prefer to book a stay at a cabin or resort with a water view, then just chill out.
READ NEXT: 21 Best Hikes on the Sunshine Coast, BC
The Sechelt area is also an emerging destination for foodies and artisans with weekend farmer's markets in Sechelt, Gibsons, and Roberts Creek. With lots of new craft breweries, distilleries, cider houses popping up, the area now has its own Sunshine Coast Ale Trail. My husband loves the beer at Persephone Brewing near the Langdale ferry terminal.
READ NEXT: The Best Things to do in Sechelt
Where to Stay in Sechelt and the South Sunshine Coast
Rockwater Secret Cove Resort: This one has is special for me since it's where I got engaged! The luxury tent cabins are unreal and worth the splurge! Book now
Cabins: There are tons of cute cabins for rent near Sechelt. This oceanfront cabin just outside of town is particularly spectacular. Book now
Roberts Creek Provincial Park Campground: This forested campground is in between the ferry terminal and Sechelt. More info
Powell River and the North Sunshine Coast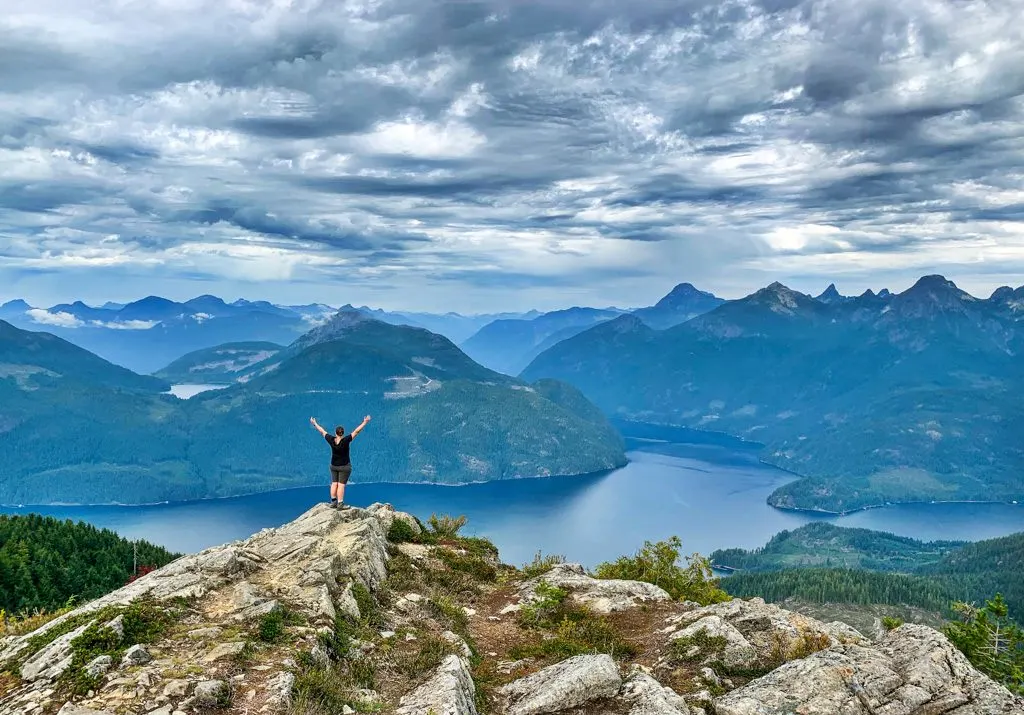 Sleepy Powell River is a bit more off the beaten path than Sechelt to the South. It's a logging town with tons of outdoor adventure possibilities. The 180km-long Sunshine Coast Trail runs through the outskirts of town, making Powell River a great jumping-off point for day hikes if you don't have time for the whole thing.
The historic downtown is home to Townsite Brewing. On my last visit, we spent a fun couple of hours there tasting beer before heading to Costa del Sol in downtown Powell River for some tasty Mexican food. Don't miss a trip to the cute village of Lund 30 minutes north of Powell River. Head to Nancy's Bakery on the waterfront to get one of the famous cinnamon buns.
READ NEXT: The Best Things to do on the North Sunshine Coast, BC
Where to Stay in Powell River and the North Sunshine Coast
The Magical Dome: This quirky rental cabin near Lund has been on my list, but it was booked last time we went to Powell River. It looks like a hobbit house! Book now
Cabins: This eco-friendly cottage is right on the ocean. It's located in the quiet Lang Bay area, in between Powell River and the ferry terminal. Book now.
Parksville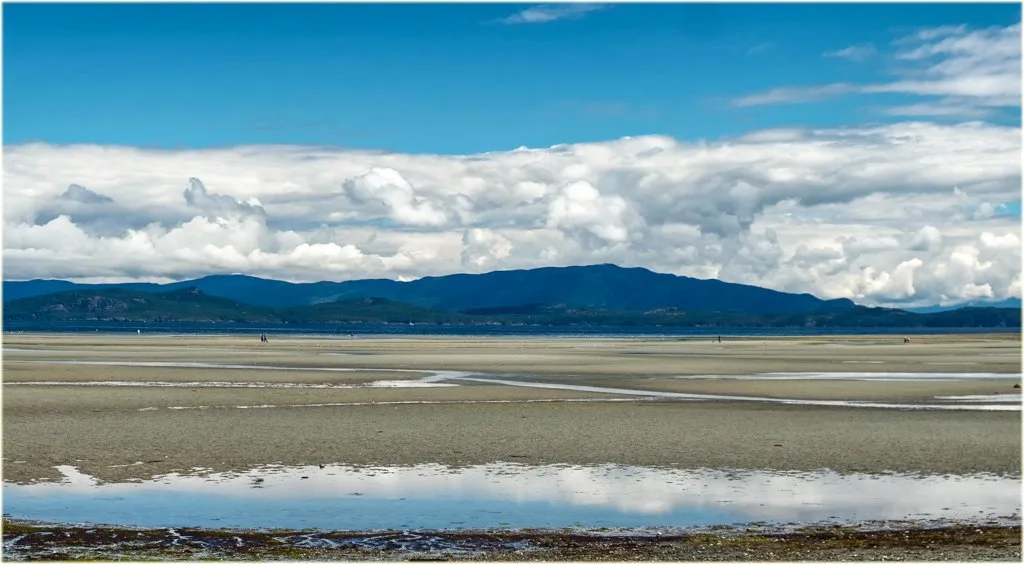 Parksville is a beach town just north of Nanaimo on Vancouver Island. With kilometres of sandy beaches, it's one of the best weekend getaways from Vancouver. In summer they have an incredible sandcastle competition.
And there are gorgeous waterfalls if you head inland: check out Englishman River Falls and Little Qualicum Falls. The quirky Old Country Market in Coombs is also a short drive away. (It's the place that famously has goats on the roof!)
Where to Stay in Parksville
Tigh-Na-Mara Seaside Resort: I know people who return to this beachfront resort year after year. Their Grotto Spa also looks really cool. Book now
Condos and Cabins: There are lots of vacation rentals really close to the beach. This oceanside cottage is really cute and has access to a pool. Book now
Rathtrevor Beach Provincial Park Campground: The campsites here are right next to a huge sandy beach. Listen for sea lions across the bay at night. More info
Tofino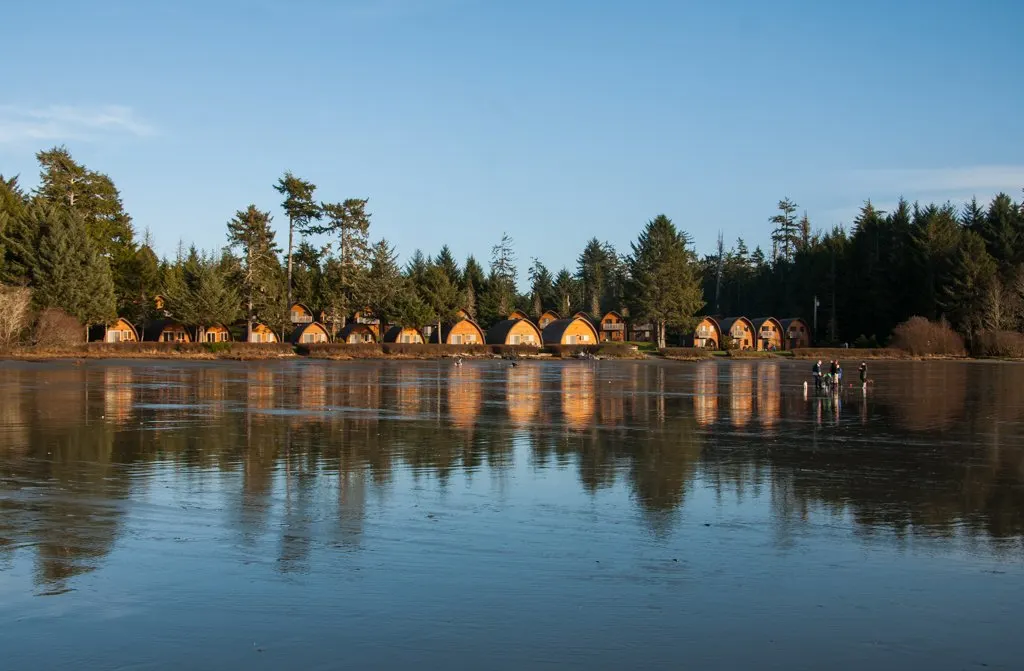 Tofino on Vancouver Island's West Coast is a popular weekend getaway from Vancouver and one of the best small towns in Canada for outdoor adventures. Explore the long sandy beaches, go for a hike in the lush rainforest, or hit the waves at Canada's most famous surf spot.
If you're looking to get a bit off the beaten path, head a bit south to the neighbouring town of Ucluelet, which is much quieter and just as cute. Or take a water taxi to the old-growth trees on Meares Island or the sandy beaches of the Wild Side Trail on Flores Island.
Don't miss the Tacofino food truck for some of the best tacos in BC. If you're looking for sit down dinner, head to Shelter Restaurant. My husband and I had a great dinner there for our anniversary a few years ago.
Where to Stay in Tofino
Ocean Village: These adorable gothic-arched cabins are right on the water at Mackenzie Beach. Book now
Island Village at Fred Tibbs: We stayed at these waterfront condos right in the centre of Tofino on an anniversary trip. Book now.
Pacific Rim National Park Campground: The campsites at Green Point are right next to Long Beach, a huge sandy beach. More info
Southern Gulf Islands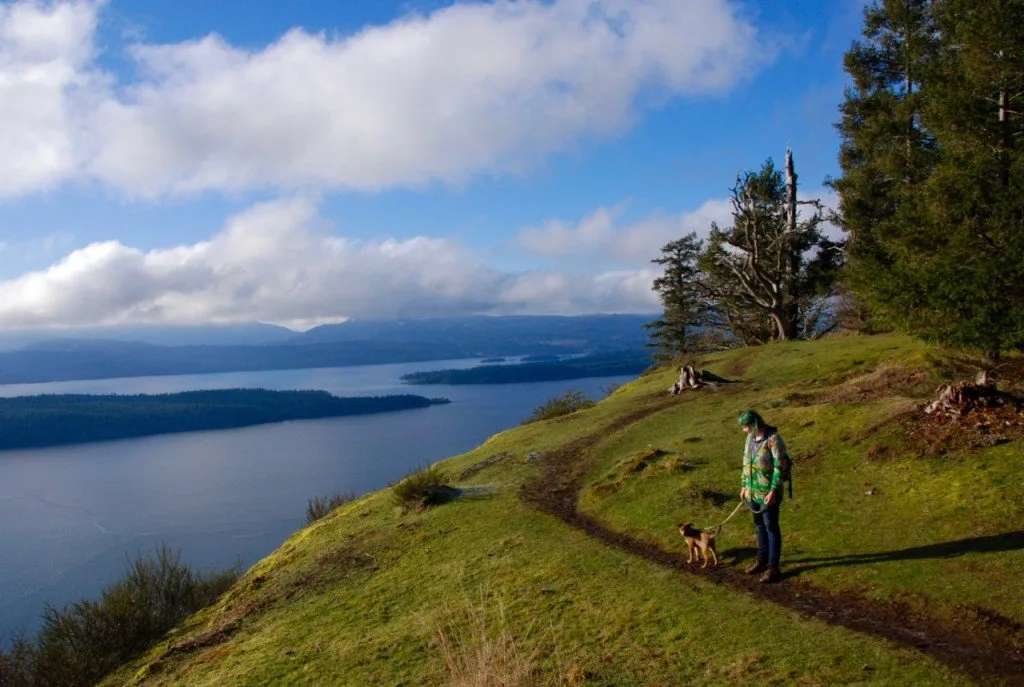 The Gulf Islands are a group of over 200 small islands between Vancouver Island the mainland of British Columbia. Most people visit the larger Southern Gulf Islands: Saltspring, Galiano, Pender, Mayne, and Saturna. Each island has its own personality, but they all offer beautiful ocean views, beaches, forest hikes, farmer's markets, and artisan studios.
Saltspring is the largest and most populated island, so it has the most things to do. Galiano is a bit smaller and a little more sleepy. Pender, Mayne, and Saturna have fewer shops, restaurants, and services than Saltspring and Galiano, so do a bit of research before you go to find out what's available.
READ NEXT: Four Outdoor Adventures on Galiano Island
Where to Stay on the Gulf Islands
Poets Cove Resort and Spa: I stayed at this waterfront resort on Pender Island once for a wedding and it's gorgeous! Book now
Cabins: Over the years we've stayed at some great cabins on Saltspring and Galiano Island. This waterfront cabin on Galiano has a great garden. Book now
Ruckle Provincial Park Campground: I LOVE the walk-in campsites at Ruckle Provincial Park on Saltspring Island. They are right on the ocean and have amazing views. More info
Victoria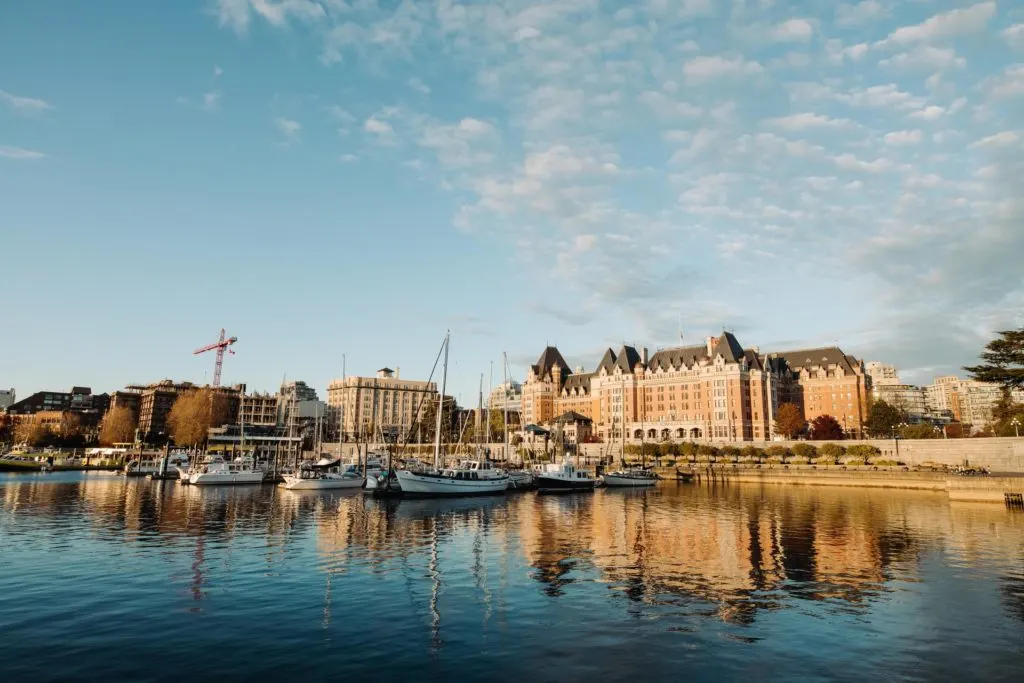 Victoria is British Columbia's capital city, but it's not a stodgy government town. It has a beautiful harbour, interesting museums, historical buildings, a foodie scene, and easy access to beaches and trails. I've visited Victoria countless times as I have several good friends who live there.
One of my favourite things to do in Victoria is to bike the flat, scenic, and quiet Lochside and Galloping Goose trails. I also love walking in Beacon Hill park or along the Waterfront Trail on Dallas Road.
For indoor activities, I like the Royal British Columbia Museum and Craigdarroch Castle. Victoria's compact downtown also is a great place to shop. I can't go to Victoria without going to the fabulous Silk Road Tea store. If you want amazing baking, head to Fol Epi in Vic West. The croissants are sooo good.
Where to Stay in Victoria
Abbeymoore Manor: I've stayed at this historic B&B a few times since my friends used to live around the corner. It's a beautiful house. And breakfast is included! Book now
Hotel Zed: This renovated motel has an amazing and photogenic retro vibe. It looks like an awesome place to stay on a budget. Book now
Pacific Marine Circle Route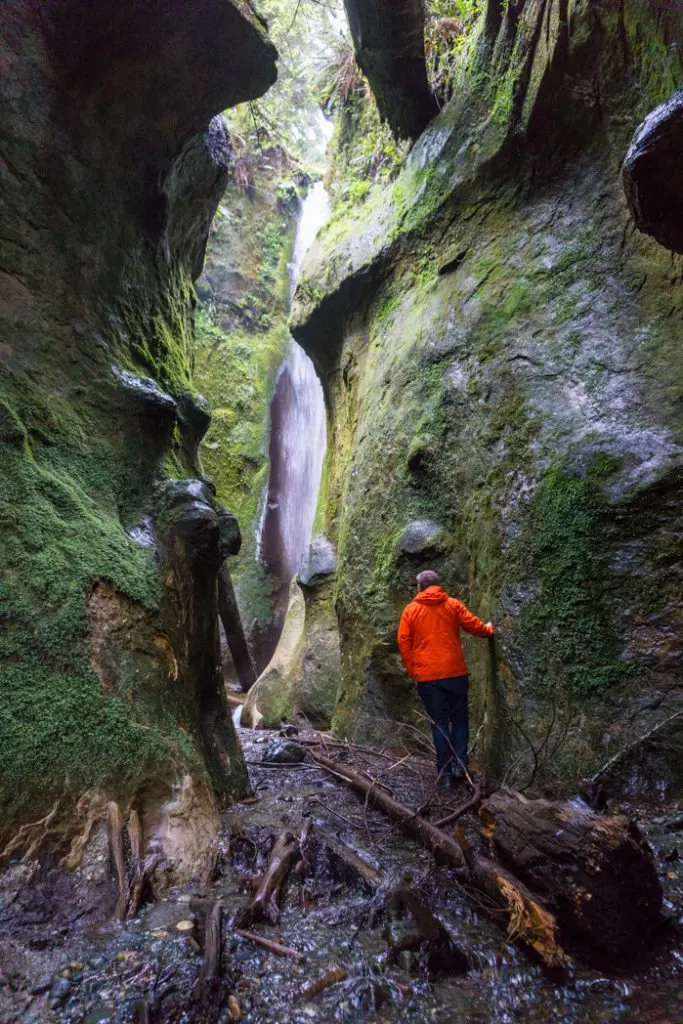 The Pacific Marine Circle Route is a 260km-long loop road trip on Southern Vancouver Island. It's the perfect length to drive over a weekend. The route starts and finishes in Victoria.
The first half of the route travels along the coast past Sooke. You can stop for hikes in the rainforest, waterfalls, or visits to wilderness beaches. Spend the night in Port Renfrew, my favourite small town, and visit Avatar Grove, home of Canada's tallest trees and the starting point for the famous West Coast Trail.
READ NEXT: How to Visit Avatar Grove, Big Lonely Doug and Other Big Trees
On the second half of the route, drive inland past more giant trees to Lake Cowichan and the farms in the Cowichan Valley. Finish the trip by heading back to Victoria along the Malahat Highway.
Read my complete guide to the Pacific Marine Circle Route. It has everything you need to know to take this road trip including driving directions, where to stop, the best hikes, and more.
READ NEXT: The Ultimate Guide to the Pacific Marine Circle Route
Where to Stay on the Pacific Marine Circle Route
Wild Renfrew: We stayed at these gorgeous waterfront cabins in Port Renfrew. They even have patios with fire pits. Book now
Trailhead Resort: This budget place is really popular with hikers starting or finishing the West Coast Trail. Book now
Pacheedaht Campground: I've camped here a few times and it's gorgeous. Some of the sites are right on the beach. Call them to book: (250) 647-0090
Bellingham, Washington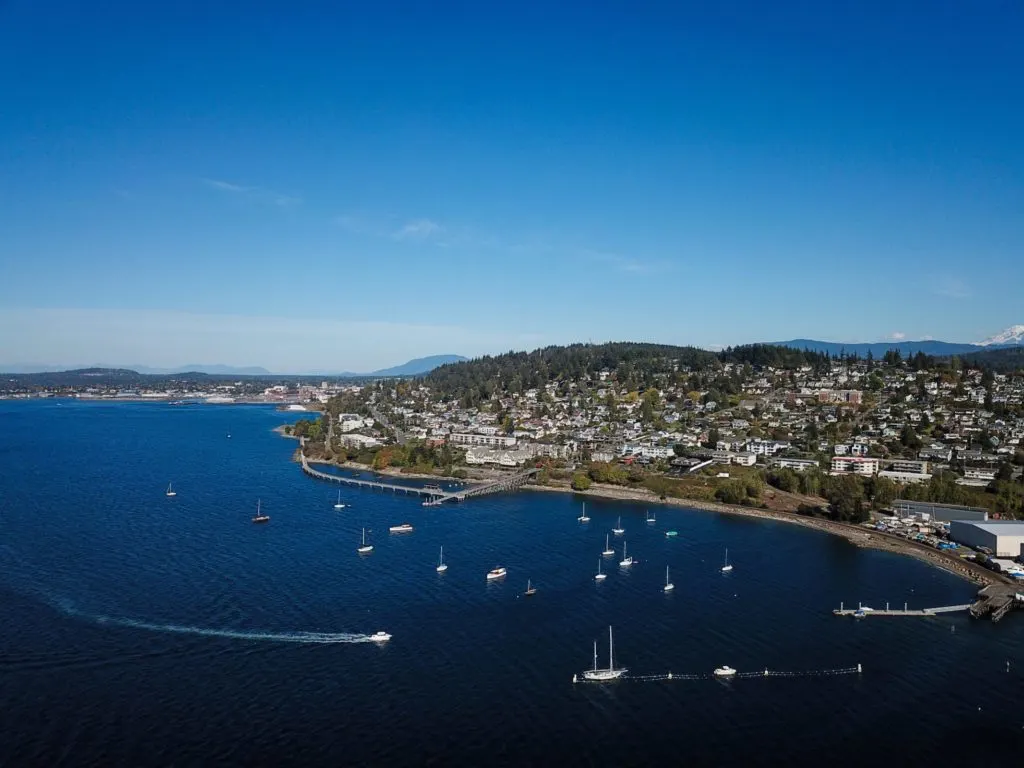 Bellingham, Washington is more than a place to do some cross-border shopping or buy cheap groceries. It's actually a cute college town on the ocean with a historic district called Fairhaven. Bellingham is also a craft beer haven with 16 micro-breweries, many of which are gastro-pubs as too.
One of the best things to do is cruise along Chuckanut Drive, a twisty road along the coast through the forest with some great views. There are also lots of hiking and mountain bike trails, quiet country roads for road biking, and kayaking in sheltered bays of Puget Sound.
Where to Stay in Bellingham, Washington
Hotel Leo: The rooms at this downtown hotel have really cool modern decor. Book now
Cabins: There are lots of cute rentals in Bellingham and on Chuckanut Drive. This unique house has a microbrewery in it along with a vacation rental! Book now
Larrabee State Park Campground: This campground on Chuckanut Drive is right on the water with easy access to hiking trails. More info
Whidbey Island and Deception Pass, Washington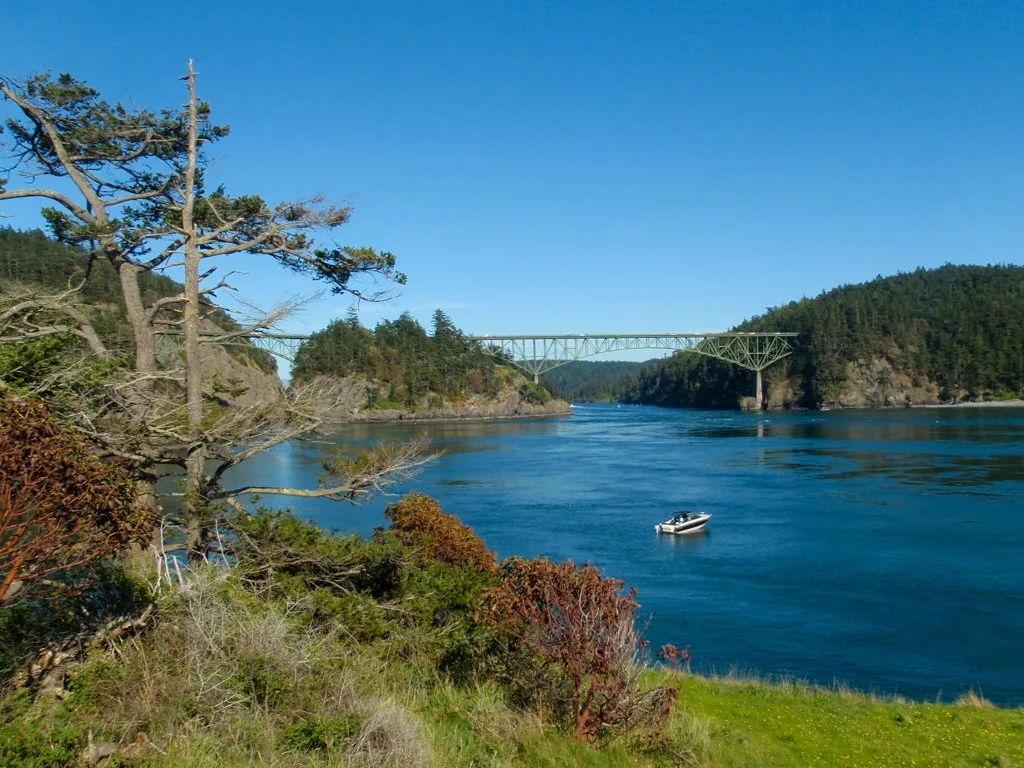 Tucked into the north end of Puget Sound, the Deception Pass area is strikingly beautiful: tiny tree-covered islands, swirling currents, and sea cliffs. I love hiking in Deception Pass State Park or enjoying the view from the famous bridge.
Long and narrow Whidbey Island has lots of other pretty spots too including Ebey's Landing, WWII era defences at Fort Ebey and Fort Casey, wineries, farmers markets, whale watching tours, and sleepy historic towns.
Where to Stay in Whidbey Island and Deception Pass, Washington
Captain Whidbey Inn: This historic house is now an amazing looking B&B. Book now.
Cabins: There are tons of vacation rentals on Whidbey Island. Lots of them are right on the water too. Thie beach house has a great deck. Book now
Deception Pass State Park Campground: I love camping here – you can walk to the beach and there are lots of hiking trails. More info
Seattle, Washington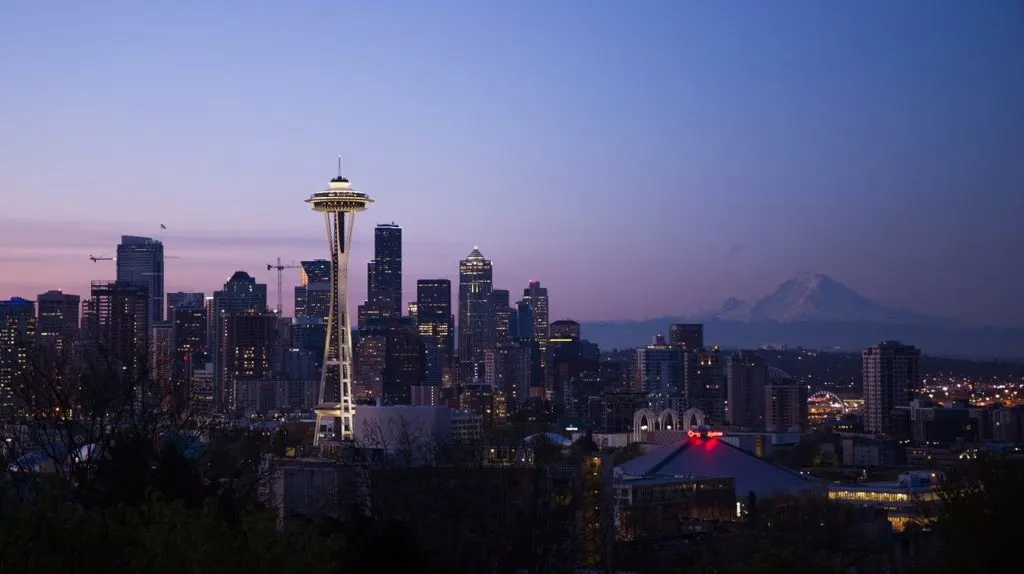 Seattle is a gorgeous city, sitting between the waters of Puget Sound and the snowy peak of Mount Rainier. Pike Place Market, the Space Needle, the world's first Starbucks, and the Museum of Pop Culture are all must-sees. Lots of visitors on a weekend getaway from Vancouver take in a baseball, football, or soccer game.
To get a bit more off-the-beaten-path, I recommend the Underground Tour, where you'll learn a bit about the city while walking through historic underground tunnels.
This is also a great car-free getaway. It's easy to take the bus from Vancouver to Seattle, and once you're there, you can walk or take public transit.
Where to stay in Seattle
Ace Hotel: This hipster spot is in Belltown, a trendy neighbourhood close to downtown. Book now
Vacation Rentals: Seattle can be a pricey city, but you can usually find good deals on rental apartments. This adorable tree-top suite is right near the beach. Book now.
Harrison Hot Springs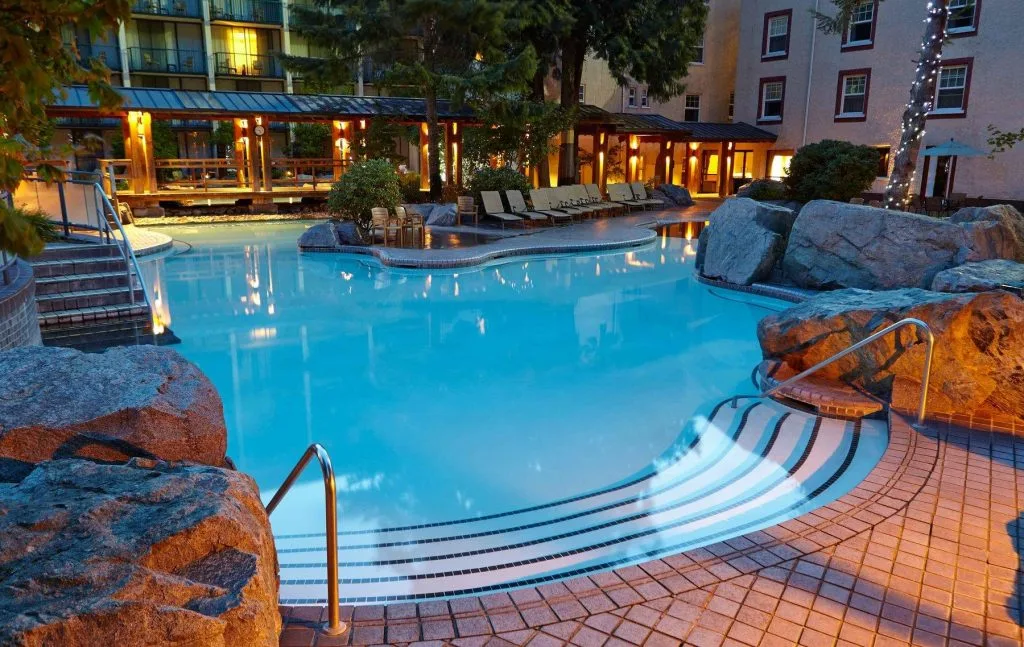 Harrison Hot Springs is a small resort community in the Fraser Valley. The main attraction is the hot springs, which are piped into a series of pools at the Harrison Hotsprings Resort as well to a public community pool. (Did you know we have lots of other amazing hot springs in Canada?)
It's also a great spot for hiking and mountain biking. In the summer, boating is really popular and there's also a cool pop-up waterpark in the lake. And it's less than an hour away, making it one of the closer weekend getaways from Vancouver.
Where to Stay in Harrison Hot Springs
Harrison Hot Springs Resort and Spa: Staying at this hotel gets you exclusive entrance to their deluxe hot springs pools. Book now
Sasquatch Provincial Park Campground: Camping at the lakes in this park is popular since it's a short drive to Harrison Hot Springs. More info
Manning Park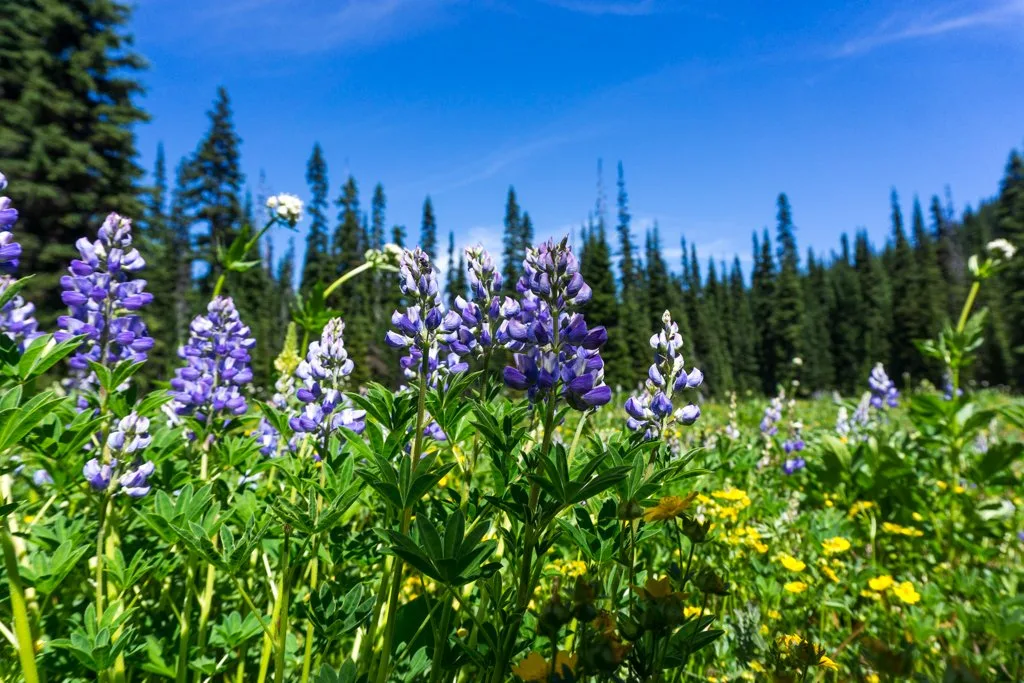 E.C. Manning Provincial Park is one of BC's most popular parks. In the winter it has a ski resort and lots of snowshoeing trails. In the summer it's one of my favourite places to hike with kilometre upon kilometre of wildflower meadows.
You can also go canoeing on Lightning Lakes, walk nature trails, and spot wildlife. The ground squirrels are particularly cute. In the winter, they have a downhill ski area, cross-country skiing, and tons of snowshoeing trails.
Where to Stay in Manning Park
Manning Park Resort: The only lodging in the heart of the park, they have cute cabins and a pool. Book now
Manning Provincial Park Campground: There are four campgrounds in the park, but the nicest sites are at Lightning Lake. More info
Kamloops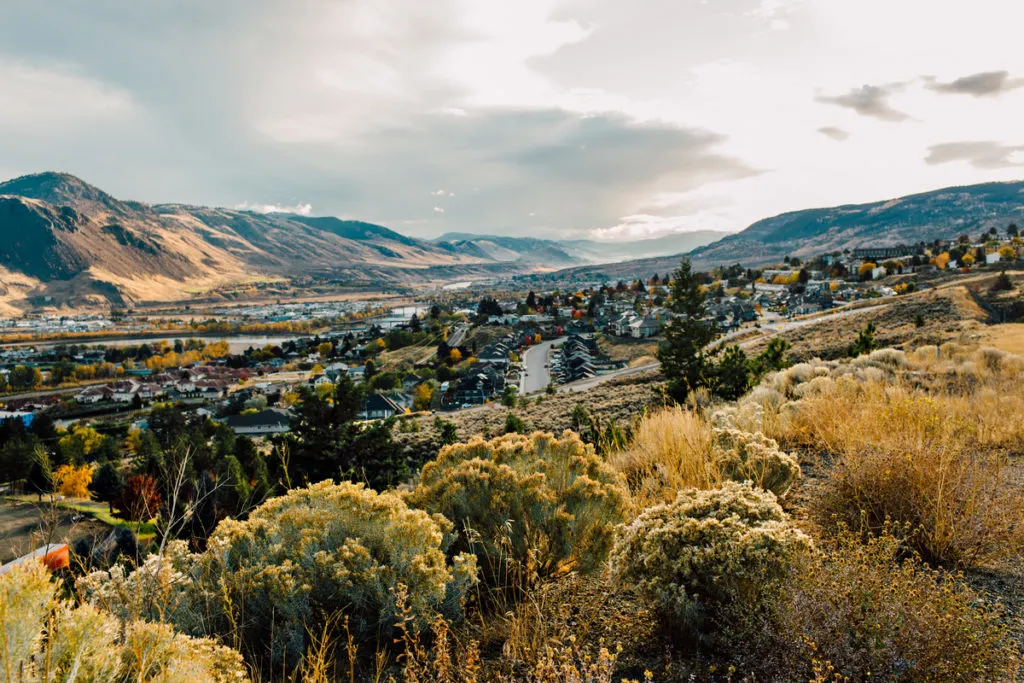 I have family in Kamloops, so I've spent a lot of time in the area. It has an incredible network of hiking and mountain biking trails, many of which are right in the city. The beaches along the riverfront are a great place to go for a swim or head out of town to the nearby lakes.
Kamloops has also gotten into the craft beer scene lately, with five breweries and two taphouses in town. With its sunny climate, a weekend in Kamloops can be just what you need to escape the rains in Vancouver in spring and fall.
Where to Stay in Kamloops
Fairfield Inn and Suites: I've stayed at this hotel a few times recently while visiting family. It's a newer hotel so the rooms are really nice, but the prices are quite reasonable. Plus it includes breakfast. Book now
Sandman Signature Kamloops Hotel: This new hotel has a fabulous location right on the riverfront. Book now.
The Okanagan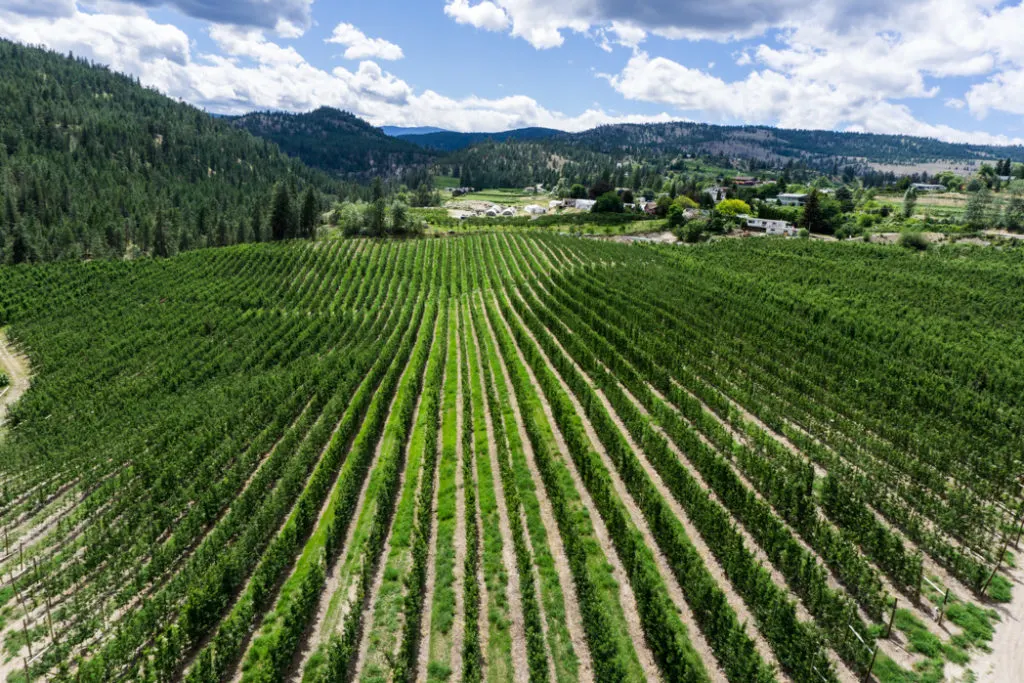 The Okanagan is a big region, stretching from Sicamous in the north to Osoyoos in the south. Okanagan Lake runs through the middle of the valley, along with lots of other smaller lakes, perfect for boating and with great beaches. Explore some of the cute small towns like Vernon and Penticton or check out the many things to do in Kelowna.
If you head to Osoyoos, be sure to visit Nk'mip Desert Centre. It showcases Canada's only desert and the culture of the local Sylix people. The hot and dry climate is also ideal for orchards and vineyards. There are over 200 wineries to visit, but I like the smaller organic ones near Summerland. Don't miss everything apple at Davison Orchards – it's one of the best things to do in Vernon.
READ NEXT: Explore Summerland's Wineries by Bike
Where to Stay in the Okanagan
Sparkling Hill Resort: This adults-only spa-focused resort near Vernon has amazing views and luxe rooms. Book now
Hotel Zed: Like their sister location in Victoria, this budget motel in Kelowna has an incredible retro look. Book now
Okanagan Lake Provincial Park Campground: This large campground is right on the shores of Okanagan Lake. More info
Wells Gray Provincial Park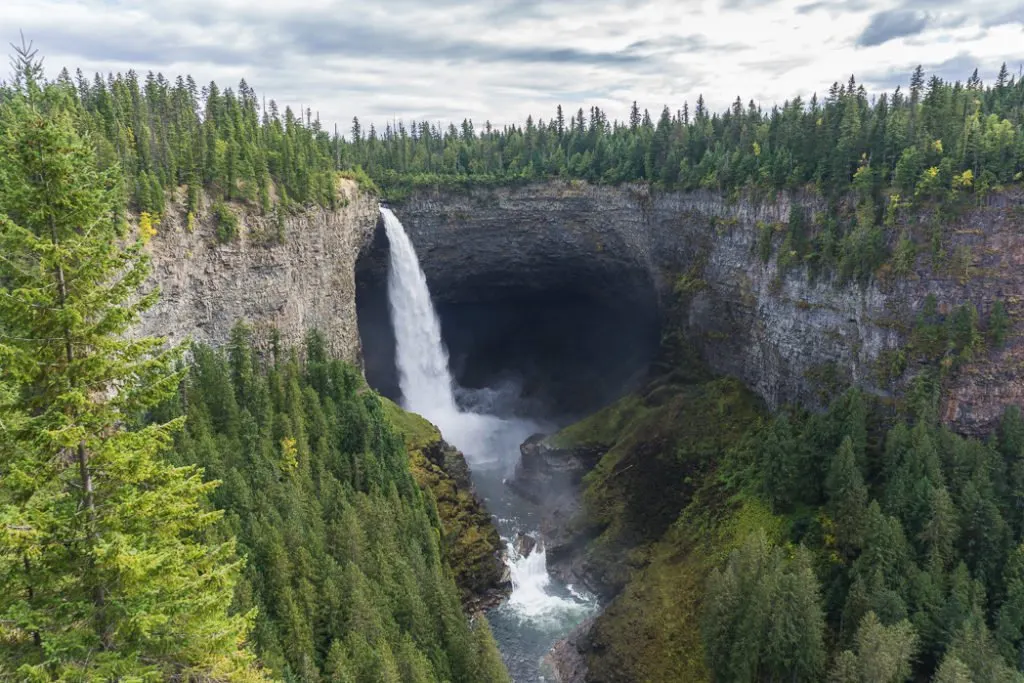 Wells Gray Provincial Park is located in British Columbia's interior north of Kamloops near the town of Clearwater. It's a huge park with giant lakes and lots of hiking trails. But it is famous for its waterfalls. There are 8 waterfalls easily accessible from the main park road, plus dozens more in the backcountry. Don't miss 141m-high Helmcken Falls. It's the 4th-tallest waterfall in Canada.
READ NEXT: Chasing Waterfalls in Wells Gray Provincial Park
The park is in ranch country, so if you want to live like a cowboy, there are tons of lodges nearby where you can go horseback riding or have a cook-out. Wells Gray is definitely one of the best under-the-radar weekend getaways from Vancouver.
Where to Stay in Wells Gray
Wells Gray Guest Ranch: Located right in the park, this Western-style property has great cowboy vibes. Book now
Across the Creek Cabins: These cute cabins are nestled in the forest inside the park. Book now
Wells Gray Provincial Park Campground: Camp near a waterfall and lake at the Clearwater Campground. More info
Revelstoke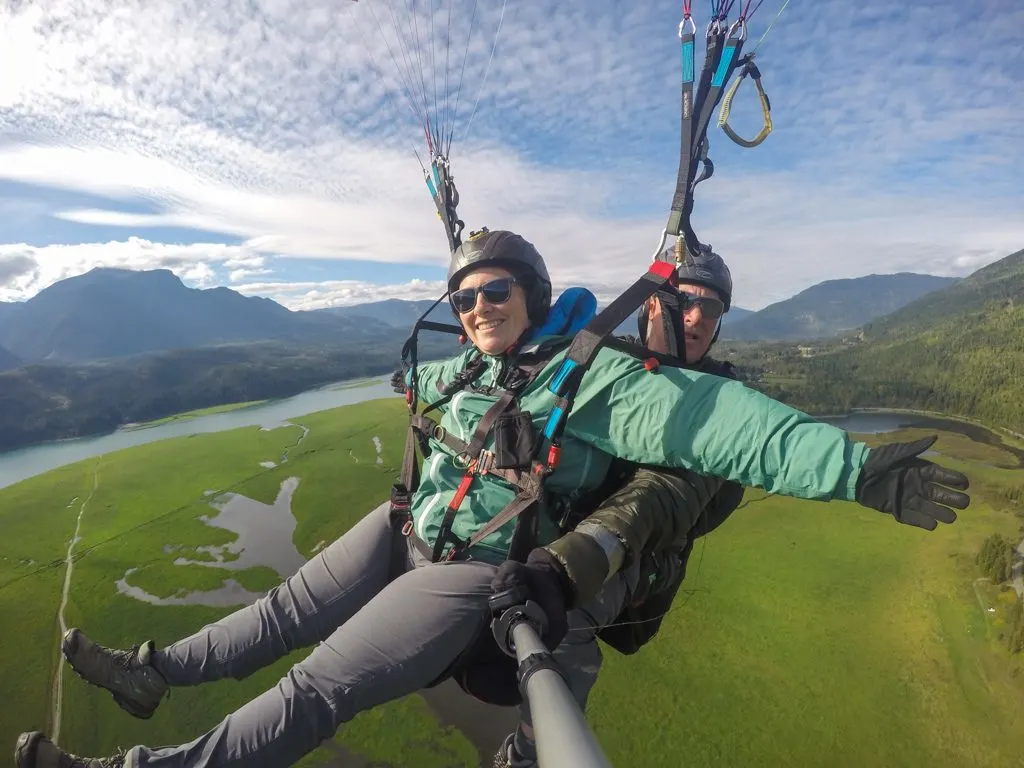 Revelstoke is the ultimate Canadian small town: it has world-class mountain biking, incredible hiking, skiing, and paragliding from the highest launch in North America. I liked it so much I went two years in row. It also has one of my favourite things: hot springs! There are several hot springs a near town, including the gorgeous undeveloped Halfway River Hot Springs.
Revelstoke also has a surprisingly robust culinary scene for such a small town with a little farmers markets, great restaurants, micro-breweries, and not one but TWO distilleries! Check out my guides to things to do in Revelstoke, the best hikes in Revelstoke, and the best things to do in Mount Revelstoke National Park to plan your trip.
READ NEXT: 15 Things to do in Revelstoke in the Summer
Where to Stay in Revelstoke
The Regent Hotel: We stayed at this somewhat upscale, family-run hotel on our first trip to Revelstoke. It was nice without being pretentious. Book now
Boulder Mountain Resort: I spent two nights at these adorable cabins just outside of Revelstoke last summer. They even come with fleece robes! Book now
The Cube: This budget hotel has a really cool cube-inspired look. It's perfect for outdoorsy visitors because it has a gear drying room and a shared kitchen. Book now
Book a Cozy Cabin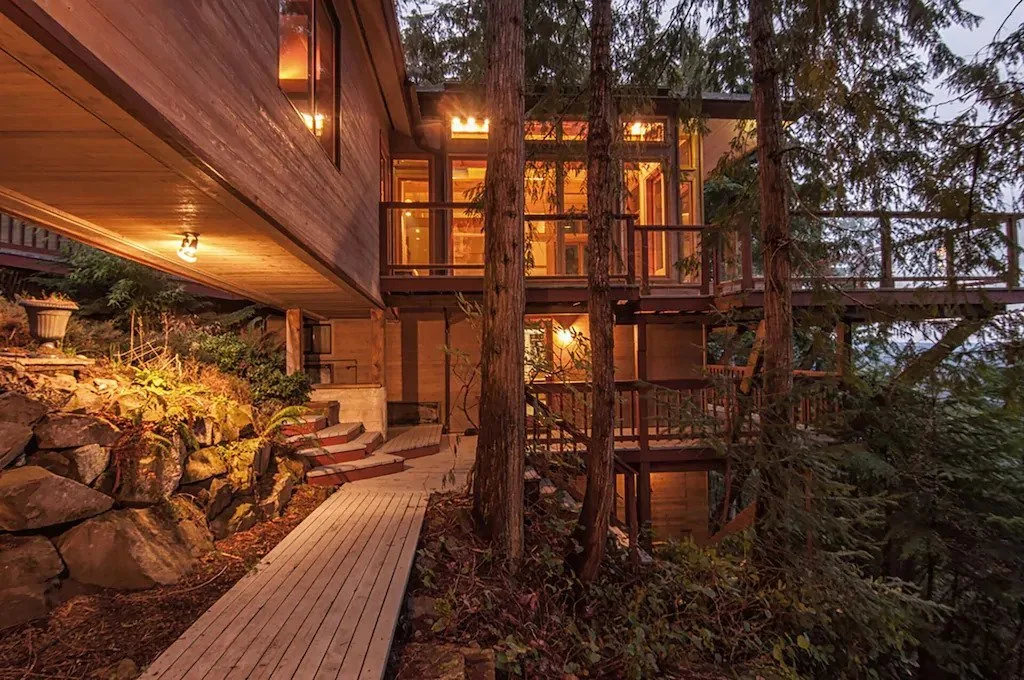 Spend the weekend chilling out in nature at a cozy cabin. There are tons of adorable cabin rentals near Vancouver. Wake up deep in the forest, high in a treehouse, right beside the ocean, or in a luxury glamping tent.
I've stayed in a bunch of beautiful cabins – it's one of my favourite weekend getaways from Vancouver.
READ NEXT: 25 Cozy Cabins Near Vancouver Perfect for a Weekend Getaway
Go Camping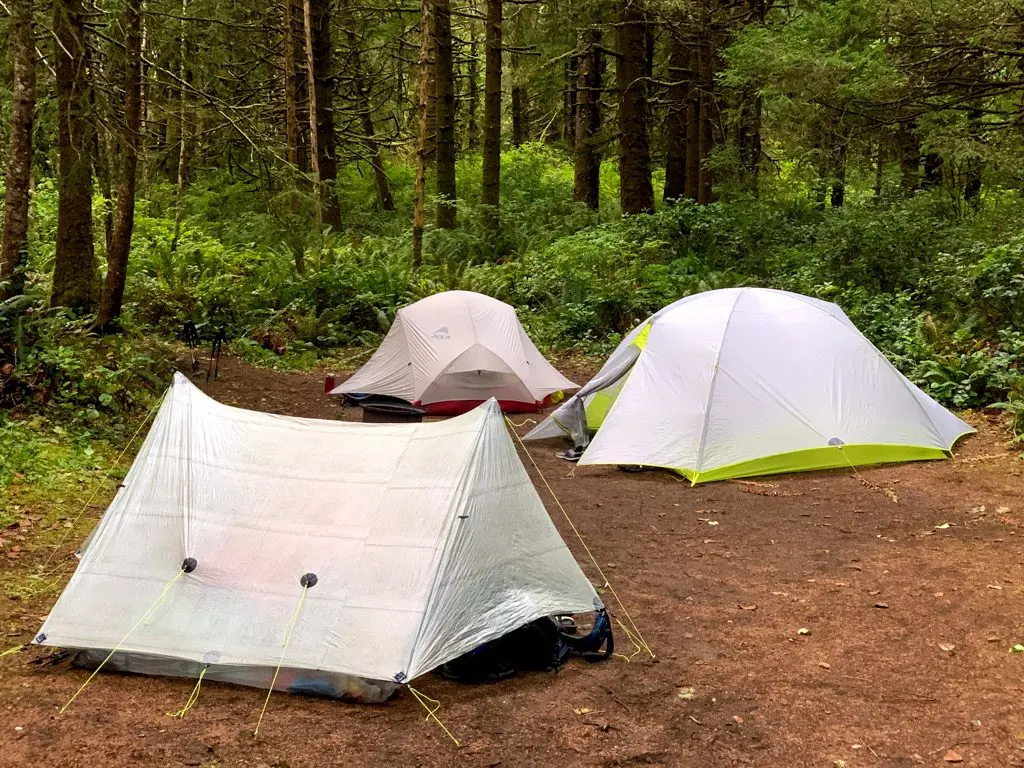 One of the cheapest ways to go on a weekend getaway from Vancouver is to go camping. There are lots of amazing camping spots fairly close to town. You can camp on a lake, by the ocean, or in the mountains. However, camping is popular so make a reservation in advance to make sure you get a spot. Below are some of my suggestions for the best campgrounds near Vancouver.
I've got a whole post with a big list of over 40 places to go camping near Vancouver. It includes options in the Sea to Sky, Fraser Valley, near Hope, in Washington State, and reachable via a short ferry on the Sunshine Coast, Gulf Islands, and Vancouver Island.
With over 20 weekend trips from Vancouver on this list, I'm sure you'll find one to add to your list. What is your favourite weekend getaway from Vancouver? Tell me in the comments.
More posts you'll like: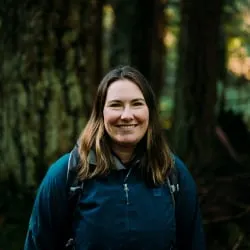 Latest posts by Taryn Eyton
(see all)