Getting to visit Lake O'Hara in Canada's Yoho National Park is likely a once-in-a-lifetime experience. (Mostly because reservations are SO hard to get!) And you definitely want to make sure you have the right gear on your once-in-a-lifetime trip so you can stay warm, dry and happy. I spent 4 days at Lake O'Hara this July camping and hiking. We had some chilly nights, sunny days and crazy rainstorms. And since we stayed at the famous Lake O'Hara campground we had to pack a bit like we were backpacking and a bit like we were car camping thanks to the luggage limit on the bus. Now that I've been to Lake O'Hara I have a better idea of what to bring. So I've put together two packing lists for you. There's a Lake O'Hara packing list for hikers that has everything you need for a day on the trails, no matter what the weather. And there's a Lake O'Hara packing list for campers staying at the Lake O'Hara campground. Enjoy!
READ NEXT: Your Guide to Camping and Hiking at Lake O'Hara in Yoho National Park
Hey there: Some of the links in this post are affiliate links, which means I earn a small commission at no extra cost to you if you make a purchase. Thanks for supporting my website! -Taryn
This is a sensitive wilderness area. Learn how to Leave No Trace to keep the wilderness wild. Make sure you are prepared by bringing the 10 Essentials. Get ready for adventure with this checklist of things to do before every hike.
Lake O'Hara Essentials for Every Visitor
National Parks Pass
You need a National Parks Pass to park at the Lake O'Hara parking lot. You can buy day passes and multi-day passes at Yoho National Park visitor centre in Field, BC. If you plan to spend more than seven days in any Canadian National Park in a 12 month period, it makes more financial sense to buy an annual Discovery Pass. You can buy one online or at any visitor centre. Leave your Parks Pass on the dash of your vehicle in the Lake O'Hara parking lot.
Bus and Campsite Reservations
You need to make advance reservations for the Lake O'Hara Bus and Lake O'Hara campground. (Read more about how to make reservations in my Lake O'Hara guide.) Bring a print out of your confirmation email or save it as a PDF on your phone. The Park Ranger will ask to see it when you check-in at the bus stop and the campground.
Cash
If you want to buy any snacks or souvenirs at Le Relais, the day-use shelter/coffee shop, you will need to bring cash to Lake O'Hara. You can also buy lunch or afternoon tea at the Lake O'Hara Lodge… but they only take cash. And if you lose your return bus token or you walk up and are hoping to get on the return bus on stand-by you can only pay for the bus in… you guessed it… cash.
Map and Guidebook (Optional)
The Lake O'Hara area has excellent signage so it's pretty easy to find your way. However, with so many trails to choose from, it can be hard to plan your route without a map. Gem Trek makes a Lake O'Hara specific map. (This is the only map they sell at Le Relais.) However, for some perplexing reason, this map doesn't have trail distances on it. I brought the more general Lake Louise and Yoho National Park map, which has a Lake O'Hara inset. That one DOES have trail distances and I found it waaay more helpful.
While it's not essential, I liked having a guidebook to choose which trail to hike. I used Don't Waste Your Time in the Canadian Rockies by Craig and Kathy Copeland. They have a no-BS attitude that is refreshing. Their guidebook is hefty, but it comes with little mini booklets that weigh next to nothing so you can bring them on the trail.
Compass and/or GPS (Optional)
We carry a GPS on all our hikes since we like to be able to tell how far we have walked (and therefore how much further we have to go). We didn't need the GPS for navigation at all at Lake O'Hara since the trails were so well marked. We use a basic Garmin eTrex 30x GPS. It has an easy to use interface and isn't too expensive.
Join the Lake O'Hara Facebook group
Hiking Gear to Pack for Lake O'Hara
Day Pack with Rain Cover
If you're going hiking, you'll need a backpack to carry your gear. For day hikes, I like ones that have about 20-25 litres of capacity and have a spot to hold my hydration reservoir. I also love ones with hip belt pockets so I can easily grab snacks, lip balm or my phone without taking the pack off. I brought my Gregory Jade 28 to Lake O'Hara. It was big enough to carry my rain gear, snacks, camera, and water. Plus it comes with a rain cover that was REALLY helpful on wet days. The men's version is the Gregory Zulu 30.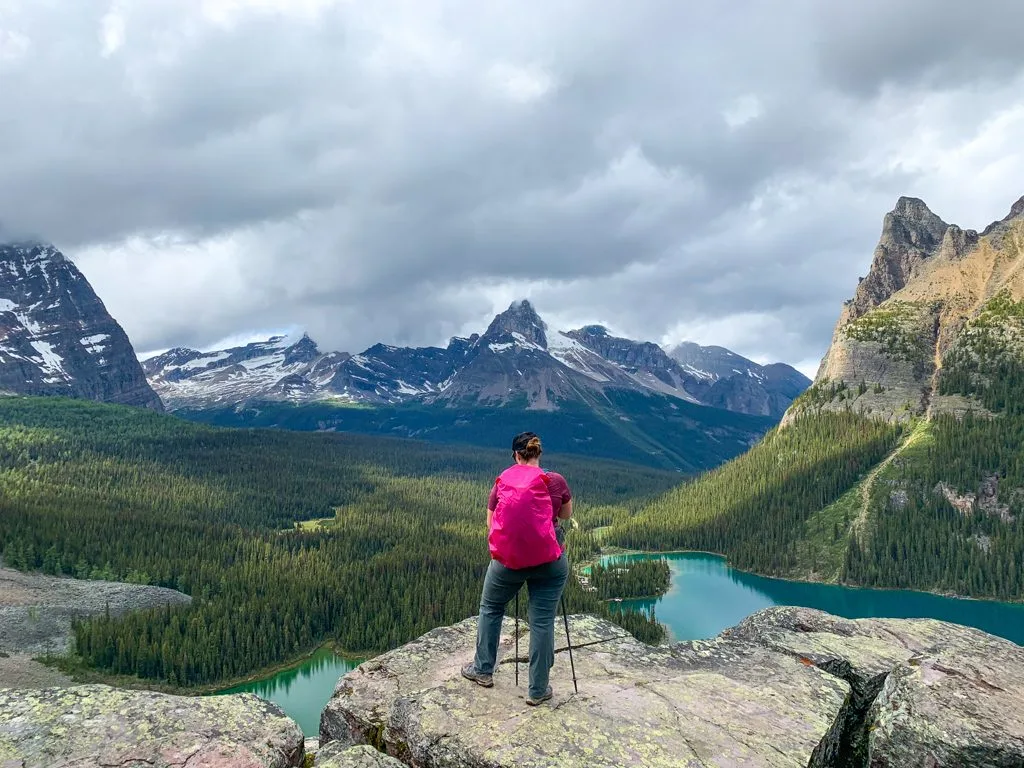 Hiking Boots
The trails in Lake O'Hara are meticulously maintained, but there are some really steep sections and lots of rocks. Wearing hiking boots gives you ankle support. And the tread on hiking boots also gives you better traction on steep slopes so you won't skid out the way you might in running shoes. I brought my trusty Salomon X Ultra Mid hiking boots to Lake O'Hara. They're pretty lightweight and breathable, so they don't get too hot.
Hiking Socks
One of the biggest mistakes new hikers make is wearing their regular cotton socks on a hike. Cotton socks hold in your sweat. That's a surefire way to get blisters! Wearing proper hiking socks made of wool or synthetics will help keep your feet dry. I love Darn Tough Light Hiker Micro Crew socks. They're comfortable and seem to last forever. (Want more tips on fighting blisters? I've got a whole post about how to prevent blisters while hiking.)
Quick-drying Hiking Clothing
You can definitely hike in your regular clothes, but they won't be as comfortable. Bring some hiking pants or shorts and a hiking shirt made of quick-drying synthetic material. They'll keep you cool and dry when you get sweaty! My current hiking favourites are the Patagonia Capilene Cool Trail t-shirt and the Black Diamond Valley shorts. And don't forget quick-drying hiking underwear.
READ NEXT: 12 Best Women's Hiking Pants (Picks for Every Body Type)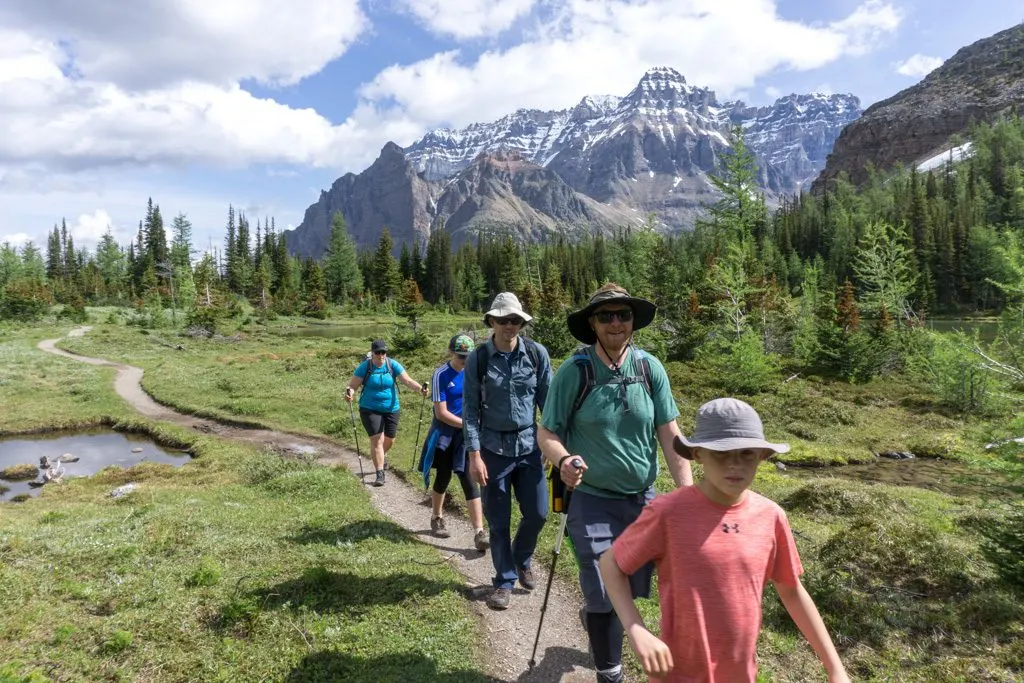 Fleece or Lightweight Puffy Jacket
Even if you visit in the middle of summer, Lake O'Hara can be chilly since it's high in the Rocky Mountains. Pack a cozy fleece jacket or a lightweight puffy to wear for chilly mornings and evenings. On my visit in mid-July, I ended up wearing my MEC Rockwall fleece at some point every day. I also wore my old MEC down jacket at night in camp. My husband loves his Patagonia Nano Puff Jacket. For a synthetic puffy it's really light and warm. It comes in a women's version too.
Rain Gear
It can rain at any time at Lake O'Hara. On my trip, we had a few light showers. And then one afternoon the heavens opened up for an hour into a torrential downpour. I kept my rain jacket in my day pack on every hike and was glad to have it. My husband and I both really love our 3-layer Gore-Tex MEC Synergy Jackets.
If rain is in the forecast, rain pants are a great idea. I brought mine and wore them around camp in the downpour. Pack a pair of waterproof breathable rain pants that you can easily layer over top of your hiking pants. I like ones with side zippers for venting that are easy to put on and take off without removing your shoes. I have the MEC Hydrofoil Rain Pants.
Bear Spray
The core Lake O'Hara area doesn't usually have very many bears, but they are around. However, the McArthur Valley and Linda Lake area nearby are home to lots of grizzly bears and black bears. Carry bear spray and make lots of noise when hiking. Make sure you get a bear spray holster so you can attach it to your backpack or belt. I've got lots more tips for hiking and camping in bear country in this post.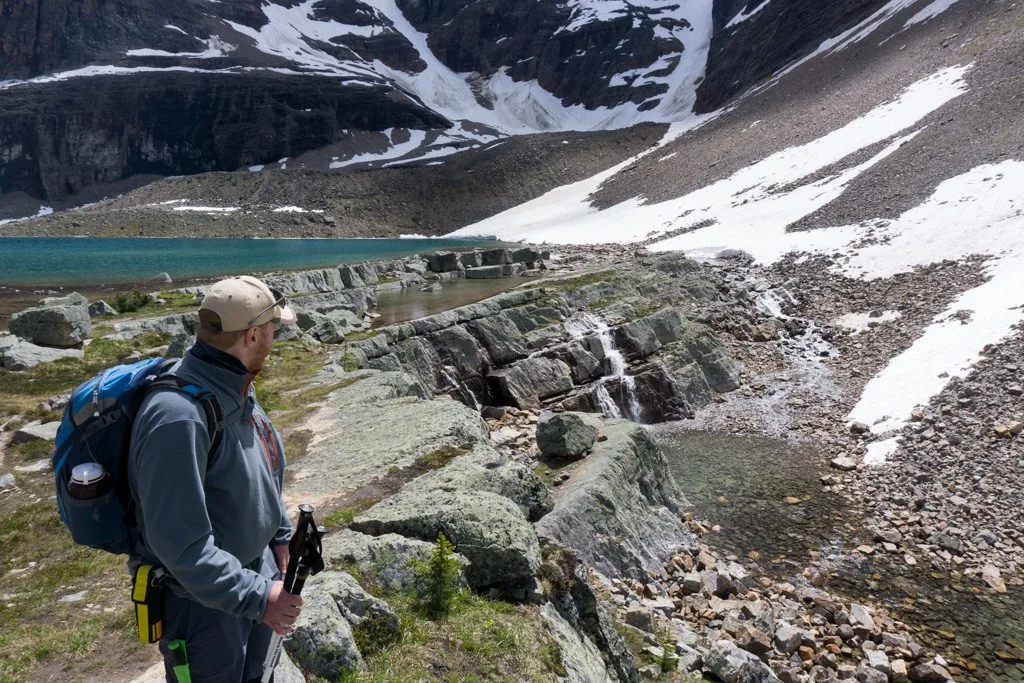 Sun Protection
The sun can be really harsh at Lake O'Hara since it's at such a high elevation. Bring a wide-brimmed hat or baseball cap for protection. You'll also want lots of high SPF sunscreen and some SPF lip balm to avoid burned lips. Pack some sunglasses too. I like polarized sunglasses as they make the colours of the glacier lakes really pop. I have a few pairs of MEC sunglasses since they have fun frame options and they aren't too expensive for polarized glasses.
Bug Spray
In early summer, the mosquitos at Lake O'Hara can be bad. If you're sensitive to bites, bring some insect repellent. I like bug sprays that use picaridin instead of DEET since it is just effective against insects but doesn't melt synthetic clothing the way DEET can.
First-Aid Kit
Pack a basic first-aid kit. Make sure it includes bandages, gauze, and medical tape. You'll also want to have lots of foot care supplies such as Moleskin or Second Skin for blisters. (Check out my full list of blister care and prevention tips and tricks.) Bring anti-inflammatory painkillers like Advil, and anti-diarrhea pills like Immodium just in case. And don't forget your usual prescription medications.
I like the Adventure Medical Ultralight first aid kits since they come in a water-resistant pouch. I always add more stuff to them, like more blister care and bandaids.
Camera or Phone and Charger
Lake O'Hara is STUNNING! You'll want to take all the photos (and videos!) I brought my Sony A6000 camera. It's a mirrorless camera which is more compact than a full DSLR but still produces high-quality images. I find it easy to use, plus it's not that expensive.
I also brought my iPhone for quick on-the-go shots. There is no cell service at Lake O'Hara, so I kept it on airplane mode. Taking so many photos and videos, plus cold nighttime temperatures meant that my battery died pretty quickly. I was glad I brought a portable power bank to stay charged. I use a tiny Goal Zero power bank that charges my phone a couple of times.
Water Bottle or Hydration Reservoir
You need to stay hydrated at high elevations. Bring a water bottle or hydration reservoir. If you run out, you can fill up at the campground. I recently got a Platypus Big Zip hydration reservoir. It's pretty lightweight and the closure is really bomb-proof so it doesn't leak.
Toilet Paper and Hand Sanitizer
There are a few outhouse-style toilets in the Lake O'Hara area. You can find them at the parking lot, in the campground, at the Elizabeth Parker hut and next to Le Relais. Parks Canada supplies toilet paper and hand sanitizer, but they do run out. Keep some with you just in case. And if you really need to go and can't make it to a toilet, go to the bathroom the Leave No Trace way: Dig a small hole 70 big steps away from trails, roads, campsites, and water. Then bury your waste, and pack out your toilet paper in a plastic bag. I carry a super lightweight titanium trowel for backcountry poo-mergencies. Hilariously, it's called the Deuce of Spades.
Snacks
You can buy snacks and drinks and Le Relais (get the carrot cake!!), or eat lunch at the Lake O'Hara Lodge, but plan to bring a few snacks on the trail. My current favourite hiking snacks are Moon Cheese and ProBars.
Trekking Poles (Optional)
Besides the Lakeshore Trail, all the trails at Lake O'Hara have some super steep sections. Trekking poles can be really helpful for saving your joints on the downhills or keeping your balance. I also found them really helpful on the steep and slippery snow patches we encountered on the Alpine Circuit. I've been hiking with poles for the last 15 years and can't imagine going without them. So of course, I brought my Black Diamond trekking poles to Lake O'Hara.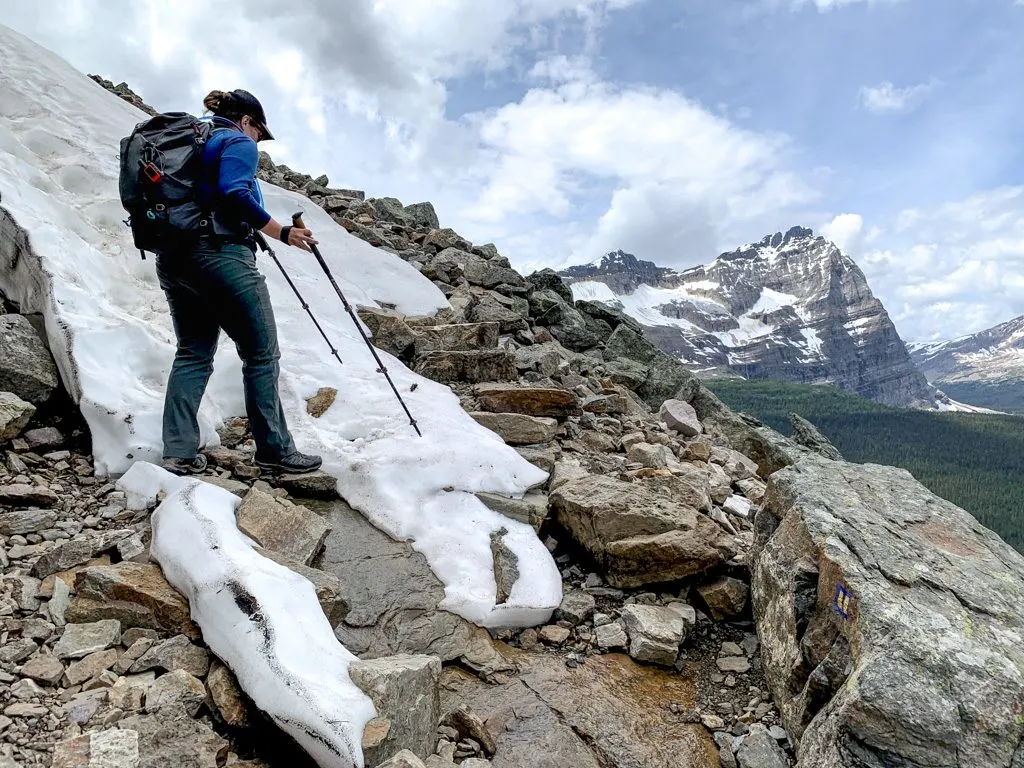 Join the Lake O'Hara Facebook group
Camping Gear to Pack for Lake O'Hara
One of the best ways to experience Lake O'Hara is to camp. After the day hikers leave on the last bus of the day, it really quiets down. When planning to camp at Lake O'Hara keep in mind that it is at 2,020m elevation, which means it can be chilly at night, even in the summer. The average low temperature in June, July, and August is between 2 and 5C (36-41F). Brrrr! As well, afternoon and evening thunderstorms are common, so you'll want to make sure you are prepared for rain. There's also the bus baggage limit to contend with. All your gear must fit in one large bag per person. (Read more about the bus baggage limit in my Lake O'Hara guide.) In practice, that means camping like you are going on a backpacking trip. If you are camping at Lake O'Hara, bring all the things on my hiking gear list above, plus these items:
Backpacking Pack or Duffle Bag
The baggage limit for the bus is one large bag or two small bags per person. Many people choose to bring their backpacking pack. However, backpacking packs usually have only 60 to 75 litres of capacity. But you can get a duffle bag that holds up to 100 litres and still fits within the maximum baggage dimensions for the Lake O'Hara bus. My husband and I brought one backpacking pack and our 100L MEC Scully Duffle Bag. It's a really rugged duffle bag that is also waterproof. It was helpful to have it as we could store extra gear in it outside our tent without worrying about rain. You might be tempted to bring a giant hockey bag. (So Canadian, right?) But they are too big so Parks Canada doesn't allow them.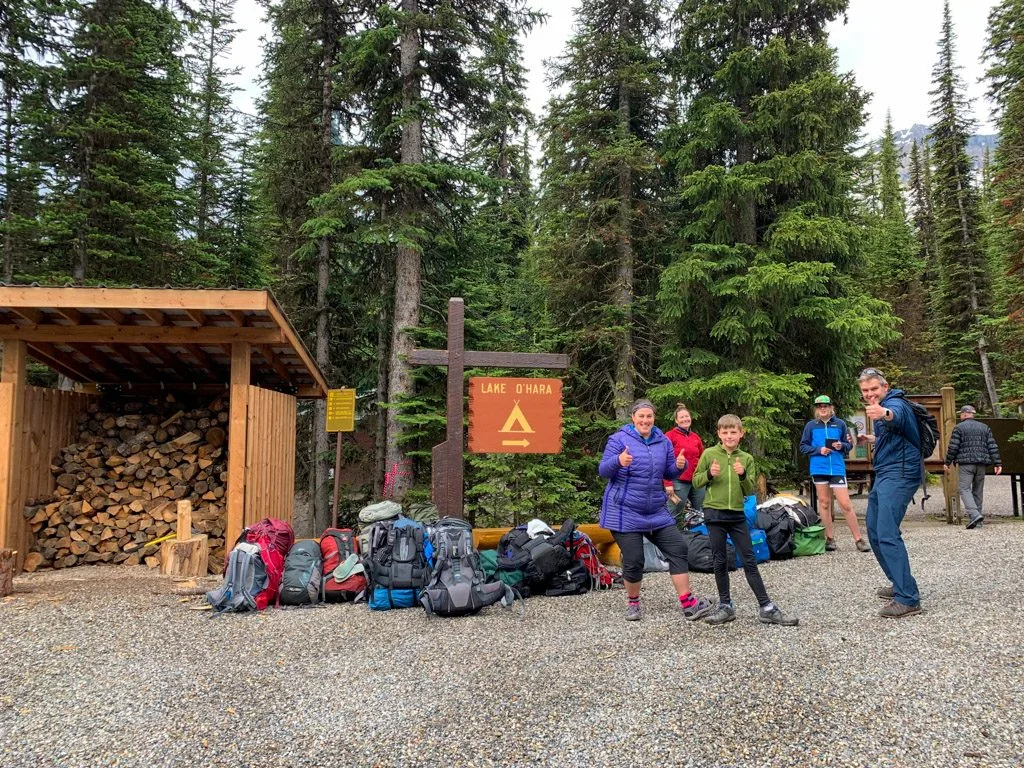 Tent
Bring a waterproof tent that can stand up to rain. If possible, choose one with a full-length rain fly that reaches all the way to the ground and covers the door. That offers MUCH more protection than the ones with a little fly on the top. The tent pads fit 4-person tents or smaller. We lent our MEC Volt 4 LT to our friends for our Lake O'Hara trip. It's a big tent, and it just fit on the tent pad. MEC has updated this tent and it's now called the MEC AMP 4-Person Tent.
Warm Sleeping Bag and Insulated Sleeping Pad
The Lake O'Hara campground is at 2,020m elevation (6627 feet). It can be cold at night up there! Pack a sleeping bag rated at least 0C (32F), but preferably -5C (23F). Choose one with a hood for extra warmth. I brought my winter sleeping bag, the Therm-a-Rest Oberon 0F. It was overkill, but I was definitely toasty warm!
Even the warmest sleeping bag can't protect you from the cold ground. Sleeping pads don't just provide comfort – they also provide insulation since you lose heat to the ground. Choose a sleeping pad that has an R-value of at least 2.5. (R-value measures insulation and warmth). If you expect really cold weather or know you feel the cold at night, pick a pad with an even higher R-value. I use a Therm-a-rest NeoAir Xtherm since I sleep really cold. My husband likes his NeoAir XLite which weighs less but isn't quite as warm.
READ NEXT: How to Stay Warm in a Tent: Over 40 Tips
Pillow (Optional)
You can use a bunched up jacket as a pillow, but bring a compact camping pillow to save your neck. I use a simple MEC inflatable pillow. For a slightly more deluxe experience check out the Sea to Summit Aeros Pillow Premium.
Thermal Base Layer Top and Bottoms
When it's chilly, I sleep in thermal base layers while camping. They keep me way warmer than regular PJs. They are also nice to wear around the campsite under my clothes on cold evenings and mornings. Choose mid-weight thermals made of polyester or merino wool and be sure to pack both bottoms and a long-sleeved top. I sleep cold so I wear a Smartwool merino wool top with a hood and matching bottoms. My husband likes Patagonia's Capilene Midweight long underwear.
Warm Hat and Gloves
You lose a lot of heat through your head and hands. Pack a cozy beanie and some gloves to wear in the evenings.
Headlamp or Flashlight
Pack a headlamp or flashlight to find your way around at night. I like using a headlamp since it keeps my hands free. I use a Petzl Actik. It's super bright and easy to use. Plus the batteries last a long time on low power.
Camp Shoes (Optional)
Pack a lightweight pair of slip-on sandals, flats or Crocs for around camp. You'll want a break from your boots at the end of each day. If you choose to bring camp shoes, pick ones that are light and don't take up too much room in your pack. I like to bring shoes that I can wear with socks for extra warmth. (Flip flops don't work so well for that!)
Stove, Fuel, Pots and Cooking Utensils
There is a fire pit at the Lake O'Hara campground, but you aren't supposed to cook on it. We brought our lightweight Primus backpacking stove and pot.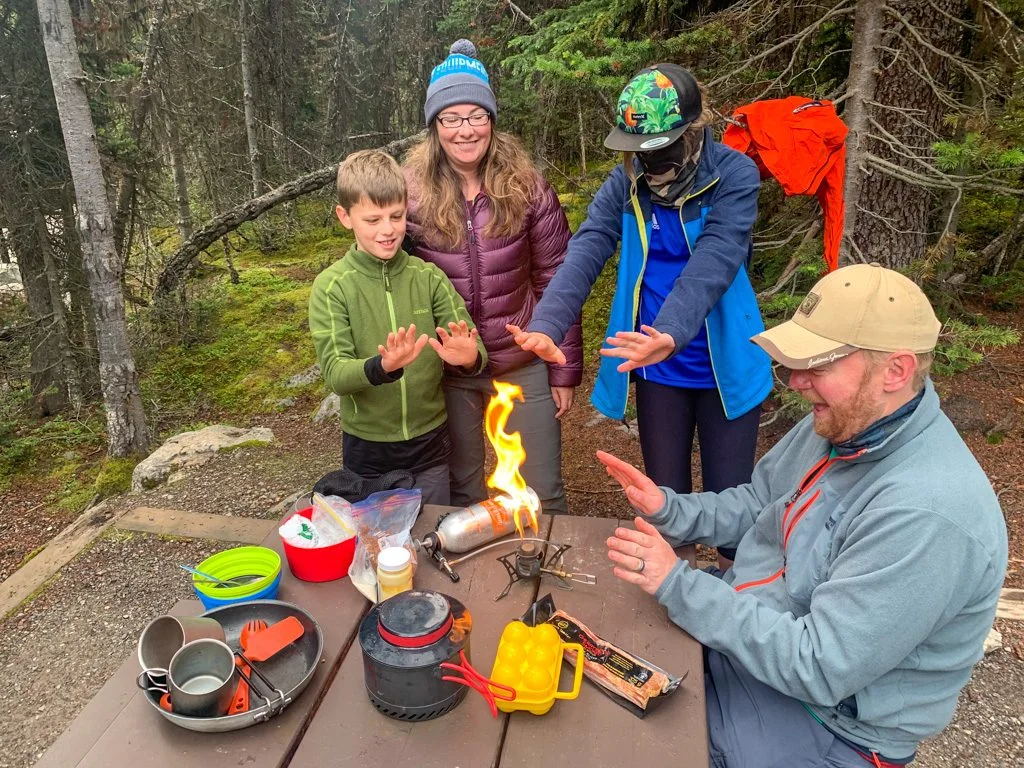 Plates, Mugs, Forks, Cutting Board, and Knife
We brought our collapsible Sea to Summit bowls and our trusty Snow Peak camping sporks. But we totally forget to bring a cutting board. We have this fancy (and amazing) Snow Peak cutting board and knife set. It folds down so it doesn't take up much space – I don't know why we didn't bring it! We also brought our Snow Peak double-wall insulated mugs to keep our drinks warm for longer.
Dishwashing Supplies
We brought a small pot scraper, a tiny microfibre cloth, and some Dr. Bronner's biodegradable soap. There are sinks for doing the dishes at the campground, but they ask you not to put food into them as it clogs the drains. Parks Canada provides a few plastic washbasins. Heat up a bit of water on your stove, then do dishes in the washbasin. Strain out the food particles, then pour the soapy water down the sink and put the food particles in the garbage.
Small Soft-Sided Cooler
You aren't allowed to bring hard-sided coolers to Lake O'Hara. But you can bring a small soft-sided cooler either as one of your two small bags, or tucked inside a larger bag. Your cooler has to fit inside the 24″ cube-shaped bear lockers at the campground so pick a small one. Use ice packs or pack your ice inside ziploc bags to avoid a wet mess inside.
Food
Unlike most backcountry trips, food weight and bulk aren't a problem at Lake O'Hara since you get to take the bus in. We brought fresh food we wouldn't normally bring hiking including veggies and frozen steaks! And don't forget the snacks!
Toiletries
Bring all your usual camping toiletries including a toothbrush, toothpaste, deodorant, baby wipes, hairbrush, and contact solution.
Entertainment for Camp (Optional)
You'll have a few hours each night in camp when you'll need to entertain yourself. Consider bringing a book or some headphones to listen to music or podcasts. The shelters can be really social so a deck of cards or a compact game can be a good way to meet new friends. I always travel with my Amazon Kindle eReader so I have hundreds of books to choose from. We've brought the card game Exploding Kittens on a few trips and it's always a hit.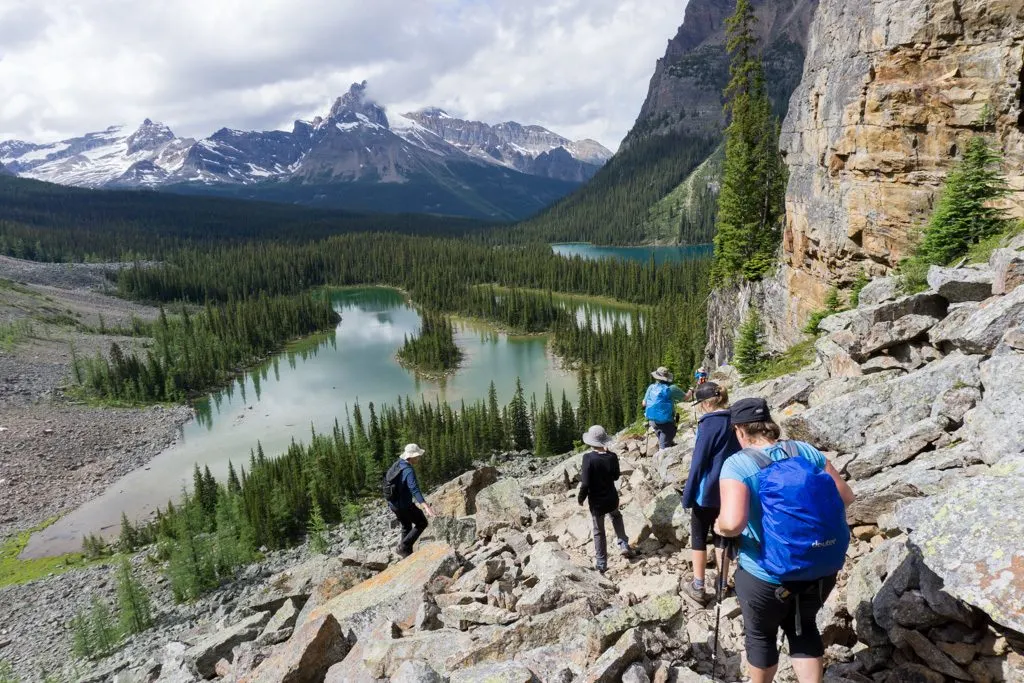 Join the Lake O'Hara Facebook group
Stuff You Don't Need to Pack for Lake O'Hara
Climbing gear: The trails are non-technical and you won't need harnesses, ropes, helmets, crampons, etc. However, if you do plan to climb some of the peaks nearby or head to the former Abbot Pass Hut site, you will need climbing gear, plus the knowledge of how to use it.
Hammocks: They aren't allowed in the campground since they can damage trees.
Camping Chairs: It's against park rules. There are lots of picnic tables and benches in the campground you can use.
Portable speakers or other electronics: Most people come to Lake O'Hara to appreciate the sounds of nature and prefer not to hear your music. The campsites can also be really close together, so you'll want to keep the noise down. Plus they are against the rules
Musical instruments: Parks Canada doesn't allow them.
Hard-sided coolers or plastic bins. They aren't allowed.
Tarps. You can cook inside the shelters in bad weather. And if you want to put a tarp over a picnic table or your tent, there are lots you can "borrow" from the lost and found behind the south kitchen shelter.
Drones: They aren't allowed in any national park unless you have a special use permit.
Your dog: Dogs are permitted on leash on day hikes in the park, but they aren't allowed on the bus or in the campground.
READ NEXT: Your Guide to Camping and Hiking at Lake O'Hara in Yoho National Park
With these two Lake O'Hara packing lists, you should have everything you need to have an awesome trip, whether you are hiking or camping. If you have questions about what to bring to Lake O'Hara, please leave me a comment. I'm always happy to help!
MORE CANADIAN POSTS:
MORE HIKING GEAR POSTS: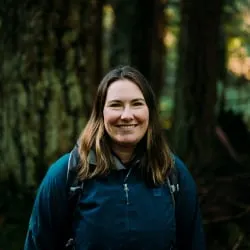 Latest posts by Taryn Eyton
(see all)