Mount Crumpit is one of my favourite hikes in Squamish. As a local, I've hiked it countless times. It never disappoints since it has great views from the top and involves a walk through a beautiful forest. You can hike it year-round, and it only takes a few hours so it has a great effort to reward ratio.
Since I have so much experience hiking in the area, I've put together a complete trail guide to Mount Crumpit for you. It uses my favourite trails to make a route to the top that is easier to follow and less steep than most other options. It also has bonus viewpoints that many people miss.
This Mount Crumpit trail guide includes:
Key trail stats for this hike to Mount Crumpit
Info where to get the best maps and navigation apps to make your Mount Crumpit hike less confusing
Driving directions to the trailhead
Turn-by-turn hiking directions with lots of photos for my recommended route
This is a sensitive wilderness area. Learn how to Leave No Trace to keep the wilderness wild. Make sure you are prepared by bringing the 10 Essentials. Get ready for adventure with this checklist of things to do before every hike.
Hey there: Some of the links in this post are affiliate links, which means I earn a small commission at no cost to you. Thanks for your support. -Taryn
Mount Crumpit Basics
At 331 meters high, Mount Crumpit is not an impressive peak. But the views from the top are some of the most unique in Squamish – you can see the Stawamus Chief, Shlaney, and Howe Sound from the summit. If you know where to look, there are lots of other great viewpoints too.
A confusing network of trails surrounds Mount Crumpit, so there are several ways to get to the top. As a Squamish local, I've hiked them all. The route I've chosen is the most scenic, is the easiest to follow, and avoids incredibly steep terrain wherever possible. My route also takes you to several great viewpoints that many people miss out on!
It's a relatively easy hike, but I've chosen to give it a moderate rating for two reasons: Firstly, it has one very steep, slightly scrambly section that many people may want to use their hands for. Second, it requires a bit of navigation skills as the trail network is confusing. (But I've mitigated both of these issues in my route choice so it's a doable hike for most people.)
The Mount Crumpit Trail is located on the traditional territory of the Sḵwx̱wú7mesh Úxwumixw (Squamish). To learn more about the Indigenous context of the area, visit the Squamish Lil'wat Cultural Centre in Whistler. Online resources include the Squamish Nation website and the Squamish Atlas.
Mount Crumpit Trail Stats
Distance: 7.9 km return
Duration: 2.5-3.5 hours
Season: Year-round (bring microspikes for ice and snow between December and February)
Dogs: Allowed off-leash.
Elevation Gain: 242 m
Difficulty: Moderate
Toilets: None. The closest public toilet is at the Squamish Adventure Centre on Highway 99 at Loggers Lane.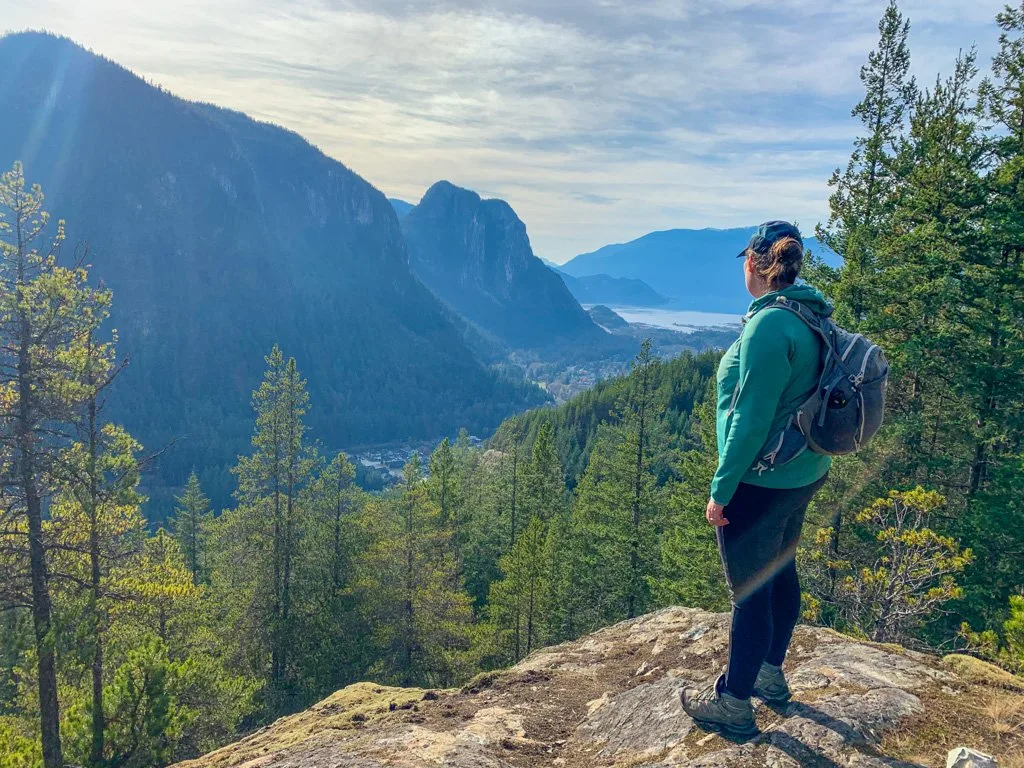 How Did Mount Crumpit Get its Name?
Some speculate that the summit is named for a crumpet (note the spelling) which is a British baked good that is like a cross between an English muffin and a pancake. Since the mountain is low and rounded, some say the mountain is crumpet-shaped.
An alternative name origin is that the peak is named after Mount Crumpit in the Dr. Seuss book, How the Grinch Stole Christmas. (It was also made into a movie starring Jim Carrey in 2000. There's also an animated version from 2018.)
In the story, the Grinch lives on the top of Mount Crumpit, which towers above Whoville. In Squamish, Mount Crumpit does tower over the nearby Valleycliffe neighbourhood, so it's likely some local parents gave the mountain its name to entertain their kids.
Mount Crumpit Trail Map
The Crumpit Woods area is a maze of multi-use trails for hikers, mountain bikers, and dirt bikers. Some of the junctions have signs, but many do not, so it can be easy to get off-track.
I recommend using the Gaia GPS app. The premium version has detailed maps of this area that make it really easy to stay on track.
Psst! Want to save 20% off a premium Gaia GPS annual membership, which includes the maps I use on my trips? Use this link.
You can also buy a paper map of Squamish Trails at the Adventure Centre or download the Squamish Trail Map app for iOS or Android. Proceeds from the sale of maps and apps go to the Squamish Off-road Cycling Association to find trail building and maintenance.
You can see a preview of the map here and I've got a close-up of the Mount Crumpit section below. Keep in mind that the map has only the major trails – there are lots more unofficial trails! Also, some trails have more than one name.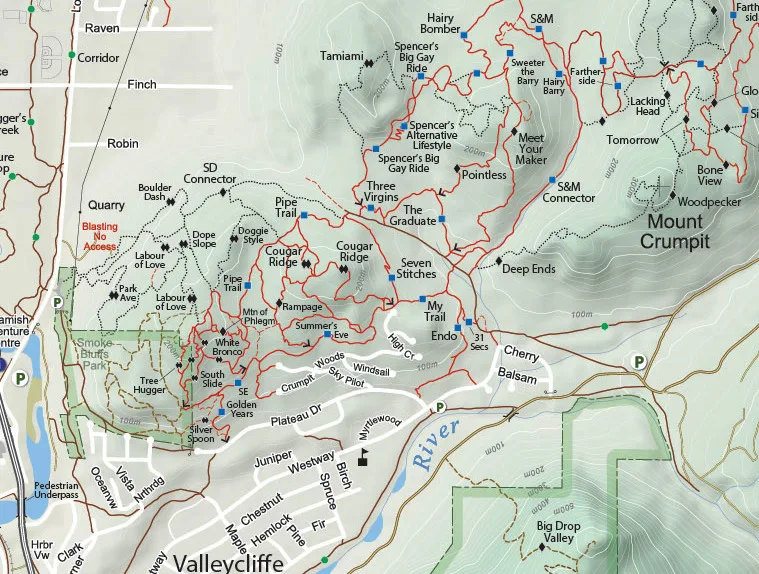 How to Get to the Mount Crumpit Trail
Mount Crumpit is located in the Valleycliffe neighbourhood of Squamish. It takes about 1.25 hours to drive there from Vancouver.
Take Highway 99 north. At the south end of Squamish, turn right onto Clarke Drive at the traffic light, then turn left immediately at the T-junction to stay on Clarke. A few seconds later, follow the road as it curves right and becomes Guilford Drive.
Stay on Guildford as it goes down the hill. At the four-way-stop, turn left onto Westway Avenue. Follow Westway to its end at the intersection with Cherry Drive.
Find a place to parallel park on Westway near Cherry Drive. Be respectful of this residential neighbourhood.
Click here for Google maps driving directions.
Mount Crumpit Trail Hiking Directions
Trip Planner
| | | |
| --- | --- | --- |
| Distance | Elevation | Landmark |
| 0 km | 89 m | Trailhead |
| 0.1 km | 94 m | Bridge/Power line trail junction |
| 0.4 km | 93 m | Power line trail/S+M Connector junction |
| 1.5 km | 149 m | S+M Connector/Fartherside junction |
| 2.6 km | 196 m | Fartherside/Woodpecker junction |
| 3.1 km | 288 m | Woodpecker/Lackinghead Viewpoint junction |
| 3.2 km | 298 m | Lackinghead Viewpoint |
| 3.4 km | 288 m | Lackinghead Viewpoint/Woodpecker junction |
| 3.5 km | 292 m | Woodpecker/Viewpoint Trail junction |
| 3.6 km | 289 m | Mamquam Viewpoint |
| 3.8 km | 293 m | Viewpoint Trail/Woodpecker junction |
| 3.9 km | 301 m | Woodpecker/Stairway to Heaven junction |
| 4 km | 310 m | Main viewpoint |
| 4.05 km | 322 m | North Summit |
| 4.2 km | 331 m | Main Summit and west viewpoints |
| 4.3 km | 301 m | Stairway to Heaven/Woodpecker junction |
| 4.4 km | 293 m | Woodpecker/Viewpoint Trail junction (south) |
| 4.6 km | 292 m | Woodpecker/Viewpoint Trail junction (nouth) |
| 4.7 km | 288 m | Woodpecker/Lacking Head viewpoint junction |
| 5.2 km | 196 m | Woodpecker/Fartherside junction |
| 6.3 km | 149 m | Fartherside/S+M Connector junction |
| 7.4 km | 93 m | S+M Connector/Power line junction |
| 7.8 km | 94 m | Powerline trail/bridge junction |
| 7.9 km | 89 m | Trailhead |
Your hike starts at the trailhead at the corner of Westway Avenue and Cherry Drive. It's marked with a large signboard. Follow the trail to a wooden bridge. On the other side of the creek, turn left and join a wide gravel path. Stay on the main trail under the power line for a few minutes.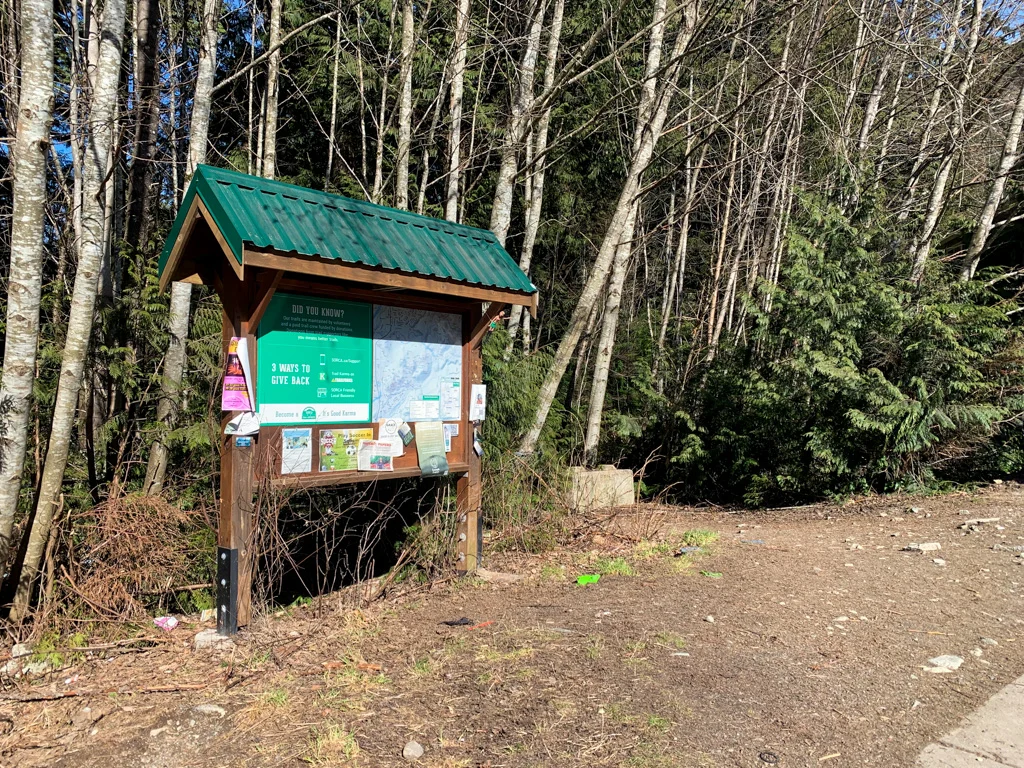 Once the path turns to boardwalk, take the right fork, signed "S+M Connector". (Almost immediately after turning onto S+M Connector, pass a side trail heading right next to large fallen log. This is Deep Ends Trail. It also goes to the summit of Mount Crumpit. Many other trail guides recommend this route but I don't as it is very confusing with many braided trails. It is also punishingly steep.)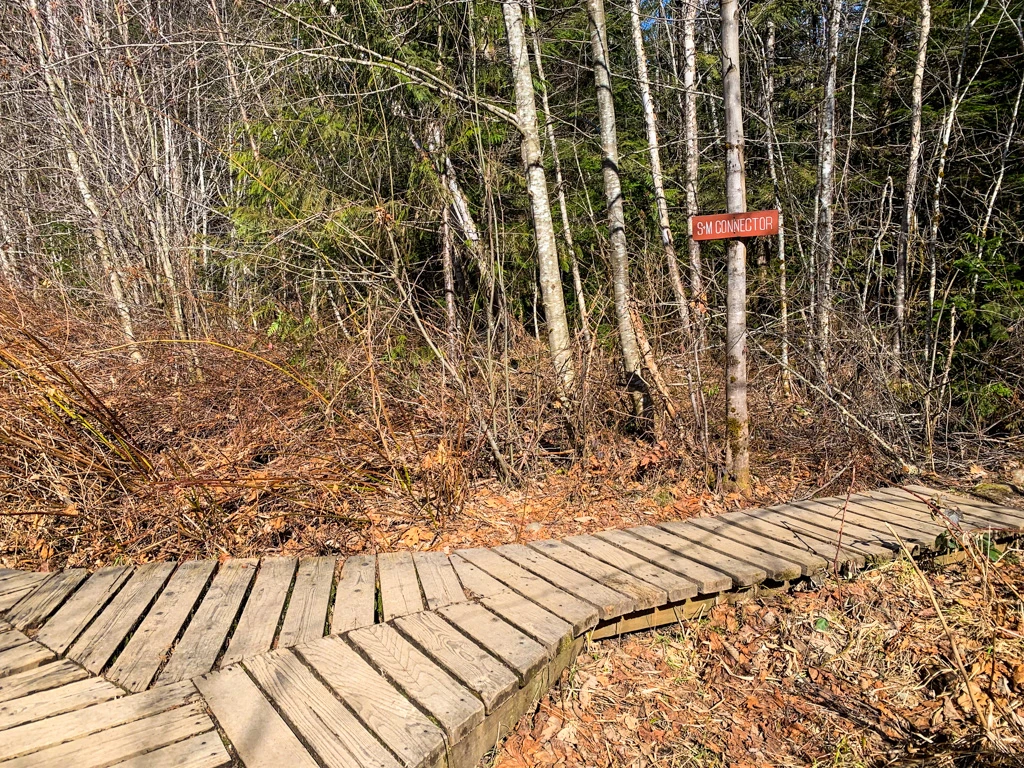 Follow S+M Connector as it follows the banks of Little Stawamus Creek, ignoring side trails. S+M Connector is an old road, so it is fairly wide. After about 1 km, the trail leaves the old roadbed to the left on a new reroute that avoids a wet, marshy section. Follow the reroute for a minute up a small hill, then down the other side. Ignore a trail going left.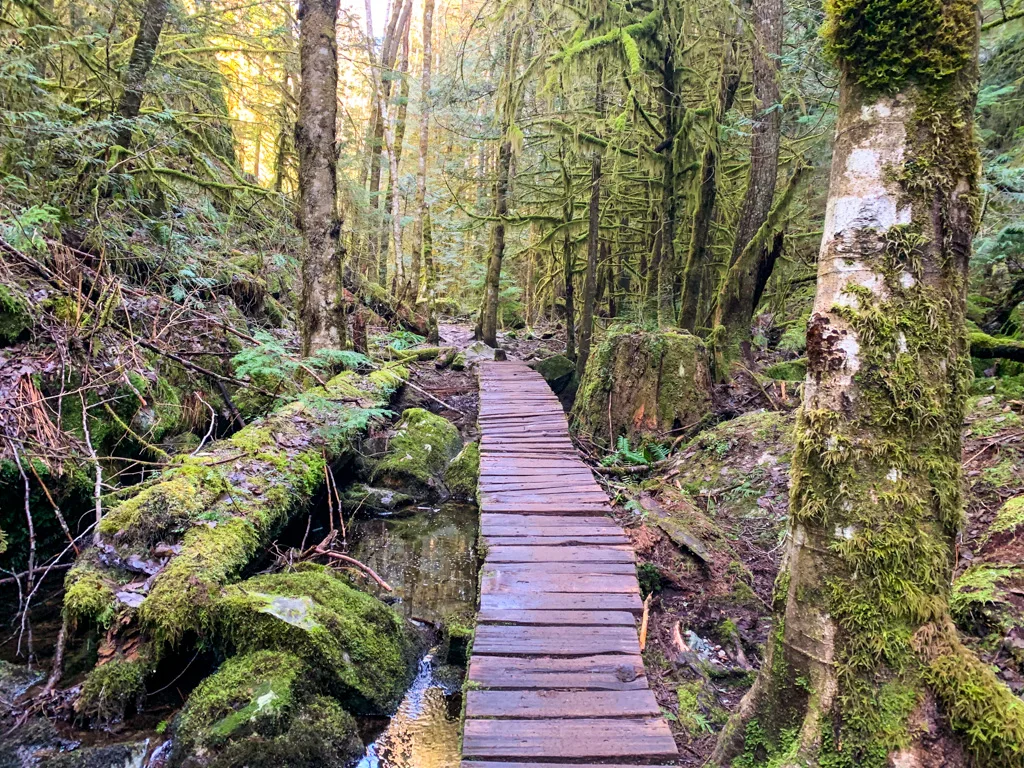 After the trail descends from the reroute, arrive at another intersection. Follow the signs to go right onto the Fartherside Trail. This trail makes a broad switchback as it climbs up the hill through an open forest of big leaf maple trees and ferns.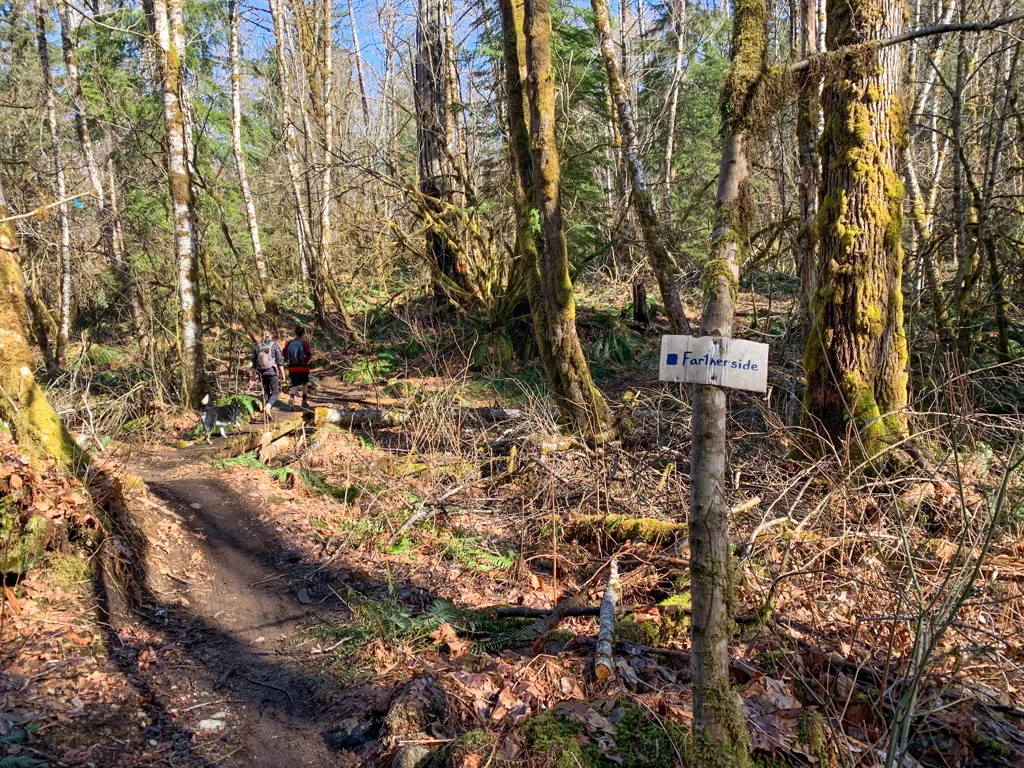 As the trail works its way south again, it heads back into the coniferous forest and reaches another junction. Follow the signs to stay on the Fartherside Trail instead of taking the Lacking Head Trail.
The path curves back around to the north and passes over several rock outcroppings. The forest is gorgeous through here with lots of salal and Oregon grape in the understory. Ignore a steep trail called The Raaa going left and another junction with Lacking Head on the right.
The trail dips slightly to cross a small creek on a boardwalk. Almost immediately afterwards, look for the Woodpecker Trail branching right. The turnoff is in a brief section of open maple forest – if you get back into the tighter coniferous forest you've gone too far.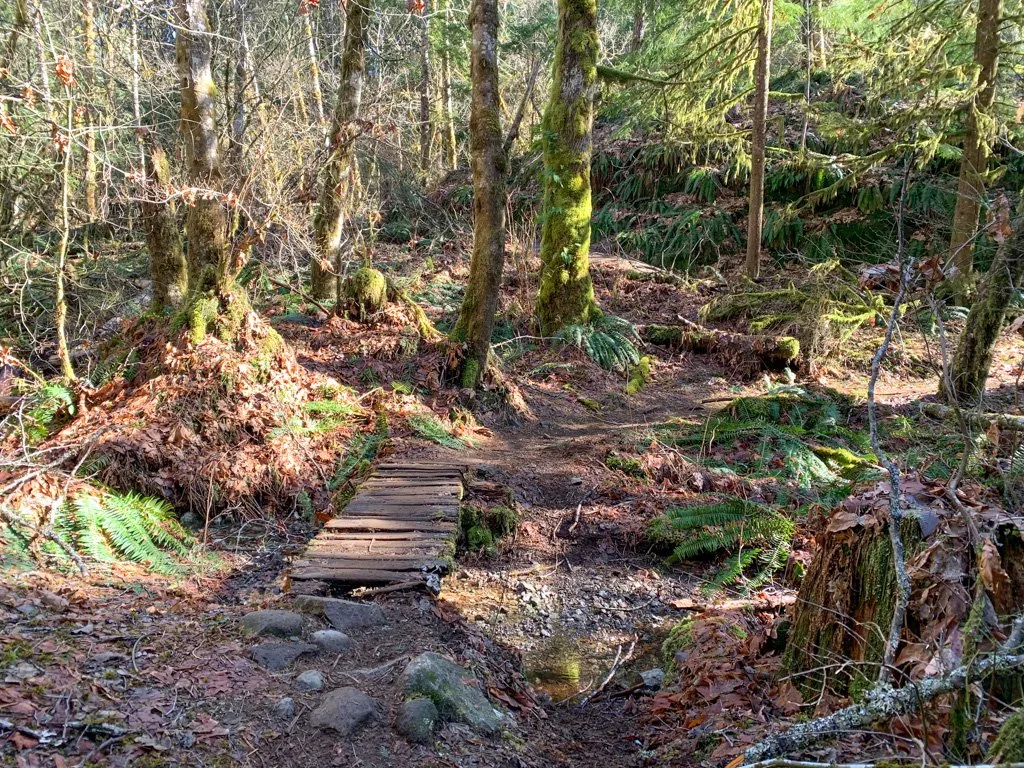 The Woodpecker Trail heads steeply uphill. Once you see a strangely contorted tree on your right, you'll know you're almost at a gentler section. A few minutes after the tree, arrive at a junction. Look for a "Woodpecker" sign high on a tree.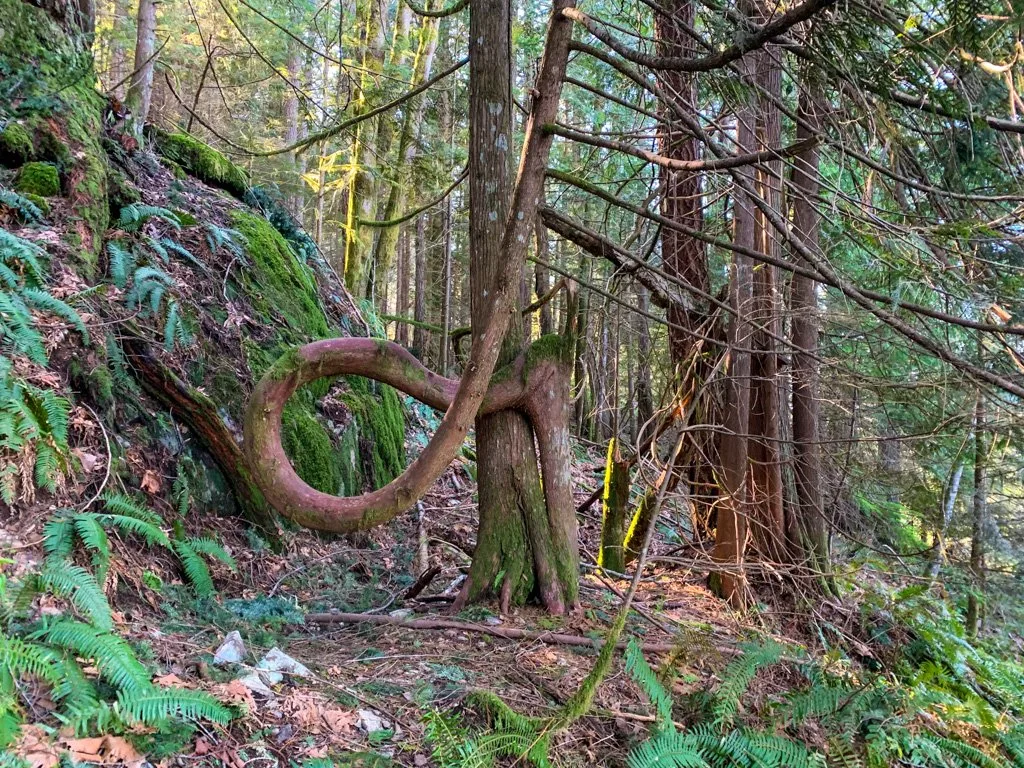 If you want to make a brief detour, follow the path to the left up onto a rocky outcropping. This is Lacking Head Viewpoint. It has great views of the northern part of Squamish and the Tantalus Mountains on the other side of the Squamish River. When you are done admiring the views, head back to the intersection.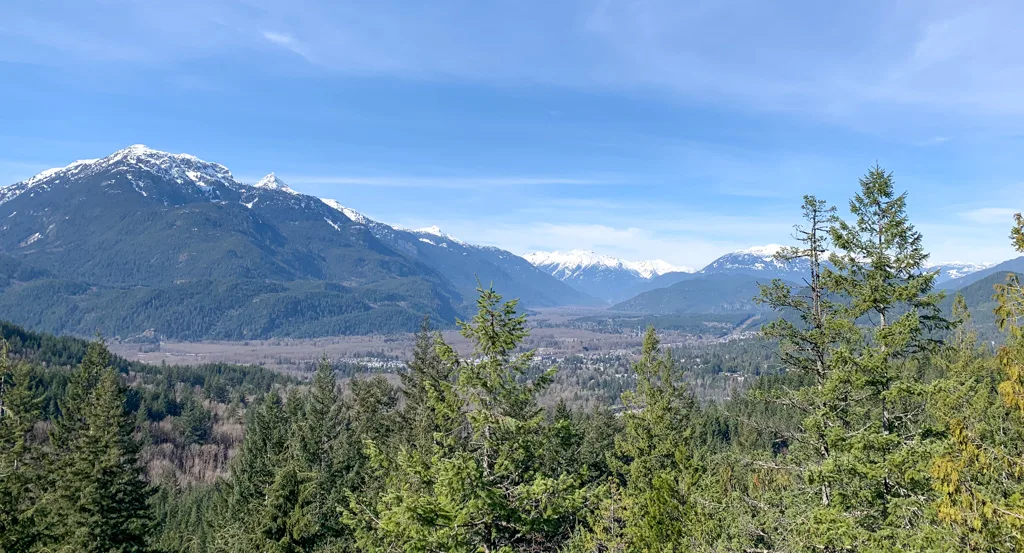 Back at the intersection, head south onto the Woodpecker Trail. (If you are coming from Lacking Head Viewpoint, go straight. If you skipped the viewpoint, turn right.)
One minute later, reach another intersection with a hand-lettered white sign. Choose between the direct route to Mount Crumpit and the longer route via the Viewpoint Trail. Unsurprisingly, I recommend the viewpoint!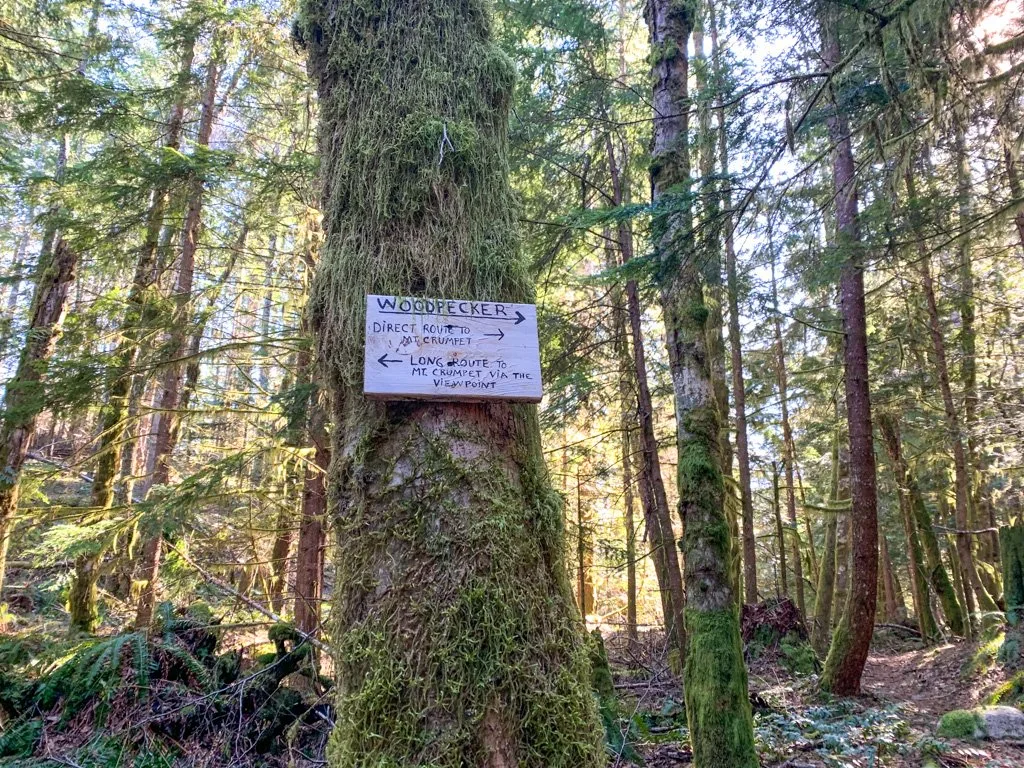 To take the Viewpoint Trail, turn left and follow the trail up a small rise. The trail then heads downhill along the edge of a bluff. Follow a prominent side trail to the left to get to the viewpoint. Look east to the snowy peak of Mamquam Mountain. You can also get a glimpse of Mount Garibaldi (Nch'kay in the Squamish language) to the north.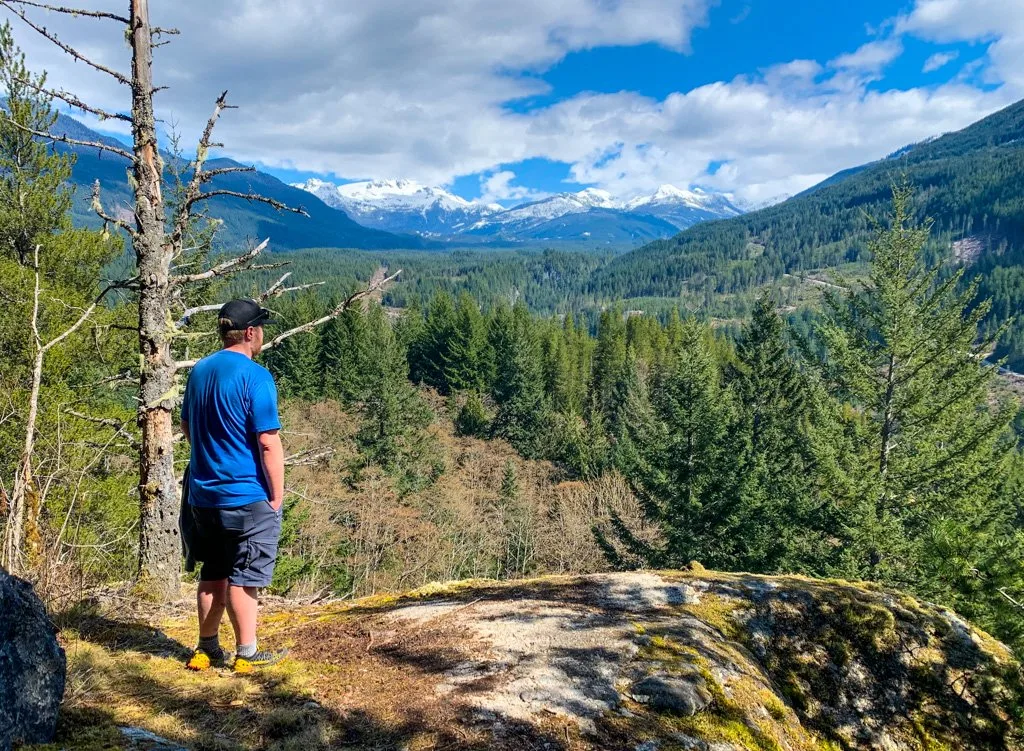 Back on the main trail, the path heads slightly downhill along some rock outcroppings. Ignore faint dirt bike trails dropping away to the left and stay on the main trail as it curves back west towards a cliffy area. Arrive at an intersection with the Woodpecker Trail at the base of the cliff. Your route to the summit goes left. The trail to the right is your return route.
Follow the main trail over mossy rocks as it ascends very steeply. As you approach a rocky climb, you'll see a sign. Go straight towards the summit. The trail to the left (Stairway to Heaven) is your return route. Scramble up the rocks to a great viewpoint on a bluff. You can see the Stawamus Chief, Slhaney, and Howe Sound.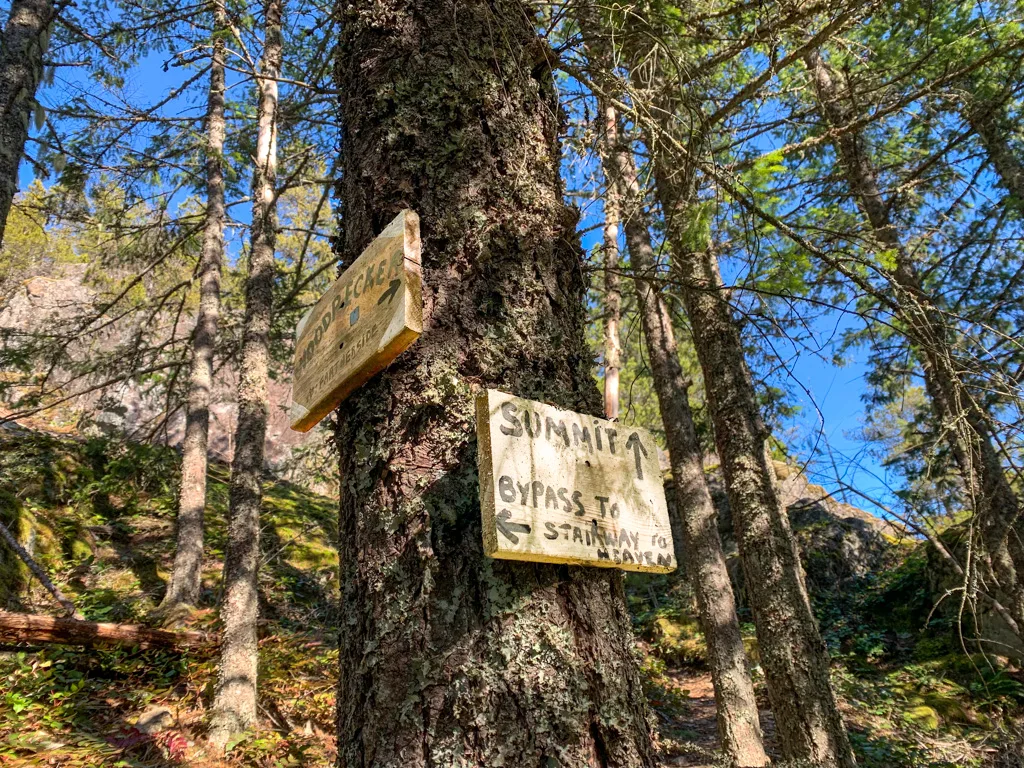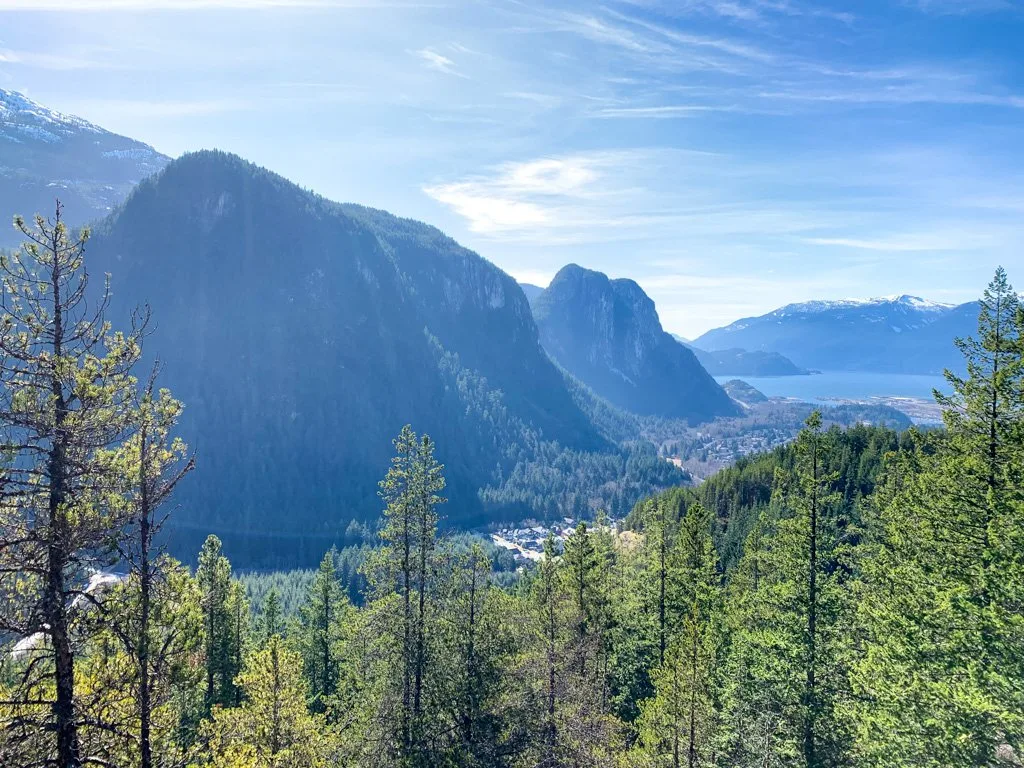 After you've enjoyed the views, follow the trail into the trees to make a circuit around the summit. Almost immediately, encounter a side trail branching right – this goes to the North Summit, which is mostly treed. Continue along the main trail as it drops into a gully, then climbs back up, making a counterclockwise loop around the peak. There are several great viewpoints to the west along here.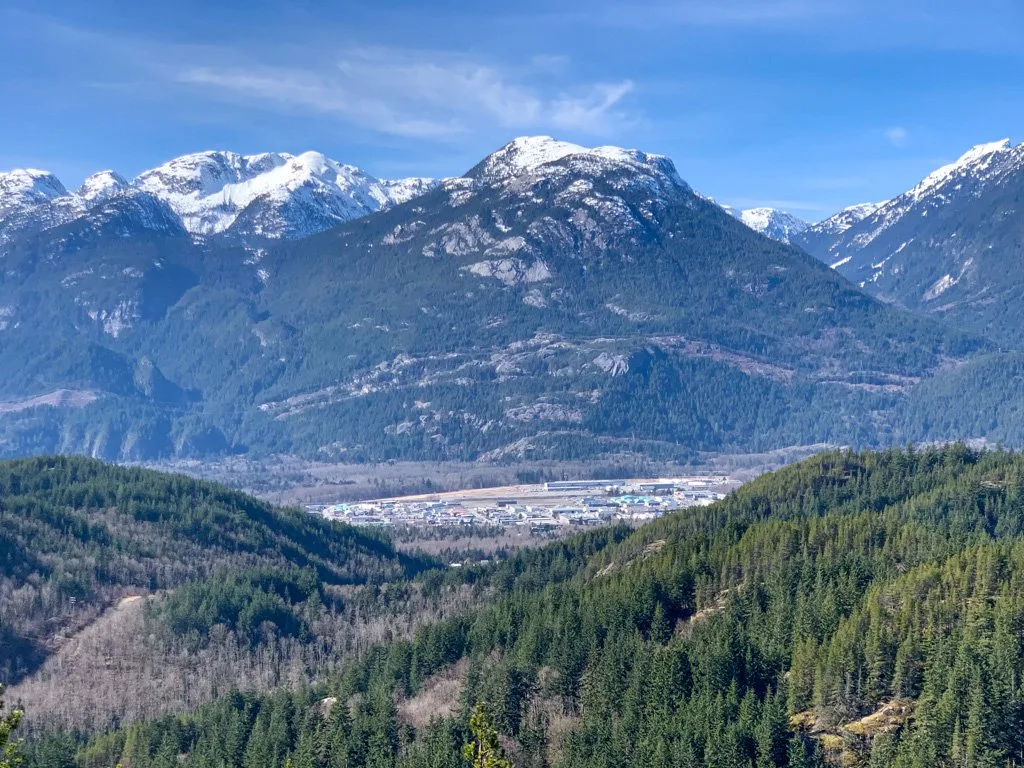 The true summit is on your left, marked with a sign, but it has no views. After one final viewpoint that looks across to Slhaney, the trail drops into a notch and becomes very steep and a little bit loose. This is the beginning of the Stairway to Heaven Trail. A few meters later, look for a short connector trail that goes left to take you back to the Woodpecker Trail.
(Some trail guides will advise you to take the Stairway to Heaven Trail down to the Deep Ends Trail to make a loop. I don't recommend it since it is so confusing to follow and very, very steep.)
You'll rejoin Woodpecker just below the steep rock scramble section you ascended. Head back downhill on Woodpecker, back to the intersection where you joined it from the viewpoint trail. Go left and follow it as it contours around the steep cliffy north side of Mount Crumpit.
Soon you'll arrive back at the junction with the trail to Lacking Head Viewpoint. Turn left to stay on Woodpecker and follow it downhill back to the junction with Fartherside. Retrace your steps on Fartherside, S+M Connector, and the powerline trail back to the trailhead.
So that's everything you need to know to plan a hike to Mount Crumpit in Squamish, BC. Do you have questions about the Mount Crumpit Trail? Let me know in the comments. I'm always happy to help.
MORE SQUAMISH and SEA TO SKY POSTS: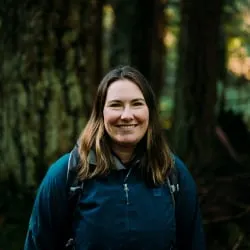 Latest posts by Taryn Eyton
(see all)