Finding a weather forecast for hiking can be tough because most weather apps just have forecasts for cities and towns. Since it's so important to know the weather when you hike, I've put together a complete guide to the best weather apps for hiking.
This guide includes:
I've been hiking and backpacking for several decades, usually in the notoriously wet weather of British Columbia, so I've developed lots of tips and tricks for finding weather forecasts for hiking over the years.
These hiking weather recommendations work anywhere in the world, but they are especially helpful in North America in regions where there is no cell phone service on hiking trails.
This is a sensitive wilderness area. Learn how to Leave No Trace to keep the wilderness wild. Make sure you are prepared by bringing the 10 Essentials. Get ready for adventure with this checklist of things to do before every hike.
Hey there: Some of the links in this post are affiliate links, which means I earn a small commission at no cost to you. Thanks for your support. -Taryn
The Best Weather Websites and Apps for Hikers
Spotwx
While their interface is pretty basic (and maybe a little bit retro!), Spotwx is a great weather website for hikers. The thing I like best about it is you can select a pinpoint location on a map and get a weather forecast for that exact location.
As well, it allows you to toggle between multiple forecast models. I use this to get an idea of what the best and worst-case scenarios might be on my trip. They have a range of shorter and longer-term models to choose from.
I also like the way it displays data in graphs. I often take a screenshot of the graphs so I can refer to them later on my trip. The graphs are pretty small on a phone, but if you zoom in they are easy to read.
Website: Spotwx.com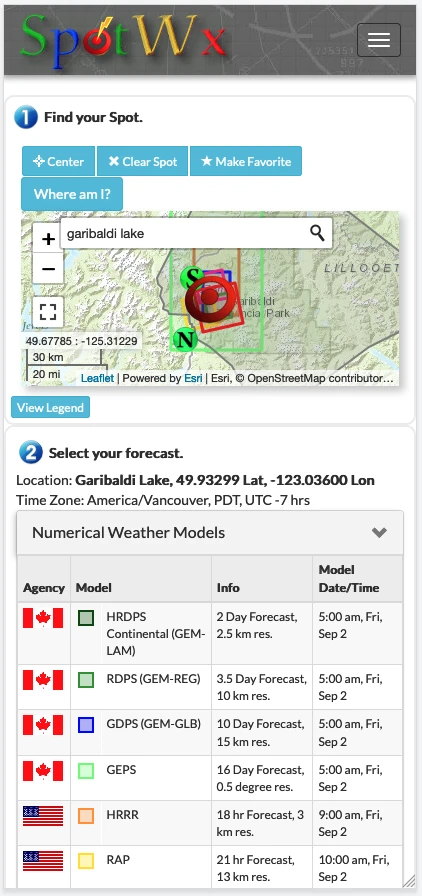 Mountain Forecast
I find Mountain Forecast really helpful for high elevation trips since it provides a weather forecast for thousands of named mountains around the world. It also lets you toggle between a forecast for the peak as well as a few lower elevations (where you are likely going to be camping and hiking).
One of my favourite features of this site is the way they display freezing level and precipitation, both of which can be important in the mountains.
I like the grid display for the forecast and often take screenshots from this site on my trips. They provide a detailed three-day forecast, and then a less precise six-day forecast. (Scroll to the right to see it on mobile.)
The only disadvantage of Mountain Forecast is that it works best if you know the name of a mountain near the trail you plan to hike. But you can always just use the map on the main page to navigate to the area you are interested in, then zoom in to see if there are nearby peaks that have a forecast.
Website: Mountain-Forecast.com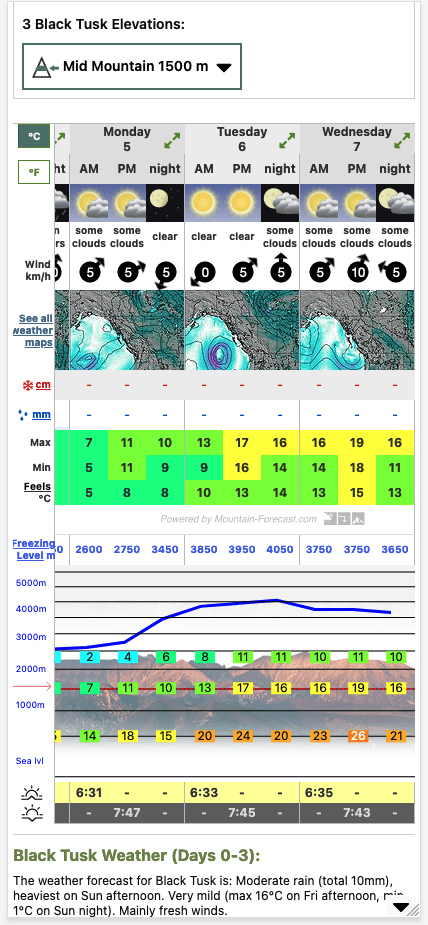 Windy
Available both as a website and an app, Windy has tons of weather data. In fact, I sometimes find it a bit overwhelming. It has forecasts for thousands of named locations around the world. For hikes, you may need to search for the name of a nearby lake, mountain, etc. to find the relevant forecast.
Windy's founder is a kite surfer, so originally the site focused on just wind. But now it has crazy detailed forecasts that include temperature, precip, wind speed and direction, dew point, cloud cover, and lots more. It also forecasts waves and swells, which is helpful for paddlers.
Windy is one of the best weather apps for hiking if you like to geek out on data. As well, their forecasts are considered some of the most accurate around and you can toggle between several different forecast models.
Besides the standard forecast screen, you can also view some cool animated overlays, such as rain accumulation, humidity, and air quality.
The apps and website are all free, but there is a premium version of the app that removes ads and provides high-resolution one-hour forecasts (as opposed to the three-hour forecasts on the free version).
Website: Windy.com
Apps: iOS and Android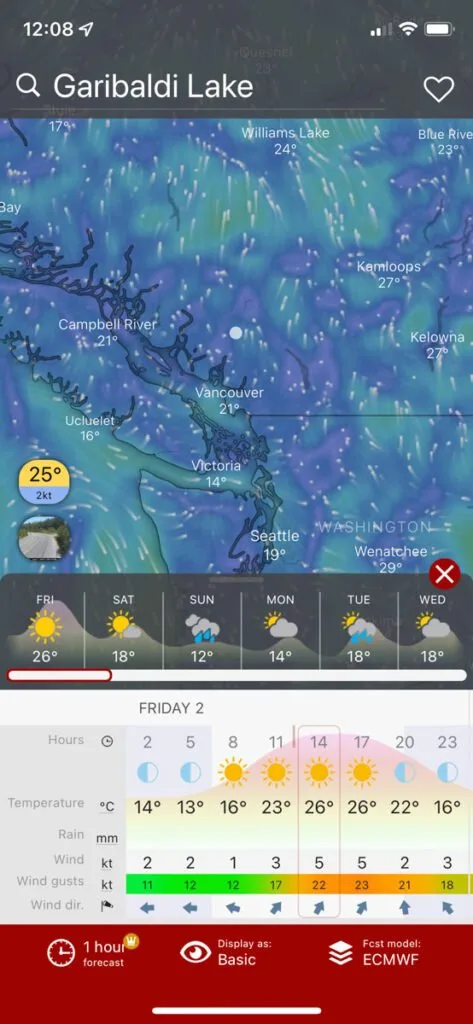 Yr.no
Yr.no is the official weather website of the Norwegian government, but it's helpful for hikers all over the world because it uses open-source weather data from a variety of sources. (If you land on the Norwegian language version, scroll down to the bottom right corner to switch to English.)
Like Windy, it provides forecasts for thousands of named locations around the world. (That means you may need to search for the name of a nearby peak or lake to find the forecast for your hike.)
The display is really easy to understand, with simple tables (up to a nine day forecast) and graphs (three-day forecast). You can also drill down into an hourly forecast. They also have an option to download the forecast as a PDF, which is handy for bringing it with you on your phone.
Fun fact: In Norwegian, yr means drizzle. It's also available in a free app.
Website: yr.no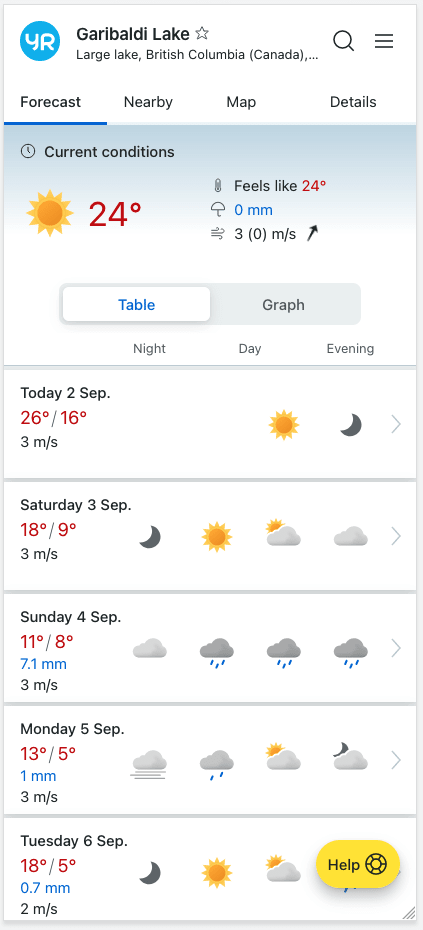 Garmin inReach and ZOLEO Satellite Messengers
Ok, these aren't exactly an app or website, but satellite messengers are a good replacement for weather apps for hiking. That's because they can help you get up-to-date weather forecasts when you don't have access to the internet.
Both the Garmin inReach and ZOLEO satellite messengers have a built-in weather forecast request function. (Unfortunately, none of the SPOT satellite messengers have weather forecast capabilities.) When you request a forecast, the device sends one via satellite for your exact location.
For the inReach, you have a choice between a basic forecast and a premium one. I usually opt for the premium forecast which includes a 7-day forecast with hourly intervals for the first day, then 3-6 hour intervals for the remaining days. These forecasts cost a little extra on top of your subscription. (Typically about $1 or less, depending on which forecast you choose and which plan you have.)
The ZOLEO only has one forecast option – a 5-day forecast with an hourly breakdown for the first two days. Requesting a forecast uses up one of your monthly text messages under your plan.
On my Bowron Lakes canoe trip, we used our Garmin inReach Mini to request a weather forecast each night and used that to plan the next day's paddle.
It was a lifesaver on our trip as we knew that a big rainstorm was coming (that wasn't in the forecast before we left). We paddled hard the day before to get to a campsite with a cooking shelter, then took a rest day during the storm. It was so nice to play cards under cover instead of paddling in the rain!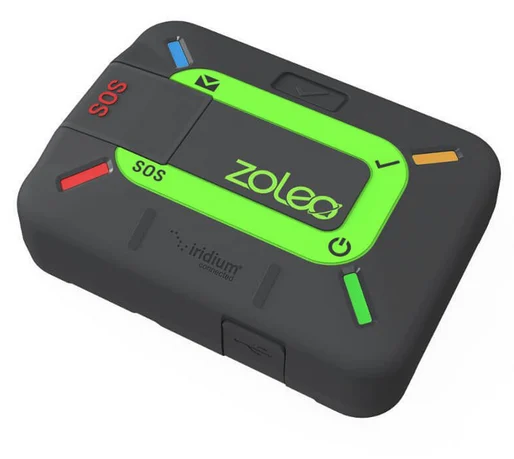 Weather Apps That Aren't Helpful for Hikers
There are tons of weather apps and websites out there that are great for most users. Many people rave about these sites: They say they are super accurate, they have easy-to-read graphics, or they have cool features like alerts.
Unfortunately, these sites don't work well for hikers for a few reasons.
The first one is that most weather apps are built for city use. They only let you retrieve a forecast for a city or town. They don't work in remote locations, parks, or in the mountains.
Secondly, many apps focus on up-to-the-minute forecasting. They aim to tell you what the weather is going to be like in the next few hours. They don't specialize in longer-range forecasts.
That's not helpful if it's Wednesday and you're trying to decide where to hike on the weekend. Or if you are planning a three-day backpacking trip and want to know what the weather will be like towards the end of your trip.
Lastly, these apps require you to have an internet connection so they can pinpoint your location to give you a forecast or update the forecast quickly on the fly. While mobile phone coverage is increasing globally, the reality is that on many hikes, you won't have to the internet.
Some of the weather websites and apps that people love that aren't helpful for hikers include Weather Underground, Accuweather, Weather Channel, and WeatherBug.
Other Helpful Weather-Related Websites for Hikers
FireSmoke Canada
Unfortunately, in many places, summer is forest fire season for hikers. Even if no fires are burning near your hiking destination, winds can push smoke for hundreds of kilometres, making for an unpleasant hike or dangerous air quality.
I like to check the smoke forecast map on FireSmoke before my trip so I know what to expect. It uses an easy-to-understand animation that overlays the boundaries of nearby fires on a map along with a projection of where the smoke will blow. Colours show you how "bad" the air quality will be.
You can also toggle between an hourly forecast, daily average, and daily maximum.
While the site has "Canada" in its name, the site also provides forecasts for the United States.
Website: firesmoke.ca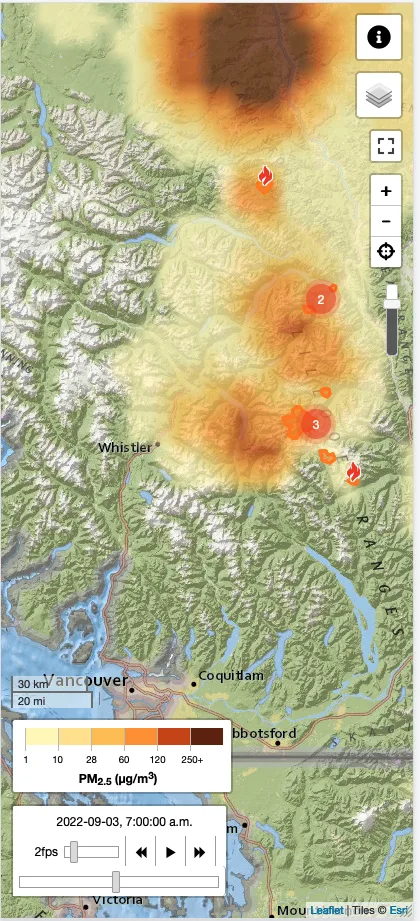 Sentinel Hub Playground
Especially in spring and fall, it can be tough to know how much snow is in the mountains. Sentinel Hub Playground provides an easy-to-use interface to see up-to-date satellite images from around the world.
I use it to see how much snow is in the area I plan to hike. Often, it is easy to tell from satellite photos.
But keep in mind that in the spring when the snow is melting, the forests can often look green in the photos but there is snow hiding under the branches! Be sure to look for clearings, roads, and lakes to see if there is snow there.
You can scroll around to find the location you want or use the search bar to find named locations. You can also use the calendar to see when the most recent satellite photo was taken. Or you can adjust the date to find satellite photos from dates in the past.
The calendar also shows which dates have photos with clear skies and which ones are obscured by clouds.
Website: Sentinel Hub Playground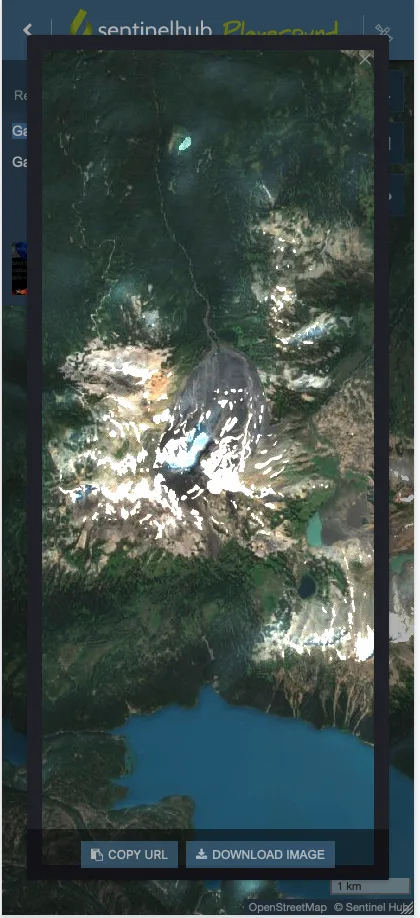 Climate Data
If you are trying to find the best time of year to go on a hike, it can be helpful to know the annual trends in climate data. I like to look at either the Canadian Climate Normals or the U.S. Climate Normals.
These graphs give you key info like the high, low, and average temperature for each month along with the average amount of precipitation.
It can take a bit of work on both the Canadian and American sites to find a weather station that is helpful for your hike. Try to find one that is close to where you are going, and if possible, at a similar elevation. You may need to scroll through lists of stations to find one.
READ NEXT: Tips for Hiking in Hot Weather
Weather Tips for Hikers
Why do hikers need to know the weather forecast?
Being prepared is an important part of staying safe when you hike. You might be in a remote location or high in the mountains, hours from help. Knowing the weather forecast helps you know what to expect so you can pack the right clothing and gear for the conditions.
READ NEXT: 16 Things to do Before a Hike
Checking the weather is part of the first principle of Leave No Trace: "Plan Ahead and Prepare". If you are prepared for the weather, you are less likely to harm the environment.
If you know the weather forecast, you can also use it to choose a good destination for your hike. You don't want to pick a trail to a beautiful viewpoint on a cloudy day! If it's going to be pouring rain and freezing cold, you may want to choose a short hike rather than an all-day-long epic.
READ NEXT: How to Stay Warm in a Tent: Over 40 Tips
READ NEXT: 40+ Tips for Hiking in the Rain
Choose a location-specific forecast
General forecasts for a city or town aren't helpful in remote areas or the mountains. And often, mountains make their own weather. It can be colder, rainier, snowier, and windier in the mountains than it is at lower elevations.
Don't rely on a city forecast for your hike. Always check a location-specific forecast using one of the weather apps for hiking I've listed above.
Remember – A forecast is just a prediction
It can be easy to fall into the trap of thinking that the weather will turn out just like the forecast. Often, that isn't the case.
Most location-specific forecasts for hiking are based on weather models, and sometimes, those models aren't accurate. And of course, the weather can change quickly in the mountains.
The weather forecast should be your jumping-off point in your preparation. Make sure that you are prepared for the weather to be a little bit "more" than what is in the forecast – a little bit "more" wet, cold, windy, or hot.
Long-range forecasts are less accurate than short-term forecasts
When you are planning a trip, you will need to use a forecast that is a few days or weeks away. And if you are going on a long trip, you'll need to use a long-range forecast for the days at the end of your trip.
Keep in mind that long-range forecasts are inherently less accurate than short-term forecasts.
If possible, get a short-term forecast right before you leave. Or get one from the trail using a Garmin inReach or ZOLEO satellite messenger.
Check multiple forecasts
You might be tempted to check one weather forecast, like what you see, then leave it at that. But that doesn't always work out well since different weather apps use different forecasting models.
I like to check multiple weather apps for hiking so I can get a better idea of what the weather might do.
Do you have other recommendations for weather apps for hiking? Or other weather forecast tips for hikers? Leave them in the comments as I always love to hear about new resources.
READ NEXT: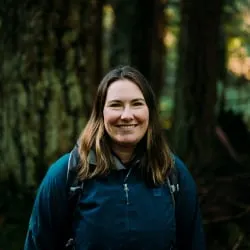 Latest posts by Taryn Eyton
(see all)