The Bowron Lakes Canoe Circuit is a spectacular canoe trip in Northern British Columbia. It takes about a week to paddle the chain of 12 lakes arranged in a rough rectangle shape. I paddled the Bowron Lakes over eight days and experienced gorgeous mountain scenery, beautiful lakes, wildlife, and incredible campsites.
Since it includes only a few sections of moving water on rivers and lots of flatwater on lakes, the Bowron Lakes canoe trip is popular with less experienced canoeists. Before paddling Bowron, I had done a few short canoe trips on lakes but had no moving water experience. BUT I went with friends who had lots of experience – I don't recommend you tackle this challenge if you're a complete beginner.
I've put together a complete guide to the Bowron Lakes for you. It's written for people like me who aren't canoe trip veterans so it has lots of beginner-friendly tips.
This post includes:
This is a sensitive wilderness area. Learn how to Leave No Trace to keep the wilderness wild. Make sure you are prepared by bringing the 10 Essentials. Get ready for adventure with this checklist of things to do before every hike.
Hey there: Some of the links in this post are affiliate links, which means I earn a small commission at no cost to you. Thanks for your support. -Taryn
Bowron Lakes Canoe Circuit Quick Facts
Location: Northern British Columbia, about 2 hours east of Quesnel or 3 hours southeast of Prince George.
Distance: 116.4 kilometres including 10.8 kilometres of portages.
Duration: 6 to 10 days
Cost: $60 per person for the full circuit or $30 per person for the West Side only, plus an $18 reservation fee per boat and gear rental fees (if applicable).
Best Time to Go: The circuit is open between mid-May and the end of September. The best weather is in July and August. June and September can also be nice but a bit colder. Note that the bugs can be bad in June and July.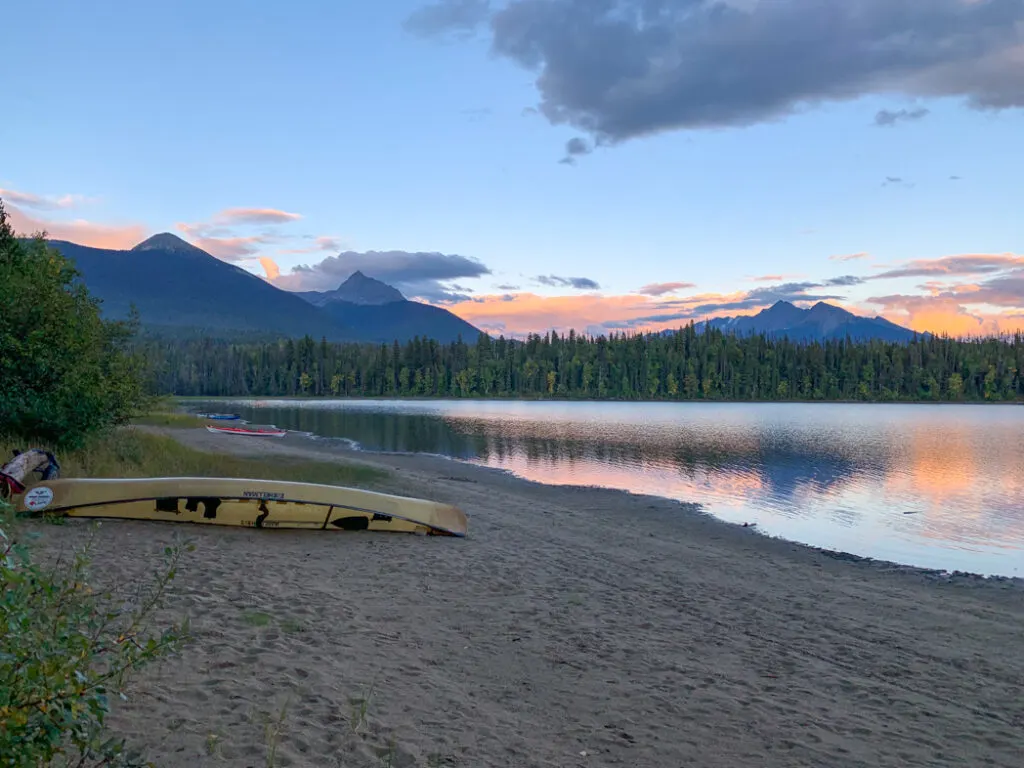 Bowron Lakes Canoe Circuit Map
BC Parks produces a good overview map for the Bowron Lake Canoe Circuit. You can download it from their website and they will also give you a printed version when you check in to start your trip. It's very high level and doesn't have very much detail, so it isn't great for navigation.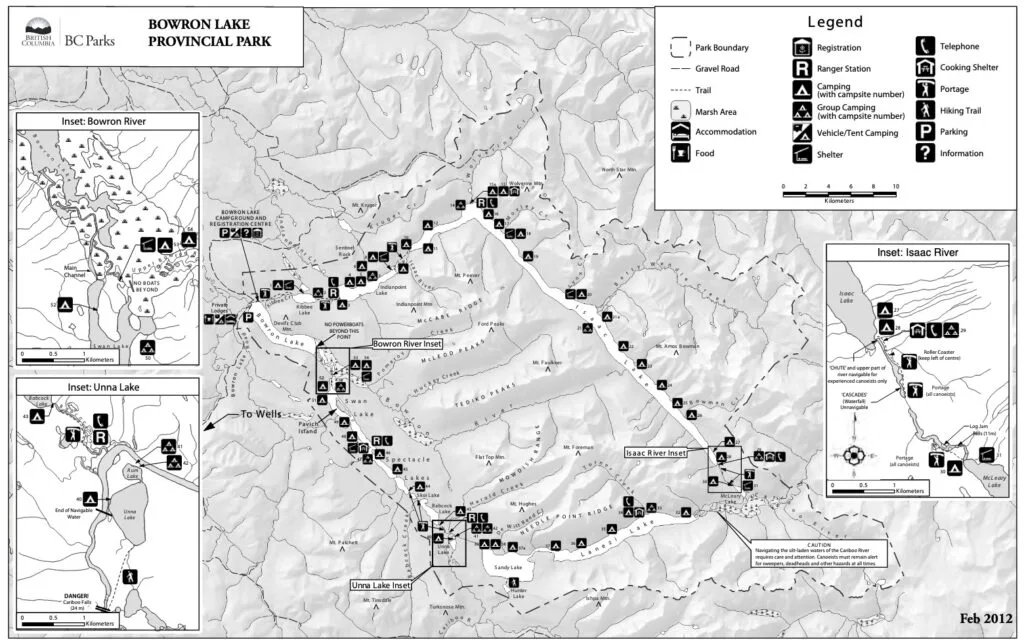 If you're old school, International Travel Maps and Books makes a waterproof 1:50,000 scale Bowron Lakes topographic map.
We used the Gaia GPS app for navigation. It was great to be able to know how far away from the next portage or campsite we were since the scale on the BC Parks map made it very difficult to tell. It was also helpful for locating campsites as some are tucked away in small bays and the map doesn't show that.
(Psst! Want to save 20% off a premium Gaia annual membership, which includes the maps I used on my trip? Use this link.)
Watch for signs along the circuit to mark campsites, routes through channels, and wood lots.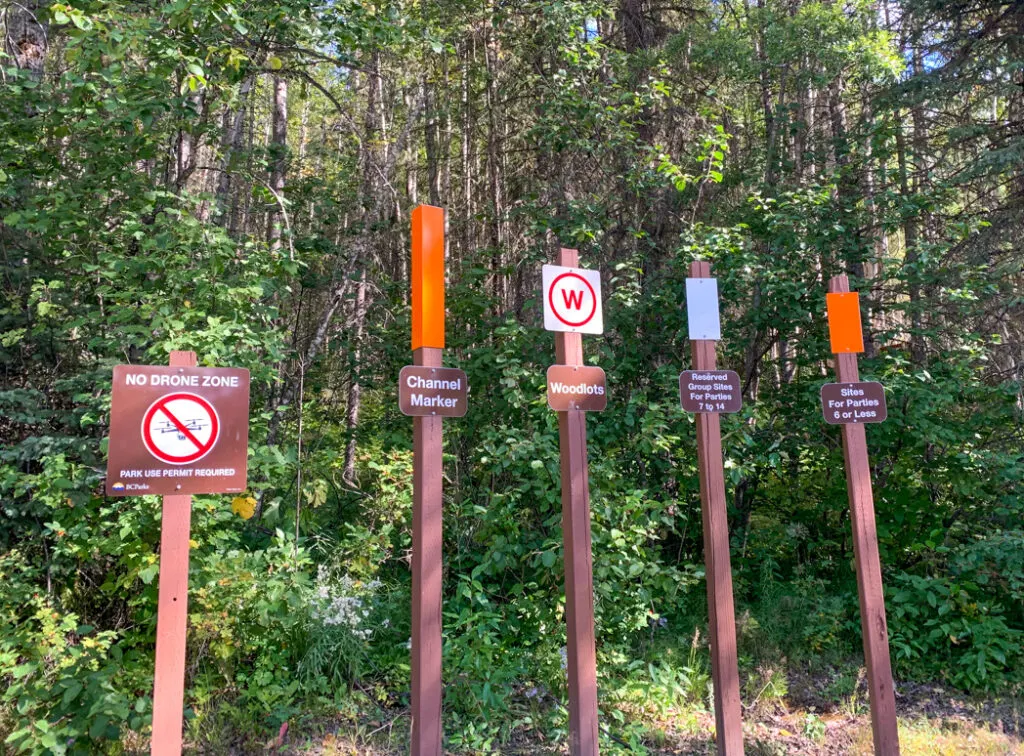 Full Circuit vs. West Side Only
While many paddlers choose to complete the entire 116.4 kilometre circuit, you can also do an out-and-back trip on the West Side of the circuit. It's a good option for less experienced paddlers and those who have less time (typically 2-4 days).
The West Side includes Bowron, Swan, Spectacle, Skoi, Babcock, and Unna Lakes for a total distance of up to 30 kilometres one way. You can travel as far along the West Side as you want before doubling back to the start at Bowron Lake. Many people opt to go only as far as the end of Spectacle Lake to avoid the two kilometres of portages.
Bowron Lakes Canoe Circuit Reservations
Reservations for 2024 open on October 24, 2023 at 7 a.m. PT.
Canoeing the Bowron Lake Chain is very popular, so there is a reservation system through BC Parks. Only 50 people (25 canoes) are allowed to start the circuit each day.
If you plan to go between late June and early September, make a reservation on the first day that reservations open. These dates are very popular and get booked up. If you don't get a reservation, keep checking back for cancellations.
There is an $18 reservation fee per boat. User fees are $60 per person for the full circuit or $30 per person for the West Side only. There is a limit of three people per boat.
A Note About Group Size
If your party is between 7 and 14 people, you will need to make a group reservation and follow special group rules. Only one group is allowed on the circuit at a time. You must camp in designated group sites with white markers and use a fixed 8 day/7 night itinerary.
Parties of 1-6 people can stay at any of the regular sites (with orange markers), can stay multiple nights at the same site, and can take up to 14 nights on the circuit.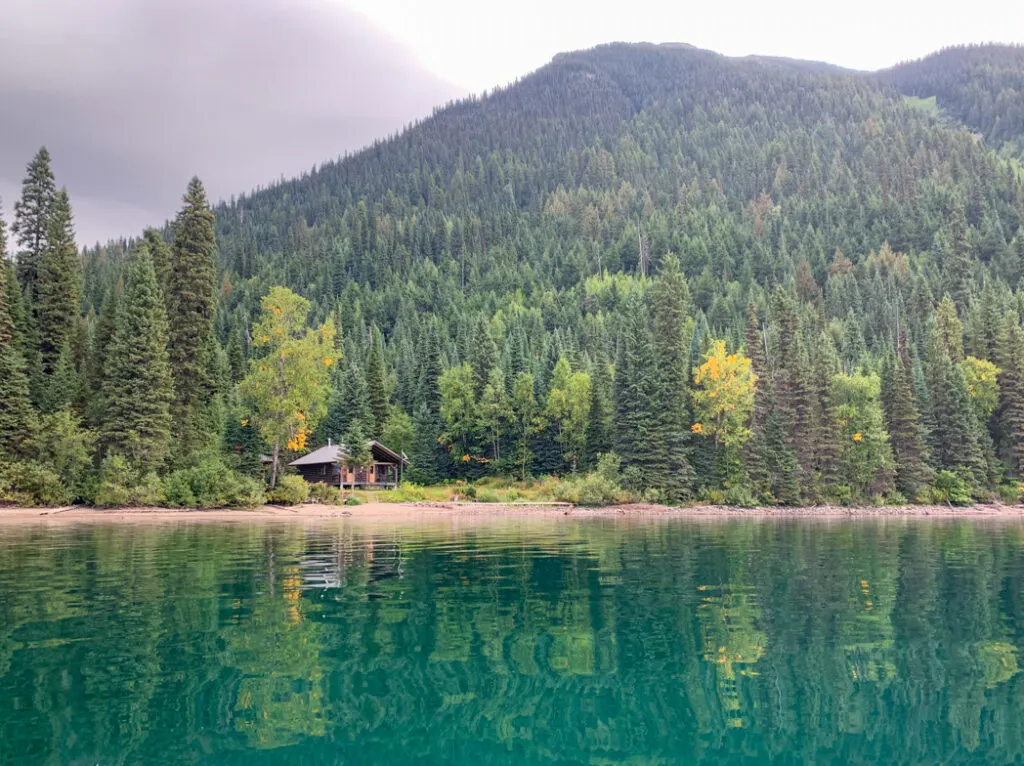 Bowron Lakes Canoe Circuit Description
Pre-Trip Orientation Session
To start the Bowron Lakes Canoe Circuit you must check in at the ranger station and go through a mandatory orientation. New for 2024, orientations are offered each day between 8 am and 12 pm. You no longer need to book an orientation time when reserving your dates. You can just show up between 8 am and noon and a ranger will start your orientation.
The orientation involves watching a video about wilderness ethics and safety on the circuit. The ranger will also give you updates on paddling and portage current conditions, wildlife advisories, and updated locations of woodlots to collect firewood.
Pre-Trip Gear Weigh-In
At the orientation, you will also have to weigh your gear at a scale in the parking lot. Park rules allow you to carry a maximum of 60 lbs of gear inside your canoe when you use a canoe cart to portage. This is to make sure that the portage trails don't get too damaged.
Organize your gear before the weigh-in and plan which items you want to put in the canoe and which bags you want to carry on portages. We used a simple luggage scale at home to plan before our trip.
The ranger will write down which of your bags are allowed to stay in the canoe during portages on a card that gets zip-tied to your canoe. If you encounter a ranger on a portage they make check your canoe to make sure it only has permitted items in it.
Keep in mind that there are a few things that DO NOT count in the 60 lb. weight limit: PFDs (life jackets), bailer, paddles, throw bag (rescue rope), first aid kit, axe, water bottles, and canoe cart. You also don't have to weigh the canoe!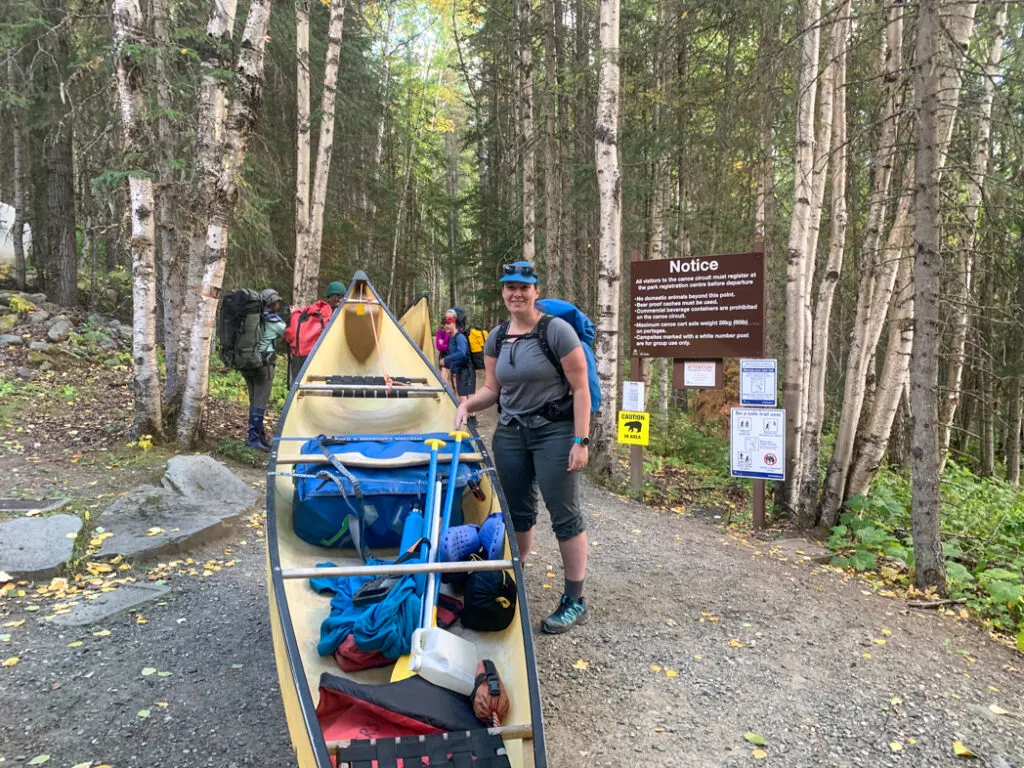 Registration Centre to Isaac Lake
This section includes the three of the longest portages on the entire circuit, made even more difficult by fully loaded canoes. From the registration centre you start with a 2.4 kilometre portage to Kibbee Lake. It's a long, slow climb with a few flatter spots as you gain about 40 metres.
From the muddy put-in, you'll paddle 2.4 kilometres across Kibbee Lake. There is one campsite on Kibbee Lake if you got a late start.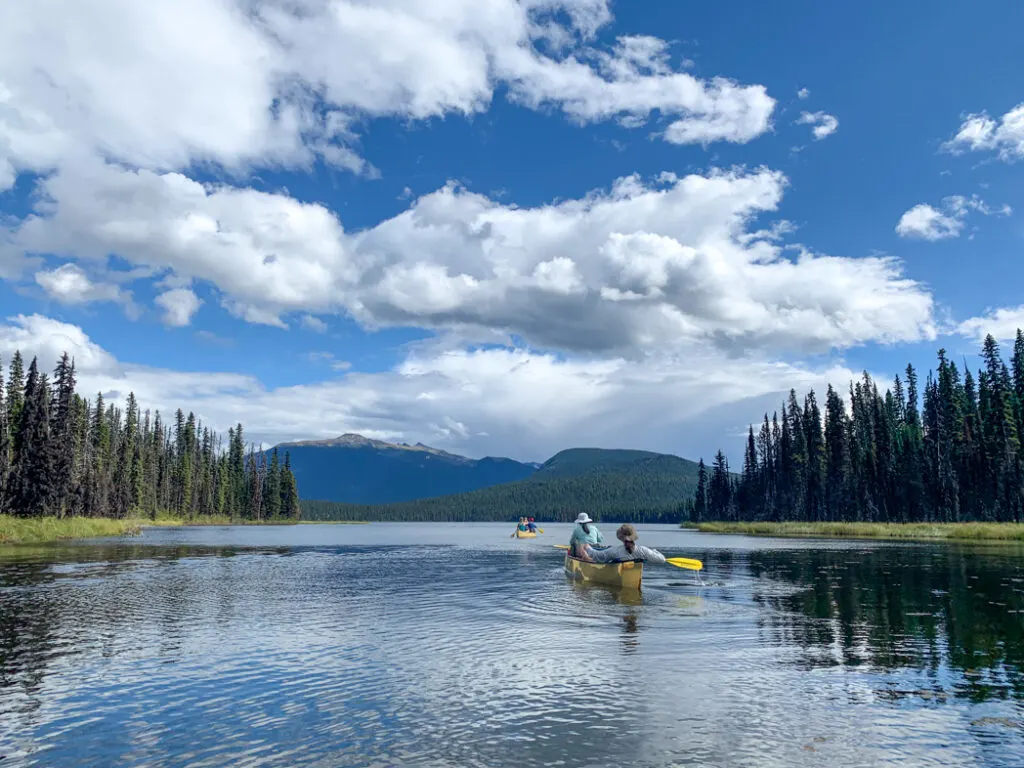 At the end of the lake hop out to portage again. This portage is 2 kilometres long. The first kilometre is uphill, gaining about 40 metres. The middle is rolling, and then the last section is downhill.
The paddle across Indianpoint Lake is 6.4 km long. There are several campsites on the north side of the lake, but the banks are steep so the campsites are tight against the hill.
Look for the orange channel markers at the marshy eastern end of Indianpoint Lake to wind through the grassy channel and a pond to a small, muddy take-out.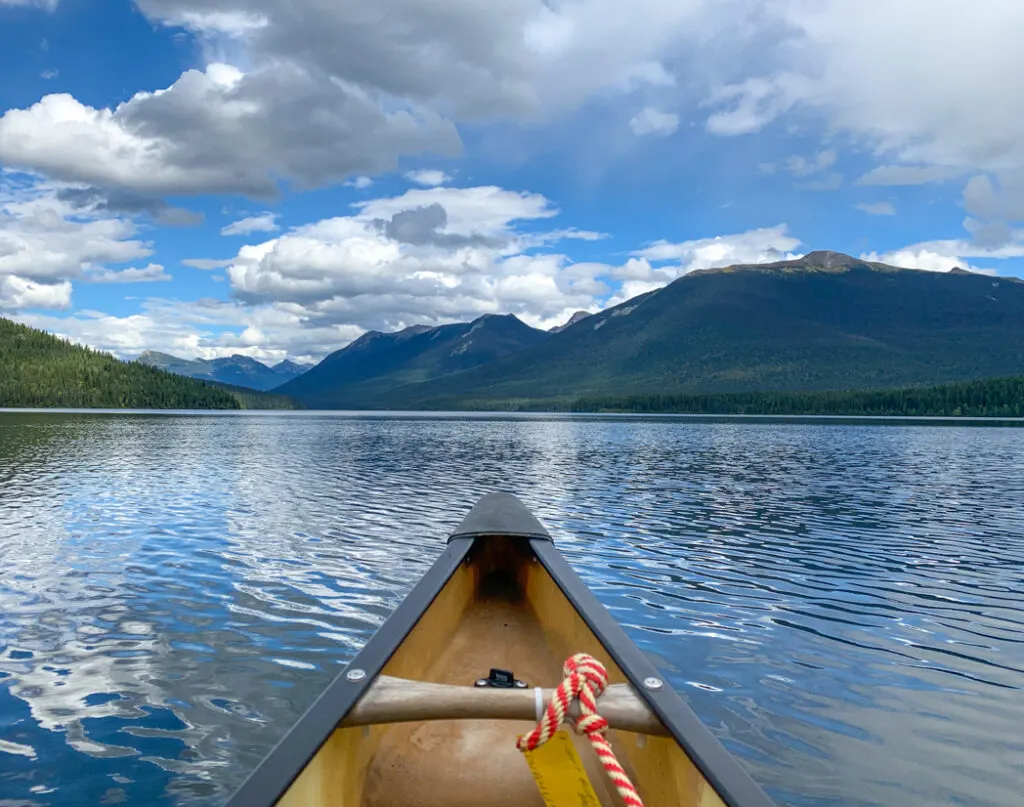 From here it's a 1.6 kilometre portage to Isaac Lake. The hike has a small hill at the beginning, then the rest is all downhill. The last section is challenging thanks to several mud puddles and steep bridges over creeks.
Isaac Lake
Isaac Lake is by far the largest lake on the Bowron Lakes Circuit. It gets very windy with rough water in the afternoons. On my trip, we experienced a bit of this on our first day on Isaac Lake, but on the second day, we were treated to glass-smooth water all day.
Paddle near the north and east shores of the lake so you can get off the water quickly in bad weather.
From the put-in at the end of the portage, you'll paddle 6.8 kilometres down the west arm of Isaac Lake.
There are two campsites along this stretch, but many paddlers prefer to stay at site 15 in Wolverine Bay where the west and main arms of the lake meet. This big site has space for 9 tents and a large covered cooking shelter with a wood stove.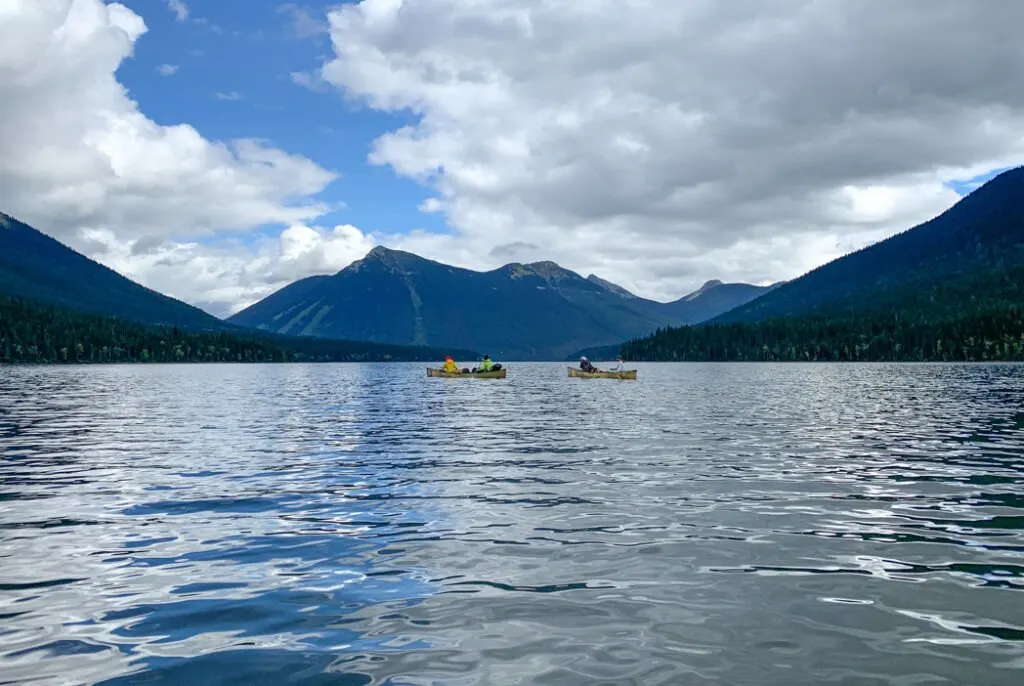 The main arm of Isaac Lake is 31.2 kilometres long and has incredible views of the mountains and a few waterfalls. All of the campsites are located on the east side of the lake. Many of them only hold two tents, so plan well if your group has more.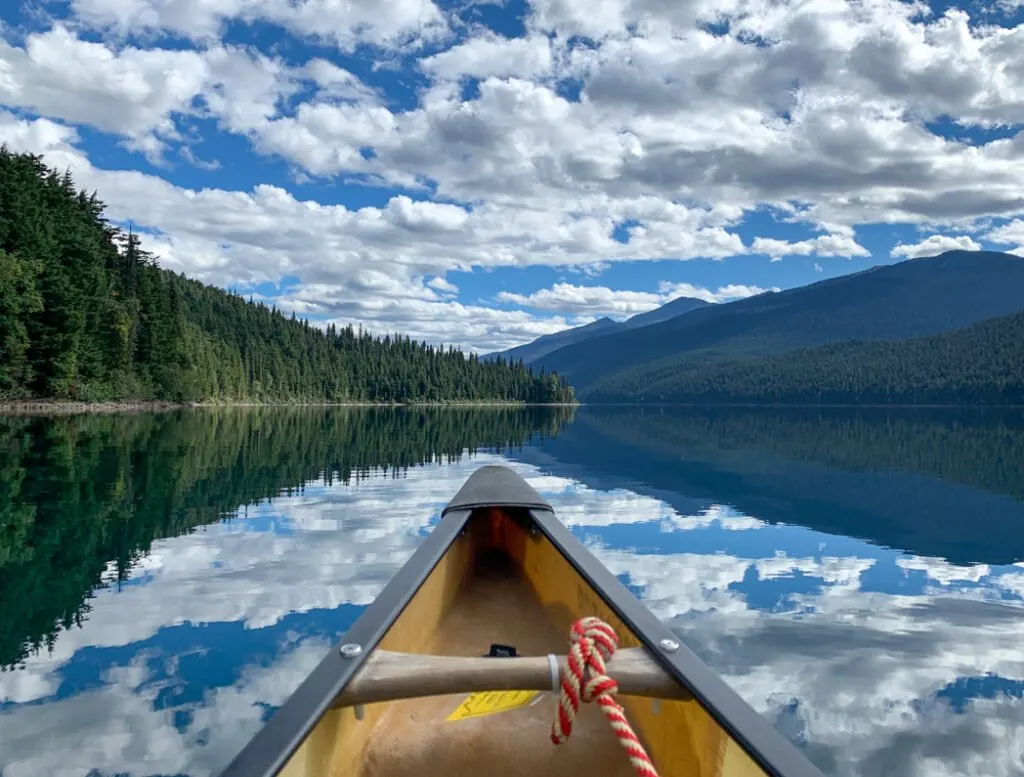 There is a large campground at the end of Isaac Lake with a covered cooking shelter and woodstove. It's a popular place to camp before running the Isaac and Cariboo Rivers and can get crowded.
Isaac River and Cariboo River to Lanezi Lake
This section is the most technical part of the Bowron Lake Chain canoe trip, and the part I was most nervous about. You'll have to navigate several sections of moving water.
You can portage the worst rapid, but you still need to prepare for some bumpy water and sharp turns and be prepared to avoid rocks and logs.
At the end of Isaac Lake, you have a choice: you can run the first section of the Isaac River or portage around it. This first part of this section is known as 'The Chute' and involves a steep chute into standing waves with a hard right turn at the bottom.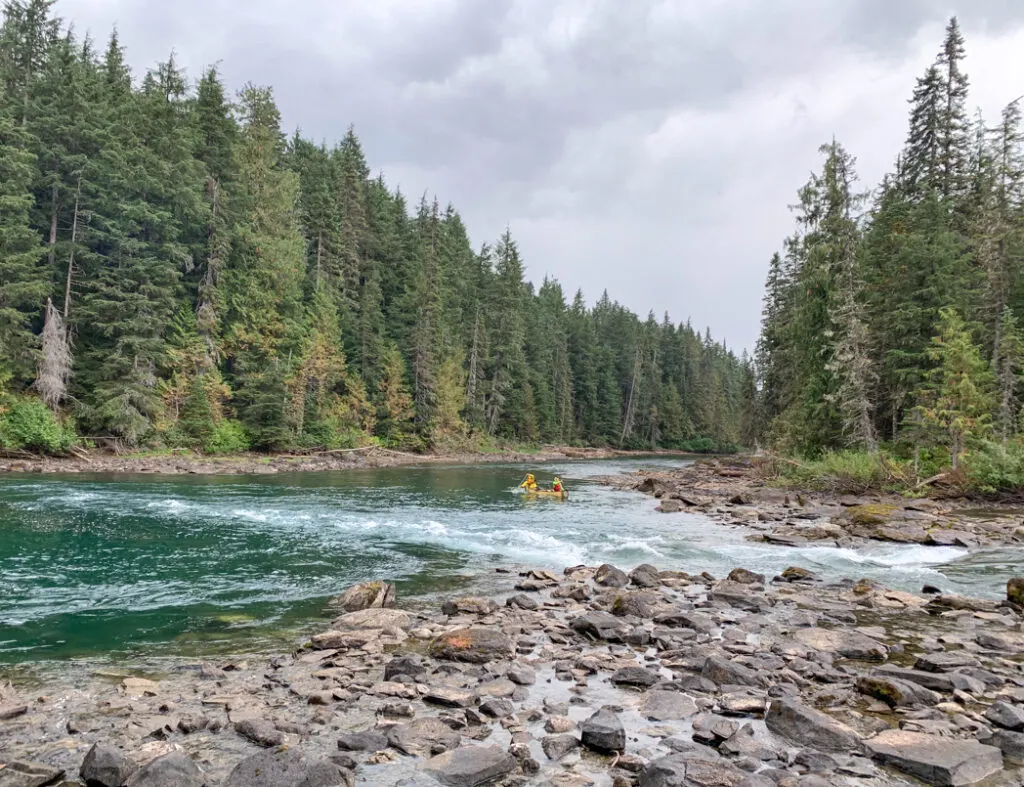 Next is 'The Rollercoaster', a standing wave train. There are large rocks on the right that you will need to avoid. There is a mandatory portage at the end of 'The Rollercoaster'.
You can also choose to portage 1.2km around The Chute and The Rollercoaster. (That's what two of the three boats in my group did.)
The narrow portage trail is high above the Isaac River. It starts with a stiff climb, then rolls through flattish and downhill sections. It travels through a beautiful forest with views of the river. After you meet up with paddlers who chose to tackle The Chute and the Rollercoaster, you'll portage another 0.5 kilometres.
Next, you must paddle a short 0.7 km section of the Isaac River, crossing from the east bank to the west.
At high water this section is non-technical, but at low water, there is a very large rock in the centre of the channel. On my trip, our first boat nearly capsized running this section, but thankfully was able to warn the other boats so we could prepare for it.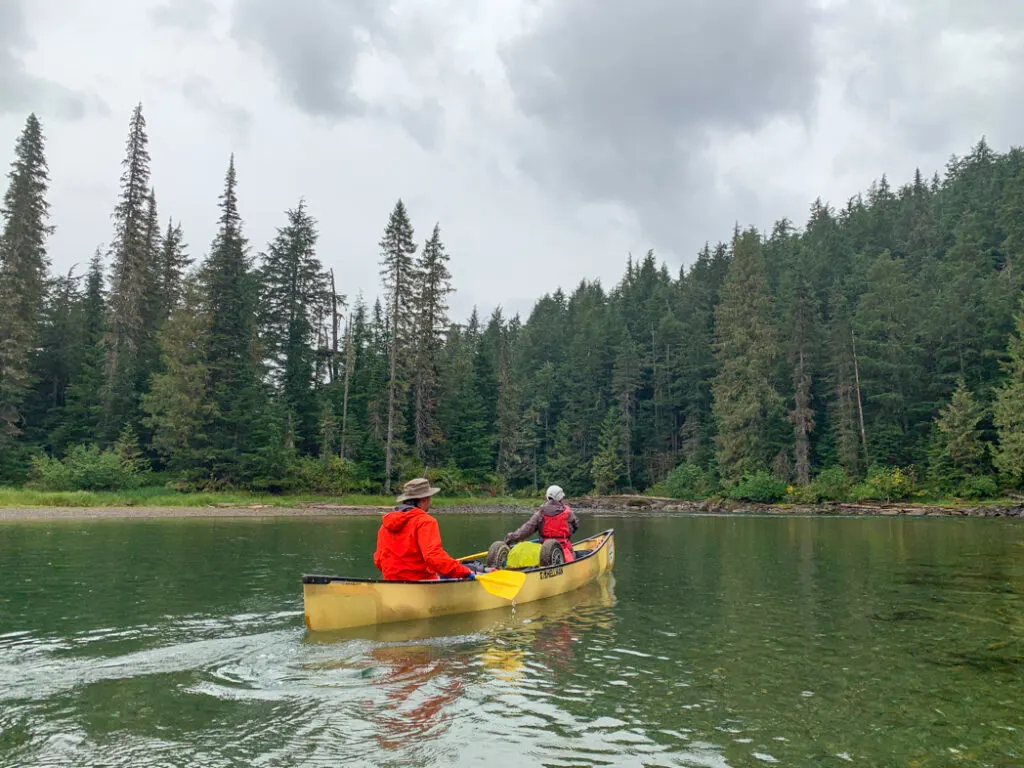 Make sure you get out at the marked portage trailhead. Otherwise, you'll get swept downriver over Isaac Falls. There was a fatality there in early 2021. The 0.5 km portage is a tough one. The whole trail is narrow and bumpy. It starts with a very steep climb and finishes with a long, steep descent.
If you want to visit 11 m-high Isaac Falls, hike the trail through the back of campsite 30 at the end of the portage.
To continue along the circuit, put your canoe in the water and paddle 1.2 km across tiny McLeary Lake. There's an older trapper cabin on the eastern shore that makes a nice lunch spot.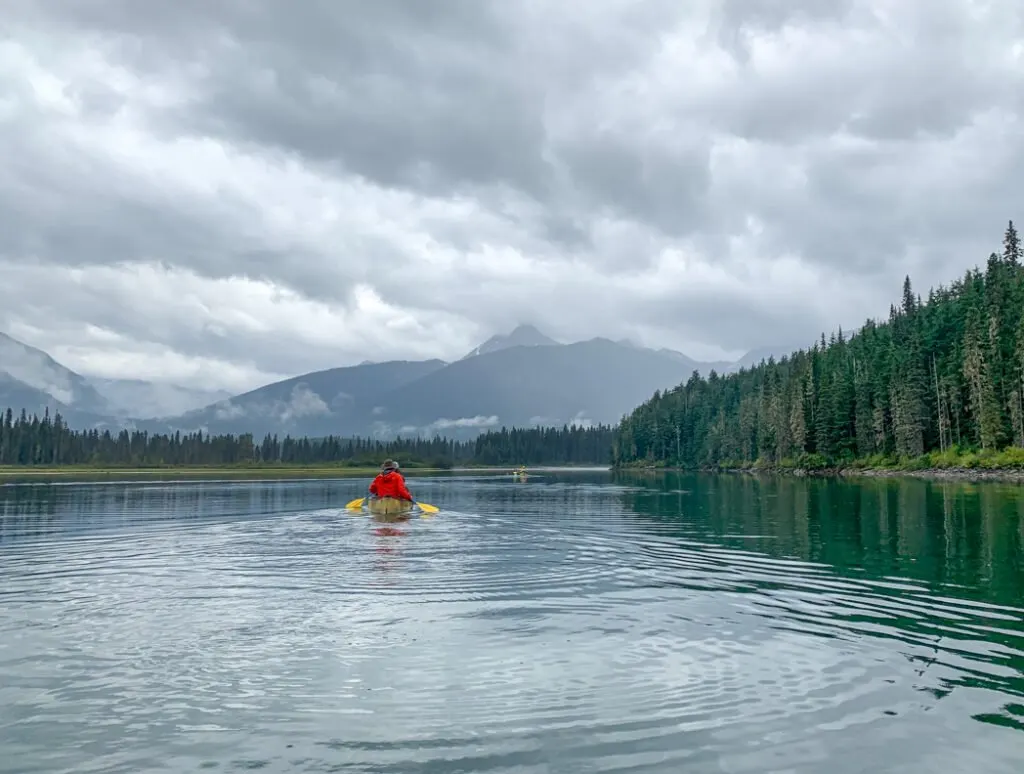 The next section is the 5.2-kilometre-long Cariboo River. This is one of the most difficult parts of the trip because the silty water and moving current make it hard to see and avoid submerged rocks, sand bars, deadheads, and sweepers.
We had very low water on my trip which made the trip challenging as there were a lot of underwater hazards. But thankfully the low water also made it easier to get out of the boat on gravel bars to scout obstacles ahead of time. Use caution through this section. Many people capsize here every year.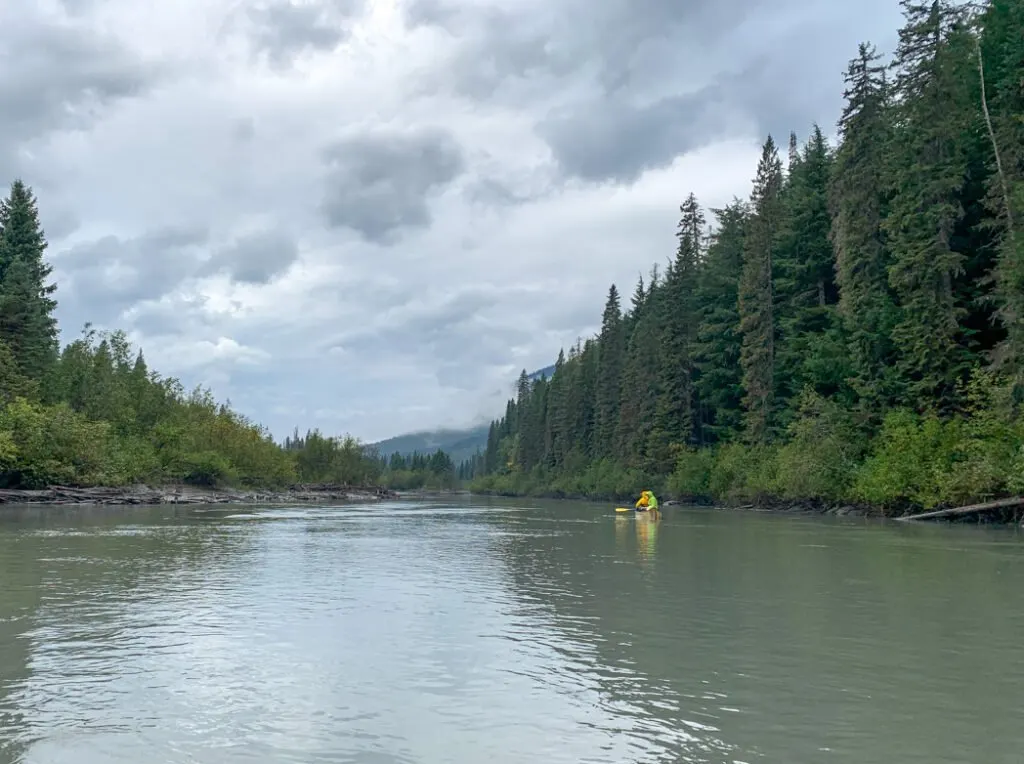 Lanezi Lake to Unna Lake
As the Cariboo River widens and slows, you'll enter Lanezi Lake. Watch for sand bars at the entrance as they can ground your boat or cause waves on windy days. This lake is 14.8 km long and surrounded by beautiful mountains. They seem steeper and closer to the lake than the ones on Isaac Lake.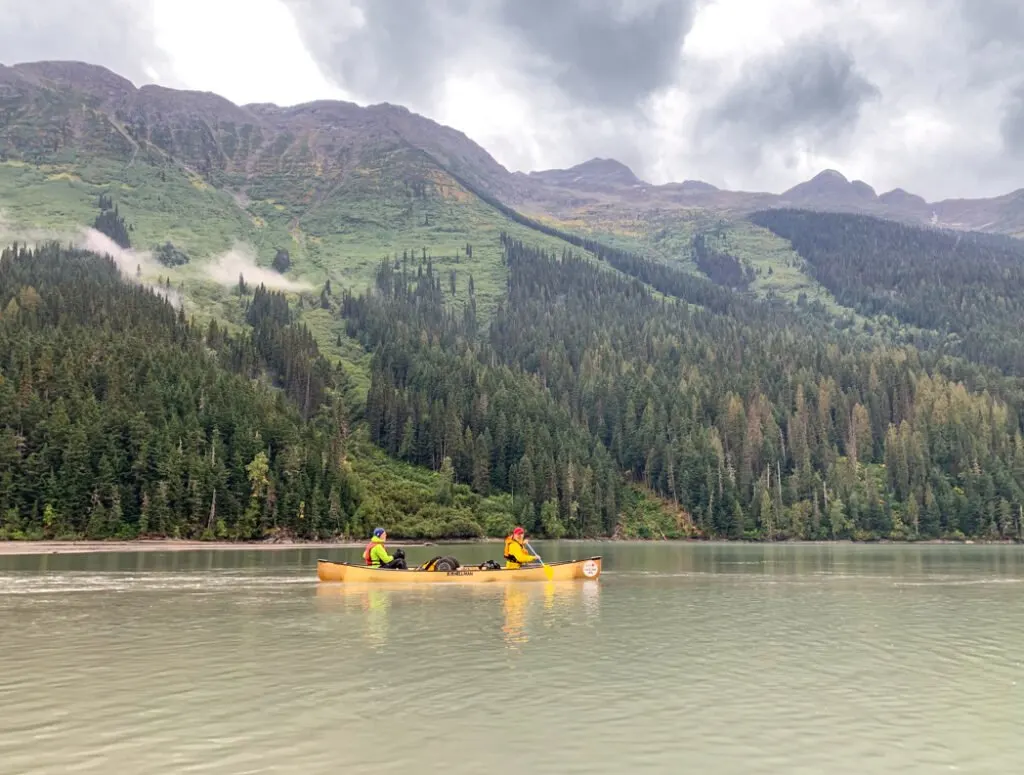 There are several campsites on the north shore of Lanezi Lake, but site 34 at Turner Creek is a popular place to camp since it has space for seven tents and has a covered picnic shelter with a woodstove. Many people use this camp as a place to dry off after dumping in the Cariboo River. On my trip, we took a rest day here to wait out a torrential rainstorm.
After Lanezi Lake, paddle 1.2 km along the Cariboo River. Unlike the earlier section of the river, this is more like a narrower part of the lake than a fast-moving river.
Next, you'll cross Sandy Lake over 4.8 km. It's a very shallow and warm lake with beautiful sandy beaches and great swimming. The campsites on the north shore were burned in forest fires in early 2021 so you will not be able to camp on this lake until the sites are rebuilt.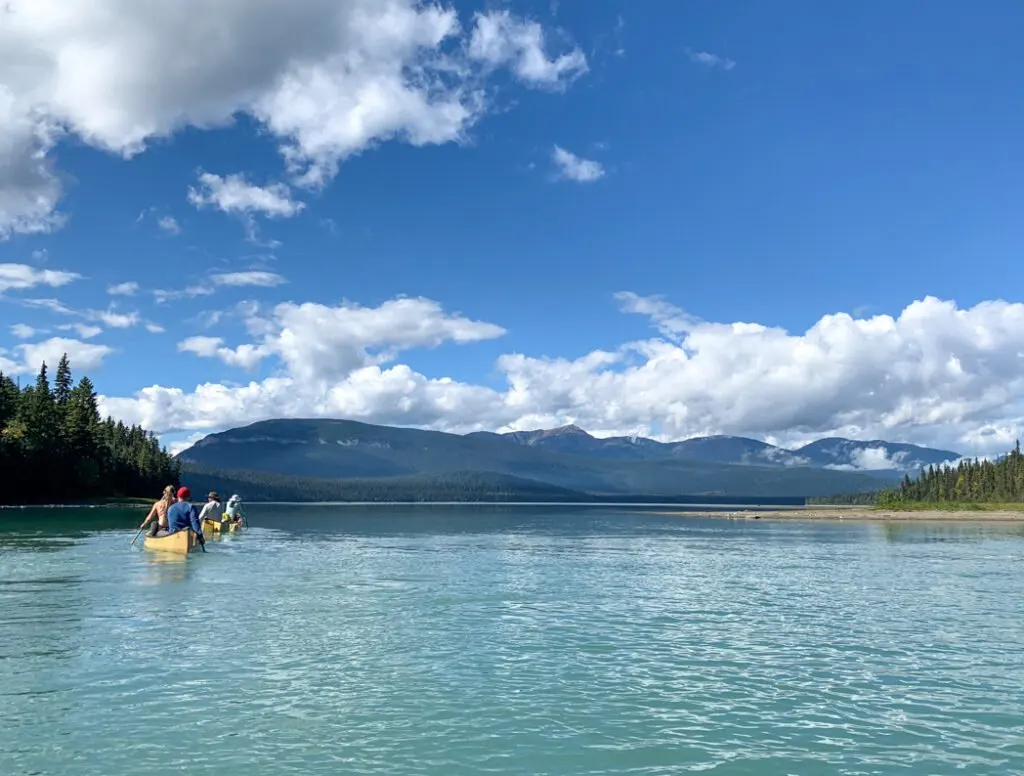 Leaving Sandy Lake you'll be in the slow waters of the Cariboo River for four kilometres. At the 3.6 km mark, watch for a sign for the Babcock Creek portage on your right. If you want to continue on the Bowron Lakes Canoe Circuit, take your canoe out here.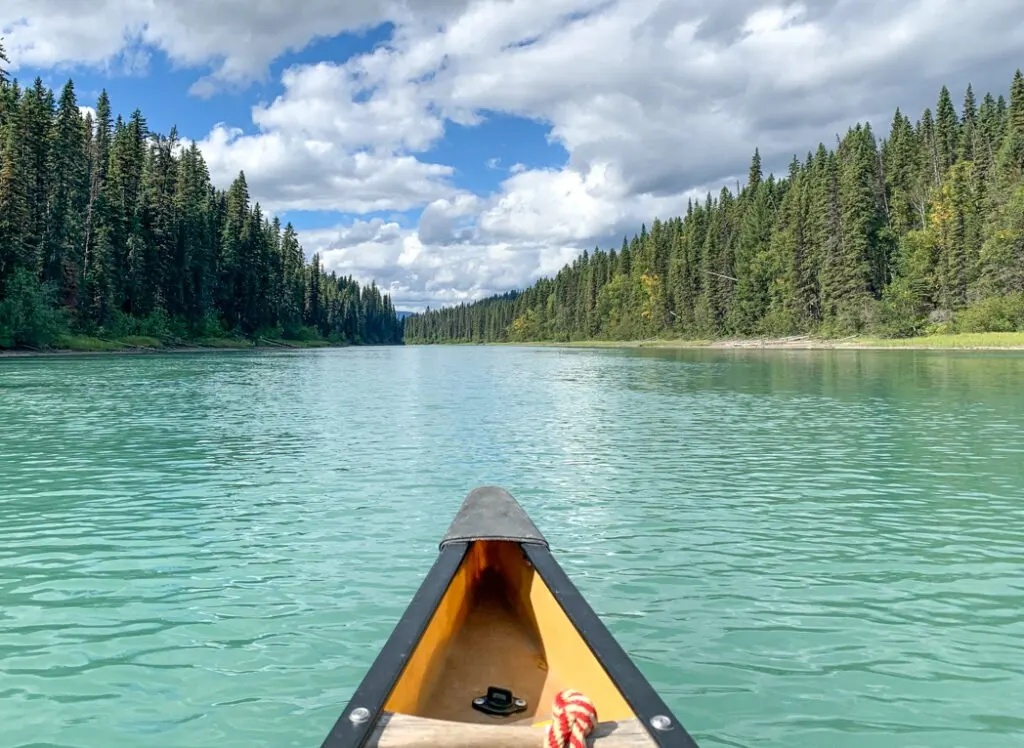 But if you want a worthwhile detour to a gorgeous campground and a waterfall hike, continue down the river for another 400m. Watch carefully for the left turn into Unna Lake. If you continue down the Cariboo River you will plunge over 24-metre-high Cariboo Falls!
Tiny Unna Lake is beautiful with a sandy beach and lots of camping at the north end of the lake.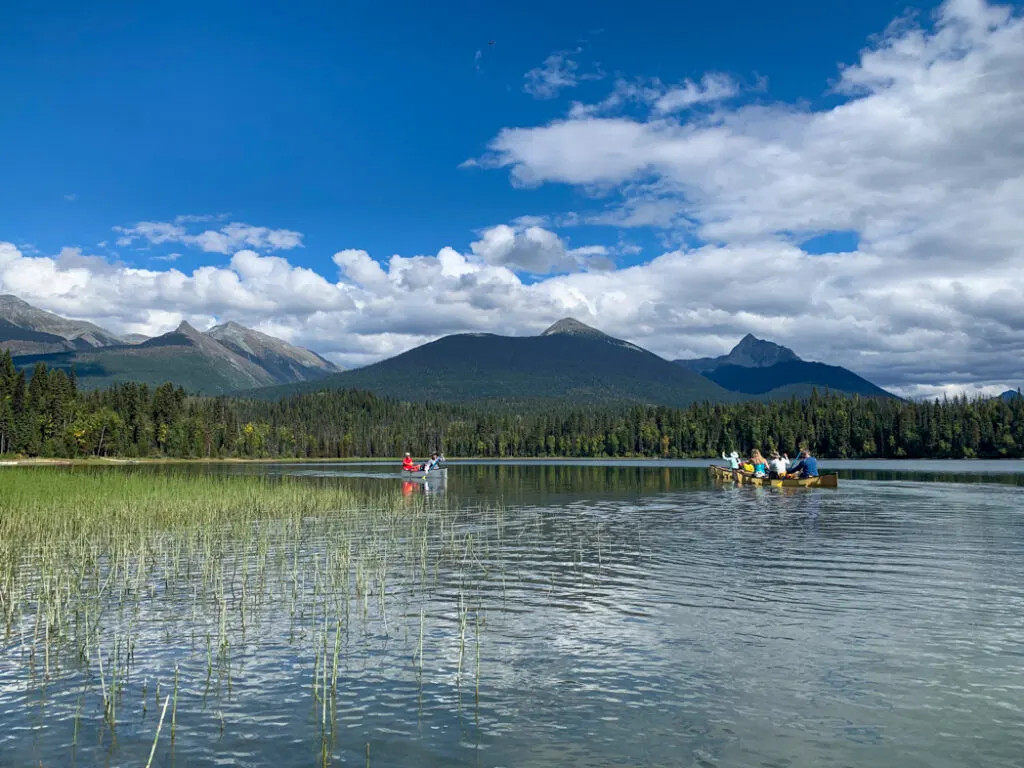 Paddle across to the southern shore to hike 2.5km return to Cariboo Falls. It's a thundering cascade in a deep canyon. I really recommend this side trip.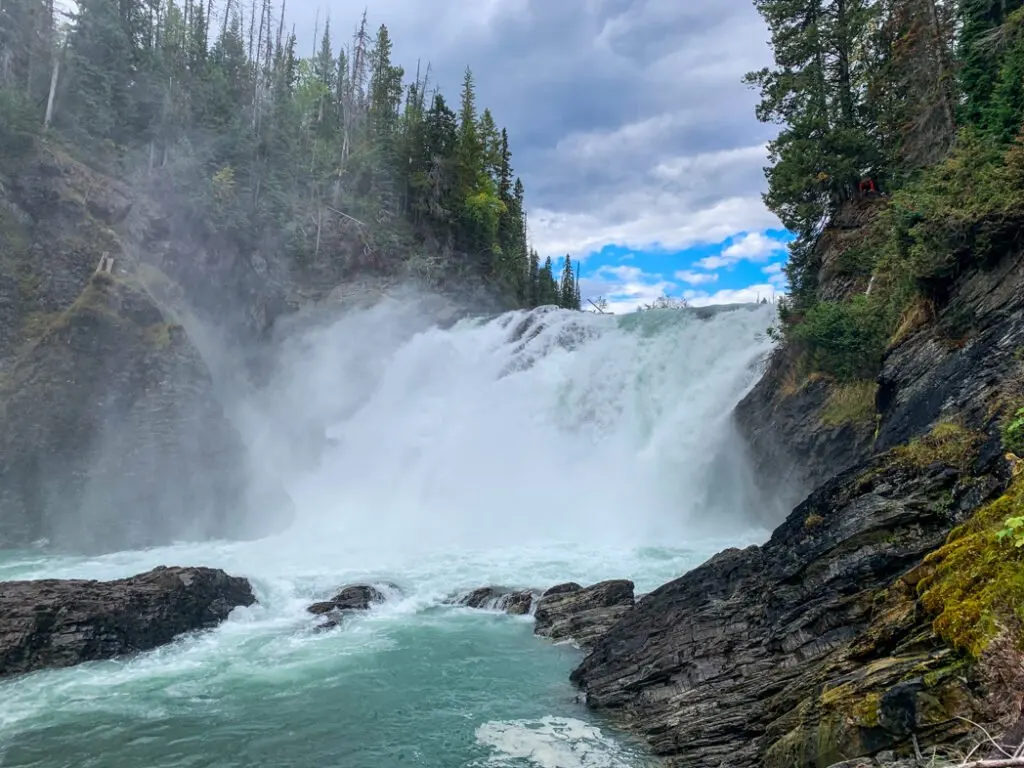 Unna Lake to Spectacle Lake
Duration: 0.25 to 0.5 day
To return to the main circuit, paddle 400m back upstream on the Cariboo River, then take the signed left turn into Babcock Creek. The portage take-out is a few hundred meters up the creek. In late summer it can be very shallow so you may have to get out of your canoe to line it through the creek.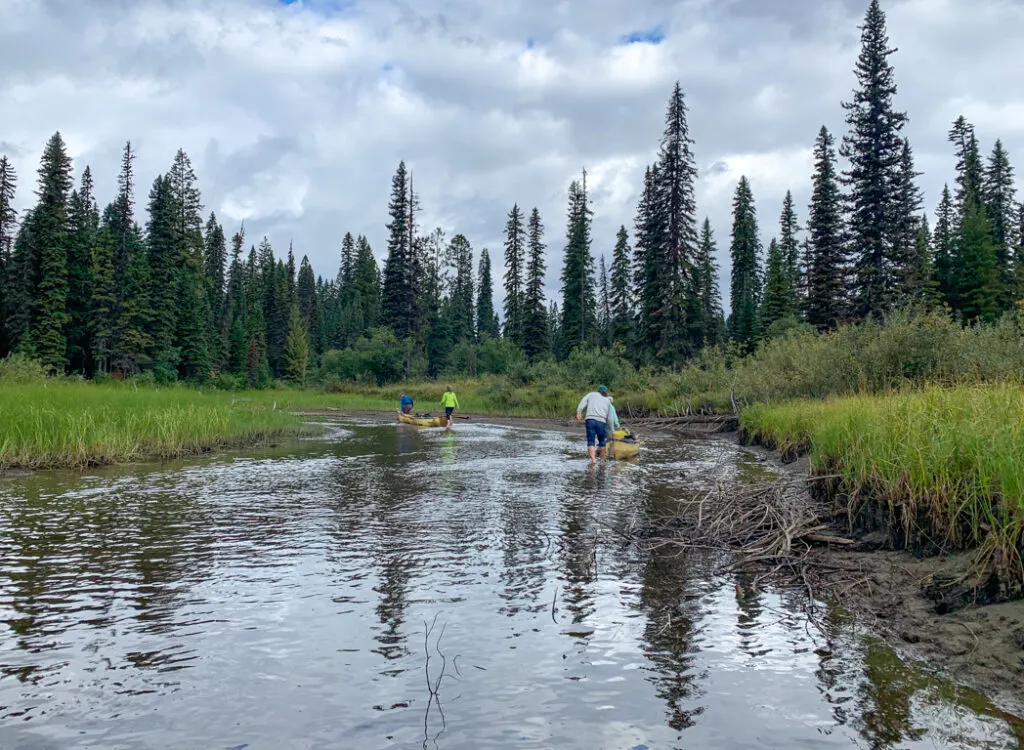 Next up is the easy 1.2-kilometre-long portage to Babcock Lake. Babcock Lake is a smaller lake at only 2.8 km. You are now out of the Cariboo River watershed and into the Bowron River watershed so you will notice that the water isn't silty anymore.
The next portage is very short. The park map says it's 400m long, but my GPS measured about 200m. The trail ends in a marshy channel. In 2021, beavers were very active here and the put-in was partially flooded.
Follow the channel markers out into Skoi Lake, which at 800m across, is the smallest lake on the Bowron Lake canoe trip.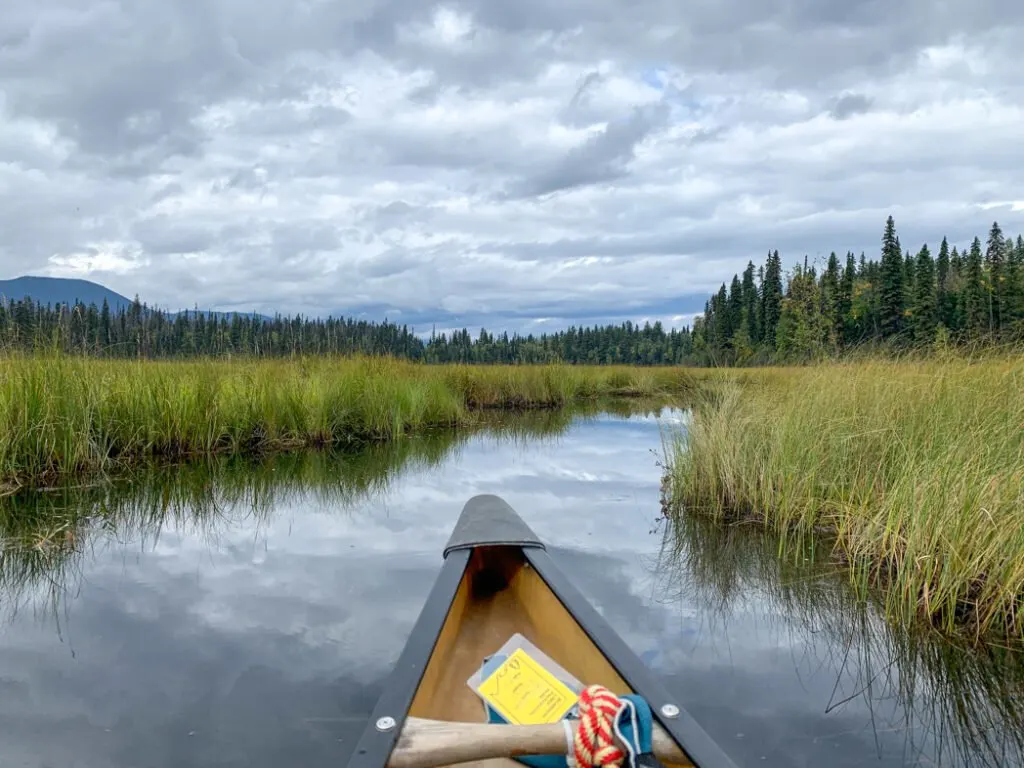 On the other side, tackle the shortest portage on the trip. The official distance is 400m, but we measured it at about 150m. It's a straight shot through the trees so you can stand at the midpoint and see both lakes at the same time.
Spectacle Lake to Bowron Lake
Once you put in at Spectacle Lake you will have finished all of the portages on the circuit! Spectacle and Swan Lakes kind of merge together into one 12.8km long lake with lots of small islands, bays, sand bars, and side channels.
The grassy shorelines are a good place to spot wildlife and birds. We startled two huge sandhill cranes here on our trip. They were migrating south from Alaska to their wintering grounds in the southern USA.
There are several campsites along Spectacle and Swan Lakes. One of the most popular is site 48 at Pat's Point midway down. The prominent point has a large campground and a cooking shelter with a woodstove.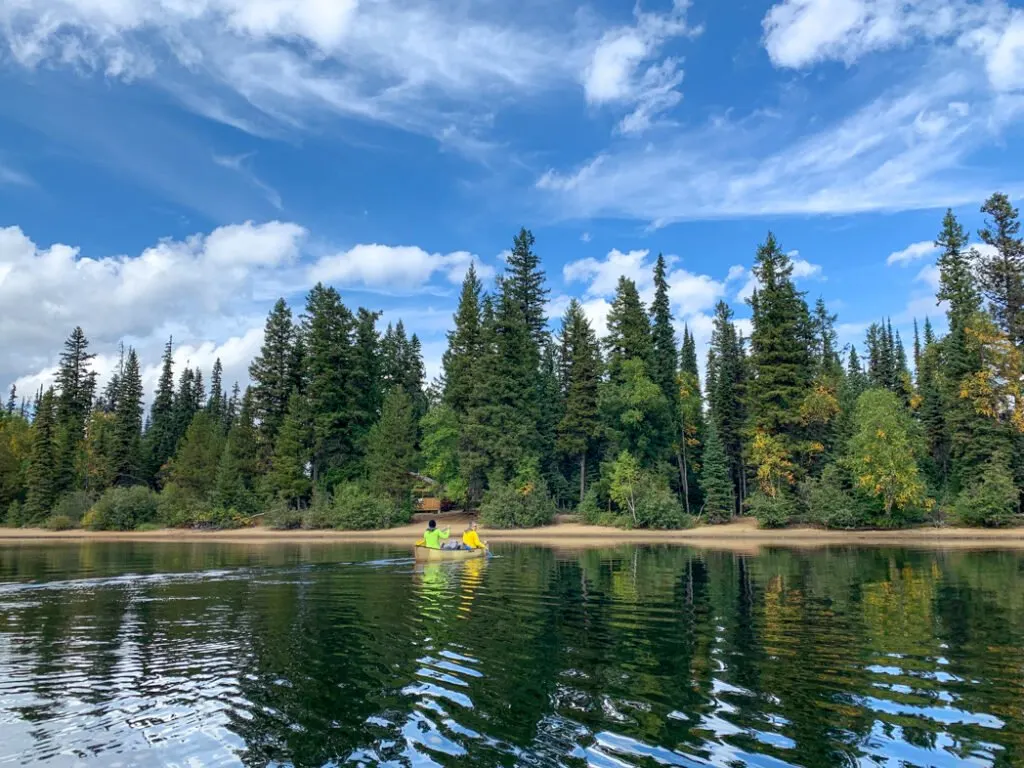 At the north end of Swan Lake, you'll encounter Pavich Island. Later in the year at low water, you must go around the east (right) side of the island in a narrow and grassy channel.
At the end of Swan Lake, you'll paddle the Bowron River for four kilometres. It's a great place to spot wildlife, especially moose. Unfortunately, we didn't see any on our trip. Watch for orange channel markers on the Bowron River to stay in the main channel and out of some of the side marshes.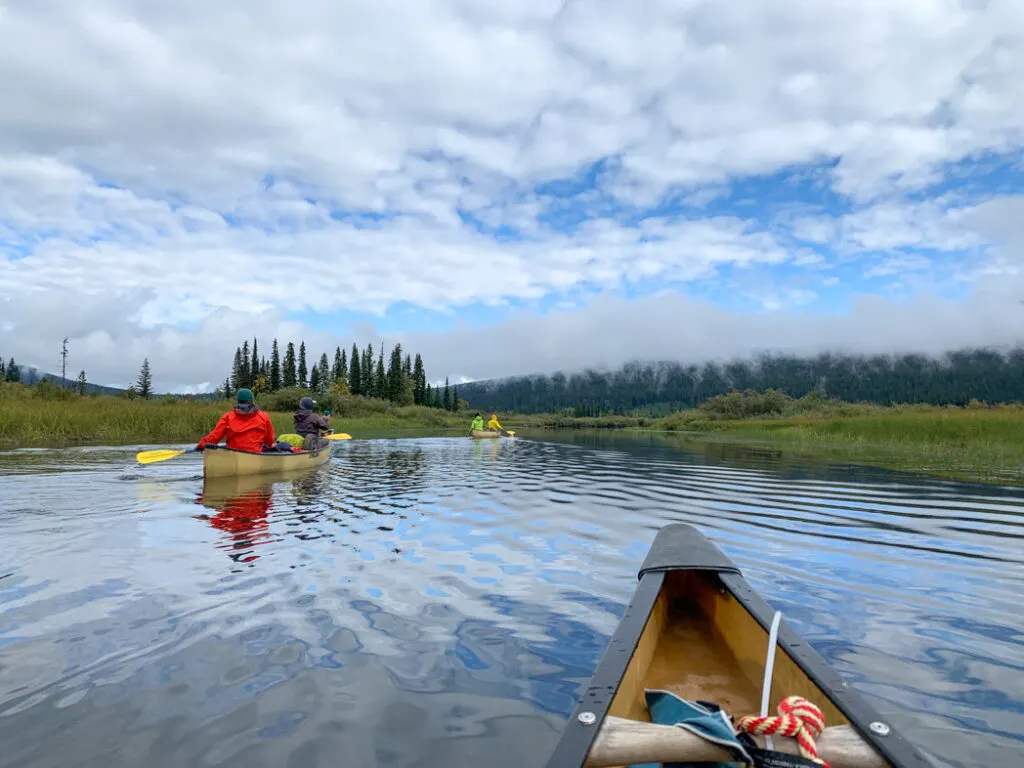 Use caution at the entrance to 7.2-kilometre-long Bowron Lake. High winds and lots of sandbars can create big waves. Bowron Lake also has a reputation as one of the windiest, and therefore most dangerous lakes on the circuit. It's wise to paddle down one of the shorelines.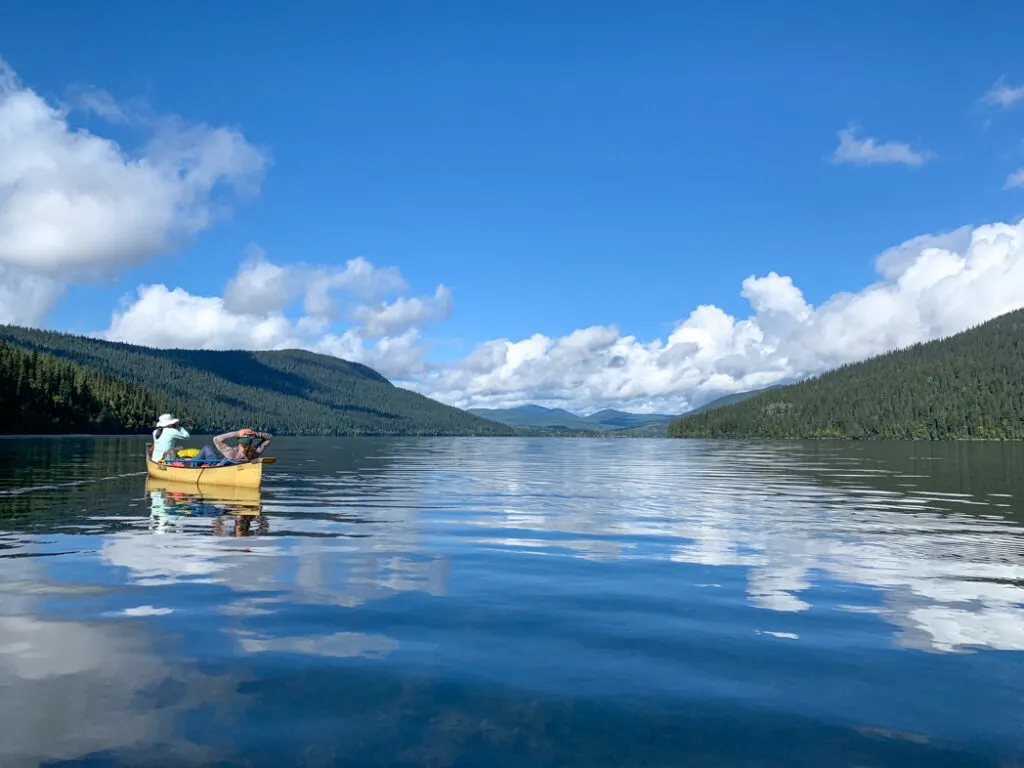 If you rented from one of the outfitters, you can end your trip on their beach at the far west end of Bowron Lake or at the mouth of the Bowron River. If you are ending your journey at the provincial park, it's located just north of the mouth of the Bowron River. There's a long dock and a short trail back to the parking lot.
Bowron Lakes Itineraries
Most people take six to eight days to paddle the Bowron Lakes Chain. (The maximum allowed time is 14 days.) Our group took eight days which included one rest day. We were on the water for 3.5 to 7 hours each day.
Each day, we adjusted our itinerary on the fly to plan around the weather. (We used our Garmin inReach Mini to get a satellite weather forecast every day which was a HUGE help. We were able to be off the water and under cover in the worst weather since we knew when it was coming.)
My recommendation for a standard itinerary is below. It's a great option for less experienced paddlers who don't have the stamina for long days in a canoe. You could easily make this itinerary a day or two shorter or longer.
Standard 7 or 8 Day Bowron Lakes Itinerary
This is the itinerary that we used. I would use this itinerary again as it worked really well.
Day 1: Registration Centre to Indianpoint Lake
Day 2: Indianpoint Lake to Isaac Lake
Day 3: Isaac Lake
Day 4: Isaac Lake to Lanezi Lake
Day 5: Lanezi Lake to Unna Lake
Day 6: Unna Lake to Spectacle Lake
Day 7: Spectacle Lake to Bowron Lake
Rest Day: If you want a rest day, just add it to your itinerary. If you have nice weather, I recommend a rest day at Unna Lake to swim and see the waterfall. In bad weather, take a rest day at a campsite with a shelter and woodstove such as site 15 (Wolverine Bay), site 28 (south end of Isaac Lake), site 34 (Turner Creek), or site 48 (Pat's Point).
Camping on the Bowron Lakes Canoe Circuit
You must stay in one of the 56 designated campgrounds on the Bowron Lakes Canoe Circuit. There are 10 sites reserved for groups and 46 regular sites.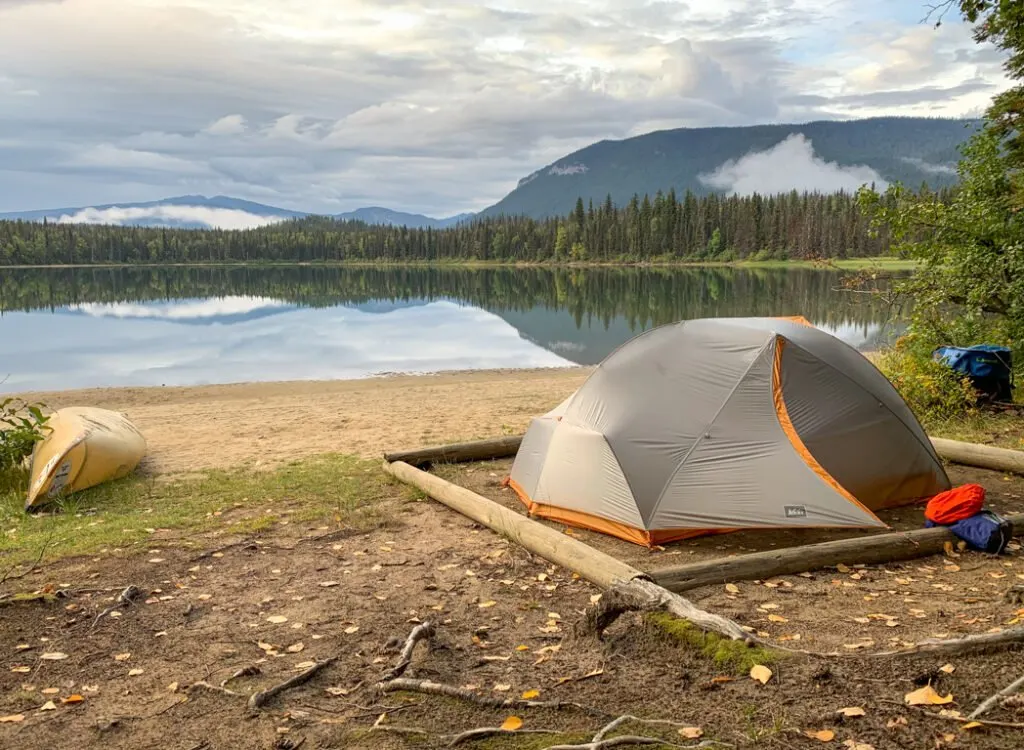 Each regular site has room for 1-13 tents on dirt tent pads. Tent pads vary in size but will fit up to a 3 person tent. Some of them are poorly drained and can turn into a puddle during rain storms. Choose wisely!
The chart on the back of the park map shows how many tents can fit at each site.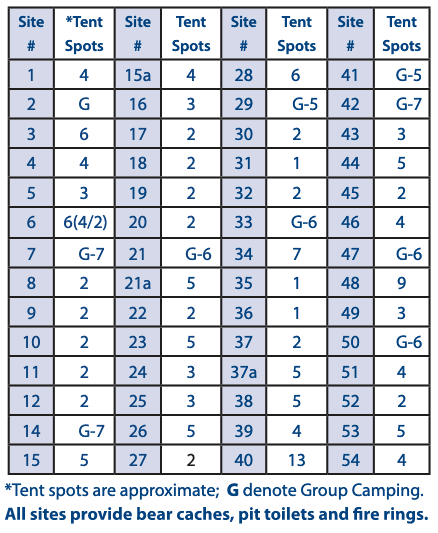 All sites are first-come, first-served so you can change your itinerary as you go. In July and August when the circuit is busy, try to arrive at camp in the early to mid-afternoon as the campsites can get full.
If your group has more than two tents, plan your trip carefully as there are some long stretches where the campsites won't have enough tent spots.
Each campground has bear caches, pit toilets, and fire rings. Some sites also have a covered cooking shelter with a woodstove or a historic cabin that can be used as a cooking shelter. See the Bowron Lake Provincial Park map for locations.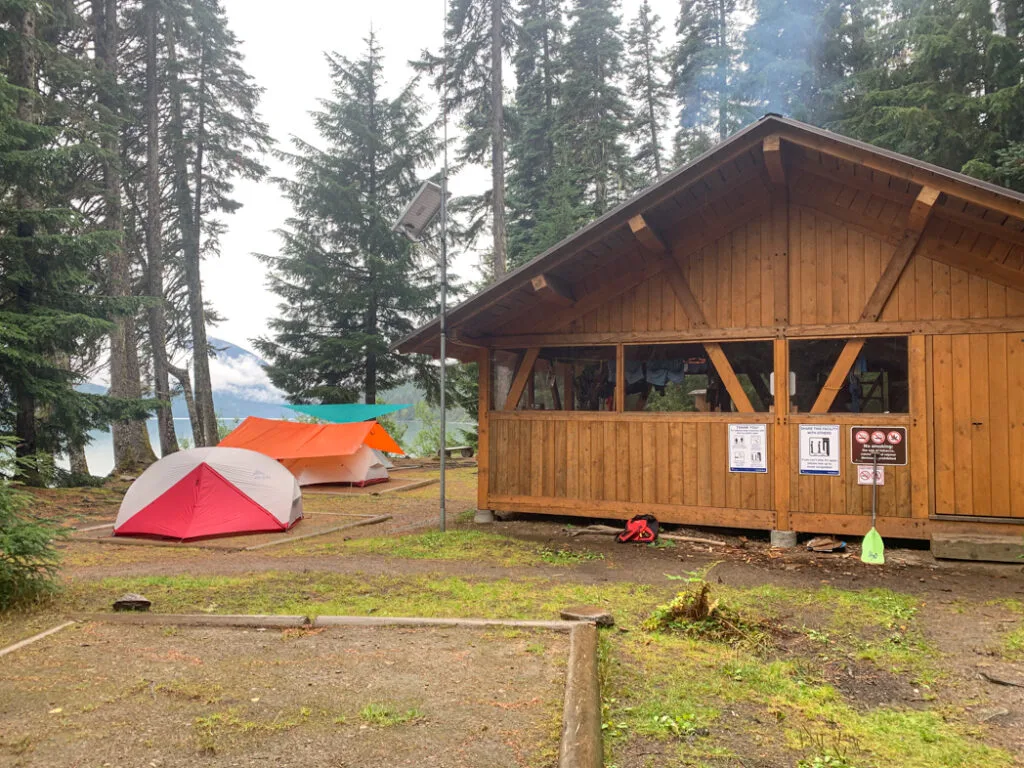 There is no firewood at the campsites. Instead, you'll need to pick up firewood along the way at designated woodlots that have pre-cut wood.
The park ranger will mark these locations on your map when you start. We found the map markings a bit vague so be on the lookout for large "W" signs as you paddle as these mark the woodlots.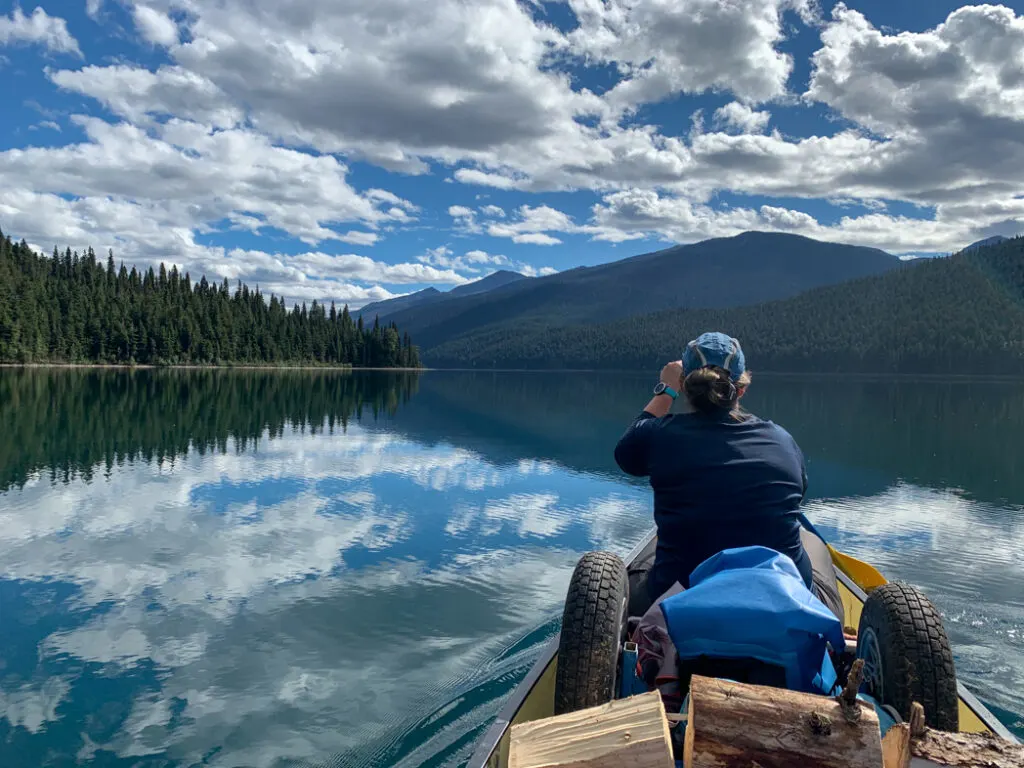 Bowron Lakes Weather
The Bowron Lakes Circuit is located in the mountains of northern British Columbia. In general, the weather is a bit chilly and often wet.
The warmest months are July and August when the average low temperature is 3°C and the average high is 18°C. In June and September temperatures are usually between 0°C and 16°C.
The area experiences a fair amount of rain, with June and July being the wettest months. August is a bit drier and September is the driest month that the Bowron Lakes Canoe Circuit is open (but not by much).
Even if you check the Bowron Lakes weather forecast before you go, on a week-long trip that forecast can change a lot. No matter what the forecast, pack for chilly and wet weather.
READ NEXT: The Best Weather Apps for Hiking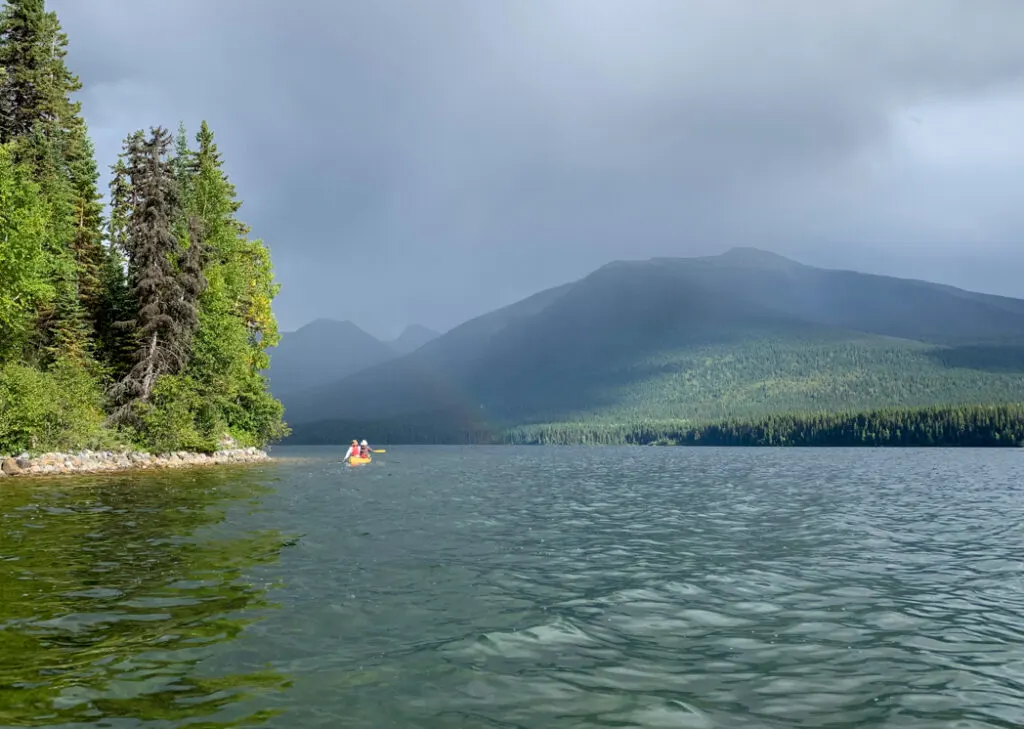 We brought our Garmin inReach Mini satellite messenger and used the satellite weather forecast option every evening to plan the next day's paddle. It was really helpful to know which day was supposed to have a lot of rain and which was supposed to be nice.
Thanks to knowing the forecast, we pushed ourselves through a long, tough day in a bit of drizzle to get to a campsite with a covered cooking shelter and woodstove. We spent the next day there as a rest day playing cards and napping during a torrential rainstorm. I'm glad we didn't have to paddle in that!
What to Bring on the Bowron Lakes Canoe Circuit
You will need to be fully self-sufficient on the Bowron Canoe Circuit and pack everything with you. For a full list of things you'll need on a wilderness trip, see my backpacking gear checklist. Below I've listed some of the key items you will need to bring on the Bowron Lakes:
Canoe or Kayak: It's easiest to rent these at one of the nearby outfitters (see below). If you have an odd number of people in your group, put the single person in a kayak. Otherwise, kayaks can be a challenge to pack and portage compared to canoes. However, they are much easier to paddle in the wind.
Canoe or kayak cart: Rent an expedition cart with large wheels. The portages can be very bumpy and muddy so small carts won't work well.
Firestarter and axe: You will want to have a fire on chilly and wet evenings in camp. The firewood comes split into large half-rounds, but you'll want a good lightweight axe to split them further into kindling. (Hatchets are too small.) The wood can also be wet and hard to start, so firestarter cubes are key.
Bug spray and headnet: The bugs can be bad in June, July, and early August. On my trip in early September, there were no bugs, but my friends said they wouldn't do the trip without bug spray and a headnet at other times of year.
Tarp: Bring a lightweight tarp to cover your cooking area as the Bowron Lakes get a lot of rain. Some of the tent pads are also very poorly drained and can end up with pooling water. Stringing up a tarp over your tent can help redirect the water over the side so you don't end up camping in a puddle.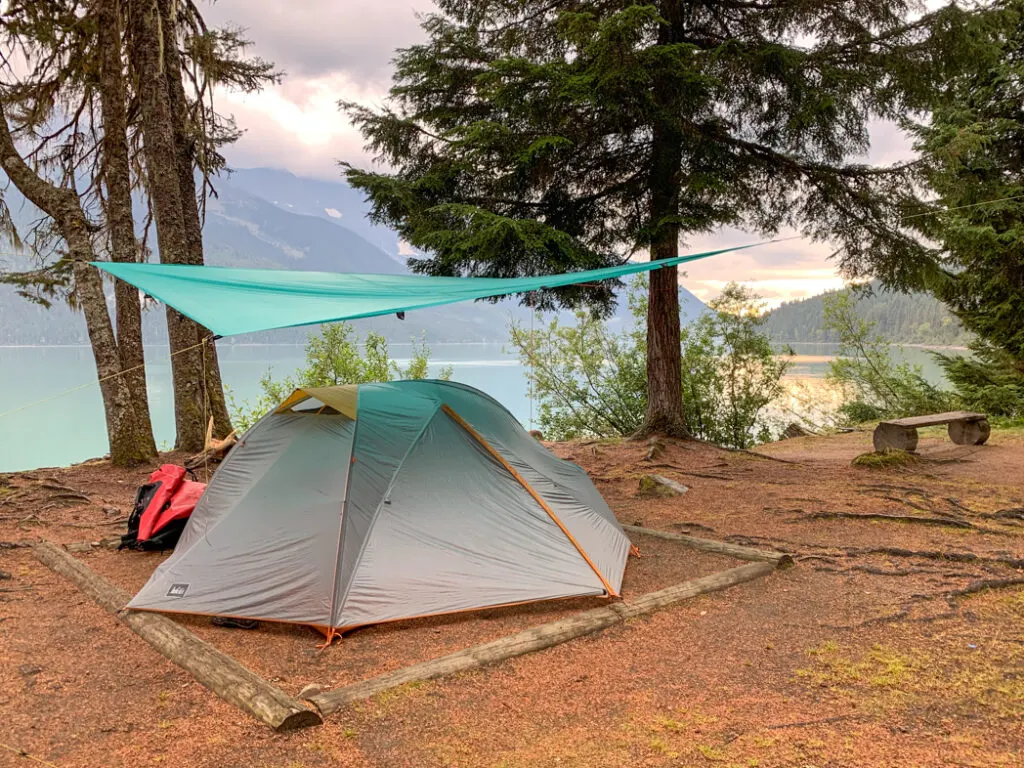 Dry bags and portage backpack: You can rent huge waterproof portage backpacks from some of the outfitters (see below). You'll also want to make sure the rest of your gear is protected from rain or water sloshing around in the bottom of your boat. We brought a our favourite big waterproof duffle bag and some dry bags.
Rain gear: It can be cold and rainy at any time of year. Bring a good quality waterproof breathable rain jacket and rain pants.
Water shoes or rubber boots: At most of the put-ins and take-outs you'll end up with wet feet. On warm days bare feet or sandals will be fine, but your feet will freeze at other times. I brought a pair of neoprene paddling booties to wear in the canoe and wore trail runners on the portages and around camp. A friend brought a pair of rubber boots that she loved since her feet were never wet.
Phone leash: I used my phone for navigation and photos, so I wanted to keep it easy to access, but also didn't want to dump it in a lake. I brought my Nite Ize phone leash so I could clip it to my jacket. I used the same leash on my Johnstone Strait kayaking trip and love it.
Lightweight chair: Each person in our group brought a lightweight camp chair. (Most people had the Helinox Chair One.) They are definitely a luxury, but they were SO nice to have so we didn't have to sit on the ground to cook and eat. They were also nice around the campfire.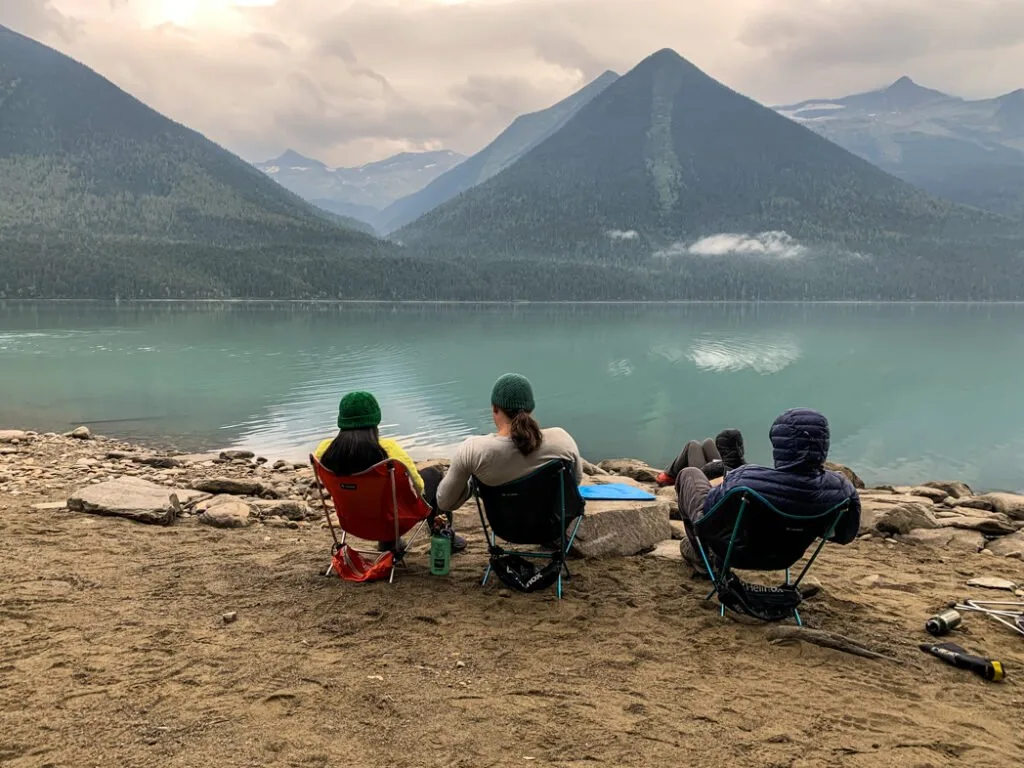 READ NEXT: How to Stay Warm in a Tent: Over 40 Tips
Canoe and Equipment Rentals
Most paddlers on the Bowron Lakes rent at least some of their equipment. There are four outfitters on Bowron Lake near the start of the circuit.
Becker's Lodge: Rents canoes, kayaks, carts, portage bags, and camping gear. They have the largest fleet and rent high-end lightweight canoes that aren't as heavy to portage as traditional canoes. Their location is a few minutes from the circuit start, but they will drive the canoes over there for you. You will finish your trip on their beach. We used Becker's Lodge rentals on our trip and were happy with our lightweight boats.
Bowron Lake Lodge: Rents a limited selection of canoes and kayaks as well as carts, portage packs, and camping gear. Their location is a few minutes from the circuit start, but they will drive the canoes over there for you. You will finish your trip on their beach.
Bear River Mercantile: Rents a limited selection of traditional and heavy canoes and kayaks as well as carts. Their location is a few minutes from the circuit start, but they will drive the canoes over there for you. You will finish your trip on their beach on the Bowron River.
Bowron Lakes Canoe Rentals: Rents four types of canoes, carts, and tents. Their canoes are traditional and heavy but their prices are slightly cheaper. Conveniently located at the start and finish of the circuit in Bowron Lake Provincial Park.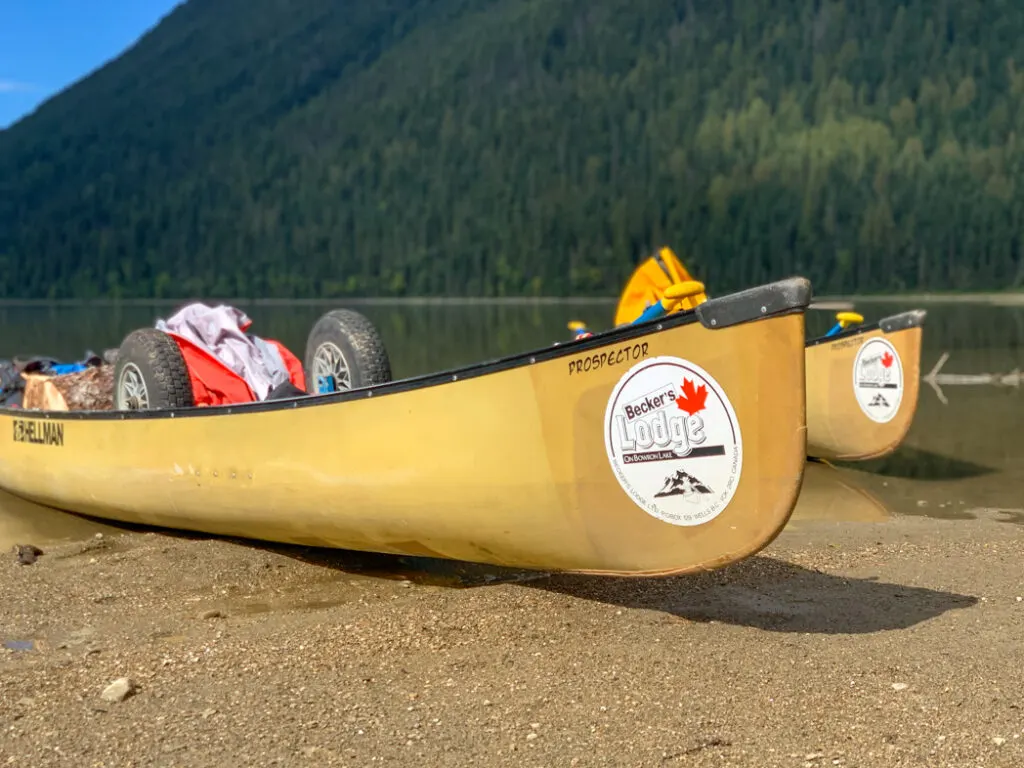 Tips for the Bowron Lakes Canoe Circuit
Before paddling the Bowron Lakes I had done a few short canoe trips on lakes and some ocean kayaking, but I had never paddled in moving water. However, everyone else on my trip had some moving water experience, including one friend who had whitewater canoeing experience.
In this section, I'll give you my beginner-friendly tips for the Bowron Lake Canoe Circuit.
Paddling Tips
This isn't a trip for inexperienced paddlers. Make sure everyone in your group has some canoeing experience and knows the basic strokes. It's best if most of your group has experience with moving water.
Try to get on the water early in the day and off the water by mid-afternoon when the wind picks up. This is especially helpful on the bigger lakes.
Paddle close to the shoreline so you can get off the water quickly in high wind or bad weather.
Keep a small dry bag close to each paddler with snacks, water, and rain gear so they are easy to grab without shifting around in the canoe.
Be alert in moving water as you watch for hidden rocks, sandbars, and submerged driftwood known as deadheads (where the end sticks up from the bottom) or sweepers (where the fallen tree is blocking the route of travel). If possible, get out on shore to scout upcoming hazards.
Use caribiners and pack buckles to attach all your gear to the canoe. That way it won't float away if you capsize.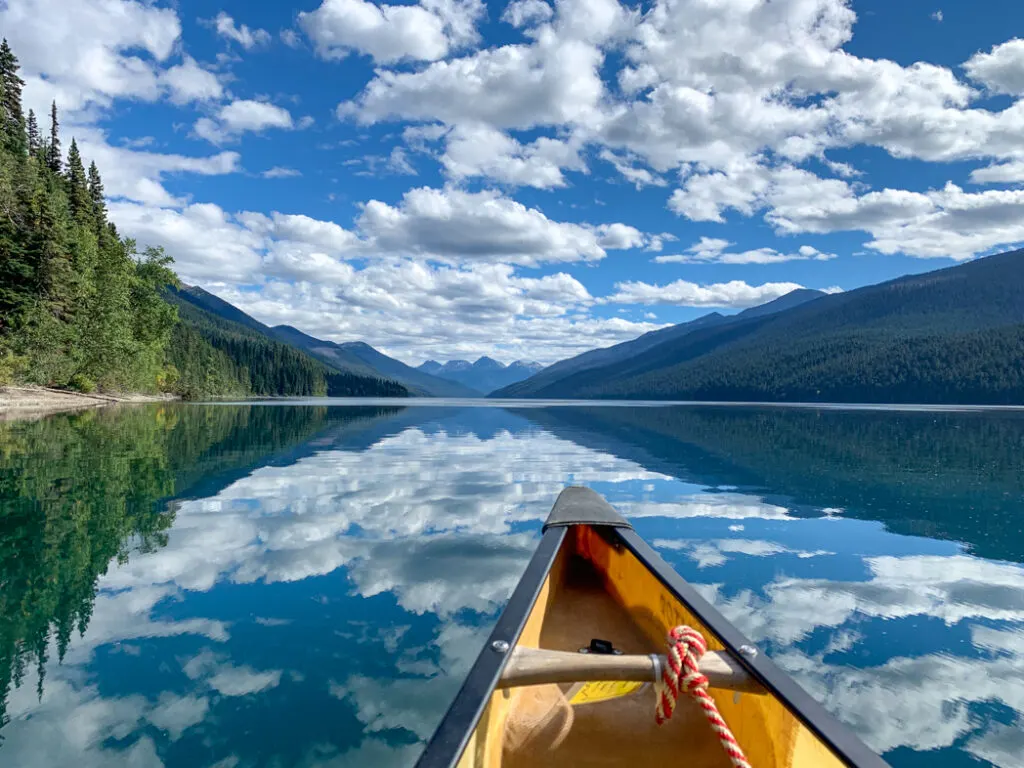 Portaging Tips
Bring an expedition canoe cart with big wheels. It will make the portages MUCH easier.
Take the time to center your canoe cart and do up the straps tightly before you start each portage. Having the weight balanced will make portaging easier. It can be easier to have two people lift the canoe while a third puts the cart into place.
Expect portages to take a long time as you transition from paddling to hiking (changing footwear, reorganizing gear, strapping on the canoe cart, etc.).
Weigh your gear at home and plan which gear will stay in the canoe and which you will carry while portaging. We brought a large waterproof duffle that we left in the canoe. We also had a big waterproof portage backpack and a small dry bag backpack that we wore on portages.
The portages can be muddy and rocky so wear good footwear. Waterproof trail runners or hiking boots are a good idea since you will be carrying heavy backpacks and wrestling with a canoe on uneven terrain.
Position one person at the front of the canoe pulling and one at the back pushing. Lean in to push with your legs, not your arms. Communicate to avoid bumps, rocks, tree roots, and puddles.
Expect the canoe cart to bounce around on the bumpy trail. The canoe will inevitably smack you in the ribs.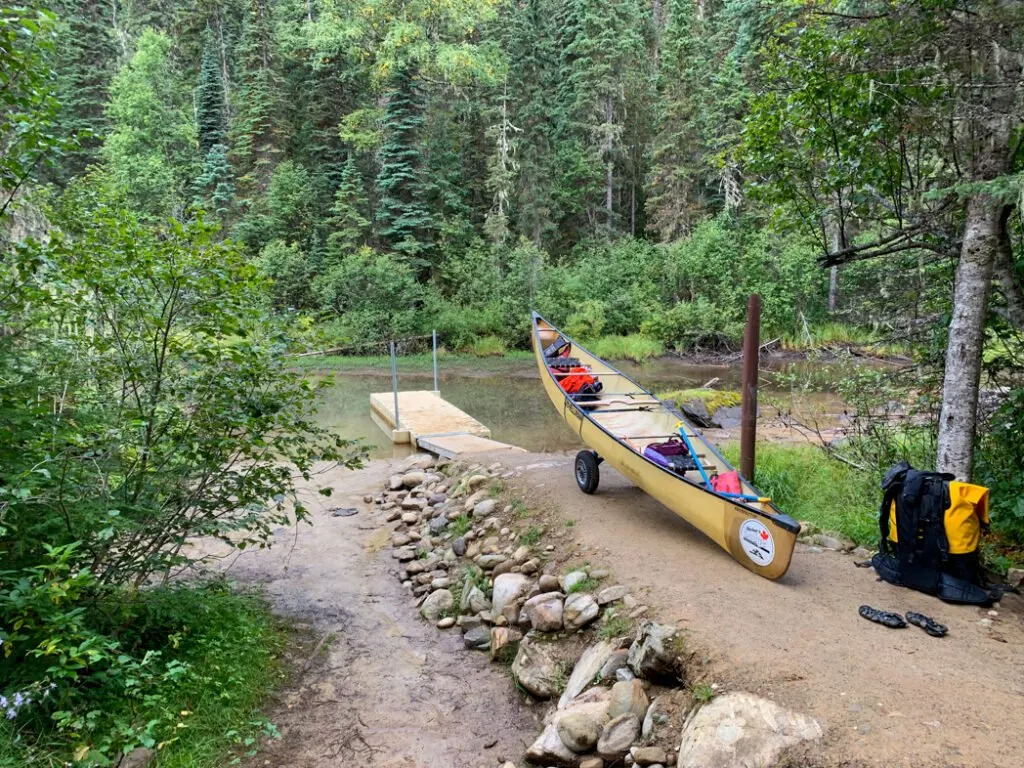 Wildlife Tips
The Bowron Lakes Canoe Circuit is home to both black and grizzly bears but we didn't see any bears or bear sign on our trip. Read my tips for hiking and camping in bear country.
Carry bear spray in an easy to grab place on all portages.
Use food lockers to store all food, garbage, cooking gear, and toiletries at campsites. If you need to leave gear unattended, there are also food lockers at each end of all portages.
Avoid burning garbage in the fire as it may not burn off completely and can attract wildlife.
You may also spot beaver, otter, mink, moose, porcupine, and many bird species on the Bowron Canoe Circuit. Use binoculars or a zoom lens to observe them and give them lots of space to continue their natural behaviour. This is especially true for moose who have charged canoes when protecting calves.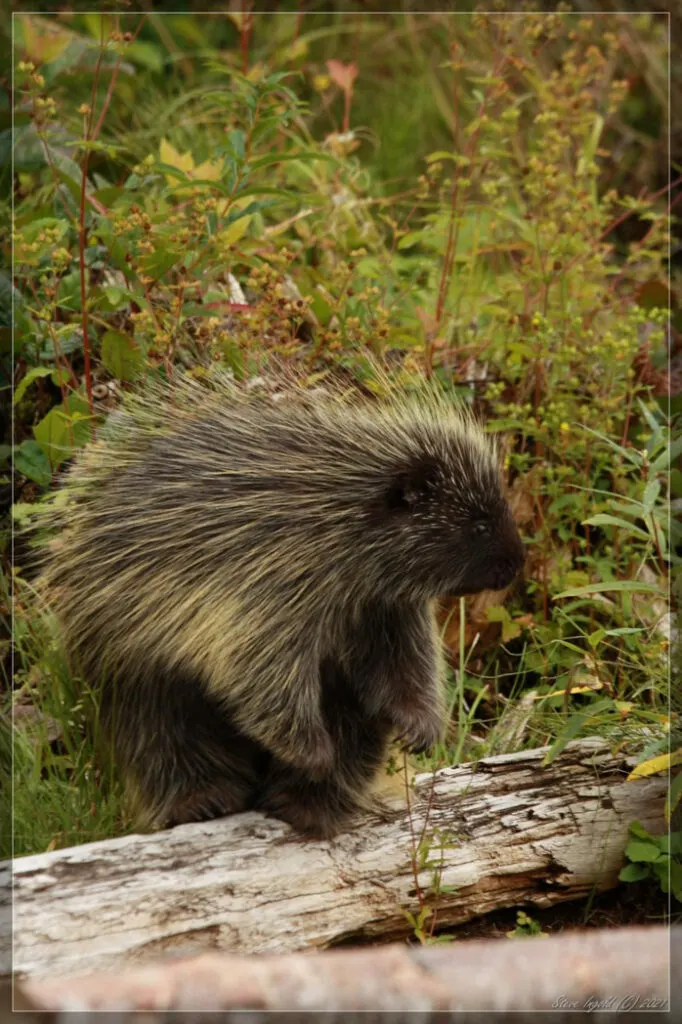 Trip Planning Tips
If possible, try to try to travel in a group with 2 tents or less. This will give you a lot more options for where to camp.
Try to plan out your day each morning by looking at the map and picking proposed lunch and snack locations as well as some backups. Some lakes have steep shorelines where the only place to easily get out of the canoe for a break or to go to the bathroom is at a campsite.
Since you can carry a lot of gear in a canoe, it can be tempting to bring a ton. But try to pack light and compact to make the portages easier. We brought more clothing than we normally would on a backpacking trip and heavier food including some canned food. In total we had about 120lbs of combined gear for two people at the start compared to the 80-90lbs we would have on a week-long backpacking trip.
How to get to the Bowron Lakes Canoe Circuit
The Bowron Lakes Canoe Circuit is located about 2 hours east of the town of Quesnel in Northern British Columbia. There is no public transportation to the park, so the only practical way to get there is by car.
If you are flying, the Prince George airport is the most convenient (3 hours away). It also has car rentals. I use Discover Cars since it lets you compare prices from lots of different companies. That way you can be sure you are getting the best deal.
Driving Directions
From Highway 97 just north of Quesnel, go east on Highway 26 towards Barkerville for about 79 kilometres. Turn left onto the gravel Bowron Lake Park Road and follow it for about 26 kilometres. In the last kilometre you'll pass by several private lodges before arriving at Bowron Lake Provincial Park and the canoe circuit check-in.
Where to Stay Near the Bowron Lakes Canoe Circuit
Since the Bowron Lakes are fairly remote, you likely will want to stay overnight in the area before or after your trip. There are a few options right near the canoe put-in, and lots more within a few hours' drive.
Bowron Lake Provincial Park Campground: Located right next to the ranger station where you check-in to start the canoe circuit. The campground has 25 sites and costs $18/night. Advance reservations recommended.
Becker's Lodge: This heritage lodge on Bowron Lake caters to canoeists with rentals on-site. Their log cabins are super-cute too. Check rates.
Mountain Thyme Getaway: Find this vacation rental in the town of Wells, five minutes from Barkerville and 40 minutes from Bowron Lakes. With three bedrooms, it's a great option for small groups. Check rates.
Billy Barker Casino Hotel: We stayed at this Gold Rush-themed hotel in Quesnel before our Bowron Lakes canoe trip. It has fun period decor but still has all the modern conveniences. And the outside of the hotel is shaped like a paddle wheeler – fun! Check rates.
Bowron Lakes Rules
Dogs: Not permitted.
Campfires: Allowed in campsite fire rings and shelter woodstoves only. Bring a stove for cooking. Collect firewood from designated wood lots located around the circuit. (The park ranger will indicate locations on your map when you check-in.)
Weapons: Firearms, cross-bows, and bear bangers are not permitted.
Music: No portable stereos or external speakers allowed.
Drones: Drones are not allowed on the Bowron Canoe Circuit or in any BC Park without a specific permit, issued only to licenced drone pilots.
Commercially packaged beverages and glass containers: No glass bottles or jars, no beer or pop cans, no liquor bottles, no tetrapaks. This rule is in place to prevent litter and the hazard of broken glass. Canned food is permitted as long as you pack out the cans. Our group brought boxed wine using only the inner plastic bag and liquor in flasks.
Fishing: Permitted with BC freshwater fishing license. The lakes have bull trout, rainbow trout, lake trout, and kokanee. Apparently, June and September are the best months for fishing. (We didn't fish on our trip.)
Grafitti and wood carvings: No graffiti or carvings allowed. However, you are encouraged to whittle driftwood into art and display it on wires outside the shelters.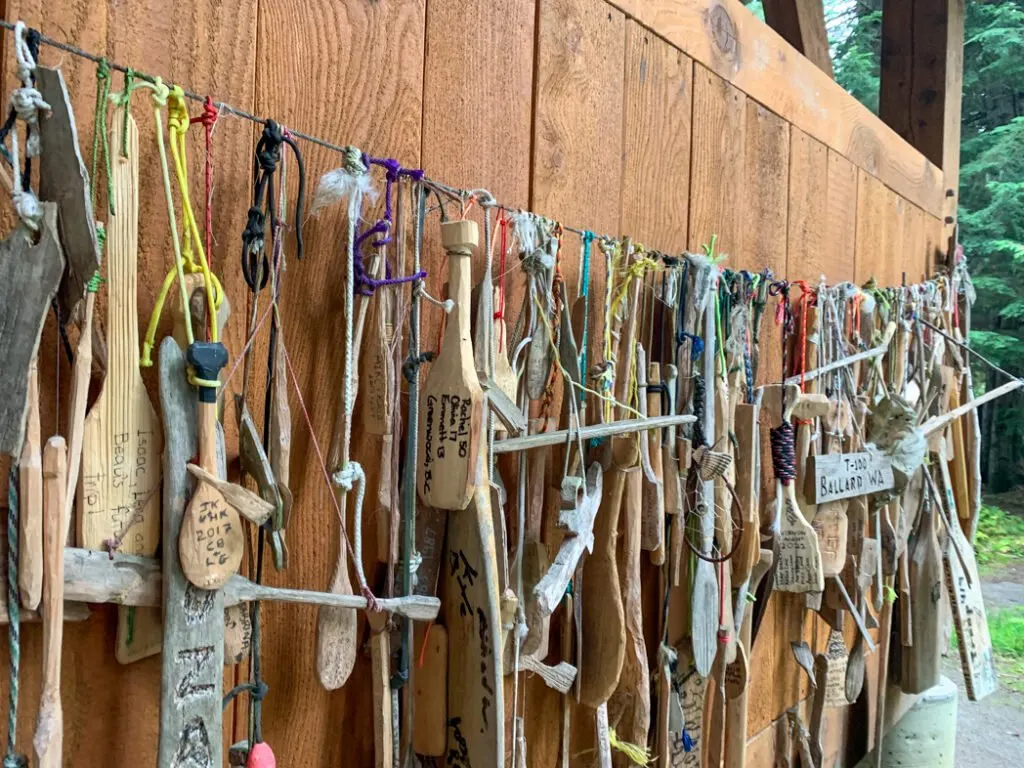 Bowron Lakes History and Indigenous context
The Bowron Lakes area is the traditional territory of the Lheidli T'enneh, Tŝilhqot'in Nen, Dakeł Keyoh, and Dënéndeh Nations. They have trapped, hunted, fished, and gathered in the region since time immemorial.
At the time of European contact, there was a Dakeł Keyoh village at the mouth of Kibbee Creek on Bowron Lake. Unfortunately, the smallpox epidemic of the 1860s and the pressures of the fur trade and the Gold Rush had a devastating impact on their population.
In 1961 Bowron Lake Provincial Park was created to provide further protection to the area, first classified as a Game Reserve in 1925. There is a long history of trapping and fishing in the area, dating back to the Gold Rush. Many of the lakes and mountains in the park are named for locals such as Betty and Joe Wendle, Frank Kibbee, and J.P. Babcock who were early advocates for preserving the wilderness in this special area.
Further resources
On my trip, I brought the book The Bowron Lakes: A Guide to Paddling British Columbia's Wilderness Canoe Circuit by Jim Boyle, Chris Harris, and Dean Hull. It has a great overview of the circuit and wonderful information about the natural and cultural history of the area.
But the most valuable part is the detailed information on the hazardous moving water sections of the route. It has helpful diagrams about what part of the river to aim for and which strokes to use. The book is also designed to fit inside a Ziploc sandwich bag, which is such a thoughtful touch on a canoe trip.
The book is available from Amazon, MEC, and some local businesses.
BC Parks also has a helpful Pre-Trip Information Booklet, although some of the reservation information is out of date.
The Bowron Lakes Canoe Circuit is an incredible canoe trip with such beautiful scenery. This post has all the info you need to have a memorable experience. Do you have questions about canoeing the Bowron Lakes? Ask me in the comments. I'd love to help.
READ NEXT: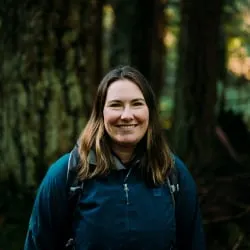 Latest posts by Taryn Eyton
(see all)