My first book, Backpacking in Southwestern British Columbia: The Essential Guide to Overnight Hiking Trails is now out!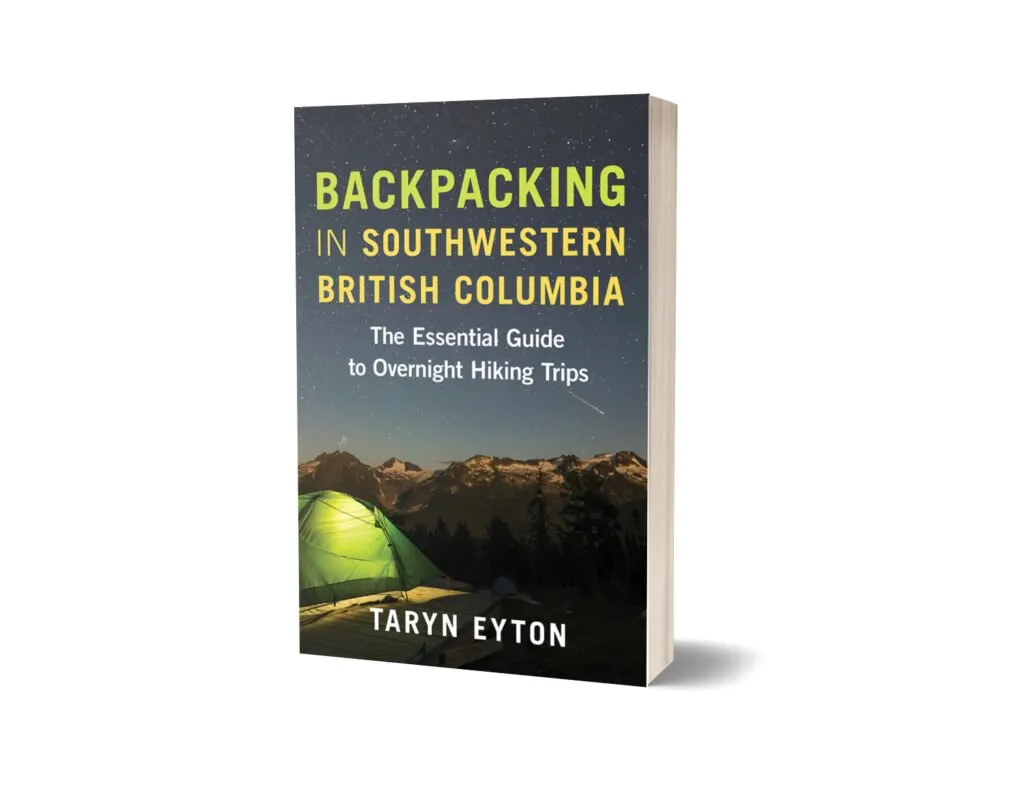 Hey there: Some of the links in this post are affiliate links, which means I earn a small commission at no cost to you. Thanks for your support. -Taryn
Order a Signed Copy
I'm selling and shipping signed copies of Backpacking in Southwestern British Columbia directly. Click through to order a personalized copy from me. (Psst! This option supports me the most.)
Where to Buy
You can currently order the book at the following retailers:
Backpacking in Southwestern British Columbia is also available at independent bookstores and outdoor stores. Ask your local indie bookstore to order it for you.
About Backpacking in Southwestern British Columbia
A one-stop resource for backpackers in beautiful British Columbia.
Planning your next backpacking adventure? This book covers all the essentials––including the many different routes that BC has to offer; packing and permitting ; advice for where to set up camp and find water once you arrive at your destination; and tips for minimizing your environmental impact using Leave No Trace principles.
Backpacking in Southwestern British Columbia features 40 backpacking routes from the North Shore up to Pemberton and Lytton and from the Sunshine Coast out to the Similkameen Valley. The book's beautiful photographs showcase what you'll see along the way: mountain peaks, alpine meadows, waterfalls, old-growth forests, and more.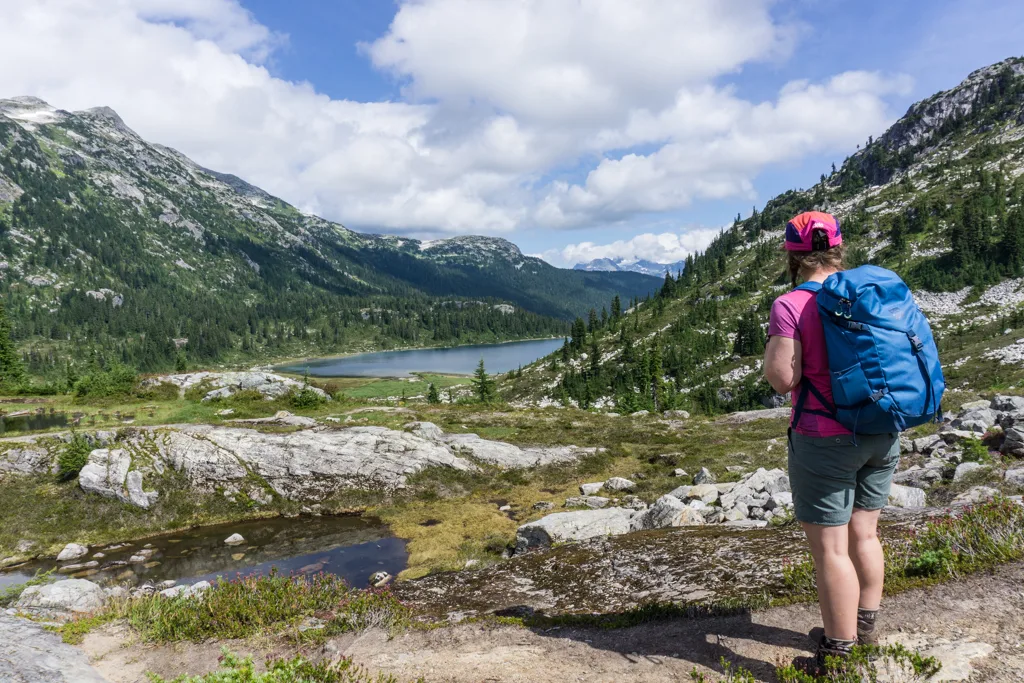 Every featured backpacking trip includes:
Elevation, distance, and time information
Route descriptions and trail maps
Points of cultural and natural history
Tips on where to camp and where to find water
Pre-planning hints about fees, permits, and reservations
Suggested side trips and points of particular interest
Backpacking in Southwestern British Columbia also shares options for extending an overnight excursion to several nights or a week, and for selecting campsites that match your timeline and fitness level.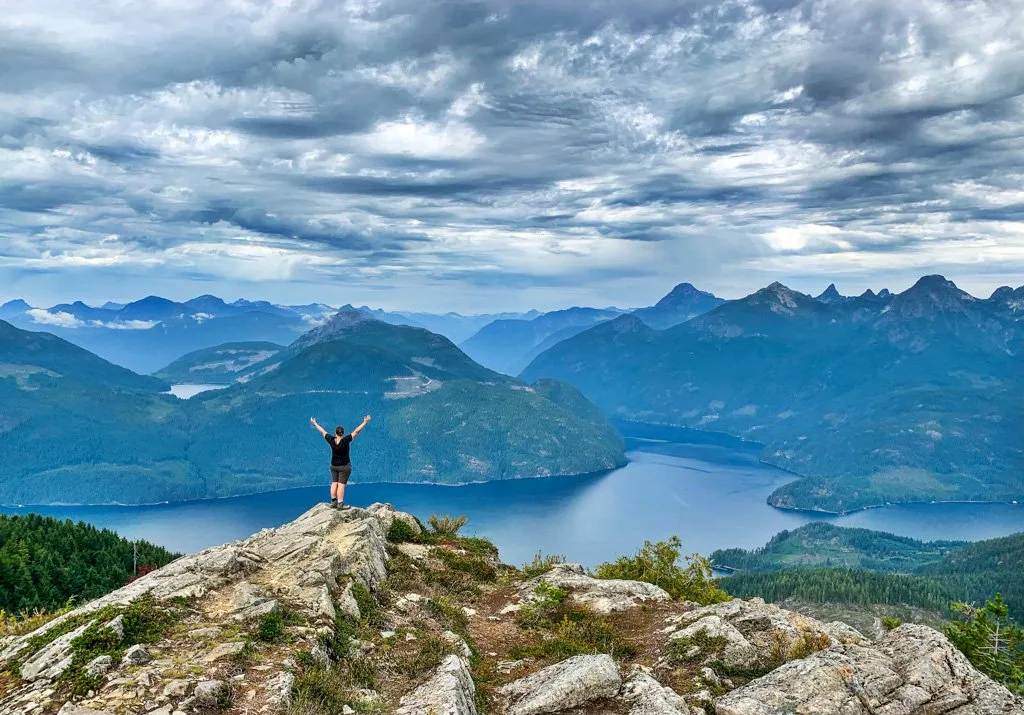 Book Updates
Mother Nature changes our trails and access roads every year. All info in the book was accurate at the time of writing, but of course is subject to change.
Visit my Backpacking in Southwestern British Columbia Book Updates page for the latest information on trail conditions and road access.
Awards and Praise for Backpacking in Southwestern British Columbia
Anyone who reads Happiest Outdoors is used to Taryn Eyton's incredibly detailed but user-friendly articles on outdoor topics. As expected, Backpacking in Southwestern British Columbia, which describes 40 trips… is the full package. The writing is engaging, the book is superbly organized, and the sharp photos will whet your appetite for the next overnighter. Novice backpackers will especially appreciate this book, its helpful observations, and its informative introductory chapters.
Stephen Hui, author of 105 Hikes in and Around Southwestern British Columbia
---
This is a great resource. We'll written and full of useful details. I've had it for a few days, and have already been inspired to plan 4 trips in coming months.
– 5 Star review on Amazon.ca
---
A great book : a well-curated, well-organised informative book of overnight hikes!
I am so glad I have this book. It's great for planning your next trip! The hikes were clearly carefully chosen in this book. The maps and layout of the book are great. I love the table to compare the hikes to find one that will suit you!
Bonus: there's a whole section on backpacking basics and tips on how to leave no trace so you can be a responsible hiker!
This book gets me all excited about hiking, now I can't wait for summer again!
– 5 Star review on MEC.ca
---
Finalist, Guidebook Category, 2021 Banff Mountain Book Competition
Order Backpacking in Southwestern British Columbia Now
Ask your favourite bookstore to order if for you, or look for Backpacking in Southwestern British Columbia at one of these independent booksellers:
More Backpacking posts:
Other BC Backpacking trail guides: