On British Columbia's Sunshine Coast the lush rainforest reaches from the mountain tops to the ocean, with gorgeous hiking trails everywhere. Need help choosing a trail? Here are the 21 best hikes on the Sunshine Coast.
I lived in Gibsons for five months in the winter of 2020/21. I went hiking every weekend and some weekdays too, so I've hiked all the trails on the Sunshine Coast (some of them multiple times).
In this post, I've got my local's picks for the best hiking trails, plus where to find more info. There's something for everyone with hikes to waterfalls, mountain tops, forests, and even tidal rapids. Most of the hikes are short and easy, but there are a few tough ones too.
Psst: Hiking isn't the only thing to do on the Sunshine Coast – get my list of the best things to do on the Sunshine Coast.
Sunshine Coast Hiking Basics
Getting to the Sunshine Coast
The Sunshine Coast is part of British Columbia's mainland, but it's not connected to the road network. That means that you'll need to take a ferry to get there.
You can take the ferry from Horseshoe Bay near Vancouver to Langdale near Gibsons on the Sunshine Coast. From Vancouver Island, take the ferry from Comox to Powell River.
The Sunshine Coast is also divided into two sections, separated by Jervis Inlet. You can take a ferry in between the northern section which includes Powell River, and the southern section, which includes Gibsons, Roberts Creek, Sechelt, Halfmoon Bay, and Pender Harbour.
Once you've arrived on the Sunshine Coast, the easiest way to get around is by car. However, there is some limited public bus service.
Hiking Season on the Sunshine Coast
With a few exceptions, most of the trails on the Sunshine Coast are near sea level, so you can hike all year. In the fall, winter, and spring, the trails may be a bit muddy or slippery, so be careful.
READ NEXT: The Best Weather Apps for Hiking
What to Bring Hiking on the Sunshine Coast
Even if you are just going for a short hike, you need to be prepared for the weather and conditions. Don't forget the 10 essentials. (Rain gear and warm clothing are especially important outside of summer.)
Bear Safety
The Sunshine Coast has a healthy black bear population. Carry bear spray and make noise while you hike to reduce your risk of a negative bear encounter. For more info about hiking in bear country, read my post about bear safety for hikers.
Leave No Trace
The area Sunshine Coast is sensitive wilderness. Learn about Leave No Trace principles to help keep the wilderness wild.
Sunshine Coast Hiking Map
I made a custom Google map for you that shows all of the trails on this list, plus the exact location of the trailhead and parking.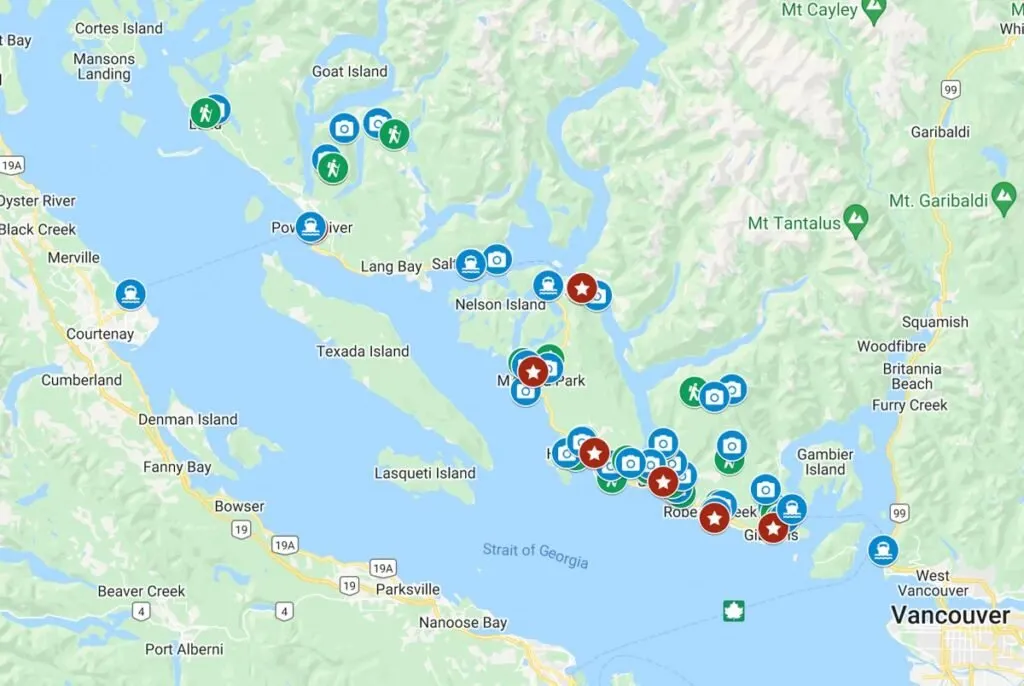 Best Hikes in Gibsons
Langdale Falls
Langdale Falls is a beautiful 40-foot-tall waterfall in a deep and mossy canyon. You can start the hike right from the ferry terminal or at the Sprockids Mountain Bike Park.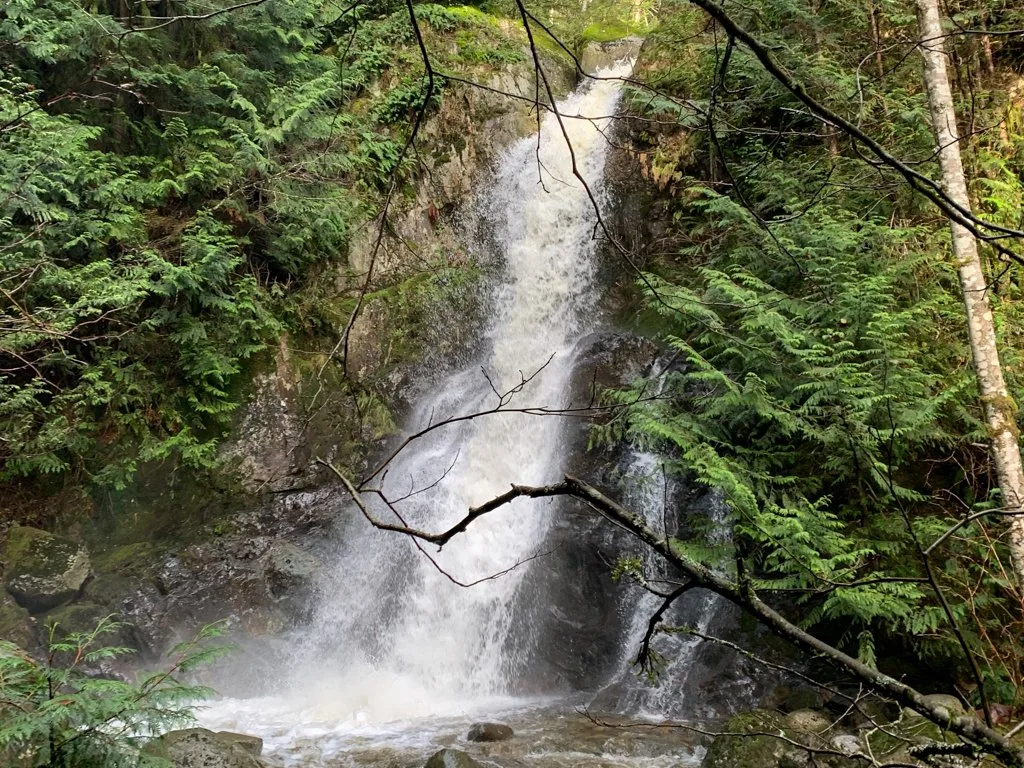 READ NEXT: Langdale Falls Hike on the Sunshine Coast, BC
Mount Elphinstone
The challenging hike to the top of 1232m-tall Mount Elphinstone takes all day. But the journey is worth it to enjoy the views and take pride in summitting one of the Sunshine Coast's tallest peaks. This is one of the few hikes on the Sunshine Coast I haven't done yet, but it's on my list!
Soames Hill
The view from the top of Soames Hill is spectacular: you can see Gibsons, Keats Island, and of course the ocean. It's a short hike, but it has lots of stairs so you'll get a bit of a workout. Soames Hill is one of my favourite Sunshine Coast hikes since it has such a beautiful view.

READ NEXT: Soames Hill Hike on the Sunshine Coast, BC
Best Hikes in Roberts Creek
Roberts Creek Falls
This short hike isn't well-known. But it's a very easy hike and the waterfall is spectacular. To get there, park at the end of Day Road in Roberts Creek, then follow the trail signs to the waterfall.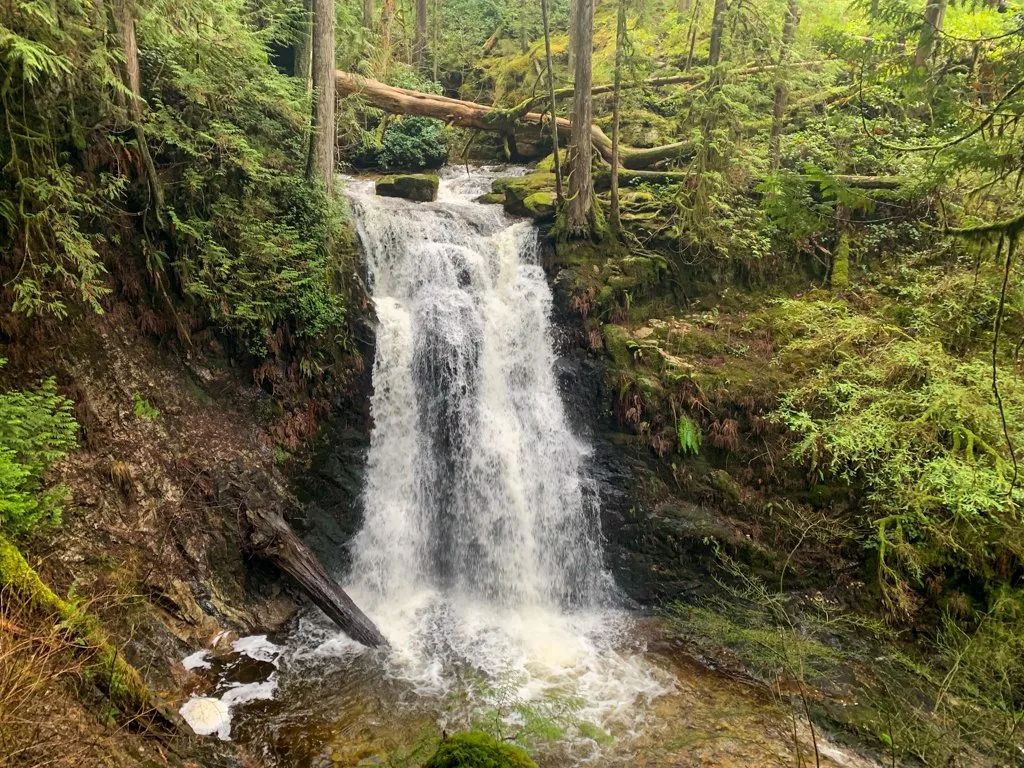 Cliff Gilker Park
This forested park has a great network of easy trails. The cedar trees, ferns, and moss are gorgeous and there are also several beautiful waterfalls and cascades. My trail guide has recommendations for the best loop through the park.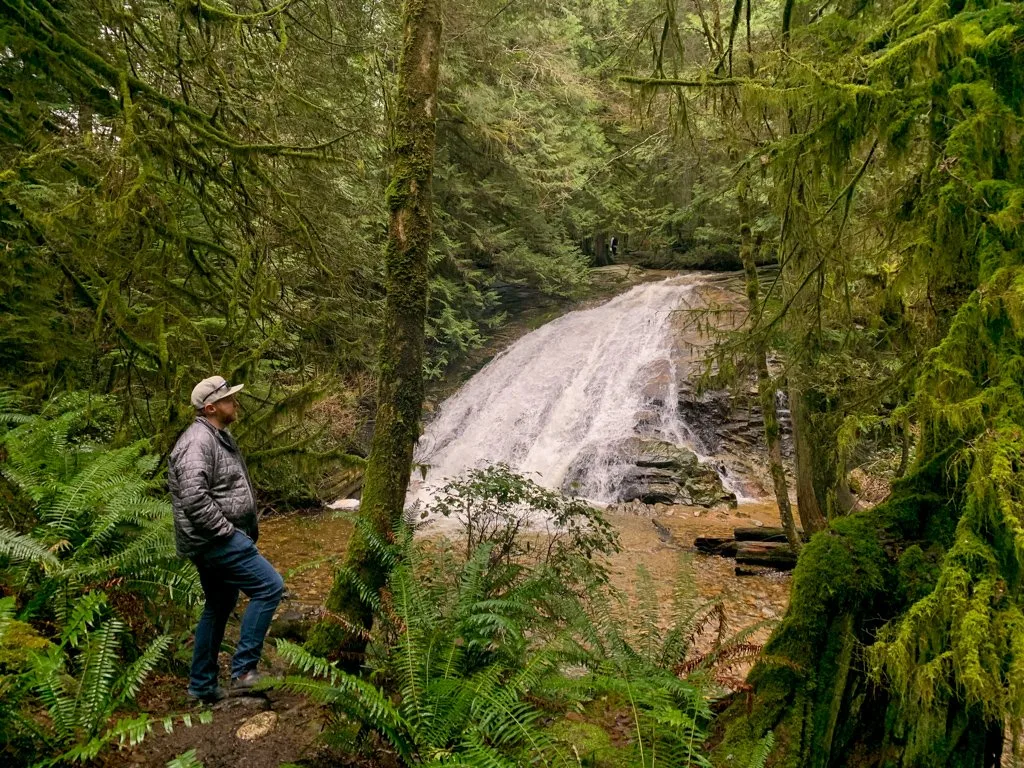 READ NEXT: Cliff Gilker Park Hike on the Sunshine Coast, BC
Best Hikes in Sechelt
Dakota Ridge Snowshoe Trails
Dakota Ridge Winter Recreation Area is a community-run snowshoe area in the mountains above Sechelt. It has lots of rolling trails and some beautiful viewpoints. Dakota Ridge is my favourite place to go snowshoeing on the Sunshine Coast. (And they have cross-country skiing too!)
READ NEXT: How to Snowshoe and Ski at Dakota Ridge on the Sunshine Coast, BC
Chapman Creek Trail
The Selma Park neighbourhood of Sechelt is home to a great trail network through the beautiful rainforest around Chapman Creek. You can start from several different trailheads accessed from Davis Bay, but I like to use the Sechelt Airport Trailhead. These trails also connect to the Chapman Falls Trail (below).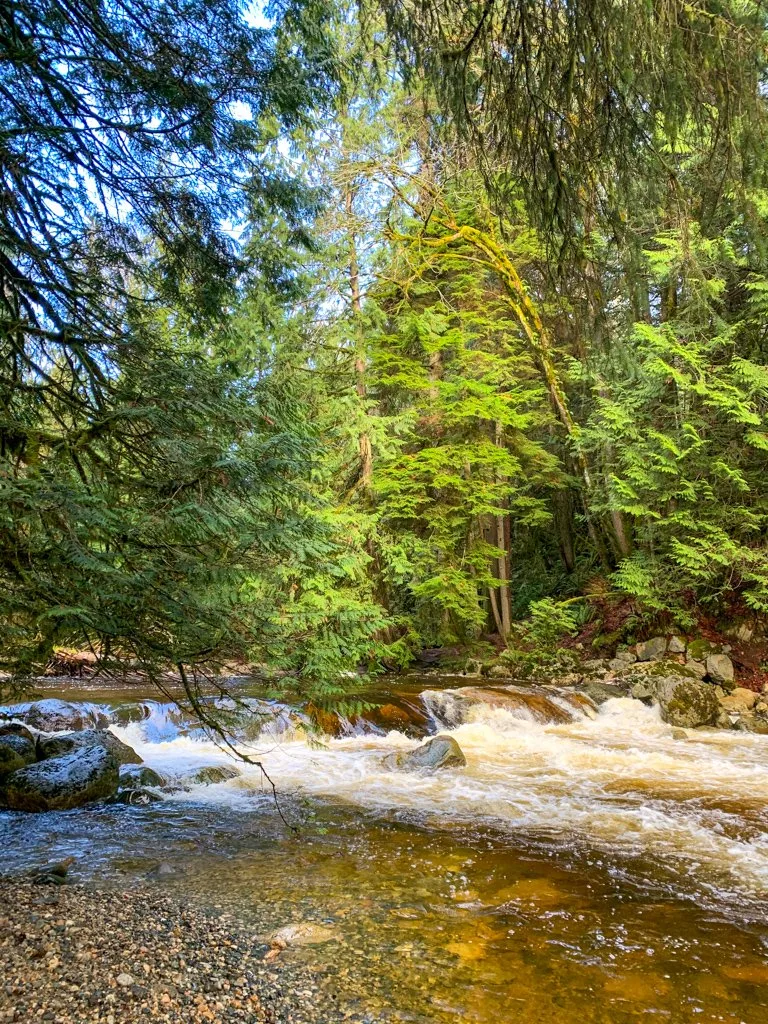 Chapman Falls
Chapman Falls is a gorgeous cascading waterfall in a deep canyon. Sechelt's main water source is Chapman Creek, and you'll walk on top of a water pipe for part of the hike. You can start your hike from any of the Chapman Creek Trailheads (above), but the shortest way to get there is from the end of Reservoir Road.
Note: As of January 2021 this trail is closed for repairs to the water pipes, but is expected to reopen soon.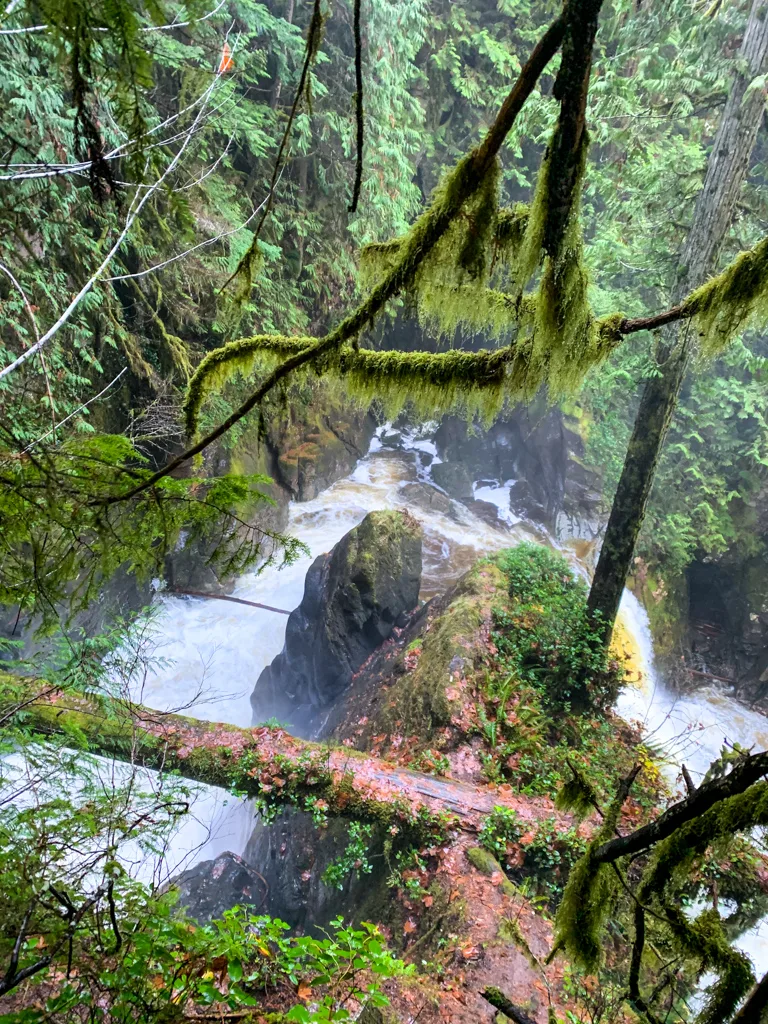 Burnett Falls
This short walk takes you to a beautiful waterfall. From the views of the lush forest along the way, you'd never guess that it's tucked away in a pocket of green space between industrial sites. It's one of the shortest trails on the Sunshine Coast, but it's worthwhile since it's so gorgeous.
Hidden Groves
The Hidden Groves are two trail networks in Sechelt Heritage Forest. Community groups worked to protect some huge old-growth trees and build tons of trails. There's a short section on the west side of Inlet Road but most of the trails are on the east side of the road.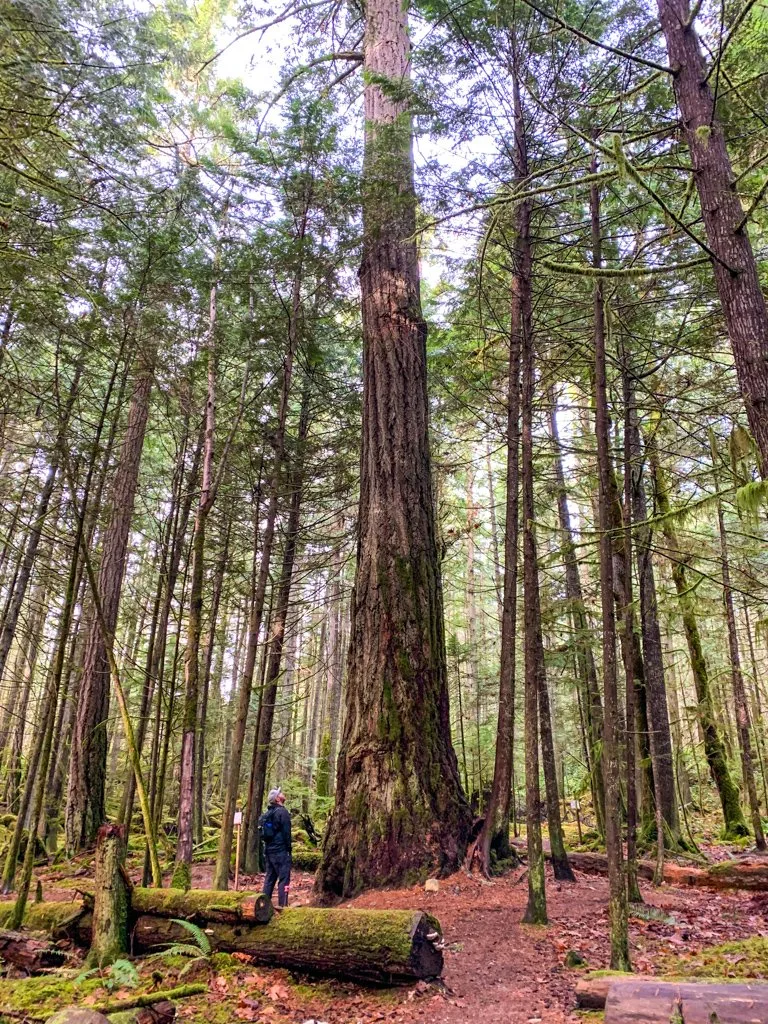 Tetrahedron Provincial Park and Mount Steele
Tetrahedron Provincial Park has a network of trails past several lakes and up to the summit of Mount Steele. A local outdoor club maintains four cabins in the park if you want to stay overnight. It's a great summer hiking destination, but it's also great in the winter on skis or snowshoes.
Note: The cabins in the park are currently closed due to the pandemic and tenting isn't allowed, so right now you can only do day trips.
More Info: Tetrahedron Provincial Park and Mount Steele is Trip 18 in my book Backpacking in Southwestern British Columbia. The book contains all the info you need to plan a day hike or backpacking trip in the park.
READ NEXT: Backcountry Huts in British Columbia and the Canadian Rockies
Kinnikinnick Park
This wilderness park in the West Porpoise Bay neighbourhood of Sechelt has several kilometres of pleasant trails. The network of trails lets you choose your own path through ferns, marsh, and mossy forest, or make a loop around the whole park.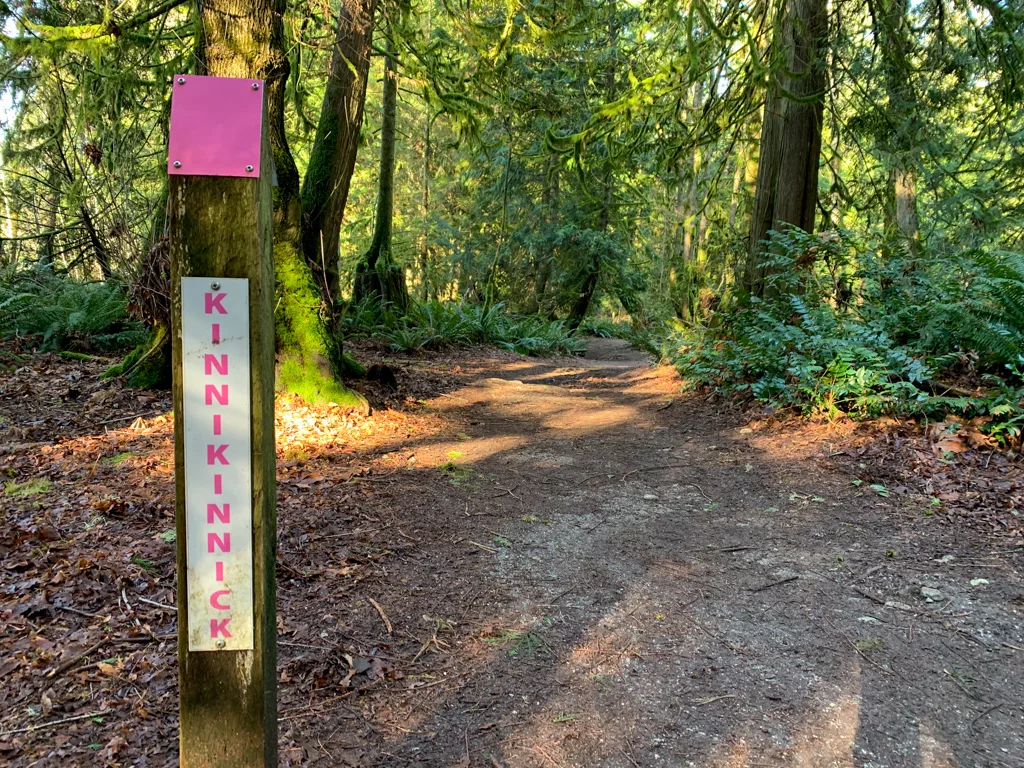 Best Hikes in Halfmoon Bay
Triangle Lake
This trail starts at Sargent Bay Provincial Park and heads up into the forest to tiny Triangle Lake. Community volunteers maintain a loop trail around the marshy lake. Take a break at one of the viewpoints – they come with benches.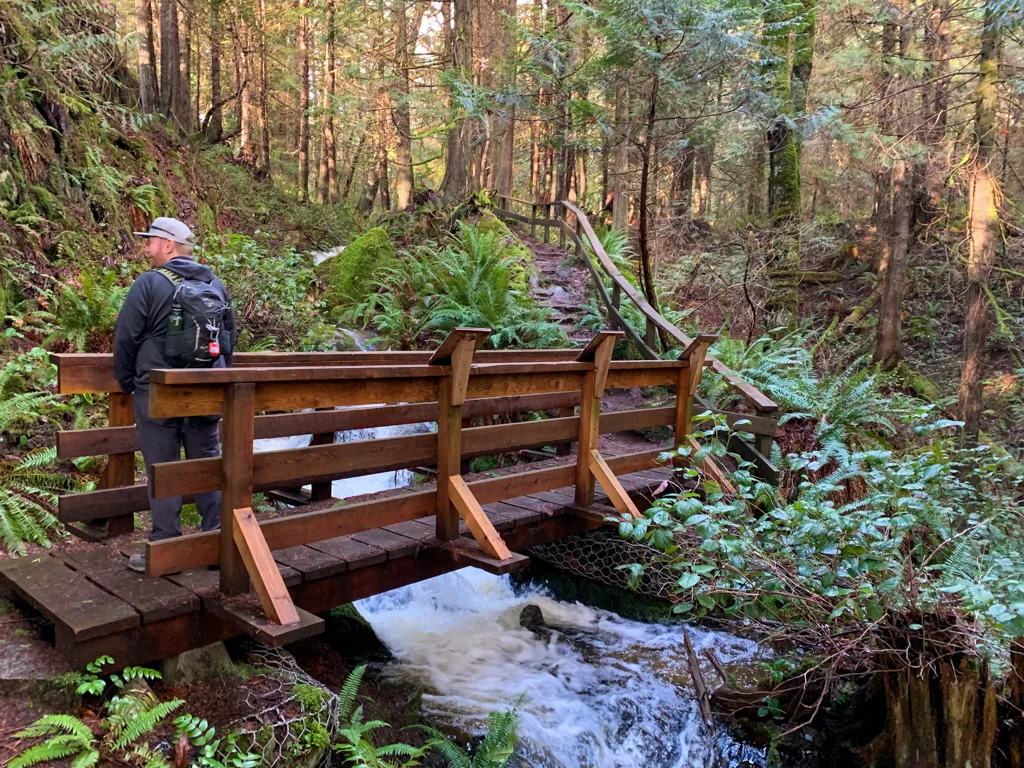 Big Tree Trail
This short trail takes you to one of the biggest trees on the Sunshine Coast. There's a picnic area at the base so you can linger and marvel at the tree. There's also a huge network of mountain bike trails if you want to extend your hike.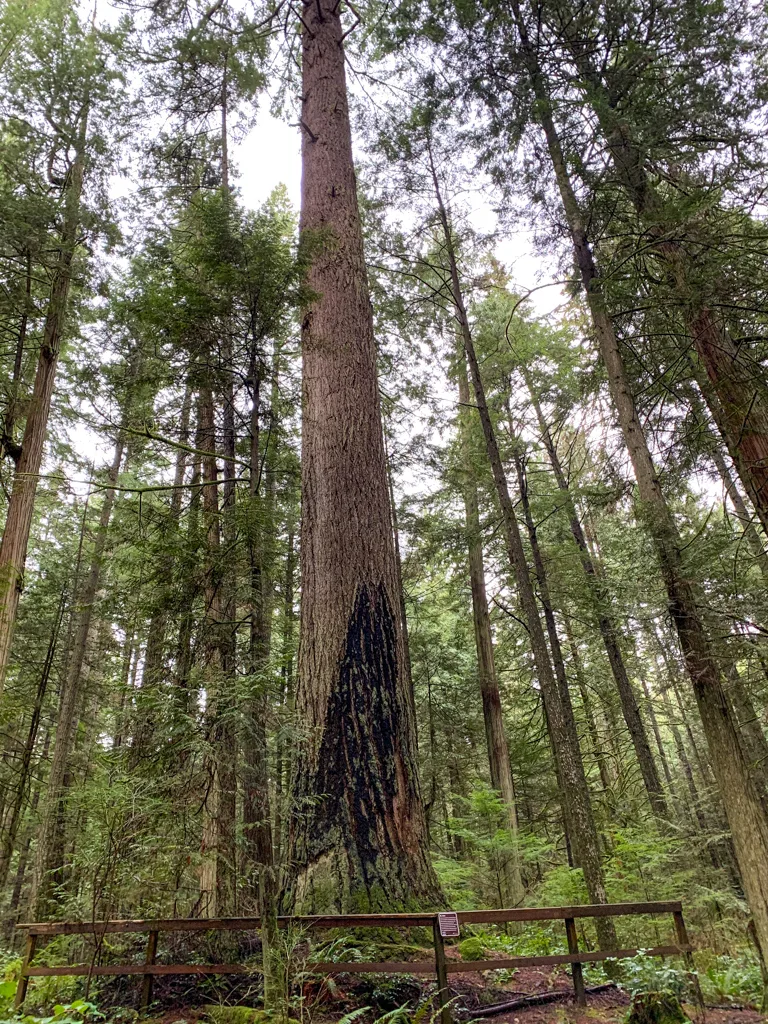 Smuggler Cove
This short hike leads past a beaver pond to the shores of Smuggler Cove. From there, you can take the left fork across the peninsula to a quiet rock outcrop, or the right fork out to the point. Both options are stunning, making this one of the prettiest Sunshine Coast hikes.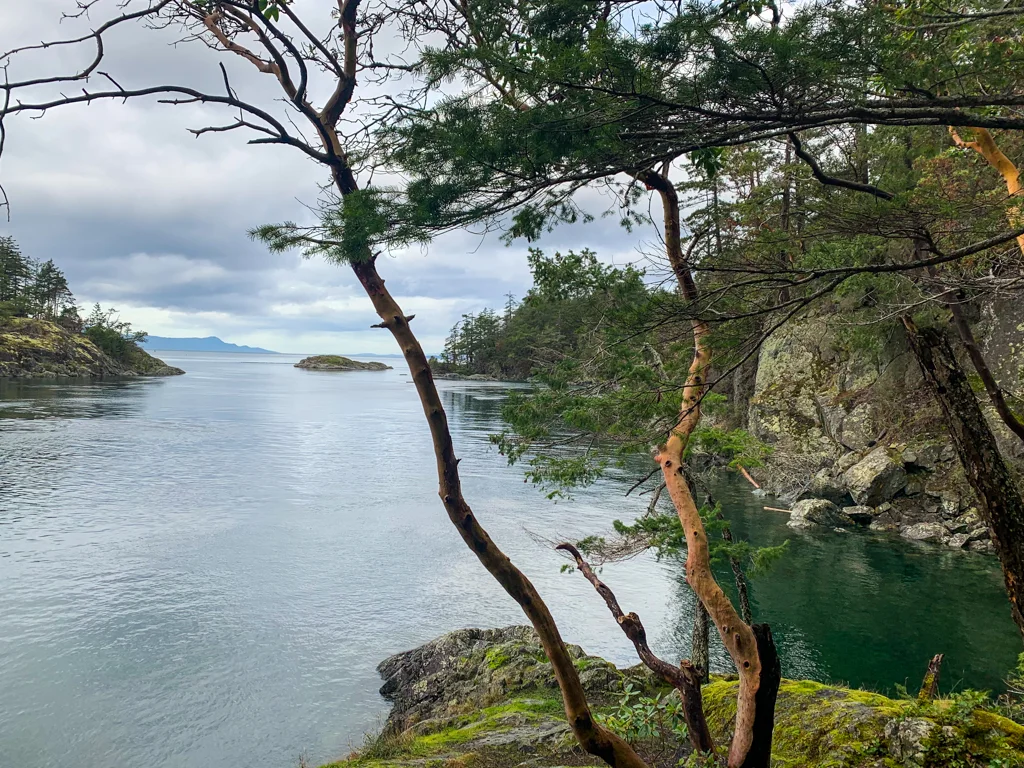 Homesite Creek Falls
This small and pretty waterfall is a short hike from Highway 101. There are trails on both sides of the creek so you can choose from several viewpoints.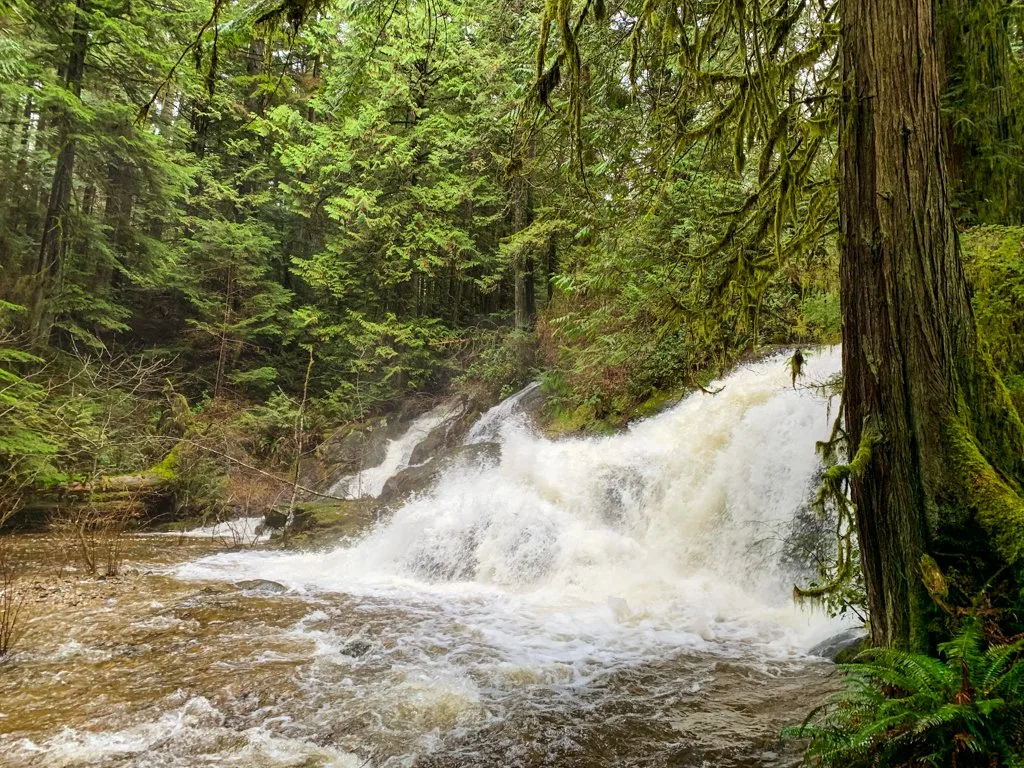 Best Hikes in Pender Harbour and Egmont
Francis Point
This short hike leads along a rocky shoreline to a beautiful viewpoint atop a bluff. While the hike is relatively flat, it traverses some rocky ledges that can be very slippery when they are wet, so be careful.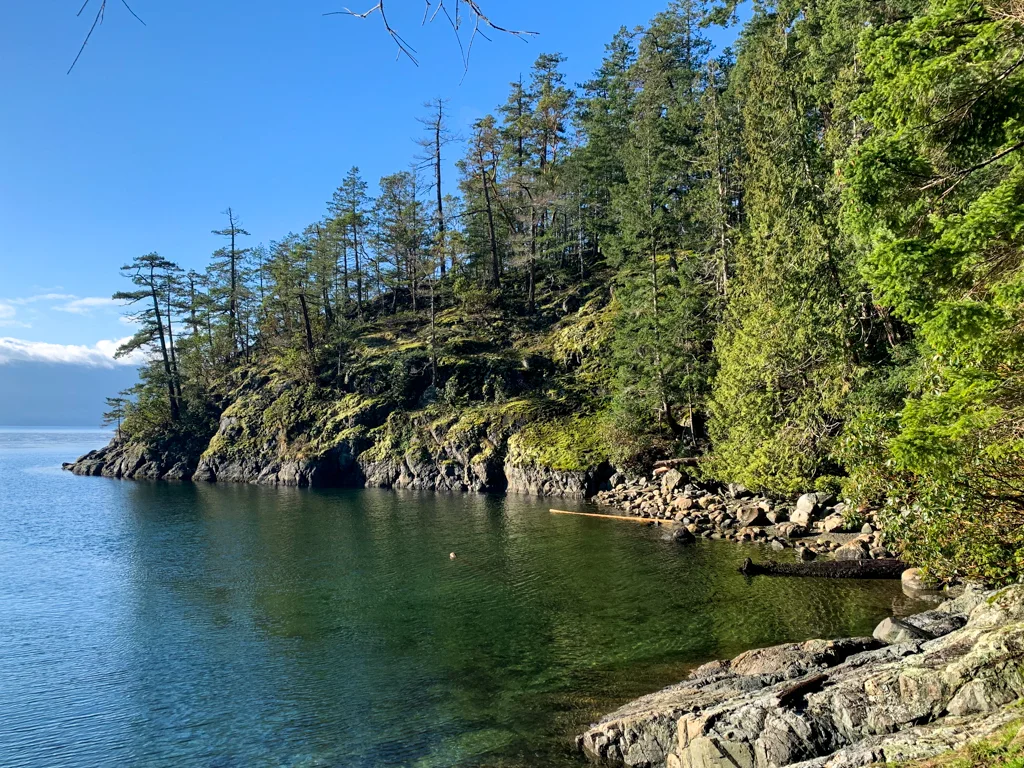 Mount Daniel
The hike up 440m-tall Mount Daniel is quite steep but fairly short. Your reward is an incredible view of Pender Harbour with its numerous inlets, islands, and squiggly peninsulas.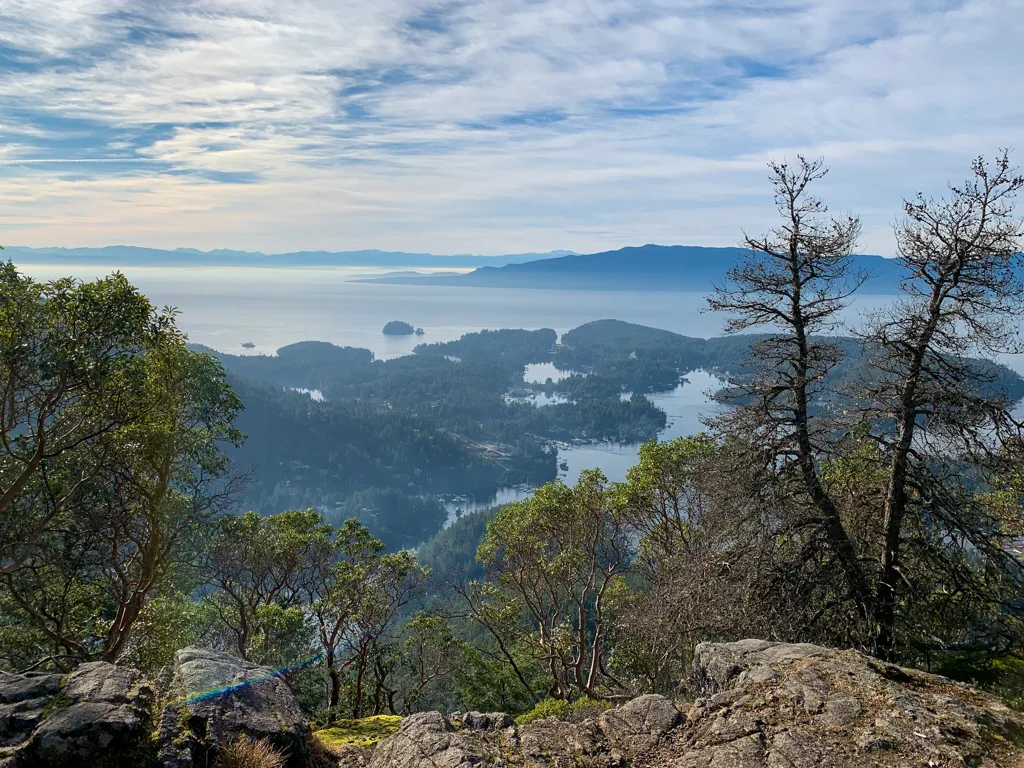 Pender Hill
If you're not up for the challenge of climbing Mount Daniel, Pender Hill is a great alternative. I would also argue that it has a better view. You can see Pender Harbour as well as nearby Hotel Lake and Garden Bay Lake. It's also a steep hike, but it tops out at 231m so you don't have as far to climb.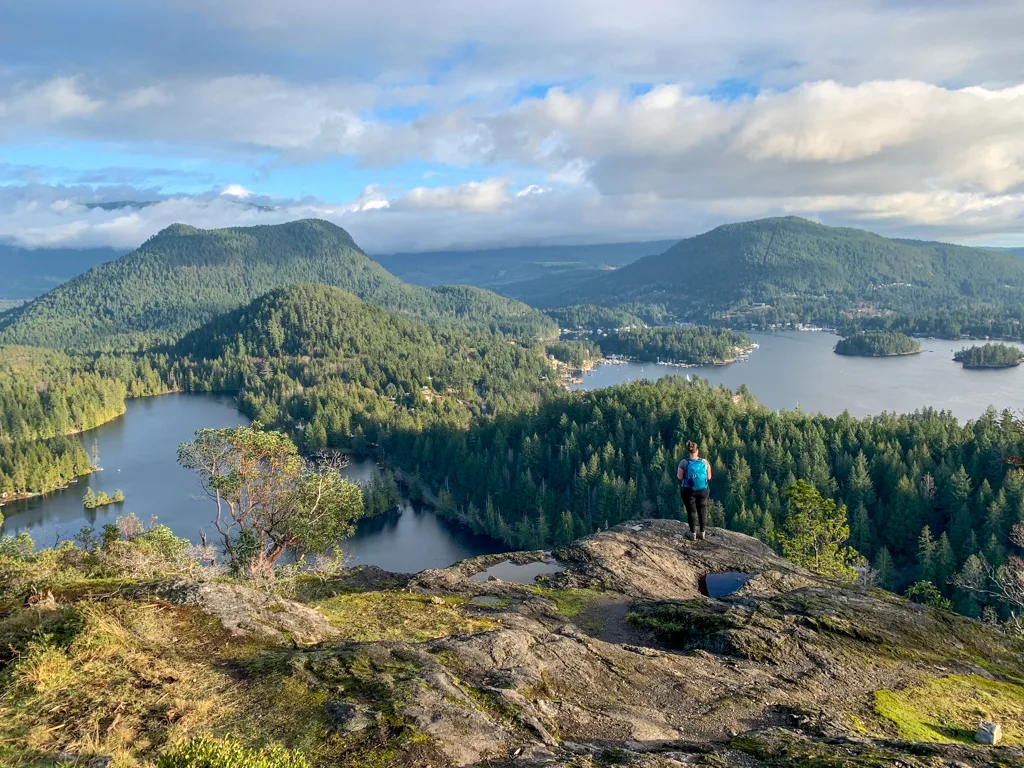 Skookumchuck Narrows
The hike to Skookumchuck Narrows is scenic, with lots of beautiful forest. But the main attraction is the crazy tidal whirlpools and rapids that form at the narrows when the tide changes. It's easy to see why it's one of the most popular places to go hiking on the Sunshine Coast.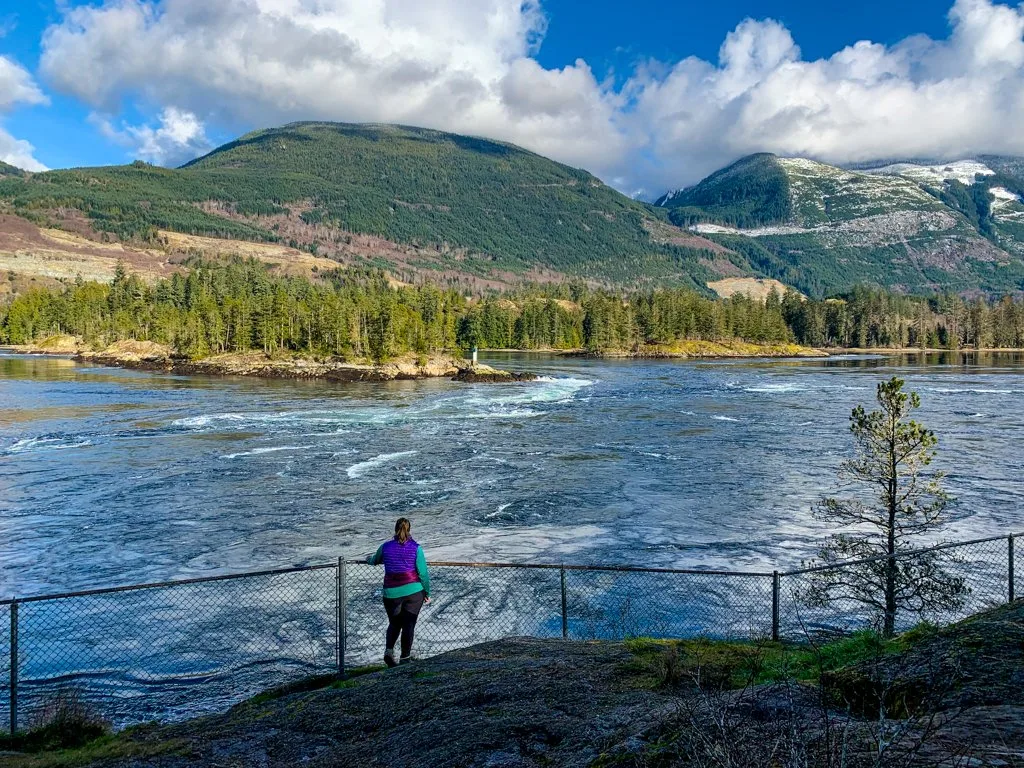 READ NEXT: Skookumchuck Narrows Hike on the Sunshine Coast
Best Hikes in Powell River (and the North Sunshine Coast)
Sunshine Coast Trail
The Sunshine Coast Trail runs 180km from Saltery Bay to Sarah Point on the Northern Sunshine Coast, passing through the town of Powell River. It crosses many access roads, so it's easy to plan hikes along shorter sections of the Sunshine Coast Trail. Some of my favourite sections for day hiking are:
Fairview Bay
Tin Hat Hut
Inland Lake
Confederation Lake
Manzanita Bluff
You can find info on all of these sections of the Sunshine Coast Trail in my book, Backpacking in Southwestern British Columbia.
If you're looking for an overnight or multi-day hike, I've got suggestions for which sections of the Sunshine Coast are snow-free early in the year in my guide to spring backpacking in British Columbia.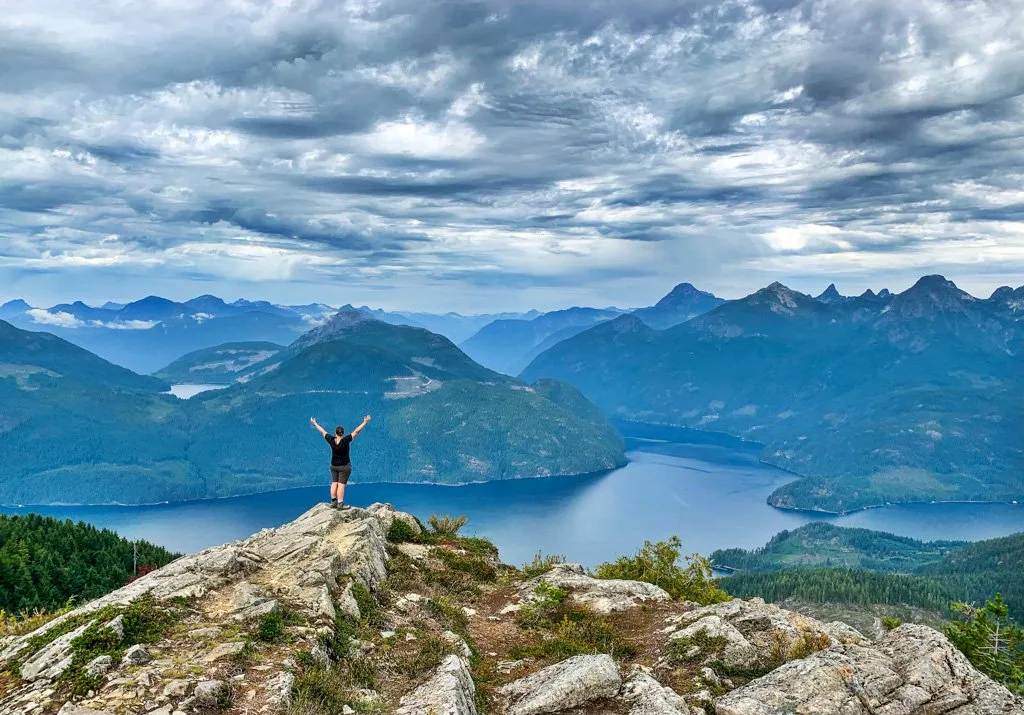 With 21 trails on this list, I'm sure you'll find a Sunshine Coast hike that you'll love. (Actually… you'll probably find a few!) Have questions about hiking on the Sunshine Coast? Ask me in the comments as I'm always happy to help.
More Sunshine Coast Info: