Snowshoeing is a fun and easy winter sport. All you need to get started are some snowshoes and some warm clothing. But one of the questions I get asked all the time is: What are the best boots for snowshoeing? What type of boots should you buy? Which features should snowshoeing boots have? What brands are good?
I've put together a complete guide to choosing the best boots for snowshoeing for you. It has everything you need to know to buy your first pair of snowshoeing boots. Here's what you'll learn:
Hey there: Some of the links in this post are affiliate links, which means I earn a small commission at no cost to you. Thanks for your support. -Taryn
Why You Should Trust My Advice
I've been snowshoeing most of my life. My dad used to take us out on borrowed snowshoes once a year or so. About 20 years ago, I got my first pair of snowshoes. I've been going snowshoeing every winter since then.
I also used to work in the outdoor industry. In my twenties, I spent three years working in an outdoor store helping people choose boots.
Later, I spent six years writing marketing materials for a large outdoor retailer. I wrote product descriptions, gear guides, and staff training materials for tons of different products. And one of my areas of expertise was snowshoeing.
So I know A LOT about snowshoeing and which features are actually important when choosing the best boots to wear with snowshoes.
What Type of Boots Do You Need for Snowshoeing?
There are a few types of boots you can wear for snowshoeing: classic winter boots, hiking boots, and insulated hiking boots. Here's the lowdown on each of them. (Spoiler: I REALLY don't recommend one of these types of snowshoeing boots.)
Old-Fashioned Winter Boots
Have you ever tried snowshoeing in big and soft old-fashioned winter boots? (Think Pac boots like ones you get from Sorel, Baffin, LL Bean, etc.) They are nice and warm and fit a lot of people, but they offer no support – the whole foot, ankle, and upper is floppy and your foot slides around inside.
On one of the first overnight snowshoeing trips I did years ago, I wore a pair of Baffin winter boots. They were super warm, but I got blisters from my foot sliding around and wrenched my ankle badly a few times since they offered no support. I haven't worn them snowshoeing since. (But I have worn them for winter car camping and around the city – they're great for that!)
If you already own old-fashioned winter boots you can use them for snowshoeing if you stick to flat trails and don't have ankle issues. However, for the reasons mentioned above, I really don't recommend winter boots for snowshoeing. Read on to learn about better snowshoeing boot options.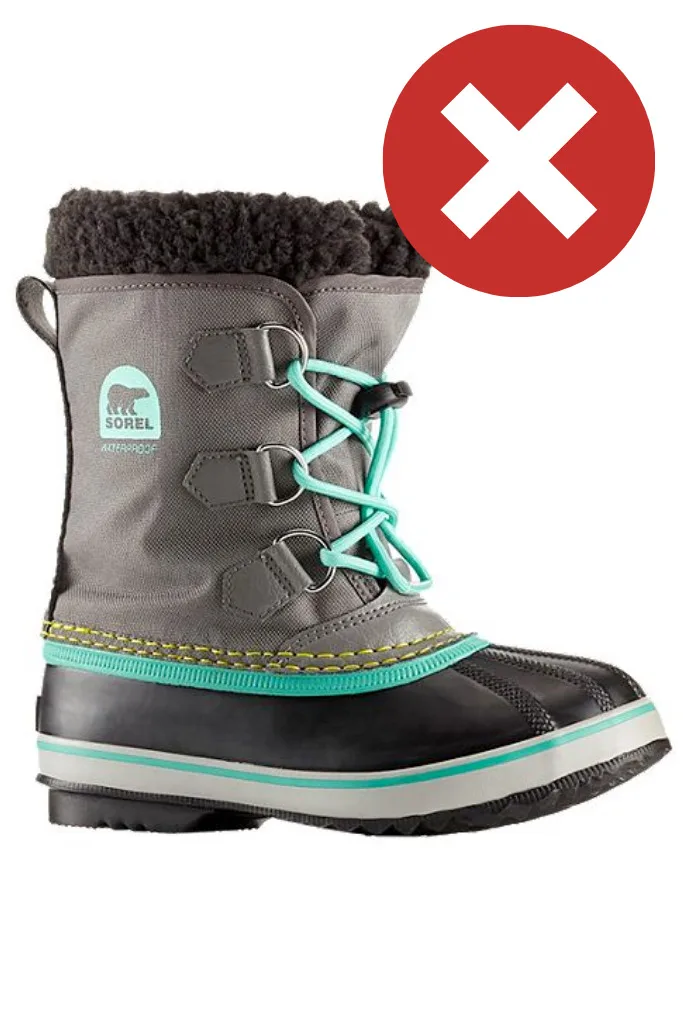 Hiking Boots
If you already own hiking boots, great – you don't need to buy anything new! As long as they are waterproof, your summer hiking boots will work for snowshoeing. I've worn summer hiking boots snowshoeing dozens of times.
If you find your feet are getting cold, warmer socks, heated socks, or special winter insoles can help. (See the accessories section of this post for details on those.)
Hiking boots plus warm socks are often all you will need if it's not that cold out or you tend to run hot.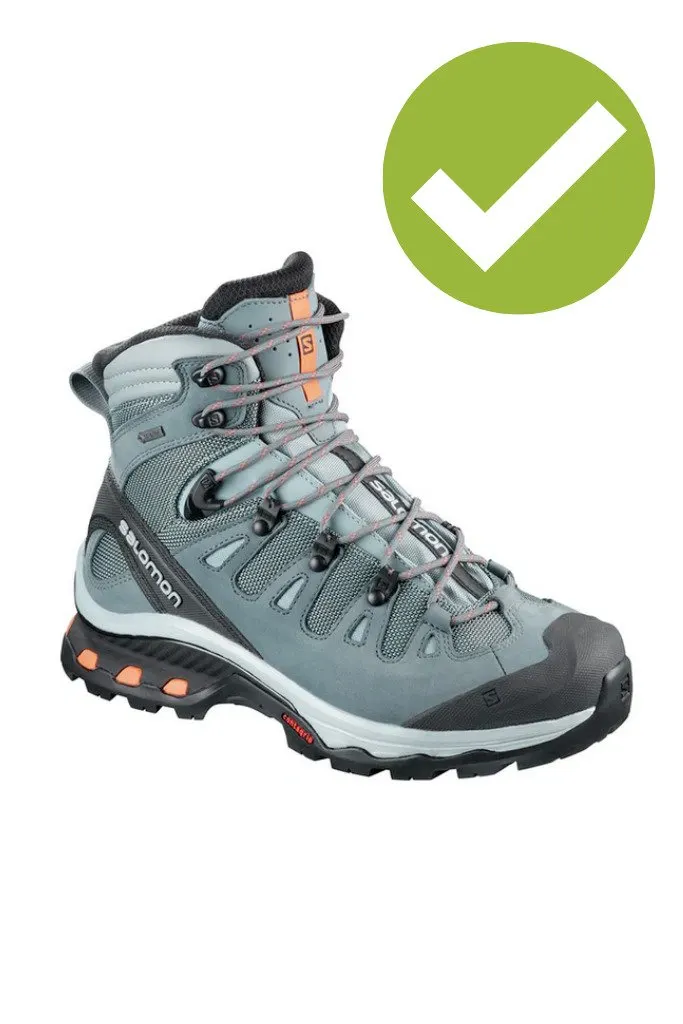 Insulated Winter Hiking Boots
I used my summer hiking boots for snowshoeing for years. Eventually, I found that my feet were always cold, so I switched to a pair of insulated winter hiking boots.
Gear companies often make winter versions of popular hiking boots simply by adding a little bit of synthetic insulation. If you snowshoe a lot, I suggest getting a pair of insulated winter hiking boots.
I never thought I needed them, but now that I have warm snowshoeing boots, my trips are a little bit more pleasant. No more cold toes! I'm definitely a believer: Insulated winter hiking boots are the best boots for snowshoeing.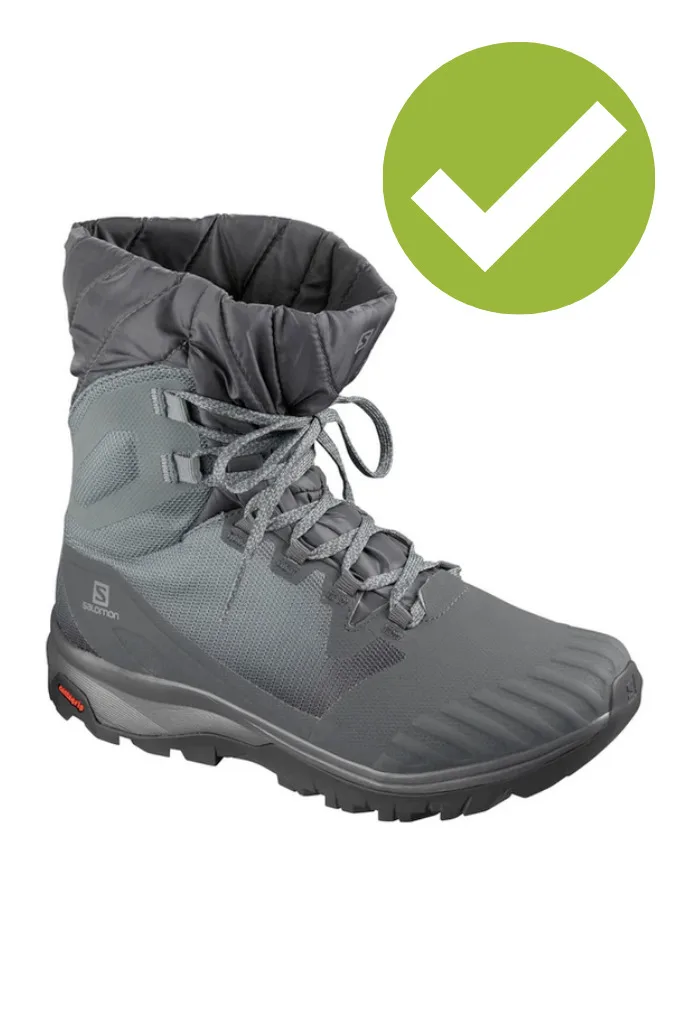 Best Boots for Snowshoeing
If you're looking to buy snowshoeing boots, I've got a bunch of recommendations in this section for you. These recommendations are based on my personal experience snowshoeing, my years of work in the outdoor industry, and recommendations from my newsletter readers and members of my Facebook group Snowshoeing in Vancouver. (If you live in Vancouver, apply to join us!)
Just a heads up that all the boots on this list are insulated hiking boots designed for snowshoeing and winter hiking. You won't find any regular hiking boots on this list because you probably already own some.
But… if you're looking for ways to turn your regular hiking boots into snowshoeing boots, scroll down to the snowshoe boot accessories section at the bottom for some tips.
Best Boots for Snowshoeing: Quick Picks
Best All-Around Snowshoeing Boots: Columbia Bugaboot Celcius Plus OmniHeat
Best Budget-Priced Snowshoeing Boots: Merrell Thermo Chill Mid
Best Ultra-Durable Snowshoeing Boots: Oboz Bridger Insulated
Best Lightweight Snowshoeing Boots: Salomon X Ultra Mid Winter CS WP
Best Snowshoeing Boots for Wide Feet: KEEN Revel IV Polar
Best Extra-Warm Snowshoeing Boots: The North Face Chilkat V 400
Best Leather-Free Snowshoeing Boots: Salomon Outblast TS
Columbia Bugaboot Celcius Plus OmniHeat: Best All-Around Snowshoeing Boots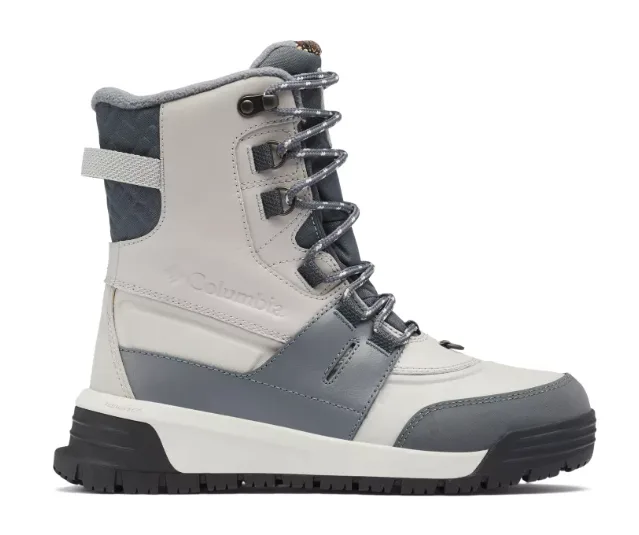 Columbia's Bugaboot series has been around for years – they were one of the most popular winter boots I helped people buy back in my boot fitter days. They're reasonably priced boots that aren't the highest tech or the lowest weight but are still well made and work great for snowshoeing.
The waterproof uppers are fully seam-sealed to keep moisture out. They have cozy warm synthetic insulation and they use Columbia's OmniHeat reflective technology to keep the heat your body generates in. I have a different pair of Columbia winter boots for city use that have OmniHeat and it's shocking how much extra warmth it adds.
The soles and construction of these boots are pretty burly, which means they are a bit heavy and bulky. But for the price and the warmth, the Bugaboots are great all-around winter boots to wear with snowshoes.
Check Prices:
Merrell Thermo Chill Mid: Best Budget-Priced Snowshoeing Boots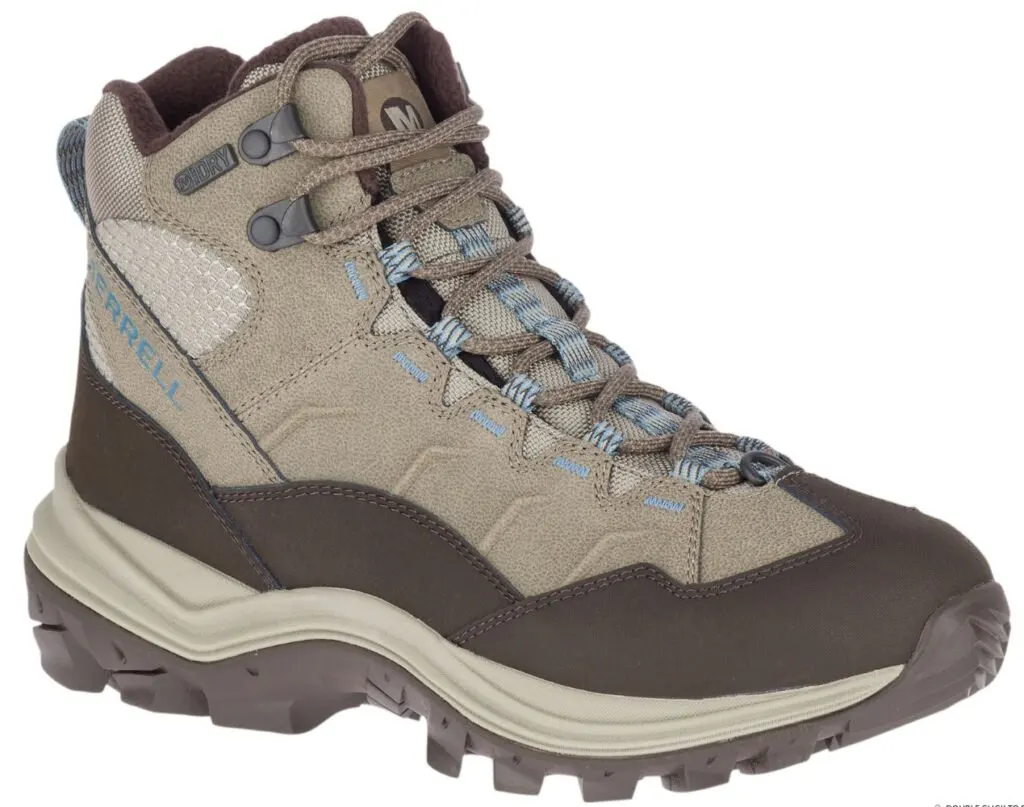 If you're looking for insulated hiking boots that won't break the bank, check out the Merrell Thermo Chill Mid boots. They don't have as many high-end features as Merrell's other winter boots, but they still have the basics that make them a great choice for snowshoeing.
The outers are made of leather with a waterproof polyurethane coating and an interior waterproof breathable membrane.
Inside, they have low-bulk insulation to keep you warm. The overall package is fairly lightweight, so they don't look like bulky winter boots. They also come in both wide and standard widths.
Check Prices:
Oboz Bridger Insulated: Best Ultra-Durable Boots for Snowshoeing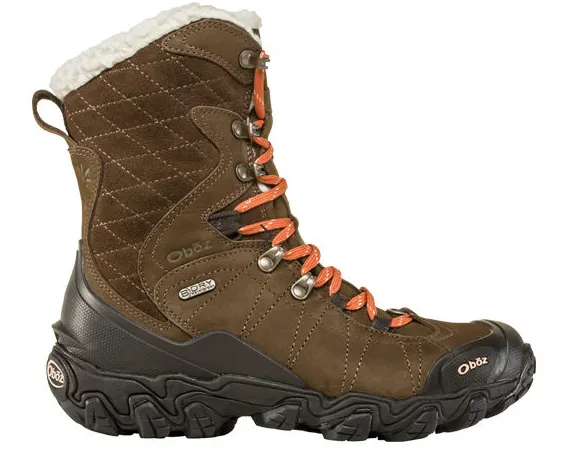 Many hikers I know swear by the Oboz Bridger boots for their summer hikes. They are super-durable, provide lots of ankle support, and are known for their great fit thanks to their slightly wider forefoot. Thankfully for snowshoers, Oboz also makes the Bridger in a winter insulated version.
They've taken the regular Bridger and added cozy insulation, a plush lining, and a wool-topped insole with a thermal layer to retain heat. They come in both mid and high top, depending on how much support you like. (The high top version has even more insulation so it's better for very cold weather or people who get chilled feet easily.)
Oboz is really dedicated to creating boots that fit well, so they adjusted the fit on these boots so that you can buy your regular size but still have enough room for thick winter socks. They come in both wide and standard widths too. That's thoughtful design!
Check Prices:
Salomon X Ultra Mid Winter CS WP: Best Lightweight Boots for Snowshoeing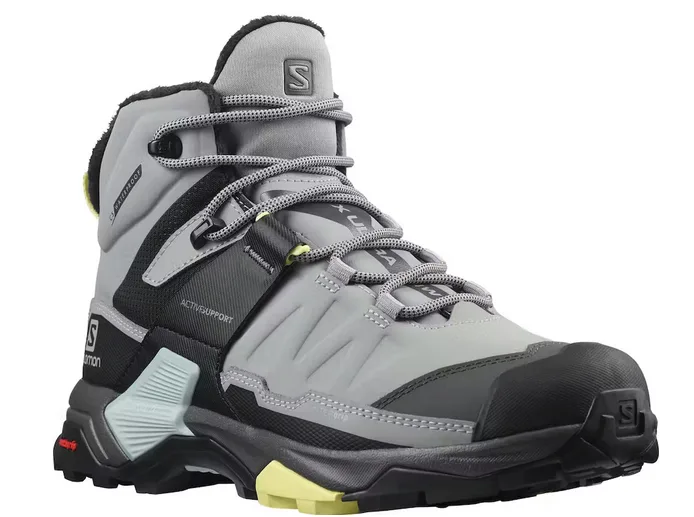 I've been wearing the regular version of Salomon's X Ultra boots for summer hiking for years. (I'm on my third pair.) So the winter version of those boots looked like the best snowshoeing boot option for me.
They have lightweight Thinsulate insulation and all of the mesh patches on the summer version are upgraded to full leather for better waterproofing. They're mid-cut boots with a cushy midsole that feels like a trail runner, so they aren't very bulky or heavy.
I wanted to get these for snowshoeing, but when I went to buy them, they were all sold out in my size! (I bought the Salomon Vaya Powder boots instead – sadly they are now discontinued because I love them!) But people in my snowshoeing FB group rave about them, and they get great reviews online. Like most Salomon boots, they have a very forgiving fit that works great for most people's feet.
Check prices:
KEEN Revel IV Polar: Best Snowshoeing Boots for Wide Feet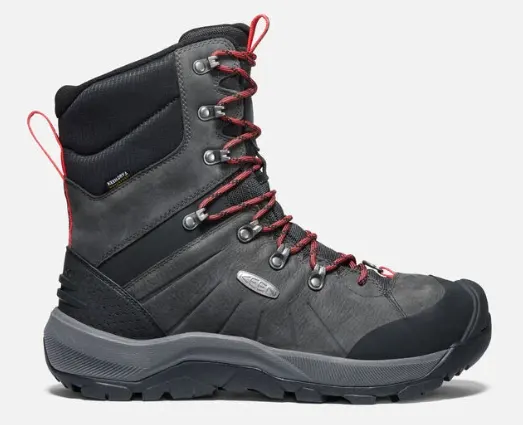 Back when I worked as a boot fitter, I saw a lot of people with wide feet who had trouble finding boots. I always recommended they try KEEN boots, and 99% of the time, that was the answer.
KEEN's most popular winter hiking boot is the Revel IV Polar. Like all KEEN boots, they have an extra-wide toe box and wide fit throughout, making them the best snowshoeing boot for wide feet. Reviewers online and in my FB group with wide feet talk about how well these fit.
The Revel IV Polar comes in both a mid and full height version so you get the amount of ankle support you prefer. It's a full leather boot with a waterproof breathable internal membrane to keep water out.
To keep you toasty warm, they have compact but cozy synthetic insulation. They also have thermal insoles that reflect your body's heat back to you.
Check prices:
MORE BOOTS FOR WIDE FEET: The Oboz Bridger Insulated and Merrell Thermo Chill (both in this article above) come in standard and wide widths.
The North Face Chilkat V 400: Best Extra-Warm Boots for Snowshoeing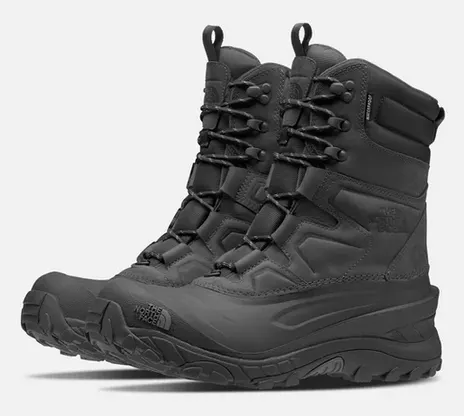 If you snowshoe in a cold climate, or your feet get cold very easily, you need boots with extra insulation. These boots use 400g synthetic insulation (compared to 200g in most of the other boots on this list), so there is lots of toasty warmth. They're so warm that The North Face says they are good down to -40!
Other winter-ready features include waterproof leather uppers, soles designed to grip on ice, and cozy faux-fur lining. They even have a built-in D-ring to secure your gaiters.
Check prices:
More extra-warm snowshoeing boot options: The Salomon Toundra, Oboz Bridger Tall, and Columbia Bugaboot Celsius Plus all use 400g insulation too.
Salomon Outblast TS: Best Leather-Free Boots for Snowshoeing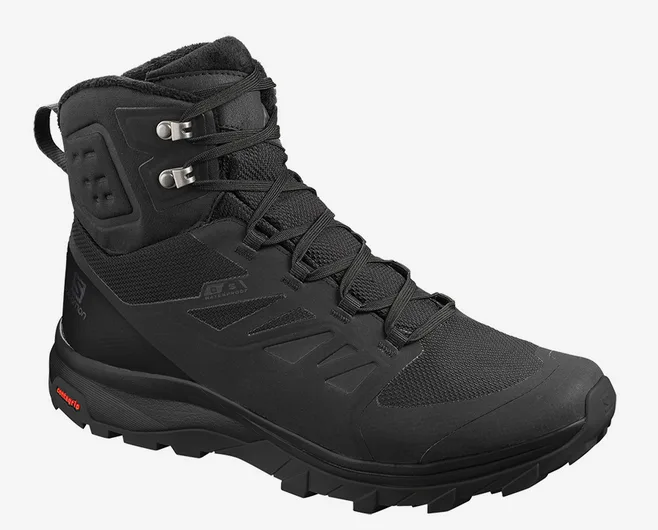 If you're trying to avoid leather, check out Salomon's Outblast boots. Instead of using leather, these mid-height boots have a synthetic exterior that is welded together rather than stitched, so there are fewer places for water to leak in. They also have a waterproof breathable membrane inside to keep you totally dry. For warmth, they have lots of low volume Thinsulate synthetic insulation.
The Outblasts use Salomon's Sensifit construction to cradle and support the foot. It's a technology they use in their trail runners too, so these boots a cushier feel like shoes instead of the stiffness you get with traditional boots.
Check prices:
Features to Look For in Boots for Snowshoeing
If you're buying boots for snowshoeing, there are some key features you should keep in mind like waterproofing, ankle support, insulation, and fit. Some of these are personal preferences but NEVER compromise on fit.
Waterproofing
Since you'll be walking in the snow (which is made of water) waterproof boots are a must for snowshoeing. Leather and some synthetic materials have excellent water resistance on their own.
But to make them totally waterproof, most hiking boots have a waterproof-breathable membrane sandwiched between the outer fabric and inner lining. GORE-TEX is the most well known waterproof-breathable technology, but eVent and brand-specific technologies can work just as well.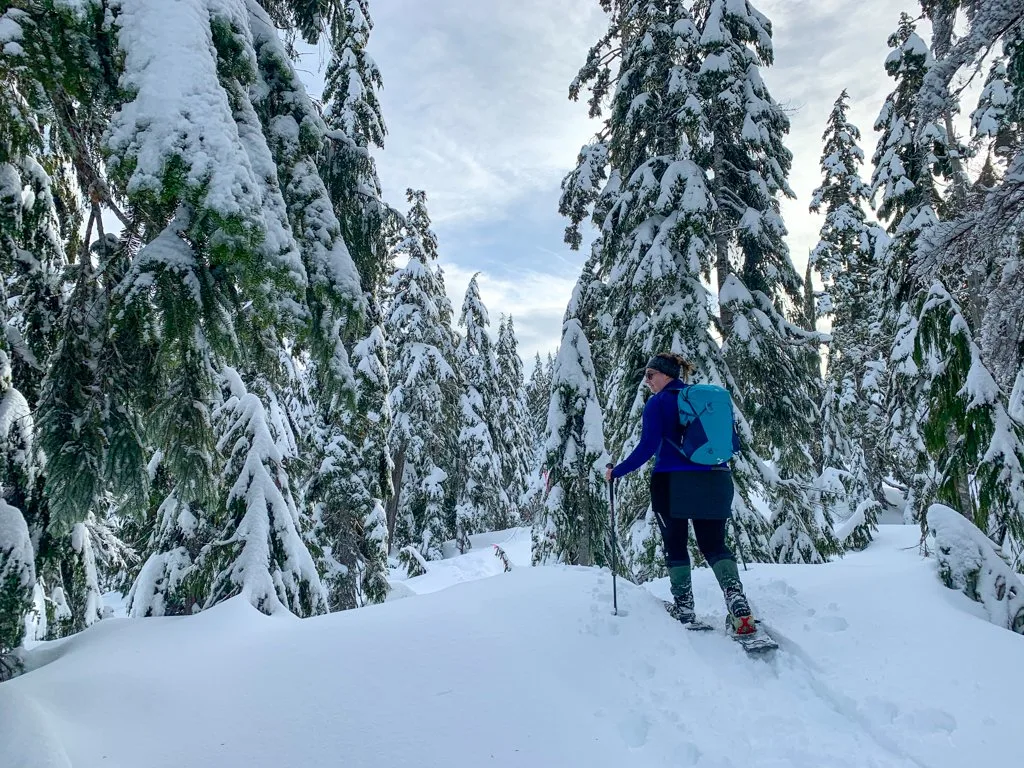 Foot and Ankle Support
The amount of foot and ankle support you choose is a matter of personal preference. However, on snowshoes, you often end up landing off-camber with the inside or outside edge of your snowshoe tilted. This can wrench your ankles into an uncomfortable position unexpectedly, and supportive boots can protect your ankles.
As well, you will be tightening your snowshoe bindings over your toes and forefeet. You want to wear boots that cradle your feet and aren't too soft. Otherwise, your bindings will squish your toes, which can be really uncomfortable.
Hiking boots and insulated winter hiking boots offer great support for your ankles and cradle your feet better than traditional floppy winter boots. Hiking boots also fit more snugly so your feet won't slide around, which can cause blisters. (Psst: Read my tips for preventing blisters!) My recommendation: wear boots with foot and ankle support for snowshoeing.
Insulation
Depending on where you snowshoe and how much you feel the cold, the best boots for snowshoeing are winter hiking boots with insulation. Many hiking boot companies make winter versions of their summer hiking boots by adding a little bit of insulation.
Don't worry about getting exceptionally warm polar expedition-worthy snowshoeing boots rated for -40. Big, heavy-duty winter boots are designed for standing still or sitting in very cold conditions (like ice fishing or snowmobiling). Snowshoeing is an aerobic activity that will warm up your body so you don't need tons of warmth. If you pick boots with too much insulation, your feet will just get sweaty and wet when snowshoeing.
For most hikers, boots that use 200g synthetic insulation will be perfect. This is a moderate amount of insulation that won't make you overheat too much but will still offer lots of warmth.
Comfortable Fit
Don't buy boots based on which ones work for your friend's feet or some reviewer on the internet's feet. Buy comfortable snowshoeing boots that fit your unique feet. Some brands are better for wide feet, while others are better for narrow ones. (I've got details on that in the boot recommendations above.)
Make sure you have enough room to wear thicker winter socks (if that's what you prefer) and that your insoles or orthotics fit inside too.
If possible, try on boots later in the day after your feet swell a little bit. Lace them up all the way, then walk around for a bit.
Try walking up and down a ramp or stairs to see if your heel slips (which means they are too big) or your toe bumps (which means they are too small).
If you're ordering online and trying on at home, order a few pairs to compare, then return the ones that don't work.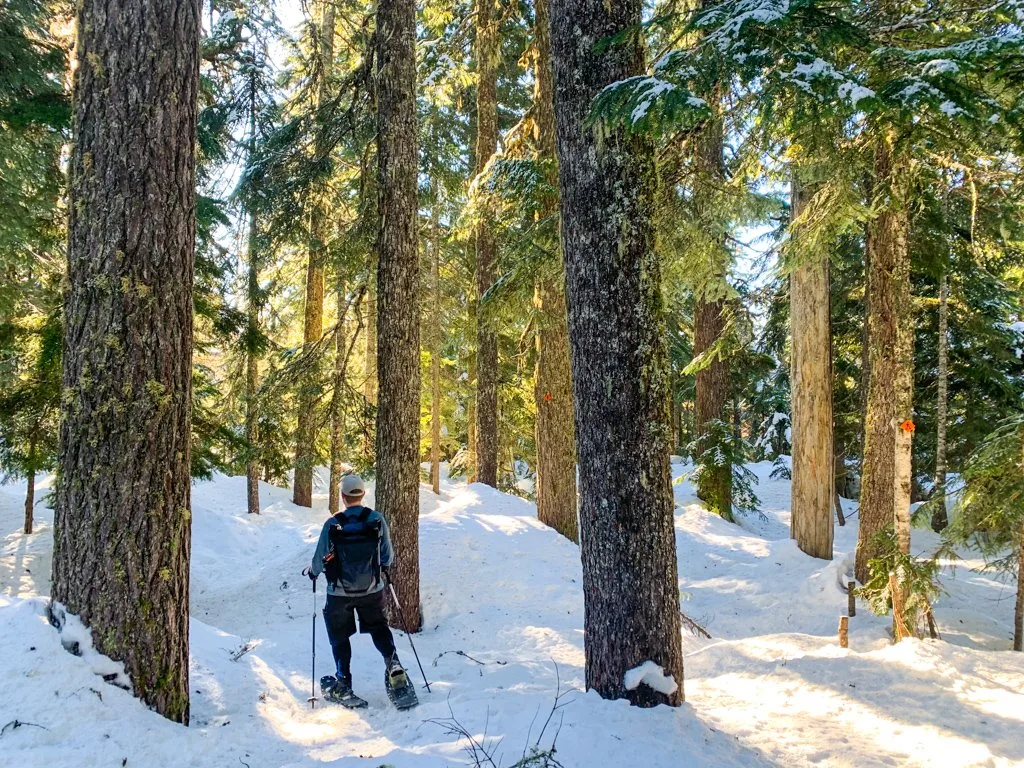 Snowshoeing Boot Accessories to Keep You Warmer and Drier
Keeping your feet comfortable while snowshoeing doesn't end up with choosing boots. I've got tips for accessories you should consider to keep you warm and dry. These accessories are good add-ons for insulated hiking boots and are essential for making your summer hiking boots snowshoe-ready.
Gaiters to Keep the Snow Out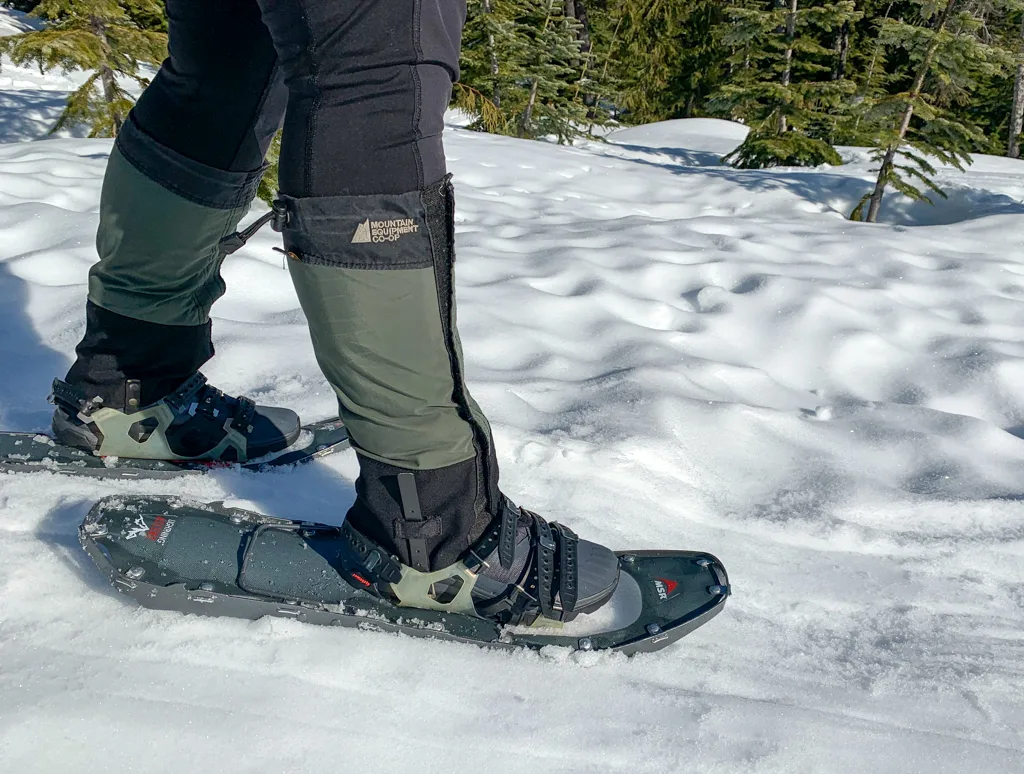 One of the quickest ways to get cold and wet feet while snowshoeing is to let snow go down the tops of your boots. If there's fresh snow or deep snow, I always wear gaiters. They are fabric covers that bridge the gap between the bottom of your pants and the top of your boots to keep the snow out.
There are lots of different gaiters on the market, but for snowshoeing, you don't need anything too fancy. Look for gaiters that are waterproof or water-resistant. I also like ones that are easy to put on with gloves on, like gaiters with Velcro closures. Consider sizing up to make sure they fit over bulkier winter boots.
I wear an old pair of MEC Kokanee Gaiters. The REI Co-op Backpacker Gaiters and the Outdoor Research Rocky Mountain High Gaiters are both great too.
Pro tip: You can skip gaiters if you wear pants with built-in gaiters. I also like mountaineering pants that have eyelets at the bottom that let you attach your cord to secure the pants under your boots and a hook at the front to clip on to your boot laces. See which ones I recommend in my post about what to wear for snowshoeing.
Waterproof Socks to Keep Your Feet Dry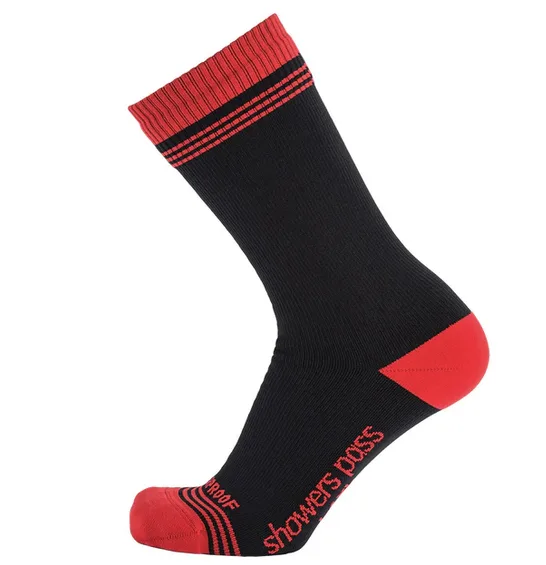 If it turns out that your boots are not as waterproof as you'd like, consider some waterproof socks. They look like regular (if a bit thick) hiking socks, but have a hidden waterproof breathable membrane inside. They will keep your feet dry, but also let them breathe so they don't get too sweaty. (Be careful: sweaty feet get blisters!)
Pro tip: The membrane makes them a bit less stretchy than regular socks, so be sure to get the right size, or else you'll have uncomfortable fit issues.
I wear Bridgedale Stormsocks. They are a bit thick but they work well and they add some warmth too.
I've also heard really good things about the Showers Pass Crosspoint waterproof socks. Check prices:
Winter Insoles to Add Warmth and Support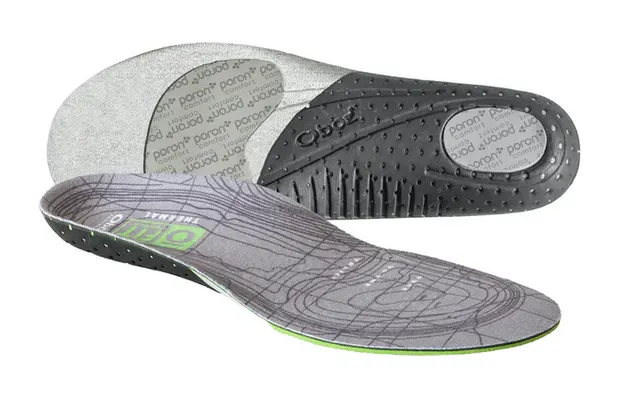 I'm not going to sugar-coat it: The insoles that come with most boots are crap. They are made of thin foam with no real shape or support. They also don't last very long before getting squished paper-thin.
I replace the insoles in pretty every pair of shoes or hiking boots that I buy with cradling insoles like Superfeet. (I have them in all of my boots.)
If you're looking to boost the warmth of your regular hiking boots for snowshoeing, adding a winter insole is a great trick. Winter insoles add warmth with insulating foam and reflective foil layers to keep heat in. They are sometimes made with cozy materials like wool or fleece to add more warmth.
The Oboz O Fit Plus Thermal insoles use a thermal reflective layer for added warmth.
Check prices:
Thick Wool Socks to Add Warmth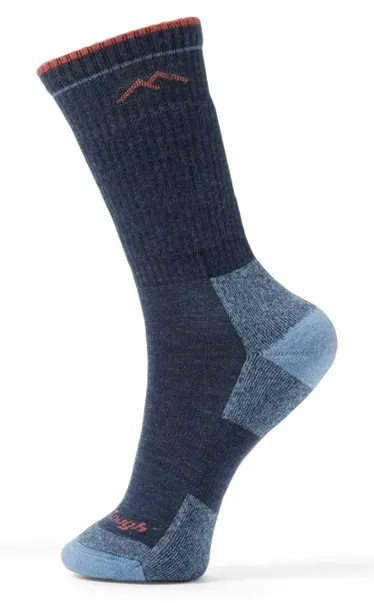 In the summer I like to wear thin hiking socks that let my feet breathe. (My favourites are the Smartwool Performance Hike Light Cushion.) But in the winter I wear thicker wool-blend socks to add extra warmth.
If you're choosing socks for snowshoeing, look for a wool-synthetic blend for a balance of durability and warmth. Choose ones that are thicker than your usual summer hiking socks, but don't pick extra thick ones – you need to make sure they will fit inside your boots without being too tight!
Lately, I've been loving the Darn Tough Hiker Cushion Socks for snowshoeing. They are a bit thicker for extra warmth but don't feel too bulky in my boots.
Check prices:
Psst: Wearing the wrong socks is a surefire way to get blisters. Get my tips for preventing blisters.
Heated Socks for the Ultimate in Warmth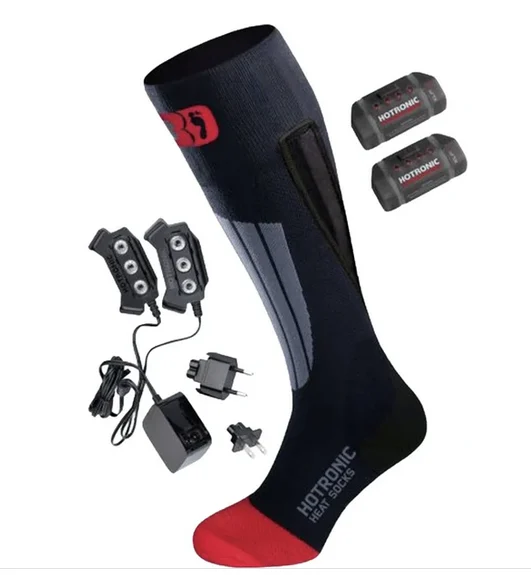 A friend of mine has Reynaud's Disease (a circulatory disorder where you always have very cold hands and feet). She says heated socks are a game-changer for snowshoeing. Unlike disposable heat packs, they last for hours and can be used over and over again. Plus they are very low profile so they don't bunch up in your boots.
Heated socks have small battery packs mounted on the calves. There are lots of heated socks out there, but the quality can vary a LOT. (Pro tip: Pay attention to what you are buying – sometimes you have to buy the battery packs separately.)
Lenz heated socks are really pricey but get great reviews. They are made with merino wool so they are super soft. The batteries last for up to 14 hours and you can control the temperature via an app on your phone.
Check prices:
Hotronic heated socks are also great but aren't quite as expensive since they don't have an app and only last for 10 hours.
Check prices:
You can find tons of cheap heated socks on Amazon. Most of them have fairly short battery life (3-6 hours) and some don't have great reviews. But at such a low price, it could be worth it to try them out. Check prices:
Heated Insoles for Affordable Warmth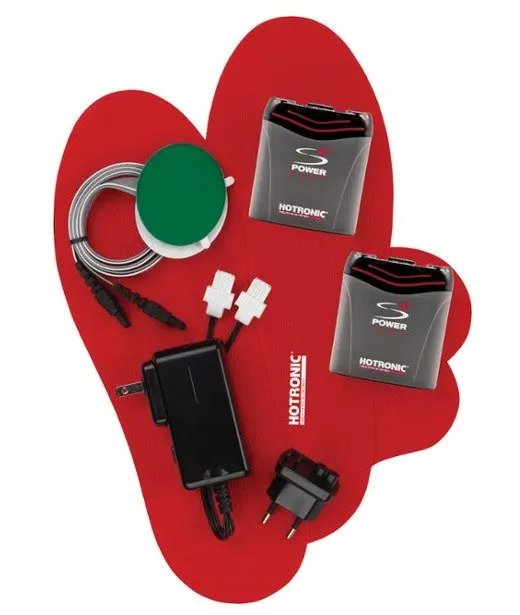 Heated socks can be very expensive and need careful washing. If that's a turn-off for you, heated insoles are a more affordable way to add hours of warmth to your snowshoe trip. They work the same way, except that they have battery packs that strap on to your ankles or shins.
If you want to go high end, check out Hotronic's heated insoles. They have several options for insoles and separate battery packs.
Check prices:
There are lots of crappy and cheap heated insoles on Amazon. If you want budget-priced ones, Thermrup makes reliable heated insoles at a reasonable price.
Check prices: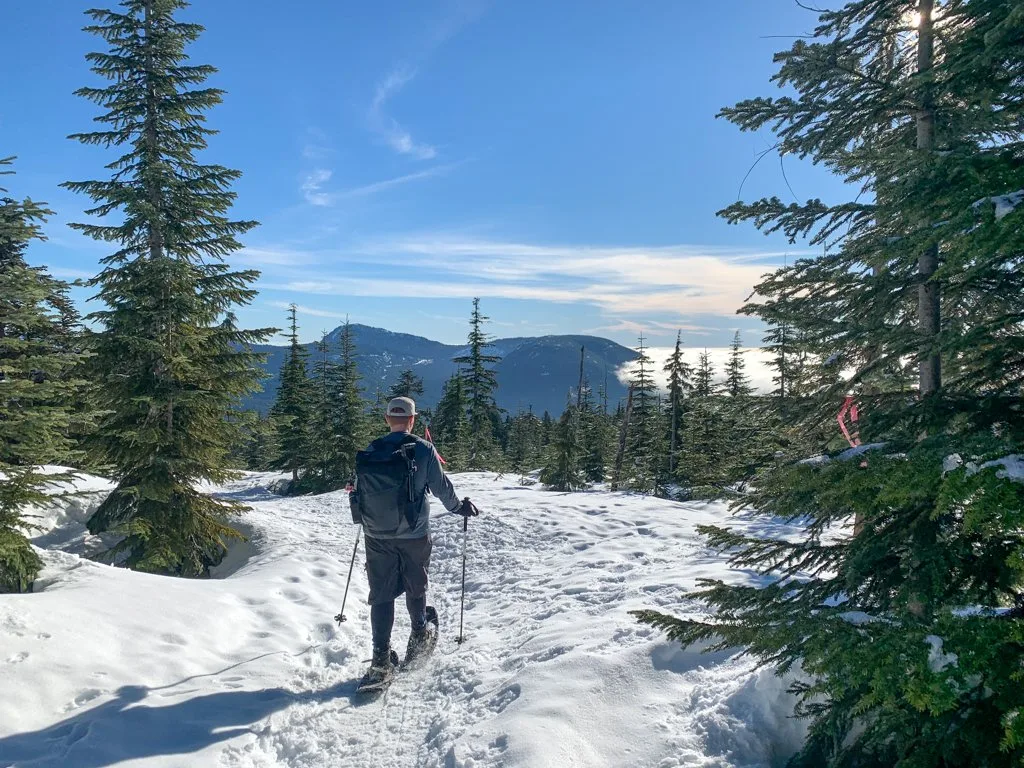 Snowshoe Boots FAQ
What kind of boots are best for snowshoeing?
Winter hiking boots with insulation are best for snowshoeing since they are warm, waterproof and provide ankle support.
Are hiking boots good for snowshoeing?
Yes. You can wear your regular hiking boots for snowshoeing as long as they are waterproof. However, your feet might get cold so consider warm socks, heated socks, or heated insoles. You may want to upgrade to insulated winter hiking boots instead.
Are Sorel boots good for snowshoeing?
No. Sorel boots are too floppy and don't provide enough ankle support, so they aren't a good choice for snowshoeing. As well, they don't fit your feet and ankles securely, so your feet will slide around a lot. That can cause blisters. (But, Sorels are great for casual winter walking, ice fishing, snowmobiling, and winter camping.)
Can you wear running shoes snowshoeing?
Yes, if you wear waterproof running shoes with gaiters. But in general, it's not a very good idea as your feet will likely get very cold.
Do you need special boots to snowshoe?
No! You can wear any hiking boots, but insulated winter hiking boots are best.
How to keep your feet warm while snowshoeing?
Start with insulated winter hiking boots that are waterproof. Wear gaiters to keep the snow out since melting snow will chill your feet. If your feet are still cold, wear warm wool socks. You can also consider heated socks or insoles.
So that's the lowdown on the best boots for snowshoeing. Now you should have all the info you need to choose snowshoeing boots. If you have more questions, leave them in the comments. I'd love to help.
MORE SNOWSHOE ADVICE: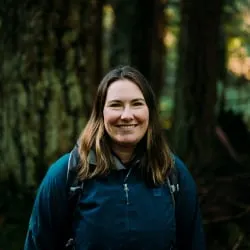 Latest posts by Taryn Eyton
(see all)