Canmore is one of the best Canadian destinations for a winter getaway and one of the best small towns in Canada for outdoor adventures. This small mountain town is located right in the heart of the Rocky Mountains and turns into a fantastic snowy wonderland during those cold winter months.
Many people head to the Rockies to ski and snowboard, but that is not the only thing to do here! There are so many amazing things to do in Canmore in winter.
Yes, there are unique outdoor activities such as skiing, snowshoeing, or skating – but there are also winter tours, beautiful scenery, fantastic food and drink, and cozy places to hang out.
Happiest Outdoors contributor Bailey used to live in Canmore, so you can trust that she's got all the insider info on what to do in winter.
If you're looking for the best winter vacation destination in Canada, try Canmore! Read on to discover what Bailey recommends as the best activities to do in Canmore this winter.
Hey there: Some of the links in this post are affiliate links, which means I earn a small commission at no cost to you. Thanks for your support. -Taryn
Hit the Slopes
Canmore is the perfect place to base yourself for a ski holiday in the Canadian Rockies. With four different ski resorts located under an hour's drive away, you have lots of choices for where to go!
The four different places you can go downhill skiing and snowboarding easily from Canmore include Lake Louise, Mt Norquay, Sunshine Village, and Bailey's favorite, Nakiska!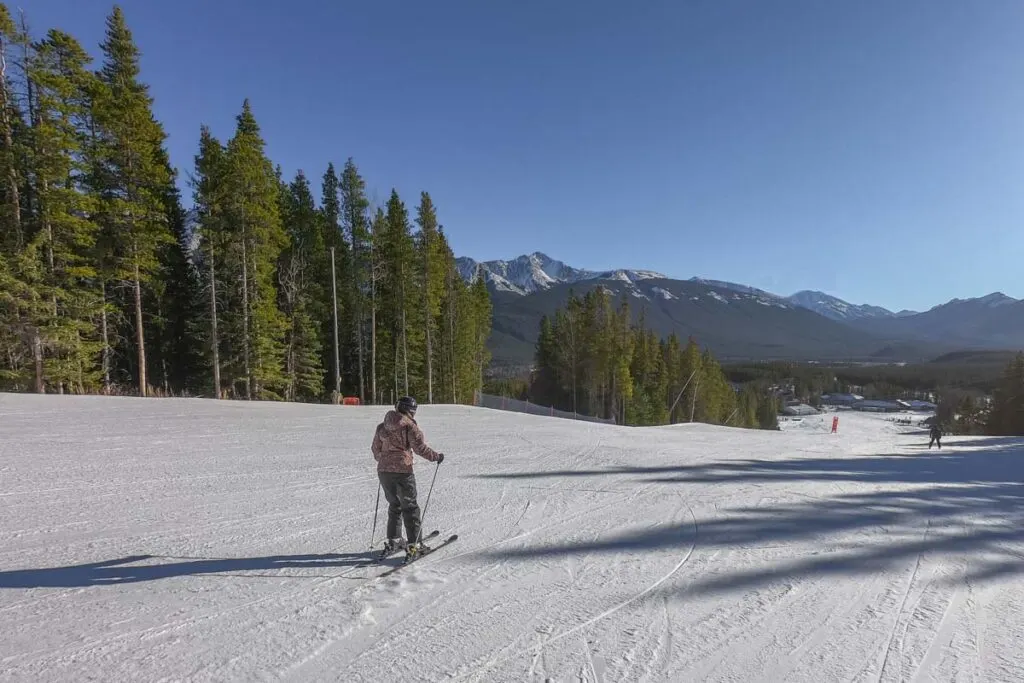 Nakiska is Bailey's top choice for a few reasons, with the first being that it's not located within Banff National Park. That means that you don't need a Parks Canada Pass to visit (with the others you do), and it's generally less busy. There is no traffic to get there, no struggle for parking, just a beautiful leisurely 35-minute drive from Canmore through the Kananaskis and right to Nakiska!
Besides all that, Nakiska offers some incredible mountain views from their chairlifts and mountain lodges. There are 79 different marked runs, four chair lifts, two magic carpets, and a tube park!
Ski and snowboard passes are reasonably priced and start as low as $89 per day for adults with discounted child rates and multi-day passes available. You can also take lessons at Nakiska or rent gear if needed!
Relaxing Hot Springs
It can get cold in Canmore during the winter! So warming up in some relaxing hot springs is a must-do while in the area. The Banff Upper Hot Springs is located about a 30-minute drive away and is a great place to relax for the day. They cost just $8.48 to enter and have a soothing, 100% natural mineral water pool to enjoy.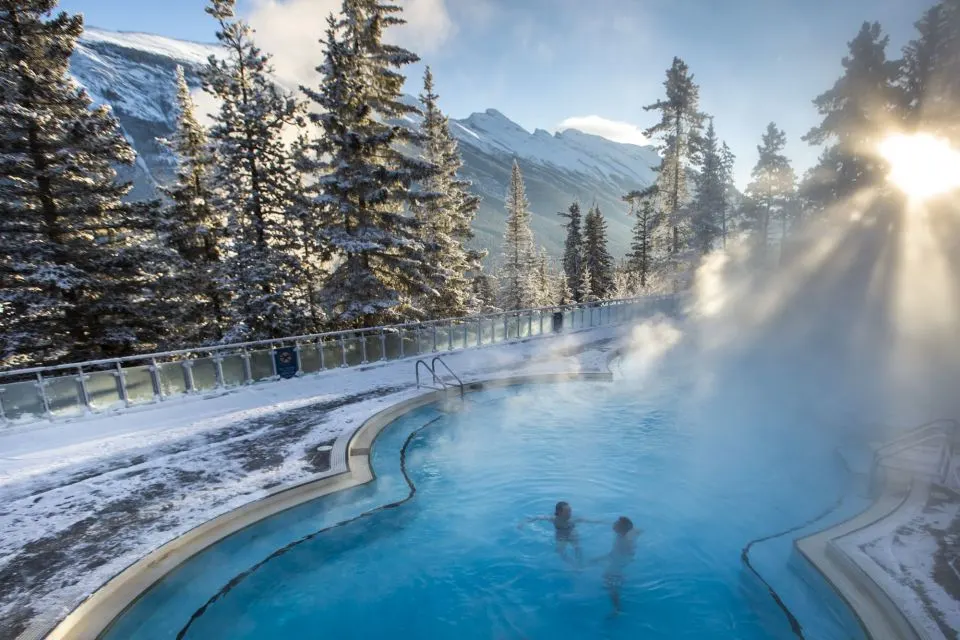 If you're up for a more extended trip, perhaps overnight, you can also check out Radium Hot Springs (70km away). Radium is a great town to explore, and the hot springs here are unique!
READ NEXT: Your Guide to the Best Hot Springs in Canada
Grotto Canyon Icewalk
Bailey's favorite winter ice walk in Canmore has to be Grotto Canyon. You'll need ice cleats or crampons to complete this 4.4km hike because you need to hike over and along and on a frozen river.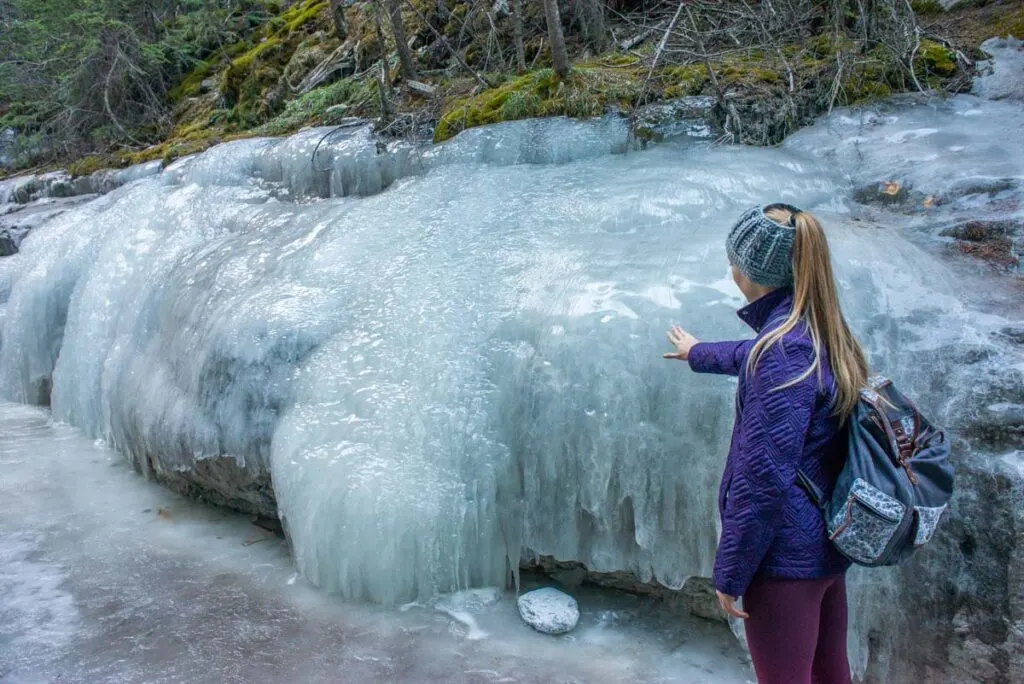 The trail begins just outside of Canmore from a parking lot at Grotto Mountain Pond. It will take you around 1.5 hours to hike the canyon each way from the parking lot, especially if you allow time to explore the canyon and take some photos. The start is a little dull because it takes 30 minutes of walking on a flat trail before you arrive in Grotto Canyon – where the fun begins.
Once in Grotto Canyon, follow the frozen stream until you reach a gorgeous frozen waterfall. From here, you can either keep walking down the canyon or turn right and explore a small cave and another frozen waterfall that's popular with ice climbers. Along the trail, there are also some indigenous pictographs on the canyon walls.
For those who want to learn more, you can also join this Grotto Canyon Icewalk tour. The tour only costs $88 and includes a hot chocolate to warm up and ice cleats (which will save you buying them.)
Try Ice Climbing
If walking on ice through Grotto Canyon isn't crazy enough for you, Then be sure to join an ice climbing tour! Ice climbing is certainly an adrenaline-pumping activity in winter and one that's famous in Canmore.
Ice climbing is dangerous without the right experience, so it's essential to join a tour.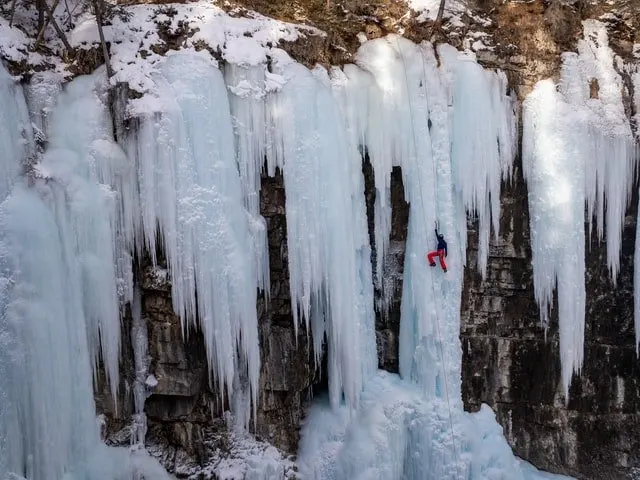 This full-day ice climbing tour is suited to complete beginners as well as the more experienced. On the tour, an expert ice climbing guide will teach you the basics and have you climbing a frozen waterfall in no time. The best part is, the tour only costs $186 and lasts 8 hours. You will need to drive yourself to Banff beforehand, though.
Ice Skating
Ice skating is a quintessential Canadian winter experience and a must-do in Canmore. Lake Louise is one of the most popular places for ice skating near Canmore. Here you can skate on a frozen lake in the most beautiful setting, completely free. The only catch is you need to bring your own skates. If you don't have any, you can rent them from the hotel.
There are also many outdoor skating rinks in Canmore, including The Pond Natural Ice Surface, Larch Outdoor Rink, Canmore Nordic Center, and the Three Sisters Sports Complex Ice Surface. All the rinks are free, so bring your skates and go!
On top of that, you can also go wild ice skating on some lakes. Gap Lake is a popular wild ice skating spot with locals that I've had the pleasure of skating. You need to visit during a period with little snow and high winds when the ice is bare but be sure to check because this is an incredible experience. Be advised, ice skating on unmanaged frozen lakes is dangerous without the proper knowledge and experience.
If it's too cold or you're just learning to skate, you can also check out indoor skating rinks around Canmore or Banff in winter at the recreation centers. It may not be as beautiful, but the ice is smooth and easier to skate on as a beginner. In addition, skating indoors is an affordable activity, with rentals usually costing less than $10 per day.
Cozy-up Fireside
If you're visiting Canmore in winter, it can get pretty cold! So finding somewhere to warm-up is a must! Stay at a hotel with cozy fireplaces to relax around like the Grande Rockies Resort. There are also epic mountain views right from the comfort of the hotel! Bailey has stayed here on multiple occasions, and says she loves it.
Or, if you're out for dinner, there are plenty of cozy restaurants to visit. A favorite of Bailey's during winter is the restaurant at the Georgetown Inn. This English pub-style restaurant is stunning on the inside and offers a comfortable experience with a fireplace and old wooden bar.
Go Winter Hiking
Hiking is without a doubt, one of the best winter activities in Canmore. Although winter conditions do bring some hazards, you can choose to hike easy trails around town. The best winter hiking trails in Canmore are Policeman's Creek, Quarry Lake Loop, Bow River Loop, and Grassi Lakes. All are very easy and can be completed safely in winter.
Grassi Lakes is easily the most popular of the four winter hikes in Canmore, and Bailey says she loves hiking the trail in winter. Not only is it much less busy but it's even more beautiful! Just be sure to bring crampons because it's very icy on the way up. The Grassi Lakes Trail takes around 2 hours to complete and is 2 kilometers (1.2 miles) each way.
If you're just looking to enjoy a leisurely walk around town, the Policeman's Creek Boardwalk is a top choice. This short walk takes visitors along Policeman's Creek via a boardwalk/ path to enjoy magnificent views of the surrounding area. There are also plenty of park benches along the way to enjoy the views. I love doing this walk with a coffee in hand! The entire walk is 4.2 kilometers long but my favorite section begins near The Drake heading south towards Spring Creek Drive.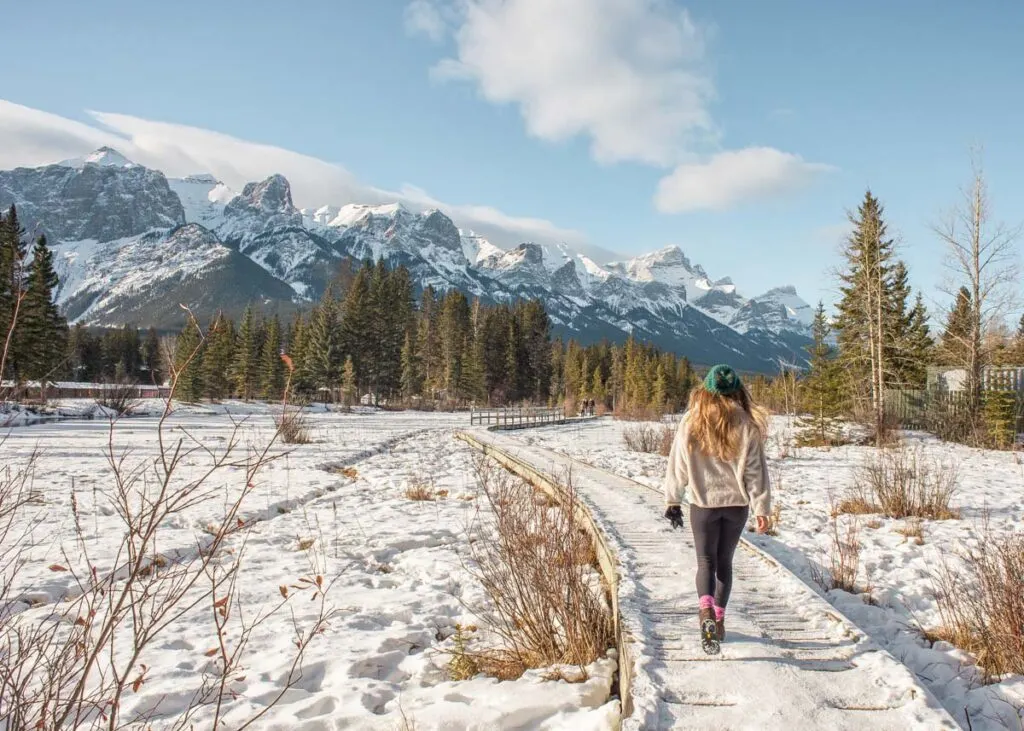 Another hike for the more experienced is Ha Ling Peak. Bailey hiked the trail in winter and had a fantastic time. This trail is rated as moderate/difficult in winter and requires a good quality pair of crampons – especially if you want to summit the peak.
If you want a local to show you around, consider booking a private Wilderness and Wildlife Hiking Tour. Your guide will design a three-hour hike that meets the ability of your group and is has the best seasonal wildlife viewing opportunities.
READ NEXT: What to Wear Winter Hiking and Snowshoeing
Eat at a Delicious Restaurant
Canmore has so many options when it comes to places to eat, and after all the outdoor activities on this list, you'll be hungry! Bailey has a lot of favorites in Canmore, so she hopes you have time to try them all.
When it comes to cafes, you really must try Communitea Cafe. They serve the best pad Thai Bailey has ever had as well as good coffee.
For a hearty winter meal that's cheap, head to The Rose and Crown or The Drake. These pubs aren't fancy, but with great deals and huge portions, you'll love them.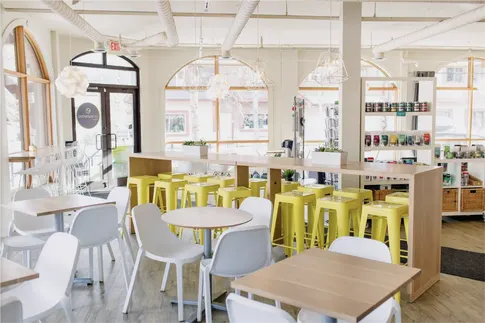 If you're looking for a fancy night out, Bailey loves Sauvage (formerly called Tapas Canmore). Elegant, delicious, but a little pricy. Or, head to The Sensory Restaurant & Lounge and try the chef's 3-course meal paired with wine – perfect for a date night. Another favorite is the Iron Goat, but Bailey mentions more on them below!
Go Snowshoeing
Snowshoeing is one way to turn ordinary hiking into a lot more fun! With snowshoes, you can explore trails that you wouldn't otherwise be able to in Canmore during the winter months.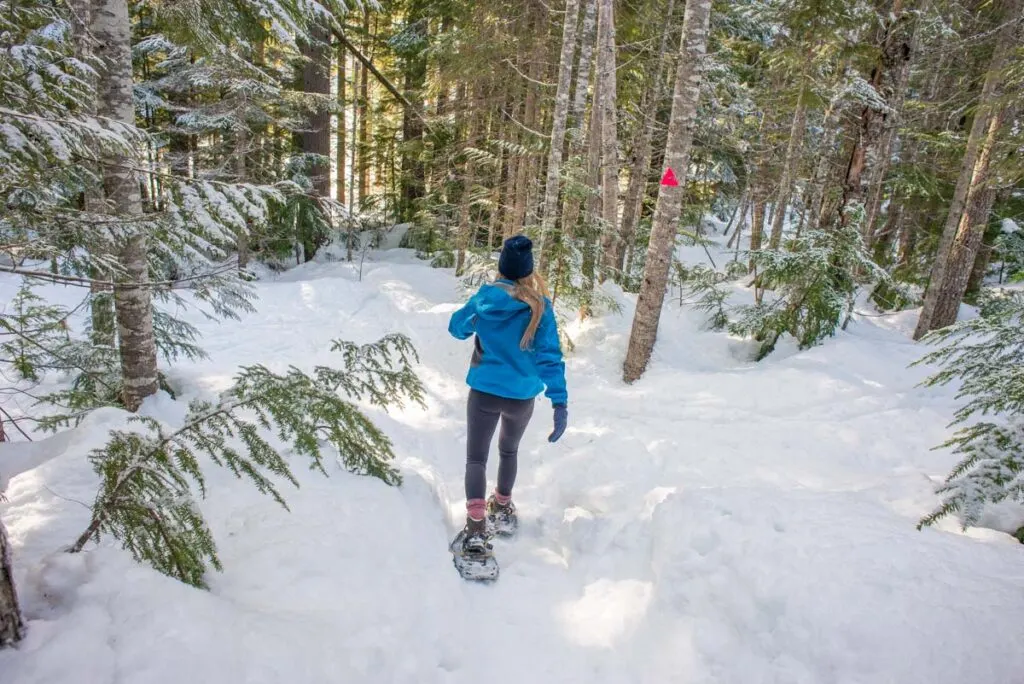 You can rent snowshoes and explore trails on your own in places like the Canmore Nordic Center. Snowshoe rentals start at $20 per day at Gear Up Sport in Canmore. They rent winter boots for snowshoeing too.
However, if you don't have experience hiking in the winter with snowshoes, then it is best to go on a guided snowshoe tour if you want to access any other remote trails. Hiking in deep snow can be dangerous, especially for those who don't know the area! A guided half-day snowshoe tour in Kananaskis Country near Canmore will run you about $115.
READ NEXT: Snowshoeing Safety: 14 Ways to Get into Trouble and How to Prevent Them
READ NEXT: What to Wear Winter Hiking and Snowshoeing
READ NEXT: The Best Boots For Snowshoeing
Attend the Canmore Winter Carnival
This annual event celebrates all-things Canmore in winter! The Canmore Winter Carnival typically runs at the end of February and is a chance for the community to come together and enjoy all things that make Canmore so great. There are tons of indoor and outdoor events such as ice carving, log sawing, and beavertail eating competitions. It's a fabulous family-friendly event with a lot of activities for kids to enjoy.
Enjoy Local Drinks
If you want to know where to find the best cocktails in town, head to Wild Life Distillery. The boutique distillery is located on the outskirts of town in the Canmore industrial area. It's the best place in Canmore to try a cocktail you've never even heard of made with high-quality vodka and gin. They also serve lots of classics for those who know what they like.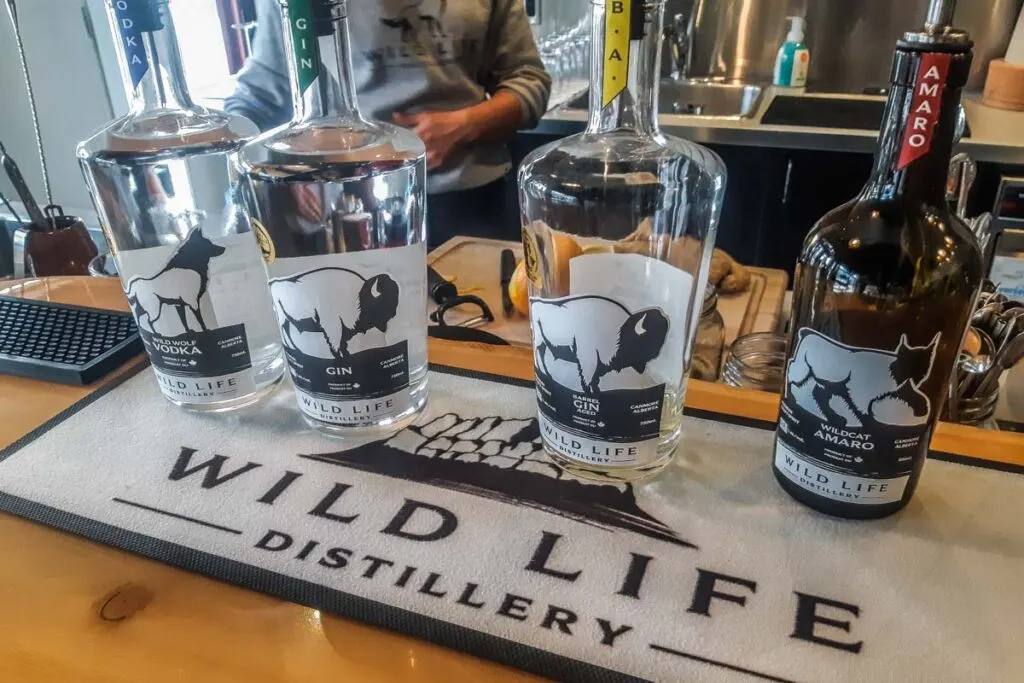 The cocktail menu is constantly changing (the reason we can't recommend a favorite), so there's likely something new to try even if you've been before. The best part is the cocktails are priced right, with a 2.5-ounce craft cocktail costing only $12.
When it's time to leave, you can even grab a bottle of your favorite liquor to go. The bottles make great gifts, and there are a few different varieties to choose from!
If you are looking for beer then you're in luck too. In Canmore, there are a few different craft breweries that you can check out. Canmore Brewing Co is probably the most popular, whereas Grizzly Paw Brewing has the best restaurant and bar. Blake Brewhouse & Distillery also has their own spirits to offer as well as beer!
Go Fat Biking
Riding a bike in winter conditions can be challenging. However, that's where fat bikes come in. Fat bikes are pretty much regular bikes, except they have fat tires built for riding through snow. They also come with hand warmers because, you know, it's cold!
In Canmore, you can easily rent bikes in town and then head off to explore. There are bike trails all around Canmore including ones at the Nordic Centre. For something a little different, ride the Legacy Trail to Banff and then catch the bus back to Canmore from there.
Johnston Canyon Icewalk
Another perfect way to enjoy the spectacular wintertime scenery in Canmore is to experience the Johnston Canyon Icewalk. This famous attraction is a must-do any time of the year, but in my opinion, winter is the best time to go.
The Johnston Canyon Icewalk starts around 45 minutes from Canmore along the scenic Bow Valley Parkway. From the small parking lot, you need to walk along a 2.5-kilometer boardwalk to the upper falls. You'll then return via the same path.
Along the way, you'll get fabulous views of the canyon, and there is also a lower waterfall 1.3-kilometers into the walk.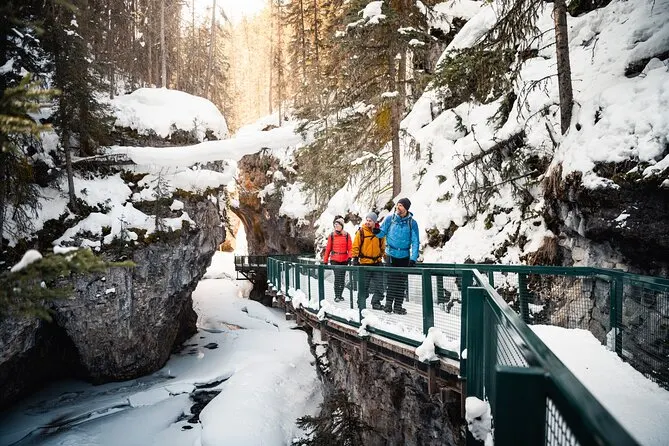 If you want to learn more about the canyon or don't have your own ice cleats, you can also book a Johnston Canyon Icewalk tour with Discover Banff Tours. These tours last for 4 hours and include an expert local guide to teach you all about the canyon and Banff National Park. On top of that, you'll get transport to and from the canyon as well as all your equipment. For all that, you'll only pay $88!
Eat at the Iron Goat
The Iron Goat Pub & Grill is one of Bailey's favorite restaurants in Canmore. Although not the cheapest place to eat in Canmore, it's perfect for those looking for a dining experience with a beautiful winter atmosphere by the fire.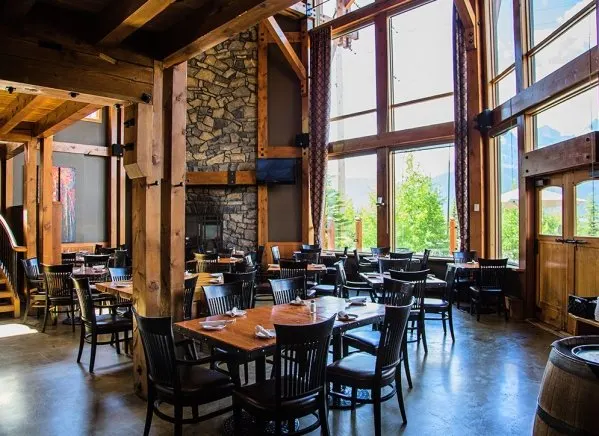 Her favorite dishes are the blackened salmon and the cioppino pasta. The food is made from fresh ingredients, so it's tough to beat the quality at the Iron Goat. On top of that, the service is something special.
The Iron Goat is located a little out of the central area on Canmore; however, it's worth the short drive, and the views from the restaurant are magnificent. They are open for both lunch and dinner from 11 am to 10 pm.
Drive the Bow Valley Parkway
The Bow Valley Parkway is a famous scenic drive that travels from Banff to Lake Louise beside the main highway.
All up, the Bow Valley Parkway is 50 kilometers long and, without stopping, takes around 1 hour to drive. With that said, if you want to experience the best stops on this highway, allow 3 to 4 hours.
Johnston Canyon is one of the stops along the Bow Valley Parkway (mentioned above), and below are a few others I love!
Castle Mountain Viewpoint – It won't be hard for you to spot Castle Mountain. This mountain range is famous and can be seen from miles away. To get a closer look, visit the viewpoint on the Bow Valley Parkway and admire those epic views!
Morant's Curve – Morant's Curve is one of my favorite places to photograph in winter. Be sure to visit the viewpoint for a perfect postcard photo.
Moose Meadows – Moose Meadows is a small meadow within the Bow Valley. It's visited regularly by wildlife so keep your camera ready!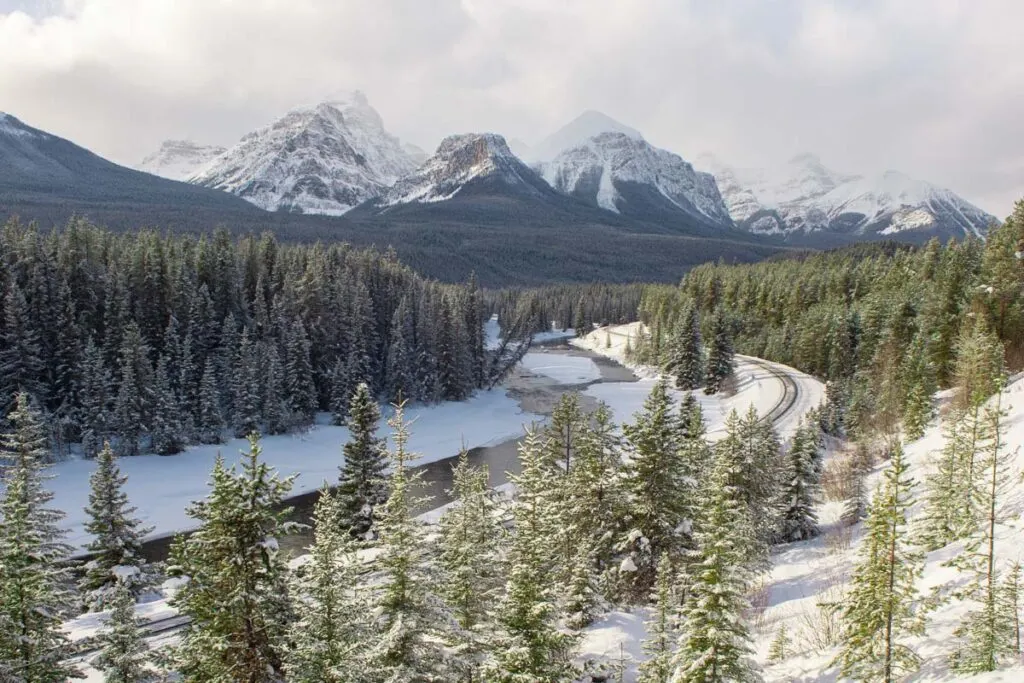 As you can see, Bailey has lots of great ideas for awesome winter activities in Canmore that will keep even the busiest of travellers happy. Have questions about the best winter activities in Canmore? Then leave a comment below!
READ NEXT:
Latest posts by Happiest Outdoors Contributor
(see all)