So you want to go winter hiking or snowshoeing, but… what do you wear? How do you stay warm? And how can you transition your summer hiking wardrobe into the winter season? I definitely had all of these questions when I first started winter hiking and snowshoeing, and through years of trial and error (oh so many errors!), I've come up with a bunch of pretty good winter hiking outfits that work for a variety of cold temperatures. So here it is: my guide for what to wear winter hiking and snowshoeing.
Hey there: Some of the links in this post are affiliate links, which means I earn a small commission at no cost to you. Thanks for your support. -Taryn
How Cold Will it Be?
The first thing to do is figure out how cold it will be. Don't just look at the weather forecast for your city – the temperatures can be MUCH colder in the mountains. Use my picks for The Best Weather Apps for Hiking to get a better idea of the forecast on the trails.
In my hometown of Vancouver, BC (that's in Canada!) our winters are typically not that cold: temperatures between +5C and -10C (41F and 14F) in the mountains are pretty typical. In that climate, as long as you are moving and not taking long breaks, you won't need any Everest expedition-level super warm clothing. If you are heading out in colder temperatures, you will obviously need warmer clothing.
Dress in Layers
The secret to staying comfortable while winter hiking or snowshoeing is layering. You take off layers when you get too hot and add more when it cools down.
It's also important to wear the RIGHT amount of layers. If you wear too many, you'll overheat and sweat. Then when you stop, all that cold perspiration in your clothing will cool you down too quickly, or even worse, turn to ice.
My winter hiking and snowshoeing mantra is "Be bold, start cold". I always wear less layers to start with since I know I'll warm up as I move. I carry warm gear in my pack to put on when I stop.
The classic layering system consists of a base layer, mid layer and outer layers. I've got details on each of those layers below.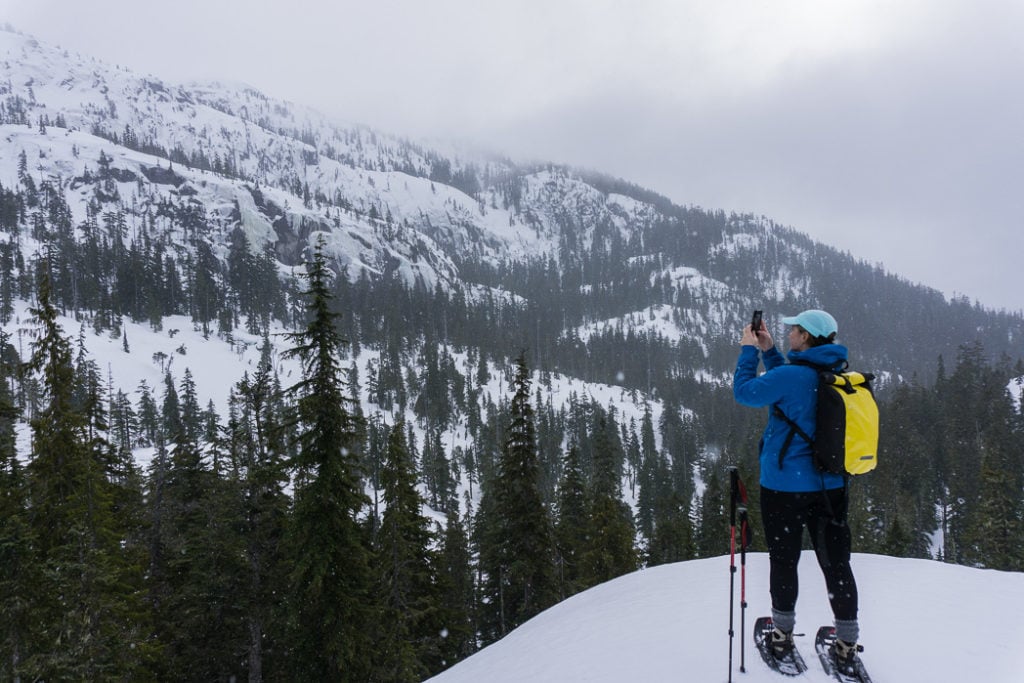 Base Layers to Wear Winter Hiking and Snowshoeing
A good winter hiking outfit starts with a warm and wicking base layer (also known as long underwear). If you are starting from scratch, choose mid-weight long underwear and a long sleeved mid-weight base layer top.
Polyester and merino wool are both great options for fabric that retains warmth even if you get wet. I mostly wear polyester since it's cheaper and more durable, but merino wool is great if you can afford it. If you get cold easily, live in a very cold climate, or plan to go winter camping, consider getting heavy-weight base layers instead of mid-weight.
Synthetic Base Layers I Recommend: I like to wear a zip neck base layer so I can vent. I like waffle-knit fabrics since the grid texture traps warmth without being too bulky. Patagonia's Capilene Mideweight collection is great. Check prices: REI | Patagonia | Backcountry | MEC | Patagonia Canada
Merino Wool Base Layers I Recommend: If you're looking for merino wool base layers, I love the ones from Smartwool. I find their Merino 250 series provides the right amount of warmth for snowshoeing. Their base layer bottoms have a wide waistband that stays put. (And they come in fun patterns too). Check prices: REI | Backcountry | MEC
You'll also need to wear quick-drying underwear underneath your base layer. Read my guide to hiking underwear to find out which ones are best.
Mid Layers to Wear Snowshoeing and Winter Hiking
Mid-Layer Jackets: Fleece or Puffy
The next layer is the mid-layer. A lightweight insulated puffy jacket or a mid-weight high-loft fleece jacket is a good option to wear winter hiking and snowshoeing for extra warmth when it's chilly out. Or just keep it in your bag to throw on while taking breaks.
Many people like the warmth and compressibility of a down jacket. But on the WET coast, and when you're sweaty, choosing a synthetic insulated jacket or a fleece can be a better choice. It will dry faster and keep you warm even if it gets a bit wet. When down gets wet, it's pretty useless.
I mostly snowshoe in a fleece, and also keep a lightweight down jacket in my pack to wear when I take breaks.
Fleeces I Recommend: I love my MEC Rockwall fleece. It's a midweight fleece that is stretchy and has a water resistant exterior. Check prices: MEC. My Fjallraven Abisko Trail fleece is also great. It uses a grid fleece that is lightweight and super warm. Check prices: REI | Backcountry | MEC
Synthetic Puffy I Recommend: My husband loves his Patagonia Nano Puff jacket. It uses high end PrimaLoft Gold synthetic insulation so it packs down really small when you need to store it in your backpack. Check prices: REI | Backcountry | Patagonia | MEC | Patagonia Canada
Down Puffy I Recommend: Recently I got an Eddibe Bauer MicroTherm 2.0 Down Hooded Jacket. It's so light and compact, but super warm since it uses 800 fill power responsibly sourced down. My favourite feature is the stretch panels under the arms that add breathability and ensures it's not too tight on my broad shoulders. Check prices: Eddie Bauer | Eddie Bauer Canada | Amazon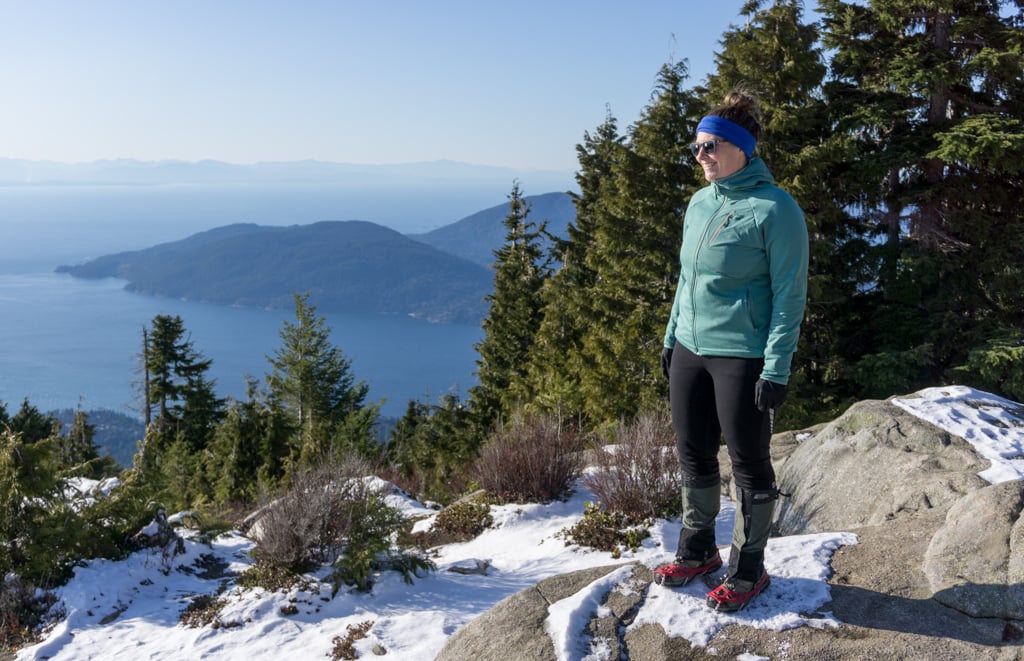 Mid-Layer Bottoms: Fleece Pants
For midlayer bottoms some people like to wear lightweight fleece pants. I find fleece pants are too warm to wear when snowshoeing, especially if I'm wearing long johns or tights. Unless you are really a cold person or out in very cold temperatures, I'd go with either a baselayer or a midlayer on the bottom but not both.
Fleece Pants I Recommend: I have an older pair of MEC Trek pants that I wear for winter camping. Check prices: MEC. The REI Co-op Hyperaxis Fleece Pants are really similar. Check prices: REI
Outer Layers for Snowshoeing and Winter Hiking
Jackets
For hiking in any season, you need a rain jacket since it can rain or snow at any time of year in the mountains. Make sure you choose a jacket that is both waterproof and breathable so you don't sweat inside it. That usually means a jacket with Gore-Tex or another waterproof breathable technology.
There are lots of technologies out there and many brands use their own, but as long as the jacket is advertised as a waterproof breathable garment, you can be sure it is waterproof. If you spend more money for Gore-Tex or another branded technology you'll often get more durability and a lot more breathability, but the waterproofness straight off the shelf will be comparable to the cheap jackets.
I like high quality waterproof breathable jackets to wear winter hiking and snowshoeing since the consequences of getting wet are so much higher when it's cold out.
Rain Jackets I Recommend: In the winter I usually wear my MEC Synergy Jacket. It's a 3-layer Gore-Tex shell with a comfortable liner. It's stood up to over four years of heavy wear so far and it's still going strong. Check prices: MEC.
Recently I got a Helly Hansen Verglas Infinity Shell, which is one of Helly's highest end shells. I tested the waterproofness on a week-long canoe trip and it was great. I'm looking forward to wearing it this winter. Check prices: REI | Backcountry | Helly Hansen Canada | Amazon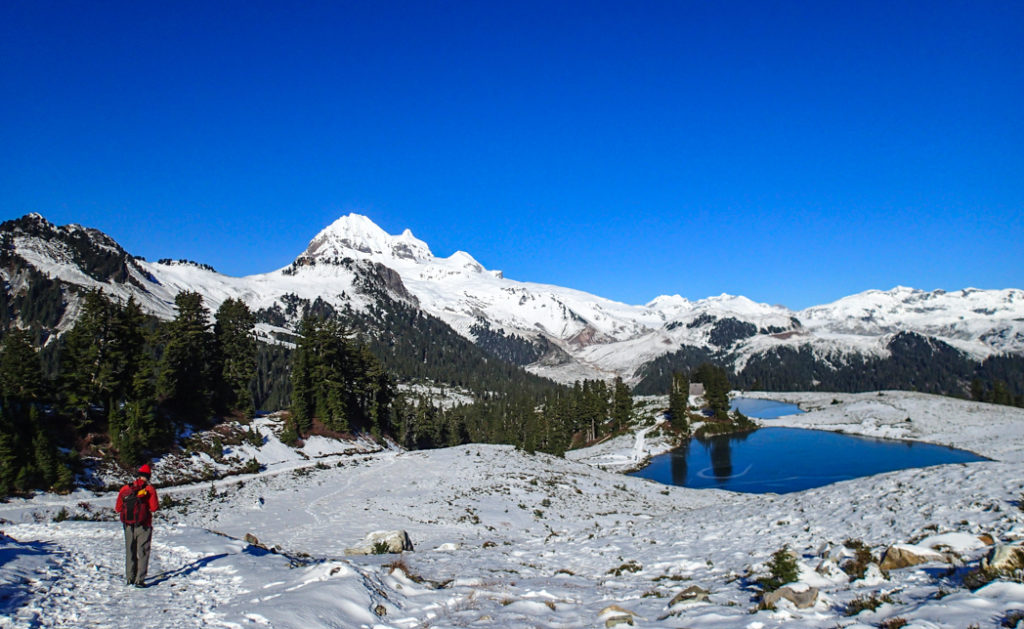 Bottoms
You have a few choices when it comes to picking a type of outer pants for snowshoeing or winter hiking. The type you choose will depend on your budget, how cold it is where you hike and what style of hiking you do.
Winter Tights
In mild-weather or when I plan to do a short hike where I'll be working hard, I often wear winter tights for snowshoeing. I like ones with a fleece lining and wind resistant outer fabric. I keep a pair of rain pants or an insulated skirt in my backpack in case it gets cold. (More on those below.)
Lined tights I Recommend: I have an older pair MEC Flyer Tights that I wear a lot. They're actually designed for winter biking (and I do wear them for that as well). They have a cozy fleece lining and windproof panels on the front only, since they're designed for biking. Check price: MEC
Tights designed for cross-country skiing will also be great for snowshoeing. Craft, Swix, and Salomon all make great options. Check prices: REI | MEC
READ NEXT: 18 Best Hiking Leggings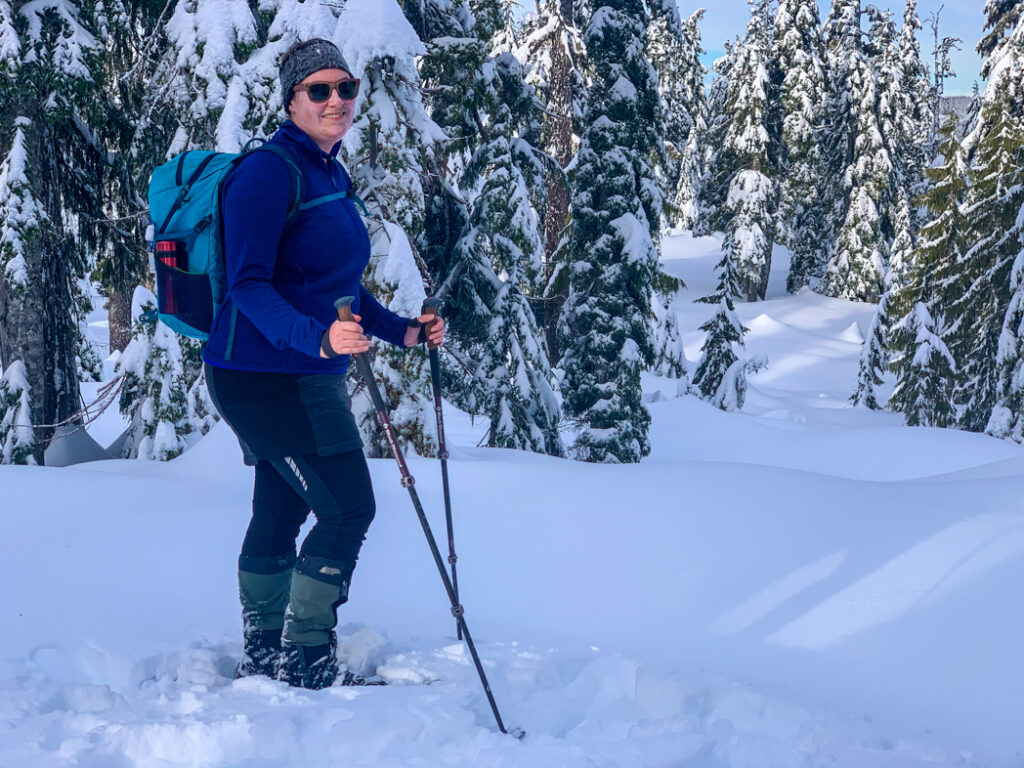 Softshell Pants
For most trips, I like to wear softshell pants for winter hiking and snowshoeing since they are wind resistant and water resistant. (Key point – they aren't waterproof so they won't hold up to constant rain, siting in the snow, or bum sliding.) They are also quite breathable so they are good for days when you are working hard or it's not that cold.
There are a few softshell pants on the market designed for snowshoeing or winter hiking, but I've found that pants designed for ski touring also awork really well for snowshoers. Many softshell pants designed for winter have a thin fleecy layer inside for extra warmth so on warmer days you can skip a baselayer.
Softshell Pants I Recommend: I have an old pair of MEC softshell pants. They breathe well but still block the wind. They also shed snow but won't stand up to heavy rain. The pair I have are discontinued but have been replaced by the MEC Tobo Softshell Pants. Check prices: MEC
The Outdoor Research Cirque pants are similar. They are built for ski touring and have a fleece lining. Check prices: REI | Backcountry | Outdoor Research
Rain Pants
Many people (including me) like to wear waterproof breathable rain pants over their base layer for winter hiking and snowshoeing. They are windproof so they'll retain body heat. This means you might get overheated in them so get ones with leg vents if you run hot.
They also tend to be lighter weight and packable so you can take them off on bluebird days and just go in your tights or long johns. And since they are totally waterproof they are the best option for days where it is sleeting, for sitting in the snow, or for bum-sliding.
The bonus is that you can use them as rain pants at other times of the year so you don't have to buy a dedicated pair of winter pants.
Rain Pants I Recommend: I like the MEC Hydrofoil Stretch Pants since they have 3/4 length zips for easy on/off. I've worn them on countless summer backpacking trips and winter hikes. Check prices: MEC
If you want minimalist rain pants that will disappear inside your pack when you don't need them, check out the Marmot Precip Pants. They're affordable too. Check prices: Backcountry | Amazon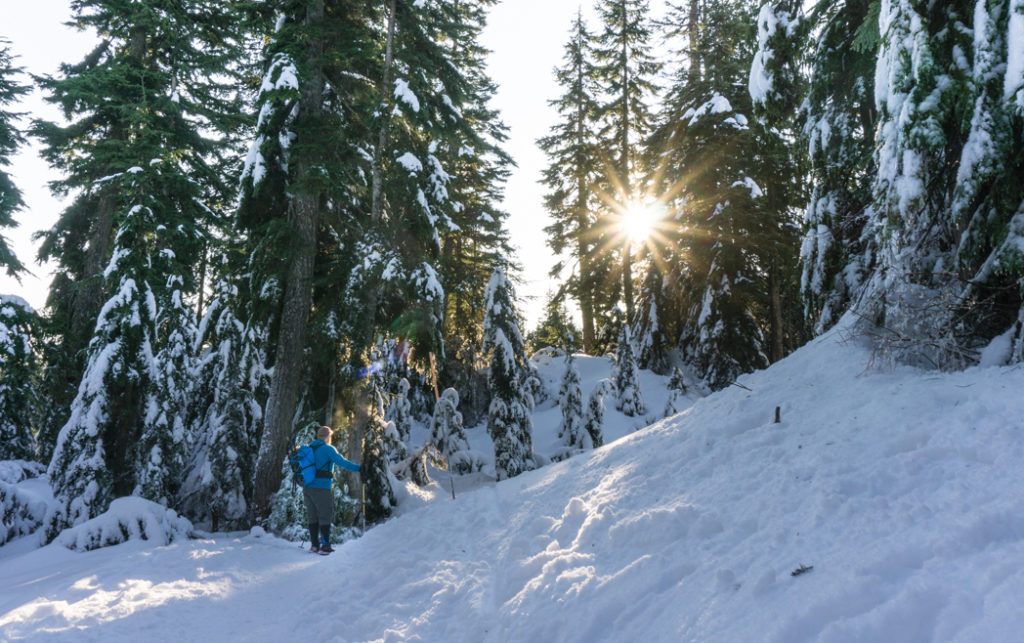 Insulated Ski Pants
Another option is to wear ski or snowboard pants. Many people already have these in their closets. If you don't, they are easy to find at used gear shops or on clearance at ski stores. Most of them have good waterproofness, although they often aren't as waterproof as rain pants. Most ski pants are insulated which can be too warm for hiking in, especially in our mild Wet Coast winters.
I recommend: Buy a cheap pair. You don't need to worry about durability the way you would with ski pants since you won't be falling down on them. (Or I hope you won't anyway!) There are tons of budget options on Amazon, but the ones from Arctix get the best ratings. Check prices: Amazon.
Insulated Skirts
When I first heard about insulated skirts I thought they were silly and for people who cared about fashion. But I've since come around to the conclusion that they are so functional! Often when you're exercising in cold weather your butt and thighs get cold but the rest of your legs are warm. That's where insulated skirts come in.
I got an insulated skirt a few years ago and have worn it a LOT the past two winters. I like to layer it over winter tights. If I get really warm, I take it off and stow it in my pack, then put it back on when I take a break or cool down. Some have a full side zip so they are easy to take on and off.
Insulated Skirts I Recommend: I have a Smartwool Smartloft 60 Skirt. It has stretchy and warm side panels with insulation on the front and back. Since it's from Smartwool, the waistband and inside lining are cozy merino wool. Check prices: REI | Backcountry | Amazon
If you want a skirt that's crazy warm, check out the Mountain Hardwear Ghost Whisperer Skirt. It's made with the same DNA as their famous ultralight puffy jackets. Check prices: Backcountry | Mountain Hardwear
READ NEXT: Best Insulated Skirts to Keep Your Butt Warm on the Trails
Footwear for Winter Hiking and Snowshoeing
Insulated Hiking Boots
If you already own waterproof hiking boots, they will work great for winter hiking and snowshoeing. Just make sure they are really waterproof. If they're not, the heat from your feet will melt any snow on the outside, which will leak inside and cause cold feet. Brrr!
If you snowshoe regularly, I recommend investing in a pair of insulated winter hiking boots. Read my guide to the best boots for snowshoeing to learn what features to look for in snowshoeing boots.
(Tip: Winter hiking can cause blisters since the slippery snow moves your foot around inside your boots. Get my tips for preventing blisters.)
Insulated Hiking Boots I Recommend: I wear Salomon Vaya Powder insulated hiking boots for snowshoeing. They are warm, have ankle support, and are totally waterproof. Check prices: MEC | REI | Backcountry | Salomon US | Salomon Canada | Amazon
Unfortunately the Vaya Powder don't come in a men's version so you can also check out the Salomon X Ultra Mid Winter CS WP Boots. I've been wearing the summer version of these boots for years and love them. (They come in both men's and women's.) Check prices: MEC | REI | Salomon US | Salomon Canada | Amazon
Hiking Socks
Comfortable hiking socks are one of the keys to happy winter hiking and snowshoeing. I wear thicker wool socks in the winter time to add warmth. Make sure your socks fit well and aren't too thick for your shoes. Read my tips for preventing blisters.
Hiking Socks I Recommend: My favourite are Darn Tough Midweight Hiker Boot socks since they last forever. Check prices: MEC | Darn Tough | REI | Amazon
If you get really cold feet, an easy way to add warmth when you snowshoe is heated socks. I haven't tried them yet, but a friend with Reynaud's disease (a circulatory disorder that causes cold hands and feet) swears by heated socks. The have a small battery pack and you can control the temperature with an app on your phone.
Heated Socks I Recommend: There are a few different heated sock companies out there, but I've heard good things about both Lenz and Hotronic. Check prices: MEC | REI | Amazon
Gaiters
Even if you have waterproof boots, you can't really go out in the snow without a pair of gaiters. These bridge the gap between the top of your boots and the bottom of your pants and make sure you don't get snowy socks. Even really basic and cheap water resistant ones will be fine, but you can't skip these.
Gaiters I Recommend: I've had a pair of MEC Kokanee Gore Tex gaiters for years. They have been on countless snowshoe trips and I also love them for coastal hiking. Check prices: MEC
Any waterproof or water resistant gaiters will work for winter hiking and snowshoeing (the Gore Tex is for breathability for summer use in sand and mud). The Outdoor Research Rocky Mountain High Gaiters are a great option. Check prices: REI | MEC | Backcountry | Outdoor Research | Amazon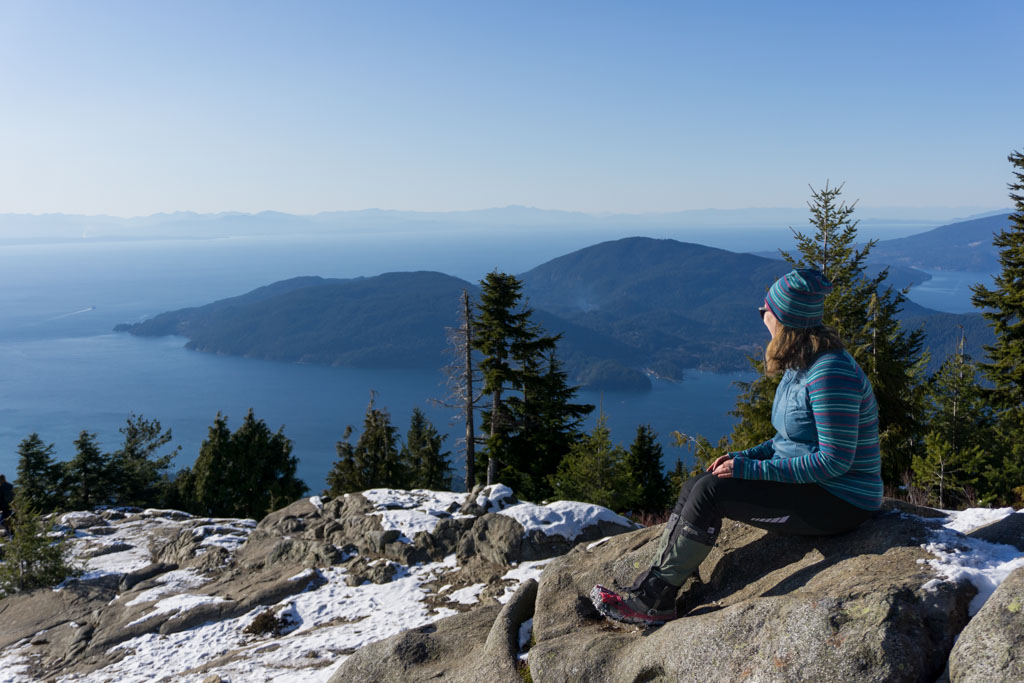 Snowshoes and Microspikes
For deep snow, of course you will need snowshoes. (I've got a whole guide on how to choose snowshoes if you need help!)
When the snow is not very deep or the trails are icy you still need something to keep you from slipping. (Slip and fall cause the most common snowshoe and winter hiking injuries. Read my post about snowshoeing safety to learn how to prevent them.) That's where crampons or mini-crampons come in. They come along in my pack for every winter hike since I never know when I might need them.
Snowshoes I Recommend: I love my MSR Lighting Ascent snowshoes since they are lightweight but grip well on steep slopes. Check prices: MEC | MSR | REI | Amazon
Microspikes I Recommend: For mini-crampons, I can't say enough good things about my Kahtoola Microspikes. They are easy to put on but provide lots of grip. Check prices: MEC | REI | Amazon
Accessories to Wear Winter Hiking and Snowshoeing
When you're out in the cold your hands and head often feel cold first, so make sure you wear a warm hat and some gloves.
Actually you'll probably want two pairs of gloves: one pair of lightweight fleece gloves and one pair of insulated and waterproof or water resistant ski gloves or mitts. It's good to have both since your hands will be warmer while you are moving, but cold when you stop or when you are exposed to the wind.
Another accessory that I like to bring is a wool or fleece buff/neck gaiter. You can wear it as a headband, as a hat, around your neck or over your nose and mouth – I always bring one and always find a use for it.
Fleece Gloves I Recommend: Pretty much any basic fleece gloves will be great for winter hiking or snowshoeing. I like ones with touchscreen pads so I can still use my phone. Check prices: REI | Outdoor Research | Backcountry | MEC
Insulated Gloves and Mitts I Recommend: Make sure you choose waterproof ones. I actually prefer mittens since they keep your fingers warmer. Check prices: REI | Backcountry | MEC
Neck Gaiters I Recommend: I always bring a merino wool buff (in fact I have three of them!) Check prices: REI | MEC | Amazon
So that's my run-down on what to wear winter hiking and snowshoeing. I know that this layering system will keep you warm and dry on your next winter hike. Just remember not to let yourself overheat and get sweaty! Do you have tips for winter hiking clothing? Leave them in the comments.
More Snowshoeing and Winter Hiking Posts:
More Hiking Gear Posts:
Awesome Winter Destinations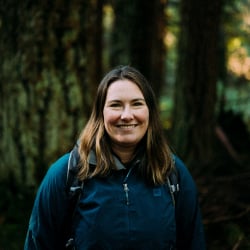 Latest posts by Taryn Eyton
(see all)