It's likely you've heard of the West Coast Trail – a multi-day trek on the West Coast of Vancouver Island that weaves its way along 75 kilometres of towering rainforests, slick sandstone shelfs, and pebbled beaches, with numerous ladders and boardwalks. Coastal hiking is something that BC is known for, but most people think it's something that you can only do as a backpacking trip and that you have to travel to Vancouver Island to do it.
Did you know you can go coastal hiking in Vancouver? It's true! And actually there are a few of them. In Vancouver we do most of our hiking in the mountains and the rainforest. But if you want a different kind of hike, try one that's coastal. Here are my top picks for coastal hikes in Metro Vancouver. Unlike the West Coast trail, none of these are very long or very challenging, but they will give you a taste of coastal hiking. To approximate the real experience, pack along a small backpacking stove and make yourself a hot lunch or cup of tea in a pocket cove. Bonus points if you do it in the pouring rain.
This is a sensitive wilderness area. Learn how to Leave No Trace to keep the wilderness wild. Make sure you are prepared by bringing the 10 Essentials. Get ready for adventure with this checklist of things to do before every hike.
Admiralty Point Trail, Belcarra Regional Park
The Admiralty Point Trail is only six kilometres long but it provides some classic coastal scenery: It travels through tall mossy forests. The trail that transitions from bluffs to waterside over and over, allowing you a variety of peek-a-boo view of the water. And there are numerous side trails (both official and unofficial) to rocky outcrops with sweeping views and tiny pocket coves to explore. You won't gaze out into the wild Pacific Ocean here. Instead you'll see Vancouver's suburbs from an unusual vantage point: Look across the water to the houses of Deep Cove, the Second Narrows Bridge, Burnaby Mountain and down the Inlet to Port Moody.
If you go: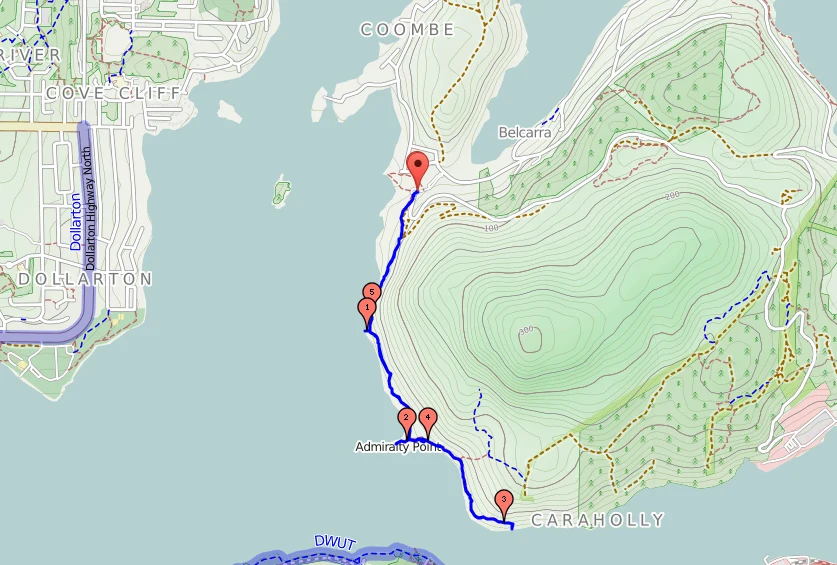 The trailhead is at the south east corner of Belcarra Picnic Area in Belcarra Regional Park. The trail is about 6km long with some ups and downs but no real elevation change. The trail surface is fairly flat with few rocks so it is an easy walk. Be sure to take the marked side trails to Cod Rock, Admiralty Point and Whiteshell Bank and to continue on the extra kilometre past Admiralty to the trails end at Burns Point to get the best viewpoints. This park can be very busy on sunny days so try to head here outside of the summer months since the trip is just as beautiful in the rain or fog (and possibly more authentic for coastal hiking too!) If this hike isn't long enough you can also throw in the nearby 5 kilometre long Jug Island Beach Trail. It's a forest walk along a ridge that ends at a pretty pocket beach with views of Deep Cove.
Lighthouse Park Loop, West Vancouver
Lighthouse Park is a great place to experience some varied coast terrain. It has steep, rocky and muddy trails that lead to granite cliffs, little beaches and some great views. The best bang for your buck at Lighthouse is to make a loop around the whole park. Start with the Juniper Loop trail at the far northwest end of the parking area. Then just keep turning going towards the coast and make every right turn you see. You'll weave together a loop of several trails and visit many viewpoints and beaches. In places the trails are hemmed in by hedges of head-high salal bushes – just like sections of the West Coast trail.
Lighthouse Park is really beautiful, but has lots of moderate trails. I named it one of the best easy hikes in Vancouver. And everyone else loves it too: it's one of Vancouver's most Instagrammed hikes.
If you go:
Lighthouse Park is on Marine Drive in West Vancouver. Be sure to bring a copy of the Trail Map with you as there are many junctions and it can get confusing. The longest possible loop (shown on my map, below) is about 6km long but you can make your own shorter variations if you like. The trail in Lighthouse Park are rocky, rooty and muddy and often steep. As well, there is a photo opportunity around every bend so hiking in this park often takes much longer than you'd think. There are countless side trails to viewpoints, but my favourites (and the ones you shouldn't miss) are Shore Pine Point for views of Bowen Island and UBC, West Beach for views of the famous Lighthouse, and pretty little Starboat Cove for a great place to hang out and take a break. The trails on the eastern side of the park are far less visited and much more rugged.
Foreshore Trail, Pacific Spirit Park
The Foreshore Trail in Pacific Spirit Park isn't always a trail, and that's what makes it exciting. The trail is actually a collection of pieces of trail, strung together with sections of beach walking that can get a little interesting when winter storms wash in big pieces of driftwood that you'll have to clamber over. The route follows the coastal cliffs from Spanish Banks, around Point Grey via Acadia Beach and Tower Beach before ending at Wreck Beach (a nudist beach). Besides the odd fishing boat going by, there isn't anything to suggest that you are in the middle of a large city – the views are mostly of far away forested mountains and of open ocean. For me, this is the most "authentic" coastal hike of the three since the views are mostly of the ocean and there is no real trail, just like the beaches of the West Coast trail. There are also some interesting WWII gun tower sites along the way (although now they mostly provide a canvas for some very talented graffiti artists).
If You Go: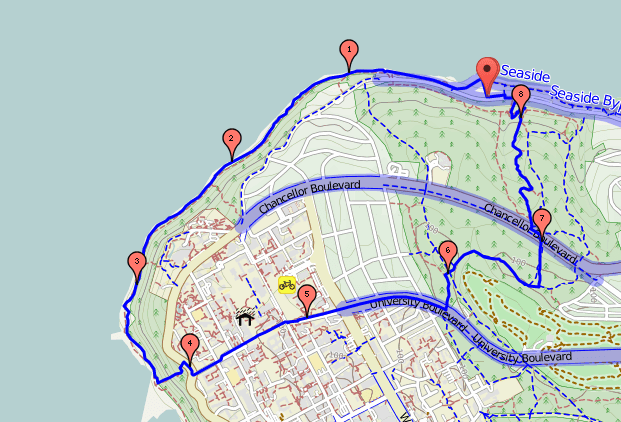 Park at the far west parking lot at Spanish Banks Beach. Take the shore trail west along the beach until it ends – you'll be walking right on the beach for the rest of your trip. Your route is at the base of the cliffs and except for a few beach access trails, there is no escape from the rising tides. I must stress that this hike can only be undertaken at low tides. Consult the tide table and plan accordingly. Hike only at time when the tide is falling to give yourself plenty of time to complete the hike. Even at low tide there can be tide pools and outlet streams to cross. Bring waterproof hiking shoes or be prepared to get wet. Be aware that Wreck Beach is a nudist beach and you may see nude sunbathers along the beach at any time of year when the sun is out. They are hard core sun-worshippers!
The route from Spanish Banks around to Wreck Beach is 7km return but it is possible to continue past Wreck Beach along the North Arm of the Fraser River to trail 7. This adds 3km (return) to your trip but this section of the trail is very muddy so it's not recommended. Instead of turning around and heading back the way you came at Wreck Beach, another option is to go up the stairs on Trail 6 into the UBC campus. Cut across campus to the East and pick up the Pacific Spirit Park trail system going north to return to your car at Spanish Beach. A trail map is essential for this option and it will only add another 1.5 kilometres to your trip.
Have you done any coastal hiking in Vancouver? Did I miss any others on my list? Tell me in the comments.
Read Next: More hikes near Vancouver
Most Instagrammed Hikes in Vancouver
Alternatives to the Grouse Grind
Fraser Valley Waterfall Hike Road Trip
Kennedy Falls and the Big Cedar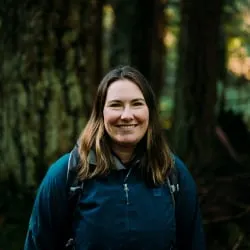 Latest posts by Taryn Eyton
(see all)