Joffre Lakes near Whistler, BC is a spectacular spot: three gorgeous turquoise lakes surrounded by glacier-capped mountains. I first hiked to Joffre Lakes in 2004 and have returned every few years since then. I think I've hiked here 9 or 10 times and I never get tired of it.
If you're interested in hiking to Joffre Lakes I bet you've seen incredible photos of Gatorade-blue lakes on Instagram or Tiktok. And you're probably wondering: Where is that? Is it a hard hike? Is it as busy as everyone says?
I live just down the road in Squamish and I'm a hiking guidebook author so I've got all the locals' insight on Joffre Lakes and can help you out with all your Joffre Lakes questions. This Joffre Lakes hiking guide includes:
This is a sensitive wilderness area. Learn how to Leave No Trace to keep the wilderness wild. Make sure you are prepared by bringing the 10 Essentials. Get ready for adventure with this checklist of things to do before every hike.
Hey there: Some of the links in this post are affiliate links, which means I earn a small commission at no cost to you. Thanks for your support. -Taryn
Why Hike Joffre Lakes
Joffre Lake is one of the most popular hikes in BC. In fact, it is currently number one on my list of the most Instagrammed hikes near Vancouver.
But why is it so popular? There are three main factors:
First, it's undeniably gorgeous – it's on my lists of the best hikes in Whistler and best backpacking trips in BC. The hike leads past three bright turquoise glacial lakes with views of snow-capped mountains. Unlike many other hikes where you spend a long time in the forest to get to one good view at the end, on the Joffre Lakes hike you get views almost the whole time.
Second, the hike isn't that difficult. Anyone with a moderate fitness level can do it and the trail is easy to follow. It's on my list of the best easy backpacking trips in BC for that reason. On my most recent trip, I saw toddlers, seniors and everybody in between on the trail. Some were fast, some were slow, but almost everyone was able to complete the hike.
Third, the trail is an easy three-hour drive from Vancouver, British Columbia's largest city. It's easy to get there by car or bus. (More details in the Getting There section below.)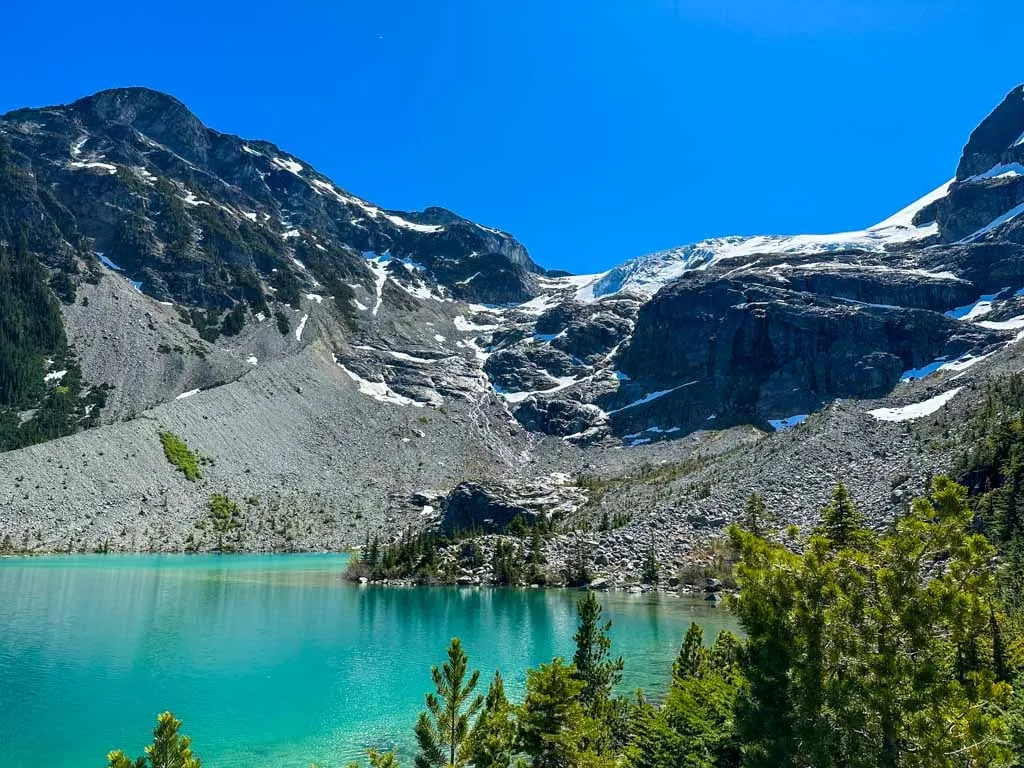 Joffre Lakes Trail Stats
Distance: 9.5 km round trip
Elevation Gain: 360 m cumulative elevation gain
Duration: 3.5-4.5 hours (but allow more time for breaks and photos)
Difficulty: Moderate
Best Time to Go: June to October
Toilets: At the trailhead, Middle Joffre Lake Viewpoint, Upper Joffre Lake Viewpoint, and the Upper Joffre Lake Campground
Dogs: Not allowed.
Distance from Vancouver: About 3 hours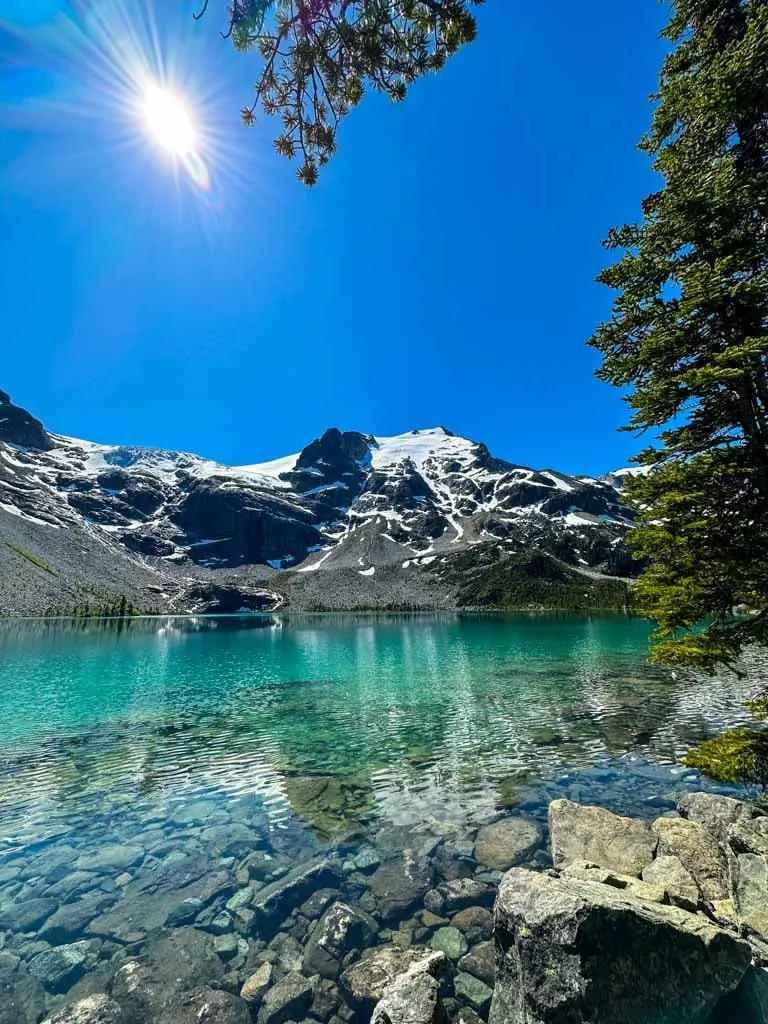 Tips for Hiking Joffre Lakes
Check the weather before you go. City weather forecasts are useless in the mountains. Use an algorithmic spot forecast for Joffre Lakes like Spotwx. (Read my guide to weather apps for hikers for more tips.)
Check trail conditions online using AllTrails or Instagram. This is especially important in the spring or fall when the trail can be icy or snowy.
Bring a rain jacket and warm clothing just in case. It can be much colder and rainier in the mountains than in the city.
Wear trail running shoes or hiking boots. The trail is steep, rocky, and loose in places. Regular running shoes don't have enough grip or ankle support. (I wear Salomon XA Pro 3D trail runners.)
Bring water and snacks. There is nowhere to fill up your water bottle. It is not safe to drink the water from the lakes without boiling, filtering, or treating it as you never know if people or animals have pooped or died upstream. (Gross!)
Bring the 10 Essentials. These are key safety items you should have on every hike.
Bring a camera – it's gorgeous and you will want tons of pics! But leave the drone at home. Drones aren't allowed in BC Parks without a commercial filming permit.
Pack out all your garbage. There are garbage cans in the parking lot, but if they are full, take your garbage home with you. Leaving it in the park attracts animals.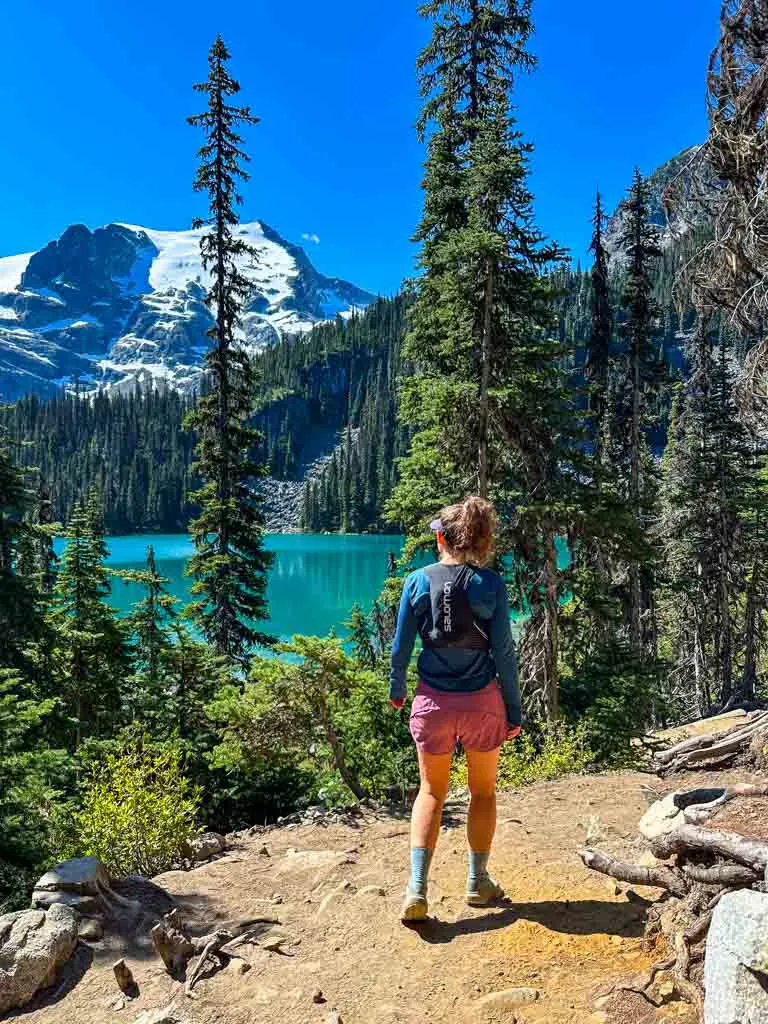 Joffre Lakes Day Passes
Since Joffre Lakes is so popular, you need to get a free day pass to visit between May and October. Each person needs their own pass. Passes are available on the BC parks website starting at 7 am two days before your trip. Act fast: passes run out fast on summer weekends.
Print out your day pass or save it as a screenshot on your phone. There is no cell service at the trailhead so you won't be able to pull it up from your email. Parks staff will check for passes at the trailhead. If you don't have a pass, you won't be allowed to hike.
Read my guide to BC Parks day passes for more info including tips for getting a pass.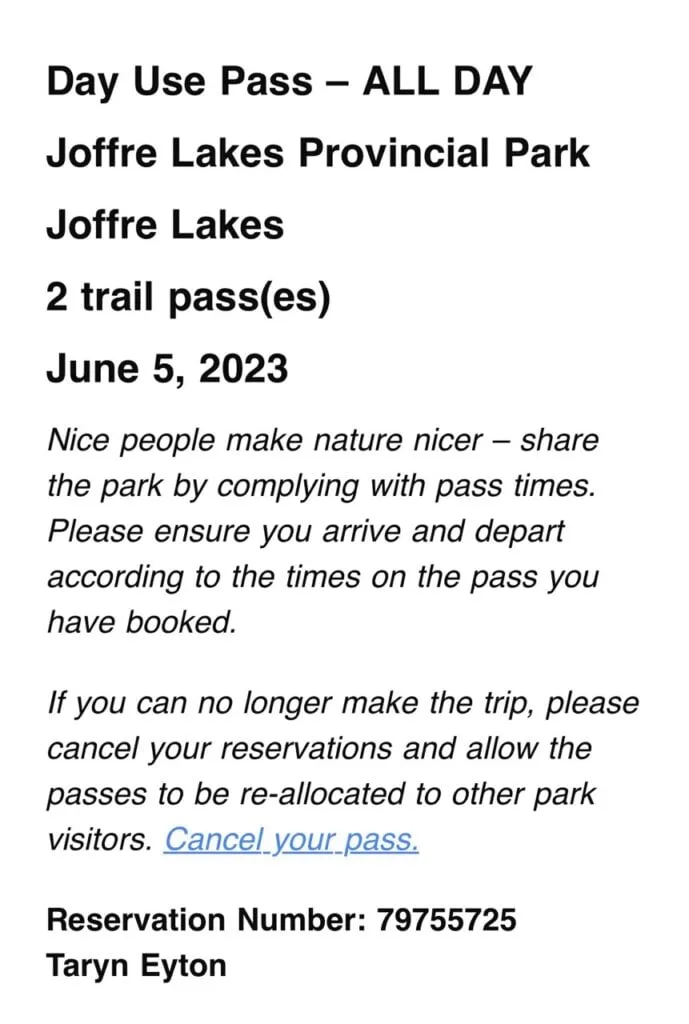 Joffre Lakes Trail Map
I made a map of the Joffre Lakes Trail for you using Gaia GPS, my favourite GPS and mapping app. It also includes an elevation profile. Click through to zoom in.
Psst! Want to save 20% off a premium Gaia GPS annual membership, which includes the maps I use on my trips? Use this link.
How to Get to Joffre Lakes
The Joffre Lakes hike is about 3 hours from Vancouver. You can get there by car or bus. In this section, I've got everything you need to know for driving, parking, and taking the bus to Joffre Lakes.
Driving Directions to Joffre Lakes
From Vancouver, head over the Lions Gate Bridge, then go west on Highway 1. Follow the signs to switch to Highway 99 North just before Horseshoe Bay. Stay on Highway 99 North through Squamish, Whistler, and Pemberton.
Reach a T-junction in Mount Currie and turn right to stay on Highway 99. After you cross the bridge over the Lillooet River just outside Mount Currie, the road starts to climb steeply on curving switchbacks.
About 10 minutes after the switchbacks end, look for signs for Joffre Lakes Provincial Park. The main parking lot is on the right side. The overflow parking lot is on the left side just before the main lot. Click here for Google Maps driving directions.
Joffre Lakes Parking
There are two parking lots for Joffre Lakes. The main parking lot is at the trailhead. There is also an overflow parking lot on the left side of the highway just before the main parking lot. The overflow parking lot is larger and is a better option if you are driving an RV.
A gravel trail on the side of the highway connects the overflow parking lot to the main parking lot. Don't walk on the highway and please use the crosswalk to stay safe.
Both parking lots are gravel and don't have painted lines, so park close to the car next to you so there will be room for everyone. There used to be issues with full parking lots leading people to park illegally on the highway, which was really dangerous. Now that day passes are required, there is enough parking for everyone.
Caution: Since the parking lot is right next to the highway, sometimes people parking overnight return to find that their car has been broken into. If you are parking overnight, do not leave anything in your car.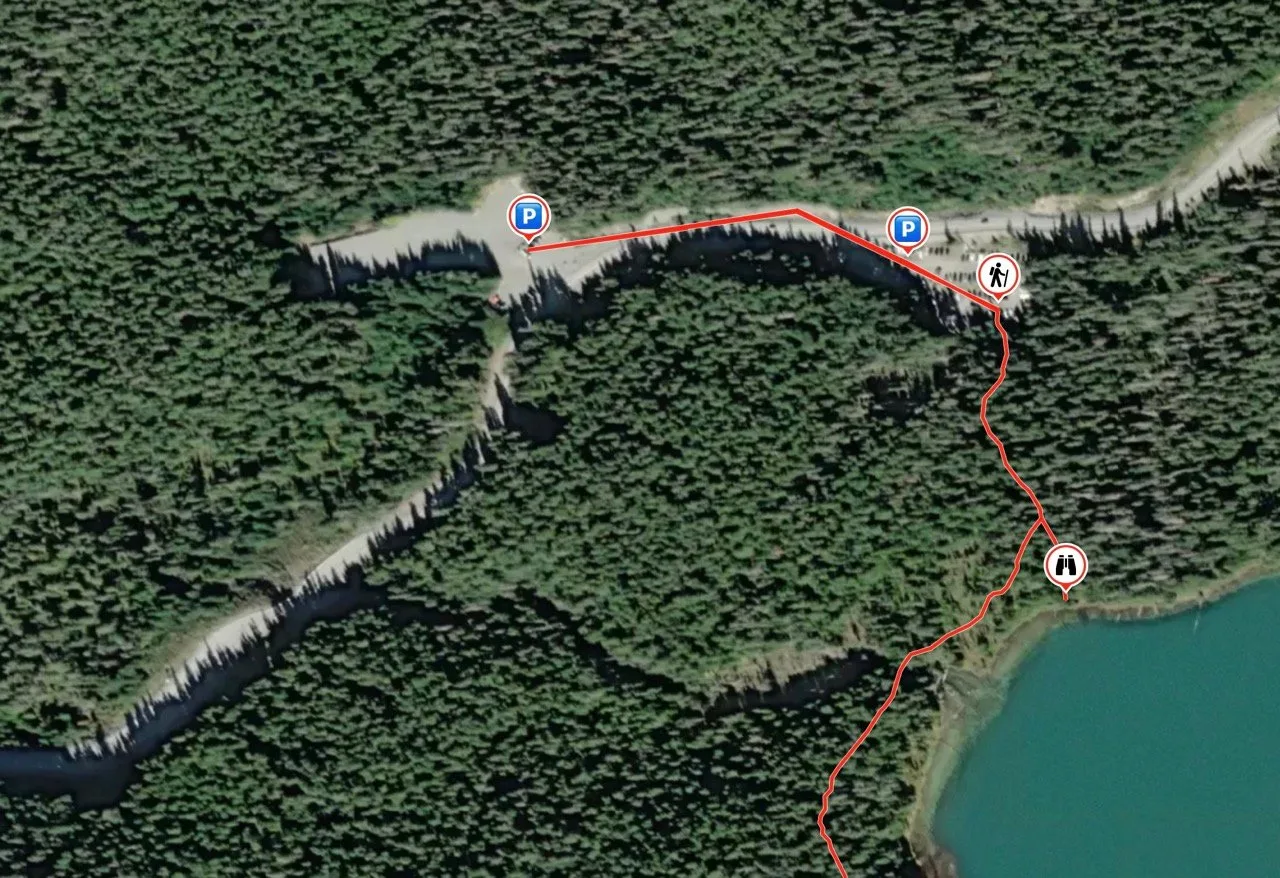 Joffre Lakes Parking Passes
You do not need a parking pass for Joffre Lakes. While other BC Parks require parking passes, at Joffre Lakes, you just need a day pass for each person in your group – you don't need a parking pass.
Buses to Joffre Lakes
You can also get to Joffre Lakes by bus. The only bus that goes to Joffre Lakes is Parkbus. There are dozens of scheduled departure dates from Vancouver in the summer and fall. Most dates are on weekends, but there are some weekday trips too. In 2023, tickets cost $108 return per person. As a bonus, you don't need to get a day pass if you go with Parkbus.
You might find old info online about a different bus to Joffre Lakes that let you park at Cayoosh Lot and then take a shuttle to the trailhead. That info is not up to date or correct. That bus service has not operated since 2019 and there do not seem to be any plans to bring it back.
Tours to Joffre Lakes
You can also visit Joffre Lakes on a guided hiking tour. Your guide will provide transportation and can help you learn about the fascinating glaciers you will see on your hike. They can also point out plants and animals you might otherwise miss.
This Joffre Lake guided hike is led by a professional photographer and includes pro photos of your trip.
Getting to Joffre Lakes Without a Car
If you don't own a car, you can still get to Joffre Lakes. Of course you can take the bus (see details above), but the easiest way to get there is to rent a car. I use Discover Cars because it lets me compare car rentals across different companies to get the best rate.
If you belong to a car-sharing service like Evo or Modo, you can drive one to Joffre Lakes. Keep in mind that you will need to pay the date rate which can work out to more than a rental car.
You can also use a ride-sharing service like Poparide to try to find people who are driving to Joffre Lakes and want to make a few extra dollars by taking passengers. Or post on local Facebook hiking groups or with hiking clubs to find people to carpool with.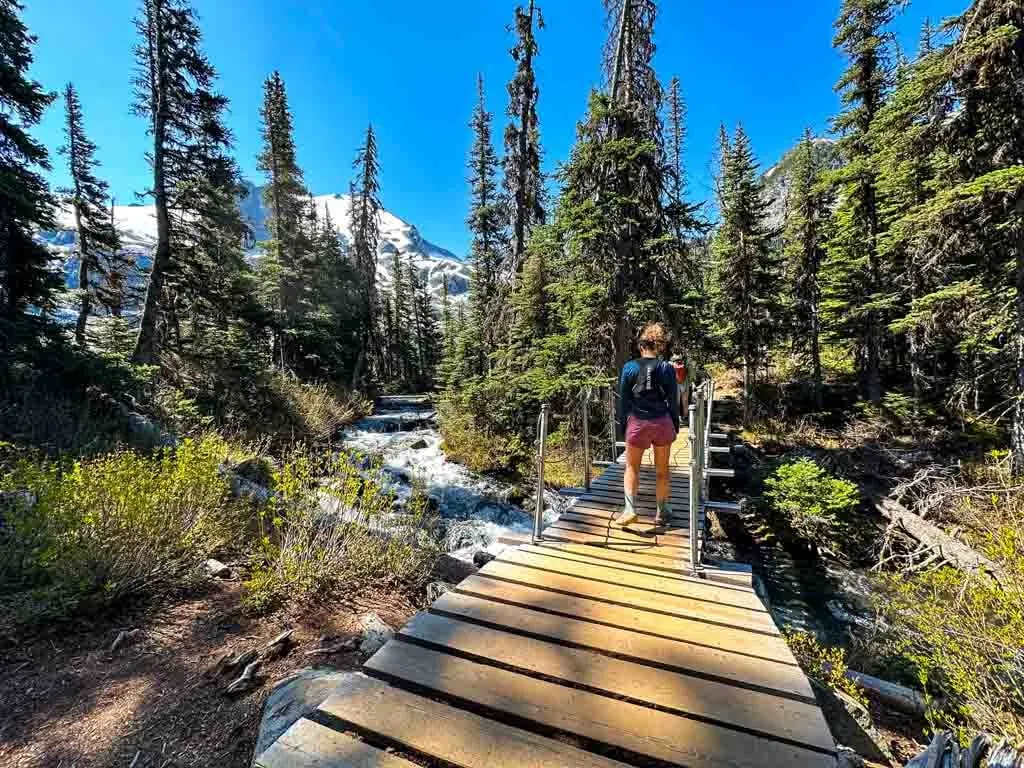 Where to Stay Near Joffre Lakes
While you can drive to and from Joffre Lakes in one day, it is 3 hours each way, which means 6 hours in the car. I recommend staying nearby so you don't have such a long drive.
Joffre Lakes makes a great day trip from Whistler since it is 1 hour from Whistler. (Joffre Lakes is also on my list of the best things to do in Whistler). The cute town of Pemberton also makes a great place to stay near Joffre Lakes.
Here are a few hotels I recommend: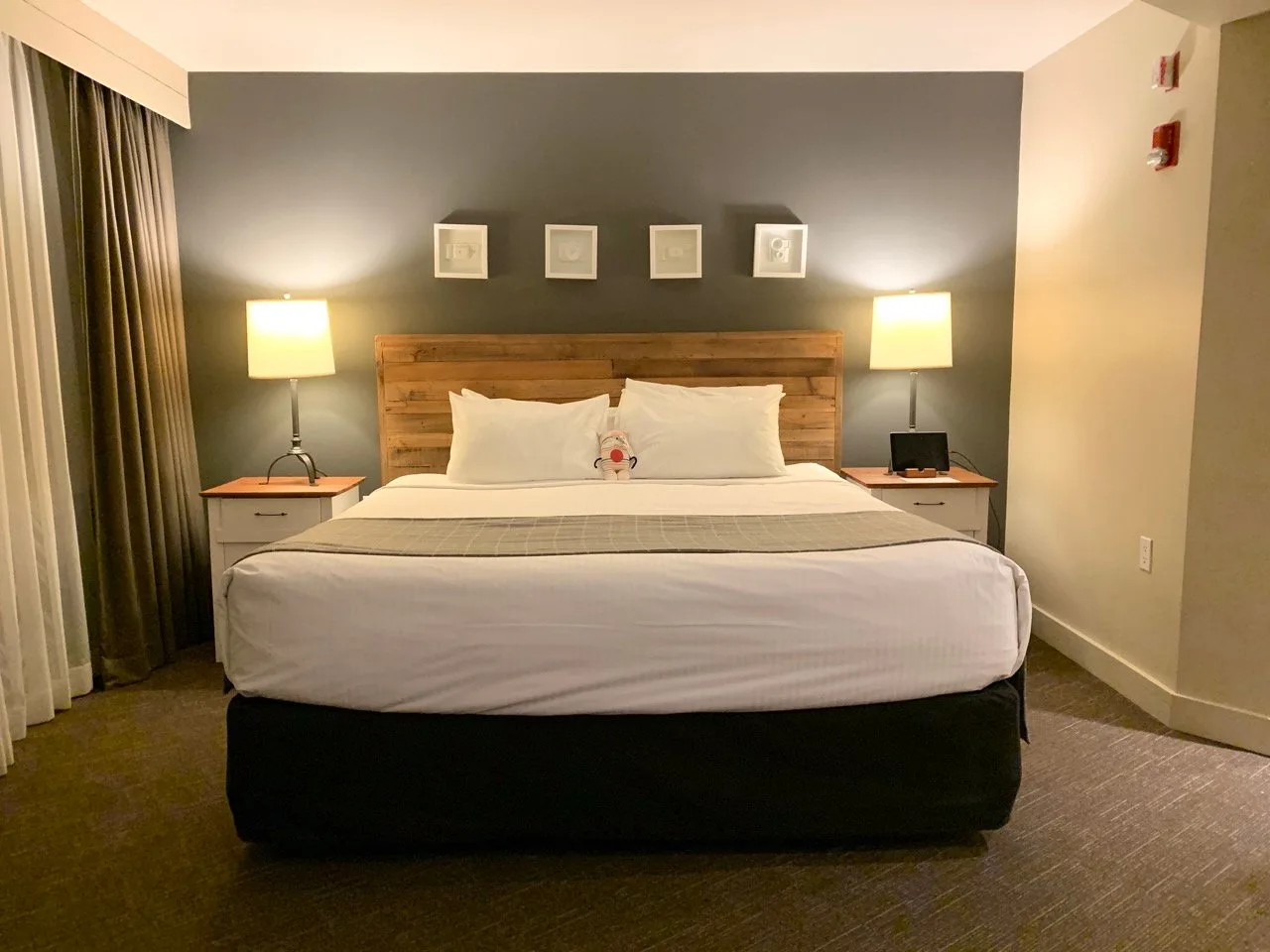 Joffre Lakes Hiking Directions
Trip Planner
0 km Trailhead, Day Pass Check-in, and Toilets
0.2 km Lower Joffre Lake Viewpoint (5 min from trailhead)
2.8 km Middle Joffre Lake Viewpoint and Toilet (1-1.5 hours from trailhead)
3 km Floating Log (1-1.5 hours from trailhead)
3.3 km Holloway Falls Viewpoint (1.25-2 hours from trailhead)
3.8 km Upper Joffre Lake Viewpoint and Toilet (1.5-2.5 hours from trailhead)
4.8 km Upper Joffre Lake Campground and Toilet (2-3 hours from trailhead)
Starting the Joffre Lakes Hike
The hike to Joffre Lakes starts at the far end of the main parking lot. There is an info kiosk with informative signs about plants, animals and Indigenous culture. You will also find four pit toilets here.
If you visit between May and October, there will also be a temporary building that houses the BC Parks staff members who check day passes. For more info about day passes including why they are required, read my guide to BC Parks day passes and the day pass section above.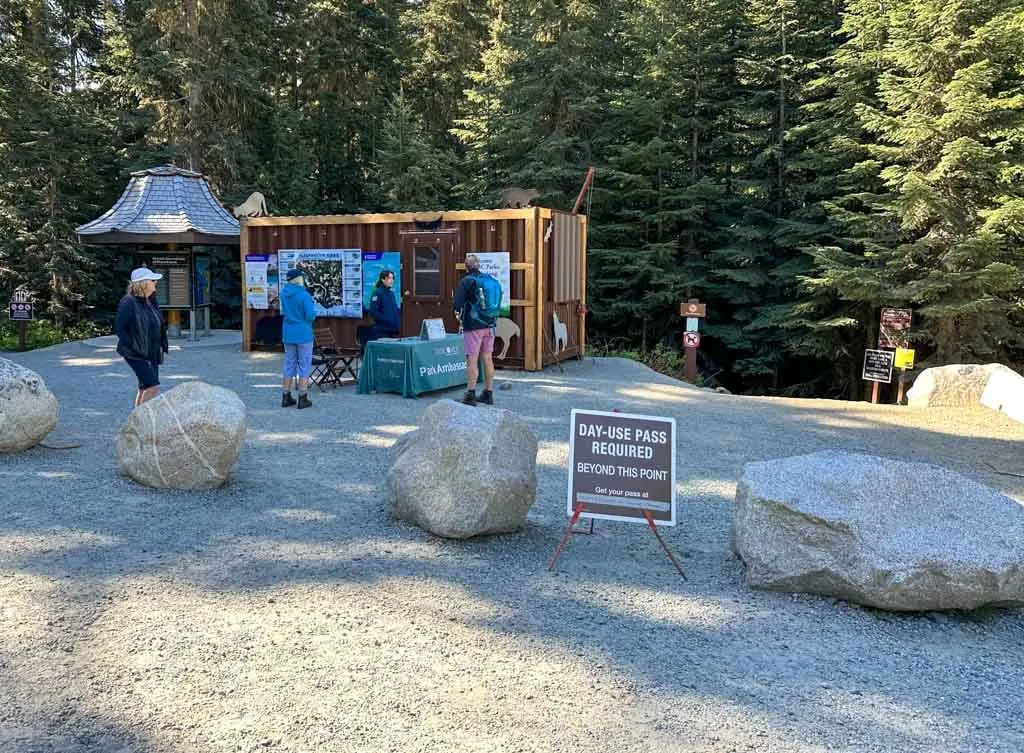 Lower Joffre Lake Viewpoint
After you have had your day pass checked you can start the trail. The path heads very slightly downhill to an intersection. For now, go straight for one minute to the Lower Joffre Lake viewpoint.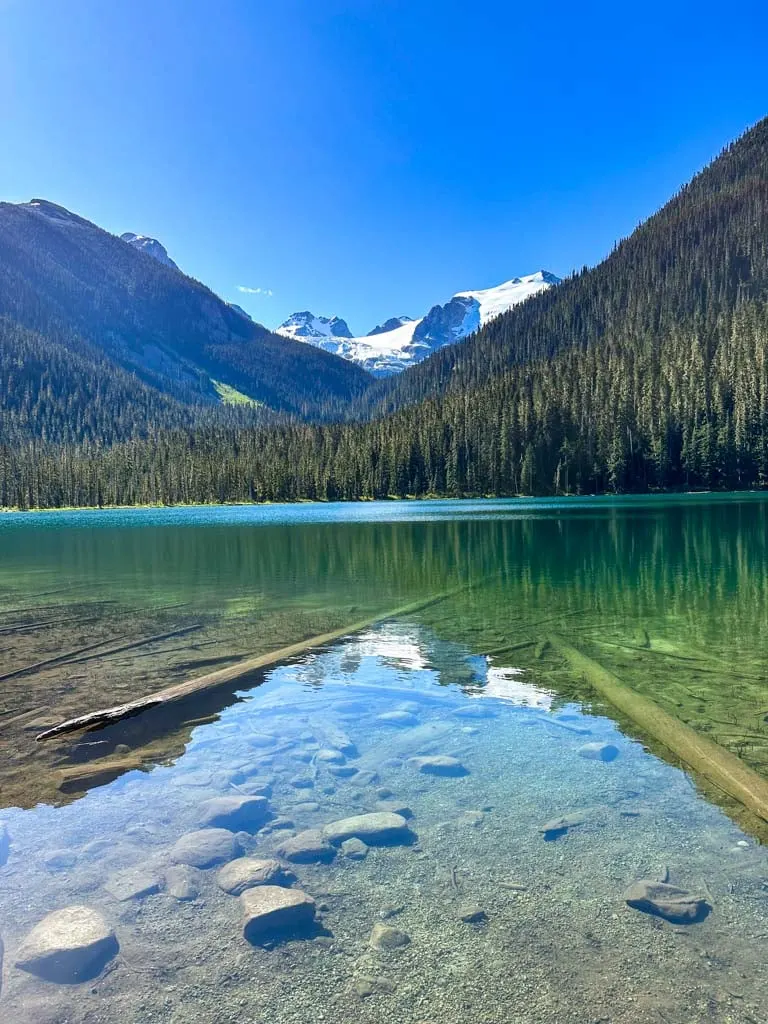 The viewpoint has a bench and is a great place for photos. You can see the glacier-topped peaks far above you up the valley. The shallow water is very clear so you can easily see the bottom. If you are short on time or stamina, the Lower Joffre Lake viewpoint may be as far as you get.
If you want to continue on the trail, retrace your steps to the junction and turn left. The trail is fairly flat for a few minutes as it parallels the lakeshore. The lake is out of sight behind some bushes.
After you cross a wooden bridge over the lake outlet stream, the trail begins to head uphill a little bit. You can catch glimpses of the lake through the forest to your left.
About 30 minutes from the start the trail emerges from the forest in a more open area with lots of low bushes. This area is a rock slide. Until 2013 you had to clamber from boulder to boulder, avoiding the huge drops in between.
But huge loads of gravel have been dumped in between the rocks to create a smooth path that's easy to hike. These days the only hazard is sun exposure.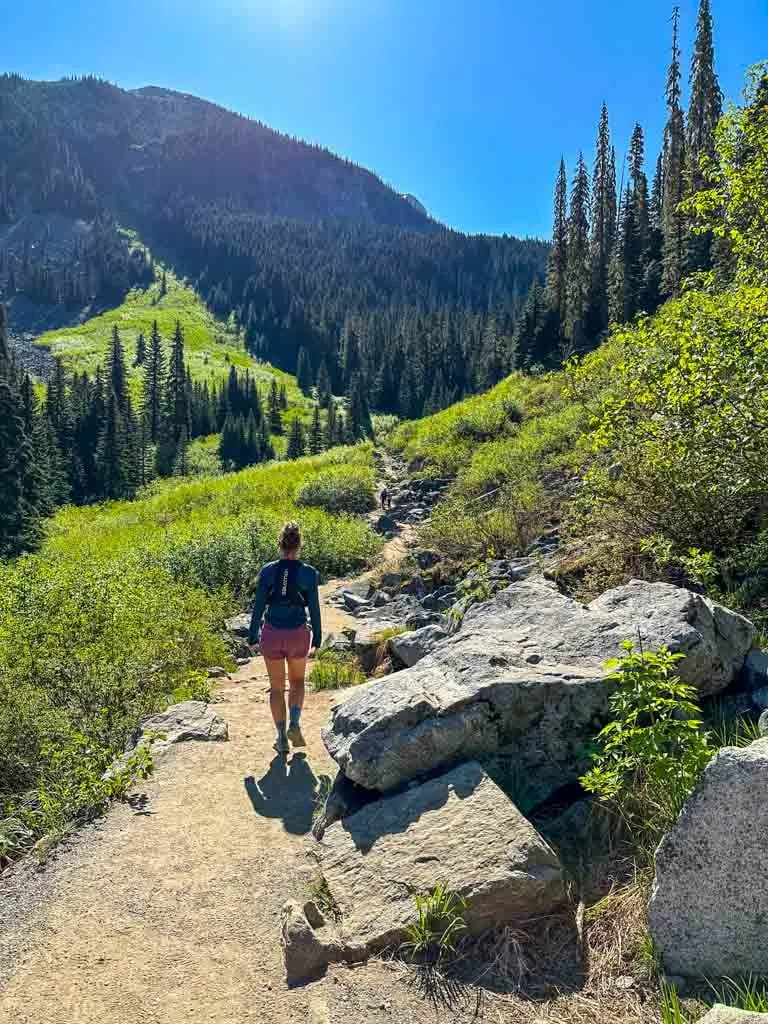 After the boulder field, the trail heads back into the forest and the steepest part of the trail begins. Many people find this part very tiring.
Take your time as you follow the steep trail up many wood and rock stairs and a few eroded sections. If you need to take breaks, move off to the side so other hikes can get by. In a few places, you can look back down to Lower Joffre Lake and across the valley to Cayoosh Mountain.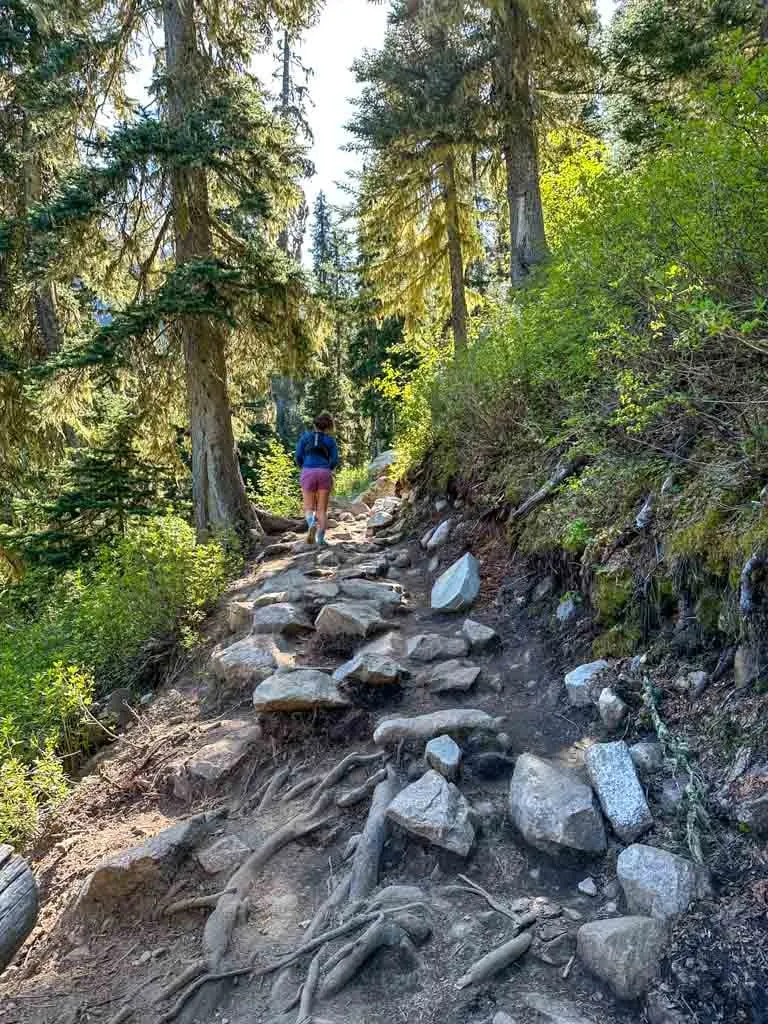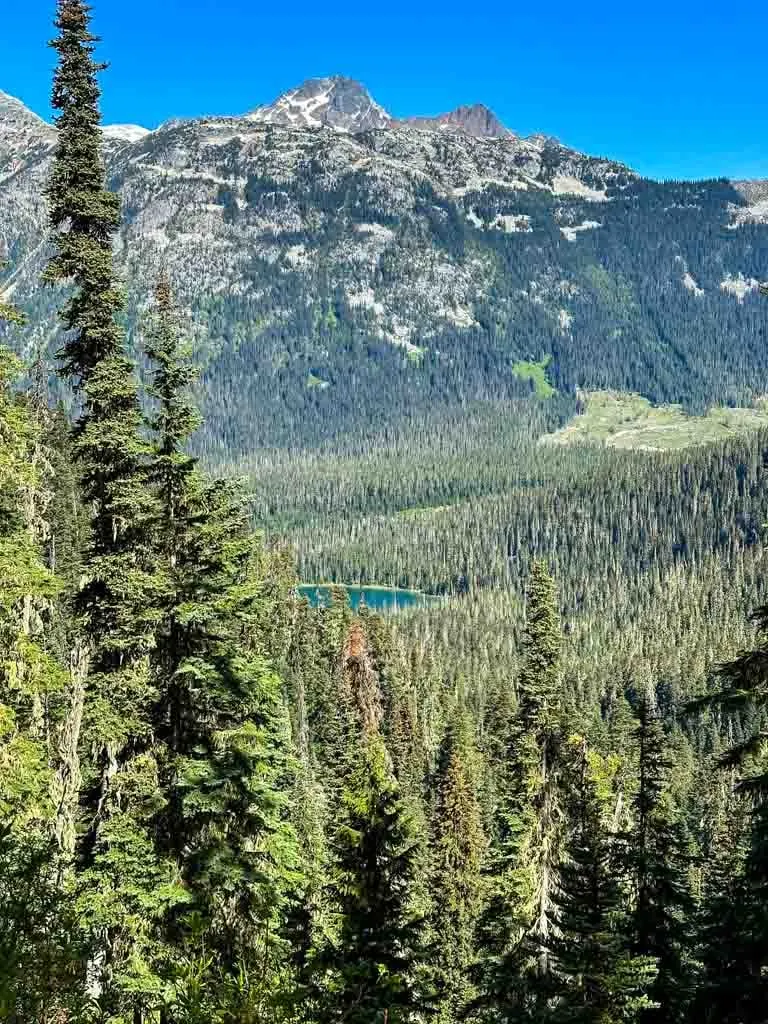 Middle Joffre Lake Viewpoint and the Floating Log
About 1-1.5 hours from the trailhead you will get your first view of the turquoise waters of Middle Joffre Lake. Continue down the trail for another minute to the main viewpoint. This is a great spot for a snack and some photos.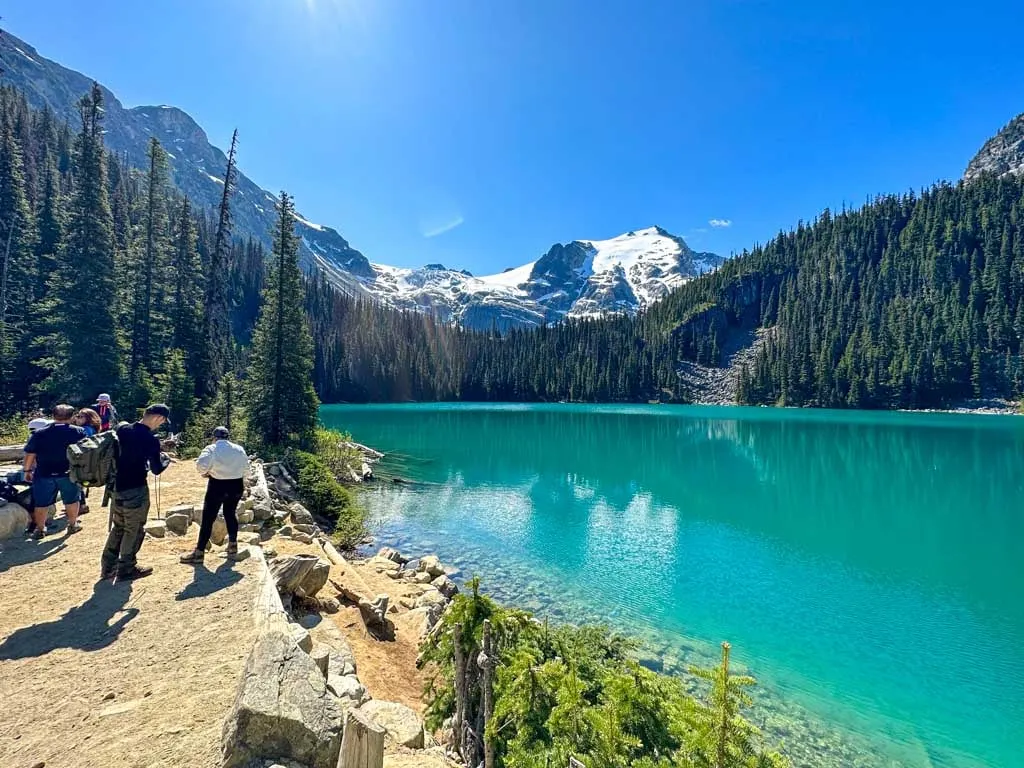 After you have enjoyed the viewpoint, continue along the trail to cross a bridge. On the other side, you will find a trail to the left that leads to a toilet. The trail to the right leads to some benches in the shade and the lakeshore with a slightly different viewpoint.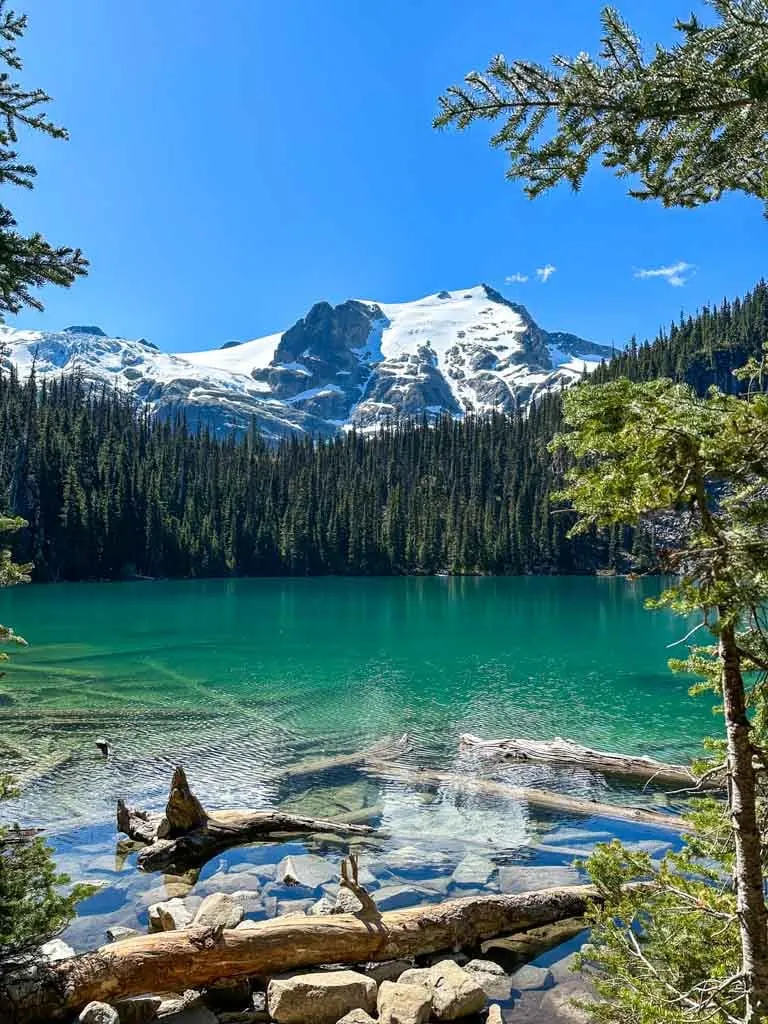 Keep hiking for another minute to reach the famous floating log. Unless you arrive early in the day, there will likely be a line-up of people waiting for photos of themselves standing on it.
The log is quite stable and easy to walk on as you long as stay close to shore. The farther out you go, the more bouncy and slippery it gets. Be careful because the water is frigid and falling in can cause hypothermia.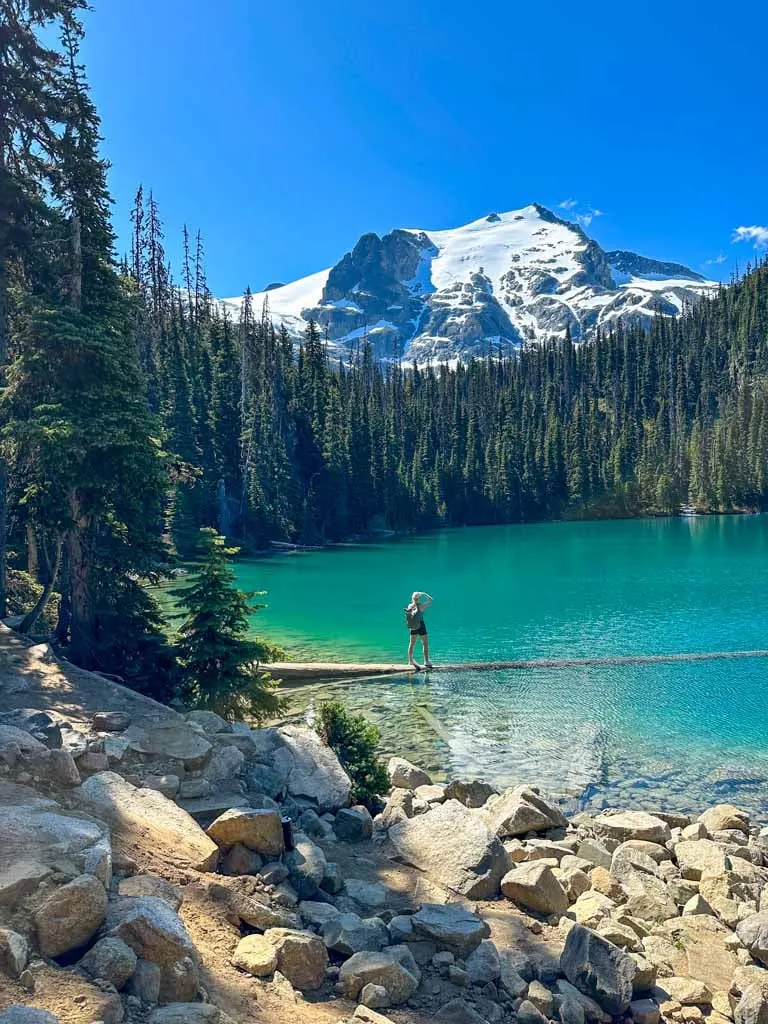 Holloway Falls
Follow the trail around the lake and into the forest again. The path climbs a small hill. About 5 minutes later, take a spur trail to the right for a great view of Holloway Falls. This waterfall wasn't on the original Joffre Lakes trail – it was rerouted in 2013 to include this great viewpoint. (Psst: Holloway Falls is on my list of the best waterfalls near Vancouver.)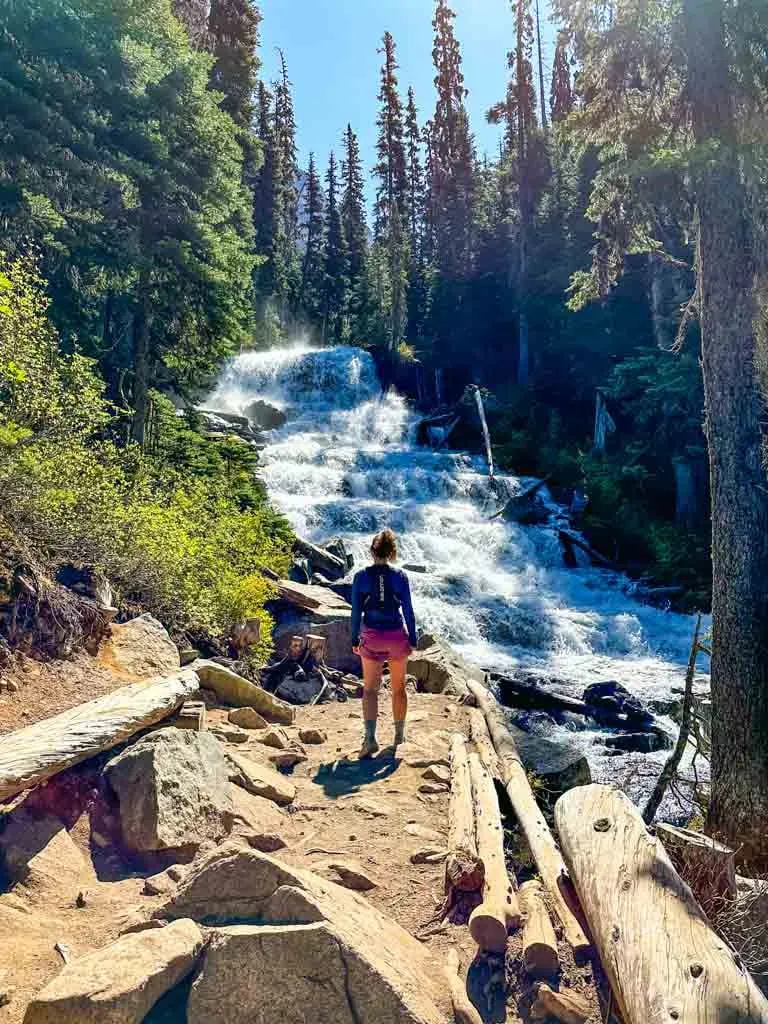 Upper Joffre Lakes Viewpoint
From the waterfall, climb a short set of wooden stairs on the main trail and continue up the hill. The terrain starts to flatten out as you cross a bridge and some boardwalks.
You will start to get views of Upper Joffre Lake through the trees. Stay on the main trail since the lakeshore is marshy here and going off-trail can cause ecological damage. In any case, there are better views up ahead.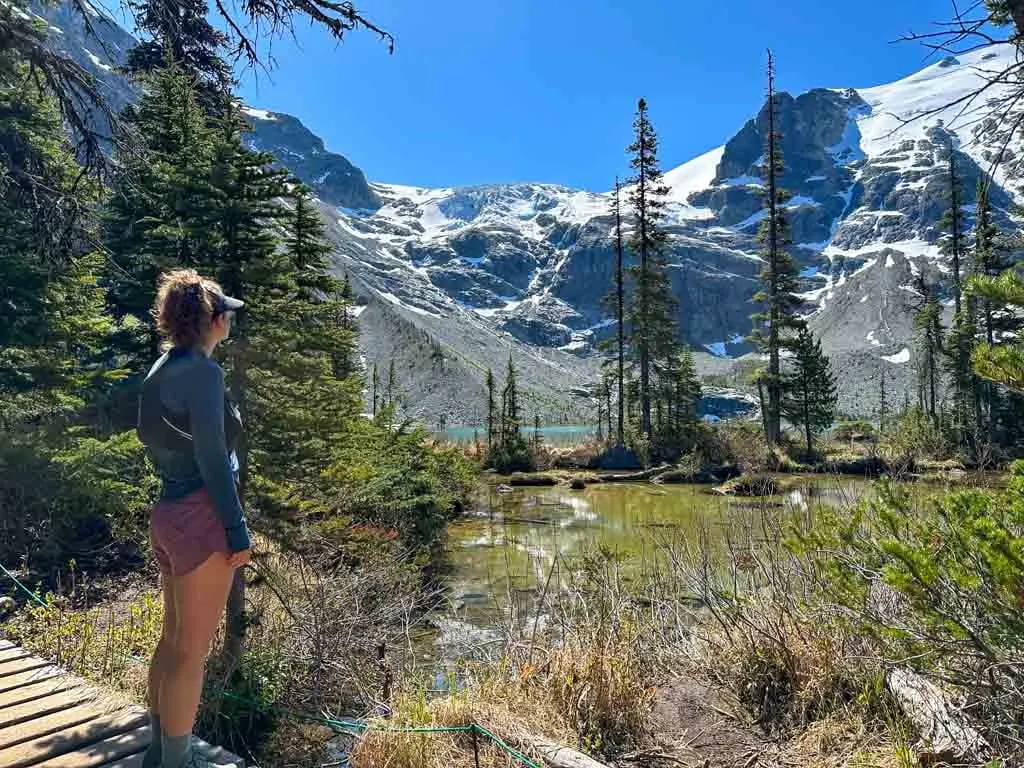 About 10 minutes after the waterfall, reach a junction. The main trail goes straight but you should go left to the Upper Joffre Lake Viewpoint. The viewpoint is on a short trail that loops back to the main trail. The viewpoint trail scrambles over rocks in a few places, but it is fairly easy to follow along the lakeshore.
This is the best view of Upper Joffre Lake and the mountains behind it, so plan to take a break here. As you look across the lake the main peak you see is Slalok Mountain with the Stonecrop and Matier Glaciers hanging from its flanks. Joffre Peak is on the left. At one time, the huge glaciers extended all the way down the valley to the present-day highway. Today's lakes fill bowls in the rocks that the grinding ice of the glaciers carved out.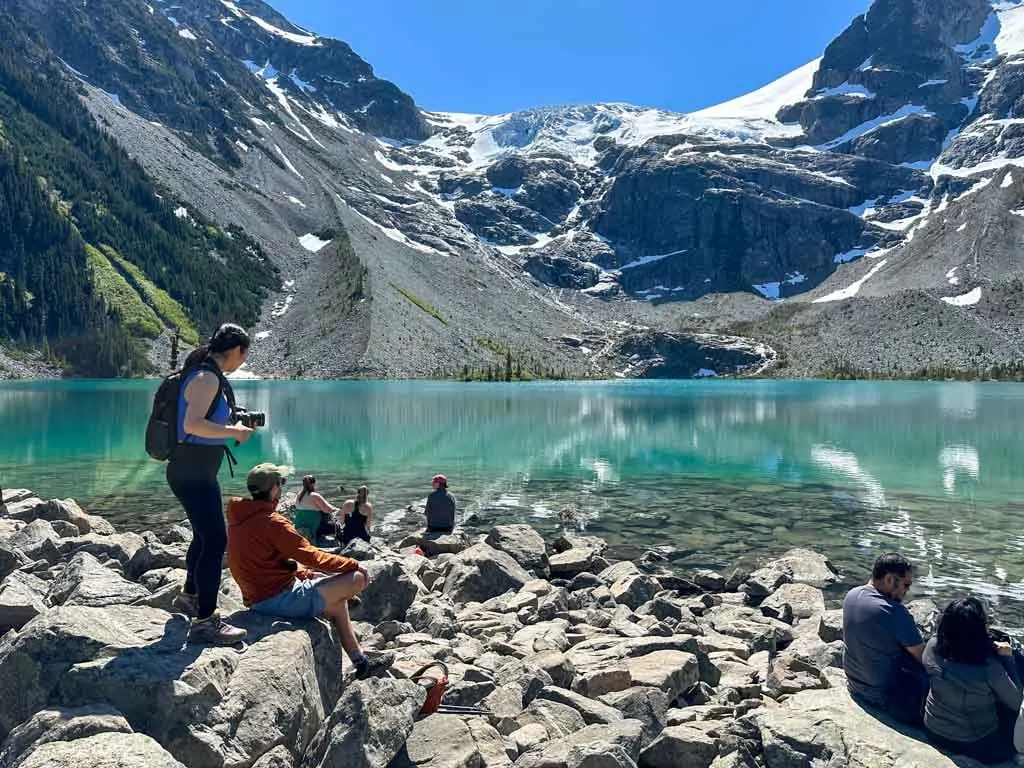 For some people, the Upper Joffre Lake viewpoint is as far as they want to go. After enjoying the view follow the viewpoint trail around to a second junction with the main trail in a rocky area. Turn left if you want to continue onwards. Turning right will take you past a spur trail to an outhouse and then back down to the trailhead.
Joffre Lakes Campground
If you are continuing to the campground, follow the trail beside the lake. It is much rougher than it was lower down with lots of small ups and downs and scrambling over rocks and roots. A bridge about 2/3 of the way along is the only smooth footing.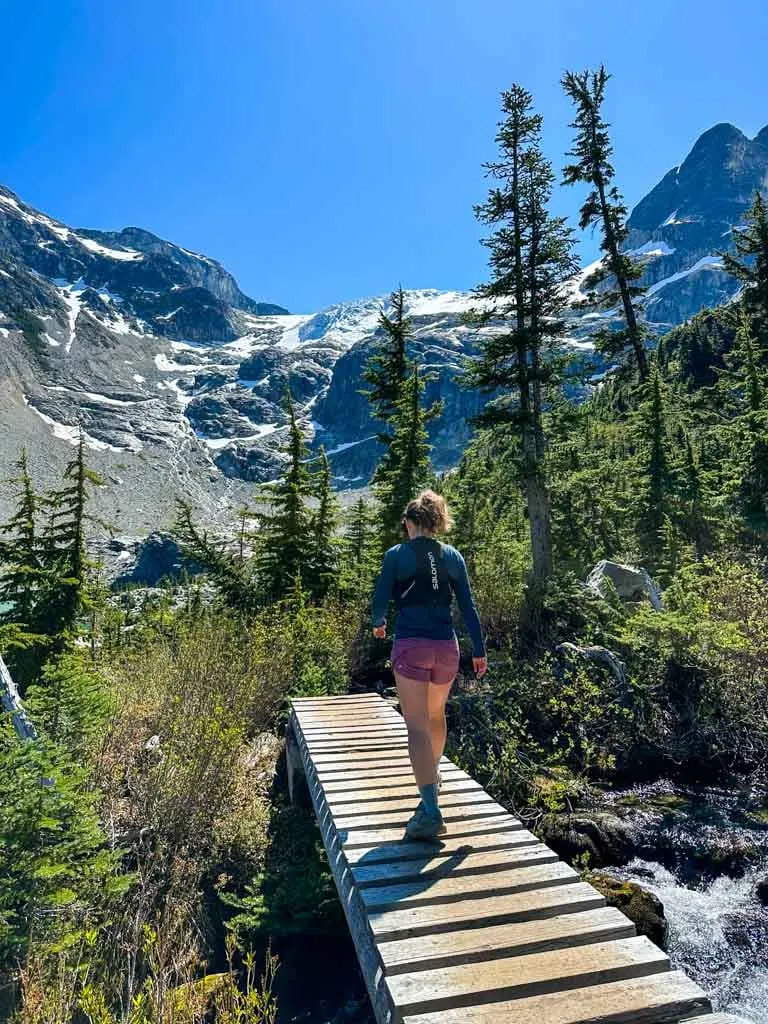 About 20-30 minutes after leaving the viewpoint, scramble down a short ladder, and then pass an outhouse up some stairs. A spur trail to the left leads to a helicopter pad. Rock hop across a small creek to arrive at the Upper Joffre Lake campground. The campground is spread out in this area. Find more details in the camping section below.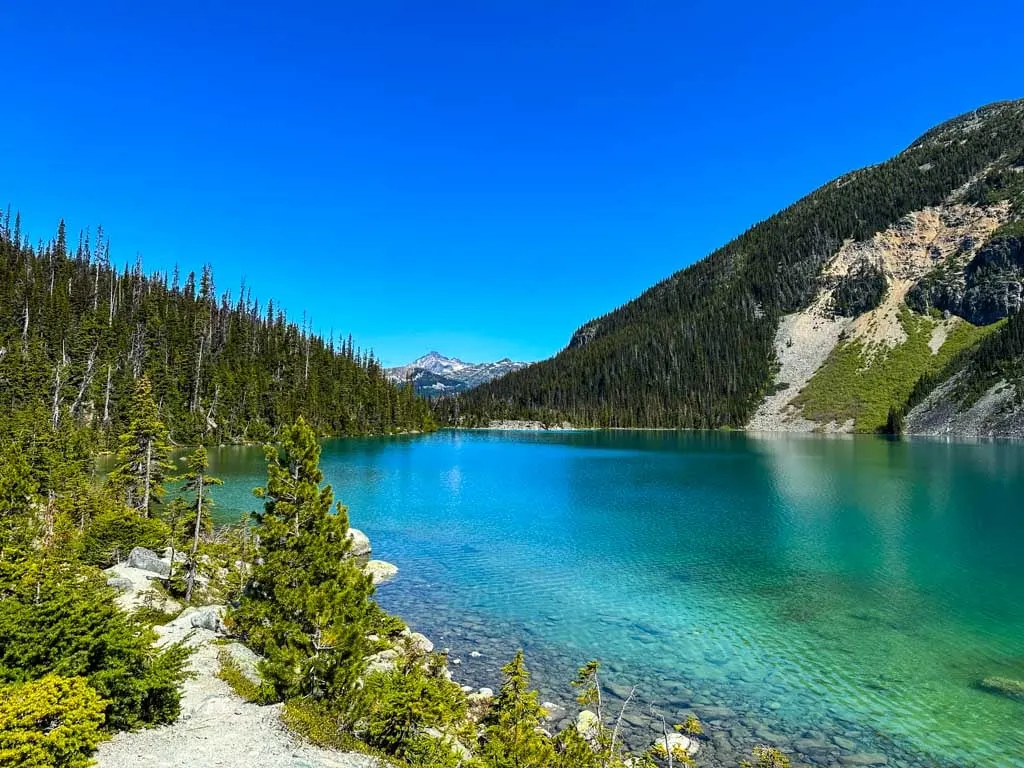 This is the end of the official Joffre Lakes trail. Head down to the lakeshore to take a break and enjoy the view. You can look back across the lake to Cayoosh Mountain on the other side of the highway. When you are ready, retrace your steps back to the trailhead.
Take care on the steep sections on the way down. Some of the dirt and gravel is loose so it can be easy to slip.
Continuing Beyond the Campground
There are no official trails beyond the Joffre Lakes campground. On some maps or apps, you may see trails continuing past the campground. These are unmarked, unmaintained, and unofficial mountaineering routes.
It can be tempting to want to scramble up towards the glaciers and you've probably seen photos on social media of people doing it. However, if you spend any time hanging out at Joffre Lakes you will probably see and hear rocks and chunks of ice falling off the glacier.
The routes up to the glacier are all in the path of falling rock and ice. Some of the falling chunks can be car or bus sized. Please don't scramble up to the glacier without mountaineering training. You could be injured or killed.
There is a faint path through the rocks and bushes to a small waterfall cascading over a rock outcrop and then down into the back of the lake. The route to the waterfall does occasionally get hit by falling rock and ice, but it is a much safer option if you really want to explore beyond the campground.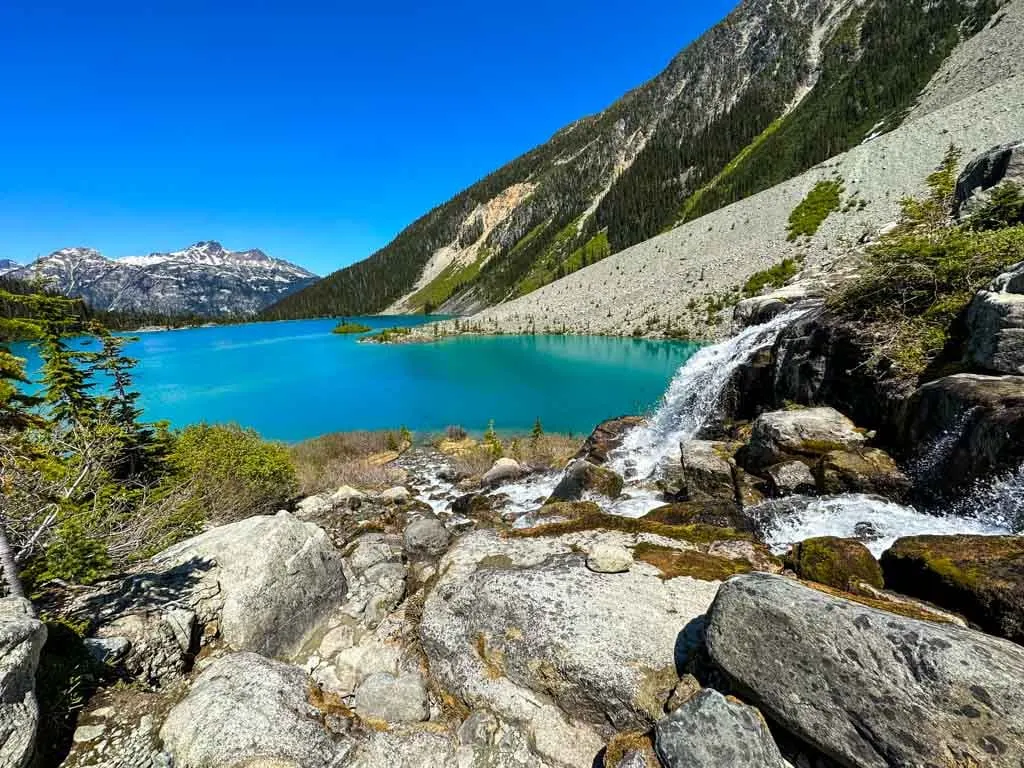 You may also see a path on some maps leading to Tszil Mountain. This is an unmarked scramblers route that involves off-trail navigation through boulder fields and snowfields. Do not attempt it without off-trail navigation and scrambling experience.
Backcountry Camping at Joffre Lakes
The backcountry campground at Joffre Lakes is a popular destination so it requires reservations. You can book online up to 4 months before your trip. See my guide to making backcountry reservations in BC for tips on getting a spot. Camping costs $5 per person per night plus a $6 reservation fee for each tent. Note: You don't need a day pass if you have a backcountry camping reservation.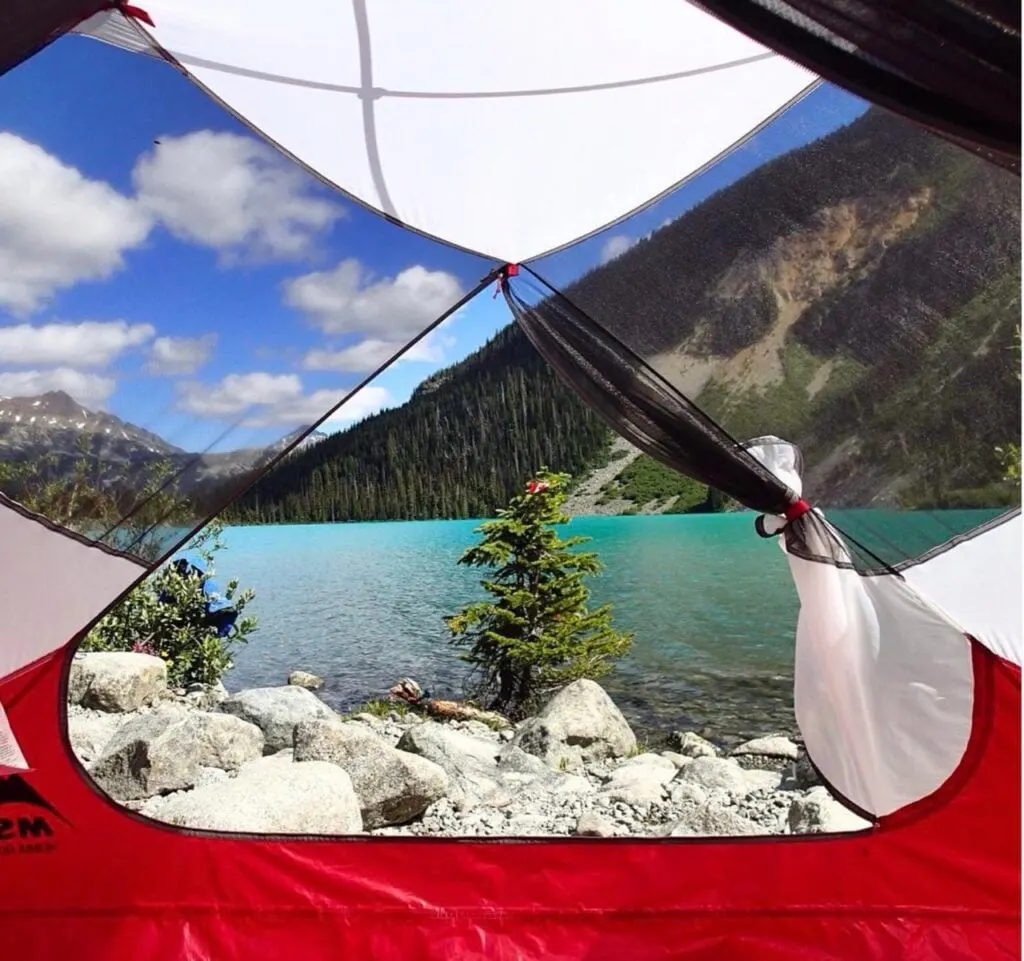 The campground has 26 gravel campsites spread out along the lakeshore and hillside. There is a large metal food locker in the center of the campground. The toilet is 100 m away back down the main trail. Collect drinking water from the stream between the outhouse and the campground but be sure to filter or treat it.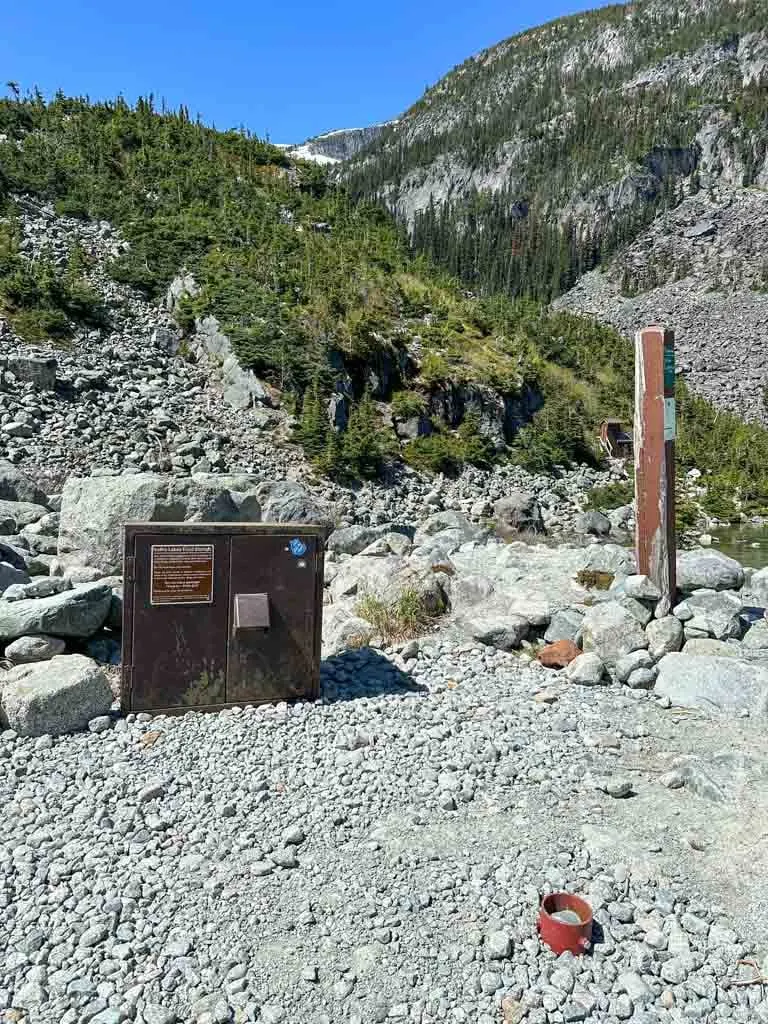 Camping is not allowed between mid-November and mid-June since the campground is in an avalanche path. As well, campfires are never allowed to protect the fragile environment.
You can find more info about backpacking to Joffre Lakes in my book, Backpacking in Southwestern British Columbia.
Get My Book…
Backpacking in Southwestern British Columbia
A one-stop resource for backpackers in beautiful British Columbia.
40 backpacking trips within a few hours of Vancouver
Info about permits, reservations, and campsite facilities
Detailed maps and photos
Advice for extending your trip
Points of cultural and natural history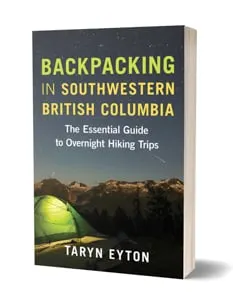 Hiking and Snowshoeing Joffre Lakes in Winter
With easy access to a plowed highway, Joffre Lakes makes a good winter hiking and snowshoeing destination. I've got all the details in my guide to snowshoeing near Whistler.
However, it is a much more challenging and potentially dangerous trip in winter. The trail is not marked in winter so you will need to be comfortable with navigation. I use the Gaia GPS app.
The trail will also be very snowy and icy. Depending on trail conditions, you will need snowshoes or microspikes. I recommend microspikes in April, May, and November and both snowshoes and microspikes between January and March. (Read my guide for tips on how to choose snowshoes).
As well, the trail is in serious avalanche terrain so you will need avalanche training and rescue gear. Check the avalanche forecast before your trip.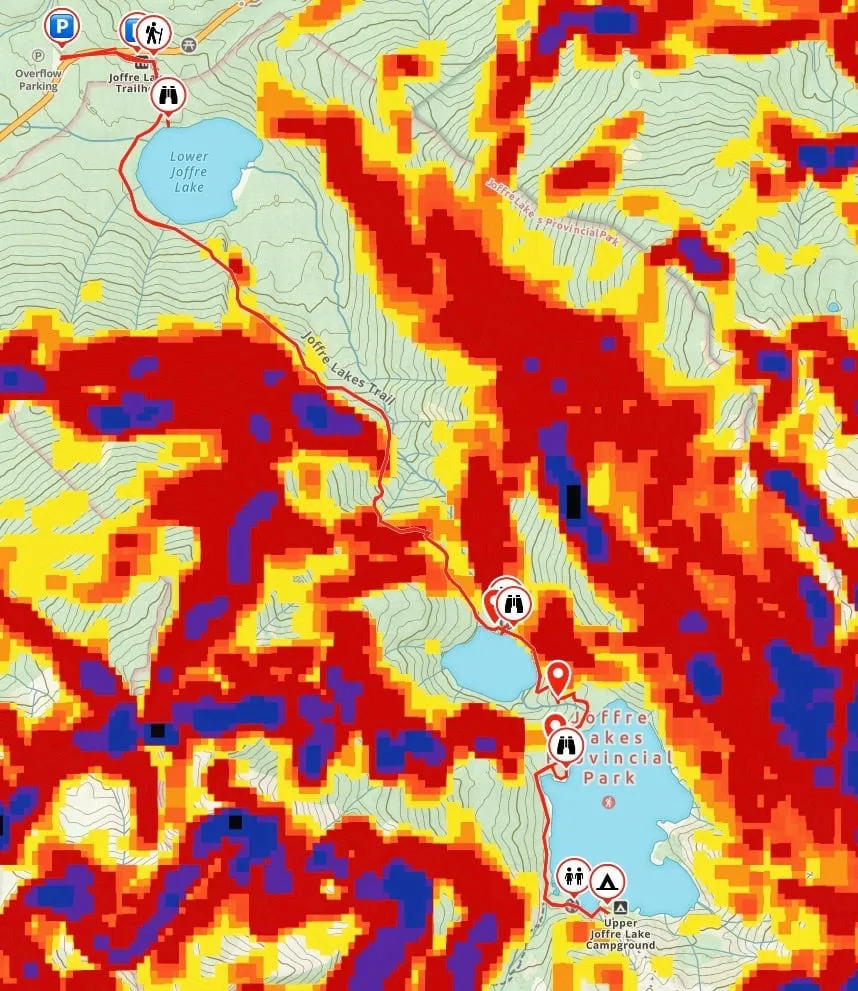 Psst! Want to save 20% off a premium Gaia GPS annual membership, which includes the maps I use on my trips? Use this link.
However, I don't recommend you visit Joffre Lakes in winter for one big reason: You won't be able to see the gorgeous blue lakes because they will be covered in snow and ice. You will just see snowy mountains, which you can see lots of other places in BC.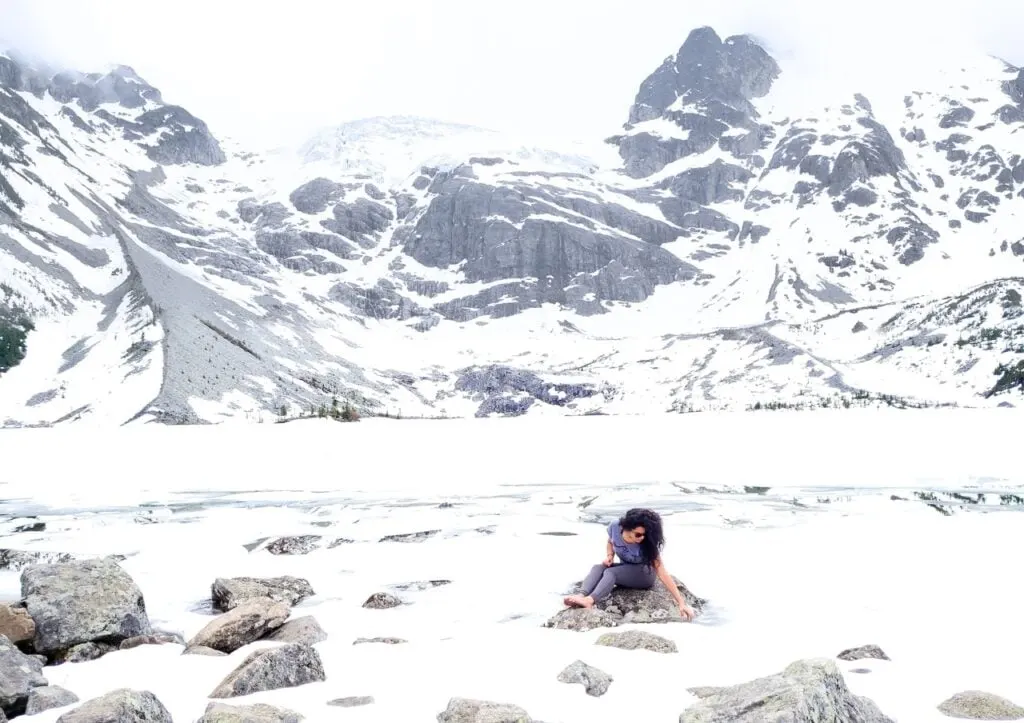 Paddling and Swimming and Joffre Lakes
You are allowed to swim in all three Joffre Lakes but it is not a great idea. The BC Parks website says: "The glacier-fed lakes are very cold and are not recommended for swimming."
They are right – the water is just above freezing. It is easy to get hypothermia and you are a long way from help. Bring some warm clothes to put on afterward. The best places to swim are at the viewpoints at each lake as well as at the campground.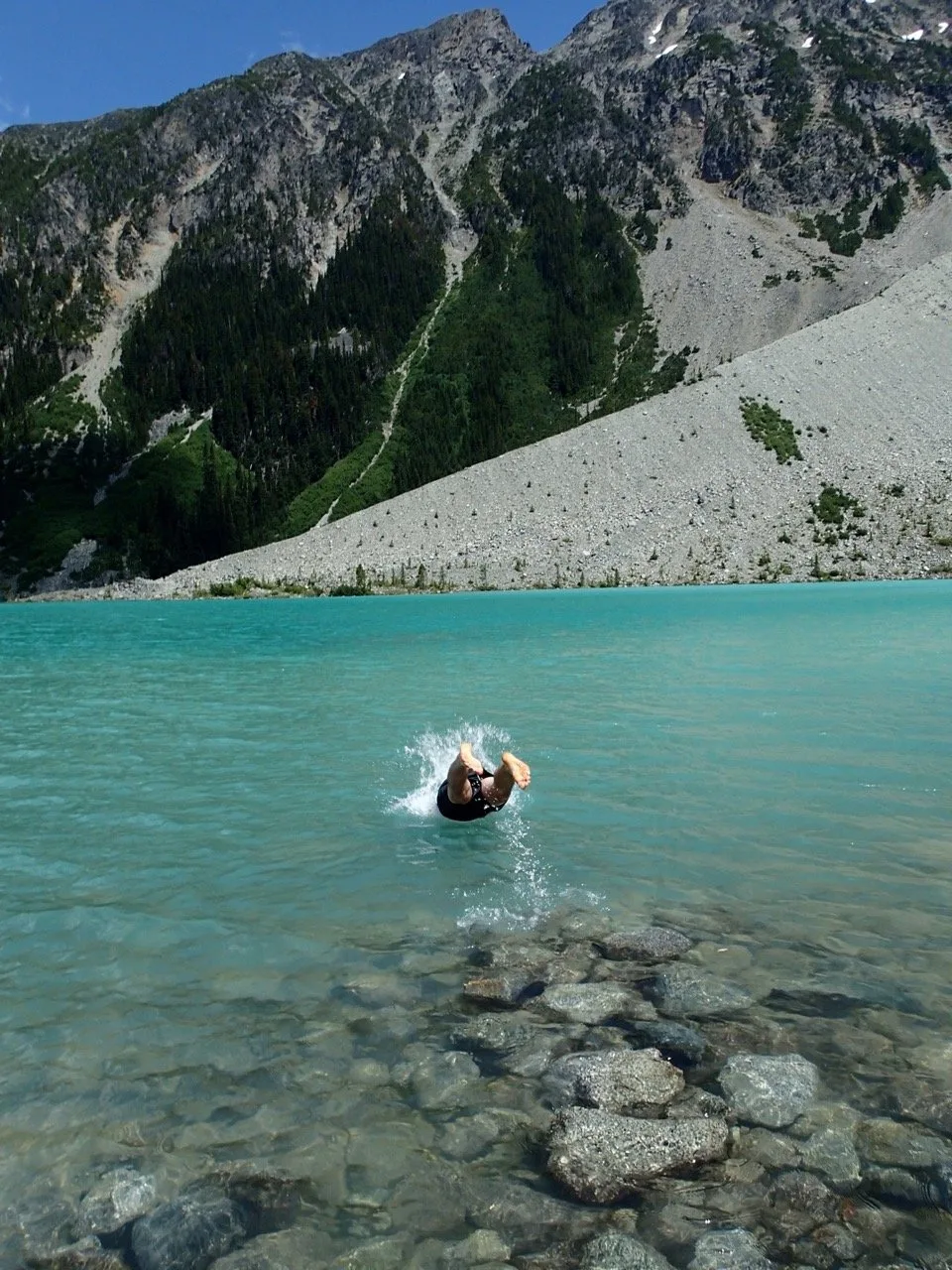 BC Parks does not have any rules about paddling SUPs, floaties, or inflatable boats at Joffre Lakes. So yes it is allowed to paddle at Joffre Lakes. However, I honestly don't think it's a good idea.
The same caution about the frigid water temperature applies. You should bring a wetsuit or drysuit and wear a PFD for safety. If you capsize, the water is cold enough to incapacitate you quickly and could lead to drowning. You are a long way from help.
Indigenous Context
Indigenous people have lived and travelled in the area around Joffre Lakes since time immemorial. Joffre Lakes is in the traditional and unceded shared territories of the Lil'wat and N'Quatqua people.
In 2021 the Joffre Lakes Provincial Park Visitor Use Management Strategy was released. It is a joint project between BC Parks, several arms of the BC government, the Lil'wat and N'Quatqua.
Historically, the Lil'wat and N'Quatqua used the park for hunting, gathering, and spiritual ceremonies. They refer to the entire Duffey Lake corridor as a "banquet place" where they can harvest minerals, plants, berries, and animals such as mountain goats, deer, and fish. The Joffre watershed was also an important place for vision quests.
The Visitor Use Management Plan seeks to protect important Indigenous cultural resources and sites. It also strives to celebrate Indigenous culture and allow Indigenous people access to the park for cultural practices.
When you visit Joffre Lakes, be respectful. Remember that you are a visitor on Lil'wat and N'Quatqua land. Stop to read the info boards at the trailhead to learn more about the Indigenous context of the area.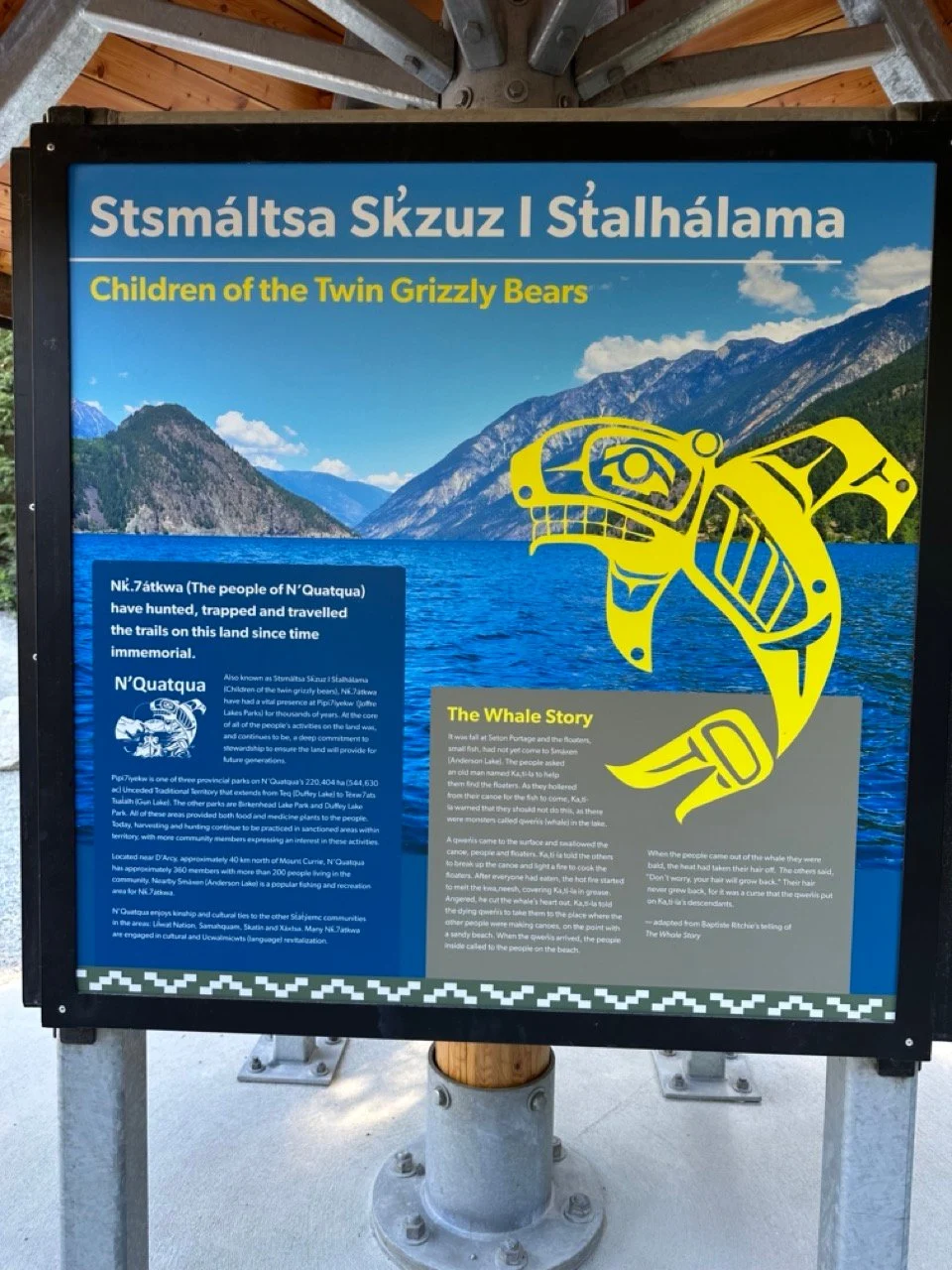 I also recommend visiting the Squamish Lil'wat Cultural Centre in Whistler. It's a beautiful museum and the guides do a great job of explaining their culture both historically and today. (It's also one of my top picks for things to do in Whistler.
Joffre Lakes FAQ
Is Joffre Lakes worth it?
Even though I can be a bit cynical and jaded, I think Joffre Lakes is worth it. The hike isn't too hard and the scenery is incredible. You just have to be prepared for the long drive from Vancouver, the hassle of getting a day pass or camping reservation, and the crowds.
Is the Joffre Lakes hike hard?
The Joffre Lakes trail is rated moderate. If you have an average fitness level, you will be fine. In general, it is a well-groomed trail. However, almost the entire trail is uphill and part of it is quite steep with lots of stairs. Compared to other mountain trails in the area, it is quite easy, but compared to a flat trail, it is hard. That's why it gets a moderate rating. Read my trail description to get a better idea of what to expect.
How long is the Joffre Lakes hike?
The hike is 9.5 kilometres round trip and takes 3.5 to 4.5 hours, but you should allow more time for breaks and photos.
When is the best time to go to Joffre Lakes?
I recommend going between June and October when the trail is snow-free. As well, it is best to pick a sunny day so you can see the brilliant blue colour of the lakes and the surrounding mountains. It's still beautiful when it's cloudy, but just not quite as beautiful.
Is Joffre Lakes busy?
Yes. Joffre Lakes is a very popular hike. Even with the day pass system, expect the trail to be busy. You will encounter lots of other hikers on the trail. You can avoid the crowds by starting before 8 am. Be prepared to share the trail with others and move over to give faster hikers room to pass.
Why are Joffre Lakes blue?
The three Joffre Lakes are fed by melting glaciers. But they also have lots of finely ground silt mixed into the water because the ice from the glaciers grinds against the bedrock. The sunlight reflecting off the silty waters of the lake gives them their turquoise blue (or Gatorade blue) colour. The lakes are brightest on sunny days.
Are dogs allowed at Joffre Lakes?
No. Dogs have been prohibited at Joffre Lakes since 2018. It is a very busy trail so dogs are prohibited to reduce ecological damage and negative wildlife encounters.
Are there bears at Joffre Lakes?
Yes, both black bears and grizzly bears live around Joffre Lakes. However, since it is such a busy area, it is very unlikely that you will see bears. Be prepared by reading my tips for bear safety.
Are there bugs at Joffre Lake?
Expect to encounter black flies and mosquitos at Joffre Lakes. They are the worst from mid-June to mid-July.
Is there cell service at Joffre Lakes?
No, there is no cell service at Joffre Lakes. In an emergency, you can contact the BC Parks staff at the trailhead (between 7 am and 4 pm only). Consider bringing a satellite messenger like a Garmin inReach Mini.
That's everything you need to know about the Joffre Lake hike. Did I miss something? Do you have more questions about the Joffre Lakes trail? Ask them in the comments – I'm happy to help.
READ NEXT: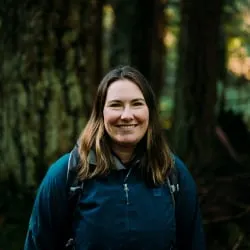 Latest posts by Taryn Eyton
(see all)