I'm not a huge water person. I'd much rather be hiking up a mountain than paddling a kayak or swimming in a lake. But hot springs… that's a whole other thing. I LOVE hot springs. After a day of hiking or hours in the car on a road trip, being able to sit in some warm water, outdoors, surrounded by nature… bliss.
Thankfully, Western Canada has some great hot springs. In fact, all of the hot springs in Canada are in British Columbia, Alberta, and Yukon Territory. Sorry Eastern Canada – we win this one 🙂 In this guide, I've got info and directions for 19 of the best hot springs in Canada. These hot springs are all easy to access by car, although some require a short hike or an easy to arrange boat tour.
Hey there: Some of the links in this post are affiliate links, which means I earn a small commission at no extra cost to you if you make a purchase. Thanks for supporting my website! -Taryn
Hot Springs Etiquette
Hot springs exist in unique and fragile ecosystems. If you visit an undeveloped hot spring, tread lightly to minimize your impact. Some hot springs in British Columbia have gotten overrun with trash or closed due to human-bear conflicts. Learn about Leave No Trace to protect our hot springs. Here are some basic tips for hot springs etiquette:
Pack out all trash with you. Avoid bringing glass bottles to hot springs.
Use washrooms or outhouses. Every hot spring on this list has a toilet nearby. Please use them to prevent the spread of disease, which can get into the hot springs.
Do not use soap in the hot springs. It pollutes the pools, kills plants and fish, and creates gross algae blooms.
Keep your dog out of the water. Dogs carry diseases like leptospirosis that thrive in warm water.
Be considerate of other users. Many people come to hot springs to relax, not to party.
Bring a water bottle and drink lots of water. Otherwise, you can get dehydrated or overheated easily.
Bring some flipflops or sandals to wear around the pools. Undeveloped springs often have sharp or uneven rocks. At commercial springs, sandals are nice to have for sanitary reasons.
At natural springs, be prepared to see some nudity. It's often not officially permitted, but it's still very common, especially at night.
If you plan to travel on backroads or hike in to hot springs, leave a trip plan with a friend and carry the 10 Essentials.
Hot Springs Resources
By far the best guide to Canada's hot springs is Hot Springs of Western Canada by Glenn Woodsworth and David Woodsworth. We have used an earlier edition of this book for years and recently picked up the 3rd edition. It has tons of info on every hot spring, including tons of really obscure ones that are hard to reach.
If you plan to visit any of the undeveloped hot springs, you'll have to drive on some remote logging roads. These roads have lots of confusing junctions, which makes navigation difficult. And there's usually no cell service out there. I always bring a copy of the Backroad map book to prevent getting lost. For the hot springs in this post, you'll need the Vancouver and Coast Mountains Backroad Mapbook, the Kootenay Rockies Backroad Mapbook, and the Northern BC Backroad Mapbook.
I've also made a custom hot springs Google map for you. It includes the location of every single Canadian hot spring I mention in this post. Click the map to navigate around. As you can see, most of the hot springs on the map are in British Columbia, or very close to it.
Hot Springs in the Vancouver Area
Harrison Hot Springs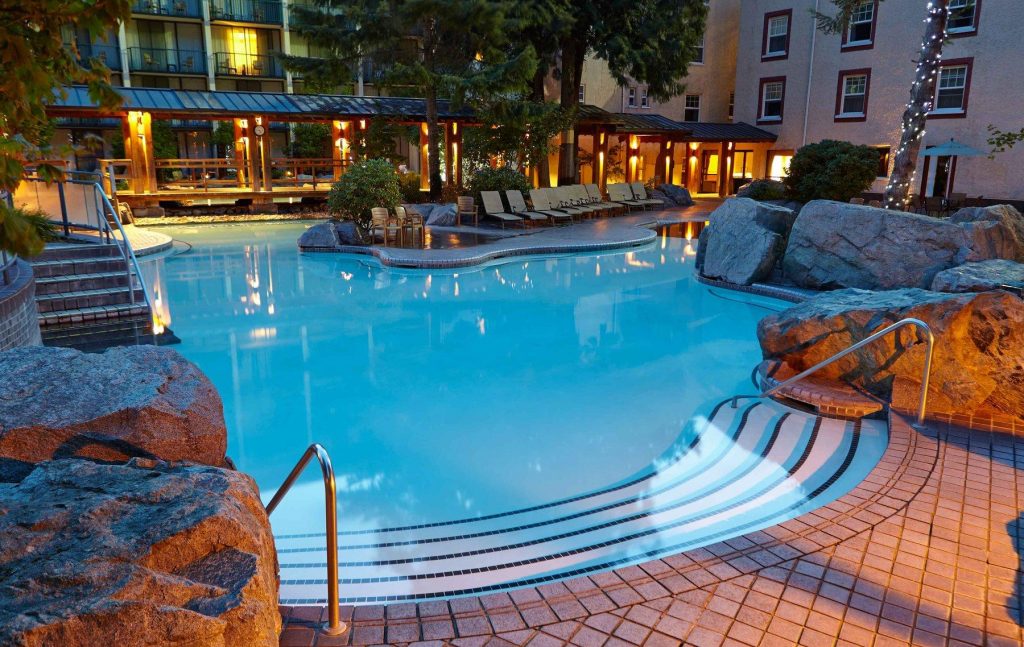 Note: Harrison Hot Springs is currently open at reduced capacity for hotel guests only.
Harrison Hot Springs is a small resort community in the Fraser Valley just east of Vancouver. The springs bubble up along the lakeshore, then are piped into a series of pools at the Harrison Hotsprings Resort as well to a public community pool.
The Harrison Hot Springs Resort is a hotel with a spa. They have two indoor pools and three outdoor pools of varying temperatures. The whole thing has a resort/spa atmosphere with rock features and deck chairs. It's a family-friendly place, but there is an adults-only pool if you don't want to share space with splashing kids.
You must book a room at the hotel or services at the spa to access the pools. Unfortunately, there are is no day-use access. I've never soaked here, but my husband does a charity bike ride each year that includes access to the hot springs. He says a session in the pools is amazing after riding over 100km!
You can soak in the exact same water in a less luxurious setting at the Harrison Hot Springs Public Pool. It's basically an indoor community centre-style pool that happens to be naturally hot.
How to get to Harrison Hot Springs: From Vancouver take Highway 1 east. Just past Chilliwack take exit 135 to get on highway 9 north. Follow highway 9 until it meets up with Highway 7 (Lougheed Highway). Stay on Highway 7 going west for 1.5km, then turn right at the Esso station onto Hot Springs Road. Follow the road to its end at Harrison Lake. The resort is on the lakeshore at 100 Esplanade Avenue. The public pool is a few blocks away at 101 Hot Springs Road.
Public Pool Cost: Adults: $10; Children and Seniors: $7.75; Kids 4 and under: free
Resort Cost: Rooms start at $129/night; Spa guests need to book $100+ worth of treatments to get access to the hot springs
Where to Stay: Harrison Hot Springs Resort
More Info: Tourism Harrison, Harrison Hot Springs Resort
Keyhole Hot Springs
View this post on Instagram