You don't have to go far in BC to really get out into the wilds and off the grid. One of my favourites is a road trip on the Pacific Marine Circle Route on Southern Vancouver Island.
This road trip starts and ends in Victoria, one of BC's biggest cities, but most of the route goes through remote wilderness. There are tons of places to stop and hike, check out waterfalls, visit enormous trees, or walk on the beach.
Unlike some of other trips on BC's backroads, this one is entirely paved and you go through tiny (and adorable towns) every few hours. If you're looking for a weekend of outdoorsy adventure on Vancouver Island, you've got to drive the Pacific Marine Circle Route. (It even made my list of the best weekend getaways from Vancouver.)
Hey there: Some of the links in this post are affiliate links, which means I earn a small commission at no cost to you. Thanks for your support. -Taryn
Driving Directions
The Pacific Marine Circle Route is a loop road trip that starts and ends in Victoria on Southern Vancouver Island. (If you didn't know, Vancouver Island is a large island on the west coast of British Columbia, and is one of Canada's most beautiful islands.)
The route is only about 260km long and can be driven in one day, but since there is so much to see along the way, many people prefer to take a few days. Driving directions are as follows:
From Victoria go west along highway 14 to Port Renfrew
Next, go inland to Lake Cowichan on Pacific Marine Road
Follow the Cowichan River and highway 18 east to Duncan
Finish by taking highway 1 south back to Victoria.
The entire route is well signed so you won't get lost. You can travel the loop in either direction, but I did a clockwise loop so I'm describing it that way here. I also made a custom, clickable Google map for you with all the stops highlighted!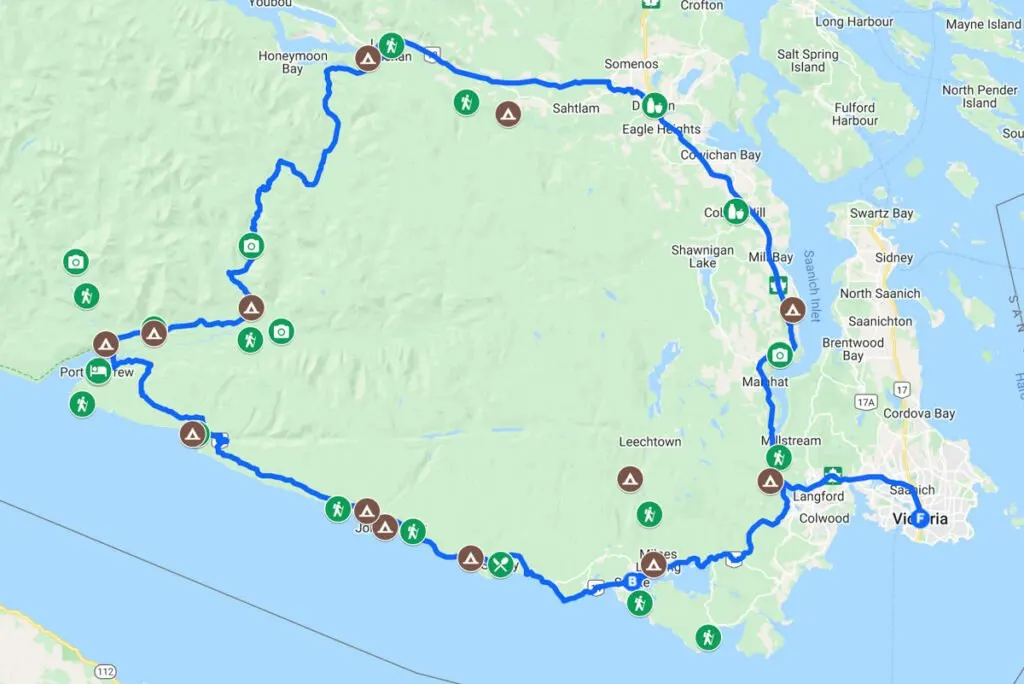 Road Conditions and Driving Tips
The entire Pacific Marine Circle Route is paved. It used to have a gravel portion between Port Renfrew and Lake Cowichan but it was paved almost a decade ago. Besides parts of the section on highway 1 between Duncan and Victoria, it's a two lane road with few opportunities for passing.
There are several sections that are very twisty and despite being paved, the road is a bit bumpy. There are also a handful of single lane bridges. Most of the route (besides the portion on highway 1) has very little traffic.
Some parts of the Pacific Marine Circle Route are quite remote and there are a few stretches where you'll go quite a while without passing any services.
In particular, there aren't any stores, restaurants or gas stations between Sooke and Lake Cowichan except in Port Renfrew. There is a gas station in Port Renfrew but you can't count on it being open so it's best to fuel up in Sooke.
There is no cell coverage on the western part of the route. You will lose cell service between Sooke and Lake Cowichan. As I said, the road is well signed so as long as you stay on the main road, you will be fine.
However, if you plan to take any side trips off the main route you should bring paper maps or a GPS. (And believe me, I've got some side trips for you that are definitely worth it!)
I used the Vancouver Island Backroad Mapbook on my roadtrip of the Pacific Marine Circle Tour. It was really helpful, especially at some confusing logging road junctions.
You can definitely drive the Pacific Marine Circle Route in a single day. It takes about 5 hours to drive with no stops. But many of the stops will take you an hour or more, so it's best to split the trip up over several days. Two days is great but three or four is better.
It's easy to rent a car in Victoria or at the Victoria Airport. I use Discover Cars because it lets you compare prices from lots of different car rental companies to get the best deal.
Places to Stop on the Pacific Marine Circle Route
East Sooke Regional Park
Explore the windswept coast in East Sooke Park. There are 50km of trails to choose from with varying difficult.
If you want a short walk, hike 5 minutes from the Aylard Farm trailhead to explore the nearby beach. If you have more time, hike some of the Coastal Trail. Bring a copy of the trail map to help you find your way.
To get to East Sooke Park, turn left onto Gillespie Road. Follow the signs to the park via East Sooke Road and Beecher Bay Road. Click here for google maps driving directions.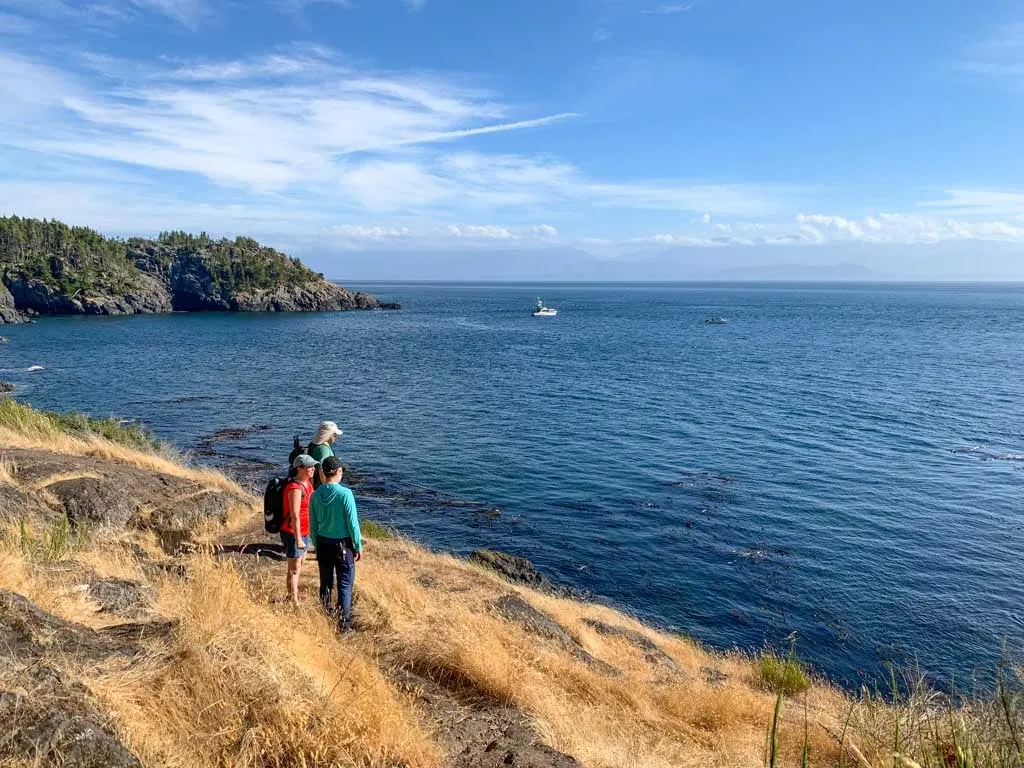 Sooke Potholes
The Sooke potholes are a popular place for swimming in the river rock pools when the water levels are low in the summer. (In the winter they just look like rapids.) You can also hike on the numerous trails to get great views of the river.
The ruins of an old lodge sit right next to the edge of the river canyon. There's a fence around the ruins, and they are officially off-limits, but the area has become a favourite for local graffiti artists.
To get to the Sooke Potholes turn right on Sooke River Road. If you cross the bridge over the Sooke River, you've gone too far. Follow Sooke River Road up the hill into Sooke Potholes Provincial Park. Click here for Google Maps driving directions.
There is one river access point here, but for more river access points and the hiking trails, continue a few kilometers further to Sooke Potholes Regional Park.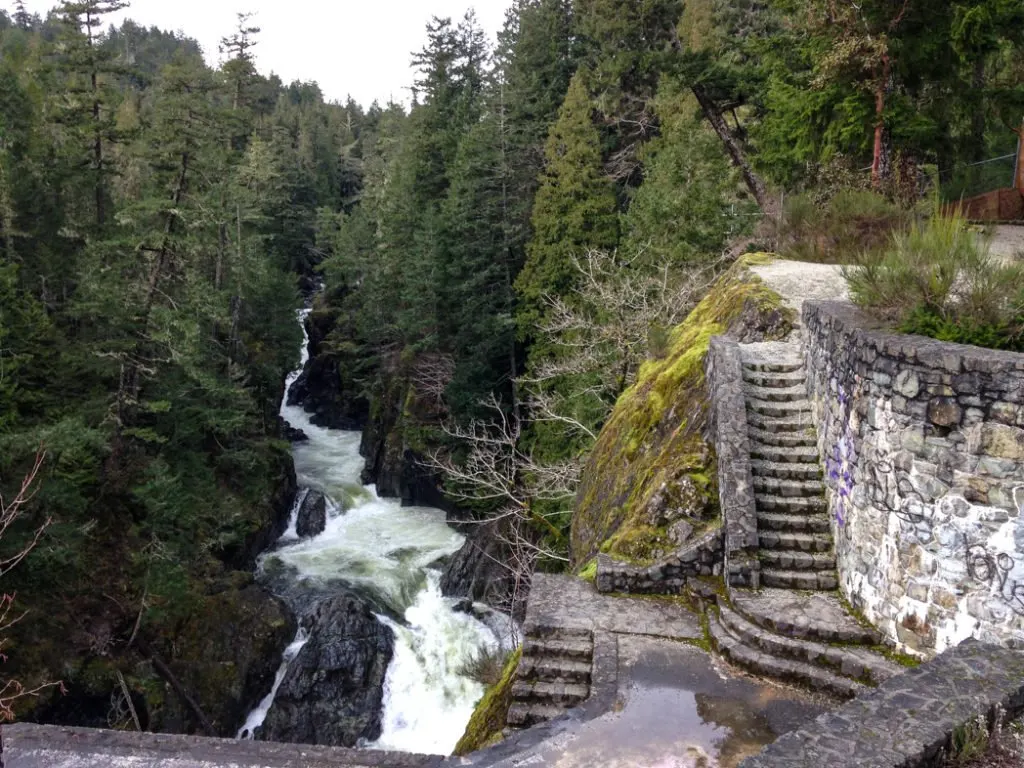 Sooke
Make sure you stock up on gas and groceries in the little town of Sooke, BC (population 13,000). It's the largest centre you'll pass through until Lake Cowichan, about 130km further along the Pacific Marine Circle Route.
There are a few cafes, coffee shops and fast food options if you need to take a break. I like both The Stick in the Mud Coffee House and Serious Coffee.
Whiffin Spit
A sand spit over 1km long protects Sooke Harbour. Take a walk out along the spit to get great views of the calm Sooke basin on one side and the wilder Juan de Fuca straight on the other side. There's a gravel trail out to the end of the spit and benches to sit on if you just want to take in the scenery.
To get to Whiffen Spit, turn left onto Whiffen Spit road about 2km after the round about in "downtown" Sooke. Follow the road to it's end past the famous Sooke Harbour House hotel and restaurant. There's a small parking lot and it can be very busy. Click here for Google Maps driving directions.
Shirley Delicious
About 20 minutes past Sooke you'll see a little A-frame cabin on the left hand side. That's Shirley Delicious. It's an adorable cafe, bakery and coffee shop that you can't miss. The owner is so friendly.
To get to Shirley Delicious turn left onto Sheringham Point road about 20 minutes past Sooke. It's right after you pass the Shirley Community Hall. Click here for Google Maps driving directions.
Sandcut Beach
For years I had seen amazing photos of the waterfall at Sandcut Beach on Instagram, so I was really stoked to finally see it for myself.
The water pours over the lip of the sandstone cliff onto the beach. In drier weather you can walk behind the falls, but when I visited in springtime, the flow of the falls was way too heavy.
To get to Sandcut Beach look for a small signed parking lot on your left about 10 minutes past Shirley Delicious. Click here for Google Maps driving directions.
From the parking lot it's a 10 minute hike through the forest to the beach. The trail can be muddy. Once at the beach, turn left and walk along the gravelly beach for another 5 minutes to the falls.
Mystic Beach
Mystic Beach is located at the southern end of the Juan de Fuca Trail, a 47km coastal backpack trip that I think of as the West Coast Trail's younger cousin.
You don't have to do the whole trail to visit Mystic Beach: you can hike 2 km down to the beach and admire the wild West Coast scenery.
The beach is a popular day hiking destination thanks to its photogenic waterfall. If you brought camping gear, you can camp overnight. (See my Juan de Fuca trail guide for more info.)
To get to Mystic Beach turn left into the China Beach day use parking lot in Juan de Fuca Provincial Park. It's about 7 minutes past Sandcut Beach. Click here for Google Maps driving directions.
It's a 2km hike to the beach. Along the way you'll cross a suspension bridge high over Pete Wolf Creek.
READ NEXT: Juan De Fuca Trail Guide: Backpacking on Vancouver Island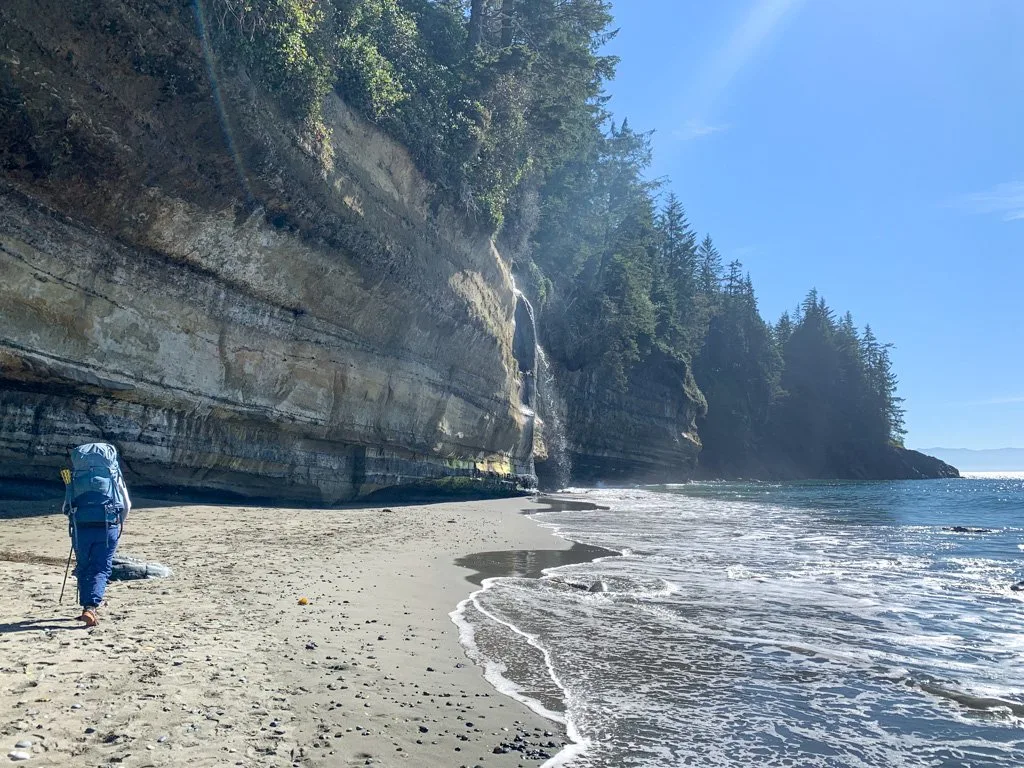 Sombrio Beach
Sombrio Beach is located around the mid-point of the Juan de Fuca Trail. It's a popular place for walk-in camping on the beach as well as for surfing.
The beach stretches around a wide bay and there is lots to explore. One of the most interesting features of the beach is the waterfall hidden in a mossy canyon.
If you want to find the hidden waterfall, turn left and walk down the beach until you see an outhouse in the trees. A minute past the outhouse you'll see a creek flowing out on to the beach. Follow the creek upstream to find the waterfall. (Be prepared to get your feet wet!)
The canyon is a sensitive place and is sacred to the Pacheedaht First Nation so please be respectful. There is already some graffiti in the canyon – please don't add any more.
To get to Sombio Beach, drive 21km from the Mystic Beach parking lot. Look for a gravel road on your left. It may be signed for Sombio Beach but often the sign is missing. Click here for Google Maps driving directions.
From here it's a 2km drive on a rough gravel road down to the parking lot. Most regular cars can make it but it is very bumpy with lots of potholes so you might prefer to park at the top and walk down if you don't have a 4wd.
From the parking lot it's an easy 5 minute walk to the beach.
Port Renfrew
Port Renfrew is pretty unique. It's a tiny town at the end of highway 14. Traditionally most people knew it as a great fishing spot or as one of the starting points for both the West Coast Trail and the Juan de Fuca Trail.
It's a gritty little logging town that is slowly transforming itself into a cute eco-tourism hub thanks to its new reputation as the tall tree capital of Canada.
There isn't a real designated centre to the town – it's kind of spread out. Be sure to head down to the dock next to the Port Renfrew Pub at the end of highway 14 to grab some photos.
Port Renfrew makes a great basecamp for day trips in the area. On my trip we camped one night at the Pacheedaht campground and spend our second night in town at the fabulous waterfront Wild Renfrew cabins.
There is a small general store in town if you need supplies. The Port Renfew Pub is open year round and there are two other seasonal restaurants. There's a seasonal gas station at the marina and a brand new gas station right at the entrance to town.
Botanical Beach and Botany Bay
If you are in the area, you can't miss the tide pools at Botanical Beach. Located inside Juan de Fuca Provincial Park, the area is so ecologically diverse that marine biologists have been studying here for over 100 years.
Check the tide table before you go so you can time your visit for the lowest tides. Try to aim for a tide of 1.2m or less.
After exploring at Botanical Beach, take the loop trail heading west along the coast to Botany Bay. Along the way you'll pass through beautiful coastal rainforest. There are several beach access trails at Botany Bay, plus a couple of great view points on the bluff above the beach.
The trail loops back to your starting point at the parking lot. The Botanical Beach/Botany Bay loop trail is 2.8km long and takes about an hour to hike… plus stops. (You're going to want to make a LOT of stops.)
To get to the Botanical Beach and Botany Bay trailhead, turn left on to Cerantes Road where highway 14 dead-ends in front of the Port Renfrew Pub. Drive about 5 minutes on this road until it ends in the Botanical Beach parking lot of Juan de Fuca Provincial Park. Click here for Google Maps driving directions.
Avatar Grove, Big Lonely Doug and Port Renfrew's Big Trees
You can visit some of the world's largest and oldest trees near Port Renfrew. Canada's Gnarliest Cedar is in Avatar Grove, an easy 10km drive from town. Slightly further afield is Big Lonely Doug, the world's second largest Douglas Fir.
Doug stands alone in a clearcut, so you can really get a sense of how tall he is. There are a few other record setting trees in the area as well including the Harris Creek Spruce, the Red Creek Fir and the San Juan Spruce.
You can visit all of the trees as a day trip from Port Renfrew or as part of your Pacific Marine Circle Tour road trip. A few of the trees require 4 wheel drive to visit, but most are on easily accessible (but bumpy) gravel roads.
I have a complete guide to visiting them all in my article How to Visit Avatar Grove, Big Lonely Doug and Other Big Trees on Vancouver Island.
READ NEXT: How to Visit Avatar Grove, Big Lonely Doug and Other Big Trees
Fairy Lake
Fairy Lake is just outside Port Renfrew. There's a campsite there and a short nature trail, but the real star is the internet-famous bansai tree of Fairy Lake. This plucky little tree is growing out of a partially submerged log near the edge of the lake.
If you come in the spring like I did, the lake level will be high and the partially submerged log will be almost entirely underwater.
To see the tree drive past the entrance to the Fairy Lake Recreate Site Campground and pull over on to the gravel shoulder once the lake comes in to view. This is the best place to see the tree. Click here for Google Maps driving directions.
Lake Cowichan
The town of Lake Cowichan is pretty small, but compared to Port Renfrew, it's a metropolis. This is a great place to stop for gas, groceries or something to eat. You may also want to stretch your legs with a walk along the lakeshore at the community park.
Cowichan Valley Trail
Just outside of Lake Cowichan you can access the Cowichan Valley Trail. This trail is actually part of the Trans-Canada Trail.
The Cowichan Valley Trail is built on an old rail bed. It has a crushed gravel surface that makes it great for easy walks or bike rides. The trail also crosses a few old wooden train trestles high above the valley.
The main access point for the Cowichan Valley Trail is right in the town of Lake Cowichan on Cowichan Lake road just before you turn on to highway 18. You can also access it via several side roads off highway 18. There's lots more info on the TrailsBC website.
Cowichan River Footpath
If you want a slightly more challenging (but still easy) hike, head to the Cowichan River Footpath in Cowichan River Provincial Park. This footpath meaders next to the Cowichan River through lush rain forests downstream to an old train trestle bridge over then river, then heads back up the other side.
You can start and finish your hike at Skutz Falls, a popular swimming hole in the summer and a great place to watch salmon jump up the fish ladders in the fall.
To get to the Cowichan River Footpath, turn right onto Mayo Road from highway 18 about 9km from Lake Cowichan. Follow Mayo Road downhill to the river and park near the bridge. The trail starts from either side of the bridge. Click here for Google Maps driving directions.
Duncan and the Cowichan Valley
The town of Duncan and the Cowichan Valley are the agricultural heart of Southern Vancouver Island. There are tons of farms, wineries, and dairies. Try to time your visit so you can shop at the farmers market in Duncan on Saturdays or Cobble Hill on Sundays (summer only).
Some of the farms and wineries also have on-site shops and tasting rooms.
Malahat Drive
In order to get back to Victoria you'll have to climb up and over the Malahat Summit. Rising 300m above the waters of Saanich Inlet, Malahat Summit isn't really that high up, but it still provides excellent views.
There are a few viewpoints but you can only access them in you are driving north. If you are southbound, you'll have to continue past them to the next U-turn location.
I haven't had a chance to visit yet, but the Malahat Skywalk is also a great place for incredible views. It's a huge circular elevated walkway that rises out of the forest. You can walk back down or take a ride on their slide.
Save time by buying tickets in advance.
Click here for Google Maps driving directions.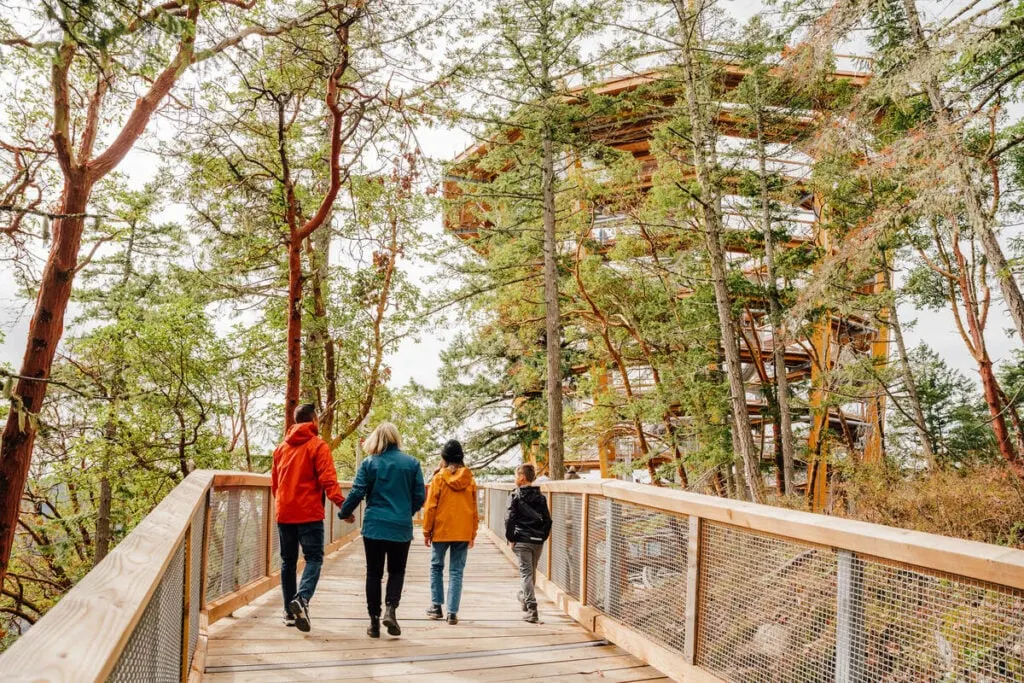 Goldstream Provincial Park
At the end of the Malahat, just before reaching Victoria, lies Goldstream Provincial Park. This popular park has tons of hiking trails and a campground.
If you want a mountain hike, head up the steep trail to Mount Finlayson. If you're after waterfalls, visit BC's very own Niagara Falls on a short 1.3km hike.
The park is also a great place to go bird watching – it's even on the BC Bird Trail. On a recent visit I strolled on the streamside path and spotted eagles, American dippers, and common mergansers.
To get to Goldstream Provincial Park turn left onto Finlayson Arm Road just as the highway finishes it's descent to sea level fro the Malahat. There is a flashing traffic light at this intersection and a provincial parks sign. The parking lot is just off the highway. Click here for Google Maps driving directions.
Langford
Before heading back to Victoria, stop in the city of Langford. Located on the outskirts of Victoria, it's the fastest growing community in BC. That means that for a suburban centre, it has incredible food.
Don't miss a show-stopper meal at House of Boateng. I had an incredible six course long table dinner at their nearby event space, but you can book in to their award-winning restaurant as well.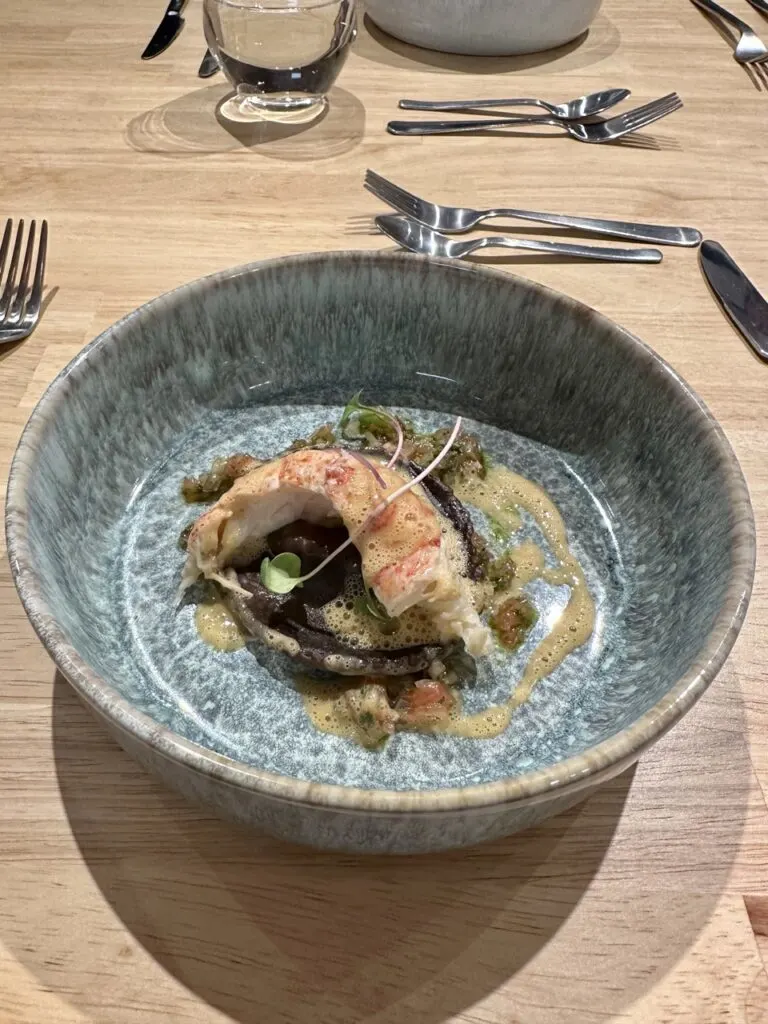 If you're looking for something more casual, Rhino Coffee has great doughnuts, sandwiches, and of course coffee. And don't miss the incredible handmade ice cream at Parachute Ice Cream.
Where to Stay
There are lots of accommodation options on the Pacific Marine Circle Route, from cute cabins, to waterfront campsites to posh inns. If you're just staying one night, it makes the most sense to base yourself in Port Renfrew as it's essentially the half-way point.
If your trip is a bit longer, you could consider booking accommodation in Sooke, Lake Cowichan, the Cowichan Valley, or Langford as well.
On one of my trips we actually spent two nights in Port Renfrew as you can take lots of great day trips from there. (You can't miss Avatar Grove and Big Lonely Doug!)
In Port Renfrew I recommend the cabins at Wild Renfrew. They are right on the pier in Port Renfrew near the pub. The cabins have covered patios overlooking the ocean and gas powered fire pits. It was great to sit on the patio, listening to the rain on the roof after a long day of exploring.
Want more ideas for cozy cabins in the area? Check out my list of the best cabin rentals in BC.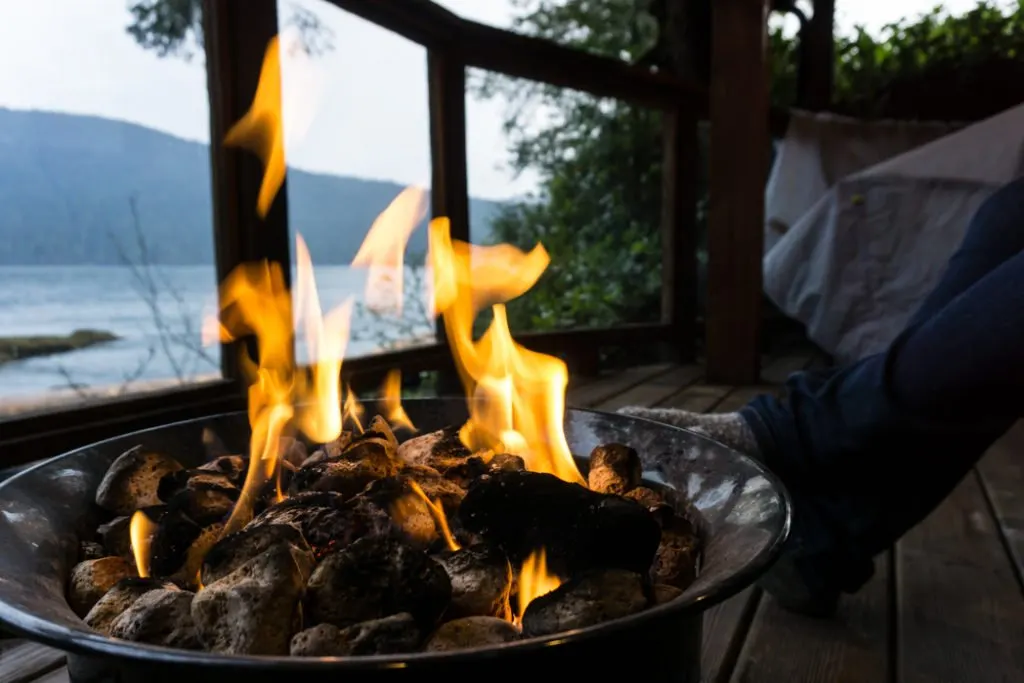 For a splurge, stay at the Westin Bear Mountain Resort in Langford at the beginning or end of your Pacific Marine Circle Route road trip. It has a beautiful mountain top location and a great on-site restaurant. It also makes a good base for foodie stops in Langford or trips to Goldstream Provincial Park.
If you're rather camp, there are lots of options along the route. I love the Pacheedaht campground just outside Port Renfrew. It's right on the beach and the sunsets are spectacular!
Here's a list of all the campgrounds you'll pass on the Pacific Marine Circle Route:
I've driven the Pacific Marine Circle Route a few times, and I just keep going back. In particular I love Port Renfrew. It's a tiny logging town that is transitioning to eco-tourism while (mostly) retaining its gritty roots. And to me that's so quintessentially BC. You have to go visit! Have you already been? Let me know in the comments.
READ NEXT: