Whether you're a skier, a mountain biker, a hiker, or just want to visit one of the best mountain towns in the world, there are tons of things to do in Whistler.
I've been visiting Whistler my whole life since I grew up in nearby Vancouver. And now I live just down the road in Squamish, so it is right in my backyard.
In this post, I've got a huge list of Whistler must-dos, written from a local's perspective. It includes attractions for all four seasons and every budget.
Since there are over 80 Whistler things to do in on this list, I've split them up into categories for you:
Hey there: Some of the links in this post are affiliate links, which means I earn a small commission at no cost to you. Thanks for your support. -Taryn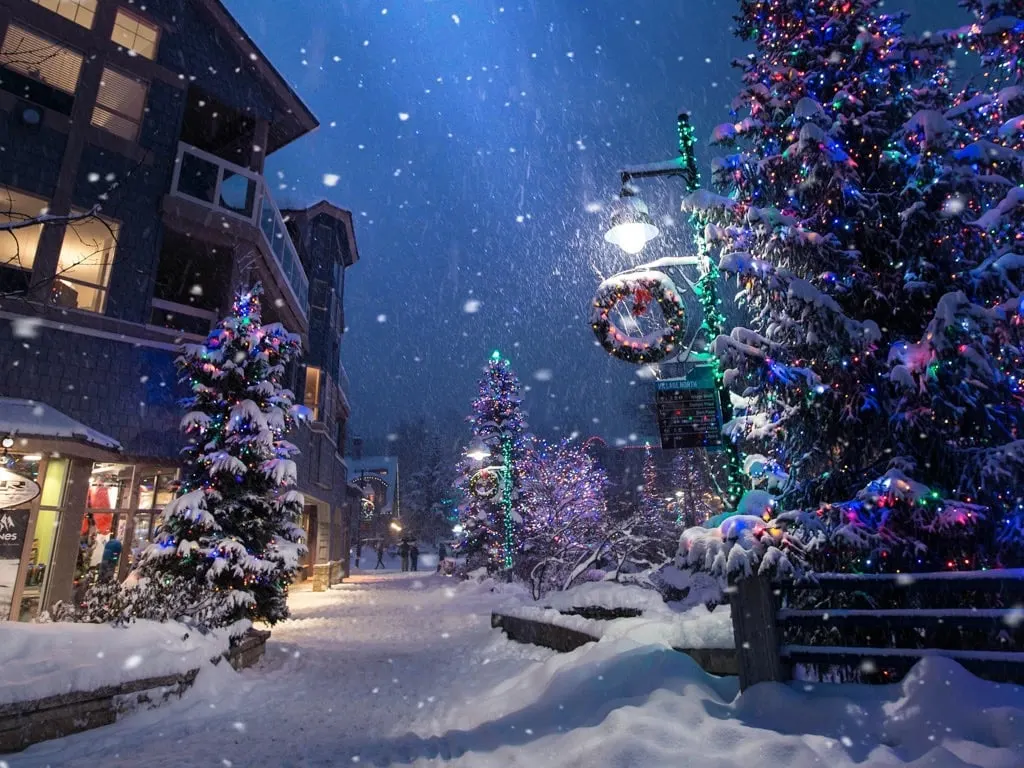 My Top Picks For Things to Do in Whistler
With over 80 things on this list, there are almost too many activities to choose from. To help you out, here are my personal favourite Whistler activities: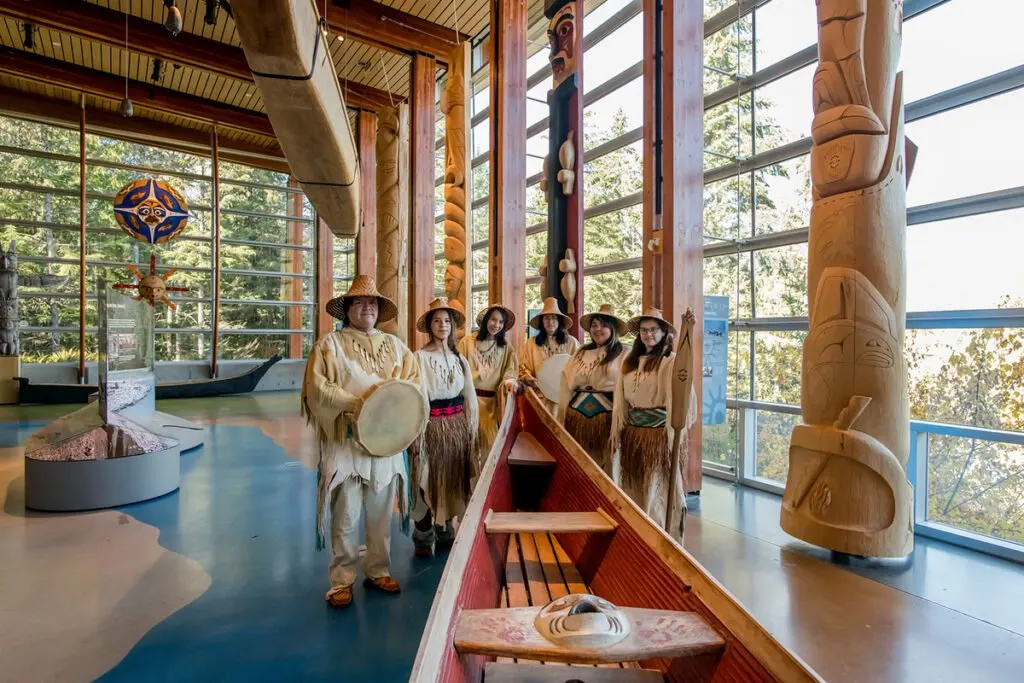 Things to Do in Whistler: Summer Outdoor Adventures
1. Hiking
Hiking is one of the most popular summer things to do and is the number one reason I love Whistler.
There are dozens of hiking trails in town, ranging from beginner to expert. You can hike to mountain peaks, glacier lakes, old-growth forests, and beautiful waterfalls.
If you're looking for an easy hike, check out Whistler Train Wreck, Nairn Falls, or Lost Lake. For moderate hikes, I recommend Cheakamus Lake. If you're up for a challenge, hike to Garibaldi Lake or Wedgemount Lake.
For a full guide to over 20 hiking trails near Whistler, check out my list of the best hikes in Whistler on my outdoor adventure website.
If you'd rather have a local guide show you around, there are lots of options for hiking tours. This tour takes you onto the ice of the Horstman Glacier. And this one takes you to the popular Whistler Train Wreck Trail. Or book a guide for some of the most spectacular mountain hikes like Rainbow Lake, Garibaldi Lake, or Cheakamus Lake.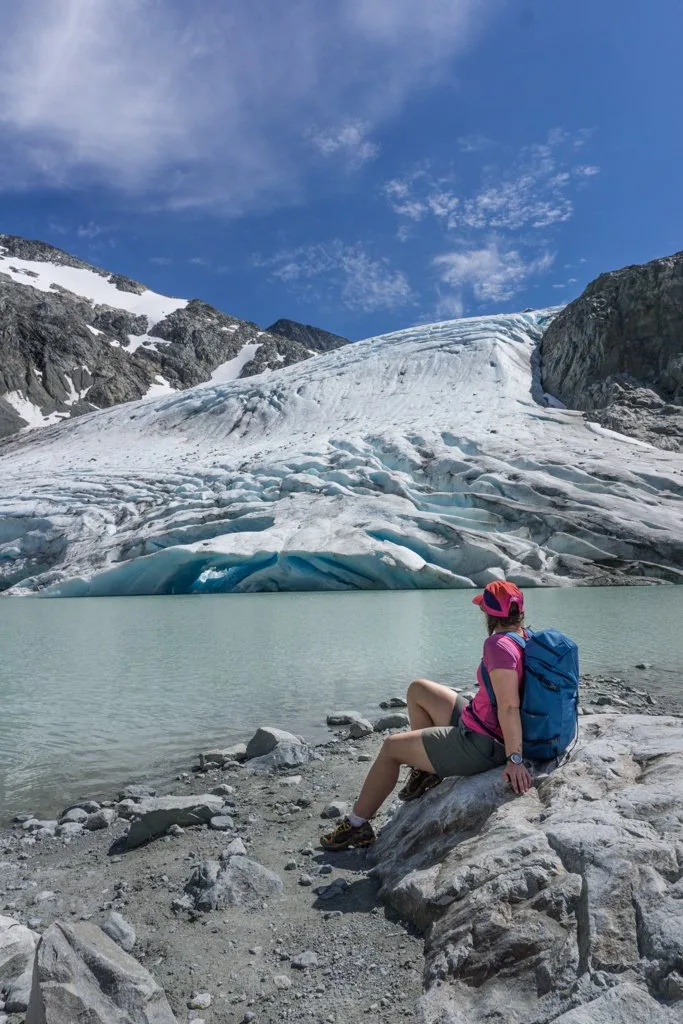 2. Joffre Lakes
Yes, I know that I just listed "go for a hike", but I have to call out Joffre Lakes specifically since it's such a popular hike. Some people come to Whistler just to do this hike.
The trail leads past three gorgeous turquoise lakes and a waterfall to the foot of a spectacular glacier. It's a 10 km round trip with 370 m of elevation gain, so it is rated moderate. My Joffre Lakes hiking guide has all the details.
The scenery is outstanding, the colour of the water is unreal, and the hike isn't too hard. All of that adds up to a must-do hike, which means it is VERY popular. Between late May and mid-October, you need to get a free BC Parks day pass to hike this trail. (Read my guide to BC Parks day passes for more info.)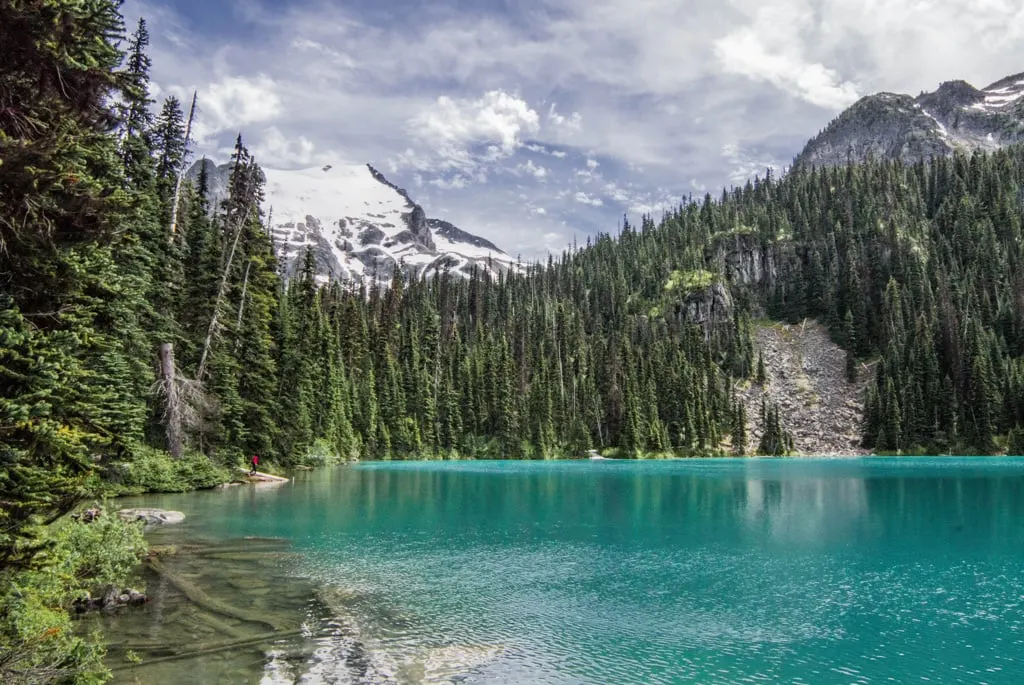 3. Camping
If you want to enjoy nature and save money on hotels, camping in Whistler is a great option. There are a few places to camp right in town, but the best places are a short drive away.
My favourite place to camp near Whistler is Nairn Falls Provincial. It has great campsites near the rushing waters of the Green River. And it's a short hike to spectacular Nairn Falls.
For a full guide to 17 places to camp, check out my Whistler camping guide.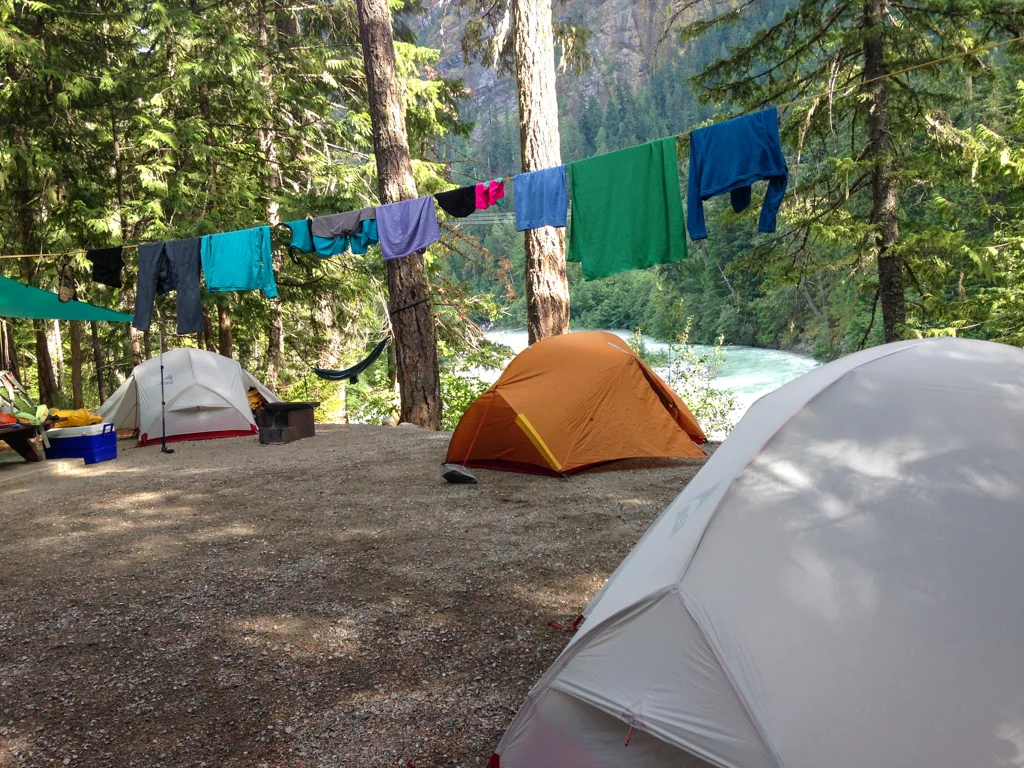 4. Backcountry Camping
If you are an experienced hiker, don't miss out on backcountry camping near Whistler. The scenery is some of the best in BC and I think the best way to experience it is to plan a backpacking trip to a backcountry campsite.
That way you can have it to yourself in the evenings once the day hikers have gone home. Plus the sunrises and sunsets can be spectacular.
Backpacking in BC is such a passion of mine that I wrote a whole book about it! Backpacking in Southwestern British Columbia has all the info you need for 13 different backpacking trips near Whistler.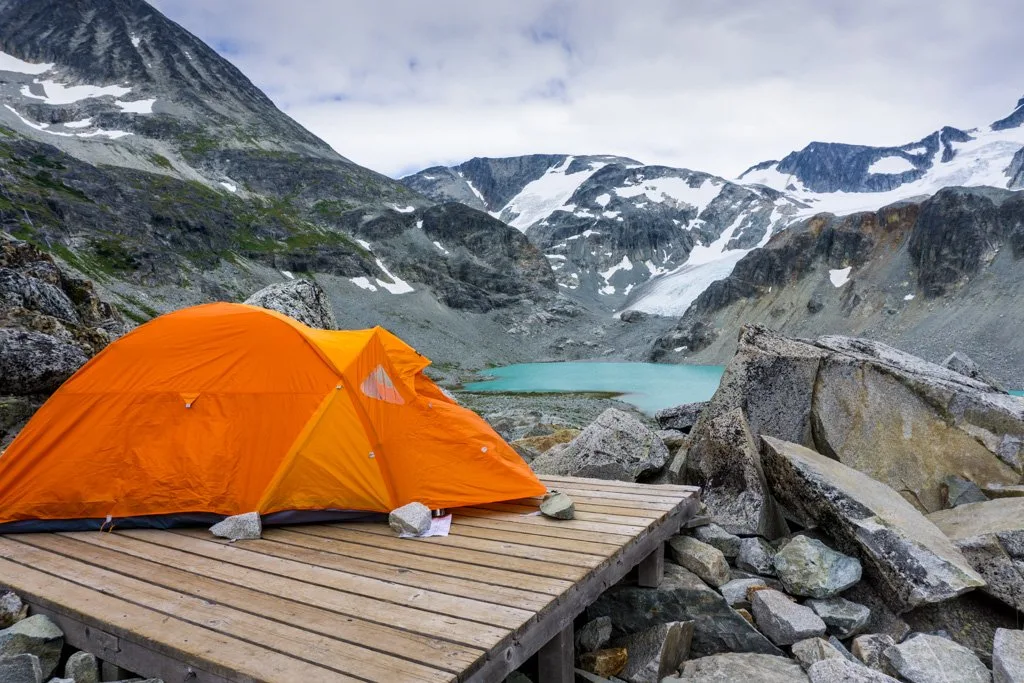 5. Lakes and Beaches
The Whistler Valley has several beautiful lakes to explore. Each one has waterfront parks and beaches so you can hang out or go for a swim. Parking can be limited, so the best way to get to the lakes is by bike or bus.
Lost Lake is the closest to the village and has the warmest water. There is a great sandy beach along with several floating docks to jump off.
Alpha Lake Park is in the Creekside neighbourhood. It is a smaller lake, so the water is a bit warmer but not as warm as Lost Lake. There is lots of grass to lounge on and a dock to jump off.
Alta Lake is in between the Village and Creekside. It's a bigger lake so it's not as warm. There are two main beaches on Alta Lake: Rainbow Park and Lakeside Park. Rainbow Park is really popular with a big grassy area and great mountain views. Lakeside Park is smaller but it has a roped-off swimming area with a sandy bottom.
Green Lake is the largest lake in Whistler and the coldest. It's more of a hanging out on the shoreline lake than a swimming lake. The best places to access the beach are Fitzsimmons Fan Park near the Nicklaus North Golf Course and Green Lake Park accessed off Summer Lane.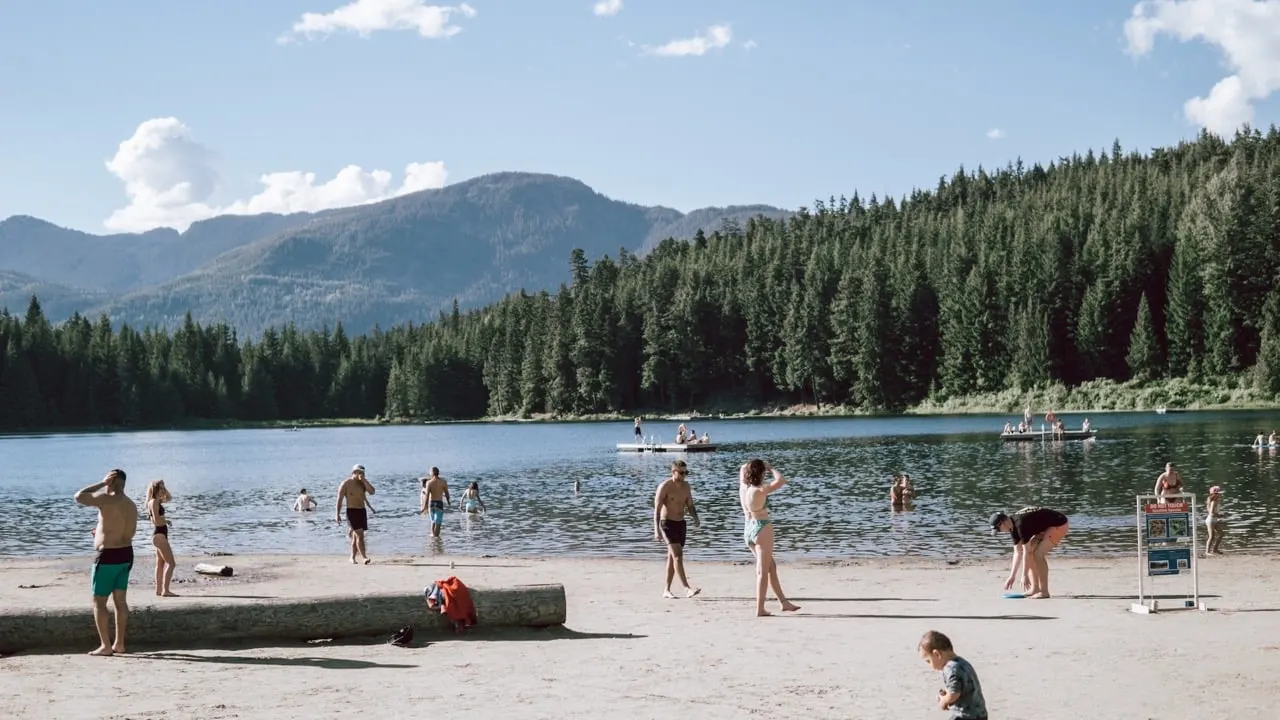 6. Bike or Walk the Valley Trail
The paved, car-free Valley Trail is one of the best things about Whistler. It is a 46-kilometre-long network of trails that runs through the bottom of the valley, connecting all the major sites.
I often bring my bike so I can ride from parks to beaches to viewpoints and back again. You can also rent bikes at several places in the village.
Use the Valley Trail map to find your way around. In my opinion, the most scenic sections of the Valley Trail are between Green Lake and Alta Lake along the River of Golden Dreams and the Whistler Golf Course.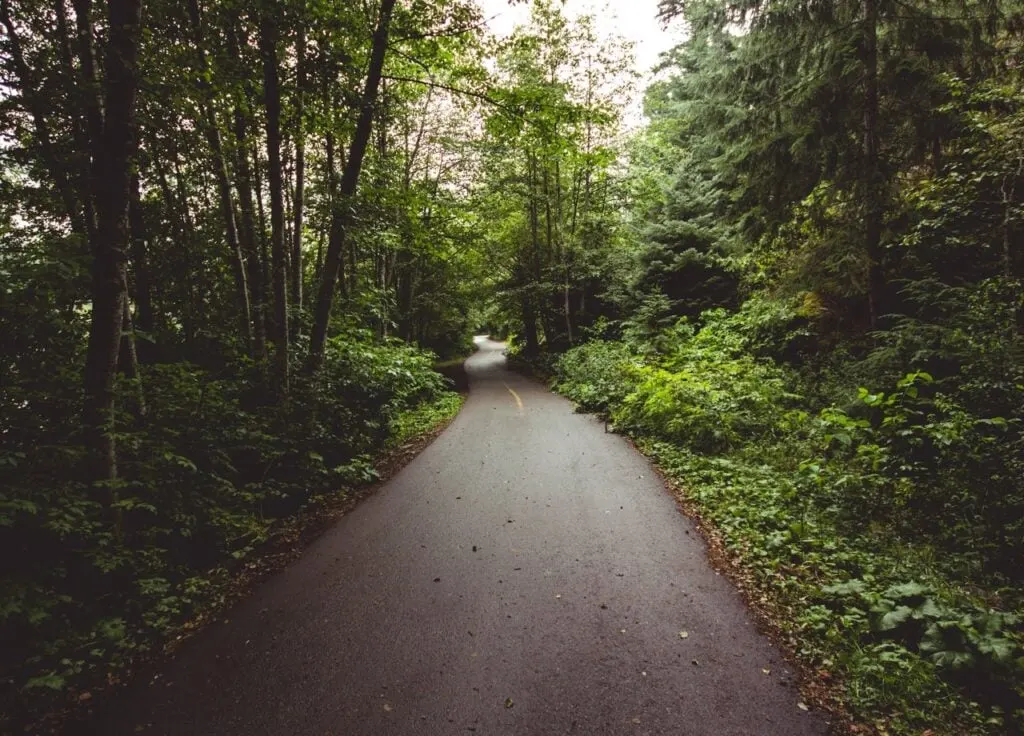 7. Mountain Biking
In the summer, mountain bikers come from all over the world to experience Whistler's famous mountain bike trails.
Most mountain bikers come to town to ride the Whistler Mountain Bike Park. The huge park has a skills zone and trails spread across four zones, serviced by six lifts. The terrain ranges from green to double black diamond, so there's something for everyone.
But you don't have to spend money to mountain bike in Whistler. There are tons of free trails around town – but you will have to pedal uphill to access them!
The best way to find trails to ride is to use the Trailforks app. The trails are split into several zones. There are trails at Lost Lake Park near the Village, on the west side of the valley on Mount Sproatt and Rainbow Mountain, and south of Whistler in the Whistler Interpretive Forest near the Cheakamus Crossing neighbourhood.
If you want a local to show you the best terrain outside of the bike park, book this half-day mountain bike tour. Your guide will show you single-track trails that match your skill level and give you pointers so you can send key features.
You can also hone your skills at the totally free Fitzsimmons Creek Bike Skills Park. It has a pump track, obstacles, and BMX-style dirt jumps. Find it near the day-use parking lots next to the village. (Psst: It's one of my picks for the best free things to do in Whistler.)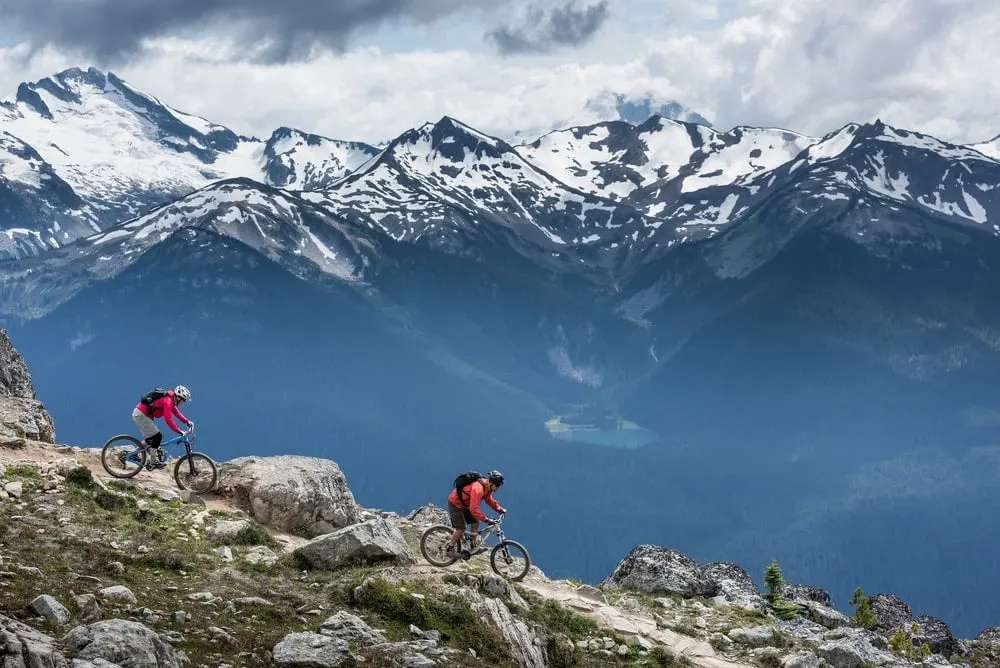 8. E-Bike Tour
Riding an e-bike is one of the best (and easiest) ways to see lots of sights around Whistler. These easy-to-ride bikes provide an electronic assist, so pedalling is low effort.
You can book a three-hour e-bike tour that includes all of the main attractions in the Whistler valley.
9. BMX Track
Head to the Cheakamus Crossing neighbourhood to ride the Whistler BMX Track, which opened in 2017. The track is managed by the volunteer-run Whistler BMX Club. It includes features suitable for both beginner and expert riders. And just watching riders hit the dirt jumps is always fun.
10. Skate Park
Whistler's Skate Park is the second largest in Canada with over 4,600 square meters (50,000 square feet) of terrain. There are 1/4 pipes, a bowl, and lots of street-style elements. On sunny days, it's a great place to watch skilled riders honing their craft.
11. Lost Lake Park
Lost Lake Park is located right next to the Village – it's a short walk or bike ride away. The park has over 25 kilometres (15.5 miles) of trails for walking, hiking, and mountain biking that run through the park.
The highlight is the trail that loops around the lake, stopping at beaches and viewpoints. It's a great place to hang out on a sunny day. I've got a whole guide to Lost Lake Park with all the details.
In the winter, the trails become a network of cross-country ski and snowshoe trails. (Read my guide to snowshoeing at Lost Lake.)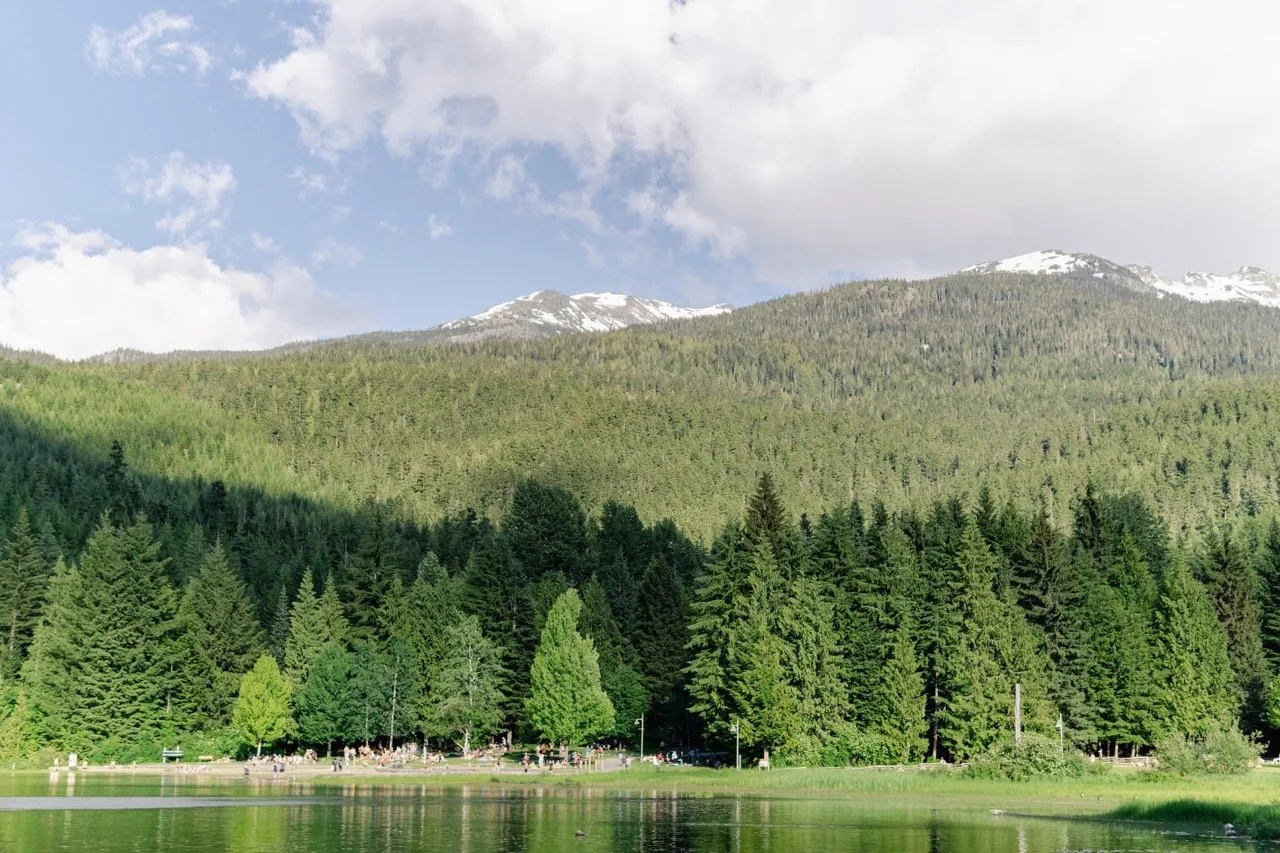 12. Paddleboarding and Canoeing
Paddling a canoe, kayak, or stand-up paddleboard (SUP) on one of Whistler's lakes is a fun summer activity. You can rent boats and boards at Wayside Park or Lakeside Park, both on Alta Lake.
If you have your own boat, paddling on Green Lake is also lots of fun and since it's such a big lake, there are lots of small bays to explore. You can also paddle across to explore the Parkhurst Ghost Town.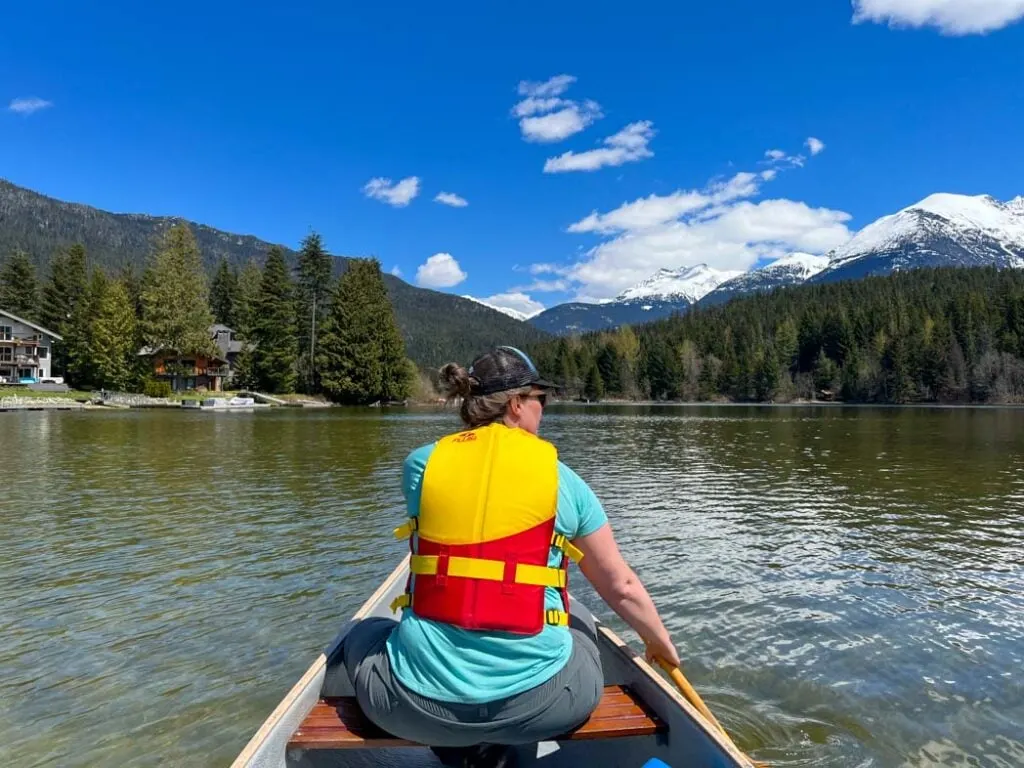 13. Parkhurst Ghost Town
Parkhurst is one of the coolest places in Whistler. This abandoned logging town is full of collapsed buildings, rusting artifacts, and cool graffiti.
The only way to get there is to hike or paddle a canoe. The route can be confusing, so I've got a full Parkhurst Ghost Town guide on my outdoor adventure website.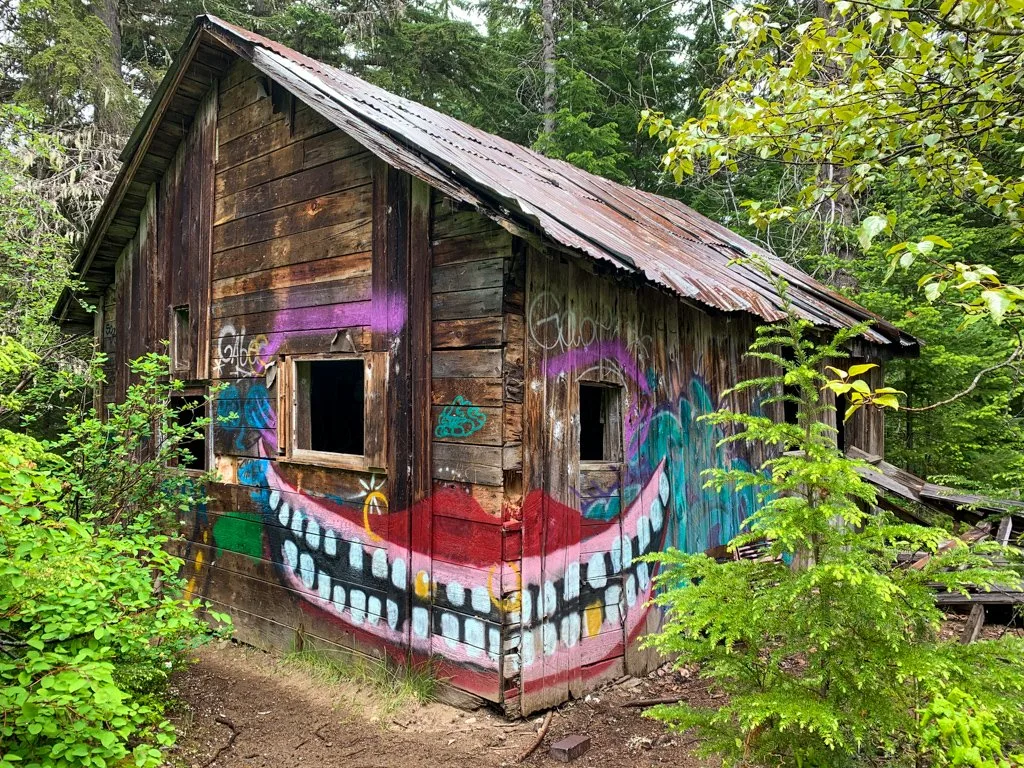 14. Paddle the River of Golden Dreams
Whistler's River of Golden Dreams is actually a quiet section of the Green River that meanders through forest and wetlands in the valley between Alta Lake and Green Lake.
The slow water means it is a natural lazy river, so you can mostly sit back and relax as the current does the work. However, you have to keep an eye out for hazards and in times of low water, there is a mandatory portage section.
You can bring your own boat and arrange a car shuttle, bus, or bike back to the start. Or book a River of Golden Dreams self-guided tour that includes canoe or kayak rental and transportation.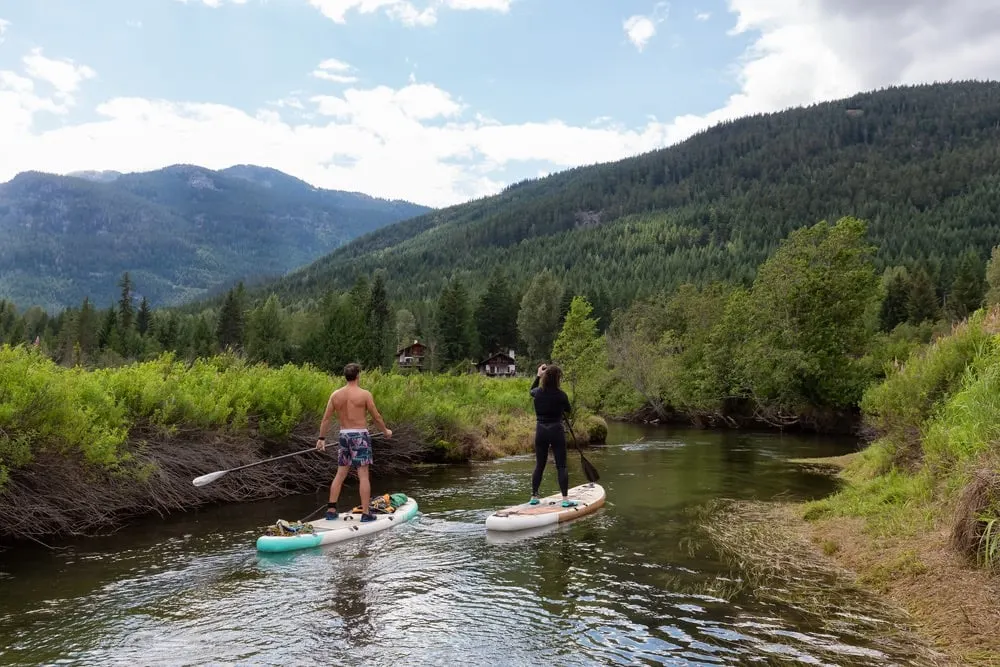 15. Whitewater Rafting
Each spring and summer all the snow in the mountains around Whistler melts, turning creeks and rivers into raging torrents. And of course, you can go whitewater rafting on these wild rivers!
Brave class 2 and 3 rapids as you bounce down the Green River just north of town. Or head further south to the wild rivers near Squamish. Book a Whistler whitewater rafting trip.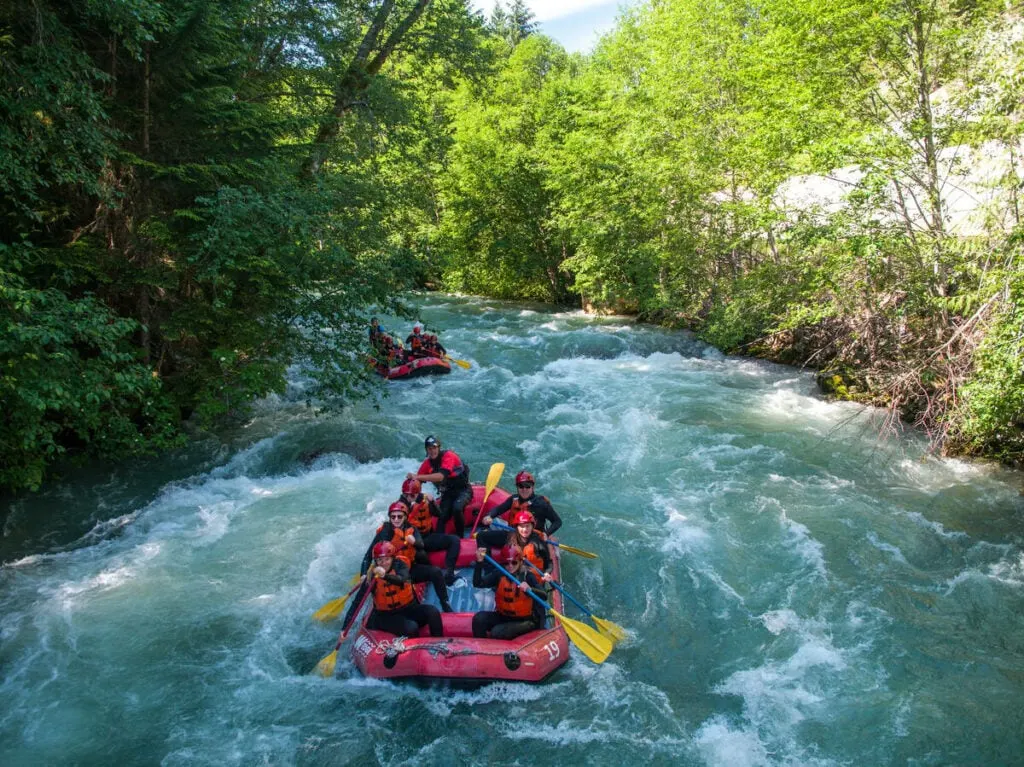 16. Drive an ATV
Get behind the wheel of an ATV or 2- or 4-seater off-road buggy, then hit the rugged trails in the mountains just outside town. Local companies offer tours for both beginners and intermediate riders.
This RZR side-by-side tour explores the backroads of Cougar Mountain. The buggies are easy to drive (just like a car with two side-by-side seats), which means you can get into some gnarly terrain right away.
Or book the Call of the Wild ATV Tour to ride your own ATV through the Callaghan Valley near Whistler Olympic Park. You'll ride some rough backroads and even splash through some creeks.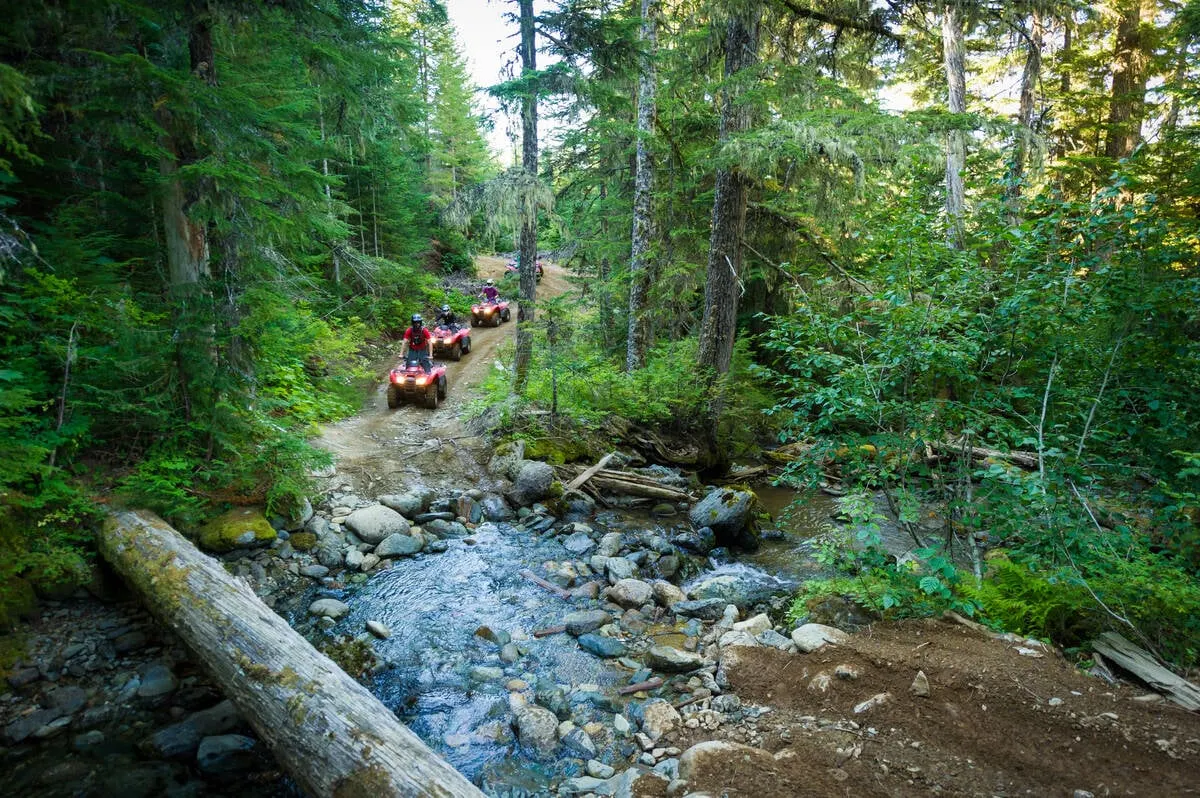 17. Off-Roading
The rough gravel backroads around town are a great place to go off-roading. You can take a jeep tour up the slopes of Blackcomb and Whistler Mountains or into the Callaghan Valley near Whistler Olympic Park.
If you have your own rig, you can explore the logging roads around town. The routes can be confusing, so it's best to bring a copy of the Vancouver, Coast and Mountains Backroad Mapbook or use a GPS app like Gaia GPS.
Psst! Want to save 20% off a premium Gaia GPS annual membership, which includes the maps I use on my trips? Use this link.
18. Via Ferrata
In Italian, "via ferrata" means iron way. This sport bridges the gap between hiking and rock climbing as you use ladder rungs, suspension bridges, and cables to climb to the top of Whistler Peak. And don't worry, you're clipped into a harness the entire time. Book a via ferrata tour.
If that sounds intimidating, try out the Whistler Sky Walk. This guided tour takes you along the top of Whistler Mountain. You'll clip into a cable to cross cliff tops and suspension bridges, but you'll keep your boots on the ground.
19. Rock Climbing
Thanks to the unique granite rocks, Whistler and the Sea to Sky region has some of the best rock climbing in the world.
Experienced climbers can find local routes on theCrag or Mountain Project. Beginners should sign up for a climb with a local guide who will take you out to some of Whistler's best crags.
20. Golfing
Whistler has some of the most spectacular golf courses in the world with incredible mountain views. There are three courses (Nicklaus North, Whistler Golf Club, and Fairmont Chateau Whistler) in town, open between April/May and October.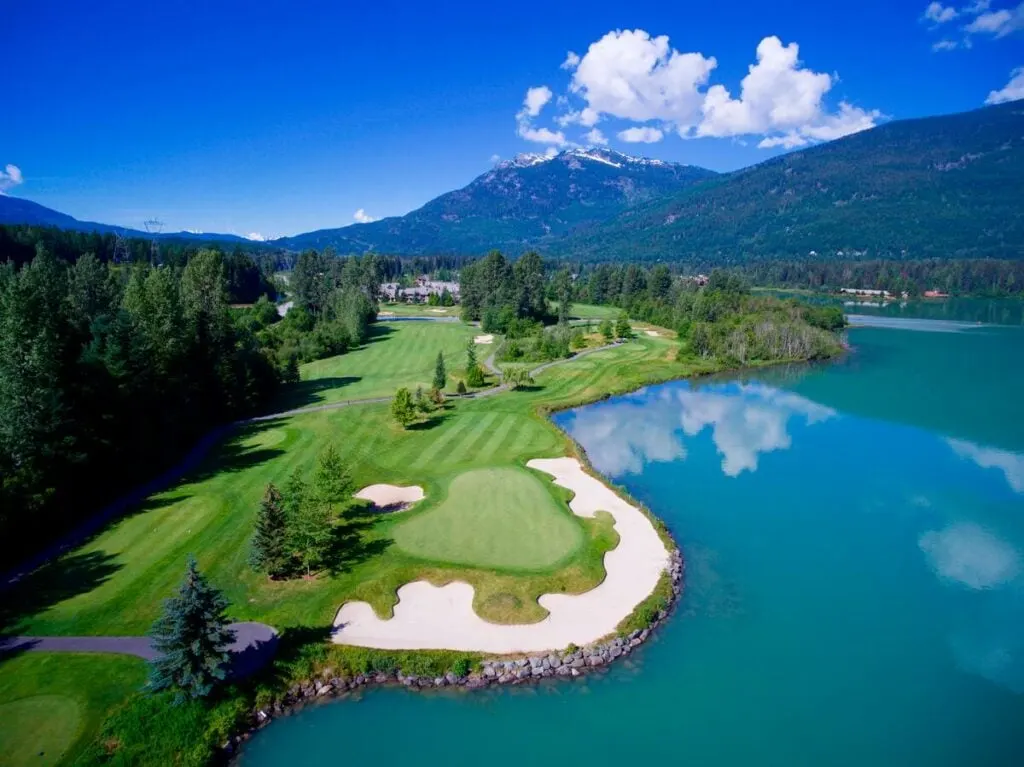 21. Disc Golf
Unlike lots of other things in Whistler, disc golf is free. (And it's on my list of the best free things do in Whistler.)
The Lost Lake Disc Golf Course has 27 holes, with the difficulty ramping up as you progress through the course.
If you're willing to head out of town a little bit, there's also another disc golf course just outside of Pemberton near One Mile Lake.
22. Treetrek Canopy Tour
Experience the beauty of the old-growth rainforest on Ziptrek's Treetop Canopy Tour. It includes all the beauty of the old-growth forest without the ziplines.
The 2-hour experience takes you high amongst the treetops and you traverse nine suspension bridges and countless boardwalks. Your guide will help you learn about the majestic trees surrounding you.
Things to Do in Whistler: Winter Outdoor Adventures
Psst: Planning a winter visit? Check out my list of things do in Whistler in winter.
23. Skiing and Snowboarding
The world-famous Whistler Blackcomb ski resort is the main reason that people visit Whistler in the winter. It's the largest ski resort in North America with the most uphill lift capacity.
Thirty-seven lifts serve 200 runs that range from green to double black diamond. The resort is spread out across two mountains, Whistler and Blackcomb, so there is always plenty of terrain to explore.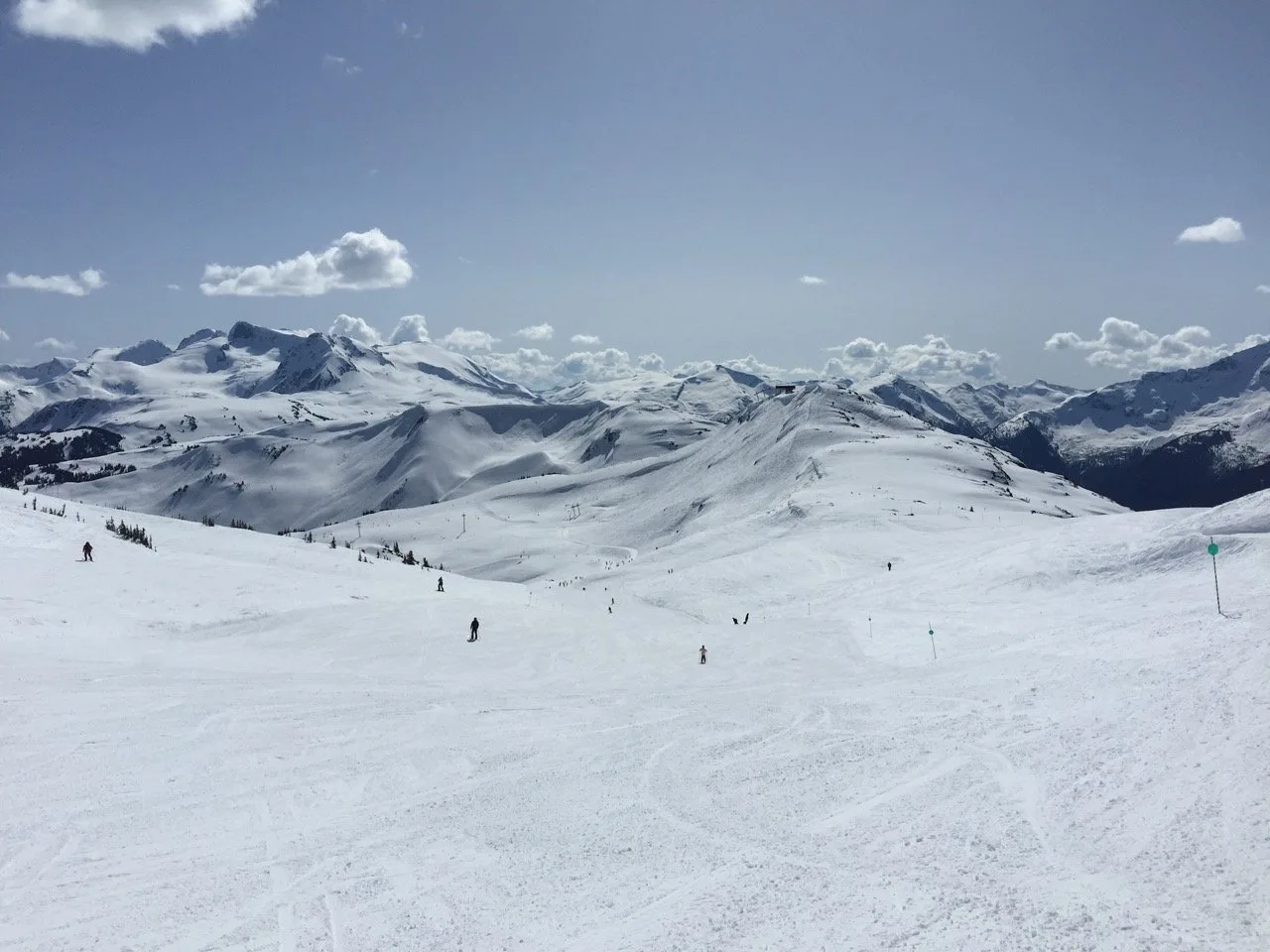 24. Backcountry Skiing
With so much snow around, you don't have to stick to the resort. Backcountry skiing and splitboarding are really popular here. There are a few ways to go backcountry skiing.
A popular option is to access "sidecountry" from the lifts. You can also book a heli-skiing or cat skiing tour to get quick access deep in the backcountry with a guide who will show you the best places to ski.
Another option is to explore the mountains around town and along the nearby Duffey Lake Road (part of Highway 99). However, you will need backcountry experience and avalanche training to stay safe.
If you are a beginner, book an Intro to Backcountry Ski Class to have a guide show you the basics and help you pick beginner-friendly avalanche-safe terrain.
Experienced backcountry skiers should check out the South Coast Touring Facebook group to find trip partners, current conditions, and route advice.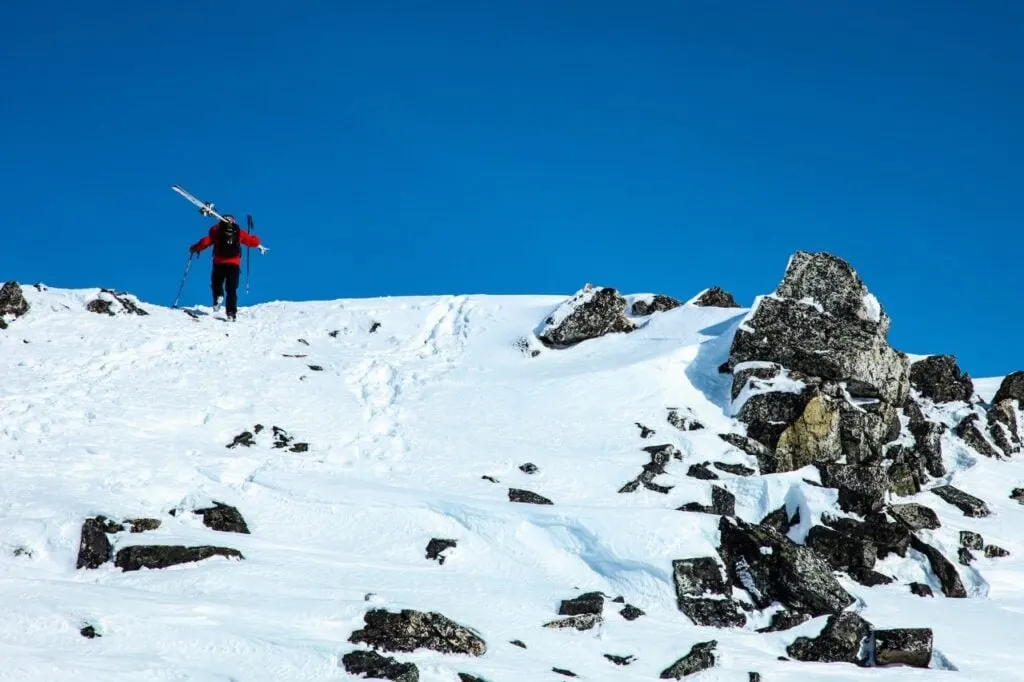 25. Cross Country Skiing
Also known as nordic skiing, Whistler has three different places to go cross country skiing. You rent skis and hit the trails right in the Village on 30 km of groomed cross country ski trails in Lost Lake Park.
Whistler Olympic Park, a few minutes south of town hosted the cross country ski events at the 2010 Winter Olympics. They have 90 km of trails, some of which venture deep into the backcountry. They have rentals too.
You can also cross country ski for free on Whistler's Valley Trail. The trail network is over 46 km long and in the winter, parts of it are groomed for cross-country skiing and are totally free to use.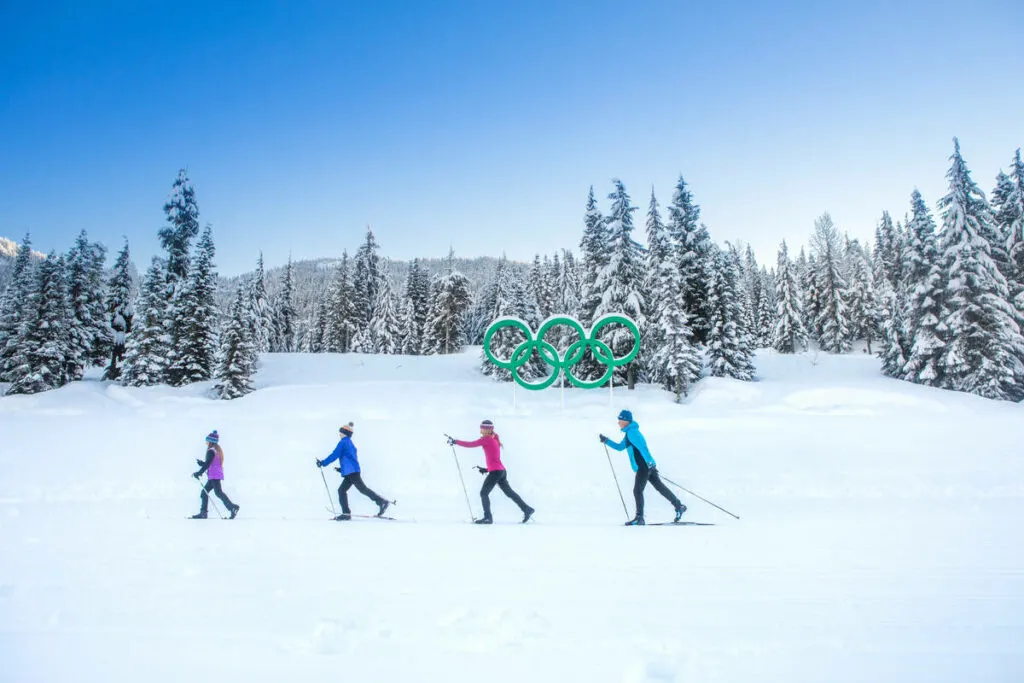 26. Snowshoeing
Snowshoeing is my favourite winter sport since it is so easy to do. It's the best Whistler winter activity for non-skiers since if you can walk, you can snowshoe.
You can rent snowshoes at gear shops in town and there are lots of snowshoe trails around town ranging from beginner to expert.
Use my guide to Whistler snowshoe trails to plan your adventure or book a guided snowshoe tour.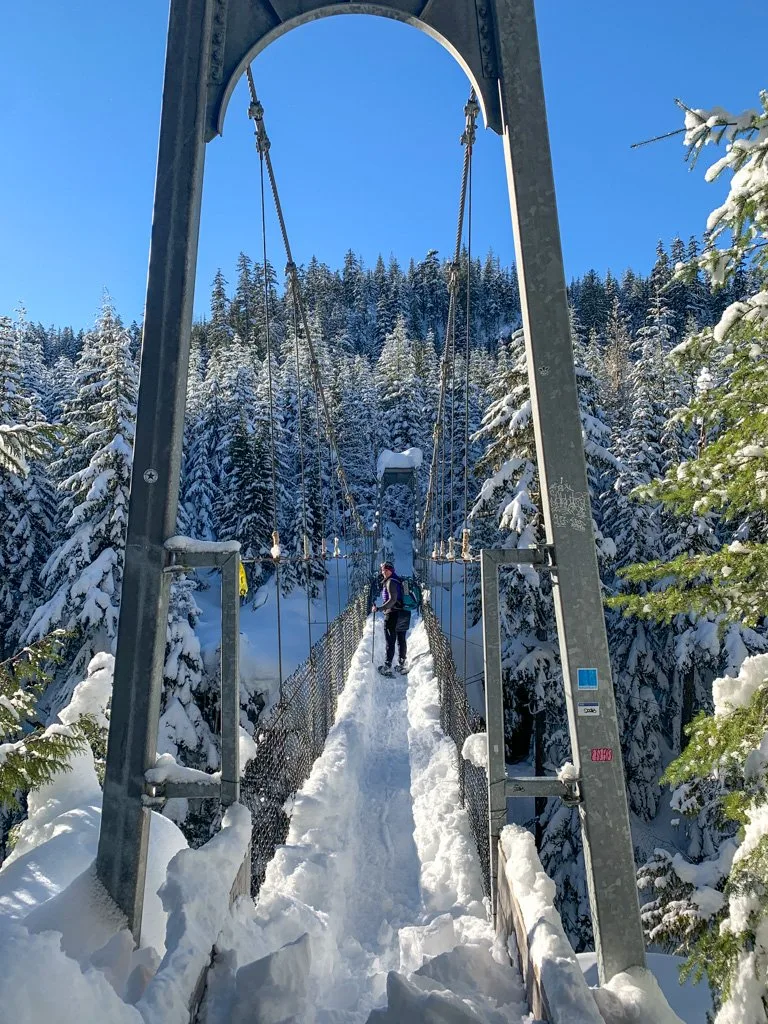 27. Ice Skating
Each winter, part of Whistler's Olympic Plaza is transformed into an outdoor ice skating rink. It's a pretty cheap activity at only $9 (including rentals), which is why it's on my list of the best cheap things to do in Whistler.
It's a fun activity during the day, but I think it's even more magical at night when it's lit up with twinkling lights.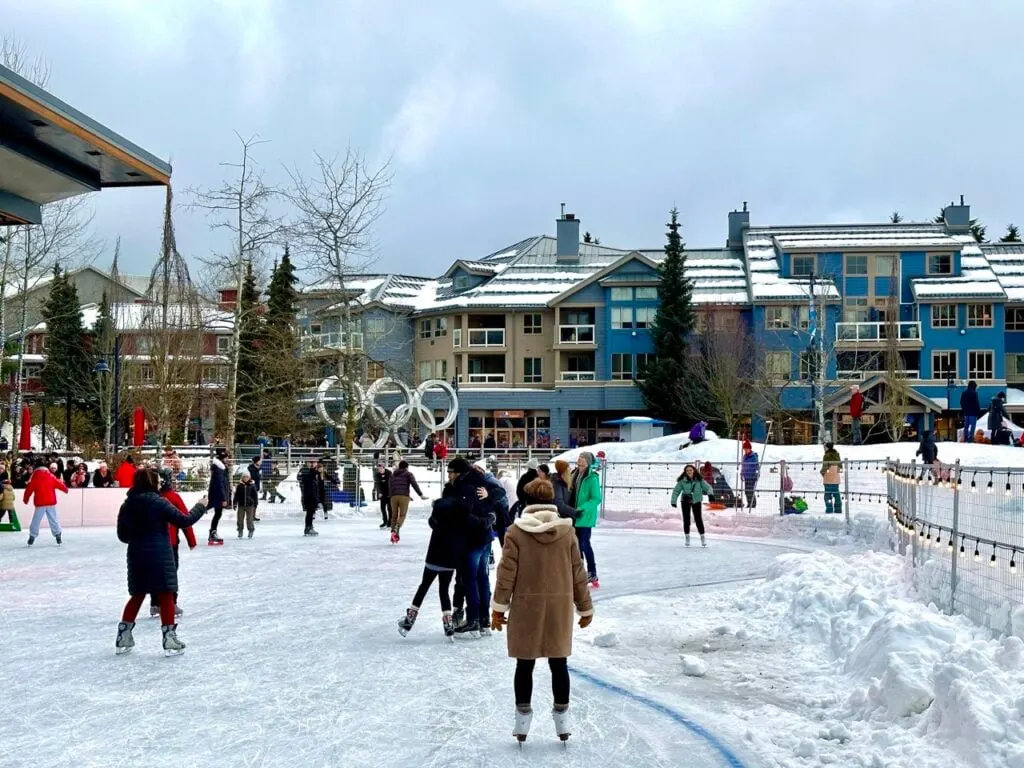 28. Snow Tubing and Sledding
Tubing and sledding are one of the best Whistler winter activities for non-skiers. There are a couple of ways to go sledding here.
If you want the premium experience (and the most wheeee!) head to the bubly Tube Park at Whistler Blackcomb. You'll slide down the curving lanes in your rented tube, then ride a conveyor belt back to the top.
A more low-tech option is the toboggan hill at the bottom of the ski jump at Whistler Olympic Park. Access is included with your cross-country ski or snowshoe ticket. You will need to bring your own sled since they don't have rentals. And there's no lift here so your legs will get a workout on the way back up.
If you want to slide for free, grab a sled and head to Whistler Olympic Plaza. Each winter city workers bulldoze the snow into a gentle hill. It's popular with kids, but adults can zip down the slope too.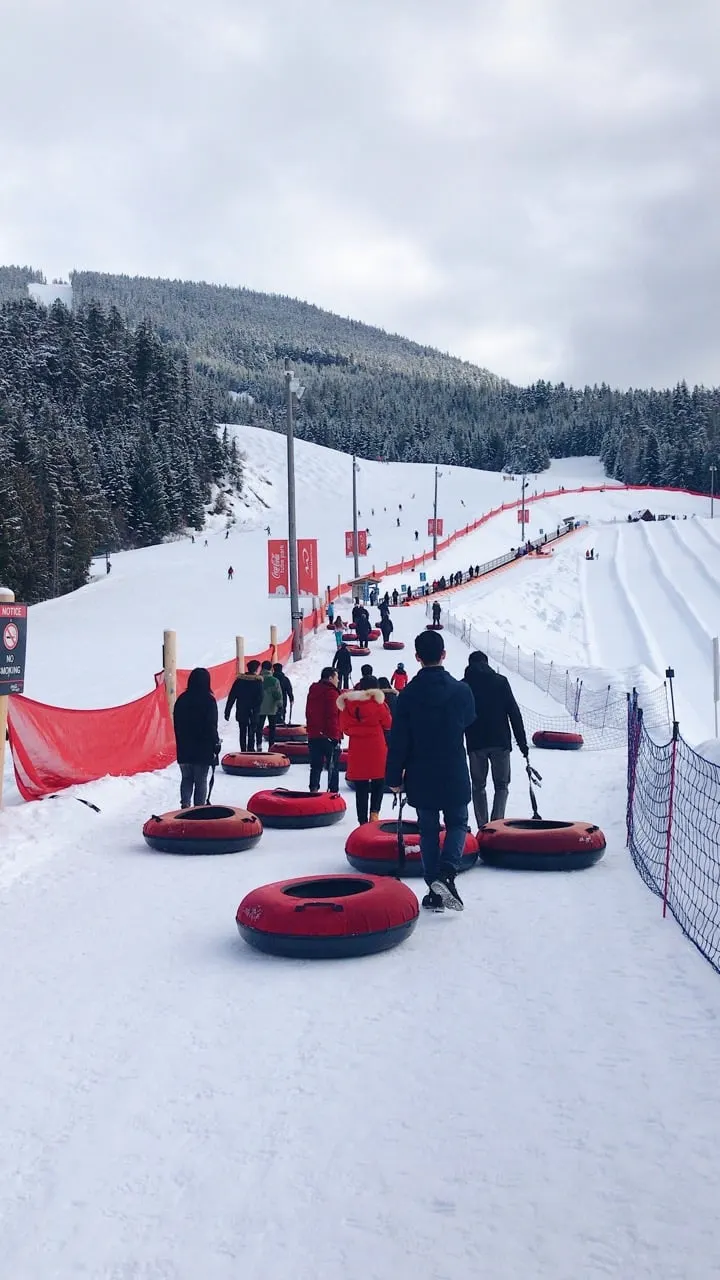 29. Play in the Snow
Whistler is pretty magical when it snows. It's pretty tempting to stop and make a snowman or have a snowball fight.
There is a designated snow play zone right in the Village at Whistler Olympic Plaza. I also like to walk down the Valley Trail for a few minutes to Rebagliati Park to throw some snowballs.
30. Snowmobiling
With all that snow around, Whistler is a great spot to go snowmobiling. Locals take their snowmobiles (which they call sleds) deep into the mountains to do tricks and stunts.
But snowmobiling can be beginner-friendly too. Several local tour companies offer snowmobile outings that take you through the snowy forest to gorgeous viewpoints. Book a Wilderness Snowmobile Tour or a Family Snowmobile Tour.
31. Dog Sledding
Glide through the snow the old-fashioned way on a dog sled tour. Whistler has two dog sledding companies: Blackcomb Dog Sled and Canadian Wilderness Adventures.
Both companies offer tours in the mountains outside of town. You can sit back and enjoy the scenery or step onto the runners to learn how to drive.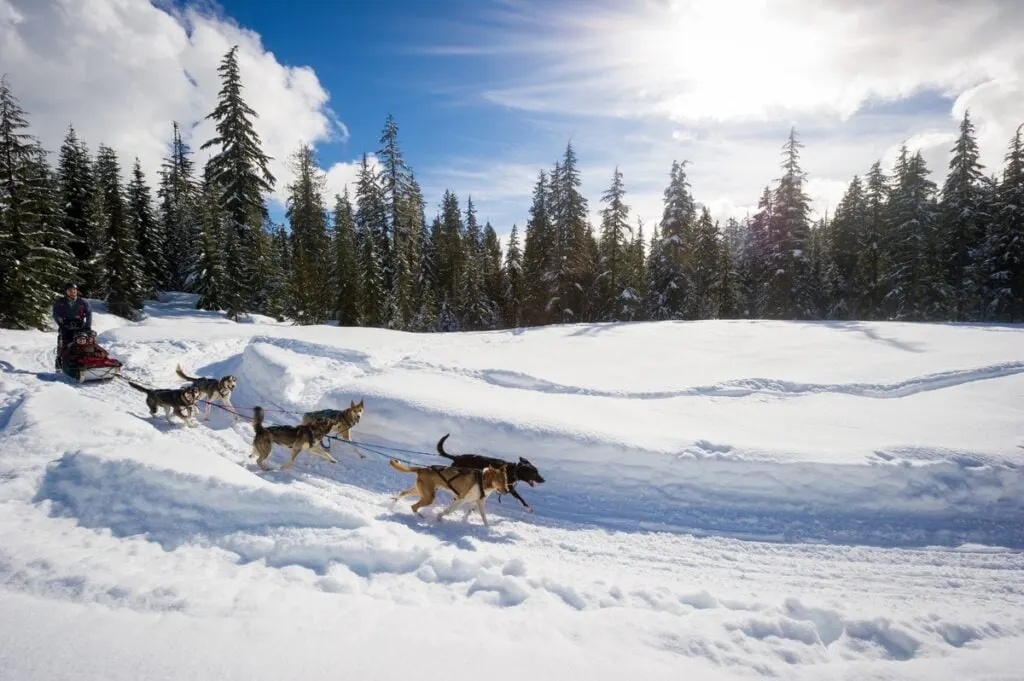 32. Learn Biathlon
Since Whistler was the host city for many of the 2010 Winter Olympic events, there is a biathlon range at Whistler Olympic Park. If you aren't familiar, this unique sport combines cross-country skiing and target shooting.
You can sit up for biathlon lessons at Whistler Olympic Park and learn to shoot these unique guns.
33. Ice Climbing
If you want to try something really unique, book an ice climbing trip. Your guide will show you how to use your harness, rope, ice axe, and crampons, then help you climb up a frozen waterfall.
Things to Do in Whistler: Year-Round Outdoor Adventures
34. Bungee Jumping
Whistler Bungee is open year-round. In the winter you can dive off their 160-foot/50-metre-high bridge into an icy canyon. In the summer, you'll jump above the raging waters of the Cheakamus River.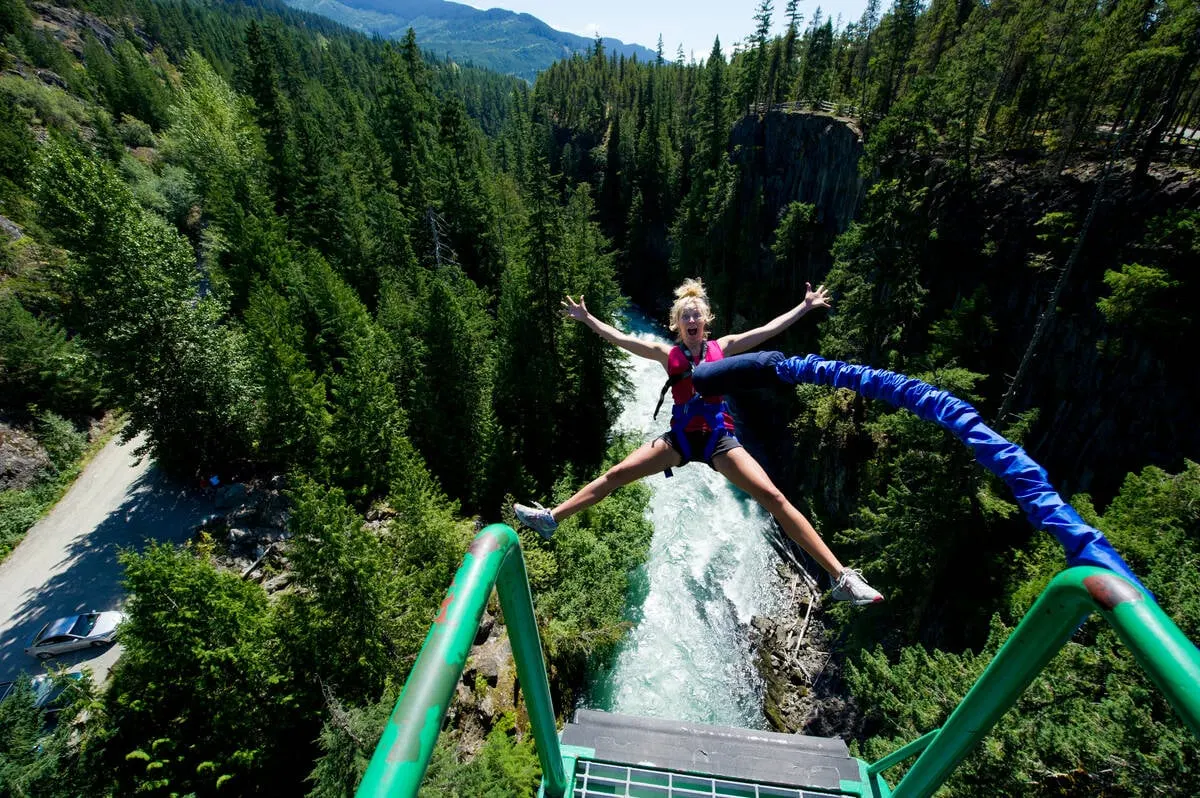 35. Fishing
With lots of rivers and lakes, you can fish in Whistler all year long. In the summer, you can book a fly fishing tour. Once the lakes freeze over, you can book an ice fishing tour!
Most of the fishing is for rainbow trout, but you can also catch bull trout and cutthroat trout. If you're willing to travel a little ways from town, you can fish for salmon and steelhead too.
36. Ride a Bobsleigh
Whistler hosted the 2010 Winter Olympics, so it has a regulation bobsleigh track. You can ride a bobsleigh (also known as a bobsled) with a trained pilot and speed down the track, hitting speeds up to 125 km/hr (78 mph).
You can ride a bobsleigh in both summer and winter, but the experience is a little different. In winter (December to April) you will start higher up the track, so you will go faster, and the experience is a little more expensive.
In summer (July to September), you start lower down the track and go a little slower (up to 90km/hr), so it's a little cheaper. As well, youth aged 12-18 slide free with a paying adult! Book a Passenger Bobsleigh Ride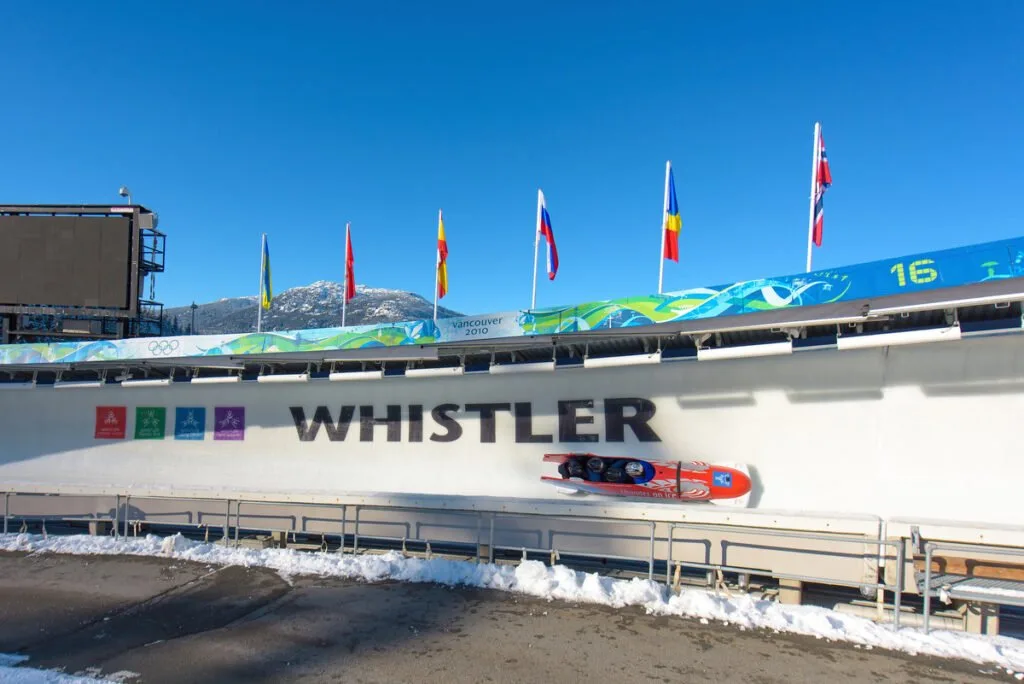 37. Ziplining
Whistler has two zipline tour operators. Ziptrek Ecotours is located in the valley between Whistler and Blackcomb Mountains, and Superfly Ziplines is a few minutes north of town deep in the forest.
Both are open year-round. Most people zipline in the summer when the weather is warmer. But ziplining in the winter is a magical experience as you soar above the snowy forest.
Things to Do in Whistler: Sightseeing and Tours
38. Ride the Peak 2 Peak Gondola
Buy a ticket and ride the gondola to the top of Whistler or Blackcomb. Then take the Peak 2 Peak Gondola between the two.
This incredible gondola held a world record for the longest free span between two towers at 3 km across. It is the world's highest gondola above the ground, with the highest point at 436 m above the valley floor.
There are incredible views during the 11-minute gondola ride between the mountains. And if you want an even bigger thrill, you can pay extra to ride in a glass-bottomed car.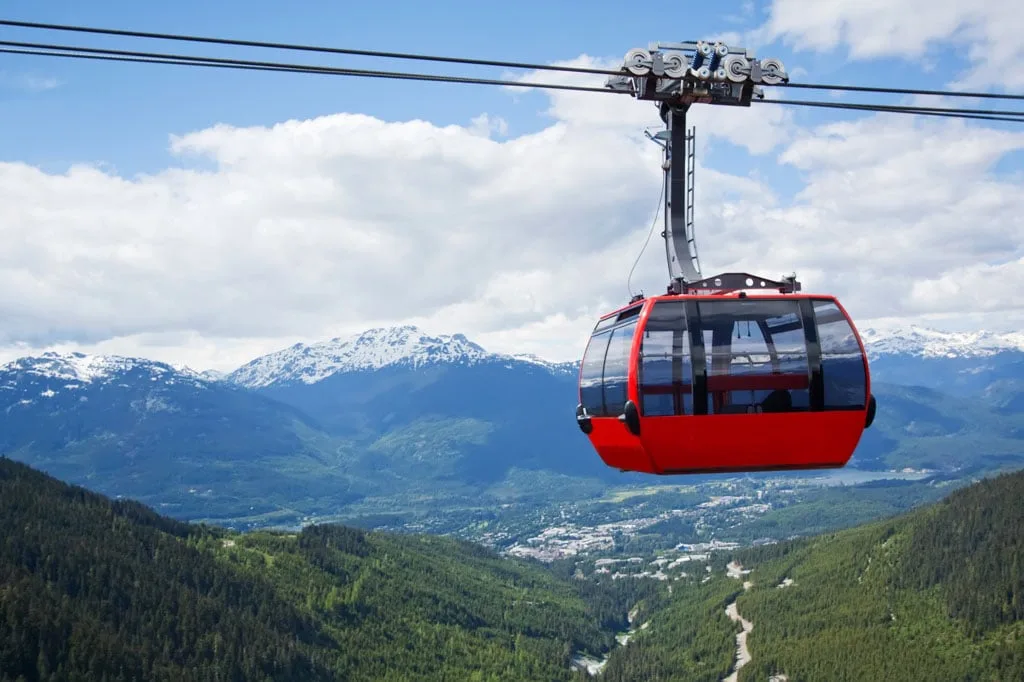 39. Explore the Peak of Whistler Mountain
You can take a sightseeing gondola to the top of Whistler Mountain in both summer and winter. In winter you can enjoy the views and eat at the restaurant.
In summer, the restaurant patio opens up for dining with an incredible view. There are easy walking trails to great viewpoints.
You can also take the Sky Chair to the peak of the mountain to experience the Cloudraker Skybridge and Raven's Eye Cliffwalk. The giant inukshuk at the peak also makes a great photo op.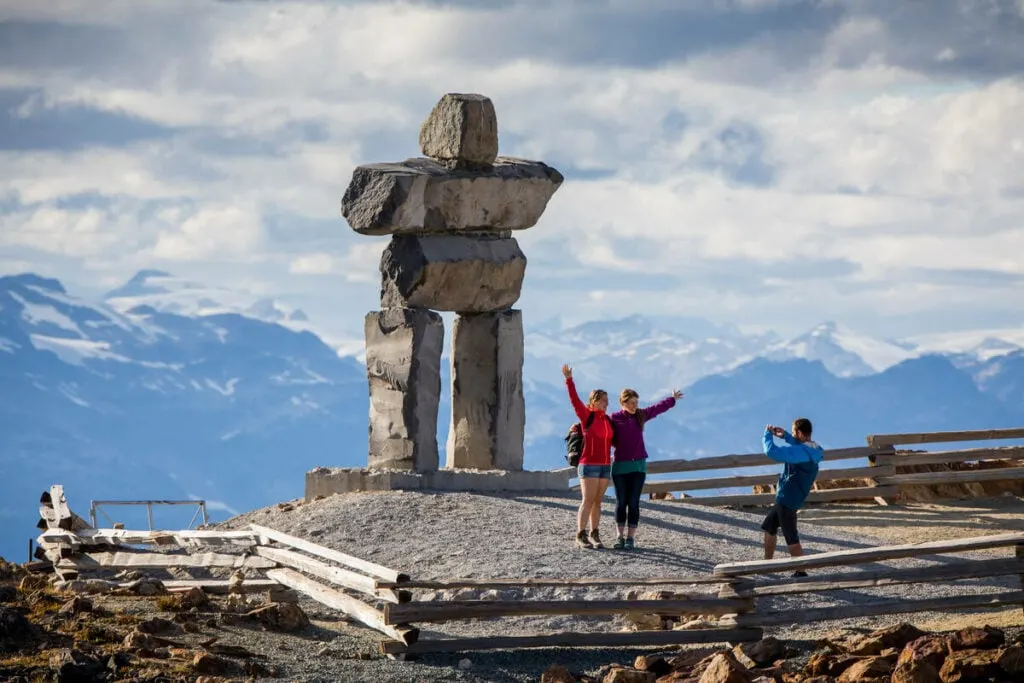 40. Walk Between Giant Snow Walls
For a short period in early summer, you can also experience the snow walls at Whistler Peak. The resort plows the access road to allow hikers to walk around the alpine, but with the lingering snow, you'll be walking between walls of snow higher than your head!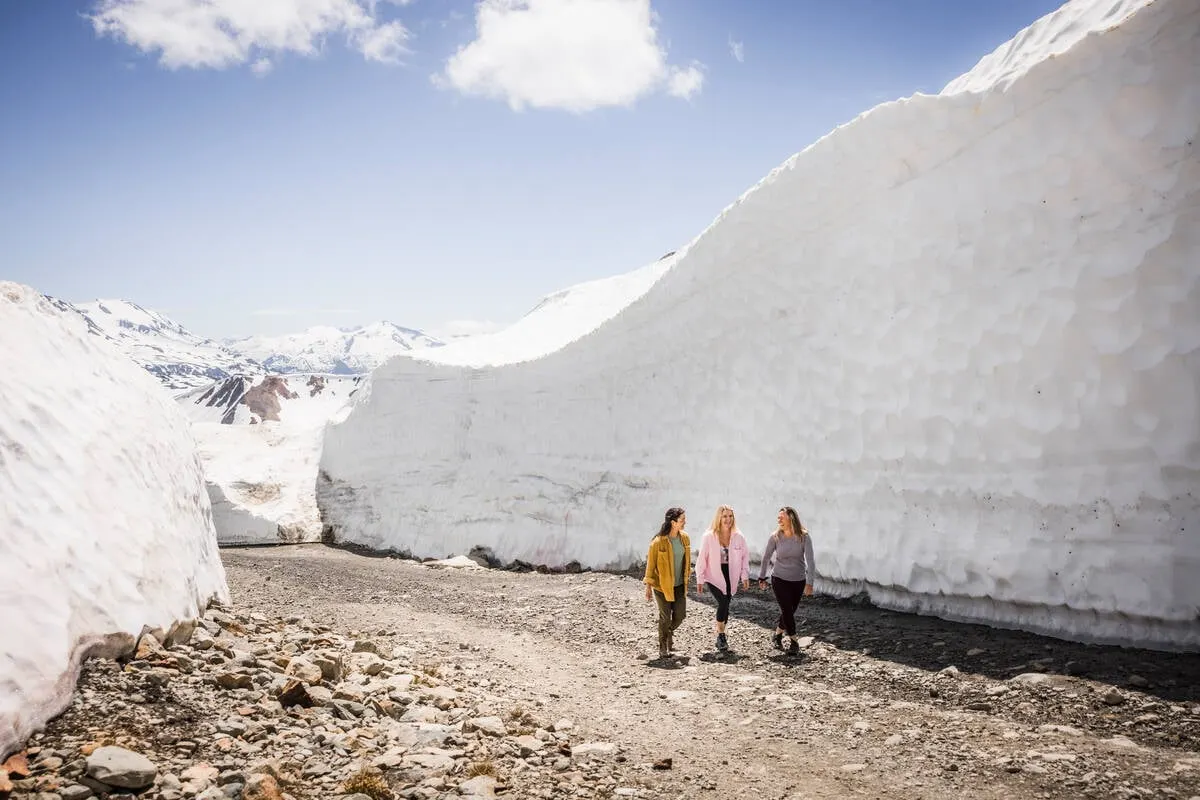 41. Whistler Sliding Centre
You can visit the Whistler Sliding Centre, home of the bobsleigh, luge, and skeleton track, year-round. Since there's no cost to visit, it's on my list of the best free things to do in Whistler.
You can grab a map from Guest Services, then take a free self-guided tour that takes you to all the key spots along the track. If you're lucky, you'll see Olympic hopefuls from Team Canada and other nations practicing.
42. Bear Watching
Whistler is the perfect bear habitat and there are lots of black bears in the area. One of the best (and safest) ways to see the bears is to take a 4×4 bear–watching tour.
The tours will take you up into the mountains at either the Whistler Blackcomb ski hill or Whistler Olympic Park. Both are great places to spot bears since there are so many berry bushes for them to feed on.
The tours run from April or May to September or October.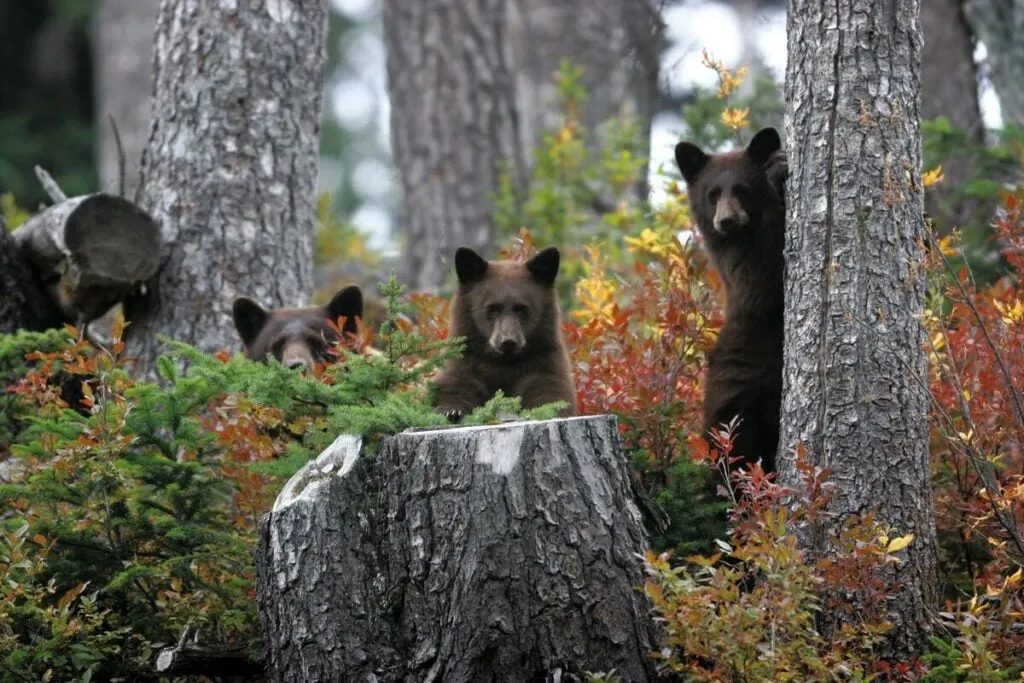 43. Flightseeing
Whistler is spectacular from above as you soar above the jagged peaks and lush green rainforest.
In the summer you can book floatplane tours that take off from Green Lake and circle the mountains. This 30-minute floatplane tour gives you a bird's eye view of glaciers and gorgeous Garibaldi Lake.
You can also fly between Vancouver and Whistler on a float plane, taking in spectacular scenery along the way.
You can also take helicopter tours. The standard helicopter tours take you over the glaciers and mountain lakes, but this tour even includes a mountain landing.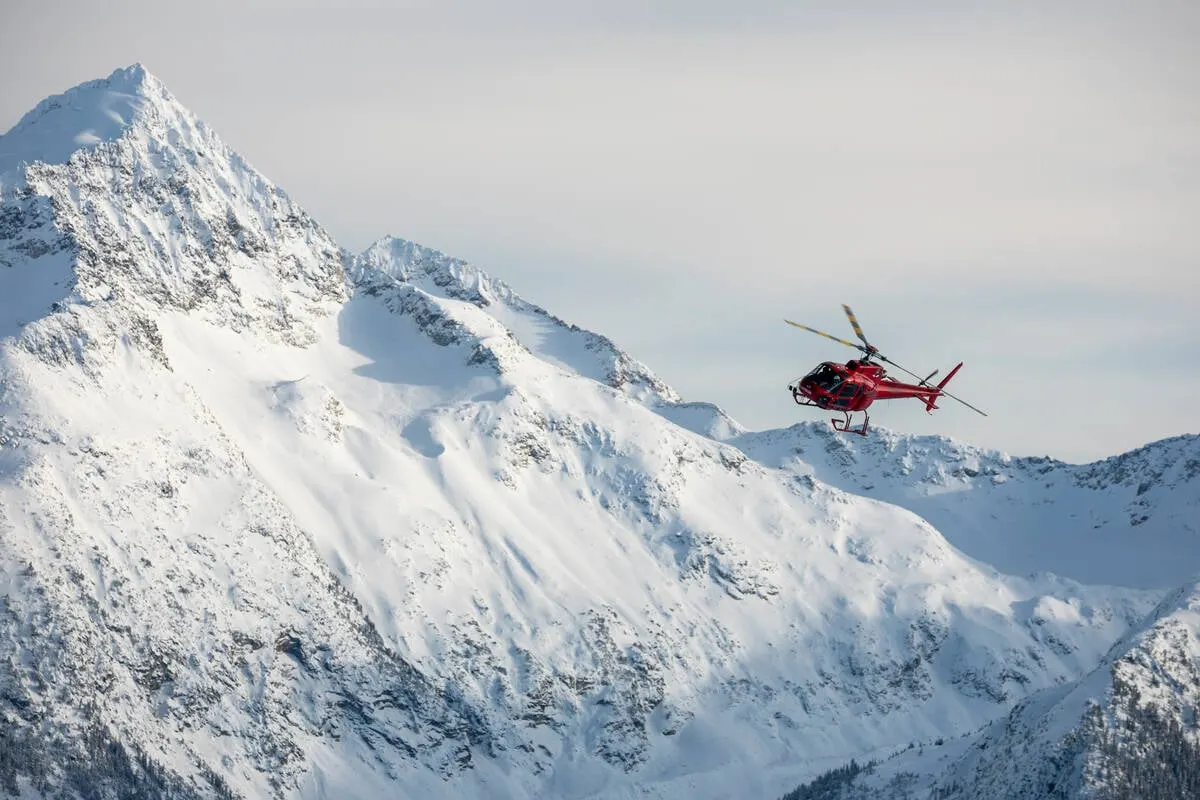 44. Whistler Olympic Plaza
Whistler Olympic Plaza was the site of the medal ceremonies at the 2010 Olympics. Today it's a popular spot to take photos with the Olympic rings.
But it's also a great place to hang out on the grass in the summer or play in the snow in the winter. The people-watching is amazing and there are often free concerts on the weekends.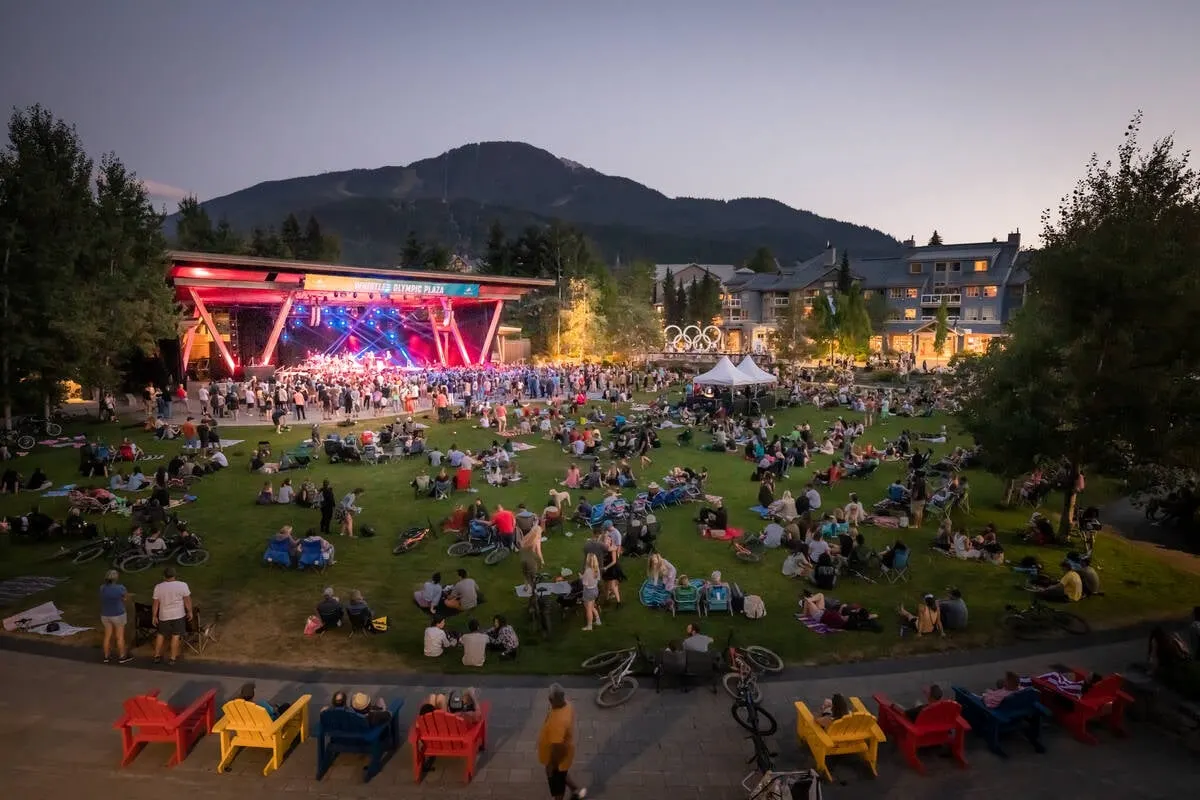 45. Walk the Village Stroll
The pedestrian village is what makes Whistler so great. Take a walk along the main car-free street, Village Stroll to do some window shopping and people watching. Or grab a seat on one of the patios and watch the world go by. (I like the one at La Brasserie des Artistes.)
46. Walking Tours
Sign-up for a walking tour and let a local guide show you the best of Whistler plus some off-the-beaten-path gems you might otherwise have missed.
The Whistler Historical Society runs a fun tour that explains Whistler's past. It's led by local guides who might share some fun stories of their own. And it's by donation so it's a cheap way to take a tour.
Or sign up for the Great Whistler Walking Tour. On the 2-hour tour, a local will show you the sights along with fun facts you wouldn't otherwise know.
You can also download the Go Whistler Tours app. It includes 14 different self-guided tours with fun themes like nature, the Olympics and craft beer. There are self-guided bike tours too. It's free, so it's on my list of the best free things to do in Whistler.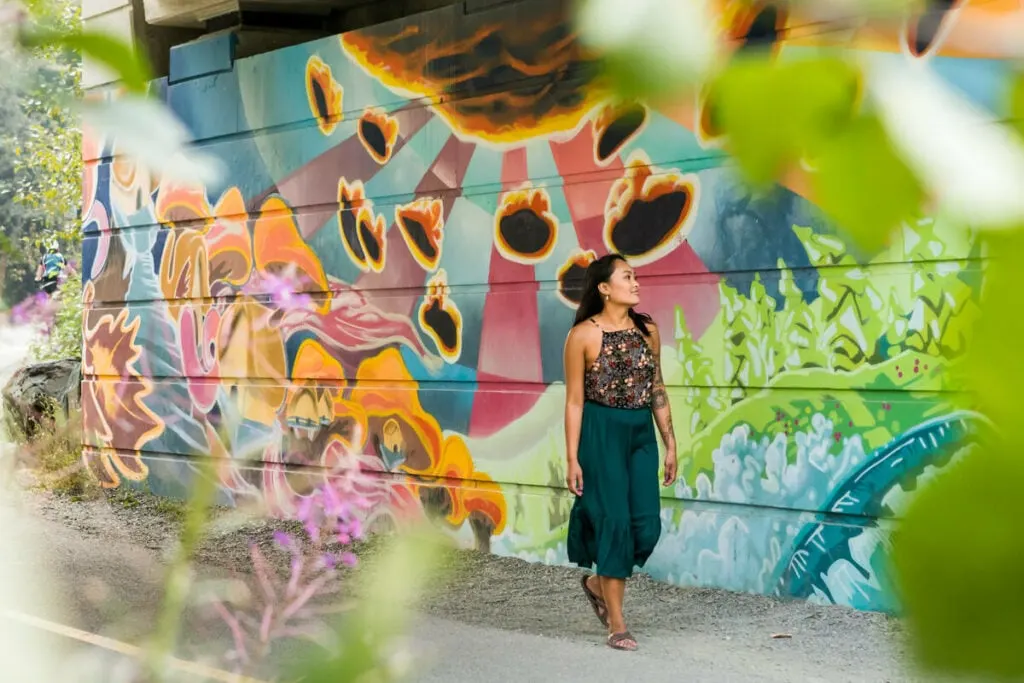 47. Sightseeing Tours
If you're short on time, a guided sightseeing tour is a great way to see all the highlights. The small-group van tours include viewpoints, a museum, local food, and Olympic sites. Book a Whistler Sightseeing Tour
48. Brandywine Falls
Located a few minutes south of Whistler along Highway 99, Brandywine Falls is a must-see. The waterfall plunges 70 metres (230 feet) over a lava cliff into a canyon. It's an easy 10-minute walk from the parking lot to the viewing platforms.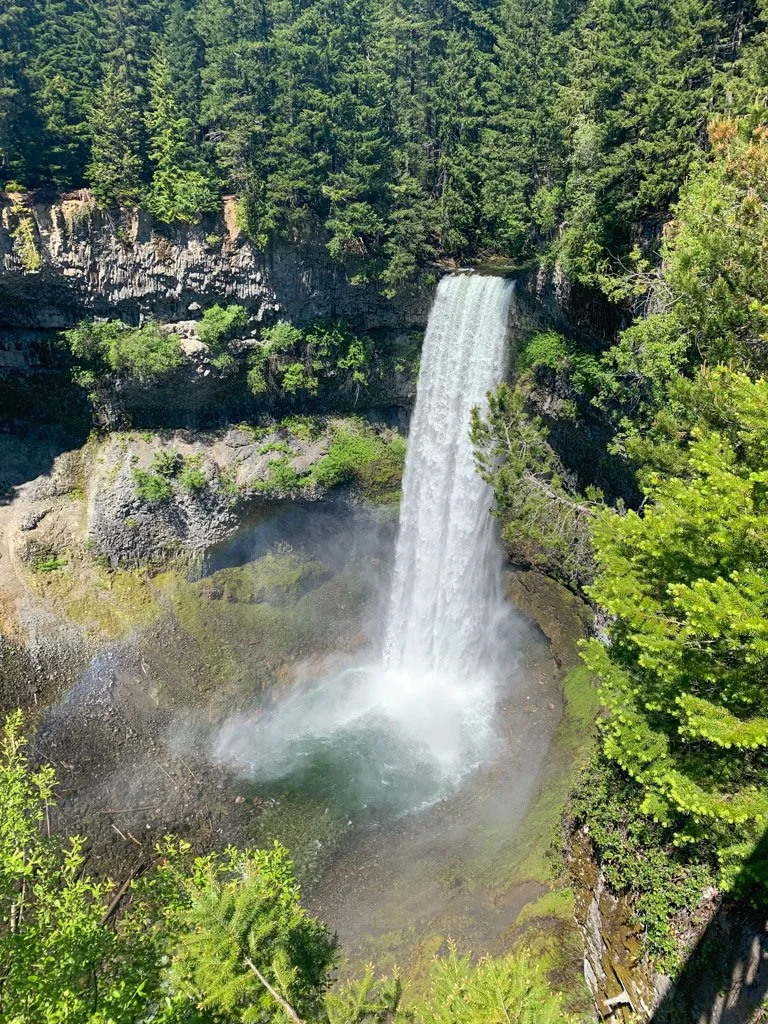 49. Alexander Falls
Alexander Falls doesn't get as much hype as Brandywine Falls, which means you might have it to yourself. The falls drop 53 meters (173 feet) in a series of small steps. You can drive right up to the viewing platform right outside Whistler Olympic Park.
In the winter, you can snowshoe to the base of the frozen falls via the snowshoe trails in Whistler Olympic Park.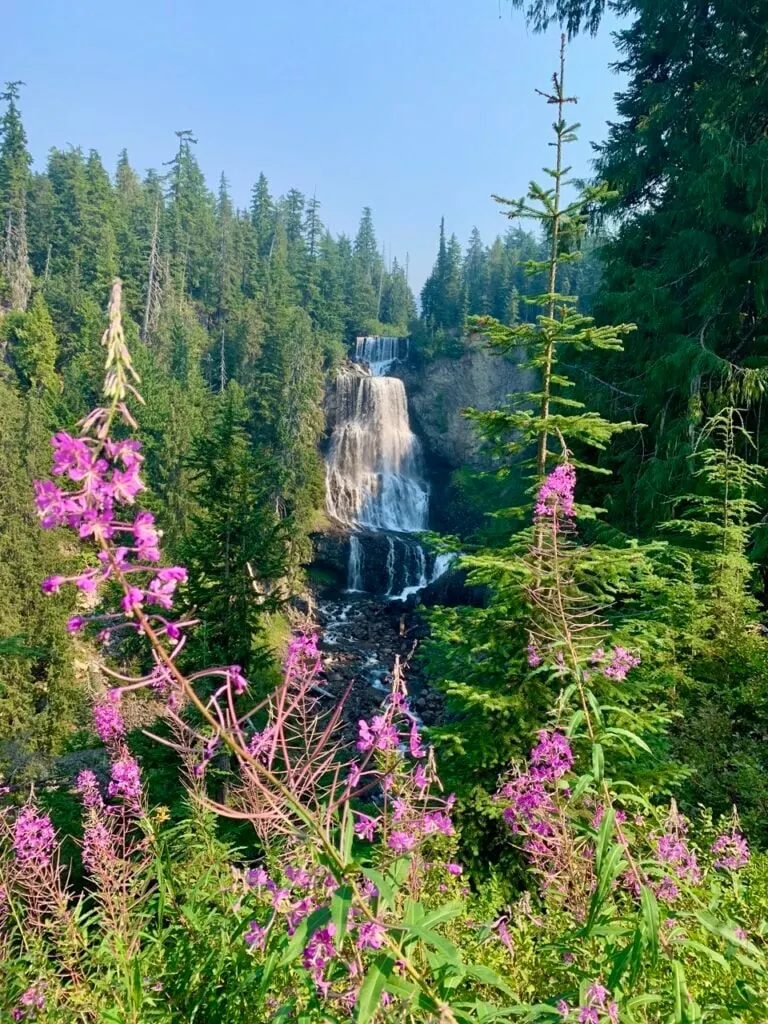 50. Squamish
Most visitors speed through the town of Squamish on their way to Whistler, but this outdoorsy town is worth a visit on its own.
You could easily spend a few days hiking, mountain biking, rock climbing, shopping at boutiques and drinking great craft beer. I would argue you could spend a lifetime here… because I live here!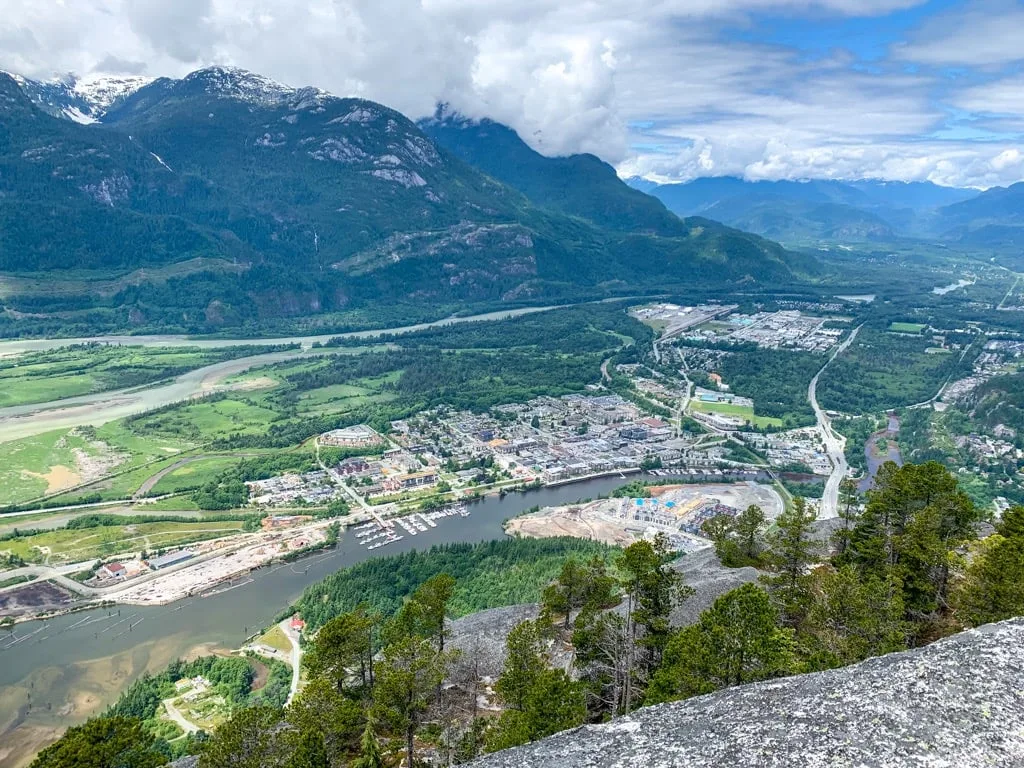 51. Pemberton
Pemberton is just 30 minutes north of Whistler, but it has a totally different vibe. It's set in a wide valley full of farmland, but there is great hiking, mountain biking, and horseback riding just outside of town.
The cute downtown has some good restaurants and cafes. Don't miss a visit to North Arm Farm east of town for fresh produce and baked goods.
52. Drive the Sea to Sky Highway
Highway 99 between Vancouver and Whistler is known as the Sea to Sky Highway and has some of the most spectacular scenery around.
You can speed through the trip in two hours, but it's better to spend a full day or even two to take in the viewpoints, hikes, and side trips.
I've got a full Sea to Sky Highway Roadtrip guide that has all the must-see spots.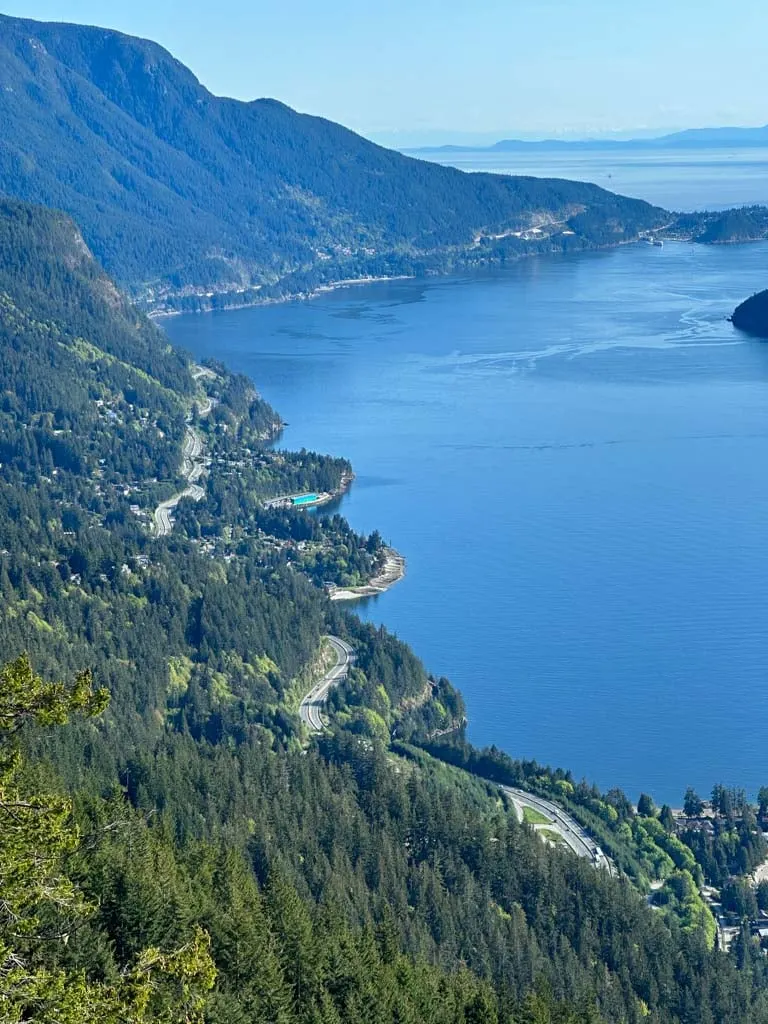 Things to Do in Whistler: Museums and Galleries
53. Squamish Lil'wat Cultural Centre
I love the Squamish and Lil'wat Cultural is one of my picks for the best for a few reasons.
Firstly, it's a great way to understand the Indigenous context of the Whistler valley. The Squamish and Lil'wat First Nations have lived in the area since time immemorial. It is important to learn about their history and culture as stewards of this land.
Secondly, it's just a really good museum. Guides from the Squamish and Lil'wat Nations welcome you with drums and a song, then take you through the exhibits. The guides also weave in their personal stories about how they continue their culture's traditions.
If you do one non-outdoorsy thing in Whistler, it should be the Squamish Lil'wat Cultural Centre.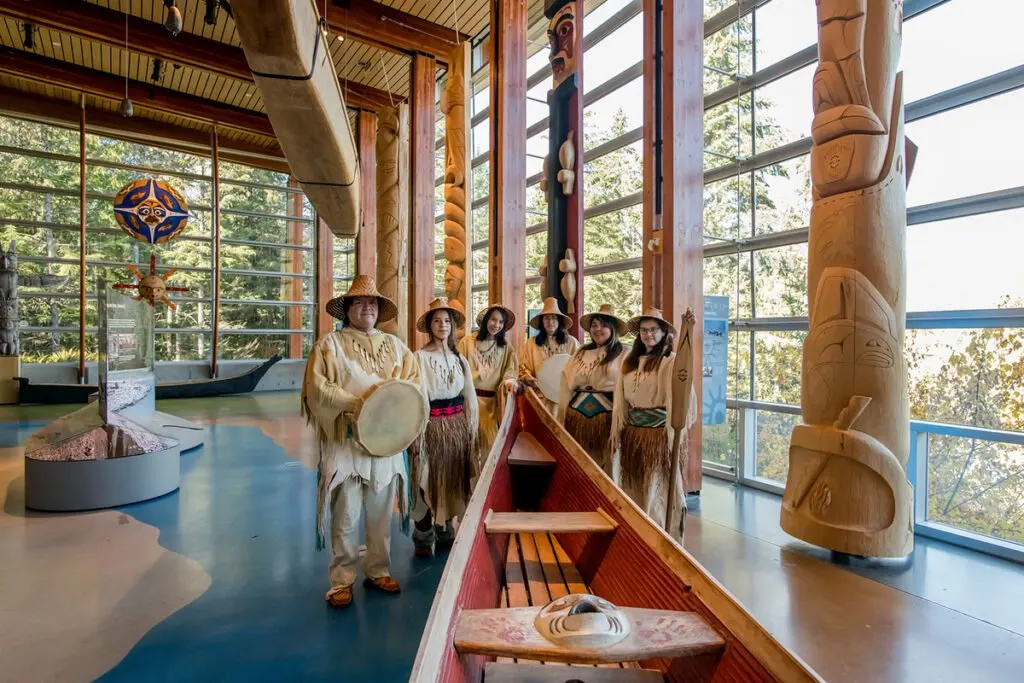 54. Whistler Museum
The community-run Whistler Museum has admission by donation, which is why it is one of my picks for the best cheap things to do in Whistler.
The small museum is really well done with exhibits about Whistler's early days as Rainbow Lake Lodge, the 2010 Olympics, plants, animals, geology and lots more. Don't miss taking a photo inside the vintage gondola.
55. Audain Art Museum
The Audain Art Museum has a huge collection of British Columbia art from both Indigenous and settler artists. The collection of Coast First Nations masks is particularly spectacular.
I also love the architecture of the building which is an interesting mix of long clean lines of wood and panels of glass. The gift shop is also an excellent place to buy local souvenirs.
Save time: Buy your Audain Museum admission ticket online in advance.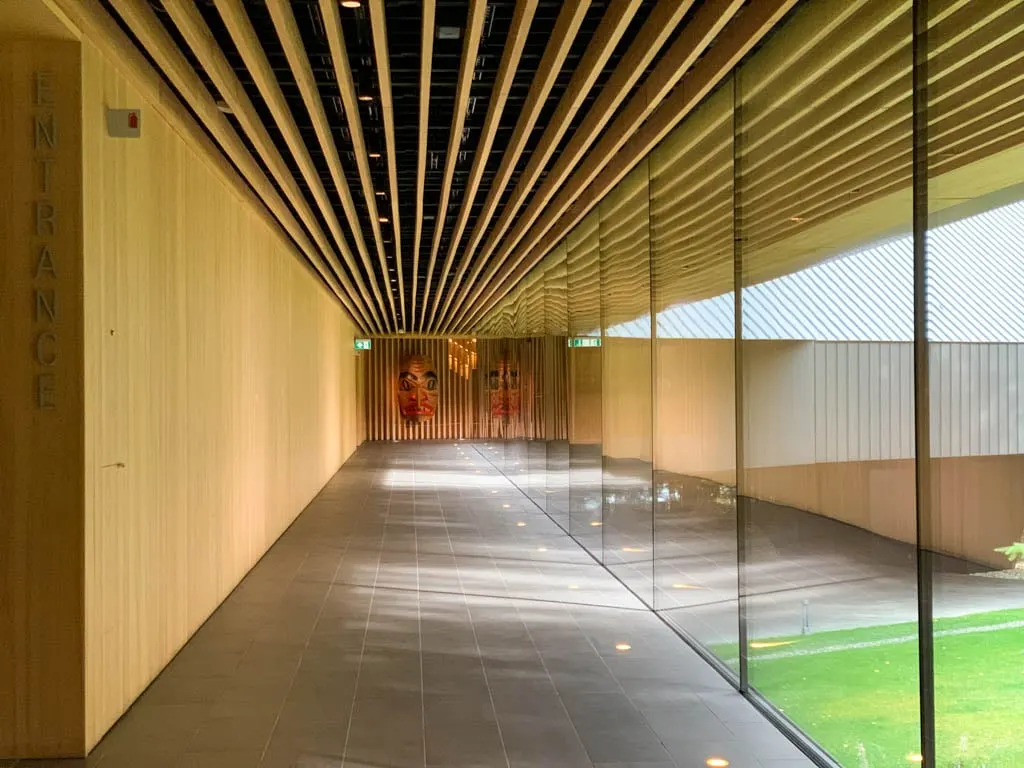 56. Art Galleries
Whistler also has several galleries that showcase the work of local artists, often with an outdoorsy theme. You can buy original works and prints, but it is always free to browse.
In the Village, check out Plaza Galleries, Whistler Contemporary Gallery, and Adele Campbell Fine Art Gallery, all located just off Village Stroll. Find Mountain Galleries inside the Fairmont Chateau Whistler in the Upper Village.
Things to Do in Whistler: Food and Drink
57. Craft Breweries and Distilleries
Whistler is home to three craft breweries, each with its own tasting room.
High Mountain Brewing is next to the Olympic Rings in the Village. It's a huge restaurant with lots of house-made craft beers on tap.
The other two craft breweries are located in the industrial Function Junction neighbourhood. Whistler Brewing is popular with locals and occupies a high-ceiling-ed garage-like space.
Coast Mountain Brewing is a few blocks away and is also popular with locals. Their patio is great on sunny days.
Whistler also has its own distillery in Function Junction, Montis Distilling. They make vodka and several varieties of gin using local glacier water from Rainbow Mountain.
The best way to experience it is on the Distillery Tour and Tasting Experience, which includes transportation, the distillery tour, and cocktails at The Raven Room.
58. Fine Dining
Since Whistler attracts international visitors, it has a great fine dining scene with lots of amazing restaurants. My favourites are Araxi Restaurant for oysters and Alta Bistro for French food.
Other highly rated options include The Rimrock Cafe, Red Door Bistro, and The Bearfoot Bistro.
The best part about fine dining in Whistler is that it's never pretentious. You can show up in jeans or your ski clothes, and no one cares.
However, reservations are essential. Expect to book 1-2 weeks in advance in high season unless you want early or late seating.
If you're short on time (or worried about getting reservations) this Fine Dining Tour visits several restaurants over 3-4 hours with a course at each restaurant.
If you want to get off-the-beaten path food-wise, this Hidden Gems Dinner Tour takes you to some of Whistler's best cafes, cocktail bars, breweries, and restaurants, with a course at each stop.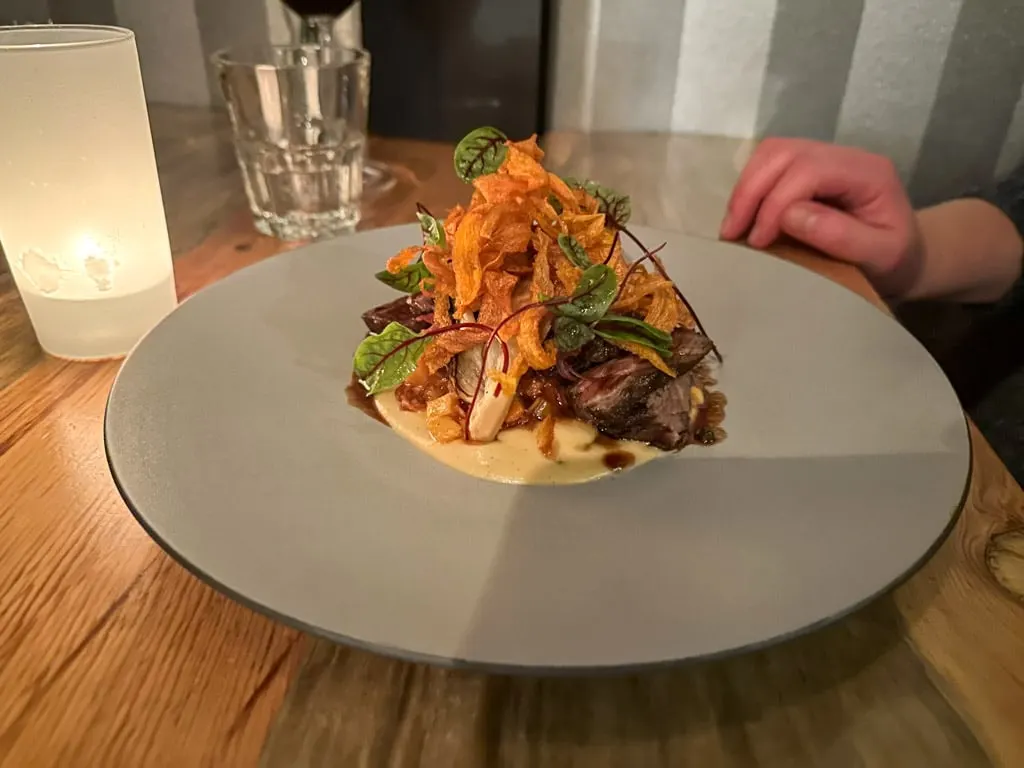 59. Ketel One Ice Room
The Ketel One Ice Room at the Bearfoot Bistro is a bucket list experience. The entire room is made of ice, including the walls and furniture. The room is kept at a chilly −5 °C (23 °F).
You need to make advance reservations for the Ice Room experience which includes tasting four vodkas of your choice and lots of great photo ops. And don't worry – they give you a parka to wear!
60. Apres Ski and Nightlife
In Whistler, you don't have to wait until nighttime to start the party. As soon as the lifts close for the day, apres ski starts. (Apres is French for after.) In the summer, you can apres mountain bike or apres hike, or apres anything really.
The Longhorn Saloon and Garibaldi Lift Co at Whistler base are classic places to hit the apres scene. There are often drink specials. The Longhorn patio is hopping year-round, usually with the music cranked up.
If you want to dance, there are a handful of nightclubs. I remember Garfinkel's from my early twenties, and it's just as popular today. Moe Joe's and Buffalo Bills are also good.
61. Coffee Culture
Whistler has embraced coffee culture like the rest of the Pacific Northwest. Of course, you can go to Starbucks, but I love the local coffee shops.
Mount Currie Coffee is originally from Pemberton, but they have a Whistler location tucked away on Main Street. Their coffee is great (of course) but their sandwiches and breakfast burritos are good too.
Purebread has locations in both Function Junction and the Village (as well as my hometown of Squamish). Their baked goods are to die for, and their coffee is pretty good too.
Moguls Coffee House is in the heart of the village in Village Square, which makes it a convenient location to grab a coffee. Their patio is also great for people-watching.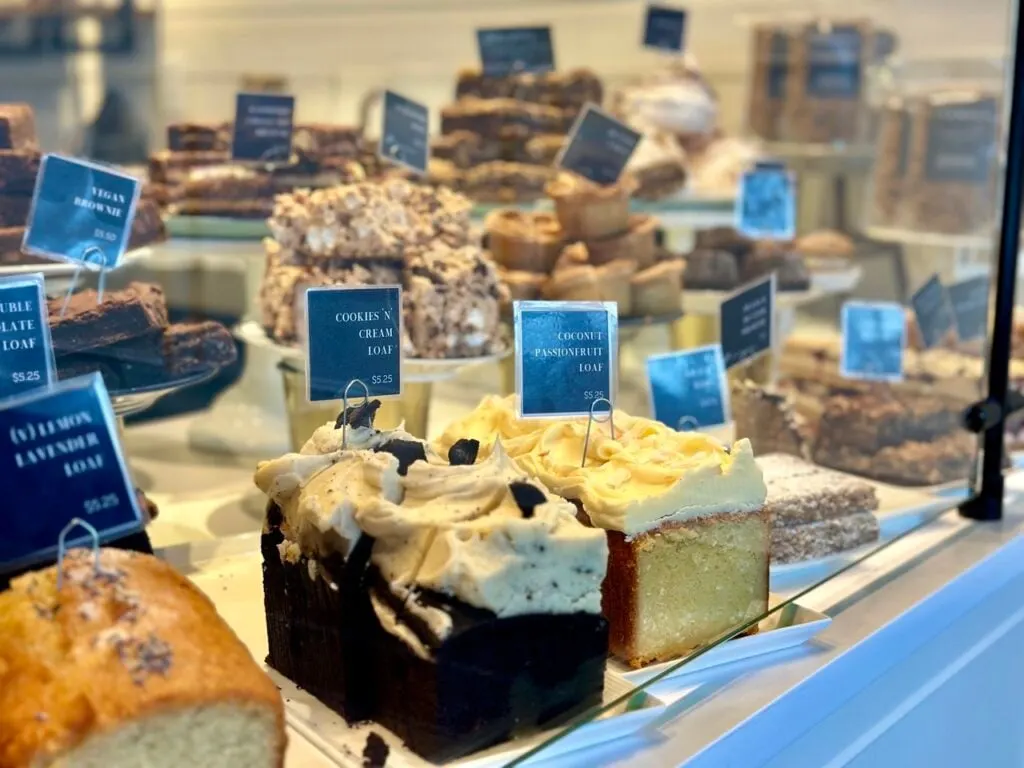 62. Cheap Eats
Whistler can be an expensive place to visit, but the food doesn't have to be. One of the local's tricks to budget eating is to use the Whistler Bites website. It has daily deals listings for specials and happy hours.
For cheap eats every day of the week, my favourite is Peaked Pies. They make incredible Australian-style meat pies that are filling and won't break the bank.
El Furniture Warehouse is a go-to destination for those on a budget. Every single item on their menu is under $10 and they have a different drink special every day of the week. Their burgers and tacos are really popular.
Things to Do in Whistler: Unique Experiences
63. Axe Throwing
How Canadian is this? At Forged Axe Throwing they'll give you some pointers, then let you loose for a one-hour indoor axe-throwing session. Book an axe-throwing timeslot in advance.
64. Escape Rooms
Escape! Whistler has four different escape room scenarios to challenge you: pirate ship, buried cabin, pinball machine, and rabbit hole. It's a great way to spend a rainy day.
65. Scandinave Spa
The outdoor spa experience at Scandinave Spa is one of my favourite Whistler things to do… and I'm not really a spa person.
The spa includes hot pools, cold pools, saunas, steam rooms, and relaxation areas. They recommend a hot experience for 20-30 minutes, a quick plunge in a cold pool, then 20-30 minutes in a relaxation area. You repeat the cycle as many times as you like. You can also pay extra to book a massage.
The entire grounds are gorgeous with mountain views and beautiful forest. I think it's extra special in the snow, which is why it's on my list of the best things to do in Whistler in winter.
They have a silence-only and no phones policy, which initially I was worried about. But now that I've been a few times, I love it. You can listen to the wind in the trees and the sound of rushing water. I end up in a meditative state each time without even trying.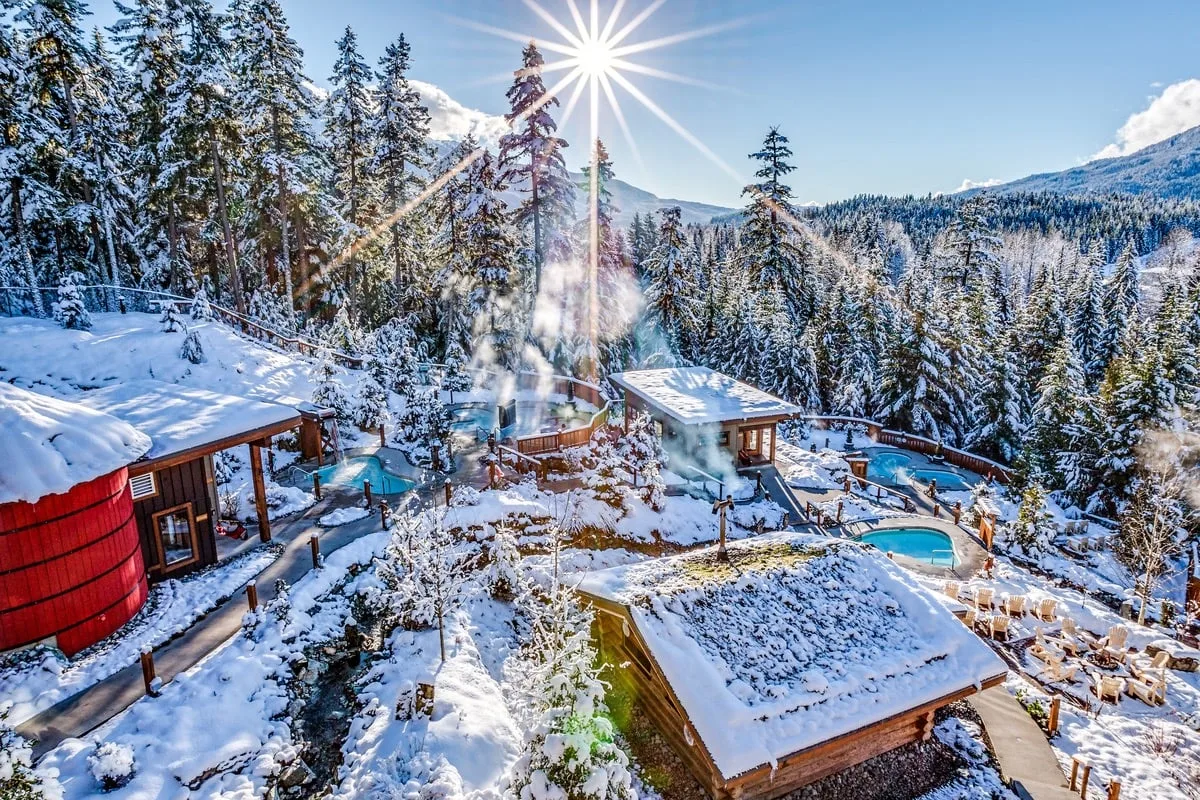 66. Vallea Lumina
I have trouble describing exactly what Vallea Lumina is, because you kind of just have to experience it. It's a multi-media light show and story-based journey in the forest outside of Whistler.
As you walk the path, lights, sound, and lasers create a unique experience. It's open in both winter and summer.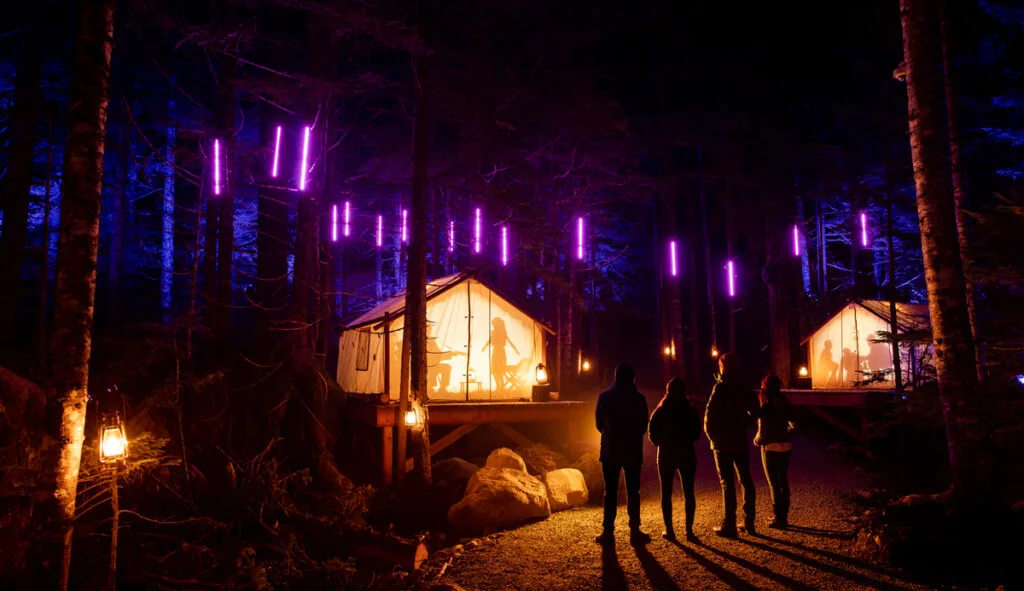 Things to Do in Whistler: Shopping
67. Whistler Farmers' Market
From May through October, head to the Upper Village (Blackcomb base) on Sundays to shop at the Whistler Farmers Market. They have local produce, crafts, baked goods, and lots more.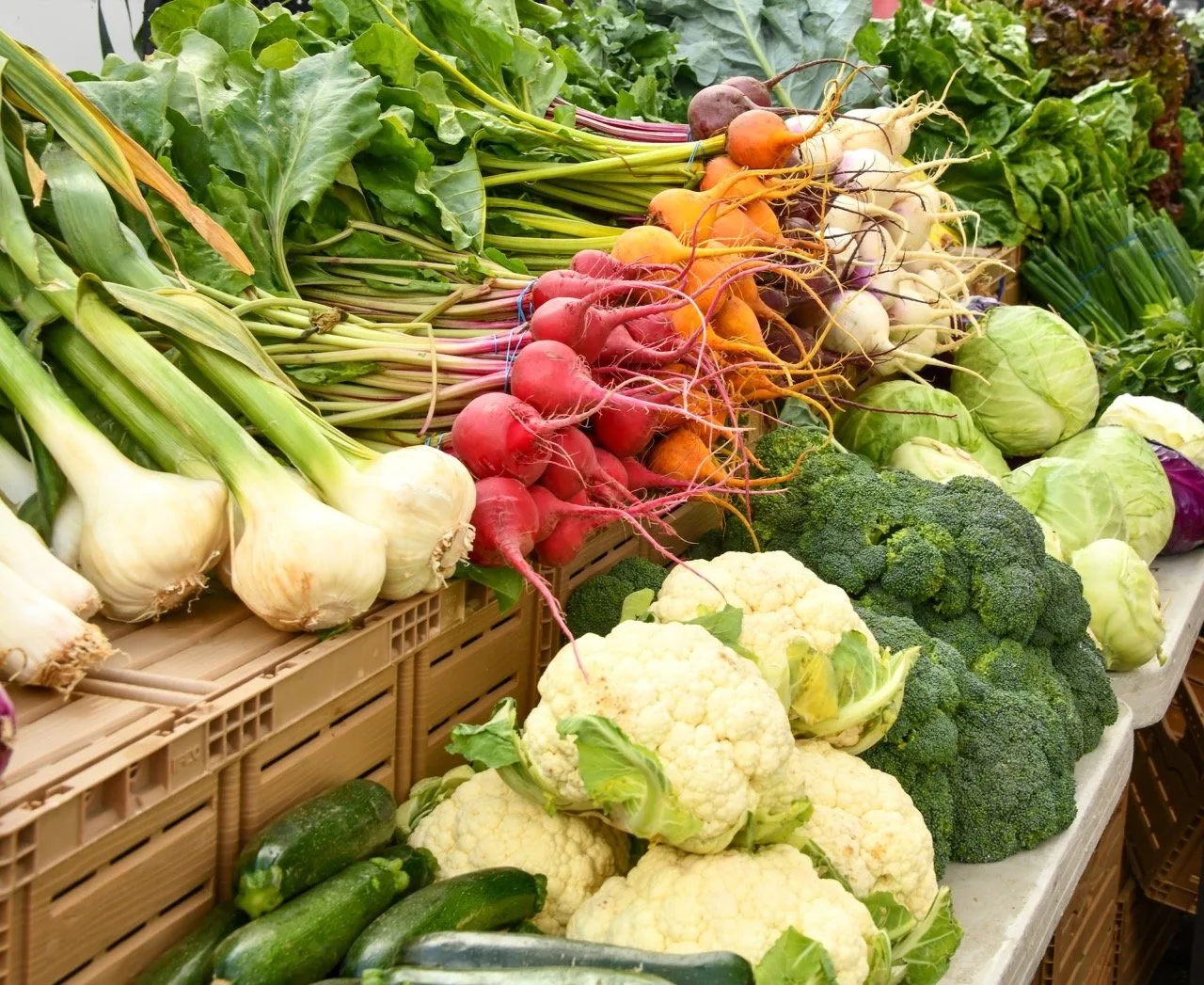 68. 3 Singing Birds
This little boutique specializes in locally designed and made clothing and home decor, which makes it a great place to pick up unique souvenirs. Find 3 Singing Birds sharing space with The Green Mustache Cafe on Main Street.
69. Armchair Books
I love to visit bookstores whenever I travel as they often have lots of great local books. Armchair Books in Whistler is no exception. They have lots of great books about ski culture, nature, and hiking alongside contemporary bestsellers and classics.
They also carry my book, Backpacking in Southwestern British Columbia, so I think they're pretty awesome!
70. The Velvet Underground
This funky thrift store is a favourite amongst locals. The Velvet Underground has a carefully curated selection that includes lots of retro and throw-back pieces. They also have upcycled pieces and clothing made from deadstock fabric.
The entire ethos of the business is waste reduction and conscious consumption. There is also a vegan cafe on site.
71. Outdoor Gear Shops
If you need gear for skiing, mountain biking, hiking, or any outdoor sport, you can find it in Whistler. Escape Route is a local gear shop with lots of hiking and ski gear.
Many well-known outdoor brands like Patagonia, Smartwool, Salomon, The North Face, and Arc'Teryx also have stores here.
72. Squamish Lil'wat Cultural Centre Gift Shop
The lower level of the Squamish Lil'wat Cultural Centre is home to a great gift shop. You can buy authentic handcrafted Northwest Coast First Nations art, handcrafts, home goods, jewellery, books, and lots more.
73. Canadian and International Chain Stores
You can shop at popular chain stores in Whistler Village like Artizia, Lululemon, Roots (which are all Canadian), and The Gap.
Things to Do in Whistler: Festivals and Events
74. Free Concerts in Olympic Plaza
Each summer there is a free concert series in Olympic Plaza. You can catch children's performers, classical orchestras, indie musicians, and everything in between. BYOB picnic blanket or lawn chair. Check concert listings to see what's coming up.
75. Whistler Blackcomb Fire and Ice Show
Every Sunday night local skiers and snowboarders put on a spectacular show at Skiers Plaza. Watch them hit jumps and spins amidst fireworks. It's one of the best things to do in Whistler in winter.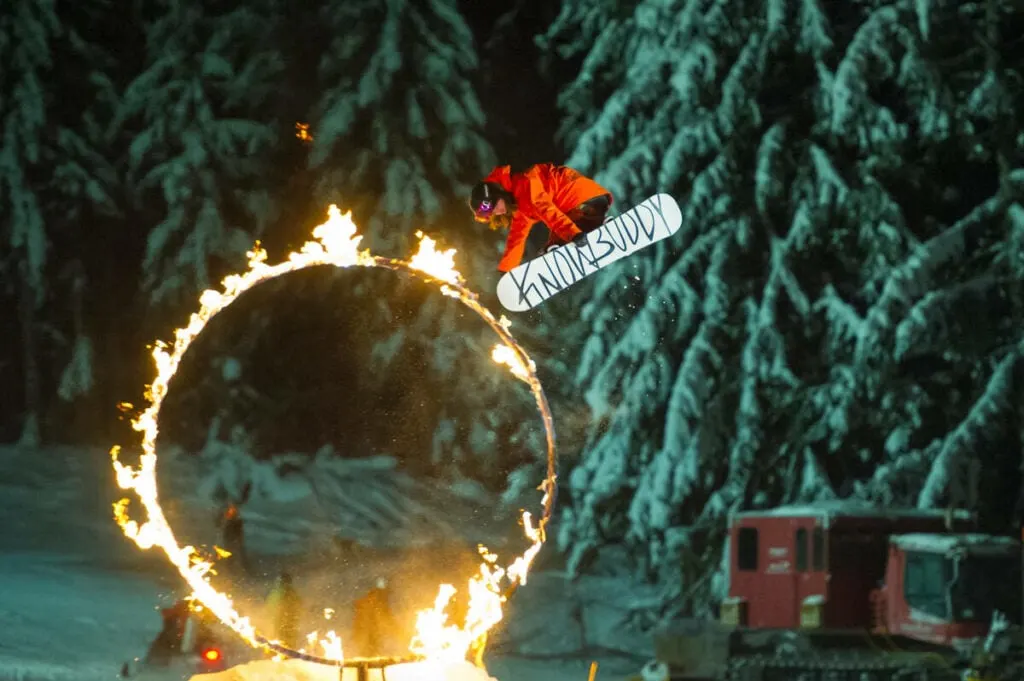 76. World Ski and Snowboard Festival
Every April ski season ends with races, parties, and live music as part of the World Ski and Snowboard Festival. The highlight is the Slush Cup, where skiers hurtle downhill into (or across!) an ice-cold pond.
77. Whistler Cornucopia
Every November foodies flock to town for Whistler Cornucopia. The ten-day festival includes tastings, seminars, and special tasting menus at participating restaurants.
78. Whistler Pride and Ski Festival
Every January Whistler welcomes LBGTQ+ folx for the Whistler Pride and Ski Festival. It includes group ski and board days and a Rainbow Parade on skis. At night there are pride parties and events.
79. Whistler Film Festival
The Whistler Film Festival takes place in late November and early December. It includes premieres for indie films, outdoor adventure movies, and short films. There are workshops and forums too.
80. Whistler Children's Festival
Spanning two weekends in May, the family-friendly Whistler Children's Festival includes music, crafts, science shows, circus acts, face painting, and lots more.
81. Crankworx Whistler
The Crankworx mountain bike festival takes place over 10 days in July. It includes competitions, stunts, races, and lots of parties.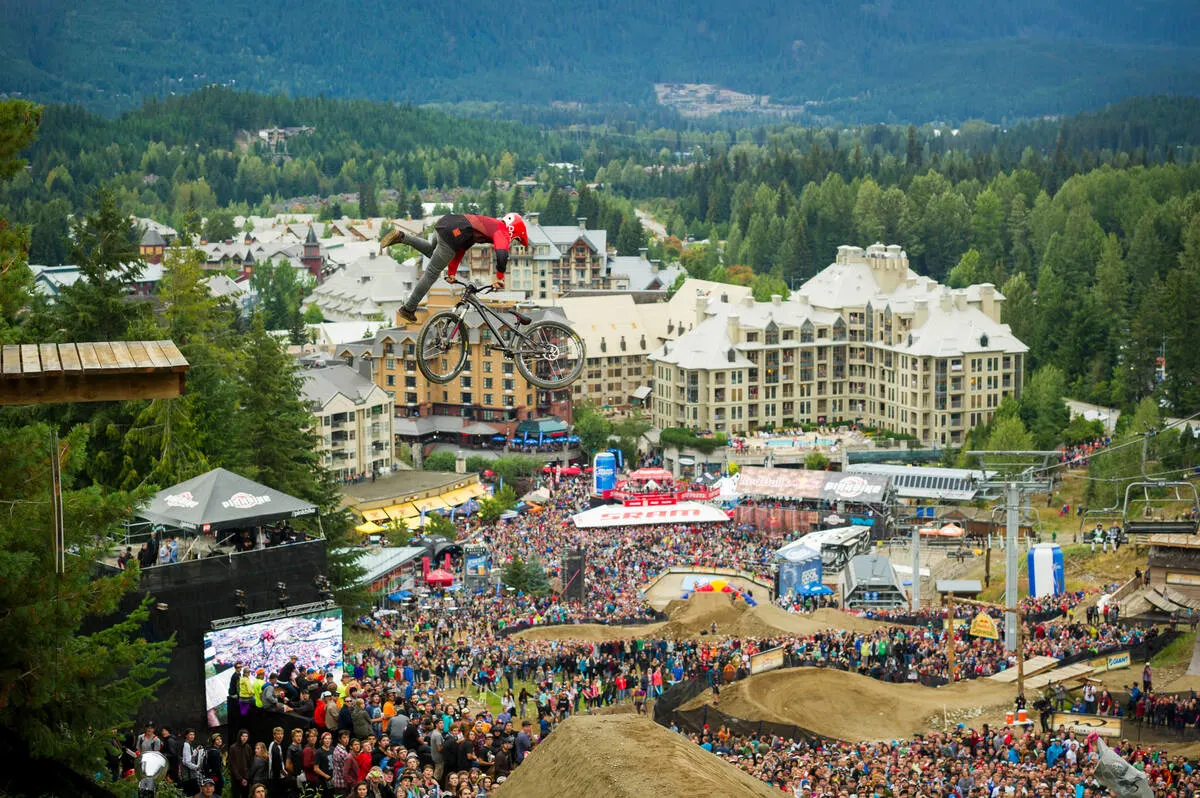 82. RBC Gran Fondo
The annual RBC Gran Fondo cycling race sees participants biking 122km from Vancouver to Whistler each September. There are lots of bike-focused events and parties in the village to go with it.
83. Whistler Village Beer Festival
The Whistler Village Beer Festival takes place over six days each September. There are brewery tours, tastings, food events, music, and lots of parties.
84. Whistler Writers Festival
The four-day Whistler Writers Festival includes workshops, readings, speakers, music and more. The festival takes place each October.
Congrats – you made it to the end of my massive list of things to do in Whistler. I'm sure you'll love it here. What's your favourite Whistler activity? Tell me in the comments.
READ NEXT: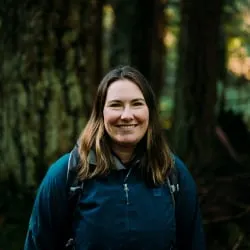 Latest posts by Taryn Eyton
(see all)