The West Coast Trail is one of the best-known hiking trails in Canada. It covers 75km through some of the toughest and most beautiful terrain in British Columbia's coastal rainforest.
I first hiked the WCT back in June 2004. In fact, it was my first backpacking trip ever! I was SO unprepared! (But I still loved it!)
I hiked the West Coast Trail again in August 2019. This time I had 15 years of backpacking experience to draw upon. But I knew that wasn't enough – the West Coast Trail has some logistical challenges and unique terrain that require lots of advance planning and preparation. I did tons of research beforehand, made sure I had the right gear and was in shape. And my second West Coast Trail hike was soooo much more enjoyable.
I've gathered all the West Coast Trail prep info you'll need in this guide for you. It includes everything you need to know to have a great time on your hike.
WANT MORE WEST COAST TRAIL INFO? Check out these posts:
Hey there: Some of the links in this post are affiliate links, which means I earn a small commission at no extra cost to you if you make a purchase. Thanks for supporting my website! -Taryn
This is a sensitive wilderness area. Learn how to Leave No Trace to keep the wilderness wild. Make sure you are prepared by bringing the 10 Essentials. Get ready for adventure with this checklist of things to do before every hike.
Overview
Location: The West Coast of Vancouver Island in British Columbia Canada. Trail access is from the remote villages of Port Renfrew, Bamfield, and Nitinaht. The entire trail is inside Pacific Rim National Park.
Indigenous Land: The entire West Coast Trail is on the traditional territory of the Huu-ay-aht, Ditidaht, and Pacheedaht First Nations. The trail also passes through several First Nations reserves. These areas are private property, so be respectful.
Distance: Officially, 75km. But unofficially it's at least 10km longer.
Difficulty: Challenging due to the technical terrain.
Time: Around 7 days. Check out my West Coast Trail Itineraries for more info.
Cost: $325.25 per person, plus transportation costs
Best Time to Go: July and August
Trail Description: The West Coast Trail travels the West Coast of Southern Vancouver Island between the towns of Port Renfrew and Bamfield. It consists of rough trails in the forest, boardwalk sections, ladders in and out of deep gorges, and coastal walking on sand, gravel, boulders and smooth sandstone shelf. There are bridges and cable cars across the major waterways, but some of the smaller ones must be forded. For a full description of the trail, check out my West Coast Trail Section-by-Section Overview.
Video: Here's a video overview of my August 2019 trip on the West Coast Trail.
Trail History: Historically the area of the WCT was a travel corridor for First Nations peoples. They had village sites along the coast. In the late 1800s, European ships frequently wrecked thanks to the fog and rough conditions. This part of the coast became known as the "Graveyard of the Pacific". In 1906 a ship called the Valencia shipwrecked and over 100 people drowned. In response, the Canadian government built lighthouses, lifesaving stations and a telegraph route along the coast. The telegraph route was upgraded and renamed the Dominion Life Saving Trail. Over the years, technology made these measures obsolete and the trail fell into disrepair.
But in the 1970s, hikers were beginning to discover the trail and hike it again. It was included in Pacific Rim National Park in 1973. In the 1970s and 80s Parks Canada restored and upgraded the trail. They added many of the bridges, cablecars, ladders, and boardwalks that hikers travel over today.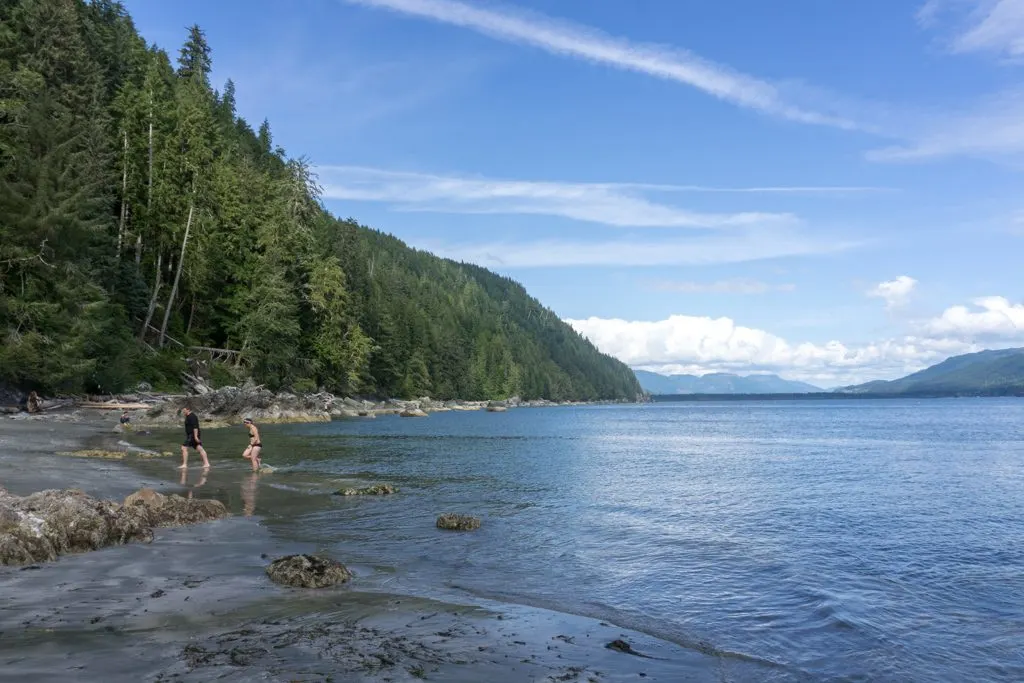 West Coast Trail Maps
The best map of the West Coast Trail is the one published by Parks Canada. You'll get a waterproof copy of this map when you check-in at the ranger station to start the trail. However, it can be helpful to download an electronic copy of West Coast Trail map to use when planning your hike. The map has all the basic info you need for your hike.
Almost as important as your trail map is a tide table. When you check-in to start the trail, the ranger will give you a little tiny printed tide table. However, it only has the day's high and low tides on it. And it doesn't account for daylight savings time!
A MUCH better idea is to print out your own tide table to bring with you. Fisheries and Oceans Canada has tide tables that give the predicted tide height for each hour of the day. AND they are adjusted for daylight savings time. Soooo much easier to use. Print out the Tofino tide table since that's what the tide heights on the West Coast trail map are based on.
I've also put together a custom Google map of the West Coast Trail for you. It has all the trailheads, campgrounds, viewpoints and other landmarks you'll need. You shouldn't use it for hiking since Google doesn't have very accurate data on the trail location. However, it's really helpful for trip planning, especially when you're figuring out how to get to the start and endpoints of the trail.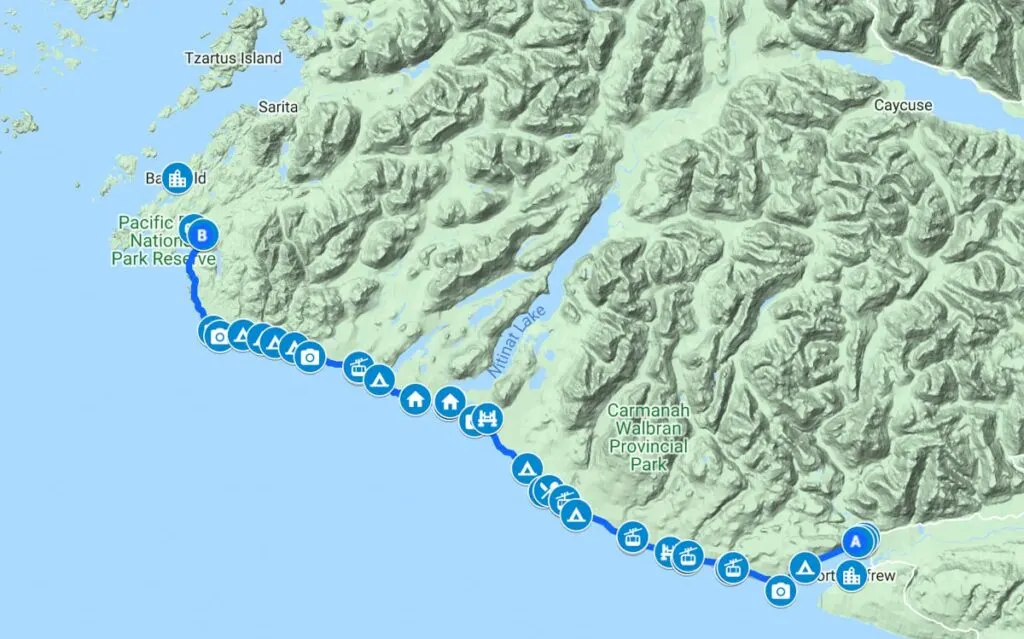 Join the Backpacking in BC Facebook Group
How Long is the West Coast Trail? How Many Days Does it Take to Hike?
According to Parks Canada, the WCT is 75 km long (46.5 miles). However… the trail has been rerouted countless times over the years, but Parks Canada has never adjusted the trail distance. When I hiked it, our GPS measured about 86 km (53.5 miles) of hiking. My friend's GPS measured 96km!
It takes most people about 7 days to hike the WCT. Some people hike it in five or 6 days and others take their time and allow 8 or 9 days. Trail runners have even blasted through it in less than 10 hours! The first time I hiked the West Coast Trail we did it in 6 days. On my 2019 hike, my group completed the trail in 7 days.
Most of the people we met on the trail were also on a 7-day itinerary. I've got full details on the standard 7-day itinerary for you, as well as tons of other itinerary options for 3-10 days in my West Coast Trail itineraries post.
How Difficult is the West Coast Trail?
If you've never done a multi-day hike before, you will find the West Coast Trail really difficult! But for most fit people and experienced hikers, I'd say the WCT is moderately difficult.
In general, to hike the WCT you will need to be able to walk about 12km a day or more on uneven and difficult terrain while carrying 30-40lbs in your backpack. You will need to make sure you are prepared with the right gear to keep you warm and dry. And of course, you need to be okay with going without a shower for the entire trip!
I really don't recommend that you do the West Coast Trail as your first backpacking trip ever. It actually was my first backpacking trip way back in 2004. While I did have a great time overall, it was incredibly difficult. I cried. I was NOT prepared to carry that much weight. At the end of each day I was EXHAUSTED and ended up taking painkillers with breakfast every morning to get through it. When I did the WCT again in 2019 I had 15 years of backpacking experience under my belt. It made for a much more enjoyable trip, but I have to admit that it was still really challenging. Trust me: Get some experience backpacking before you try the West Coast Trail.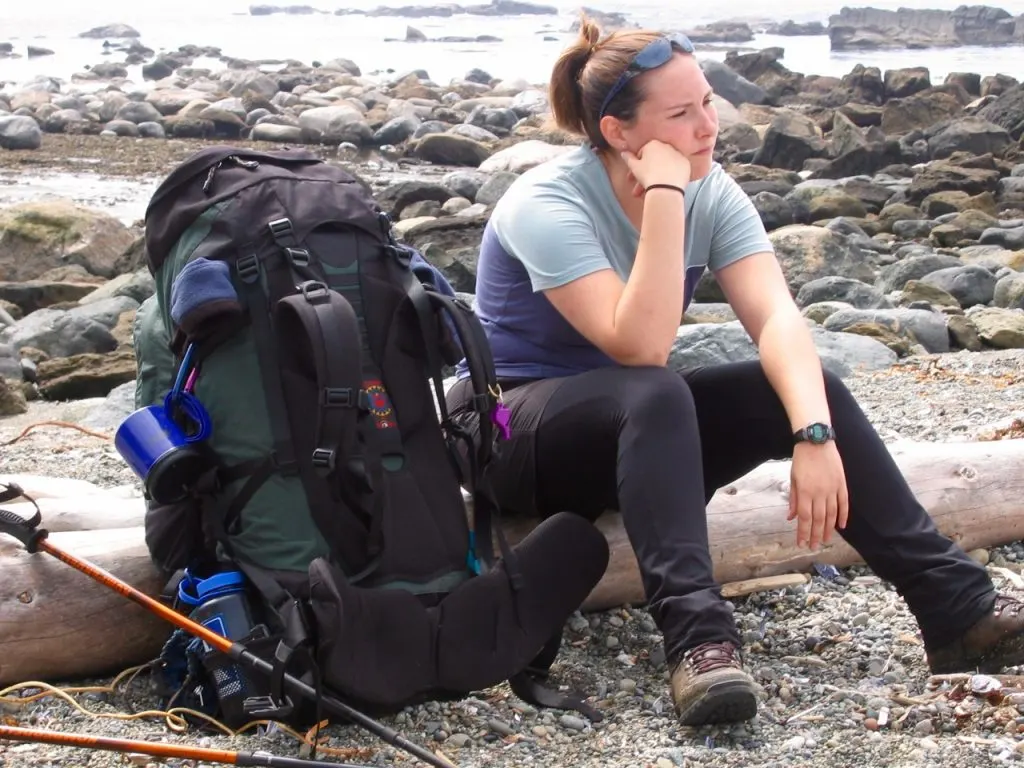 Even though you don't have to hike long distances each day, the terrain is really technical. There are lots of sections with roots, rocks and mud holes to navigate through, over and around.
Sometimes there are wooden boardwalks that allow for easier walking. But since the rainforest rots everything, they are often in terrible shape and unusable. Frankly, some of the rotting structures are more hazardous than they are helpful!
The beach sections give you a break from the technical terrain in the forest, but the sand can be deep, making for slow travel. Or the rocks can be slippery and wet.
In the hardest sections, your hiking speed will be about 1 km an hour. Overall, we found our average hiking speed was usually around 2-2.5 km an hour. That's pretty slow!
And then there are the ladders. The gullies and cliffs are so steep that building a regular trail or even stairs is not possible. So instead there are wooden ladders that head straight up the side of the cliffs. You have to be comfortable climbing up and down these ladders while wearing a heavy pack.
If you thought the ladders sounded like a leg workout, don't worry: you can exercise your arms on the West Coast Trail too. There are four cable cars on the trail that you will use to cross unbridged rivers. You sit inside a small metal cart, then use ropes to pull yourself along the cable. It can be exhausting, but it does let you rest your legs.
For a full run down of each part of the West Coast Trail, including difficult ratings, check out my West Coast Trail Section-By-Section Overview.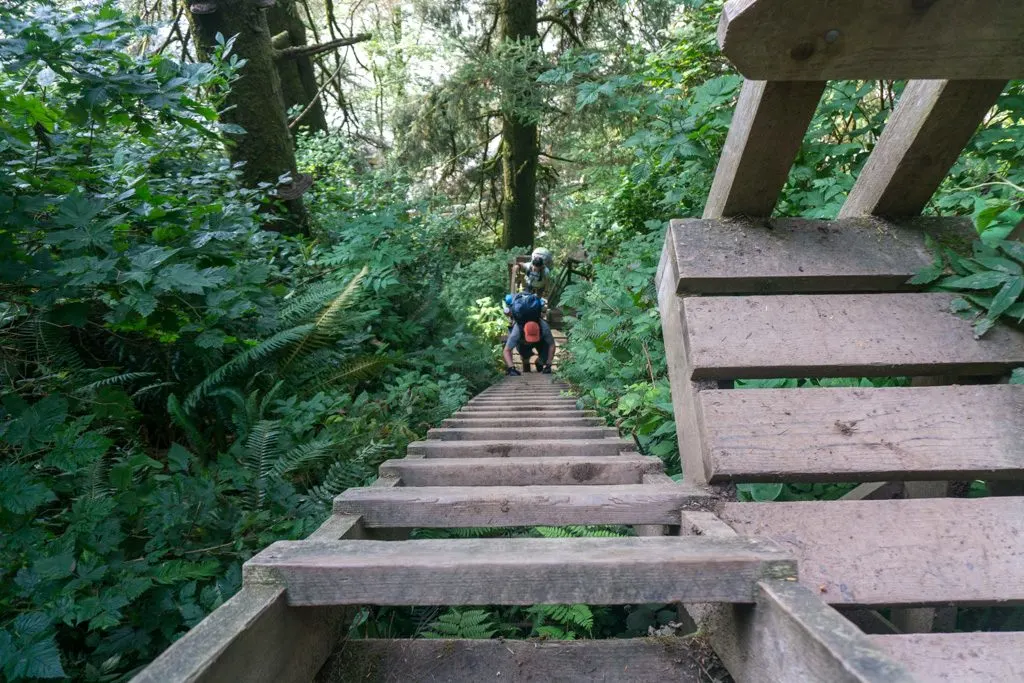 When to Hike the West Coast Trail
Most years, the West Coast Trail is open between May 1 and September 30 each year. (The trail is closed from October 1 to April 30 due to bad weather, lots of rain and high tides.)
The most popular time to hike the trail is in July and August when the weather is best and many hikers have summer holidays. The weather can be wetter in May and September so it is easier to get a reservation during those months. (Plus the WCT is one of my picks for the best spring backpacking trips in British Columbia.)
I've hiked the trail in late June and mid-August. Both times I was soooo lucky with mostly dry weather. However, you can get torrential downpours at any time of year – they're just more likely in May and September.
Another consideration is the tides. If you have flexibility in your schedule, consult the Tofino tide tables. Try to find dates where the low tide is in the middle of the day so you can maximize the time you spend walking on the beach, rather than in the forest.
How Much Does the West Coast Trail Cost?
The short answer: $325.25 per person but probably more. The typical hiker will pay about $410.25.
The long answer: The total cost of hiking the West Coast Trail will vary depending on which transportation options you choose, how many days you spend on the trail and which trailhead you decide to start at. Here's a simple breakdown of costs for a typical WCT hike for one person starting from either Gordon River or Pachena Bay. Prices are accurate for the 2022 season.
Typical Cost to Hike the West Coast Trail: $420.25.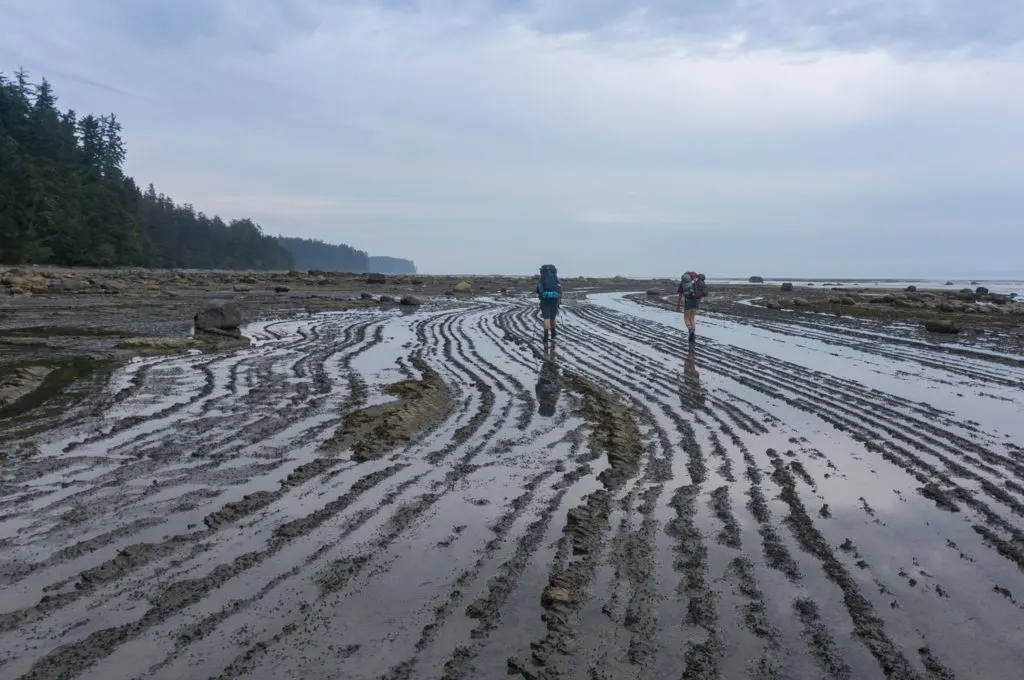 How to Make West Coast Trail Reservations
You MUST make advance reservations to hike the West Coast Trail. In the past, there were some first-come, first-served spots each day. However, since 2018 all permits for the entire season are reservable; there are no stand-by spots.
To make a reservation, visit the Parks Canada website. West Coast Trail reservations for 2024 will open on January 22, 2024 at 8 am PT.
There are spots for 70 people to start the WCT each day: 25 from Gordon River, 25 from Pachena Bay and 20 from Nitinaht Narrows.
Be ready to make your reservation right at 8:00 am as popular dates book up in under 5 minutes! Pro tip: If you don't already have one, make a Parks Canada online booking account ahead of time so you don't waste time doing that on the day West Coast Trail bookings open.
Have the following information ready to go when you make your West Coast Trail reservation:
All you are reserving is a start date and trail permits for the number of people in your group. When you book, you can't reserve individual campsites or set an itinerary. You have to give an estimate of how many nights you plan to be on the trail (up to 14), but you can change the number of nights when you check-in to start the hike.
You also need a National Park pass to hike the WCT. You can buy one when you check-in at the ranger station. If you already have a Parks Canada Discovery annual pass, just show it to the ranger when you check-in.
If you didn't get a reservation, all is not lost. Keep checking Parks Canada's website. People do cancel and spots do open up. As well, you can sometimes find people selling spots on the West Coast Trail Facebook group. A final option is to just go to the trailhead and cross your fingers. If someone doesn't show up for their reservation, you may be able to get a permit. (This option isn't officially advertised, but I have heard of people getting a permit this way. However, it's pretty unlikely.)
READ NEXT: How to Make Backcountry Camping Reservations in BC
How to Get to the West Coast Trail
One of the most complicated parts of planning a trip on the West Coast Trail is transportation. The trail starts and ends in several different places, and it's not easy to get between them.
The trailheads near Bamfield, Port Renfrew, and Nitinaht are all in remote parts of Vancouver Island. The roads between them are rough gravel roads with lots of big scary logging trucks. You can drive yourself to all the trailheads, but it's definitely easier to book a shuttle bus. On both my WCT hikes, we drove ourselves to Gordon River, parked the car, then used the shuttle bus to travel between the north and south ends of the trail.
My advice is to figure out your transportation as far in advance as possible. It gets booked up and actually takes a bit of time to figure out. I've got a whole guide to West Coast Trail Transportation so go check that out. It includes info on shuttle bus times and companies, how to do a car shuttle between Gordon River and Pachena Bay, how to charter a van and even where to stay before and after your hike.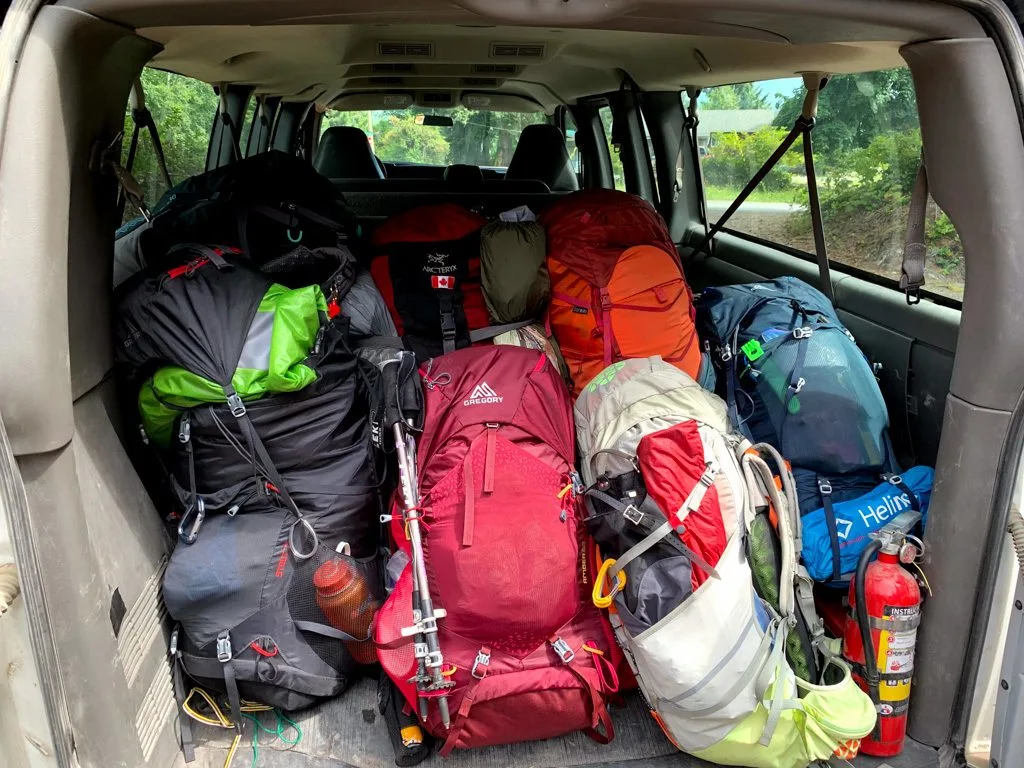 What is the Weather Like on the West Coast Trail?
The West Coast Trail is on the wild west coast of Vancouver Island. That means it is fully exposed to all the storms that roll in off the Pacific Ocean. It's a rainforest climate, so expect LOTS of rain. Even on days without rain, it can be quite overcast, or really foggy.
It's also not that warm, even in the middle of summer. But thankfully, it's never that cold either.
The WCT is only open in the spring and summer months (May to September). And thankfully those are the warmest and driest months. For the warmest and driest weather, plan your trip for July or August. Here's a summary of the average temperatures and rainfall for the West Coast Trail area.
READ NEXT: The Best Weather Apps for Hiking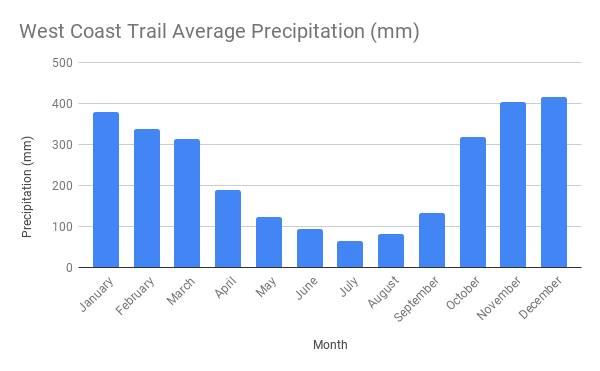 What to Pack for the West Coast Trail
You will need to be totally self-sufficient on the trail and carry in everything you will need for your trip – right down to the toilet paper!
The last places to buy supplies are in the towns of Bamfield and Port Renfrew. However, both towns are REALLY small and don't have much on offer. There are no stores at the visitor centres or anywhere on the trail. There is a small restaurant called The Crab Shack at Nitinaht Narrows that also sells toilet paper and a few other essentials if you have an emergency. But plan to bring everything you need with you!
To avoid carrying a stupidly heavy pack, choose lightweight hiking gear rather than heavy conventional camping gear. The lighter you can get your pack, the happier you will be. In general, aim for a pack weight that is 1/3 to 1/4 of your body weight or less. The weather on the coast is also often very wet so be sure to pack accordingly.
For lots more information, check out my West Coast Trail packing list. It's a complete guide to everything you need to bring including specific gear recommendations from my hike.
Join the Backpacking in BC Facebook Group
Food on the West Coast Trail
You need to bring all your own food on the West Coast Trail. Plan to bring lightweight calorie-dense food. If you need tips, check out my posts about how to choose the best backpacking meals and ideas for oatmeal-free backpacking breakfasts.
There is also a small restaurant at Nitinaht Narrows called The Crab Shack. The Edgar family of the Ditidaht First Nation runs it. Carl Edgar has been running the ferry service there for 44 years. For the last 20 years or so his family has also sold crab and fish dinners to hikers.
Recently they have expanded their menu to include things like baked potatoes, grilled cheese, and breakfast wraps. (They stop serving breakfast at 11 am SHARP!) Prices for food range from $5 to $35. They also have pop, beer, and chocolate starting at $2.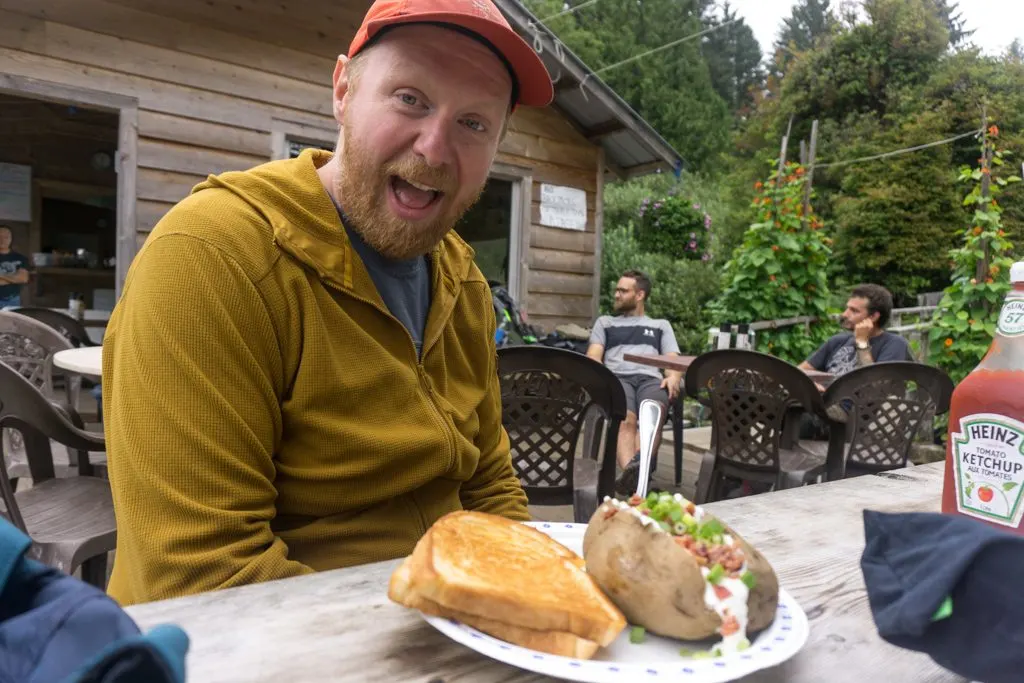 For years there was also a second restaurant on the WCT called Chez Monique's. It was run by Monique and Peter Knighton on a small First Nations reserve just south of the Carmanah Lighthouse. They served burgers, chips and pop right at tables right on the beach. Sadly both Monique and Peter have passed away and Chez Monique's is no longer open. However, their children are trying to get the restaurant up and running again, so stay tuned.
How to Stay Safe on the West Coast Trail
The West Coast Trail tackles some pretty rugged terrain. Each year Parks Canada evacuates up to 100 people from the trail due to illness or injury. There have even been a few deaths on the West Coast Trail.
The trail is in a remote area where getting help is difficult. There is no cell service on most of the trail. Make sure you are physically and mentally prepared. Take a first aid kit and consider bringing a satellite messenger. I brought my Garmin inReach Mini on my 2019 West Coast Trail hike. Thankfully we didn't need it, but we did turn it on every day so our family at home could see where we were on the trail. We also used it to get weather reports.
Leave a trip plan at home with a friend or family member. That way someone knows where you are going and when you expect to be back. As well, you'll need to check-in and check-out from the trail so the rangers know you have finished the trail safely.
Most injuries on the trail happen when the weather is bad or hikers are tired. (Or both!) Be prepared to turn back or stop and make camp if the weather gets too bad or you are having difficulty with the hike. If you keep pushing forward, you may just make your situation worse by injuring yourself.
Take extra time on ladders, bridges and cable cars. Watch your step on the boardwalks or any wooden structure – they can be REALLY slippery.
Be careful crossing streams. Make sure they aren't flooding and if possible, cross at low tide. Speaking of tides, always keep your tide table handy and consult it along with your map whenever you choose a beach route. Only take the official marked beach routes – other routes have dangerous cliffs and surge channels.
While rare, tsunamis are a real concern on the west coast. If you feel an earthquake or see the ocean recede suddenly, get to high ground as quickly as possible. All of the campgrounds have marked tsunami escape routes.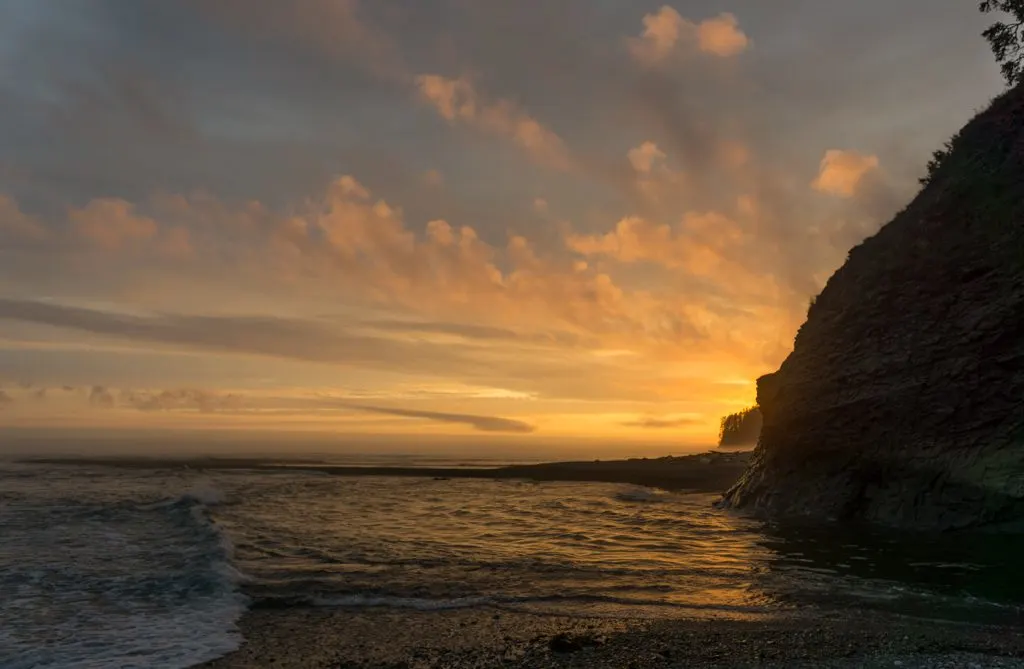 Wildlife on the West Coast Trail
The West Coast Trail is a remote wilderness area so it's home to lots of wildlife. You might encounter a black bear, wolf or cougar. I've hiked the trail twice and seen lots of tracks and bear scat but I've never a predator.
To minimize the risk of a negative encounter, hike in groups, make lots of noise and carry bear spray just in case. At campgrounds, store your food and toiletries in the bear bins and camp well away from your cooking area. If you want more info, I've got lots more bear safety tips for hikers and backpackers.
There is also lots of marine life just offshore along the West Coast Trail. Both times I've hiked the trail we've spotted grey whales feeding. Look for them anywhere north of Walbran Creek.
There are also lots of curious seals surfacing along the beaches or otters playing in the mouths of rivers. You can also spy on sea lion colonies on rocky islets in a few places.
Bring a pair of binoculars to get a better look. My husband brought a compact GoSky Titan monocular that he found on Amazon. It's pretty light and not too expensive, but it still has 12×50 magnification. He spent hours watching the sea lions through it.
West Coast Trail Rules
Dogs: Parks Canada doesn't allow dogs on the West Coast Trail unless they are a service animal.
Beachcombing: You aren't allowed to take home anything natural from the trail. That includes shells, rocks, sand, wood, etc. However, you are encouraged to take home anything man-made, such as fishing floats.
Fires: Fires are allowed on the West Coast Trail as long as they are below the high tide line AND there is no fire ban for that part of Vancouver Island. You are never allowed to have a fire in the forest. Some campsites have lots of driftwood available if you want to make a fire, while others don't have much. You aren't allowed to bring an axe, but you shouldn't need one since you can usually find lots of small driftwood to burn.
Age: Hikers must be at least 6 years old to hike the WCT. Parks Canada recommends hikers be over the age of 12. In 2019 I hiked the West Coast Trail with my friends' kids who were 9.5 and 12 at the time. Having kids along added some extra challenges, but in general, if your kids are experienced backpackers, they can probably handle it.
Firearms: Not allowed on the West Coast Trail.
Group Size: Maximum group size is 10 people. School groups of up to 18 people are the only exception to this rule. School groups can be on the trail between May 1 and June 14, and September 20 and 26.
Length of stay: Maximum length of stay is 14 days.
More Resources for the West Coast Trail
Be sure to read Parks Canada's West Coast Trail Hiker Preparation Guide. It contains lots of info on preparedness and safety.
I also consulted a few different books before my trip. The classic is Blisters and Bliss: A Trekker's Guide to the West Coast Trail. I found it helpful for planning, and also brought photos of a few key pages on the trail. I also used Hiking the West Coast of Vancouver Island, which has a long section on the West Coast Trail.
Coastal hiking is a bit different than hiking in the forest or the mountains. Read my tips for coastal hiking.
Join the Backpacking in BC Facebook Group
West Coast Trail FAQ
How long does it take to walk the West Coast Trail?
Most hikers take 7 days. However, itineraries as short as 5 days or as long as 9 days are possible. See my WCT Itinerary guide for more.
How many kilometres is the West Coast Trail?
Officially, the trail is 75 km (47 mi) long. However, over the years it has been re-routed many times is likely longer. GPS tracks from hikers commonly put the distance at 85-90 km.
Where does the West Coast Trail start and end?
The southern trailhead is at Gordon River near the town of Port Renfrew. The middle trailhead is at Nitinaht Narrows near Nitinaht Village. The northern trailhead is at Pachena Beach near the town of Bamfield.
Is the West Coast Trail difficult?
Yes. You will need to be able to walk about 12 km per day while carrying a 30-40 lb backpack. The terrain is very challenging and technical with ladders, scrambling across slippery rocks, mud bogs, and lots of uneven terrain. Injuries from falls are common. Read my full evaluation of West Coast Trail difficulty.
How much does it cost to hike the West Coast Trail?
It costs $325.25 per person to hike the West Coast Trail. This includes trail permit, reservation fee, fees for the two ferry crossings on the trails, and National Park entry fee. It doesn't include transportation to and from the trail. I've got more info in the WCT costs section above.
Do you need to book the West Coast Trail?
Yes. Reservations are mandatory. Up to 70 people can start the trail each day. See the Reservation section above for booking info and tips.
Where can you camp on the West Coast Trail?
You are allowed to camp almost anywhere on the West Coast Trail except between KM 34 and 38. However, there are no flat places to camp in the forest and many beaches do not have good campsites. Most hikers camp at one of the 13 official campgrounds along the trail.
Are there bears on the West Coast Trail?
Yes. The area has a high black bear population, but no grizzly bears. However, most hikers will not see a bear. Travel in a group, make noise as you hike, store food in bear caches, and keep a clean camp to avoid negative bear encounters. Read my bear safety tips for backpackers for more tips.
How heavy should your backpack be for the West Coast Trail?
In general, your pack should be no more than 25%-30% of your body weight. Most hikers will start with a pack that weights 30-40 lbs. Choose lightweight backpacking gear. See my West Coast Trail packing list for specific gear recommendations.
Is there cell service on the West Coast Trail?
No. There is no cell service on the West Coast Trail. It is occasionally possible to pick up a faint signal from Washington State, but don't rely on it. Bring a satellite communication device like a Garmin inReach Mini in case of emergency.
Can you hike the West Coast Trail alone?
Yes. Solo hikers are permitted. With 70 people starting the trail every day, you will see other hikers frequently. Some solo hikers end up making friends to hike with along the way.
Is the West Coast Trail harder than the Juan de Fuca Trail?
Yes… but only just a little bit. While the Juan de Fuca Trail is shorter, it has more hills than the WCT and is poorly maintained, so it is almost as hard as the WCT. Read my Juan de Fuca Trail guide to get a better idea of what it's like.
Do you have questions about the West Coast Trail? Ask them in the comments and I'll help you out.
MORE WEST COAST TRAIL POSTS:
MORE VANCOUVER ISLAND POSTS:
MORE ICONIC CANADIAN DESTINATIONS: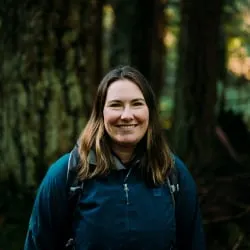 Latest posts by Taryn Eyton
(see all)