Squamish, BC is known as the adventure capital of Canada. It is located partway between Whistler and Vancouver, sandwiched between the ocean and the mountains. While outdoor sports are the main draw, there are tons of things to do in Squamish.
I've been visiting Squamish my whole life since I grew up in nearby Vancouver. And now I live in Squamish. For the past few years, I have loved getting to know everything about this gorgeous town.
In this post, I've put together a list of the best things to see in Squamish, written from a local's perspective. I've got recommendations for both winter and summer too.
With over 70 Squamish things to do on this list, I've split them up into sections:
Hey there: Some of the links in this post are affiliate links, which means I earn a small commission at no cost to you. Thanks for your support. -Taryn
Looking for more things to do in Squamish? Check out these posts:
My Top Picks for Things to Do in Squamish
There are almost too many things to choose from on this list of Squamish activities. So I'll start with my totally biased local's opinion and give you my picks for the best Squamish things to do.
Summer Outdoor Activities
1. Hiking
Hiking is the reason I moved to Squamish a few years ago. Before that, I used to drive to Squamish pretty often to go hiking.
Squamish has tons of hiking trails. There is something for everyone with hiking ranging from beginner to expert. There are easy trails in the valley bottom, steep hikes to peaks, and lots of waterfalls.
For an easy hike with great mountain views, I recommend the trails at Brohm Lake. For a moderate hike, check out Mount Crumpit. It's a local favourite and has great views. Some of my favourite challenging hikes are Watersprite Lake and the Stawamus Chief.
For a full guide to over 20 hiking trails near Squamish, check out my list of the best hikes in Squamish over on my outdoor adventure website.
If you want a local guide to show you the trails, sign up for a hiking tour. For example, you can hike up the Stawamus Chief, then go to a craft brewery afterward.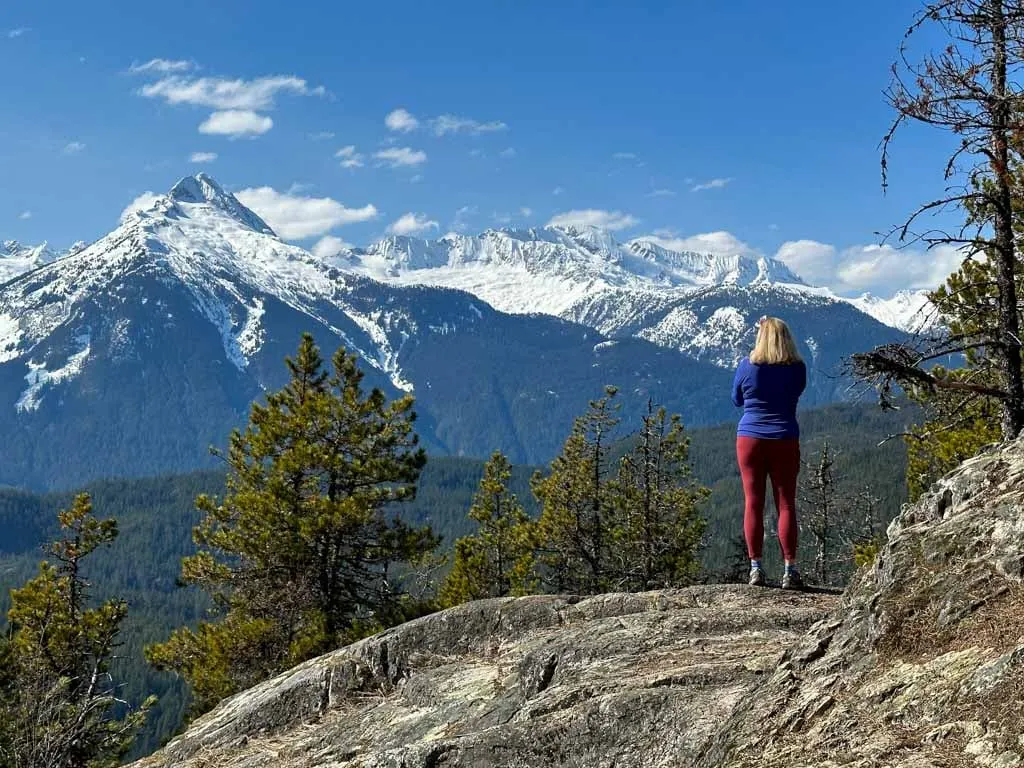 2. Hike the Stawamus Chief
Yes, hiking has its own entry on this list, but the Stawamus Chief is special enough to call out as its own activity. This 700-meter-tall (2297 ft) granite outcropping looms over the town of Squamish.
The mountain is named after the Squamish village of Stawamus (St'a7mes) at its foot. In the Squamish language, it is known as Siám' Smánit and is said to be a longhouse transformed to stone by Xáays, the Transformer Brothers.
Rock climbers scale the sheer face of the chief, but hikers can climb steep trails up the backside. The paths are very challenging with lots of stairs. In some places you will use ladders and ropes to scramble uphill, so it is best for experienced hikers only.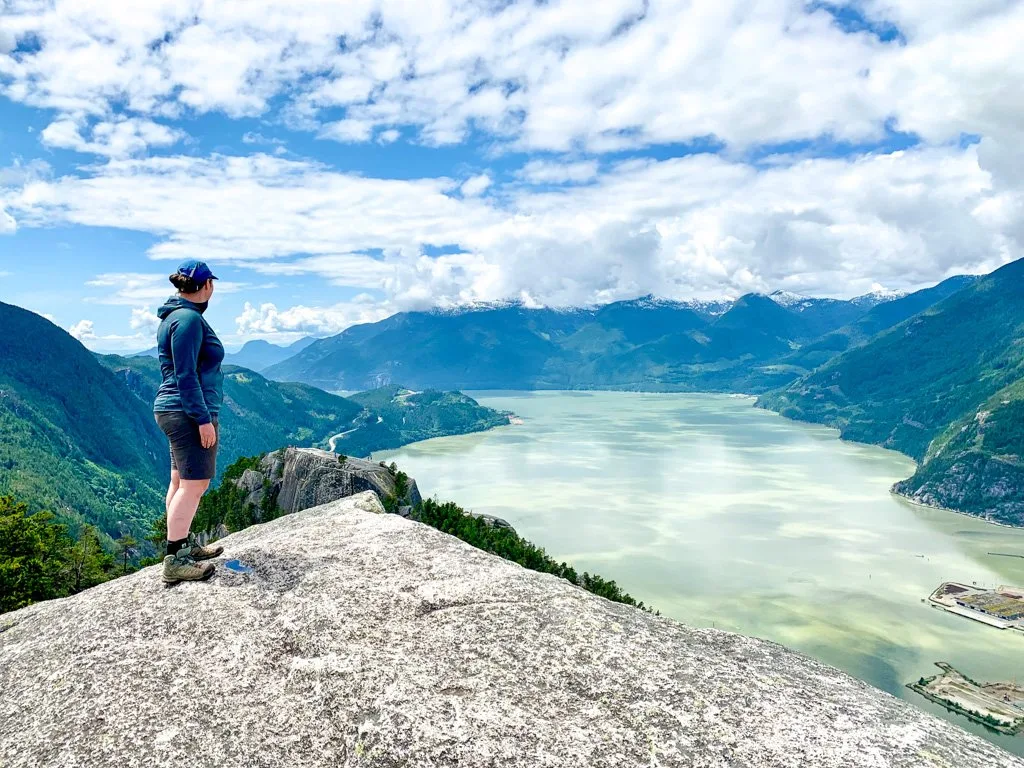 3. Trail Running
There is a huge trail running community in Squamish and it's a popular trail running destination for visitors. We even have two dedicated trail running stores, Capra and Run Uphill.
With hundreds of kilometres of trails, Squamish has tons of route options for trail runners. Runners commonly hit all of the hiking and mountain biking trails, but a few are more popular than others.
Beginners should try the 6 km Four Lakes Trail at Alice Lake. There are tons of moderate routes, but the 8 km loop at Brohm Lake is a good option. For a challenging run, try the 22 km round-trip run to Elfin Lakes.
4. Camping
Camping in Squamish is really popular since it is so close to Vancouver. There are several campgrounds conveniently located close to town, plus lots more further into the wilderness.
My favourite place to camp in Squamish is Alice Lake Provincial Park just north of town. The campsites are close to the warm waters of Alice Lake and you can hike and mountain bike right from your campsite.
A close runner-up would be Porteau Cove Provincial Park, an oceanfront campground in between Vancouver and Squamish. It has insanely beautiful views.
For a full guide to 22 places to camp near Squamish, check out my Squamish camping guide.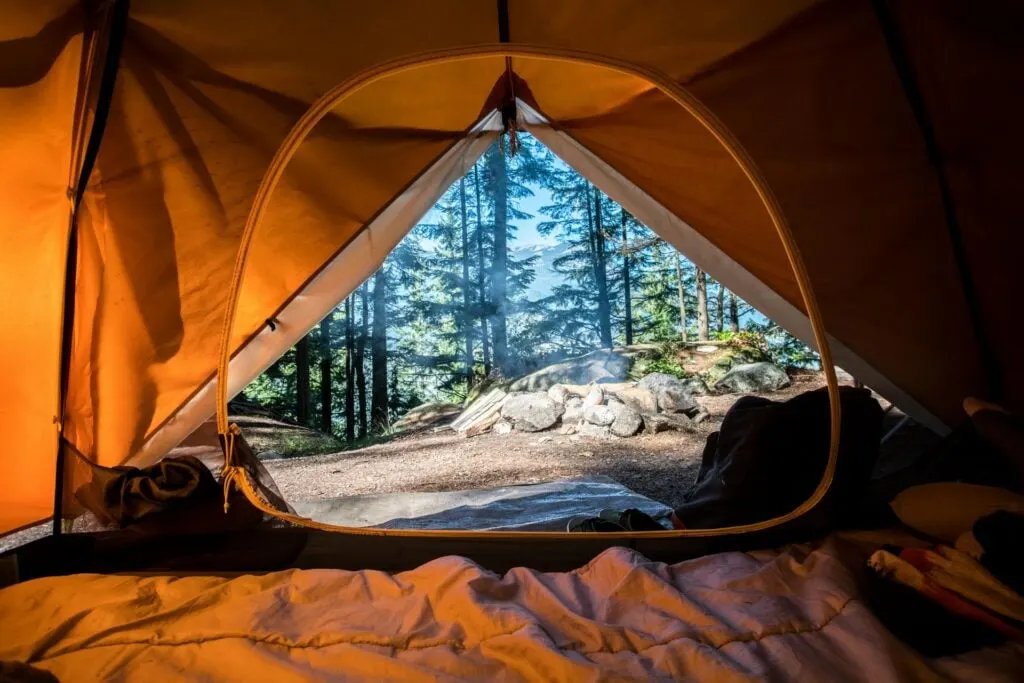 5. Backcountry Camping
One of the reasons I like hiking in Squamish so much is all the opportunities for backcountry camping. The mountain scenery is incredible – I love backpacking here.
Backpacking in BC is such a passion of mine that I wrote a whole book about it! Backpacking in Southwestern British Columbia has all the info you need for 9 different backpacking trips near Squamish.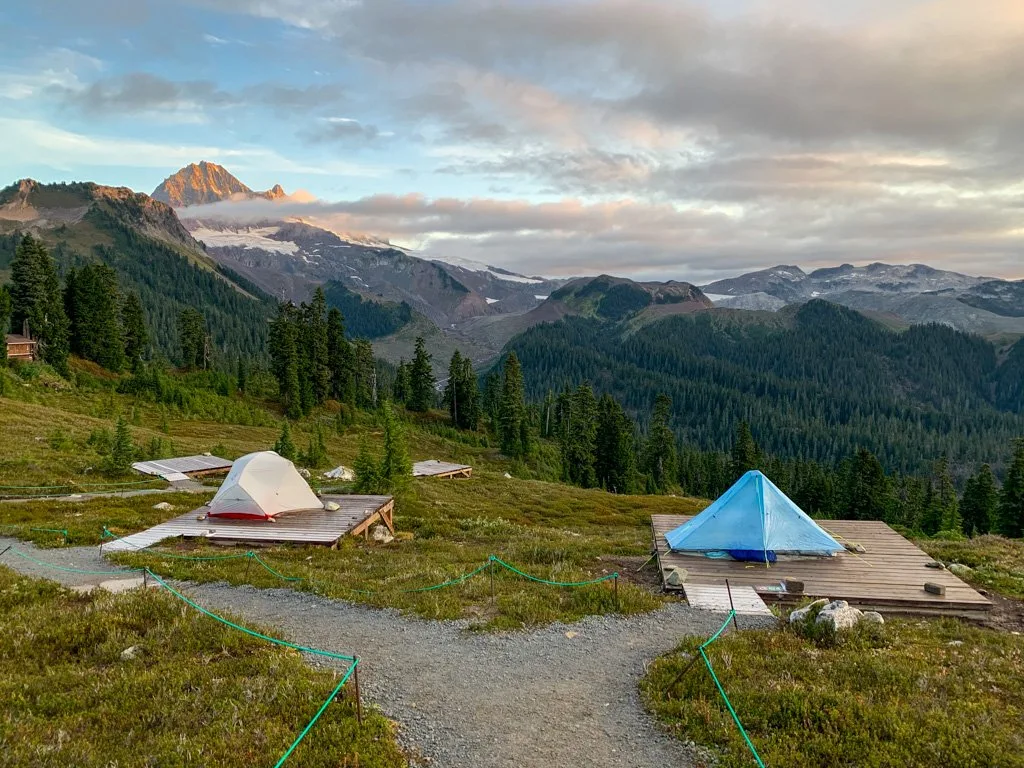 Get My Book…
Backpacking in Southwestern British Columbia
A one-stop resource for backpackers in beautiful British Columbia.
40 backpacking trips within a few hours of Vancouver
Info about permits, reservations, and campsite facilities
Detailed maps and photos
Advice for extending your trip
Points of cultural and natural history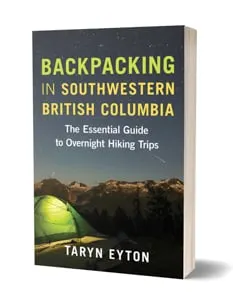 6. Lakes and Beaches
There are lots of beautiful lakes near Squamish, and most of them are fairly warm, which makes them great for swimming. There are also a few ocean beaches, but be warned – the ocean and rivers are very cold! Parking is limited at many of these places, so go early to get a spot on summer weekends.
Porteau Cove between Squamish and Vancouver has a pretty pebble beach on the ocean. The water is freezing though!
Browning Lake at Murrin Provincial Park is tiny, which makes the water really warm. It's a popular spot for inflatable floaties on hot days. However, the nearby highway is noisy.
Alice Lake is the best place to swim in Squamish. It has a sandy beach, docks to jump off of, and fairly warm water. There is lots of parking too. (Although it does fill up!)
Brohm Lake doesn't have a beach, but it does have lots of granite outcroppings that lead into the water. If you are adventurous, you can even jump off the cliffs.
Cat Lake is another great place for a swim. There are three docks around the lake perfect for cannonballs.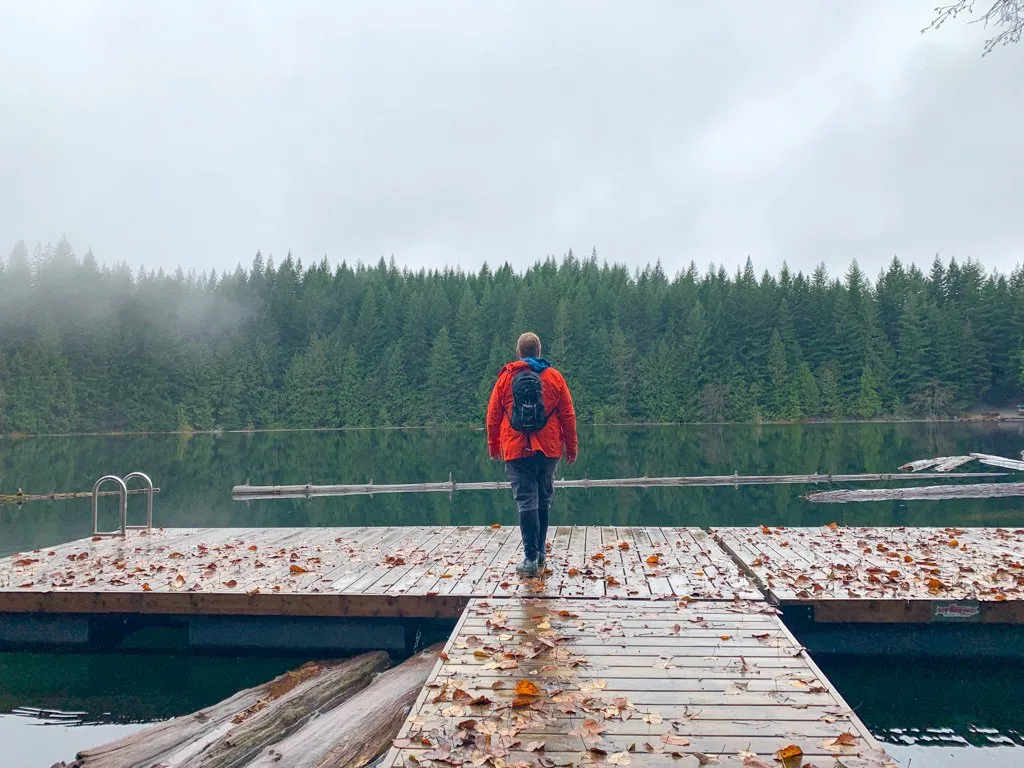 Sp'akw'us Feather Park, formerly known as Newport Beach and Nexen Beach is currently closed for construction. When it re-opens, the sandy beach is a great place to take a chilly ocean dip close to downtown.
The Squamish and Mamquam Rivers have sandbars that locals love to sand bathe on. But the water is freezing and the current is strong, so be careful if you want to swim. There are river access points in town as well as on the logging roads outside of town.
7. Road Biking
Squamish is a bike-friendly town with lots of bike lanes. I often leave my car at home and get around by bike. One of my favourite places to ride is the separated Corridor Trail along Loggers Lane.
Road biking is also popular here. The annual Whistler Gran Fondo from Vancouver to Whistler passes through Squamish each September. The race route along Highway 99 is a popular place for road riding, but use caution as the shoulder is very narrow in places (and sometimes non-existent).
The quiet roads outside of town are also a great place to go road biking. Paradise Valley Road has 8 km of seldom-trafficked pavement and Squamish Valley Road has 19 km.
To see the sights by bike, sign-up for an e-bike tour with Blazing Saddles. The 2-3 hour tour takes you along the trails near downtown, then out to the Squamish estuary, which has incredible views.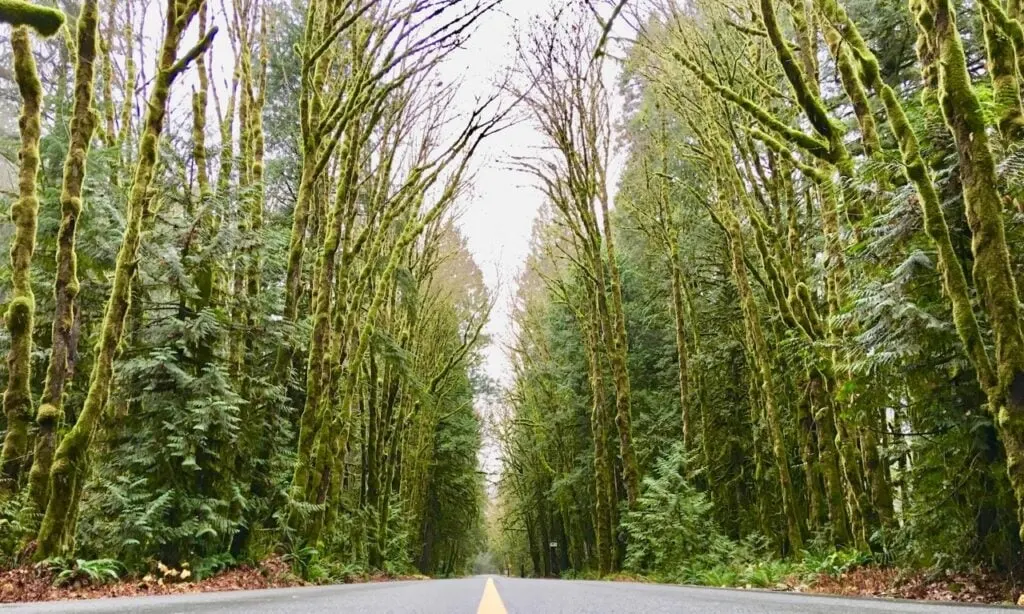 8. Gravel Biking
Gravel biking, which is also sometimes called gravel grinding or adventure biking, is a growing discipline of biking. It sits between road biking and mountain biking, with riders using bikes that look like road bikes but have beefier tires.
Squamish has tons of places to gravel bike including flat dyke trails and steep logging roads. My husband loves to join the group rides with the Squamish Gravel Cycling Club. Or sign up for the Sea2Sky Gravel Fondo each September. And if you're looking for gravel bikes, gear, or parts, stop in to Drop Bar Cycles.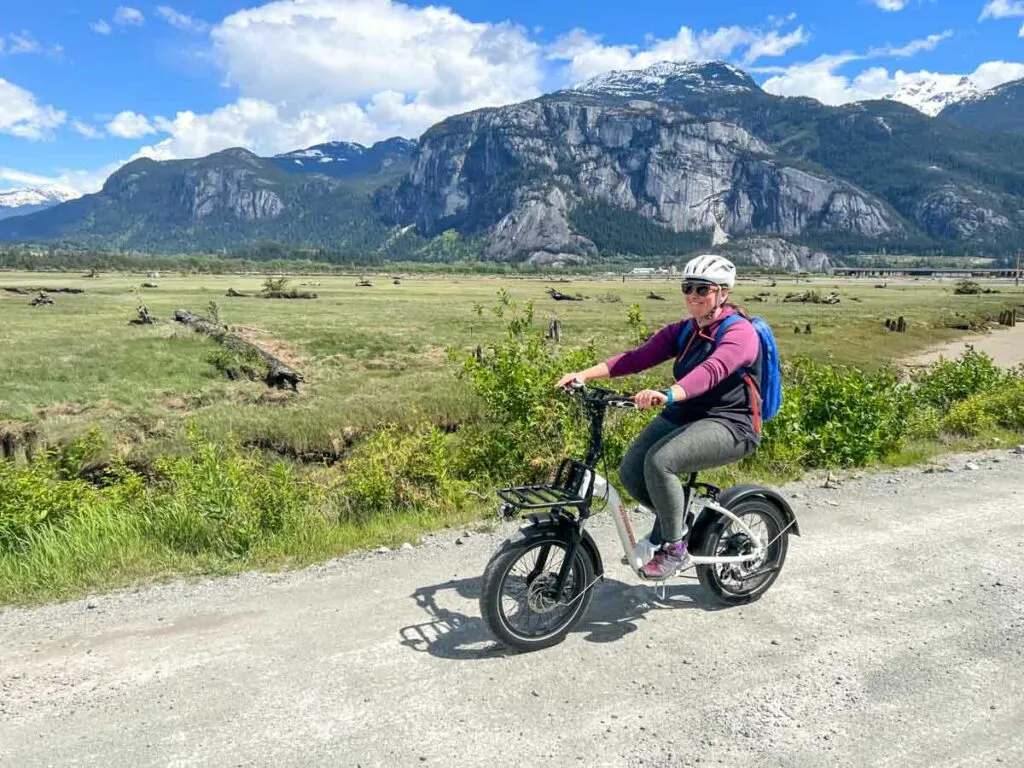 9. Mountain Biking
Squamish is surrounded by hundreds of kilometres of mountain bike trails with more added each year. The trails range from green (easy) to double black and pro-line (expert only).
The Trailforks app is essential for navigating as it can be a bit of a maze. It's updated regularly by volunteers with the Squamish Off-Road Cycling Association (SORCA) to make sure trail info and conditions are correct. If you ride in here, consider becoming a SORCA member or making a donation.
The trails are spread across a few main zones. The Diamond Head Zone above Quest University is the most popular since the gravel roads let you shuttle. You'll find mostly hand-built trails and steep granite slabs in the Alice Lake/Garibaldi Highlands zone. The quiet trails in the Valleycliffe zone are mostly cross-country riding. Beginners should head to the Brackendale zone since it has mostly green trails.
10. Alice Lake Provincial Park
Located just north of Squamish, Alice Lake Provincial Park is an easy place to experience the outdoor scenery that our town is known for. You can camp, hike, trail run, paddle, mountain bike, swim, or just chill out on the beach.
The day-use area has the best sandy beach in town and in summer there is a rental shack with kayaks and SUPs.
The easy Four Lakes Trail passes four different lakes (surprise!) on its route through the gorgeously mossy forest.
It's a popular spot for mountain bikers too since it is the parking area for favourite trails like Miki's Magic and Rob's Corners.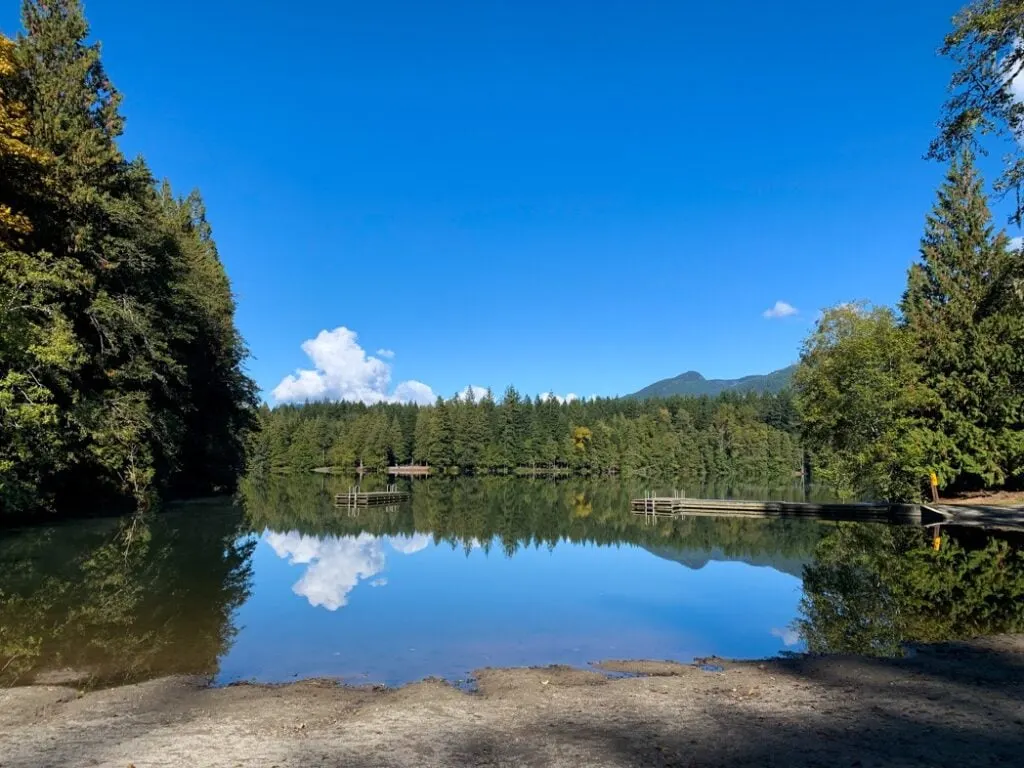 11. Smoke Bluffs Park
This city park is right next to downtown, but you won't find baseball diamonds or playgrounds – this is a Squamish-style park. Smoke Bluffs Park is home to some of the best rock climbing in town, and even if you don't climb, it's fun to watch.
The trails between the rock faces (which climbers call crags) are also a great place to go for a short hike or trail run. The best part is the incredible vistas of downtown, Howe Sound, and the Stawamus Chief from the Viewpoint Trail.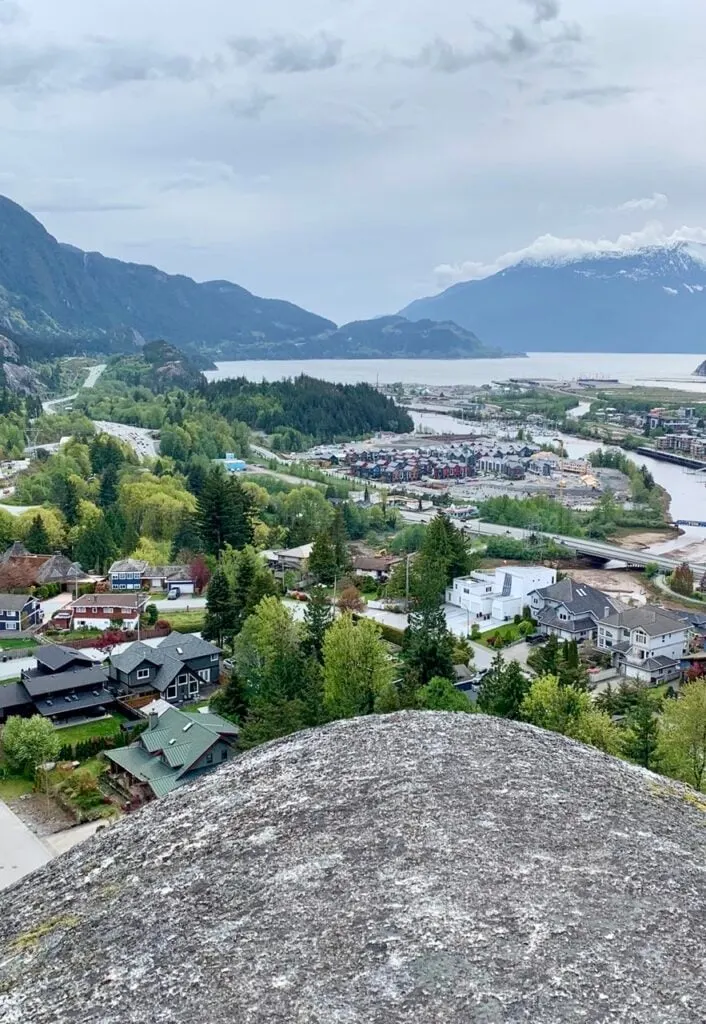 12. Garibaldi Provincial Park
Garibaldi Provincial Park is huge, spanning 1,950 square kilometres of mountain wilderness northwest of Squamish. I think it has the best scenery in BC, and it's my favourite place in the whole world. (I love it so much that I am the current president of the Friends of Garibaldi Park Society, a non-profit that does trail maintenance and advocacy work.)
To see the park, you will need to hike. The closest access point to town is Elfin Lakes, a 22km round trip hike. North of Squamish, you can make the 18 km round-trip hike to Garibaldi Lake.
Both trails have backcountry campgrounds and additional trails for more exploring. You can find details about both of these hikes, as well as four others in Garibaldi Provincial Park, in my book, Backpacking in Southwestern British Columbia.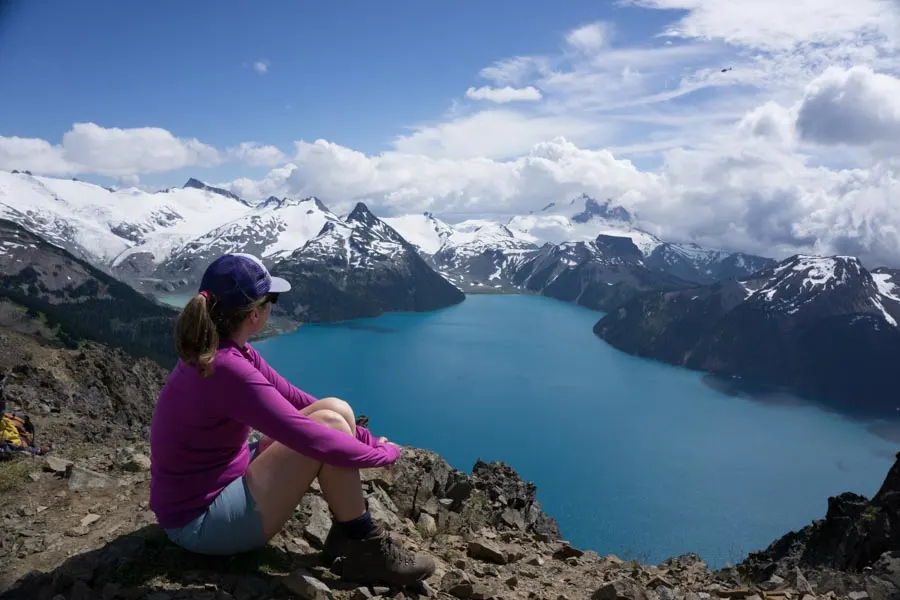 13. Skwelwil'em Squamish Estuary and the Spit
It's a bit under-the-radar, but the Skwelwil'em Squamish Estuary is one of my favourite parts of town. You can access easy walking trails right from downtown or Spit Road.
The flat trails are a nice, peaceful place to walk through the marsh and grasses. It's also a great place for bird watching.
But the best part is the views. The estuary is one of the only flat, wide-open areas in town which means it has incredible views of the Stawamus Chief, Shannon Falls, and Howe Sound. When we have out-of-town visitors, I always take them to the Estuary Trails to show them the views.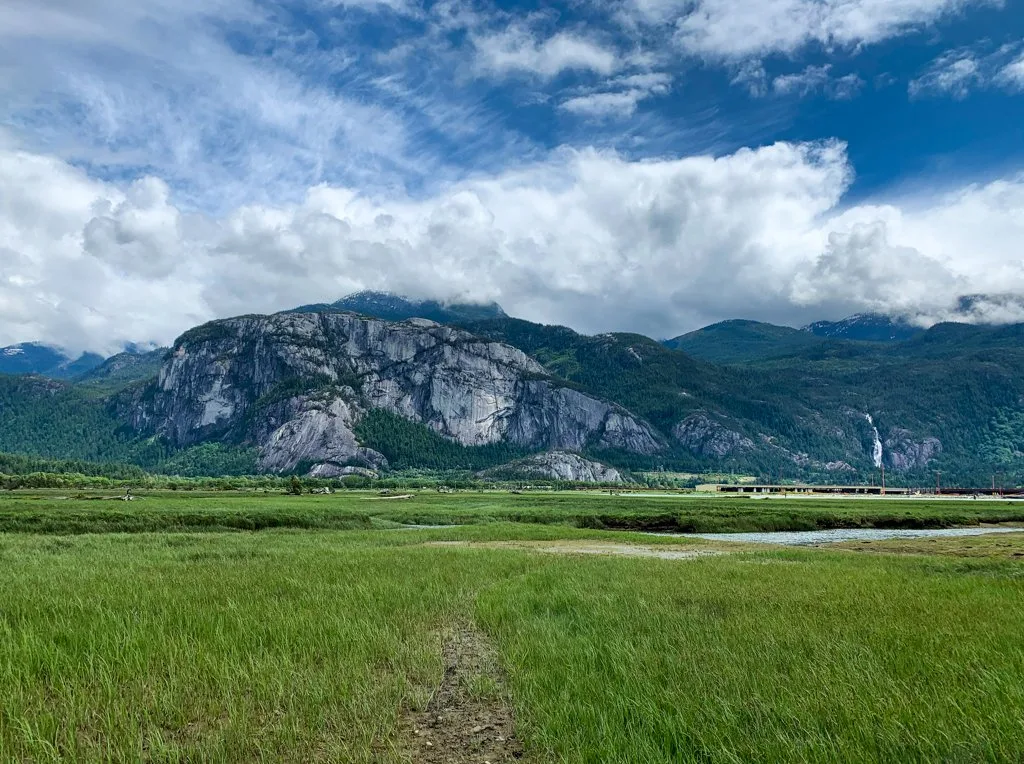 14. Kiteboarding and Wind Surfing
It is windy here! The high mountains funnel wind up and down Howe Sound, a fjord, and Squamish sits at its head.
Fun fact: For years, a myth circulated that in the Squamish language (Sḵwx̱wú7mesh sníchim), "Squamish" meant "Mother of the Wind" and often is repeated often when people talk about wind here. However, the Squamish Nation (Sḵwx̱wú7mesh Úxwumixw) has said that it it is just a myth – it isn't true.
All that wind makes Squamish a popular spot for kiteboarding and windsurfing. Some of my friends actually moved here just to go kiteboarding!
The best place to kiteboard or windsurf is the spit. Squamish Watersports can help you out with lessons, rentals, tours, and shuttles.
15. Kayaking and Paddleboarding
With the ocean at our doorstep and lots of lakes, Squamish is a great place to go for a paddle.
The rental shop at Alice Lake has canoes, kayaks, paddleboards, and SUPs. You can use them in the warm waters of Alice Lake or take them elsewhere. You can also rent from Squamish Watersports, and Valhalla Pure Outfitters.
The Squamish Estuary is a good, protected place to paddle. But you can also head into Howe Sound. Stay close to the shoreline as it can get dangerously windy, especially in the afternoon.
If you'd rather go with a guide, Squamish Watersports offers kayak, canoe, and SUP tours.
Some of the rivers outside of town are also popular with experienced whitewater kayakers.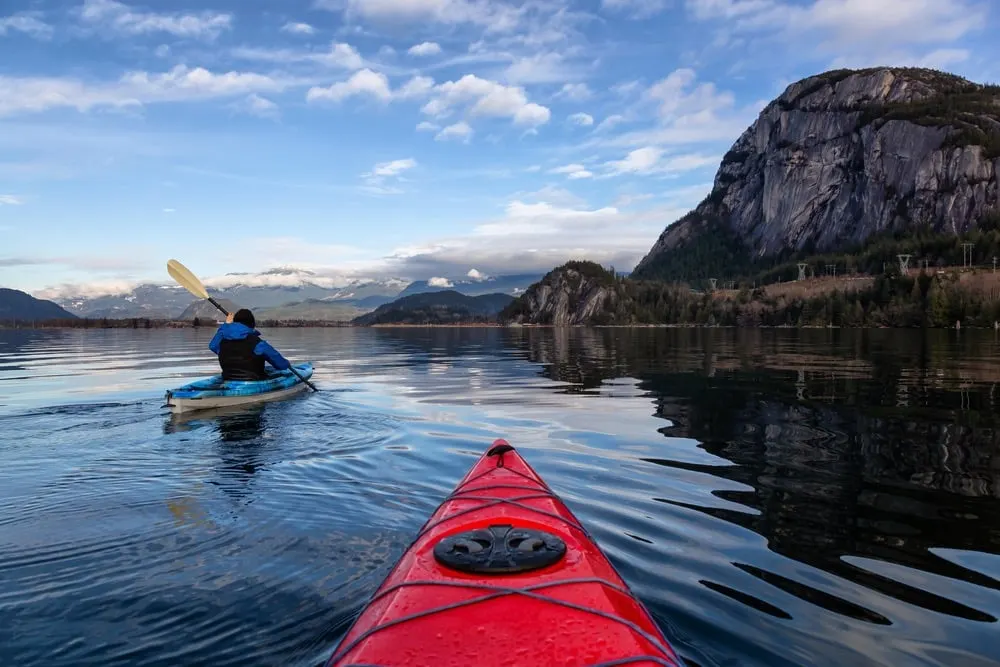 16. Sailing, Boating and Jet Skiing
Boating on Howe Sound is gorgeous as you dart between islands and gaze up at the surrounding mountains.
Visit Squamish Boat Rentals (a division of Squamish Watersports) to rent waverunner jetskis, zodiac-style inflatables or fibreglass speed boats. They will help you get your boat license so you can captain your own ship… er small boat.
Howe Sound is a popular place to sail thanks to reliable winds. This 3-hour sailing tour with Canadian Coastal Sailing takes you out on a 40-foot yacht. Watch for orcas and seals as you learn the basics of sailing and take a turn at the helm.
17. Scuba Diving and Snorkelling
Porteau Cove, just south of Squamish, is one of the best places to dive near Vancouver. It's actually BC's first underwater park and includes a human-made reef and three sunken ships.
18. Whitewater Rafting
The snowy mountains outside of town unleash torrents of meltwater each spring and summer, feeding the Squamish, Elaho, and Cheakamus Rivers.
If you're up for a full-day adrenaline-pumping adventure, book the Wet and Wild Elaho Exhilarator trip with Canadian Outback Rafting.
For something fun, but a bit less intense, Canadian Outback Rafting offers the family-friendly Cheakamus Splash trip.
19. Rock Climbing
Squamish is world-famous for rock climbing. The most well-known spot is the huge granite face of the Stawamus Chief. But climbers also head to Crags in Smoke Bluffs Park and Murrin Provincial Park. The Grand Wall boulders at the foot of the Chief are the best place to go bouldering. There are also lots of smaller crags outside of town.
If you're a beginner, going with a guide is a good idea. Squamish Rock Guides, Altus Mountain Guides, Mountain Skills Academy, and Canada West Mountain School all offer guided tours for all abilities.
Experienced climbers can find local routes on theCrag or Mountain Project. Or stop in to Climb On Equipment to pick up a guidebook or chat with the helpful staff.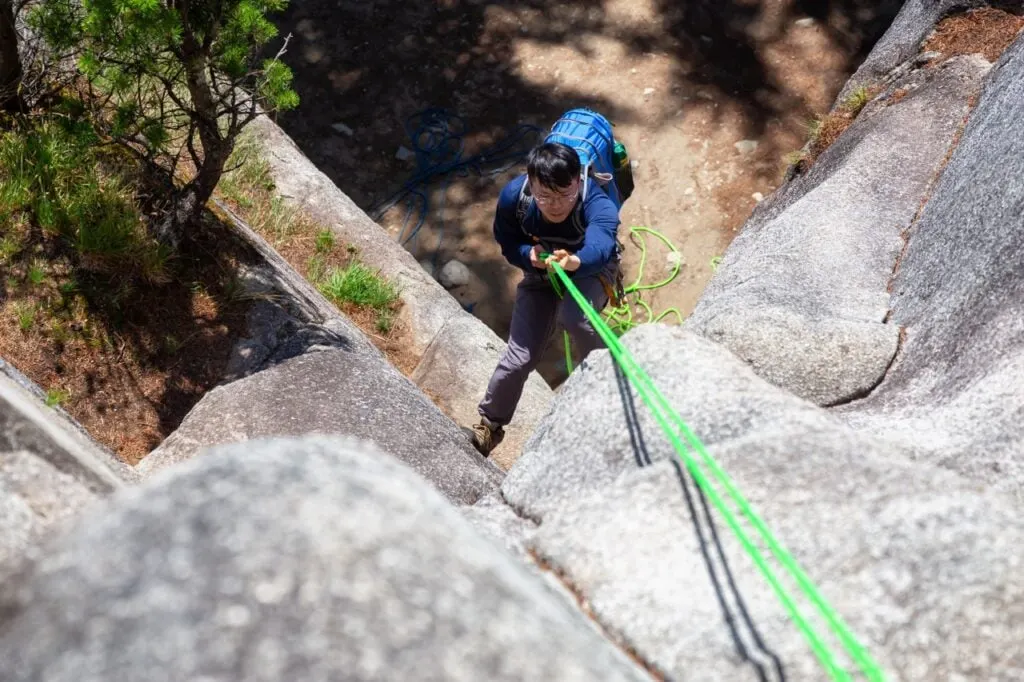 20. Via Ferrata
In Italian, "via ferrata" means iron way. This sport bridges the gap between hiking and rock climbing as you use ladder rungs, suspension bridges, and cables to climb a route. And don't worry, you're clipped into a harness the entire time.
The Squamish via ferrata is located at the Sea to Sky Gondola just below the lodge. You will go out with local guides from Mountain Skills Academy who will lead you through the course. Book your Via Ferrata adventure.
21. Rope Runner Arial Adventure Park
Test your fear of heights at the Rope Runner Arial Adventure Park. The 60-foot high ropes course includes 50 elements including bridges, ladders, and tightropes. You'll be clipped into a safety harness the entire time. Book your Rope Runner 2-hour time slot in advance.
22. Golfing
The par 72 championship-length Squamish Valley Golf Club is next to the Mamquam River right in the middle of town. It has a beautiful setting with towering old-growth trees and mountain views. Just south of town, the Furry Creek Golf and Country Club is stunning with oceanfront holes.
23. Fishing
The rivers, lakes, and ocean around Squamish are famous for salmon and trout fishing. Locals like to fish at Fisherman's Park on the Squamish River. Brohm Lake and Browning Lake in Murrin Provincial Park are also good.
But going with a guide is a great idea if you don't know the area as they will show you the best spots. You can book full-day tours for both spin-fishing and fly-fishing. But the best deal is the half-day fly-fishing tour since it includes 5 hours of fishing in the morning, the best time to fish.
24. Off-Roading
The rough gravel backroads around Squamish are a great place to go off-roading. If you have your own rig, you can explore the logging roads around town. The routes can be confusing, so it's best to bring a copy of the Vancouver, Coast and Mountains Backroad Mapbook or use a GPS app like Gaia GPS.
Psst! Want to save 20% off a premium Gaia GPS annual membership, which includes the maps I use on my trips? Use this link.
If you want to go off-roading in an ATV book this RZR side-by-side tour the Call of the Wild ATV Tour in Whistler.
Psst! Looking for more things to do in Whistler? Check out my list of 80+ Things to Do in Whistler
25. Bird Watching
Squamish is a stop on the BC Bird Trail since it has excellent bird watching. I got really into birding during the pandemic since it is an easy way to get outside and spend time in nature. Some of my favourite places to see birds are Eagle Run dyke (eagles) and the Squamish Estuary (waterfowl, herons, and songbirds).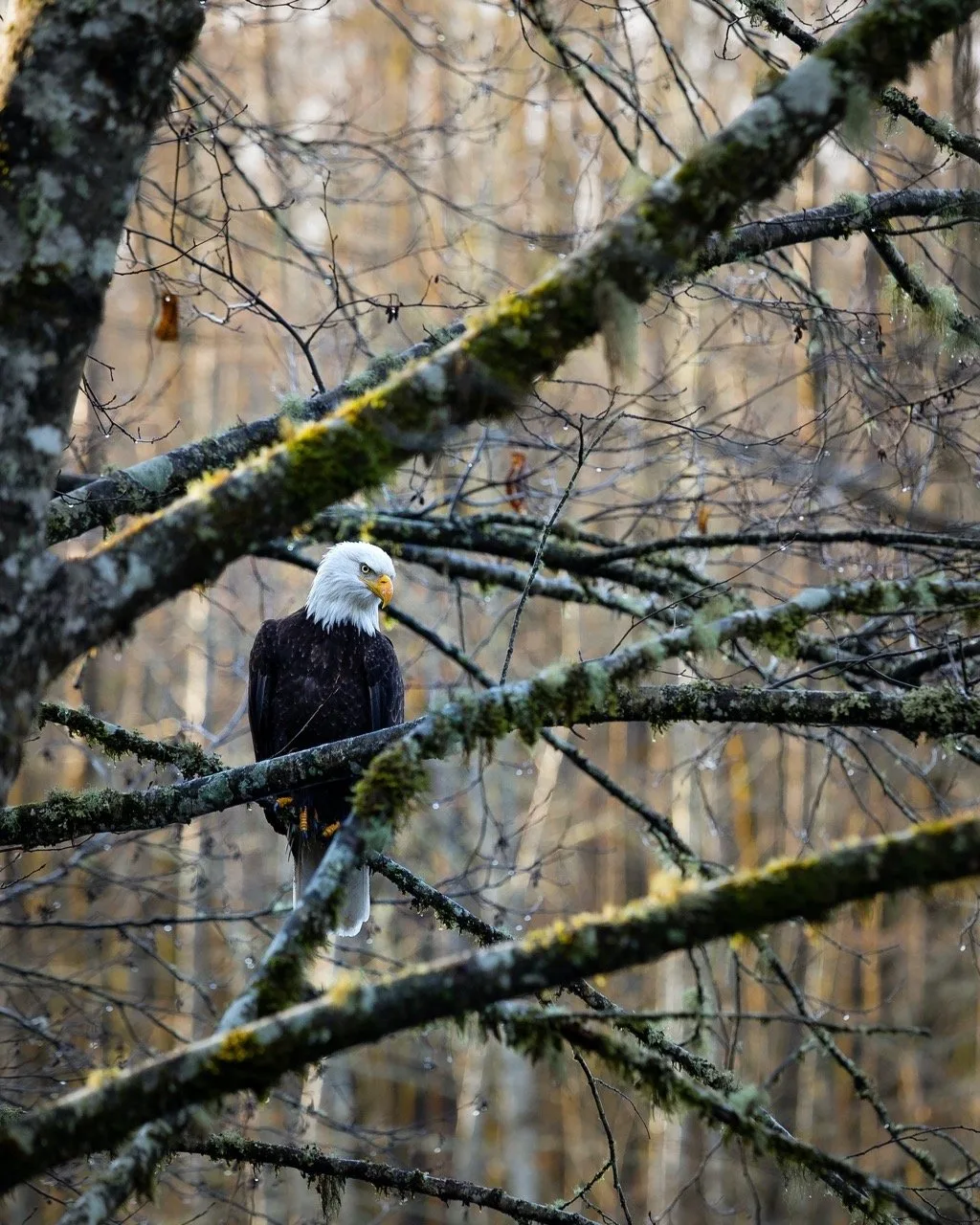 26. Horseback Riding
Several ranches in the Squamish Valley offer horseback riding. Squamish River Horse Adventures offers both short and full-day adventures through the forest and next to the river. Cheekeye Ranch in the Brackendale neighbourhood offers riding lessons and is also home to a charitable organization that rescues horses.
Winter Outdoor Activities
27. Snowshoeing
Snowshoeing is my favourite winter sport since it is so easy to do – if you can walk, you can snowshoe.
You can rent snowshoes at gear shops in town and there are lots of snowshoe trails around town ranging from beginner to expert. The best place for beginners is the Sea to Sky Gondola. Use my guide to Squamish snowshoe trails to plan your adventure.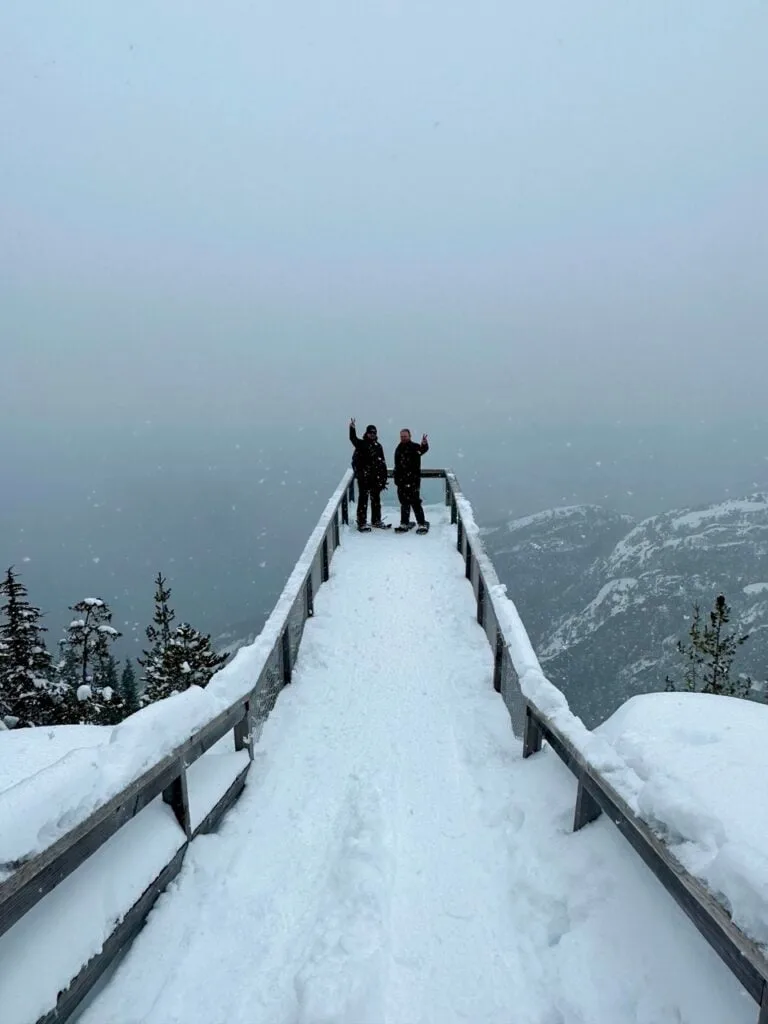 28. Skiing and Snowboarding
The world-famous Whistler Blackcomb ski resort is just 40 minutes north of Squamish. It's the largest ski resort in North America with the most uphill lift capacity.
Thirty-seven lifts serve 200 runs that range from green to double black diamond. The resort is spread out across two mountains, Whistler and Blackcomb, so there is always plenty of terrain to explore.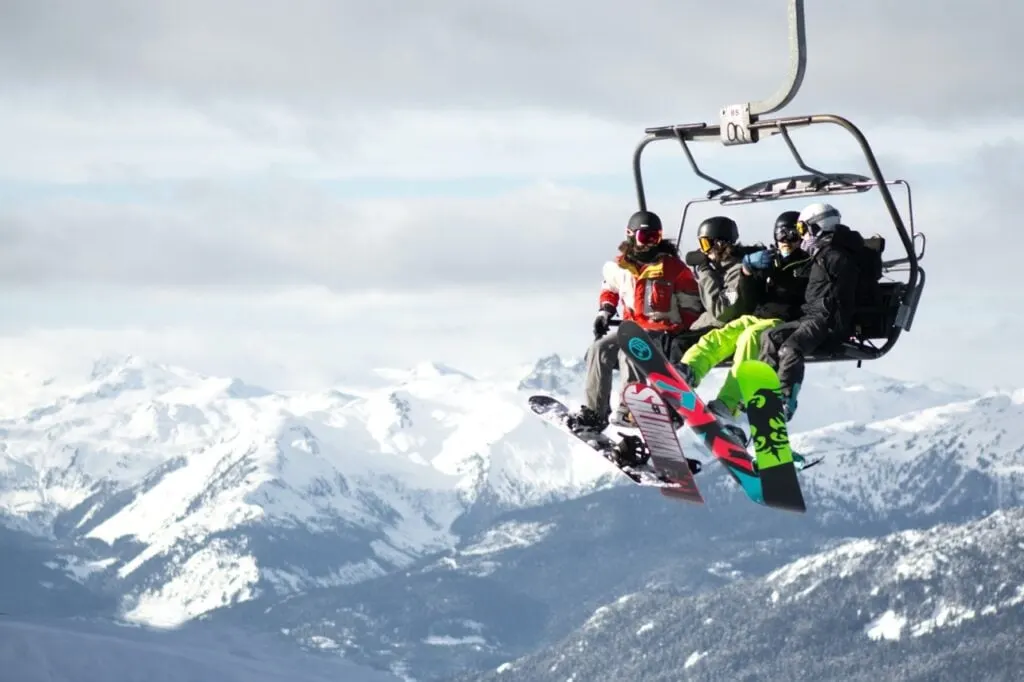 29. Backcountry Skiing
But heading to Whistler isn't the only way to ski in Squamish. Backcountry skiing and splitboarding are really popular here. There are a few ways to go backcountry skiing.
A popular option is to access the backcountry from the top of the Sea to Sky Gondola. Another option is to explore the mountains around town and north along Highway 99. However, you will need backcountry experience and avalanche training to stay safe.
If you are a beginner, book an Intro to Backcountry Ski Class in nearby Whistler to have a guide show you the basics and help you pick beginner-friendly avalanche-safe terrain.
Experienced backcountry skiers should check out the South Coast Touring Facebook group to find trip partners, current conditions, and route advice.
30. Cross Country Skiing
Also known as nordic skiing, Squamish has a few different places to go cross country skiing. Between December and February, it often snows all the way down to sea level and locals take their skis out to the golf course or the dyke trails.
But for more reliable snow, head to Whistler Olympic Park, about 45 minutes north of Squamish. They hosted the cross country ski events at the 2010 Winter Olympics. There are 90 km of trails, some of which venture deep into the backcountry. They have rentals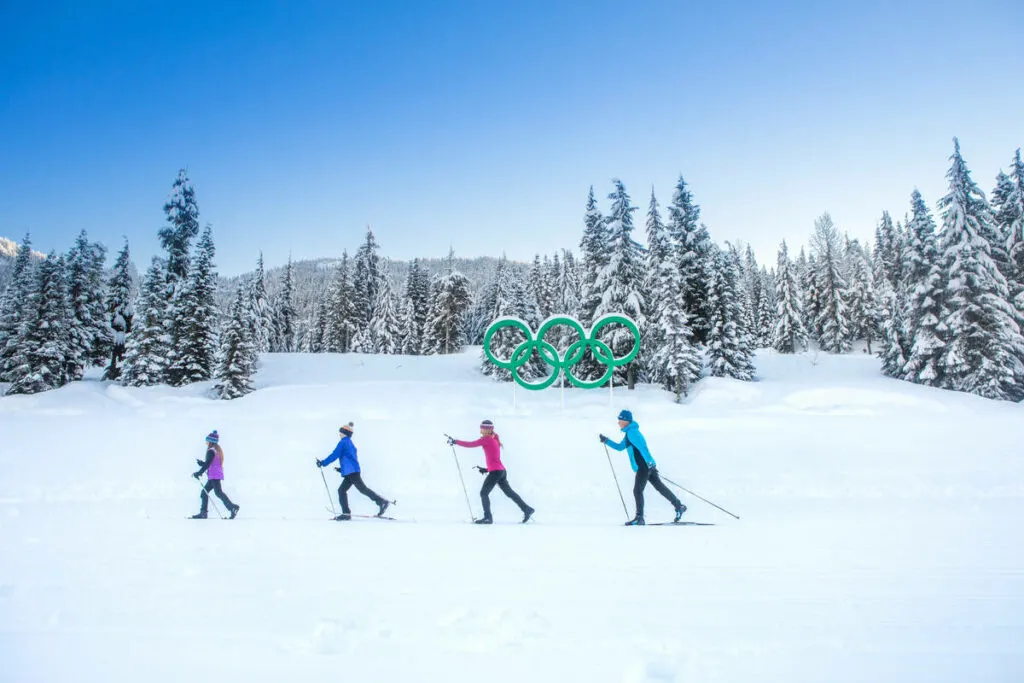 31. Snow Tubing
Snow Tubing is one of my favourite things to do in Squamish in winter. The tubing hill at the top of the Sea to Sky gondola is just $5. There is no tube tow so you'll get your exercise walking back up. But it's worth it because it's so much fun!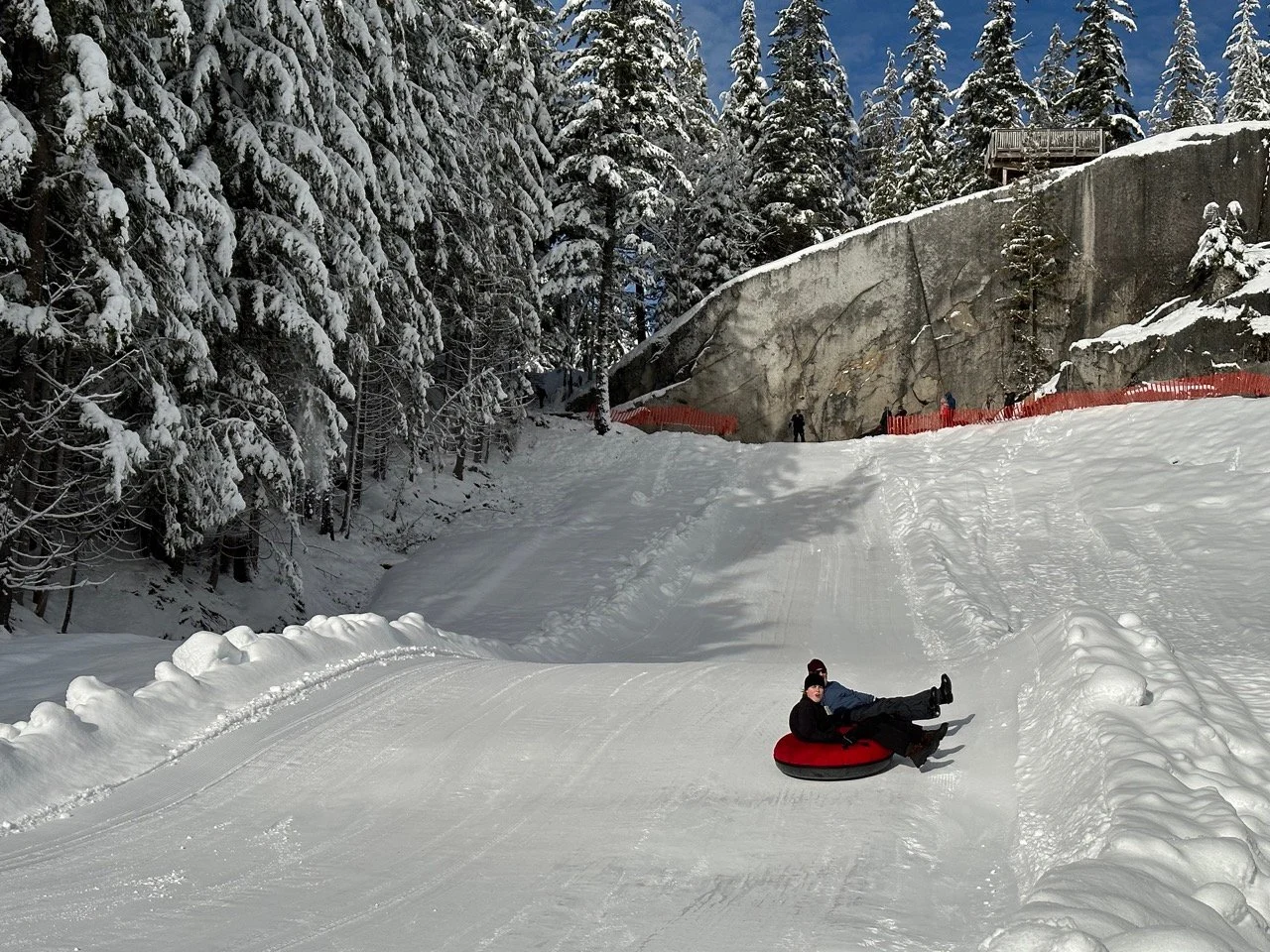 32. Snowmobiling
The mountains around Squamish get tons of snow. Locals take their snowmobiles (which they call sleds) deep into the mountains on backroads to do tricks and stunts.
If you are a beginner and want to try it out, you can Book a Wilderness Snowmobile Tour or a Family Snowmobile Tour in Whistler.
33. Eagle Float
In the winter, the whitewater rafting companies offer laid-back eagle-watching float trips. I did this trip a few years ago and loved it. It was so interesting to see the river so calm. And we spotted dozens of eagles.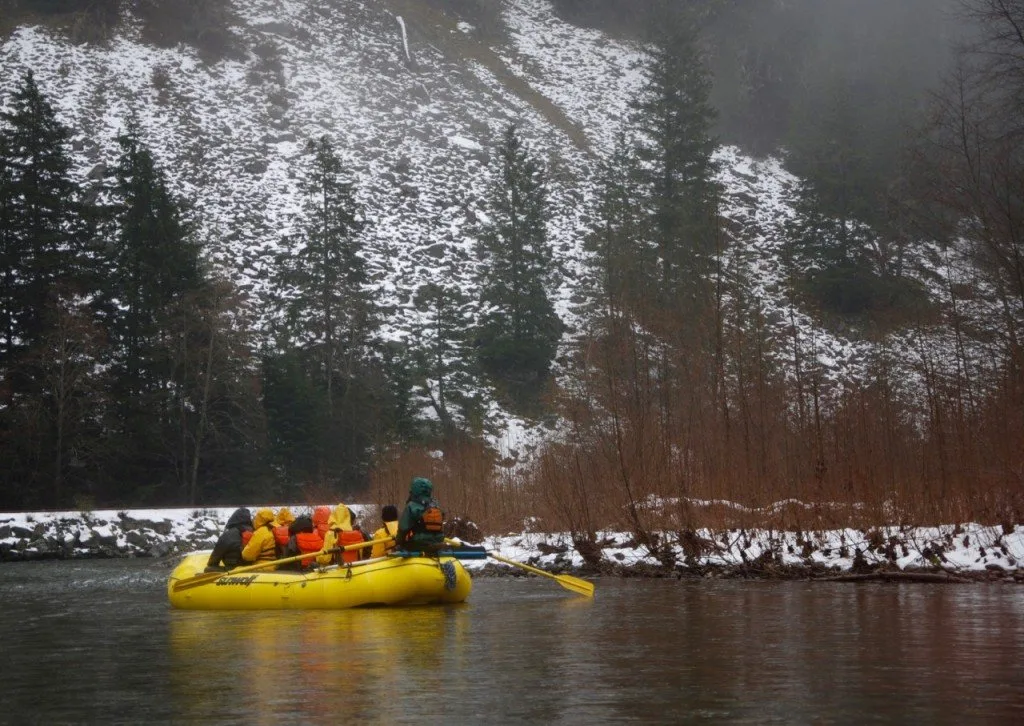 Sightseeing and Tours
34. Sea to Sky Gondola
I have an annual pass for the Sea to Sky Gondola and have been up many times, but each time the view takes my breath away. The gondola takes you from sea level up into the mountains.
The deck at the lodge is an incredible place for lunch as you gaze down to the waters of Howe Sound and across to the surrounding mountains. You can also brave the Sky Pilot Suspension bridge.
There are several easy walking trails near the lodge. Don't miss the Panorama Trail which leads to a spectacular viewing platform.
If you're an avid hiker, the Sea to Sky Gondola is a fast way to get up into the mountains. My favourite hike leaving from the lodge is the Al's Habrich Ridge trail which scrambles up over granite bluffs to subalpine terrain and viewpoints.
Save time and book your admission ticket in advance.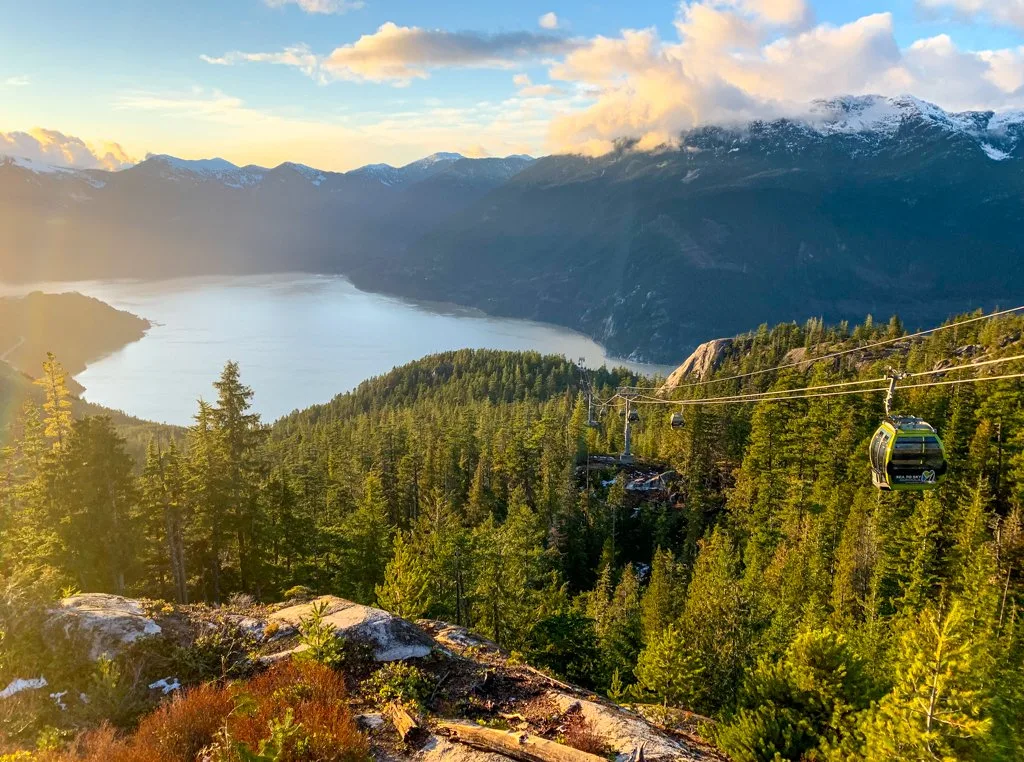 35. Eagle Run Dyke
Each year hundreds of eagles spend the winter on the Squamish River. The best place to see them is Eagle Run Dyke in the Brackendale neighbourhood. It is across the river from Brackendale Eagles Provincial Park.
You can easily spot the eagles on your own, but binoculars make the experience a bit more intimate. Interpretive panels explain the importance of eagles to the ecosystem and on weekends, volunteers are sometimes around to answer questions and conduct daily eagle counts.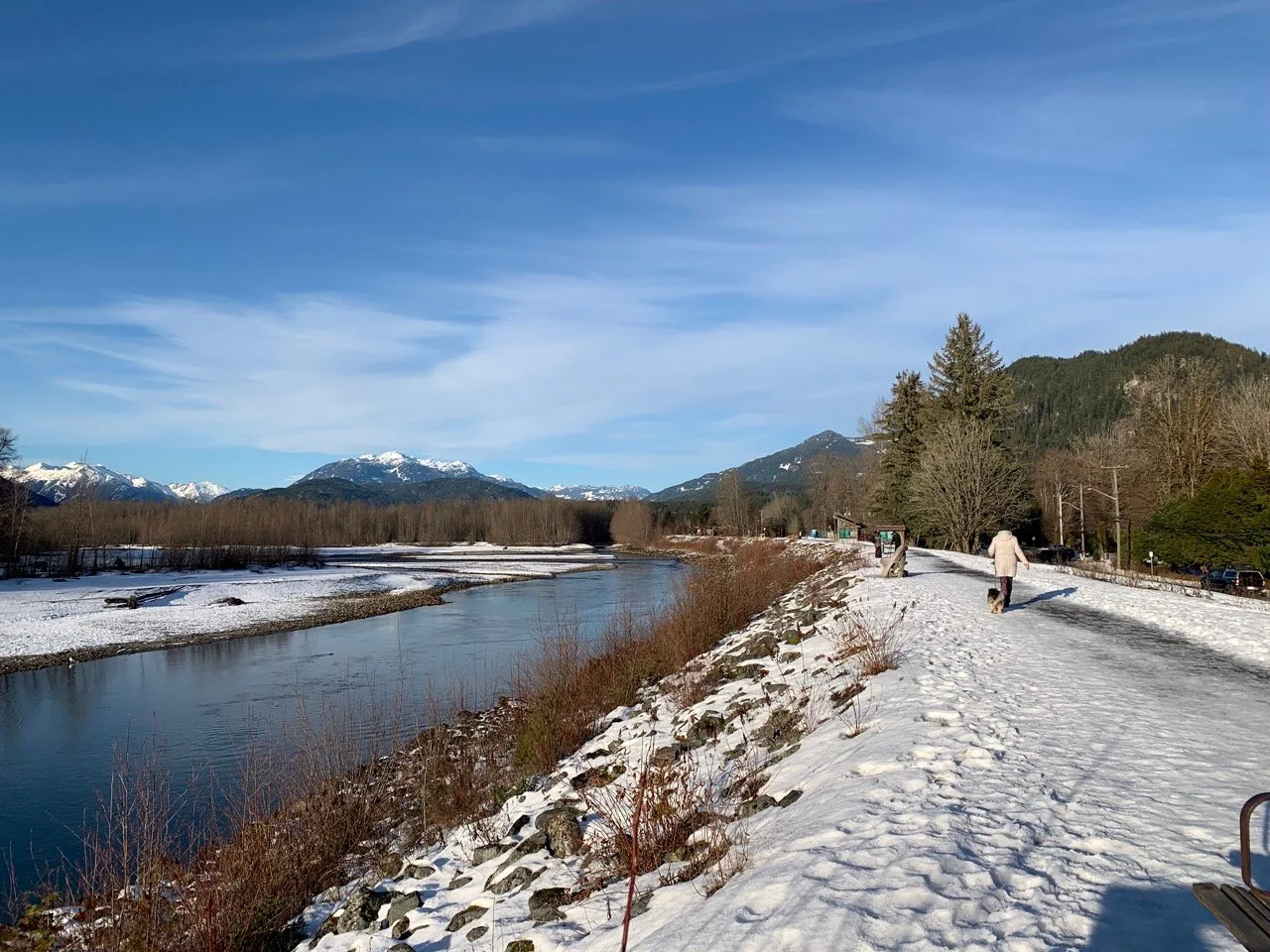 36. Flightseeing
Squamish has a small airport which makes a great base for flightseeing tours of the surrounding mountains.
I did the 35-minute Squamish Explorer Flightseeing Tour. It takes you over the top of Garibaldi Lake, the Black Tusk, and Mount Garibaldi (Nch'day), some of the most iconic features in the mountains north of Squamish. You'll also get great views of the town and the Stawamus Chief. The price is pretty reasonable too.
If you're up for a longer tour, book the Whistler Backcountry Flightseeing Tour. It is 50 minutes long and includes the same scenery as the Squamish Explorer, plus the Whistler area further north.
I really want to try the Alpine Lake Flightseeing Experience. You take a floatplane that lands on a remote alpine late below the Tzoonie Glacier. Your trip allows time to walk to a waterfall and even go for a swim.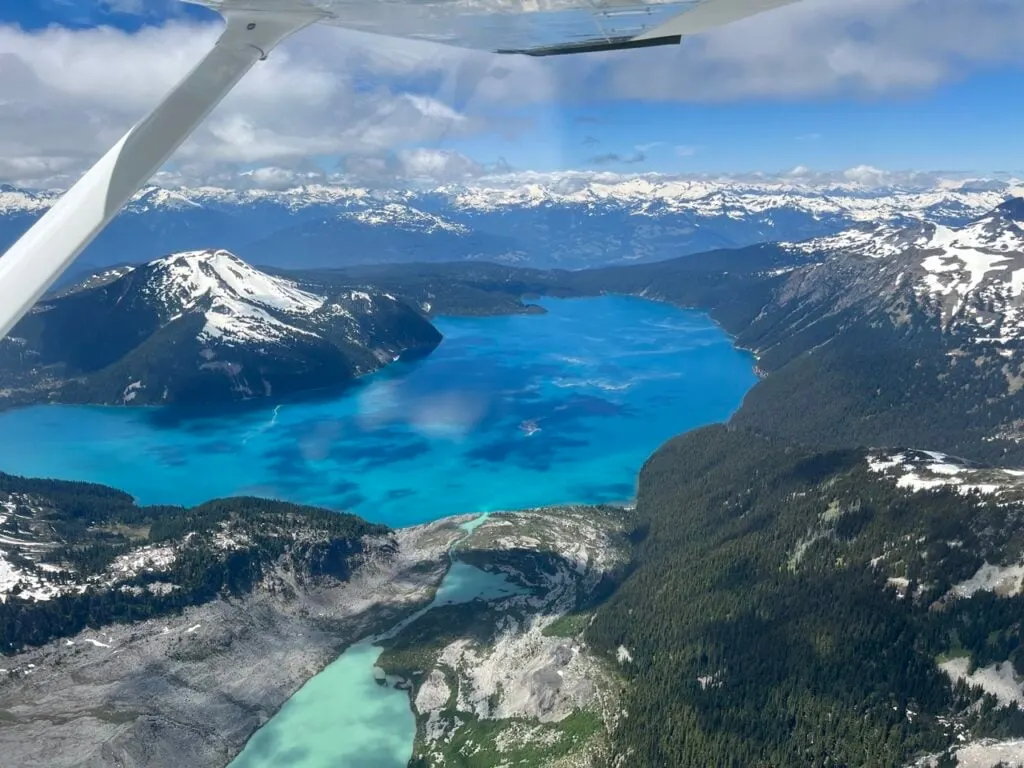 37. Downtown Squamish
A decade ago, downtown Squamish was fairly sleepy. These days it is packed with cute boutiques, gear stores, great restaurants and lots of public art. Take a stroll down Cleveland Avenue to window shop. Be sure to head one block over to 2nd Avenue as well as it has some great newer shops.
I've got recommendations for the best shopping and restaurants further down in this post.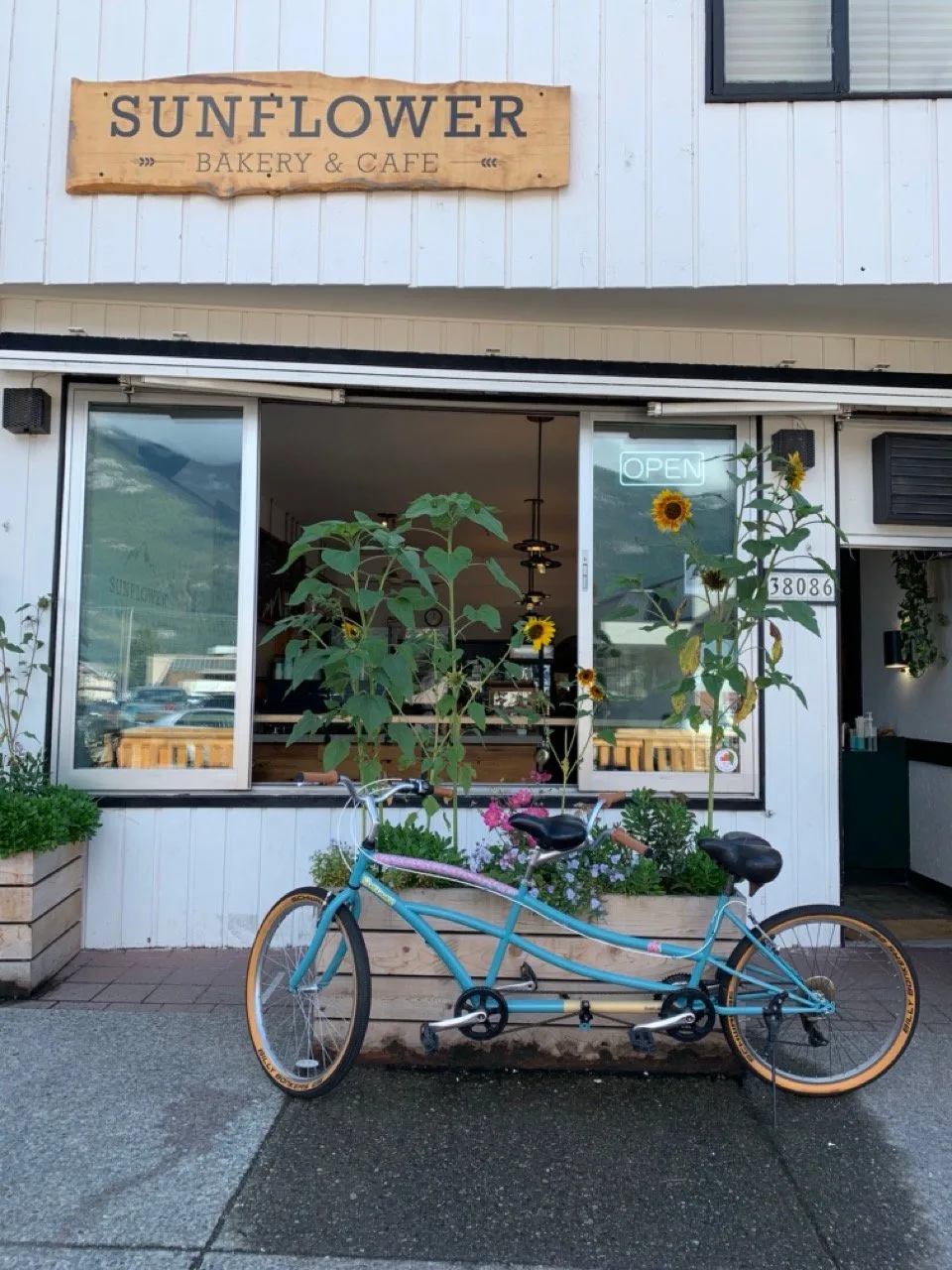 38. Squamish Mural Walk
Each July artists paint colourful murals on buildings downtown. Wander along Cleveland Avenue to see how many you can spot. Don't forget to check the alleys! Or use the Squamish Mural Walk map to plan a route.
39. Porteau Cove Provincial Park
Located 20 minutes south of Squamish, the small Porteau Cove Provincial Park is wedged between the Sea to Sky Highway and the deep waters of Howe Sound. The day use has a pier with incredible views of the surrounding mountains and ocean. Wander further into the park past the campground to find a short trail to a clifftop viewpoint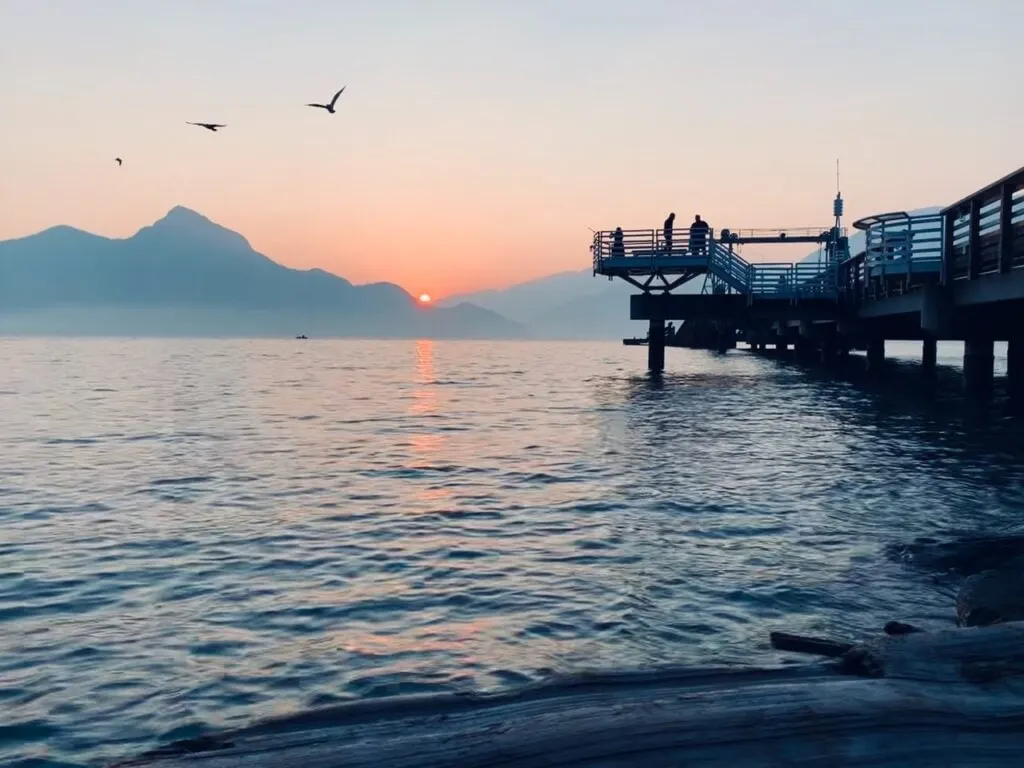 40. Shannon Falls
Don't miss Shannon Falls. It's one of the highest waterfalls in BC at 335 m tall. You can reach the base on a short (but steep) 5-minute walk. There are two different viewing platforms.
Local's tip: If you want to see the full height of the falls, the best view is from the end of Spit Road in the Estuary.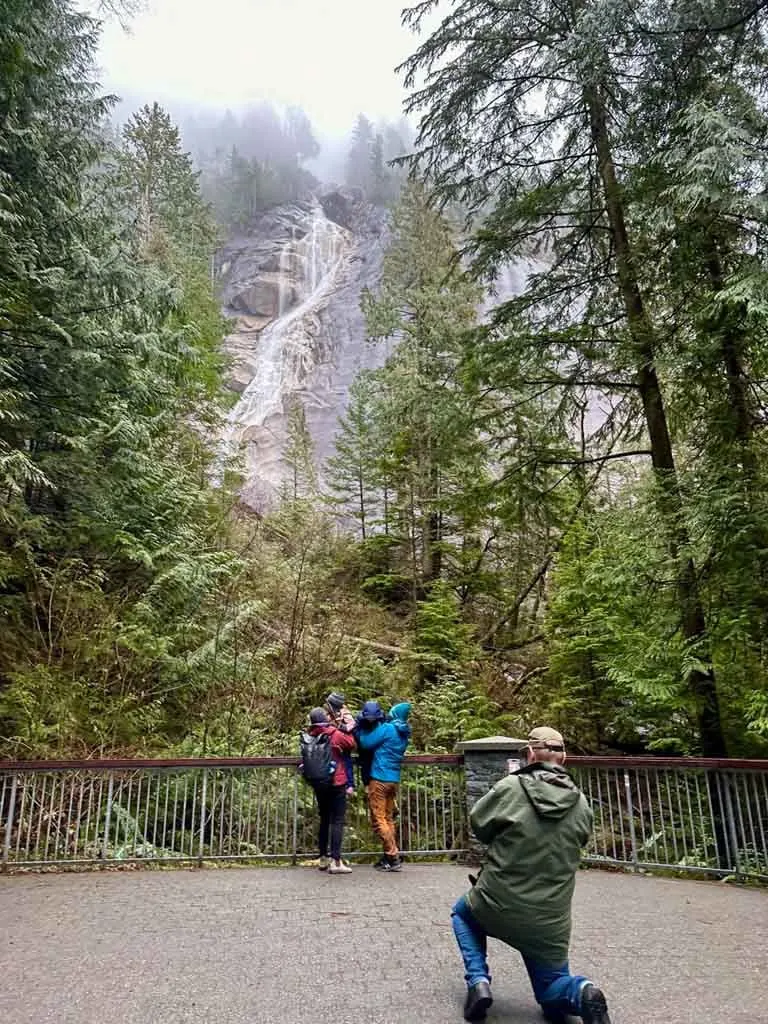 41. Brandywine Falls
Brandywine Falls is a must-see. It is about 30 minutes north of Squamish on the way to Whistler. The 70-metre tall (230 feet)waterfall flows over a lava cliff into a canyon. It's an easy 10-minute walk from the parking lot to the viewing platforms.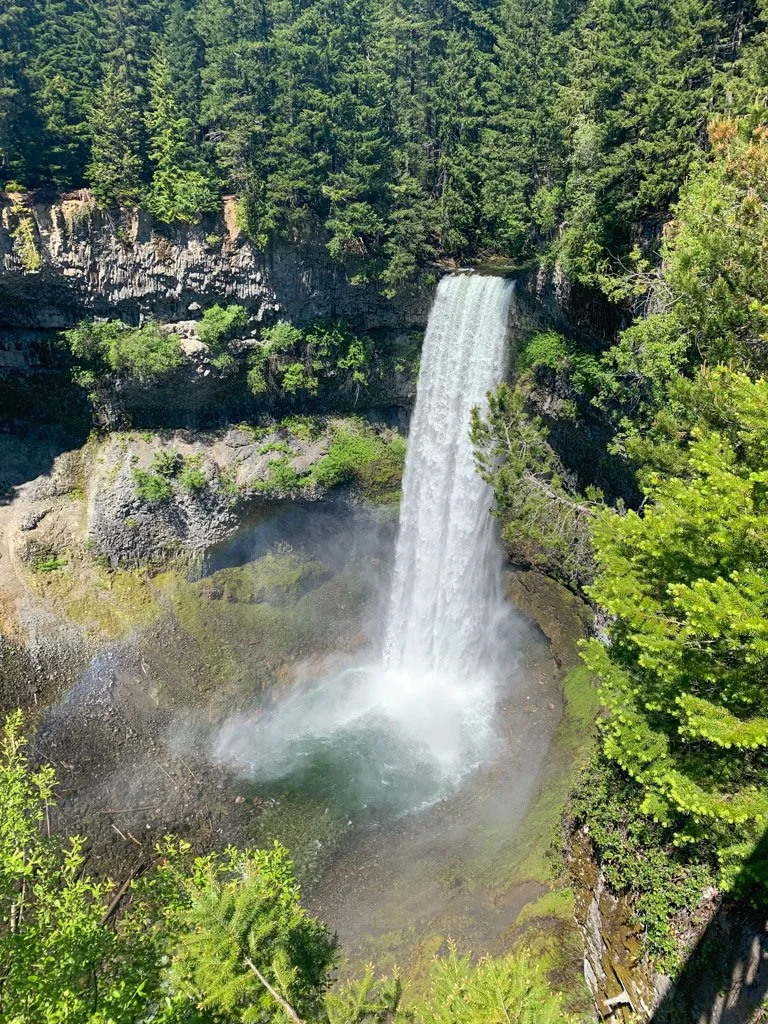 42. Whistler
World-famous Whistler is just 45 minutes away from Squamish. It makes a great day trip to ski, mountain bike, hike, or just explore the shops and restaurants in the pedestrian village. I head up there about once a month.
My favourite things to do in Whistler include hiking, the Scandinave Spa, and the Squamish Lil'wat Cultural Centre. Read my full list of things to do in Whistler for 80 more ideas.
43. Drive the Sea to Sky Highway
Squamish is right in the middle of the Sea to Sky Highway, as Highway 99 between Vancouver and Whistler is known. I've driven this road dozens of times and has some of the most spectacular scenery around.
You can speed through the trip in two hours, but it's better to spend a full day or even two to take in the viewpoints, hikes, and side trips.
I've got a full Sea to Sky Highway Roadtrip guide on my outdoor adventure website that has all the must-see spots.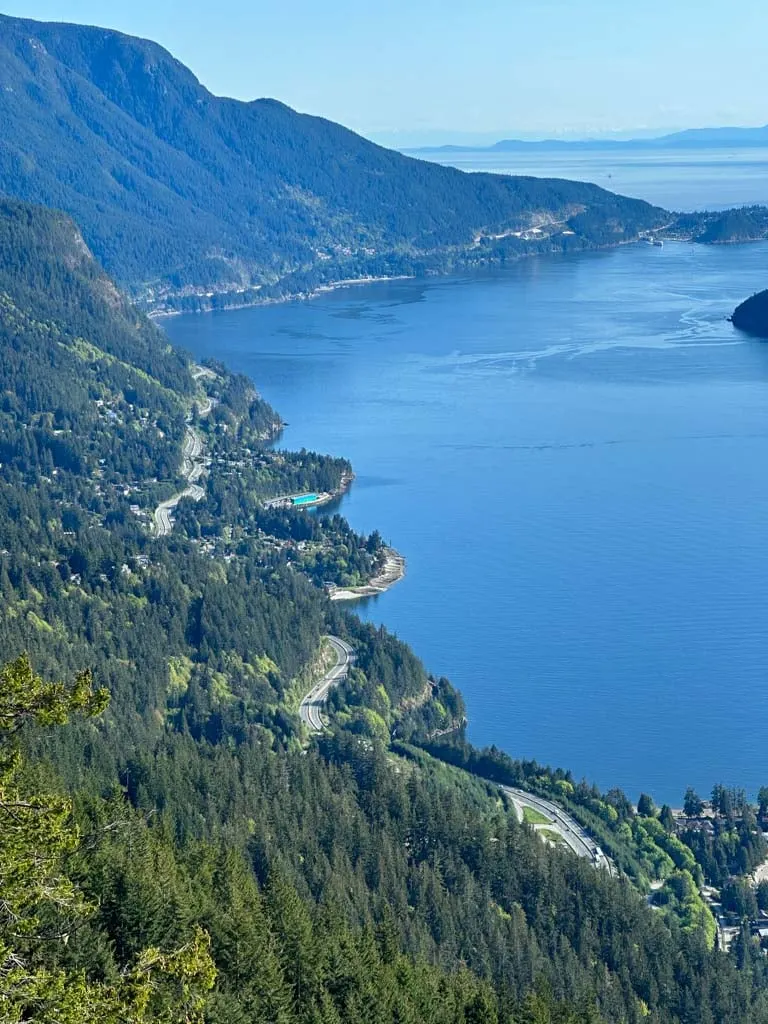 Museums, Galleries, and Attractions
44. Britannia Mine Museum
The village of Britannia Beach is 10 minutes south of Squamish. It used to be home to the largest copper mine in the British Commonwealth, but today the mine is a fun interactive museum.
You can go on an underground mine tour on a train, pan for gold, and wander through the old buildings. They also have a new interactive show called BOOM!, which is really well done. I also love the historical displays that hearken back to a time when the only access was by boat.
Save time and book your museum admission ticket in advance. It includes the BOOM! experience.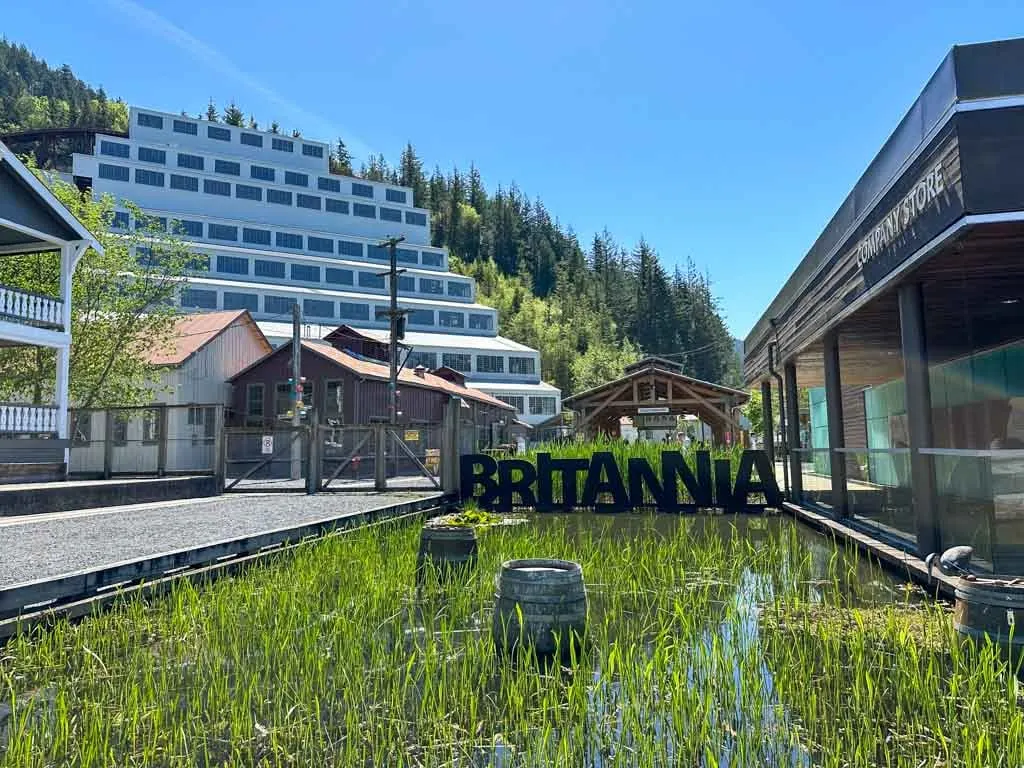 45. Railway Museum of British Columbia
This sprawling train museum is open in summer and for special events like Thomas the Tank Engine and Polar Express the rest of the year. They have over 90 vintage train cars, engines and parts, some of which date back over 100 years. Their miniature railway is also popular with kids.
46. Brackendale Art Gallery
Celebrating its 50th anniversary in 2023, the Brackendale Art Gallery is a hub for artists and musicians. They host exhibitions, live music, and workshops. In January, they are also the home of the Brackendale Winter Eagle Festival. As of early 2023, it is under new management as the original owners have retired.
47. Anissimoff Fine Art
Local artist Andy Anissimoff opened his gallery on Cleveland Avenue in 2013. It features original paintings and prints in his signature West Coast mountains style. I have a print of his hanging in my home. They make great gifts!
48. Ground Up Climbing Centre
Locals love this large indoor climbing gym. Ground Up Climbing Centre has a range of routes for both beginner and experienced climbers. They have a 100-foot-long bouldering wall, a training area, and lots of routes to top rope or lead climb.
49. Squamish Axe Throwing
Channel your inner lumberjack at Squamish Axe Throwing, located at Rope Runner. Reserve a time slot in advance, then see if you can hit the bullseye.
50. Airhouse
Airhouse is an indoor playground for anyone who likes catching air. They have a freestyle trampoline area, a parkour course, a skateboard park, and a gymnastics zone. They also provide high-performance training for aerial skiers and snowboarders. You can enroll in lessons or book a drop-in session.
51. Chances Squamish
Head to Chances Squamish for bingo, slots, and betting. On Thursday nights they have name-that-tune style music bingo and 1/2-priced wings. They have a restaurant on-site too.
52. Brennan Park Recreation Centre
If you want to go for a swim or go ice skating, head to Brennan Park Recreation Centre. They have a 25-metre swimming pool, whirlpool, steam room, and a regulation-sized ice rink.
Spas and Wellness
53. AIKA Spa
AIKA Spa is a real Squamish-style spa. This small, private spa takes bookings for up to 10 guests in a gorgeous wilderness setting. They have a wood fire sauna and cold plunge pool for hold/cold therapy. They also offer forest bathing, yoga, and breathwork. You can also get herbal tea and gourmet charcuterie platters during your stay.
54. The Finnish Sauna
Step into the wood-fired Finnish Sauna at Cheekeye Ranch and relax. The riverside location has incredible views and you can warm up at the fire pit after your cold plunge.
55. Yoga and Pilates
Squamish has several yoga and pilates studios. Breathe Fitness is consistently rated as the best yoga studio by locals. Ashtanga Yoga Squamish offers the traditional yoga sequence. Shala Yoga offers yoga classes as well as meditation. Head to Seed Studio for pilates.
Food and Drink
56. Craft Breweries, Cideries, and Distilleries
Squamish has a strong craft brewing culture, dating back to the opening of Howe Sound Brewing downtown in 1996. You'll also find Cliffside Cider downtown.
Head over to the industrial park to visit A-Frame Brewing, Backcountry Brewing, Geo Cider, and Raincity Distillery. Backcountry is my favourite since they also have amazing wood-fired pizza.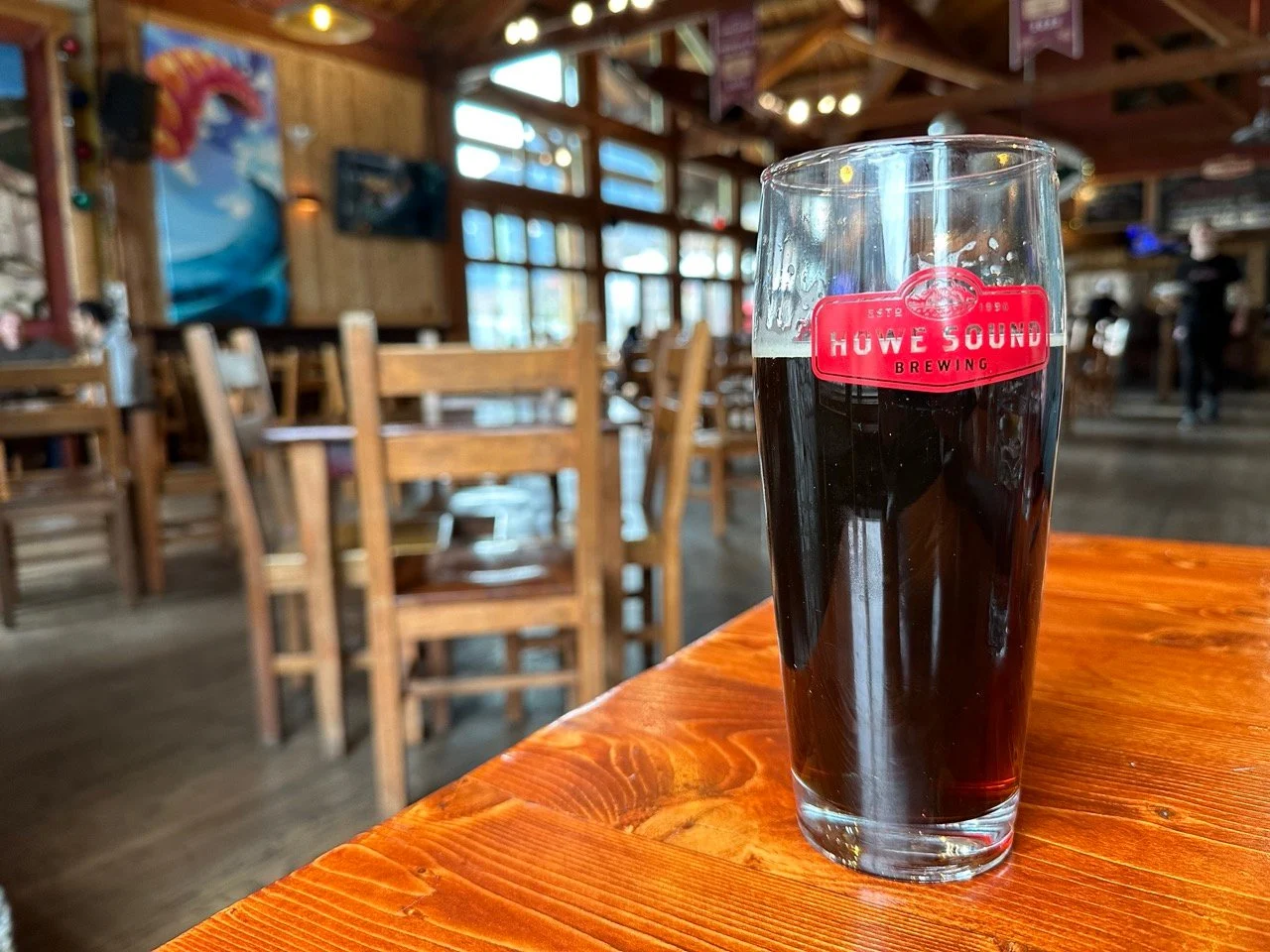 57. Bakeries
For a small town, Squamish has a lot of bakeries, and after a LOT of research, I can confirm that they are all amazing.
Sunflower Bakery and Cafe downtown is great for bread, doughnuts, and other treats. Fox and Oak, also downtown, is a hipster doughnut shop, but sooo delicious.
In the industrial park, Tall Tree Bakery has the best bread but go early as they sell out. purebread in Garibaldi Estate has a huge and amazing bakery case. I love their brownies.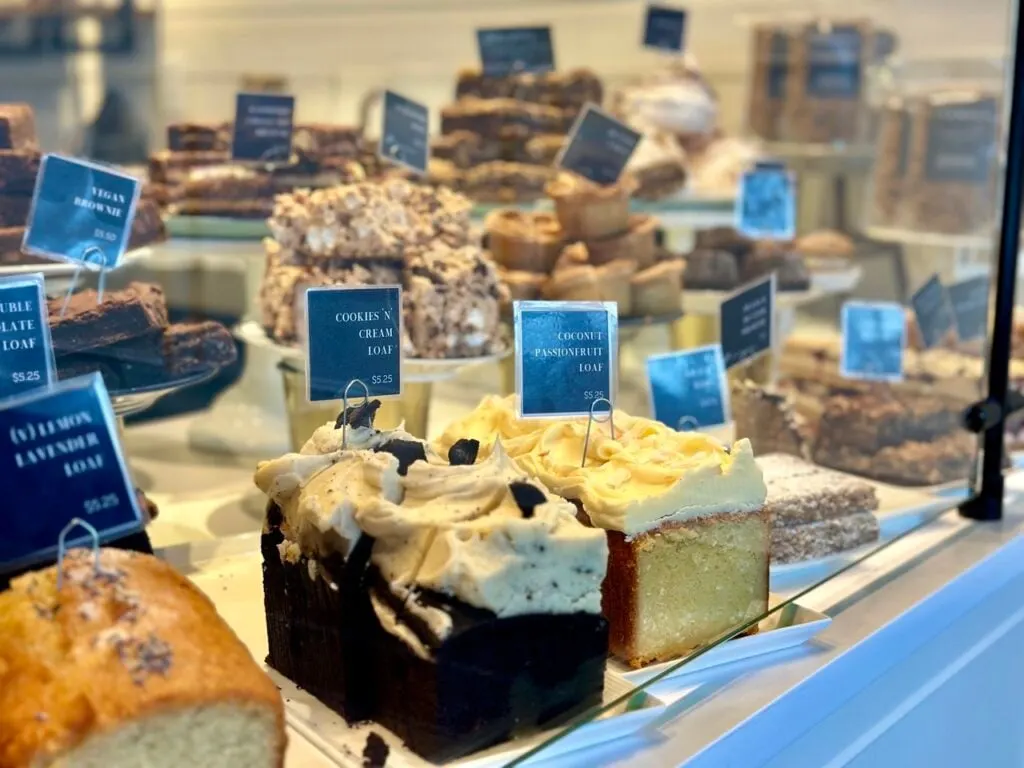 58. Brunch
Squamish locals love brunch. It's a great way to while away a rainy morning. Or to fuel up after an early run or bike ride. My favourite spot is The Crabapple Cafe in Brackendale. Get the breakfast hash.
A close second is Fergie's Cafe at Sunwolf on the banks of the Cheakamus River. They have incredible eggs benedict. Go early – the line-up for seating can be long.
Other great options include Lil Chef Bistro, Zephyr Cafe, Squamish Valley Golf Course, and Cordelia's Locket.
59. Vegetarian and Plant-Based
With so many eco-conscious folks in town, it's no surprise that Squamish has lots of great vegetarian and vegan/plant-based food options. We even have a plant-based grocery store, XMarket. Tuba Cafe downtown is completely vegan.
There are also lots of restaurants with tons of vegetarian and plant-based options. Saha Eatery has delicious Mediterranean food and you can make most dishes vegan. Zephyr Cafe has a mostly vegetarian and vegan menu.
The restaurant at the Squamish Valley Golf Club lets you make any breakfast item vegan or vegetarian by substituting tofu scramble and vegan cheese. You can make pizza vegan at Joe Pesto's by substituting vegan cheese. Essence of India has quite a few vegan items on the menu. Fox and Oak and Sunflower Bakery both have vegan doughnuts
60. Coffee Culture
We are serious about our coffee in Squamish. Counterpart Coffee and Galileo Coffee both roast their own beans in town. 1914 Coffee Company is a one-man coffee snob operation, in the best way. The owner/barista loves geeking out on coffee and makes every cup with lots of care and precision.
Other great places to get coffee around town include Fox and Oak, Sunflower Bakery, and Cloudburst Cafe. (We also have two Starbucks locations and two Tim Hortons locations if that's your thing.)
Shopping
61. Squamish Farmer's Market
The Squamish Farmer's Market runs every Saturday between April and December in downtown Squamish. Choose from local produce, crafts, baked goods, and lots more. I always pick up some Frostbites cocktail syrups.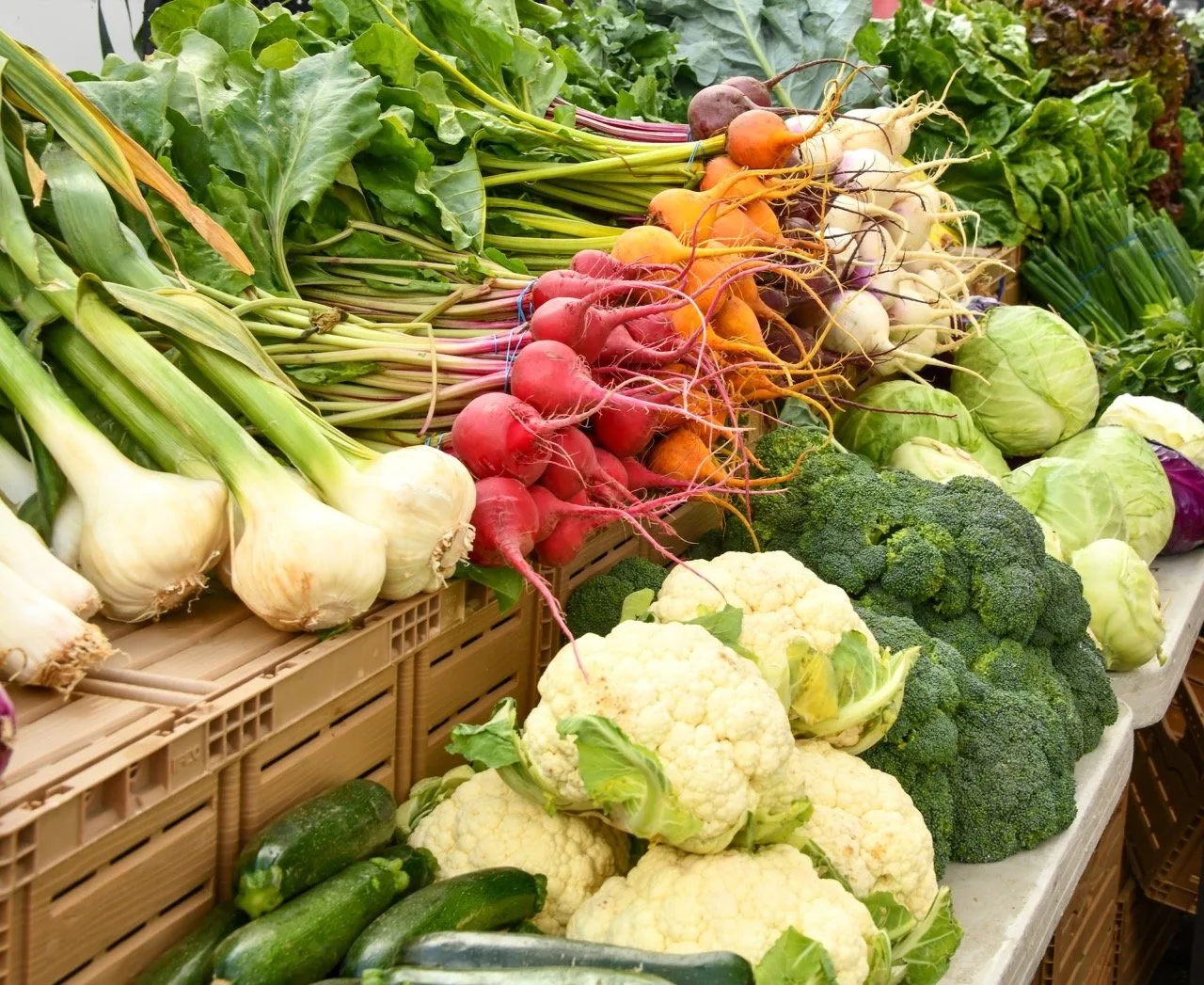 62. Outdoor Gear Shops
It's no surprise that there are tons of outdoor stores in Squamish. Mountain bikers should check out Tantalus Bike Shop, Corsa Cycles, Spoke Haven, and Ride Hub.
Rock climbers will want to head to Climb On Equipment. Backcountry skiers should visit Ski Uphill. Downhill skiers will like Urban Alpine.
And hikers, paddlers, climbers, campers, and backcountry skiers should check out Valhalla Pure Outfitters and Escape Route.
63. Boutiques and Gifts
Billie's House is our local florist, but they also have housewares and gifts. I love their cute planters. Empire of Dirt has an eclectic mix of gifts, vintage, furniture, and housewares. I love the aesthetically pleasing interior of Grateful Gift Shop. They have a coffee bar too.
There are a few good options outside downtown too. If you love plants, head to Wonderland's Emporium. It's a gorgeously sunny cross between a plant shop and a coffee shop. I also love Nootka and Sea. They have plants alongside beautiful candles and soaps.
If you're looking for souvenirs, The Squamish Store at the Adventure Centre has a great selection of local art, books, t-shirts, and more. The Sea to Sky Gondola gift shops are also good – there's one at the top and one at the bottom (that you don't have to pay to get to).
If you're looking for books, head to Little Bookshop on 2nd Avenue. This adorable little boutique has a huge selection of kids' books. They also have a dedicated section for local books, especially on environmental themes.
64. Xoco Chocolate
Squamish was not where I expected to find world-class chocolate… but it's here at Xoco Chocolate. They make incredible chocolate bars and gift boxes. You can also buy chocolates a la carte, which is a great way to try their flavours. I love their passion fruit and salted caramel flavours.
Festivals and Events
65. Squamish Hot Chocolate Festival
Each February local cafes and businesses participate in the Squamish Hot Chocolate Festival. Most come with a sweet treat like a cookie or mini doughnut too.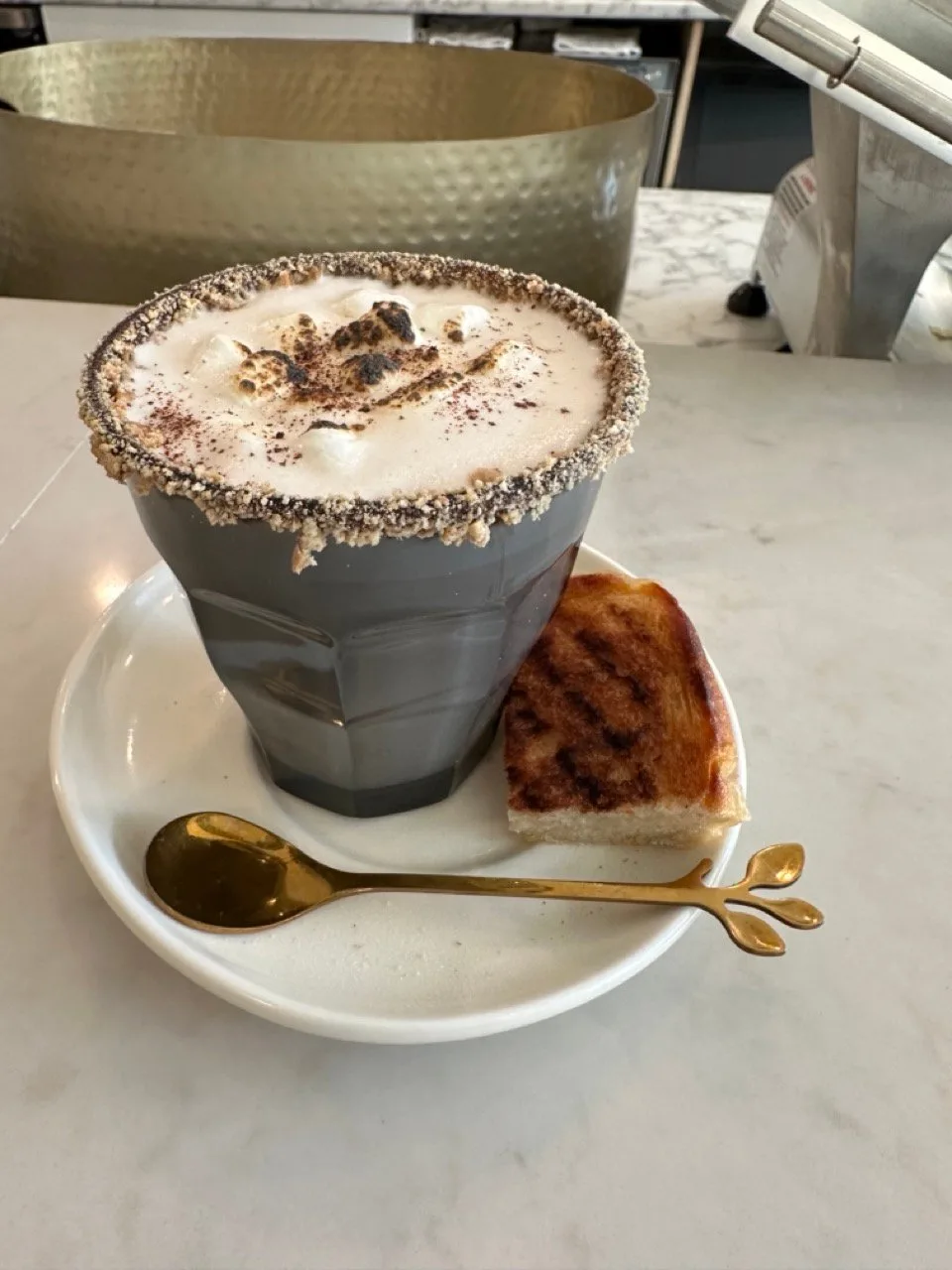 66. Squamish Beer Festival
The city celebrates everything brewing each June at the Squamish Beer Festival. You can taste brews from over 40 craft breweries and cideries at the event. They also have live music, food trucks, and games.
67. Amped in the Park
On summer weekends, volunteers from Squamish Arts run Amped in the Park. This free concert series features local musicians as well as comedians, poets, buskers, and more. Look for Amped in the Park at Junction Park in downtown Squamish in June, July and August.
68. Squamish Days Logger Sports Festival
Held each year on the first weekend of August, the Squamish Days Logger Sports Festival celebrates the city's forestry history. The festival includes logger sports, a chilli cook-off, live music, chainsaw carving, a barbecue, a pancake breakfast, and a parade.
69. Squamish Arts Festival
The multi-week Squamish Arts Festival includes workshops, performances, and live art each August. Some of the events are free.
70. Sip and Savour Squamish
The Sip and Savour culinary event takes place each November. Participating restaurants around town put together special tasting menus that let you enjoy several dishes at a reduced price. It's a great way to try new restaurants.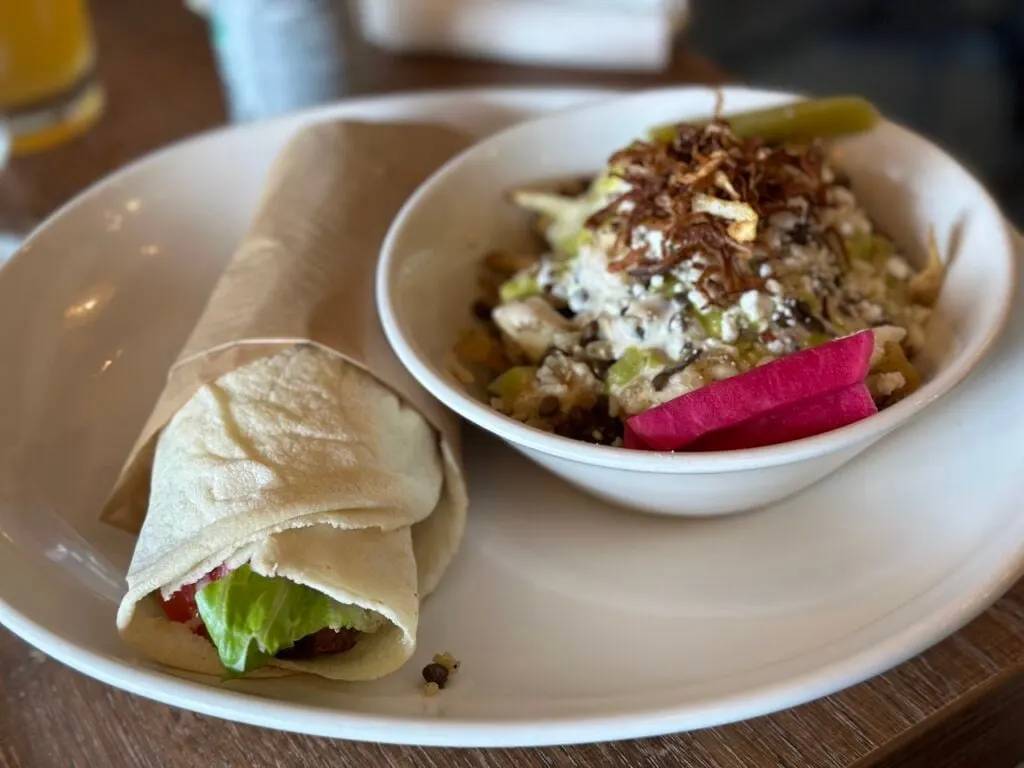 71. Bespoke Market
Bespoke Market brings together local crafters and artisans for the best market around. You can find jewelry, fashion, wellness, vintage, and food. The market takes place each April and November.
Whew! We made it to the bottom of this huge list of things to do in Squamish. As a local, I know you'll love it here as much as I do. What's your favourite Squamish activity? Tell me in the comments.
READ NEXT: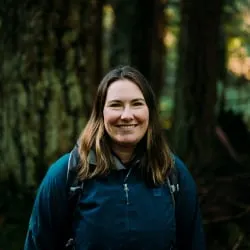 Latest posts by Taryn Eyton
(see all)