Canada is a big country with fantastic scenery. Thankfully, there are tons of cute small towns in Canada for outdoor adventures. I asked fellow travel writers to recommend their favourite Canadian towns for hiking, kayaking, beaches, mountain biking, skiing, and more.
In this post, you'll find personal recommendations for 22 small towns across Canada along with outdoor adventures that will inspire you to pack your hiking boots and go.
This is a sensitive wilderness area. Learn how to Leave No Trace to keep the wilderness wild. Make sure you are prepared by bringing the 10 Essentials. Get ready for adventure with this checklist of things to do before every hike.
Hey there: Some of the links in this post are affiliate links, which means I earn a small commission at no cost to you. Thanks for your support. -Taryn
Curious about where all these Canadian adventure towns are located? I made this handy google map that shows you where to find them.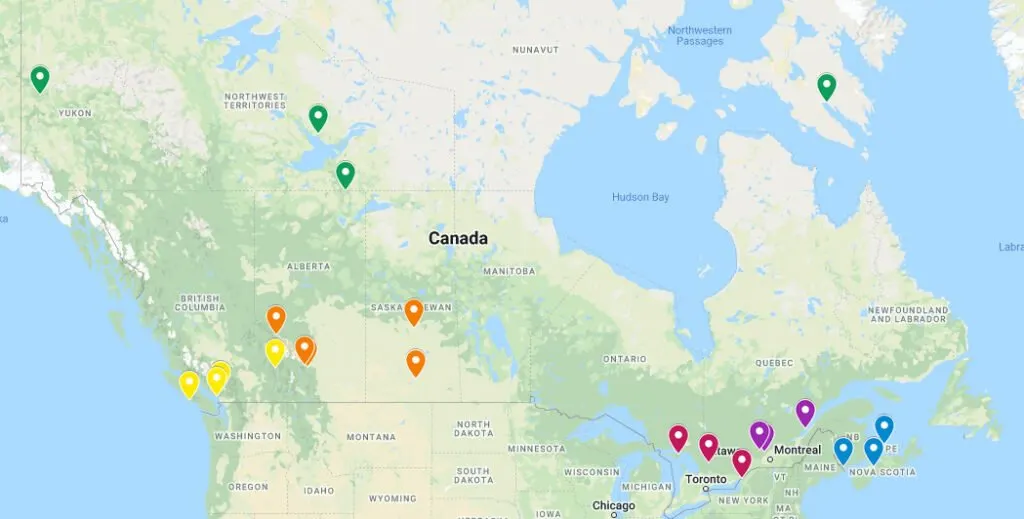 Best Small Towns in the Atlantic Provinces for Outdoor Adventures
Cavendish, Prince Edward Island
Cavendish is a small town in Prince Edward Island. Public transport is limited, so the only way to get to Cavendish is to self-drive. From PEI's capital city of Charlottetown, it's a 35-minute drive via Highway 224 and Highway 13. There is typically a shuttle from Charlottetown to Cavendish if self-driving is not an option – check in advance if this is operating.
There are lots of great things to do in the town of Cavendish – it is the perfect place for an outdoor adventure in PEI. One of the most popular things to do is go to Cavendish Beach, which is a white sand beach in Prince Edward Island National Park. Spend some time swimming in the ocean or kiteboarding!
At Cavendish Beach, you can also go hiking trail on the Dunelands Trail. It is a short, 2.3 km out and back trail that is relatively flat and leads to Cavendish Beach East. The Dunelands trail itself takes about 35 minutes round trip to complete, but Cavendish Beach East is a unique, red sand beach and a beautiful place to explore.
Recommended by Kat from endlesswonder.ca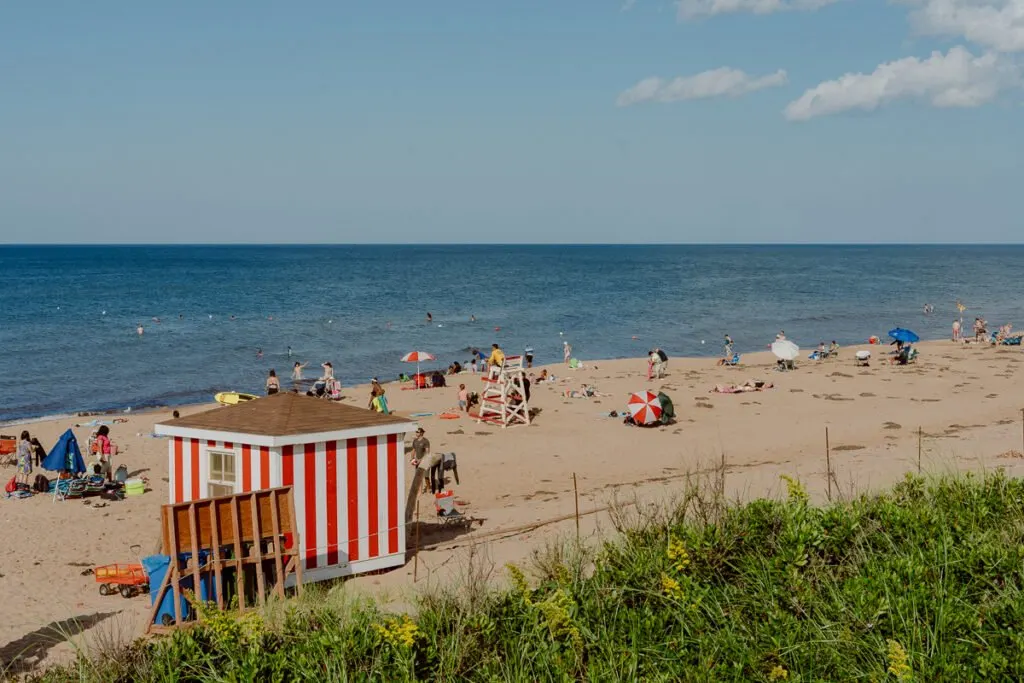 Wolfville, Nova Scotia
If you're looking for a small town with big outdoor adventures, look no further than Wolfville, Nova Scotia. This beautiful town is located on the Bay of Fundy and is home to stunning hiking trails, kayaking spots, and more.
Wolfville is easily reached from Halifax, the capital city of Nova Scotia, making it the perfect weekend getaway spot. In just 1 hour by car, you can be enjoying all that this charming town has to offer. With an airport located in Halifax, you'll be able to get to Wolfville and be strapping on your hiking shoes within 2 hours of touching down!
One of the best things to do in Wolfville is to hike up to Blomidon Provincial Park. This park offers incredible views of the Bay of Fundy and is a great place to see some of Nova Scotia's wildlife. Several easy hiking trails wind through the park, making it the perfect place to explore on a sunny day.
Don't forget to visit in the fall for apple picking and leaf spotting on hiking trails in nearby Annapolis Valley. In the spring, you can also check out local wineries after a morning of kayaking on the Minas Basin.
Recommended by Nina from Nina Out and About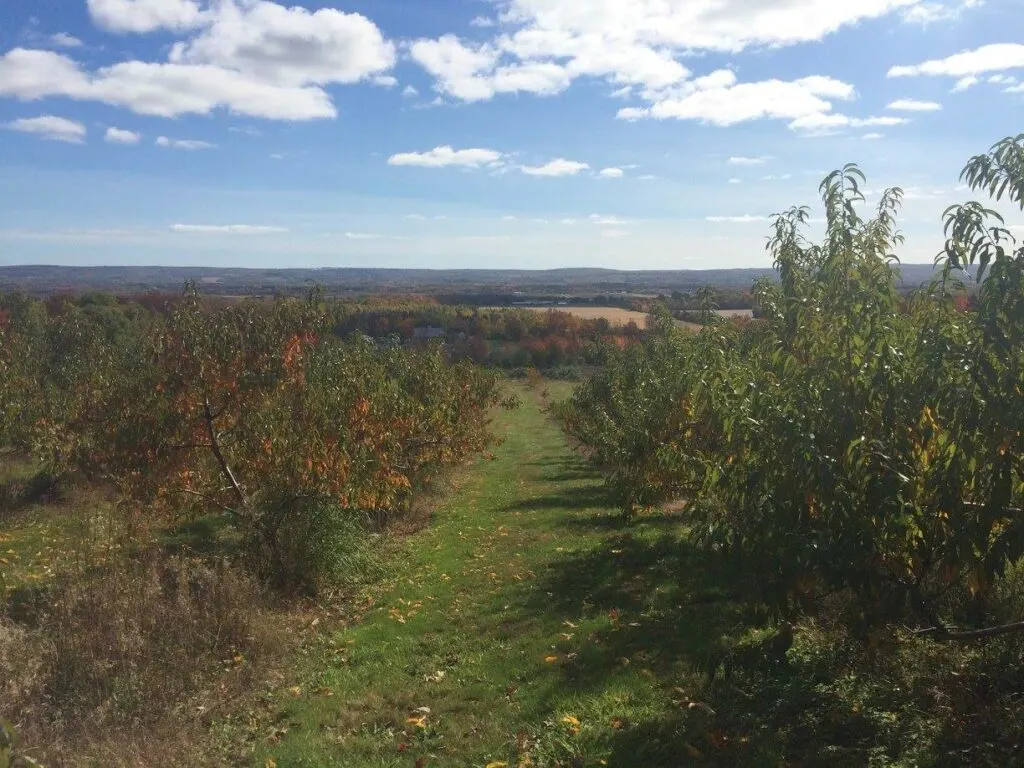 READ NEXT: 16 Things to do Before a Hike
St. Andrews, New Brunswick
St. Andrews by-the-Sea is one of the most popular places in New Brunswick. Nestled beside the Bay of Fundy, the town of St. Andrews is about one hour west of Saint John on Route 1. Whether you're planning a quick trip or a longer vacation, this historic location is the perfect destination.
One of the best hikes nearby is Sam Orr Pond in the Caughey-Taylor Nature Preserve. This 3.5-km loop takes about an hour and is perfect for families or solo adventurers. If you'd prefer a longer hike, continue to Berry Point for views of the Passamaquoddy Bay. You can visit this nature preserve in winter, too.
In addition, St. Andrews is only 40 minutes from New River Beach Provincial Park and just over two hours to Fundy National Park—lots of options for hiking and camping.
There's nothing like spending time on the Bay of Fundy. And whale watching is one of the most popular things to do in St. Andrews. However, if you want an eco-adventure, take the ferry to Deer Island to go kayaking. You can spend a couple of hours or head out for a whole day of guided paddling.
Finally, don't leave St. Andrews without strolling through the quaint downtown. You'll find plenty of artisan shops and restaurants to try. Once you're finished shopping, comb the beach at low tide or drive across the ocean floor to Minister's Island. Or visit the Pendlebury Lighthouse just outside of town. And if you're wondering where to stay, The Algonquin Resort is an iconic and charming hotel.
Recommend by Thomas Coldwell from outandacross.com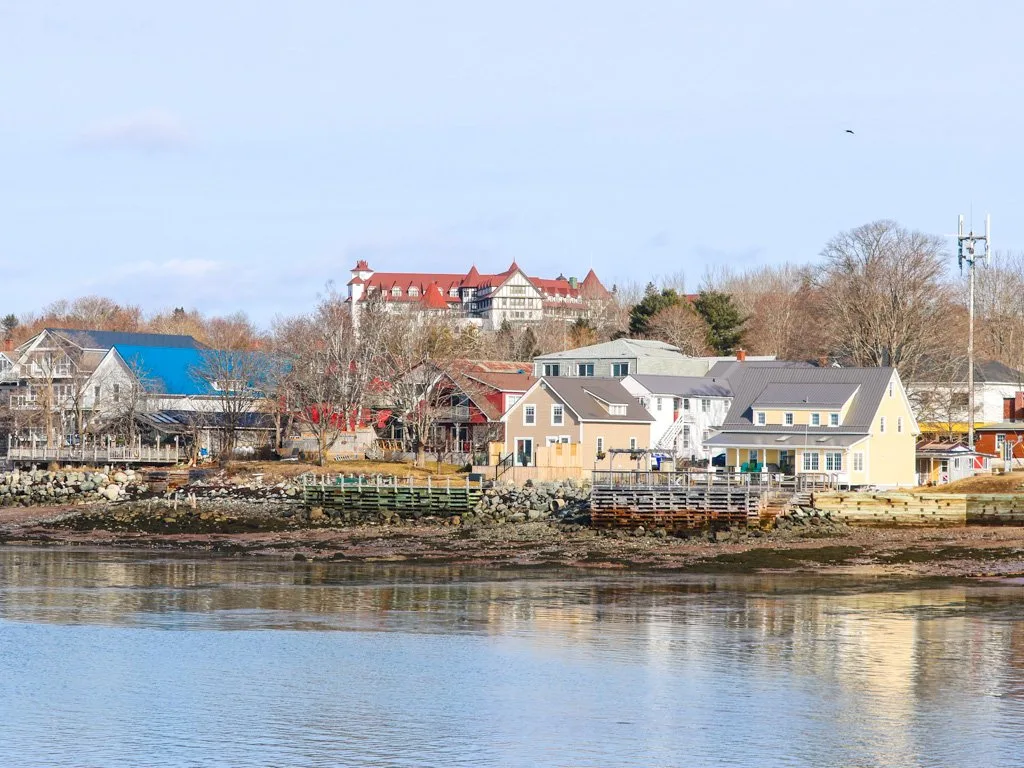 Best Small Towns in Quebec for Outdoor Adventures
Baie-Saint-Paul, Quebec
Baie Saint-Paul is a beautiful small town in Charlevoix, Quebec. It takes just above one hour to get to Baie-Saint-Paul from Quebec City, depending on the season.
Baie-Saint-Paul is a year-round destination. In the winter, you can go skiing at one of the nicest ski resorts on the east coast. Le Massif de la Petite-Rivière-Saint-François is only 30 minutes away from Baie-Saint-Paul. It offers lots of snow and ski trails. Plus, the view is simply breathtaking. On some slope, you'll feel like you're skiing down into the Saint Lawrence River.
In the summer, don't miss Le Festif festival which features live music and lots of outdoor activities.
But autumn is by far the most beautiful season to visit Baie-Saint-Paul where you'll experience the foliage season. From green to yellow to bright red, the changing colors in the trees is in itself a reason to visit the region. But be sure to do some hiking.
Try Mont-du-Lac-des-Cygnes Trail in Grands-Jardins National Park. It's a 9.2 km out-and-back trail with 439 m elevation gain. If you have more time, the Acropole des Draveurs in the Hautes-Gorges-de-la-Rivière-Malbaie National Park (which is an hour away from Baie-Saint-Paul) is worth the trip. It's a 10.6 km out-and-back trail with 885 m elevation gain. Both hikes offer beautiful summit views.
Other than hiking and skiing, the town of Baie-Saint-Paul is really charming. It has many little local stores and art galleries. Le Germain Hotel & Spa is a great option for accommodation. They also have a public spa to relax after a long day outside.
Recommended by Emilie from Love Life Abroad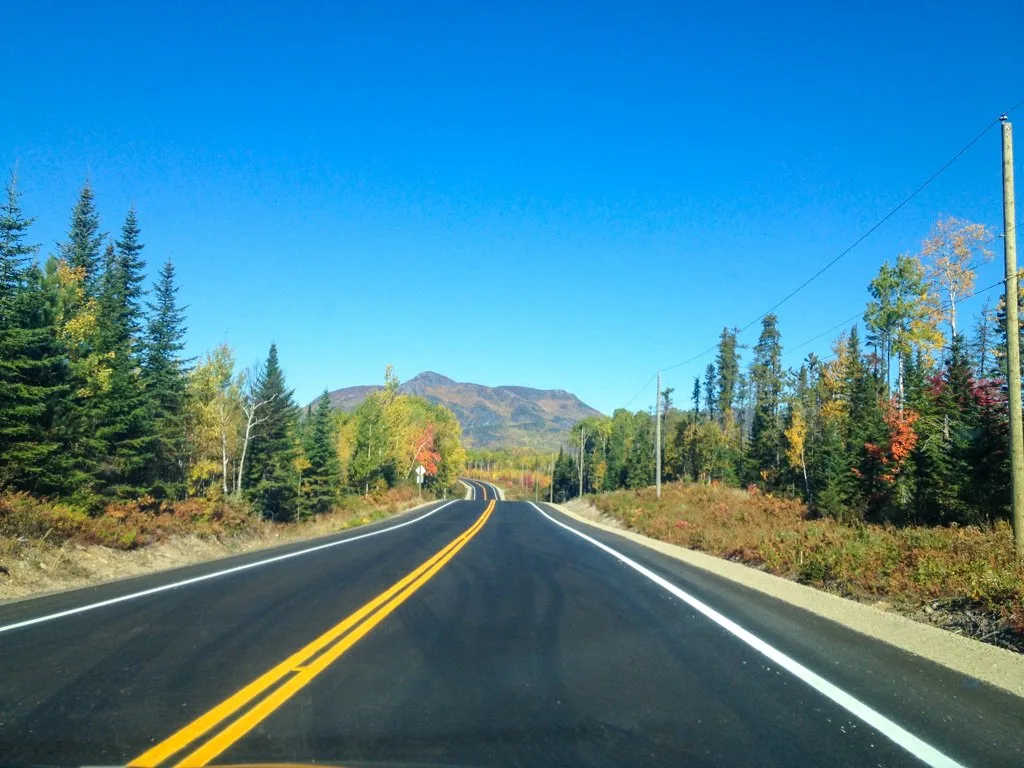 Val-David, Quebec
Val-David is a small town about 1.5 hours north of Montreal that is big on adventure. Located in the Laurentian Mountains in Quebec, Val-David is an all-season destination for people who love the outdoors.
In the summer, Val-David has world-class rock climbing and bouldering. It is said that Val-David's granite cliffs were the birthplace of climbing in Quebec. All levels of rock climbers will find routes suitable for their experience. Additionally, the woods around Val-David are strewn with sizeable glacial erratic boulders. There are endless boulder problems to attempt on these massive stones.
You can kayak or canoe on the Rivière du Nord that flows right through the village. Or if cycling is more your thing, bike on the P'tit Train du Nord, a 235 km rail trail that travels from Mont Tremblant to the outskirts of Montreal. There are also 60 km of hiking trails surrounding Val-David.
Equipment rental for many outdoor sports is available in town.
Val-David is also known as a winter mecca. The P'tit Train du Nord Linear Park near Val-David is transformed into a groomed cross-country ski trail. There's nothing like skiing through a charming village with the snow lightly falling. Also don't miss snowshoeing on the regional trails, especially up to Mont Condor to see the ice caves.
Other nearby winter sports include downhill skiing at the local hill, Valle Bleu. There are many other ski hills in the Laurentians to visit, including Mont-Tremblant for big mountain skiing and snowboarding. There is also a lighted skating rink in the center of town.
Recommended by Karen of Outdoor Adventure Sampler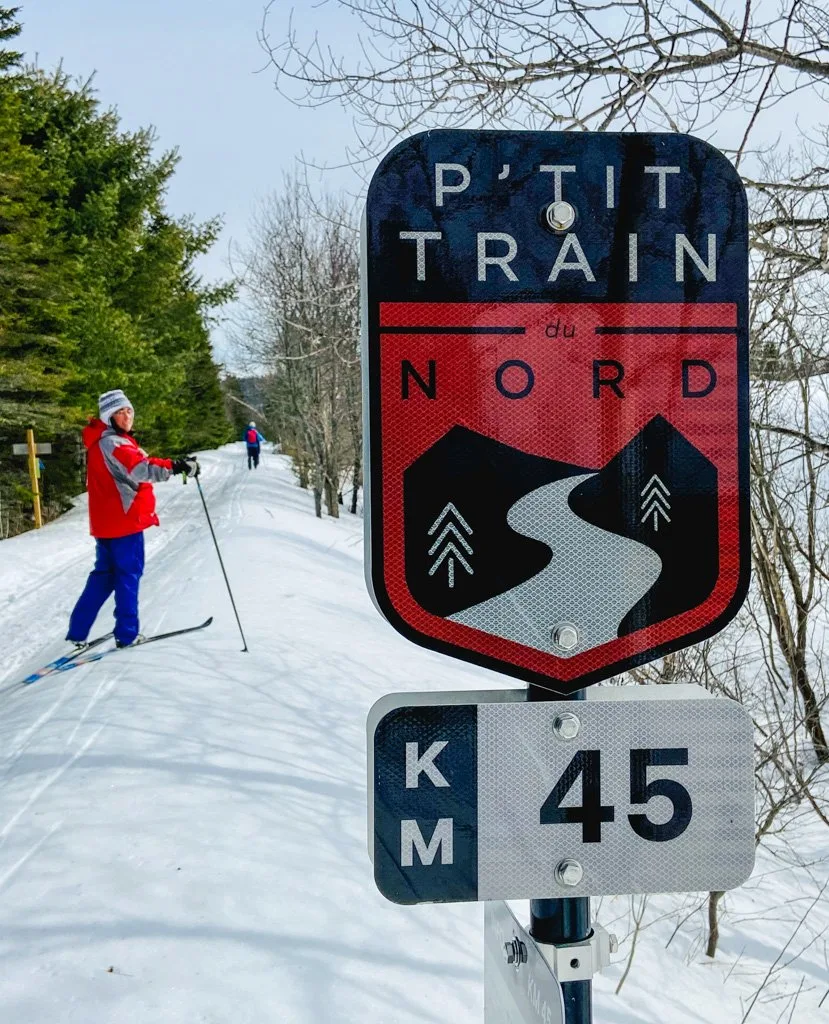 READ NEXT: How to Choose Snowshoes: A Complete Guide
Mont-Tremblant, Quebec
When it comes to outdoor adventure in Quebec, the town of Mont-Tremblant is THE place to be. This famous Québecois haven is a short 1.5-hour drive from the big city of Montréal via Highway 15.
The outdoor activities are endless in Mont-Tremblant; skiing, biking, dog sledding, tubing, and riding panoramic gondolas, sleigh rides, zip lining and whitewater rafting just to name a few! In the summertime, it's easy to fall head over heels for this photogenic Laurentian town with breath-taking views of the Mont-Tremblant mountains and an enchanting European-inspired pedestrian village.
Hiking is one of the most popular activities in Mont-Tremblant. A great trail for the more advanced hikers is the Vertigo, which goes from the base of the Mont-Tremblant to its summit at 3.3km away and takes 1.5 hours to complete.
Another thrilling activity to add to your bucket list is a downhill ride on the Skyline Luge. Start your journey in the pedestrian village, then ride the chairlift up through the Laurentian. At the top, get on board the luge cart to experience an adrenaline-pumping ride down the 1.4km track!
And if you're stopping by the good ole city of Montreal on your way back, be sure to pay a visit to one of the city's finest Mediterranean restaurants for some true local gastronomy!
Recommended by Palo of Moons and Roses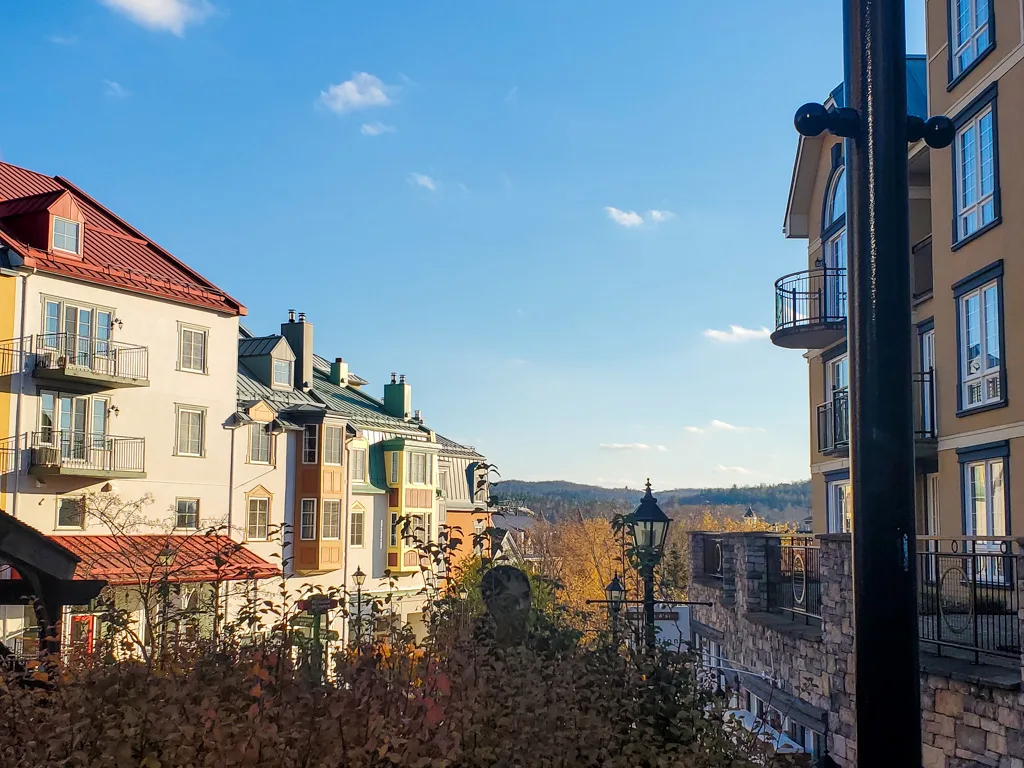 Best Small Towns in Ontario for Outdoor Adventures
Gananoque, Ontario
Considered the "Canadian Gateway to the Thousand Islands," Gananoque, Ontario has a ton of hiking trails and waterways waiting to be explored.
The closest airport is in Ottawa, and from there it's an hour and a half drive to Gananoque. If coming from Toronto (3 hours away) or anywhere in Southern Ontario, hop onto Highway 401 E and head straight into the area.
Gananoque has its own trail system that includes walking paths and waterfront trails located right in town. However, if you are looking for some awesome hikes with epic views, head over to Thousand Islands National Park located just 20 minutes outside of town.
Landon Bay in Thousand Islands National Park offers several trails that are easy to manage, yet reward you with spectacular views. The Donevan Trail circles around the park. At 4.3 km, this incredibly scenic route will take you about 1.5 hours to complete.
But the Lookout Trail which detours off the Donevan Trail has the best views. At only 500 m from the parking lot, the top of the Lookout Trail presents you with breathtaking views of Landon Bay and the Canadian Thousand Islands.
The Jones Creek Trails at the Thousand Islands National Park are another fabulous place for some incredible hiking. These flat but scenic trails are filled with old-growth forests, wetland habitats, and gorgeous views of the surrounding waters.
Recommended by Marianne from The Journeying Giordanos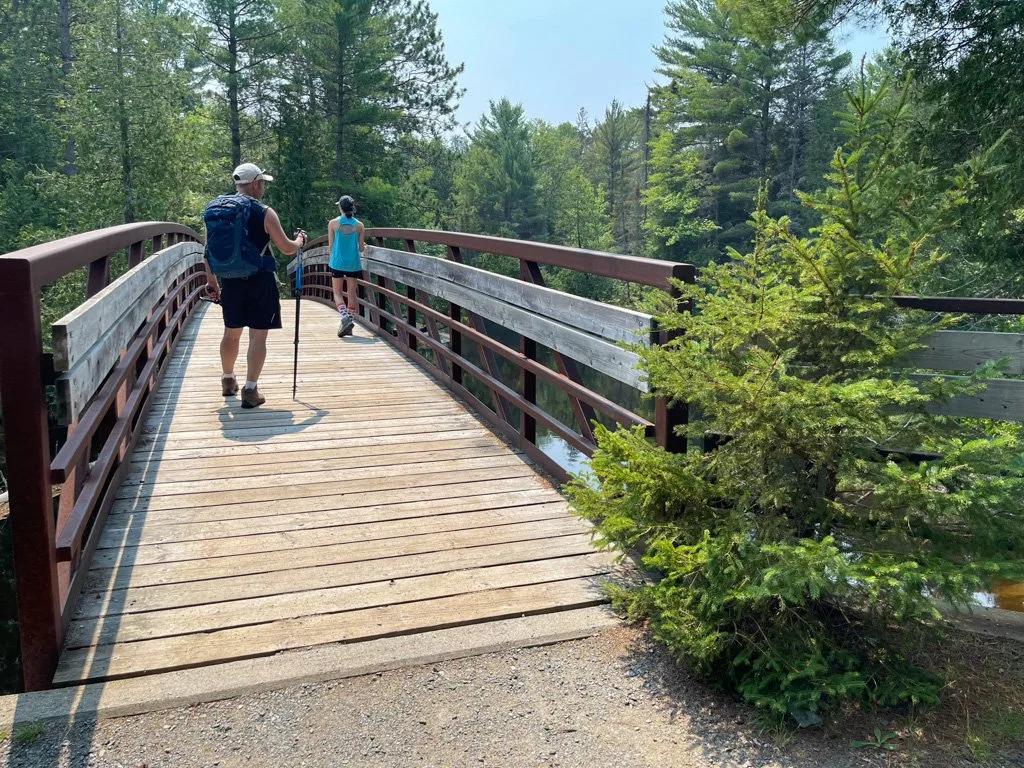 Huntsville, Ontario
Huntsville, Ontario is one of the best small towns in Canada for outdoor adventures. And while there are plenty of things to do, hiking is one of the most popular.
One of the most famous hikes in Huntsville is the Lions Lookout Trail. It's a short, but steep 1.3km trail, ending at a lookout that offers spectacular views of Fairy Lake.
Another popular trail is Hunter's Bay Trail. This 4.6km trail is an easy hike but very scenic and takes around 1.5-2 hours to complete. Starting at the Center Street bridge, the trail follows the lake towards the highway and has sections of floating boardwalk.
Arrowhead Provincial Park is another great spot to hike in Huntsville. There are several trails from 1km to 7km in length but the most popular is the Stubb's Falls trail. The circular trail is 2km long and takes about 45 minutes to hike, passing Stubb's Falls before heading back through a forested path. It's an easy hike, but a bit more technical than the ones mentioned above.
For those looking for longer hikes, Limberlost Forest is just a short drive from Huntsville and offers trails ranging from 4km to 13km, all with varying difficulty. This is a perfect way to get out and experience the beautiful scenery that Huntsville has to offer.
Recommended by Erin from Wanderlustwithkids.com
READ NEXT: The 10 Essentials: Things You Should Bring on Every Hike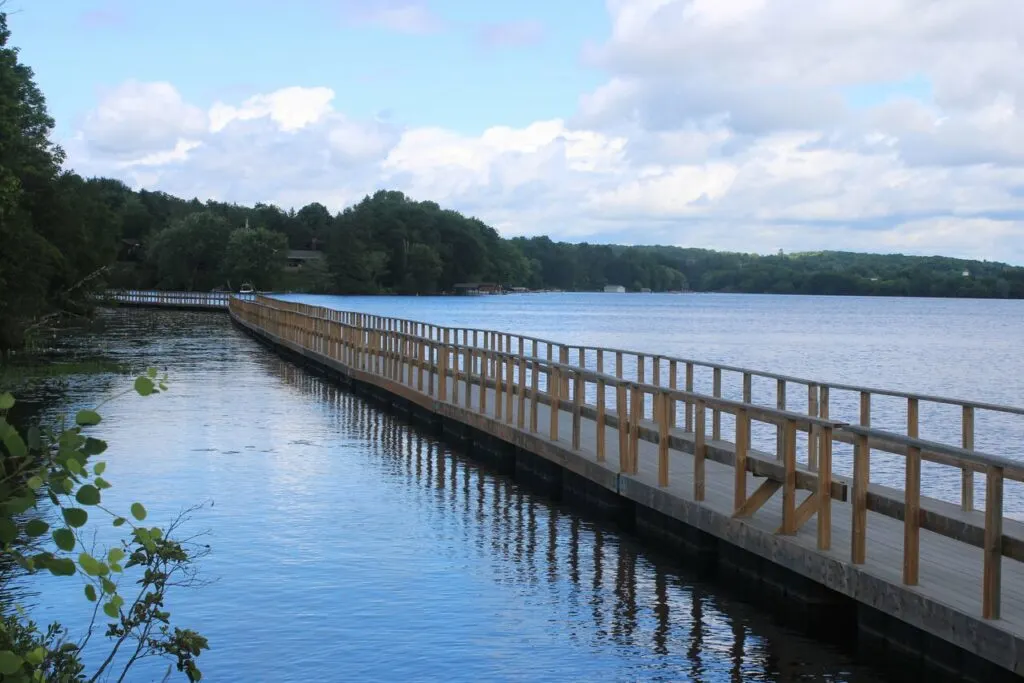 Sheguiandah, Manitoulin Island, Ontario
Sheguiandah is a small town on Manitoulin Island in Lake Huron. Manitoulin Island is the largest freshwater island in the world, so it's easy to see how this is one of the best small towns in Canada for outdoor adventures!
Located approximately six hours from Toronto, the most common method of transportation is driving. There are two main routes to the island – either by road around Georgian Bay or by ferry from the Bruce Peninsula. Both are very scenic.
Sheguiandah is known for being home to the Cup and Saucer hike, atop the Niagara escarpment with 70-meter cliffs that began to form 450 million years ago. It also attracts history and geology enthusiasts with its beautiful rock formations that tell stories of Indigenous history. Check out the optional Adventure Trail section which includes ladders and caves.
Bridal Veil Falls is a fun place to cool down after a hot day of hiking – you can swim under the waterfall and walk behind it.
Bebamikawe Memorial Trail is another popular hiking trail that gives spectacular views and is slightly easier and more suitable for children.
Plus, the fish are plentiful especially in Lake Kagawong, Lake Manitou, and along the shores of the Georgian Bay. You can rent a motorboat or paddle a canoe.
Use this three-day Manitoulin Island itinerary to get the most out of your visit.
Recommended by Candace from ajourneyinspired.com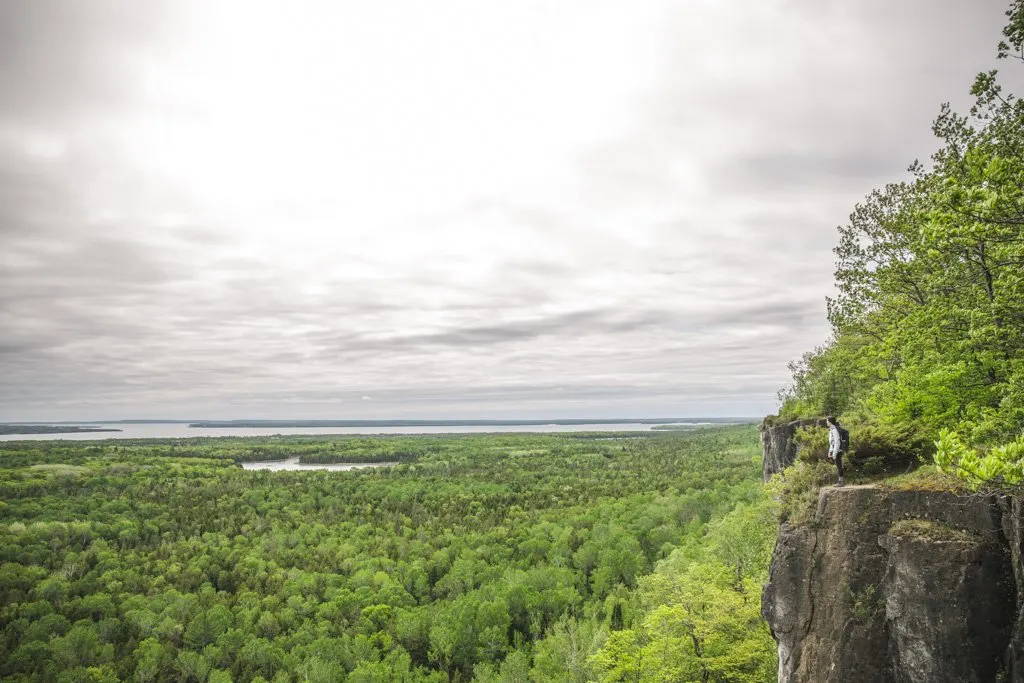 Best Small Towns in the Prairie Provinces for Outdoor Adventures
Moose Jaw, Saskatchewan
Located in the middle of the prairies, Moose Jaw in Saskatchewan is a surprising destination for most. You'll find Moosejaw located about 45-minutes west of the city of Regina. Although small in size, there are plenty of fun outdoorsy things to do in Moose Jaw – you just have to know where to look!
Surrounding the town is the Moose Jaw River – perfect for exploring the great outdoors. Jump in a canoe or kayak on the river, or take a guided paddling tour.
One of the best places to visit for hiking is Pound Provincial Park, a 20-minute drive away. Here, you can find over 30 kilometers of trails that are perfect for both hiking and biking. In the winter, the trails are groomed for cross-country skiing. The main attraction of the park is the opportunity to see bison that you can see here. You can also camp in the park.
For wildlife lovers, you simply must visit the Saskatchewan Burrowing Owl Interpretive Center. Here you can see the cute, very small, burrowing owl that is famous in the prairies. While the center offers educational exhibits and captive owls, it's also easy to spot the wild owls in the grasslands outside.
Another unique activity is the open-air trolley that will take you around town. This historic trolley is picture-perfect and a good way to get around while learning about the history of the area. Dress for the weather as this is an open-air experience.
Recommended by Bailey from Destinationless Travel
READ NEXT: How to Take an Epic Canadian National Parks Road Trip
Prince Albert, Saskatchewan
Prince Albert is one of the best places to visit in Saskatchewan. It is located on the banks of the North Saskatchewan River and is home to Prince Albert National Park. This small town is easily accessible from Saskatoon, which is a 1.5-hour drive way.
Prince Albert several of historic buildings, including the Prince Albert Historical Museum, and Diefenbaker House. But many flock to Prince Albert for its National Park.
The park is known for its stunning landscapes and abundant wildlife. The park is home to bears, wolves, elk, deer, moose, and many other animals. There are also plenty of opportunities for hiking, fishing, and camping.
Visitors to the park can enjoy a variety of activities, or simply relax and take in the natural beauty of the area, you will particularly like the shores of Waskesiu Lake for a stroll or a summer picnic.
Prince Albert National Park is also great for camping. Pick Beaver Glen Campground for an overnight stay.
This park is a great place in the summers, but it is open year-round. In the summer, visitors can enjoy hiking and fishing in the park's many trails and waterways. In the winter, the park is a popular destination for snowmobiling, cross-country skiing, and ice fishing.
Recommended by Mayuri from Canada Crossroads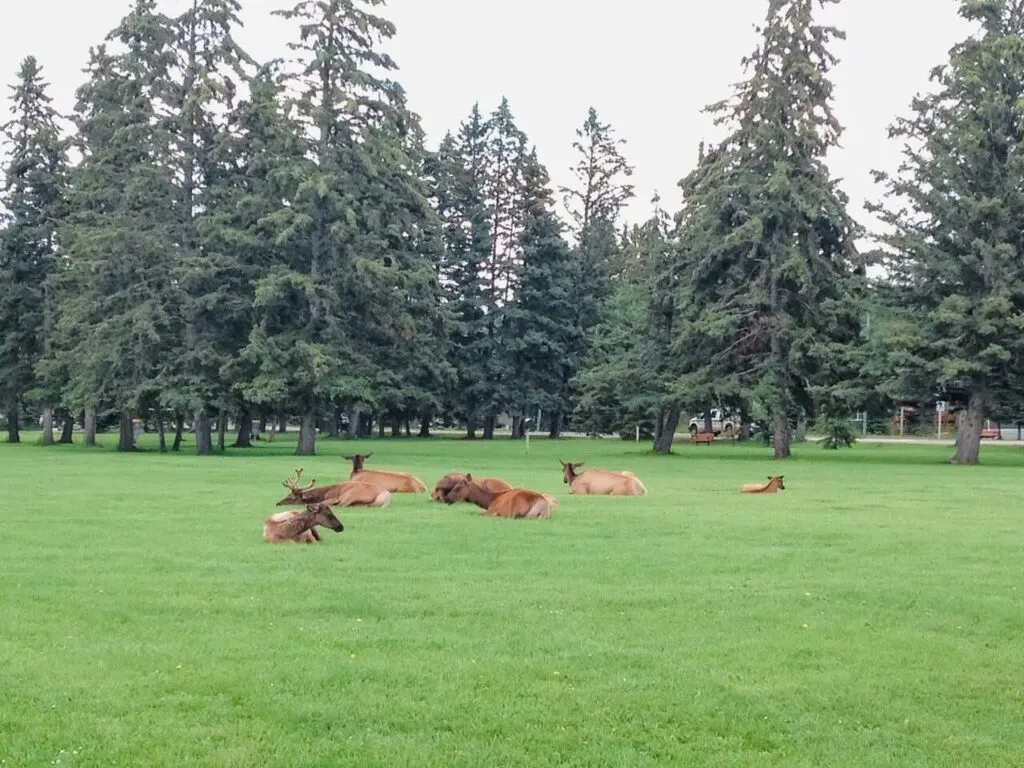 Canmore, Alberta
The small town of Canmore, Alberta is located in the Canadian Rockies a 1.5-hour drive west of Calgary. You can drive yourself or take an airport shuttle. Canmore is an outdoor adventurer's paradise and there are many types of activities for different tastes and skill levels.
Since Canmore was the host city for nordic events during the 1988 Calgary Olympics, the cross country skiing facilities are truly world-class. The Canmore Nordic Centre Provincial Park offers over 60 km of groomed trails, for both classic and skate skiing. Part of the trail system is illuminated so you can keep on skiing until 9 pm. Other amazing winter activities include backcountry skiing and sled dog rides.
In the warmer months, Canmore offers some of the most amazing hiking adventures for every skill and difficulty level. All the hikes in Canmore reward you with spectacular mountain views and clean forest air. The trails might take you through bridges, by a creek, or to the shores of the Bow River. But no matter what you must come to the shores of the little Quarry Lake for the most beautiful and peaceful scenery.
If you're looking for a challenge, go on a guided hike to the summit of Ha Ling Peak.
Recommended by Bea from PackYourBags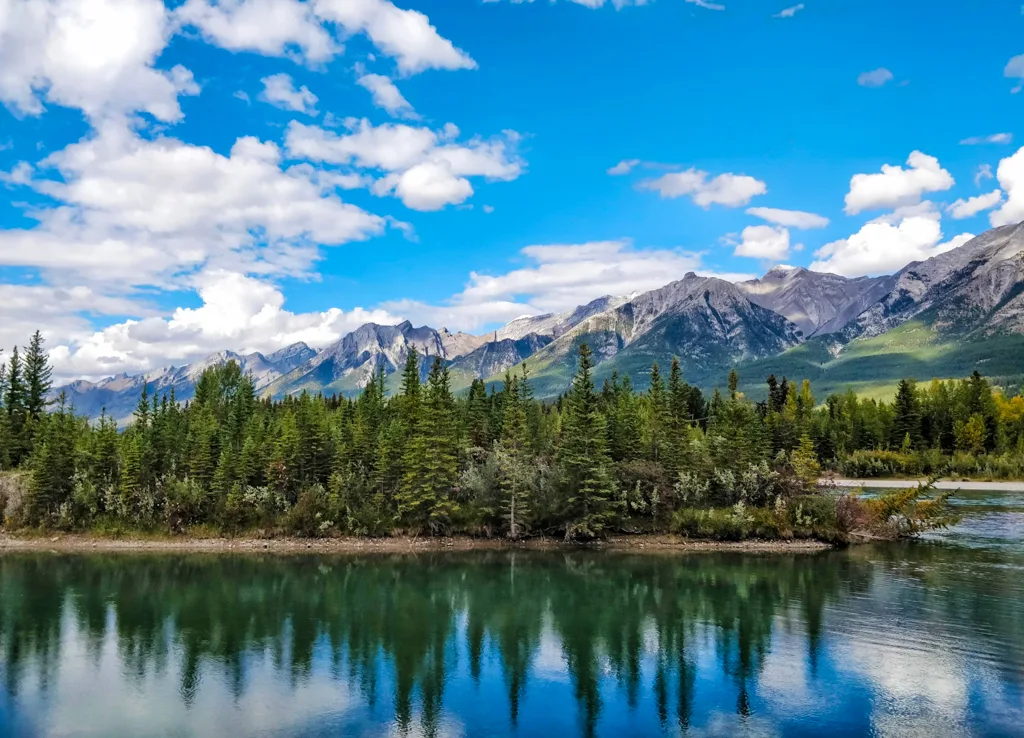 READ NEXT: 15 Best Things to Do in Canmore in Winter
Banff, Alberta
Nestled amongst one of the most beautiful national parks in Canada is the small mountain town of Banff. About a 90-minute drive from Calgary it is easily accessible – rent a car or take one of the regular shuttle buses between Calgary and Banff.

Banff is one of the best small towns in Canada for outdoor adventures. There is a lot to do just around the town. Or you can use it as a base to explore Banff National Park by car.

A short but rewarding hike within the town is the 4.3km Tunnel Mountain hike. A steep trail leads to some of the best views over the town. Guided hikes are also available. Or take a scenic bike ride through the town to Vermillion Lakes where a 4 km road gives wonderful vistas of Banff's mountains as well as some potential wildlife spotting opportunities.

If you have more time in the area, and access to a car, Banff National Park is home to some of the most stunning lakes in Canada. Two Jack Lake and Lake Minnewanka are both only a 15-minute drive from Banff; Moraine Lake and Lake Louise are about 45 minutes to an hour away. All are well worth the drive.
Recommended by Emma from Forever Lost In Travel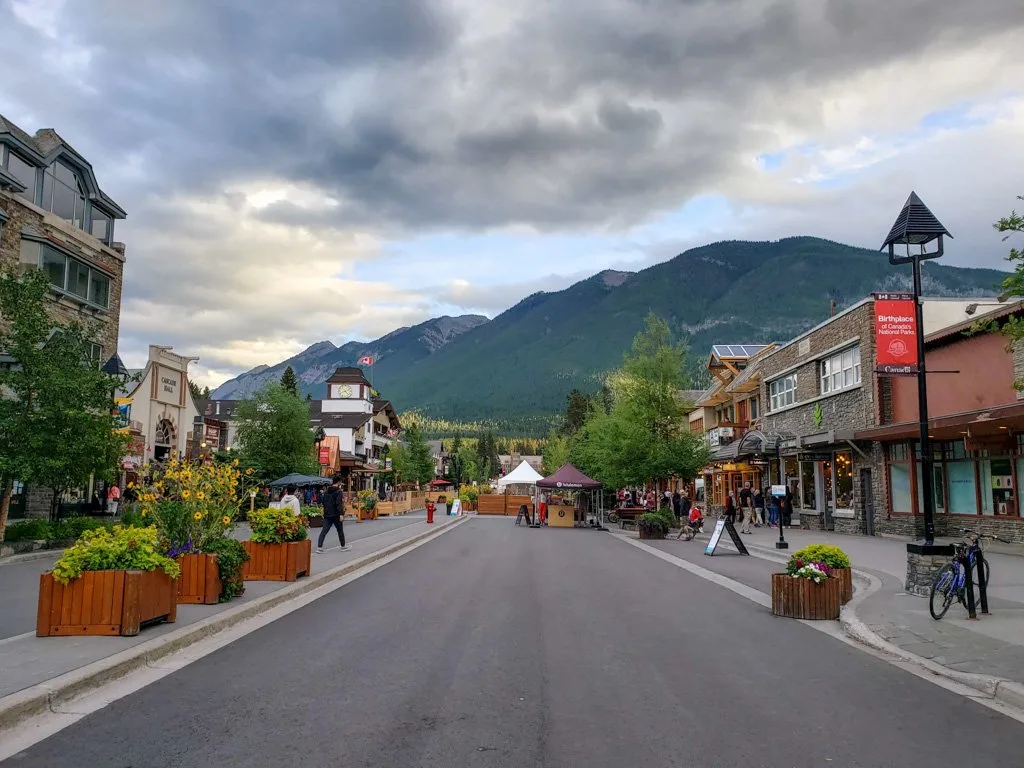 READ NEXT: 9 Beautiful Reasons to Visit Banff in the Fall
Jasper, Alberta
The small town of Jasper is the gateway to the beautiful Jasper National Park. It offers charming boutiques, hip restaurants, and cozy hotels to enjoy between your outdoor adventures. The closest big city is Edmonton. But you can also get to Jasper from Calgary. Along the drive, you'll pass right by Banff and Yoho National Parks on the Icefields Parkway, making this a popular Canadian Rockie road trip.
Many of Jaspers Jasper's most incredible sites are along the Icefields Parkway. Plan a hike along the 1.4 km out-and-back Athabasca Glacier Trail, where you can walk right up to the glacier's leading edge and marvel at the massiveness (up to 300 metres thick!) of part of North America's largest icefield. You can walk ON the glacier as part of a guided tour.
For a more intense hike, consider the 8 km out-and-back Wilcox Pass trail, which provides breathtaking vistas of the glacier's tongue- and an excellent spot for seeing bighorn sheep!
If you'd rather get your adrenaline pumping, you can book a white water rafting tour in the summertime, like the Class III+ rapids along the Sunwapta River (which literally translates to "turbulent waters").
Visiting in the wintertime? Ski or snowboard on any of the 91 runs at the Marmot Basin ski resort, all with the dramatic Canadian Rockies as your backdrop.
Recommended by Jessica from Uprooted Traveler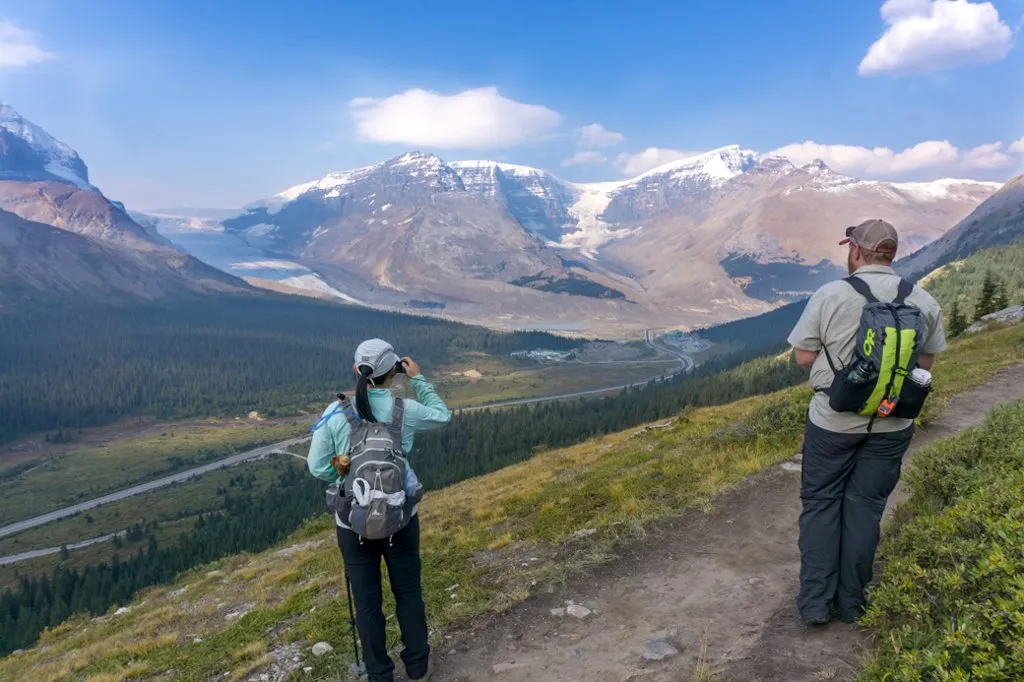 Best Small Towns in British Columbia for Outdoor Adventures
Revelstoke, British Columbia
Revelstoke is my favourite Canadian mountain town. Located in eastern British Columbia, it's a 6-hour drive from Vancouver or 4.5 hours from Calgary. The nearest airport is in Kelowna, 2.5 hours away.
In the winter, Revelstoke is most famous for snowmobiling and skiing – Revelstoke Mountain Resort has the highest vertical drop of any ski resort in North America!
But there are lots of things to do in Revelstoke in the summer. It's a great destination for mountain bikers, with lift-accessed trails at the ski resort and lots of other trails around town. Extreme sports junkies can also go white water rafting or paragliding. Halcyon and Halfway River hot springs are also nearby.
Mount Revelstoke National Park is right on the edge of town. Be sure to drive the Meadows in the Sky Parkway for amazing views of the surrounding mountains and valley below. In mid-summer, the wildflower display is unreal.
Make time to go hiking in Revelstoke. If you're looking for a short walk, check out the easy 0.5 km trail to Sutherland Falls in Blanket Creek Provincial Park. For something more challenging, head to Eva Lake in Mount Revelstoke National Park. It's a 12 km round trip that takes about 6 hours.
Recommended by Taryn from Happiest Outdoors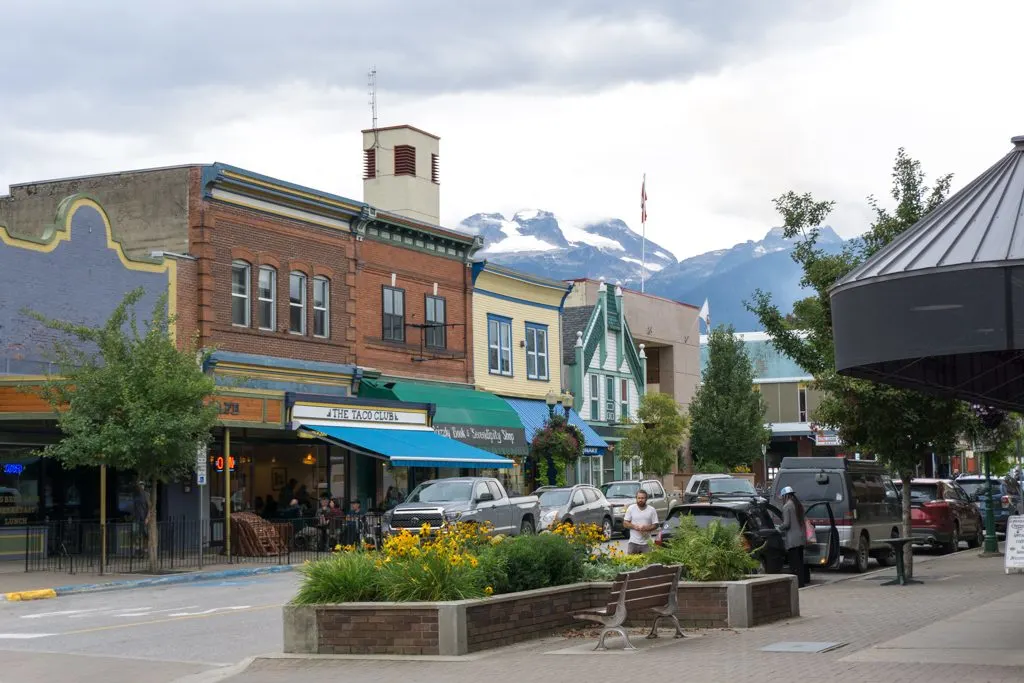 READ NEXT: 15 Things to do in Revelstoke in the Summer
Squamish, British Columbia
My hometown of Squamish bills itself as the adventure capital of Canada. It's located on the famous Sea to Sky Highway in between Vancouver and Whistler. The easiest way to get there is by car (1.5 hours from Vancouver), but you can also take a shuttle bus.
Squamish is world-famous for rock climbing, especially on the Stawamus Chief, a 700-meter-tall granite monolith. But you don't need a rope and harness to climb to the top. A steep and challenging 11-kilometer-long trail for hikers scrambles up the backside to three different peaks where you can peer straight down the sheer face. It's one of the best hikes in Squamish.
Garibaldi Provincial Park is just outside Squamish is one of BC's best hiking destinations. Get details on the hike to picturesque Garibaldi Lake or the beautiful views of Elfin Lakes in my book, Backpacking in Southwestern British Columbia.
Get My Book…
Backpacking in Southwestern British Columbia
A one-stop resource for backpackers in beautiful British Columbia.
40 backpacking trips within a few hours of Vancouver
Info about permits, reservations, and campsite facilities
Detailed maps and photos
Advice for extending your trip
Points of cultural and natural history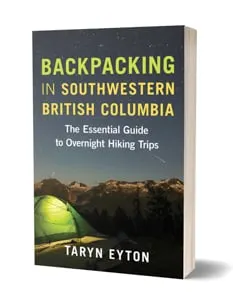 You can also check out off-the-beaten-path local favourites like the hike to Mount Crumpit (named after the Grinch's home) and Brohm Lake. Or walk the easy trails at the topic of the Sea to Sky Gondola. In the winter, Squamish has great snowshoeing trails.
Squamish also has hundreds of kilometres of mountain bike trails. Beginner-friendly trails crisscross the valley floor and expert routes descend rock slabs on nearby hills and mountains. Beginners can sign up for a guided mountain bike tour that includes instruction.
Recommended by Taryn of Happiest Outdoors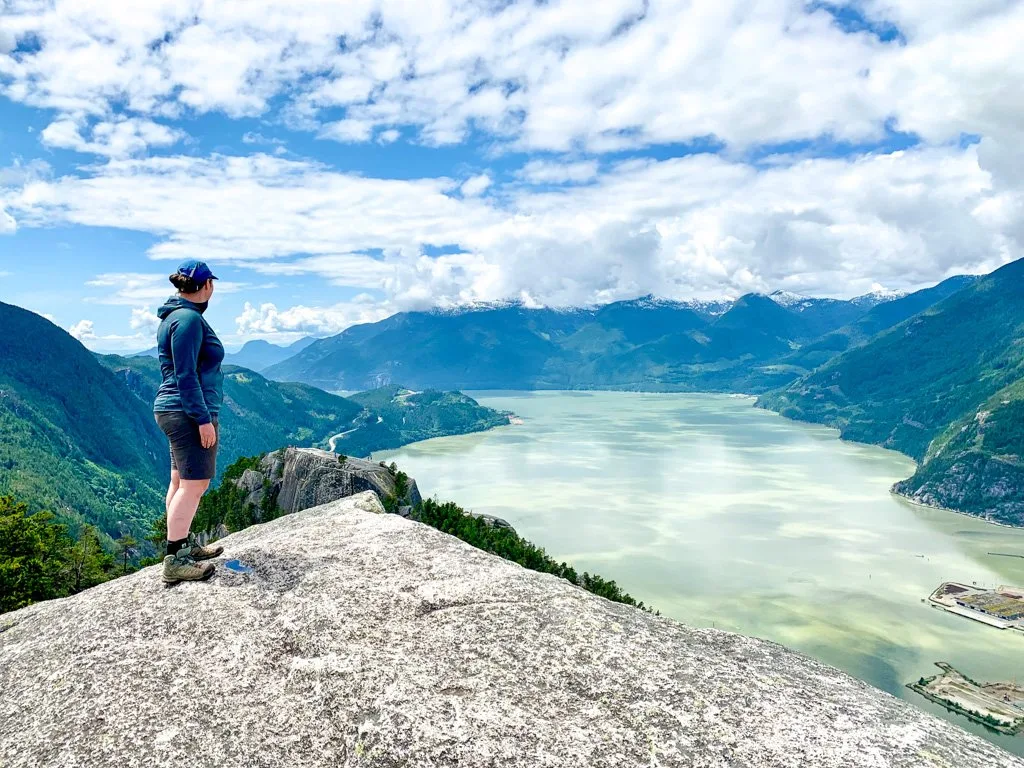 READ NEXT: Sea to Sky Highway Road Trip Guide: Driving from Vancouver to Whistler
Gibsons, British Columbia
While it's a bit under-the-radar, I think Gibsons on British Columbia's Sunshine Coast is one of the best small towns in Canada for outdoor adventures. It is is a short 40-minute ferry ride from Vancouver. I lived there for five months and enjoyed exploring all the things to do on the Sunshine Coast. It's a cute waterfront town with lots of boutiques, restaurants, and craft beer.
The quaint harbour is a great place to launch kayaks and paddle to nearby Keats Island. The town is also home to several beaches. Bonniebrook Beach on the north end of town is the best since it's over two kilometres long and has lots of sand. Mountain bikers will love the huge trail network on the forested slopes above the town.
Some of the best hikes on the Sunshine Coast are in Gibsons. Don't miss the trail to the top of Soames Hill for great views. It's only 2 kilometres long, but it's a steep climb with stairs. I also love the easy trails in nearby Cliff Gilker Park since they wind through the forest to several waterfalls.
Recommended by Taryn of Happiest Outdoors

READ NEXT: The Best Things to do on the Sunshine Coast, BC
Tofino, British Columbia
Located on the west coast of Vancouver Island, Tofino is a popular weekend getaway from Vancouver. It's a three-hour drive from the ferry terminal in Nanaimo. You can also get there by floatplane.
The town is famous for its sandy beaches, lush rainforest, and quaint shops. It also has some of the best surfing in Canada. It's beginner-friendly, with lots of shops offering surf lessons and rentals, which include warm wetsuits for the cold water.
Tofino is also one of the easiest places to access Pacific Rim National Park Reserve. Beginners should try the easy Rainforest Loop trail. There are two loops, each one km long. The trail goes through incredible scenery with lots of moss, ferns, and towering trees.
There are also several beach hikes, including the 6.8 km long Nuu-chah-nulth Trail between the Kwisitis Visitor Centre and Florencia Bay. It features interpretive signs about the local Nuu-chah-nulth Indigenous people.
Catch a water taxi in Tofino to access even more adventures. Kayak in Clayoquot Sound. Go backpacking on Flores Island's Wild Side Trail. Hike amongst giant trees on the Big Tree Trail on Meares Island. Or go for a soak in the remote springs at Hot Springs Cove.
Recommended by Taryn of Happiest Outdoors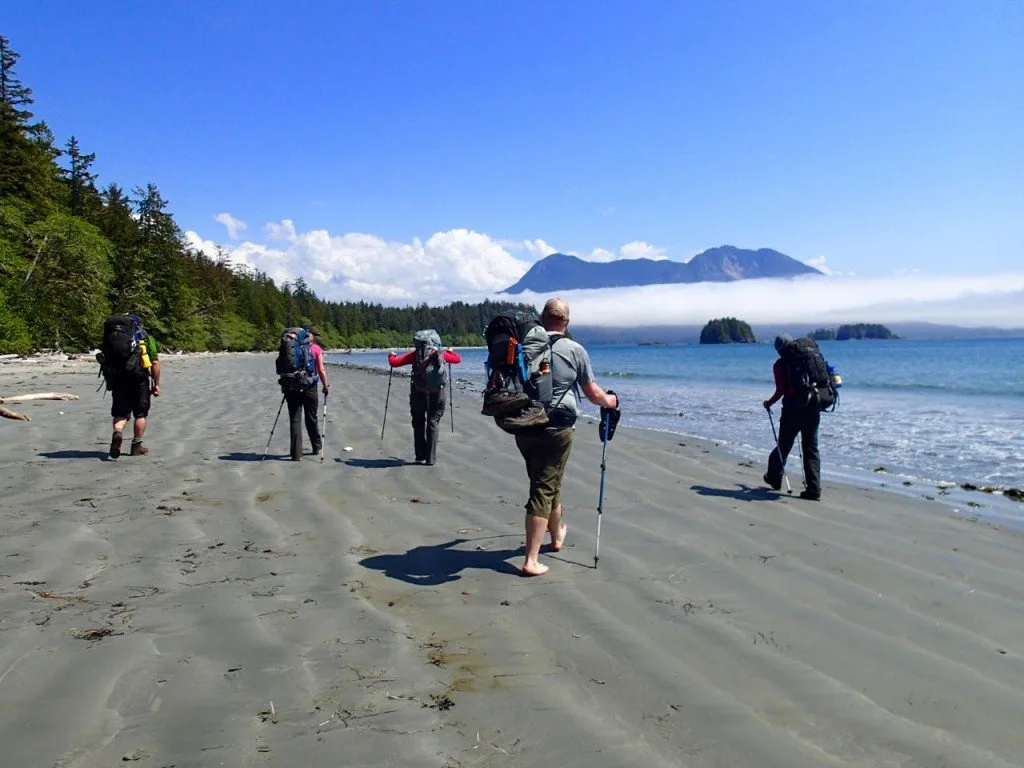 READ NEXT: 22 Weekend Getaways from Vancouver
Best Small Towns in Northern Canada for Outdoor Adventures
Dawson City, Yukon Territory
Dawson City is a historic Gold Rush town in the Yukon. The town is best accessed by road on a Yukon road trip. You can get there by the Top of the World Highway (from Alaska) or via the Klondike Highway.
This outdoor destination is famous for being a popular site that contributed to the Klondike Gold Rush in the late 1800s. It is also the second-largest town in the Yukon with a population of just under 1400 people.
There are some fantastic hiking and biking opportunities here in the summer. Near the town is the beautiful 8.4 km trek that will take you from Dawson City to Midnight Dome.
Many of the most stunning hikes are in Tombstone Territorial Park. One of the most rewarding hikes is the Goldensides Mountain, which is just 3.4 km but provides excellent views. You should expect to complete this hike in under 1.5 hours.
If you decide to tackle the trails on a mountain bike, we suggest the Dome Climb which has some paved sections.
Recommended by Natasha from The World Pursuit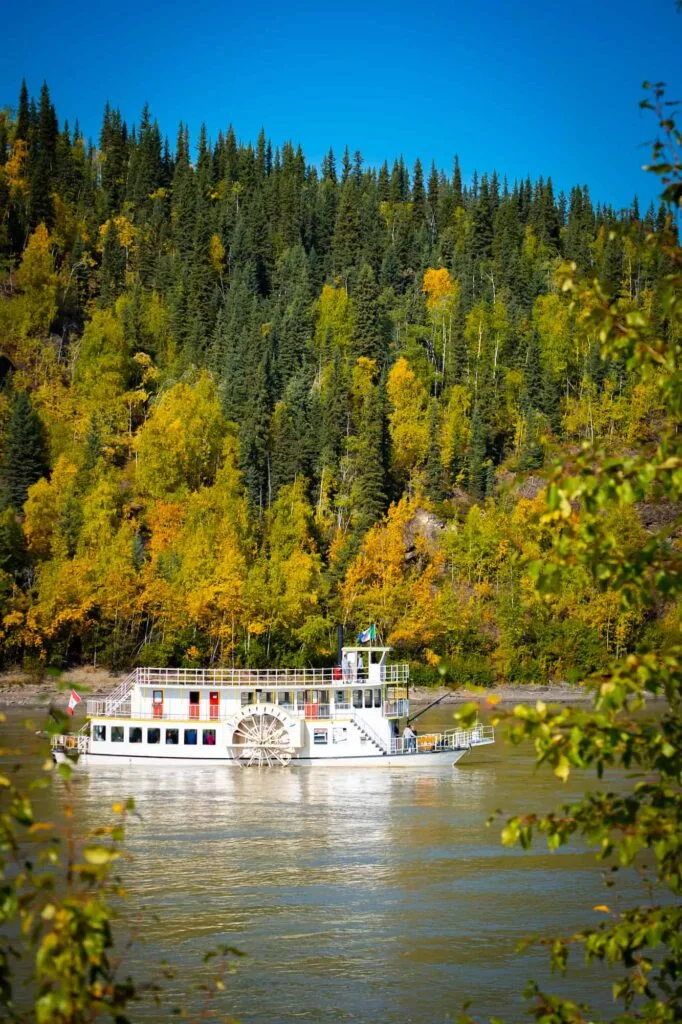 Yellowknife, Northwest Territories
Located on the north bank of Great Slave Lake, Yellowknife is the capital city of Northwest Territories and has a population of less than 20,000. The best way to get there is to take a flight from major cities like Vancouver, Toronto, or Calgary.
Yellowknife is famous for its viewing of magnificent northern lights. It is one of the best places in the world to experience this amazing and magical natural phenomenon on earth. Many factors determine your chance to see the Northern Lights, but statistically, the area offers a 90 percent chance of sighings between mid-November and March.
The long, cold winter and minimal light pollution in Yellowknife mean there is an extended period of darkness on winter nights. Don't be surprised to see the Northern lights as early as 7 pm outside your hotel! For a complete viewing experience, stay in the city for three to four days, sign up for a guided tour, visit an aurora village, and then drive to an open area yourself once you have a better idea of where and how to see the lights.
To explore nature during the daytime, head to the Ingraham Trail that extends to Tibbitt Lake and check out Cameron Falls. It is an easy hike that's suitable for any type of traveler and the views of the lakes and forest are breathtaking. Guided hikes are also available.
Recommended by Kenny from Knycx journeying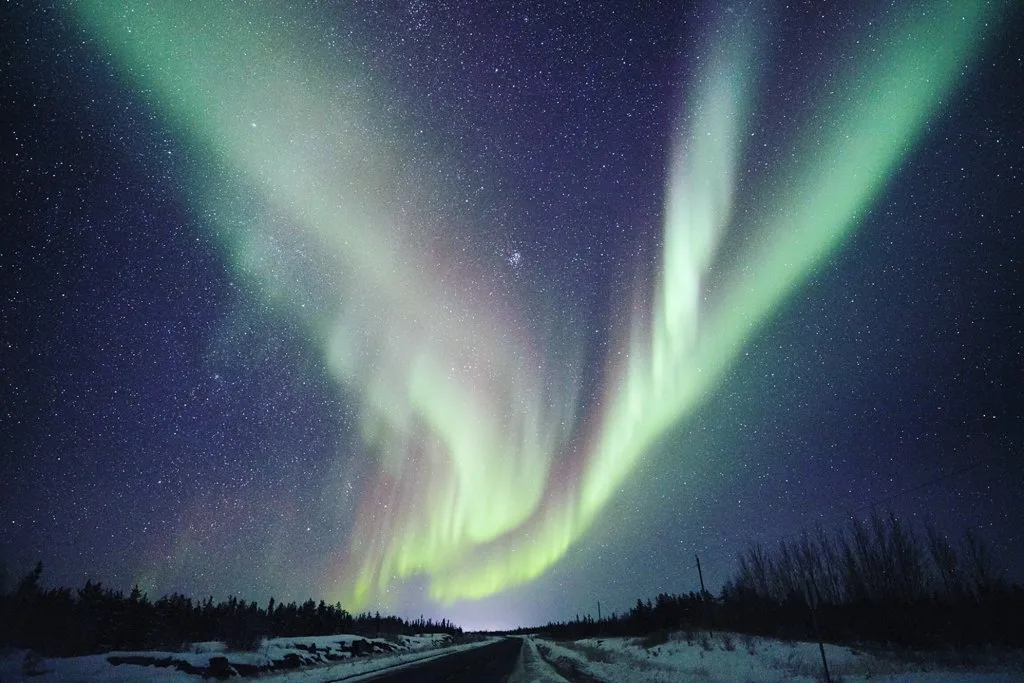 READ NEXT: The Best Canadian Adventure Books
Fort Smith, Northwest Territories
Fort Smith is located just north of the border between the Northwest Territories and Alberta. You can get there by plane, but many visit as part of an epic road trip thanks to Highway 5. It's about a 9-hour drive from Yellowknife but it's certainly worth the trek!
The town is the gateway to Wood Buffalo National Park, Canada's largest national park and the world's largest dark sky preserve. Camping at Pine Lake is a popular activity that allows you to see a large part of the park, though many head to the Switchback Trail where you'll find the only salt plains in Canada.
As the area is a dark sky preserve, check out the Fort Smith Star Park and Observatory. Run by the Thebacha and Wood Buffalo Astronomical Society (TAWBAS), they will happily allow access to their telescopes so that you can catch a glimpse of the Milky Way. There is also a chance of catching the Northern Lights, though your best time to visit is between August and April!
If you're an avid paddler, you'll want to mark Fort Smith on your bucket list and see how you fare against the area's white water rapids! Every year, Fort Smith hosts the Slave River Paddlefest where locals and visitors alike tackle the rapids and make memories you'll never forget. If you're unable to visit for the festival, the Fort Smith Paddling Club is always happy to show visitors the ropes since white water is not to be taken lightly!
Recommended by Lindsay from I've Been Bit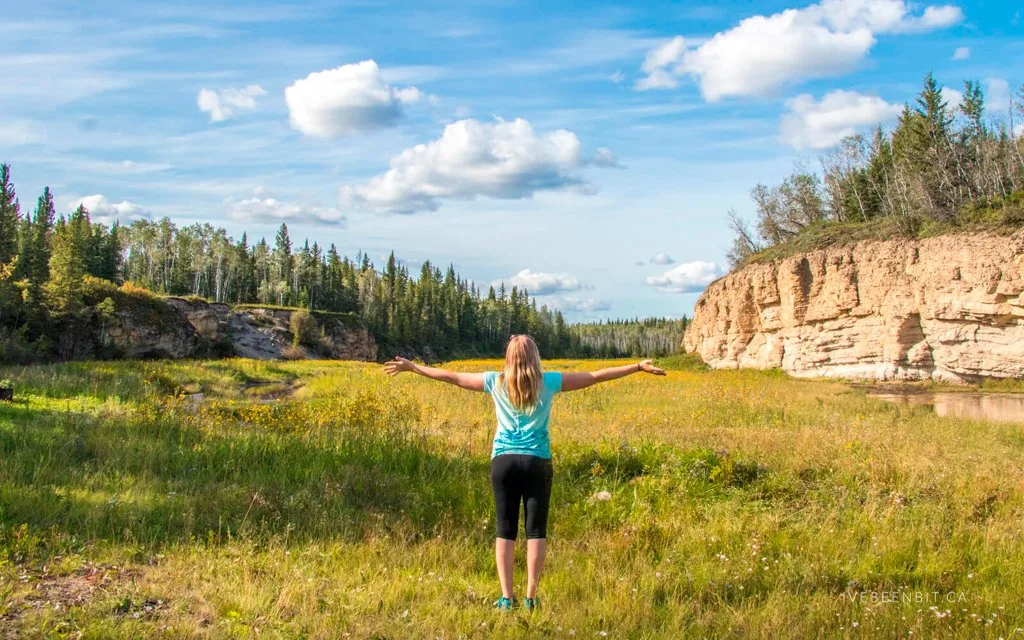 Iqaluit, Nunavut
To residents of Nunavut, Iqaluit is distinctly a city – it's the epicentre of life at the top of the country. But by most Canadians' standards, Iqaluit's 8500 permanent residents put it firmly in the 'town category'. Despite its size, you'll be surprised how much activity can be found in the 'New York of the North'.
Iqaluit lies on the southeast side of Baffin Island and is the capital of Nunavut. Any community north of 60 might seem inaccessible, but Iqaluit is actually only a 3-hour flight from Ottawa.
Once in Iqaluit, there are a ton of things to do depending on the season. In the spring, while the sea ice is still frozen, you can go snowmobiling over the arctic ocean, dog sledding on the tundra, try your hand at ice fishing, or chase the northern lights.
In the summer and fall, you can go hiking. The Apex Trail provides constant ocean views and is 5 km long. It ends at a tall hill which you can climb for even better views. Sylvia Grinnell Territorial Park has another fantastic hike, offering views of the bright blue glacial river, which is roughly 6 km long. In addition to hiking, you can also explore the tundra by ATV or go kayaking on Frobisher Bay.
Due to the remoteness (and the occasional polar bear sighting), most activities require the support of a local guide or outfitter. Inukpack Outfitting and Arctic Kingdom are the two primary outfitters.
Recommended by Mikaela of Voyageur Tripper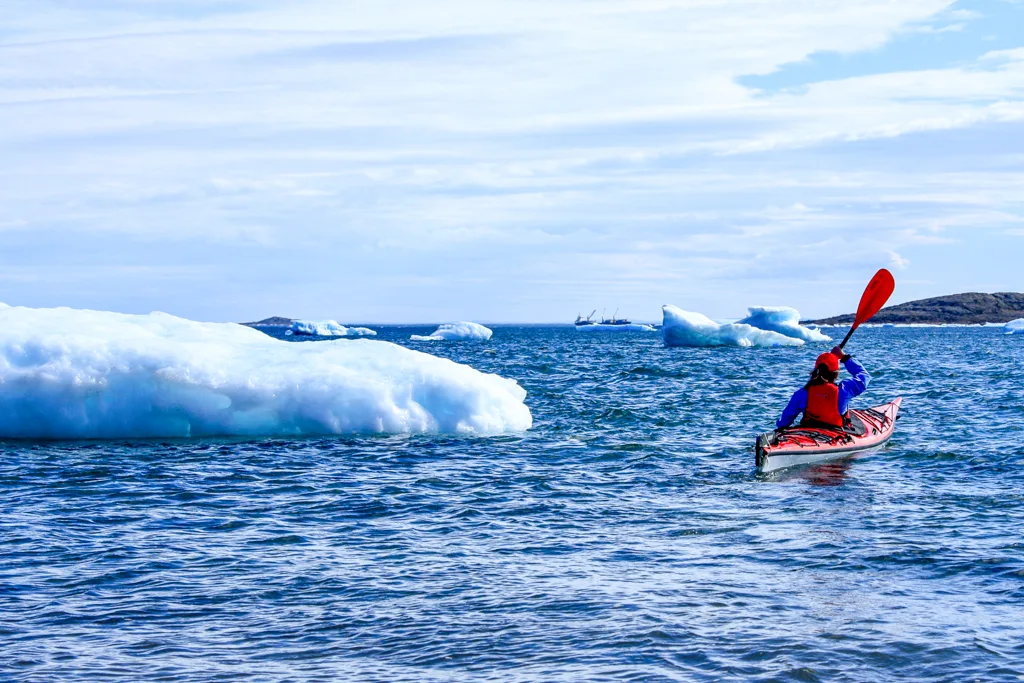 How many of these Canadian towns have you visited? And which of these small towns in Canada for outdoor adventures are on your bucket list? Tell me in the comments.
READ NEXT: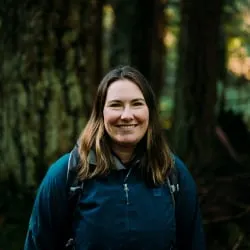 Latest posts by Taryn Eyton
(see all)