Vernon is a small town nestled between two huge lakes in British Columbia's Okanagan region. I recently spent a few days there and discovered so many things to do in Vernon, BC including tons of hiking and lots of delicious food! In fact, I didn't have enough time to do everything!
British Columbia's Okanagan Valley is a popular vacation destination. But it's a huge region so it can be tough to decide where to go. Without naming names, I think that some towns in the Okanagan are a bit too touristy or get too crowded.
But as one of the oldest cities in the Okanagan, Vernon has heart. It has a cute downtown district with lots of shops and restaurants. And the surrounding hills are full of orchards, hiking trails, and viewpoints. I definitely recommend visiting in spring to see the orchards and wildflowers blooming!
And of course, the Vernon is next to both Okanagan Lake and Kalamalka Lake, so there are lots of beaches and places to get out on the water.
In this post, I'll give you the run-down on the best things to do in Vernon, BC. It includes:
This is a sensitive wilderness area. Learn how to Leave No Trace to keep the wilderness wild. Make sure you are prepared by bringing the 10 Essentials. Get ready for adventure with this checklist of things to do before every hike.
Hey there: Thanks so much to Tourism Vernon for hosting me in Vernon. All opinions in this post are my own. Some of the links in this post are affiliate links, which means I earn a small commission at no cost to you. Thanks for your support! -Taryn
Vernon, BC Map
Vernon is a pretty easy city to navigate. But since it is in a rural area, some locations are a few minutes outside the city centre. I've put together a custom google map of Vernon for you. It shows all the locations I mention in this post. Click the map to explore.
The Best Things to Do in Vernon
Explore the Murals
Vernon's downtown is dotted with 28 murals that depict the city's history and culture. Most of the murals are within a few blocks of the intersection of 32nd Street and 32nd Avenue.
I found it fun to just wander around and see what murals I could find, but you can also download this Vernon mural map and guide that has the location and info for each one.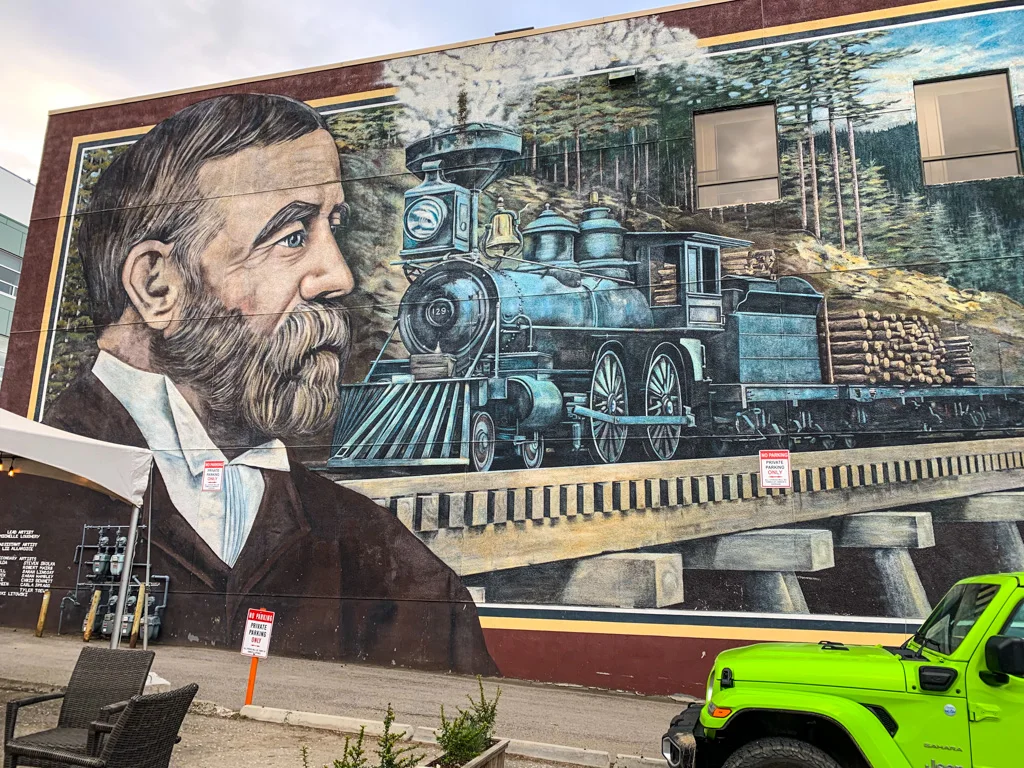 Shop on 30th Avenue
Vernon's streets use a grid system, but confusingly, 30th Avenue is basically the town's main street. That is where you'll find lots of cute shops and boutiques.
I loved browsing at Expressions of Time, a bookstore with a huge selection of used books as well as crystals and other new age stuff. Stop in to Kaleco to browse sustainable clothing and gifts.
Take a Tour of the Kalamalka Indigenous Garden
Known as K'nmalka? Senqalten in the Syilx/Okanagan language, a tour of the Kalamalka Indigenous Garden at Okanagan College was one of the highlights of my visit to Vernon. Our guide, Justen Peters, showed us many of the local plants and explained how they are used for food, medicine, and more. (There is a teepee made of reeds on-site!)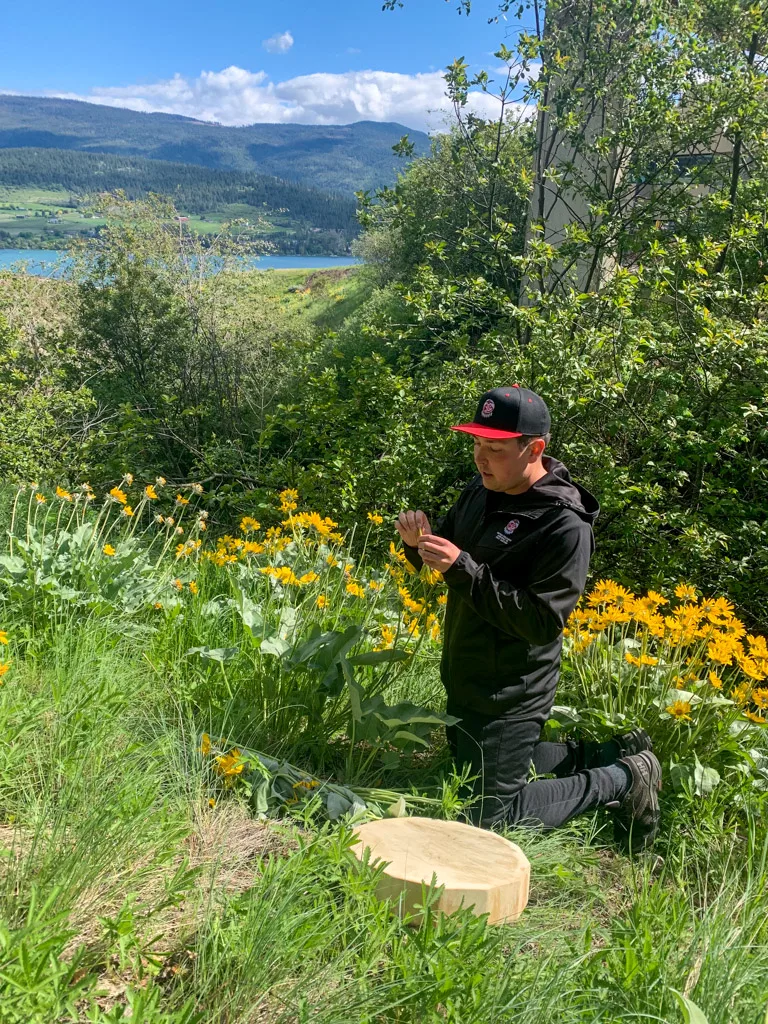 For me, the most interesting part of the experience was the way that Justen wove traditional stories about the landscape, people, and plants into the tour. The views of Kalamalka Lake from the garden were also incredible.
I'm committed to contributing to reconciliation with Indigenous groups in Canada, so it is important to me to seek out Indigenous tourism experiences when I travel. I loved the personal perspective that Justen brought to the tour and the way he was open and honest about the way he is connecting with his culture.
Eat Your Way Through the Vernon Tasting Trail
Since it is surrounded by farmland and orchards, Vernon is foodie heaven. The Vernon Tasting Trail includes 27 local food and drink producers. Many of them are in the surrounding farmland, but a few have storefronts in downtown Vernon.
I recommend Ratio Coffee and Pastry, and Helmut's Sausage Kitchen. (More on both of these in the "Where to Eat" section.) I also wanted to visit Wedge Cheesery and Kin+Pod Chocolate but didn't have time on my visit. (Next time!)
Visit Davison Orchards Country Village
The apple trees of Davison Orchards line the hills at Vernon's northwestern edge. But this family-run orchard offers a lot more than just apples. We had a delicious lunch at the Farmhouse Cafe, served on the patio which has an incredible view.
They also have a cute gift shop, a coffee shop, ice cream, a kids' play area, and farm animals. Don't miss the bakery which sells fresh-baked pies. We bought their adorable personal-sized apple pies – called "cutie pies"!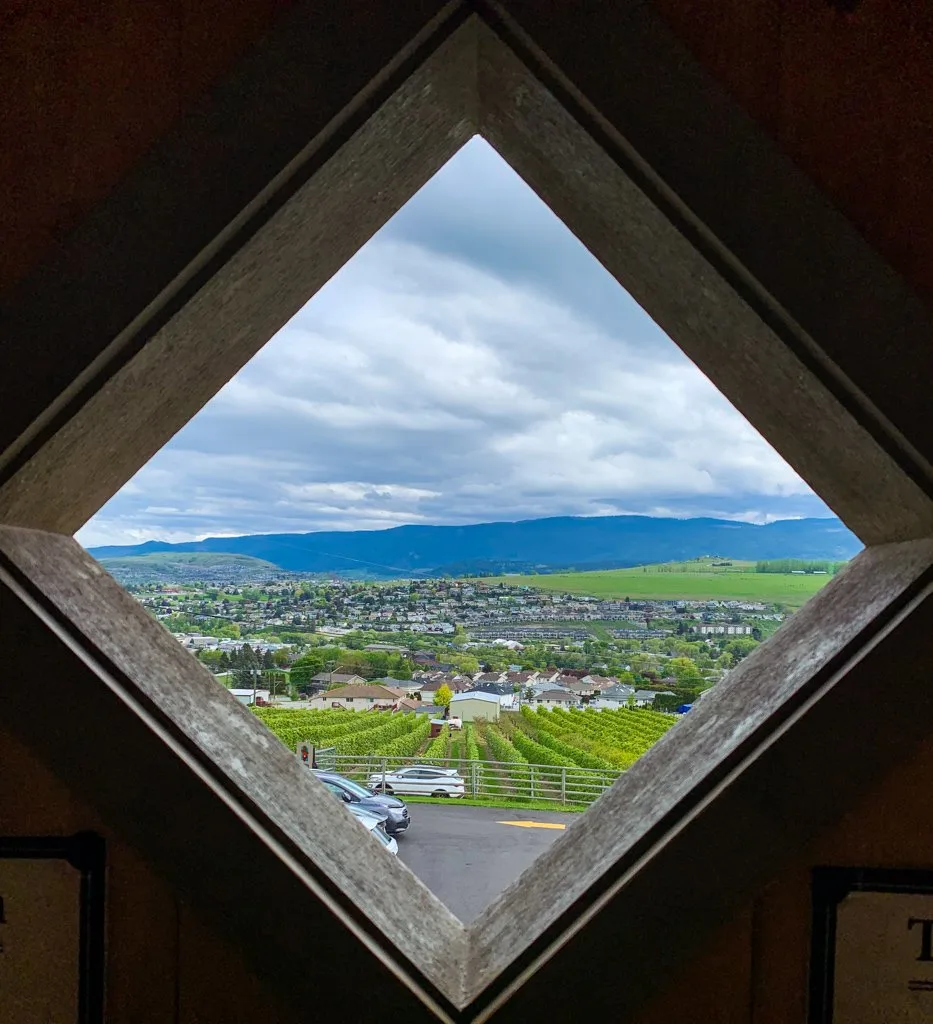 Shop at the Vernon Farmer's Market
Vernon is home to one of the Okanagan's largest farmer's markets. The Vernon Farmer's Market has been around since 1979. The market runs on Monday and Thursday mornings from mid-April to the end of October. Find it behind Kal Tire Place (the city's biggest arena).
Look for lots of fresh produce, eggs, meat, prepared food, and crafts. On my spring visit, there were also lots of vegetable seedlings and flowers.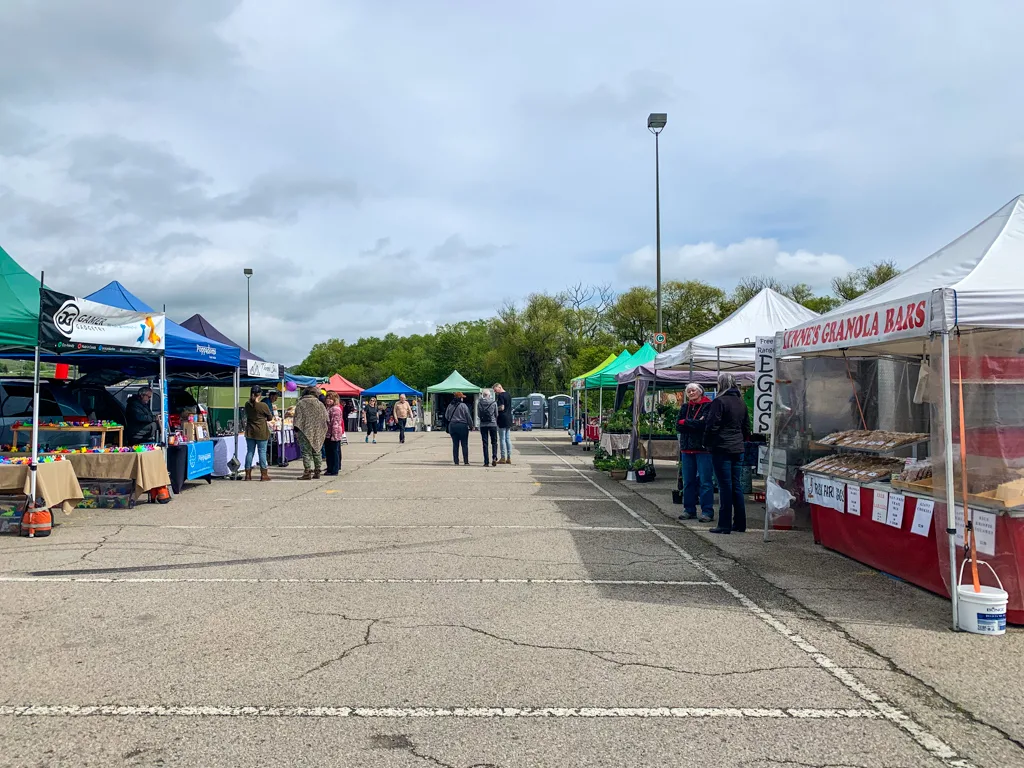 Visit Okanagan Spirits Craft Distillery
The award-winning Okanagan Spirits Craft Distillery uses local apples (instead of grain) as the base for many of their spirits. They were pressing apples when we visited and the whole place smelled like apple juice!
My husband was so impressed with their whiskey and fruit brandy that he bought a few bottles. Their distillery has a huge tasting room and shop right next to their enormous copper stills. In addition to tastings, they also have tours.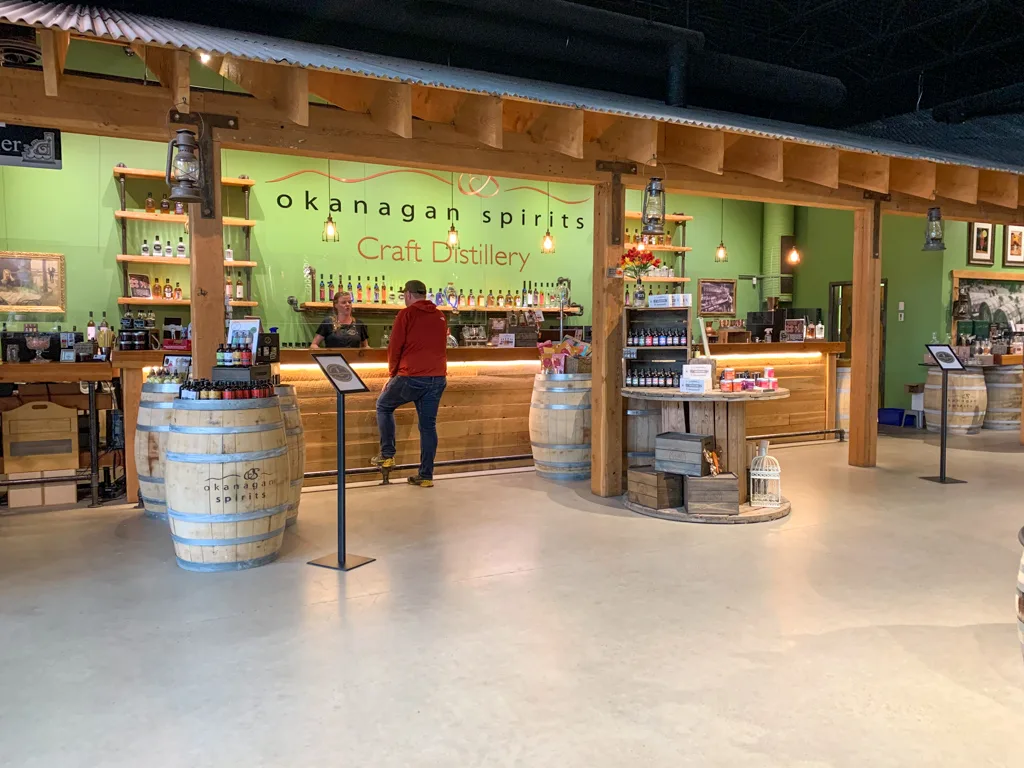 Drink Craft Beer at Marten Brewing Co.
Marten Brewing Co. is a craft microbrewery located in the heart of downtown Vernon. They brew all of their beer on-site, with their brewing equipment located in the centre of their pub! You can buy beer to-go or stay to sample a flight of beer.
They also have a restaurant with a full kitchen serving up pub fare like sandwiches, burgers, and wings. I had a delicious Cubano sandwich.
Sample Cider at The BX Press Cidery
If you prefer cider to beer, don't miss a visit to The BX Press Cidery. Their on-site apple orchard produces all of the apples they use in their ciders. They make a staggering variety of apple ciders, ranging from sweet to dry, many of which have fun flavours like cherry, vanilla, and even Earl Grey tea!
On my visit they were in the middle of a big renovation to create a new restaurant and patio space, so we didn't linger. (The restaurant opens in summer 2022.) But that didn't stop us from buying a case of cider to take home with us! I also ducked into the orchard to enjoy the apple blossoms.
Psst! Want to visit the distillery, BX Press Cidery, and four wineries? Book the Vernon High Spirits Tour and let your guide do the driving.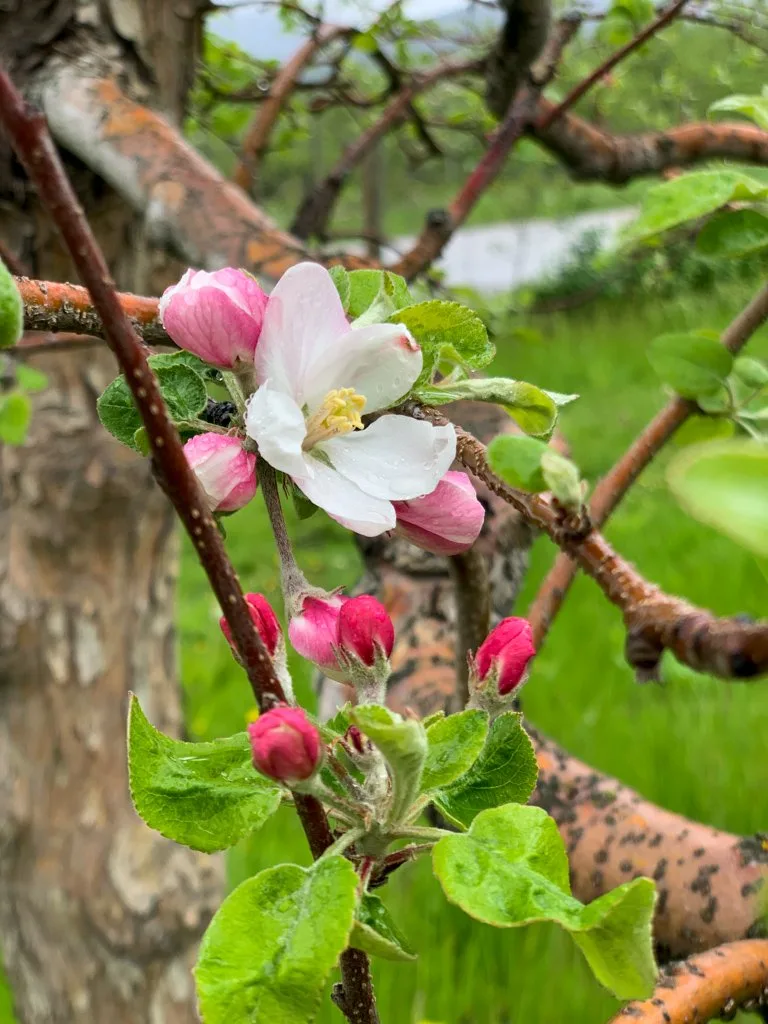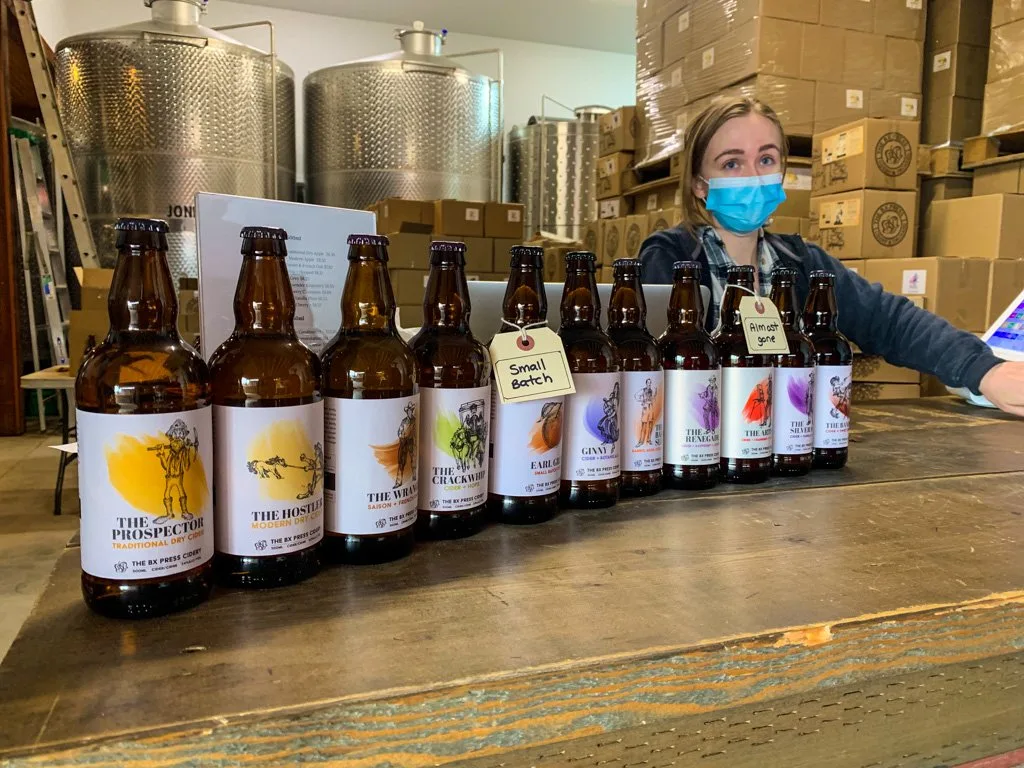 Hike to BX Falls
The hike to BX Falls is short but worth it. The trail descends beside the creek before plunging down a set of well-constructed stairs to the base of the waterfall.
The 30-meter tall falls cascades through a tight canyon before emptying into a pool. On my visit, it had been raining all day so the falls were really raging.
If you want to go directly to BX Falls, you can start your hike from the parking lot on Tillicum Road. But if you want a longer hike you can follow the BX Creek Trail uphill from the trailhead on Star Road.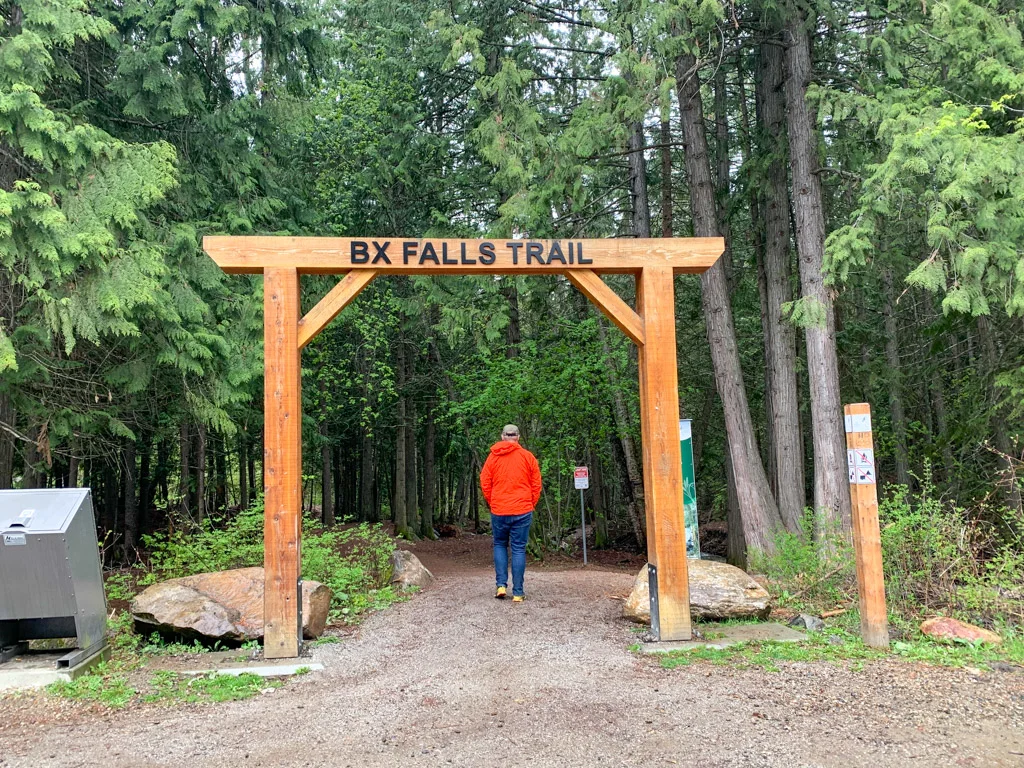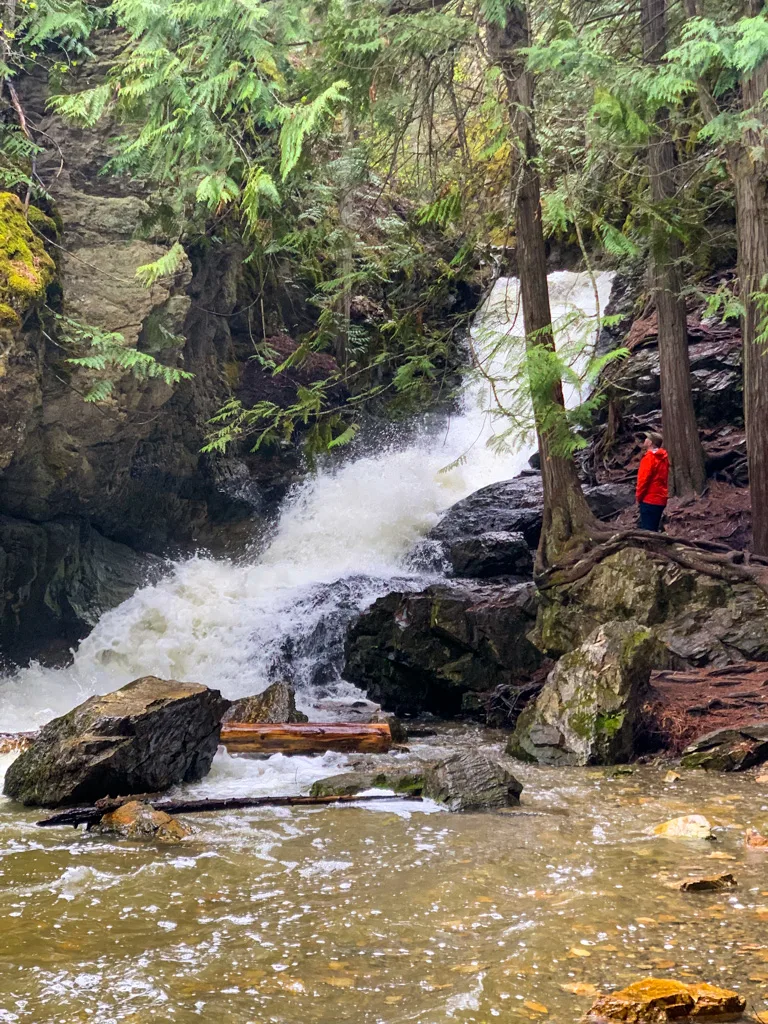 Explore the Grey Canal Historic Trail
The Grey Canal Historic Trail is one of the most interesting trails I have come across. Built between 1905 and 1914, the Grey Canal was a system of pipes, ditches, and flumes that supplied irrigation water to the hills around Vernon.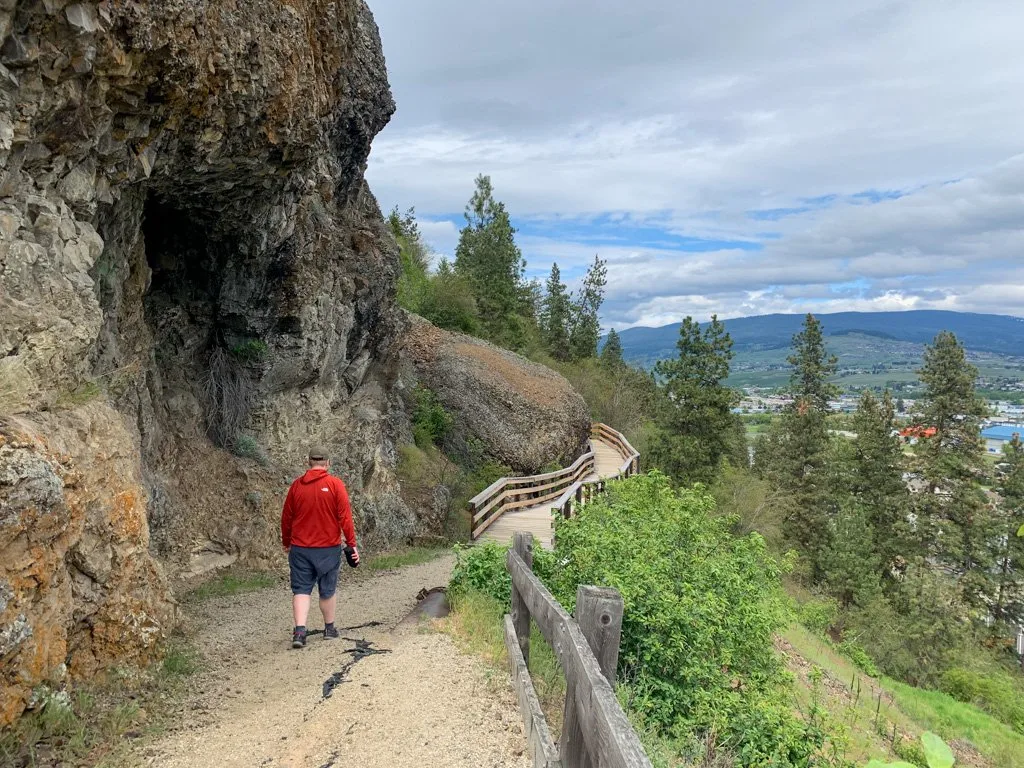 Today you can hike and bike sections of the 50-kilometre-long route as it curves across the hillside high above orchards and farms. That means it has incredible views. We explored the Turtle Mountain section which includes an incredible viewpoint on Rocky Ridge.
The best info and maps for the Grey Canal trail are on the Ribbons of Green Trails Society's website – click on the Grey Canal tab on the top left.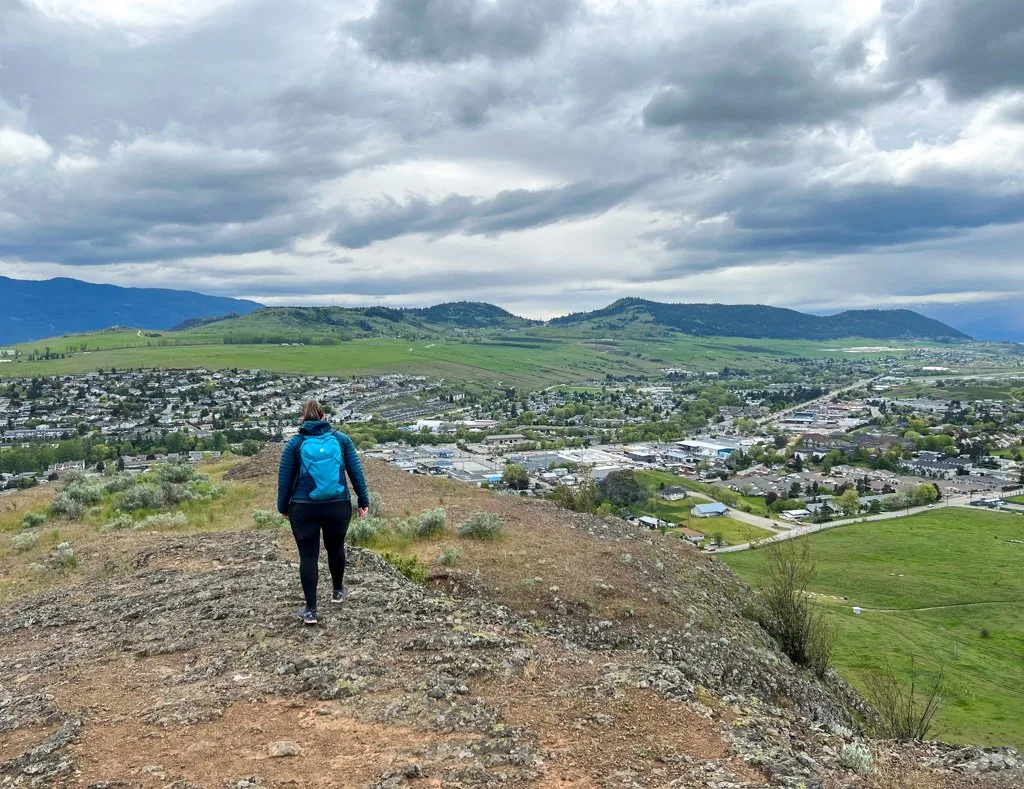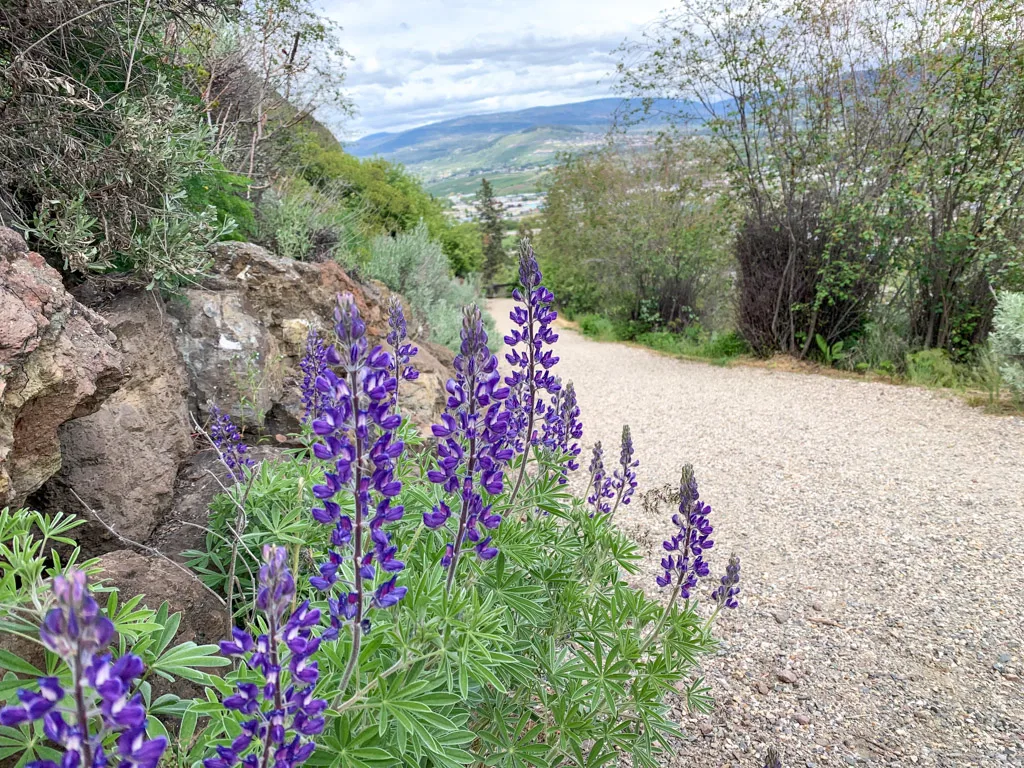 Bike the Okanagan Rail Trail
The Okanagan Rail Trail stretches for over 50 kilometres on an old railway bed between Vernon and Kelowna. It runs along the shores of Kalamalka and Wood Lakes and is FLAT, making it a great place to go biking.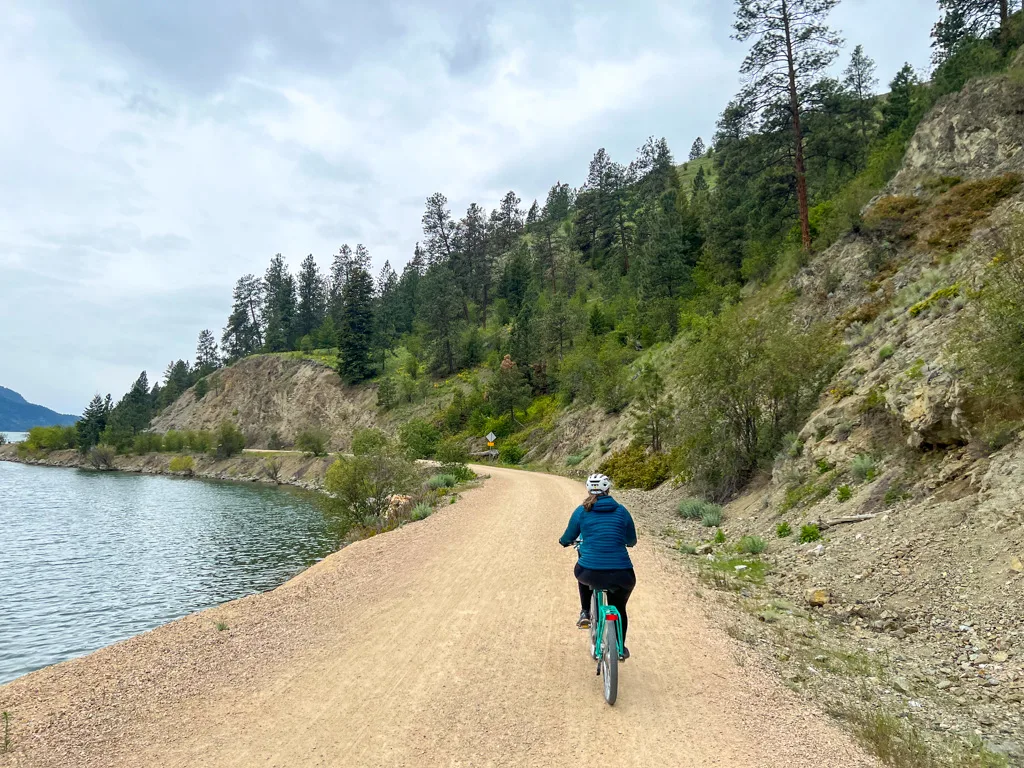 On my trip, we rented e-bikes from Kalavida Surf Shop at the start of the trail in Vernon and biked all the way to the tiny town of Oyama and back on the shores of Kalamalka Lake – a round trip of nearly 40 km. The e-bikes made what would normally be a long ride easy – we finished in just a few hours.
Along the way, we stopped a lot to admire the flowers growing beside the trail. (Our spring visit included tons of wildflowers!) We even spotted a huge hawk hunting on the top of a cliff.
The views of the lake were also incredible. The lake water changes colour with the seasons. It was a dark blue-green on my trip, but as it warms up it becomes more turquoise.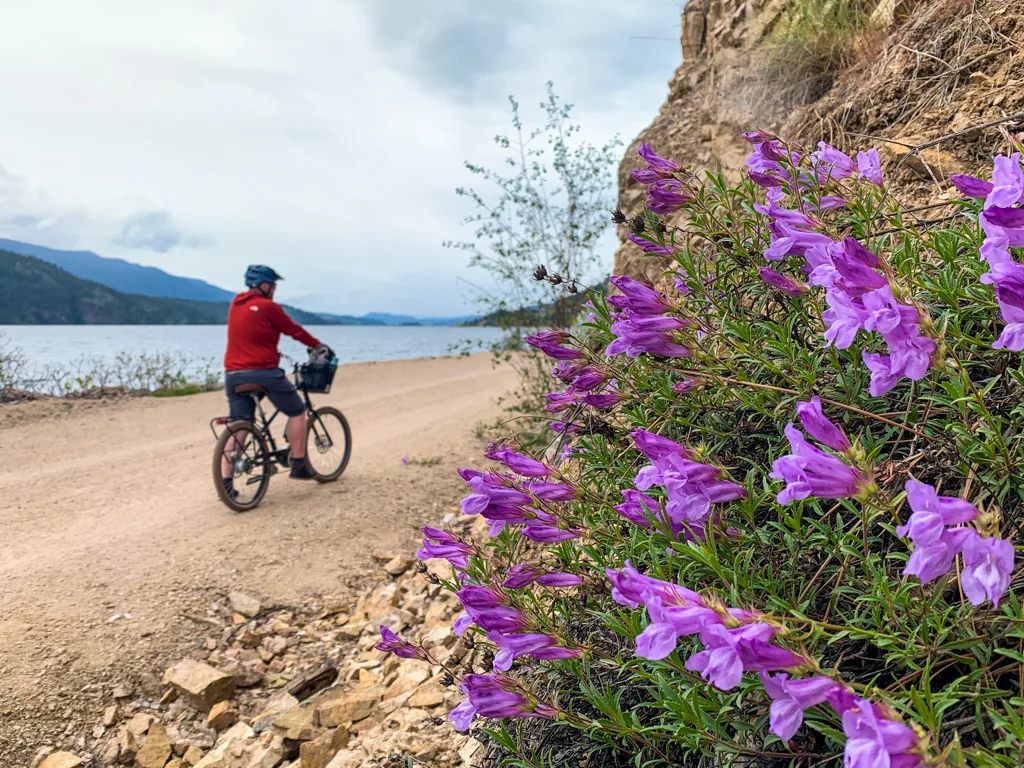 Hike at Predator Ridge and Sparkling Hill
The high ridge between Okanagan Lake and Kalamalka Lake is home to two neighbouring resorts with a big network of hiking trails: Predator Ridge Resort and Sparking Hill. The trails lead from the resorts, past a golf course and residential community, into the hills.
Many of the trails have incredible views down to Okanagan Lake and the Predator Ridge area. Some even have picnic tables or wooden yoga platforms, perfect for soaking up the views.
On my trip to Vernon, we stayed at the Predator Ridge Lodge and loved being able to go for hikes right out the front door. The Okanagan Lake Lookout is a great sunset spot (although the clouds obscured the sunset a bit on my visit.) We also loved evening bird watching at the easy Birdie Lake Trail.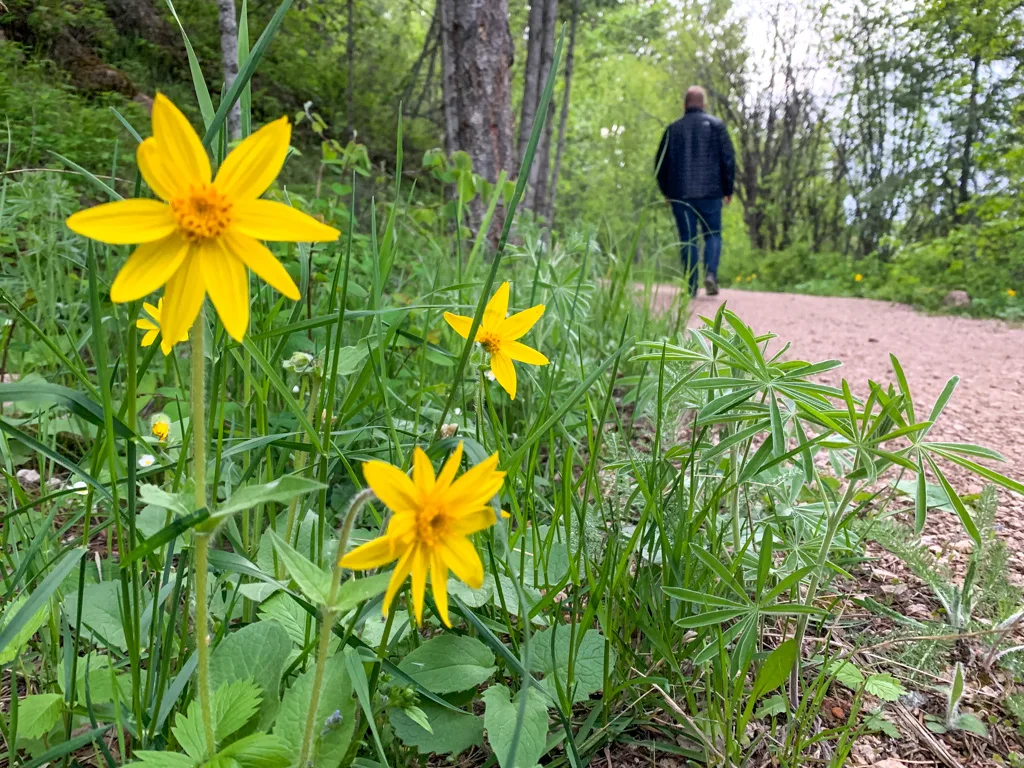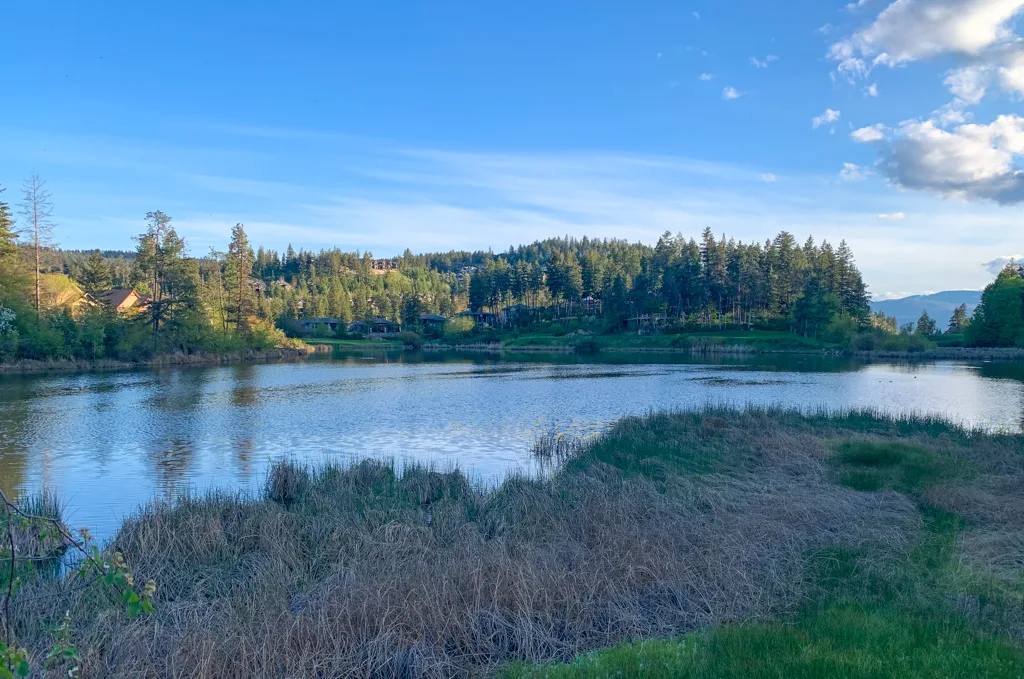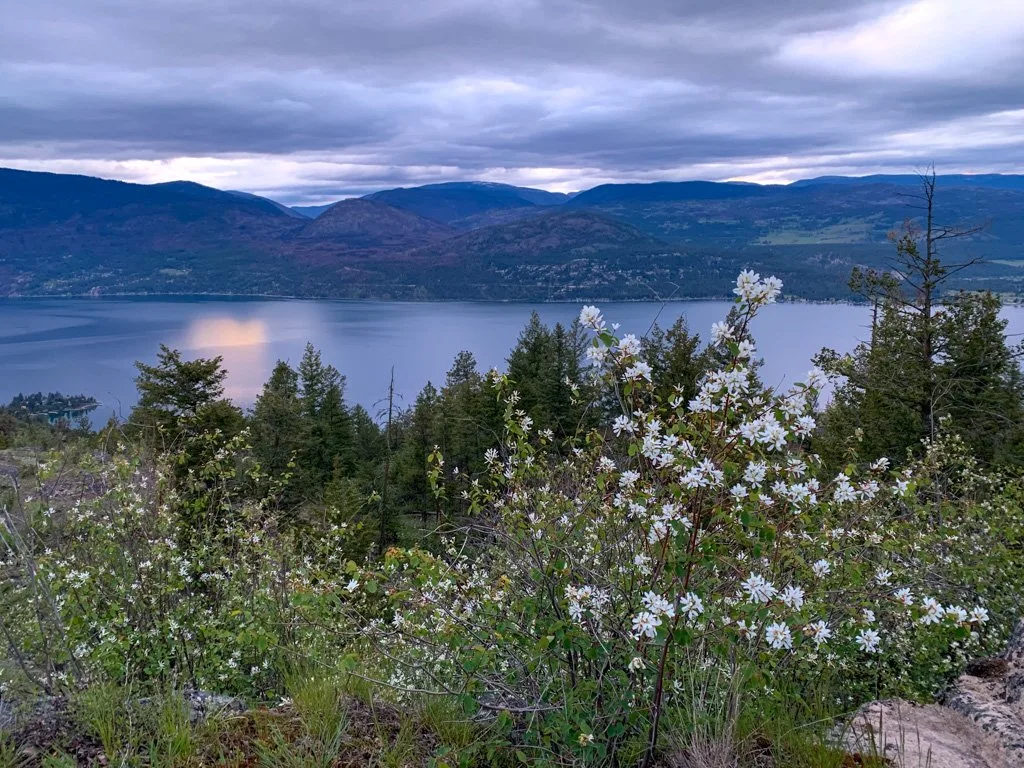 There are over 35 km of trails, so I wasn't able to explore them all – I'll just have to go back! But I definitely recommend a spring visit as there were wildflowers everywhere.
For info on the trails, Predator Ridge has a good trail map. Some of the trails are shared with bikes and on a few access paths you may encounter golf carts, so keep your head up!
Explore Kalamalka Lake Provincial Park
This gorgeous provincial park sits on the eastern shore of Kalamalka Lake. It has a huge network of hiking and biking trails. We only had time to explore a small section but it was spectacular! First, we hiked to Jade Bay and Juniper Bay, two small beaches that are popular for swimming in the summer.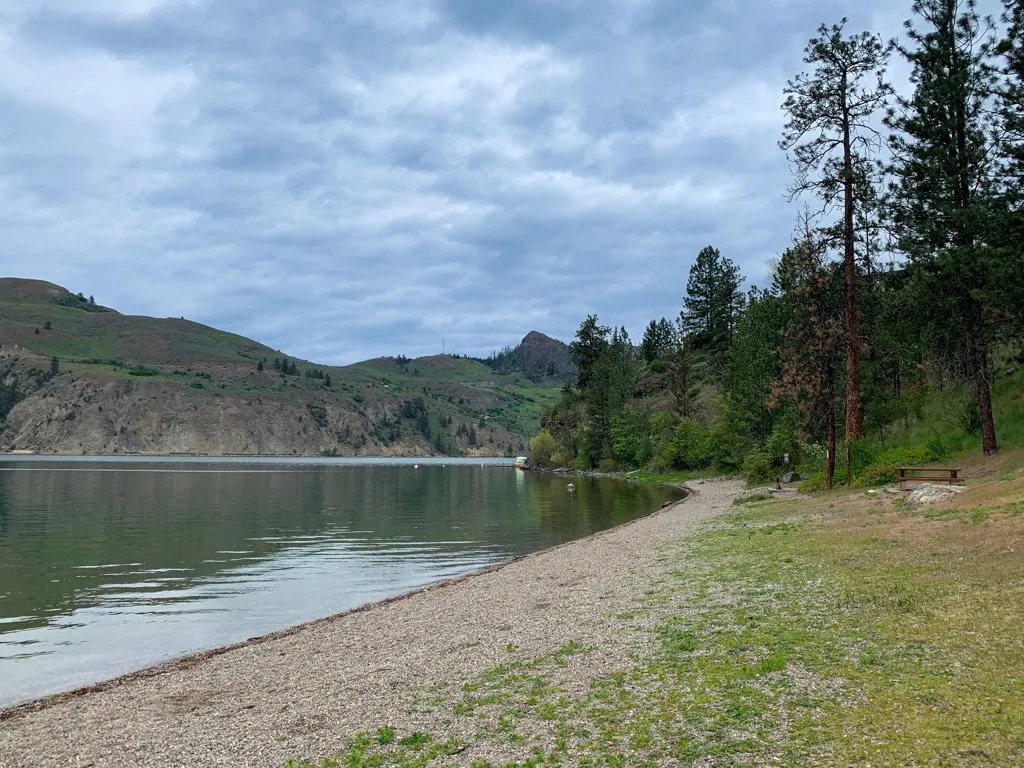 We also hiked out to a beautiful viewpoint at the end of Rattlesnake Point. From there, you can also follow another trail to a lookout on a rock outcropping at the top of Rattlesnake Point. The views were even better from up there.
It's also a good place to admire the colourful waters of Kalamalka Lake which change from dark blue in the winter to green and turquoise in the summer.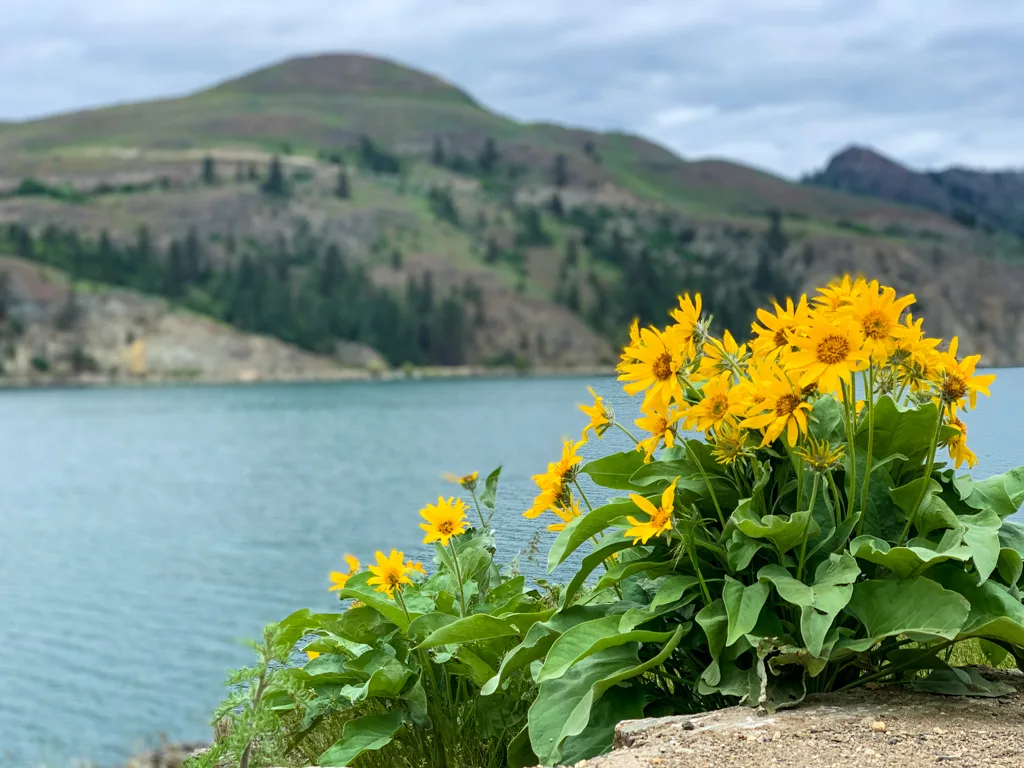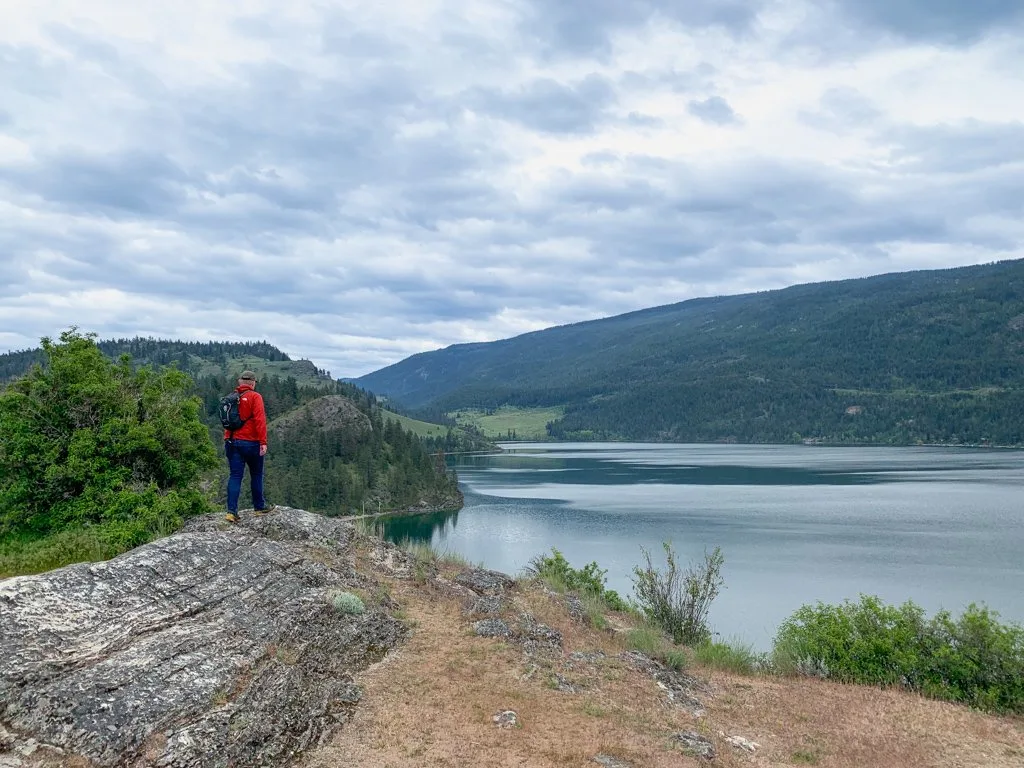 During our spring visit, the trails were covered in wildflowers. Even though our hike was only 4 km long, it took forever since I kept stopping to take photos of the flowers. If you're interested in flower ID, I recommend the Seek app by iNaturalist which uses your phone camera to tell which plant you are looking at.
Kalamalka Provincial Park has a huge trail system of both hiking and biking trails. Next time I visit, I want to hike to Cosens Bay. I'd also like to bring my mountain bike too!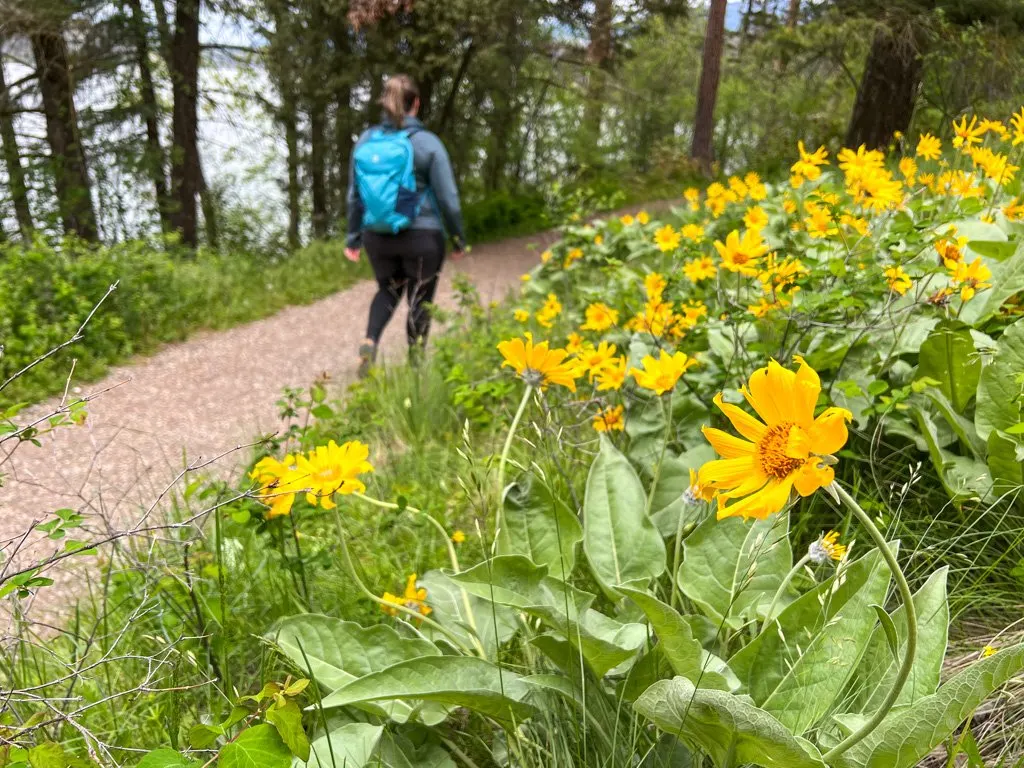 Hit the Beach
On my spring visit, it was a bit too chilly for swimming. But we still visited several beaches in Vernon to go for a walk or have a picnic.
Kal Beach on Kalamalka Lake is just a few drive minutes from Vernon. There's a paved multi-use path most of the way too. It's a beautiful sandy beach with a long pier.
We also visited Kin Beach on Okanagan Lake. The sandy beach has lots of big trees for shade as well as a big grassy area.
Jade Bay and Juniper Bay in Kalamalka Lake Provincial Park also have great beaches (although they are small).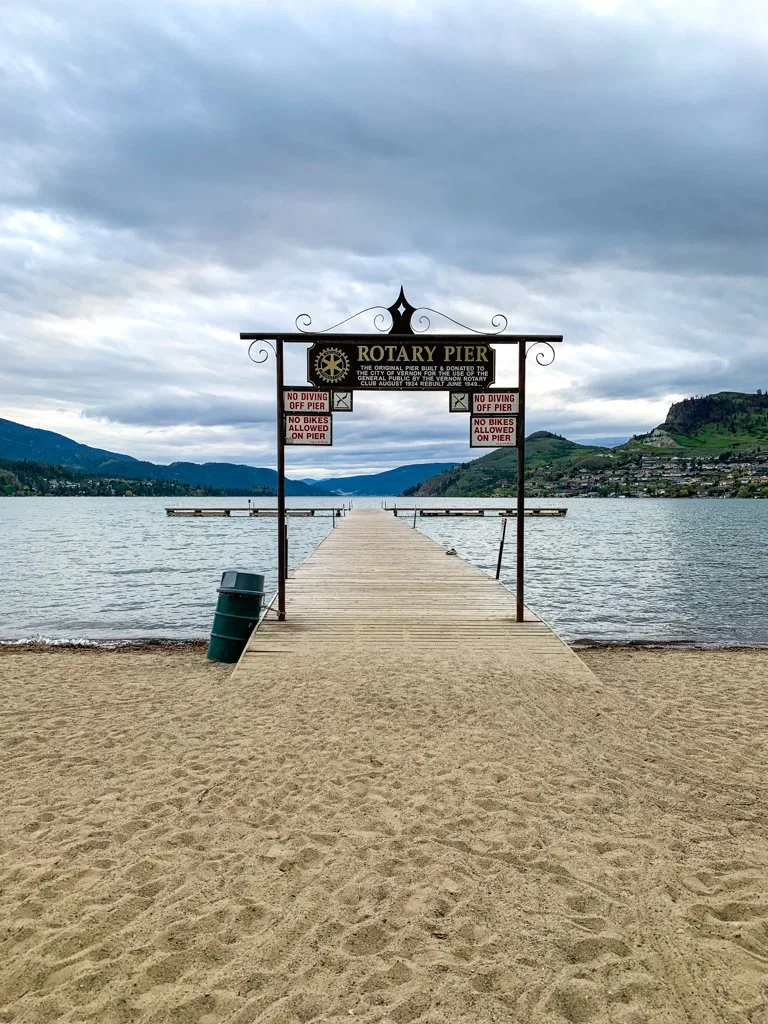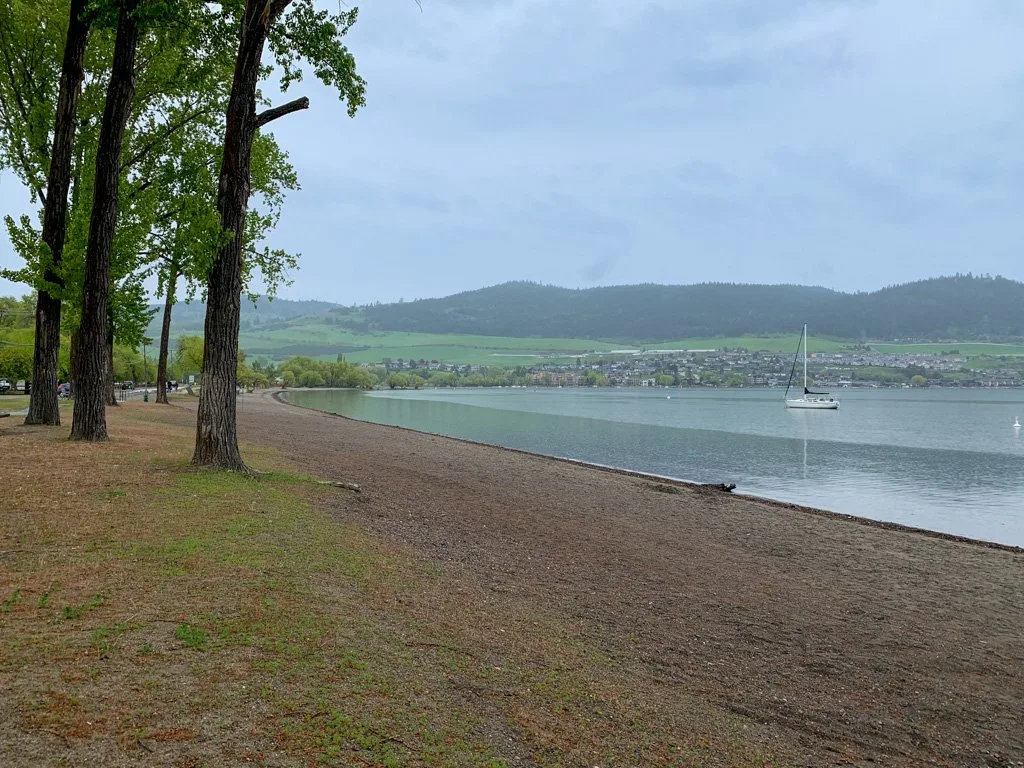 Go Golfing
While I didn't actually go golfing in Vernon, I feel a bit like I did since we stayed at Predator Ridge. Our room looked out on the course and we watched golfers swinging clubs and zipping around on golf carts while relaxing on our patio.
The two golf courses at Predator Ridge are famous for their incredible views. There are also a few other golf courses around Vernon, including The Rise, which sits high above Okanagan Lake and also has panoramic views.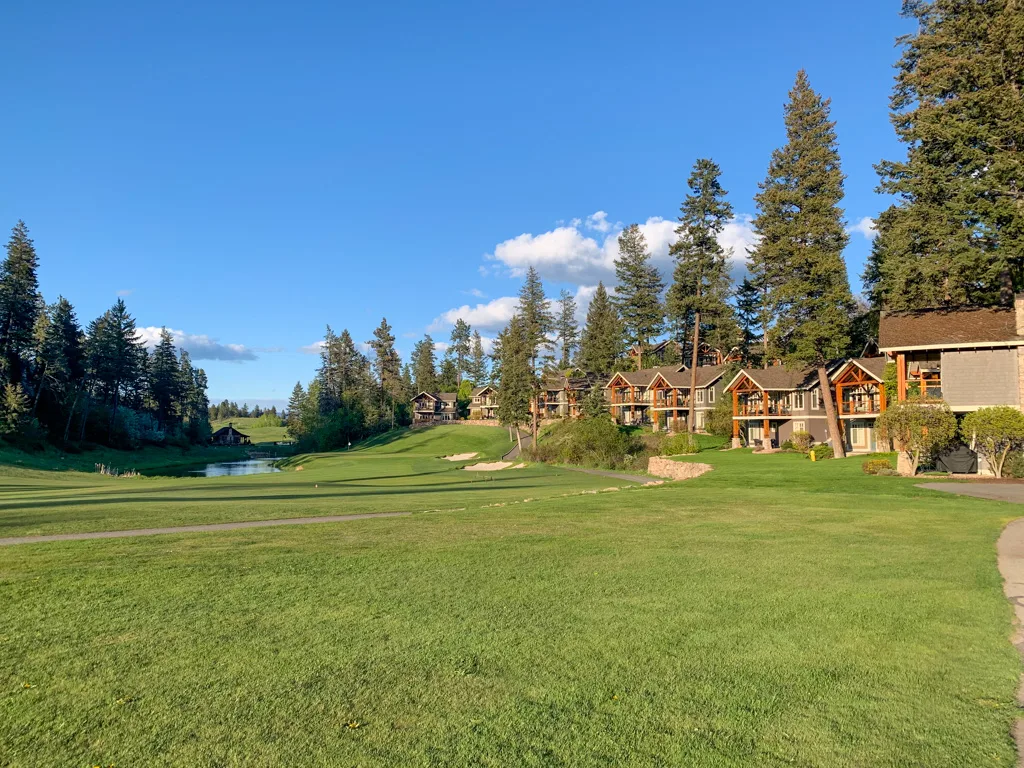 More Things To Do in Vernon
While we managed to see and do a lot during our three days in Vernon, we couldn't see everything. Here's what is on my list for my next trip!
More Outdoor Things To Do
Extra Things To Do in Vernon
Where to Stay in Vernon
Vernon has a huge variety of accommodation options from upscale to budget. If you're visiting in prime summer season, book far in advance, especially for camping.
Hotels
Outdoor Focused Resort: We stayed at the huge Predator Ridge Resort, which has a mix of lodge suites and cottages, all with their own kitchens. There are two restaurants on-site and a small grocery store. It's a bit of a drive outside of town, but the location is stunning with incredible views. The main attraction is golfing, but as hikers, we enjoyed exploring the huge trail system instead. Check prices.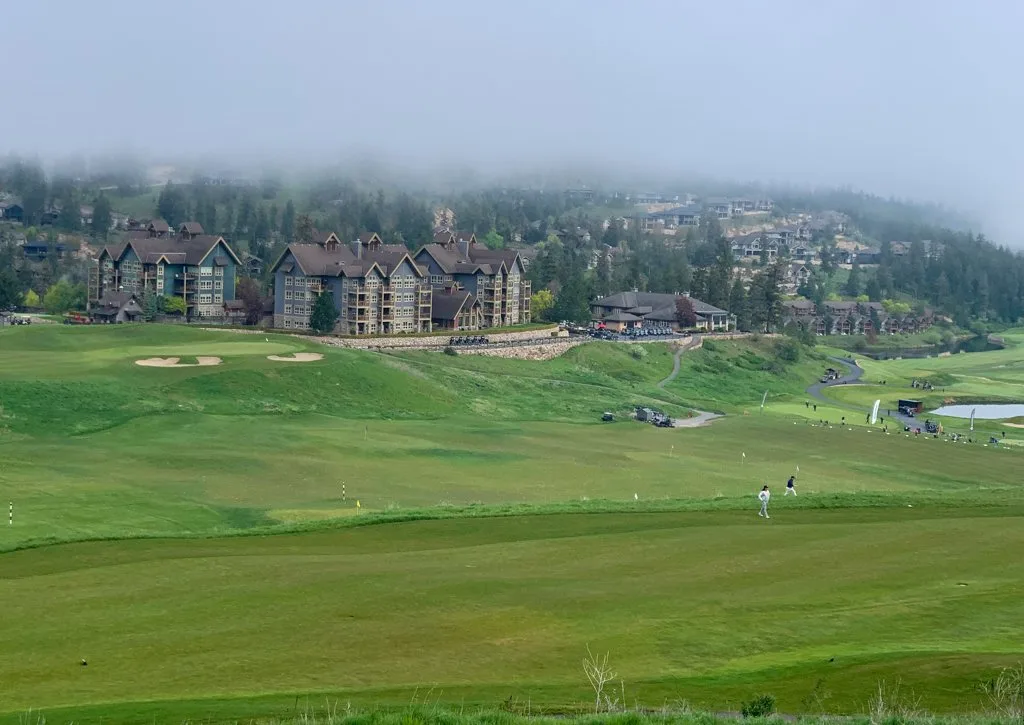 Upscale Spa Resort: Located next to Predator Ridge, Sparkling Hill Resort is an adults-only hotel with a luxurious spa and incredible views. The place has unique architecture and is also covered in Swarovski crystals. Check prices.
Unique Hotel: The Prestige Vernon Lodge has a feature I've never seen anywhere else – a natural creek running through it! The hotel has a huge glass atrium with tons of plants, a swimming pool, a restaurant, and yes, a creek. Many of the rooms face the atrium and prices are reasonable. Check prices.
Reliable Chain Hotel: I've stayed at Fairfield Inn and Suites locations all across Canada and the US. They are consistently clean, well-equipped, newly renovated, and come with free breakfast. Check prices.
B&Bs and Vacation Rentals
There are tons of great B&Bs and vacation rentals around Vernon. Many of them have great views or locations near beaches.
Townhouse With Private Beach: Located right on Okanagan Lake, The Outback Lakeside Vacation Homes have two- and three-bedroom units with kitchens and access to both a private pool and private beach. Check prices.
Rural B&B: The Country Cottage B&B is really cute. It's set in rolling farmland a short drive from Okanagan Lake. All the reviews mention the delicious breakfast. Check prices.
Rustic Tiny House Cabin: Step back in time while enjoying all the modern conveniences at The Little House on Pottery Road. The rustic tiny house has pioneer-era decor and a wrap-around veranda perfect for soaking up the views. Check prices.
Camping
In the summer, the Okanagan is a popular spot for camping trips. There are several great campgrounds near Vernon.
Kekuli Bay Provincial Park: We biked past Kekuli Bay Provincial Park on the Okanagan Rail Trail. The new-ish campground is on the shores of Kalamalka Lake in a rural area grassland area. You can bike or walk on the Rail Trail or swim from the small beach. Reserve with BC Parks.
Ellison Provincial Park: You'll find Ellison Provincial Park a few minutes outside of Vernon on Okanagan Lake. In addition to the campground, it has a beach, hiking trails, and tons of mountain bike trails. Reserve with BC Parks.
Glamping: If you want something less rustic, book a stay at the Utopia Feels Glampground in nearby Coldstream. Their luxurious tent suites have comfy beds and great views. The property has gardens and a micro-farm with lots of adorable animals. Check prices.
Where to Eat in Vernon
Between the Tasting Trail, the brewery, cider press, and distillery, it felt like we were always eating and drinking something delicious in Vernon. But for a town in orchard and farm country, I guess I shouldn't have been surprised. Here are my picks for where to eat in Vernon.
Coffee Shop: We loved Ratio Coffee so much that we went twice. It is located in the old railway station. Be sure to try the daily bakery specials and sit on their great patio.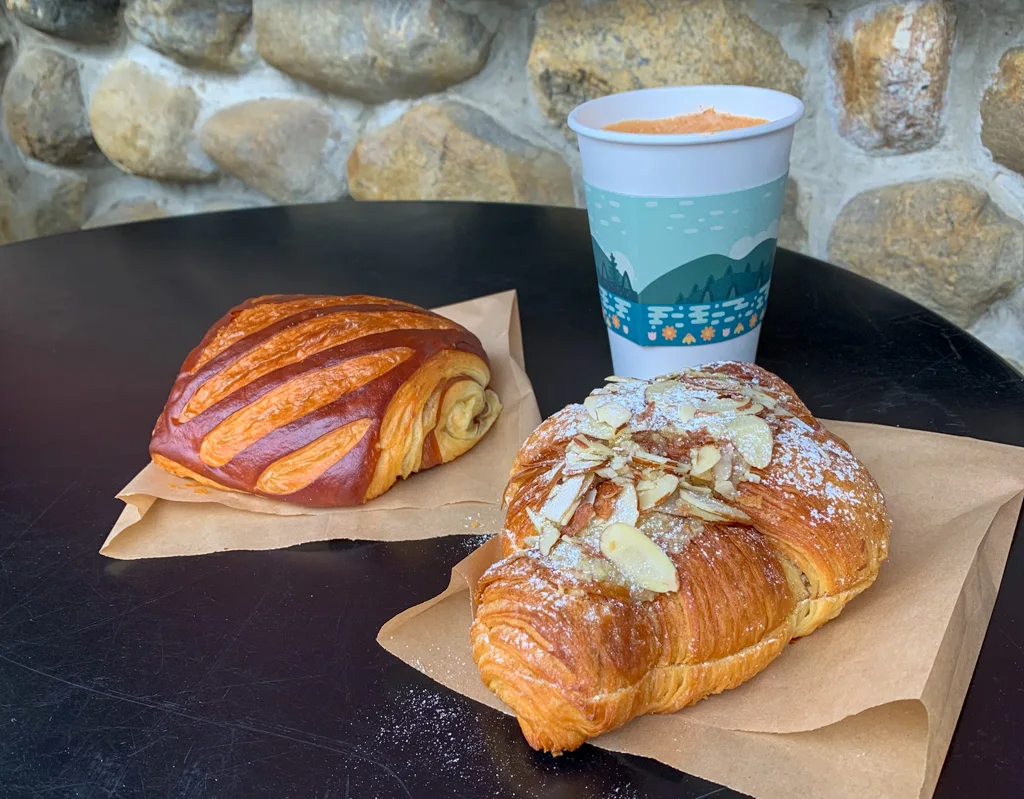 Pizza: We had amazingly authentic pizza at Pallino's Italian Bistro at Predator Ridge. You can eat-in, sit on the patio, or get a pizza to go. They also make their own gelato, but I was too full of pizza to try it.
Deli with Sandwiches: Helmut's Sausage Kitchen is a quirky European deli that specializes in sausages. But they also make truly amazing hot sandwiches. They have a small eating area, but we took ours to-go and ate at the beach.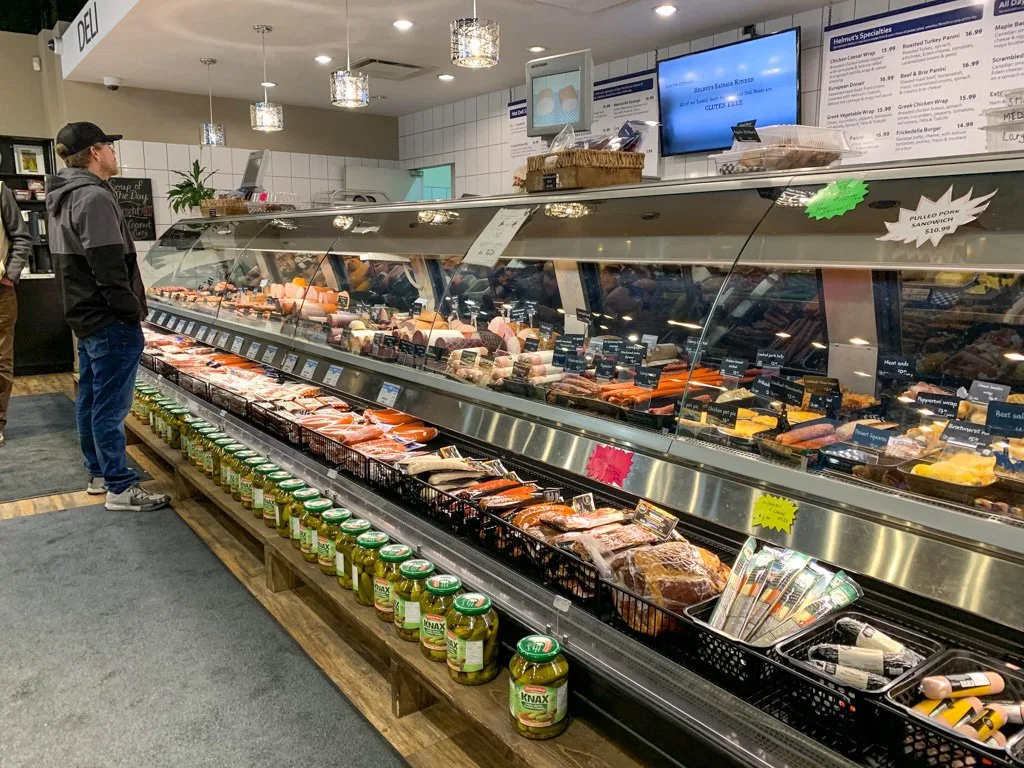 Pub: Marten Brewing Co. makes craft beer and great pub food to go along with it. If you're looking for a burger or wings, this is where to get it. Their menu also has a few more innovative offerings like tempura bites, truffle fries, and fish tacos. We loved the house-made guac.
Cafe: I had heard lots of great things about EATology, but unfortunately we didn't have time to visit. They are only open for breakfast and lunch, but people rave about their eggs benny.
Vernon, BC FAQ
Do you have questions about Vernon? Here are the answers to the most frequently asked questions about Vernon, BC.
Where is Vernon, BC?
Vernon is located in the Okanagan region of British Columbia's interior. It is in the northern part of the Okanagan, about 45 minutes north of Kelowna and 1.5 hours southeast of Kamloops.
How big is Vernon, BC?
Vernon has a population of about 40,000 people. It covers an area of 96 square kilometres. It has a compact downtown core, but also includes a lot of surrounding rural land.
What is Vernon, BC known for?
Vernon is known for being the commericial hub city for the Northern Okanagan. It is surrounded by lakes (Okanagan, Kalamalka, and Swan Lakes) making it a popular place for summer recreation. Silverstar Mountain ski hill is just outside of town. The surrounding area is rural, with lots of farms, orchards, hiking trails, and golf courses.
How to get to Vernon, BC?
The easiest way to get to Vernon is to drive. It's about 5.5 hours from Vancouver and 7.5 hours from Calgary. You can also fly into Kelowna airport. From there, you can take an airport shuttle van from Kelowna to Vernon. The ride takes about 30 minutes.
When is the best time to go to Vernon, BC?
Vernon is a year-round destination. It is most popular in the summer, but it can be incredibly hot and sunny. The winter months are a good time for skiing. If you visit in April and May, you'll skip the crowds and enjoy gorgeous wildflowers. The months of September and October are also less busy and have beautiful fall colours as the leaves change.
What is the weather like in Vernon, BC?
In general, Vernon has cold winters (1°C/33°F) and hot summers (30°C/80°F). June, July, and August are the warmest. December, January, and February are the coldest. Compared to coastal BC, Vernon has a relatively dry climate. The spring months are the rainiest, but it still only rains a little bit. Check the Vernon weather forecast here.
How long should you spend in Vernon, BC?
There is no easy answer to this question. If you just want to see the highlights, a quick weekend trip will suffice. But if you really want to experience the best things to do in Vernon, spending a long weekend or a full week would be better. I spent three days in Vernon and managed to cram a lot in… but I left with lots of things still on my Vernon bucket list. Next time!
What is the Indigenous context of Vernon, BC?
Vernon is in the traditional territory of the Syilx (Okanagan) First Nation. Before European contact, the Syilx were semi-nomadic, living in pit houses called kekulis in the winter and teepees made of tule reeds in the summer. Their territory extended through the Okanagan Valley and down into the United States.
The area that is now Vernon was called Nintle-Moos-Chin, which means "jumping over creek" since BX Creek narrowed enough that it was possible to leap across it.
In the 1800s fur traders and miners came through the Okanagan Valley, disrupting the Syilx way of life and displacing them from their lands. Today, the Syilx continue to live and practice their culture in the Okanagan Valley.
What is the history of Vernon, BC?
The Vernon area has been the traditional home of the Syilx people since time immemorial. European fur traders and prospectors arrived in the mid-1800s. Some of the Europeans settled in the area, starting ranches.
The town of Vernon was incorporated as a city in 1892 and was named after Forbes George Vernon, a member of British Columbia's legislative assembly. Irrigation projects and a railway made the fruit industry possible in Vernon in the early 1900s. Today Vernon is a commercial hub for the region, which still relies on ranching, farming, and orchards as its main industries.
If you haven't been to Vernon yet, I encourage you to go, especially in the spring when the wildflowers are blooming. There are so many things to do in Vernon, BC that I wasn't able to see everything I wanted in just one trip. I'll definitely be back (with my mountain bike next time!)
Do you have questions about things to do in Vernon? Leave them in the comments so I can help you out.
READ NEXT: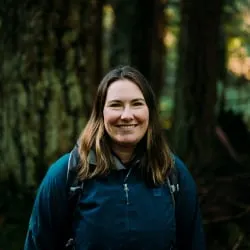 Latest posts by Taryn Eyton
(see all)