The entire time I was in Revelstoke I kept thinking: "This place would be waaaay busier if it was closer to a big city…BUT it's so awesome that it's not." Revelstoke, British Columbia is a small town in between big mountain ranges. It's got all kinds of outdoor adventures, a vibrant downtown with lots to do, and a thriving restaurant and craft liquor scene. It's compact enough to see in a weekend but has enough stuff to want to make you visit again. What's not to love?
In the last few years I've taken two trips to Revelstoke and was surprised at how much I fell in love with the town. (It even made my list of the best weekend getaways from Vancouver and the best small towns in Canada for outdoor adventures.) Honestly, I even looked at real estate listings (just for fun… I think?)
I had a pretty busy schedule on both of my trips to Revelstoke and did A LOT but I still didn't manage to see everything. So here's my big list of 15 things to do in Revelstoke in the summer. I've done most of these things but a few will have to wait until next time. (Because there's definitely going to be a next time!)
Hey there: Thanks so much to Tourism Revelstoke for hosting me in Revelstoke. All opinions in this post are my own. Some of the links in this post are affiliate links, which means I earn a small commission at no extra cost to you if you make a purchase. Thanks for supporting my website! -Taryn
This is a sensitive wilderness area. Learn how to Leave No Trace to keep the wilderness wild. Make sure you are prepared by bringing the 10 Essentials. Get ready for adventure with this checklist of things to do before every hike.
Revelstoke Basics
What's with the name? Disappointingly, Revelstoke's name doesn't have anything to do with stoking revelry. When the railway across Canada was being built in the 1880s, the Canadian Pacific Railway was nearly bankrupt. Lord Revelstoke, a British banker, invested in the railway and saved the company. So they named the town after him! (Previously, the town was called Farwell after a local man who settled in the area.) Revelstoke has lots of nicknames including "Revy", "The Stoke" and "Revelstuck" since winter snows can close the roads out of town.
Location: Revelstoke is located in eastern British Columbia, Canada. It's on the banks of the Columbia River at 480m above sea level. Revelstoke is in a river valley between the Monashee and Selkirk Mountain ranges. The Rocky Mountains are about 100km to the east. Revelstoke is in the traditional territory of the Ktunaxa, Secwepemc, Sinixt, and Okanagan First Nations.
How to Get to Revelstoke: Revelstoke is on highway 1. It's a 6-hour drive from Vancouver in the west or 4.5 hours from Calgary in the east. Revelstoke has an airport, but it only has charter flights. The closest major airport is in Kelowna where you can get a shuttle van to Revelstoke that takes about 2.5 hours. Revelstoke also makes a great stop on a road trip across Canada.
Revelstoke Weather: Revelstoke has a mountain climate. Summer temperatures are typically highs of 23-25C and lows of 11C. July and August are the driest months, but Revelstoke has a wetter climate than the nearby Rocky Mountains so it can still have some rainy days in summer.
Population: Officially, Revelstoke has a population of about 7,000 people. However, locals are proud to tell you that cell phone usage data shows that the town has about 14,000 residents in winter.
Revelstoke Map: I made a custom Revelstoke google map for you that includes every single place I mentioned in this post. Click on it to zoom in.
Summer Things to do in Revelstoke
Drive the Meadows in the Sky Parkway
This scenic Mountains in the Sky Parkway inside Mount Revelstoke National Park provides great views with little effort. In the summer, the roadsides and summit area are carpeted with wildflowers. The best time to see the flowers is late July and early August. Be sure to stop at the roadside pullouts for great views of Revelstoke and the surrounding mountains.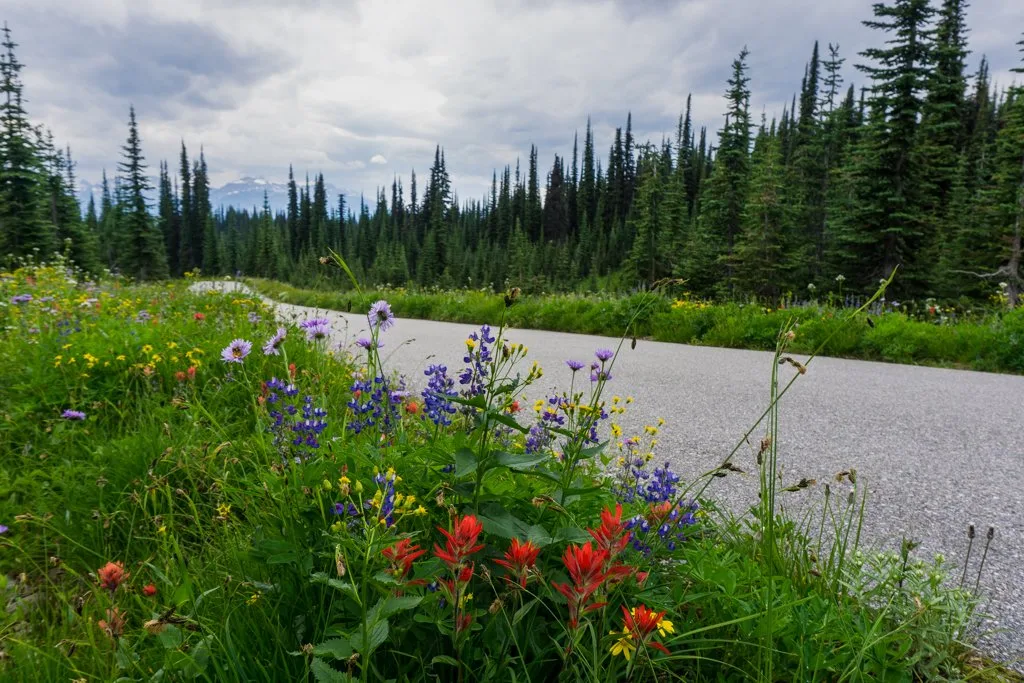 The road climbs 1,365m over 26km of switchbacks to Balsam Lake at 1,835m. From here you can take a free shuttle bus to the summit, or hike the 1-kilometre-long Upper Summit Trail. At the top, there are several viewpoints, plus a historic fire lookout. For the best wildflower displays, visit in mid-August. The flowers are spectacular!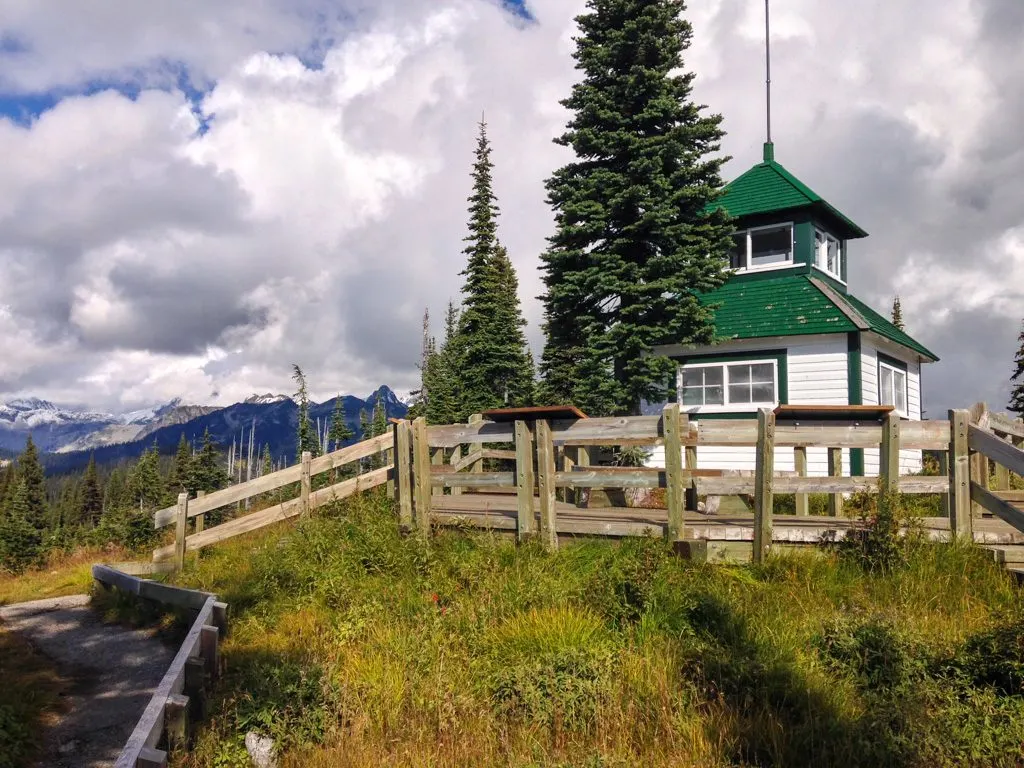 Soak in Hot Springs
Western Canada is home to tons of natural hot springs. A few of them are a couple hours drive from Revelstoke. On my recent trip, I soaked in Halfway River Hot Springs. It's an undeveloped hot spring in a beautiful natural setting. To get there you need to drive 11km up a logging road, then hike 1km down a steep trail. The hot springs are next to a rushing river in gorgeous rock-lined pools.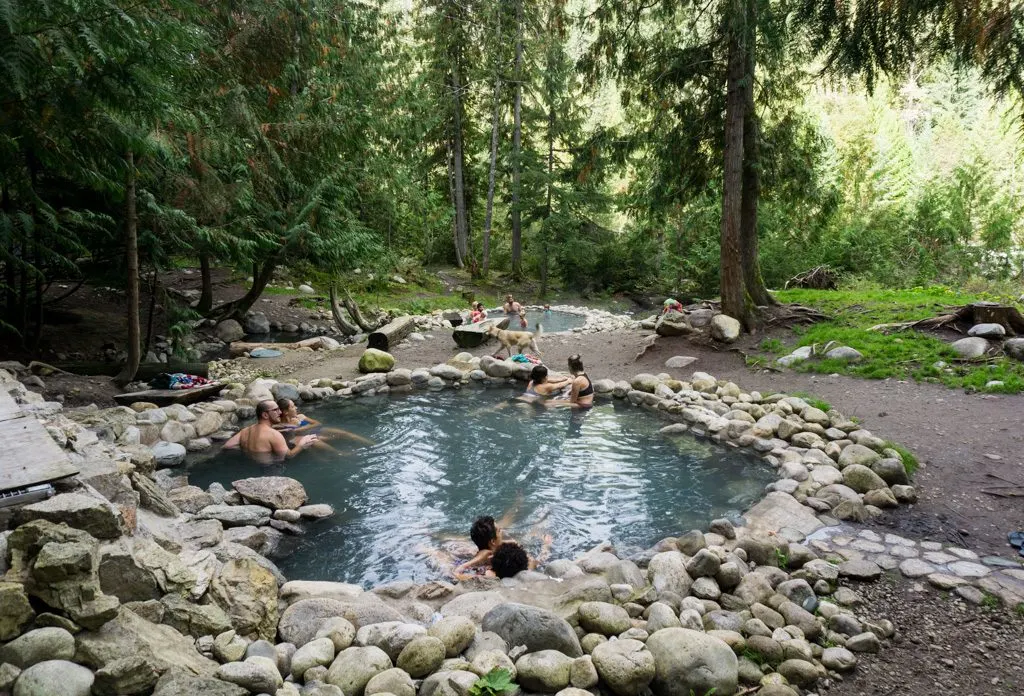 We also popped in to Halcyon Hot Springs, a spa-like springs, but didn't have time to go in the pools. There are also a few others hots springs near Revelstoke that I haven't had a chance to visit yet: Canyon Hot Springs, Crazy Creek Hot Pools, and Nakusp Hot Springs. (I've got a whole post about all the hot springs in Canada if you want to visit more springs.)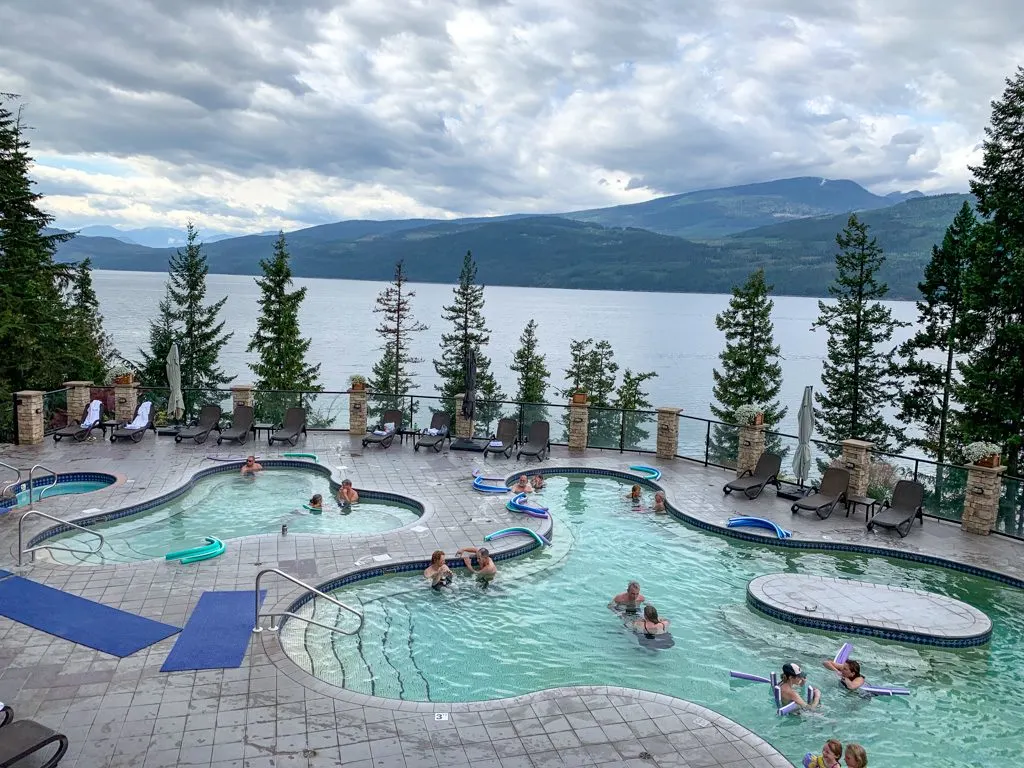 If you're on a budget or don't have time to drive to a hot spring, head to the Revelstoke Aquatic Centre. It was closed for annual maintenance when I was there, but it looks giant! It has a huge pool, a hot tub, a water slide, and a lazy river.
Go for a Hike
On my most recent visit, I dedicated a week to hiking near Revelstoke. I managed to fit in over a dozen hikes from easy to challenging. I walked trails near town, and drove to Revelstoke Mountain Resort, Mount Revelstoke National Park, and Glacier National Park. If you want all the insider info about the hiking in Revelstoke, I've got a whole post for you! Check out my guide to the best hikes in Revelstoke.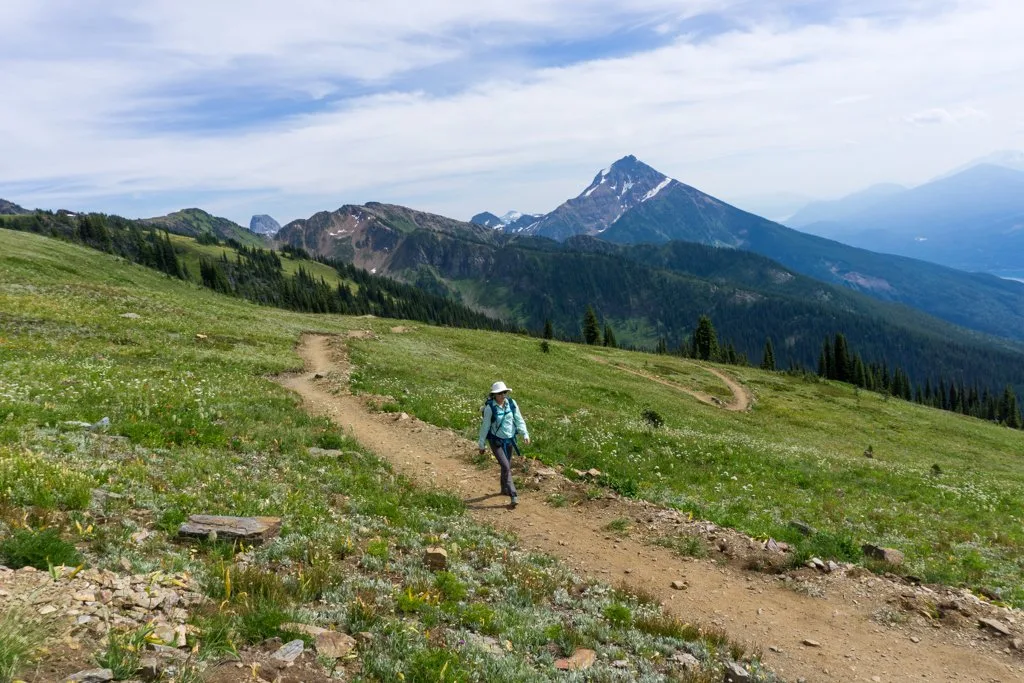 Experience the Alpine on the Revelstoke Mountain Resort Gondola
Revelstoke Mountain Resort has the highest vertical drop of any ski resort in North America, at 1,713m. In the summer, you can ride their gondolas up the side of Mount Mackenzie for great views and lift-accessed hiking. Be sure to check out the Glacier View and Revelstoke View lookouts near the top of the Revelation Gondola. The Revelstoke View lookout has an especially great view of the town. I recommend hiking further up the mountain for even better views. All the details are in my guide to the best hikes in Revelstoke.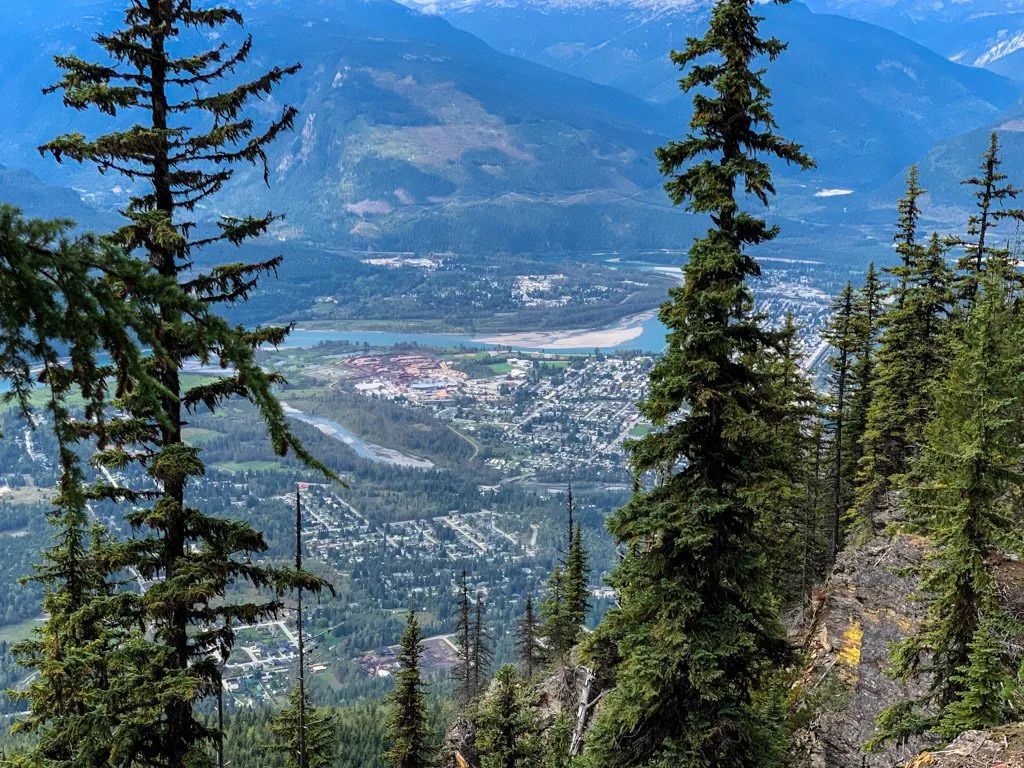 Ride the Pipe Mountain Coaster
Opened in 2016, the Pipe Mountain Coaster is consistently rated as the #1 thing to do in Revelstoke. I'd seen photos of it online, but it wasn't until I rode it, that I truly understood what it was all about. In short: it's a rollercoaster! You sit strapped inside a one-person cart attached to a monorail-like track. (Hence the "pipe" in the name.) When it's your turn, you are launched down the 1.2km long track. You can control your speed with an onboard brake, but if you want to go fast, the carts top out at 42km/h! The track has tons of twists and turns so it feels a bit like a wild mouse style coaster. At one point, I even got a little bit of air out of my seat!
The Pipe Coaster is located at Revelstoke Mountain Resort, just south of town. Tickets are $25/ride and each ride takes about 3 minutes.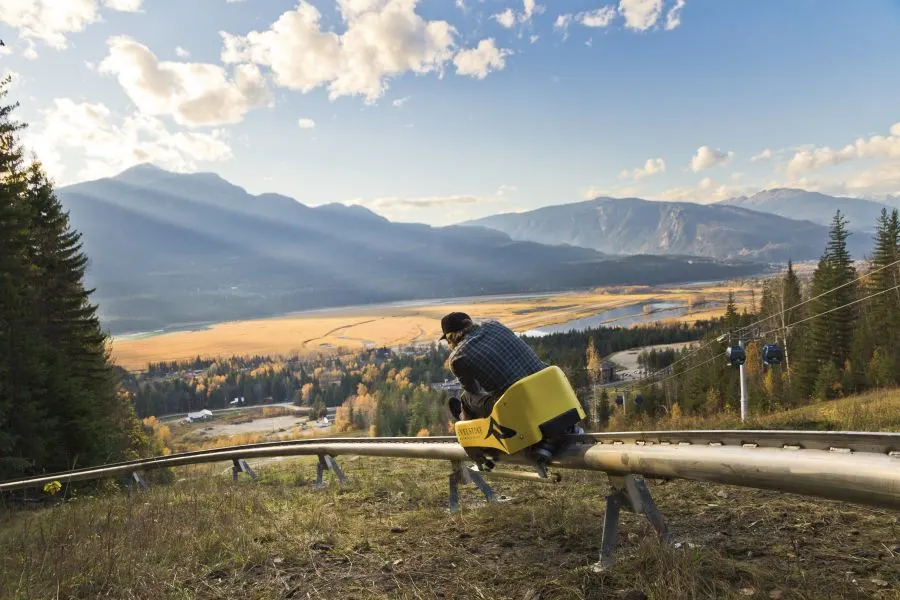 Chase Waterfalls
As you might know, waterfalls are my favourite. There are three waterfalls near Revelstoke worth seeing, especially after it rains when there's lots of runoff. You'll need to hike a few minutes to get to each waterfall, but all three are an easy walk. Find the details in my guide to the best hikes in Revelstoke.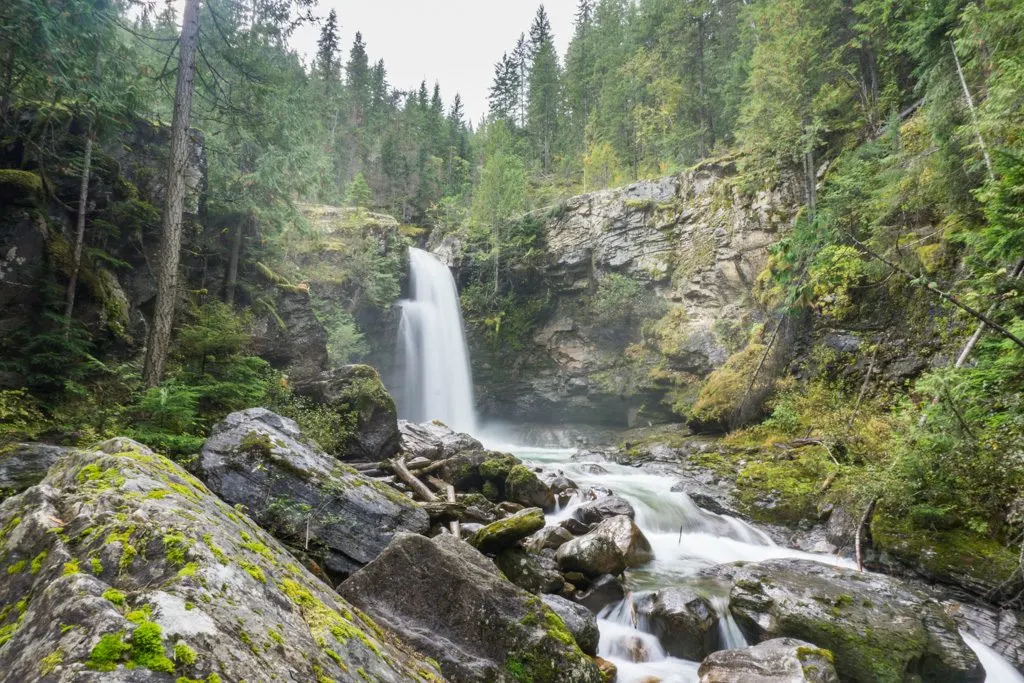 Discover Revelstoke's History
The town of Revelstoke has an interesting history, beginning in the 1880s with the arrival of the Canadian Pacific Railway. When I was in Revelstoke I went on a fabulous historical walking tour with Cathy from the Revelstoke Museum. She told us about Revelstoke's past as the two rival towns of Farwell and Revelstoke. (Spoiler: Revelstoke won!) It was one of the most interesting things I did in Revelstoke.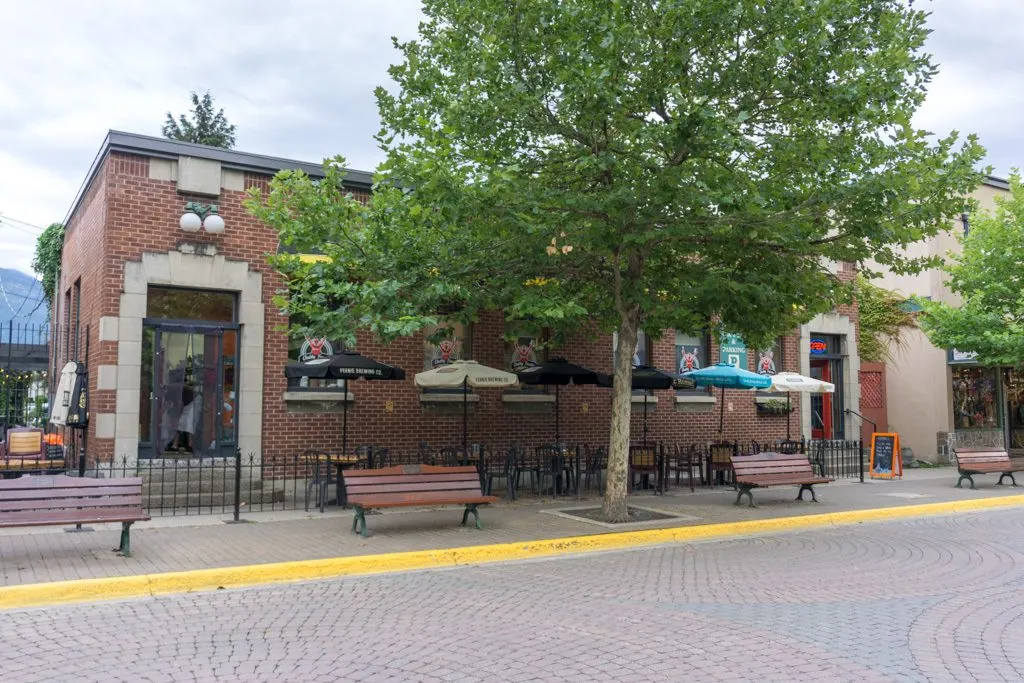 If you don't have time to take a tour, walk around Revelstoke's downtown on your own. There are lots ofb heritage buildings to see, many of which have informative plaques. Be sure to venture a bit north of downtown to see the courthouse, built in 1912. History buffs should also check out the Revelstoke Museum and Archives or the Revelstoke Railway Museum. They're both on my list for my next visit to Revelstoke.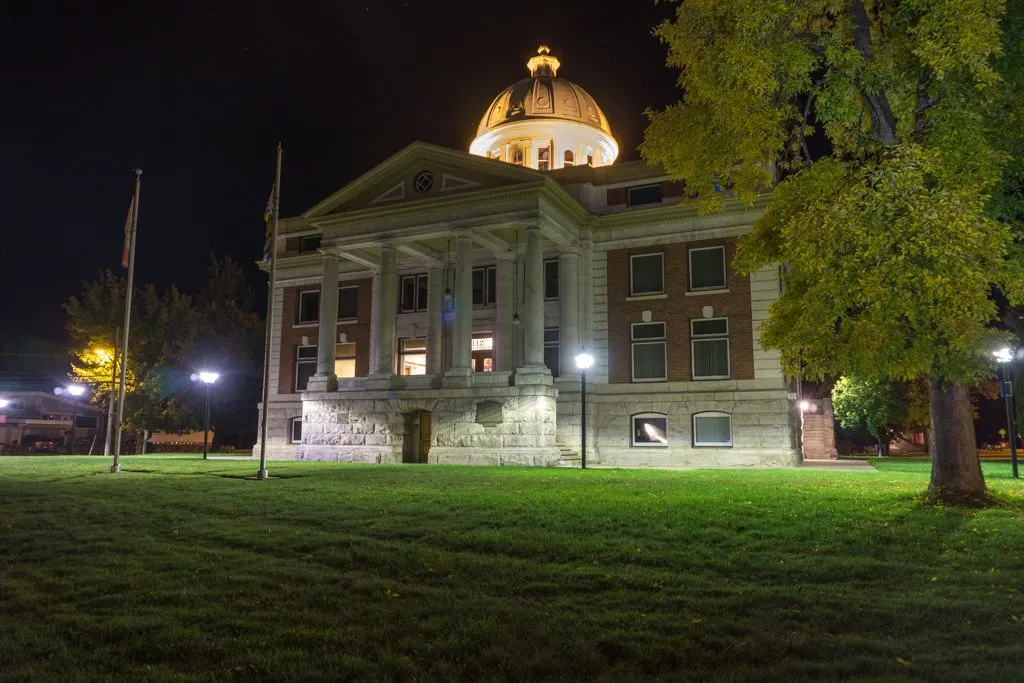 Go Mountain Biking
In the summer months, mountain biking is one of the most popular things to do in Revelstoke. And that's because Revelstoke is a world-famous mountain biking destination. There are tons of trails in a few areas around town. The trails range from easy beginner cross country trails to gnarly double black diamond downhill trails. You can bike right from downtown, set up a shuttle, access alpine trails from the ski resort gondola, or book a heli-biking adventure.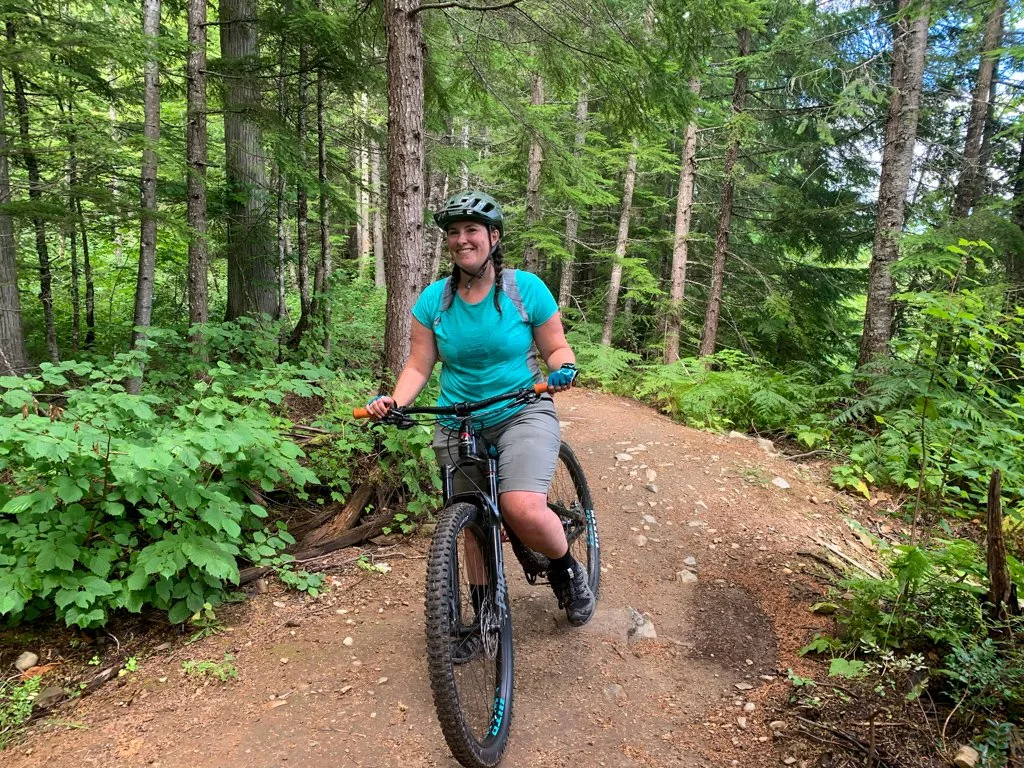 On my first trip to Revelstoke, I explored the easy trails at Mount Macpherson with Matt and Connor from Wandering Wheels. It was great to have local guides show us the trails. Plus they helped me improve my admittedly very mediocre mountain bike skills. (I got quite a few bruises from some epic crashes though!)
On my second trip, my husband and I explored the trails on our own, using the Revelstoke Mountain Bike map and the Trailforks app. I'm still a beginner mountain biker, but my husband Greg and my Dad are not. They rode the spectacular trails alpine Frisby Ridge route just north of town and the brand new lift-accessed Fifty Six Twenty Trail at the Revelstoke Mountain Resort ski hill. It descends 5,620 feet! That's over 1,700m! They said both were incredible.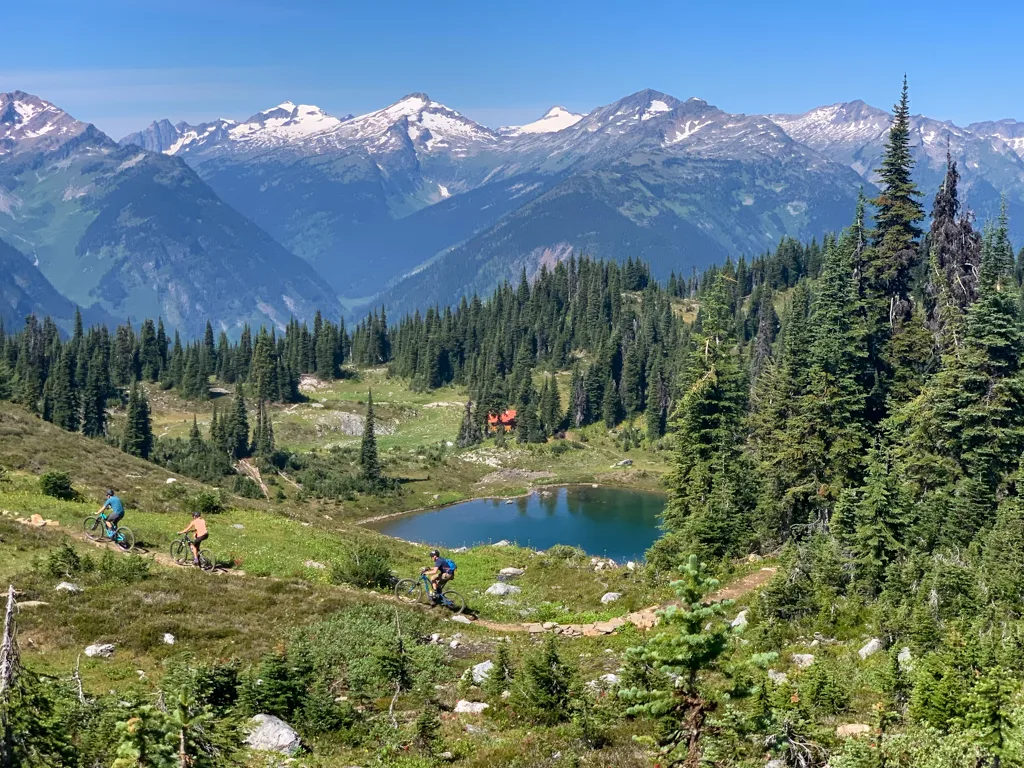 Soar Above Town in a Paraglider
Until going to Revelstoke, I honestly had never thought about going paragliding. If you aren't sure what paragliding is, you're not alone. Basically, it's jumping off a tall mountain with a parachute wing attached to you. You use the wing to float and glide safely down to the ground. Beginners get strapped to an experienced pilot for a tandem paragliding flight.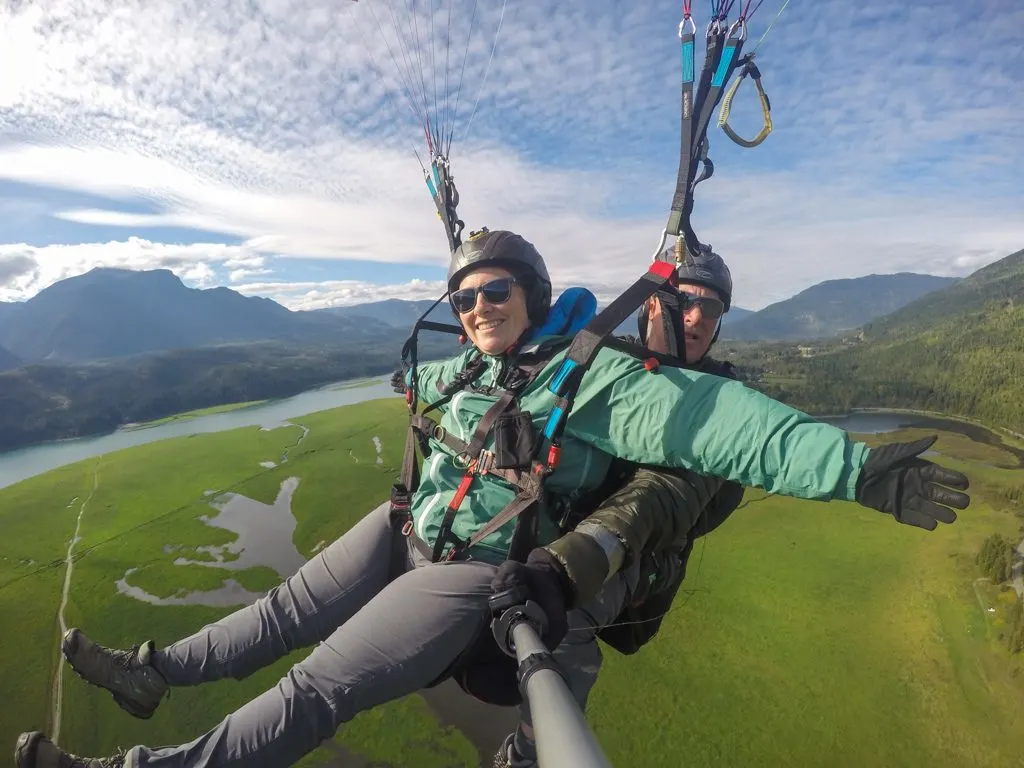 Revelstoke has the highest paraglide launch in North America at an elevation of 2,225m! You take a gondola up the ski hill, then climb into a van to go even higher up the mountain. After take-off, you soar for at least 30 minutes before landing next to the Columbia River down in the valley below. If you want, the pilot will do flips and other acrobatics. You might even get to fly the wing yourself! I expected the whole thing to be scary, and while it was a bit nerve-wracking at first, mostly it was quite peaceful. And the views were incredible!
However, if you have a weak stomach like me, you may want to take some anti-nausea meds beforehand. Real talk: I felt a bit nauseous during the flight, and it got worse as we began to land. I think if I had taken some anti-nausea meds, I wouldn't have had an issue and others in my group didn't feel sick at all.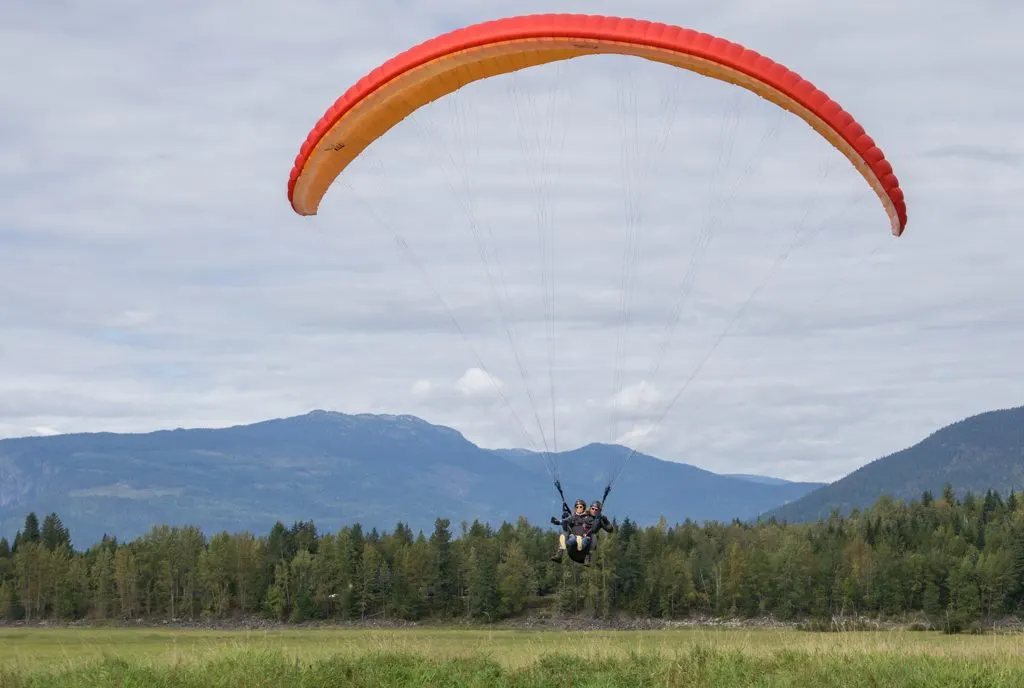 To book a trip, get in touch with Revelstoke Paragliding. I flew with Brad, who was amazing! He made sure I felt safe, let me fly the wing for a long time and tailored the flight to minimize my nausea. I definitely recommend him!
Go Paddling
There are lots of lakes near Revelstoke including Lake Revelstoke, the Arrow Lakes, and Williamson Lake. You can rent canoes, kayaks, and paddleboards to get out on the water.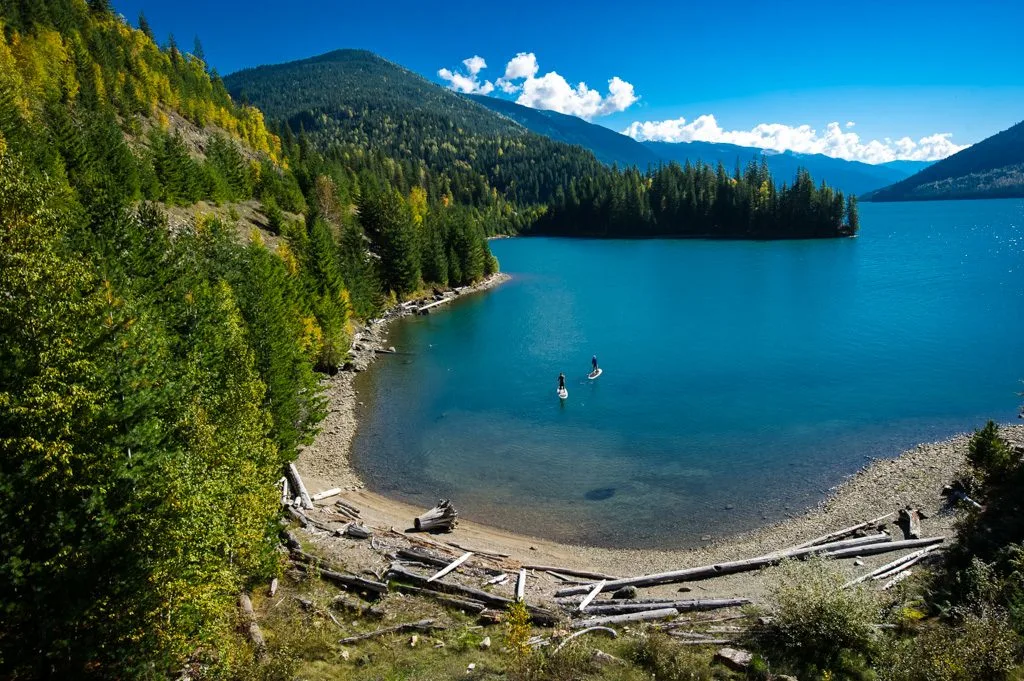 Raft Some Whitewater
If you are more adventurous, sign up for a whitewater rafting trip on the raging Illecillewaet River. And if that sounds too hardcore, you can float mellow sections of the Columbia River instead.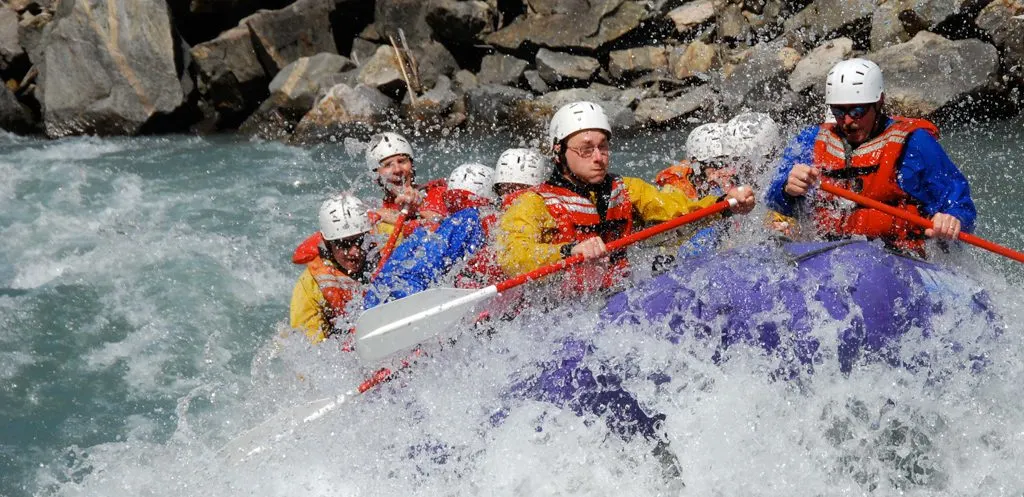 Explore BC's Tallest Treehouse
Head to the Enchanted Forest 25 minutes west of Revelstoke to experience BC's Tallest Treehouse. I've seen photos of this on Instagram, but sadly I've never had time to stop. It looks incredible. The treehouse is part of a larger fairytale forest experience aimed at children that includes over 350 folk art figurines and their homes. The whole thing is set in a magical green rainforest of old-growth cedars.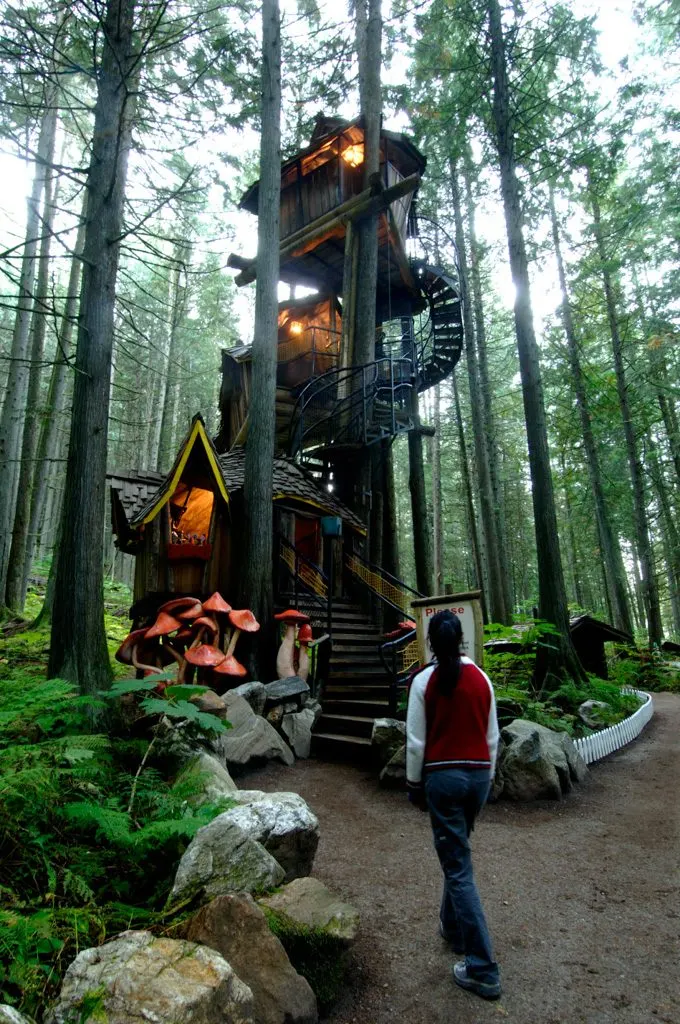 Drink Craft Beer and Spirits
For a small town, Revelstoke has a surprisingly large number of craft breweries and distilleries. There is a distillery and two breweries in town! They all focus on local ingredients, but each has its own flair.
As a gin-lover, I was really excited to try the award-winning gin at Monashee Spirits. It might just be my new favourite craft gin! We chatted with Josh, the owner who told us his story. He started as a welder and got interested in distilling when someone asked him to help weld a backyard still. He's been perfecting his gin ever since. His tasting room has a full bar with a fun cocktail menu. If you're looking for drinks in Revelstoke, this is THE spot.
Rumpus Beer Company just opened in 2019. We chatted with Fred, the founder about how he had wanted to open a microbrewery for over a decade. We tasted a flight of all of his beers and I have to admit that while I'm not a huge beer drinker, I was really impressed. The beers at Rumpus are designed to be sophisticated and nuanced, but still easy to drink. The way Fred explained it is that Revelstoke is a town where you go play outside in the mountains with your friends all day, and afterward all you want to do is go drink a couple of beers in a fun atmosphere. He wants his beers to match that Revelstoke attitude. I think he's definitely hit the mark.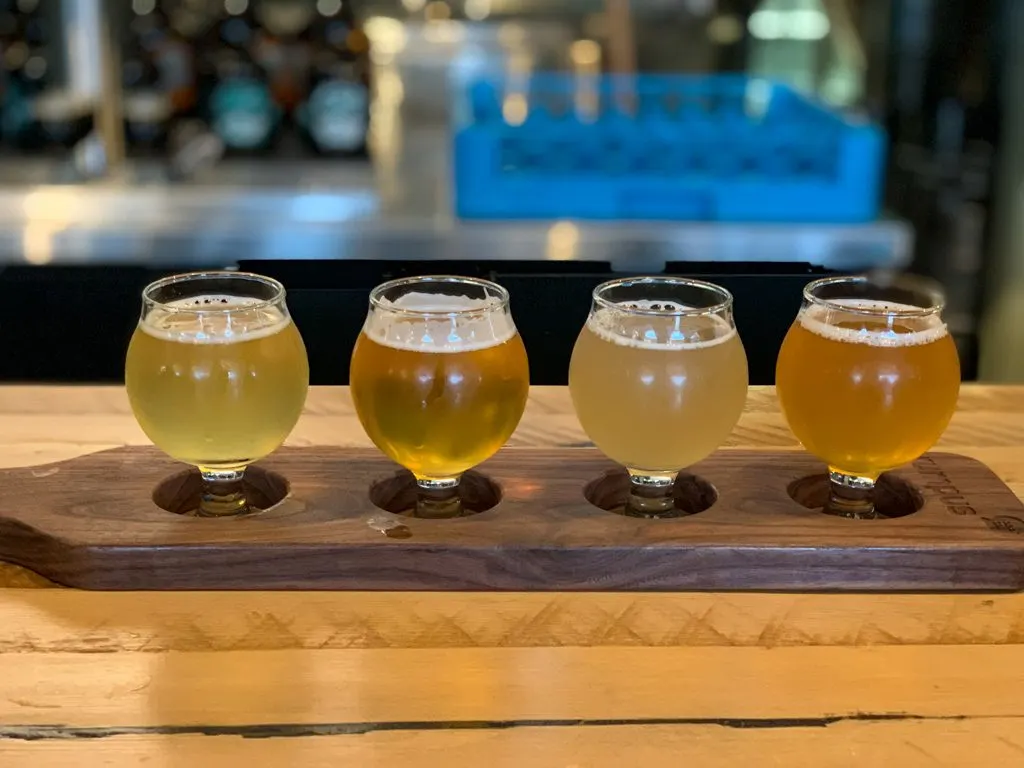 I didn't have time to visit the original craft brewery in Revelstoke, Mt. Begbie Brewing. It's been around since 1996 and has won tons of craft beer awards. They run tours and have a tasting room where you can grab a pint or fill your growler.
Go Shopping
Revelstoke's compact downtown is home to lots of fun shops. If you need outdoor equipment, there are lots of bike shops and sports stores. Check out the boutiques for handmade and local goods. I didn't have much time to shop in Revelstoke, but I did do some window shopping. Lovemaking Designs has some really cool screen printed designs and jewelry.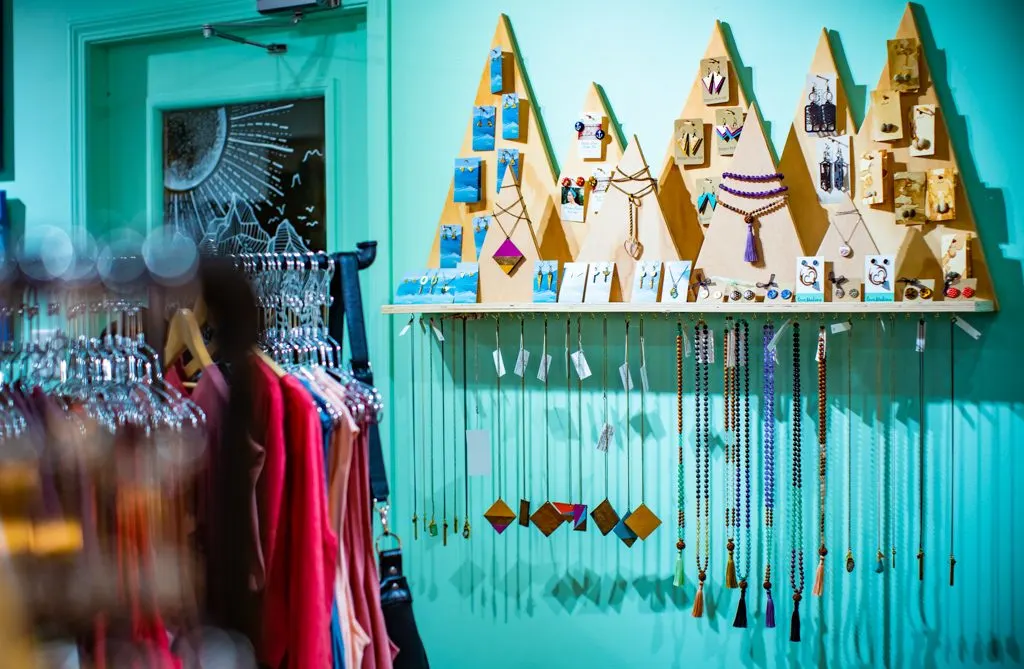 If you visit on a Saturday, don't miss the Revelstoke Farmer's Market in Grizzly Plaza right downtown. There are lots of fresh fruits and vegetables from local farmers. You can also find baked goods, jams, honey, plants, knitting, and crafts.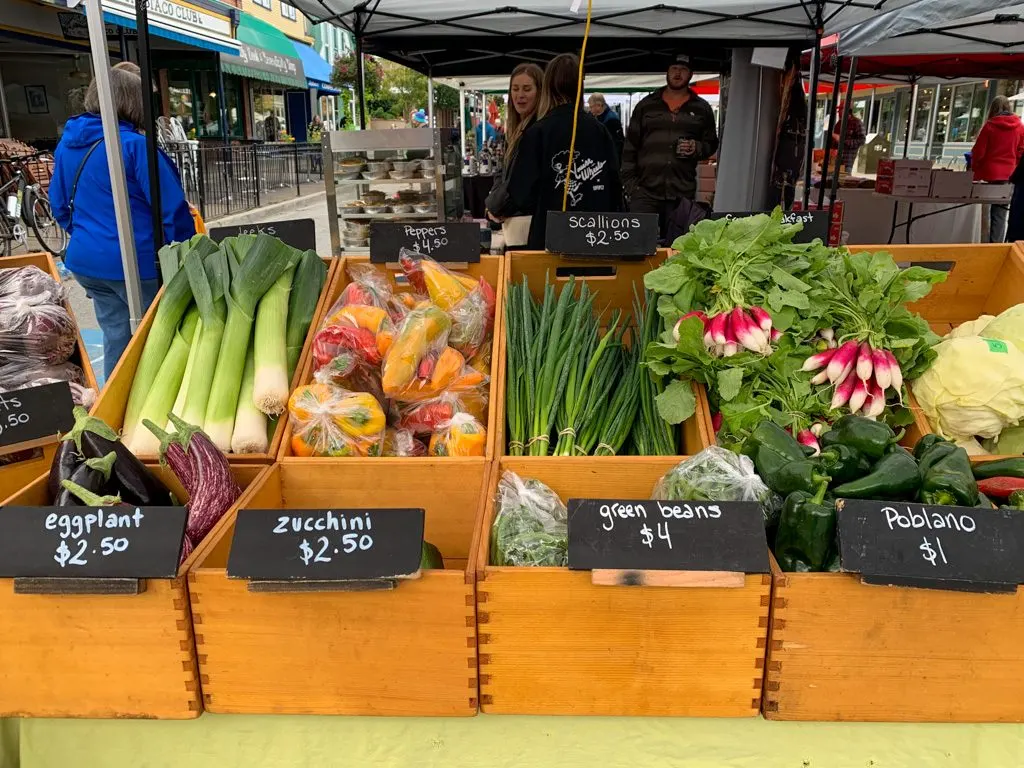 Eat Amazing Food
Revelstoke isn't known as a foodie destination… yet! It definitely should be since almost everything I ate in Revelstoke was amazing. Obviously, I haven't had time to try every single restaurant in Revelstoke, but here are a few of my picks:
Fine Dining: 112 Restaurant & Lounge – An upscale restaurant at The Regent Hotel, the 112 has classics like steak and West Coast-style fare like salmon and halibut. The chef also moonlights as a tandem paragliding pilot (hi Brad!), so you know the dishes will have an adventurous flair.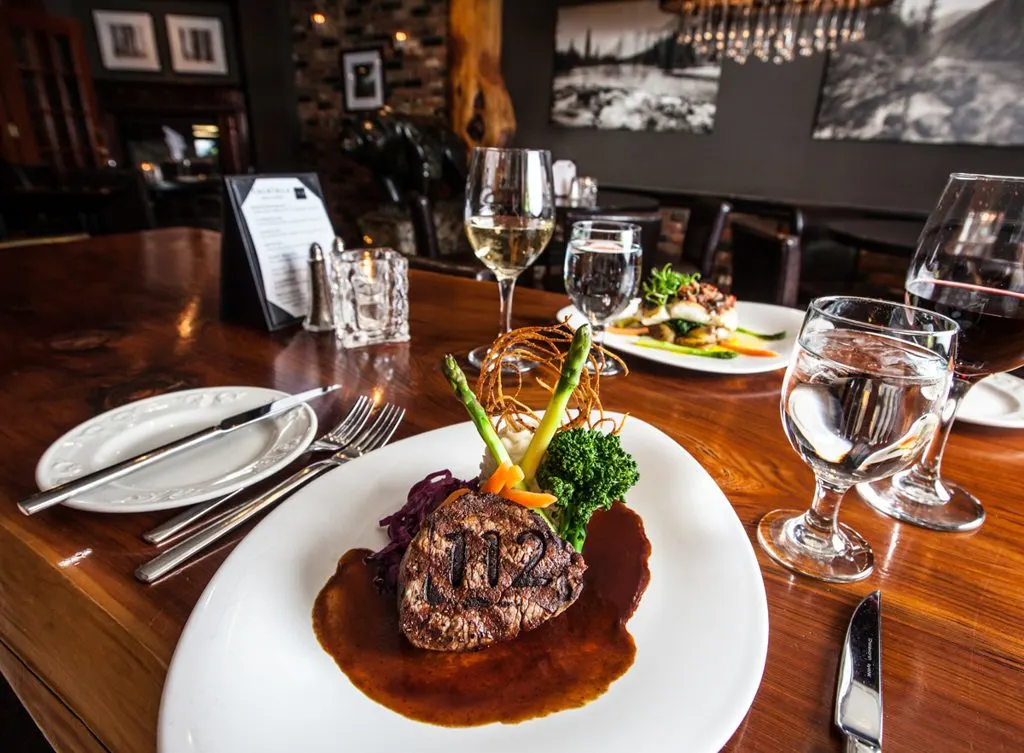 Casual Comfort Food: Old School Eatery – Located in an old elementary school, they describe themselves as serving old school classics with a new school twist. I had a fried chicken sandwich with a delicious Korean-style sauce that was better than anything I've had in the big city. We like this place so much that we went twice on our most recent trip. Brunch on the weekends is also amazing.
Pub for Apres Hiking/Mountain Biking/Anything: Big Eddy Pub – Located across the river from town, you can literally roll right downhill from the Mount Macpherson mountain bike trails into the pub. It's a popular place with locals and outdoorsy visitors and they won't bat an eye if you show up covered in mud.
Funky Mexican: Taco Club – A fun spot right downtown serving up giant burritos and tasty tacos. They also have killer margaritas. Their patio is a great spot for people watching too.
Bakery Cafe: The Modern Bakeshop Cafe – Delicious savoury and sweet baked goods, coffee, and sandwiches right downtown. Their veggie focaccia is amazing and makes a great hiking lunch.
Sandwiches: La Baguette – This bakery has amazing sandwiches on homemade bread. They have a location near downtown and one at Revelstoke Mountain Resort. Another great option for a hiking lunch.
Hipster Coffee: Dose Coffee – A fun and funky hipster-style coffee shop with great espresso based drinks. They have great breakfast too.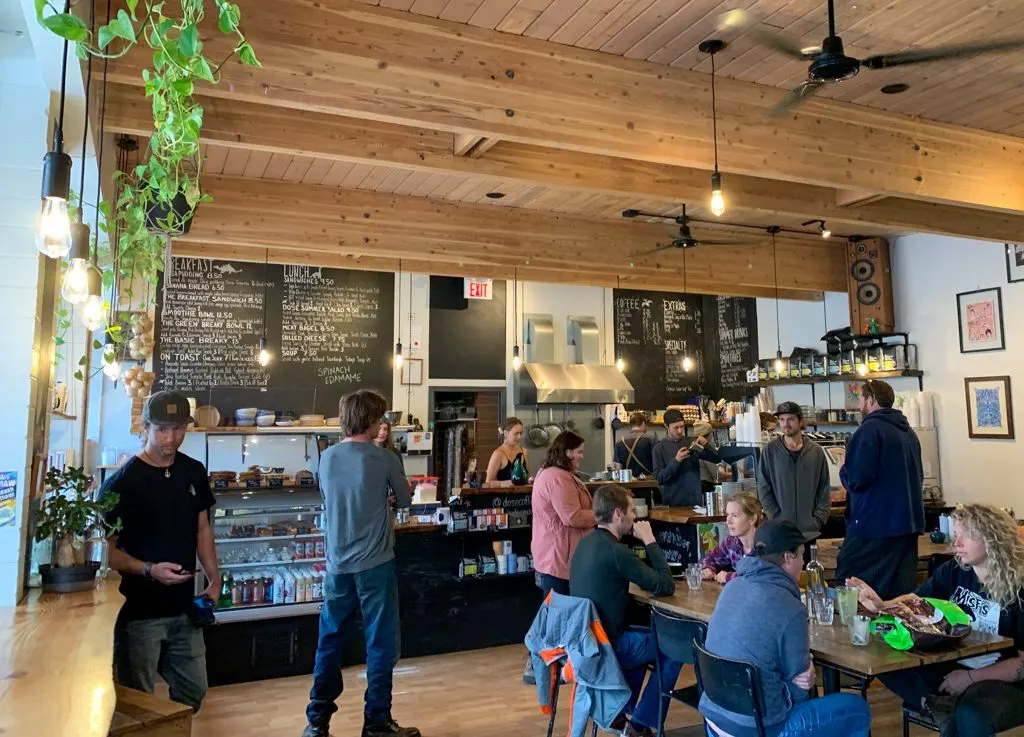 Where to Stay in Revelstoke
There are lots of options for accommodation in Revelstoke. Here a few of my Revelstoke hotel recommendations:
Upscale Hotel: The Regent – I stayed at this family-run hotel during my trip to Revelstoke. It has a great location downtown. Over the years the owners have renovated a few different adjacent heritage buildings to create a modern, yet classic building. Breakfast is also included and it was one of the better hotel breakfasts I've had in North America.
Boutique Hotel: The Explorer's Society Hotel – We learned about this hotel on our heritage walking tour of downtown. Built in 1911, this historic brick building was recently restored and converted into a hotel. The entire space is modern yet outdoorsy, with lots of exposed brick and weathered wood. My parents stayed here recently and loved it. My dad loved the lounge area for watching the hockey game and my mom's favourite part was the rooftop patio.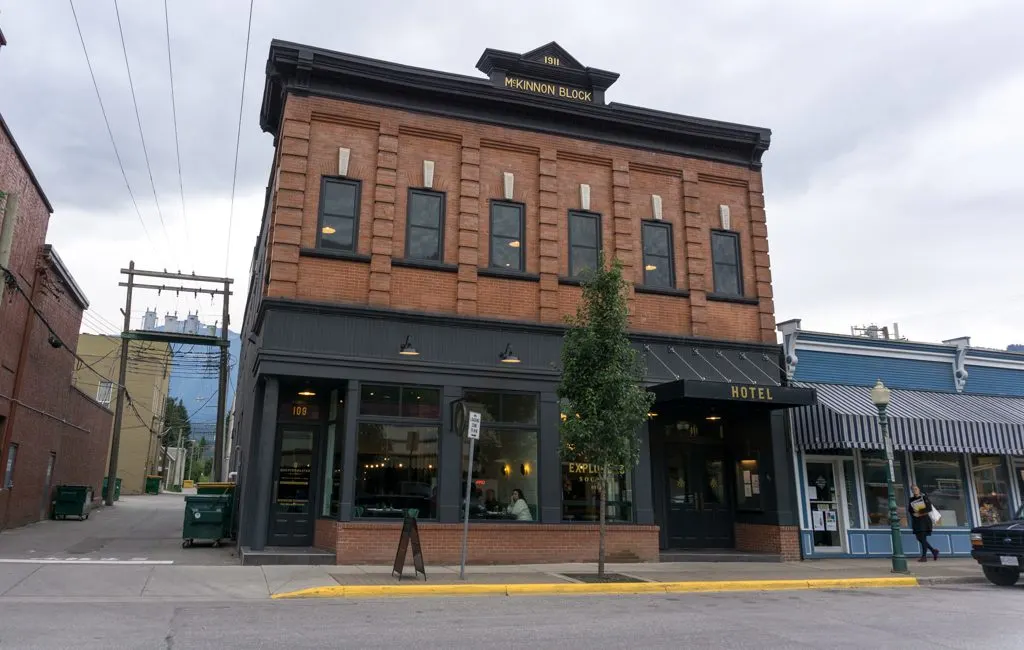 Budget Hotel: The Cube Hotel – Part hotel, part hostel, the Cube Hotel has a stand-out cubist exterior. It also has lots of adventure-friendly features on the inside like a gear drying room, a lounge, and a shared kitchen so you can cook your own dinner.
Cabins: Boulder Mountain Resort – These cabins just outside of town are super cute with a cozy tiny-house vibe. But they still have full sized kitchens, a king-size bed and a barbecue. I spent a few nights here recently and was really impressed.
Camping – There are lots of places to camp in Revelstoke. In town you can stay at a few privately run campgrounds: Williamson Lake Campground, Revelstoke KOA Campgrounds and Cabins, or Lamplighter Campground. The Snowforest Campground at Mount Revelstoke National Park just opened in 2020 and I was lukcy enough to spend a few nights there. It has the nicest bathroom/shower building of any campground I've ever been to! If you'd rather stay in a provincial park, Blanket Creek and Martha Creek Provincial Parks are only a 20-30 minute drive away.
So there you have it: 15 things to do in Revelstoke in summer. I think I'll have to go back in the winter to make another "things to do in Revelstoke" list. I hear the snow is epic! What's your favourite Revelstoke activity? Tell me in the comments.
READ NEXT: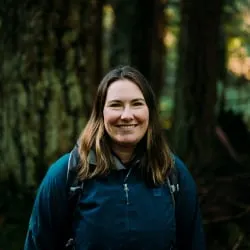 Latest posts by Taryn Eyton
(see all)