While the Canadian Rockies are a year-round destination, most visitors arrive in the summer for the best hiking and warm weather. However, visiting Banff in the fall offers a unique experience. The crowds thin out, making it a perfect time for exploration.
Vibrant foliage transforms the landscape into a painter's palette of reds, yellows, and oranges. Wildlife like elk and sheep are more active due to rutting season, creating prime viewing opportunities.
Hiking trails offer quiet solitude, contrasting with the busy summer months. However, be prepared for muddy conditions once the rain arrives.
Happiest Outdoors Contributor Karen first visited Banff over 40 years ago. Since then, she's made lots of other trips to the Canadian Rockies, so she really knows Banff in the fall.
This guide to Banff in the fall includes:
This is a sensitive wilderness area. Learn how to Leave No Trace to keep the wilderness wild. Make sure you are prepared by bringing the 10 Essentials. Get ready for adventure with this checklist of things to do before every hike.
Hey there: Some of the links in this post are affiliate links, which means I earn a small commission at no cost to you. Thanks for your support. -Taryn
Banff in the Fall Travel Map
Are you curious about where to find all the places recommended in this post? We made a custom Banff in the fall Google Map for you. Click here to zoom in and explore.
Travel Tips for Banff in the Fall
Since temperatures vary in the fall, you'll need to pack layers. Expect highs of 15C or 59F in September, which drop to 10C (50F) by October. Nights can get cold, with September averages above freezing, but October sees snow and lows of -2C (28F).
To visit Banff, you'll need a Park Pass or Discovery Pass, which you can purchase online. You can buy one for daily or yearly visits. If you plan to spend seven days in a national park, the annual pass saves money and covers up to seven people in one vehicle. Plus, the Discovery Pass covers multiple parks across Canada.
Cell phone coverage is non-existent once you leave Banff. However, if you plan to explore the Icefields Parkway, there is only one road, so you won't get lost.
As the days are getting shorter, be aware of sunset when hiking. Plan to set out early and return before it gets dark.
Lastly, remember you're in bear country, and that bears are very active in the fall. Make noise, carry bear spray, and hike in groups to avoid an encounter.
PSST! Read these Bear Safety Tips before you go to Banff
Where To Stay In Banff
Banff offers a variety of accommodations, from camping to hotels. However, nothing is really budget-friendly unless you're camping.
Camping in the fall is best if you have a hard-side camper with heating due to chilly temperatures at night.
While many campgrounds close on September 2, others remain open until early October. Located close to downtown, Tunnel Mountain Village II Campground remains open year-round.
Psst! Going camping in the fall? Read my tips for staying warm in a tent!
If you're seeking a luxury hotel stay, you can't beat the service and rooms at the Fairmont Banff Springs and Chateau Lake Louise. Owned by the Fairmont brand, they offer opulent accommodations, many with splendid views.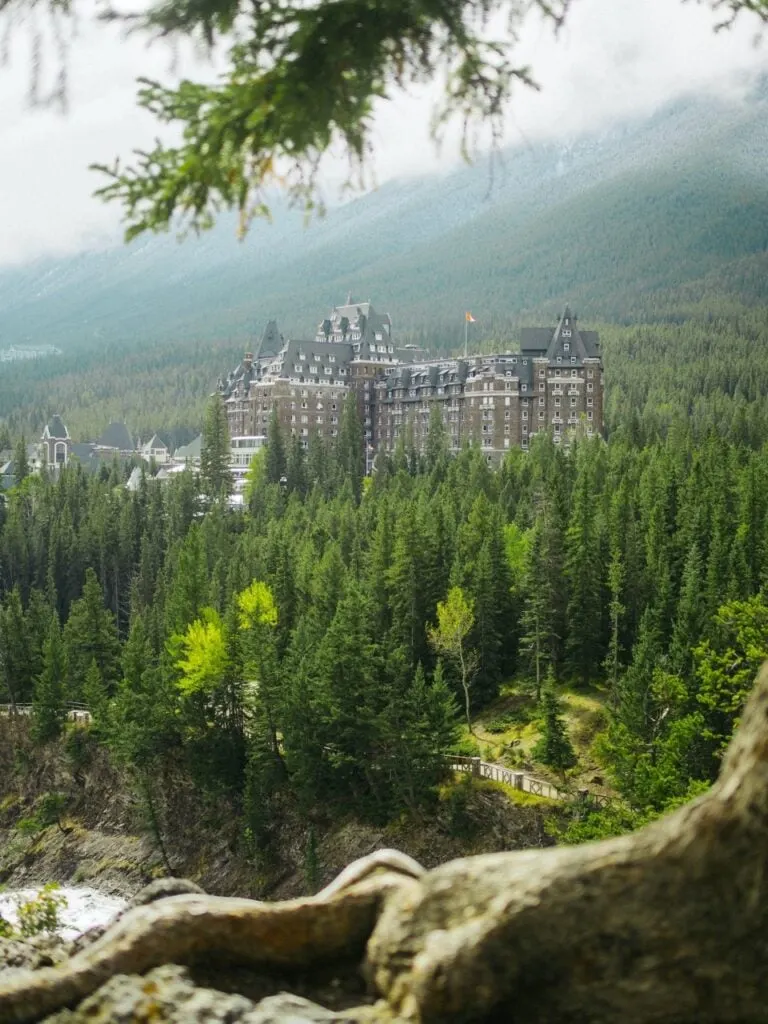 For budget-conscious travelers, the Ptarmigan Inn offers free parking and an excellent complimentary buffet breakfast that's hard to beat. Located within walking distance of downtown, you won't have to walk far to reach top Banff restaurants for dinner.
Another great choice is the Moose Hotel and Suites. It features a lovely rooftop pool and hot tub with mountain views. Its suites can sleep up to four, ideal for groups or families. With a living area and cozy fireplace, it's a great place to wind down on a cold evening.
If you find Banff prices too high, you can try staying in nearby Canmore instead. It's an easy 20 minute drive from Banff. Many of the accommodation options are suites with kitchens, which can help you save more money since you won't be eating out as much. The Solara Resort has gorgeous (and huge!) suites. MTN House by Basecamp has reasonably priced rooms with modern mountain decor.
9 Beautiful Reasons to Visit Banff in the Fall
If you're willing to gamble on an off-season visit, you might be pleasantly surprised by your trip to Banff. Here are some great reasons to forego summer travel and visit in the autumn instead.
1. The Weather Is Cooler
If you're not fond of the heat, you'll enjoy fall. The weather remains pleasant, but it's important to pack layers. Temperature can vary dramatically from morning to afternoon. Higher elevations could get chilly, especially in the early hours or after dusk.
If you plan to take one of the gondolas around Banff or Lake Louise or hike up into the mountains, be aware that the temperatures can differ significantly on a mountain peak. Weather forecasts for the town of Banff can be useless further into the park. Use these weather apps for hikers for a much more accurate forecast.
If you plan to enjoy hiking in Banff, the cooler temperatures are much more idyllic. In the fall, expect daytime highs of 14C to 15C (57F to 59F), although the nights can get quite cold.
Since rain may be more prevalent, jackets and footwear should be waterproof. Expect muddy spots on hiking trails if the area has received significant rainfall.
Some hotels in Banff don't have air conditioning, so a fall stay may be much more comfortable.
2. Enjoy Fall Foliage
Fall foliage in Banff is stunning, with colors peaking from mid-September to early October. The landscape comes alive with hues of yellow, orange, and red.
Larch trees are the main attraction, their needles turning a vibrant gold. Aspen and poplar trees add splashes of yellow and orange to the scenery.
For the best views, head to Larch Valley. Accessible from Moraine Lake, it's a prime spot to see golden larches. Healy Pass and Sentinel Pass also offer golden tones, but these trails are reserved for the fittest hikers.
Another great location is the Icefields Parkway, offering panoramic views of the changing colors. If you don't want to drive the whole parkway, just go as far as Bow Lake, about an hour north of Banff.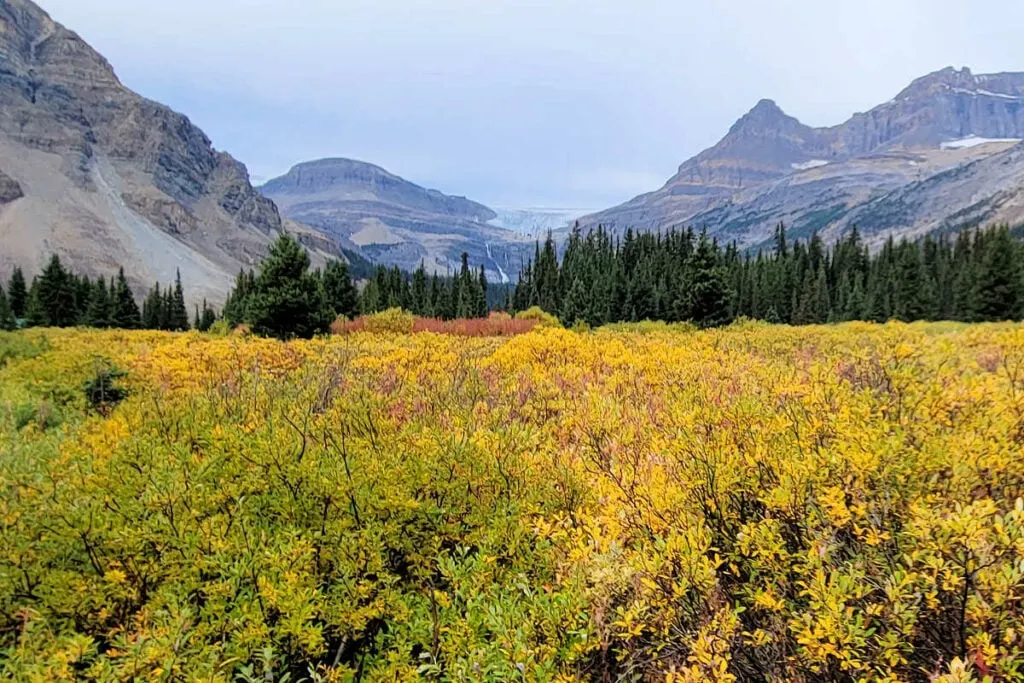 The Bow Valley Parkway is another great spot to enjoy fall hues. However, it is usually closed during September to allow wildlife to move unimpeded as they get ready for winter.
Whether hiking or driving, Banff in the fall offers multiple spots to witness the seasonal transformation. Each location provides a unique vantage point to appreciate the colors in full display.
While fall brings more rain, you'll enjoy waterfalls with heavy flow. Must-visits include Takakkaw Falls in Yoho National Park, Bow Falls, and the Upper Falls in Johnston Canyon. While Takakkaw Falls is in another national park, you can reach it with a one-hour drive from Banff.
3. Fewer Crowds
One of the best reasons to visit Banff in the fall is for fewer people. Banff is one of the best outdoor adventure towns in Canada and it has exploded in popularity. Summer brings high-priced hotel rooms, crowded trails, and the inability to park in high-traffic areas.
After Labor Day, visitors dissipate, causing hotels to drop their prices. Banff Avenue in downtown reopens to traffic, and parking becomes less problematic in the off-season.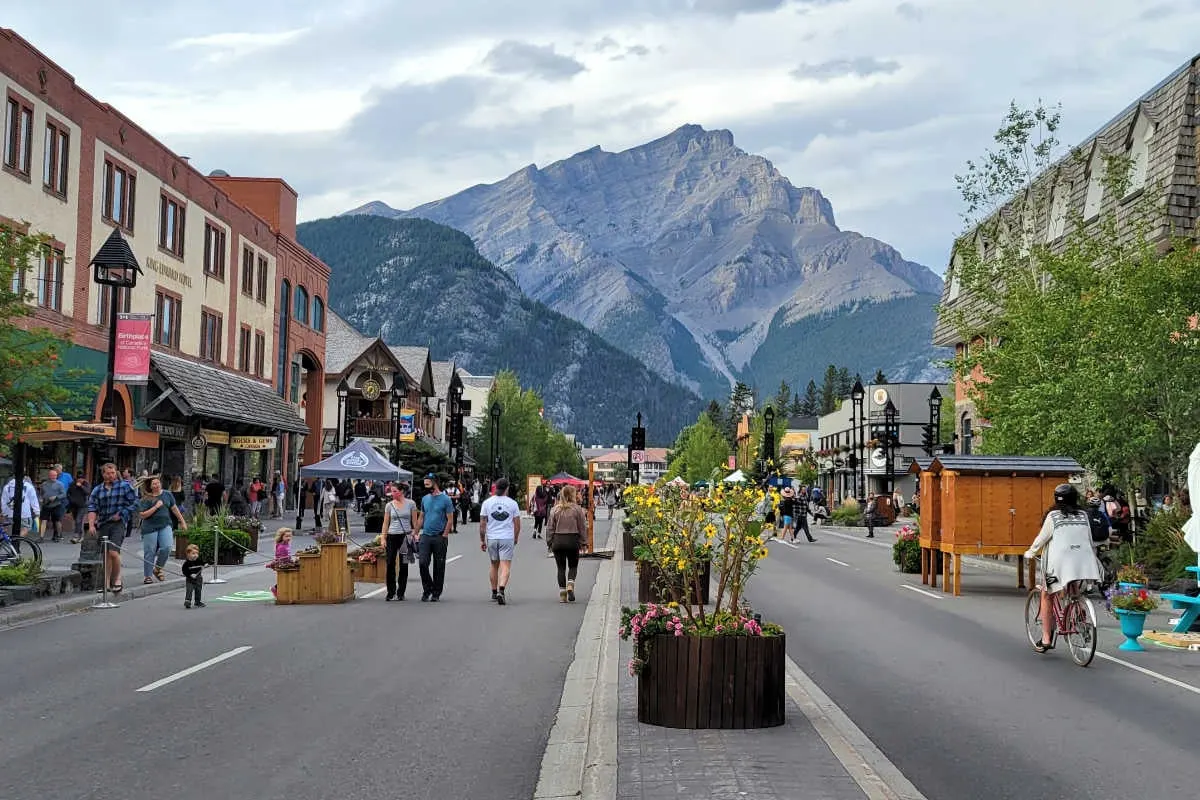 With the bulk of the tourists gone, you won't have to wait long to eat at one of the top restaurants downtown.
Popular trails such as Johnston Canyon and Beehive Trail at Lake Louise feel less like commuting in rush hour. The later weeks in September see much fewer crowds, although you can't enjoy a cup of tea at the mountainous teahouse since it's closed for the season.
Gridlock areas such as Lake Louise and Moraine Lake benefit from fewer tourists in the fall. Since Moraine Lake is only accessible by shuttle now, you'll find it easier to get a time slot. However, due to snow, the area closes from October 9th until the following June.
4. Rutting Season
Fall welcomes the start of rutting reason, a ritual that is wonderful to witness. Rutting season is the mating period for certain animals, notably elk, deer, and moose in the Banff area.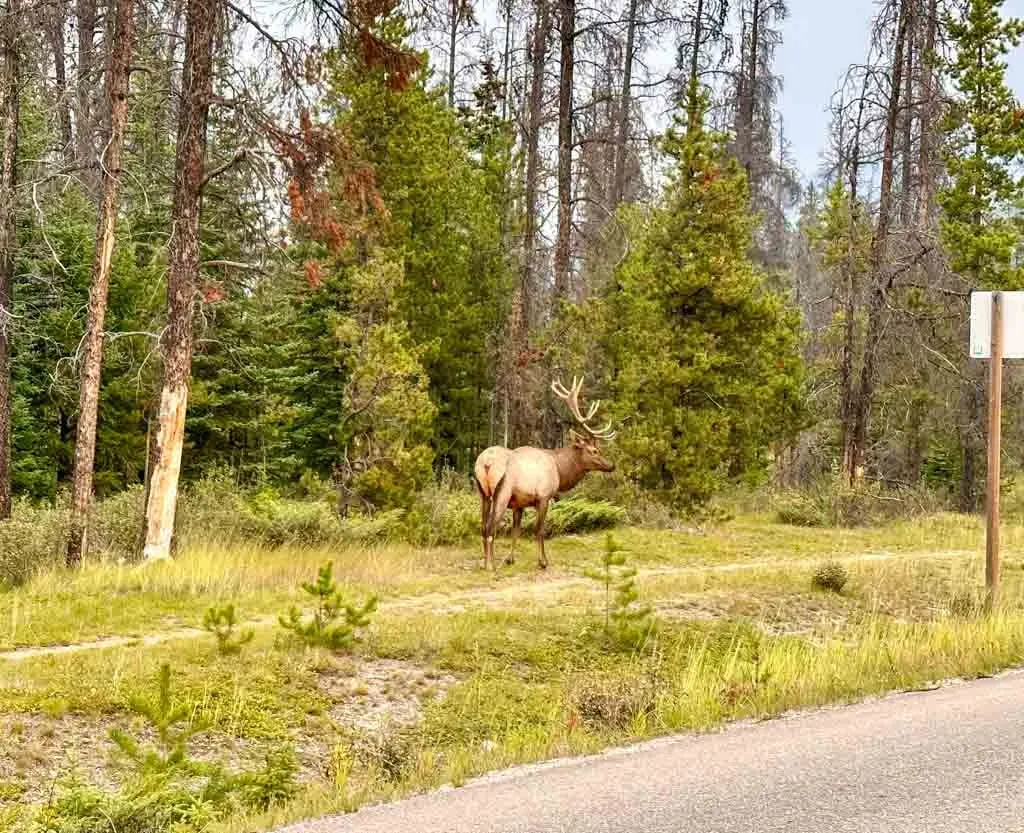 It occurs in the fall, usually from mid-September to early November. During this time, male animals engage in behaviors to attract females and establish dominance. They often bugle, a unique vocalization that's quite haunting to hear.
Males or bulls exercise dominance by fighting with younger males who challenge them. Elk are the most prominent species in Banff and the wildlife you'll most likely encounter.
Watching them gather harems of females and defend them against rival bulls is fascinating. They often lose weight during this time, as they don't eat during this rivalry period.
These confrontations can be intense, involving charging and clashing antlers. Deer and moose also participate but are less commonly seen.
For visitors, the rutting season offers an unparalleled wildlife-watching opportunity. However, it's crucial to maintain a safe distance, as animals are more aggressive and unpredictable during this period. The safest place to watch is from inside a vehicle. With caution, witnessing the rut can be a memorable part of your Banff visit.
5. Budget-Friendly
If Banff is your bucket list destination, but you find it very expensive, a fall visit provides a bit of relief. Hotel rooms drop in price and continue to fall until the new year.
However, the change of the season and snow bring skiers and snowboarders who take advantage of the powdery slopes.
If you've dreamed of staying in a luxury hotel like the Fairmont Banff Springs and Chateau Lake Louise, it may be slightly more affordable. While summer commands a top price of CAD 1200+ a night, you could get a deal of 25 to 50% off.
Tour prices are cheaper too, as operators struggle to entice visitors to book excursions. Gondola rides, often sold out in summer, offer lower prices but cooler temperatures at the peak.
The end of the season also brings sales, as shops discount their merchandise before closing for the winter. It's a great time to pick up gifts and souvenirs.
6. Later Sunrise
Is capturing the sunrise in Banff on your bucket list? There are many places to savor the early morning event. But the top marks go to Lake Louise and Moraine Lake, which gather the crowds in the wee hours.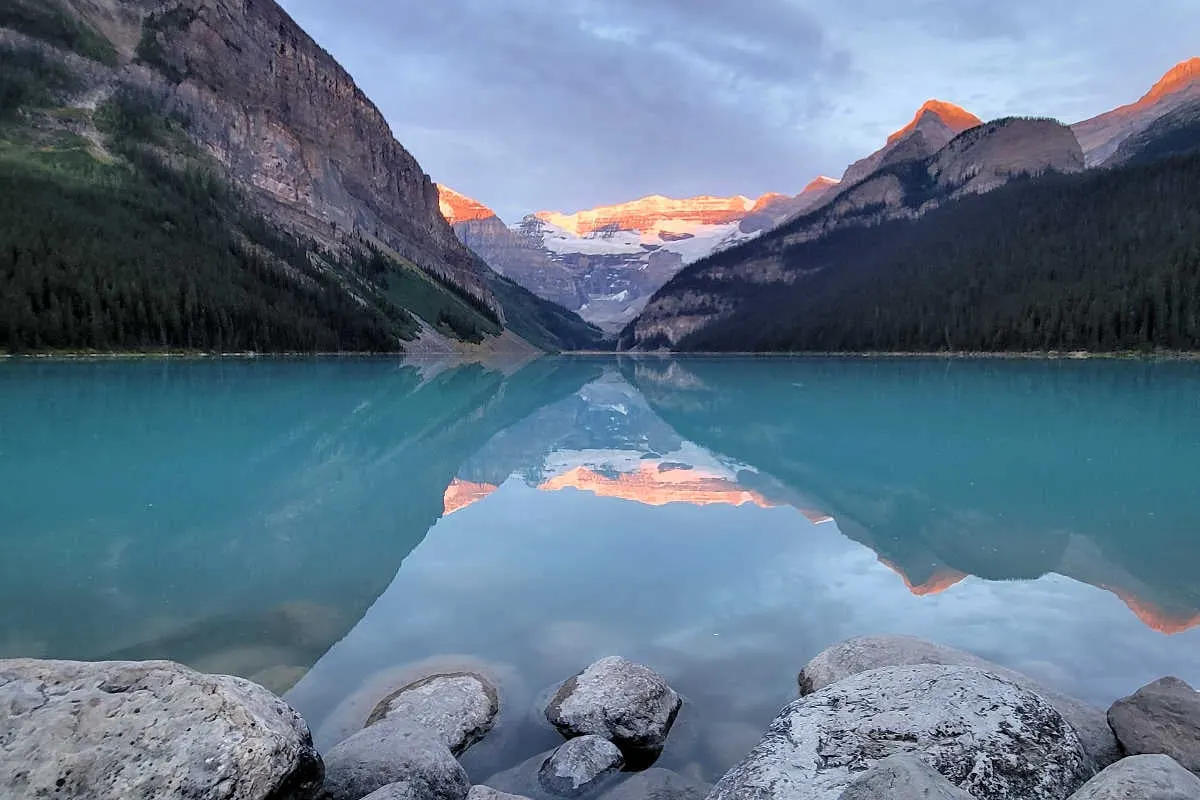 Around the summer solstice, sunrise happens at 5:27 a.m. To see it, you'll need to rise exceptionally early. With a 40-minute drive from Banff to Lake Louise and a much longer travel time to Moraine Lake, you could be getting up at 3:30 a.m.
In September, you'll benefit from a later sunrise, allowing you to get an extra two hours of sleep.
If you want to see the sunrise at Lake Louise, staying there rather than Banff for one night cuts out your travel time. Arriving at the lakeside early is advisable to get a premium viewing location.
If you prefer a location closer to Banff, you have options. Lake Minnewanka and Vermillion Lakes provide mountainous backdrops to the anticipated event.
Mount Norquay and the Banff Gondola to Sulphur Mountain offer a different perspective from the top of a mountain. Wherever you choose to watch, remember your camera and tripod.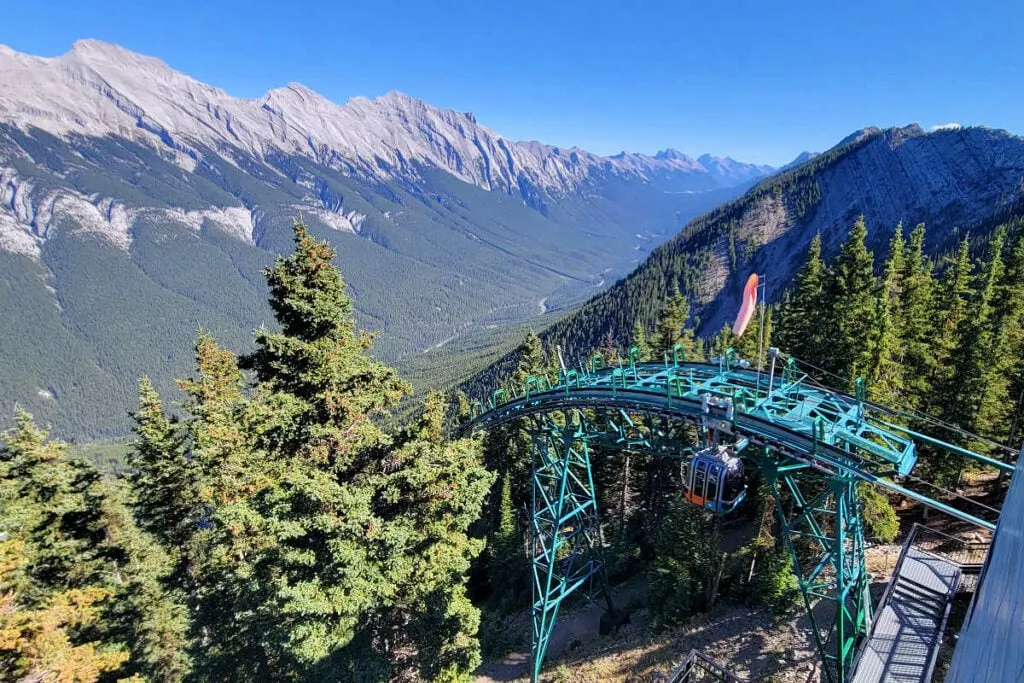 7. Quieter Hiking Trails
With fewer visitors in Banff hitting the trails, you'll enjoy some solitude in the mountains. Hiking around Lake Louise is often congested during peak times.
As summer winds down, you can hike to Lake Agnes, the Plain of the Six Glaciers, and the Beehives without encountering too many hikers along the way. Be aware that the weather can change, so pack a windproof and waterproof jacket.
Depending on the time of your visit, some areas may be closed for the season. So, check on park closures when planning your Banff itinerary.
Hiking Johnston Canyon in the off-season offers fewer crowds and more accessible parking. You'll have narrow walkways almost to yourself. Enjoy the sound of silence and better photo opportunities.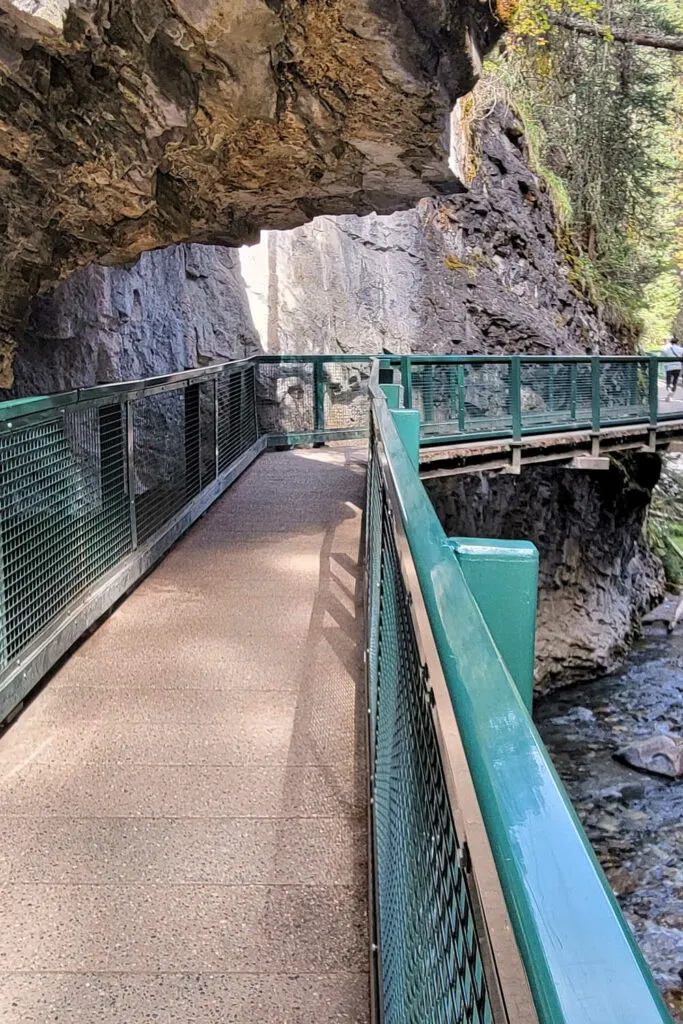 Off-season visits also offer unique beauty and the chance to linger at waterfall sightings without blocking the trail.
READ NEXT: 16 Things to do Before a Hike
8. More Animal Sightings
As the colder temperatures arrive, the higher elevations receive snow. It forces the animals to lower ground for their food source. An autumn visit is an ideal time to see wildlife, even in Banff.
Elk and deer are commonly spotted around Banff as the sign of winter approaches. The Vermillion Lakes and Banff Springs Golf Course are prime wildlife spotting areas. Early morning and just before dusk are the best time for viewing, as the animals are more active.
Bears are foraging at this time too. They need to gain weight for their winter hibernation.
The hiking trails around Moraine Lake, mainly Consolation Lakes, provide a great area to see grizzly bears. However, the route may have hiking limitations. During active sightings, you may only hike with a minimum number of people, usually four or more. Read these bear safety tips before you go!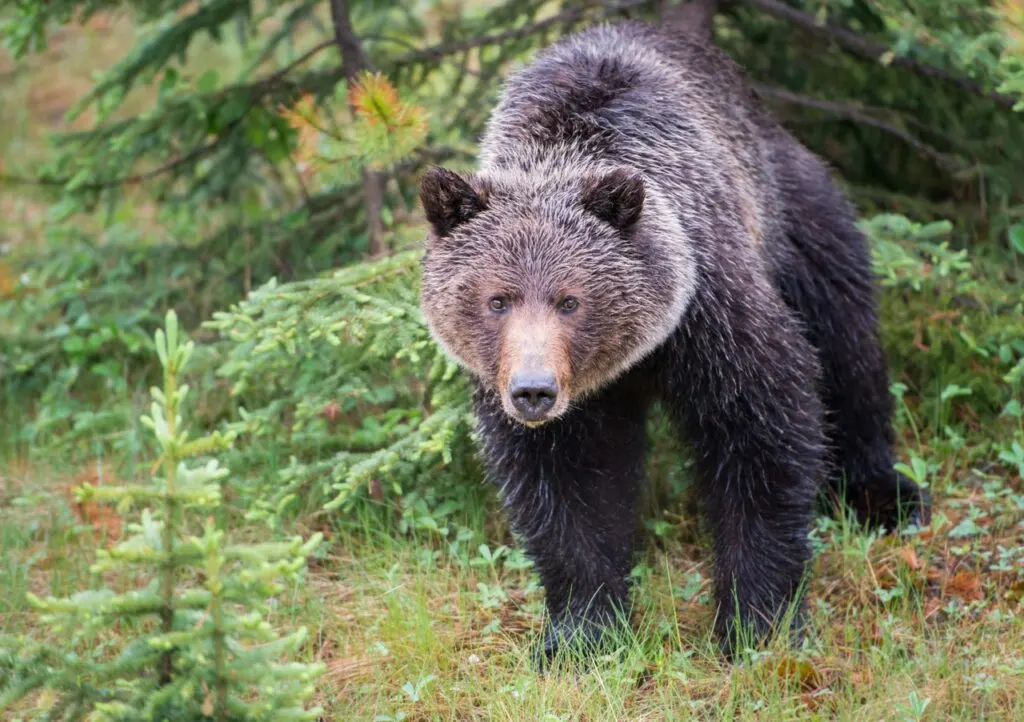 The Lake Louise gondola is another option to view wildlife. Visitors often spot bears, elk, goats, sheep, and deer during the gondola ride. Occasionally, a sighting can include a cougar, wolf, or lynx. Their website's calendar shows what's spotted each day.
9. Easier Car Rental
With a pent-up demand to travel after the pandemic, visitors to Banff need to book a rental car at least six months in advance. Most fly into Calgary International Airport, where rental vehicles have been hard to come by.
With fewer visitors in the fall, you'll benefit from available car rentals and lower rental rates. If you plan to visit both Banff and Jasper, renting in Calgary and dropping off in Edmonton makes sense.
If there's snow in the forecast, rent an SUV instead of a car. While Alberta law doesn't require snow tires, paying a little extra for them gives peace of mind, especially if driving at higher elevations.
I like to use Discover Cars to book rental cars because they let you compare prices across lots of rental companies.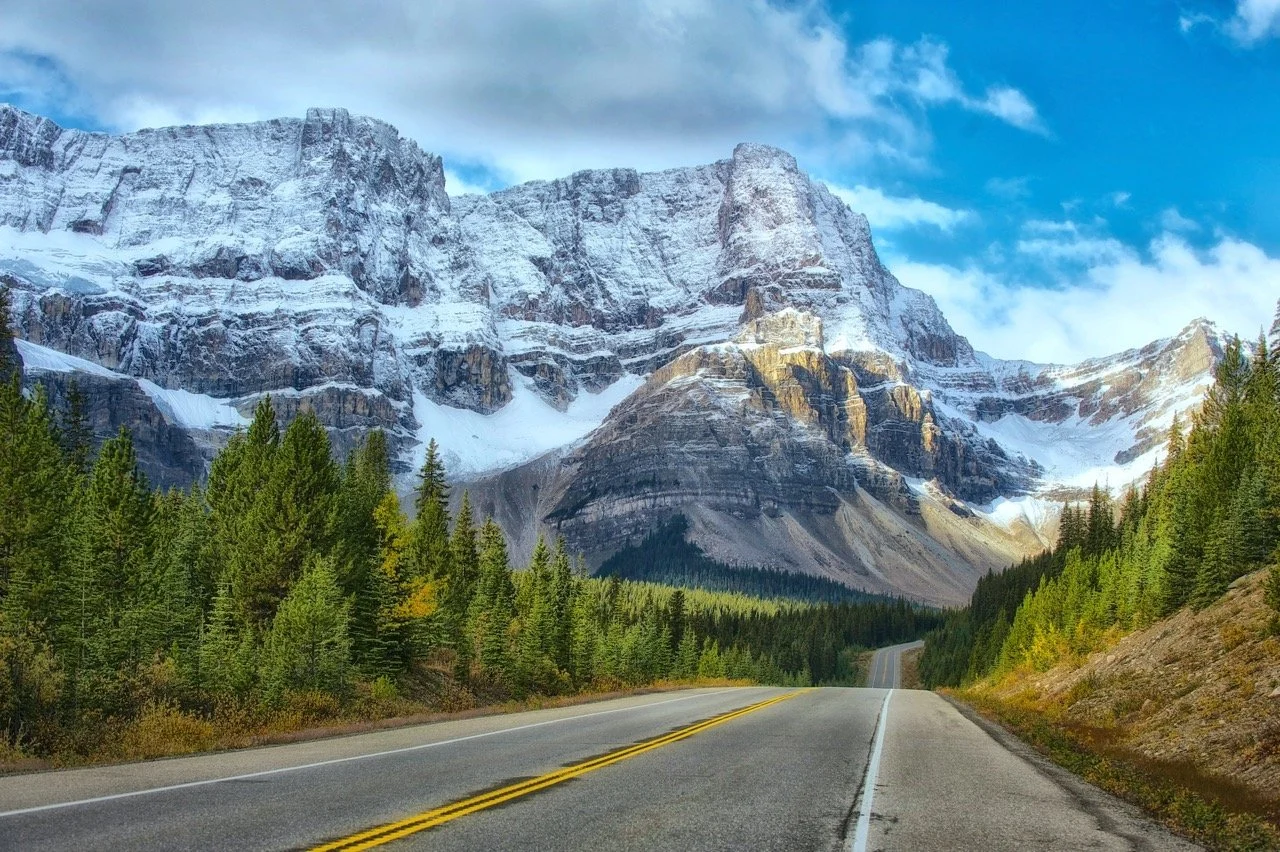 Thanks to Karen for sharing this gorgeous guide to the best reasons to visit Banff in the fall. You can read more about Karen's adventures on her website, Forever Karen.
READ NEXT:
Latest posts by Happiest Outdoors Contributor
(see all)