With lots of people stressing about backpacking reservations in BC, you might feel like you have to book backcountry camping months in advance if you want to go on a trip. But that's totally untrue – there are tons of places to go backpacking in BC without reservations.
I've been backpacking in British Columbia for almost 20 years and have done dozens of trips, most of them without reservations. I know that sometimes it's just not possible to plan ahead – you want to wait for good weather, plans change, or you didn't get that coveted reservation.
Don't worry! In this guide to backpacking in BC without reservations, I have all the info you need to plan a last-minute trip including:
This is a sensitive wilderness area. Learn how to Leave No Trace to keep the wilderness wild. Make sure you are prepared by bringing the 10 Essentials. Get ready for adventure with this checklist of things to do before every hike.
Hey there: Some of the links in this post are affiliate links, which means I earn a small commission at no cost to you. Thanks for your support. -Taryn
BC Backpacking Trips That DO Require Reservations
Very few places in BC require reservations to go backpacking. My BC Backpacking Reservation Dates post has an overview of each place along with info about how to make reservations. The places in BC that require backpacking reservations fit into a few categories:
National Parks in BC That DO Require Reservations
All national parks in BC require reservations for backpacking. There are six national parks in BC where you can go backpacking.
Pacific Rim National Park on Vancouver Island is home to the West Coast Trail and Keeha Beach – you need to make reservations for both of those trails.
Gulf Islands National Park has several backcountry campsites that require reservations. Most are water accessed but you can backpack at Narvaez Bay on Saturna Island.
Mount Revelstoke National Park has backcountry camping at Eva and Jade Lakes, both of which require reservations.
Glacier National Park has reservable backcountry camping at Hermit Meadows.
Yoho National Park has a few backcountry campgrounds including Lake O'Hara and campsites along the Iceline and Whaleback Trails. They all require reservations.
Kootenay National Park is home to the Rockwall Trail, which requires reservations.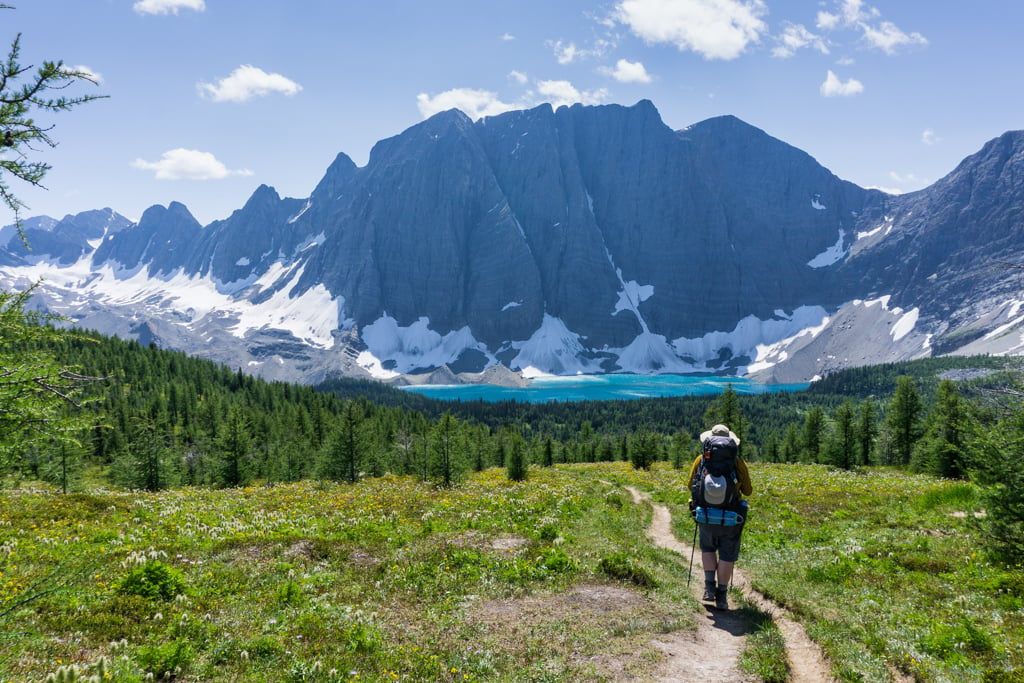 Provincial Parks in BC That DO Require Reservations
Most Provincial Parks in British Columbia do NOT require reservations. However, there are five exceptions. These are all very popular provincial parks.
Garibaldi Provincial Park near Squamish and Whistler requires reservations for all backcountry campgrounds in the park.
Joffre Lakes Provincial Park near Pemberton requires reservations to stay at the backcountry campground at the third lake.
Campsites along the Berg Lake Trail in Mount Robson Provincial Park near Jasper require reservations.
Mount Assiniboine Provincial Park near Canmore requires backcountry reservations.
Bowron Lake Canoe Circuit in Bowron Lakes Provincial Park in Northern BC near Quesnel requires reservations.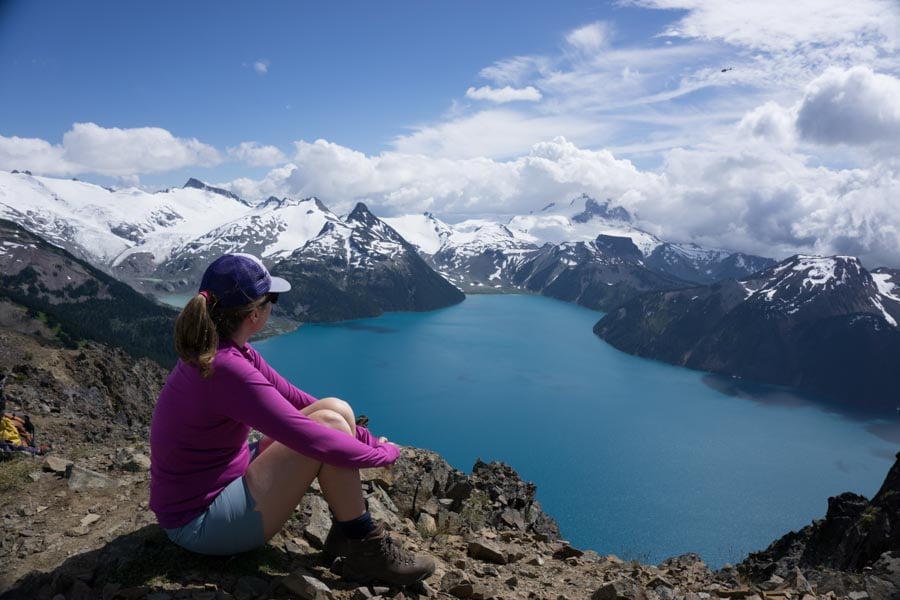 Popular Recreation Sites in BC That DO Require Reservations
So far, only two recreation sites under the jurisdiction of Recreation Sites and Trails BC require reservations. Both are very popular destinations:
Watersprite Lake near Squamish requires reservations to camp starting in 2022
Tenquille Lake near Pemberton requires reservations to camp starting in 2022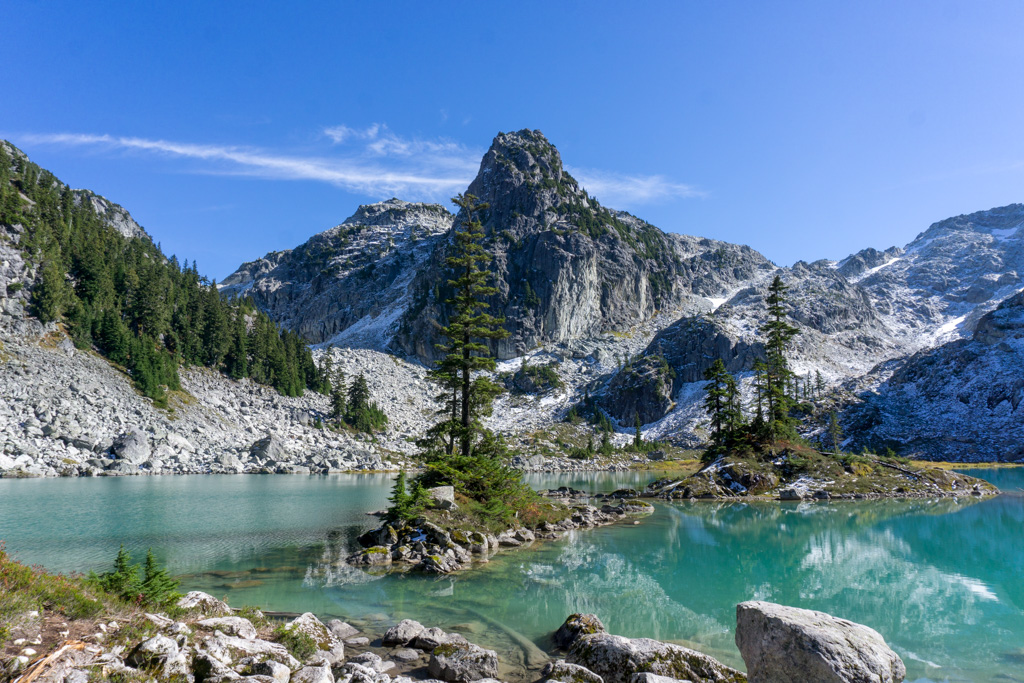 Backcountry Huts That DO Require Reservations
There are several dozen backcountry huts in BC. Most are administered by a park or by a club and require reservations. See individual hut websites for info on reservations. Read my guide to Backcountry Huts in BC for more info.
Where to Go Backpacking in BC Without A Reservation
There are literally hundreds of places to go backpacking in BC without a reservation. These can be divided into places in BC Parks that have Backcountry Permits and those without. Not clear on the difference? I'll explain to you!
Backcountry Permits at Provincial Parks in BC
Currently, 29 BC Provincial Parks require you to purchase a backcountry permit to go backpacking. Here are some quick facts about backcountry permits:
Backcountry permits are essentially just a way of saying you need to pay camping fees – they are NOT a reservation
Each person in your group needs a backcountry permit
Fees vary by park but in general, are usually $5-$10/person/night
Buying a backcountry permit does not guarantee you a campsite or tent pad – all campsites and tent pads are first-come, first-served
There are unlimited numbers of permits available for each park – they don't sell out.
You can purchase a backcountry permit on the BC Parks website up to 2 weeks before your trip. Some parks also have in-person registration with envelopes you can leave money in, but this is becoming less common.
You can find a list of parks where backcountry permits are required on the BC Parks website.
Carry a copy of your backcountry permit on your trip (either a print out or a screen shot on your phone. If you meet a park ranger they may ask to see it.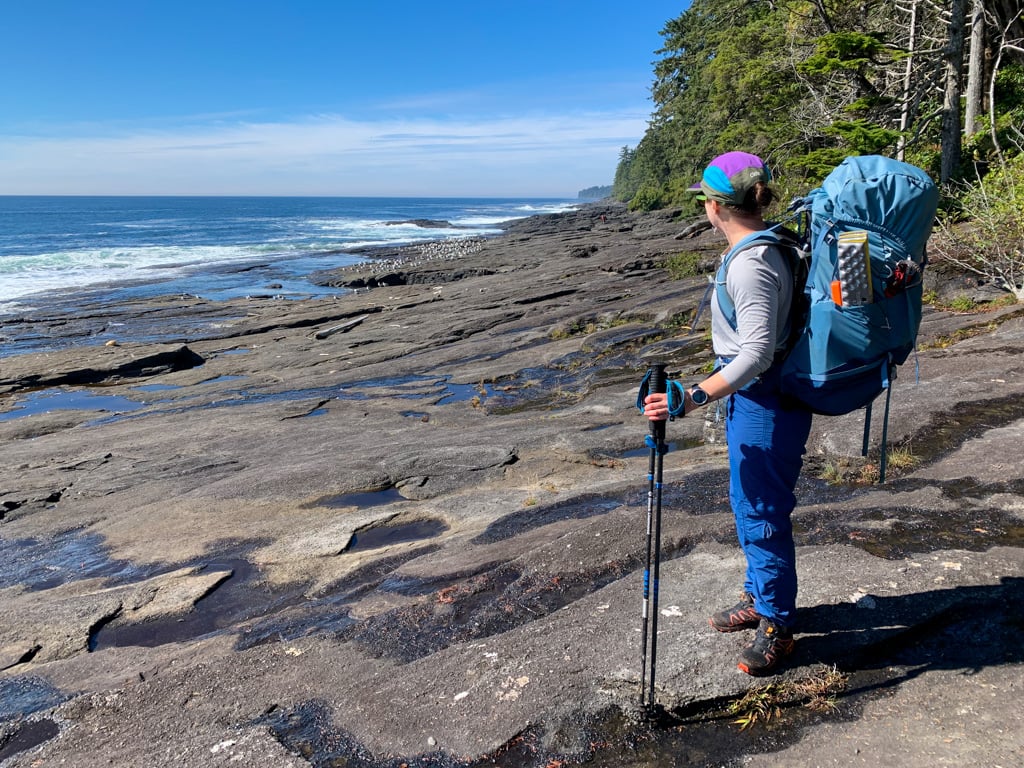 Places Without Backcountry Permits
There are tons of backcountry campsites in BC Parks that don't require backcountry permits or reservations. There are also hundreds of BC Recreation Sites and informal campsites on Crown Land. These sites are free and you don't need a reservation or a permit.
Below, I've got a list of my recommendations of places to go backpacking without backcountry permits, as well as tips on how to find even more backpacking destinations you don't have to book in advance.
Best Places to Go Backpacking in BC Without Reservations
As you might realize by now, there are loads of places to go backpacking in BC without reservations. It's impossible to list them all here. Instead, I'll give you a list of a few dozen that I recommend. I've backpacked quite a few of these, but lots are still on my some-day list. Some of these trips require backcountry permits.
Southwestern BC Backpacking Trips Without Reservations
Note: The trips in this section are all in my book, Backpacking in Southwestern British Columbia.
Hanging Lake near Whistler
Lake Lovely Water in Tantalus Provincial Park near Squamish (requires canoe or water taxi to reach the trailhead)
Howe Sound Crest Trail in Cypress Provincial Park near West Vancouver
Elsay Lake in Mount Seymour Provincial Park in North Vancouver
Dennett Lake and Widgeon Lake in Pinecone Burke Provincial Park (Widgeon Lake requires a canoe to reach the trailhead)
Viewpoint Beach, Halfmoon Beach, Alder Flats, and Panorama Ridge in Golden Ears Provincial Park (requires backcountry permits)
Lindeman, Greendrop, Flora, and Radium Lakes in Chilliwack Lake Provincial Park (requires backcountry permits)
Tikawalus Heritage Trail in the Fraser Canyon near Yale
Lower Stein Valley in Stein Valley N'lakapamux Heritage Provincial Park near Lytton
HBC Heritage Trail near Hope
Falls Lake in Coquihalla Summit Recreation Area
Little Douglas Lake Recreation Site near the Coquihalla Summit
Skagit River Trail, Heather Trail, Frosty Mountain, Strike Lake, Skyline Trail, and Poland Lake in E.C. Manning Provincial Park (requires backcountry permits)
Cabins in Tetrahedron Provincial Park near Sechelt
Sunshine Coast Trail between Lund and Saltery Bay
READ NEXT: 24 Easy Backpacking Trips In BC For Beginners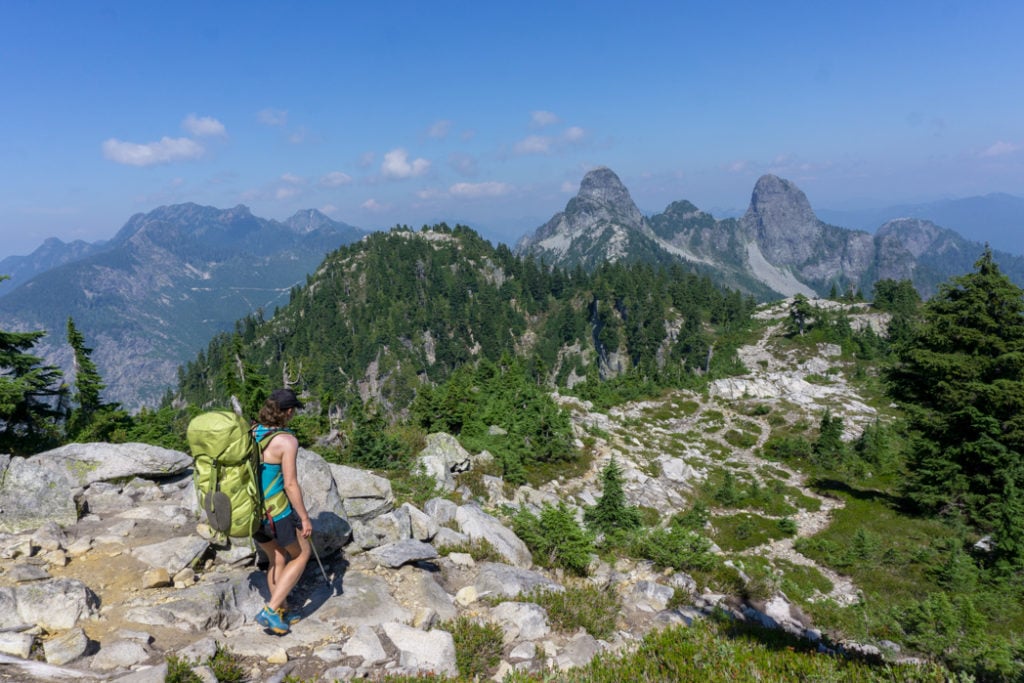 Vancouver Island Backpacking Trips Without Reservations
Juan de Fuca Trail in Juan de Fuca Marine Provincial Park near Port Renfrew (requires backcountry permits)
Wild Side Trail on Flores Island near Tofino (requires a water taxi to reach the trailhead)
Forbidden Plateau Core, Bedwell Lakes, Elk River Trail, and Arnica Lake in Strathcona Provincial Park (All require backcountry permits except Arnica Lake.)
Della Falls Trail in Strathcona Provincial Park near Port Alberni (requires a water taxi to reach the trailhead)
Nootka Trail on Nootka Island near Gold River (requires a water taxi or floatplane to reach the trailhead)
North Coast Trail, Cape Scott Trail, and San Josef Bay in Cape Scott Provincial Park near Port Hardy (requires backcountry permits, North Coast Trail requires a water taxi to reach the trailhead)
Tatchu Trail on the west coast (requires water taxi or float plane to reach the trailhead)
Raft Cove in Raft Cove Provincial Park near Port Hardy (requires backcountry permits)
Carmanah Valley in Carmanah-Walbran Provincial Park (requires backcountry permits)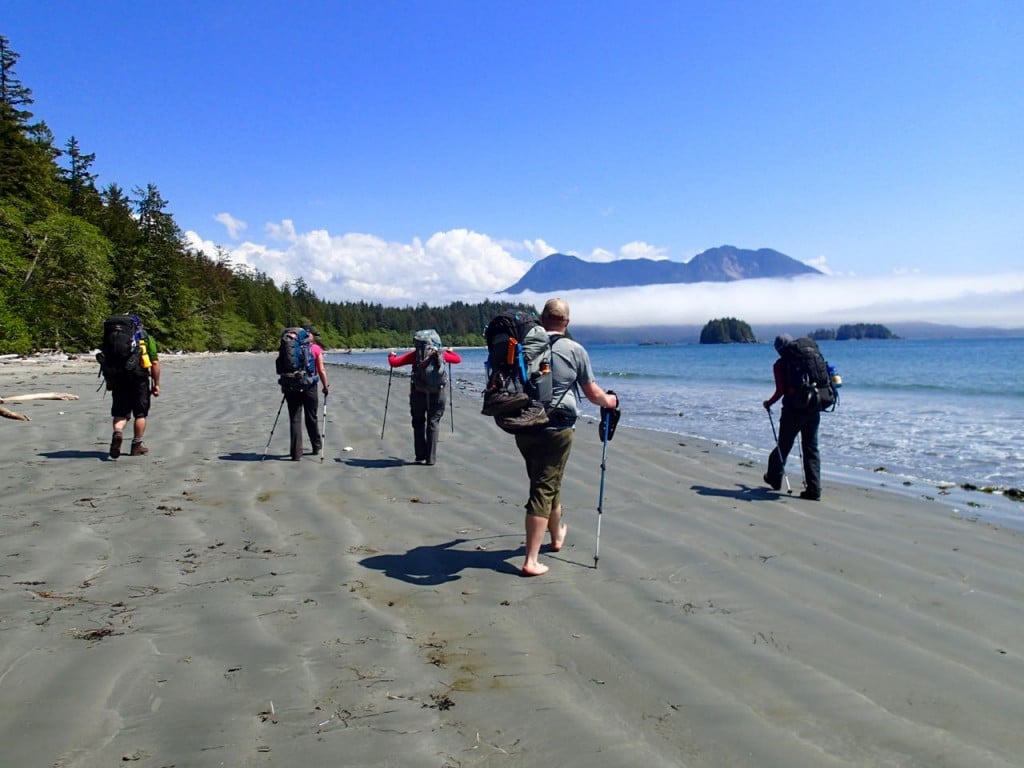 Interior and Eastern BC Backpacking Trips Without Reservations
Trophy Meadows in Wells Gray Provincial Park near Clearwater (requires backcountry permits)
Cathedral Lakes Provincial Park near Keremeos (requires backcountry permits)
Okanagan High Rim Trail near Vernon and Kelowna
Spectrum Lake in Monashee Provincial Park near Cherryville (requires backcountry permits)
Gwillim Lakes in Valhalla Provincial Park near Slocan
Kaslo Lake in Kokanee Glacier Provincial Park near Nelson (requires backcountry permits)
Earl Gray Pass in Purcell Wilderness Conservancy Provincial Park near Kaslo
South Chilcotin Mountains Provincial Park near Lillooet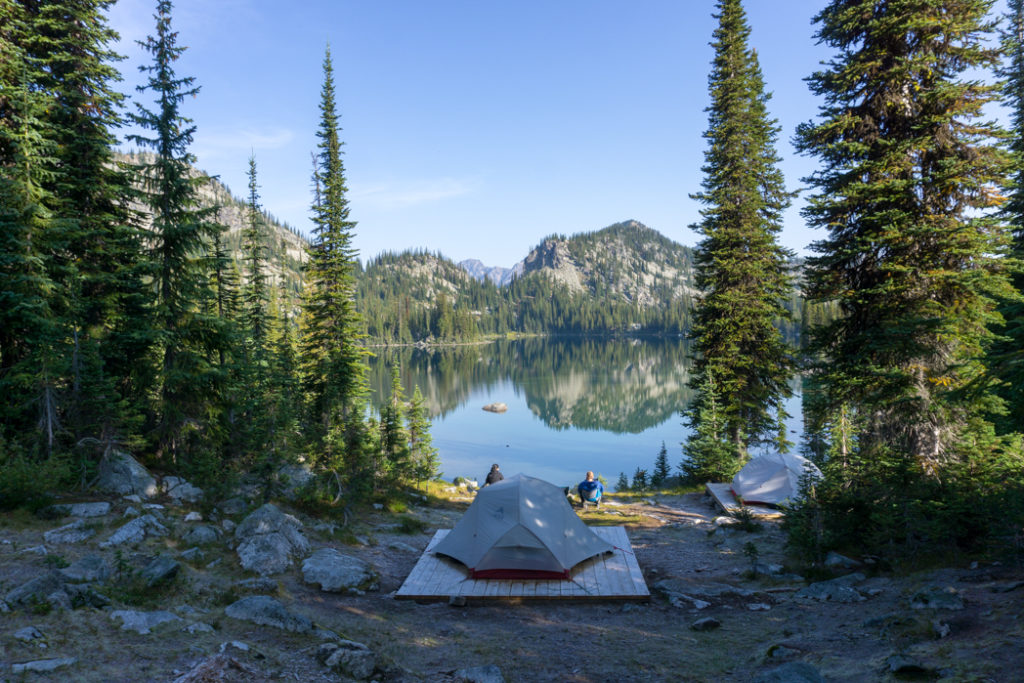 Northern BC Backpacking Trips Without Reservations
Hunlen Falls in Tweedsmuir Provincial Park near Bella Coola (requires backcountry permits)
Monkman Memorial Trail in Monkman Provincial Park near Tumbler Ridge
Wokkpash Valley and McDonald Creek in Stone Mountain Provincial Park near Fort Nelson
Mount Edziza in Mount Edziza Provincial Park near Dease Lake
How to Find More Places to Go Backpacking in BC Without Reservations
British Columbia has thousands of trails and hundreds of backcountry campgrounds. And if you're willing to go without facilities like toilets and bear caches, there are even more places to go backpacking. (But if you go that route, brush up on the Leave No Trace principles first!)
Be sure to check if camping is allowed at the park or trail before your trip. In some environmentally sensitive areas and popular destinations, backcountry camping is not allowed or is restricted to established campsites.
Here are some ways to find even more places to go backpacking in BC without reservations:
Check BC Parks
Visit the BC Parks website to find a list of BC Parks. Or use the map view to find ones in your area. You will need to click through to the individual parks pages to find info on whether there are places in that park to go backpacking or not.
The BC Parks websites aren't very well organized, so this info can be a bit tough to find.
Tip: Scroll down to the "Facilities" section and then see if there is a "Walk-in/Backcountry/Wilderness Camping" section at the bottom.
You can also check the "Activities" section and read the information about hiking trails in the park.
Lastly, also check the "Maps and Brochures" section to view a park map that may show backcountry campsites.
Check Recreation Sites and Trails BC
Many people aren't aware that there is a separate set of campgrounds and hiking trails besides those inside BC Parks. They are administered by Recreation Sites and Trails BC, a separate government agency. These sites are usually much more basic, have little to no funding, and are often maintained by local volunteer groups and clubs.
They also have a map that shows the location of recreation sites and trails. Keep in mind that many of these sites are drive-in campsites on logging roads. You can also use their Search by Activity page to find sites with camping and hiking, which might help you find backpacking destinations. You can also filter by region.
The info on these rec site listings is really basic and often isn't enough to plan a trip so you will likely need to consult some of the other sources below.
Use a Hiking Guidebook
Hiking guidebooks are a great way to find curated information on hiking trails. You can be sure that the author actually hiked the trail and collected all the info you need to plan a trip.
Unfortunately, there aren't many guidebooks that cater to backpackers. However, I've got a few British Columbia-specific guidebook suggestions for you:
Ask on Facebook Groups
The British Columbia outdoor community has several great Facebook groups where members share info on their hikers or post questions asking for help finding hikes. Most of the groups are full of beginners and focused on day hikes, but a few are good for backpackers.
Backpacking Trips in BC – I admin this one. Over 16k members share backpacking-specific info.
Vancouver Island Backcountry Hiking – A smaller group focused on off-the-beaten-path adventures.
BCR – Backpacking in the Canadian Rockies – Full of really knowledgeable folks who know lots of places to backpack in the Rockies, including lots outside the National Parks so you won't have to worry about reservations.
Hyper-regional groups – Try searching Facebook's groups section for hiking groups in a region or town. You'll find lots of great locals willing to share info about backpacking destinations in the area.
Trail or park-specific groups – Many longer trails like the Della Falls Trail, Cape Scott Park, or Juan de Fuca Trail have dedicated groups.
Join the Backpacking in BC Facebook Group
Use Apps
Most hiking and mapping apps aren't great at isolating day hikes from backpacking trips, especially when a long day hike has a backcountry campground and can be done over two or more days. However, it is worth checking these apps to find backpacking trips.
In All-Trails, narrow down the region you are looking in, then filter by activity to select backpacking.
In Gaia GPS turn on the public tracks overlay to see where others are hiking. You can do the same thing with the heat map in Strava.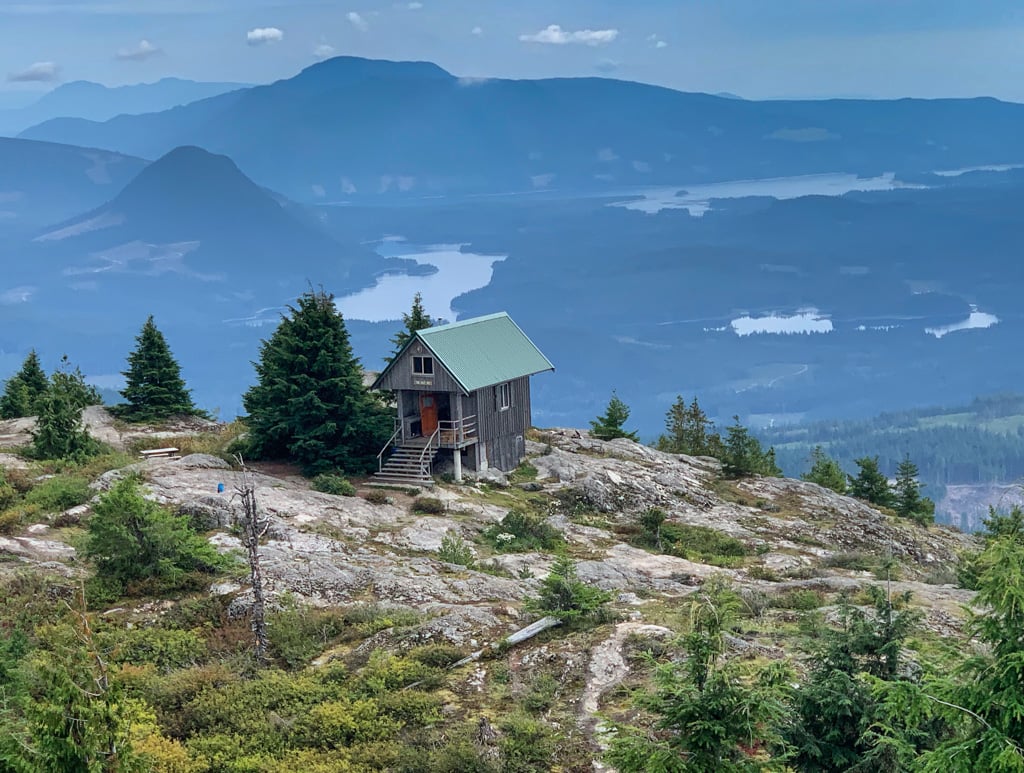 Tips for Backpacking in BC Without Reservations
Once you've chosen a backpacking destination, there are a few things you should keep in mind when backcountry camping without a reservation.
Check to make sure camping is allowed. Find out which jurisdiction the trail or campground is in (Parks Canada, BC Parks, Recreation Sites and Trails BC, other local parks) and see if there are any rules about camping or if you need to pay fees or get a Backcoutnry permit.
Popular spots can get very busy, especially on long weekends. If possible, plan to arrive on Thursday or Friday rather than Saturday and get set up camp by early afternoon.
If you are in a group with more than one tent, try to fit two or more tents on each tent platform or tent pad so you leave room for others.
Some campgrounds have overflow campsites, but many do not. That means that in some places you might have to hike to another campground or return to the car if there isn't room for you. When choosing an overflow campsite, pitch your tent on bare dirt, rocks, or snow. Avoid fragile vegetation.
If the campground has a food cache or hang it may get full, especially on weekends. Cache your food early in the evening or be prepared to construct a bear hang in a tree. You can also carry a bear canister or Ursack instead.
Trailhead parking lots can fill up and some are prone to theft. Arrive early to get a spot. Do not leave valuables in your vehicle.
Check trail and road conditions. Less popular destinations require little to no maintenance. Some roads require 4WD to access. Trails may be storm damaged or impassable. Backcountry campground facilities like toilets or bear caches may be missing or damaged.
Read through my list of things to do before every hike for a great checklist to get you prepped to go backpacking.
So that's everything you need to know to go backpacking in BC without reservations. Do you have questions about planning a backpacking trip in BC? Leave them in the comments.
READ NEXT:
Guides for BC Backpacking Trips Without Reservations: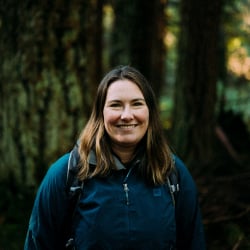 Latest posts by Taryn Eyton
(see all)