For the last few months, I've been cruising around on an electric bike I've named Betty. After thoroughly testing out this e-bike (including on some bumpy trails!) I've put together a detailed review of my Rad Power RadMini Step-Thru Electric bike.
I'm not a bike expert or super techy, so this review is for regular people who are thinking about getting an e-bike. If you are into detailed bike-nerd discussions of watts, amps, and gearing go check out one of the other RadMini Step-Thru reviews out there – you won't find that here!
Instead I'll focus on the import stuff like how the bike feels to ride, how easy it is to set up and maintain, if it works for me, and if I recommend it.
This review of the Rad Power RadMini Step-Thru includes:
Hey there: Thanks so much to Rad Power for providing me with a RadMini Step-Thru electric bike for me to review. All opinions in this post (including my belief that folding bikes aren't great for most people) are my own. Some of the links in this post are affiliate links, which means I earn a small commission at no cost to you. Thanks for your support. -Taryn
Why Did I Get an E-Bike?
While I'm not the most avid cyclist, I do have a lot of experience with bikes.
I've been cross-country mountain biking on and off since I was six thanks to a dad who loved the sport, and I also dabble in casual road riding with friends.
When I lived in Vancouver, I commuted to work by bike every day for about four years. My route took me up and down some big hills, which was a great workout, but meant I had to change my clothes when I biked I got sweaty and chafed otherwise.
These days I live in Squamish, which is a small town and I work from home. I mountain bike a little bit and go out on the occasional road ride. But our house is up a big steeeeep hill from the rest of town so going for a casual ride to the grocery store feels like a big undertaking.
Since I got my Rad Power e-bike it's been so much easier to pop down the hill for errands or head out to dinner without using our car. I can cruise around on the e-bike without getting sweaty or feeling like I'm getting a hardcore workout.
I've also noticed that I get out for a lot more fun "just because" bike rides now that I have an e-bike. I can wear my regular clothing since I don't get sweaty, which makes it easier for me to ride my bike to dinner or to visit a friend. And if I keep the power low, I'm still getting exercise.
My husband Greg (an avid cyclist) even borrows my Rad Power e-bike sometimes to make his errands quicker or to carry more stuff.
I still ride my other bikes, but I find myself hopping on Betty (my RadMini) far more than my other bikes!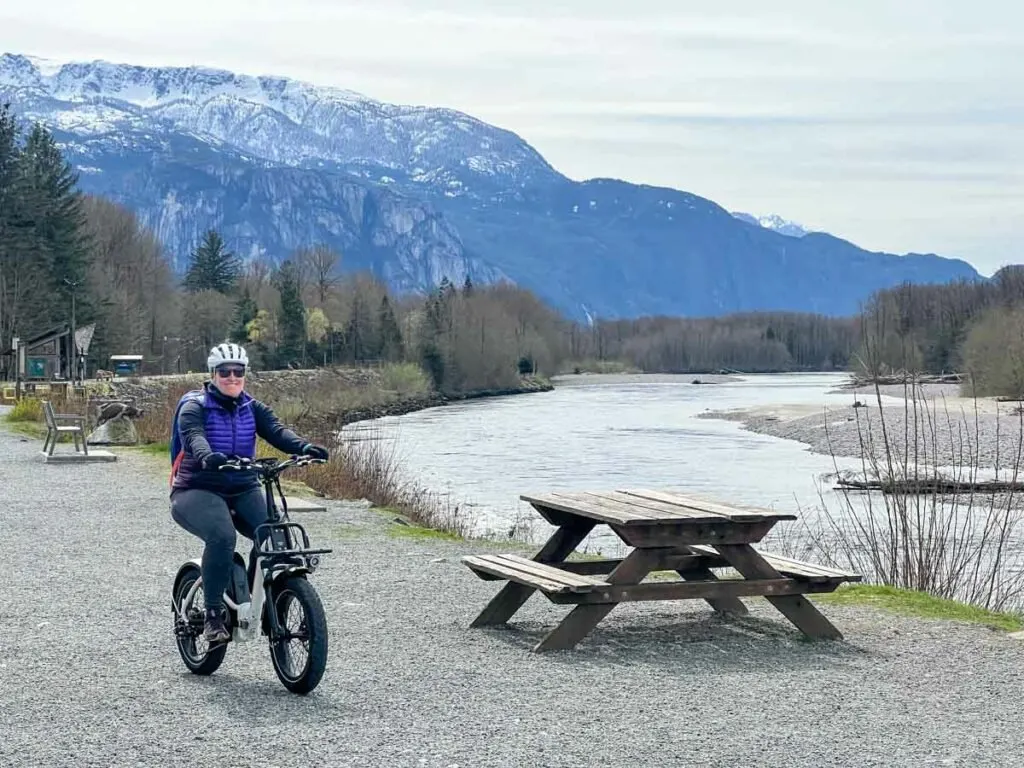 Pros and Cons of the Rad Power RadMini Step-Thru
While for the most part, I love my RadMini Step-Thru, there are a few things that are not as awesome. Here is a quick summary of the pros and cons:
Pros
Smooth and comfortable ride
Easy to use
Plenty of power via pedal-assist and a throttle
Integrated lights including a brake light
Lots of good accessories (both included and available as add-ons)
Easy to assemble and set-up
Relatively inexpensive
Cons
Heavy
Folding is awkward and unnecessary
A bit more challenging to lock up to a bike rack with a U-lock
Rad Power RadMini Step-Thru Specs
Here's a quick run-down of the RadMini Step-Thru specs.
Sells for $1499USD/$1799 CAD
5 levels of pedal assist (500 watts of power for the Canadian version; 750 watts in the USA)
Twist throttle
Easy-to-use digital display
Up to 45 miles / 72 km per charge
7-speed
Mechanical disc brakes
Front suspension fork
Step-thru frame with low standover height (16″/41 cm)
Folds for storage or transport
Fat-bike style puncture-resistant tires
Comfortable leather-look seat and grips
Heavy-duty kickstand
Integrated front and rear lights
Integrated bell
Front and rear fenders
USB port to charge your phone
Racks sold separately
Best for riders between 4'10" and 5'10" (1.47 to 1.78 m)
Carries up to 275 lbs (125 kg)
Bike weighs 69 lbs (31 kg)
Rad Power RadMini Step-Thru vs. Rad Power RadExpand 5
I've had my RadMini for about nine months. Recently, Rad Power discontinued the RadMini Step-Thru and replaced it with the RadExpand 5. For the most part, they are almost the same bike although the RadExpand 5 is $100 more. So if you're thinking of getting a RadExpand 5, my RadMini Step-Thru review should be really helpful.
I've also included some key differences between the RadMini Step-Thru and RadExpand 5 in my review. In most cases, the RadExpand 5 actually improves upon the things that I didn't love about the RadMini!
Rad Power RadMini Step-Thru vs. Rad Power RadMini 4 Electric Folding Fat Bike
The RadMini also used to come in a non-step-thru version called the RadMini Electric Folding Fat bike. It was very similar to the RadMini Step-Thru: It also folded, it had the same motor and battery, gears, etc. The only difference was that it was not a step-thru so it was harder to get on and off. It was also 2lbs lighter. The price was also the same.
This review is also really helpful if you're considering getting the RadMini 4 Electric Folding Fat Bike so I also have highlighted some differences in my review.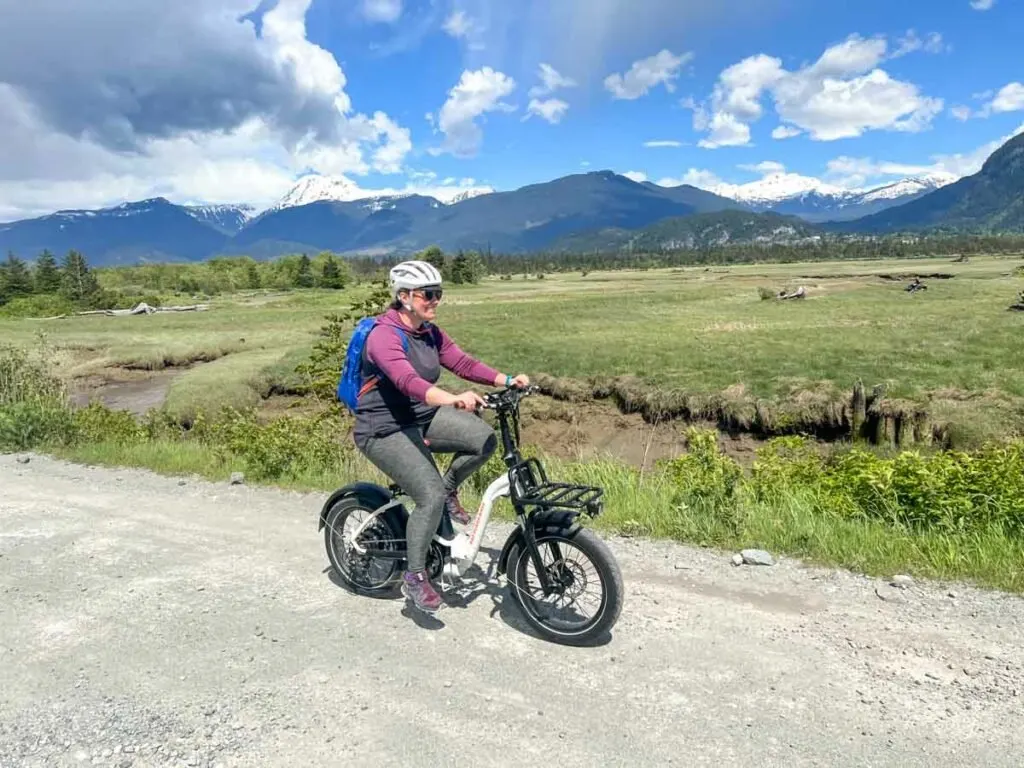 My Rad Power RadMini Step-Thru Review
After riding this bike for several months, I have had time to really evaluate all the things I love about the RadMini, the things I don't care about, and the things I would change. In this section, you'll find my detailed opinion about each aspect of the bike.
Motor
The 500-watt geared hub motor has plenty of kick but still feels smooth when it starts up. (In Canada, e-bikes legally max out at 500 watts. The American version of this bike has 750 watts, which is the limit there.)
It has five power levels. Most of the time I ride on level 1 on the flats, which provides a little bit of pedal assist. The bike is heavy enough that I don't like to use it without the pedal assist on. I use level 2 when I'm tired. For hills I use levels 3, 4, and 5, reserving level 5 for the steepest section since it eats up more battery.
Throttle
I had never considered the benefits of a throttle before I owned a bike with one. The RadMini Step-Thru has a twist-style throttle on the right handlebar, a bit like what you'd find on a motorcycle.
You can twist it to get a quick burst of power from the motor that overrides the pedal assist without you having to push any buttons or look at the display. That means the motor propels the bike without you having to pedal at all.
The throttle is by far my favourite feature of the bike. I love to use it to help me get started from a dead stop at traffic lights or on hills. I also love to use it when riding on the road because it means I can accelerate more quickly through an intersection away from traffic or when making a left turn. It makes me feel a lot safer.
It's also great for short steep hills that creep up on you unexpectedly. I like to use the throttle for a few seconds instead of fussing with gears or power levels on the motor.
Display
The simple LCD display sits in the middle of the handlebars. It's pretty big and easy to read. It has just three buttons on the left handlebar. I found it pretty straightforward to toggle through the menus and options. It also has a USB port if you want to charge your phone, which is a nice touch.
Battery
The battery mounts directly to the frame, so it feels secure and doesn't rattle around at all. According to the specs, it gets up to 45 miles/72 km per charge. That lines up with my experience. I find that I need to charge the bike every third or fourth time that I ride it.
The display shows five bars of battery life, which diminish the more you ride. And of course, if you use higher levels of power assist, you run out of battery quicker. It flashes when you are close to running out, which happened to me recently on a big hill! Thankfully I was able to use less power and more muscle so I had enough battery to get home! I should have charged it before I rode that day – oops!
The battery locks to the bike frame for security and comes with keys. There are three positions: locked, locked to frame and powered off, and locked to frame and powered on. This is a helpful feature if you are worried about tampering or battery theft. You can also remove it entirely. Thankfully, that's not a problem where I live, so I leave the battery locked to the bike and powered on.
Battery charging is really easy. It comes with a charging cable that plugs into a standard wall socket. I typically leave the battery attached to the bike and charge it in my garage. But you can also remove the battery from the bike and charge it elsewhere if you don't have an outlet near where you store your bike.
According to Rad Power, it takes between 3 and 7 hours to charge an empty battery to totally full. In practice, I haven't timed mine, but that sounds accurate.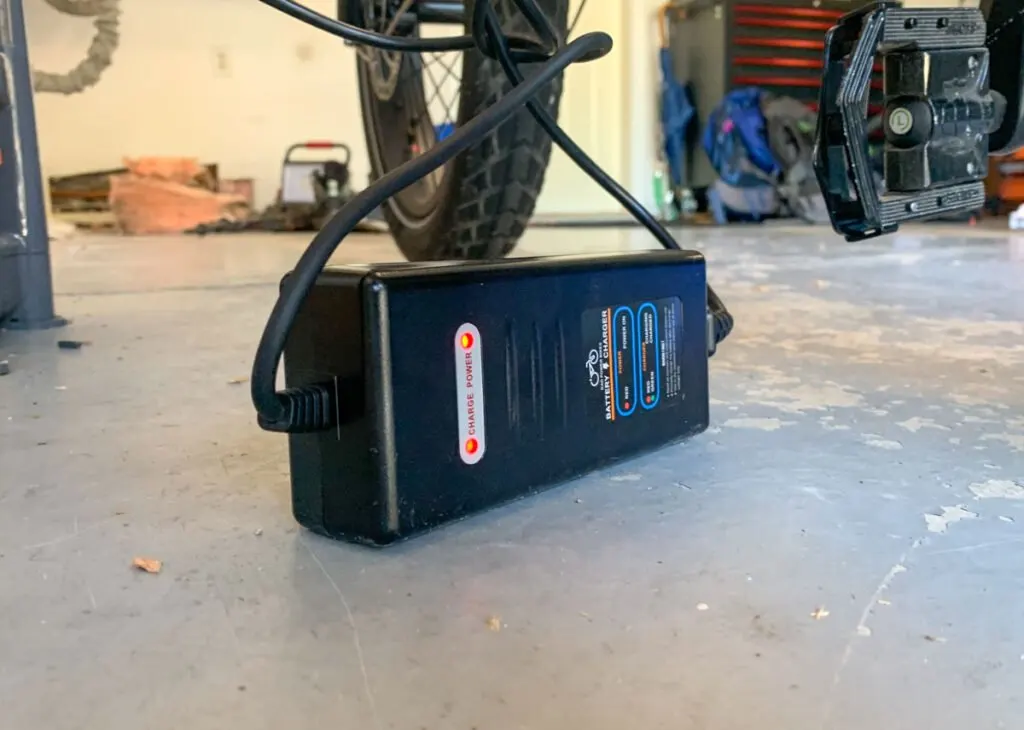 Frame
The frame on this bike is really thick and sturdy. It feels really strong even though it has a step-thru design (more on that below) that folds (more on that too.)
It has a fat-bike style design but in a scaled-down size. The thick frame isn't just for aesthetics – it helps the bike feel stiff for a folding bike and carry lots of weight – up to 275 lbs. If anything, I think the frame is a bit too burly as it makes the bike heavy. But it's probably necessary to make the bike safe.
The frame is on the small size and Rad Power says it's best for people between 4'10" and 5'10". I'm 5'6″ and find it's a good size for me, even though the upright cruiser-style position took some getting used to after years of riding a bike with drop bars.
The handlebars and seat are both adjustable to make it comfortable for riders of different heights. My 5'10" husband also finds that he can ride the bike in a pinch, but it does feel a tad small.
I often use the bike to run errands, which means I need to lock it up a lot. Unlike a traditional bike with a big central triangle in the frame, the RadMini is a bit of a challenge to lock up, especially if you are using a U-lock. I often use a sturdy chain lock which I pass between the rear wheel and the frame, but it's a bit more awkward than locking up my other bikes.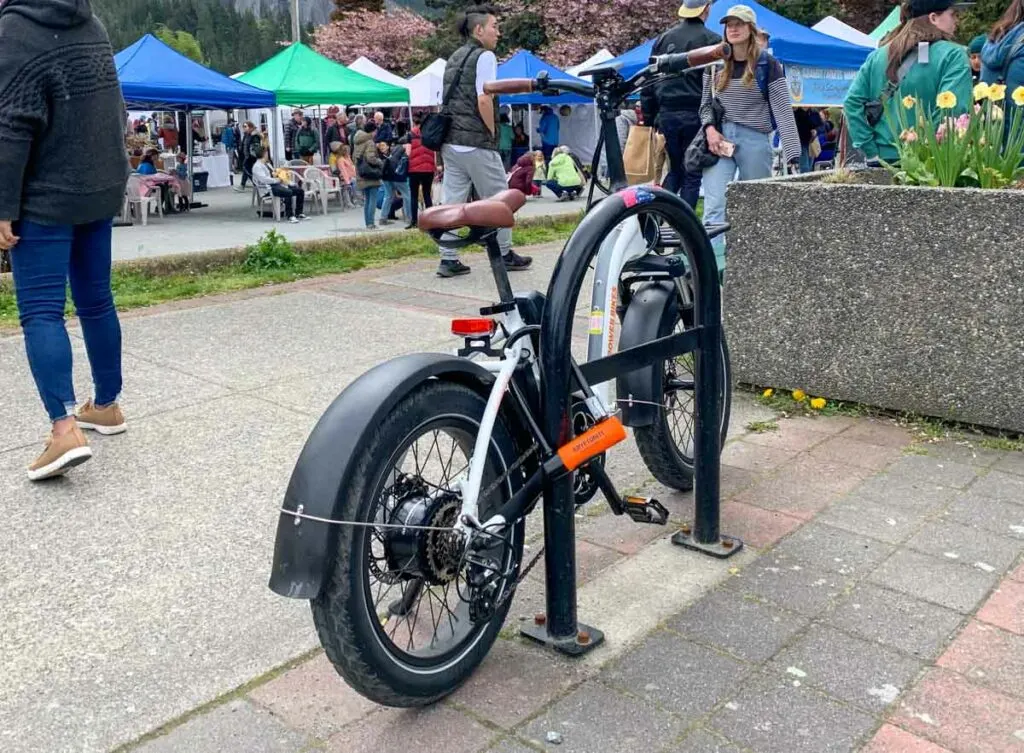 RadMini 4 Electric Folding Fat Bike Difference: Since this bike isn't a step-thru, it has a little bit of a central triangle that may make it a bit easier to lock up. It also is a bit bigger. Rad Power says it is best for riders 5'2″ to 6'2″.
Step-Thru Design
Before getting the RadMini Step-Thru I had only ridden a step-thru bike a handful of times – mostly on rental bikes when traveling in cities. I'm still so used to riding a conventional bike that I often reflexively swing my leg over the seat to mount the bike!
But the step-thru design is great since it is so easy to get on and off thanks to the really low stand-over height. It's a really helpful feature if you have mobility challenges or like to bike in a skirt. (Especially when I remember I don't need to swing my leg over the seat!).
RadMini 4 Electric Folding Fat Bike Difference: This bike is not a step-thru. While the RadMini Step-Thru and RadExpand 5 are step-thru with a standover height of 16″/41cm, this version has a standover height of 27.5″/70cm.
Folding Design
Some people love folding bikes because they are easier to store in small spaces or to bring with you in the trunk of your car or on the subway. In the case of the RadMini Step-Thru, it's so heavy that you probably wouldn't bring it folded up on the subway. And it might be hard to lift into the trunk of your car by yourself.
But folding it could be a great way to store it if you live in a small space. I have a garage so I don't really need to use the folding feature but I did test it to see how it worked. The big hinge on the frame is easy to use and so is the one on the stem.
It's helpful to look up the folding and unfolding instructions on Rad Power's website. I found it a bit awkward to fold, but fairly straightforward. I'm a fairly strong person, but since it is heavy, I struggled to fold the bike and keep it upright at the same time. It is much easier if you have a second person to help you stabilize the bike.
Honestly, this is one feature I thought I might use sometimes, but never do.
RadMini 4 Electric Folding Fat Bike Difference: This bike folds very similarly to the RadMini Step-Thru and RadExpand 5. But the folding mechanism is a bit different and of course located on a different spot on the bike. From the reviews, folding it seems similar to what I experienced with the RadMini Step-Thru.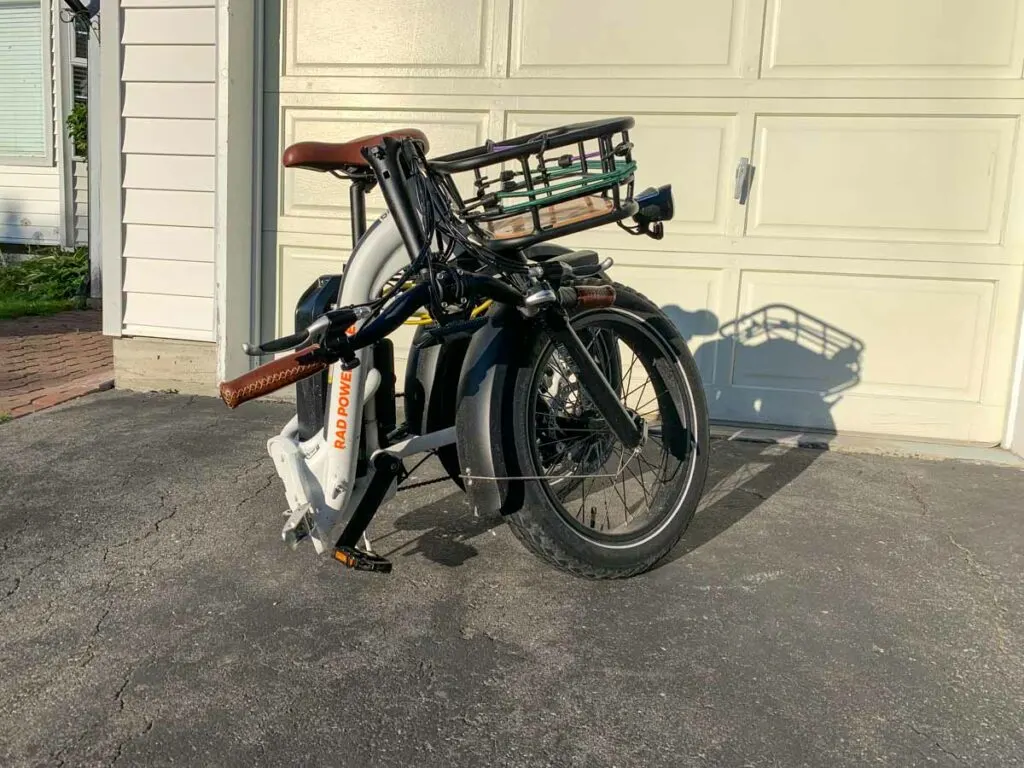 Suspension
The suspension on the front fork is pretty cushy which makes for a comfortable ride when combined with the fat tires. I've ridden my RadMini on lots of bumpy gravel roads and trails around Squamish and it is super comfortable and handles well.
It's a much nicer ride than my road bike. And a few times I've been out for a ride on gravel roads with my husband on his full-suspension mountain bike and I feel I am just as comfortable on the bumps and potholes as he does.
RadExpand 5 Difference: The RadExpand 5 doesn't have a suspension fork. Instead, it uses fatter and wider tires to cushion the ride. (More on that below.) This difference makes it a little lighter than the RadMini Step-Thru.
Fat Tires
The fat tires on the Rad Power RadMini are a strange size. They are 3.3″ wide, which is a bit skinnier than is standard for a fat bike. They have a small 20″ diameter, which is a lot smaller than the 26″ tires common full-size bikes.
But since they are still pretty fat, they provide lots of cushion and make the ride really smooth.
They have a slightly knobbly tread, which is great on gravel and dirt. So far, I've found them really comfortable to ride and despite the small size, they have managed to navigate over lots of big bumps without much trouble.
However, the tires can be a bit tricky to pump up as you have to get your pump nozzle between the spokes and around the motor. As well, the fat tires may not work with some car-mounted bike racks.
RadExpand 5 Difference: The RadExpand 5 has 4″ wide tires (standard for a fat bike) which provide a slightly cushier ride and make up for the bike's lack of front suspension. They are still 20″ diameter.
RadMini 4 Electric Folding Fat Bike Difference: The non-step-thru version has 3″ tires which are a tiny bit narrower than on the RadMini Step-Thru.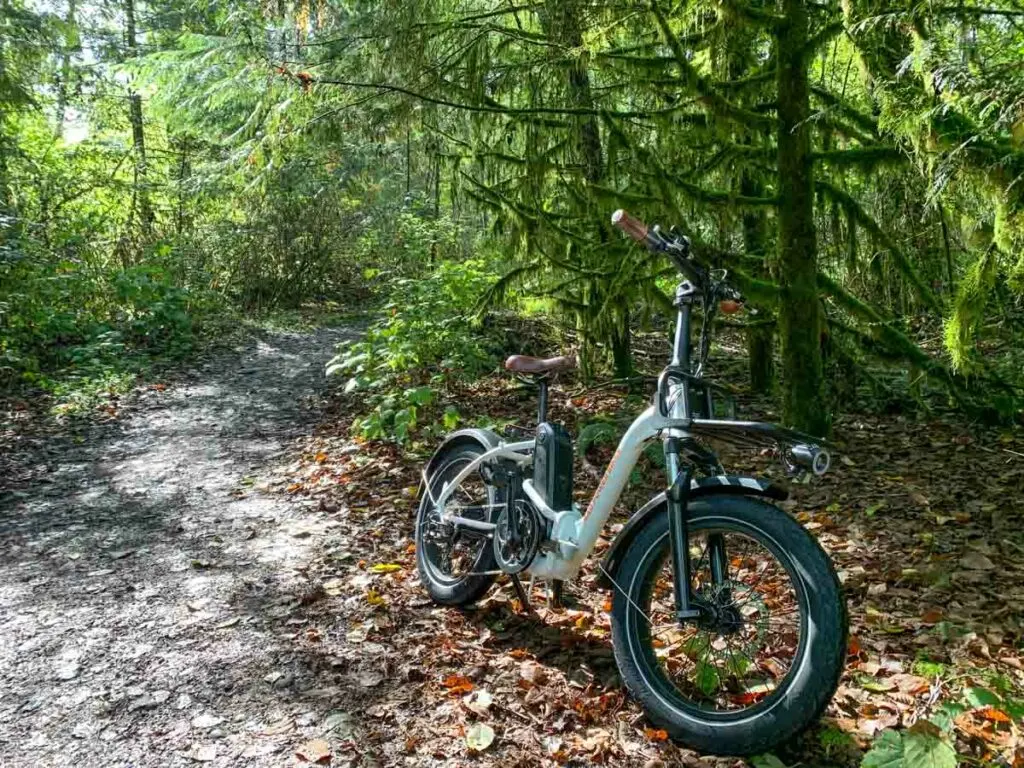 Gearing and Shifters
The RadMini Step-Thru has seven speeds with fairly widely spaced gears(11-34 tooth), which for me makes both going up steep hills and going fast on the flats pretty easy. One of the hills near my house has a VERY steep section, and it's no problem in the lowest gear with full power.
The large push button shifter is easy to use for going up in gears. You have to reach up for the lever for lower gears which is a bit less intuitive.
Brakes
Thankfully, the RadMini Step-Thru uses mechanical disc brakes, which have great stopping power. The bike is heavy and I ride down a lot of steep hills, so I want to make sure I can stop safely.
I also have disc brakes on my road bike and they are such an improvement over the older style rim brakes.
Handlebars and Grips
The bike comes with a wide and comfortable faux-leather seat and ergonomically shaped faux-leather grips. Since these are the two places that your body comes into the contact with the bike, they need to be comfortable – and they are.
The handlebars are adjustable in height to accommodate different riders. They also fold down for storage.
RadExpand 5 Difference: The RadExpand5 has slightly different handlebars which are more adjustable – they go both forward and backwards as well as up and down. This provides more riding positions and sounds like a great feature.
Seat
The wide seat is the same faux-leather as the grips. The seat also has a metal handle at the back, which I love. I often use it to grab the bike when I'm pulling it out of the garage or maneuvering it around a bike rack to lock it up.
Included Accessories
The RadMini comes with lots of included accessories, which is a great touch. It's so annoying to get a new bike and then have to go looking for accessories that fit it.
The included kickstand is a must since the bike is quite heavy. I find it really easy to use with a flick of my left ankle.
The bike also comes with a low-profile bell already mounted on the handlebars. It's so small that I didn't realize it was there the first few times I rode the bike. However, it is surprisingly loud, which I appreciate, especially on multi-use paths.
Front and rear fenders are also included, which is great since they help keep mud and rain off my legs when I ride in bad weather. Having shopped for fenders for some of my other bikes, I also appreciate how hard it can be to get the right size and install them, so I'm really glad this bike came with them.
I also really love the integrated lights. You can turn the integrated headlamp up front on and off using the control panel. But my favourite feature is that the brake light at the back automatically turns on when you brake – just like a car!
RadExpand 5 Difference: The RadExpand5 comes with a rear rack!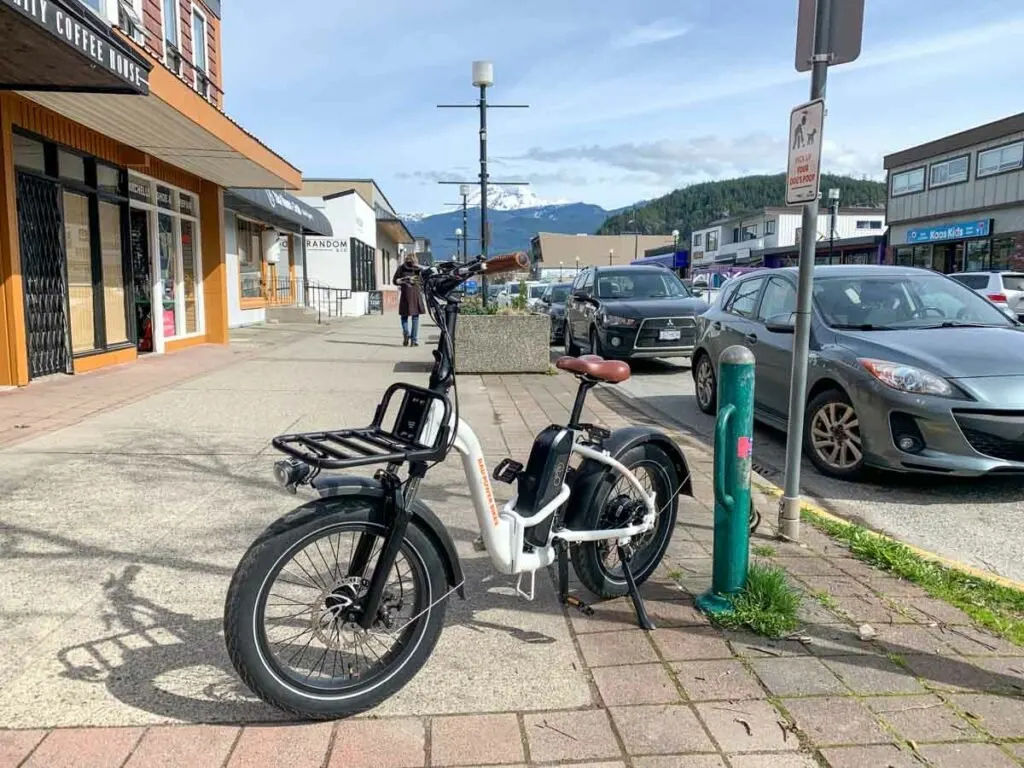 Additional Accessories
Rad Power offers lots of extra accessories that you can purchase separately. So far I have the front rack and front-mounted basket. The racks are really sturdy, with thicker tubing than standard racks.
I've found the front rack and basket really handy for hauling small loads of groceries or doing errands. I also like to plunk my backpack in the basket to prevent getting a sweaty back. I use a few bungee cords from the hardware store to keep everything secure.
The front rack is mounted to the frame of the bike, rather than the wheel, which means that it doesn't make the bike swing sideways or interfere with steering like wheel-mounted front racks.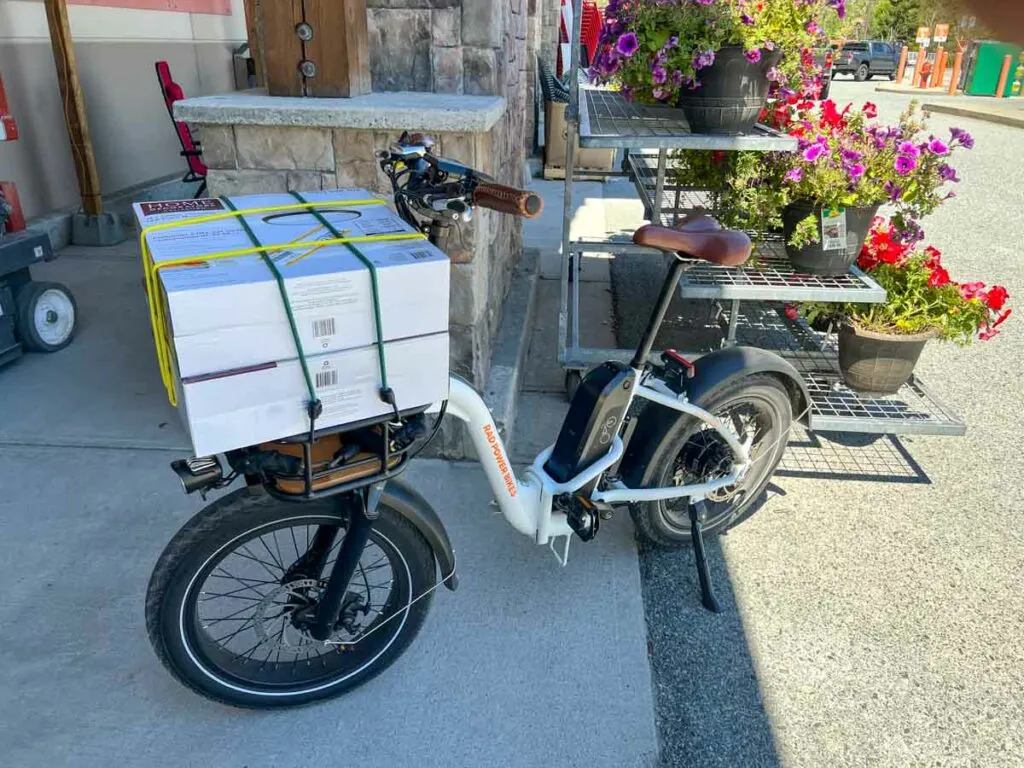 I also recently added the phone mount on my handlebars. I've used other phone mounts before that felt fairly flimsy, but this one is super strong and holds well thanks to metal construction and a screw/clamp locking mechanism.
Rad Power also carries all kinds of bike bags and baskets to fit their racks as well helmets, locks, and accessories specific to their other bikes.
After-Market Accessories
While Rad Power makes tons of accessories for their bikes, sometimes they are out of stock. And some are a bit pricey.
I recently this after-market rear rack when the Rad Power one was out of stock. It fits great and feels really sturdy. The only issue was that I needed to get an extender cable for my rear light to mount properly.
You can find lots of after-market Rad Power accessories on Amazon or at bike shops. Read descriptions and reviews carefully to see if they will work with your bike.
Weight
There's no way to sugar coat it – e-bikes are heavy, and this one is particularly heavy at 69 lbs (31 kg). However, it feels really sturdy for its weight. And the design means that center of gravity is low so the weight is easily manageable.
The weight of the bike makes it a bit of a challenge to lift and maneuever, especially for people who aren't that strong. This could make it difficult to carry up stairs or lift onto a car-mounted bike rack, but having another person will solve that problem. (Heads up: check the max weight of your bike rack. Some lightweight models won't be up to carrying this bike.)
You can also take the battery off the bike to make it a bit lighter to lift. By itself, the battery weighs 7.7 lb/3.5 kg.
RadExpand 5 Difference: The RadExpand 5 weighs 62.5 lbs (28.3 kg). The weight savings comes from changing to a rigid fork from a suspension fork. In the grand scheme of things, it's a small weight savings (4.5 lb/2 kg) on such a heavy bike. But hey: every little bit helps!
RadMini 4 Electric Folding Fat Bike Difference: The RadMini Electric Folding Fat Bike weighs 67 lbs (30 kg) which is slightly less than the RadMini Step-Thru. The difference comes from the different frame design that doesn't need to be as burly and stiff.
Assembly and Set-up
In some cities, you can go to a Rad Power store and buy a fully-assembled bike. If you live near a large city you may also be able to have your bike delivered to you fully-assembled for a fee.
But most Rad Power owners receive their bikes via courier in a box. You then assemble it yourself. That's what I did.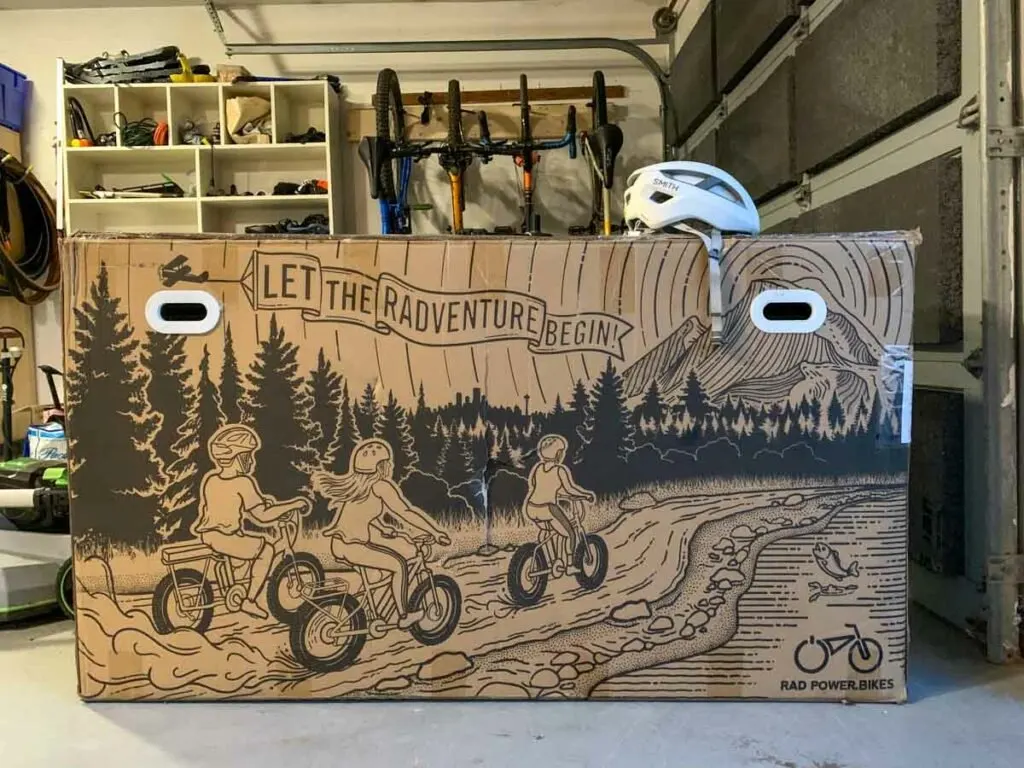 The bike comes in a big box mostly assembled, you just have to do a few things yourself. Rad Power has great videos that walk you through the assembly process. It also comes with a set of tools and a manual.
I had intended to put the bike together myself, but my husband "surprised" me by doing it for me. It took him less than an hour and was so quick that I didn't even realize that's what he was working on in the garage.
The assembly doesn't require that much mechanical know-how. You just have to unfold the stem, attach the handlebars, attach the front wheel, install the pedals, attach the front fender, attach the headlight, and secure the rear fender. Finish by pumping up the tires, adjusting the seat, and turning on the battery.
Reliability and Maintenance
I've owned this bike for about nine months and it has required really minimal maintenance. It is designed to be fairly reliable with user-maintainable parts.
We pumped up the tires in the spring after the bike sat for a few months over the winter. The gears also didn't shift that well for a little bit, but it was an easy fix – just one knob to turn on the derailleur. (Rad Power has great instructions and a video on their website.)
Value
After looking at a bunch of other e-bikes on the market, I think the RadMini (and RadExpand 5) are great value.
For the price ($1499USD/$1799 CAD for the RadMini Step-Thru or Electric Folding Fat Bike; $1599USD/$1849 CAD for the RadExpand 5) you get a great bike that is easy to use and set-up. It also comes with fenders, and in the case of the RadExpand 5, a rear rack too, which is great because each of those are about $100 if you buy them separately.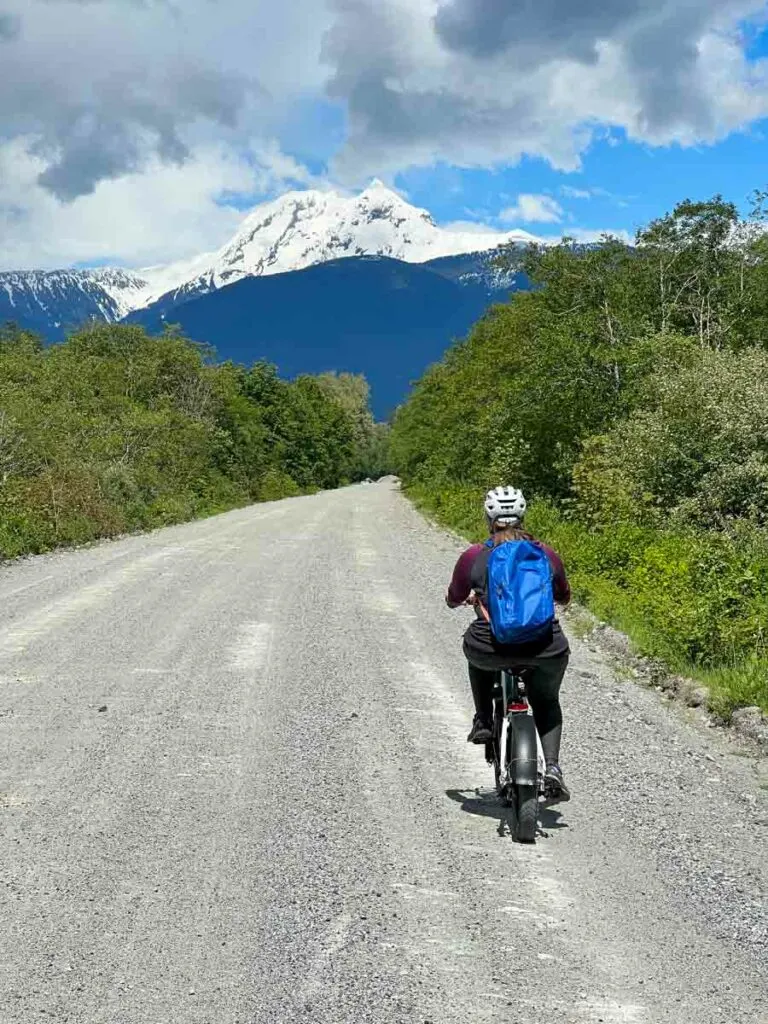 Should You Buy a Rad Power RadMini Step-Thru, RadMini Electric Folding Fat Bike or RadExpand 5?
Overall, I think the Rad Power RadMini Step-Thru is a great e-bike. I'm really happy with it and think it provides great performance. It's also really user-friendly, which I think is important since e-bikes can be very daunting with all kinds of electronics to consider.
E-bikes can also be really expensive and I think that Rad Power has really nailed it with their bikes, providing great basic bikes that work well at a fairly affordable price. They are some of the least expensive e-bikes on the market for their value.
I would definitely recommend Rad Power bikes to anyone interested in an electric bike. However, I don't think a folding bike is a great choice for most people since you likely won't ever fold it.
Instead, I recommend you check out the RadRunner Plus, which is really similar to the RadMini and RadExpand 5 but doesn't fold. The RadRunner Plus is super customizable and comes with a rear rack. It is a bit more expensive though…
So I guess the solution if you're looking to save a bit of money is to get the RadExpand 5 or RadMini Electric Folding Fat Bike and just never fold it – that's what I do with my RadMini Step-Thru 🙂
You may have noticed at the beginning of this post that I received this bike from Rad Power in exchange for a review. After riding it for nine months, I have to say that I can't imagine my life without an e-bike, and if I didn't already own one, I would definitely buy one. And I can also honestly say I would buy a Rad Power e-bike, probably the RadRunner Plus.
E-bike FAQ
Why get an e-bike?
There are lots of reasons to get an e-bike. For a long time, "serious" cyclists considered electric bikes to be "cheating", which honestly is a bit ridiculous. Thankfully, that is changing.
E-bikes are great for older and less fit people since they make biking accessible for more people. And I don't have to tell you that biking is fun, great low-impact exercise, and an alternative to vehicles.
But even if you are young and in good shape, e-bikes are great. You can go faster. You sweat less. And you can carry more cargo with less effort. As well, the pedal-assist boost means you can go further in a day than you would without it since you are expending less energy.
For many people, e-bikes replace a car trip in some situations. As I said, I live at the top of a hill, about 2 km from the nearest store. That means a quick errand run is a long and sweaty undertaking by bike, so I usually drove. But since I've had my RadMini, I've done way more errands by bike.
How do e-bikes work? Do I have to pedal?
E-bikes use a motor powered by a battery. You can turn the motor off and use the bike just like a regular non-electric bike.
With the motor on, some types of e-bikes provide extra power only when you are pedaling. This is called pedal-assist. By law, e-bikes stop providing motor assistance over a certain speed, (20 mph/32 kph). Bikes like these are Class 1 e-bikes.
Some e-bikes have a throttle that you can use to propel the bike forward without pedaling in addition to having pedal assist. These are known as Class 2 e-bikes. Typically, you use the throttle in short bursts to help you up a short hill or to get started after you stop. While you don't have to pedal on this type of e-bike, in practice you will spend at least some of the time pedaling. The Rad Power RadMini and RadExpand are both Class 2 e-bikes.
There are also Class 3 e-bikes that can go up to 28mph/45kph and must have a speedometer. They don't have a throttle so you do have to pedal. These are not very common.
There are also various types of electric scooters or mopeds that look a bit like bikes. You don't have to pedal on those, but depending on your jurisdiction, you may need a drivers or motorcycle license.
How fast can e-bikes go?
Most e-bikes provide pedal assist up to 20mph/32kph. After that, the motor turns off. You can still keep pedaling without the motor, so you might be able to get the bike to go a bit faster than that. And of course, you can coast downhill pretty fast.
Many e-bikes have a speedometer on the digital display. That means that you can see how fast you are going all the time.
Where can you ride an e-bike? Do you need a driver's license?
Check laws in your state or province to be sure, but most jurisdictions consider e-bikes to be just like regular bikes. That means you don't need a driver's licence to ride one. However, in many states or provinces, there is a minimum age – usually between 14 and 18.
In most places, trails and roads open to regular bikes are also open to e-bikes. But check local laws to be sure as some places don't allow e-bikes on shared use paths or in parks.
What to look for in an e-bike?
Different people will want different things in an e-bike. But if you're considering an electric bike for the same reasons I got one (to run errands and make your bike trips around town a little easier), there are a few things to look for in an electric bike.
The type of bike – There are tons out there including mountain bikes and super fast road bikes. I think most people will be happy with a utility bike like the RadMini or a hybrid bike meant for cities.
The dealer – Buy from a bike shop that specializes in e-bikes and has a good reputation.
The price – You don't need a super-expensive electric mountain bike. And you can buy a super cheap e-bike on Amazon… but it will probably break. Look for good value.
Reliability and maintenance – With the motor and battery, there are more things to service on an e-bike. Choose one that is reliable and easy to user-maintain.
Power and battery range – Consider where you typically ride. If you don't have steep hills or bike long distances, maybe you don't need to spend money on a bike with lots of power and a long battery range. (And can save some weight along with money!)
Why did I choose a Rad Power e-bike?
I had heard great things about Rad Power from other e-bike owners. They are based in Seattle and have a store in Vancouver, both of which are a few hours from where I live in Squamish, so their bikes are fairly common here.
I liked that they specialized in making electric bikes and were focused on making biking accessible to more people. A lot of bike companies get caught up in trends and hype, which usually isn't helpful for everyday life. I liked that the Rad Power bikes were designed for regular people who wanted a bike to cruise around town or do errands – because that's what most people are using e-bikes for.
When I dug into reviews on Rad Power bikes, riders praise their affordability and reliability – two things that were really important to me.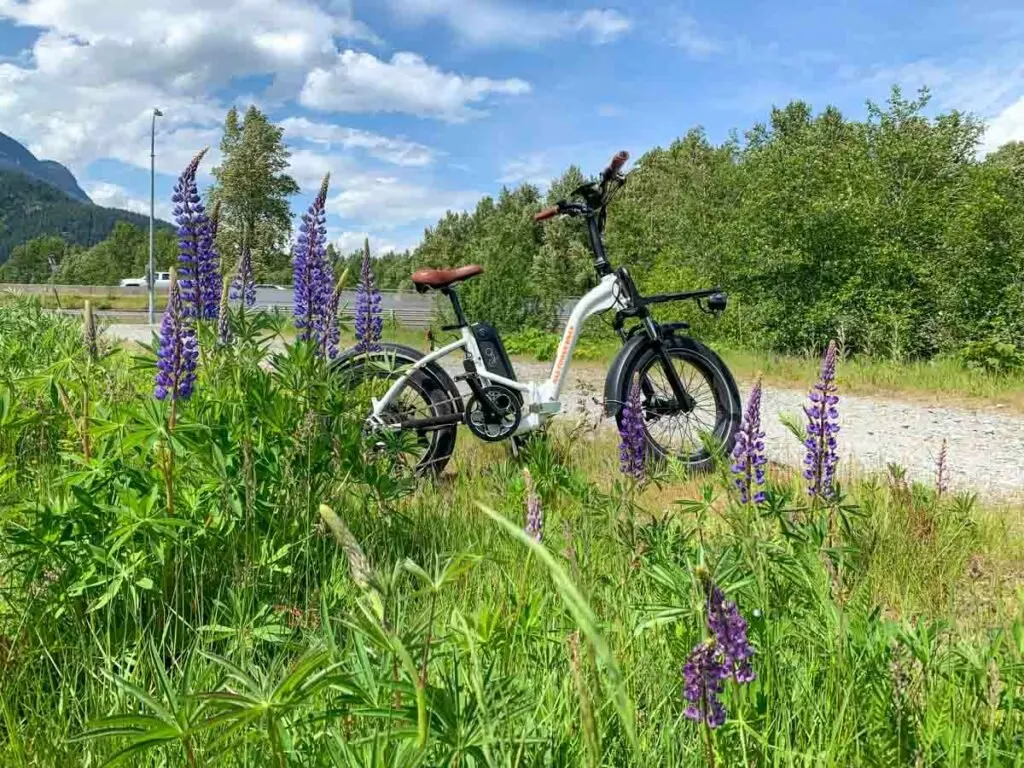 So that's my review of the Rad Power RadMini Step-Thru, which is also kind of a review of the Rad Power RadExpand 5 and Rad Power RadMini Electric Folding Fat Bike too! If you're thinking of getting an electric bike or you have questions, hit me up in the comments. I'm happy to help.
READ NEXT: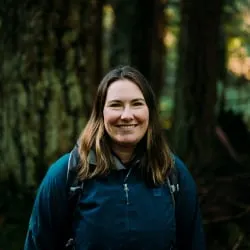 Latest posts by Taryn Eyton
(see all)