The North Coast Trail is a multi-day wilderness hike across the very northern tip of Vancouver Island in British Columbia, Canada. It's a challenging and remote hike through old-growth rainforest, along beaches, and across muddy coastal bogs. The 43-kilometre-long hike is difficult but beautiful. I hiked the trail in 2008 and 2021, so I've put together a full North Coast Trail guide for you. It includes:
how to get to the North Coast Trail, including driving directions and info for booking the water taxi and shuttle van
how much it costs to hike the North Coast Trail
key North Coast Trail safety information on wildlife, tides, and drinking water
information on the history and indigenous context of the North Coast Trail
https://happiestoutdoors.ca/inside-passage-ferry/WANT MORE NORTH COAST TRAIL INFO? Check out these posts:
Hey there: Some of the links in this post are affiliate links, which means I earn a small commission at no cost to you. Thanks for your support. -Taryn
This is a sensitive wilderness area. Learn how to Leave No Trace to keep the wilderness wild. Make sure you are prepared by bringing the 10 Essentials. Get ready for adventure with this checklist of things to do before every hike.
Quick Facts
Location: The northernmost tip of Vancouver Island in British Columbia, Canada in Cape Scott Provincial Park.
Distance: Officially 43.1 km… but probably longer.
Difficulty: Very Challenging
Time: 5-6 days
Cost: About $320 per person. (See How Much Does the North Coast Trail Cost? below for a full breakdown).
Best Time to Go: June to September.
Trail Description
The NCT is a 43-kilometre-long coastal trail that runs across the northern tip of Vancouver Island in British Columbia, Canada, and connects with the Cape Scott Trail. It is a rugged backcountry trail that travels along beaches, through dense rainforest, and across muddy bogs. The trail is in a very remote area with frequent rainstorms and technical terrain, so hiking it can be very challenging. For a detailed description, see my North Coast Trail Section-by-Section Overview.
How Long is the North Coast Trail?
The official length of the North Coast Trail is 43.1 kilometres.
That is the distance from the Shushartie Bay trailhead to the east end of Nissen Bight where the NCT meets the Cape Scott Trail. However, my GPS recorded a total distance of about 48.6 km.
As well, the North Coast Trail ends at Nissen Bight, which is still deep in the backcountry. Most hikers opt to hike another 15.4 km out to the Cape Scott Trail parking lot, making their total hike about 58.5 km (or about 64 km unofficially). (It is also possible to get a water taxi and skip the hike out. See North Coast Trail Water Taxi and Shuttle below for more info.)
How Difficult is the North Coast Trail?
The NCT is one of the most challenging multi-day hikes in British Columbia. I think it's the hardest trail I've done. The terrain is very technical, with lots of mud pits, roots, rocks, and rope-assisted climbs of slippery slopes. Although the distance and elevation gain each day are fairly short, I found the North Coast Trail so difficult because nearly every step requires focus to keep you from falling down.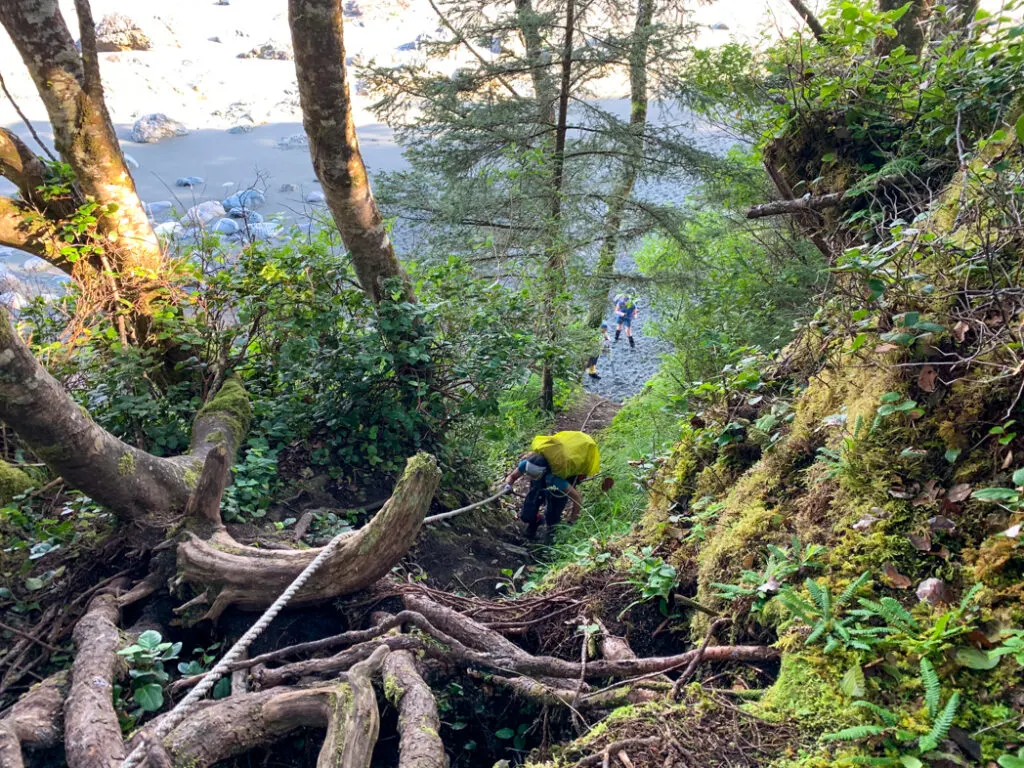 The NCT can also be a mental challenge. Travel times on the trail are quite slow, often less than 2 kilometres per hour, and that can be demoralizing. As well, the fickle North Vancouver Island weather means that rain, fog, and cold temperatures are common.
Many people compare the North Coast Trail to the West Coast Trail. They are similar in that they both traverse the coast of Vancouver Island using a mix of beach and inland trails. However, I think the West Coast Trail (while still challenging) is easier than the NCT because the WCT has more infrastructure (boardwalks and ladders) and the beach walk sections are easier.
Best Time to Hike the North Coast Trail
The trail is open year-round. The best time of year to hike the trail is in June, July, and August since those months have less rain and are warmer with temperatures typically between 8-15°C (46-59°F). However, you should still prepare for rain and fog. I experienced lots of both when I hiked the North Coast Trail in August 2008 and August 2021.
READ NEXT: The Best Weather Apps for Hiking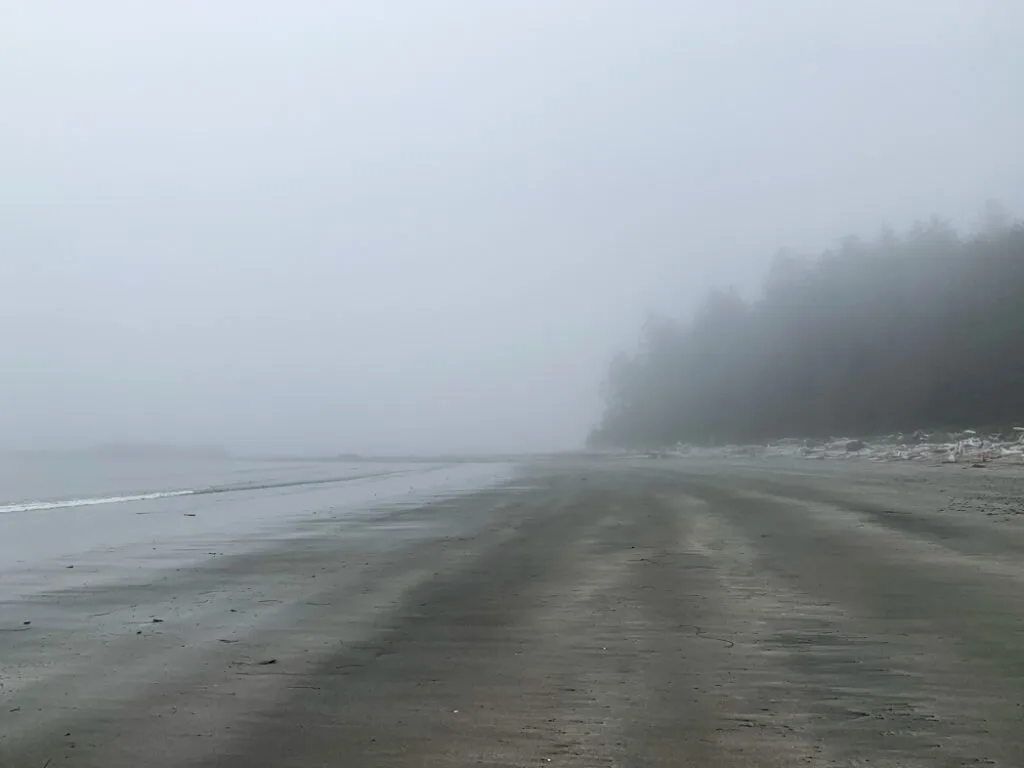 If you want to do an out and back trip on the trail from the Cape Scott Parking lot or you can arrange your own boat, you can hike the trail year-round. However, the water taxi and shuttle only run from mid-April to the end of September, so you will encounter very few hikers on the NCT outside of those months.
The North Coast Trail is one of my picks for the best spring backpacking trips in British Columbia.
Join the Cape Scott Park Facebook group
How Long Does it Take to Hike the North Coast Trail?
Most hikers complete the NCT in six days. A typical North Coast Trail itinerary is:
Day 1 – Shushartie Bay to Skinner Creek: 8.1 km
Day 2 – Skinner Creek to Cape Sutil: 7.9 km
Day 3 – Cape Sutil to Irony Creek (Shuttleworth Bight): 7.8 km
Day 4 – Irony Creek (Shuttleworth Bight) to Laura Creek: 11.8 km
Day 5 – Laura Creek to Nissen Bight: 7.5 km
Day 6 – Nissen Bight to Cape Scott Trail Parking Lot: 15.4 km
However, you can shorten it to five days if you arrange a water taxi pick up at Fisherman's Bay (near Nissen Bight). As well, many hikers tack on a trip to Cape Scott, which adds an extra day or two.
For a more detailed itinerary and other North Coast Trail itinerary options, see my North Coast Trail Itinerary and Section-by-Section Overview.
Which Direction to Hike the North Coast Trail?
Most hikers hike from east to west, starting at Shushartie Bay and finishing at Nissen Bight. The water taxi and shuttle schedules are lined up to work in that direction, with a morning drop-off at Shushartie and an afternoon pick-up at Cape Scott Trailhead parking lot. You can hike the other way, but logistics are more complicated.
North Coast Trail Reservations and Permits
Unlike popular hikes like the West Coast Trail or Berg Lake, you do NOT need to make reservations for the North Coast Trail. There is no limit to how many hikers can be on the trail. However, you do have to get a backcountry camping permit from BC Parks. Permits are $10/person/night and can be purchased up to 2 weeks before your trip.
BUT, due to the location of the trailheads, you will need to make reservations for the water taxi and/or shuttle bus. On popular dates, they sell out. And in the spring and fall, they may not have enough passengers to run. See the Water Taxi and Shuttle section below for more info.
READ NEXT: How to Make Backcountry Camping Reservations in BC
How Much Does the North Coast Trail Cost?
The short answer: About $320 per person.
The long answer: It depends.
Three things contribute to the cost of the NCT: water taxi fees, shuttle fees, and trail fees. Here is a breakdown of the typical costs for one person on a typical six-day/five-night trip.
Trail fees: $10/person/night x 5 nights = $50
Water taxi from Port Hardy to Shushartie Bay = $150
Shuttle bus from Cape Scott Parking lot to Port Hardy = $120
If you can arrange your own transportation, you'll only have to pay trail fees. And if you want the water taxi to drop you off or pick you up at Cape Sutil or Fisherman's Bay, your water taxi fees will be more expensive.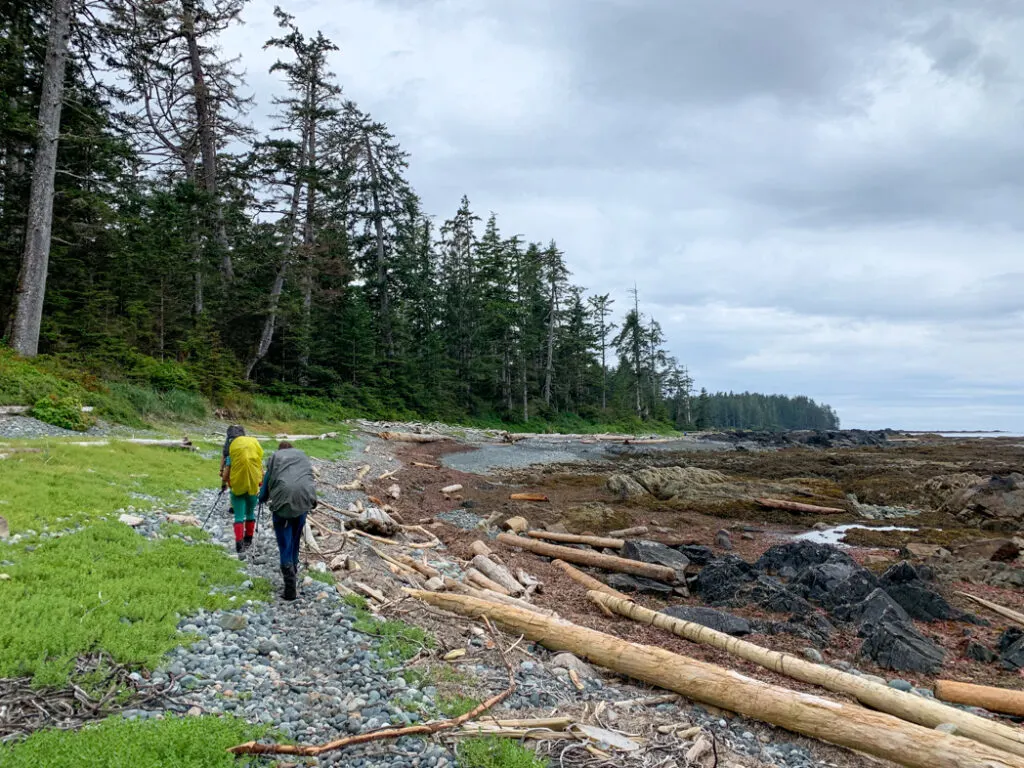 How to Get to the North Coast Trail
Getting to Port Hardy
The North Coast Trail is located in Cape Scott Provincial Park at the very northern tip of Vancouver Island. The drive from Nanaimo to Port Hardy takes just over 4 hours via the Island Highway (Highway 19).
The North Coast Trail is also on my list backpacking trips in BC you can get to without a car. There is a shuttle van service from Campbell River to Port Hardy. You can also fly to Port Hardy from Vancouver with Pacific Coastal Airlines.
North Coast Trail Water Taxi
The North Coast Trail water taxi is operated by Cape Scott Water Taxi and leaves from the Port Hardy Marina (behind the Quarterdeck Inn) most mornings between mid-April and late September. It's a comfortable boat with a heated cabin that seats 12 passengers. Backpacks ride in the cabin or on the deck under a tarp.
Tip: Secure your trekking poles to your pack, and put on your rain cover before you get on board. And don't forget your camera. We spotted dozens of sea otters, a pod of porpoises, and some whales on our water taxi trip.
Advance bookings are essential as the boat can fill up during July and August or can be too empty to run at other times. Get in touch with Babe, who does bookings, to see if there is availability for your dates. If possible, be flexible so that you can be grouped together with another party.
Cape Scott Water Taxi offers secure parking at their office at the Port Hardy Marina. It costs $30 per week. They ask that you leave them your keys since they may have to double or triple park cars to fit everyone in. We met a couple on the trail who had a hiking boot fall apart on the first day. They radioed the water taxi operator, who had their car keys. The water taxi was able to retrieve a pair of trail runners from their car and deliver them to the hikers at Shushartie Bay later the same day since they had another boat going out!
Water Taxi To/From Shushartie Bay
Most hikers use the North Coast Trail water taxi to start the trail at Shushartie Bay. The trip from Port Hardy takes about an hour. The ride costs $150 per person and the boat will only run if there are at least 4 passengers. Most days the water taxi leaves at 7 am, but there are also additional trips at 9 am (or even later) if there is enough demand.
There is no dock at Shushartie Bay. Instead, the boat captain noses into a large rock next to deep water. Hikers scramble off the front of the boat onto the rocks, which are covered in barnacles and seaweed. It's a slippery start to the trail!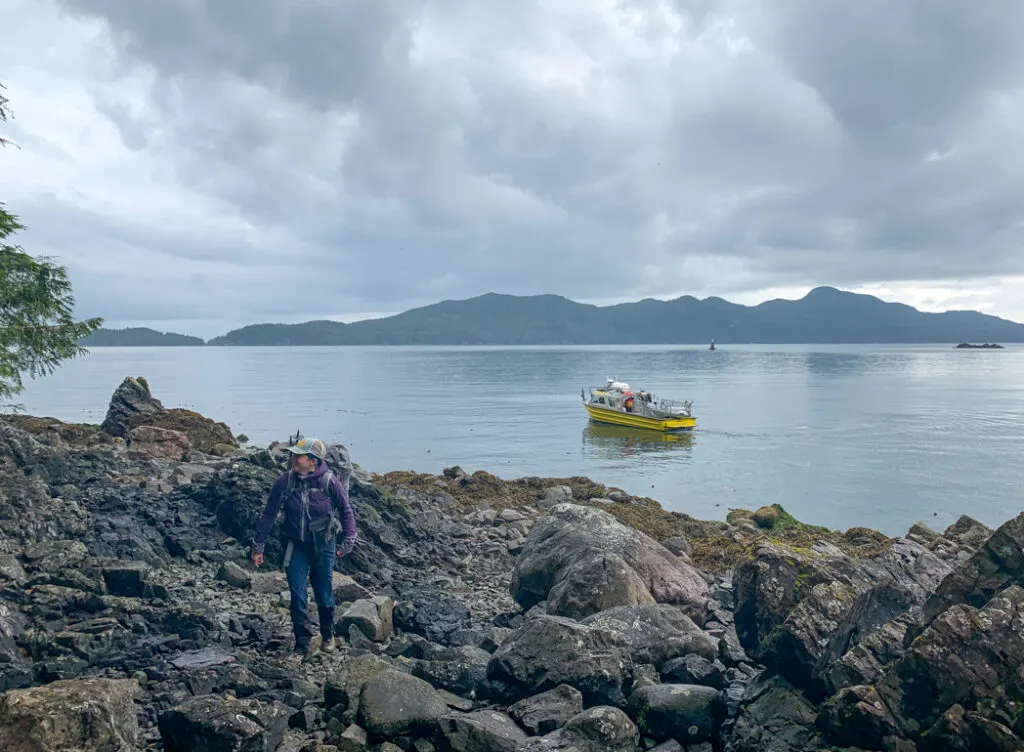 Note: There are old logging roads that reach the Shushartie River estuary at the back of Shushartie Bay. However, they are badly overgrown and there is no trail through the sensitive estuary ecosystem, so you can only reach the trailhead by boat.
Water Taxi To/From Cape Sutil
Some hikers choose to bypass the tough first two days of the trail by starting or finishing at Cape Sutil. The water taxi from Cape Sutil to Port Hardy takes about 90 minutes and costs $160 per person. There is a 5 passenger minimum for the trip, but they will often tack on a Cape Sutil trip off with a Shushartie or Fisherman's Bay one.
The boat drops off passengers on the rocks at a small cove just north of the main camping beach at Cape Sutil. A short, rough trail over a headland leads to the North Coast Trail. In calm weather, they will drop you off on the rocks and in rougher weather, they will use a small dingy to transfer you from the water taxi to shore.
Note: The water taxi can only land at Cape Sutil at high tide so pick-up and drop-off times may be limited.
Water Taxi To/From Fisherman Bay
You can skip the walk out to the Cape Scott Trailhead by scheduling a water taxi pickup or drop off at Fisherman Bay. It is a small cove just west of Nissen Bight. In the Danish settler days, it was their main port. To get there, follow the trail south from Nissen Bight for a few minutes, then take the right fork to head to the small gravel beach.
The trip from Fisherman Bay to Port Hardy takes about 2 hours and costs $200 per person. There is a 6 person minimum for the trip. Since Fisherman Bay is a steep gravel beach, landing here is a challenge. The water taxi captain will run the boat into the beach, then use the engine to hold it there while a deckhand lowers a ladder off the bow. Hikers scramble up the ladder onto the boat. This method only works in calm water – in rough water they may have to use a small dingy to transfer passengers to the boat.
Note: The water taxi can only land at Fisherman Bay at high tide so pick up and drop off times may be limited.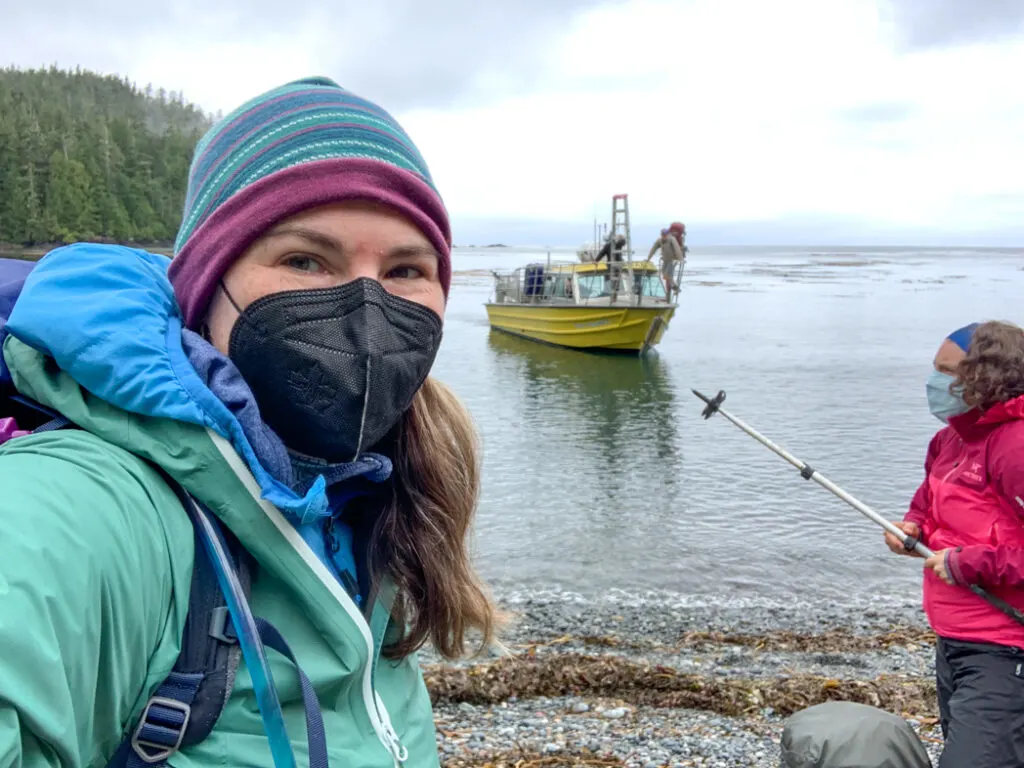 North Coast Trail Shuttle Bus
Most hikers choose to end their journey with a trip on the North Coast Trail shuttle bus, operated by Cape Scott Water Taxi. The shuttle van seats 10 passengers and requires a minimum of three people to run. The shuttle bus picks up hikers from the Cape Scott Trailhead parking lot daily at 1 pm. The ride back to Port Hardy takes about two hours.
Driving to the Cape Scott Trailhead
If you want to hike the trail as an out-and-back trip (known as a yo-yo) or you have arranged other trip logistics on your own, you can drive yourself to the Cape Scott Trailhead. It's a two-hour drive from Port Hardy on gravel logging roads. They are usually fine for 2WD vehicles, but they can be dusty, bumpy, and muddy. Bring a spare tire and be prepared to share the road with fast-moving, heavily-loaded logging trucks. See my guide to Cape Scott for full driving directions.
Where to Stay Near the North Coast Trail
Since most hikers start the trail with a water taxi in the morning, it makes sense to stay overnight in Port Hardy. The closes hotels to the dock are the Glen Lyon Inn and the Quarterdeck Inn. I've stayed at both and they both have great water views. I've also stayed at the indigenous-owned Kwa'lilas Hotel a few minutes away. It's gorgeous! If you're on a budget, the North Coast Trail Backpackers Hostel gets good reviews. Be sure to book in advance as hotels are often full in the summer on days when the BC Ferry to Prince Rupert is in port.
Tip: If you have time, plan to spend a few more days on northern Vancouver Island to experience the awesome whale watching, kayaking, indigenous sites, and grizzly bear tours. Read my post about the best things to do on North Vancouver Island.
Join the Backpacking in BC Facebook Group
North Coast Trail Maps and Books
There is a basic map of the North Coast Trail on the BC Parks website, but it doesn't provide enough detail for navigation or trip planning.
I've also made a a custom Google Map for you. It has all the campsites and key points like trailheads, water taxi, and shuttle bus pick up spots.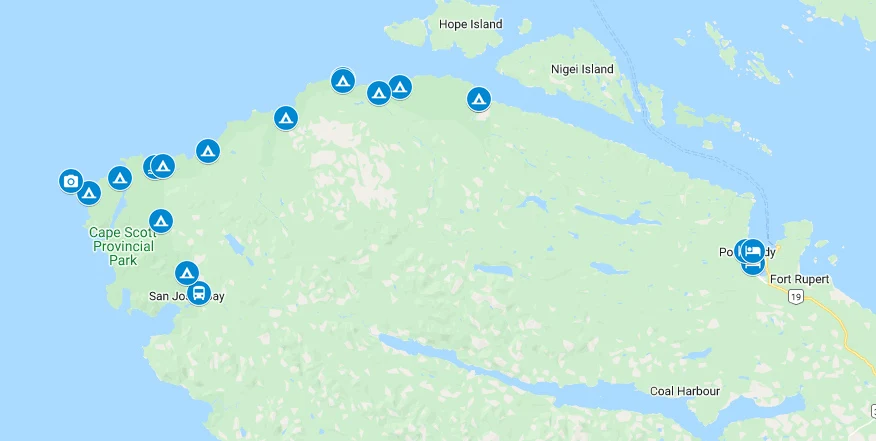 For travel on the trail, you'll need a paper map and/or a GPS. There are two maps of the North Coast Trail available: John Baldwin's North Coast Trail Topographic Map and The North Coast Trail Map from Wildcoast Magazine.
I have both maps. They are both printed on waterproof, tearproof paper. I like the Wildcoast map much more, as it has a lot more information including a day-by-day description with key landmarks and hazards. The John Baldwin map is mostly just a topographic map with a few symbols overlaid on it. You can buy both maps online or at the Cape Scott Water Taxi office.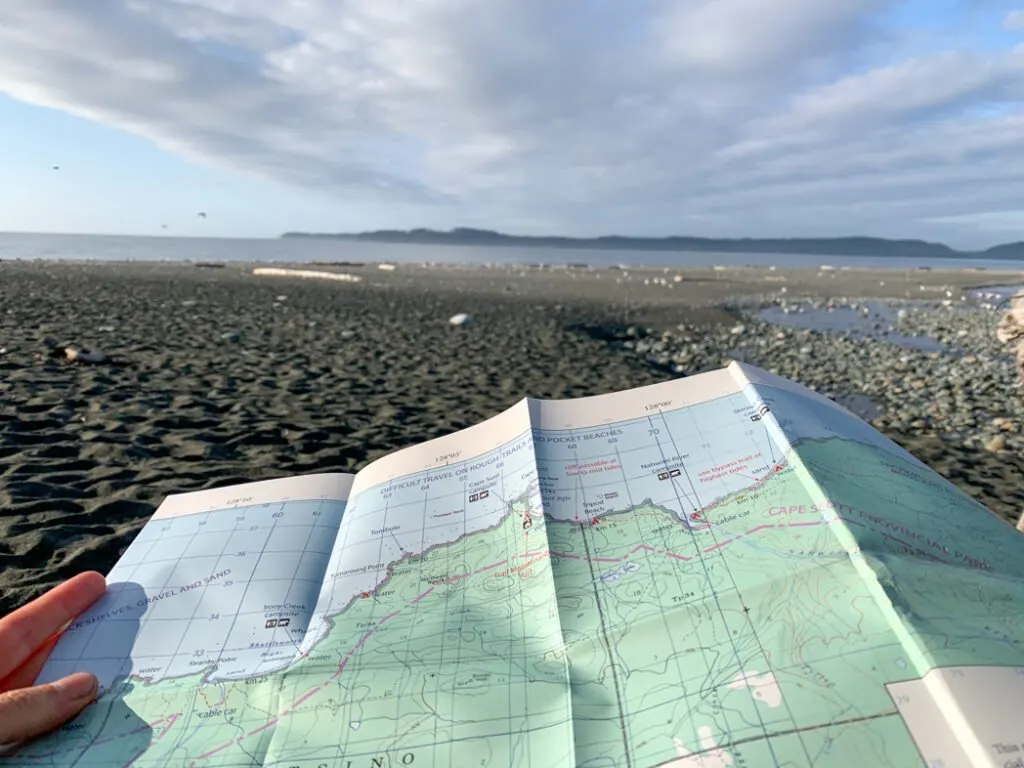 On my trip, I also used the Gaia GPS app. It was really helpful for tracking our progress, especially during the long inland sections that seemed to go by really slowly. (Psst! Want to save 20% off a premium Gaia annual membership, which includes the maps I used on my trip? Use this link.)
If you're interested in the history of the Cape Scott area or want more info about the natural history of the area, pick up a copy of Cape Scot and the North Coast Trail: Hiking Vancouver Island's Wildest Coast by Maria I. Bremner. It's a great book full of lots of fun details and great photos. You can find it at MEC, Amazon, and Chapters Indigo.
What to Pack for the North Coast Trail
You will need to be totally self-sufficient on the North Coast Trail and carry in everything you will need for your trip – right down to the toilet paper! The last place to buy supplies is in Port Hardy. It has a grocery store and the hardware store sells a small selection of outdoor gear.
To avoid carrying a stupidly heavy pack, choose lightweight hiking gear rather than heavy conventional camping gear. The lighter you can get your pack, the happier you will be. In general, aim for a pack weight that is 1/3 to 1/4 of your body weight or less. The weather on the coast is also often very wet so be sure to pack accordingly. You may also want a pair of sturdy work gloves to use on the ropes and cable cars.
For lots more information, check out my West Coast Trail packing list, since the gear list is identical to what you'll need to pack for the North Coast Trail. It's a complete guide to everything you need to bring including specific gear recommendations from my hikes.
Camping on the North Coast Trail
There are six official campgrounds on the North Coast Trail, and then three more along the Cape Scott Trail in between the end of the North Coast Trail and the Cape Scott Trailhead parking lot. They all have:
a pit toilet
access to fresh drinking water from a nearby creek
metal food storage lockers
cleared campsites in the forest AND/OR campsites on the beach sand (Be sure to pitch your tent WELL above the high tide line.)
All campsites are first-come, first-served. At busy times of the year, some of the campgrounds can get full. See my Section-by-Section Overview for full details on each campground.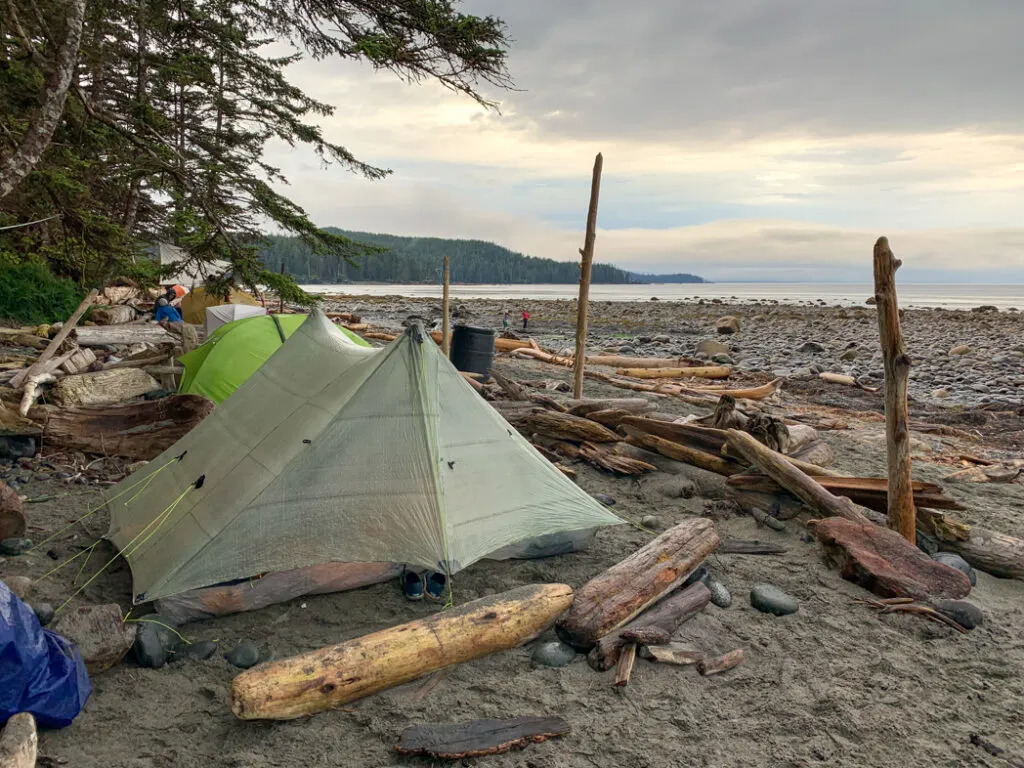 Join the Cape Scott Park Facebook group
Drinking-Water Sources on the North Coast Trail
The terrain on the North Coast Trail is coastal bog, which means that freshwater can be hard to find, especially late in the summer and during periods of dry weather. All of the freshwater has a dark tea colour from the tannins in the soil. You should treat all water by purifying, filtering, or boiling it. If you use a filter, consider straining the water through a clean bandana or coffee filter first to get some of the silt and tannins out. Your filter may also get clogged, so make sure you know how to clean it.
Here are the main places to find water along the trail and at the campgrounds. See the section-by-section trail description for more details:
Skinner Creek
Nahwitti River (but go upstream and avoid high tide so you don't collect saltwater)
Tripod Beach
Cape Sutil
Irony Creek (Shuttleworth Bight)
Laura Creek
Dakota Creek
Nissen Bight (west side)
Fisherman River
Eric Lake
Tides on the North Coast Trail
You will need to bring a tide table and pay attention to the tides on the North Coast Trail. Use the Cape Scott tide table available from Fisheries and Oceans Canada. Make sure you print out the predicted tide height for each hour of the day. It's much more helpful than just using the daily highs and lows.
There are a few tidal obstacles on the North Coast Trail where the beach is impassable at high tides. Most have rough inland bypass trails, but a few do not. The main tidal obstacles are located just west of Skinner Creek and at Tripod Beach. For full details, see my section-by-section North Coast Trail overview.
You will also want to refer to tide tables when you camp on the beach to ensure that you pitch your tent well above the high tide line.
How to Stay Safe on the North Coast Trail
The North Coast Trail tackles some pretty rugged terrain. And the trail is in a remote area where getting help is difficult. Make sure you are physically and mentally prepared. Take a first aid kit.
There is no cell service so consider bringing a satellite messenger or marine radio. I brought my Garmin inReach Mini on my 2021 North Coast Trail hike. Thankfully we didn't need it, but we did assist a pair of hikers who were unprepared for the difficulty of the terrain. We helped them call a water taxi at Cape Sutil as they were too tired to complete the remainder of the trail without further aggravating a leg injury.
Leave a trip plan at home with a friend or family member. That way someone knows where you are going and when you expect to be back.
Most injuries on the trail happen when the weather is bad or hikers are tired. (Or both!) Be prepared to turn back or stop and make camp if the weather gets too bad or you are having difficulty with the hike. If you keep pushing forward, you may just make your situation worse by injuring yourself.
Take extra time on ropes, bridges, and cable cars. Watch your step on the boardwalks or any wooden structure – they can be REALLY slippery.
Be careful crossing streams. Make sure they aren't flooding and if possible, cross at low tide. Speaking of tides, always keep your tide table handy and consult it along with your map whenever you choose a beach route. Only take the official marked beach routes – other routes have dangerous cliffs and surge channels.
Wildlife
The North Coast Trail is a remote wilderness area so it's home to lots of wildlife. You might encounter a black bear, wolf, or cougar. I've hiked the trail twice and both times we have seen quite a few bears and some wolf tracks. In 2021 we counted 39 piles of fresh bear scat between Shuttleworth Bight and Laura Creek and saw three bears near Laura Creek. The area seems to be a hot spot for bear activity.
To minimize the risk of a negative encounter, hike in groups, make lots of noise, and carry bear spray just in case. At campgrounds, store your food and toiletries in the bear bins and camp well away from your cooking area. Do not camp near animal carcasses. (On my first North Coast Trail trip in 2008 we woke up one morning to find a bear eating a seal carcass on the beach near our tent! It had washed up overnight.) If you want more info, I've got lots more bear safety tips for hikers and backpackers.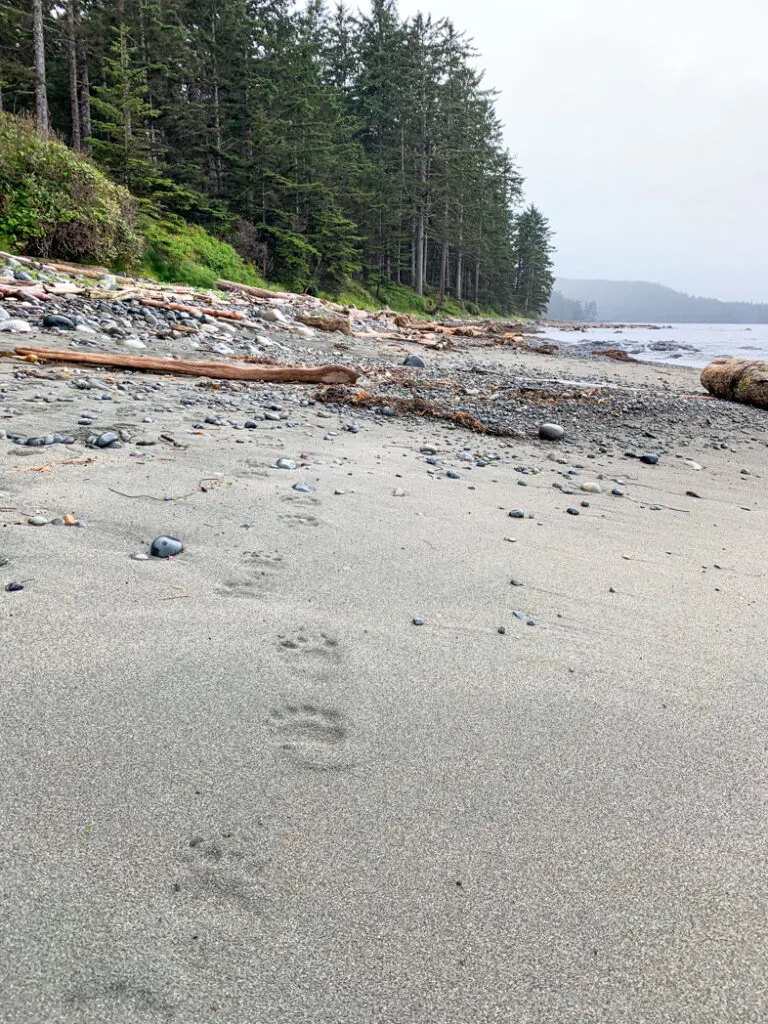 There is also lots of marine life just offshore along the North Coast Trail. Last time I hiked the trail we spotted grey whales and sea otters feeding near Nahwitti River. There are also lots of curious seals surfacing along the beaches. You can also spy on sea lion colonies on rocky islets in a few places. Bring a pair of binoculars to get a better look. My husband brought a compact GoSky Titan monocular that he found on Amazon. It's pretty light and not too expensive, but it still has 12×50 magnification.
Trail Rules
Dogs: BC Parks doesn't allow dogs on the North Coast Trail. The area has a large wolf population. Wolves are very territorial and will attack dogs since they see them as a threat.
Beachcombing: You aren't allowed to take home anything natural from the trail. That includes shells, rocks, sand, wood, etc. However, you are encouraged to take home anything man-made, such as fishing floats. (I have one hanging in my home office!)
Smoking, vaping, and cannabis: Smoking tobacco and cannabis, using e-cigarettes, and vaping are not permitted on the North Coast Trail or in any BC Park.
Drones: Drones are not allowed on the North Coast Trail or in any BC Parks without a specific permit, issued only to licenced drone pilots.
Campfires: Campfires are allowed on the North Coast Trail as long as there is no fire ban for that part of Vancouver Island. (Check the BC Fire Ban website before you go. Cape Scott is in the Coastal Region.)
Build your campfire in an existing fire ring or make one below the high tide line. Make a small fire and don't burn big logs so that there is lots of wood left for everyone. Recently I learned that burning driftwood can create toxic smoke from the salt build-up in the logs. So you may want to skip the campfire entirely.
When you are done, use water to douse your fire to make sure it is completely out. Don't smother your fire with sand. It can continue to smoulder under the sand and can injure people. During my 2020 trip to Cape Scott, a 12-year-old boy had to be evacuated by helicopter after he burned his foot by stepping in embers from an old campfire!
Coastal Hiking Tips
Coastal hiking and backpacking are a lot different than hiking in the forest or mountains. Head on over to my coastal hiking tips post. After over 15 coastal hiking trips to beaches in British Columbia and Washington, I've got tons of coastal hiking pointers for you… including how to cope with the EPIC MUD!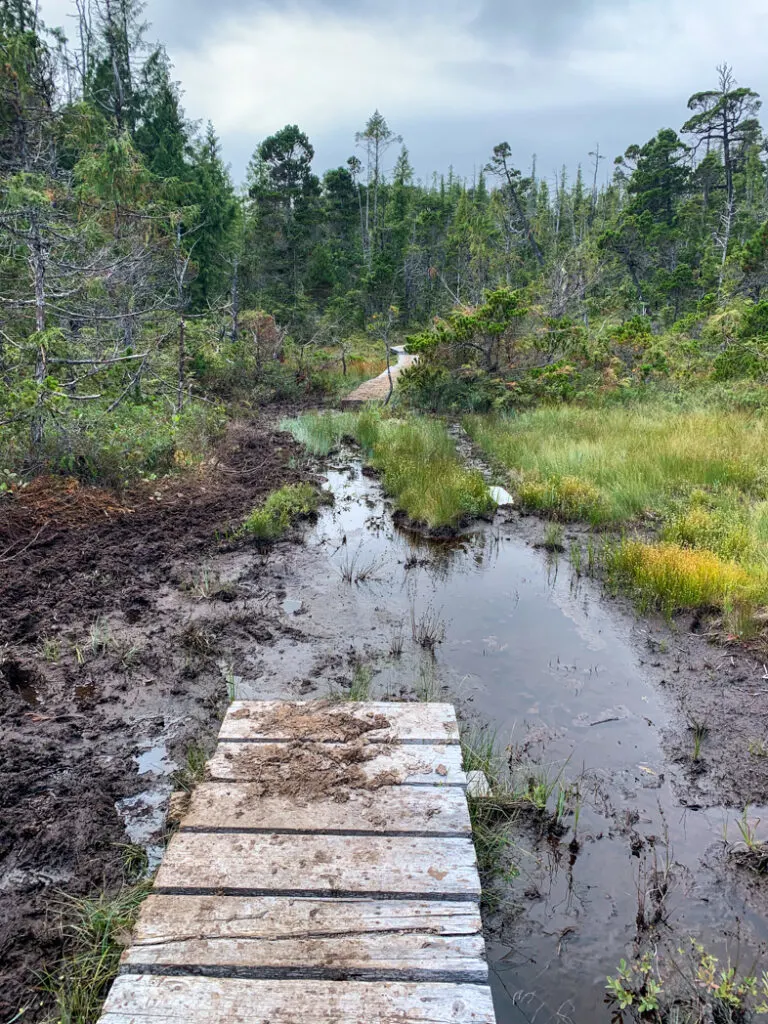 Indigenous Context
Indigenous people have lived on northern Vancouver Island along the present-day North Coast Trail since time immemorial. The area is in the traditional territory of the Kwakwa̱ka̱'wakw people. They had village sites at the head of Shushartie Bay (Khatis), at Cape Sutil (Nahwitti), and on Shuttleworth Bight (Go'saa), as well as other cultural sites including burial grounds, shell middens, pictographs, and fish traps.
In the early 1800s, European fur traders began visiting the area to collect sea otter pelts. The indigenous locals were exposed to smallpox and tuberculosis, which devastated their populations. The fur trade also disrupted their culture and caused inter-tribal conflict.
Relations between Europeans and indigenous people were somewhat cooperative until 1850 when the British shelled the village of Nahwitti and burned it to the ground after the residents were accused of harbouring escaped fugitives. The survivors moved to Bull Harbour on nearby Hope Island where there is still a small settlement today.
For more information about the indigenous context of northern Vancouver Island, be sure to visit the U'mista Cultural Centre in Alert Bay, which is one of my recommendations for the best things to do on North Vancouver Island. You can also find info in Maria I. Bremner's excellent book, Cape Scott and the North Coast Trail.
Trail History
Following the fur trade era in the late 1800s, Danish settlers began colonizing the Cape Scott and North Coast Trail areas. They cleared brush and built farms, stores, and schools as well as trails linking their settlements together. Today, you can visit the remains of these sites on the Cape Scott Trail.
Despite their best efforts, the Danish settlement was not successful, mostly due to the lack of a road. In 1910 new settlers from elsewhere in Canada made a second settlement attempt urged on by a government scheme that gave vacant land to settlers at a discounted rate. Many began farming in the Cape Scott area and along the Stranby River on the present-day North Coast Trail. This settlement was also unsuccessful and by the 1920s, most had left the area.
The Cape Scott area became a provincial park in 1973. In 1995 the North Coast Trail area was added to the park. Planning for the North Coast Trail began in the early 2000s as a way to diversify the North Vancouver Island economy and branch out into eco-tourism.
The North Coast Trail officially opened in spring 2008. I was one of the first 100 people to travel the length of the route when I hiked it for the first time in August 2008. In some places, the route follows original settlers' trails, and in others trail crews forged new paths through the forest and bogs.
Join the Backpacking in BC Facebook Group
The North Coast Trail is a unique challenge and a gorgeous place, especially in good weather. This post and its companion, the section-by-section overview of the North Coast Trail should give you all the info you need to have a safe and fun hike. If you have questions about the North Coast Trail, ask them in the comments. I'd love to help!
READ NEXT:
MORE VANCOUVER ISLAND POSTS: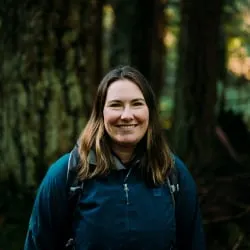 Latest posts by Taryn Eyton
(see all)