Vancouver Island is pretty special. It's a huge island off the west coast of British Columbia. But most visitors tend to stick to the well-known spots on the southern end. Which is really too bad because north Vancouver Island is actually my favourite part. It's off the beaten path so it feels a bit wilder: Tiny towns, lush rainforest, great hiking, camping and kayaking, and SO MUCH WILDLIFE. Northern Vancouver Island is the place to go if you want to see whales, bears, sea lions, porpoises, and more.
I've made six trips to north Vancouver Island over the years, and each time I discover another incredible place. I haven't seen everything there is to see on the north end of the Island yet, but believe me… I'm trying! In this guide, I'll give you all my insider info on the best things to do on north Vancouver Island as well as where to stay and where to eat.
Hey there: Thanks so much to At the Water's Edge Adventures, BC Ferries, and Vancouver Island North Tourism for hosting me on this trip. All opinions in this post are my own. Some of the links in this post are affiliate links, which means I earn a small commission at no extra cost to you if you make a purchase. Thanks for supporting my website! -Taryn
Heads up:
North Vancouver Island is full of sensitive wilderness areas. Learn how to
Leave No Trace
before you go to keep the wilderness wild. Make sure you are prepared for an emergency by bringing the
10 Essentials
on every hiking trip.
North Vancouver Island Basics
Location
North Vancouver Island is located… on the northern end of Vancouver Island. 😉 (Thanks Captain Obvious!) Since most of Vancouver Island's population is clustered around the southern tip, the definition of which part of Vancouver Island is the northern part can get pretty broad. (Some people think it's anything north of Nanaimo which isn't even half way up the island!) In general, there is no dispute that anything north of the town of Campbell River is considered Northern Vancouver Island. So that's the region I'm going to focus on in this post.
How to Get to North Vancouver Island
The easiest way to get to North Vancouver Island is by car. Highway 19, also known as the Island Highway, runs the length of Vancouver Island from Nanaimo in the south all the way past Campbell River to Port Hardy in the north. If you're coming from the mainland, you can take a BC ferry from the Vancouver area to Nanaimo, then drive north from there. The drive from Nanaimo to Port Hardy takes about 4 hours. It's also possible to fly to Vancouver Island via charter flights between Vancouver and Port Hardy.
North Vancouver Island Weather
Northern Vancouver Island has a wet maritime climate. The area gets a LOT of rain between October and March. The driest months are July and August, but May, June, and early September can be nice too. While it's not a warm place, it never gets that cold either. In July and August, the average temperature is between 10 and 18C (50-64F). Between November and March, the average temperature is between 1 and 8C (34-46F). In general, expect rain and chilly weather at any time of year. But you could also luck out. This last year I had a pretty much rain-free trip to Cape Scott and a kayaking trip in the Johnstone Strait where we saw temperatures up to 25C (77F)!
Indigenous Context
Northern Vancouver Island has been home to several indigenous groups since time immemorial and they still live here today. The Kwakwaka'wakw have traditional territory on the entire northern end of Vancouver Island, extending into the islands of the Johnstone Strait and the adjoining mainland. On the west coast of Vancouver Island, they share their territory with the Quatsino people. Further south near Sayward, Kwakwaka'wakw territory overlaps with the We Wai Kai Nation, the K'omoks Nation, and the We Wai Kum Nation. Consider supporting indigenous-owned businesses on your trip to northern Vancouver Island. I've got several recommendations in this post.
North Vancouver Island Map
I made a custom google map for you that includes everything I mention in this post. Enjoy! This map is all you'll need if you plan to stick to the paved roads and major towns. However, if you are venturing off onto any of the gravel roads, I highly recommend you bring a copy of the Vancouver Island BC Backroad Map Book so you don't get lost. (There's no cell service outside of the towns.)
Things to do in North Vancouver Island
Northern Vancouver Island is a huge area, with lots of things to do. My list of things to do in North Vancouver Island is set out in geographic order, from south to north, in the order you could visit them if you were driving up the Island Highway towards Port Hardy.
Visit Sayward and Kelsey Bay
The tiny logging-oriented village of Sayward has been around since the 1890s. Originally only accessed by boat, today it is connected by road to the Island Highway. Drive the short spur road into town to visit the Cable Cookhouse, a local cafe that is completely wrapped in steel logging cables. Continue through town to the port of Kelsey Bay. The wharf here is a popular place to fish or to just enjoy the view across the Johnstone Strait.
Learn About Logging Railways in Woss
Woss is another tiny logging town just off the Island Highway. It has the unique distinction of being home to the last operating logging railway in North America. After a tragic accident in 2017, the railway finally closed after 100 years of operation. Today, you can drive into town to visit historic Steam Locomotive 113. A nearby pavilion has interpretive panels where you can learn about the history of railway logging. There is currently talk of turning the 90 km-long railway into a biking and hiking trail, which would be amazing as it cuts through some real wilderness.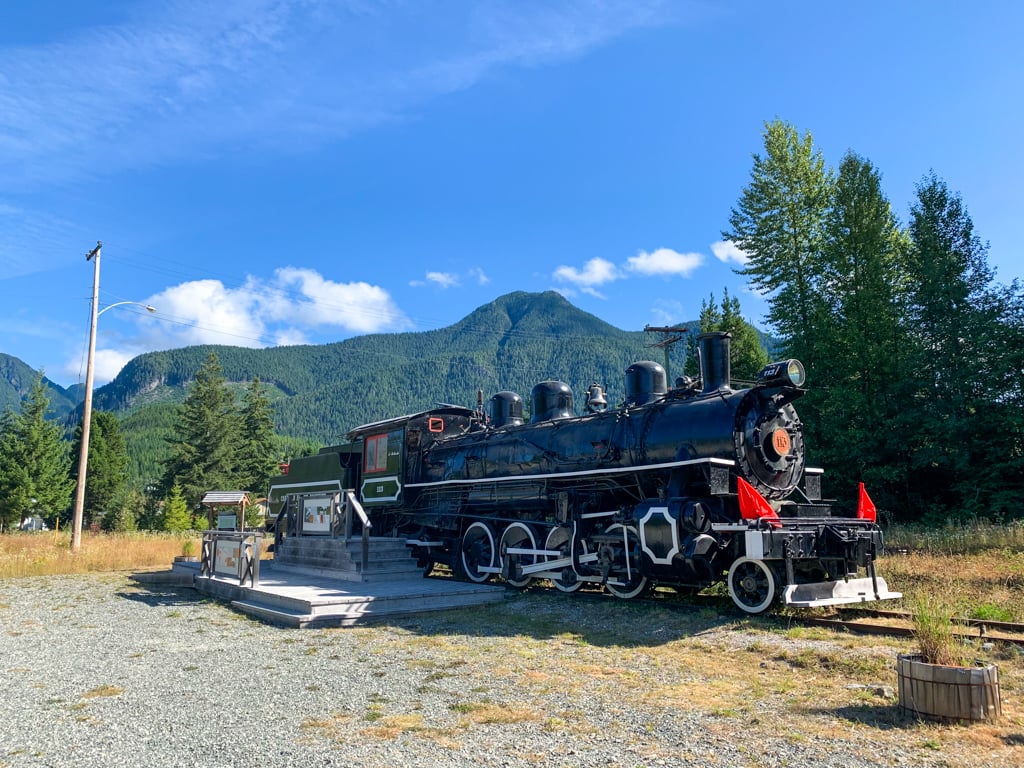 Little Huson Caves
Despite being just 20 minutes from highway 19, I have never visited Little Huson Caves. In fact, until recently I didn't know they existed. There are tons of caves on Vancouver Island, but these are some of the easiest to visit. It's a short walk to several viewing platforms where you can see the caves and natural rock arches. This place is definitely going on my list for my next visit to northern Vancouver Island.
Stroll the Boardwalk at Telegraph Cove
Telegraph Cove used to be the northern end of a telegraph line that stretched the length of Vancouver Island. It slowly changed from a telegraph station, into a fishing and cannery village, and today it is an eco-tourism hub. It's definitely worth the detour off the highway – it's really cute! Stroll the wooden boardwalk past historic buildings to the Whale Museum or grab a drink at the cafe and soak up the views. Telegraph Cove is also a popular launching spot for fishing boats, whale watching, and kayaking tours.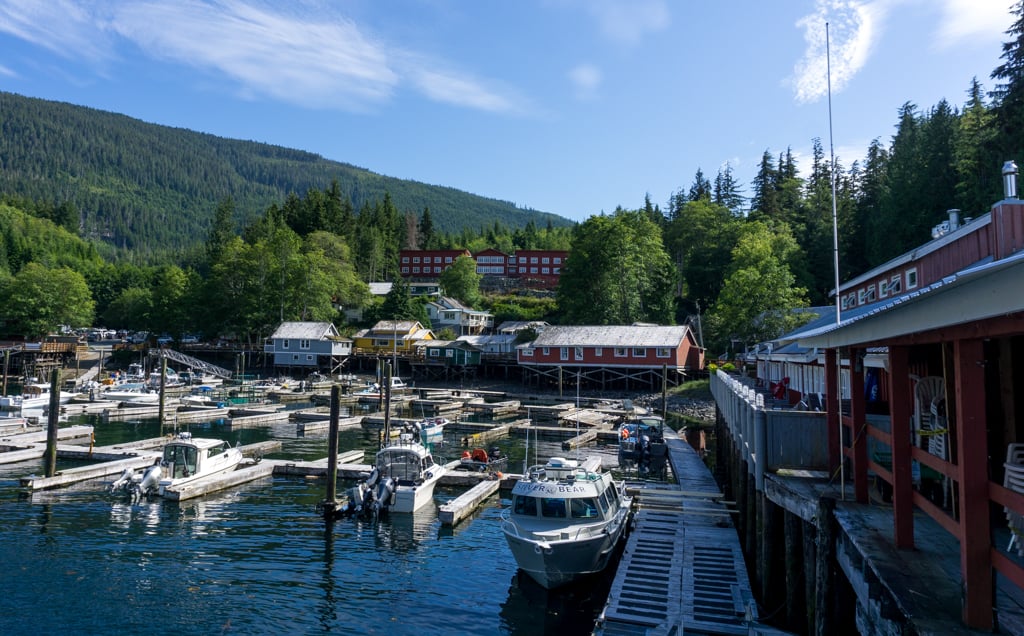 Kayak with Whales in the Johnstone Strait
The Johnstone Strait off the coast of northern Vancouver Island is one of the best places in the world to see whales. Humpback whales migrate through all summer long and the area has a high concentration of orcas (killer whales). And one of the best ways to see whales is from a kayak. I went on a life-changing kayaking trip in the Johnstone Strait this summer. We saw whales every day, visited indigenous sites, saw tons of sea lions, seals, porpoises, and eagles, and visited some remote (and gorgeous) islands. The most popular place to launch kayaks is from Telegraph Cove. You can rent kayaks or go on guided tours that last anywhere from an afternoon to a week.
I went with At the Water's Edge Adventures who launch from a private beach next to Telegraph Cove. They are offering my readers 10% off any trip with them – just use code HAPPIESTOUTDOORS.
Read my guide to kayaking in the Johnstone Strait to plan a trip.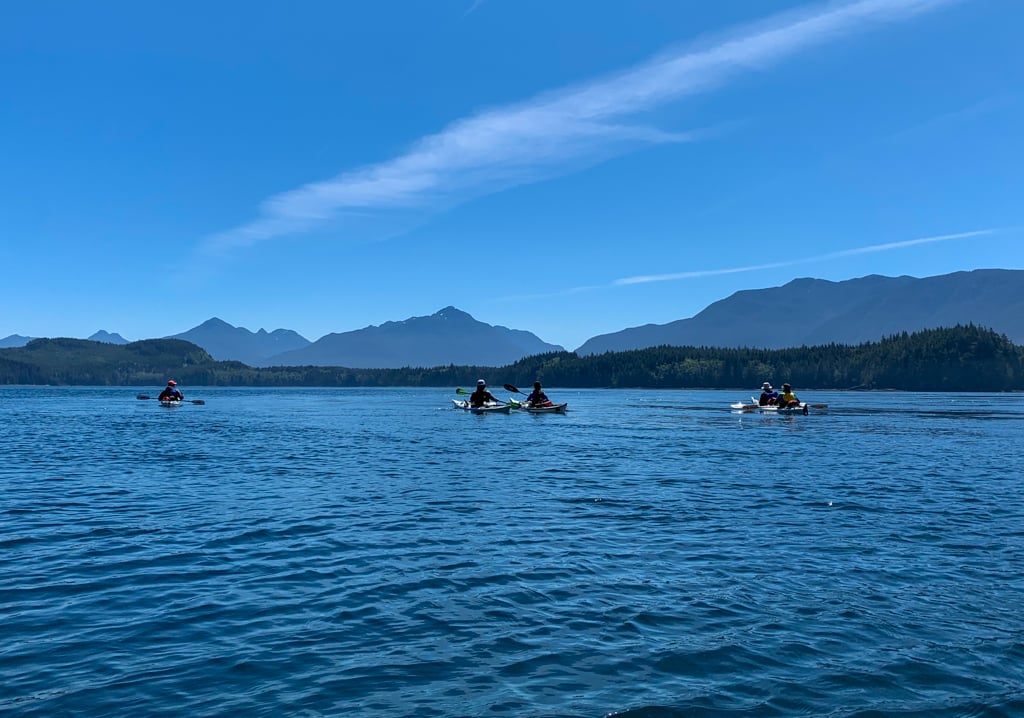 Visit Port McNeill
Port McNeill is the second largest town on Northern Vancouver Island. It's a compact little town with shops, restaurants, and hotels. Wander along the seawall downtown for great views of the harbour. Don't miss the world's largest burl at the east end of town. (Fun fact: Port McNeill is also home to another giant burl. It was the world's largest burl until the current one was discovered in 2005. You can find the runner up burl about 5 minutes east of town just off Highway 19.)
Take a Grizzly Bear Watching Tour
While northern Vancouver Island has roads and settlements, the nearby mainland on the other side of Johnstone Strait has only a few boat-in villages. The huge expanse of wilderness supports a healthy population of grizzly bears. Taking a boat-based bear watching tour up Knight Inlet was definitely one of the best things I've ever done on north Vancouver Island. We watched a mother grizzly bear and her two nearly full-grown cubs explore the coastline in search of mussels and other food. Later, we switched to a smaller boat to cruise up a river estuary and spy on a huge male grizzly eating grass. I did my tour with Sea Wolf Adventures, based in Port McNeill. They are a local indigenous-run company. Our guides (Sherry and Karissa) were knowledgeable and worked hard to make sure the boat was always in position to take the best photos. The food was great too!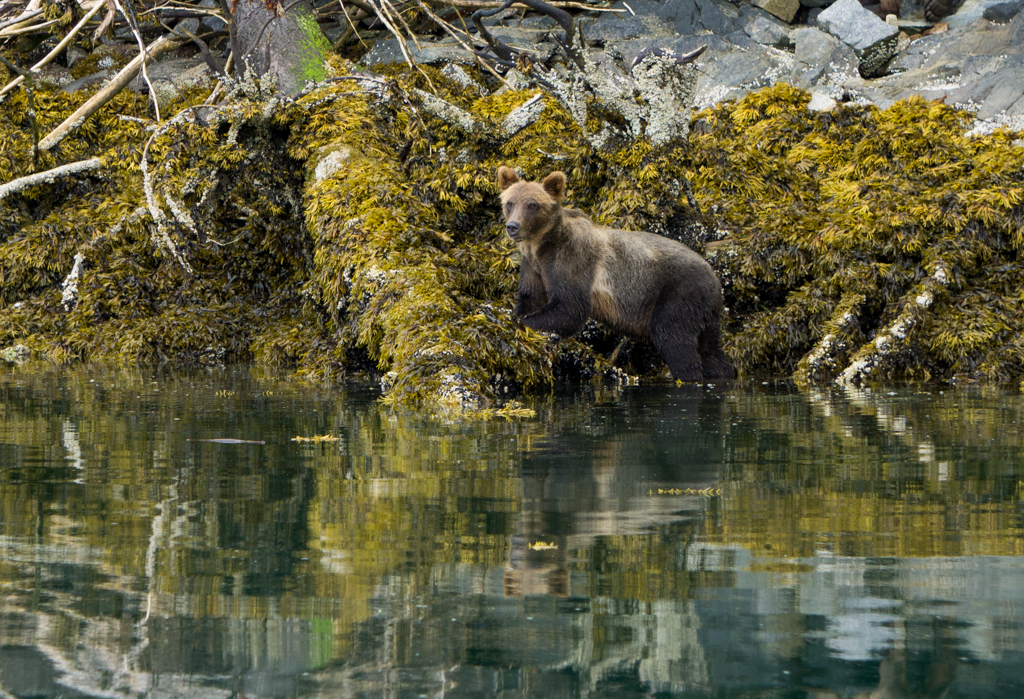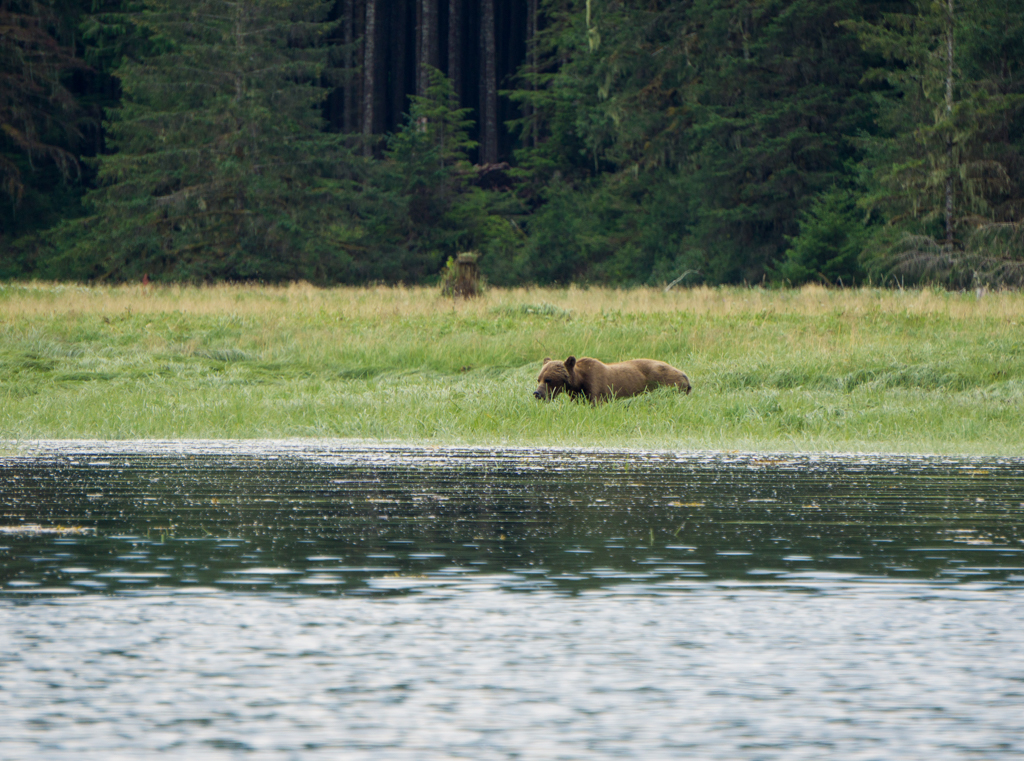 Go Whale Watching
With humpbacks migrating through every summer and a large resident orca (killer whale) population, northern Vancouver Island is one of the best places to see whales in BC. Since I have been kayaking with whales and saw quite a few whales on my bear watching tour with Sea Wolf, I haven't actually been on a whale watching tour on northern Vancouver Island. But locals recommend Mackay Whale Watching out of Port McNeill. They are a small family-run company and have been running whale watching tours in the area for four decades.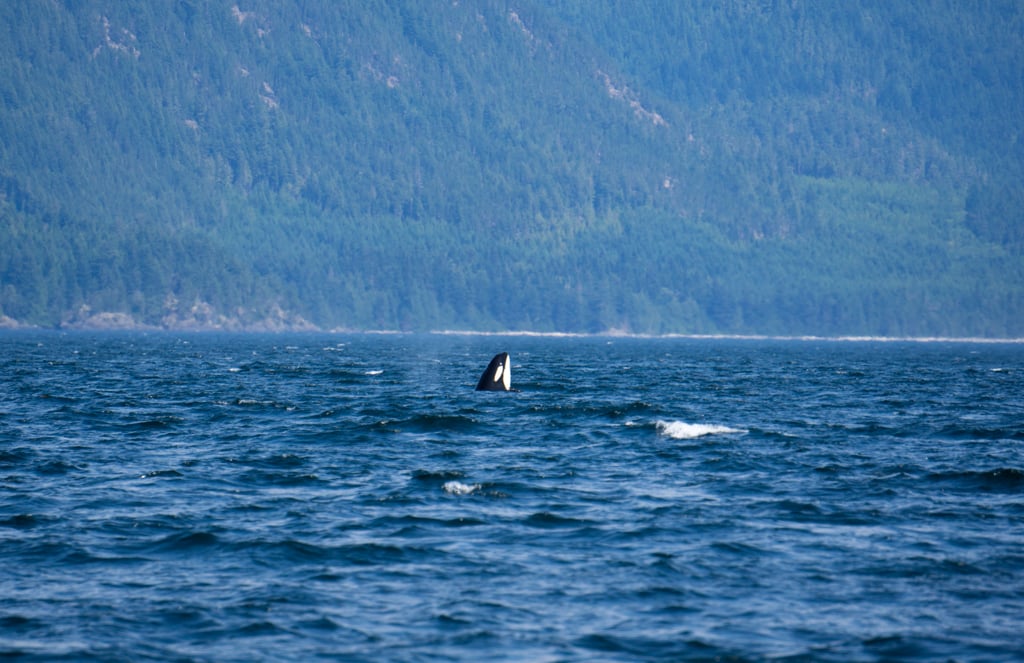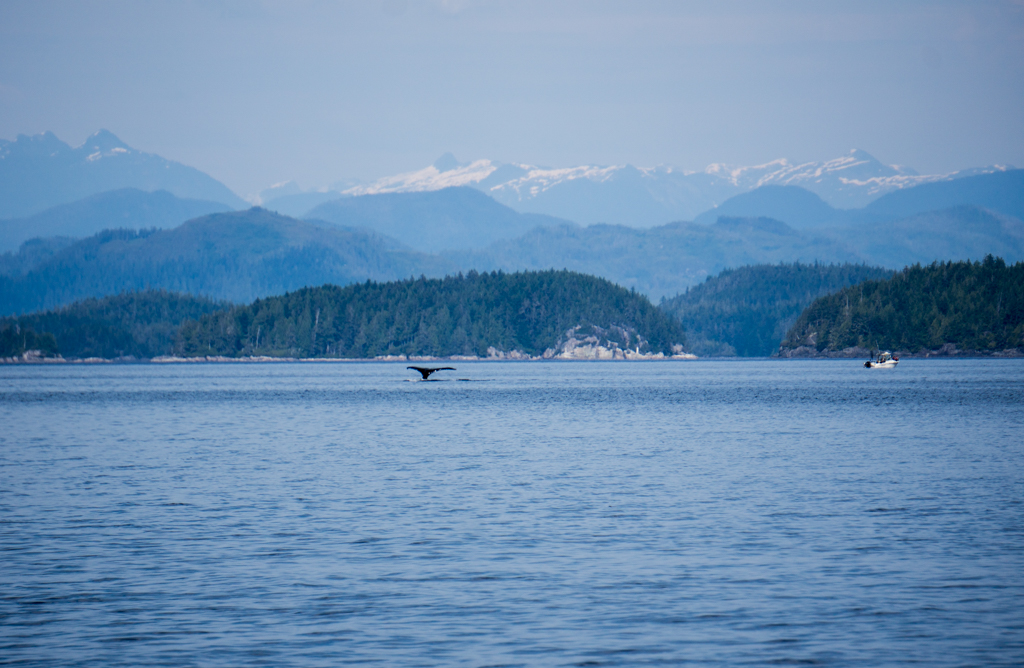 Ride the Eco-Conscious Island Aurora Ferry
BC Ferries runs the Island Aurora from Port McNeill to the nearby island communities of Alert Bay and Sointula on Malcolm Island. While the towns are definitely worth visiting (and info about them is below), the ferry ride alone is pretty fun. This brand-new ferry was added to the BC Ferries fleet in 2020. It's part of a move towards eco-consciousness and uses a hybrid engine. (It runs 20% on battery power, the remainder on diesel.) Eventually, BC Ferries hopes to introduce a shore-based charging system so that the Island Aurora can run entirely on battery power. The hybrid system is much quieter than conventional engines, which is great for both passengers and the resident whales.
The views of Johnstone Strait from the ferry are spectacular, and with fairly low rates for both walk-on passengers and cars, it's the cheapest way to get out on the water on northern Vancouver Island! (Pro tip: Take a day trip to both Alert Bay and Sointula on the same day using just one ticket to save money. You will need to take the ferry back to Port McNeill to switch between the two communities – just tell ferry staff you want to visit both.)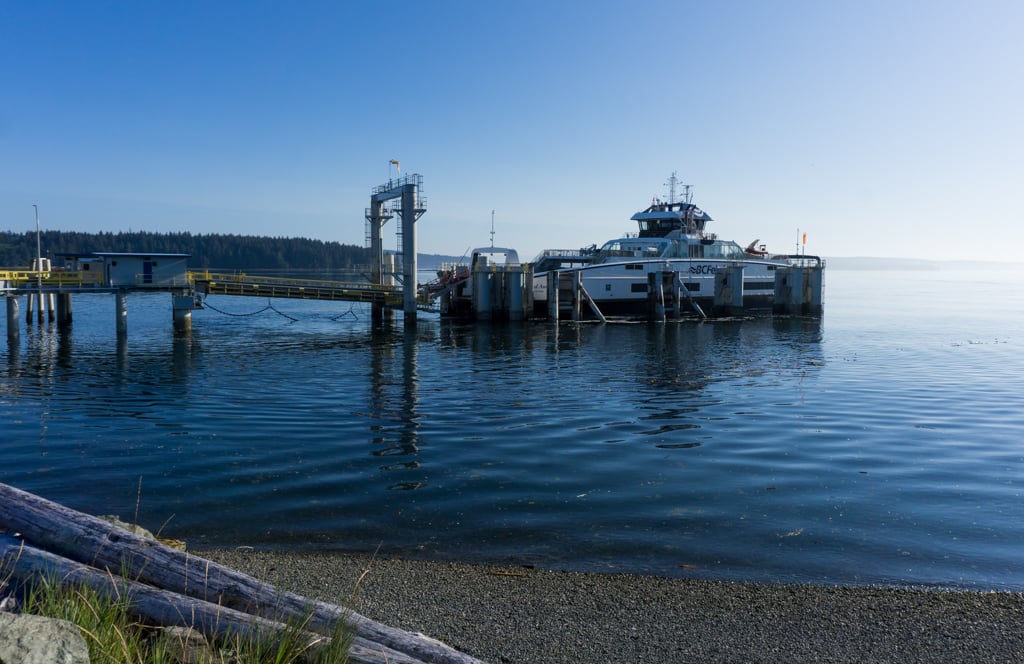 Experience Indigenous Culture in Alert Bay
Alert Bay is a small community on Cormorant Island, just a short ferry ride from Port McNeill. About half of the island is a 'Namgis First Nation reserve. The 'Namgis are part of the larger Kwakwaka'wakw Nation. I highly recommend a visit to the U'mista Cultural Centre to learn about their history and culture. This fabulous museum has a huge collection of traditional Kwakwaka'wakw dance masks and memorabilia used in cultural events like potlatches. In the 1920s, potlaches were declared illegal and the government stole these ceremonial objects and gave them to museums around the world. The Kwakwaka'wakw have worked hard to bring these important cultural treasures back to their traditional territory and display them on their own terms.
Alert Bay is also home to a forest of totem poles with over 30 poles spread around town. The world's largest totem pole, at 173 feet tall (53m) also towers over the island. If you want to go for a walk, the Alert Bay Ecological Park is a great option. Well-marked flat trails and boardwalks lead through an upland marsh fed by underground springs. It's a great place for birdwatching. You can also walk around the town and explore the historical buildings.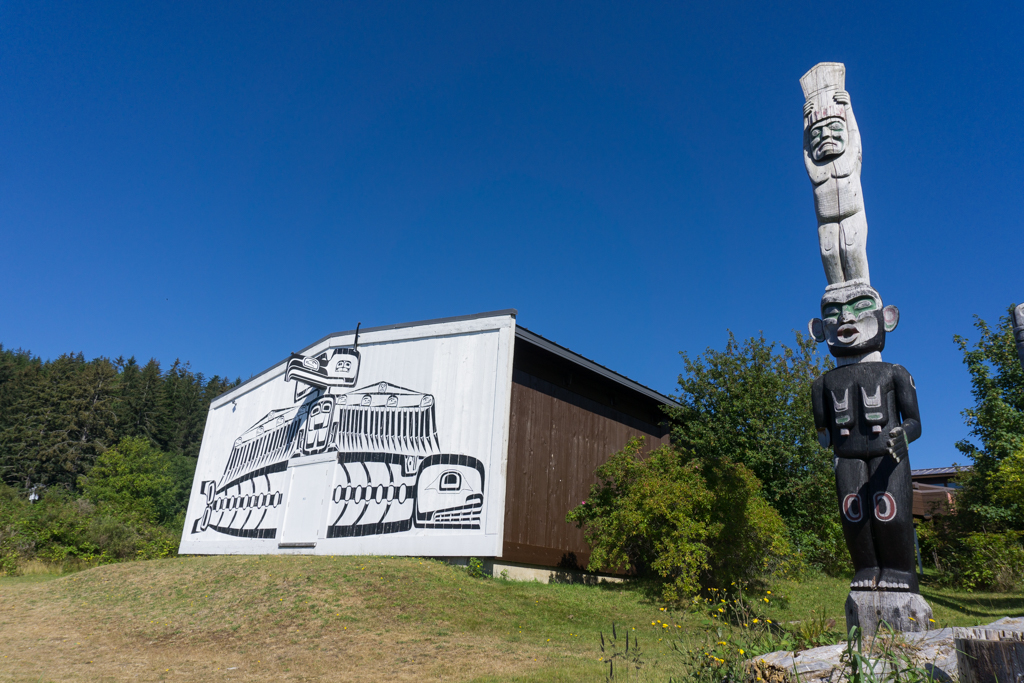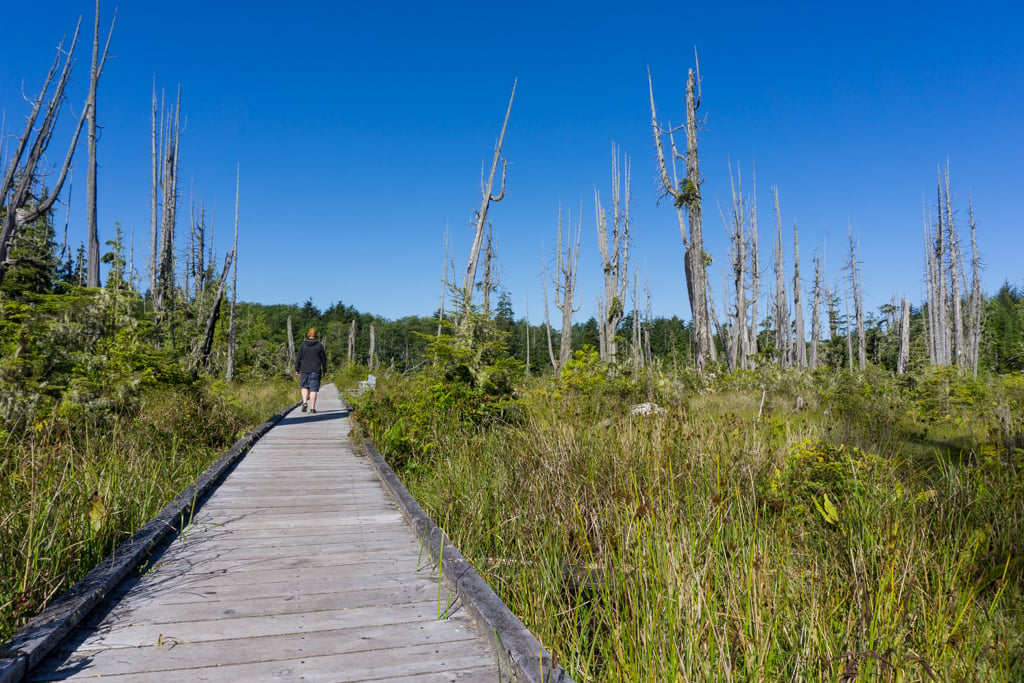 Visit Sointula and Malcolm Island
The village of Sointula on Malcolm Island has an interesting history. Finnish settlers founded the town in 1901 as a utopian collective society. In Finnish, Sointula means "place of harmony". Even though it is just across the water from Port McNeill, it has retained a lot of its unique character. Many older residents still speak Finnish and the cooperatively-run local store, the Sointula Coop, has been open for over 100 years. You can learn more about local history at the tiny Sointula Museum.
Today, the island is home to lots of artists and is a great place for hiking and biking. If you have time, be sure to make the short drive out to Bere Point. The pebble beach there is a favourite spot for resident orcas to rub their bellies at high tide. A citizen science orca research team sets up tents near the viewpoint each year. Stop in to ask them about the most recent whale sightings.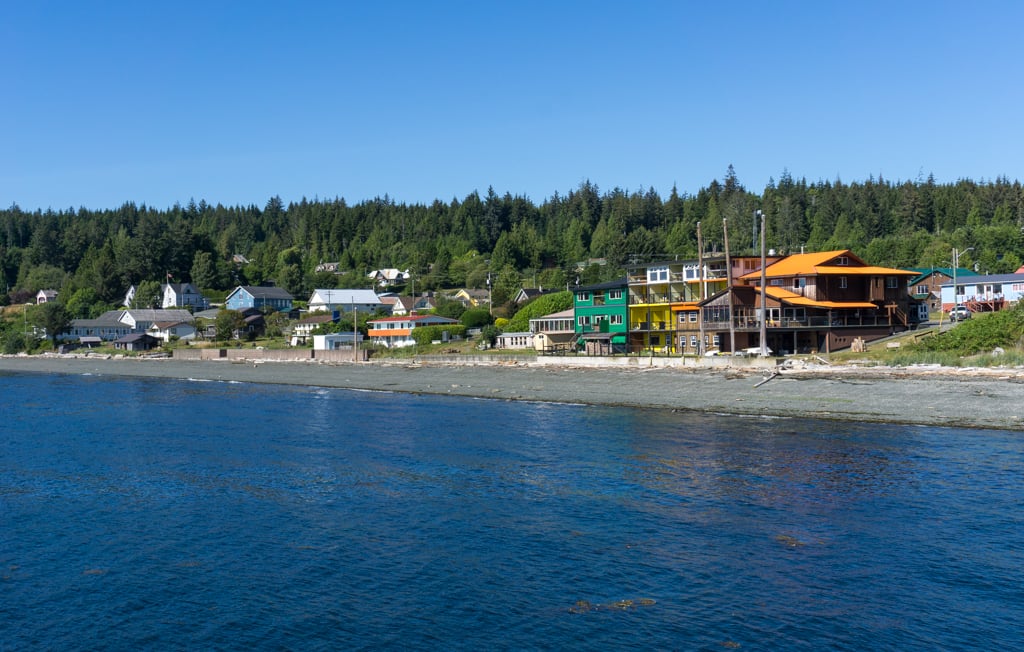 Drive the Alice Lake Loop
If you are up for some backroads driving, take on the Alice Lake Loop. I haven't had time for the 2.5-hour trip yet, but it's high on my list. This mini-road trip visits some of northern Vancouver Island's unique karst features, formed by centuries of water eroding rock. Highlights include the Devil's Bath, a water-filled sinkhole that connects to a river underground, and the Eternal Fountain, a waterfall that appears out of the side of a cliff, then disappears beneath your feet. Take a break in the town of Port Alice part-way along to have lunch and stroll along the ocean-front seawalk.
Visit Port Hardy
Port Hardy is the largest town on north Vancouver Island, its economic centre, and the jumping-off point for ferries to northern BC. It's a good place to grab a meal, buy groceries, or shop for souvenirs. (Don't miss the Book Nook and Drift, which share space with Cafe Guido on Market Street. Drift has really cute locally-made clothing and home goods and the Book Nook has a great selection of local books.) For the easiest eagle spotting around, go for a walk along the seawall. The resident eagles are sure to be flying overhead, foraging on the beach at low-tide, or calling out from their nests in the nearby treetops. Although I haven't visited, I've also heard that the museum at the Quatse Salmon Stewardship Centre is great for rainy days, especially if you take a tour of the hatchery. Another thing that's on my list is visiting the nearby Kwagu'ł Nation community of Tsaxis (Fort Rupert) to visit Calvin Hunt's gallery of traditional Kwakwaka'wakw carvings.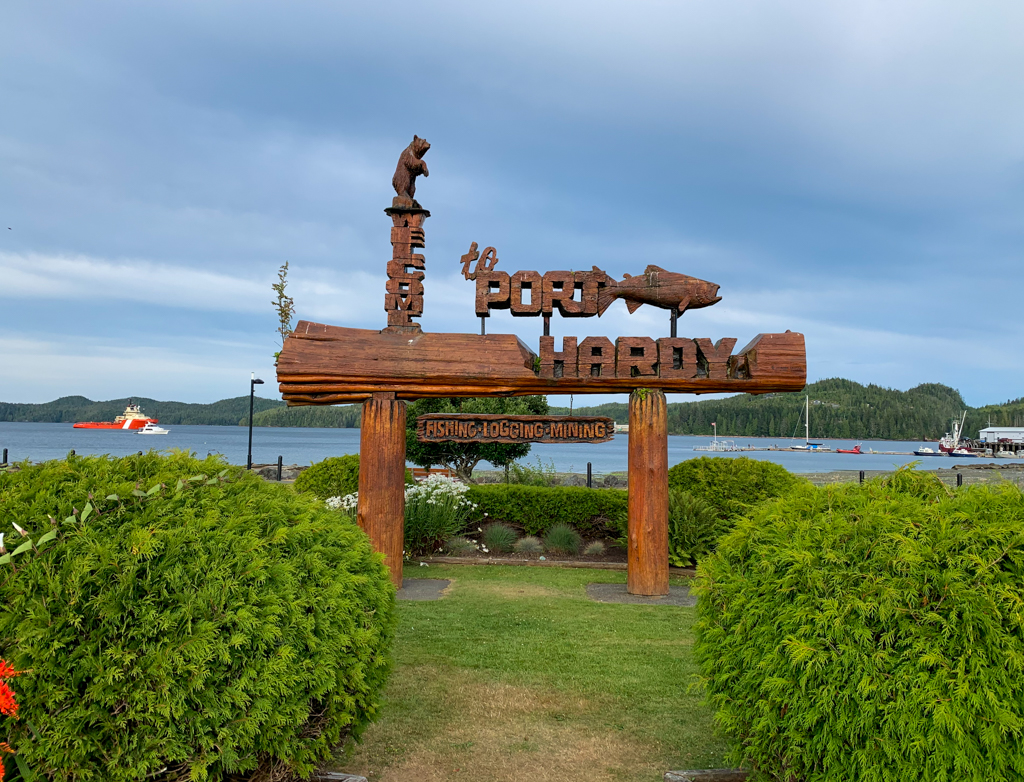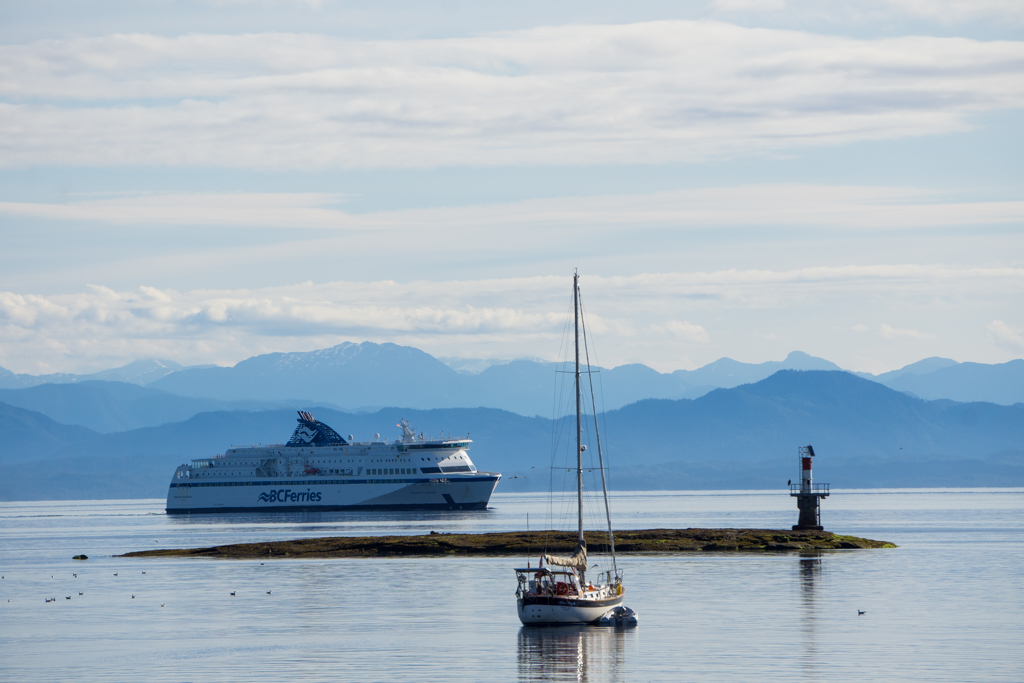 Get Off the Beaten Path in Coal Harbour, Winter Harbour, Quatsino, and Holberg
If you venture off the paved Island Highway, you'll be heading further off the beaten path than most tourists who visit north Vancouver Island. The remote communities of Coal Harbour, Winter Harbour, Quatsino, and Holberg are small resource-based towns, focused on fishing and forestry with a growing artisan community.
But if you are into nature, the surrounding areas are worth investigating too. You'll find remote beaches, deserted campgrounds, hiking trails, and incredible fishing. I've only been to Holberg, so I don't have anything specific to recommend in the area, but locals tell me it's a pack-your-truck-with-camping-supplies-then-spend-an-incredible-week-exploring kind of place.
Use the Vancouver Island North Recreation map to get ideas on where to go. You can drive sometimes rough gravel roads to Coal Harbour, Winter Harbour, and Holberg, but you'll need a boat to get to Quatsino. If you make the drive, bring a map and a spare tire, and be prepared to pull over for speeding logging trucks.
Hike and Camp at Cape Scott Provincial Park
Cape Scott Provincial Park sits at the northern tip of Vancouver Island. It's a wild and beautiful place of white sand beaches, dense rainforest, incredible wildlife, and settler history. The only way to explore the park is by day hiking or backpacking in to one of the remote backcountry campgrounds. The park has three main trails: the easy and flat day-hike to San Josef Bay, the moderate 3-day backpacking trip to Cape Scott Lighthouse, and the challenging 6-day North Coast Trail. Cape Scott is one of my favourite places and I've hiked into the park four times.
Read my guides to hiking to Cape Scott and the North Coast Trail to plan your own trip. Get my tips for coastal hiking before you go.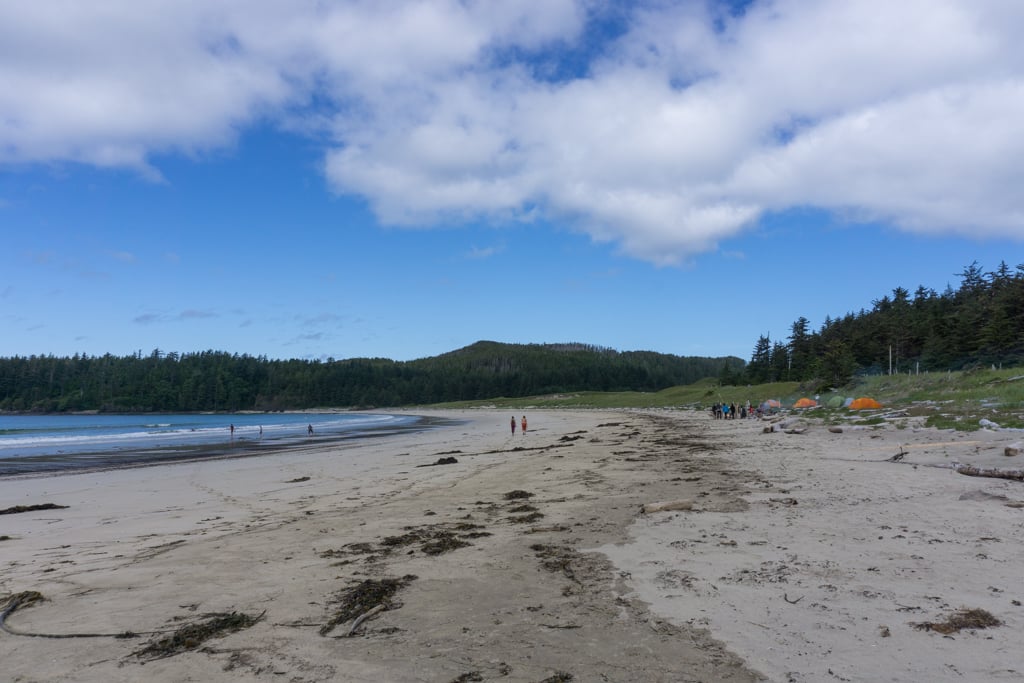 Where to Eat on North Vancouver Island
Since many of the communities on northern Vancouver Island are small, you may have to do a bit of advance planning when it comes to where to eat. Most of the towns have at least one restaurant, pub, cafe, or general store but a few do not. There are also a few restaurants that are worth planning for. Here are my picks for the best restaurants on north Vancouver Island.
Cluxewe Waterfront Bistro
This indigenous-run restaurant serves slightly upscale seasonal food and has a great location right on the ocean at the Cluxewe Resort just outside Port McNeill. We tried to eat there on our last visit to north Vancouver Island, as several locals told us it was the best food around. But when we called for a reservation we were told they were booked up for a week! Lesson learned: call further in advance. BUT… we did get to sample their food since they catered our lunch on our trip with Sea Wolf Adventures. Delish!
Cafe Guido
This adorable hipster coffee shop in Port Hardy wouldn't be out of place in a big city. Cafe Guido has sandwiches, baked goods, and of course coffee. They share space with the Book Nook and Drift, so allow time for browsing.
Duchess' Bannock and Desserts
If you're in Alert Bay, don't miss trying Duchess' Bannock. If you've never had bannock before, it's a traditional indigenous fried bread. Duchess' bannock was some of the best I have ever tasted. If you have a sweet tooth, order the bannock and berries instead of just the plain bannock. It comes covered in three kinds of berries, berry sauce, whipped cream, chocolate sauce, and sprinkles. Sooo good. (Just make sure you share it with someone – it's huge!)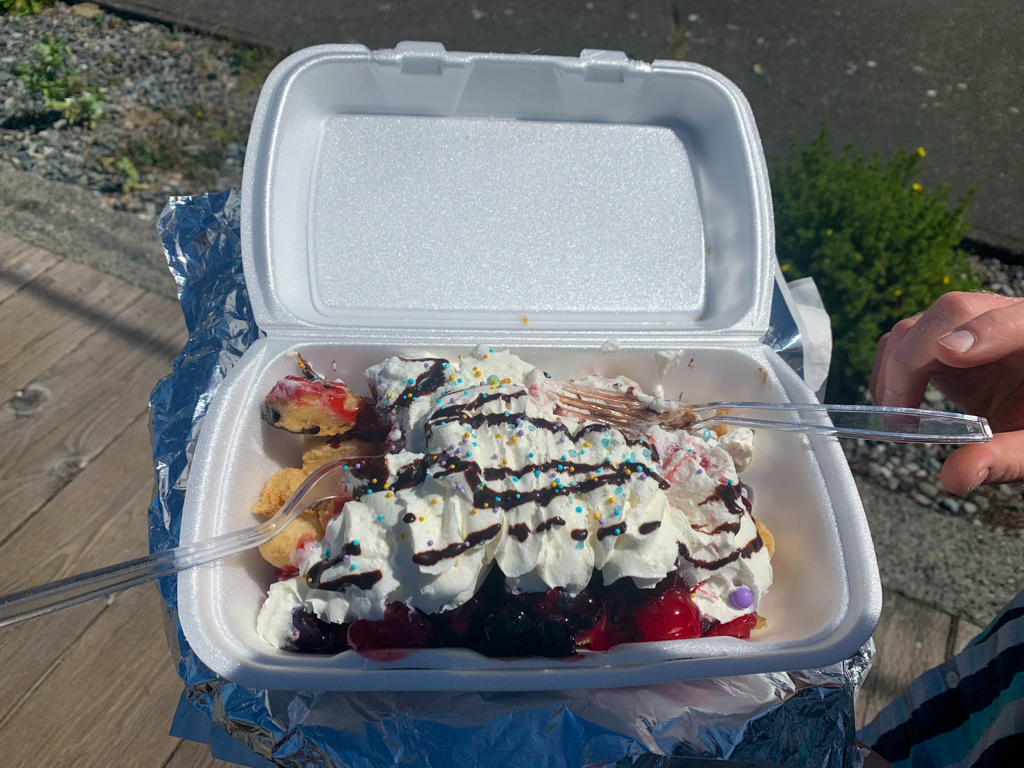 ha'me' Restaurant and nax'id' Pub
The ha'me' Restaurant and nax'id' pub at the newly refurbished Kwa'lilas Hotel in Port Hardy serve local, Indigenous-inspired west coast cuisine. (Fun fact: in Kwakwaka'wakw, ha'me' means food and nax'id' means drink.) The restaurant is a bit more fine-dining and the pub is a bit more relaxed. My husband was really impressed with their salmon burger… which was served on bannock.
Where to Stay on North Vancouver Island
With campgrounds, B&Bs, and lodges scattered across northern Vancouver Island, it's easy to find a place to stay. Here are a few of my favourites:
Bere Point Campground
I haven't actually camped here, but it's high on my list after visiting for the day this year. Located next to the famous whale rubbing beach on Malcolm Island, it has incredible campsites, many of which are right on the ocean. On my visit, campers were trading stories of their many whale sightings! Book in advance as it is popular.
Telegraph Cove Resort
We stayed in the Telegraph Cove Lodge building at the Telegraph Cove Resort before our Johnstone Strait kayaking trip. It has great views of the cove. You can also stay in their collection of historic homes right on the boardwalk – they are super cute! Check prices.
Kwa'lilas Hotel
I spent three nights at this indigenous-run Port Hardy hotel on my most recent visit to northern Vancouver Island. It's completely renovated with gorgeous First Nations art in every room. Definitely one of the more upscale places to stay on northern Vancouver Island (without being expensive or pretentious). Check prices.
Nimpkish Hotel
This boutique hotel stands out along the waterfront in Alert Bay. The Nimpkish Hotel is a bright blue historic building with a big deck and lots of windows for great views of the Alert Bay Harbour. With only nine rooms and breakfast included, you'll feel like you're staying at a B&B, not a hotel. Check prices.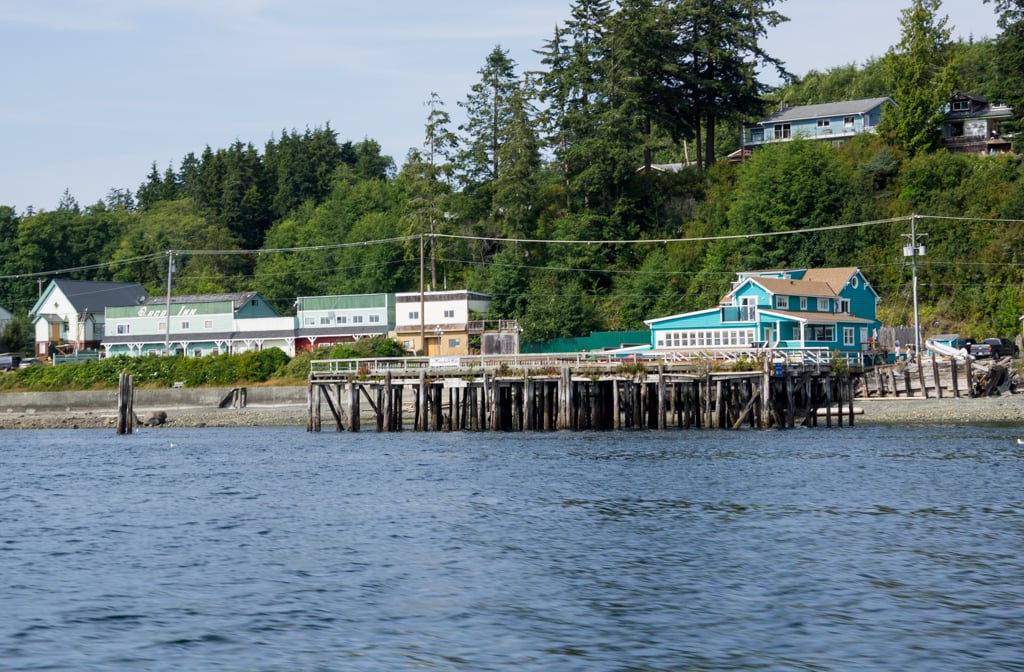 Cape Scott Provincial Park
If you want to get away from it all, you can't beat a hike-in campsite at Cape Scott Provincial Park. The sea stacks at San Josef Bay are great if you want a short hike, but for the real experience, make the full-day trek out to Nel's Bight for the full white sand beach experience. The best part: no reservations required! (Read my guide to Cape Scott to plan your trip.)
Now you have all the info you need to head to northern Vancouver Island. What is your favourite thing to do on north Vancouver Island? Tell me in the comments. And as always, send me your questions as I'm happy to help answer them.
More Things to do on Vancouver Island
Hiking Guides for Vancouver Island