I've spent a lot of time on British Columbia's coast… but not a lot of time actually on the water. You could say I'm more of a terrestrial mammal. But a few summers ago I wanted to see what I had been missing so I went on a kayaking trip in the Johnstone Strait and Broughton Archipelago on northern Vancouver Island. Whoa. How to explain it? I have now checked off an item I didn't even know was on my bucket list!
Before this trip, I thought I knew what the west coast was all about. But seeing it from the water brought on a completely different perspective. I spent five days camping on tiny islands. Whales surfaced and exhale meters away from me. I paddled through narrow passages with water so clear, looking down to the bottom was like looking into an aquarium, complete with starfish, sea anemones, and fish. Getting out of the boat, I explored indigenous village sites, dating back innumerable years. I ate amazing fresh food that I didn't have to cook. Between my phone, SLR, Go Pro, and my husband's drone I took thousands of videos and photos, hoping desperately to capture the magic of this amazing place.
I went into this experience as a beginner (and honestly nervous) kayaker, but I left feeling as if I'd visited a truly special area. In this post, I'll give you even more reasons to plan a kayaking trip to the Johnstone Strait and the Broughton Archipelago. And I'll also give you all the info you need to make it happen. (I've also got a sweet discount code for you if you want to book your own trip. Scroll down for that.)
Hey there: Thanks so much to At the Water's Edge Adventures, BC Ferries, and Vancouver Island North Tourism for hosting me on this trip. All opinions in this post are my own. Some of the links in this post are affiliate links, which means I earn a small commission at no extra cost to you if you make a purchase. Thanks for supporting my website! -Taryn
This is a sensitive wilderness area. Learn how to Leave No Trace to keep the wilderness wild. Make sure you are prepared by bringing the 10 Essentials. Get ready for adventure with this checklist of things to do before every hike.
Where is the Johnstone Strait and the Broughton Archipelago?
The Johnstone Strait is a narrow body of water separating the northern part of Vancouver Island from mainland British Columbia. Sandwiched between the strait and the mainland are hundreds of islands. Some are tiny (really just a rock with a few trees), while others are huge. You'll find the Broughton Archipelago at the east end of the area near the mouth of Knight Inlet and the entrance to Queen Charlotte Strait. Protected as a Provincial Marine Park, this group of islands and islets is very popular with kayakers.
Johnstone Strait and Broughton Archipelago Kayaking Map
I made a custom Google map of the Johnstone Strait and Broughton Archipelago area for you. It has all the places I will talk about in this post.
How to Get to the Johnstone Strait
Most kayaking trips to the Johnstone Strait and Broughton archipelago start from Telegraph Cove on northern Vancouver Island since it is the closest kayak launch site. Telegraph Cove is a small resort community just south of the town of Port McNeill. To get there from the mainland, start by taking BC Ferries to Nanaimo. Next, drive the Island Highway north for 350km. The drive takes about 4 hours. (Plan to spend a few extra days in the area: there are so many other amazing things to do on North Vancouver Island.)
Where to Stay Before Your Johnstone Strait Kayak Trip
Since you will most likely be starting your kayak trips in the Johnstone Strait in the morning, it makes the most sense to stay in the area the night before your trip. We stayed at the Telegraph Cove Lodge. It's a brand new building on the slope above Telegraph Cove. They also have historic cottages to rent right on the water, as well as a campground. You can also stay a little bit further away in Port McNeill. On a previous trip, we spent a few nights at the Black Bear Resort. I've also heard the Humpback Inn is nice.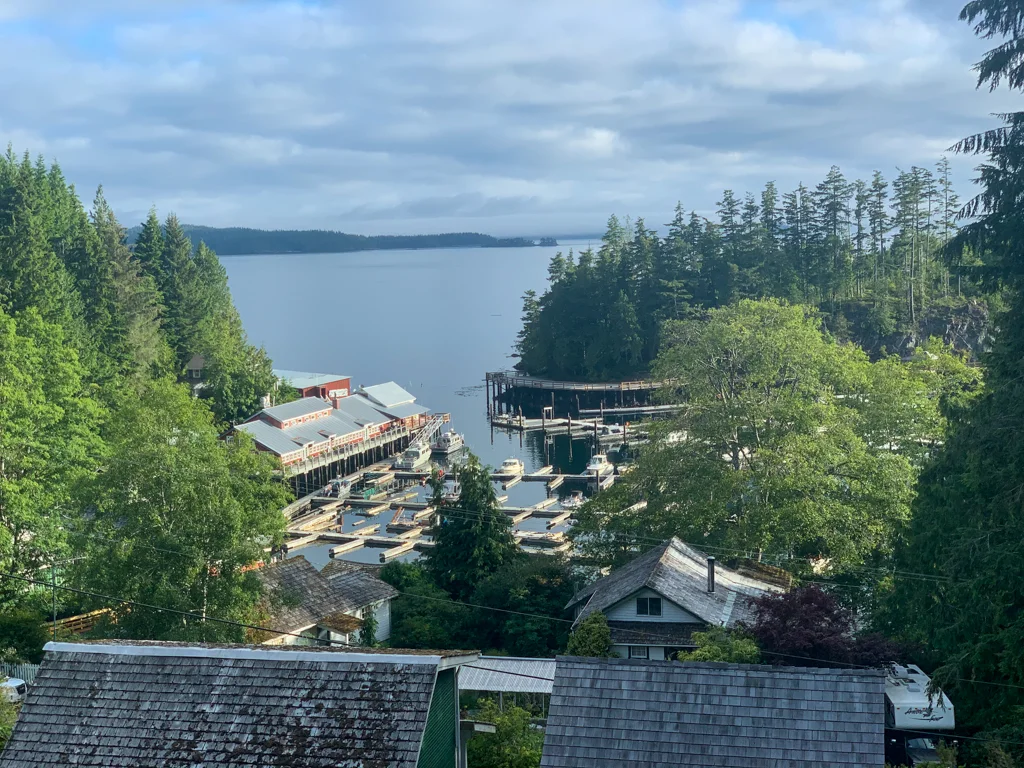 When to go Kayaking in the Johnstone Strait
There are two factors to consider when picking dates for your kayaking trip to the Johnstone Strait and the Broughton Archipelago: weather and wildlife. With a wet marine climate, the area gets a LOT of rain in the winter. The driest months are July and August, but May, June, and September can also be nice. If you want to see orcas, plan a trip between the end of July and early September. Humpback whales migrate through the area from May until October so you will likely see them all summer long.
How Many Days to Spend Kayaking in the Broughton Archipelago and Johnstone Strait
The amount of time you spend kayaking in the Johnstone Strait area is totally personal preference. However, plan to spend at least three days. That will be enough time to explore a few different areas and hopefully, you'll be in the area long enough to see some whales.
My guides from At the Water's Edge Adventures said their 5-day tours are really popular, and that's how long my trip was. It was the perfect amount of time to experience a little bit of everything in the region.
If you want to paddle the more remote (and reportedly gorgeous) northern Broughton islands, give yourself more time as they are remote so it will take longer to get there and back again. Many tour companies offer 7-day trips that penetrate deeper into the archipelago. I'm already dreaming of coming back and doing a 7-day trip further into the Broughtons.
From talking to paddler friends of mine and to other groups we met on our trip, 10+ day expeditions in the area are common. Many groups don't plan an itinerary. Instead, they wait to see what the weather has in store for them or follow the whales as they migrate through the strait.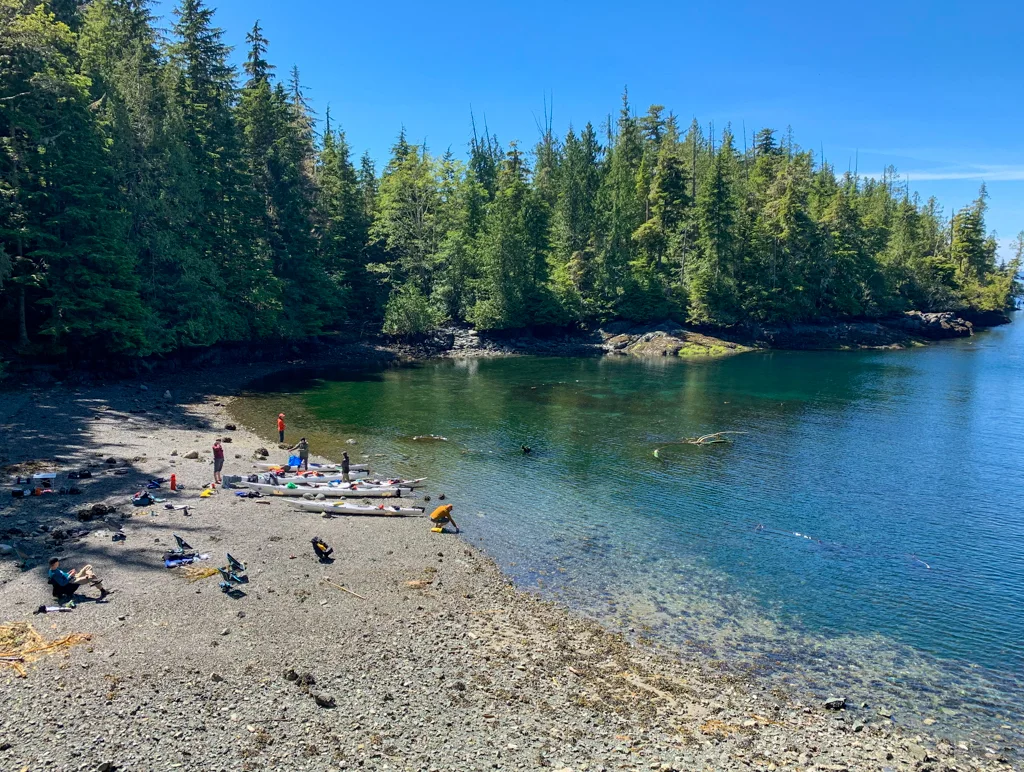 How Difficult is Kayaking in the Johnstone Strait?
Kayaking does require physical strength and stamina. But if you're in OK shape kayaking in the Johnstone Strait can definitely be beginner-friendly since it's really low-impact. On my trip, we typically spent a few hours on the water in the morning, had a break for lunch for an hour or so, then paddled another couple of hours in the afternoon. I felt like I was getting a bit of a workout, but I was never exhausted.
However, it's worth noting that beginners should definitely go with a guide. The weather, tides, and currents can make things dangerous if you aren't careful. We were really happy to have guides on our trip as they made sure we always paddled in the calmest conditions. (Scroll down for more of my thoughts on my you should hire a guide.)
How Much Does a Kayaking Trip in the Johnstone Strait Cost?
How much your Johnstone Strait kayaking trip will cost depends on how many days you go for and whether you go on a guided tour or go self-guided. There are no fees for camping or kayaking in the Broughton Archipelago or Johnstone Strait so your only costs will be food, gear rentals, and guides.
Renting Gear
Kayak outfitters in Telegraph Cove like At the Water's Edge Adventures rent sea kayaks starting at $90/day for a single kayak and $150/day for a double and include a PFD (life jacket), spray skirt and other safety gear. Prices get cheaper the more days you book. You can also rent gear like waterproof paddling pants and jackets and drybags. It's also possible to rent camping gear such as tents, sleeping bags, and stoves as well as emergency gear like a VHF marine radio or satellite messenger.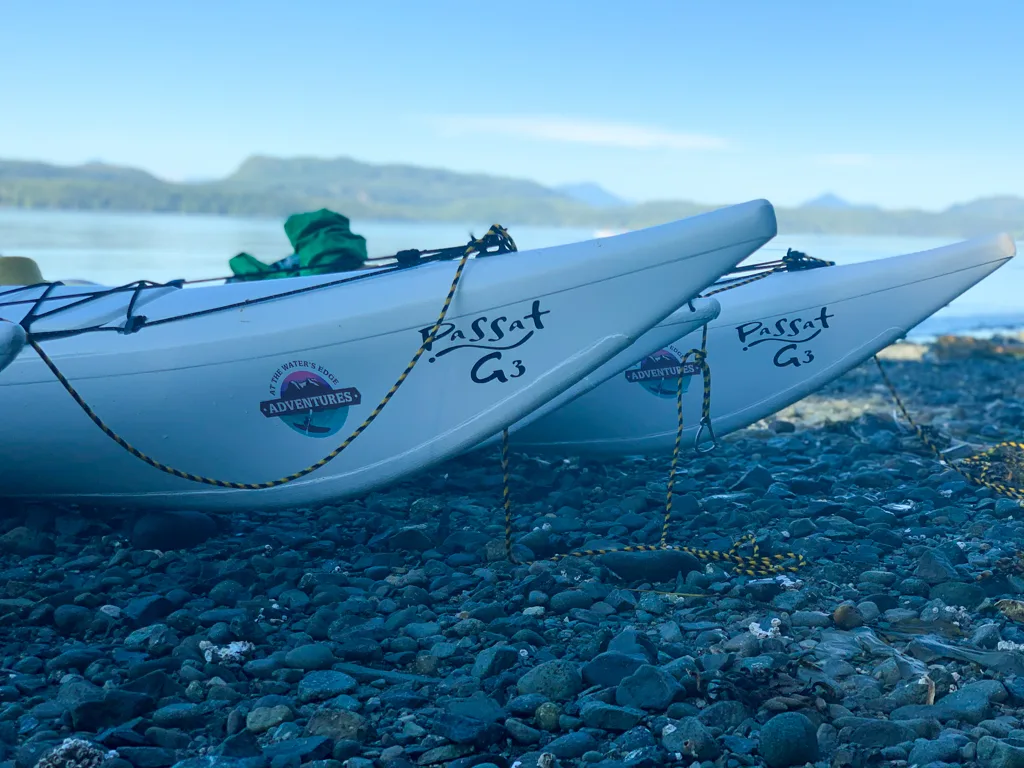 Guided Tours
Unless you are heading to the Johnstone Strait with experienced friends who know the area well, I think guides are well worth your money. Real talk: guided kayak tours aren't cheap! Tours start at about $900/person for a three-day tour. You can also work with the guides to customize your tour. But I think having a guide is absolutely worth the money. (Read more about the choice to go guided or not below.)
Should You Go on a Guided Kayaking Trip in the Johnstone Strait?
If you are an experienced paddler, comfortable with self-rescue, navigation, and understanding currents and tides, you can definitely kayak in the Johnstone Strait without a guide. It's easy to rent gear from local outfitters and plan your own trip.
However… I think going with a guided tour is the way to do. Yes, it costs more. But I think it's totally worth it.
On a guided tour you'll be in a small group of 4-12 clients with 1 or 2 guides. The guides will do all the hard work for you including meal planning and cooking, providing all the camping gear, and outfitting you with paddling pants, jacket, and dry bags.
As an experienced backcountry camper, I found the food and gear to be a nice bonus and definitely a time saver. (And the food was incredible! We had fresh fruit and vegetables every day and appetizers every night before dinner. Dinners were things like tacos, pad thai, curry, and pasta. For lunch, we had sandwiches, bagels, and salads. Definitely, the best food I've ever eaten in the backcountry.)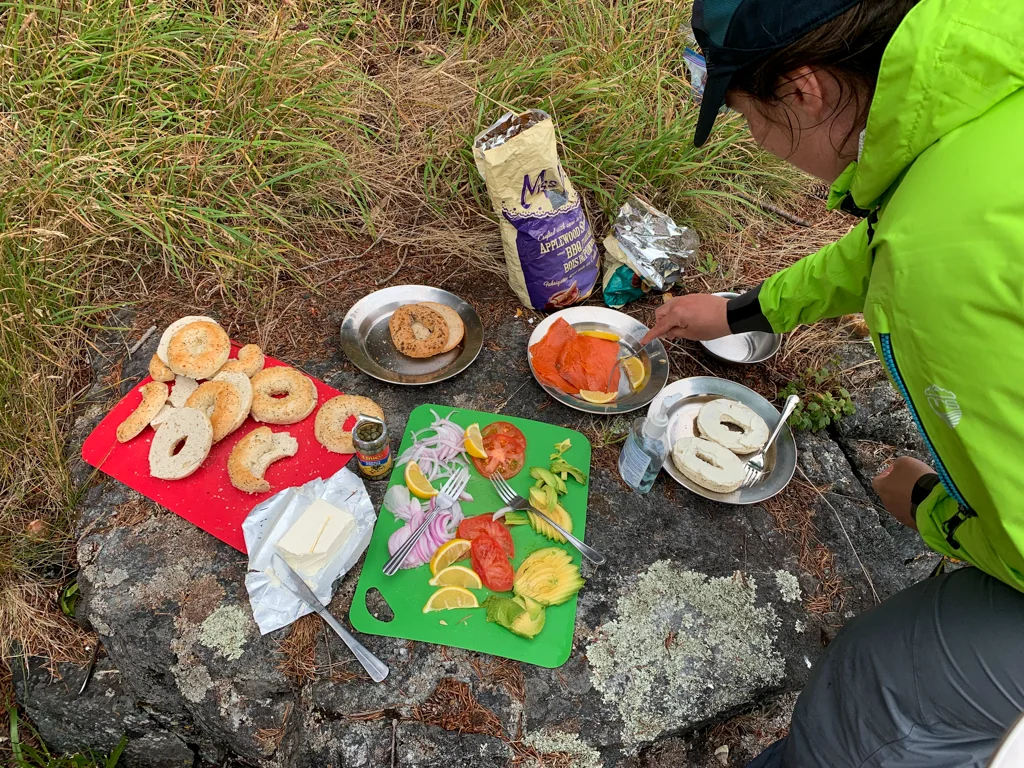 But.. the real benefit of the guides for me was their local expertise and kayaking experience. Of course, this means a safer trip. But I also found that it made for a way more enjoyable trip. Our guides were able to consult the weather, tides, and currents each day to plan our route to avoid rough water and strenuous paddling. When the weather forecast changed and heavy fog became a factor, they altered our itinerary to avoid it, while maximizing whale sightings at the same time.
They knew from experience where the best campsites were, where to find indigenous village sites, clam gardens, and middens, and which narrow passageways between islands were the prettiest to paddle. Our guides also knew where to find the nicest campsites, the best lunch spots, and the best coves to pull over and get out of the kayaks for an emergency pee break. They also had one ear to their VHF radio all the time to listen for chatter about where to see orcas and humpback whales.
I really appreciated paddling with Josh and Alicia from At the Water's Edge Adventures. To be honest, I was nervous about kayaking across big sections of open ocean and hitting rough weather. Josh and Alicia understood that and were so patient with me. They detailed our route plan every day to show us how we would avoid fast currents and high winds. And on the days we crossed the Johnstone Strait and Blackfish Sound, one of them would stick close by my boat to make sure I felt comfortable, chatting with me the whole way to distract me from the waves.
I definitely recommend a kayaking trip with At the Water's Edge Adventures. If you want to save some $$ on a Johnstone Strait kayak trip, I can help: Use code "HAPPIESTOUTDOORS" when you book with At the Water's Edge Adventures to get 10% off.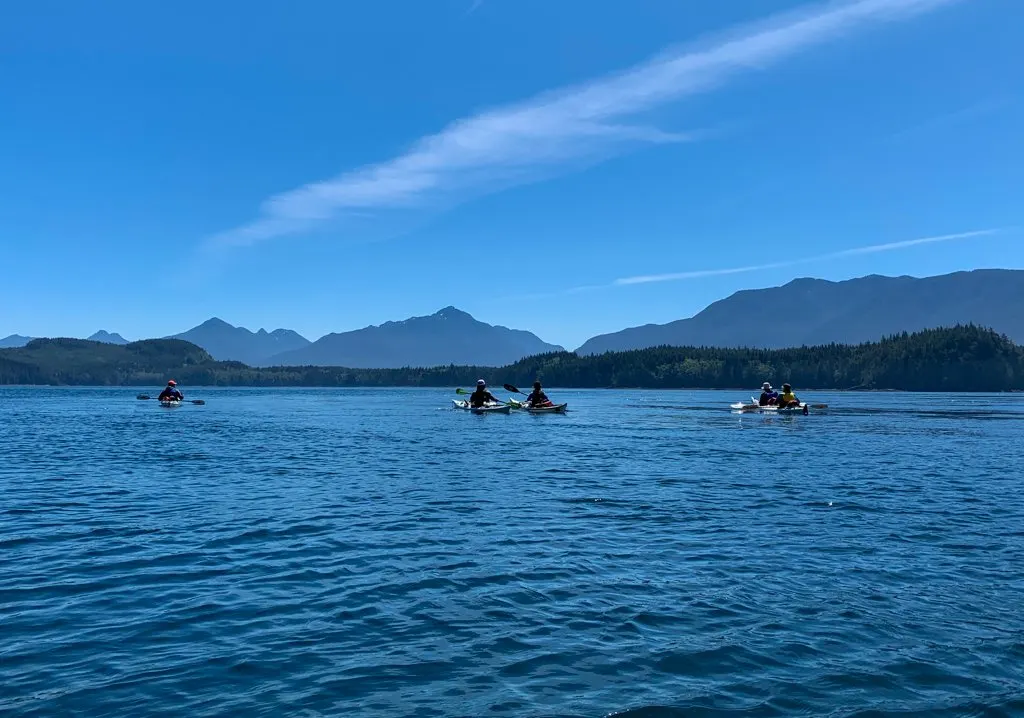 How to Kayak with Whales in the Johnstone Strait
Although there is no guarantee that you will see whales while kayaking in the Johnstone Strait… it's pretty likely. It's one of the best places in the world to kayak with orcas! The three keys to seeing whales are timing, location, and a radio.
Best Time to See Whales in the Johnstone Strait
You can see humpback whales all summer, but the best time to see orcas in the Johnstone Strait is between the end of July and early September. At that time of year, the salmon are returning to rivers to spawn and the orcas come into the area to feed on them.
Where to See Whales in the Johnstone Strait
To increase your chances of kayaking with whales, plan to spend time paddling in the Johnstone Strait and Blackfish Sound. The whales like the deeper waters there. You are much less likely to see whales in the Broughton Archipelago or in any of the other small island groups. Robson Bight Ecological Reserve at the east end of Johnstone Strait provides important protection for orca habitat and is a popular spot for whale-watching boats. The orcas like to rub their bellies on the smooth river stones on the beaches in the reserve. (They also do this on Malcolm Island near Port McNeill.) On my kayaking trip, we camped at Kaikash Creek, a few kilometres west of Robson Bight, and were treated to orcas swimming just off our beach – likely on their way to the ecological reserve and its rubbing beaches.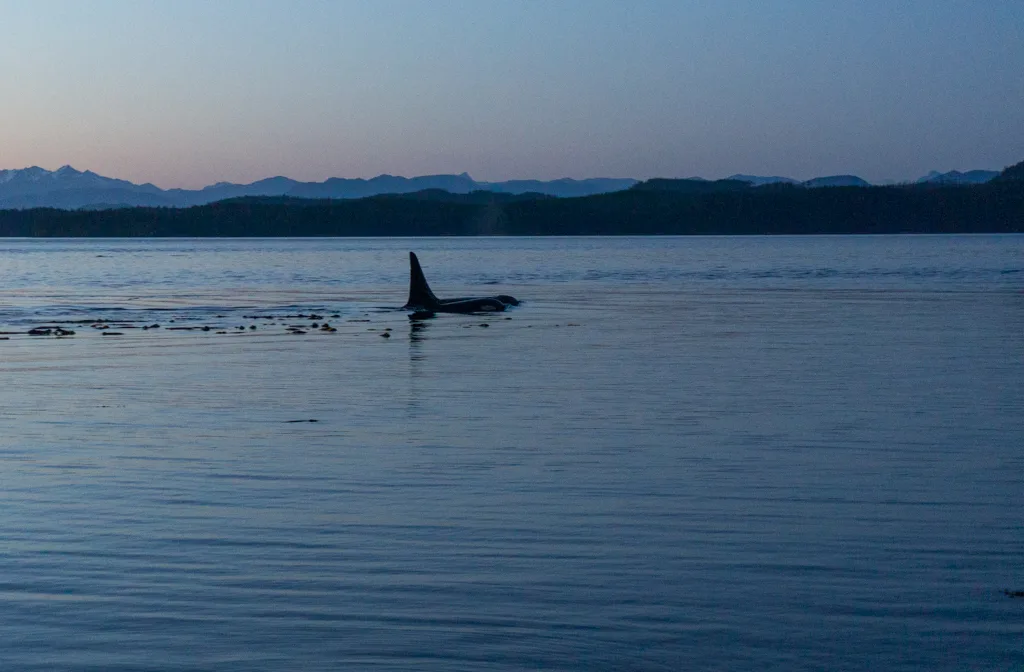 Listen to the Marine Radio to Know to Where to Find Whales
The last factor that will help you see whales is a marine VHF radio. Local boaters and whale watching companies keep up a constant chatter on the radio to report whale sightings. On our trip, our guides always had one ear to the radio and altered our planned route a few times to make sure we could see both orcas and humpbacks. Kayaking with killer whales is definitely something I'll remember for the rest of my life.
What Species of Whales Live in the Johnstone Strait
There are two populations of orcas (also known as killer whales) in the Johnstone Strait area: the northern residents and the transients. There are about 300 northern residents, who live in small family groups called pods. The northern residents range up and down the coast, but are most commonly found in the Johnstone Strait and in nearby Blackfish Sound. We saw a few different groups of northern residents on our trip.
Transient orcas look similar to residents but are genetically distinct. Unlike the salmon-eating residents, transient orcas are true killers, feasting on seals, sea lions, and dolphins. The transients don't form pods and have a much less predictable migration pattern, so they are harder to spot. On my trip, we were lucky enough to spot three transients across Blackfish Sound.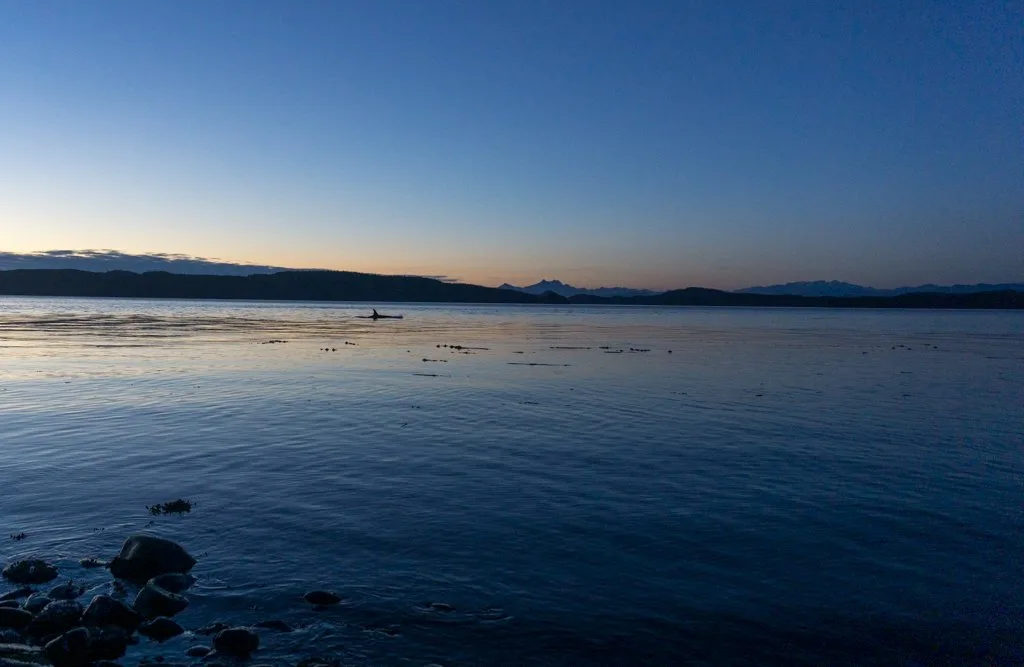 Humpback whales also live in the Johnstone Strait between May and September. They migrate north from Hawaii and Mexico to summer feeding grounds along BC's north coast and Alaska. Unlike orcas, they don't have teeth. Instead, they are filter feeders, straining huge mouthfuls of crustaceans and small fish through their baleen. They eat up to 3000lbs of food per day!
While less common, grey whales and minke whales are also sometimes spotted in the Johnstone Strait area.
What Other Wildlife Can You See in the Johnstone Strait
While whales are the biggest reason why people choose to kayak in the Johnstone Strait, I would definitely encourage you to think of them as a bonus and not as the main event. There are SO many other animals to see. And honestly while on my trip the whale encounters were definitely magical, many of the other animals will stick in my memory forever too.
We spent ages watching seals tumble through the water just offshore from our camps, curiously peering up at us. A huge bull sea lion cruised by, just feet away from our kayaks one afternoon, surprising us as he emerged suddenly from the depths. A pod of porpoises splashed by one afternoon. Salmon leapt out of the water seemingly just for the joy of, expending precious energy on their journey back to their spawning rivers.
Eagles perched obligingly on cedar branches, posing for our cameras like bad-ass models. An inquisitive mink slunk around one of our campsites, and later we discovered its nearby den. (A member of my group spotted her two kits, but I wasn't lucky enough to see them.)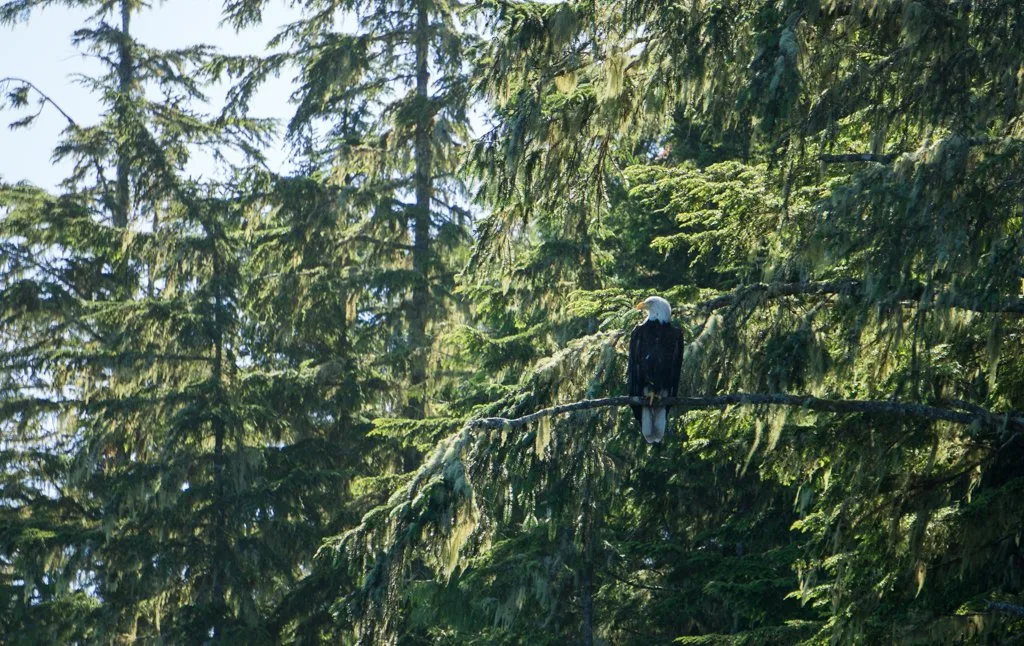 Waterbirds rafted up around us or flew overhead. Noisy belted kingfishers were our constant companion. We spotted rhinoceros auklets, a relative of the puffin. We also saw some endangered marbled murrelets. These small brown and white birds nest high in the branches of old-growth trees near the ocean. As the old-growth disappears, so do the marbled murrelets.
What Indigenous Sites Can You Visit in the Johnstone Strait and Broughton Archipelago
The Johnstone Strait, Broughton Archipelago, and surrounding area are the traditional territory of the 'Namgis, Mamalilikulla, and Kwikwasut'inuxw Haxwa'mis people. They belong to the broader Kwakwaka'wakw group and have inhabited the area since time immemorial. Today they live in a few small villages on Vancouver Island, the neighbouring mainland, and a few other islands. But signs of their widespread habitation are everywhere if you know where to look.
On my trip, our guides took us to visit a former village site on Mound Island. We saw the foundations of at least a dozen houses. The forest featured several culturally modified trees, stripped of cedar bark for basketry and other uses. The beach we landed on was actually a gigantic shell midden, resulting from hundreds of years of use. We also saw the remains of a clam garden, a raised terrace visible at low tide that expanded the natural area where clams like to live.
Our guides also took us to see a pictograph on a cliff on Berry Island in Mamlilikulla territory. The pictograph is hundreds of years old and very fragile. Do not touch it as the oils from your hands could damage it. Next to the pictograph is an indention in the rock called the Chief's Bath. According to indigenous oral history, the indentation fills at high tide and the chief would bath in it… if his subjects placed warmed rocks from the fire into it first.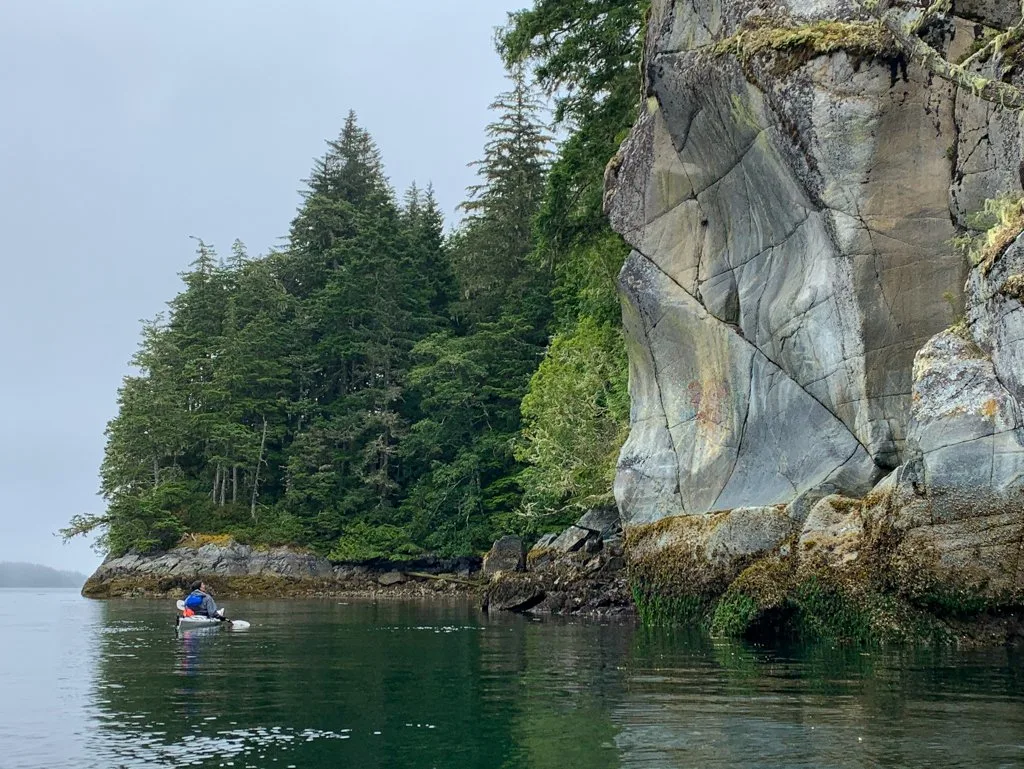 I've labelled both Mound Island and Berry Island on my map of the Johnstone Strait area (above) but I haven't given the exact locations of the indigenous sites. I'll let you discover them yourself. If you visit, be sure to tread lightly and give them the respect they deserve. If you want to learn more about indigenous culture in the Johnstone Strait area, visit the U'mista Cultural Centre in Alert Bay. It's an amazing museum with some beautiful exhibits.
What Other Cool Places Should You Check Out in the Johnstone Strait
I've spent a lot of time on remote parts of British Columbia's coast (like Cape Scott, the Nootka Trail, and the West Coast Trail). But I was still surprised at how stunning the coastline is in the Johnstone Strait area. In particular, weaving through all the little narrow passageways between tiny islands was so gorgeous. Each little hidden bay and inlet was like a new treasure to uncover. The water is crystal clear in places, so you can see all the starfish, anemones, and sea cucumbers on the bottom. I also loved watching the long strands of bull kelp wave in the water. Some of my favourite spots for that type of paddling were the Plumper Islands, the southern Broughton Archipelago, and the bays on the north side of Hanson Island.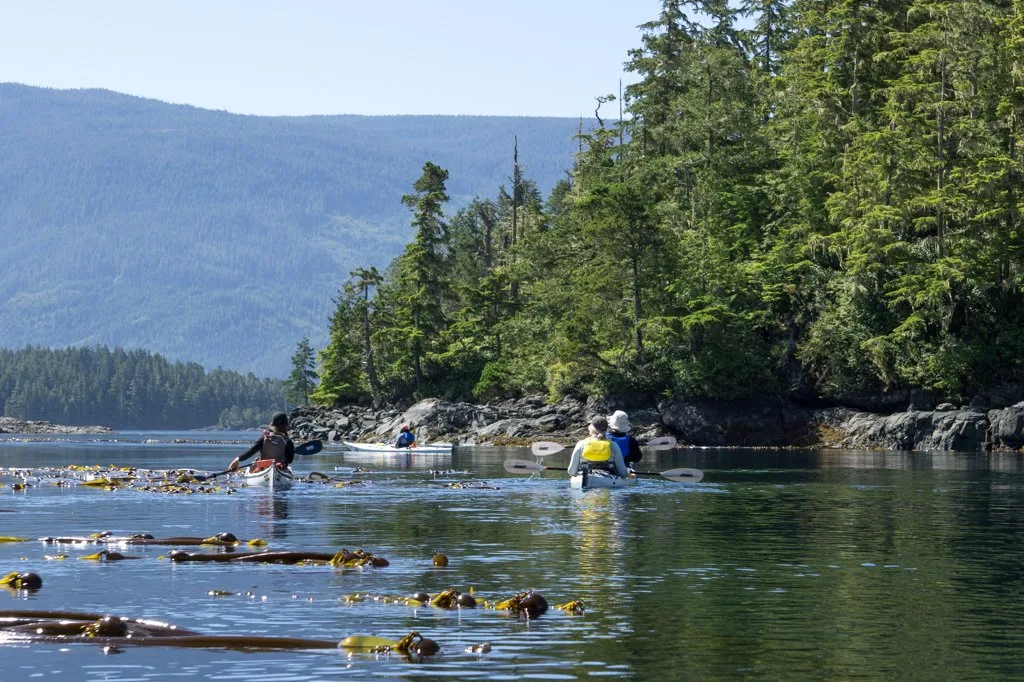 We also stopped for lunch at a place called Red Cove where the rocks were covered in fossils. Just walking around, it was easy to spot ammonite and trilobite fossils from thousands of years ago!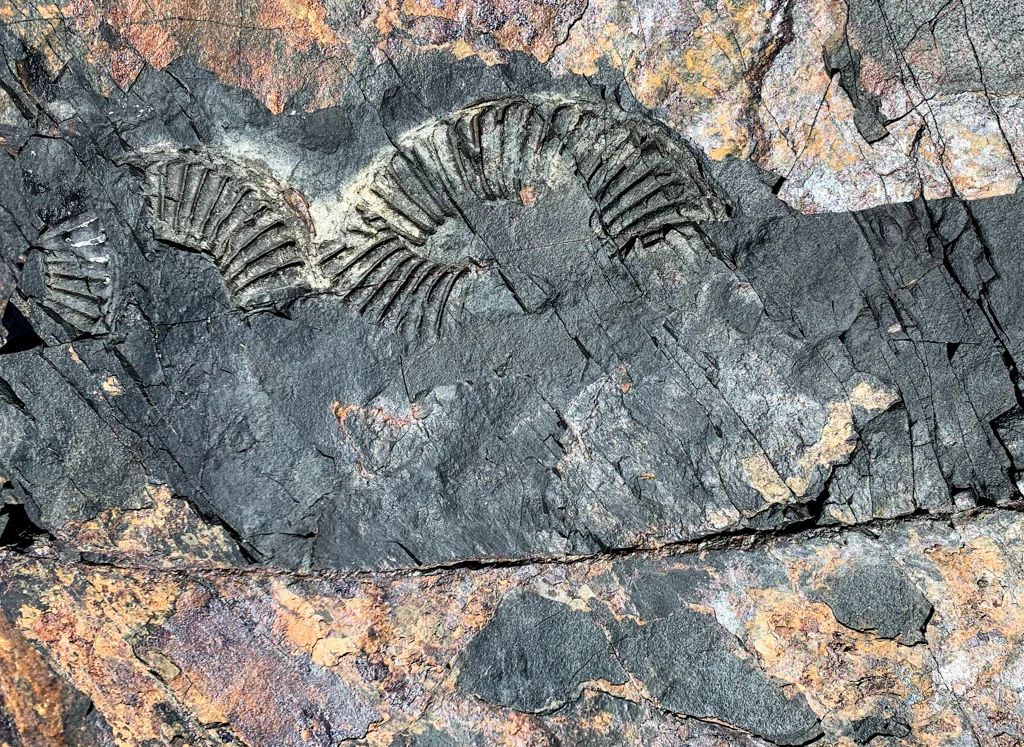 How to See Bioluminescence in the Johnstone Strait and Broughton Archipelago
One of the most magical parts of my trip was paddling at night through sparkly bioluminescence. But what exactly is bioluminescence? Basically, it's flashes of light that plankton or algae known as dinoflagellates emit. It's only visible when it's really dark out. When something disturbs the plankton, they emit a small flash of bright light.
You can "trigger" the bioluminescence by trailing your hands in the water, splashing, or simply dipping your paddle in. But my favourite way to water the bioluminescence was to paddle in close to a rocky cliff. There, the barnacles feed on the plankton, and the plankton flash as they get eaten. It looks a bit like the barnacles are having their own fireworks show just under the water.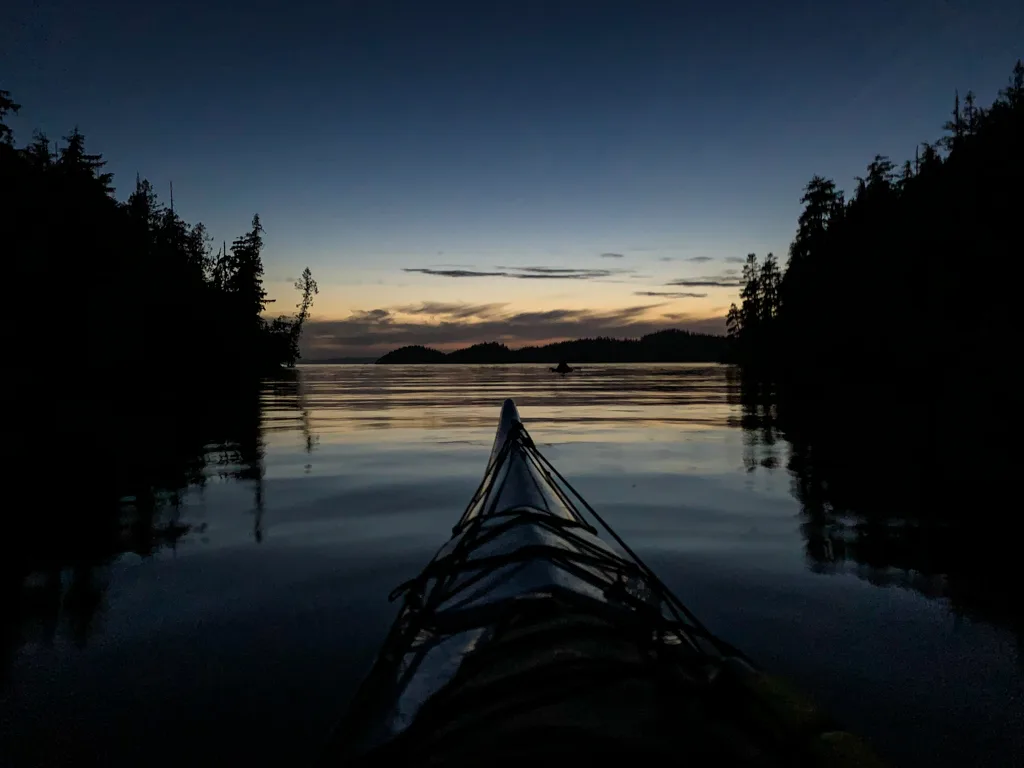 The best places to see bioluminescence are in small bays or coves that are calm and sheltered from wind and waves. You need to go at night when it's fully dark out, and ideally when the moon isn't too bright. On the last night of our trip, our guide led us on a really memorable night paddle to see the bioluminescence in a cove near our camp. It's pretty hard to take photos or video of the bioluminescence from a moving kayak, so you'll just have to take my word for it that it was awesome. Definitely recommended!
What is the Weather Like in the Johnstone Strait
Northern Vancouver is notorious for rain, fog, and stormy weather. Thankfully that reputation is mostly due to their winter weather, but definitely expect some rain on any trip. July and August see the least rain, but May, June, and September can be drier too.
With a marine climate, the Johnstone Strait is not the world's warmest place. In the summer, average temperatures are between 10 and 18C (50-64F). However, if you're lucky like me, you might even get some warm weather. On my trip, we had highs up to 25C (77F) and the guides said it was one of the warmest trips they could remember.
The main weather factor for a Johnstone Strait kayaking trip will be the winds. Typically, mornings are calm with maybe a bit of fog. But in the afternoons the wind whips up, funnelling through the narrow Johnstone Strait. Having a guide along to plan the route and avoid the full force of the winds was one of the things I really appreciated about my trip.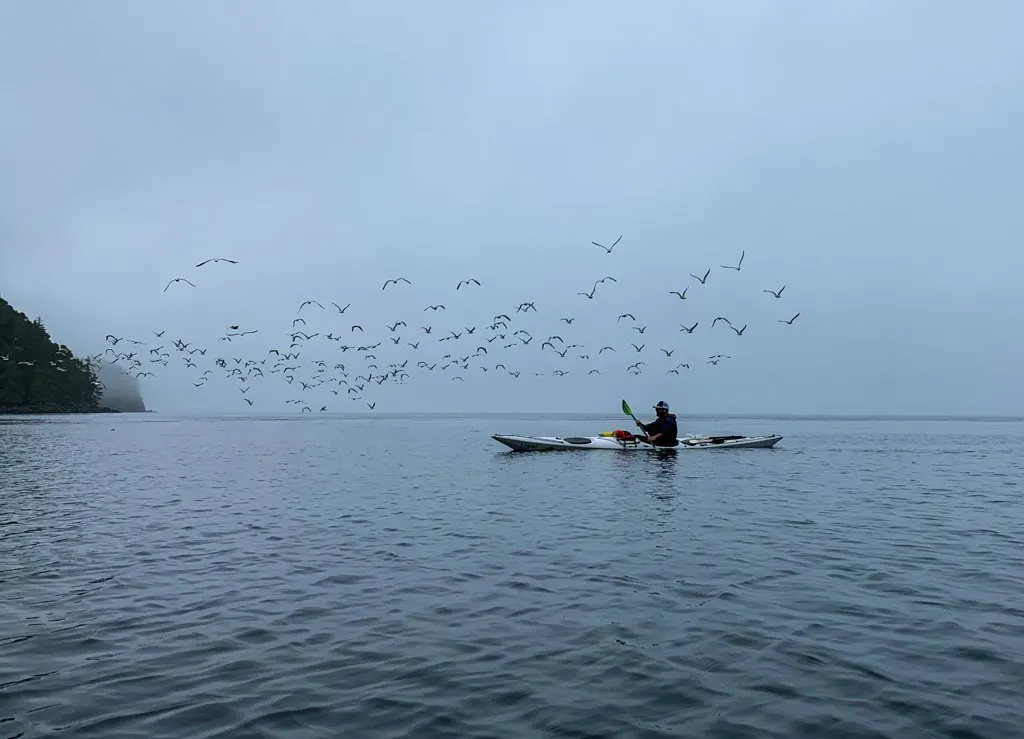 What to Bring on a Johnstone Strait Kayaking Trip
If you go on a guided kayak tour in Johnstone Strait, the tour company will provide most of what you will need including kayaks, PFDs, safety gear, camping gear, food, and drinking water. The company I used (At the Water's Edge Adventures) even gave us chairs and cots! (Omg so comfortable – now I want to buy camping cots.) They will give you a couple of dry bags to store your personal clothing and gear. Here's my recommended list of things to bring if you take a guided kayak tour. Where possible, I've added links to stuff I actually brought.
Paddling Gear
neoprene paddling booties (You'll be getting in and out of the kayaks in shallow water so these are a must and much more comfortable than sandals or sneakers when wet.)
quick dry underwear and sports bra
synthetic hiking pants, shorts or tights to wear under paddling pants (x2)
quick dry long-sleeve shirt for sun protection (x2)
sunhat and sunglasses
sunscreen
Phone tether (I used this stretchy cord to attach my phone to my life jacket zipper so it would be impossible to drop but I could still take photos.)
Camp Gear
If you go self-guided, you'll need to bring your own camping gear, cooking gear, and food. (See my backpacking gear checklist for a rundown on what you will need – it's basically the same stuff.) You will also need to pack drinking water for your entire trip as there are very few reliable places to get fresh water on the islands.
Where to Camp in the Broughton Archipelago and Johnstone Strait
Established/Formal Campsites
The Johnstone Strait and Broughton Archipelago areas have very few formal campsites. If you want to go camping in the Broughton Archipelago, there are campsites with basic pit toilets at Owl Island and Leone Island, but I didn't visit them so I can't tell you what they are like. There are also two BC Recreation Sites on the Vancouver Island side of Johnstone Strait east of Telegraph Cove: Blinkhorn Peninsula and Kaikash Creek. They both have outhouses and campsites. We stayed at Kaikash Creek on our first night and had a once-in-a-lifetime visit from a pod of orcas just off our beach. Magic! We also had lunch at Blinkhorn Peninsula on our last day. There is a great viewpoint from near the navigation light, but the campsites are set back into the beach behind the peninsula.
Informal Campsites
You can also find tons of informal campsites everywhere in the Broughton Archipelago and Johnstone Strait. There are large pockets of private land and indigenous land. So you need to check before you camp to make sure it's allowed. As well, camping in some areas can be tough as the beaches are steep or disappear at high tide and flat ground for tents can be hard to find. The informal campsites don't have toilets so you will need to be prepared to use your best Leave No Trace bathroom etiquette.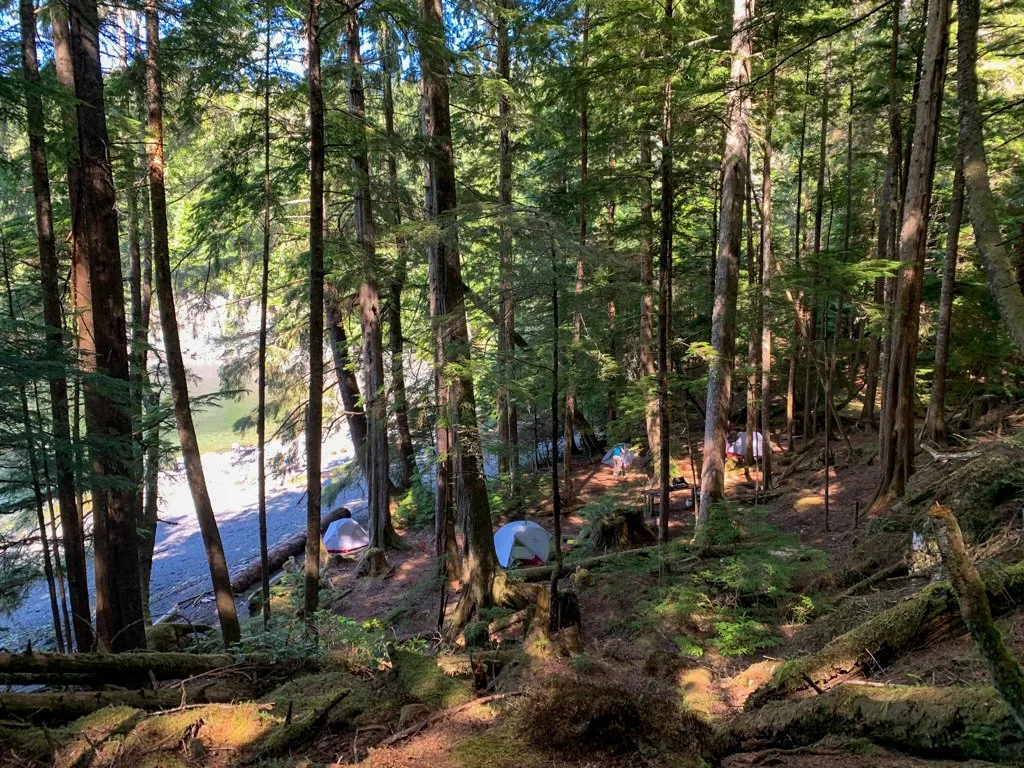 Private Base Camps
Some guiding companies also have established base camps that only their clients can use. If you're looking for a glamping experience, you could book with one of those companies. The company I went with doesn't have a base camp. Instead, they let the weather, currents, and wildlife dictate their schedule. Their guides know about all kinds of hidden campsites throughout the area, so they can adjust their route on the fly. That lets them explore a bigger area, instead of having to paddle back to the same base camp every afternoon. And as a backpacker, the experience of having someone else cook my food and a chair to sit on while I ate it already felt like glamping, so I was glad I didn't do a base camp experience and get tied down to one area.
Where I Camped
On our trip, we stayed at Kaikash Creek Recreation Site on Vancouver Island, at Freshwater Bay on Swanson Island, and at a small cove on Hanson Island. We had hoped to stay on Flower Island, which is just offshore from Freshwater Bay, but it was full. If you can stay at Flower Island, do it. It has an amazing view of Blackfish Sound and humpbacks constantly cruised right by the shoreline!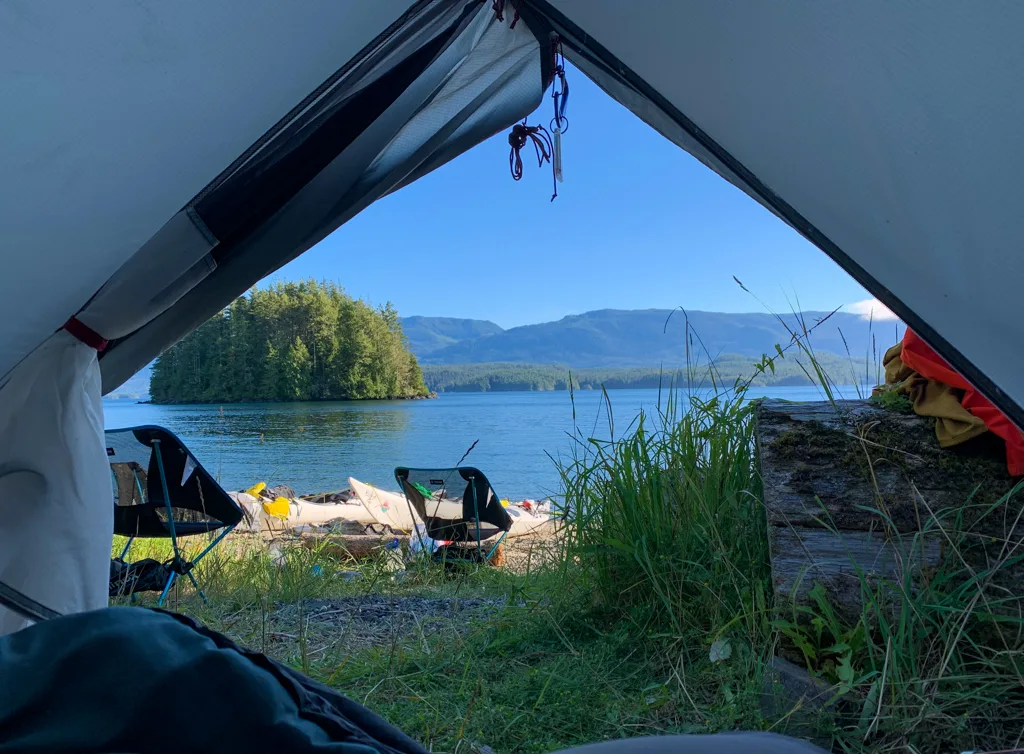 I had a life-changing and amazing time kayaking in the Johnstone Strait. I plan to return in the next few years to do a longer trip and explore more of the northern Broughton Archipelago. (And of course, spend some time in the Johnstone Strait to hang out with the whales.) This post should have everything you need to plan your own Johnstone Strait kayaking trip. If you have any questions, as always, leave them in the comments as I'd love to help. (And don't forget to use code "HAPPIESTOUTDOORS" when you book with At the Water's Edge Adventures to get 10% off.)
MORE posts I think you'd like: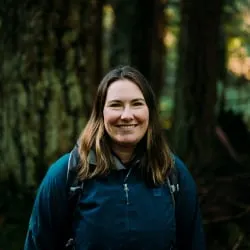 Latest posts by Taryn Eyton
(see all)