A few years ago, I unexpectedly had a chance to go to Stockholm. I went not knowing what to expect and came home totally in love with this quirky and beautiful city. Besides exploring the old town (OMG so many gorgeous narrow streets), my favorite part of Stockholm was learning about Swedish culture.
Apparently art is really important in Sweden. They have long, dark winters so I guess it gives them lots of time to spend inside being creative. And art is so important that Stockholm has literally covered their subway stations with art!
On my trip I spent a day riding the subway all over town, marveling at all this beautiful art… as commuters rushed by. I've put together an awesome self-guided tour of Stockholm subway art for you. It visits 12 of the most beautiful stations close to the city center. And as bonus I've included a side trip to the dreamiest round library. There's a map and step-by-step directions so I promise you can't get lost.
Hey there: Some of the links in this post are affiliate links, which means I earn a small commission at no cost to you. Thanks for your support. -Taryn
READ NEXT: 30 Photos of Stockholm That Will Inspire You to Visit
Stockholm Subway Basics
Stockholm's subway system opened in 1950 and currently has 100 stations. It is often called the world's longest art gallery since 90 of the stations are decorated with art.
While in other countries it might be called the metro, subway, or underground, in Swedish it is referred to as the T-bana, short for tunnelbana. It translates to" tunnel railway".
There are three main lines: red, blue and green.
Self-Guided Stockholm Subway Art Tour Tips
Tour Length
Allow about 2 hours to follow the entire Stockholm Subway Art Tour itinerary.
Best Times to Take the Stockholm Subway Art Tour
The best time to take this self-guided Stockholm subway art tour is on a weekday in the middle of the day. That way you miss rush hour and have plenty of time to take photos in the stations.
I went on a Thursday morning around 10:30am and as you can see from my photos, I encountered very few other people. You could also try a weeknight late at night since the stations are open until 12:30am.
Stockholm Subway Art Tour Itinerary
I've put together an itinerary for you that visits some of the most photogenic stations in the city center. (There are other awesome stations further out, but they take much more time to visit so I haven't included them.) On this tour you will visit twelve stations:
Red Line:
T-Centralen
Stadion
Tekniska Högskolan
Universitetet
Green Line:
Hötorget
Odenplan (Stockholm Public Library)
Thorildsplan
Fridhemslplan
Blue Line:
Solna Centrum
Hallonbergen
Radhuset
Kungsträdgården
T-Centralen
Stockholm Subway Art Tour Map and Directions
I've included directions in the tour below. There are clear signs in all stations showing where to go and when the trains are coming. It's probably one of the easiest subway systems I've ever navigated.
I've also put together an awesome custom google map for you. (Because I heart maps!)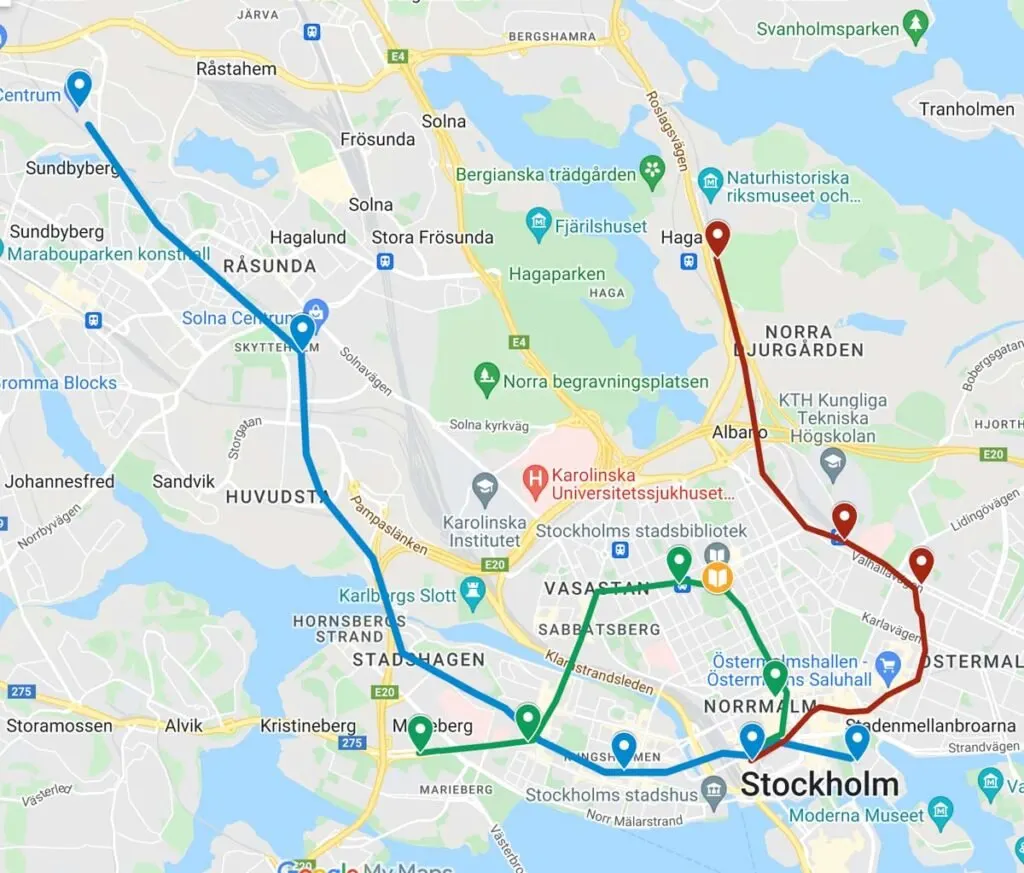 Stockholm Subway Tickets
A single use ticket for the Stockholm T-bana is valid for 75 minutes. However, that's not enough time to do the whole tour.
If don't want to buy a longer ticket, you can make the tour shorter. Skip the side trip to the public library and the Solna Centrum and Hallonbergen stops on the blue line since they are a bit further out.
However, I recommend you get a 24 hour pass so you can take your time and really explore the stations. If you get the 24 hour pass you can combine your self-guided Stockholm subway art tour with another transit-friendly destination such as exploring Sodermalm or taking one of the ferries from Nybroviken and Djurgården.
As of November 2022, the price for a single use ticket is 38SEK ($3.42USD/3.48Euro) and a 24 hour pass is 155SEK ($13.97USD/14.21Euro). Check the latest prices on Stockholm's transit website sl.se.
The tickets are electronic cards that you swipe at the fare gates at the entrance to each station. You can buy tickets at the entrance to each station.
Art Viewing Tips for the Stockholm Subway
There is art all over the place in these stations so make sure you explore around so you don't miss something. At each station walk the length of each platform and venture up the escalators towards the exits. You can even go through the fare gates and re-enter as long as your ticket still has time on it.
The trains run every 2 to 10 minutes during the day. Digital displays on the platforms will let you know when the next train is coming. At some stations you'll have enough time to get off and explore before the next train arrives, but at most you'll probably watch a few trains go by before you're ready to leave.
Tips for Photographing the Stockholm Subway Art
It's easy to take photos of the stations with any camera or phone. However, it can be a bit dark in some areas which makes for tricky photography conditions.
If you're a serious photographer, consider bringing a DSLR on a tripod and shooting longer exposures. I brought my mini Gorillapod tripod and used it for some of the shots.
If you don't have a fancy camera or a tripod, try to stand as still as possible while you shoot. Or try bracing your camera or phone against a wall or bench for even better stability.
I recommend: I used my mirrorless Sony A6000 camera on a Gorillapod mini tripod to take the photos in this post. If you're looking for a lightweight travel tripod, I love my Sirui T-025X carbon fibre tripod and I really wished I had it with me in Stockholm.
The Ultimate Self-Guided Tour of Stockholm's Subway Art
Okay, so you've packed your camera, you've bought your subway ticket and you're ready. Let's go explore Stockholm's subway art!
START your tour at T-Centralen Station and head to the platform for the red and green lines.
T-Centralen Station
All three of Stockholm's subway lines (red, blue and green) go through through T-Centralen Station. It's also connected to the commuter and long distance railway lines so it's a bustling place.
The platform for the red and green lines dates back to 1957 and features geometric tiles. (The blue line platform is a bit more photogenic, but don't worry: you'll visit it at the end of the tour).
GO NORTH on the RED LINE to Stadion (Be sure to get on a train that terminates at Mörby Centrum. The red line also has another norther branch that goes to Ropsten – don't take that one! )
Stadion Station
Opened in 1973, Stadion was one of the first "cave" stations, carved right out of the bedrock. To combat fears that the caves would be depressing, artists Åke Pallarp and Enno Hallek gave the station a rainbow theme.
GO NORTH one stop to Tekniska Högskolan Station
Tekniska Högskolan Station
This station serves the Royal Institute of Technology, so it's no surprise that the art in this station is science themed. My favourite part is the large glass polyhedron in the centre of the station.
GO NORTH one stop to Universitetet Station
Universitetet Station
Universitetet station sits below Stockholm University. The main feature of the station are tile panels outlining the travels of Carl Linnaeus, a Swede who is known as the father of the modern taxonomy of organisms.
GO SOUTH back to T-Centralen
At T-Centralen, SWITCH TO THE GREEN LINE
GO EAST one stop to Hötorget
Hötorget Station
This is one of the original stations on Stockholm's T-Bana, built in the 1950s. It had plain tile walls and no art at all until artist Gun Gordillo added a neon lighting installation to the ceiling in 1998. The rest of the station is pure 1950s, retro signage, benches and all.
GO EAST two stops to Odenplan
Odenplan Station and the Stockholm Public Library
Odenplan station is nothing special. It's an older station and doesn't have any notable art. However, if you get off the subway and walk two blocks east down Odengatan, you'll reach the Stockholm Public Library.
Opened in 1928, this beautiful building has a gorgeous 3 story reading room in the rotunda that is worth a visit. (Plus it's totally free and they don't mind photography as long as you are quick and quiet.) After you've visited the library, head back to Odenplan station.
GO EAST three stops to Thorildsplan
Thorildsplan Station
Like many of the stations, Thorildsplan uses tiles. However, these are not normal boring tiles. At Thorildsplan, artist Lars Arrhenius used the tiles to create whimsical 8-bit video game inspired art.
See if you can spot characters and scenery from Super Mario Brothers, Space Invaders, PacMan and more. Thorildsplan is an above-ground outdoor station – the only one you'll visit on this tour.
GO WEST one stop to Fridhemsplan
READ NEXT: The Ultimate Self-Guided Walking Tour of Stockholm
Fridhemsplan Station
The art at Fridhemsplan doesn't have a clear theme: There's a ship in a display box and also some robots with flowers. But the real reason your self-guided tour of the Stockholm subway stops here is to switch from the green line to the blue line. There's a 200m tunnel connecting the green and blue line platforms
SWITCH TO THE BLUE LINE
GO NORTH to Solna Centrum (Be sure to get on a train that terminates at Akalla. The blue line also has another northern branch that goes to Hjulsta – don't take that one! )
Solna Centrum Station
The art at Solna Centrum station depicts the a red orange sunset behind the green of the Swedish forests. Artists Karl-Olov Björk and Anders Åberg then free-handed hundreds of little drawings onto the walls.
They depict important political issues including deforestation, the environment and the influx of people to the cities from rural areas. There are some humorous scenes if you hunt for them, like the angry moose menacing an unsuspecting hiker, below.
GO NORTH two stops to Hallonbergen
Hallonbergen Station
If the art at Hallonbergen Station looks like it was made by children… that's because it was! Artists Elis Eriksson and Gösta Wallmark actually used their own childhood drawings and their children's art to cover the walls of the station.
The whimsical nature of the station seems appropriate since in Swedish Hallonbergen translates to Raspberry Hill.
GO SOUTH to Radhuset
Radhuset Station
The Radhuset Station is located underneath the Stockholm Courthouse. The station has exposed bedrock, painted reddish orange and has some interesting art objects mounted on the walls and ceilings. (Check out the metal shoes in the photo below!)
GO EAST two stops to Kungsträdgården
Kungsträdgården Station
I saved Kungsträdgården station for the end of the tour since it has the most to see. The first thing you'll notice is the red, white and green colour scheme.
Next you'll probably notice the sculptures: there are reclaimed pieces of sculpture from demolished buildings around Stockholm embedded in the walls and in a dedicated display area. There's also a crazy mosaic ceiling detail.
Oh and this is the only station with live inhabitants: apparently there is a type of fungus and a type of cave spider that live in the station and nowhere else. Pretty weird!
GO WEST one stop to T-Centralen
T-Centralen Station
Your tour ends on the blue line platform of the T-Centralen station. Artist Per Olof Ultvedt painted this station on the blue line with a variety of blue motifs. Other parts of the station honour the workers who built the station – you can see their painted silhouettes on the ceilings and walls.
Thanks for sticking with me through this self-guided tour of Stockholm's subway art! If you're looking for more things to do in Stockholm be sure to check out my self-guided tour of Gamla Stan, Stockholm's historic old town.
Read Next: