The Inside Passage ferry from Port Hardy to Prince Rupert in British Columbia is one of the most scenic boat trips I've ever taken. And the funny part is, it's just part of the provincial ferry system – it's not a tourist boat trip or a cruise!
The route takes you up the coast of British Columbia through narrow inlets between mountainous islands. It's called the "Inside Passage" because it avoids the rough open ocean. Along the way, you can spot whales, dolphins, rainbows, and lots of spectacular scenery.
Many people pay thousands of dollars to take a cruise ship through the Inside Passage on their way to Alaska. But the day-long ferry from Port Hardy to Prince Rupert gets you the same views at a much lower price.
In this guide to the Inside Passage ferry you will find:
Hey there: Thanks so much for BC Ferries for hosting me on this trip. All opinions in this post are my own. Some of the links in this post are affiliate links, which means I earn a small commission at no cost to you. Thanks for supporting my website! -Taryn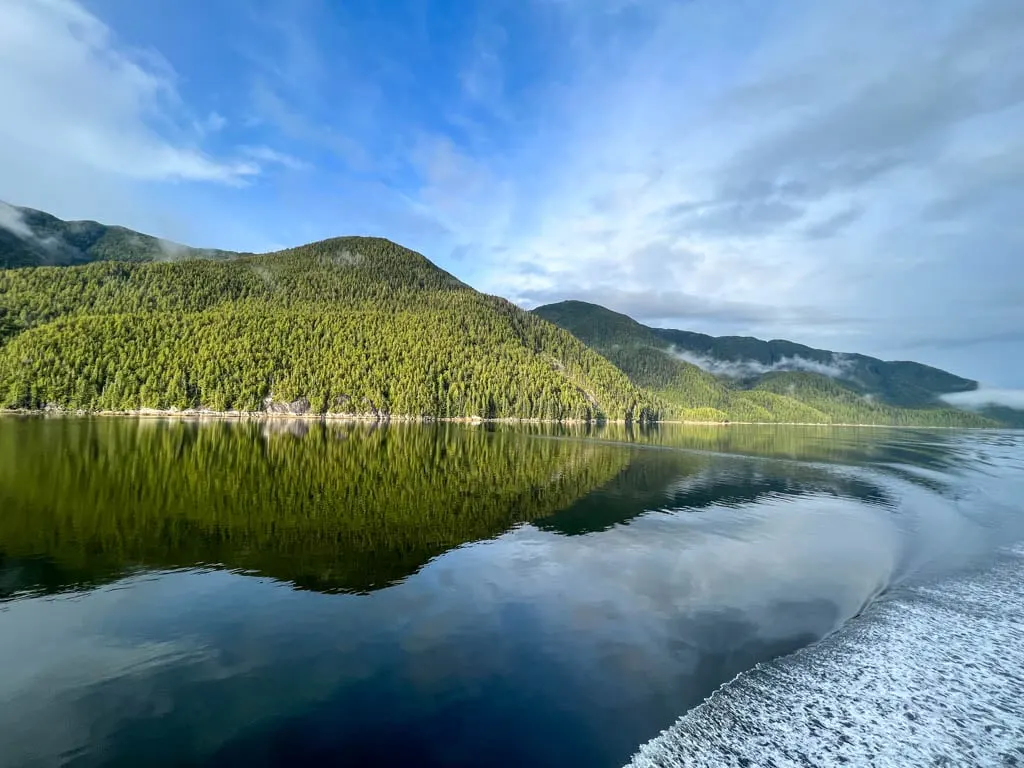 Is the Inside Passage Ferry Worth it?
The Inside Passage Ferry from Port Hardy to Prince Rupert is BC Ferries' longest and most expensive ferry trip, so you might be wondering if it is worth it? My answer is yes!
The entire voyage is incredibly scenic with great views of mountains, ocean, islands, and tons of wildlife out the window. Many people pay tons of money to take an Inside Passage cruise to Alaska, but the BC Ferries Inside Passage trip is a fraction of the price. (Not gonna lie though, it's still not cheap.)
If you are planning a trip to Northern BC or Haida Gwaii, it's a no-brainer to book the Inside Passage ferry. Instead of spending hours stuck in a car, you get to chill out on a boat and let the scenery drift by. The travel time from Vancouver to Prince Rupert by ferry is also comparable to driving.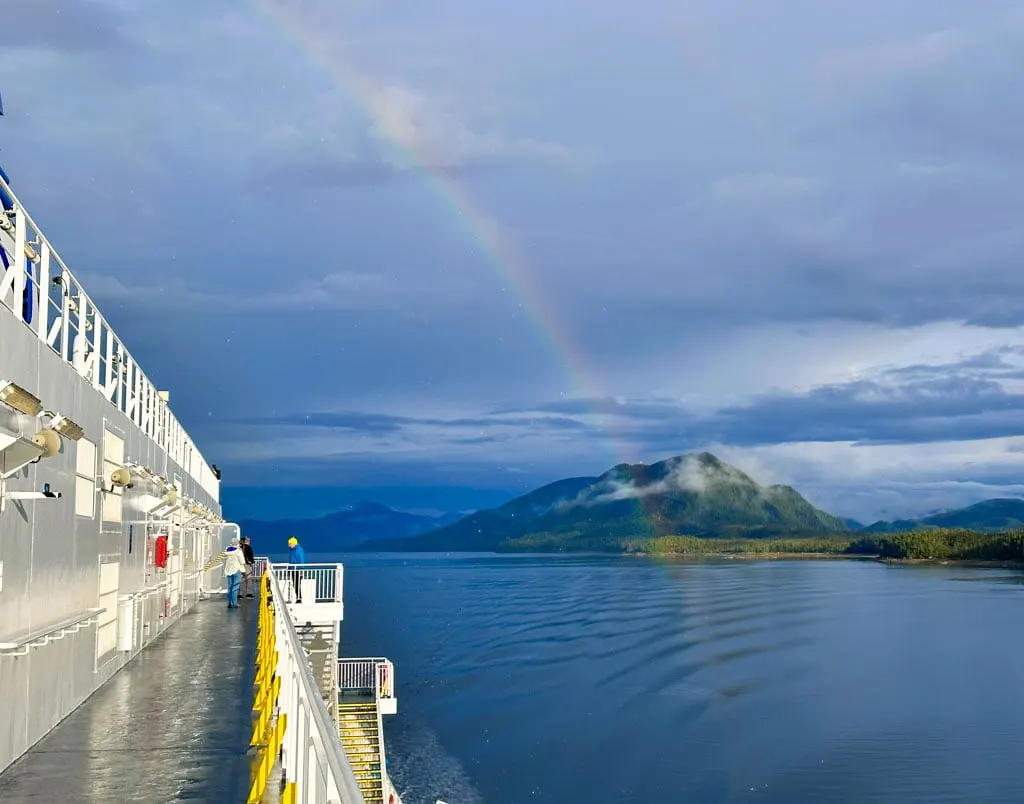 Inside Passage Ferry Basics
Routes: There are two main Inside Passage ferry routes. The BC Ferries route goes from the Bear Cove ferry terminal at Port Hardy on Vancouver Island and Prince Rupert in northern BC. The Alaska Marine Highway Route goes from Bellingham, Washington to Sitka Alaska or from Prince Rupert, BC to Skagway, Alaska. In this post, I'm going to focus on the BC Ferries route only.
How long does it take? In the summer, the sailing takes 16.5 hours.
Schedule: There are daytime sailings from Port Hardy and Prince Rupert every other day in the summer, leaving in the morning. The rest of the year, there are fewer sailings, typically 1-2 days a week and all sailings are overnight voyages. See the BC Ferries website for the latest schedule.
Stops: The ferry stops at either the Heiltsuk village of Bella Bella or the Tsimshian village of Klemtu. These are both water-access-only Indigenous towns. They are brief stops, and you must remain on board if you are carrying on to Prince Rupert.
Cost: As of 2023, adult fares are $110.70 to $188.55 depending on the time of year you travel. Standard vehicles cost $241.35 to $429.70 depending on the time of year. There are fees for any extra length over 20 feet (6.1m). These prices don't include taxes and fuel surcharges.
Reservations: In the summer, reservations are highly recommended as most sailings are full. If you don't have a reservation, you can try going on standby, but it's risky. You can make reservations on the BC Ferries website.
Vessel: You will be travelling on the Northern Expedition, which is an ocean-going ship capable of withstanding heavy seas. It has two passenger decks and an exterior sundeck with cabins, lounges, and a restaurant. See the On-Board Amenities section below for more details. (Note: Occasionally the Northern Adventure, a smaller vessel is used.)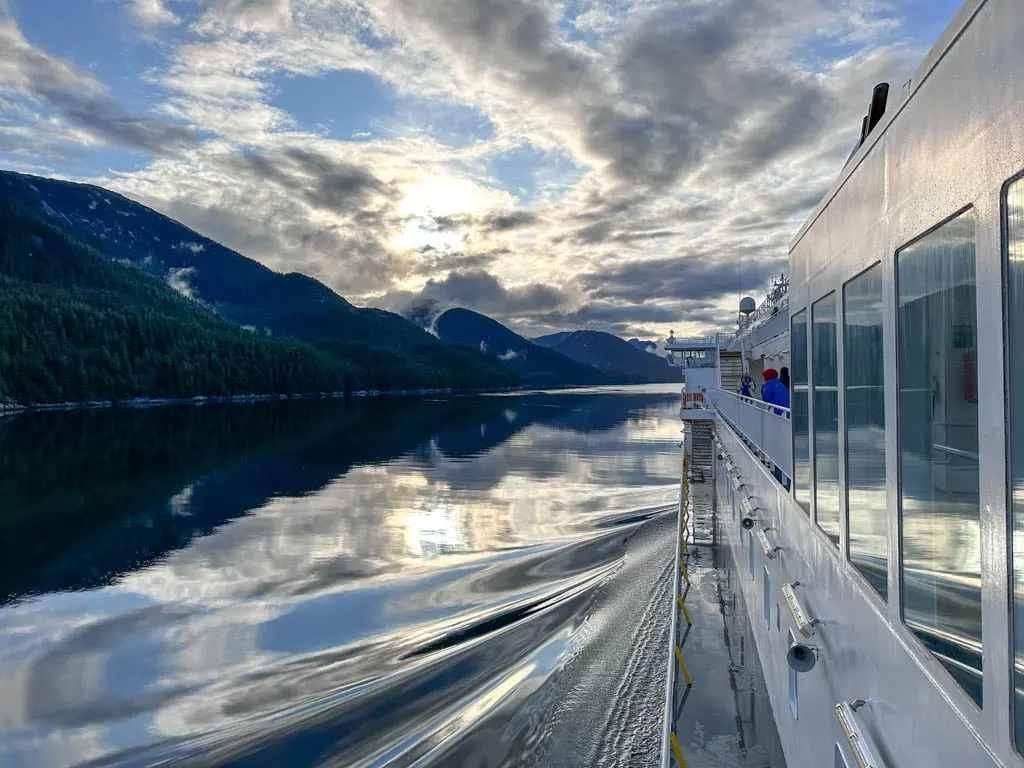 Best Time to Take the Inside Passage Ferry
The Inside Passage ferry runs all year, so you can take it at any time. However, summer is the best time to go for a few reasons.
Firstly, the weather is better. This is a rainy part of the world, especially in the fall and winter, so going in the summer gives you a better chance of having a sunny day. On my June trip, we had some drizzle, but also some sun and it was still beautiful. The seas are also calmer in the summer.
Secondly, in the summer the ferry runs during the day instead of offering overnight sailings like they do in the winter. That means that you can spend the entire journey looking at the incredible scenery.
And lastly, there is more daylight in the summer to see the scenery. I went in mid-June close to the solstice and we had daylight for almost our entire trip. We also caught an incredible sunset just outside Prince Rupert.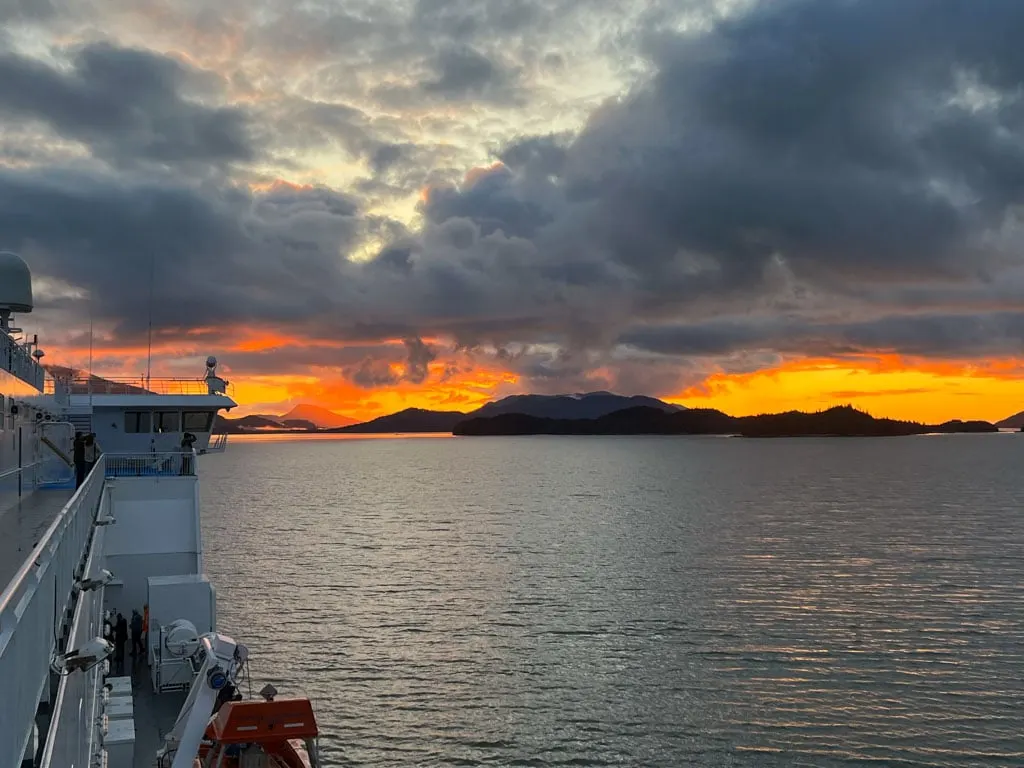 Inside Passage Ferry Reservations and Planning Your Trip
Taking the BC Ferry from Port Hardy to Prince Rupert requires a bit of advance planning. Read on for my tips for making ferry reservations, booking hotels on either end of your trip, and checking in for the ferry.
Make Ferry Reservations in Advance
To avoid disappointment, make ferry reservations in advance as they do sell out. This is especially important if you are travelling with a vehicle. There is usually lots of room for passengers, but not for cars. The Northern Adventure has capacity for 115 cars, but there are often lots of cargo trucks and RVs on the ferry, which reduces capacity.
Going on Standby
If you don't have a reservation, you can sign-up for the standby list for either vehicles or foot passengers when you arrive at the terminal. (There is usually lots of room for foot passengers so there is rarely a foot passenger stand-by list.)
Names go on the stand-by lists in the order that you arrive, so go early. Keep in mind that they may have lots of standby vehicle spots or none at all. And if you have a larger vehicle, your chances of getting on board via standby are smaller.
Getting to Port Hardy
Port Hardy is at the northern end of Vancouver Island. It is a 4-hour drive from Nanaimo or a 6-hour drive from Victoria. If you are coming from Vancouver, the best option is to take the ferry to Nanaimo from the Horseshoe Bay ferry terminal in North Vancouver.
Psst! I recommend spending more time in the Port Hardy area. Read my list of the best things to do on Northern Vancouver Island for all the details.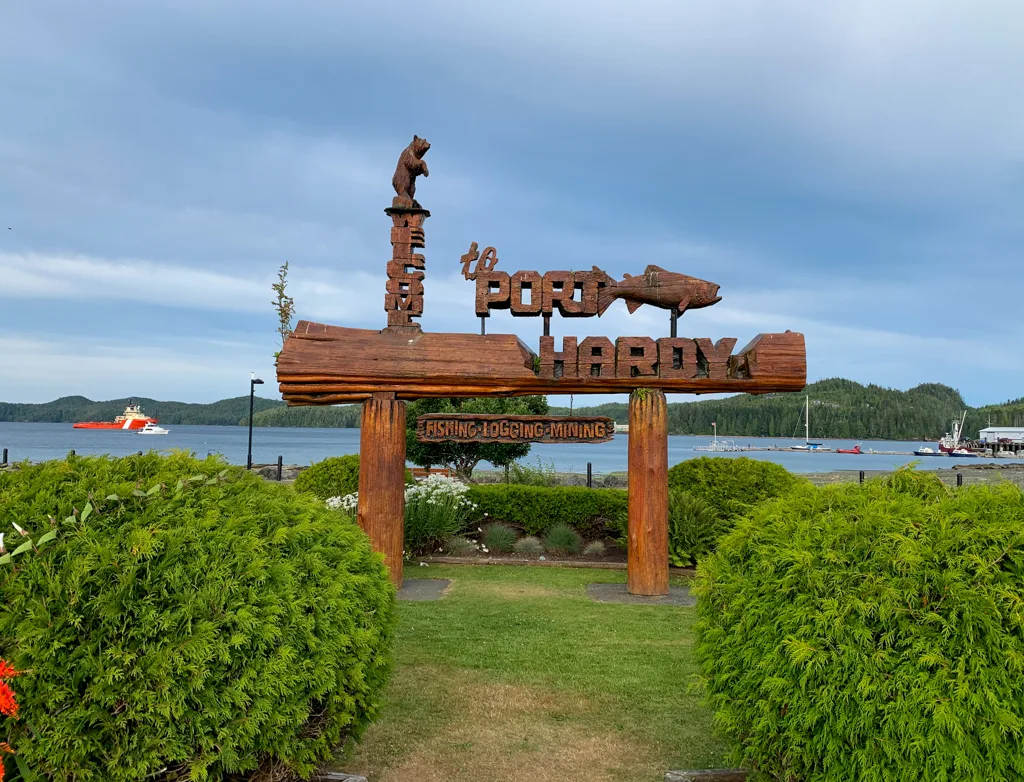 Book a Port Hardy Hotel in Advance
In the summer, the ferry leaves early in the morning. That means that you will likely need to book a hotel in Port Hardy. When booking, be sure to leave a note for the hotel that you will be on the ferry and will need an early check-out. Book early as the nicer hotels sell out and the remaining hotels are kind of gross.
I've been to Port Hardy nearly a dozen times. My favourite place to stay is the Kwa'lilas Hotel. It is Indigenous-run and has gorgeous decor without being too pricey. The on-site restaurant is good too.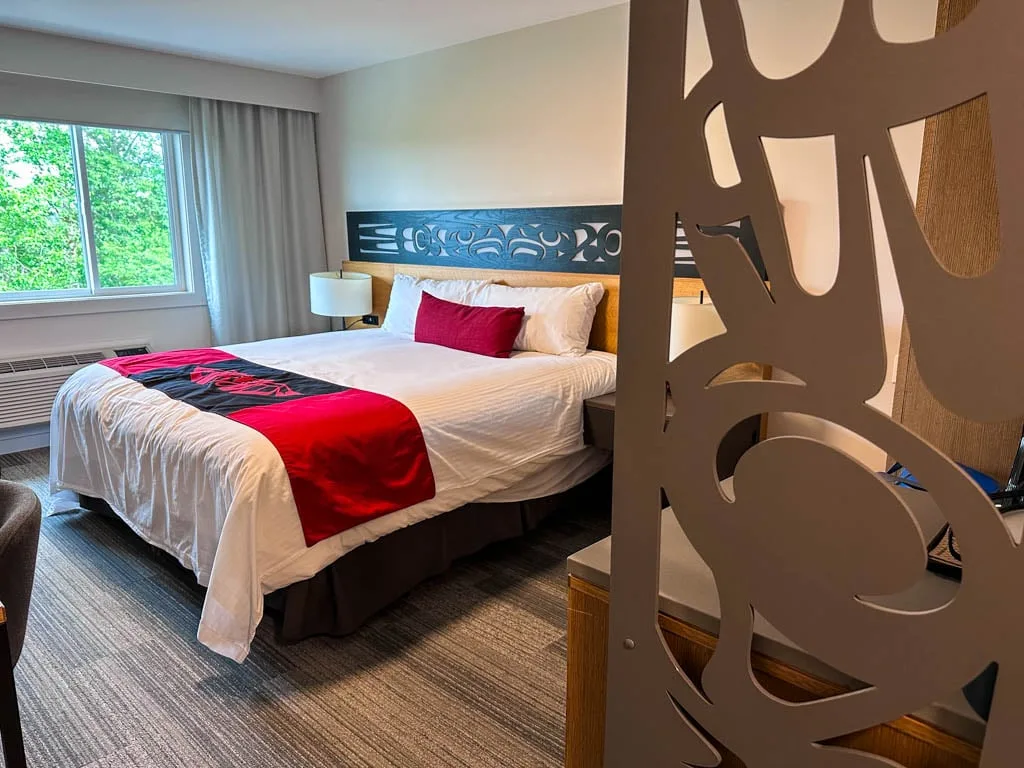 As a second choice, I would recommend the Quarterdeck Inn which is right on the harbour. My most recent stay there was before my hike on the North Coast Trail. Both of my picks are a 10-minute drive from the ferry terminal.
If you have an RV, you are allowed to park at the Port Hardy ferry terminal the night before your sailing as long as you arrive before midnight. The fee is $22. There are also RV parks in Port Hardy.
Checking in for the Ferry
You need to check in at the terminal 90 to 120 minutes before the ferry leaves or you will lose your reservation and have to go on the stand-by list. That means that you may need to be at the ferry terminal as early as 5:30 am!
Once you arrive at the ferry terminal, you will need to confirm your reservation and show ID for all passengers. Next, you will be placed in a holding area based on the size of your vehicle.
If you are travelling without a car, you will check your luggage, just like on a plane. But of course, you can bring a small backpack or tote on board. Foot passengers have access to a small lounge while they wait to board.
Loading the Ferry
When it is your turn to load, you will need to show your ID again. They start loading the ferry about 90 minutes before the scheduled departure time. Foot passengers go on board right away but loading cars is a very slow process.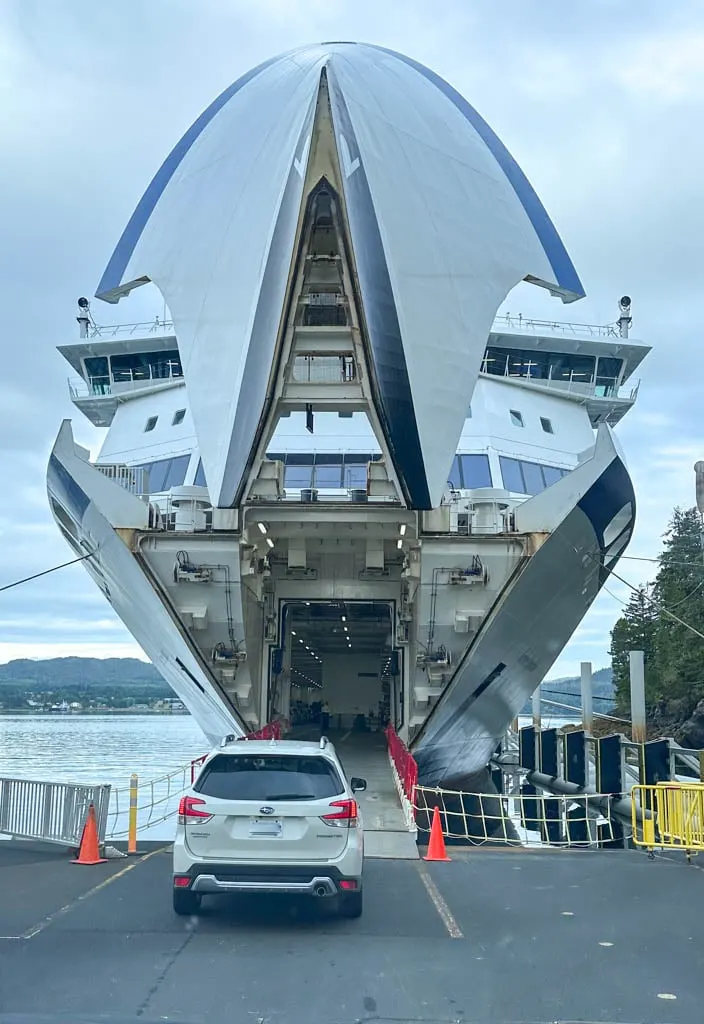 This is because the vessel only has one vehicle door so all cars need to turn around and back into their parking spots on the ferry. If you are driving an RV you will need to back down the ramp onto the ferry. Ferry staff will help you by giving directions as you back up, but if needed, they will also drive your vehicle onto the ferry and park it.
After your car is parked, workers will place wedges around the wheels to keep it from rolling during the voyage. Don't forget to also put your parking brake on.
Cars load onto the ferry in order of size, with the smallest cars going first, then midsized cars, vans, and SUVs, then pick-up trucks, then RVs. You may be waiting a long time between check-in and loading, so bring a book or take a nap.
While BC Ferries workers do their best, delays during loading are common. Unless you are driving a small car, expect to wait two to three hours between check-in and loading.
Arrival in Prince Rupert
You will arrive in Prince Rupert late at night after a long journey. Make sure you have a hotel booked as you will be too exhausted to drive far.
I recommend the Crest Hotel, which is the nicest hotel in town. Be sure to book a sea view room – each one has a bay window with a panoramic view of the ocean.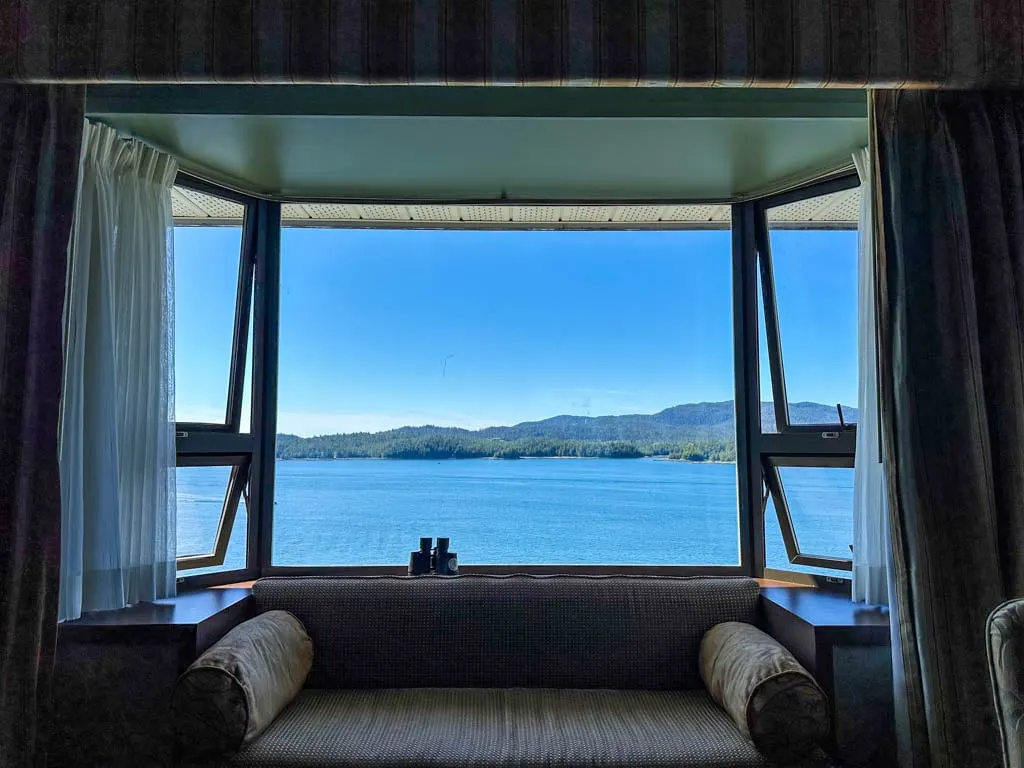 The Prestige Prince Rupert also gets great reviews and is a bit cheaper. Both options are in downtown Prince Rupert, about 10 minutes from the ferry terminal.
If you are driving an RV, there is an RV Park a few minutes from the ferry terminal.
Inside Passage Ferry On-Board Amenities
Since you will be on board the vessel for 16 hours, it's important to know all of the amenities. Here's a quick run-down of what you will find. There are directories in the stairwells to help you find your way around the ship.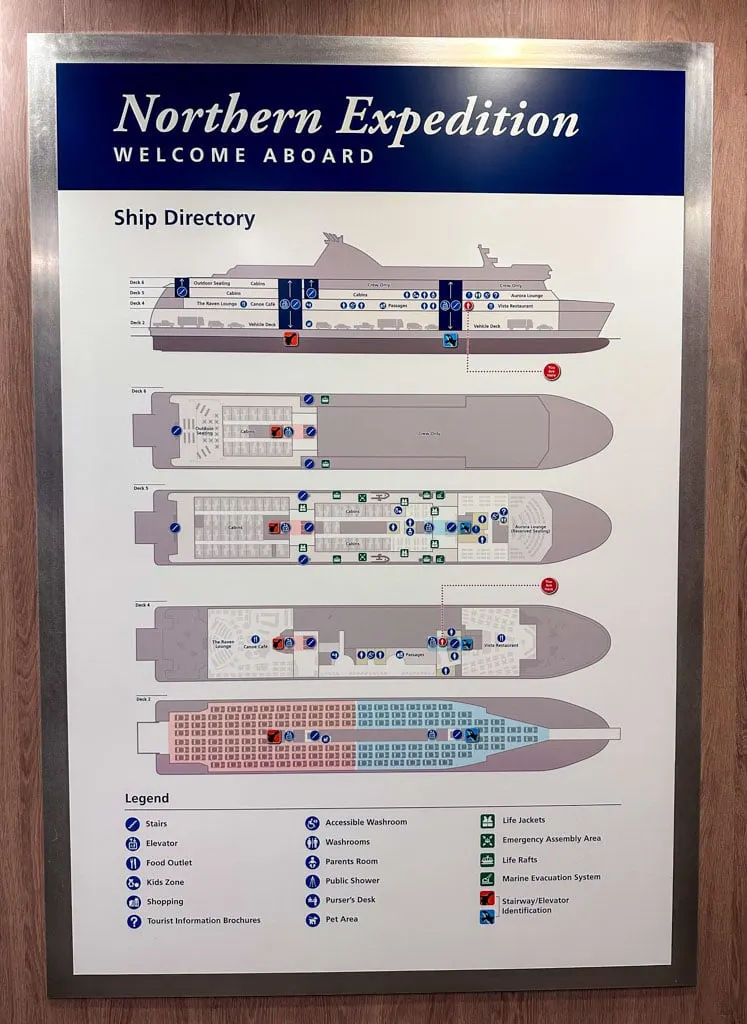 Lower Car Decks
The lower car decks are closed and inaccessible during the voyage for safety reasons. However, there will open every few hours for 15 minutes if you need to get something from your car or attend to pets (which must stay in your vehicle). Each opening is announced on the vessel's loudspeaker.
Upper Passenger Decks
There are three decks open to passengers throughout the voyage: decks 4, 5, and 6. This is where you will find the restaurants, lounges, cabins, gift shop, and kids' area. I've got details on each of the key amenities below, as well as where to find them.
Passenger Cabins
There are very small passenger cabins on board if you want a private space or need to sleep. These are especially helpful if you are on an overnight sailing. My trip on the Inside Passage ferry was a daytime sailing so I didn't book a cabin.
You can book an inside cabin (which doesn't have a window), or an outside cabin with a window. It's worth noting that the windows in the outside cabins look out across an outside deck so they don't have the best view. Each has two twin beds and a tiny bathroom with a shower. They are very basic.
Inside cabins are cheaper at $110-120 depending on the time of year. Outside cabins cost $140-145 depending on the time of year.
You can reserve a cabin at the same time as you reserve your sailing. Cabin reservations sell out fast. When you board the vessel, head to the Purser's office on deck 4 to get your cabin key card. If you don't have a cabin reservation, you can also ask to be put on the cabin stand-by list here.
Aurora Lounge
The Aurora Lounge at the front of the ferry on deck 5 is available by reservation only. It has the best views on the ferry with huge glass windows that wrap around the bow of the vessel. The Aurora Lounge also has huge, comfy reclining chairs with footrests. It is only open between May and September.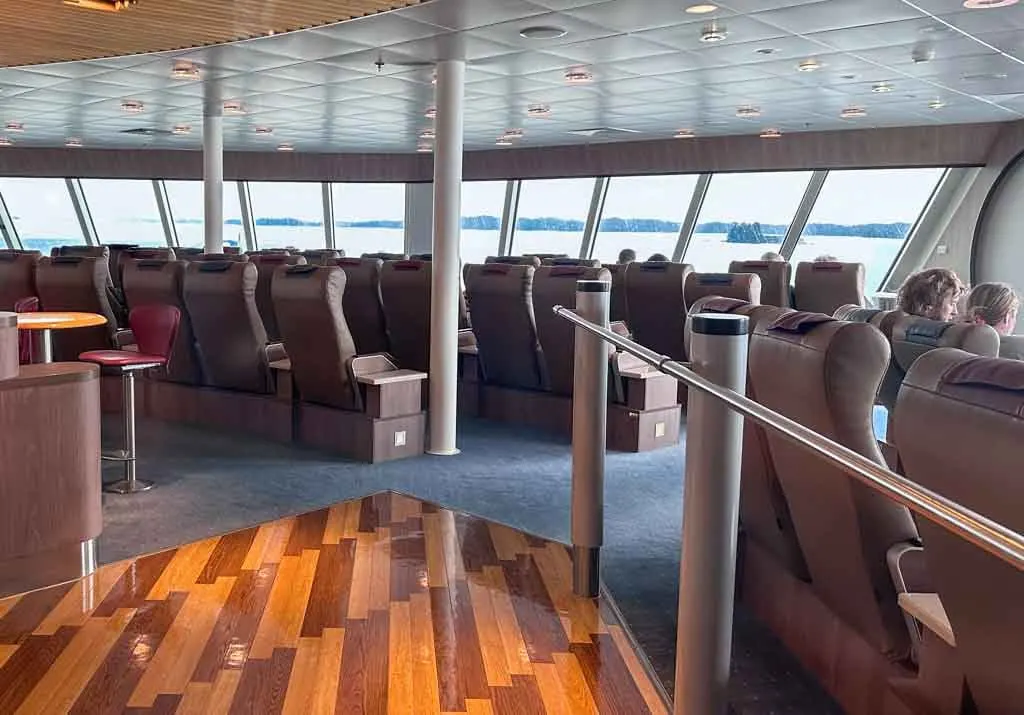 You can book a seat in the Aurora Lounge when you make your reservation for the ferry. Seats cost $40 each. Your reservation guarantees you access to the lounge but it doesn't book a specific seat.
When you board the ferry, go to the Purser's office on deck 4 to get your key card to the lounge. Choose an available seat once you get inside. The best seats are the 14 in the front row.
I didn't bother to pay extra for the Aurora Lounge on my trip and I don't think I missed out on much as our seats still had a great view.
Vista Buffet Restaurant
The large Vista Buffet Restaurant is located at front of the vessel on deck 4. Many of the tables have great views. The restaurant offers a breakfast buffet with hot and cold items as well as a lunch and dinner buffet that includes soups, a salad bar and entrees.
The buffet closed in 2020 due to Covid-19 and hasn't reopened so I wasn't able to eat there on my trip from Port Hardy to Prince Rupert. BC Ferries has announced that they have not yet decided if it will reopen.
If it does reopen, make sure you reserve a table once you are on board as it gets booked up.
Canoe Cafe
The Canoe Cafe is the Northern Expedition's cafeteria-style restaurant. Find it on deck 4 near the back of the boat. It's a bit different than the cafeterias on other BC Ferries because it does not have a White Spot menu.
The cafe serves hot breakfasts as well as a lunch/dinner menu that is mostly burgers. They also have sandwiches and salads, but my favourite thing to order was the soup. They always have Manhattan-style clam chowder, but there is also a tasty soup of the day.
You can also get hot and cold drinks including machine-made espresso-based drinks. They also have beer and wine for sale.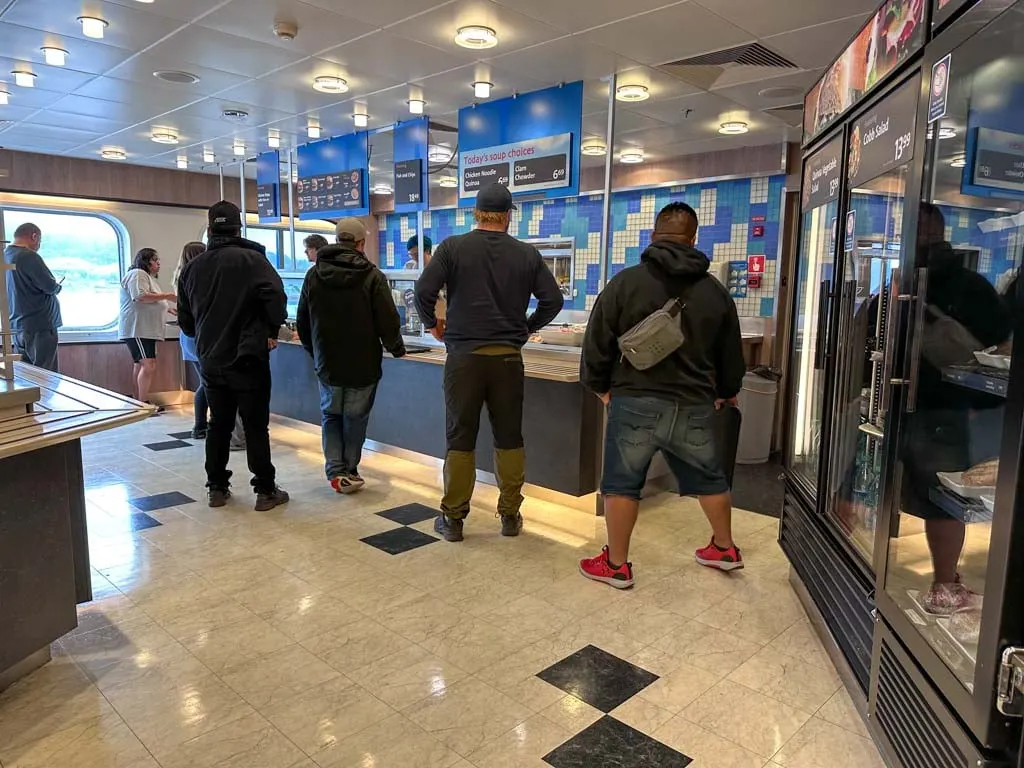 There are tables in the canoe cafe, some of which have ocean views. Or you can get your food to go and eat it elsewhere on the ferry. When the cafe isn't busy, the tables here can be a good place to play card games.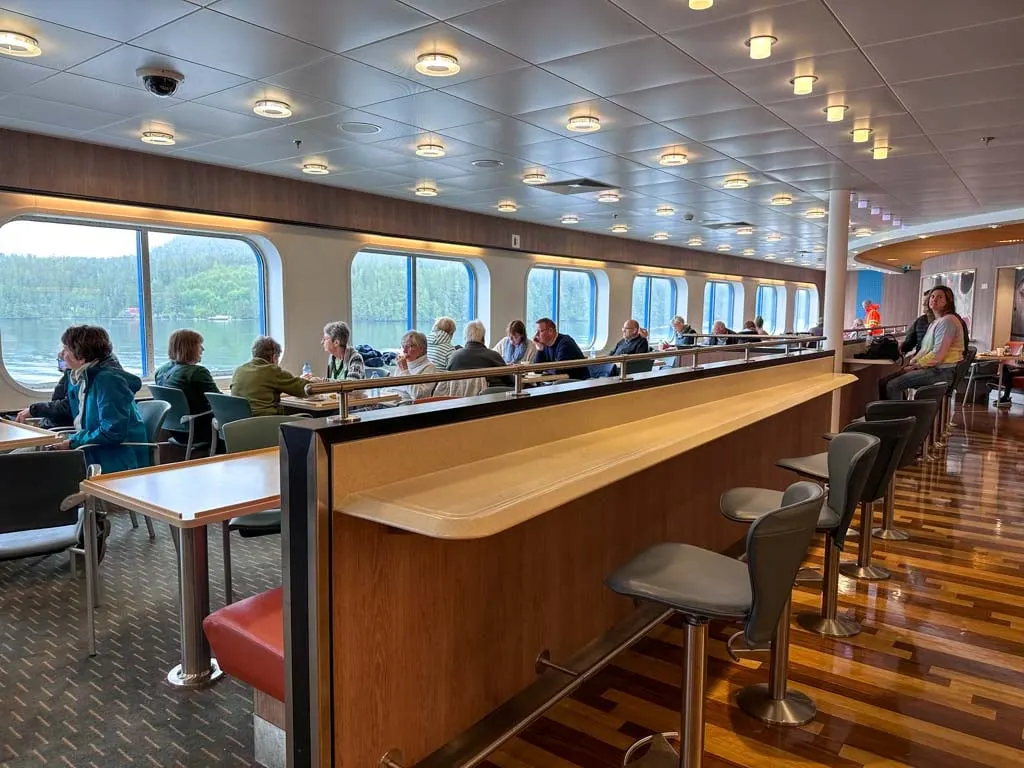 Raven Lounge
The semi-circular Raven Lounge is located at the back of the boat on deck 4 next to the Canoe Cafe. It has reclining seats and flat-screen TVs.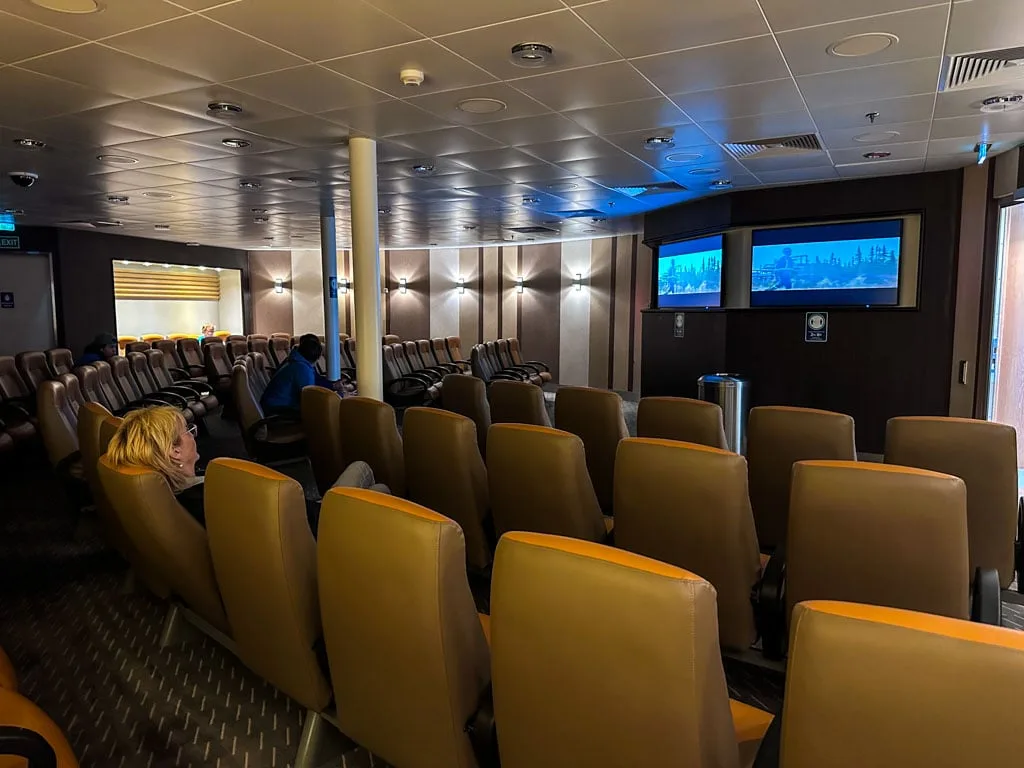 There are several movies shown in the lounge during the voyage. There is a schedule posted outside the Purser's office and they also make an announcement on the loud-speaker before each movie starts.
Passages Gift Shop
The small gift shop includes lots of magazines, novels, local books, and art. Find it on deck 4 in the middle of the ferry. They also have stuff for kids and a surprisingly large selection of clothing. You can also find candy, travel-sized toiletries, and over-the-counter medication like pain-killers.
If you are looking for a souvenir, the gift shop is actually pretty good. I recommend the clothing and home goods from Native Northwest. They are an ethical brand that partners with local Indigenous artists to license their work and print it on t-shirts, bags, mugs, and more.
Kids Zone
There is a small children's area with a play structure on deck 5 on the left side of the ship. It is located at the end of a regular lounge area without any physical separation, so it can get a bit loud. It's a great place to hang out if you have kids… and a terrible place to sit if you don't.
Seating Areas
There are three main non-reservable indoor seating areas on the ferry, which are open to everyone. They are all first-come, first serve. Unless you have reserved a cabin or the Aurora Lounge, I recommend making a bee-line to some of these seats as soon as you get on the ferry.
Deck Four Seating Area
The first seats you will encounter are pairs of seats on deck 4 along the window in the middle of the boat. These seats often get taken first since people see them first. But some of them face backwards and they are in a high-traffic area between the cafe and the gift shop, so they aren't my first pick.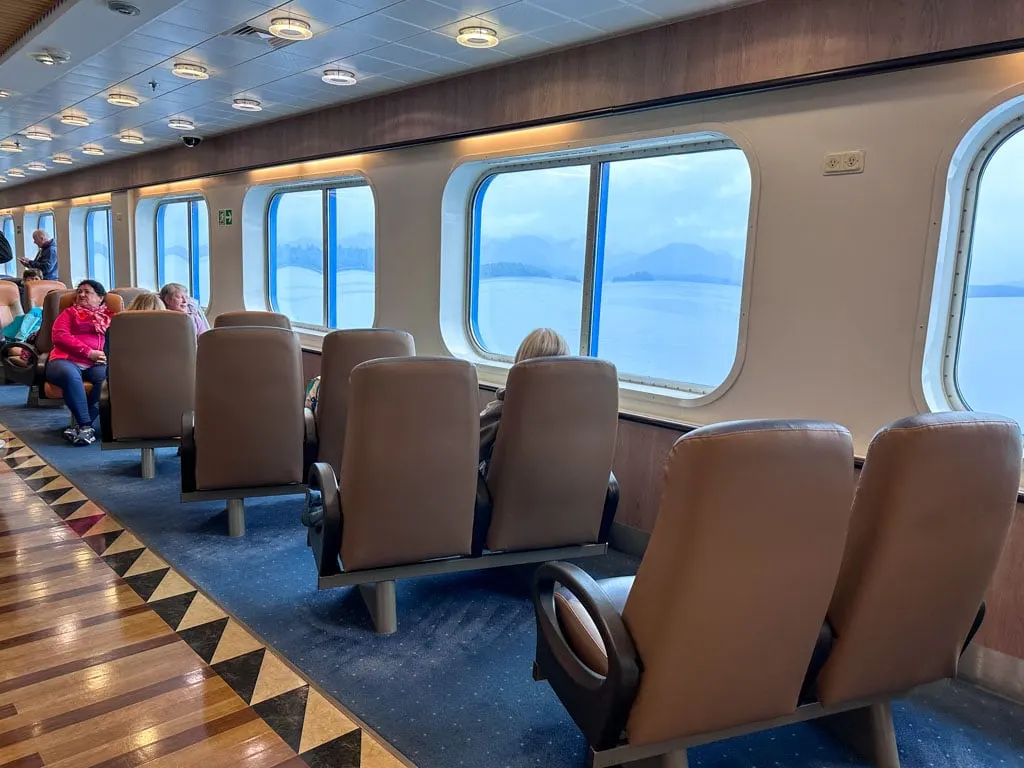 Deck Five Forwarding Facing Seats
The second place you will find seats is in the middle of the ferry on deck 5 next to the cabin area. These seats face forward so unless you are on the end near a window, you can't really see outside. As well, the windows look out over an outside deck. The ones are the left side also get noise from the Kids Zone.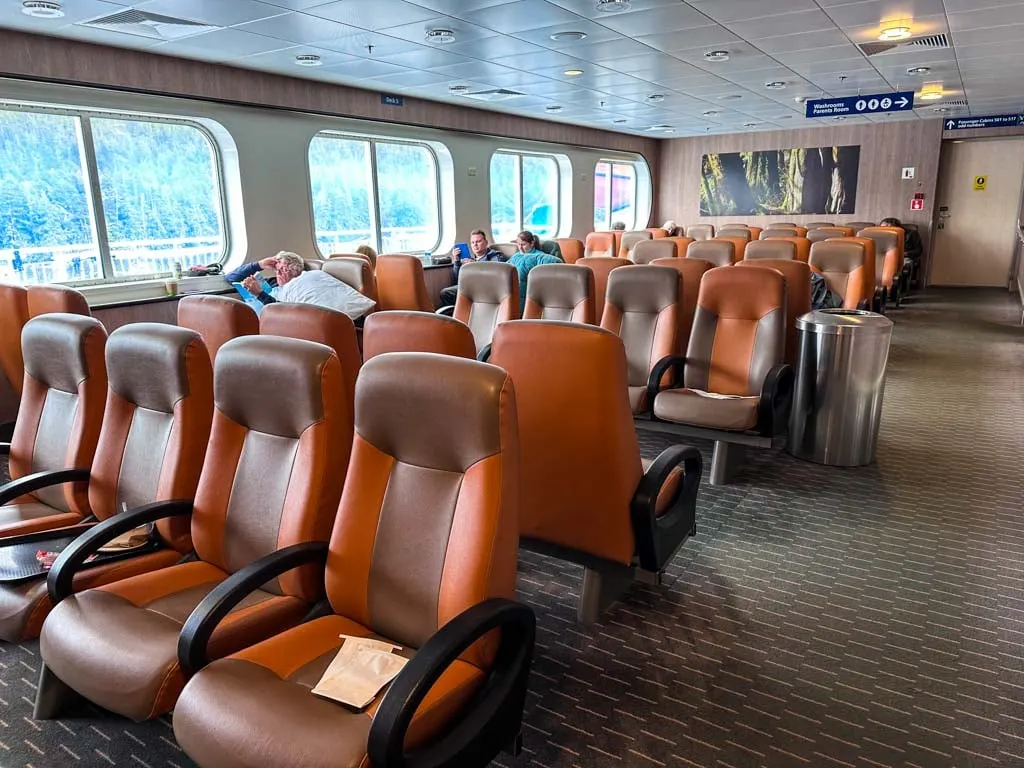 Deck Five Sideways Facing Seats
In my opinion, the best seats are on deck 5 at the front of the ferry just outside the Aurora Lounge. These seats face sideways, directly against the window. And there is no outside deck obstructing your view. Try to get a front-row seat here (there are 19 on each side of the ferry) for the best view.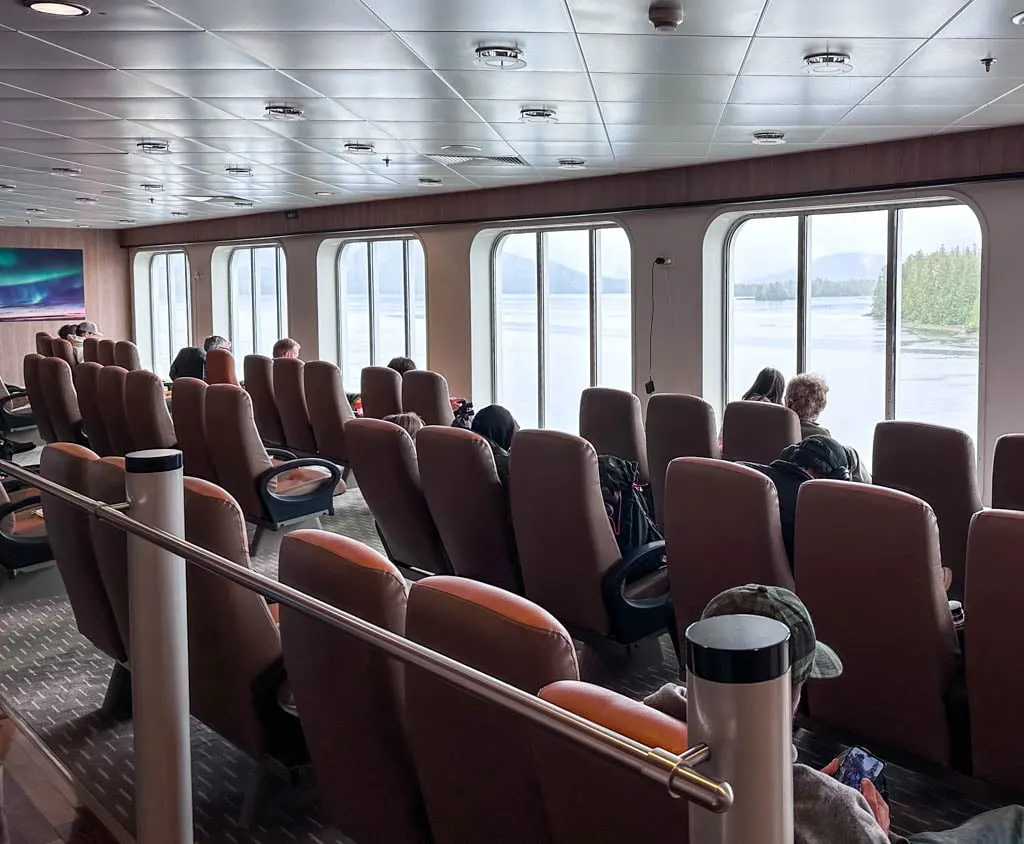 This is where we sat on the ferry from Port Hardy to Prince Rupert. It was a great place to watch the scenery go by and we saw tons of whales.
The only disadvantage is that you need to pay attention to get up and walk to the other side of the boat to see the sites on the other side. (See the "What Can You See" section below for details on can't-miss highlights.)
Outside Decks
There are several outside decks on the ferry. You can access the outside decks on levels 4, 5, and 6. The outside deck on level six has a large glassed-in covered area with benches and tables. In nice weather, it's the best place to hang out and enjoy the views.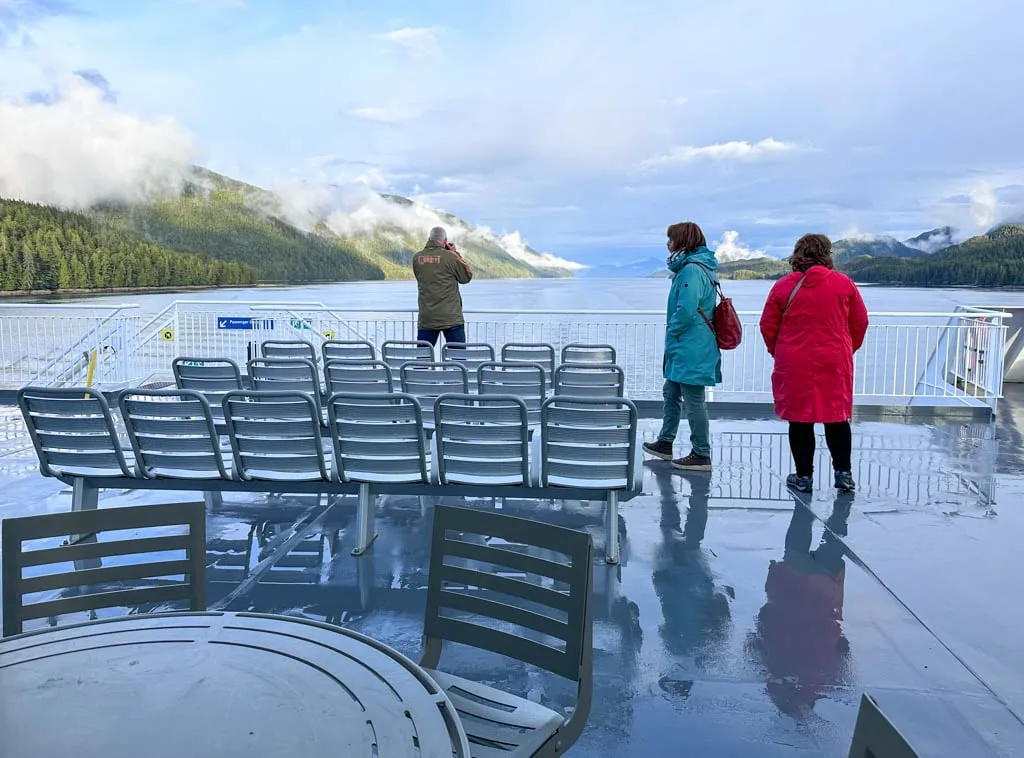 Bathrooms and Showers
There are bathrooms on each level of the ferry. As well, a few of the bathrooms have showers, but you need to ask at the Purser's office to get a key for access.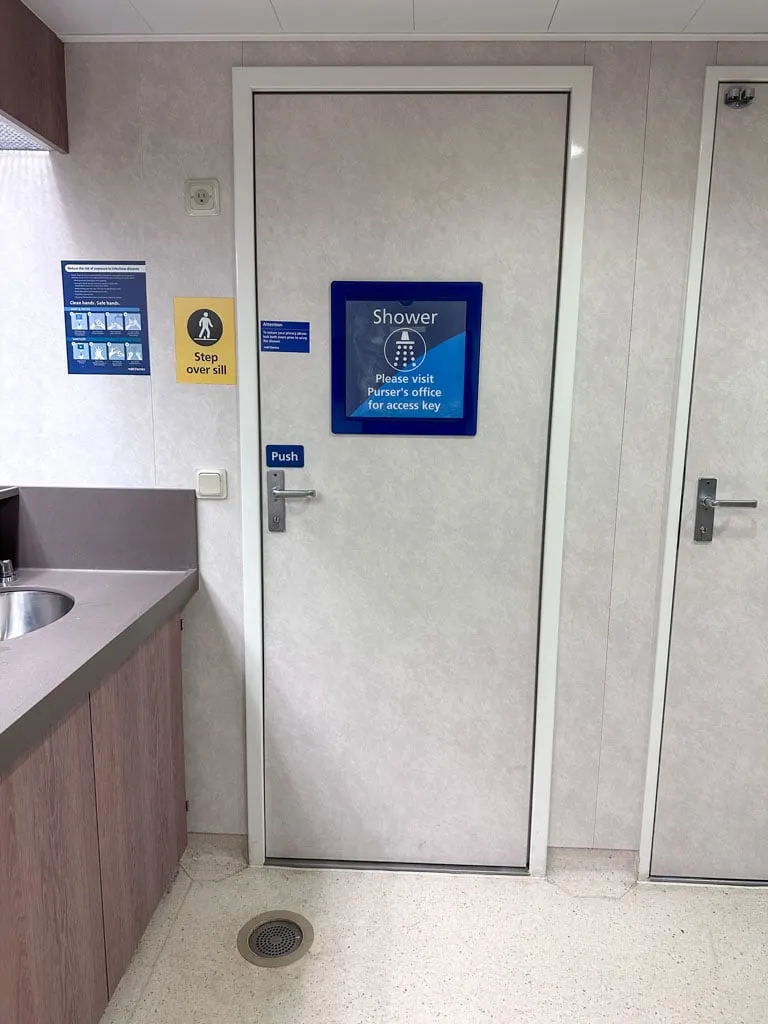 Accessibility
Most of the ferry is accessible for those who use wheelchairs or other mobility aids. There are two elevators for access between decks and an accessible washroom on decks 4 and 5. Due to raised sills, it may not be easy to get onto the outside decks if you use a wheelchair or other mobility aid, but there are some accessible exterior areas.
When you make your ferry reservation, you can select the accessibility option and get priority boarding so you can park next to the elevator. You can also book an accessible cabin.
Internet and Cell Phones
There is no wifi on-board and most of the voyage is outside of cell service. You will probably have cell service near Port Hardy, Bella Bella, Klemtu, and Prince Rupert, but it may be too weak to use the internet. Plan to spend the entire journey off the grid! Download all the music, movies, ebooks, and podcasts you will need before your trip.
What Can You See from the Inside Passage Ferry?
The entire journey from Port Hardy to Prince Rupert is incredibly scenic. Below I've got a run-down of what you will pass by along the way. The sites are listed in the order you would see them when travelling from Port Hardy to Prince Rupert, so reverse the order if you are sailing the other way.
Whales and Other Wildlife
Keep an eye out for whales, dolphins, and other marine mammals feeding along the way. You can spot them any time but pay special attention to bays or inlets with river mouths as that is a favourite spot for them.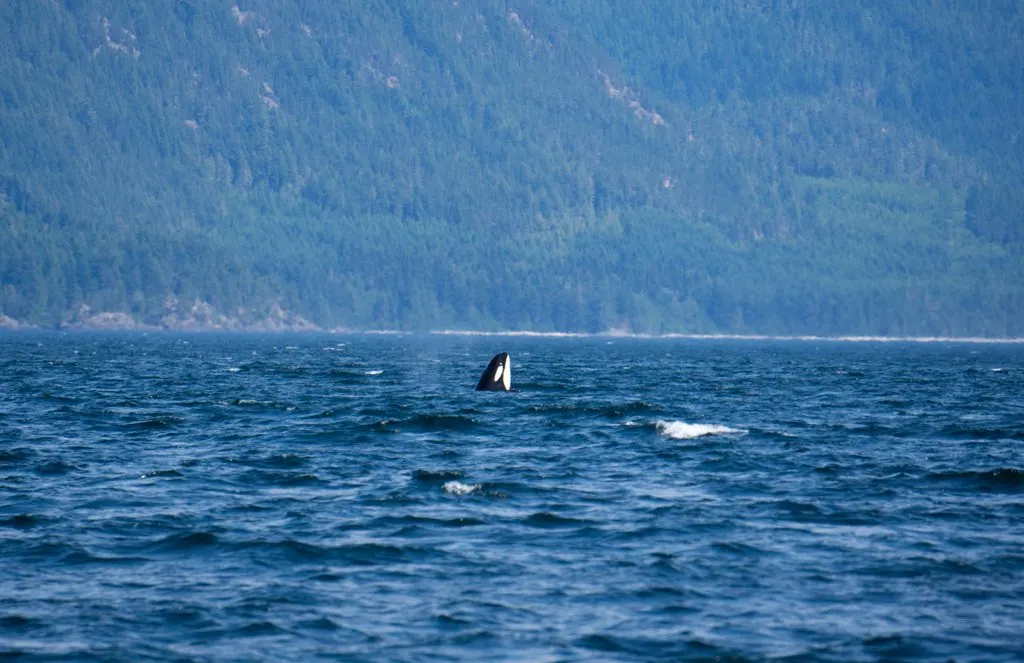 Leaving Port Hardy
The trip starts in Port Hardy. Almost immediately after leaving the harbour, you will pass between two small groups of picturesque islands. A few years ago, we kayaked near here in the Johnstone Strait. It was an incredible trip with lots of gorgeous marine life including tons of whales.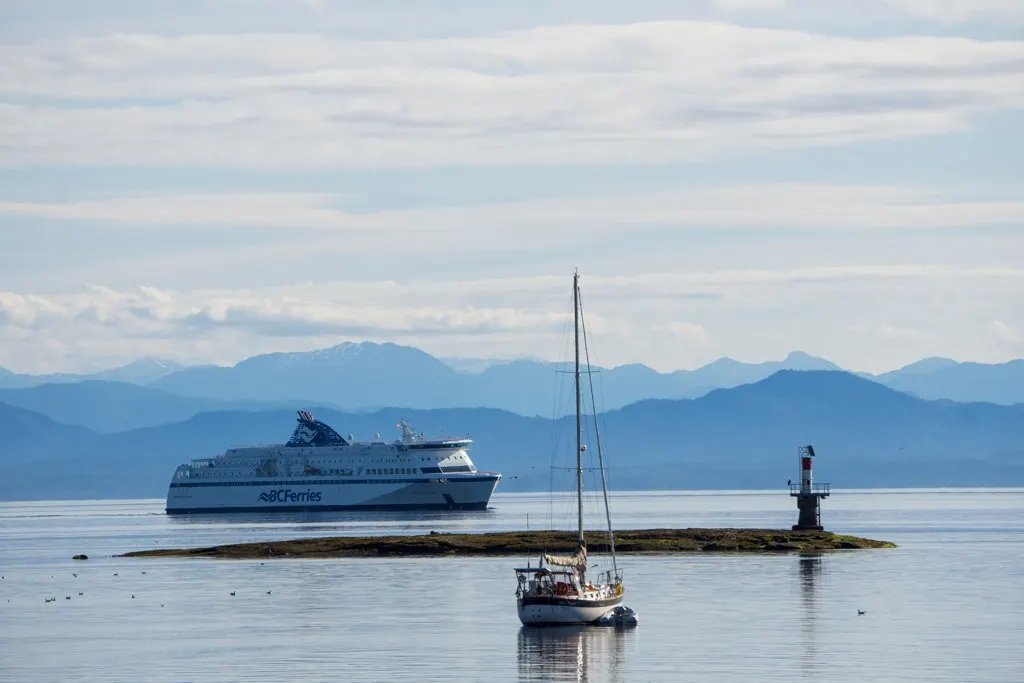 The next section of the trip has the roughest water as you cross Queen Charlotte Sound. This is the only spot where you will be exposed to the waves of the open ocean. Due to the currents, this section can have really unsettled seas with waves coming from multiple directions.
Before long, you will be done with the crossing and duck behind Calvert Island to begin your Inside Passage ferry trip. The remainder of the voyage is in sheltered inlets between islands and the mainland.
Namu
The first point of interest that you pass is Namu, a former cannery town that was built on top of a 10,000-year-old Heiltsuk First Nation village. You can spot the rusting cannery buildings from the right (east) side of the ferry. Namu is about 3.5 hours from Port Hardy or 11.5 hours from Prince Rupert.
Bella Bella
After the ferry swings left around Hunter Island, look for the Heiltsuk village of Bella Bella on your left (west). Depending on the ferry schedule, you may stop here to unload passengers and supplies for the town of 1,400 people. This is the largest town on the central coast. It's about 5 hours from Port Hardy or 10 hours from Prince Rupert.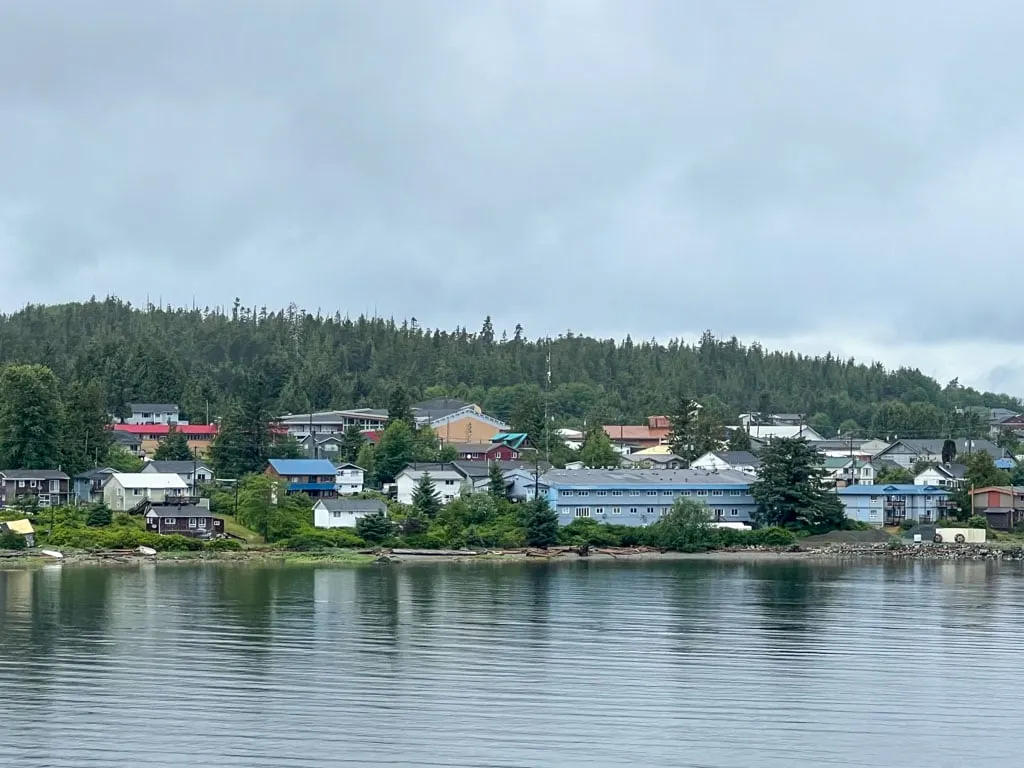 Dryad Point and Ivory Island Lighthouses
Just after Bella Bella, look for the Dyrad Point lighthouse on your left (west). The ferry swings left through here into Seaforth Channel, which has lots of small islands. Look for the Ivory Island lighthouse on your right. If you use binoculars, you will see the lush gardens around it, cultivated by generations of lighthouse keepers.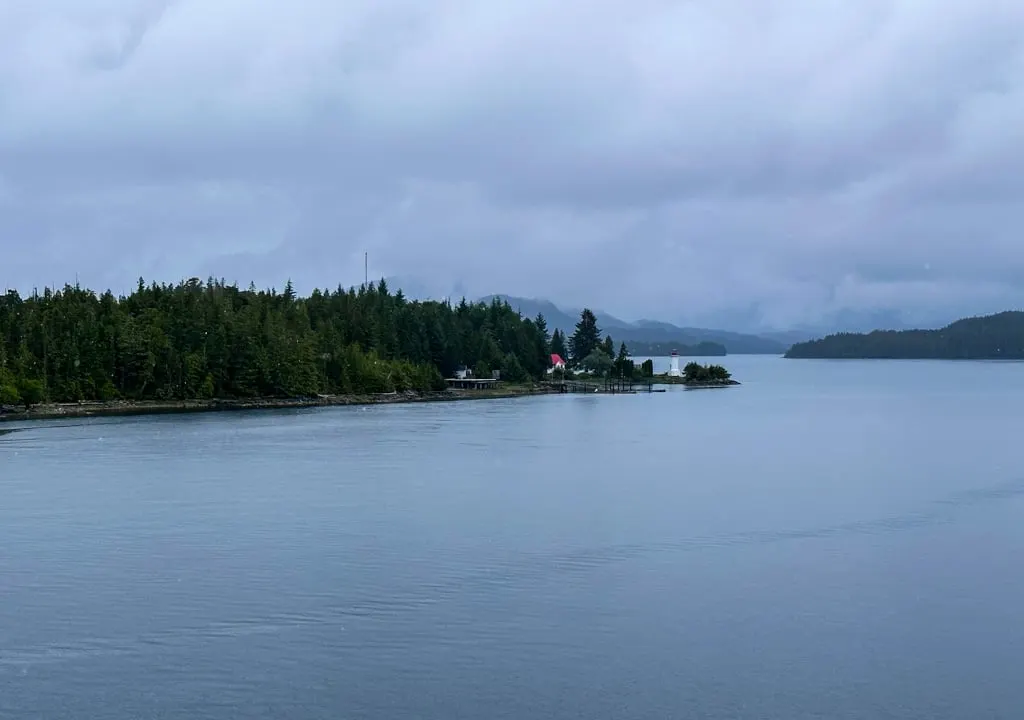 Klemtu
After Ivory Island, your route takes you through the slightly more open waters of Milbanke Sound, then into Finlayson Channel. Swindle Island, on your left (west), is home to Klemtu, a Tsimshiam village. The ferry stops here once or twice a week. This tiny town has a population of just 500 and is dependent on the ferry for supplies.
You can't actually see the town from the ferry since it is hidden behind Cone Island. But you will be able to see the ferry dock a few kilometres north of the town just peeking out behind the island.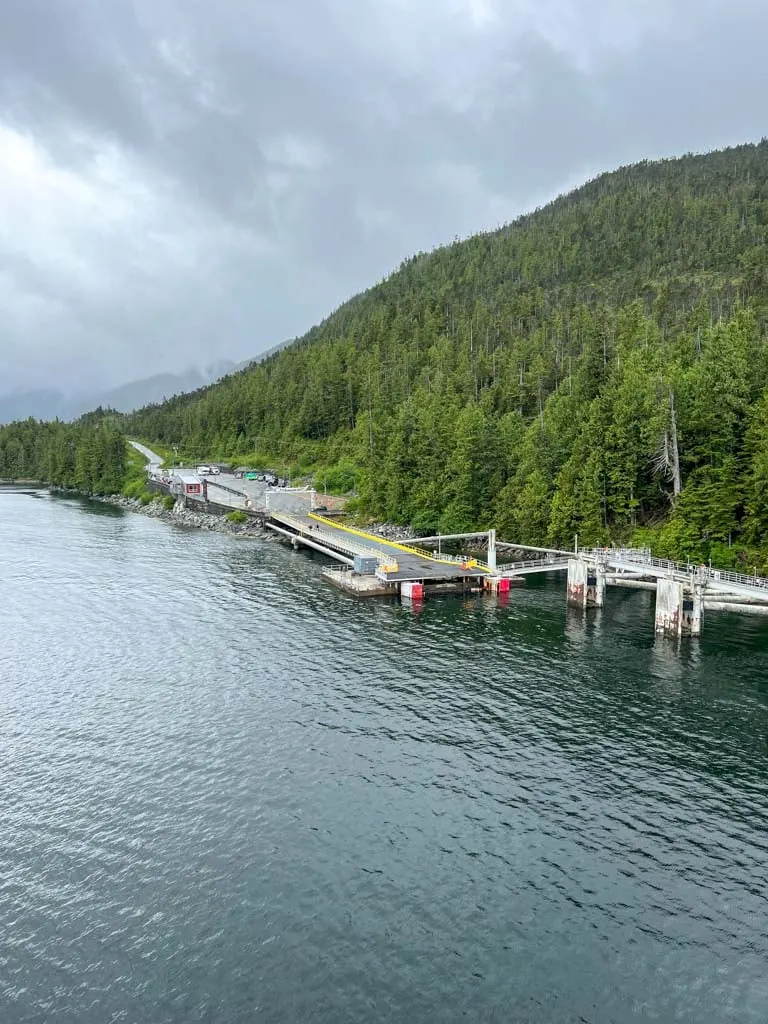 Boat Bluff Lighthouse
Just after passing Klemtu, look for Boat Bluff on your right (east). This is one of the prettiest lighthouses you will pass. It was built in 1907 to mark the narrow entrance to Tolmie Channel. It is about 7.5 hours from both Port Hardy and Prince Rupert, so it marks the halfway point of your trip.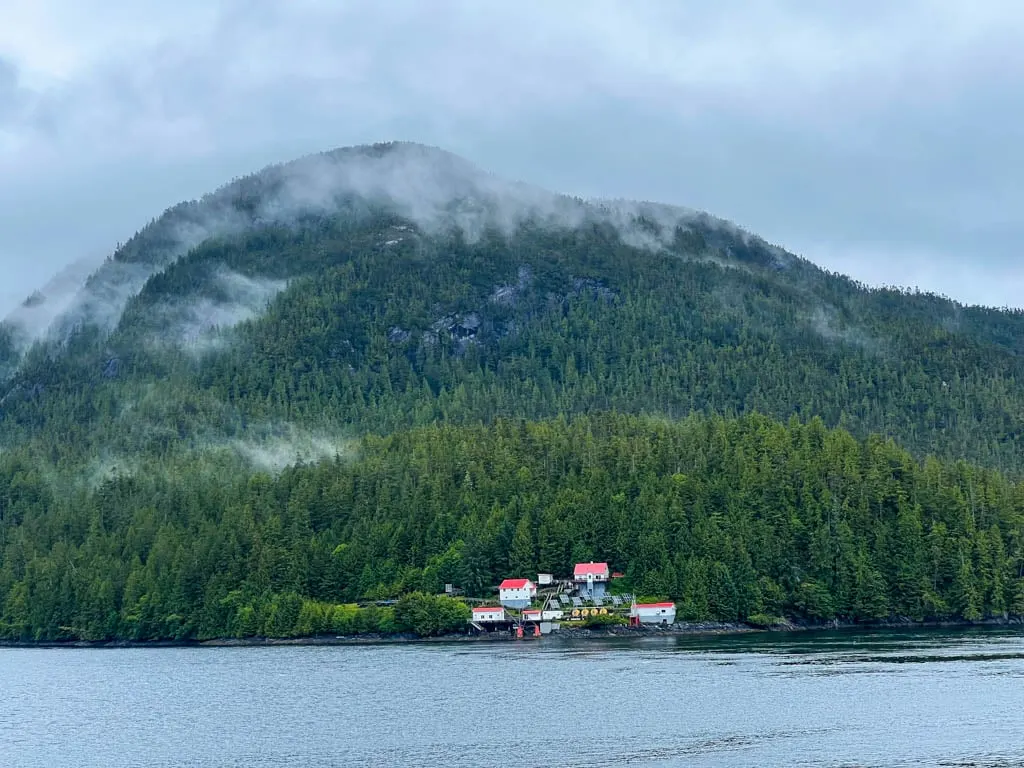 Swanson Bay
After Boat Bluff, the ferry heads north into the long and narrow Tolmie Channel. Look for Swanson Bay on the right (east) side about 9.5 hours from Port Hardy or 5.5 hours from Prince Rupert. There was a pulp mill here until the 1940s, but today all you can see is a chimney and crumbling pilings.
Butedale
About 30 minutes later, look for Butedale on the left (west). This was once a thriving cannery town, but the last residents departed in the 1970s. Today it is a ghost town. The lake above the town is dammed and sends an impressive waterfall down into the ocean.
Grenville Channel
Your route takes you through Wright Sound, and then into Grenville Channel about 11 hours from Port Hardy or 4 hours from Prince Rupert. This channel is 70 km long and only 425 metres wide (1400 ft) at its narrowest point. Mountains rise steeply up from the ocean on both sides, making for spectacular scenery.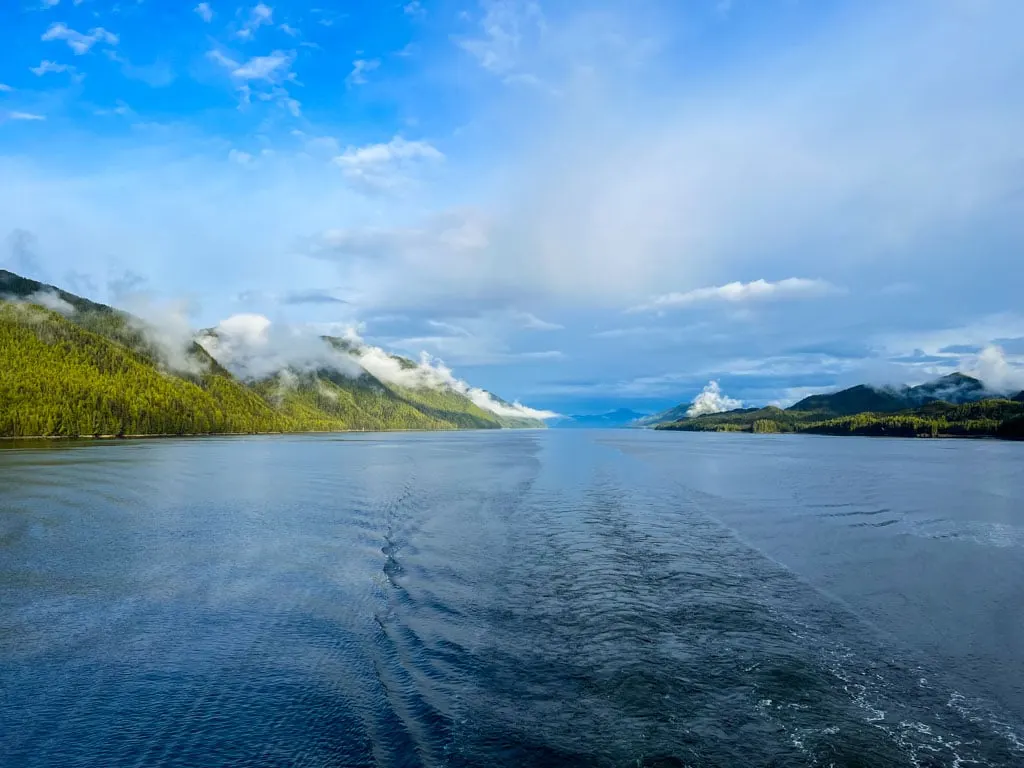 Arriving in Prince Rupert
After Grenville Channel, you will emerge into Chatham Sound and navigate past several small islands as you approach Prince Rupert Harbour. A few minutes before the harbour you can spot Trigon Pacific Terminals where coal is transferred from trains to freighters.
What to Bring on the Inside Passage Ferry
There's no way around it – the ferry from Port Hardy to Prince Rupert is long! While the incredible views will keep you interested, you will want to bring a few things on board to make you more comfortable.
Here's my Inside Passage Ferry packing list: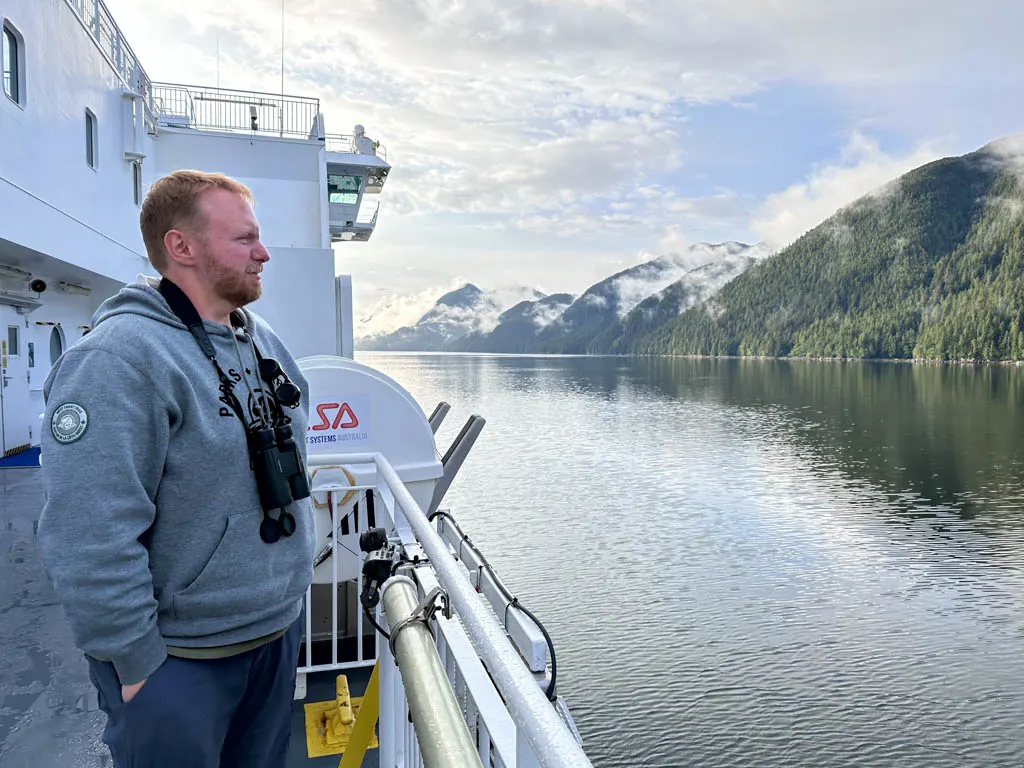 Tips for Taking the Inside Passage Ferry
There are a few things I wish I had known before taking the Inside Passage Ferry. Here are my top tips:
Psst! Want to save 20% off a premium Gaia GPS annual membership, which includes the maps I use on my trips? Use this link.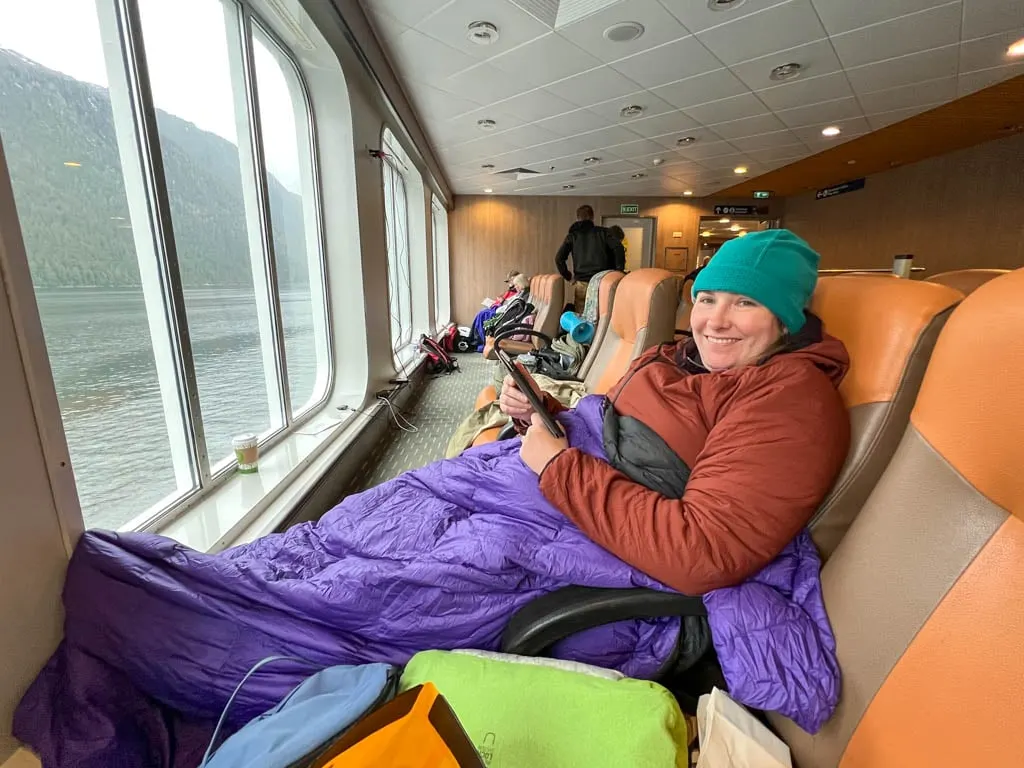 Inside Passage Ferry FAQ
Is there a ferry from Vancouver to Prince Rupert?
No. The ferry to Prince Rupert leaves from Port Hardy on Vancouver Island. From Vancouver you will need to take the ferry to Nanaimo, then drive four hours north to Port Hardy.
How long does the ferry from Port Hardy to Prince Rupert take?
The ferry takes 16.5 hours but due to delays, it can sometimes take a bit longer than that.
When is the best time to take the Inside Passage Ferry?
For the best weather and scenery, travel between May and September.
How much is the ferry from Port Hardy to Prince Rupert?
As of 2023, adults cost $188.55 and standard-sized vehicles cost $429.70. Rates are cheaper in the spring, fall, and winter.
Do you need to make reservations for the Inside Passage Ferry?
Yes, especially if you are travelling with a vehicle as they usually sell out. However, you can take your chances and go standby. See the reservations section above for more info.
Can you bring a car on the Inside Passage ferry?
Yes. The ferry has room for 115 cars. Make reservations well in advance as they sell out.
Can you sleep on the ferry from Port Hardy to Prince Rupert?
Yes. For the most comfortable sleep, book a cabin. (See the section about cabins above.) You can also sleep in the lounge chairs and many people sleep on the floor. While sleeping in a tent on the outer deck is common on the Alaska Marine Highway ferries, it is not allowed on BC Ferries.
Can you bring pets on the ferry from Port Hardy to Prince Rupert?
Yes, but they must stay on the lower deck, either in your vehicle or in a kennel in the pet area. The lower decks are closed during the journey, but there are scheduled opening times every few hours when you can go down and check on your pets.
Can you bring your own alcohol on board?
No. BC Ferries' regulations prohibit the consumption of personal alcohol. However, you can purchase beer and wine at the cafe.
Can you go on-shore during the stops on the Inside Passage ferry?
No. The stops are quick loading/unloading stops for the small communities. You can't go on-shore.
What is the longest ferry ride in BC?
The Inside Passage Route from Port Hardy to Prince Rupert is the longest ferry ride in BC at 16.5 hours.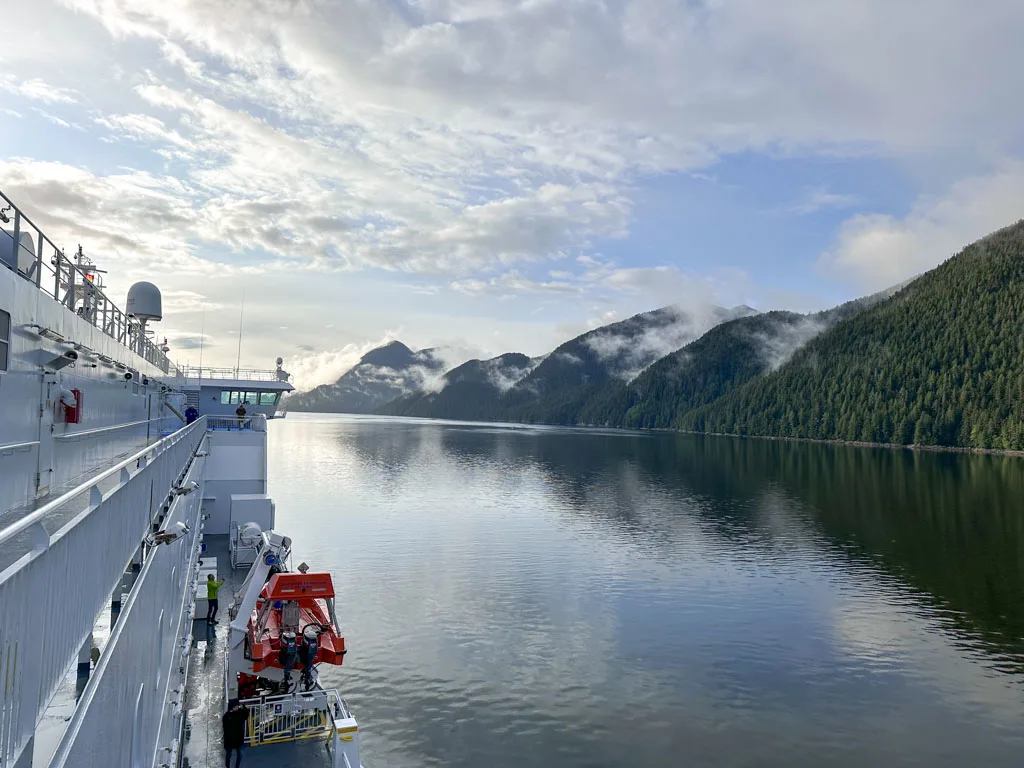 So that's everything you need to know to take the Inside Passage ferry from Port Hardy to Prince Rupert. Do you have questions about the voyage? Leave them in the comments – I'd love to help you plan your trip.
READ NEXT: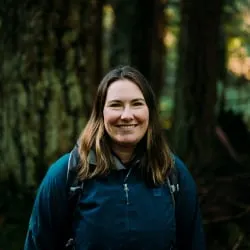 Latest posts by Taryn Eyton
(see all)