In early September of 2016, I went to Nepal to go trekking to Annapurna Base Camp with my husband and two friends. Here's the story (and tons of photos) from my ten-day trek.
Our guide Chandra, of Pokhara-based Friendly Trekkers Adventures, put together an itinerary for us that had us heading to the viewpoint at Poon Hill over the first few days before heading into the Annapurna Sanctuary and up to Annapurna Base Camp. On the way down we took a slightly different route for the last few days to visit the hot springs at Jhinu Danda. Click the map below to zoom in on our route.
READ NEXT: 6 Reasons You Should Hire a Trekking Guide in Nepal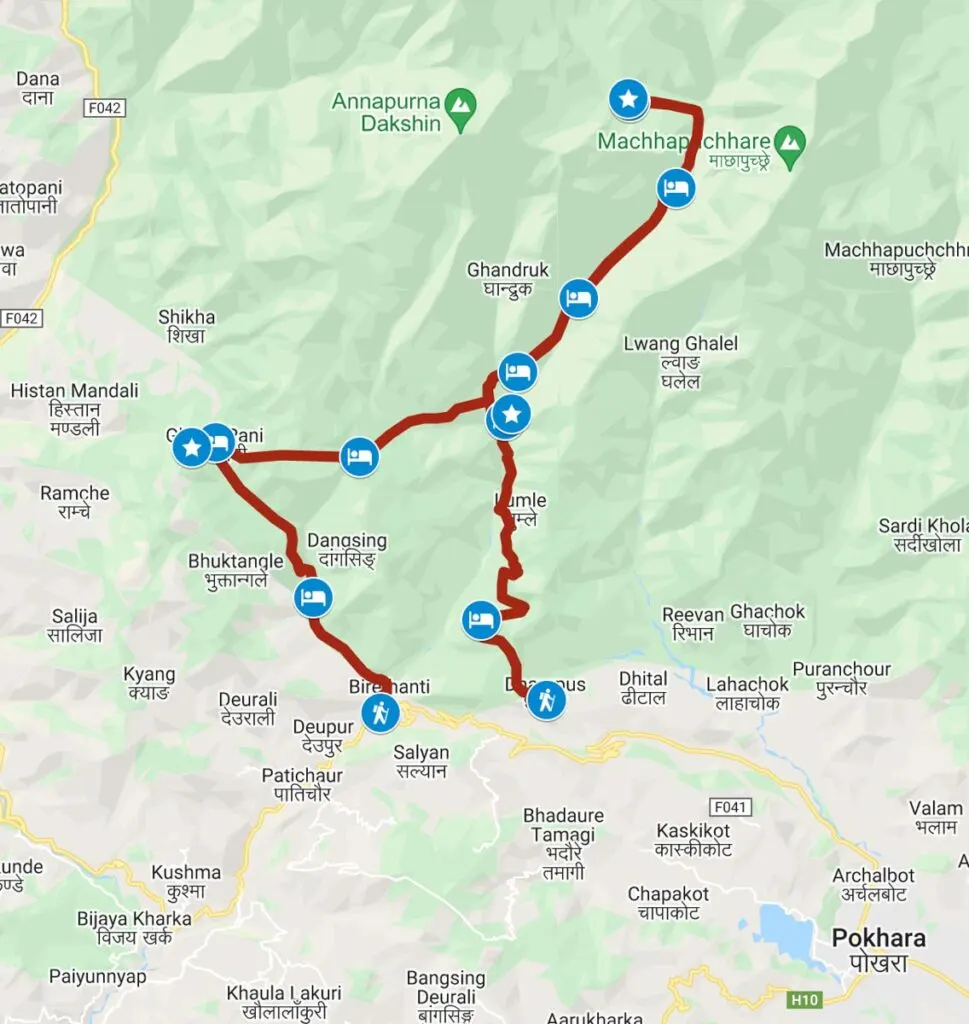 Day One: Naya Pul to Tikendinga
We started our first day with a jeep ride on winding (but mostly paved) roads from the city of Pokhara to the village of Naya Pul. When we arrived it was pouring rain so we tried to wait it out at a roadside tea shop. We couldn't wait forever, so we set out into the deluge through Naya Pul. As we walked for a few hours on a newer gravel jeep road above a rushing river, the rain gradually stopped and the sun came out. We stopped for lunch at a roadside trekkers restaurant before carrying on to our destination for the night, the guesthouse at Tikendinga. That night as we ate in the guesthouse dining room it poured rain. Again. It was monsoon season in Nepal and we were walking in it.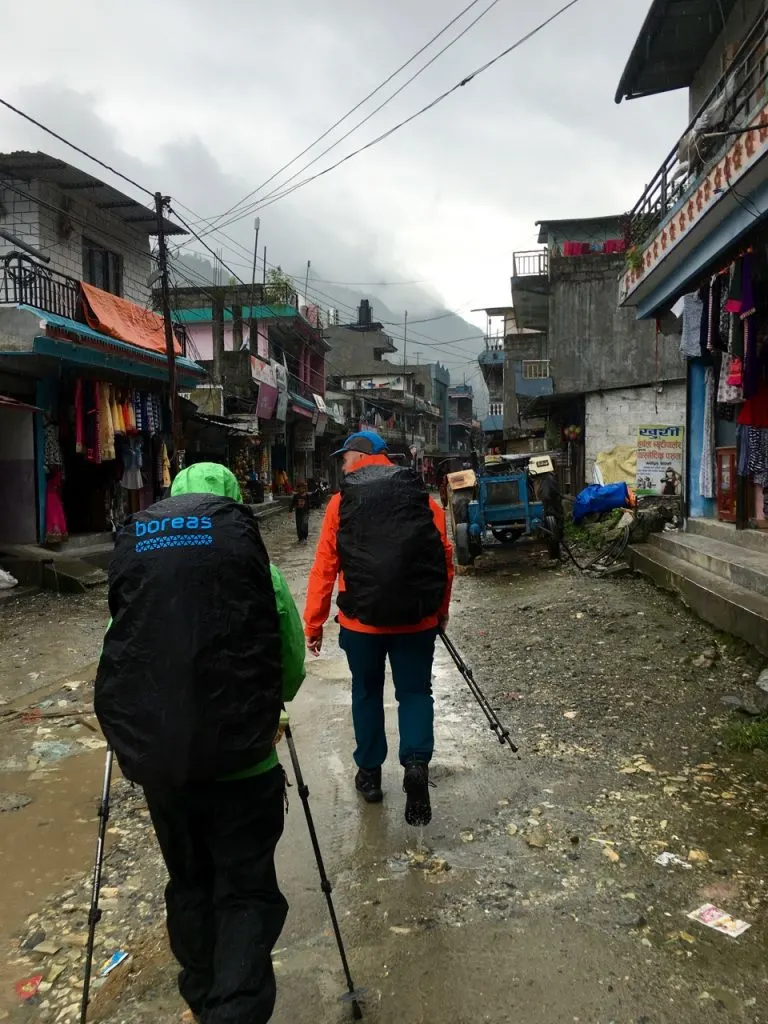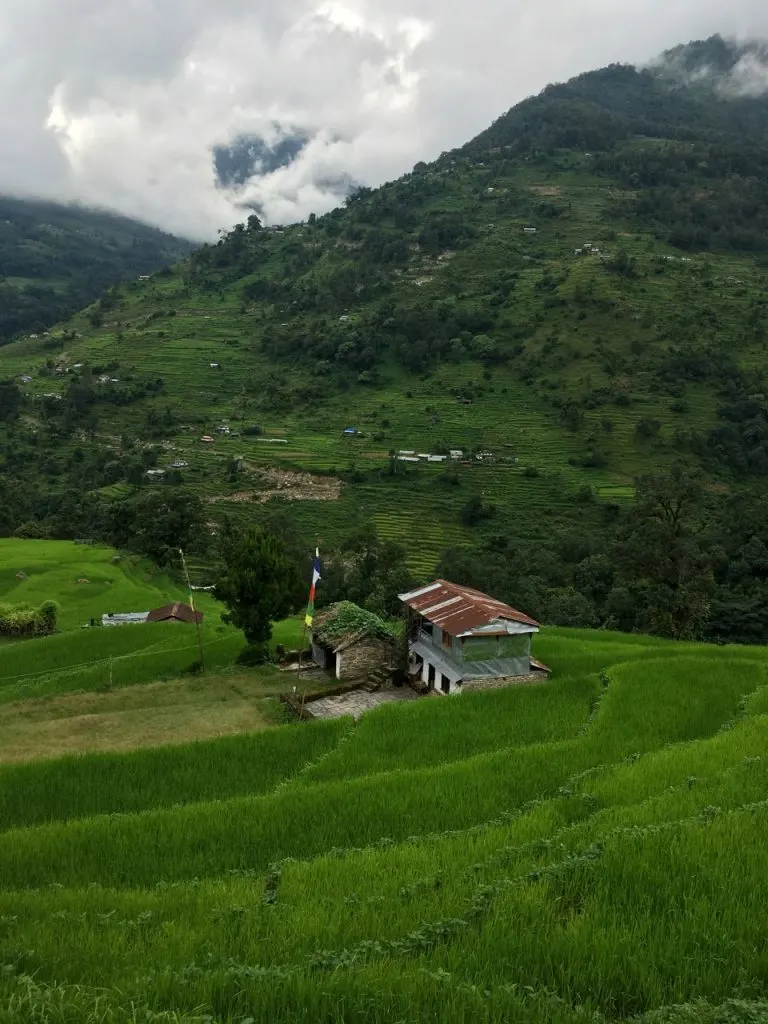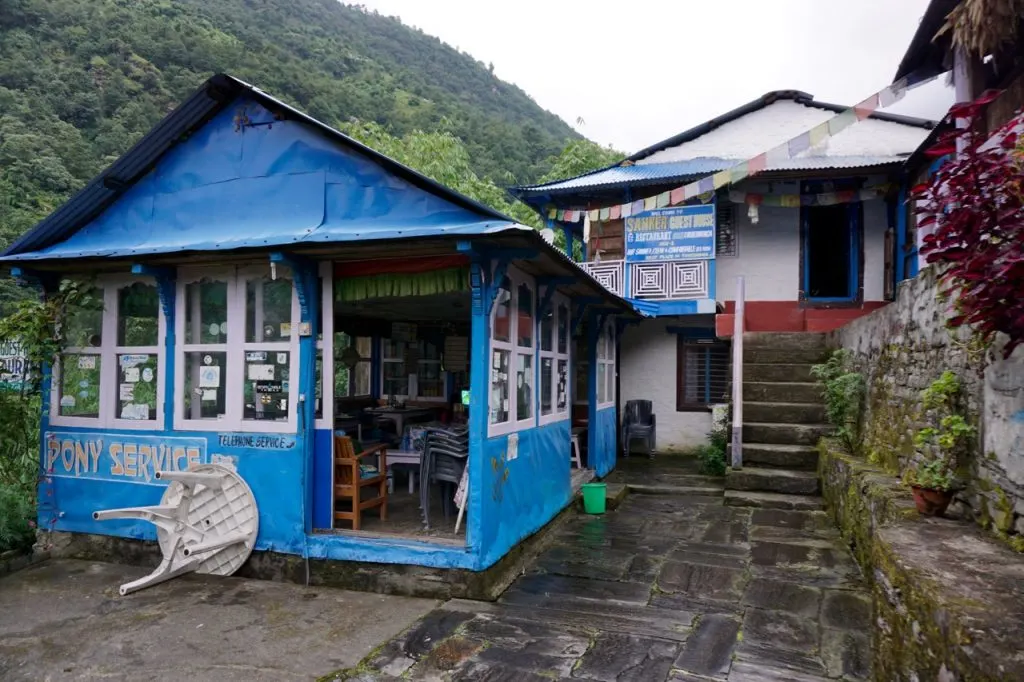 Day Two: Tikendinga to Ghorepani
On our second day, it rained on and off but was mostly just hot and humid. We started the day with a stiff climb up thousands of stone stairs to the village of Ulleri where we stopped for a well-deserved cold drink. The remainder of the day was spent trekking steadily uphill through the jungle and we met our first of many heavily-laden donkey trains. There are no roads in this region so unless it is grown there, everything comes in on the back of a donkey or a person. Want a beer, some chocolate, stove fuel, building supplies or a new toilet? It all comes in on the back of a donkey. At the end, of the day we finally reached the hill top town of Ghorepani but unfortunately the usual panoramic views were obscured by clouds. Instead, we celebrated with pizza featuring wild mushrooms the guesthouse owners had just gathered that morning.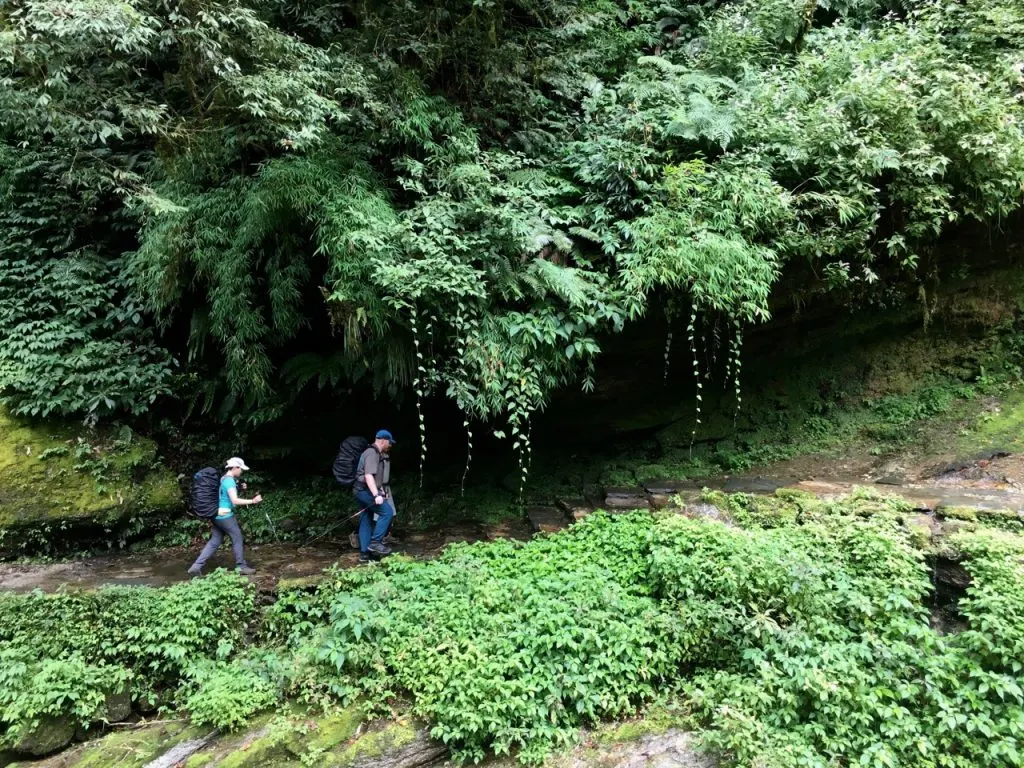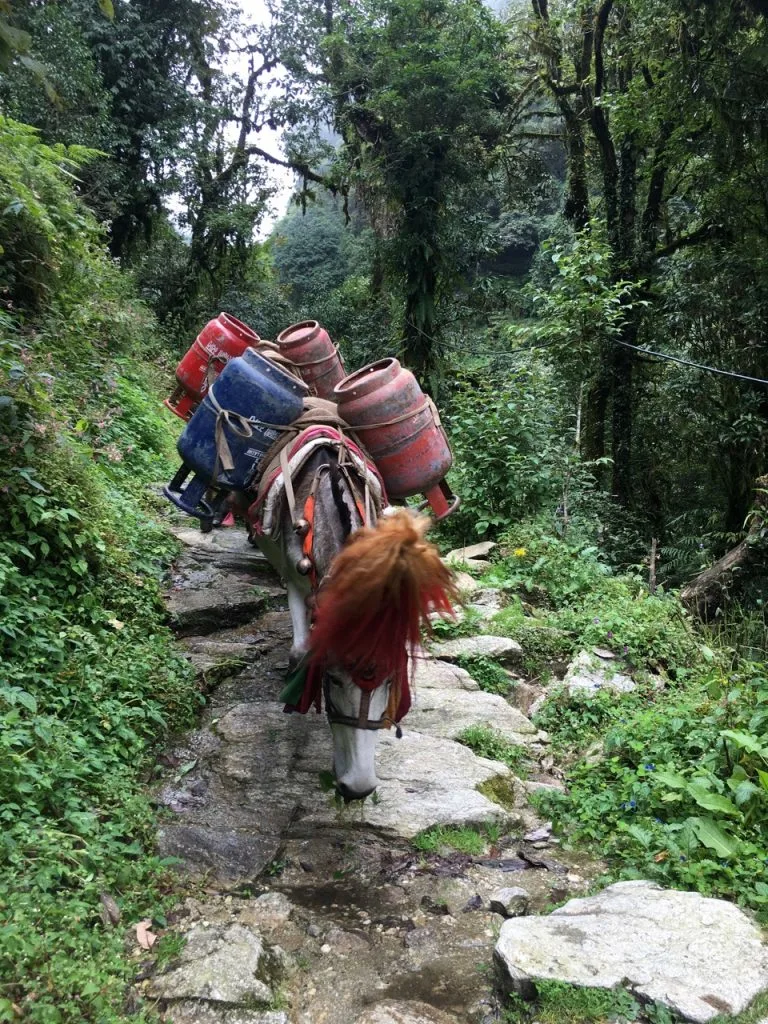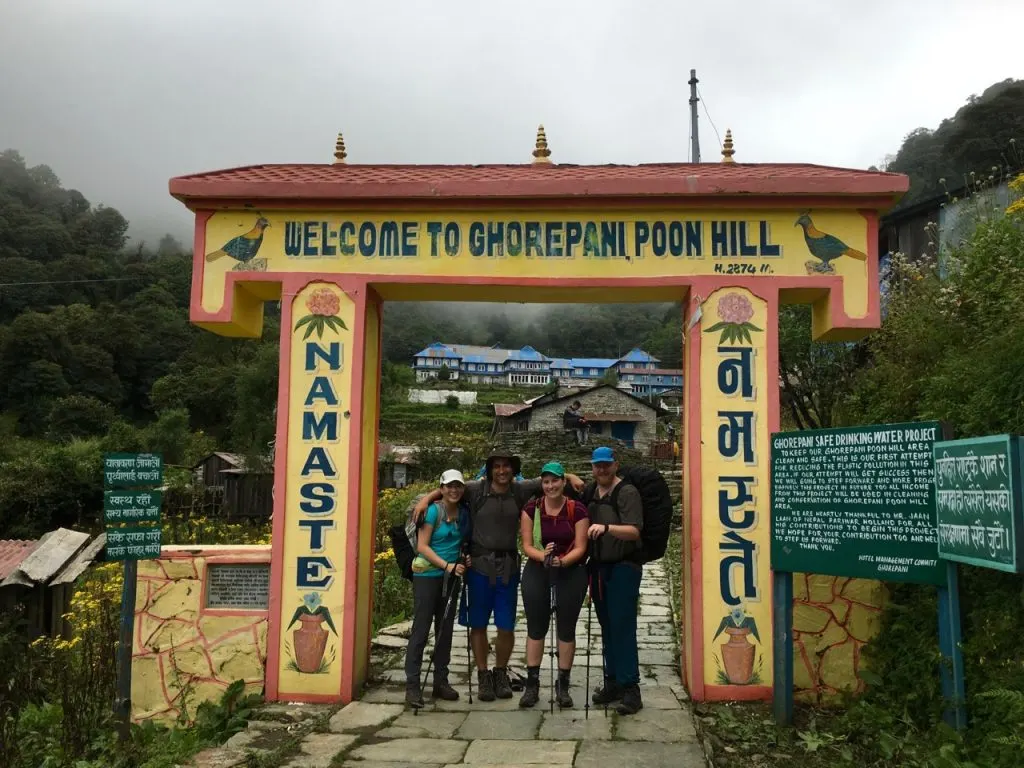 Day Three: Ghorepani to Tadapani via Poon Hill
On our third morning, we were up well before the sun to make the three-kilometer trek (without our packs thankfully) up to the viewpoint at Poon Hill. When we arrived the sun had already started to rise but most of the views were obscured by clouds. We bought hot cups of tea and settled down to wait it out at the advice our guide, even as many of our fellow trekkers retreated back down the hill. Our guide was right! After a couple hours, most of the clouds had cleared and we had amazing views of the Annapurna range as well as Dhaulagiri massif. We finally pried ourselves away from the views and headed back down to breakfast in Ghorepani before shouldering our packs. The day's trek through the jungle took us across ridges and down a forested canyon before we arrived at Tadapani in near darkness. It had been a long day on the trail and we were exhausted, which perhaps explains why we found it hilarious that the resident guesthouse cat was chasing the resident guesthouse rat under the table while we waited for dinner to be served.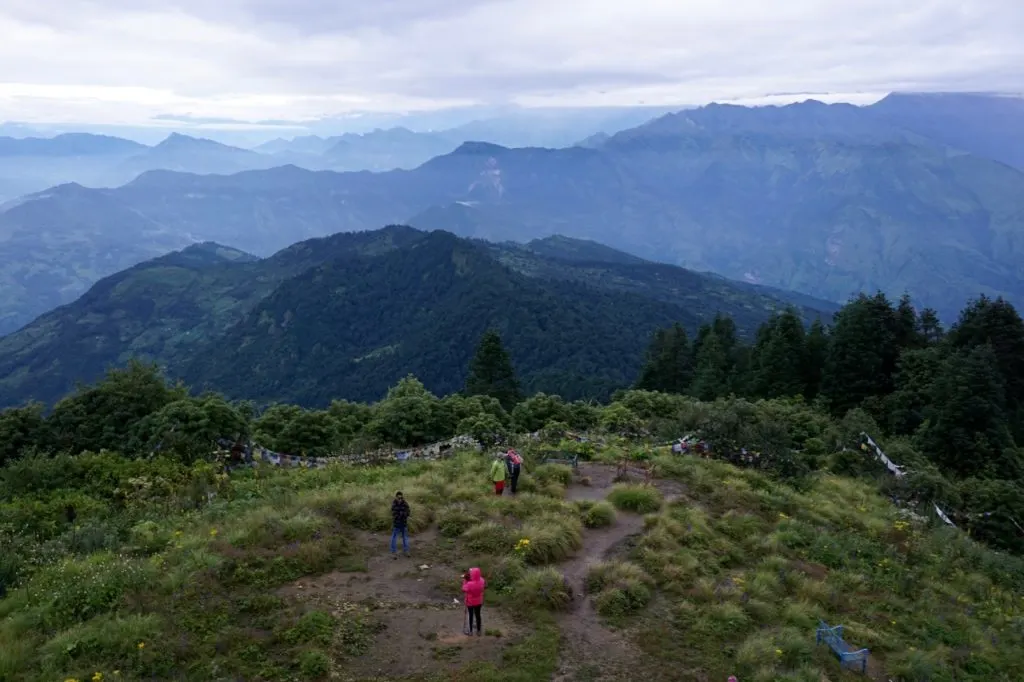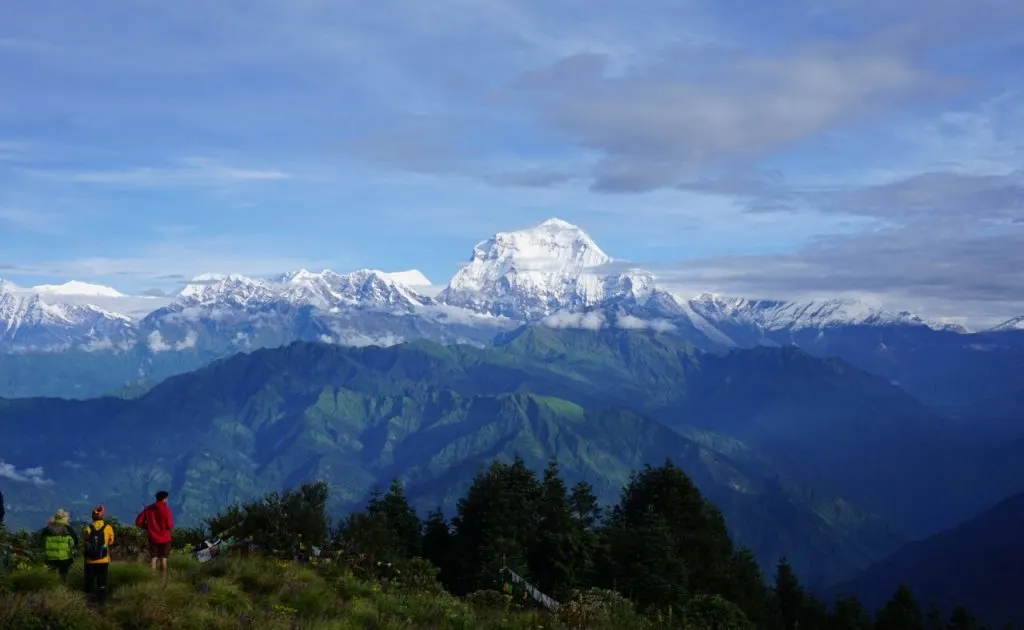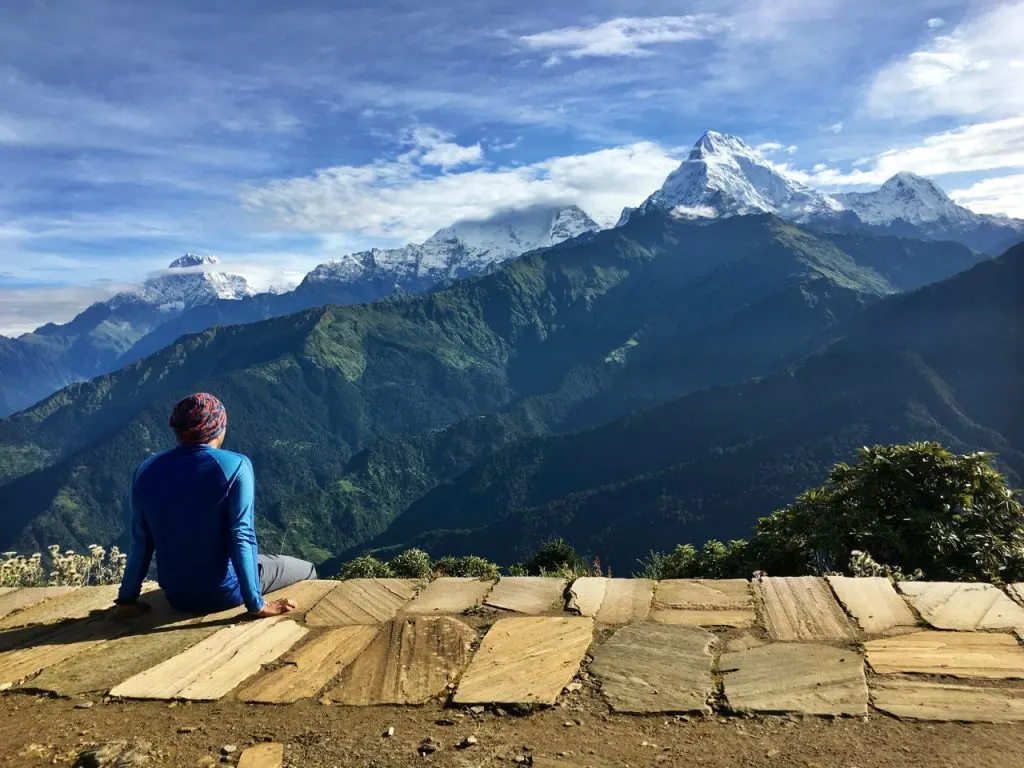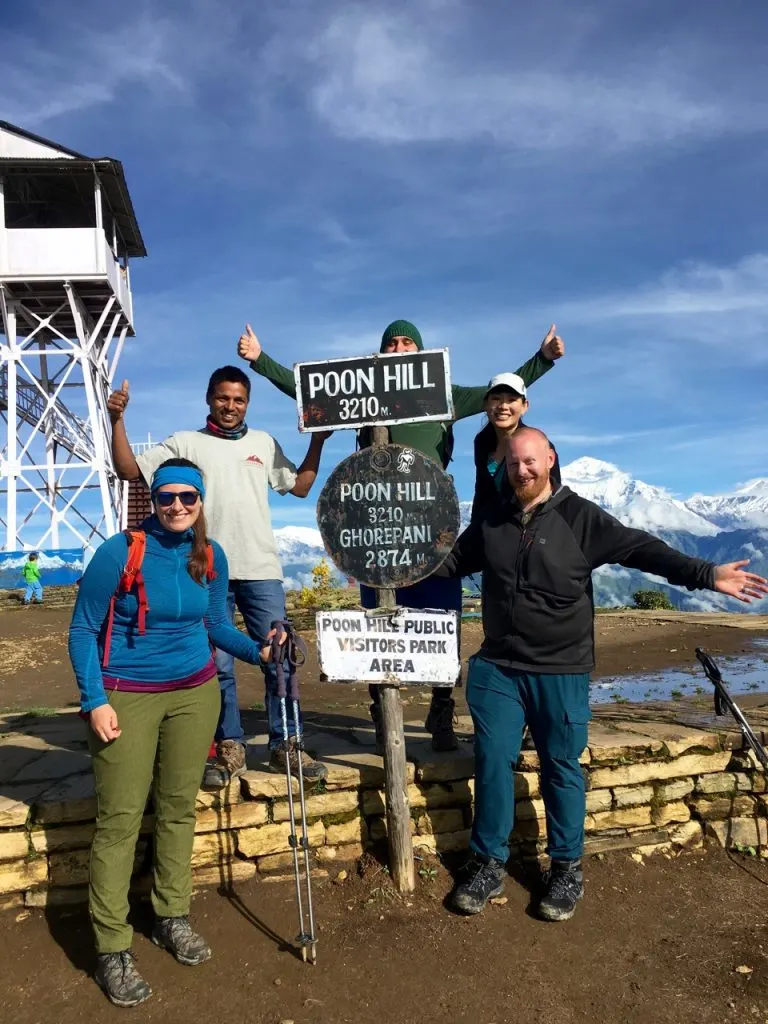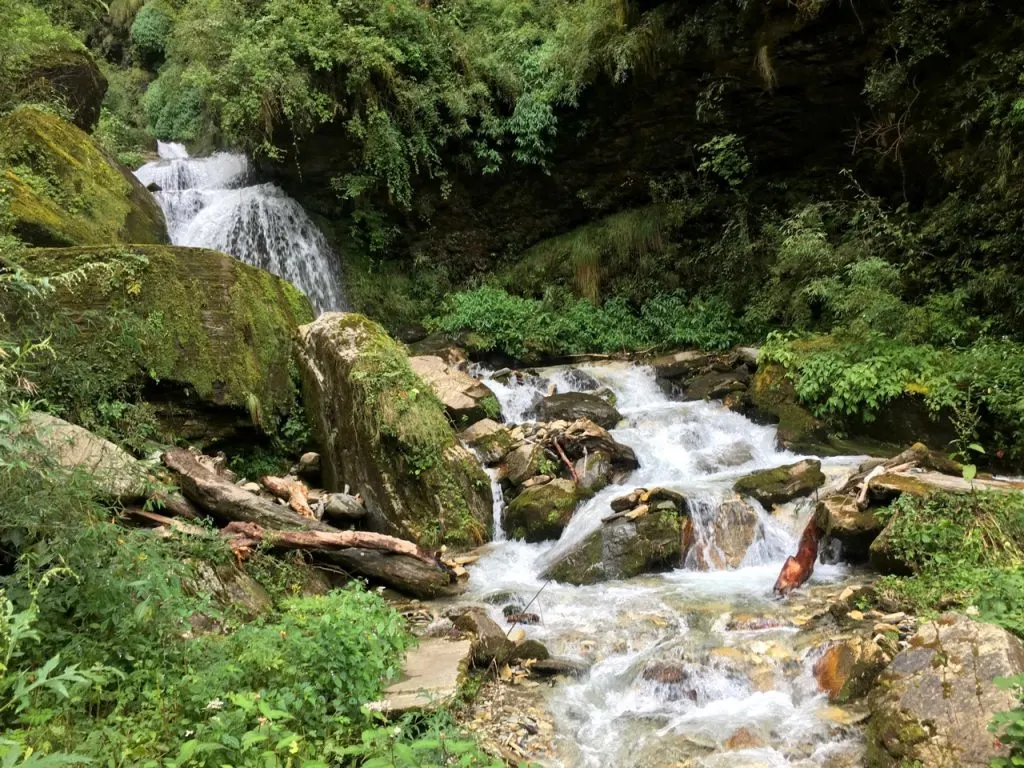 Day Four: Tadapani to Sinuwa
On the morning of day four, my alarm wasn't due to go off for at least half an hour when there was a knock at the door. It was our guide, Chandra urging us to get up to look at the beautiful view. Unbeknownst to us in the dark and clouds the night before, our rooms had an incredible view of the mountains. After breakfast, we trekked through numerous small villages, past terraced fields of millet, corn, beans and squash and across several suspension bridges. The day was wet and cloudy and we had our first real encounters with the scourge of monsoon-season hiking: leeches, known as "juka" in Nepali. In wet areas they kept crawling up our boots, into our socks and then sometimes biting our ankles if we didn't catch them first. We stopped often for quick leech checks where Chandra would sometimes pluck them off our boots socks before we even noticed they were there. "Juka" wasn't the only Nepali word we learned that day; "ukalo" (uphill) and "oralo" (downhill) were also important as we discovered that this part of Nepal is never flat. After what seemed like eons of climbing and descending stone steps, we finally arrived in Sinuwa for the night, glad to get off our tired (and leech-bitten!) feet.
READ NEXT: 8 Things I Wish I Knew Before Going Trekking in Nepal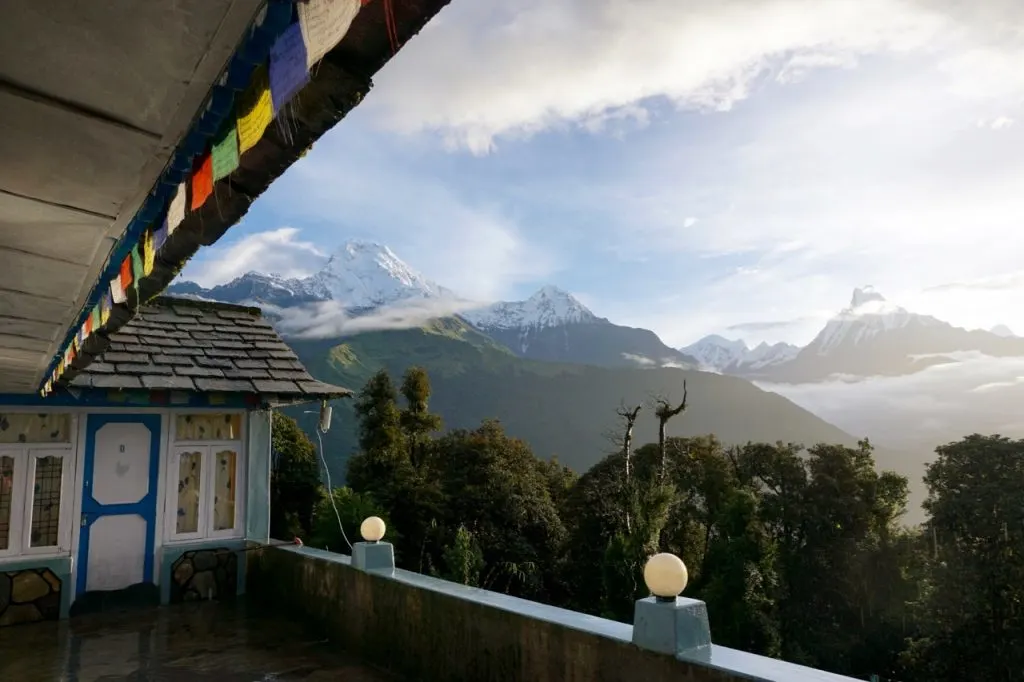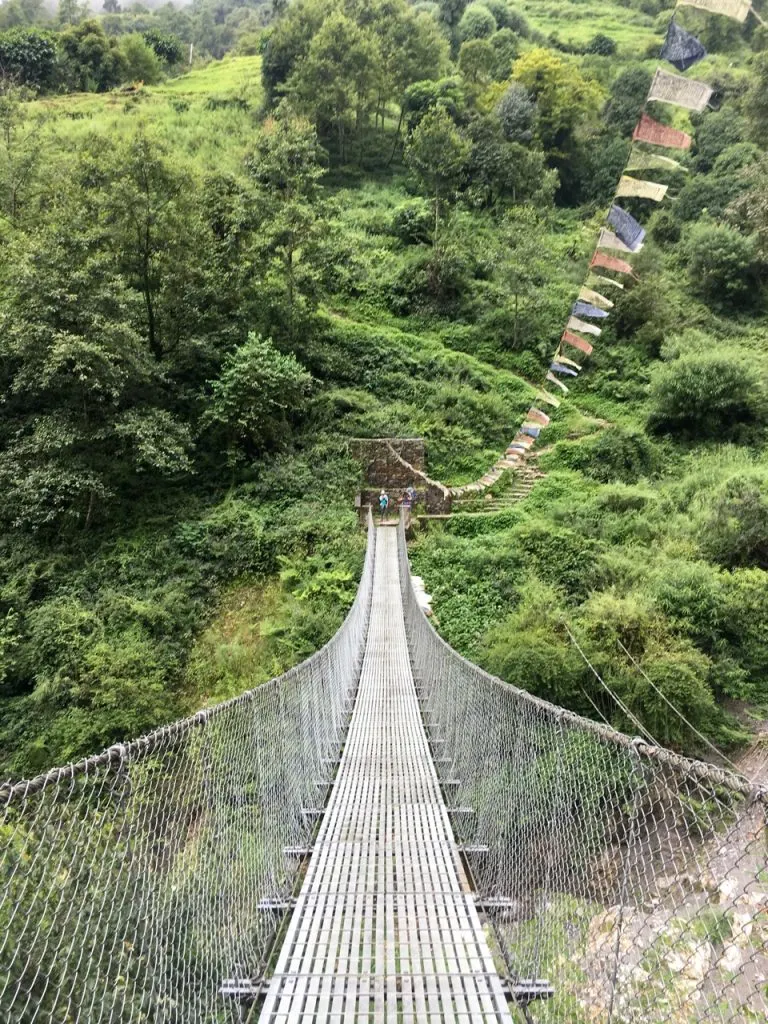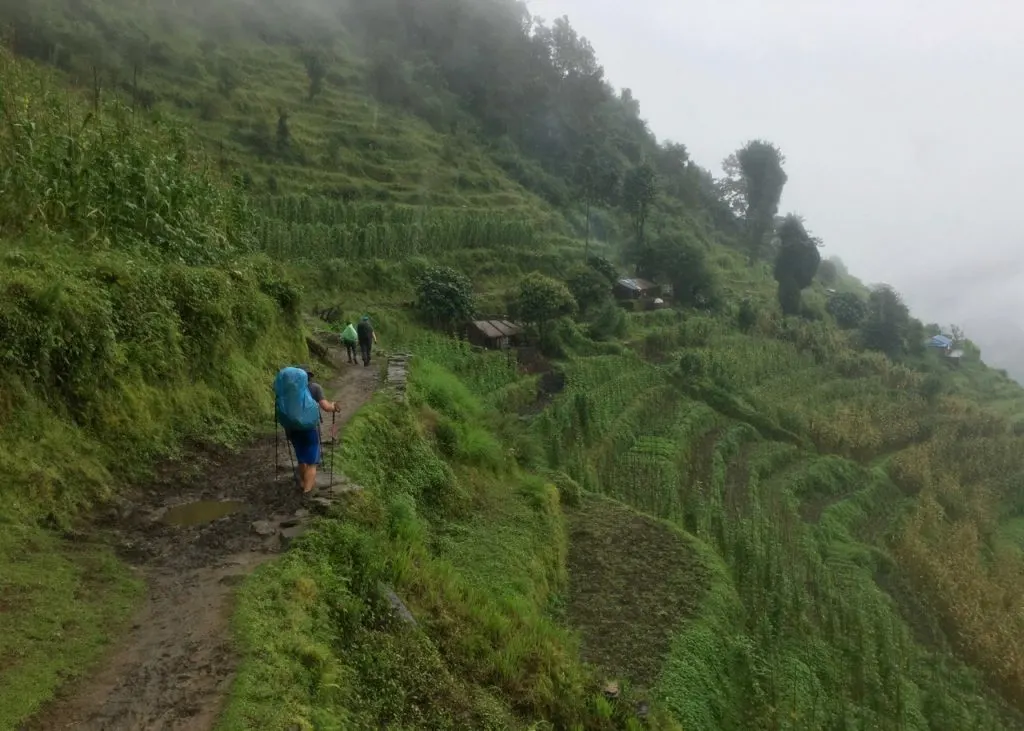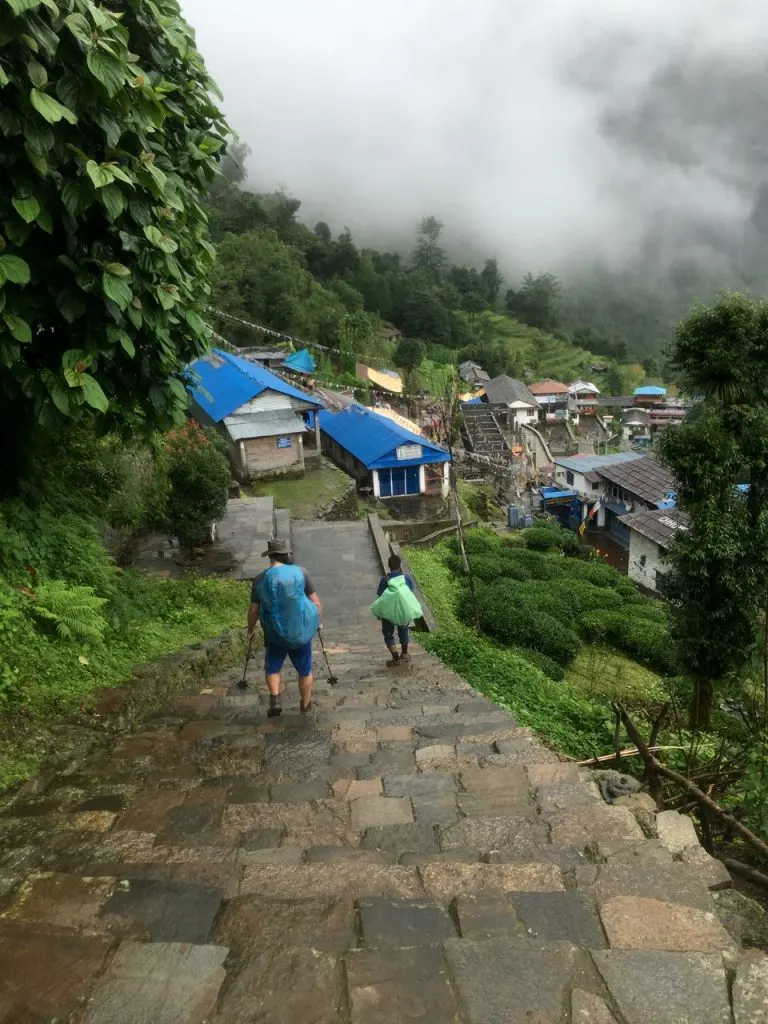 Day Five: Sinuwa to Deurali
The weather cleared a little bit when we woke up in Sinuwa and we were able to look back across the valley to Chhomrong spread out across the hilltop, where we had lunch the day before. Distances in this part of the world are deceiving as it takes a long time to get anywhere, even if it looks close. On this day we trekked alongside the Modi Khola (river), sometimes along its banks and sometimes high above them in the jungle. We would be following this river all the way to its source at Annapurna Base Camp. It rained hard on this day and there were several rickety bridges over swollen streams to cross that even our guide had never seen at such high water levels. Occasionally the misty weather would clear and we would get amazing views of the impossibly steep green hills rising from the river striped with innumerable waterfalls caused by the ongoing monsoon rains. That evening as we relaxed with cups of hot tea in the dining room at our guesthouse, the clouds started to lift for the first time that day and the mountains glowed pink with the sunset.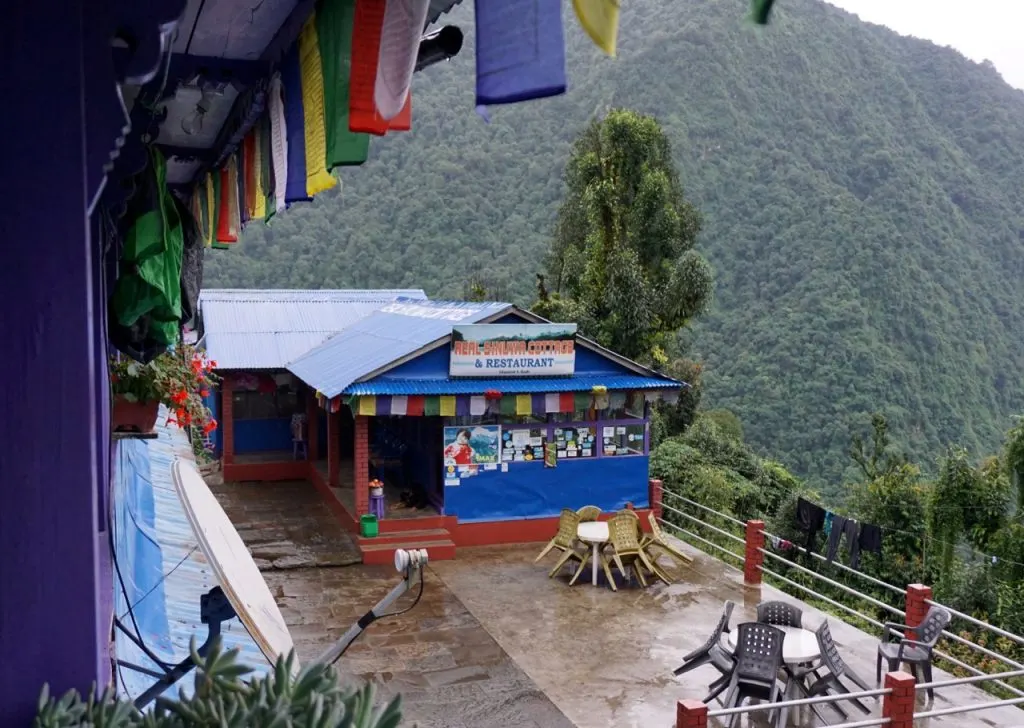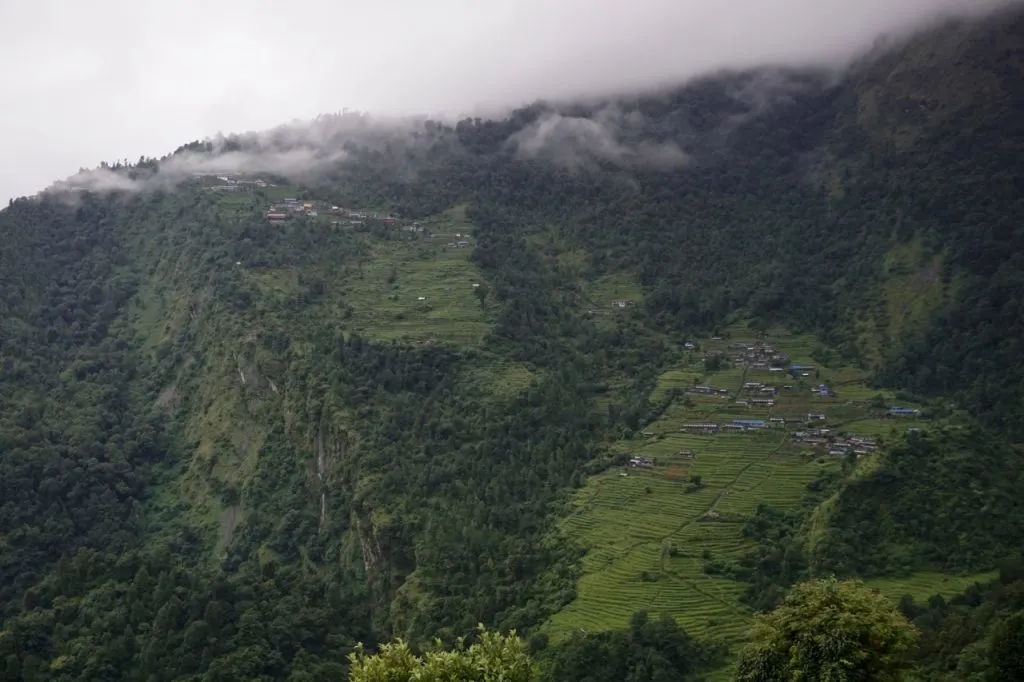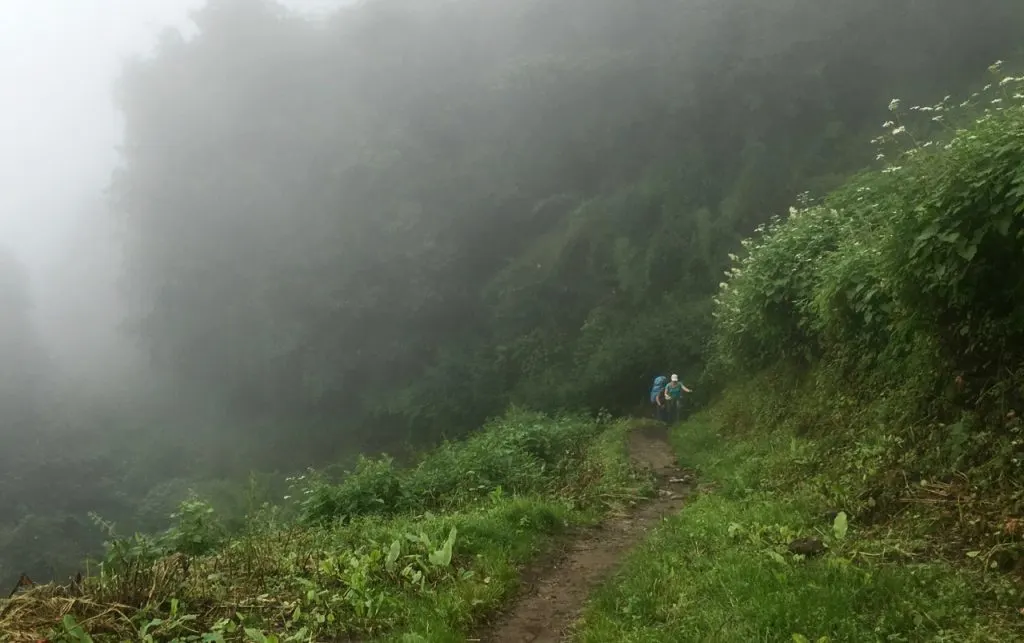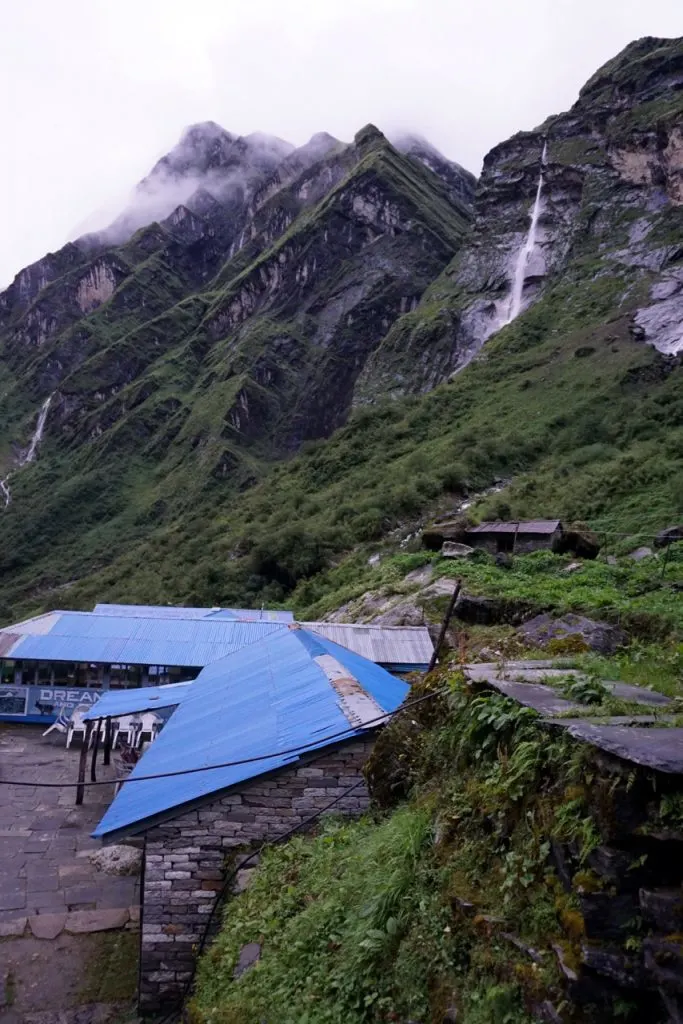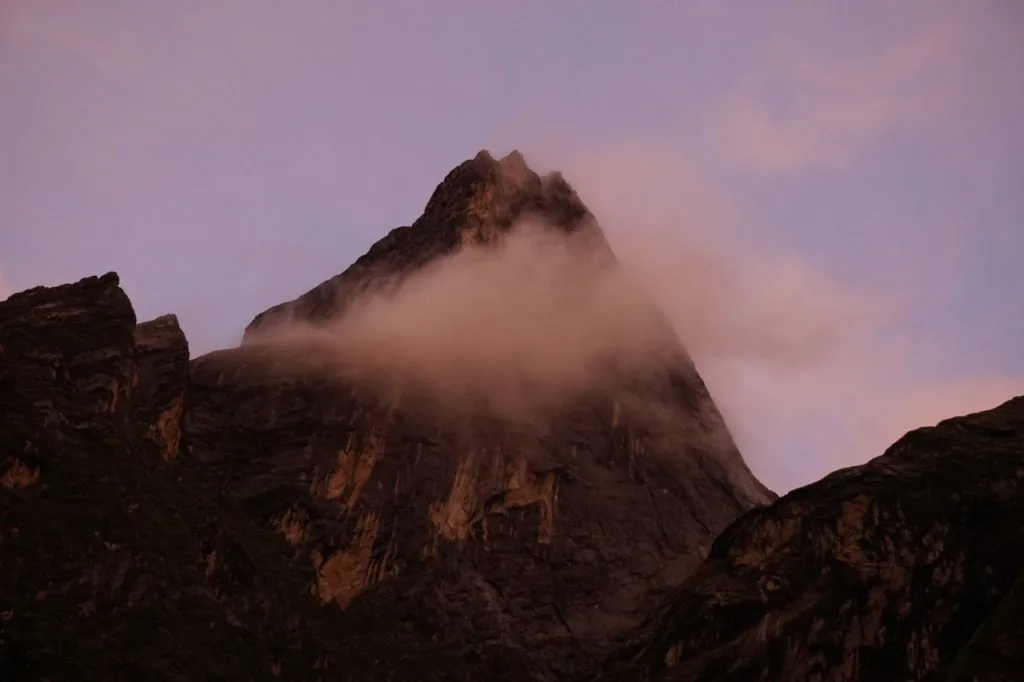 Day Six: Deurali to Annapurna Base Camp
Day six was the day we were finally going to get there, finally going to get to our high point of Annapurna Base Camp! The day started off cloudy and dark and none of us were in a good mood after the intense rain of the day before. Again, the rain came in on and off but like the previous day, sometimes the mist parted enough to give us views. We stopped for a long lunch at the guesthouse Machapuchare Base Camp to wait out the rain, but it wouldn't quit so we headed out into it. For the first time on our trek, it was actually quite cold and we bundled up into our rain gear, put our heads down and slogged up the final hill. The mist was dense and we couldn't see a thing, but eventually we came upon a sign welcoming us to Annapurna Base Camp. A few meters further up the hill the warm, dry guesthouse awaited us. As had become our routine, we changed into dry clothes and ordered a huge pot of spicy Nepali tea to warm up. The rain and mist let up a little bit so we went outside to check out the prayer flag draped viewpoint. We still couldn't see much of the area around us, let alone any of the mountains so we were worried we had come all that way for no views.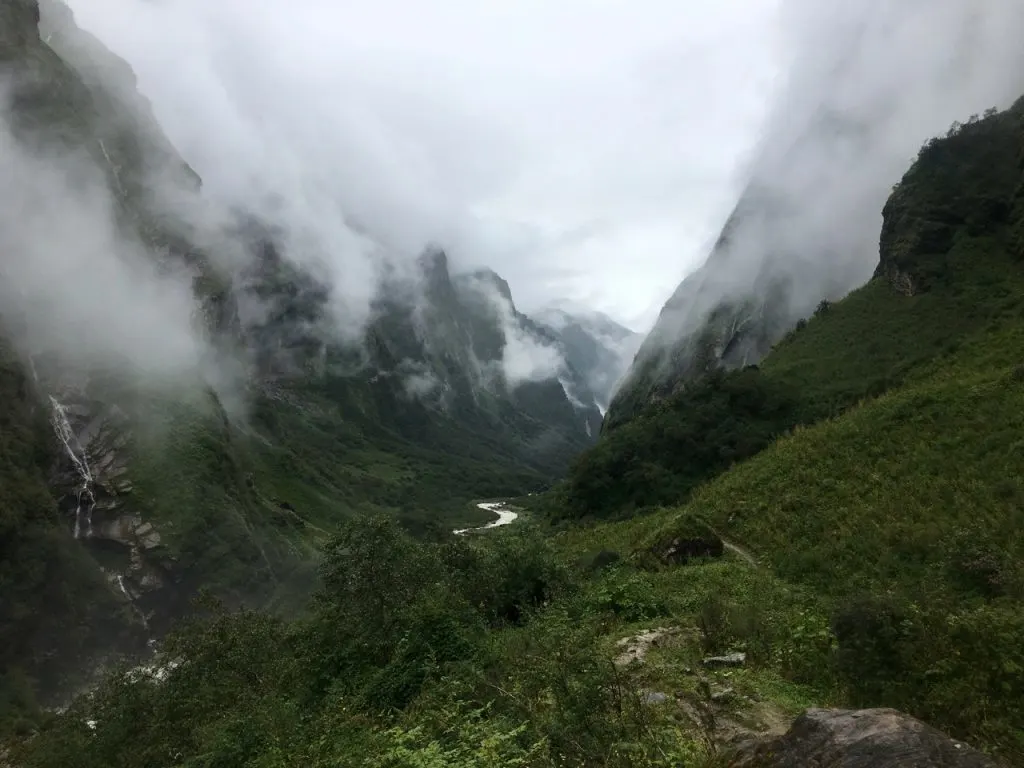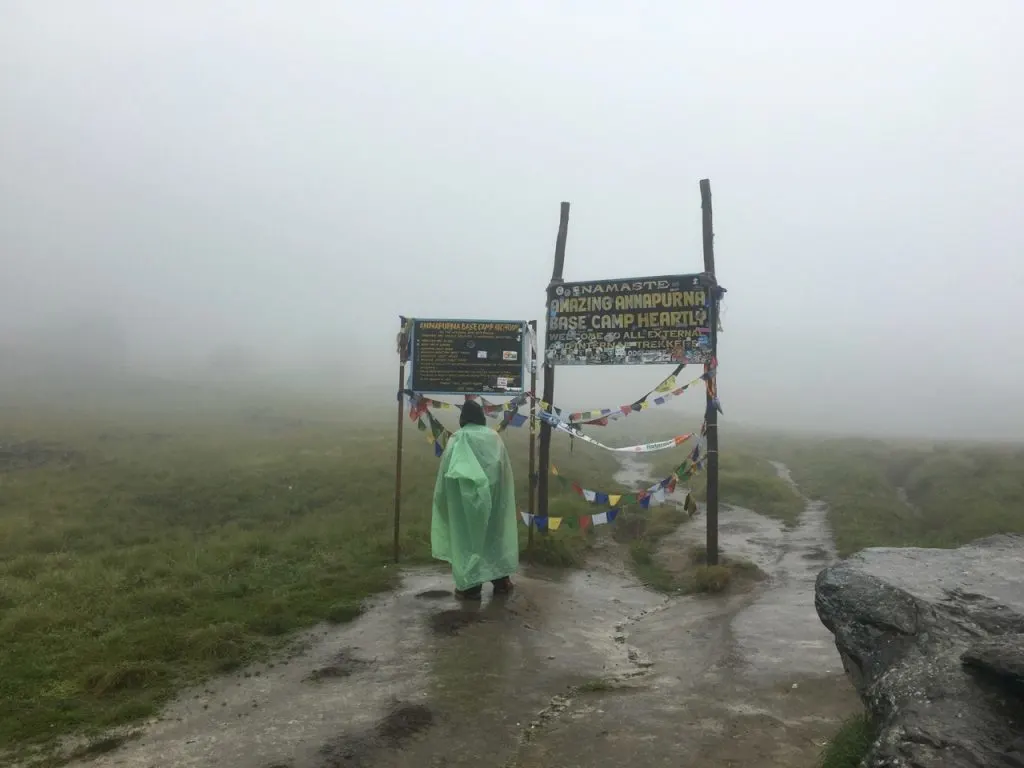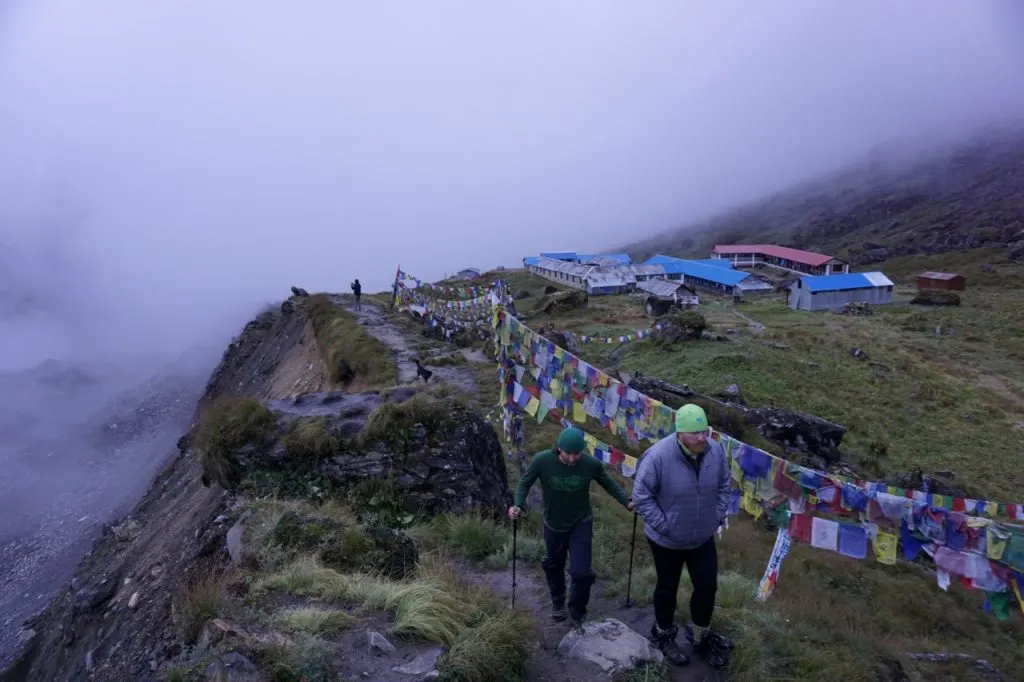 Day Seven: Annapurna Base Camp to Bamboo
Chandra woke us up with a knock on the door just as the first light was beginning to creep into the sky. I peeked out the window and couldn't see any clouds. Could it be? Could there be views? We got dressed quickly and met up with Chandra in the courtyard where plenty of other trekkers were already milling around. It was incredible: we were in a huge treeless glacial bowl surrounded by snow-covered mountains, all of them over 7000m tall. We made the quick walk back over to the viewpoint where we watched as the sun continued to rise, bathing the tops of the peaks in glowing light. After taking one million photos (approximately) it was time to return to the guesthouse to have breakfast, pack up and hit the trail. As we left Base Camp the clouds started to move in, obscuring the mountains. Even though we didn't want to, it was time to go. The sun was really out for the first time in days and the trail back down to Machapuchare Base Camp was gorgeous in the sunshine (especially since it had been shrouded in fog the day before). We retraced our steps down the path next to the Modi Khola in the jungle, recrossing some of the scary bridges from the previous day and marvelling at how much less water was flowing in the streams since it was no longer raining. That night we stayed in the dark and dense bamboo forests at the Bamboo guesthouse – quite a contrast to the wide open sunny landscapes of that morning.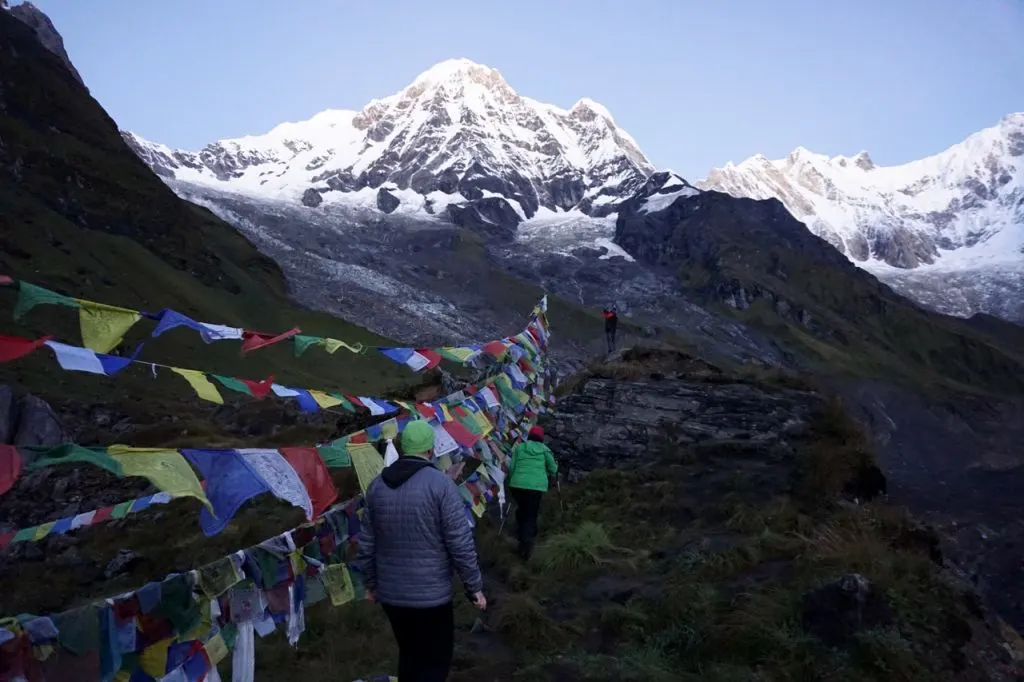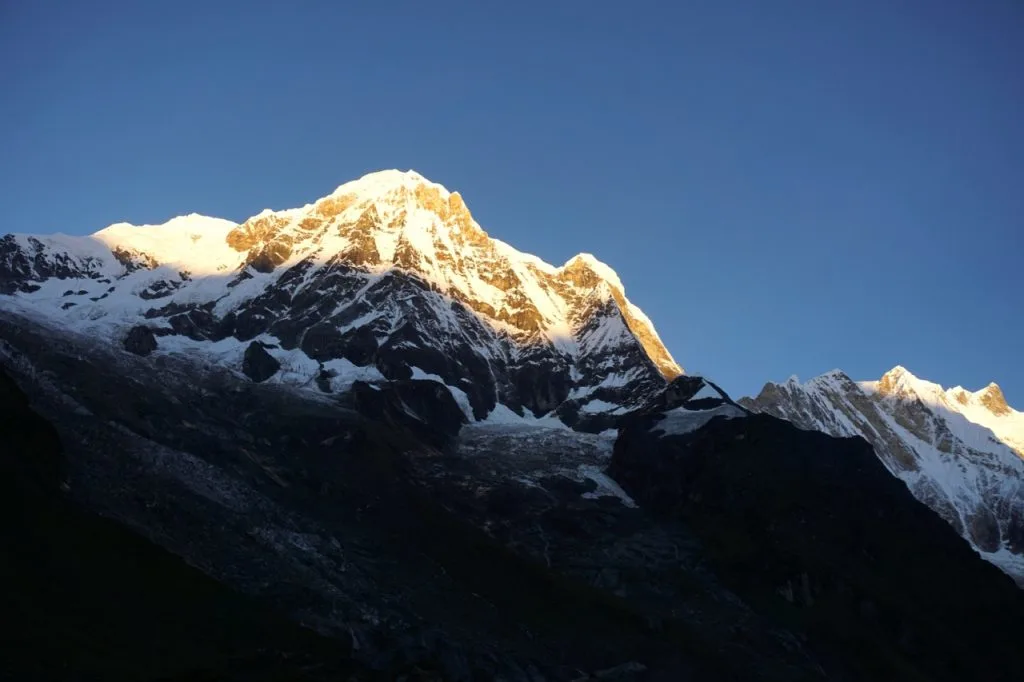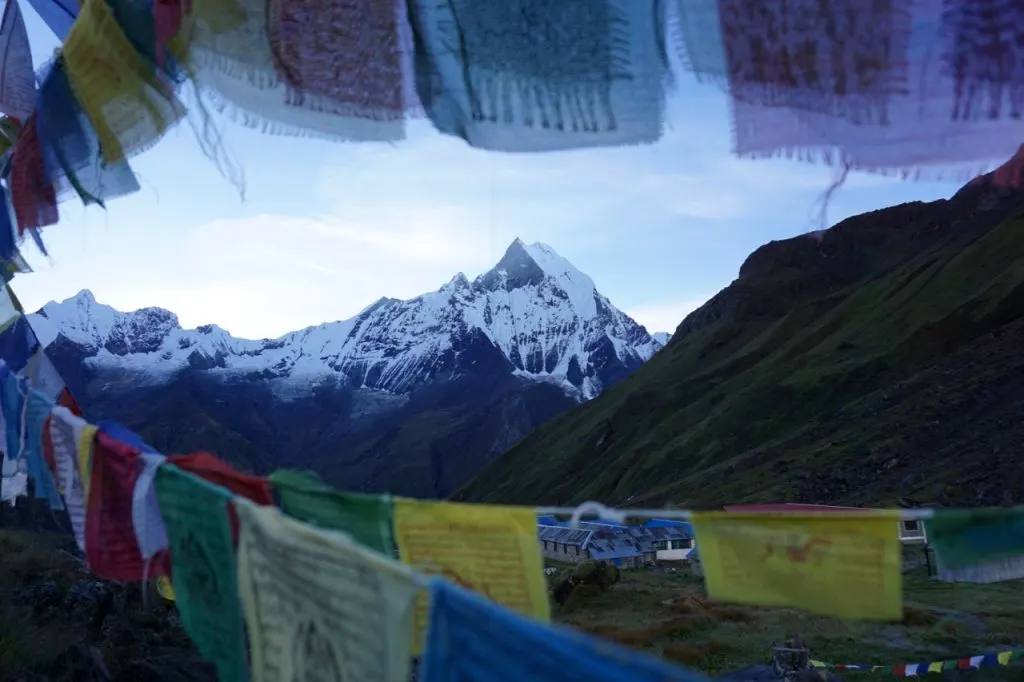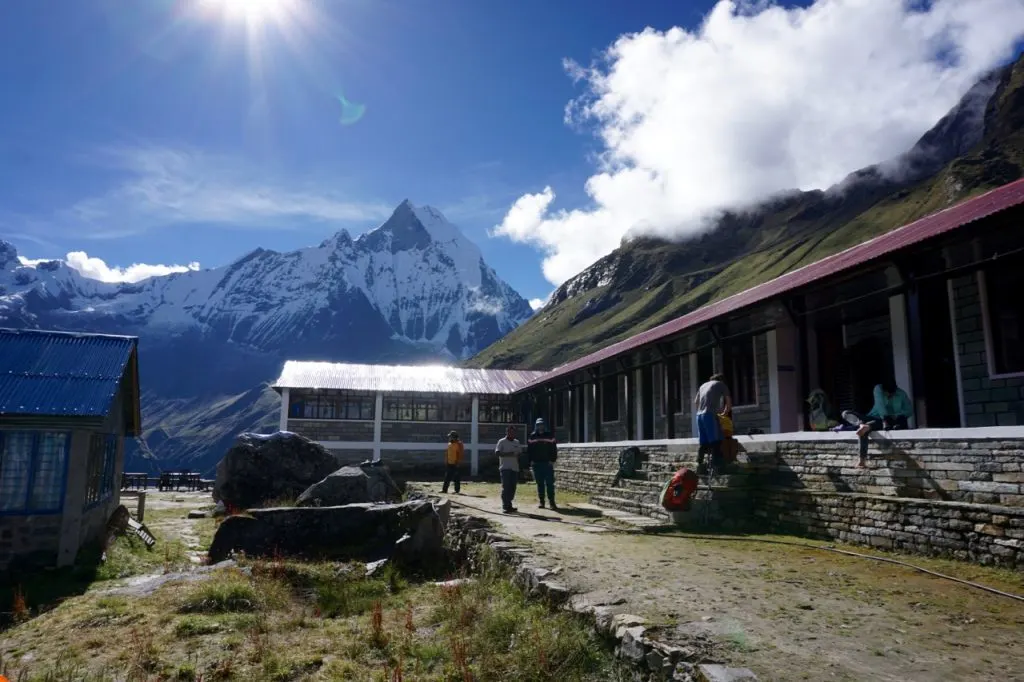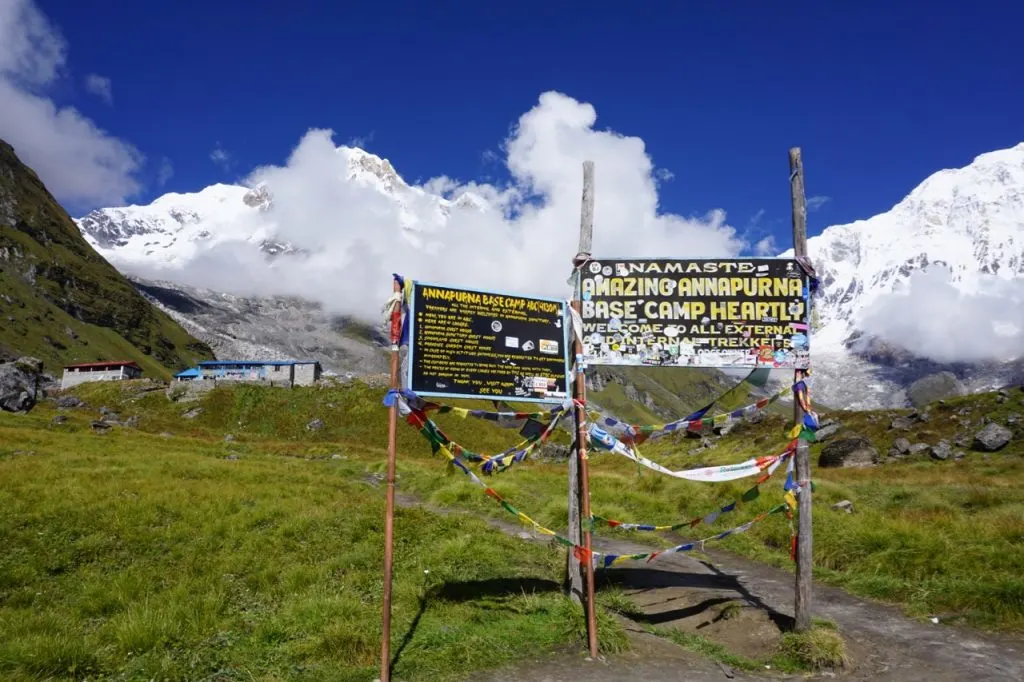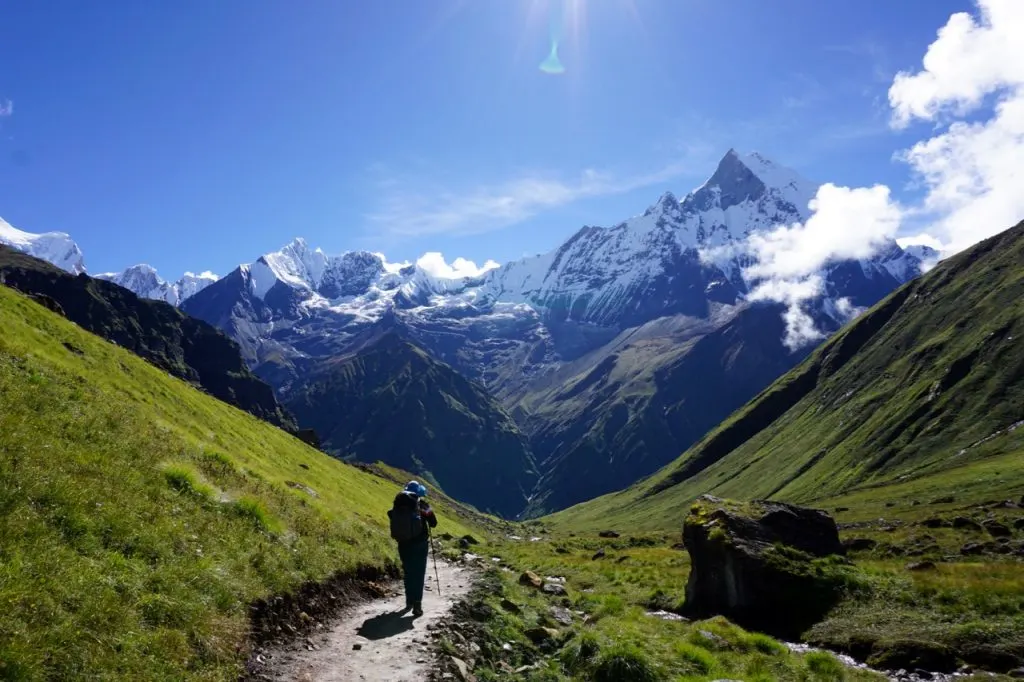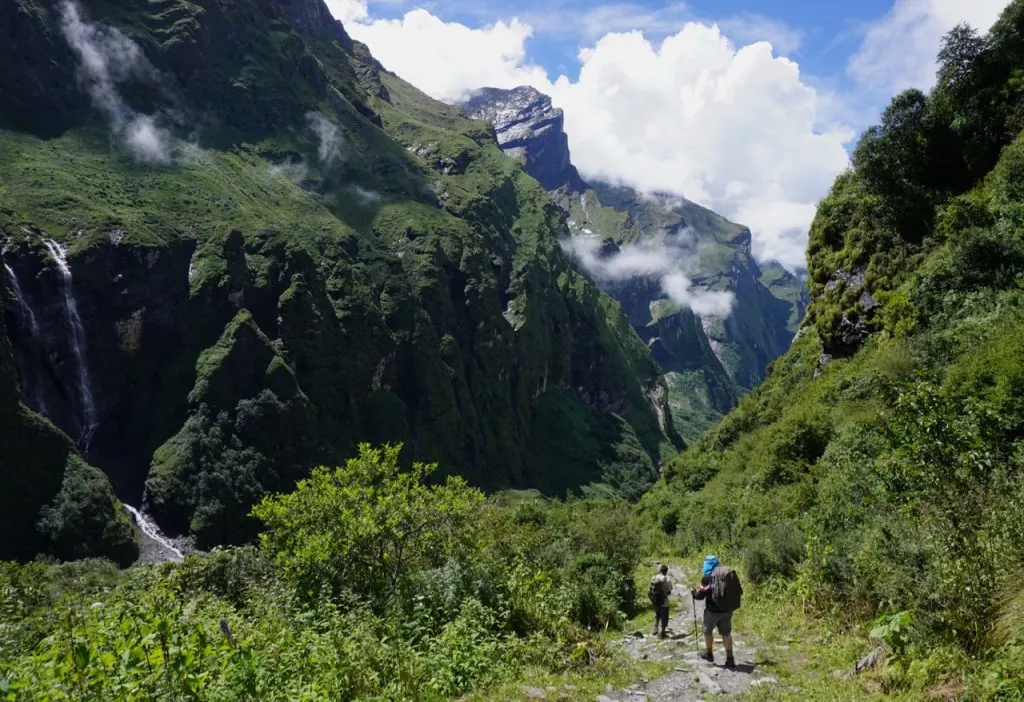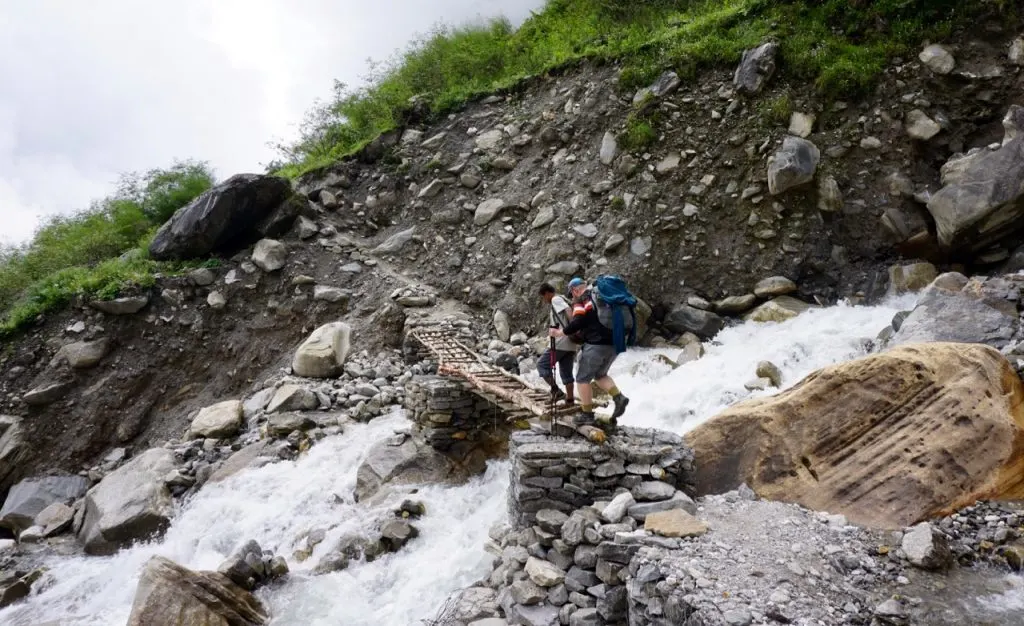 Day Eight: Bamboo to Jihnu Danda Hot Springs
We knew what we were in for on this day since we had done most of the route before: ukalo and oralo (uphill and downhill) on stone steps. We followed the Modi Khola back downstream past our previous guesthouse at Sinuwa, down to cross the Chhomrong Khola on a loooong suspension bridge, then back up up up the 2000 stairs through the village of Chhomrong. We stopped in Chhomrong again for lunch and watched as a couple of donkey trains came through the village, bells jangling. After lunch we plunged back downhill again on one of the steepest trails yet, heading to the guesthouses at Jhinu Danda. We checked into our rooms (the first ones with ensuite bathrooms since Ghorepani way back on day two – what luxury!), dropped our packs and headed downhill even more to the banks of the Modi Khola where we found the Jhinu Danda hot springs. The high water levels of the river meant that some of the pools were full of river water and sand and therefore unusable, but the highest pool was still functioning. We soaked until it got dark and it was time for dinner. The warm muggy weather made the 30-minute uphill climb back to the guesthouse a little less pleasant as we got our freshly cleaned selves all sweaty again.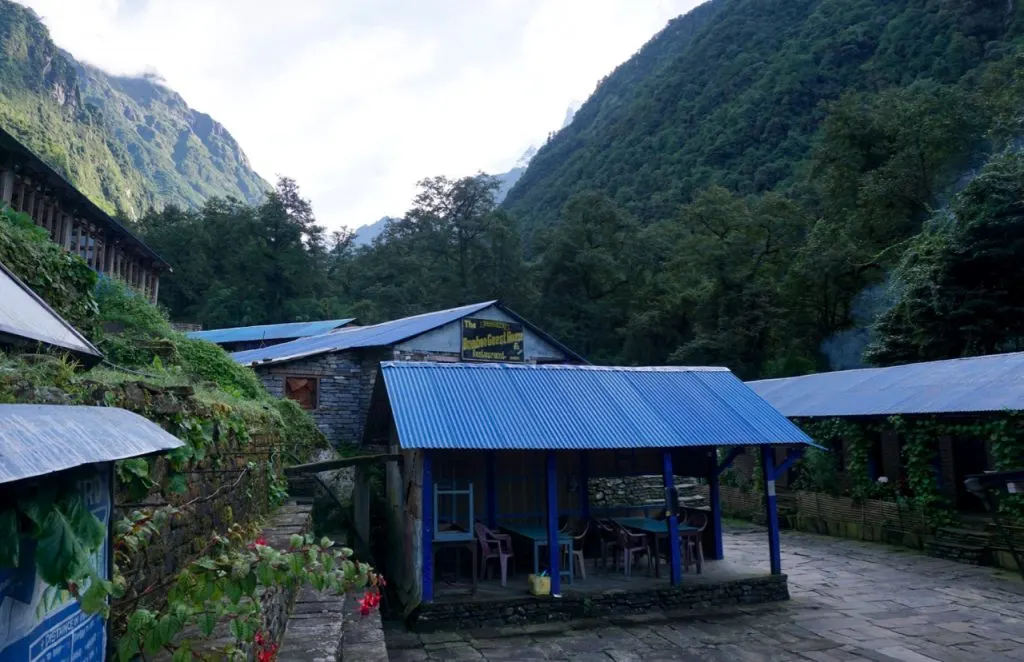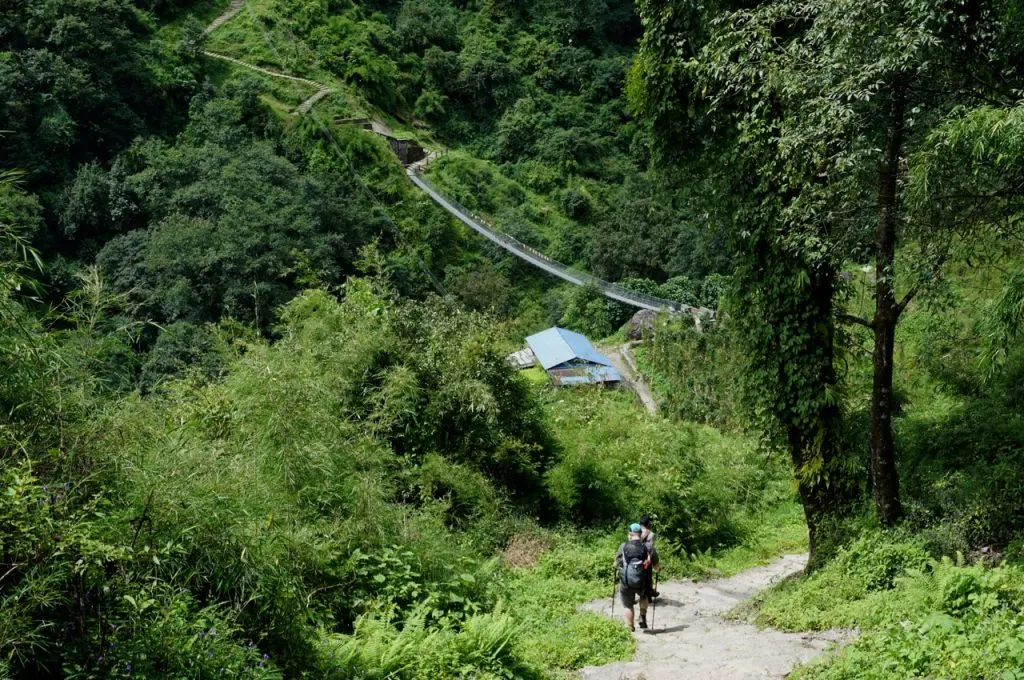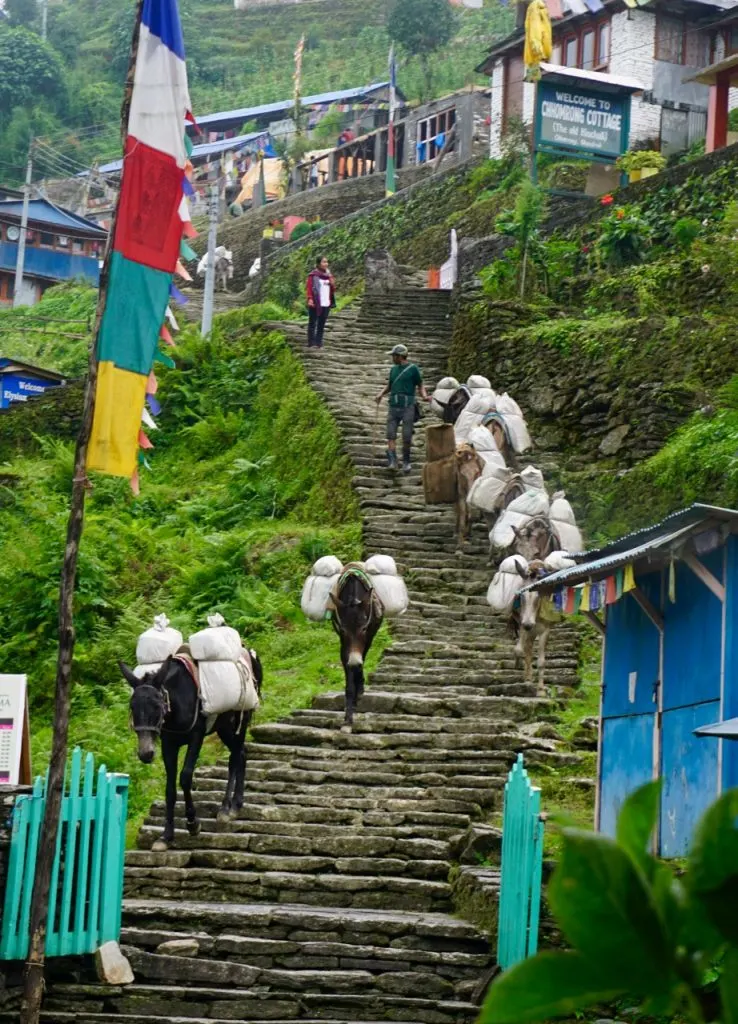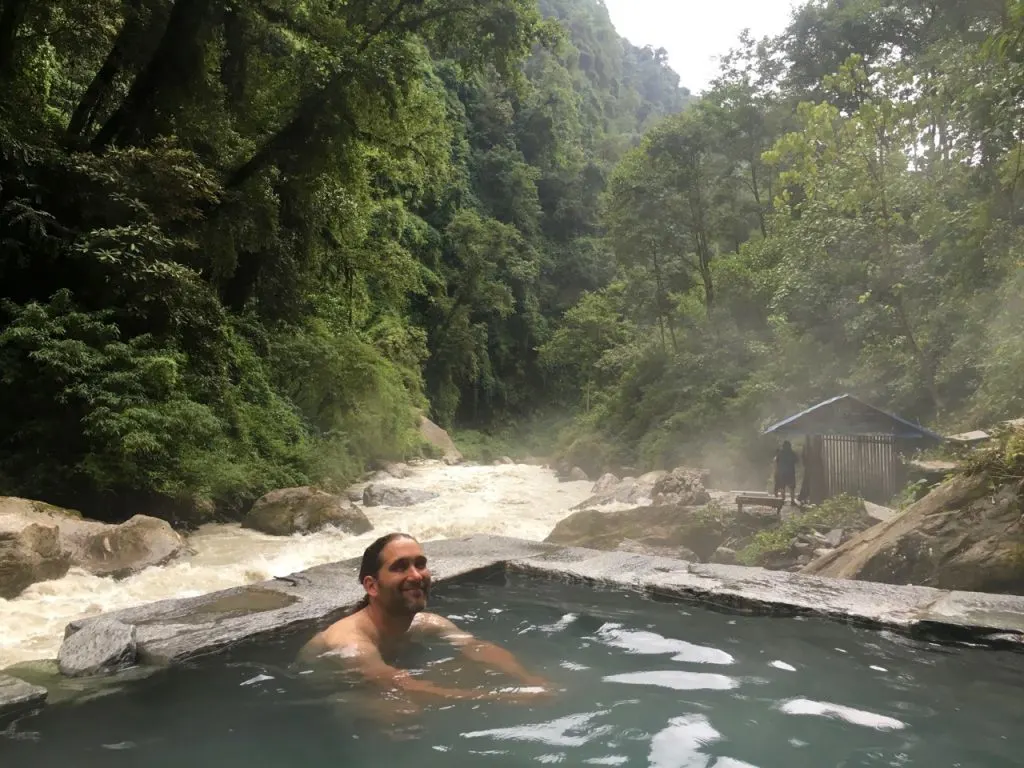 READ: What to Pack for the Annapurna Base Camp Trek
Day Nine: Jihnu Danda Hot Springs to Allure Hill
Our penultimate day on the trail was very hot and muggy. We headed down from Jhinu Danda, crossing several smaller bridges before arriving at New Bridge, the location of a guest house settlement called New Bridge as well as a long wooden decked suspension bridge that at some time must have been new but now definitely is not. It has a slippery wooden deck with some misaligned planks and the whole thing lists to the right. It was one of the more intimidating bridges we crossed on the whole trip (but apparently it is scheduled to be replaced soon). After crossing New Bridge we headed downstream following the river on the opposite bank. Now that we were back at a lower elevation with warmer weather and thick vegetation, the juka (leeches) were out in full force so we didn't really enjoy the waterfalls, farms and lush vegetation the way we should have. The heat also became quite oppressive and as we started to climb out of the river valley into the hills, it became apparent that I had heat stroke and was quite ill. We stopped for lunch and a long rest at a guesthouse. After lunch, the weather started to cool down so I began to feel better but Chandra still had to carry some of my gear because I was still weak. We met up with a newer gravel jeep road that had obliterated the trail in most places. We followed the road for the rest of the day as the scorching hot morning turned into a damp and foggy late afternoon. Due to my illness, we hadn't covered as much ground as planned so we stopped at a brand new guesthouse on Allure Hill that Chandra knew about rather than sticking to our original itinerary.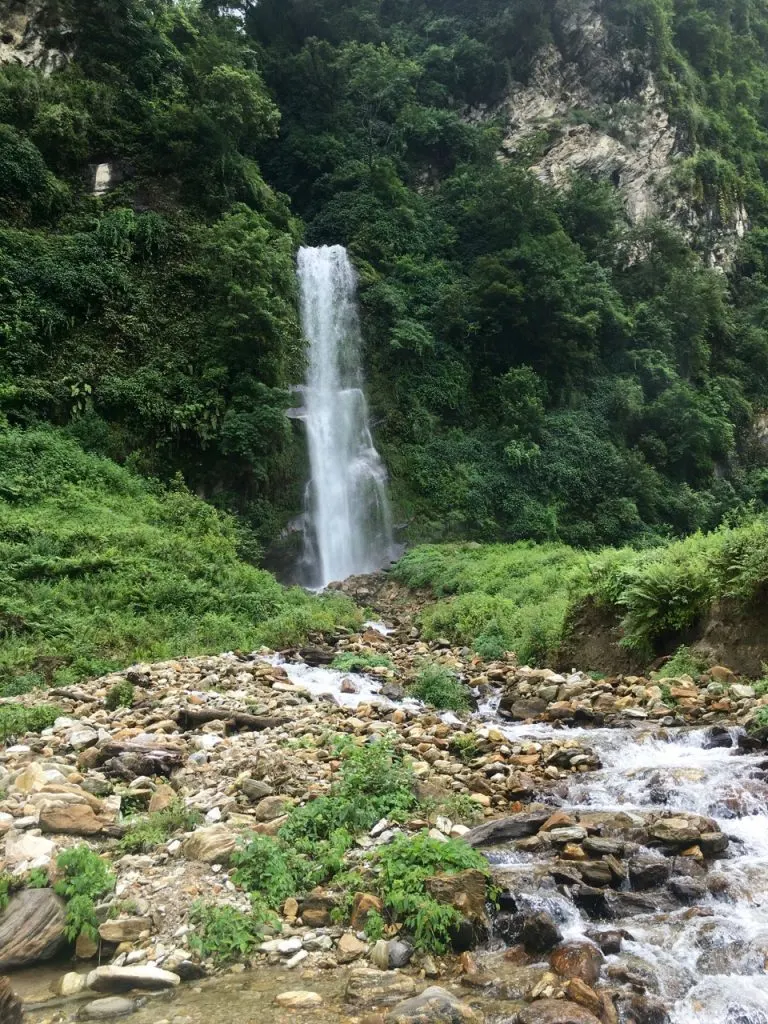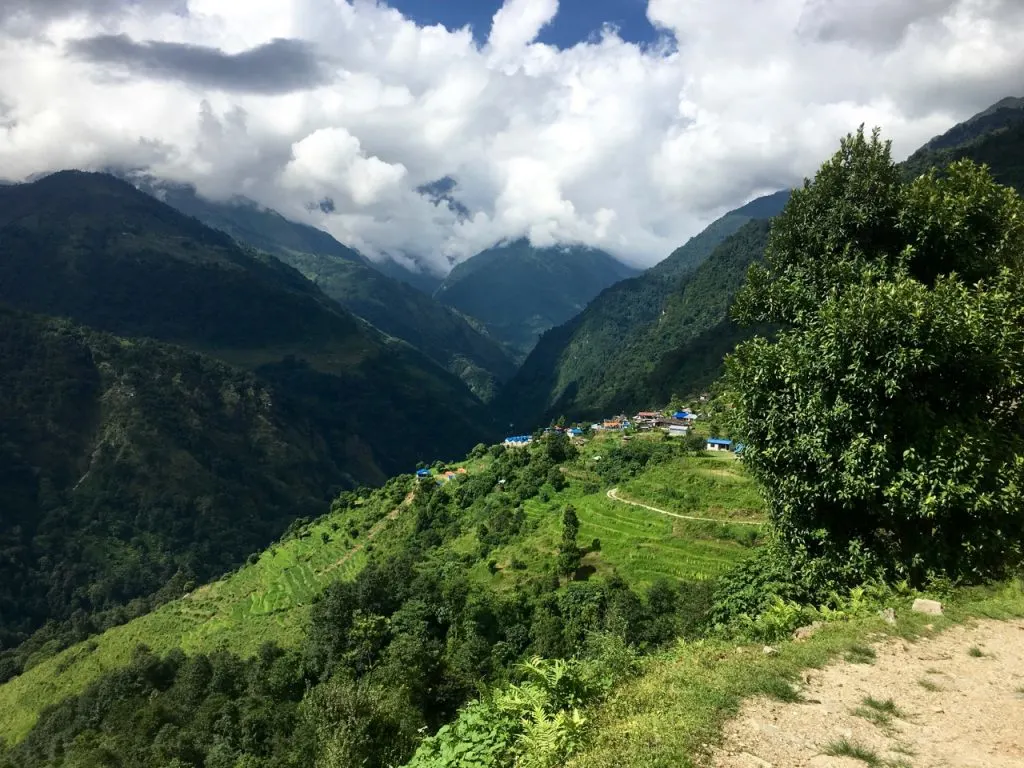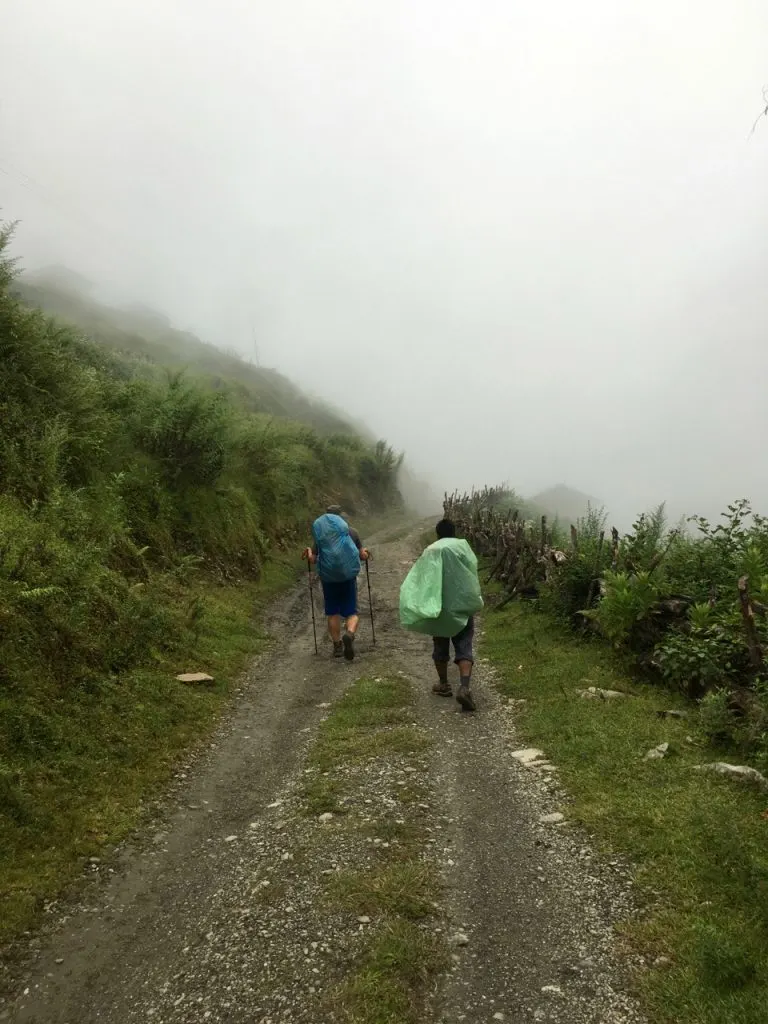 Day Ten: Allure Hill to Dhampus
The plan on our last day was to finish walking the new jeep road to the village of Pothana where we would pick up a series of trails that would take us down to the town of Dhampus and then down to Phedi, a town on the outskirts of the city of Pokhara where we could catch a bus back to our hotel in the city. Alas, it was not to be as that morning I developed a case of gastroenteritis, aka Delhi Belly, aka horrible stomach flu. It was probably due to being weak from the heat stroke the day before since no one else got sick and we all ate and drank the same things. I took a ton of anti-nausea meds, anti-diarrhea meds and antibiotics, handed my pack off to Chandra and set out to hike our last day on the trail. I don't remember much about this day as I was just trying to keep it together. From what I do recall, we followed the jeep road for awhile into Pothana where we stopped for a break. At that point, we asked Chandra to call ahead to hire a 4×4 jeep to meet up in Dhampus where there was a rough road we could take as I didn't want to walk more than I had to. We walked downhill on beautiful old stone paths to Dhampus where our jeep met us. Suddenly, before I was ready for it, our trek was over. Even though I was sick and just wanted to lay down and sleep (near a toilet!), I couldn't believe we were headed to a hotel in the city, not to a guesthouse on a hillside with mountain views poking through the mist.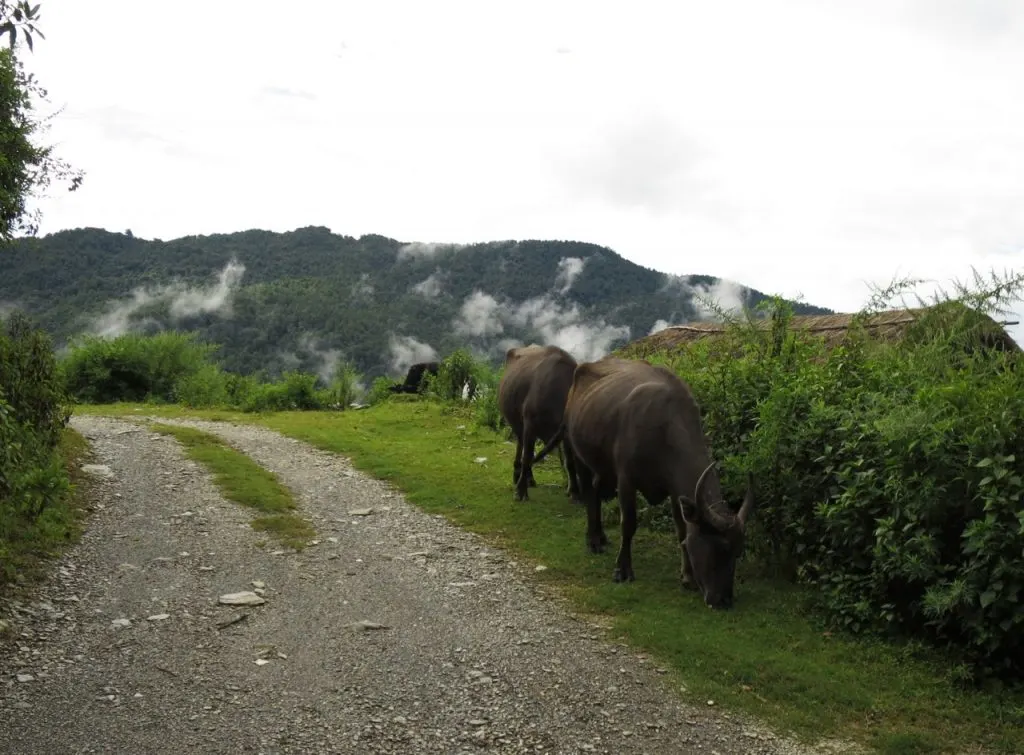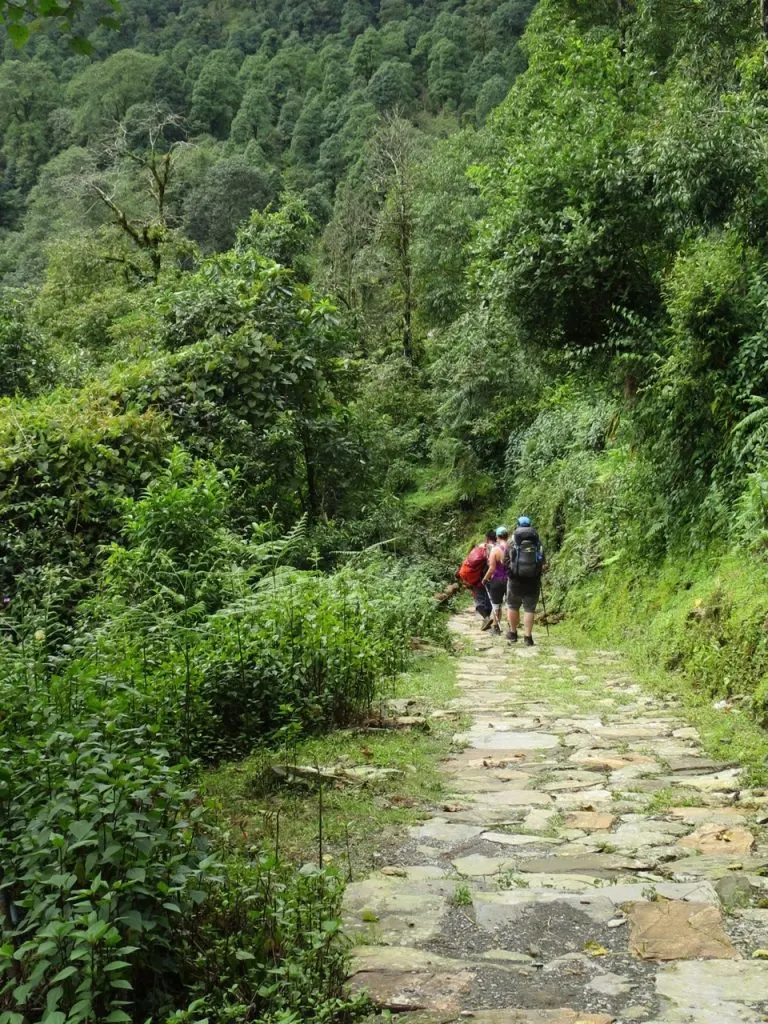 After our trek, I spent a day in bed in our Pokhara hotel recovering while the others went sightseeing. Then it was back to Kathmandu to see the sights.
Overall, trekking to Annapurna Base Camp was such a special experience, unlike any of the other backpacking trips I have been on. It wasn't just the guesthouse aspect where we stayed indoors and had hot meals three times a day (although that was awesome) or the grand scale of the mountains, so much taller than the ones I am used to; it was the cultural experience of trekking from village to village where people actually live and farm the land, far from roads, hospitals, malls and everything we think is an essential part of life. (Although they do have cell phones and satellite TV – they think those are essential too!) Unlike backpacking in the wilderness of Canada where nature is the only focus, trekking to Annapurna Base Camp puts the focus on the people, the culture, and the rural landscape but then juxtaposes that with the sweeping views of impossibly high peaks and the densely forested jungle between the villages. It's unique. It's amazing. You should go.
Read Next: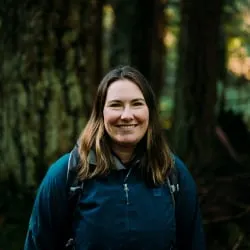 Latest posts by Taryn Eyton
(see all)