Gwaii Haanas National Park is a near-mythical place made up of incredible wildlife, towering old-growth forests, and moving Haida cultural sites. Add in the fact that it is located in a remote corner of northwest British Columbia and can only be accessed by boat, and you have a true once-in-a-lifetime trip destination.
Planning a trip to Gwaii Haanas can be pretty overwhelming. When I was researching the park before my visit, I had a lot of questions. At first, I wasn't even sure how to get to the park!
I've put together a huge guide to Gwaii Haanas for you that includes everything I learned about the national park. It includes:
This is a sensitive wilderness area. Learn how to Leave No Trace to keep the wilderness wild. Make sure you are prepared by bringing the 10 Essentials. Get ready for adventure with this checklist of things to do before every hike.
Hey there: Some of the links in this post are affiliate links, which means I earn a small commission at no cost to you. Thanks for your support. -Taryn
Gwaii Haanas National Park Reserve Basics
The entire southern part of the Haida Gwaii archipelago is protected within Gwaii Haanas National Park Reserve. Also, much of the surrounding ocean is in the Gwaii Haanas National Marine Conservation Area Reserve because the Haida do not see a distinction between land and water environments.
Here are a few quick facts about Gwaii Haanas:
The park's name is pronounced "gwhy hah-nas" and means "islands of beauty" in the Haida language.
The National Park was established in 1988 following over a decade of protests by the Haida and environmentalists who were concerned about logging and environmental degradation in Haida Gwaii.
Since 1993, the park has been cooperatively managed by the Council of the Haida Nation and the government of Canada
SG̱ang Gwaay Llnaagay on Anthony Island in the southern part of the park was declared a UNESCO World Heritage Site and a National Historic Site of Canada in 1981
The park has a unique ecology and is known as the Galapagos of Canada. The temperate rainforest is home to several species found nowhere else, including the Haida Gwaii black bear.
There are very few facilities in the park. There are no established campgrounds or hotels. The only toilets are composting outhouses at the Haida Watchmen heritage sites.
Gwaii Haanas, along with the entire Haida Gwaii archipelago, is the traditional territory of the Haida people who have lived here for over 12,000 years. In pre-colonial times, there were over 30,000 Haida, but over 90% of the population died in the 1800s from smallpox. Today there are about 5,000 Haida, and they make up 50% of the population of Haida Gwaii.
To help visitors respect this special place, the Haida Nation developed the Haida Gwaii Pledge. All visitors are encouraged to read and sign the pledge.
Where is Gwaii Haanas National Park Reserve and How Do You Get There?
Getting to Gwaii Haanas National Park Reserve
The only way to get to Gwaii Haanas is by boat. There are no roads in the national park.
To get to Gwaii Haanas National Park you will first need to get to the islands of Haida Gwaii, located on the northwest coast of British Columbia, Canada. Since they are islands, you can only get to Haida Gwaii by ferry or plane. My Haida Gwaii guide has all the info you need on how to get there.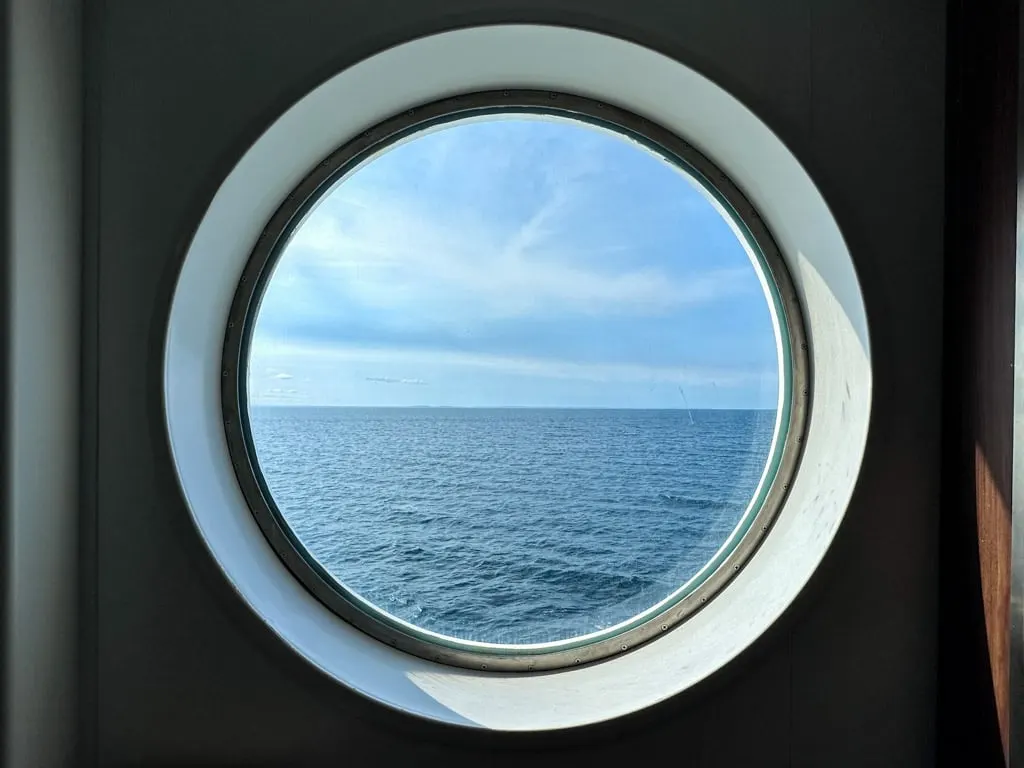 Boat access to Gwaii Haanas National Park Reserve is either with a tour or as an independent traveller. Most tours leave from Moresby Camp, an hour's drive from Sandspit. But a few tours leave from Daajing Giids, the main village on Haida Gwaii. If you sign up for a tour, it will include transportation to the boat dock from either Sandspit or Daajing Giids.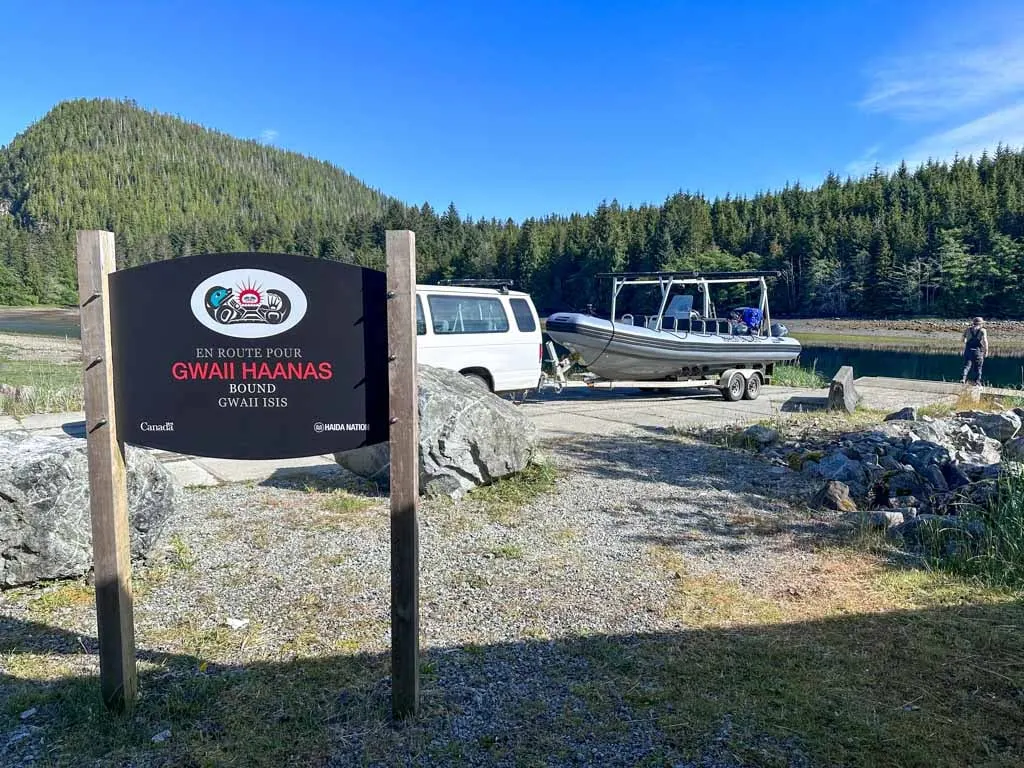 Where to Stay Near Gwaii Haanas National Park Reserve
Since most tours have an early morning departure, it makes the most sense to stay nearby.
If your tour leaves from Sandspit, I recommend the Seaport B&B. We stayed here before our Gwaii Haanas tour. It has a fun communal atmosphere and a great view of the beach from the front deck.
For Daajing Giids departures, consider Premier Creek Lodging, the oldest hotel in Haida Gwaii. It has a gorgeous garden alongside a creek. Another option is Spruce Point Lodge. It has waterfront motel-style rooms with breakfast delivered each morning.
Gwaii Haanas National Park Reserve Map
Gwaii Haanas National Park Reserve is huge, with dozens of islands and hundreds of kilometres of shoreline. The Parks Canada map below provides a great overview of the park. However, if you are self-guided, you will need the appropriate marine charts for navigation.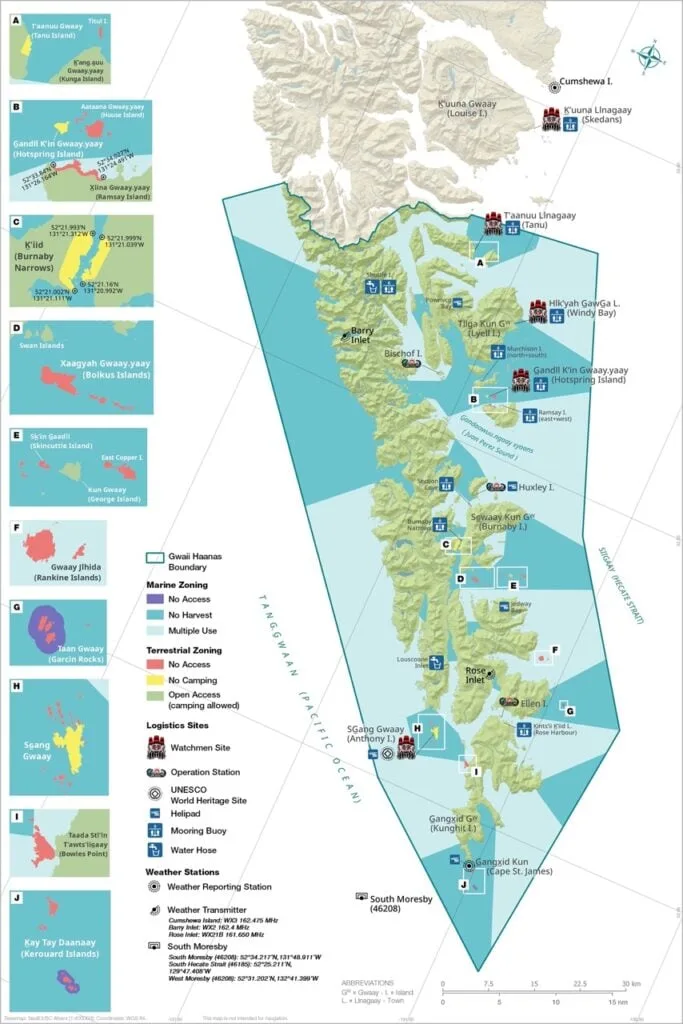 Even though I was on a tour, I found it really helpful to use the Gaia GPS app on my visit. That way I could see the terrain around us and find out the names of all the little islands and bays that we passed.
Psst! Want to save 20% off a premium Gaia GPS annual membership, which includes the maps I use on my trips? Use this link.
Gwaii Haanas National Park Reserve Tours vs. Self-Guided
There are two ways to visit Gwaii Haanas National Park: on a guided tour or as an independent traveller in your sailboat, power boat or kayak. I've got details on both below.
Pro tip: Book your tip well in advance – popular tours sell out 6 to 12 months before departure date.
Guided Tours in Gwaii Haanas National Park Reserve
Unless you are an experienced kayak or boater, it's best to visit Gwaii Haanas on a guided tour. It's a huge park with lots of complicated shoreline and sometimes volatile weather. Going with a guide is the safest and most enjoyable option.
But, I'll be straight with you: visiting Gwaii Haanas isn't cheap. Some of the tour companies are moderately priced, but many are aimed at the luxury market. To save money, take a shorter tour or a kayak tour.
Only licensed tour operators are allowed to guide tours in Gwaii Haanas. You can find a list of current tour operators on the Parks Canada website. There are a few main types of tours:
Single Day Power Boat Tours
If you only have one day to see the park, you will need to take a power boat tour. Since these tours are single-day, they are the least expensive option. However, they are not cheap – expect to pay $300-600 per person depending on tour type.
These tours typically involve quite a lot of time on the water and not much time on land since the main sites can be a few hours apart. As well, you will only have time to visit a few of the Haida cultural sites.
The main day tour operator is Haida Style Expeditions. They are the only Indigenous-run tour company in Gwaii Haanas National Park. They have closed cabin boats. Moresby Explorers also offers a single-day tour on open zodiacs.
Multi-Day Power Boat Tours
The main operator in this category is Moresby Explorers, the tour company I chose. They offer 2-4 day tours in open zodiacs with accommodation at their floating lodge at the northern boundary of Haida Gwaii or at a very rustic B&B in Rose Harbour. Expect to pay $1200-$2500 depending on tour length.
I loved my tour with Moresby Explorers. Our guide Jamie was incredible. His enthusiasm for the landscape and culture was infectious. We really felt like we were getting an insider's tour of the park. The food at the floating lodge was also incredible. Chef Ash and her assistant Dani made such a feast.
If you are going to do a tour in Gwaii Haanas National Park, the Moresby Explorers 4-Day tour is my number one pick!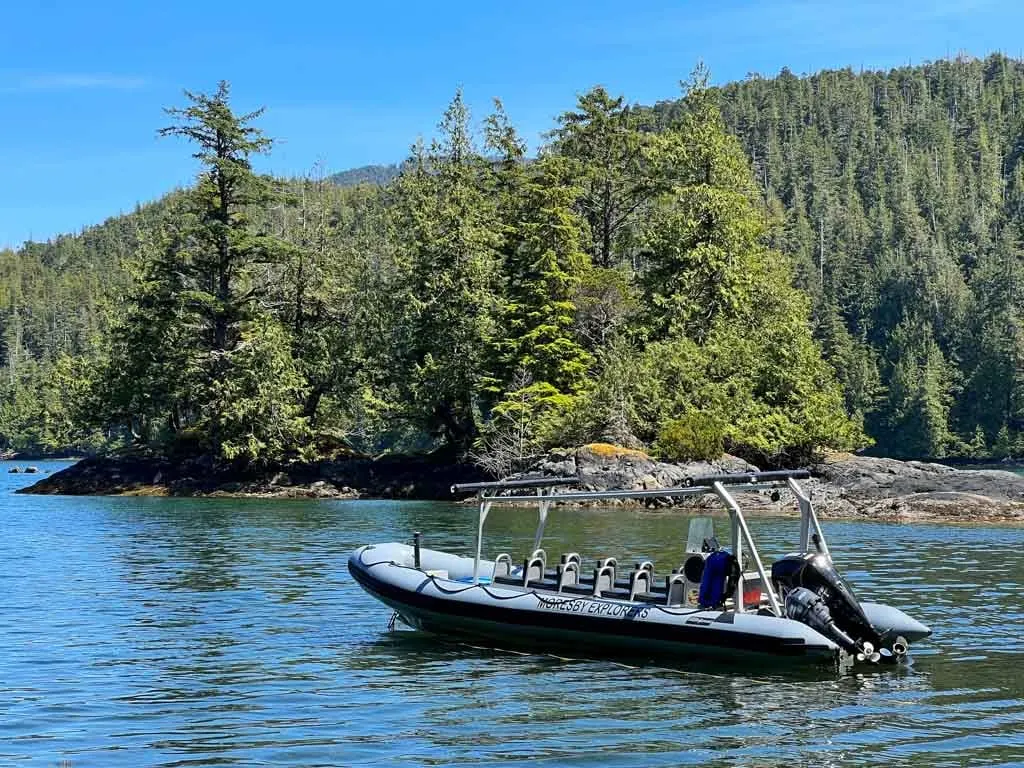 Multi-Day Sailing Tours
Sailing tours are the most luxurious (and therefore the most expensive) tours in Gwaii Haanas National Park. Expect to pay about $5000 to $8000 per person for a week-long tour. These are truly bucket list tours with high-end chefs, on-board naturalists, and even airfare from Vancouver included.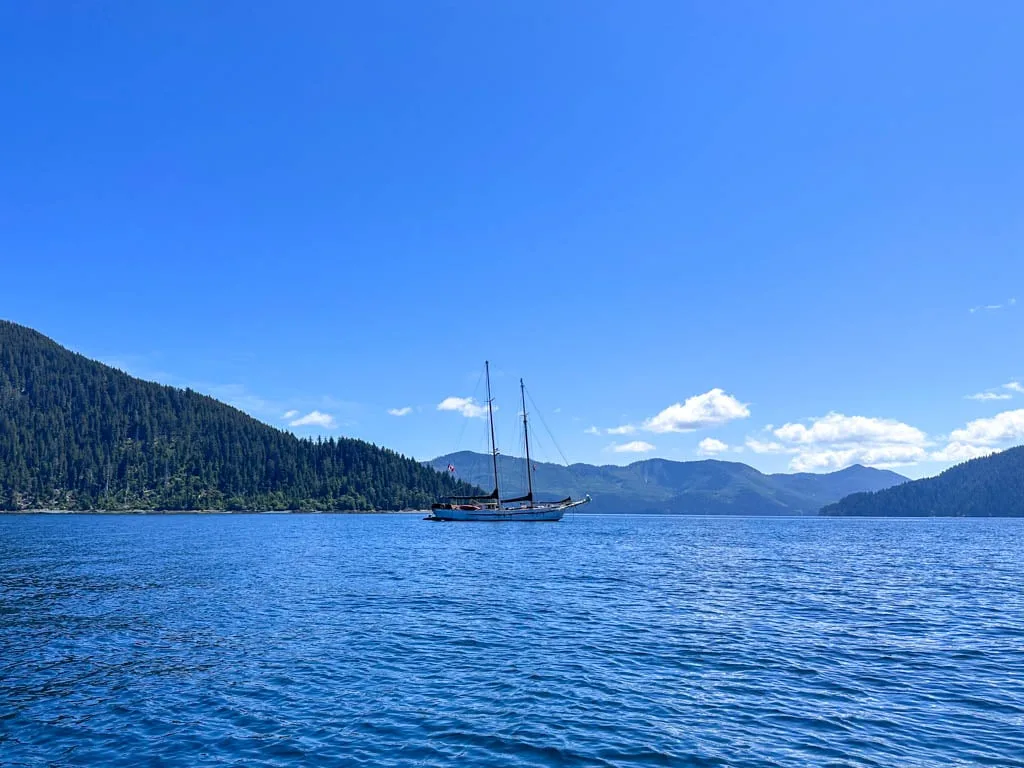 Multi-Day Kayaking Tours
The next time I go to Haida Gwaii, I want to do a kayaking tour. I had an incredible experience kayaking with whales in the Johnstone Strait off the coast of Northern Vancouver Island, and I can't wait to kayak in Gwaii Haanas National Park.
There are several kayak tour companies licensed to operate in the National Park. Tours are typically five to eight days long and range from about $2000 to $3500 per person. Accommodation is in rustic campsites with no facilities – not even outhouses.
Many tours use a kayak shuttle service where a power boat shuttles the kayaks, gear, and tour group participants into the farther reaches of the park. This means you can concentrate on seeing a specific portion of the park, not paddling long days between sites.
Kayak Mothershipping
Before researching my trip to Haida Gwaii, I had never heard the term "kayak mothershipping". It refers to travelling on a power boat or sailboat with kayaks on the deck, and then going kayaking from there. Each night you sleep on the power boat or sailboat.
It is a much more comfortable experience than the kayak tours in the park since you won't be camping. Some tour operators are fancy with chefs on board, while others are more communal, with guests working together to cook meals and perform boat chores. Prices range accordingly, from $4000 all the way up to $10,000 for a week-long tour.
Gwaii Haanas National Park Fees and Reservations
If you are travelling independently, you must make reservations and pay fees to enter Gwaii Haanas National Park. Reservations for the following summer open each year in February.
You must also attend an orientation session, offered most mornings at the park headquarters near Skidegate. Find more info about fees and reservations for independent visitors on the park website.
If you are visiting the park as part of a guided tour, your National Park fees and reservations are included as part of your tour and you don't need to worry about it.
How Much Time to Spend in Gwaii Haanas National Park Reserve
Gwaii Haanas National Park Reserve is huge so you will need to set aside some time to see it. It is possible to see the highlights in one or two days if you don't have the time or budget for a longer trip.
However, to see all the Haida cultural sites as well as have time for wildlife watching and visiting some of the out-of-the-way corners of the park, plan to spend at least four days in the park. Most Gwaii Haanas National Park tours are four to eight days long to ensure that guests get the best experience.
When to Visit Gwaii Haanas National Park Reserve
The best time to go to Gwaii Haanas National Park is between May and September when the weather is nicest. Most tour companies do not run outside of those months.
July and August are the busiest months since they have the best weather. I went in June and we enjoyed mostly sunny weather. As well, most of the attractions were pretty quiet.
The best months for whale watching are May and September.
Summer in Haida Gwaii can be cool and wet. The driest months are driest months are May, June, and July. August and September are also relatively dry. But you should expect rain at any time. July and August are the warmest months with daily temperatures of 10-18°C (50-64°F). May, June, and September are a little cooler.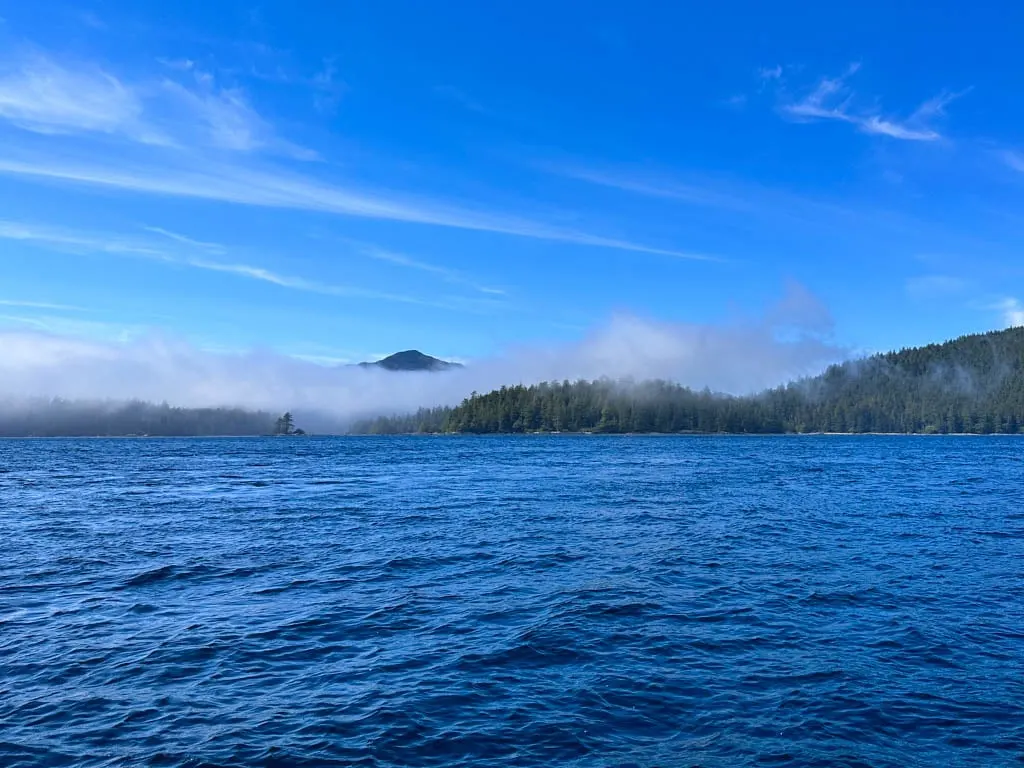 Visiting Haida Watchman Sites
There are five Haida Watchmen sites in Gwaii Haanas National Park. These are the main Haida cultural sites in the park. In pre-colonial times, Haida villages often had watchmen to warn citizens of approaching enemies.
The contemporary Watchmen program began in 1981 as a volunteer program, before the park was formed as a way for the Haida to attempt to safeguard their traditional territory against logging and poaching of the carvings and other cultural items.
In the 1930s, 40s, and 50s, the BC government stole monumental poles from K'uuna, SGangwaay, and T'aanuu. The government wanted to protect and preserve the poles in museums. Since the 1970s, the government has returned some of the stolen poles to the Haida.
Today the Haida Watchmen are paid employees of Parks Canada and the Council of the Haida Nation. Each Haida Watchmen site is staffed by two watchmen (who can be of any gender despite the term watchmen). Watchmen can be as young as 16 or in their 70s. They live in small off-the-grid cabins on site and provide tours to visitors.
How to Show Respect at Haida Watchmen Sites
You must act respectfully when visiting Haida Watchmen sites. These are important places of culture and history. Here are my tips for showing respect:
Listen carefully. It is a privilege to be here and hear the Haida stories. The Haida Watchmen may choose which parts of their own, their clan's or their Nation's oral history to share. Each visit is unique.
Stay on the paths, which are outlined with shells. What may look like a log to you may be a fallen house pole or monumental pole, so watch where you step.
Do not take photos of anything without permission, including of the Watchmen themselves. The Watchmen know the best spots to take pictures and will let you know.
If you wish, bring a small gift. In coastal Indigenous cultures gift giving is an important part of diplomacy and respect – it is rude to arrive empty-handed. (You will learn about potlatch culture from the Watchmen.) Bringing a gift is not required or even expected, but it is polite. If you bring a gift, keep it small and consider bringing something from your hometown or culture. We brought handmade chocolate bars made by a local shop in our hometown of Squamish.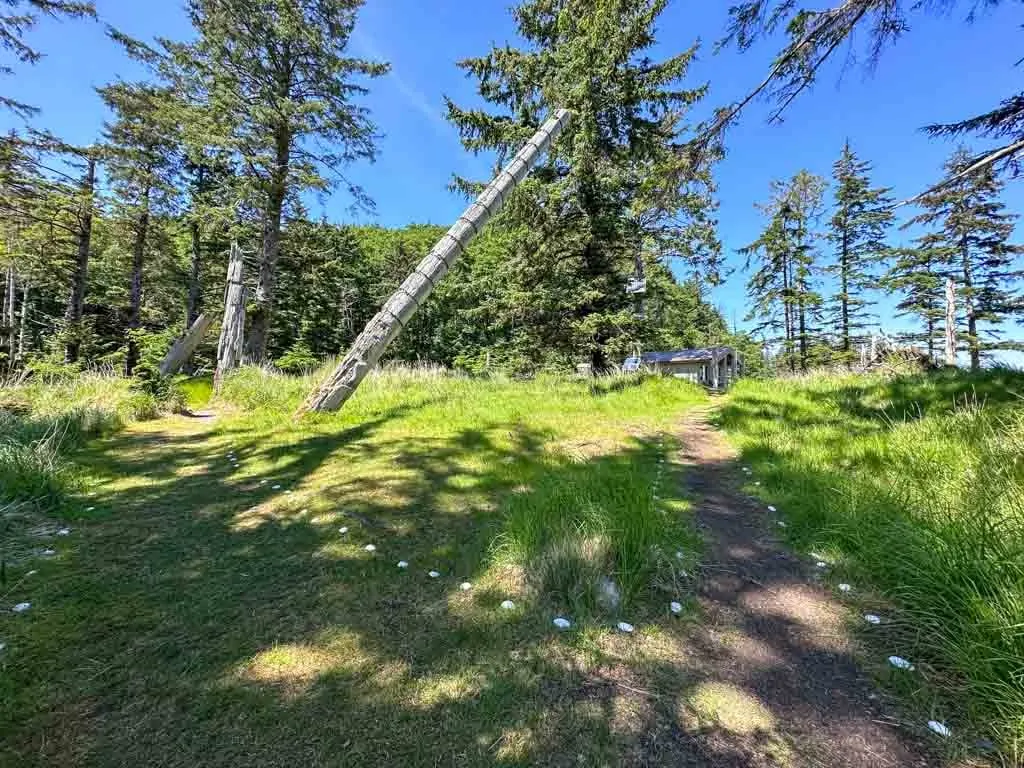 Things to Do in Gwaii Haanas National Park Reserve
If you are on a tour in Gwaii Haanas, your guide will set your itinerary and make sure that see you all the major sites. But here's a brief run-down of the major things to do and see.
SGang Gwaay
SGang Gwaay is the most famous site in Gwaii Haanas National Park. It is pronounced "ss-gang gwhy". In Haida, the name means Wailing Island because sometimes the tides push air through a hole in a rock nearby and it sounds like a crying woman. It is also called Ninstints (or Nan Sdins) after a famous chief who lived here in the mid-1800s.
The site is located on Anthony Island near the southern tip of the park. It can be hard to reach in bad weather since it is so remote. On my trip, we battled through waves and a huge fog bank to get there.
SGang Gwaay is a UNESCO World Heritage Site to protect the remains of Haida houses and mortuary and memorial poles (which are often incorrectly called totem poles). Unlike other sites in Gwaii Haanas, many of the poles are still standing.

This is one of the five Haida Watchmen sites in Gwaii Haanas. When you arrive, one of the Watchmen will take you on a walking tour of the site. SGang Gwaay is the largest Watchmen site, with a 1.5 km loop trail that heads through the forest, then along the beach to the village site.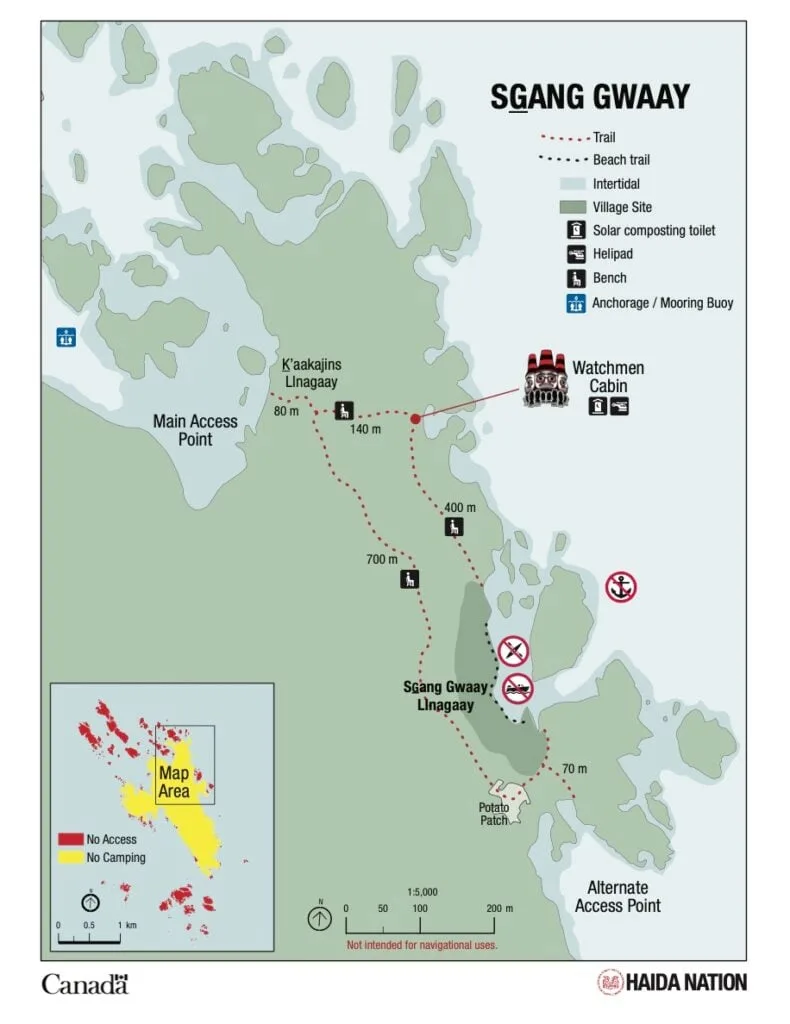 Your Watchman guide will explain Haida culture and give you lots of information about the history of the village site and the cultural significance of the monumental poles.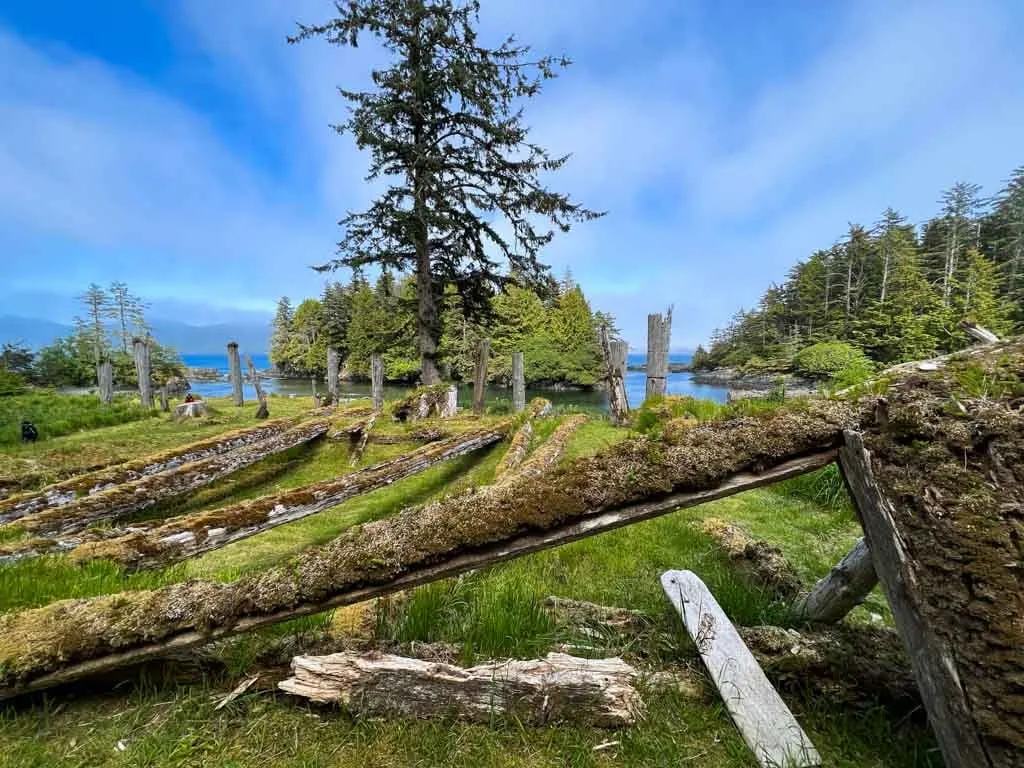 For many people, SGang Gwaay is the most special place in Gwaii Haanas National Park. I found the whole experience very moving.
Our guide was a 17-year-old Haida girl who had just finished high school and was working as a Watchman before heading off to university. It was interesting to see Haida culture continuing through the generations and to witness the juxtaposition of carrying on an ancient culture while also living in the modern world.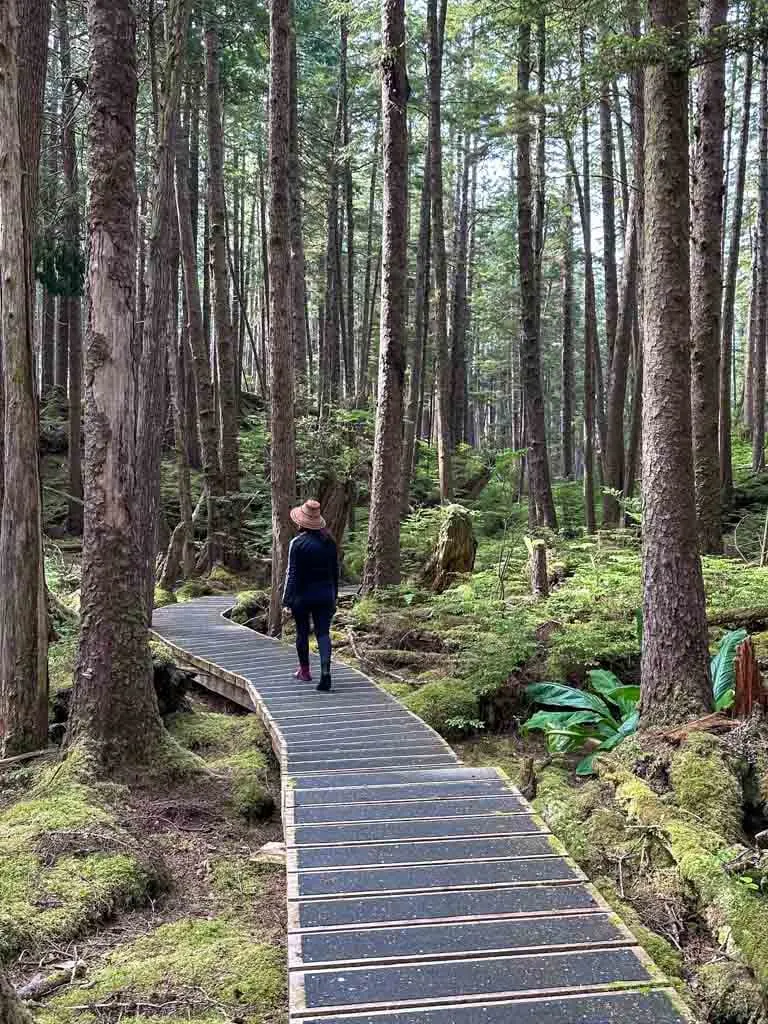 K'uuna (Skedans)
While K'uuna is usually visited as part of a trip to Gwaii Haanas National Park, it's not actually in the park. Instead, it is part of K'unna Gwaay Conservancy, protected by BC Parks and also part of the Haida Heritage Site, protected by the Haida Watchmen.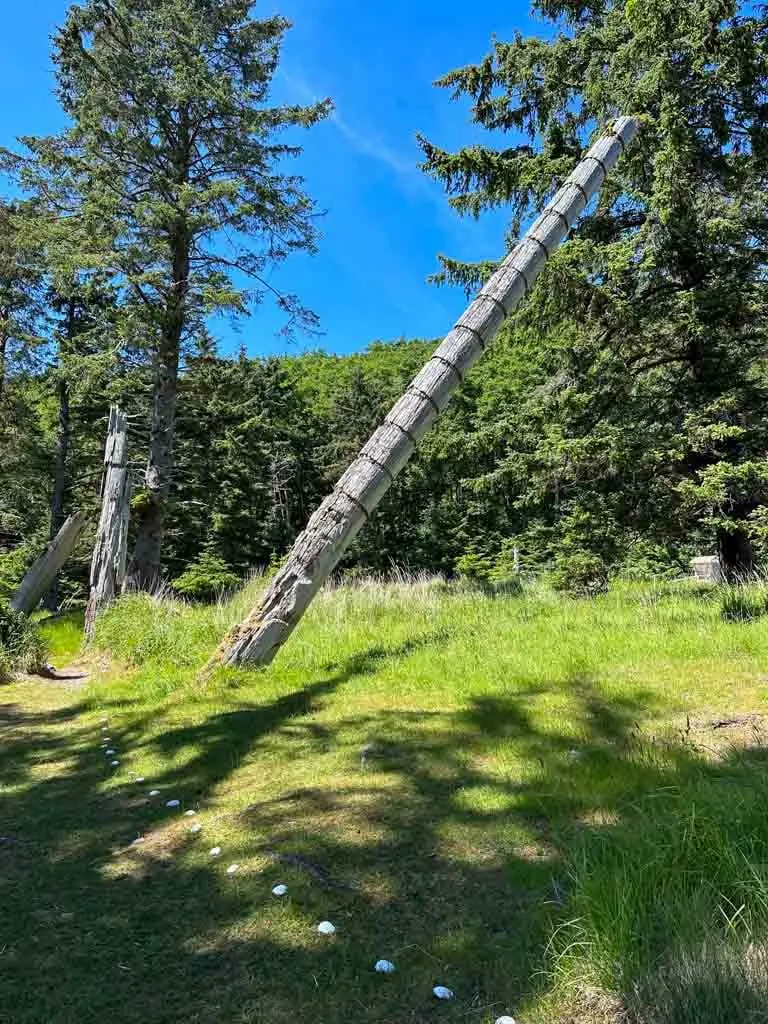 K'unna is a former village site located on the northern side of Louise Island, just north of the National Park boundary. Sometimes spelled Koona, the site is also known as Skedans, which is the English name for the Haida village site there. It is believed that Skedans comes from the name of the village chief in the late 1800s, Gida'nsta. In Haida, K'unna means "edge" and Llnagaay means "village", so its name means village on the edge.
The village was abandoned amid the smallpox epidemic of the 1860s. Today you can see the remains of a few long houses as well as some monumental poles and carvings. The Haida Watchmen will guide you around the site.
In the early 1900s, Canadian artist Emily Carr visited K'uuna. Her paintings of the monumental poles still standing at that time sparked broader interest in Haida art and culture.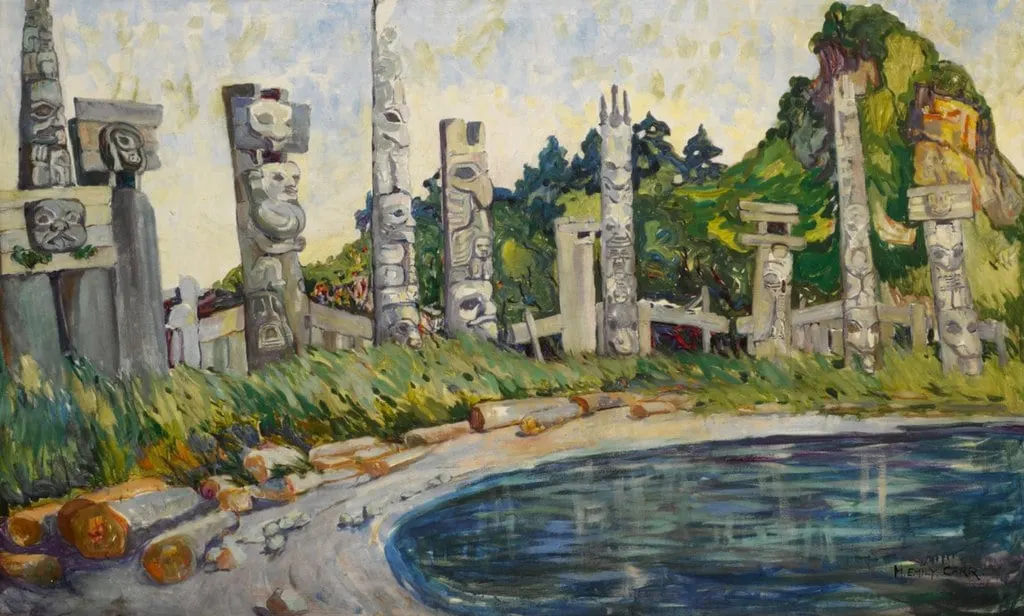 T'aanuu (Tanu)
T'aanuu is another former Haida village site that is now a Haida Watchmen site. It is a designated National Historic Site of Canada. In Haida, the village's name means eel grass, since there is so much sea grass near the village.
It is located on Tanu Island at the very northern edge of Gwaii Haanas National Park Reserve.
Haida Watchmen will guide you around the site to show you the remains of long houses and monumental poles. You can also visit the headstone of Bill Reid (Iljuwas), one of the most significant Haida artists. His carvings are famous throughout Canada.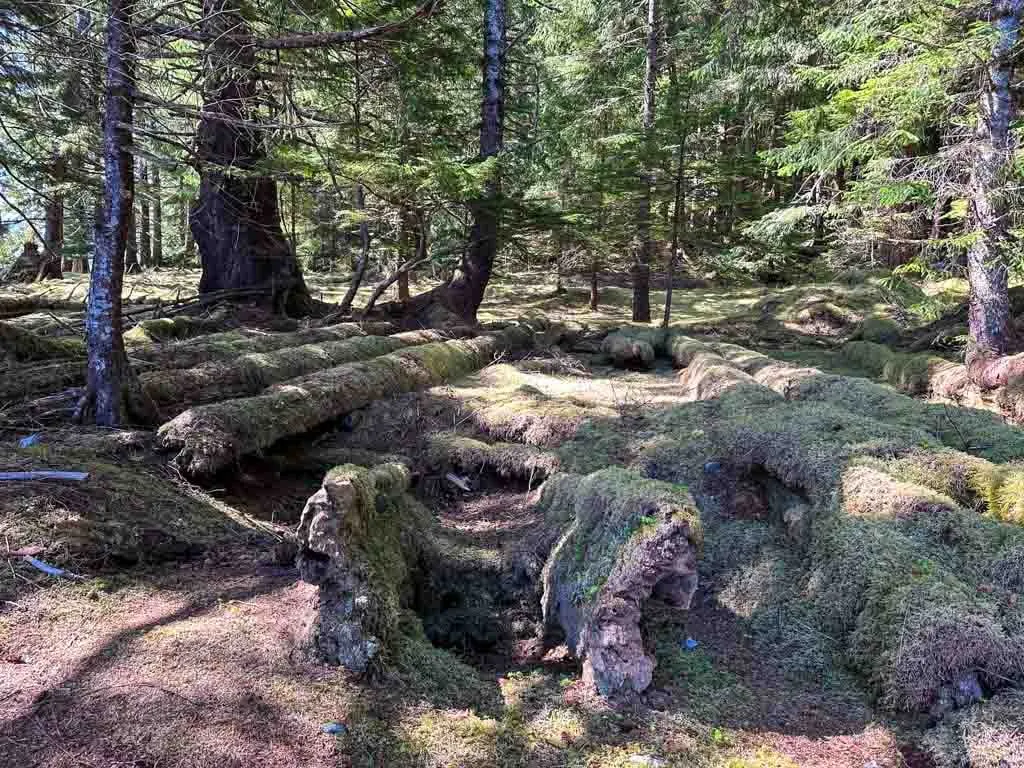 We happened to visit at low tide and the Watchmen showed us a unique clearing in the rocks exposed by the low water. They explained that the Haida had likely used it as an octopus farm, allowing the octopuses to mature in the rock piles, and then harvesting them once they were big enough to eat.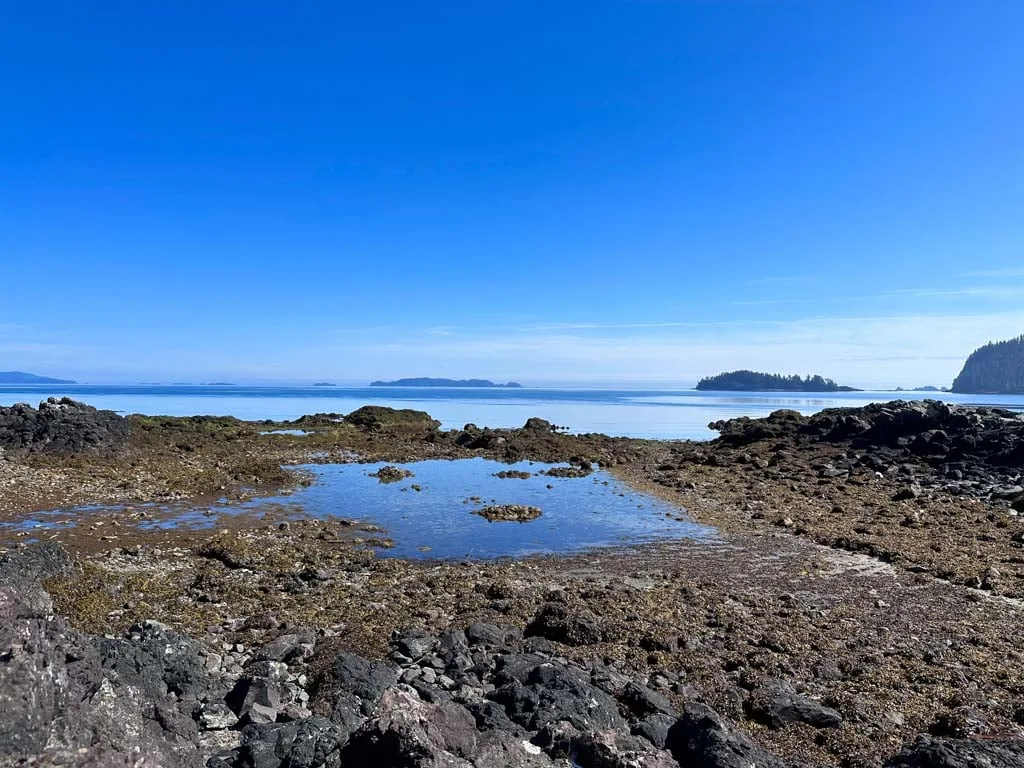 Hot Springs Island
Having a soak at Hot Springs Island is a must when you visit Gwaii Haanas National Park. In Haida, the island is known as Gandll K'in Gwaay.yaay. It's one of the best hot springs in Canada.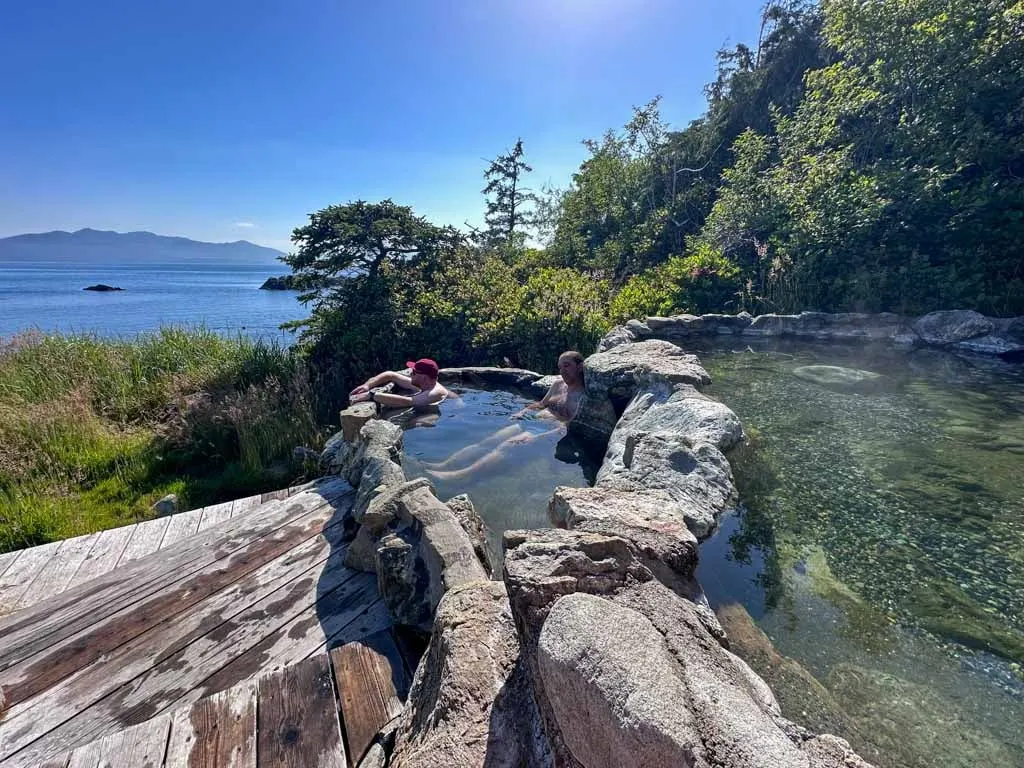 The Haida Watchmen act as caretakers of the site, cleaning the tubs and providing info about the area. In pre-colonial times the island was home to shamans and was very spiritually significant to the Haida. However, most of the Haida population perished during the smallpox epidemic of the 1860s. The shamans were the most involved in attempting to heal the sick, so unfortunately, today the Haida are not sure what kind of cultural practices occurred on Hot Springs Island.
You can visit Hot Springs Island for an hour-long soak in the hot pools. There are changing cubicles at the entrance. You must take a hot shower in the shower building before you get into the springs.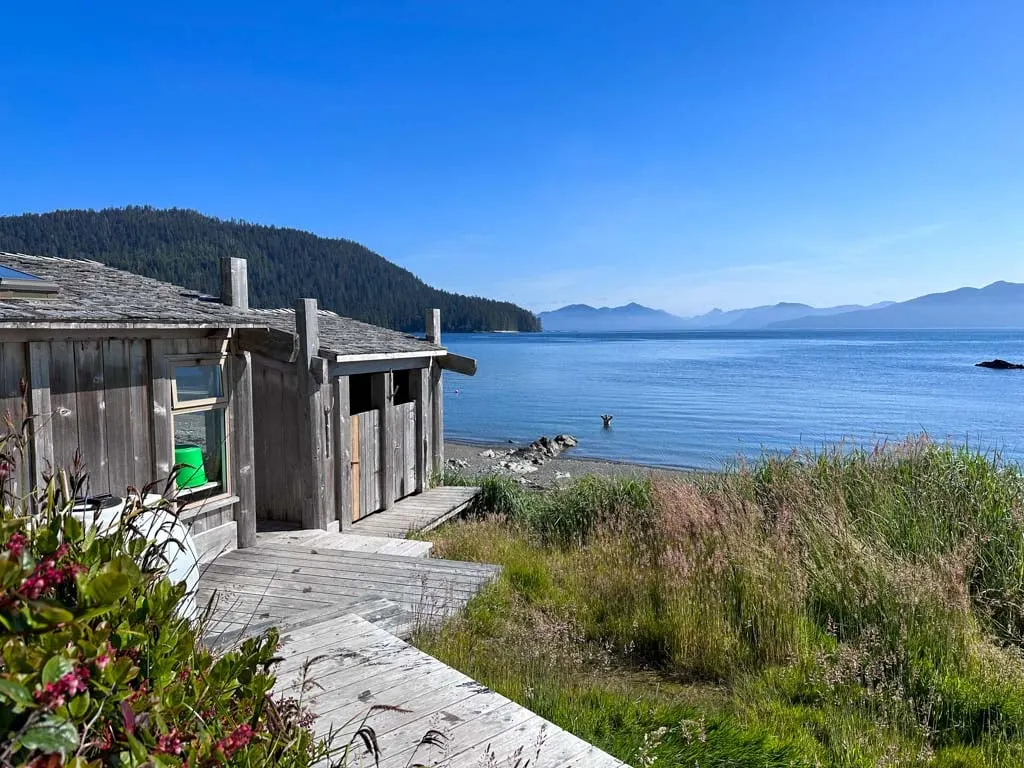 There are three hot pools built into the rock. Each one is fairly small and can fit 3-6 people. The one next to the shower building has the lowest temperature. The two pools set into the hillside above the changing hut have the best views but the one at the top is scorching hot.
In October 2012, a 7.8 magnitude earthquake struck Haida Gwaii and the hot pools mysteriously drained. Over the next few years, hot water slowly returned to the island. The current pools opened in 2017. Parks Canada staff don't know where the water on Hot Springs Island comes from but they think it may be groundwater from nearby Lyell Island.
Windy Bay
Known as Hlk'yah GawG̱a in Haida, Windy Bay is another Haida Watchmen site. But unlike the other Watchmen sites, this place is not famous for its historical value but rather for more recent events. In the 1980s, the Haida became concerned at the pace of logging in their traditional territory. They began a protest movement that ultimately resulted in the preservation of Gwaii Haanas and the co-management of the area by the Haida along with the government.
During the protests, the Haida built a longhouse at Windy Bay, called "Looking Around and Blinking House". It housed Haida protestors and today you can tour the interior.
In 2013, the Haida, along with Parks Canada staff and other volunteers raised a huge monumental pole at Windy Bay, the first one in Gwaii Haanas in 130 years. Called the Legacy Pole, the pole honours the 20th anniversary of cooperative management between Canada and the Haida Nation. Look for the Haida Watchmen depicted at the top of the pole.
On the other side of the creek from the longhouse and Legacy Pole, there is a short trail to a huge old-growth Sitka spruce which is about 900 years old.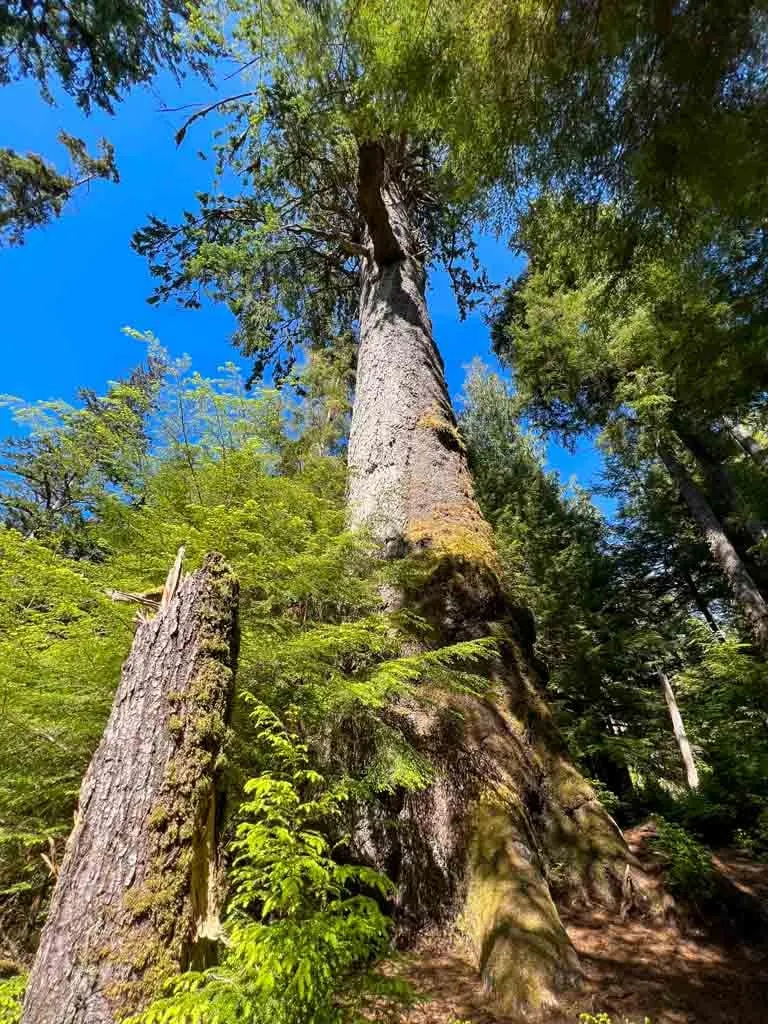 Wildlife Watching
Gwaii Haanas National Park is famous for its wildlife watching. With lots of narrow channels and rocky islands, you can spot tons of marine life.
Whales and Marine Life
Whales and dolphins are very common. Grey and humpback whales migrate through the islands each spring and fall. Orcas (killer whales), Minke whales, dolphins, and porpoises live in the National Park year-round. Your guide will get intel over the radio from other guides when whales or dolphins are spotted so you will have the best chance of seeing them.
While whale sightings aren't guaranteed, you will definitely see seals and sea lions. Several of the rocky islets are home to huge seal and sea lion colonies. They haul themselves out of the water to rest so they are easy to spot. The huge male sea lions are fun to watch as they bark and growl at each other.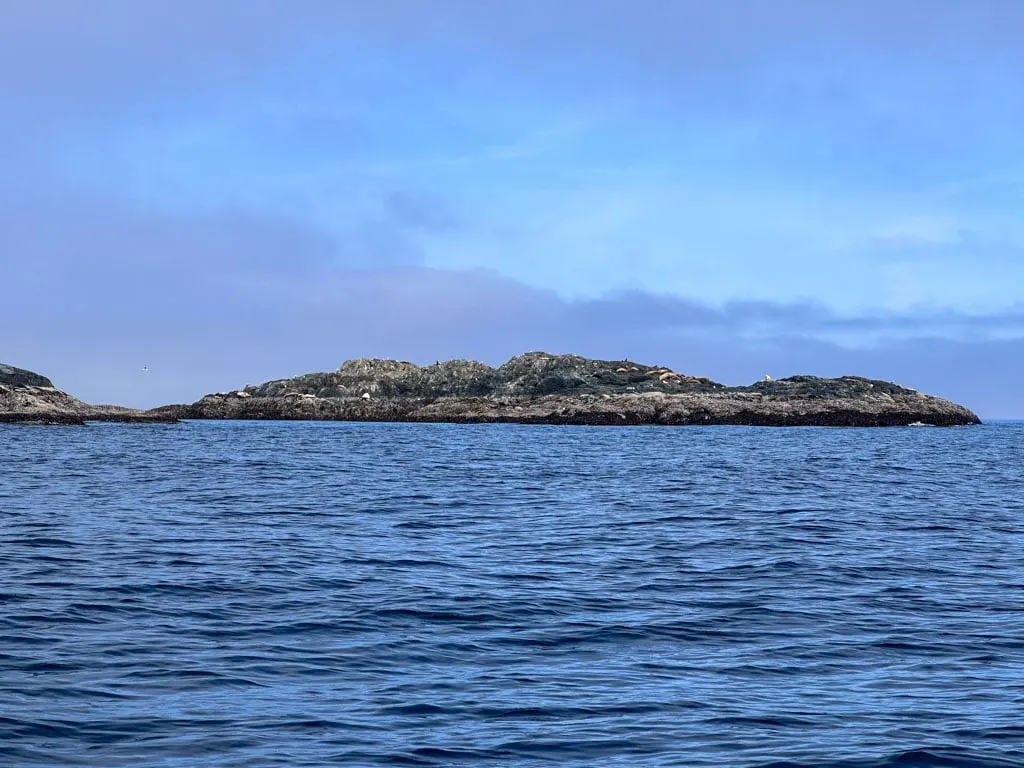 There's also a whole underwater world to discover. Our guide nosed our boat up against cliffs to see purple starfish clinging to rocks and anemones swaying in the current. I loved watching jellyfish pulse below the surface from the dock of the floating lodge. And the slow trip through the kelp forests of Burnaby Narrows was magical.
Birds
You should also keep an eye out for tons of bird species. If you aren't a bird nerd before going to Gwaii Haanas, you will be after your trip! On my trip, we spotted lots of bald eagles. We also saw lots of black oystercatchers, cormorants, ancient murrelets, and pigeon guillemots. The most exciting part for me was seeing a pair of tufted puffins. So cute!
Bears
I was surprised to learn that Haida Gwaii has its own sub-species of black bears (Ursus americanus carlottae). They are a bit bigger than black bears in the rest of BC since they feed on a high-fat diet of salmon and shellfish. Spotting black bears on the beaches is common. If you visit in September, you might also see bears at river mouths gorging on spawning salmon.
Rose Harbour
Rose Harbour is surrounded by Gwaii Haanas National Park, but it is actually a private in-holding within the park. It is the only private property within the park. The small settlement was founded as a whaling station in 1910. Whaling operations ended in the 1940s and the land was sold to a group of ten friends in 1976.
Since then, the original ten friends and their descendants have built homes at Rose Harbour. Most are summer-only places, but there are a few year-round residents. It's an interesting place to explore (with the permission of the owners).
With advance booking, you can stay at the very rustic Rose Harbour Guest House. I stayed there for one night on my four-day tour with Moresby Explorers. Goetz, the eccentric owner, built the guest house himself, mostly from salvaged materials. He also has a huge (and fascinating) organic garden next door.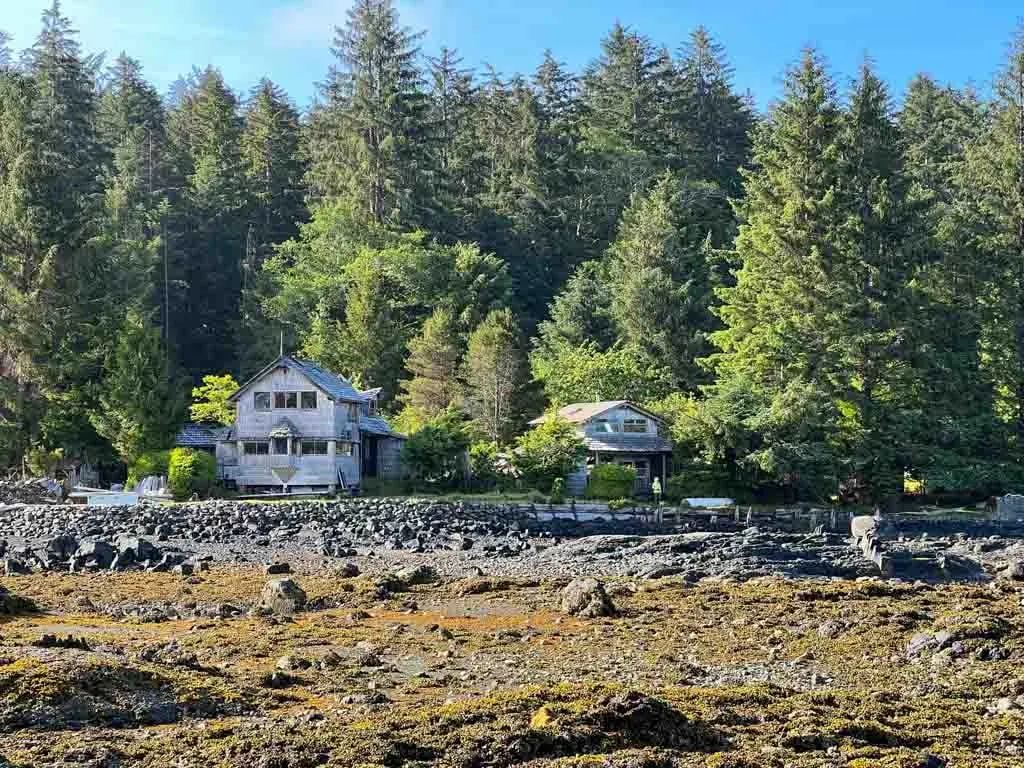 You can also have a meal at the cookhouse (again with advance booking). For years, Susan, one of the original Rose Harbour owners, offered incredible meals in her home kitchen. But these days her daughter Frances serves food out of the newly built cookhouse. Much of the produce is grown in Susan's huge garden!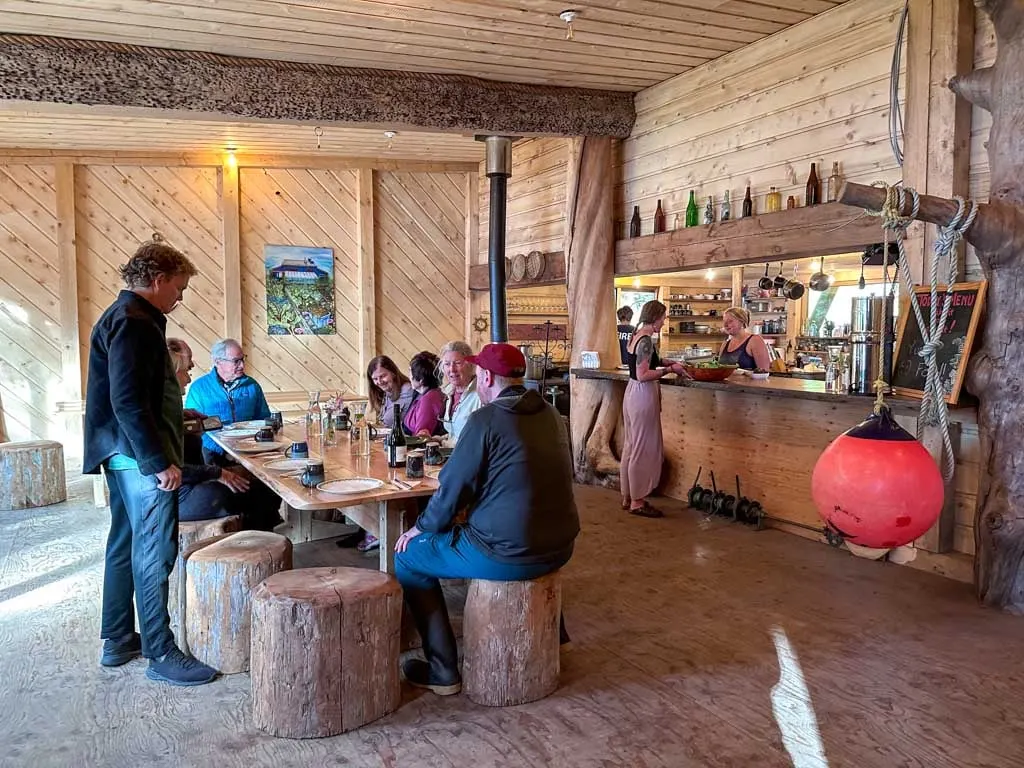 Old-Growth Forests
While the northern part of the National Park was logged in the 1970s and 80s, most of the park is full of pristine old-growth forest. It's a coastal rainforest ecosystem, with tons of western Hemlock interspersed with Sitka spruce and Western red cedar.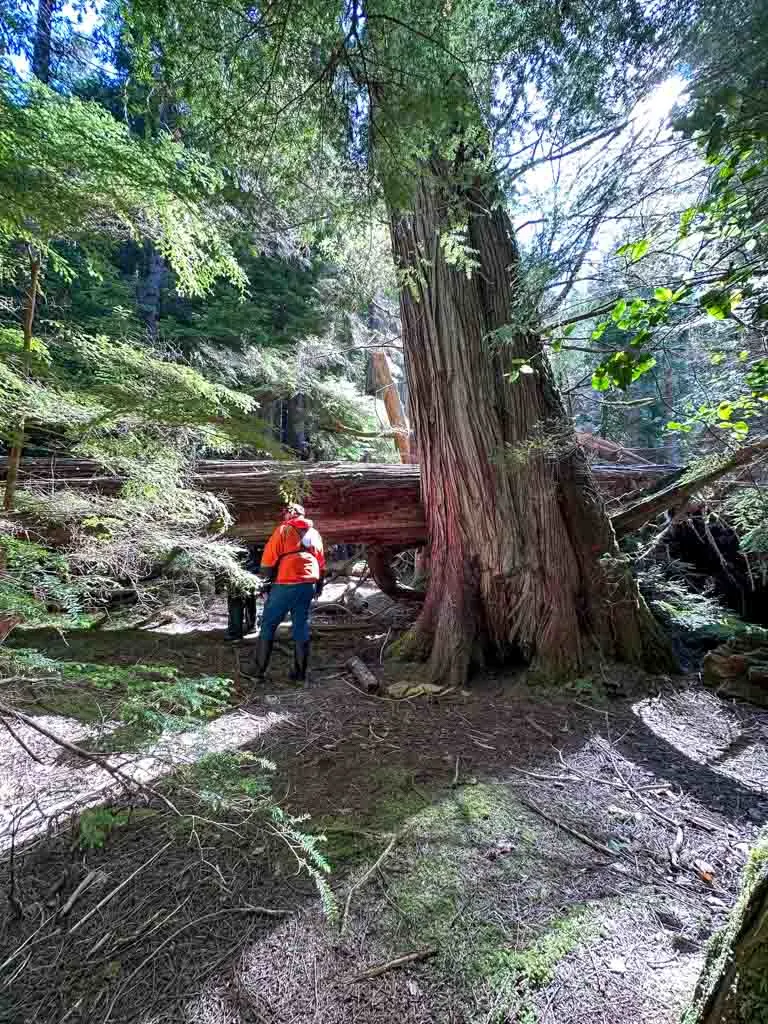 You can go ashore at pretty much any beach and wander into the forest to see giant old-growth trees. But if you go with a guide, they will take you to some of the most impressive specimens, which can be over 200 ft (61 m) tall.
Abandoned Logging Camp
Although it is not inside the national park, Aero Camp is a common place to stop. It's located a few minutes by water from Moresby Camp, the launch point for boat tours to Gwaii Haanas.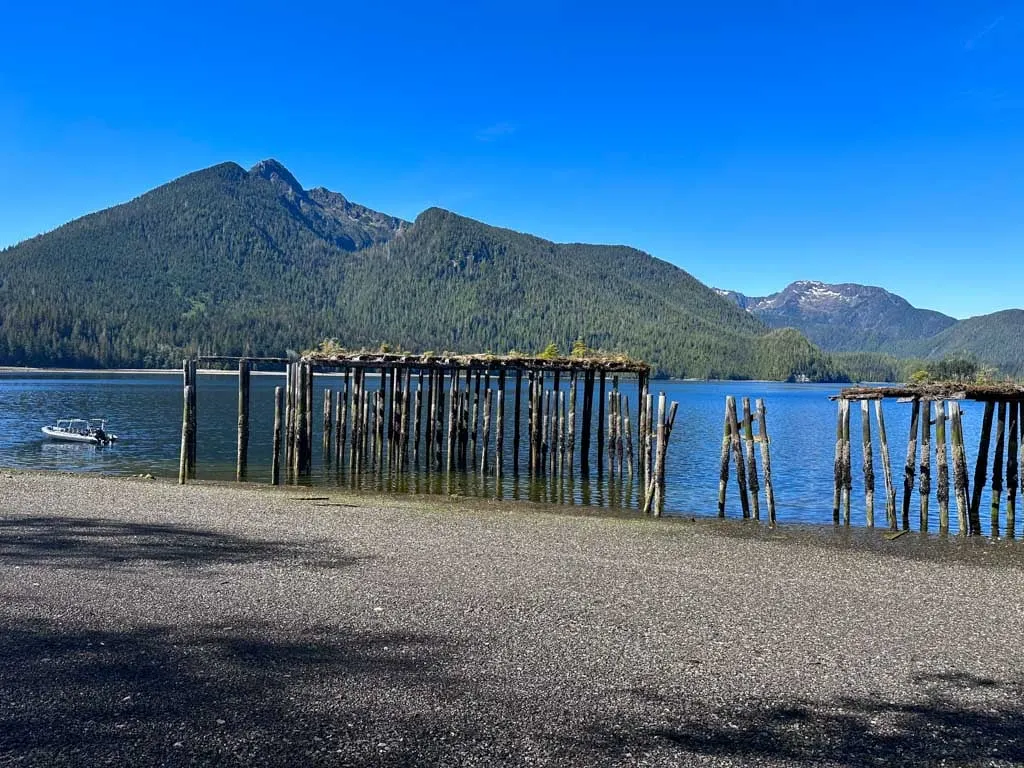 Aero Camp was a huge logging camp in from the 1930s until the late 1960s. It had a logging railroad and a post office. Today the huge pilings on the beach hint at how large the camp was. If you go ashore, you can explore abandoned machinery, trucks, and a storage tank that you can crawl inside.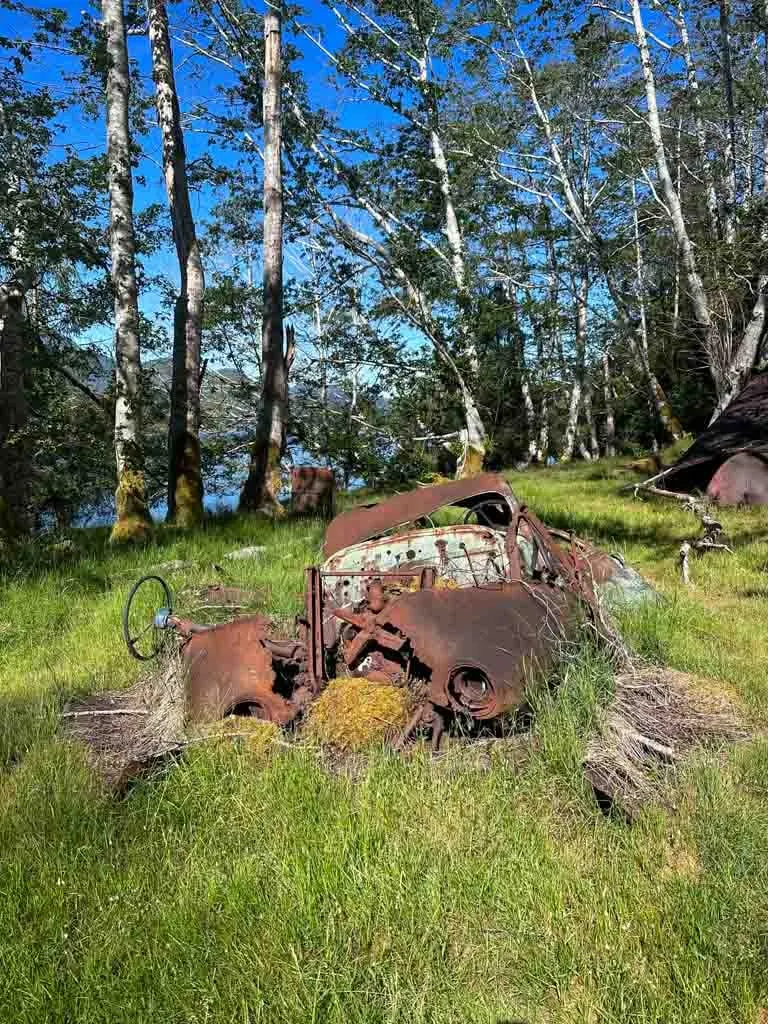 Kayaking
Haida Gwaii is known for its incredible kayaking. With so much varied shoreline with hundreds of islands and peninsulas, Gwaii Haanas National Park is a great place for a kayak trip.
If you are an experienced kayaker, you can plan your own expedition to the park. However, you will need to make reservations and go through a mandatory park orientation. As well, since distances in the park are so great, many paddlers pay to have their kayaks transported by motor boat deeper into the park so they can maximize time at the best scenery.
Most of the tour operators in Gwaii Haanas National Park offer kayaking, either as an expedition-style kayak trip with camping or day trips from motor boats or sailboats. On my trip with Moresby Explorers, we were able to kayak in the evenings in the quiet bay around their floating lodge.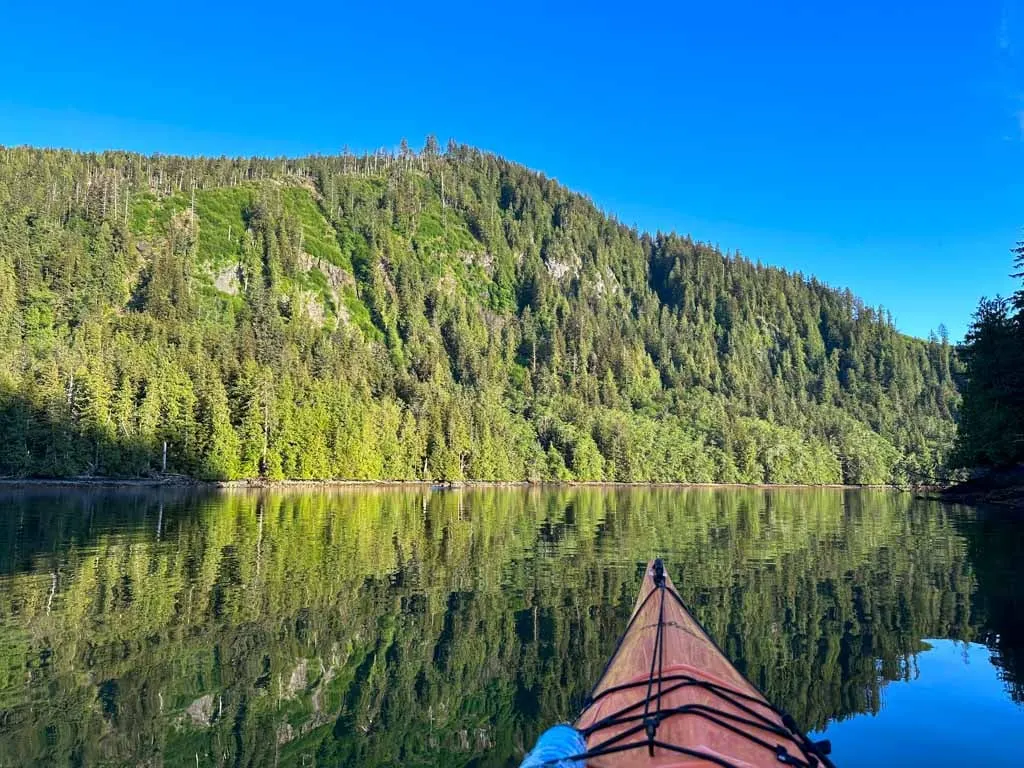 Fishing
People travel from all over the world to fish in Haida Gwaii. You can catch salmon, halibut, lingcod, rockfish, and more. Remember that you will need a Tidal Waters Sport Fishing License, which you can buy online.
You can only fish in saltwater in Gwaii Haanas and many areas have fishing restrictions or closures, so it is important to read maps carefully.
Most tour operators in the National Park can incorporate fishing into your visit, but you may have to request it.
Hiking
Since Gwaii Haanas is mostly a marine National Park, there are few hiking trails in the park. The only established trails are the short ones at the Haida Watchmen sites.
Besides the Watchmen sites, there are no hiking trails in Gwaii Haanas National Park. If you explore inland away from the beaches, you will find thick coastal rainforest and steep terrain.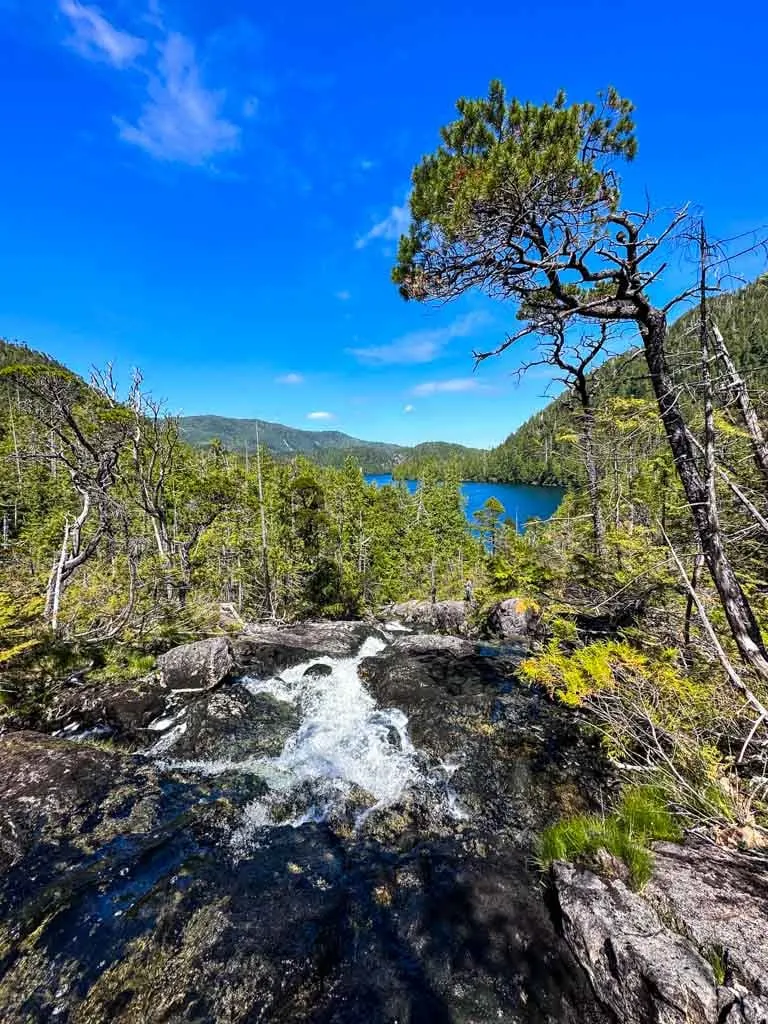 Where to Stay in Gwaii Haanas National Park Reserve
There are no hotels inside Gwaii Haanas National Park. However, there are two rustic lodges located just outside the park boundary. The easiest way to arrange accommodation is to go with a tour. Below I've got a breakdown of where to stay in Gwaii Haanas National Park
Camping
There are no formal campgrounds in Gwaii Haanas National Park. However, you are permitted to camp on beaches in most of the park. (A few areas are closed to camping.) But you should expect no facilities. That means no toilets, garbage cans, picnic tables, or even level tent sites.
Most of the campers in the national park are kayakers, either travelling independently or on tours. If you go with a kayak guide, they can recommend the best beaches for camping.
Live-Aboard
Many independent visitors and tour participants stay on board their vessels inside the park. There are lots of sheltered bays to anchor. Facilities vary by tour vessel, but you can expect bunks or small rooms with shared toilets.
Lodges
There are two lodges located just outside the boundaries of the national park.
The first is the Rose Harbour Guest House, located in the southern part of the park. It is the only private land within the National Park. Anyone can stay here with an advance booking.
It is very rustic with a shared outhouse outside. However, it does have a wood-fired hot shower. Some kayak tours and longer tours from Moresby Explorers spend a night here. I stayed here as part of my Moresby Explorers tour. It's eclectic and definitely an interesting place to visit!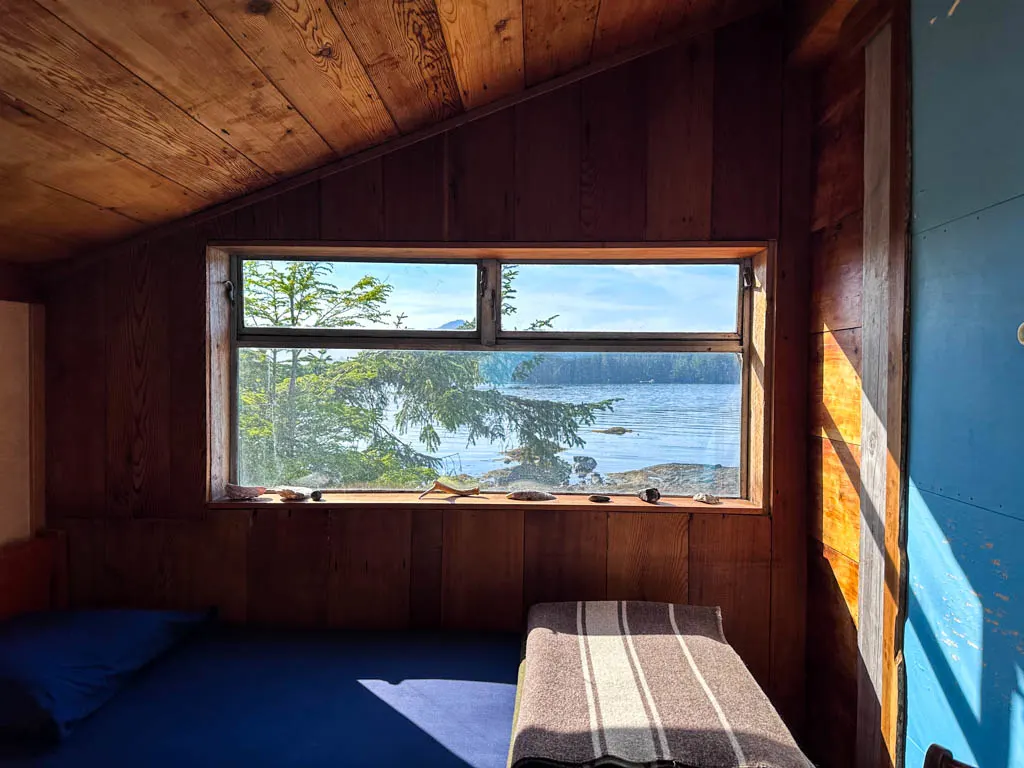 The other lodge is the Moresby Explorers floating lodge located just north of the park boundary in Crescent Inlet. The only way to stay here is to take part in a Moresby Explorers tour. The two-story floating lodge has simple bedrooms and shared bathrooms with flush toilets and running water. Unfortunately, they don't have showers. But, the food is incredible!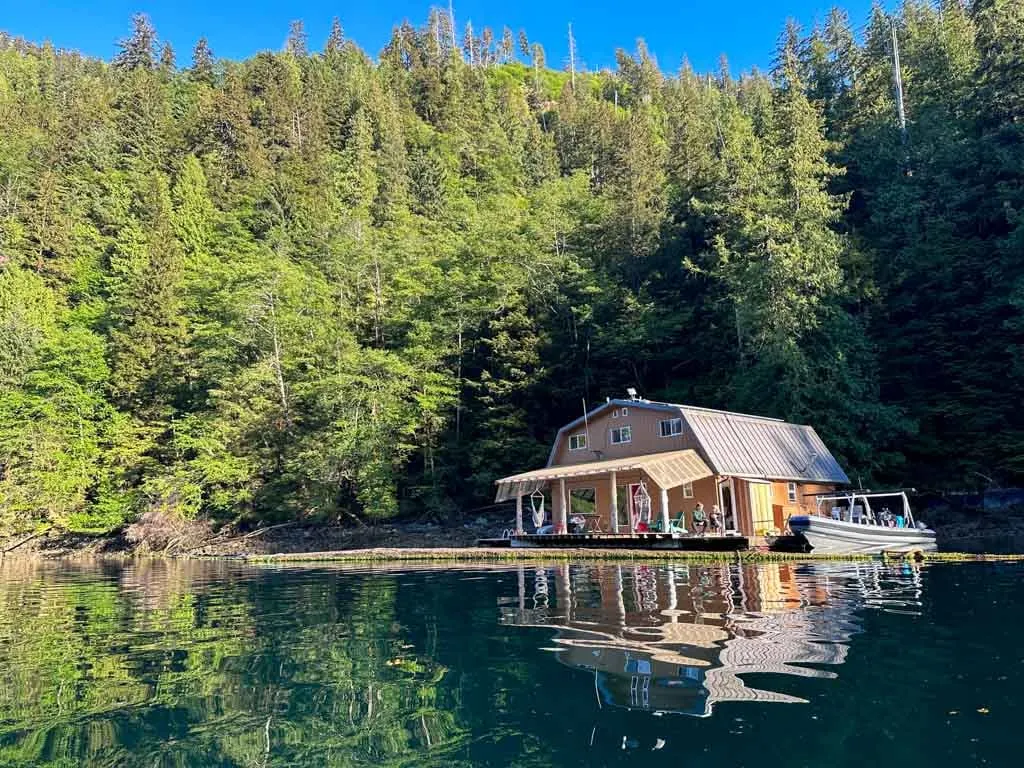 What to Pack for Gwaii Haanas National Park Reserve
If you go on a tour in Haida Gwaii, they usually provide some gear. For boat tours, operators provide rain gear, rubber boots, and insulated float coats, which double as life jackets. Check with your tour operator to see what they provide and what they expect you to bring – most tours will give you a packing list.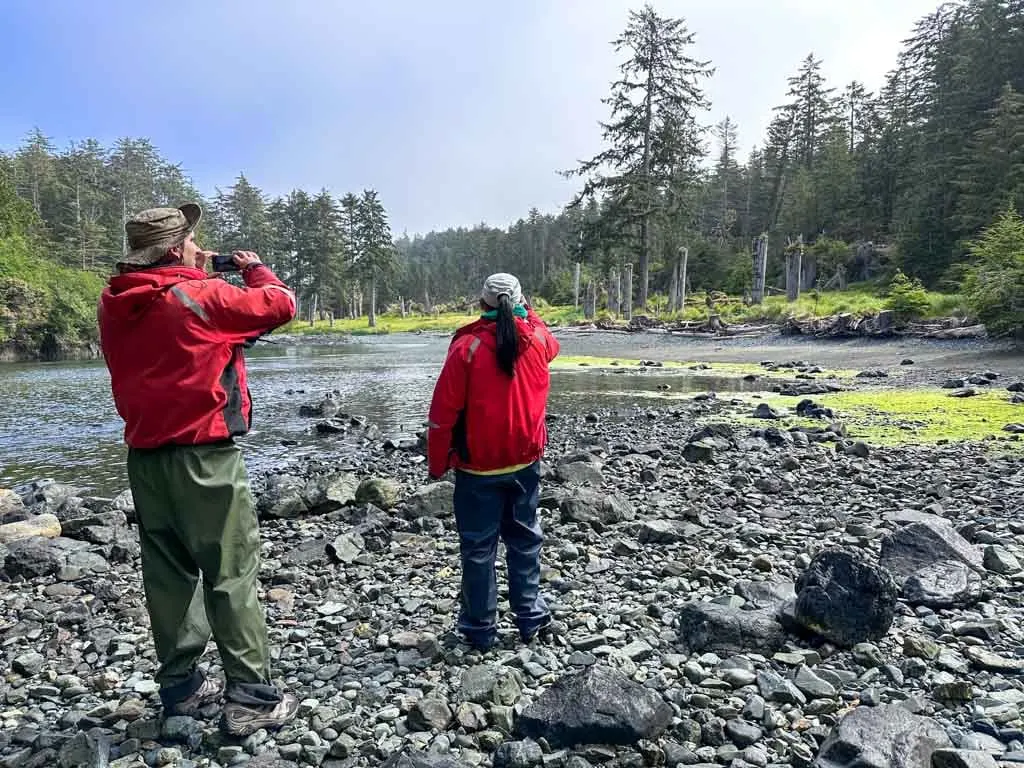 In general, here are a few things you should pack for Gwaii Haanas National Park:
Even if your tour gives you a float coat, you should still pack your own rain jacket. The float coats are heavy and warm, so you might want to walk around in your own rain jacket when you are on land.
Warm layers. It can be cold in Haida Gwaii, especially out on the water. Bring long underwear and a warm fleece or lightweight puffy jacket.
Quick-dry hiking clothing.
Hiking boots or trail runners.
Sunglasses
Camera
Binoculars
Sunscreen
Bathing suit and quick dry towel for Hot Springs Island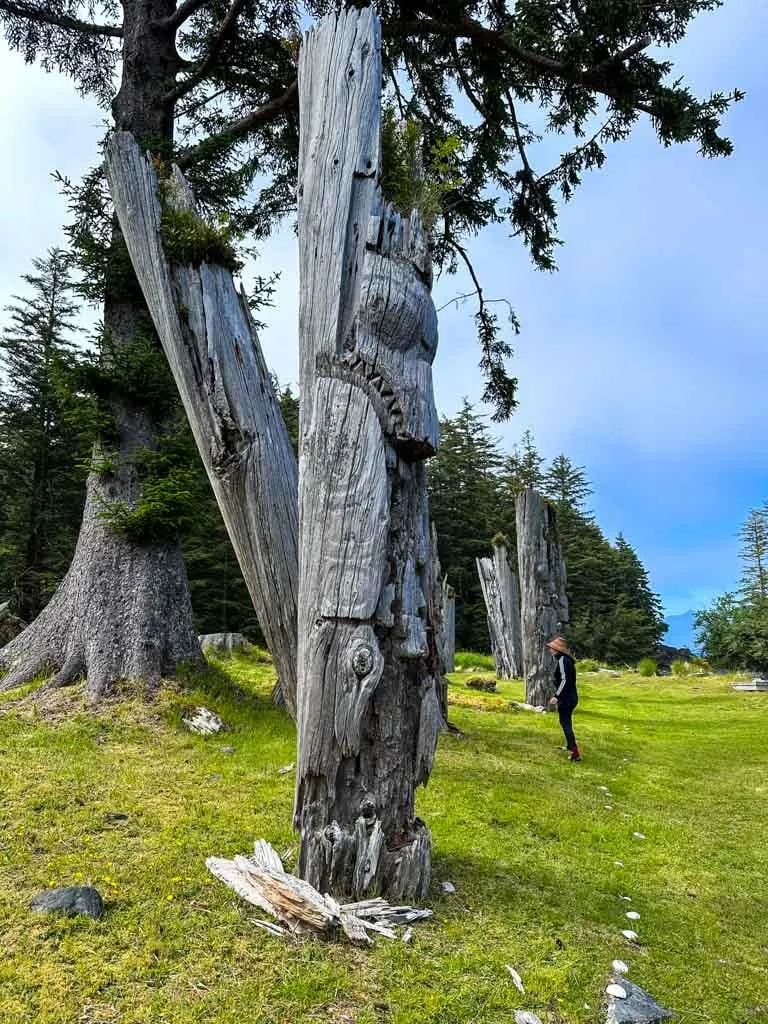 So that's everything you need to know to plan a trip to Gwaii Haanas National Park in Haida Gwaii. This was an incredible bucket list experience for me and I'm sure it will be for you too!
READ NEXT: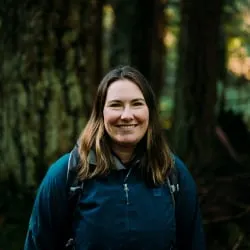 Latest posts by Taryn Eyton
(see all)