I first went to Iceland in May and June of 2014 with a group of friends. We drove the ring road, hiked on remote trails where the only other hikers were sheep, soaked in a hot river, stayed up almost all night with the midnight sun and pretty much had a blast for three weeks straight. And on the plane home I vowed to come back. So this January my husband and I headed to Iceland for a week. We wanted to see what our beloved Iceland looked like in the winter. Here's the day-by-day highlights of a winter week in Iceland.
Hey there: Some of the links in this post are affiliate links, which means I earn a small commission at no extra cost to you if you make a purchase. Thanks for supporting my website! -Taryn
A Winter Week in Iceland Day 1: Reykjavik
On our first day, we landed in Keflavik airport, about 45 minutes outside of Reykjavik, at around 7am. By the time we picked up our luggage and rental car and made our way into the city to start sightseeing, it was still dark out. We stopped in at Sandholt, my favourite (but expensive) Reykjavik bakery, before heading up the hill to Hallgrimskirkja.
Hallgrimskirkja (Hallgrim's church) is probably Reykjavik's most recognizable landmark: it's one of the tallest buildings, it sits on top of a hill, and it has some pretty distinctive architecture. So of course we headed there first. This photo was taken at about 9:45am when the first blue light of the day was starting to creep into the sky.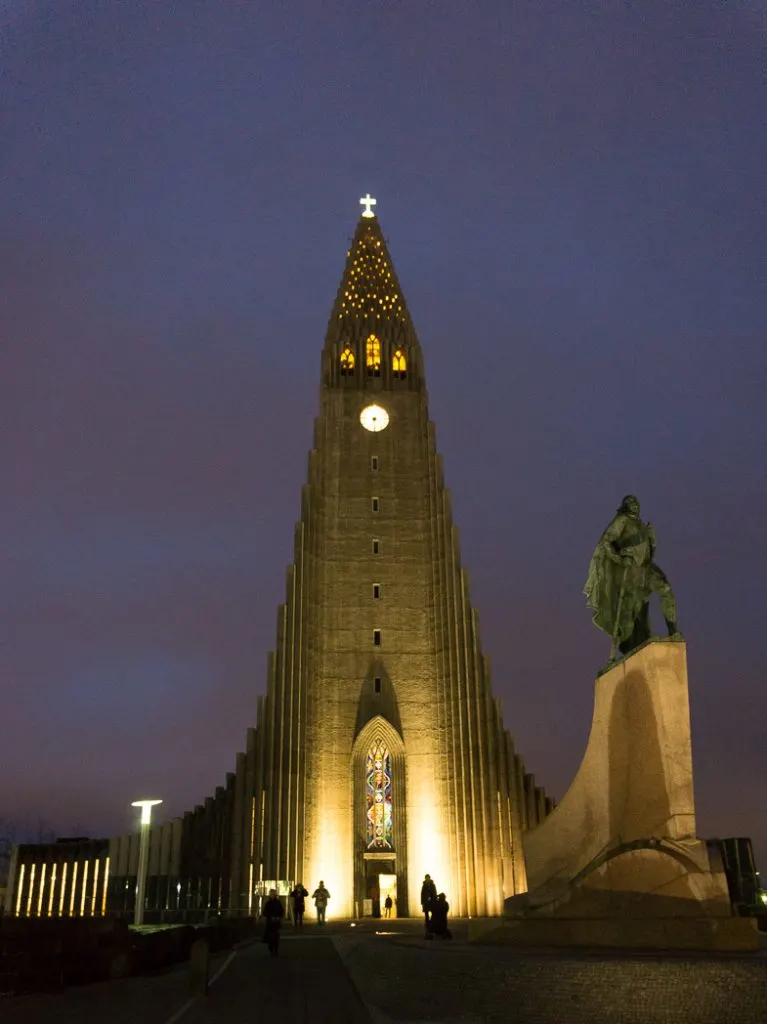 Next we spent a fun (and rainy!) few hours walking around Reykjavik with Hrannar from the I Heart Reykjavik walking tour. If you want some local insight into what the city is really like, plus recommendations on where to eat, get a drink, or buy souvenirs, this is the tour to take.
After the tour we visited the 1000 year old ruins of a Viking house at the Settlement Exhibition. By afternoon, I was feeling the jetlag so we headed back to our Airbnb for dinner, followed by lots of sleeping.
A Winter Week Iceland Day 2: Seljalandfoss, Skogafoss, Reynisfjara and Dyrholaey
Day two started with driving into a snow storm in the dark. By the time the sun came up it was time for a couple quick waterfall stops. We started with Seljalandfoss, and its neighbour, Gljúfrabúi (which is hidden in a cave!), before driving a few minutes to Skogafoss. But since we knew we would be back that way again, we didn't stay long. Plus the weather wasn't that encouraging.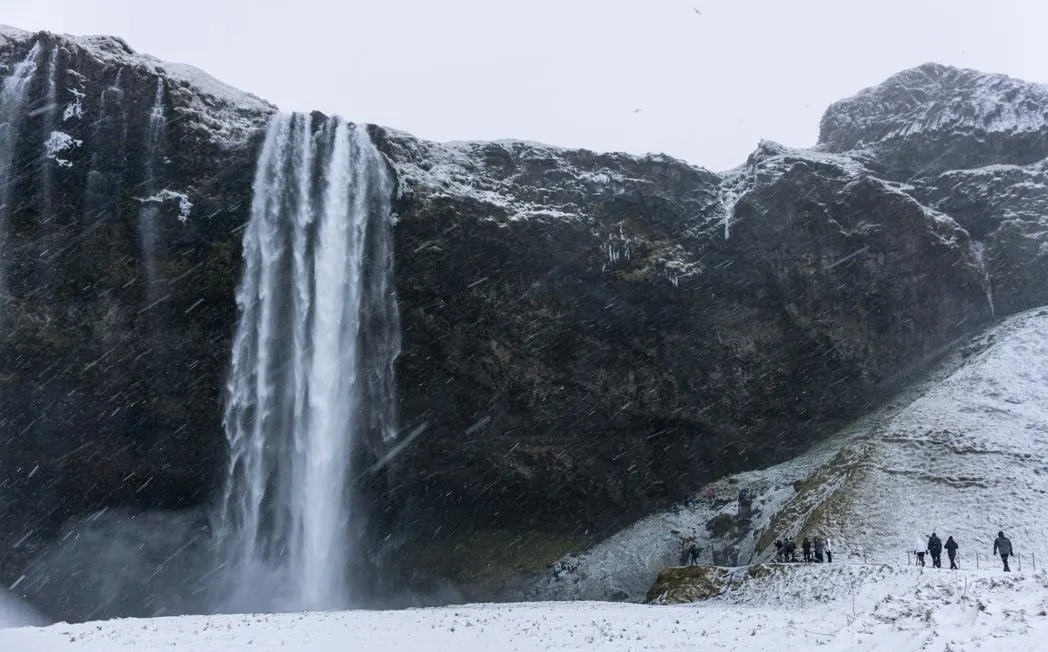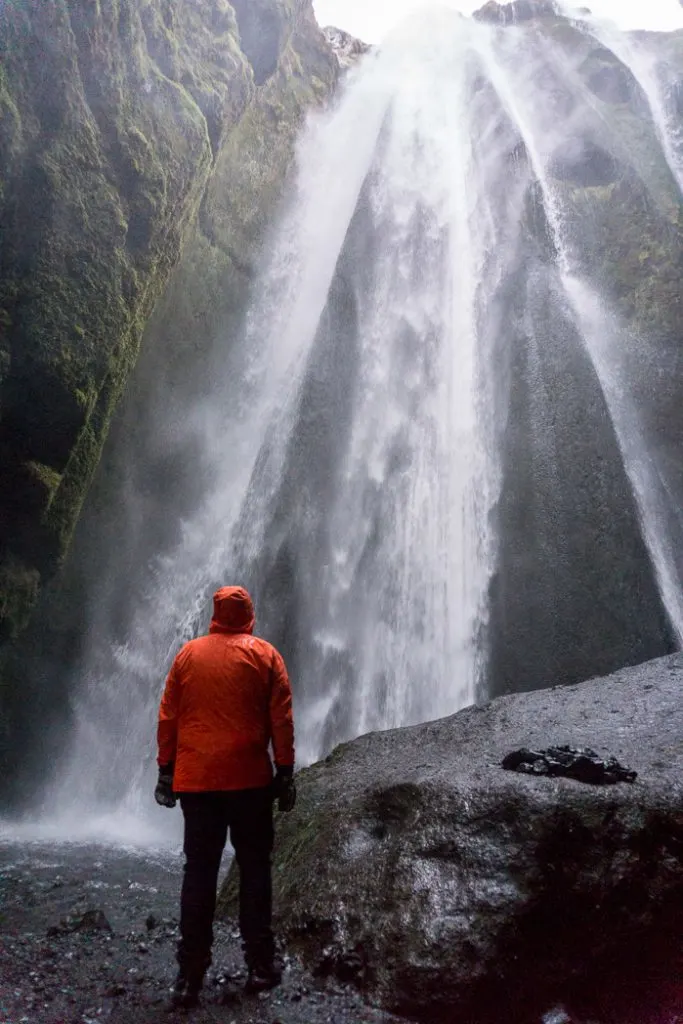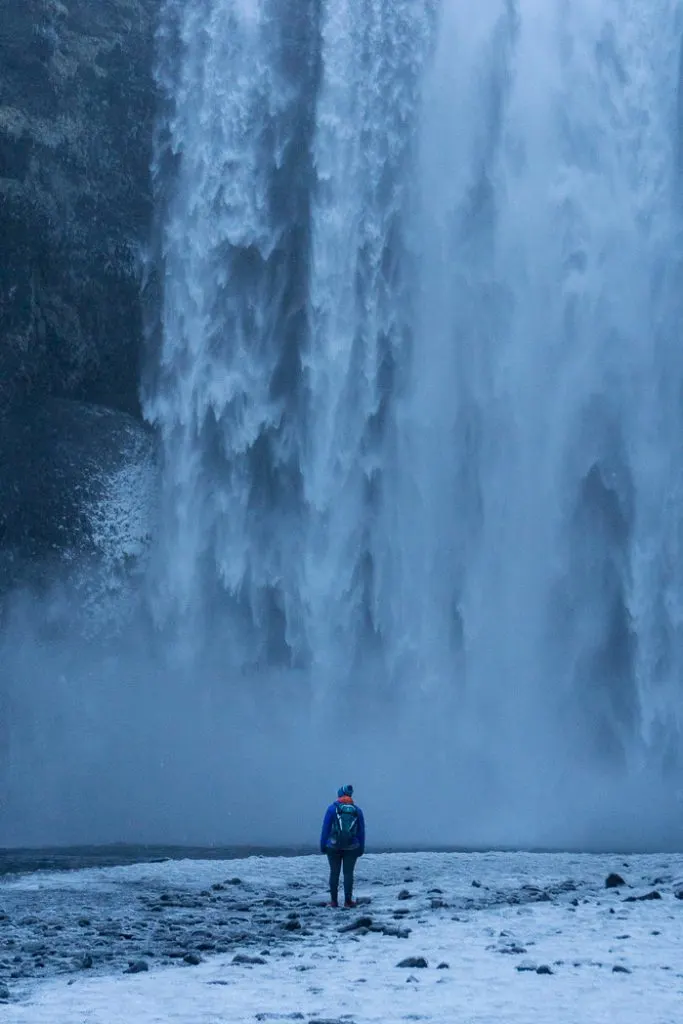 Thankfully the weather started to clear up shortly after we left Skogafoss. We stopped on the road for some quick photos of the patches of blue sky and Iceland's beautiful mountains.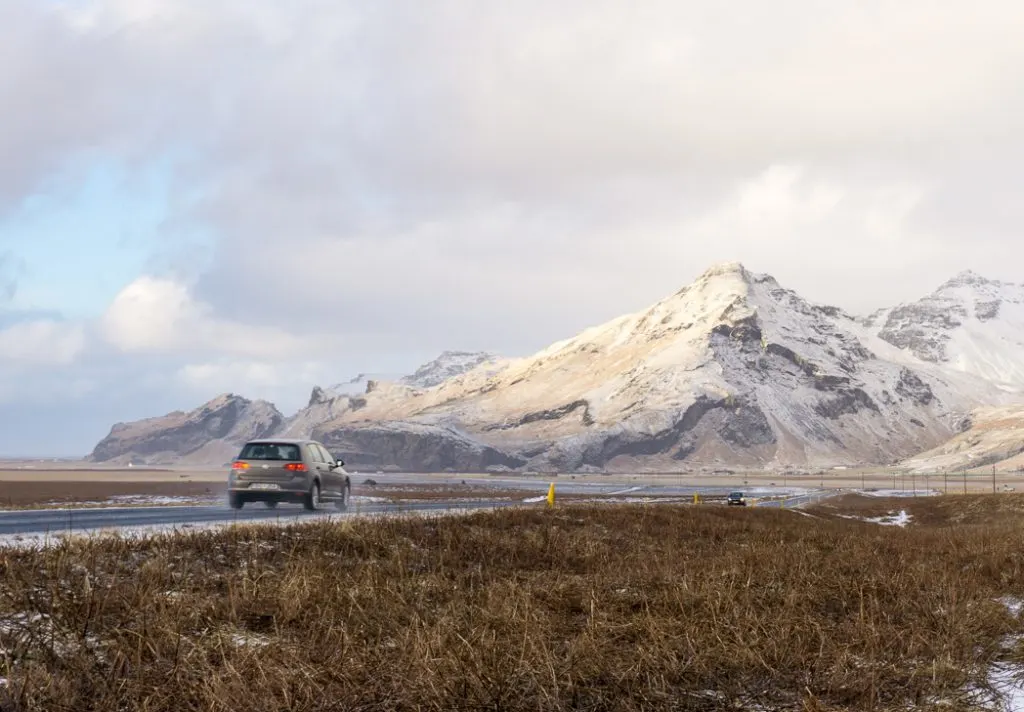 After Seljalandfoss we drove to the Reynisfjara, the black sand beach near the town of Vik. I had been to black sand beaches before (in Hawaii) but it was a first for me to be on a black sand beach that had snow on it! We enjoyed the view across to the Dyrholaey headland and watching people take photos with the rock columns. We stayed well back from the surf though, because just a few days before a family of tourists had been caught by a rogue wave. Sadly the mother didn't make it. She was the third fatality in 10 years at this beach.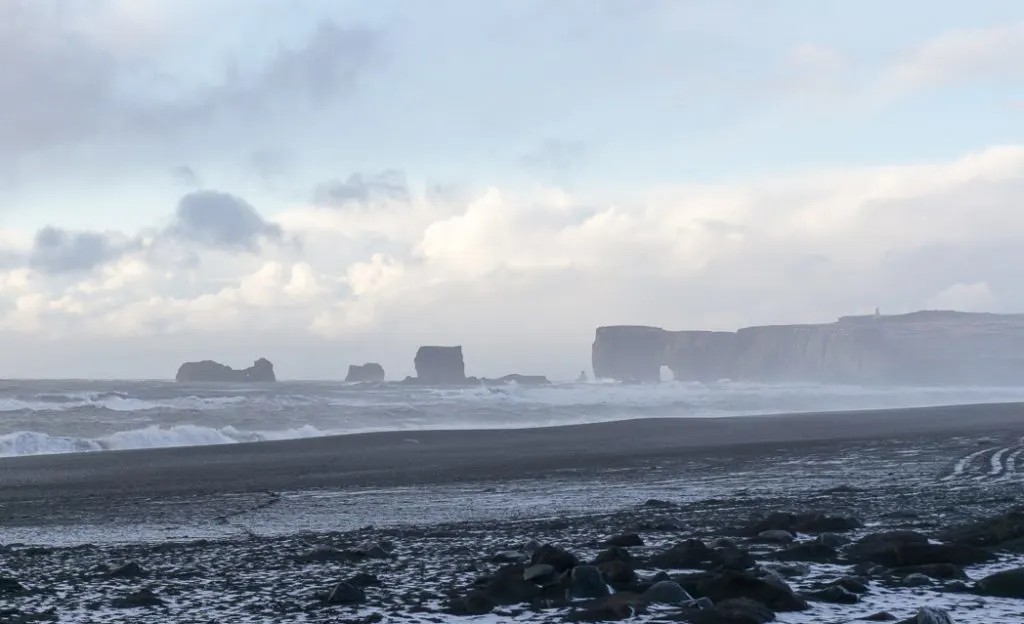 Next we headed over to the headland, Dyrholaey. It is a popular bird nesting area in the spring but there were no birds in January. We took in the views while being pushed around by crazy winds and the occasional burst of hail. Afterwards, we headed into Vik for dinner and then to our farmstay at Guesthouse Steig for more sleeping off the jetlag. It's a great rural property and I'm sure it would be adorable in the spring during lambing season.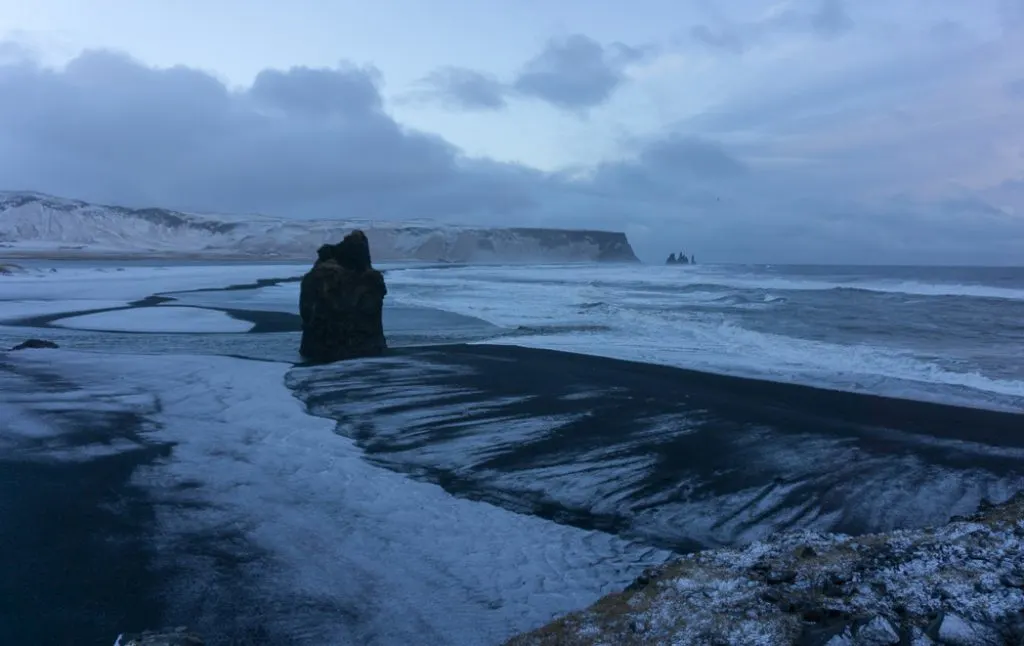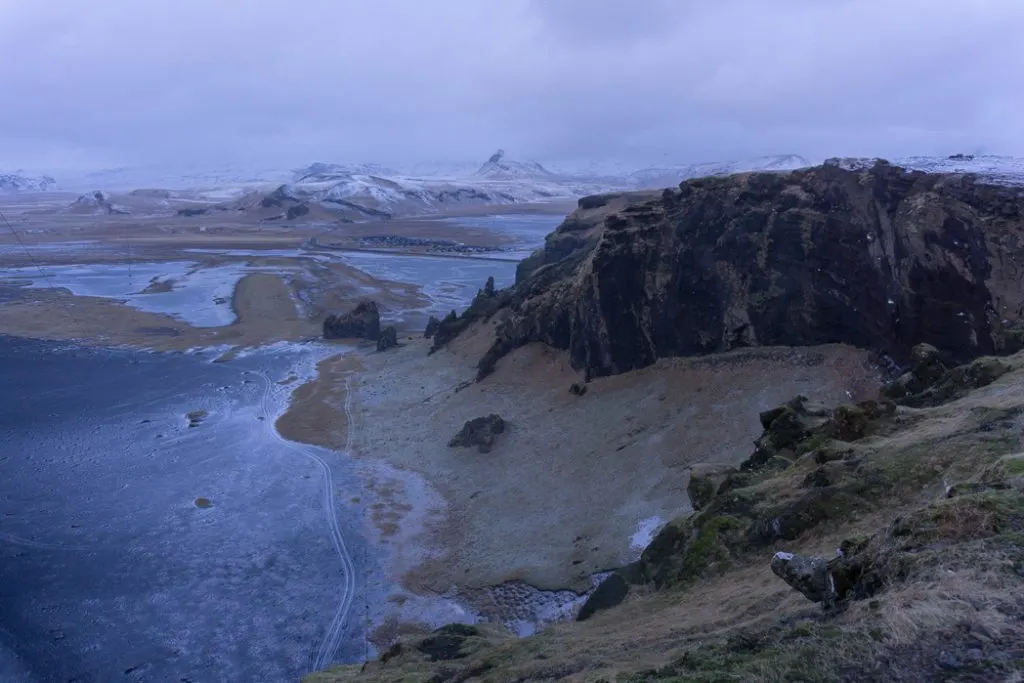 A Winter Week in Iceland Day 3: Vik, Fjaðrárgljúfur, and Svartifoss
While getting gas in Vik on the morning of the third day of our winter week in Iceland, I noticed how beautiful the town and the nearby beach looked in the pre-dawn light so we spent some time taking photos before hitting the road.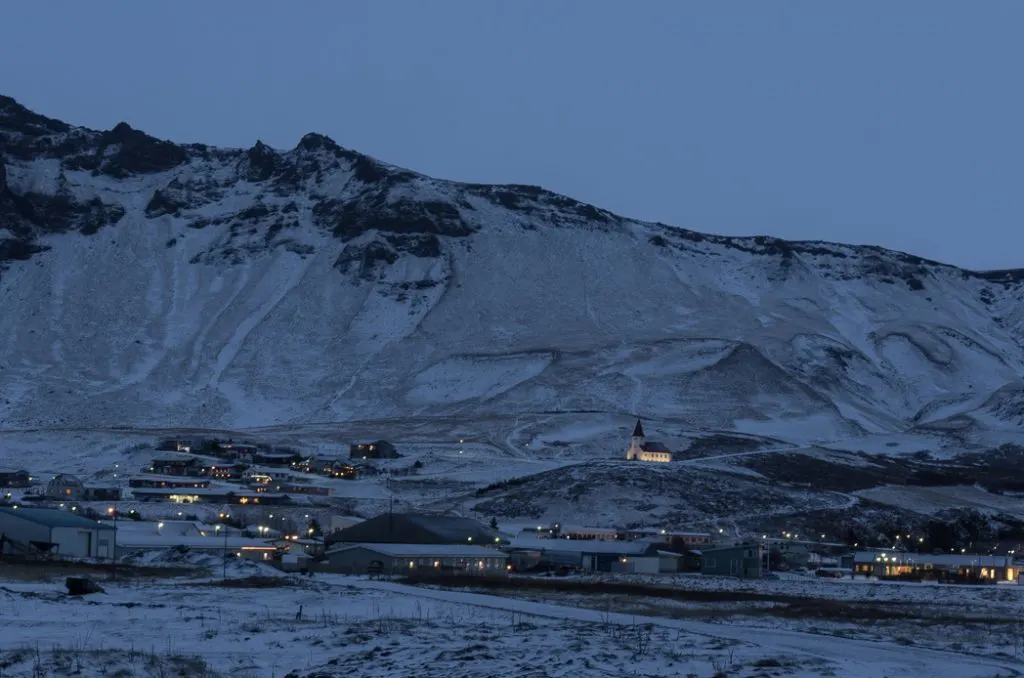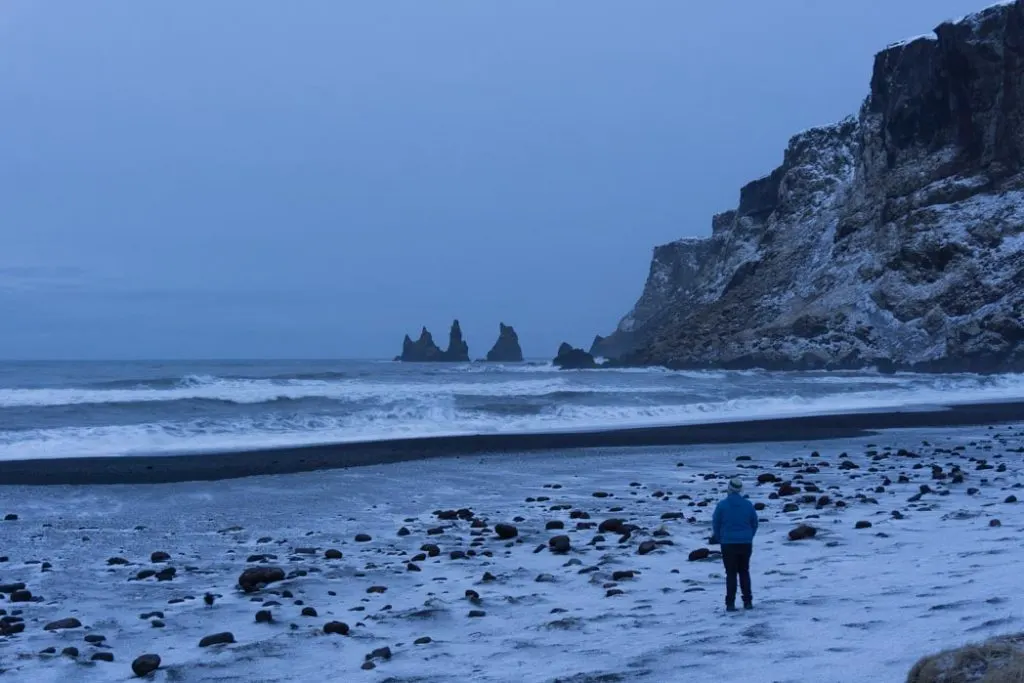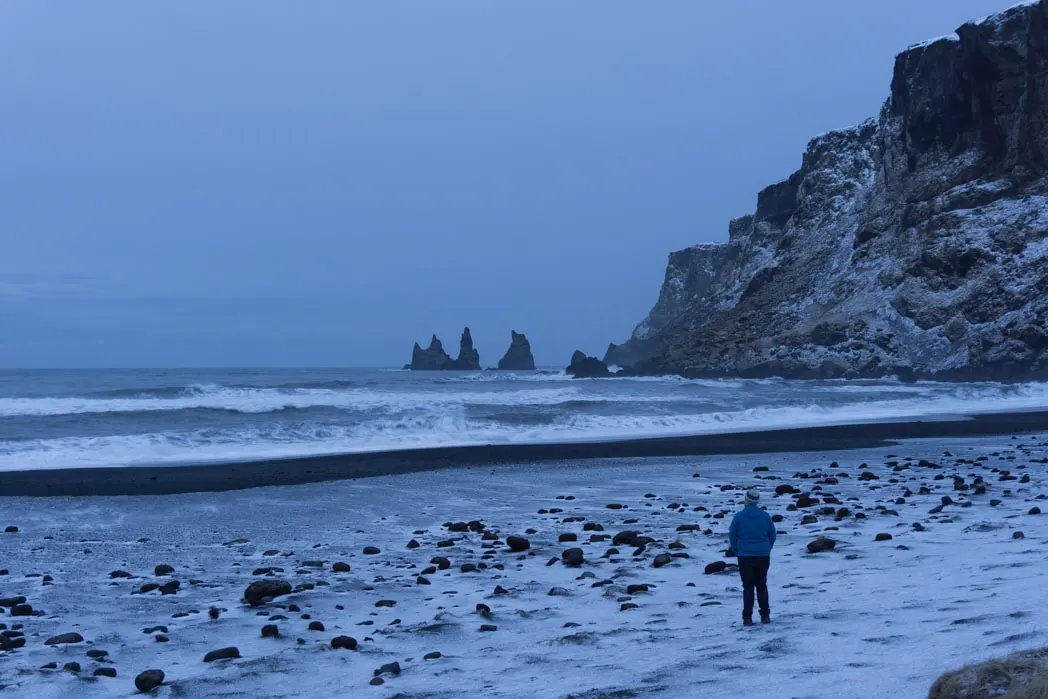 Our first stop of the day was at Fjaðrárgljúfur, a beautiful mossy canyon. The signature green moss pillows were blanketed in snow, so it looked quite different than the photos I had seen online. The trails in the area were quite slippery so were glad we had packed our microspikes.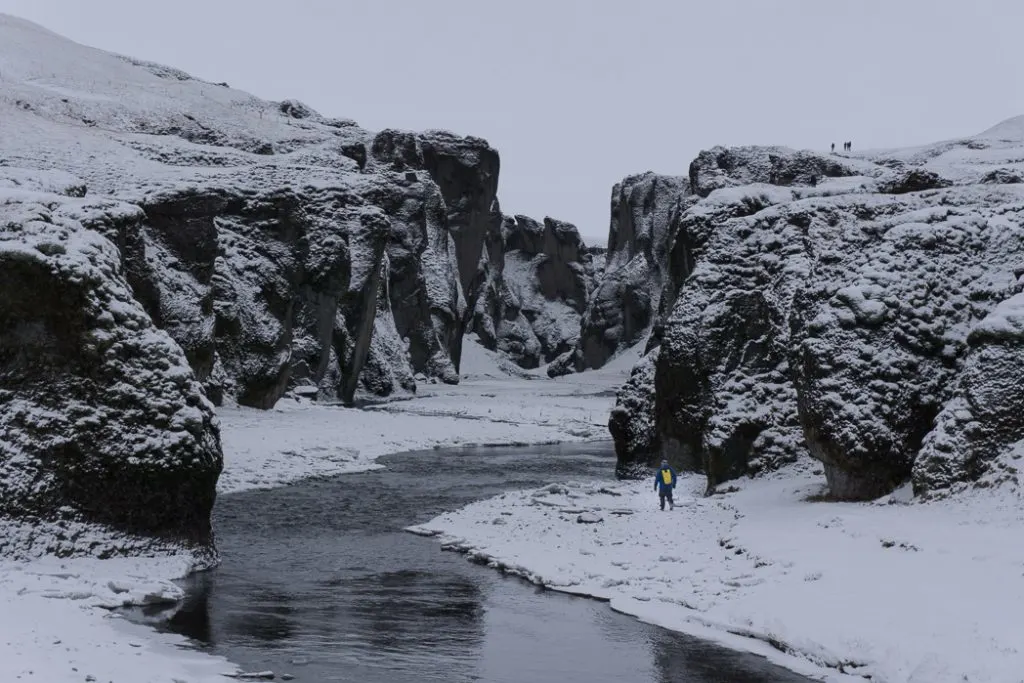 With the limited daylight and the long drive on this day, it was getting late by the time we got to Skaftafell. Skaftafell is part of Vatnajokull National Park and has spectacular glaciers. You can see them without even leaving the highway! We did the short hike to see Svartifoss and its trademark basalt columns. The columns form when lava cools. How awesome is that? (Caution: Geology nerd alert!)
We finished our day at the fancy new Fosshotel Glacier Lagoon. It's perfectly located near the glacier lagoon AND the ice cave tours, both of which were on our itinerary for the next day. Before bed we headed to the beautiful hotel bar to enjoy a cocktail. This the most expensive place we stayed on our trip, but we both agreed that it was worth the splurge.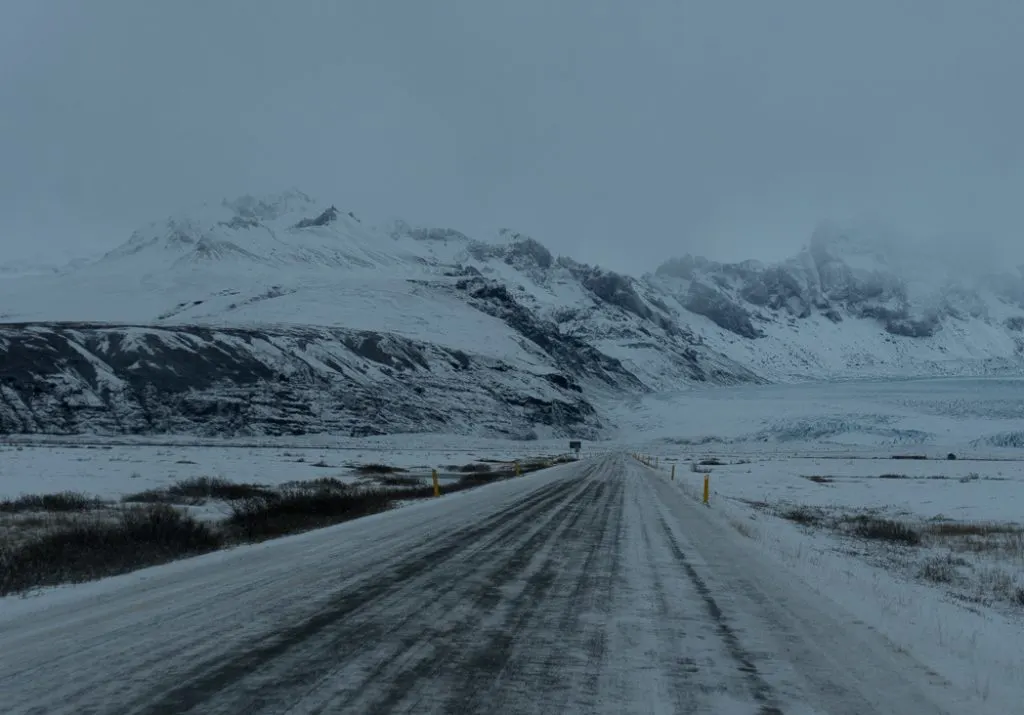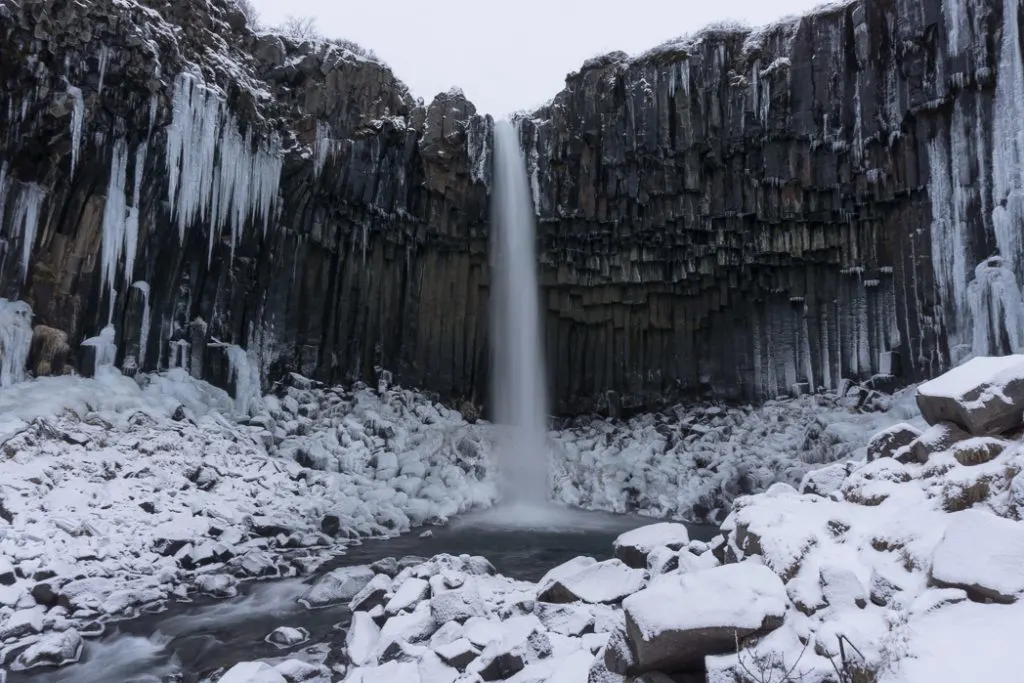 A Winter Week in Iceland Day 4: Jokulsarlon and the Crystal Ice Cave
We started our fourth day on the black sand beach across from the glacier lagoon, Jokulsarlon. The beach is also known as the Diamond Beach since the icebergs wash up on the shore and sparkle. The light at sunrise was incredible, even if it was a bit overcast.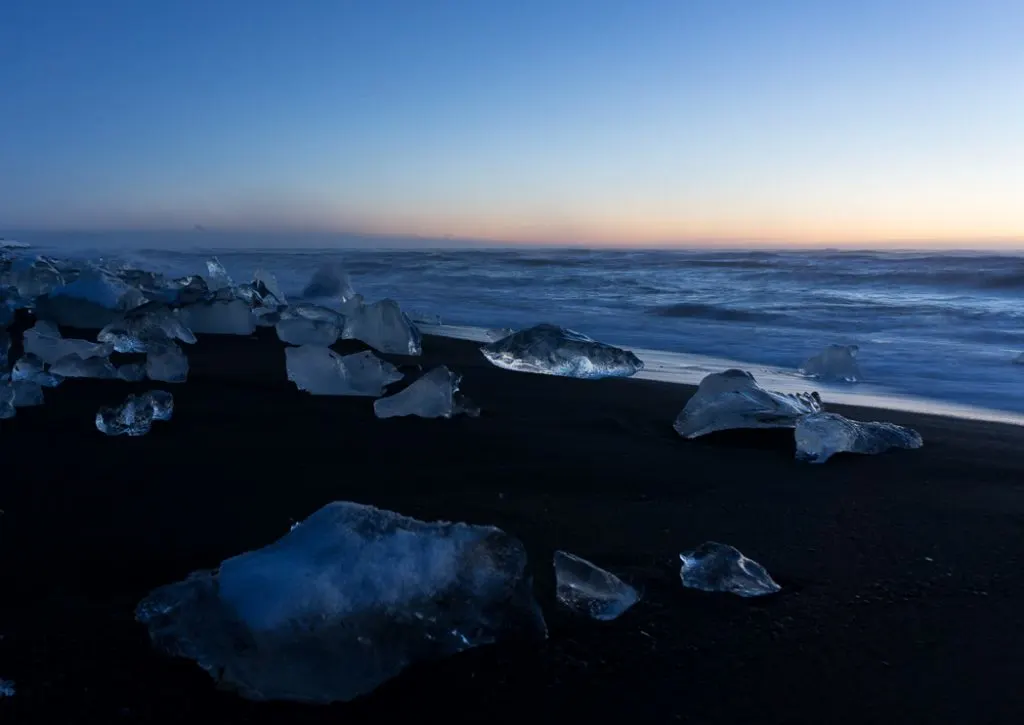 We spent the next few hours wandering the shore of the lagoon, mesmerized by the floating ice. After a while we also headed back down to the beach to see the icebergs in full daylight.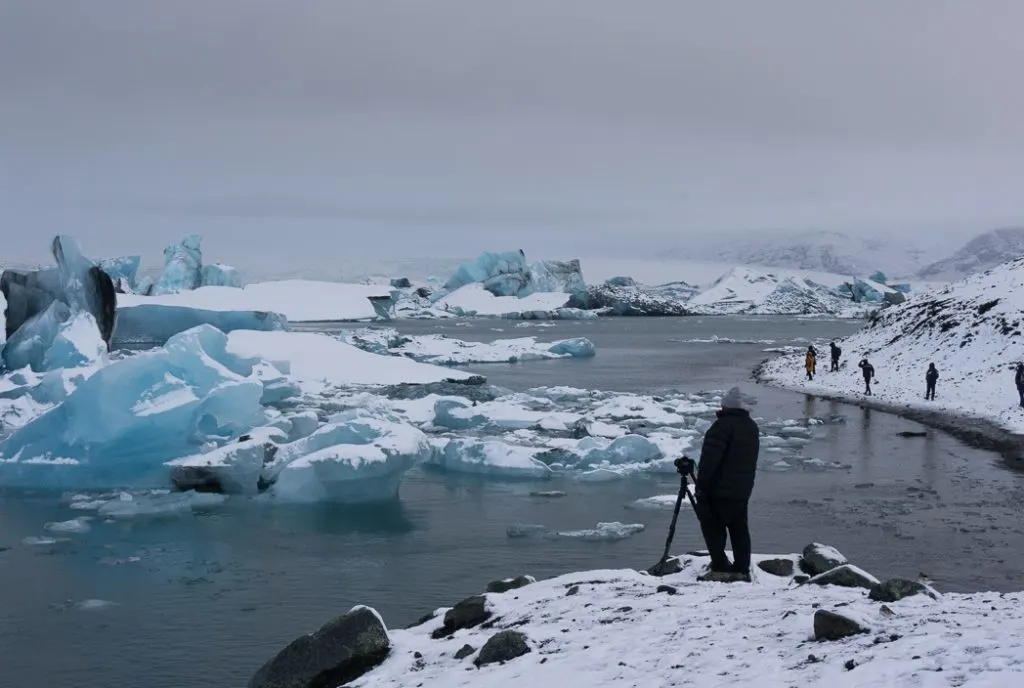 We knew we had to leave around lunchtime since we had booked an ice cave tour for the afternoon. But just as we were getting ready to leave, the clouds cleared, the sun came out, we could see the vast glacier where the icebergs were born… and it was the most beautiful thing I have ever seen. The wind even calmed down so we could get reflections in the water.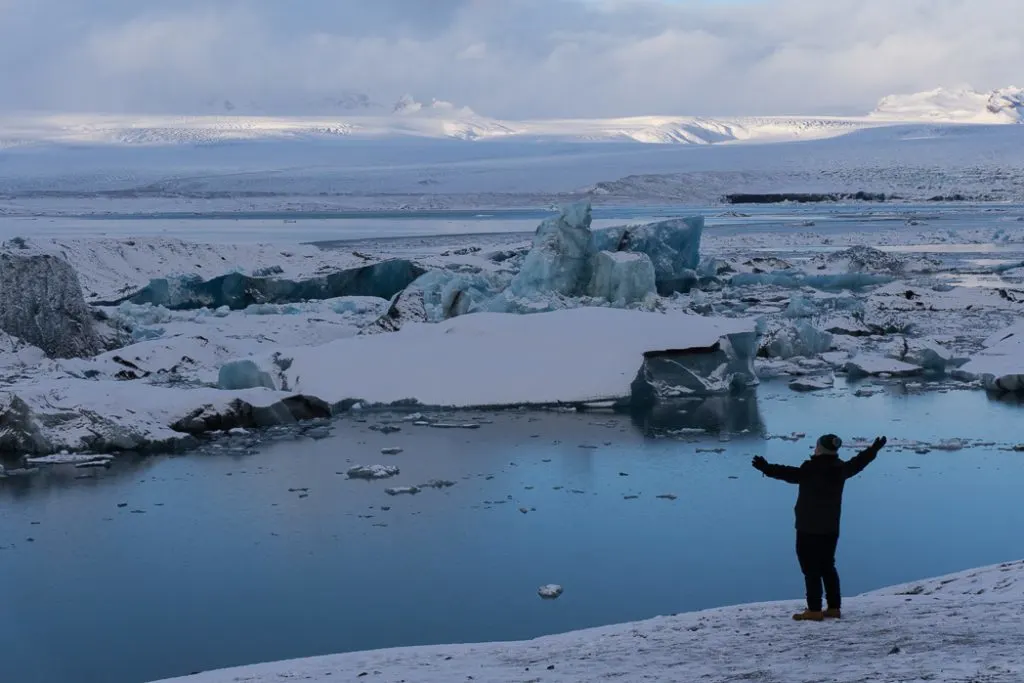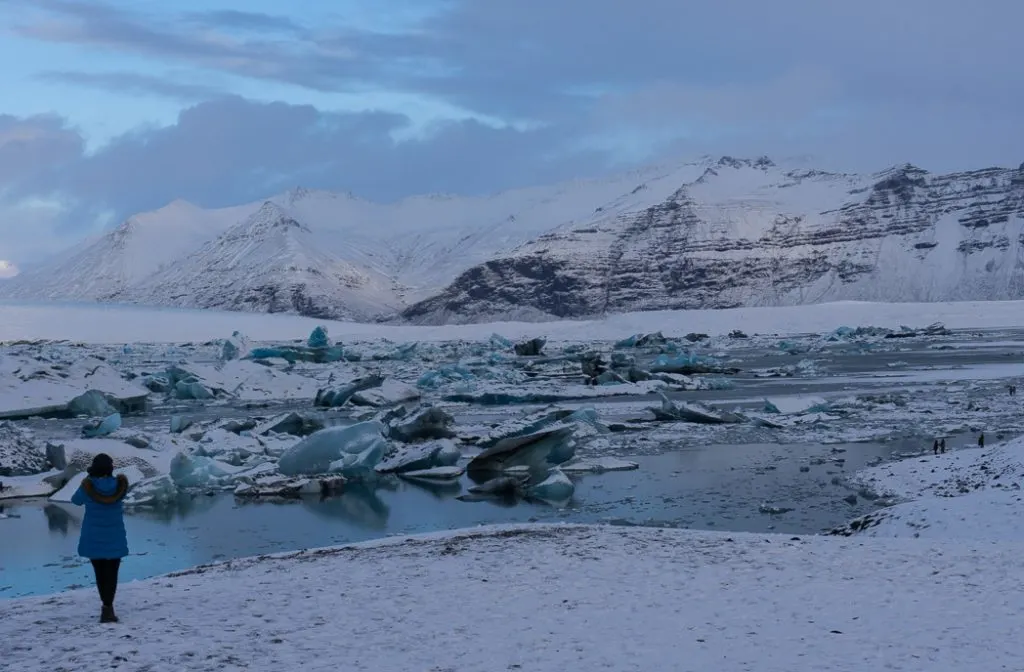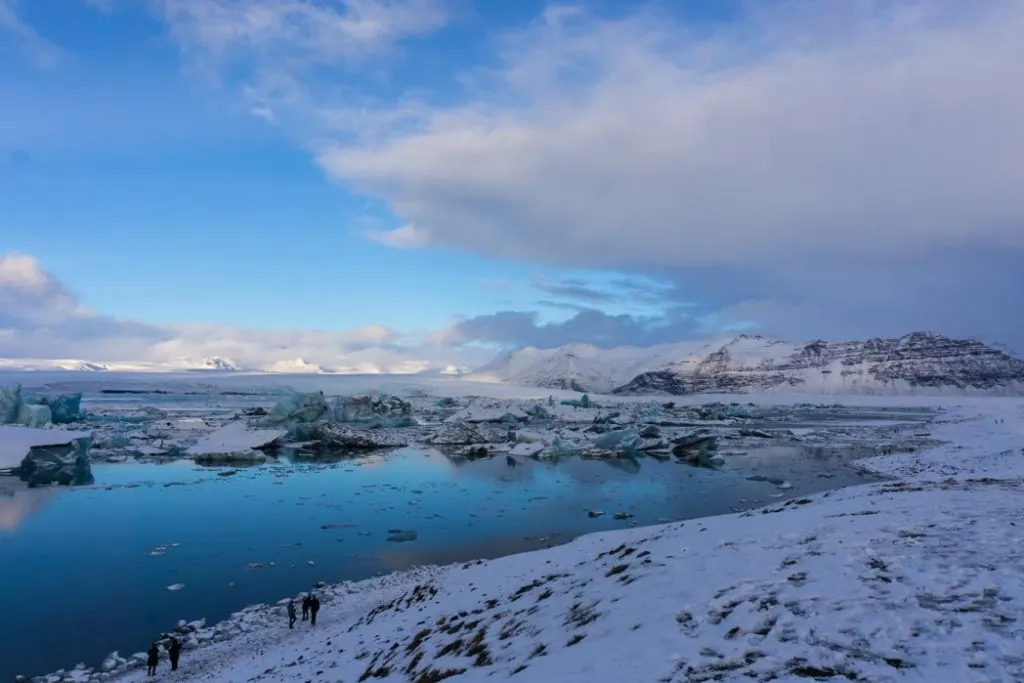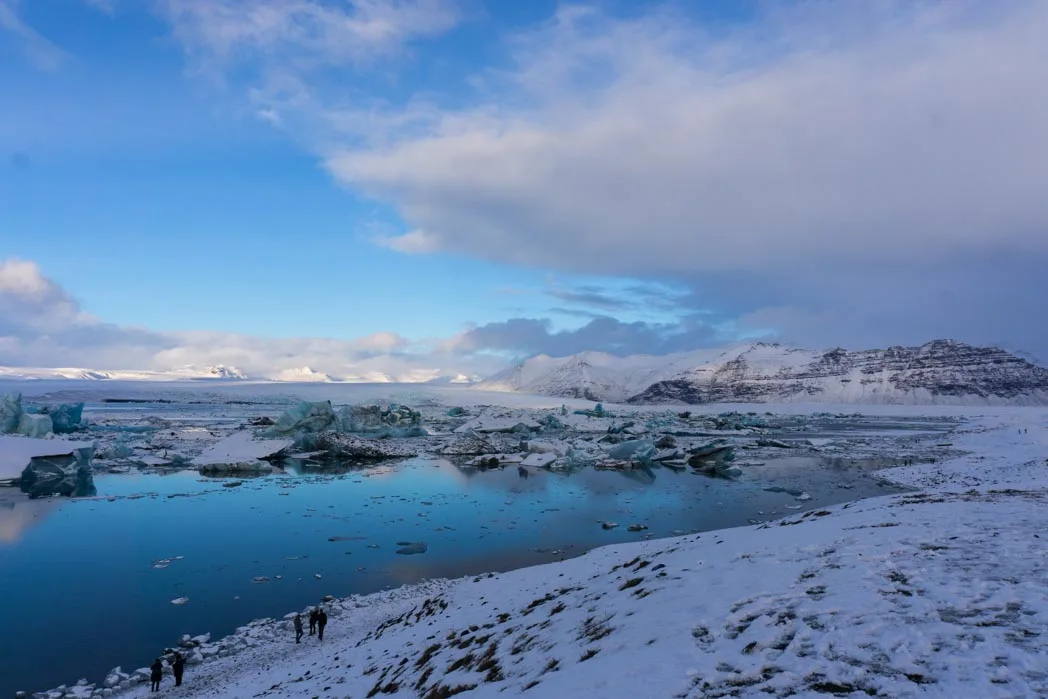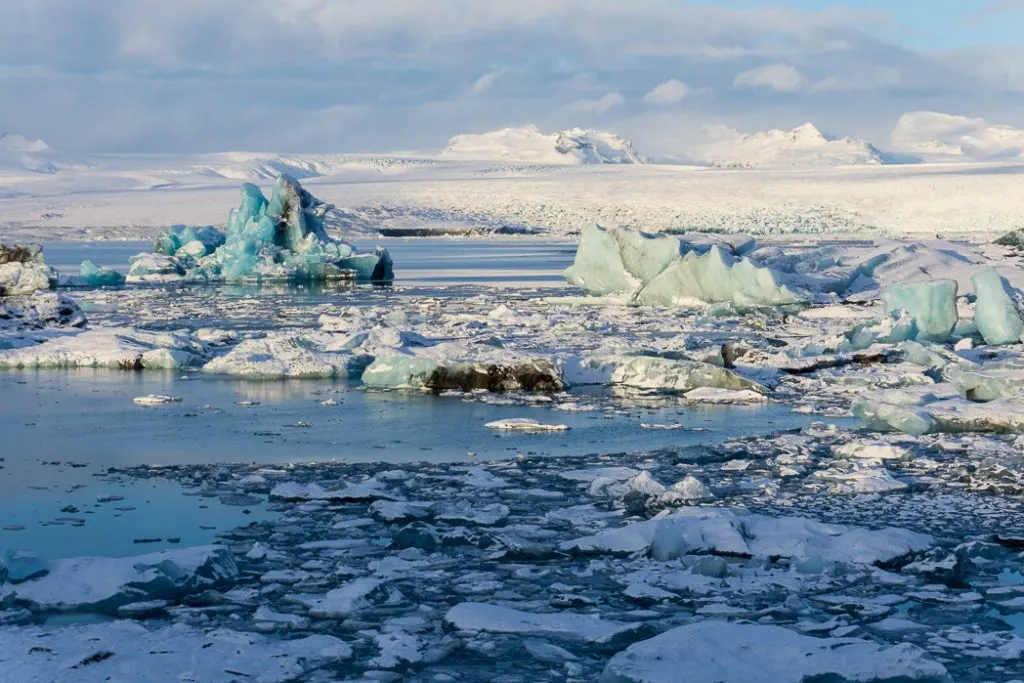 It was hard, but we had to tear ourselves away from Jokulsarlon and head to our pre-booked ice cave tour. I wasn't sure what to expect with the cave tour, but it was pretty cool. We visited a cave called the Crystal Cave and got to spend about 45 minutes exploring inside. It wasn't very big, but the light coming in through the ceiling illuminating the ice formations was incredible.
After the ice cave tour we had a long, dark, snowy and stormy drive all the way back to Vik again. In Vik we stayed in a different guesthouse than before. Guesthouse Hatun 8 was right in the village so we could walk to the pub for dinner. Like many inexpensive guesthouses in Iceland, our accommodation was actually located in an annex of someone's house. Our hosts were super helpful and made sure we had everything we needed.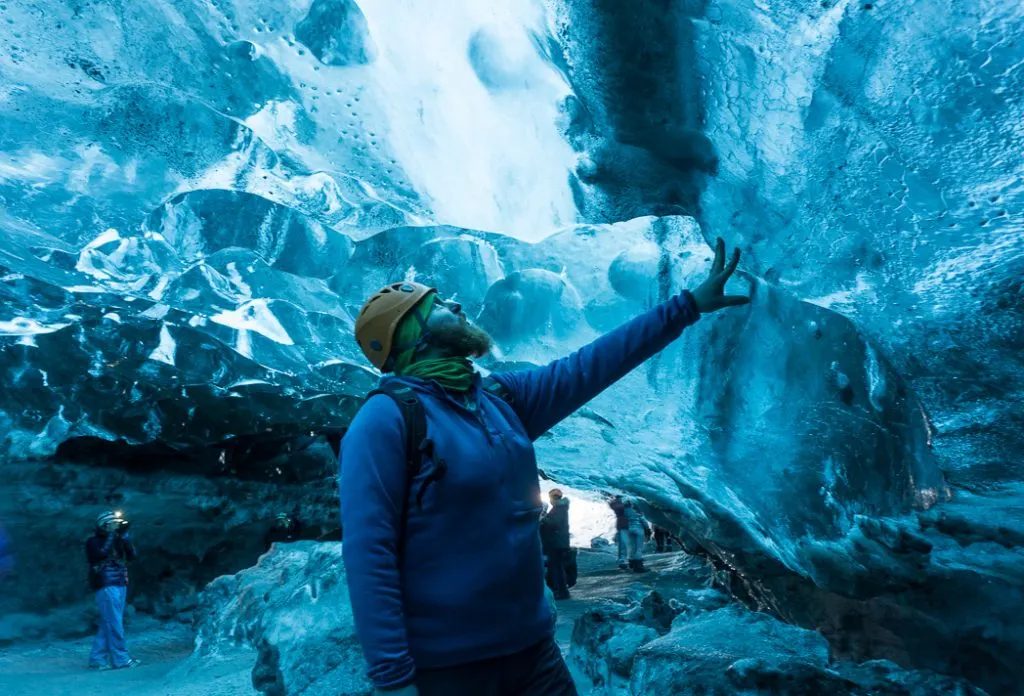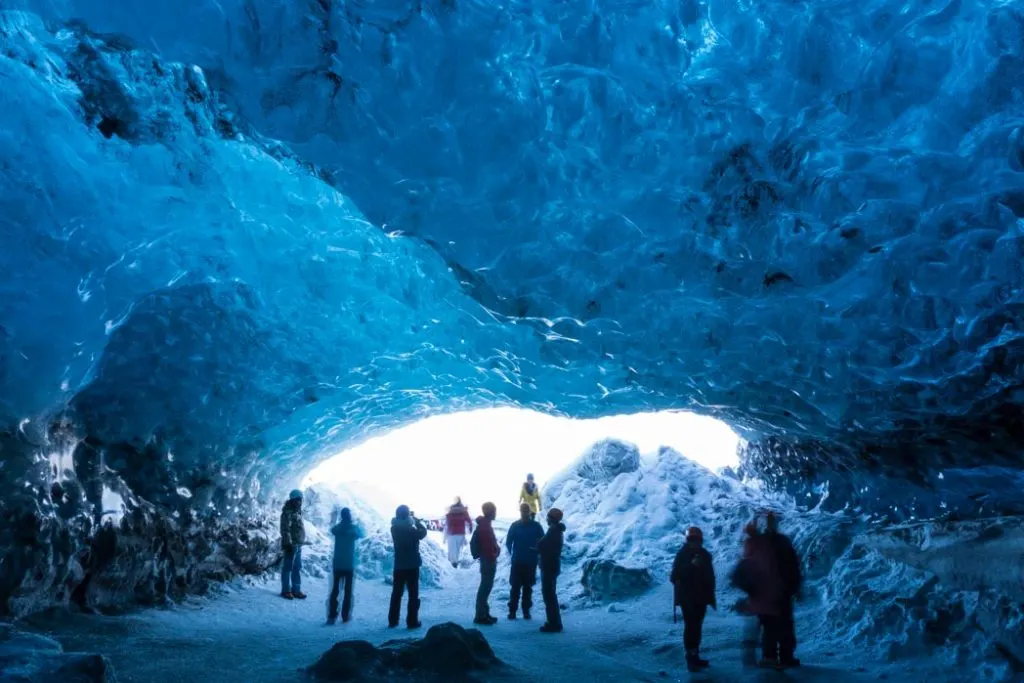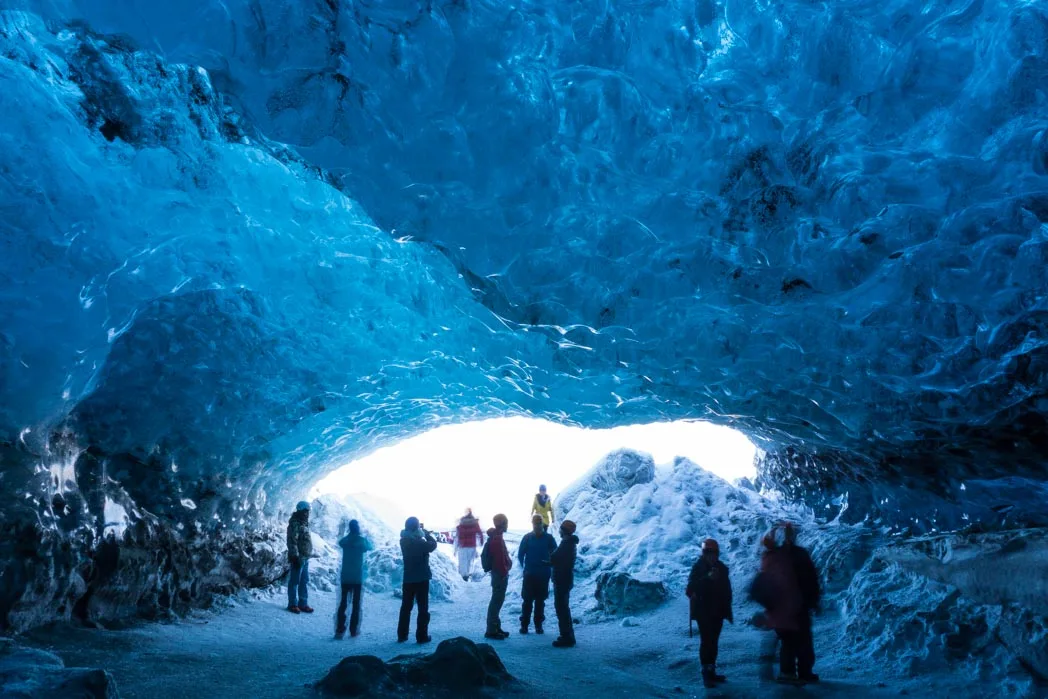 A Winter Week in Iceland Day 5: Skogafoss, Seljavallalaug, Seljalandfoss and the Secret Lagoon
We started our the fifth day of our winter week in Iceland with a dawn visit to Skogafoss. We beat all of the tour buses there and managed to get the falls to ourselves for a few short minutes!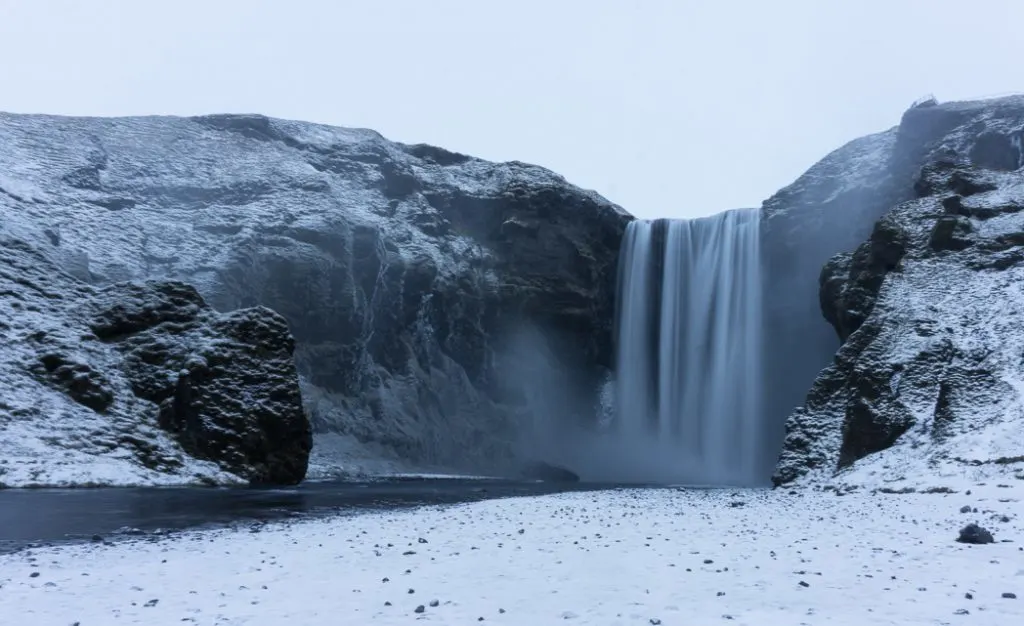 Our next stop was Seljavallalaug, Iceland's oldest swimming pool. It is an 100-year old concrete pool fed by a natural hot spring. We knew the water wasn't going to be warm enough for soaking (it is only 25C and most good hotsprings are 35-40C) so we didn't bring our bathing suits. We enjoyed the short walk up the valley to check out the pool in winter. But first some adorable Icelandic horses in a nearby field totally distracted us. They have the best hair!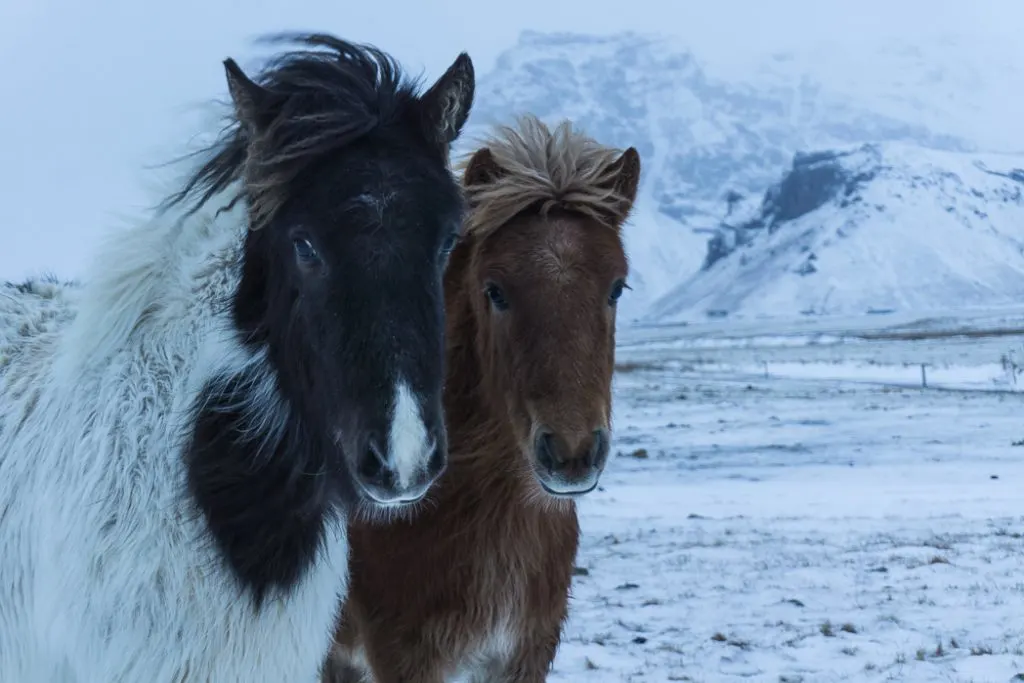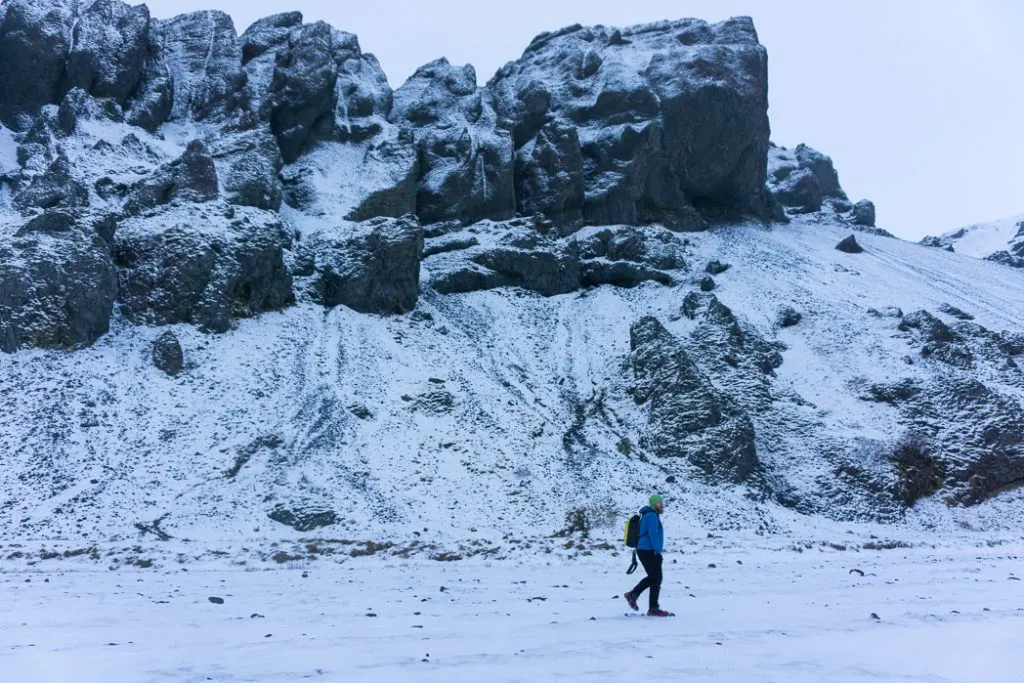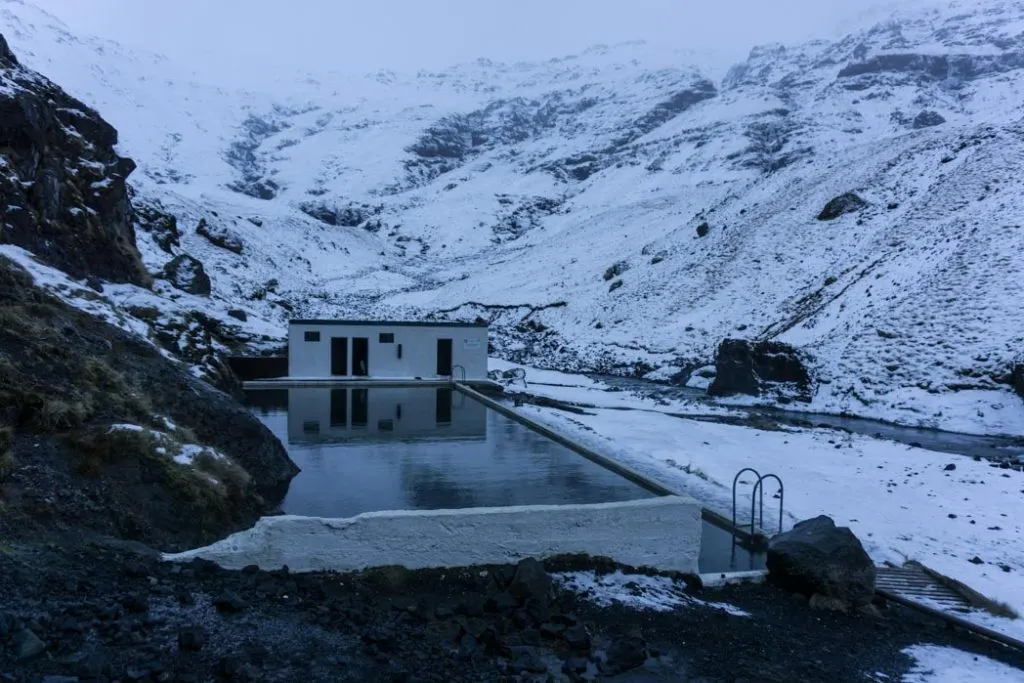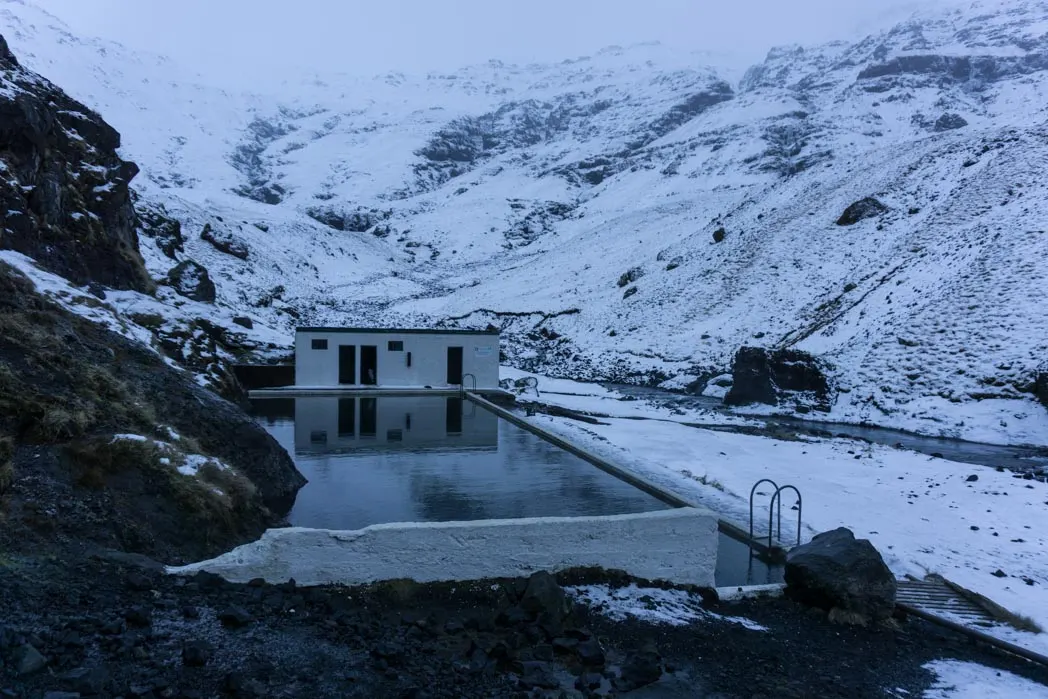 When we got back on to the highway we soon saw a car off the side of the road. It had spun out on the ice and gone through a wire fence into a farmer's field. As we drove past we saw that there were still people in the car. We stopped immediately and ran to help. There were two American women in the car and thankfully they were fine, but the car was really stuck. Another tourist stopped too. He offered to drive the Americans to find a tractor to pull them out so we continued on our way to Seljalandfoss.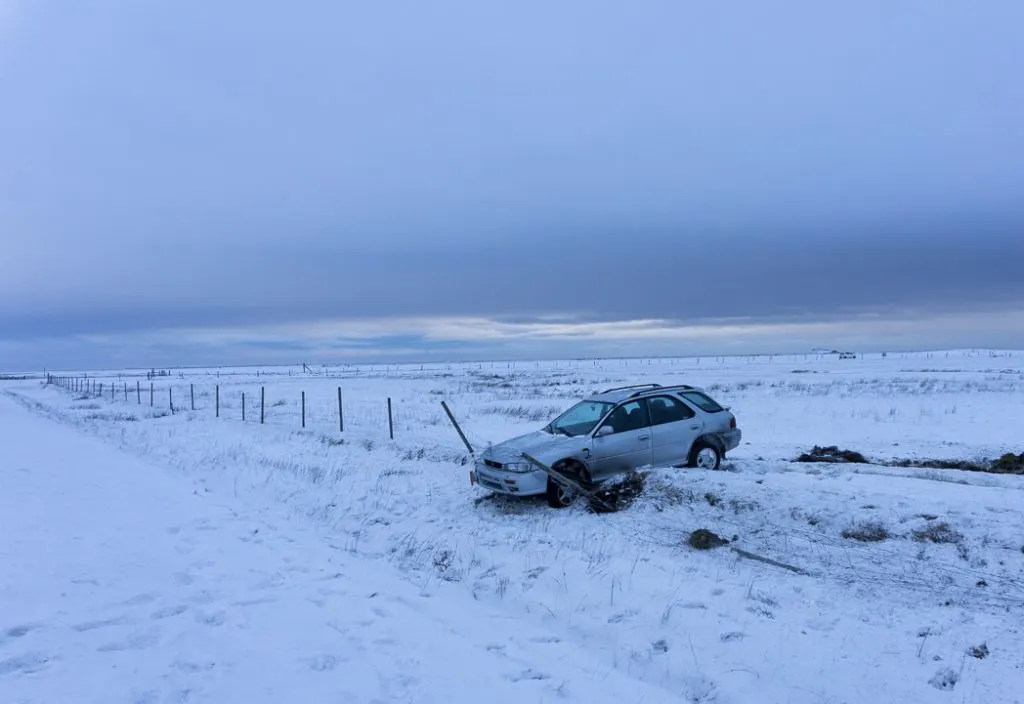 On our second visit to Seljalandfoss the weather was a little calmer. (Thankfully there was no sideways snow this time!) We brought our microspikes so we could walk up the ice covered staircase and go behind the falls. Several inches of bumpy ice covered the entire pathway and cave behind the falls. Such a cool experience! There were lots of other tourists at the falls but no one else had spikes. So we were some of the only people behind the falls.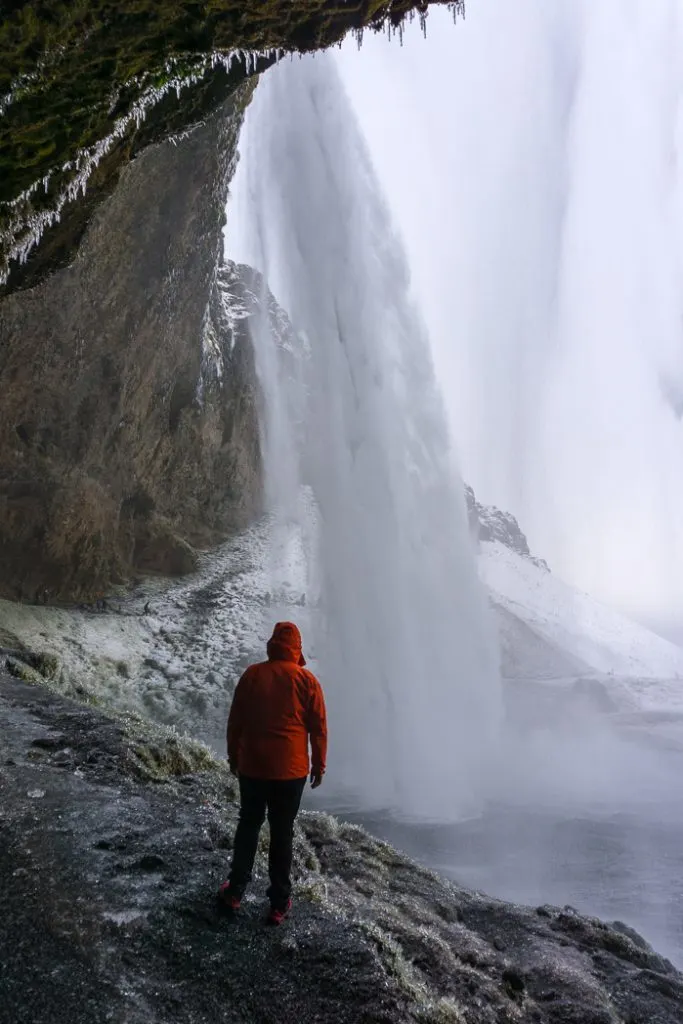 After leaving Seljalandfoss we turned away from the South Coast and headed towards the Golden Circle. Our last stop of the day was the hotsprings at the Secret Lagoon in the town of Flúðir. (A winter week in Iceland would not be complete without a visit to some hot springs!) There has been a pool at that hot spring since the late 1800s, but it was abandoned in the 1940s after a more modern swimming pool was built. The pool filled with sediment and was forgotten until the owners refurbished it and opened in 2016 as the Secret Lagoon.
The Secret Lagoon is a natural geothermal hot spring piped into a man made pool with an attached changing facility and lounge (similar to the Blue Lagoon but on a much smaller scale). However, the pool at the Secret Lagoon still looks like a natural hot spring with rock and moss walls surrounding it. They even kept the old and crumbling original changing house.
And the best part: there is a mini-geysir right next to the pool that goes off every few minutes. And when it goes off, the water in the part of the pool nearest to the geysir gets hotter! So cool! I've been to quite a few hotsprings in Iceland, but the Secret Lagoon is my new favourite. It was too rainy when we arrived at the hot springs and too dark when we left so I don't have any good photos. So here's one from their website: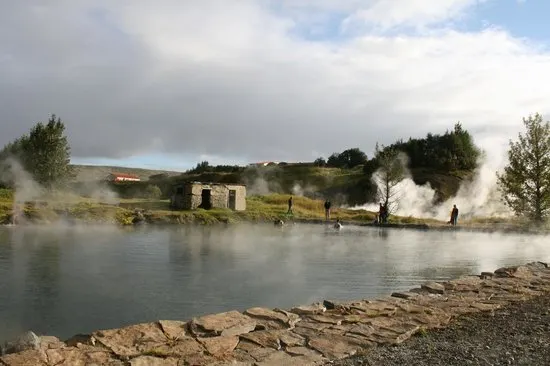 After our soak in the Secret Lagoon we headed to over to our hotel in Reykholt, Guesthouse Fagrilundur. This was the cutest place we stayed on our trip. It's a two story wooden house that looks like a ski chalet. It's set in its own grove of trees (a rarity in Iceland!) so it was very peaceful. Rather than trying to do the whole Golden Circle in one day from Reykjavik, consider staying the night. That way you get some of the sights to yourself in the evenings and the early mornings. There are lots of small towns to stay in. We stayed in Reykholt, but you could also book accommodation in Laugarvatn, Flúðir or Skalholt.
A Winter Week in Iceland Day 6: Gullfoss and Thingvellir
Once again we were on the road early to make it to Gullfoss for first light. It's one of the most beautiful waterfalls in the world and was spectacular on our previous summer visit to Iceland. I had hoped for a spectacular sunrise, but sadly the low clouds stuck around. The paths around the falls were really icy so we were glad we had our microspikes. Unfortunately the path down to the lower viewing platform was closed for the winter because it was too icy, so we could only view the falls from above.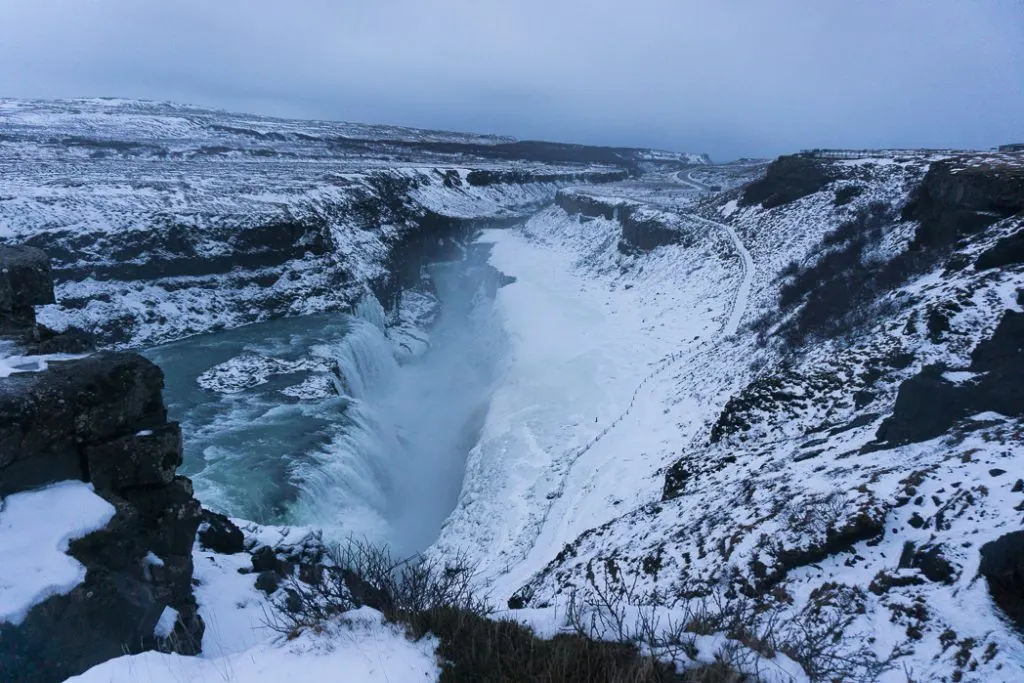 After Gullfoss we skipped Geysir (it was raining and we had seen it before), and headed to Thingvellir in hopes of better weather. The weather was crazy windy (typical Iceland) so we spent a little bit of time exploring the rift. We even saw people getting into wet suits to go snorkelling between the tectonic plates in Silfra! We hoped to spend more time walking the trails, but the wind picked up more and it started to rain heavily, so we decided to cut our losses and head to Reykjavik.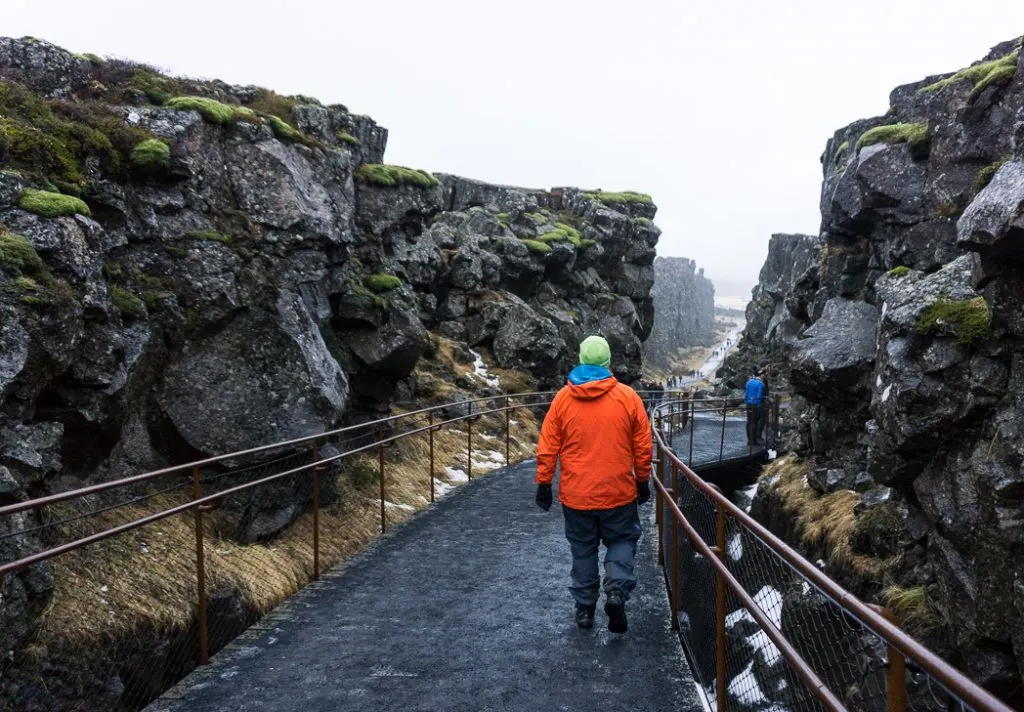 On the way we made a quick stop at Alafoss in Mosfellsbaer, Iceland's oldest wool factory, to buy a handknit lopapeysa sweater for Greg. Then we checked in to our Airbnb, cooked some dinner, and vegged out on the couch, thankful we were out of the rain.
A Winter Week in Iceland Day 7: Reykjavik
On the last full day of our winter week in Iceland we headed back to Hallgrimskirkja to go up the tower. It's not the tallest building in Iceland anymore, but it is a lot taller than pretty much everything else, so the view is great. The colourful houses of Reykjavik really stand out from above. (If you're curious, the tallest building is an office tower in Kopavogur, a suburb of Reykjavik, that is a whole 3.5 meters taller than Hallgrimskirkja).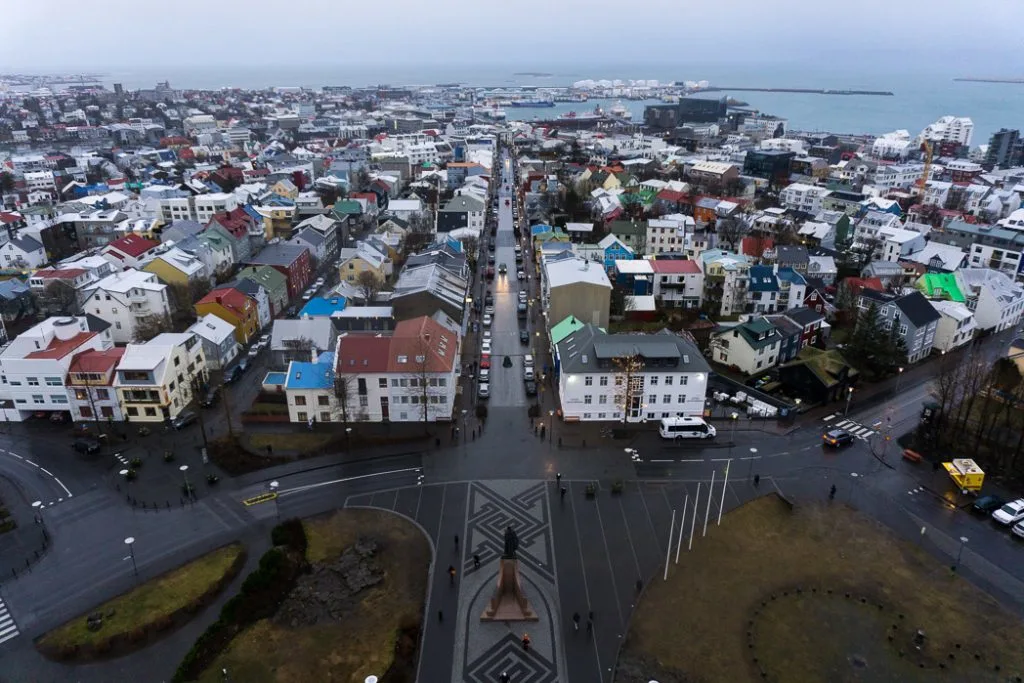 Next we walked over to Harpa, the concert hall and conference space on the waterfront. The architecture here is like nothing I've ever seen: tessellated glass and mirrors mixed with hard concrete and straight lines. We spent a surprisingly long time wandering around gawking at it from different angles.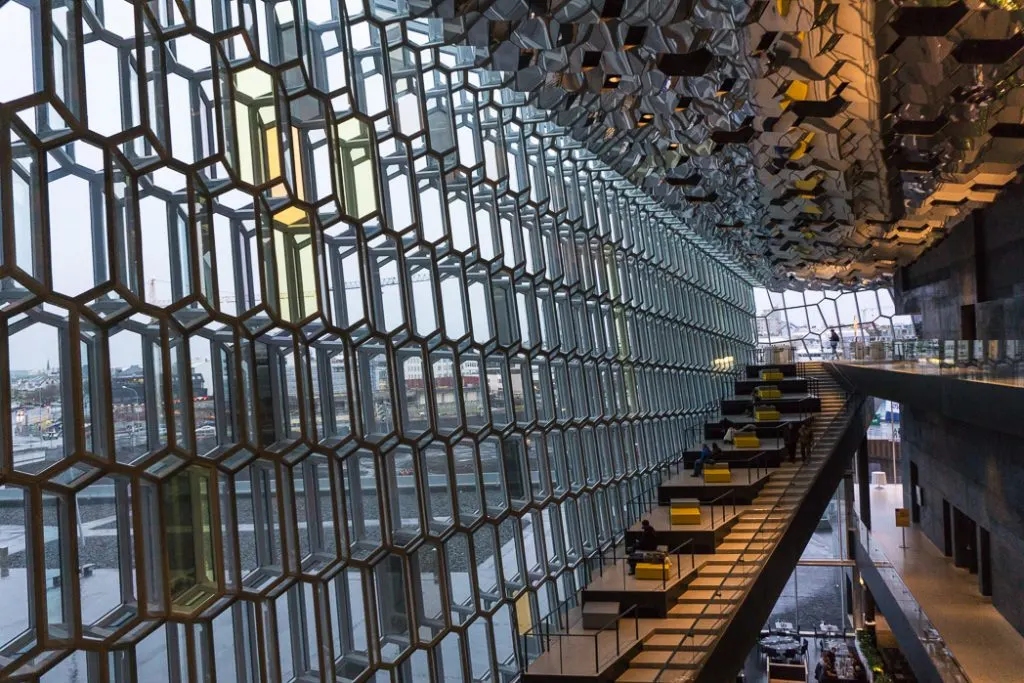 We had lunch at Saegreifinn (Sea Baron (killer fish skewers) and then did some window shopping along Laugavegur. That night we splurged on a fancy dinner at Snaps Bistro to celebrate a fabulous trip in Iceland. We flew home the following day, sad to leave Iceland yet again, and once again vowing to return. (Maybe in fall next time? I haven't been in fall yet!)
I hope you've enjoyed reading about my winter week in Iceland. If you are planning your own trip to Iceland don't forget to check out my post about things you might not know about winter in Iceland.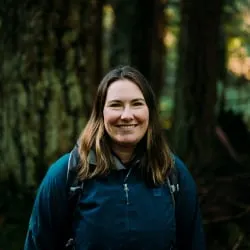 Latest posts by Taryn Eyton
(see all)