I live in Vancouver, BC on Canada's wet… I mean West Coast and it rains a lot here. If I waited for it to stop raining, I probably would never get outside, so I hike when it's wet out. Hiking in the rain might sound like no fun, but if you follow these tips I promise you'll go from being a fairweather hiker to an all-weather hiker.
Choose the Right Trail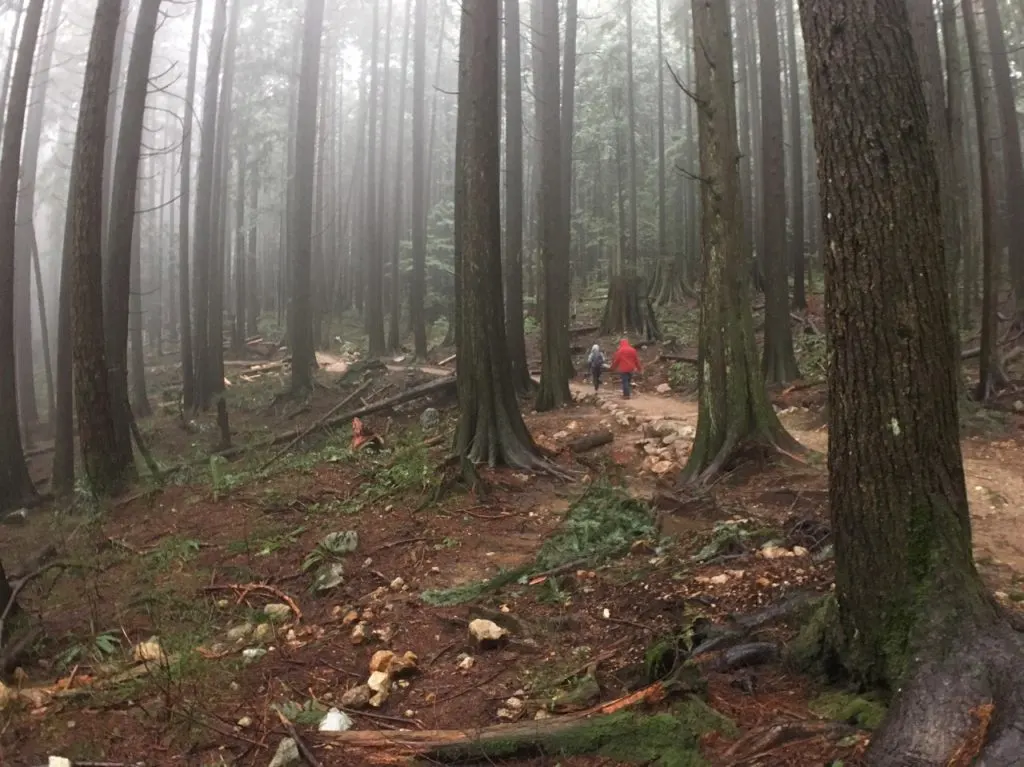 On rainy days there's no point in hiking for hours to a summit if you won't see the view. Forest hikes, riverside trails or trips to lakes are great on wet days and waterfalls can be especially spectacular.
Pick a shorter hike, something that will take you a few hours or an afternoon, rather than an all day epic. I like to choose hikes on a network of trails where I can head out for a longer loop if I'm feeling up to it, or choose a shorter route if the day turns out to be truly terrible. And of course, trails that have a cafe nearby for apres hike lattes get bonus points.
Make sure you read up on the trail beforehand. If there are creeks to ford, steep slippery sections or if the trail is prone to flooding, save it for a dry day.
Wear the Right Clothing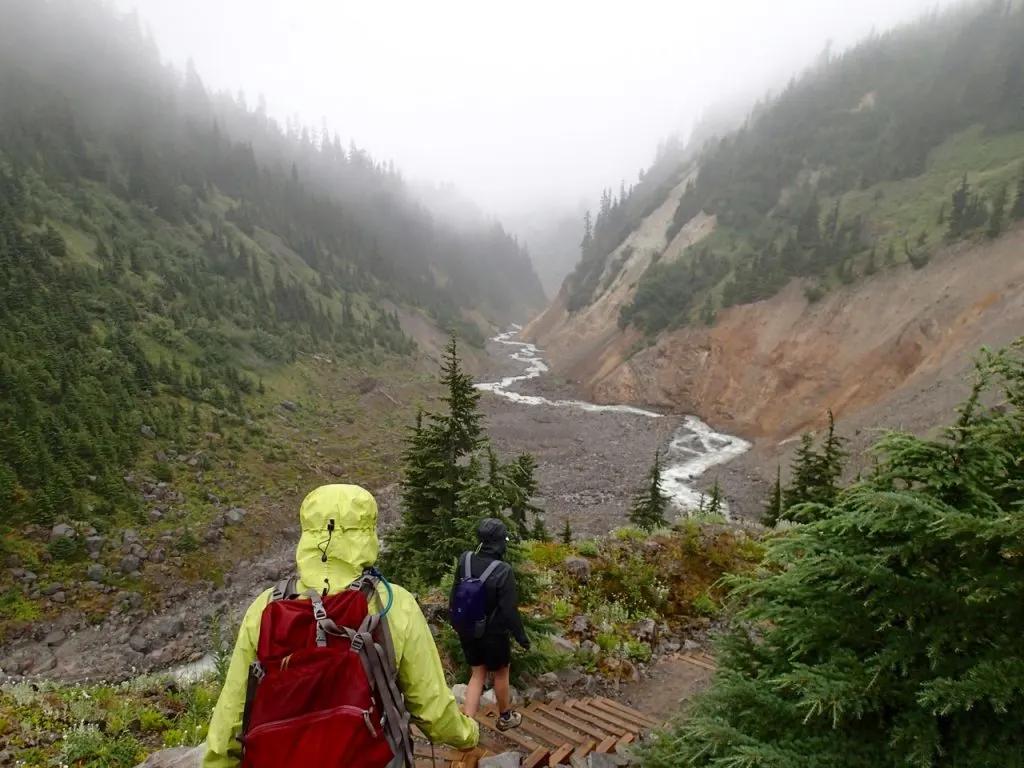 You've heard the saying "There's no such thing as bad weather, only inappropriate clothing" and it's mostly true. It's a fine balance between getting wet on the outside from rain and getting wet on the inside from sweat. Make sure your jacket is both waterproof AND breathable (think Gore-Tex or similar) and make sure it has pit zips for venting and an adjustable hood. You may also want to invest in waterproof breathable pants. I also wear a nylon or polyester baseball cap since the brim keeps the water out of my eyes.
Underneath your rain gear, you should wear a synthetic or wool baselayer like lightweight long underwear or running tights and a tech tee. If you aren't wearing waterproof pants (they can be too hot), wear something water resistant like nylon hiking pants with a durable water repellency (DWR) finish or just your running tights or long underwear since they will keep you warm when wet. Keep a warm layer like a fleece or synthetic puffy jacket in your pack to put on if you get cold. Whatever you do, avoid cotton clothing as it soaks up water and is not warm when wet.
Waterproof boots are the key to happiness when you are hiking in the rain. The traditional choice would be leather hiking boots but lighter weight trail shoes made of fabric with a Gore-Tex lining work too. Wear wool or synthetic socks. If it's muddy or I expect deep puddles I like to wear gaiters too as they keep mud and water from sneaking in between the bottom of your pants and the top of your boots. (Of course, I carry an extra pair of socks just in case.)
Bring the Right Gear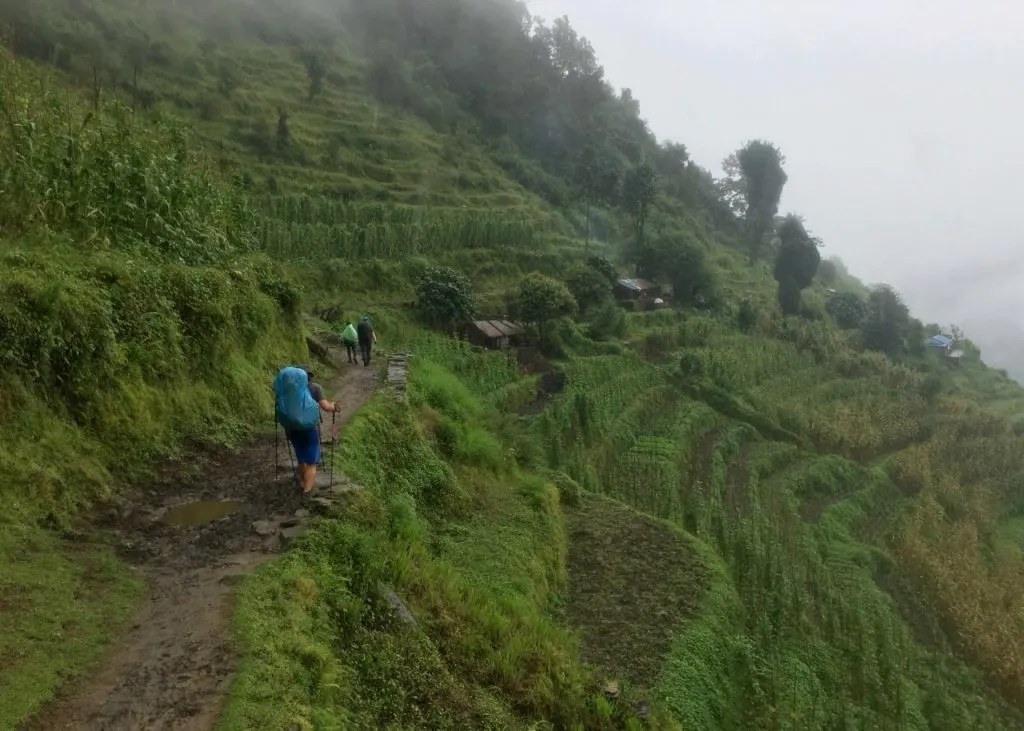 Invest in a lightweight silnylon rain cover for your backpack to keep it dry. You can also use dry bags, silnylon stuff sacks or even Ziploc bags to keep gear dry inside your pack; I use them to make sure my extra clothes stay extra dry.
It's unconventional for hiking, but you can also bring an umbrella. If it's not windy and the trail is wide enough, an umbrella can keep you drier than raingear and can act as a mini shelter to take breaks under.
I like to use trekking poles for hiking in the rain. They help me keep my balance on slippery roots and rocks and they are also helpful for gauging the depth of mud bogs.
Bring the Right Snacks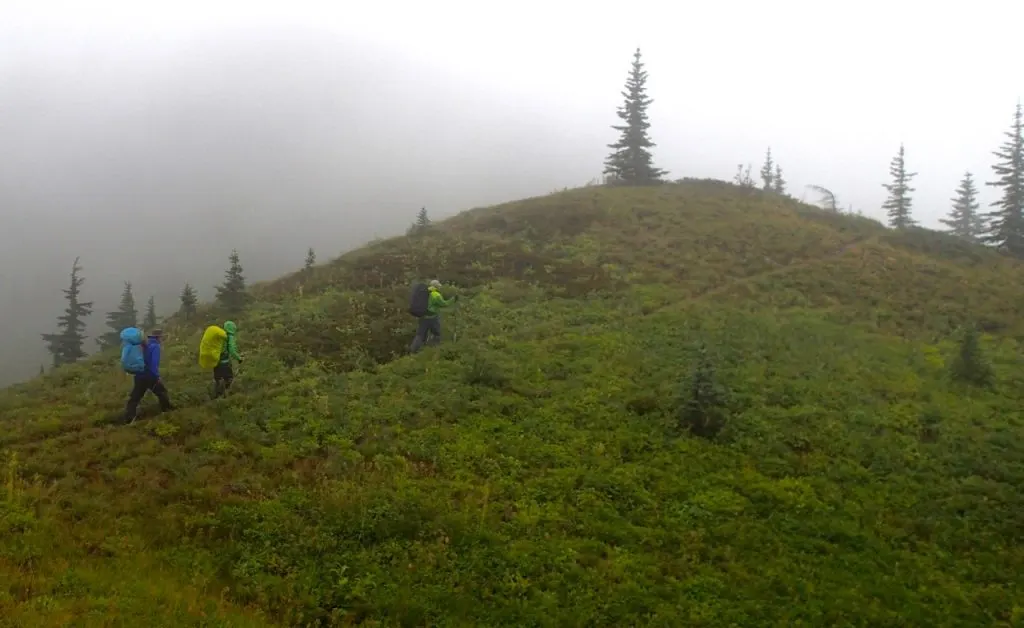 Stopping to have a leisurely picnic isn't going to happen on a rainy hike, so bring foods you can eat on the go. I like to pack granola bars or nuts into the pockets of my hipbelt and drink from a hydration reservoir so I don't have to stop. Consider bringing a thermos of tea or hot chocolate to warm you up if it's cold.
Have the Right Attitude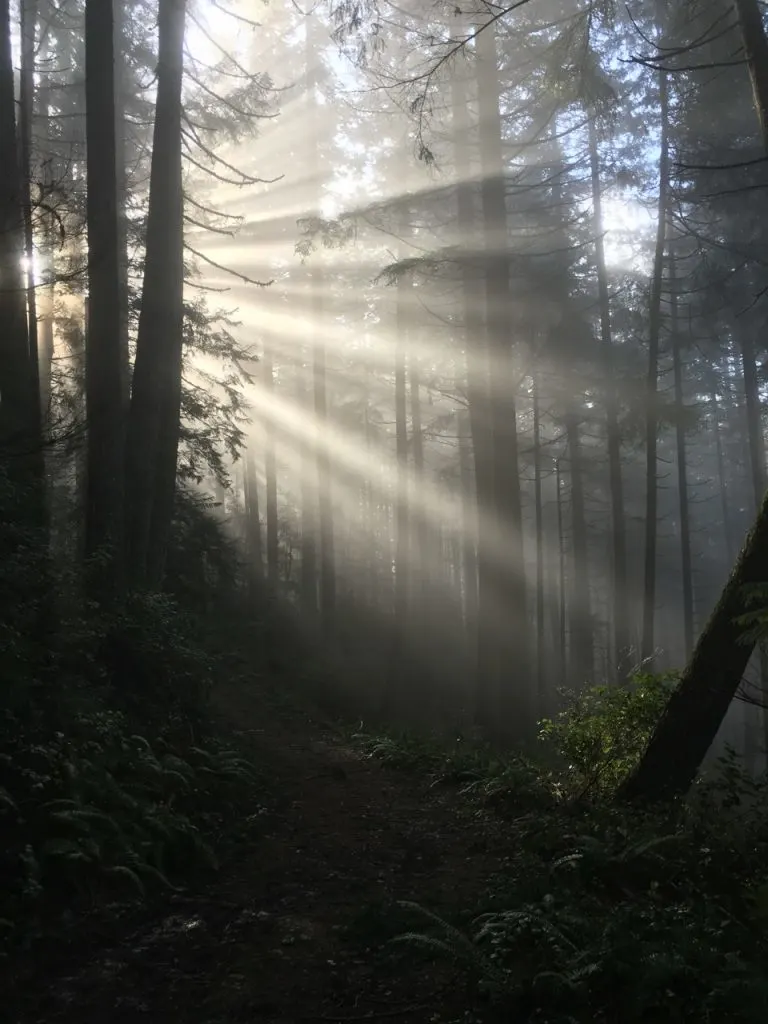 Learn to love the rain! Here on the Wet Coast we call it liquid sunshine. If you only go out when the weather is fine, you're only seeing part of the story: In the rain everything looks greener, the creeks burble louder, the waterfalls gush and you get beautiful misty and moody photo opportunities. The trails will be much less crowded and you might even have them to yourself. And if the sun does come out in the end you'll get to see my favourite weather phenomenon: sunbeams floating through mist.
Do you hike in the rain? What other tips for hiking in the rain would you give fairweather hikers to convince them to be all-weather hikers?
Want more hiking tips? Read next:
Hiking Solo: My Thoughts and Tips
Hiking Through the Cold Season
What to Wear for Winter Hiking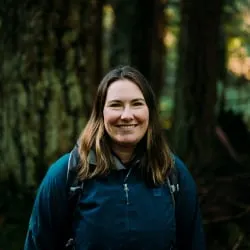 Latest posts by Taryn Eyton
(see all)