I live in Squamish, BC on Canada's wet West Coast and it rains a lot here. If I waited for it to stop raining, I probably would never get outside. Hiking in the rain can be really beautiful if you know how to stay safe, keep dry, and have fun. I've got tons of rainy-day hiking tips for you in this post.
But why trust my advice? I've been hiking my whole life and backpacking for over 20 years. (In 2021, I even wrote a backpacking guidebook for British Columbia.) I've hiked and backpacked in the pouring rain in Iceland, Tasmania, Nepal, and in the coastal rain forests of British Columbia including the notoriously wet Vancouver Island. And I hike my local trails in Squamish a few days a week, year-round, so I've done a lot of hiking in the rain.
All of the tips in this post are techniques that I use during rainy hikes and backpacking trips. This guide includes:
This is a sensitive wilderness area. Learn how to Leave No Trace to keep the wilderness wild. Make sure you are prepared by bringing the 10 Essentials. Get ready for adventure with this checklist of things to do before every hike.
Hey there: Some of the links in this post are affiliate links, which means I earn a small commission at no cost to you. Thanks for your support. -Taryn
Why Hike in the Rain?
We all know a few people who cancel their hike if there is even a hint of rain in the forecast. But you don't have to be afraid of a little wet weather. While I would love endless sunny days, that's not the reality so I've learned to wet weather hikes. Hiking in the rain has a few benefits:
The trails are quieter in the rain. You won't have to deal with crowds and the solitude can be relaxing.
Spending time outdoors is great for your mental health and can give you a boost on gloomy days when you might otherwise feel like you're stuck inside.
Rain means rushing creeks and roaring waterfalls, which can be spectacular to witness. It also can mean rainbows!
On rainy days the mist and fog create a unique atmosphere that is great for moody photography.
It smells great when it rains. This odor even has a name "petrichor", which is defined as the earthy scent produced when rain falls on dry soil.
It might not rain that much. I've gotten all geared up to go for hikes on rainy days and ended up with 30 minutes of drizzle and then hours of sun. Weather is fickle and you never know, it might not be that bad out there!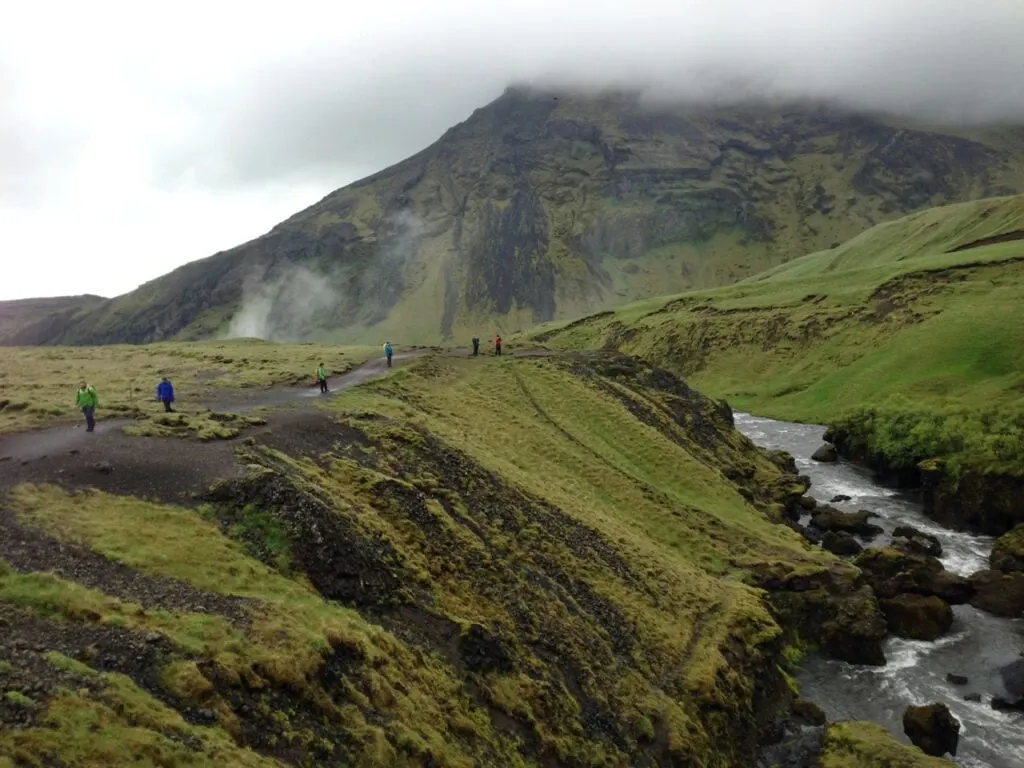 How to Get Ready to Hike in the Rain
Check the Weather
The first thing I do when planning any hiking or backpacking trip is to check the weather forecast. I never use city forecasts as they are useless in the wilderness. Instead, I use algorithmic forecasts for the trails I plan to visit. My favourite weather app is Spotwx, but my guide to the best weather apps for hiking has lots more options and weather forecasting tips.
I want to know how much it is forecasted to rain (in inches or millimeters) along with which times of the day will be the rainiest. I also want to find out how cold it is going to be and how windy.
I'll use that info to pick the trail I'm going to hike and what gear I will need. I might also use it to choose how long I plan to be out there and what time of day I go. For example, if it is forecasted to rain heavily starting at 2pm, I might choose a shorter hike so I can be off the trail before it really starts raining cats and dogs.
Choose

a Rainy-Day Friendly Trai

l

On rainy days there's no point in hiking for hours to a summit if you won't see the view. Forest hikes, riverside trails or trips to lakes are great on wet days and waterfalls can be especially spectacular.

Pick a shorter hike, something that will take you a few hours or an afternoon, rather than an all-day epic. I like to choose hikes on a network of trails where I can head out for a longer loop if I'm feeling up to it, or choose a shorter route if the day turns out to be truly terrible. And of course, trails that have a cafe nearby for apres hike lattes get bonus points.

Make sure you read up on the trail beforehand and avoid places that can be dangerous in the rain. If there are creeks to ford, steep slippery sections, or if the trail is prone to flooding, save it for a dry day.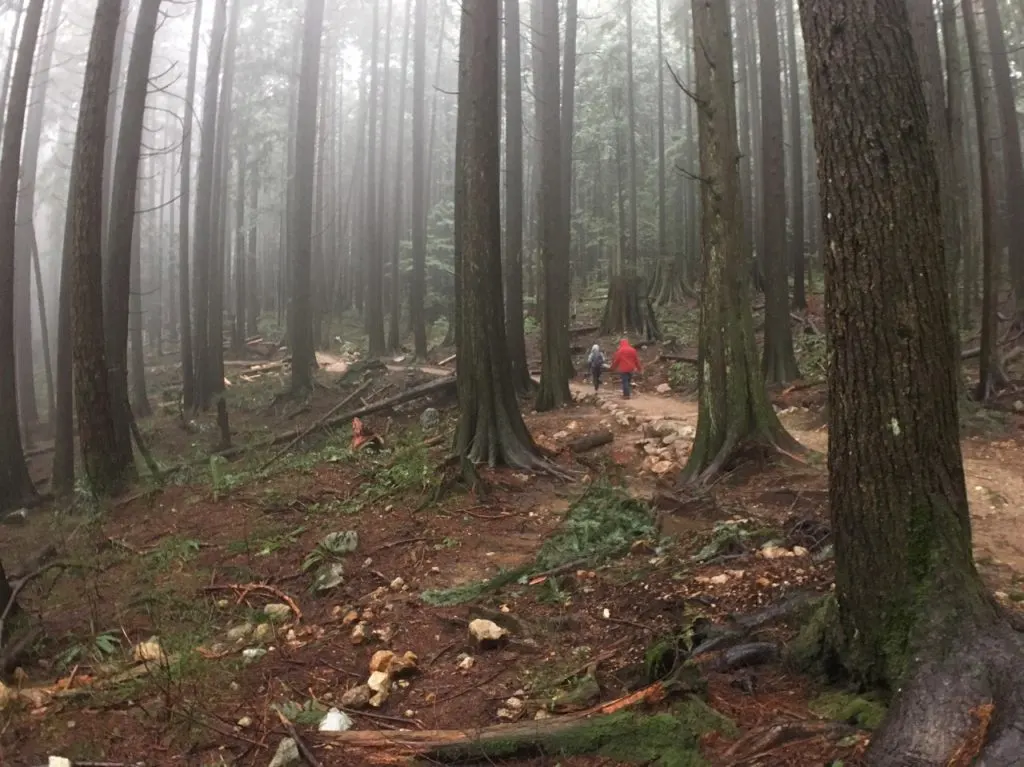 Re-Waterproof Your Rain Gear and Boots
When your jacket, rain pants, or hiking boots are new, the DWR (durable water repellency) treatment is fresh and the pores in the waterproof breathable membrane are nice and clean. As you wear the jacket, the DWR wears off and dirt and oil clog the pores of your membrane.
It's a good idea to re-waterproof your rain gear and boots at least once a year, more if you hike a lot. I typically do mine twice a year or whenever I notice that water isn't beading up as well. For rain jackets and pants, I use Nikwax TX Direct, which is a wash-in treatment. For boots, I use Nikwax Fabric and Leather Proof. It has an easy-to-use sponge applicator.
Leave a Trip Plan
You should leave a trip plan with a friend or family member before every hike. That way if you get lost or injured, search and rescue will know where to look for you. Include info about where you are going. AdventureSmart has a great online trip-planning template you can use
What to Wear for Hiking in the Rain
You've heard the saying "There's no such thing as bad weather, only inappropriate clothing" and it's mostly true. It's a fine balance between getting wet on the outside from rain and getting wet on the inside from sweat.
I spent ten years working in outdoor retail, including six at the head office of a big outdoor company where I wrote training materials for staff. So I know tons about technical hiking clothing. In this section, I've got tips for what to wear for hiking in the rain.
Cotton Kills – Avoid It!
You may have heard the expression "cotton kills". That's because cotton clothing soaks up water which will make you cold and can lead to hypothermia. Avoid cotton when hiking in the rain… even in your underwear! (Wet cotton underwear are cold, uncomfortable and can chafe – check out my picks for the best hiking underwear instead.)
Dress in Layers Made of Nylon, Polyester, or Merino Wool
In general, if you're hiking in the rain you will want to wear layers of clothing. The outer layer is waterproof, the middle layer is insulating, and the base layer is quick-drying and wicking to manage moisture. You can add or remove mid-layers to regulate your temperature.
Look for technical hiking clothes made of nylon, polyester, or merino wool. Like I said before, avoid cotton. In wet weather, you will also want to avoid rayon, Tencel, Modal, bamboo, linen, flannel, and hemp. These are all natural fibre fabrics that can be quite absorbent.
Wear a Waterproof Breathable Jacket
The single most important piece of gear you need to go hiking in the rain is a waterproof jacket. Choose one made with waterproof breathable fabric unless you want it to feel like a sauna inside.
There are tons of great hiking jackets out there so it can be hard to choose. Here are my top tips for picking a rain jacket for hiking:
Buy one from a reputable hiking clothing brand – skip ones from big box stores or dodgy social media ads
Buy a rain jacket marked as waterproof breathable. Definitely avoid anything that says water-resistant – you want waterproof!
You don't need Gore-Tex. This is a waterproof technology brand name… but the patent has expired so literally hundreds of other jackets use the same technology.
Look for jackets with pit zips – these are zippers in the armpits that you can open for ventilation so you don't get too sweaty.
Check to make sure the hood is adjustable and fits you well. You don't want it drooping over your eyes so you can't see.
Get a good fit – you want to make sure it is comfortable to wear and fits over your mid-layers.
Pay attention to the zippers because that is where rain jackets leak. Look for waterproof zippers or ones with a waterproof storm flap in front of or behind the zippers.
I wear the MEC Synergy or the Mountain Hardwear Minimizer.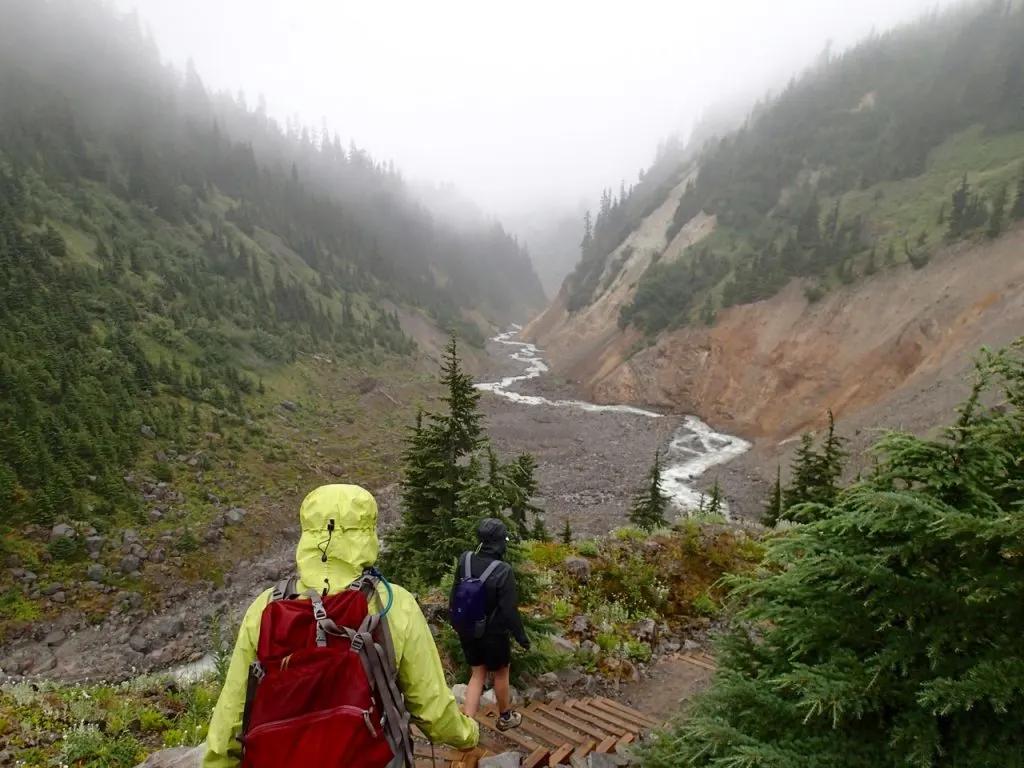 Wear Waterproof Breathable Pants
Depending on the temperature, your personal preference, and how much it is raining, you might choose to wear waterproof breathable rain pants, a rain skirt, or just regular pants. I recommend at least bringing rain pants or a rain skirt in your pack so you can put them on if the weather is worse than you anticipated.
In sustained rain and cold weather, I wear waterproof breathable rain pants for the same reasons I wear a waterproof breathable rain jacket – they keep me dry. Rain pants can be a bit uncomfortable to wear since they make a swish-swish noise when you walk. They also can feel hot.
Here are my tips for shopping for rain pants:
Just like with rain jackets, look for ones from a reputable hiking clothing brand. Make sure they are marked as waterproof breathable, and not water-resistant. And don't worry about getting Gore-Tex.
Look for pants with zippers – ones at the ankles make it easy to take your pants on and off without removing your boots. If you hike in the rain a lot, you might want to consider ones with 2-way zippers that go up the sides of your legs. You can open them up to add ventilation.
Get the right length for you. If you are short, you can get rain pants hemmed. Some also have an elastic draw cord at the ankle that you can snug up so they don't drag on the ground.
I wear MEC Hydrofoil Stretch Pants but I've also heard good things about the Outdoor Research Helium Rain Pants.
Consider a Rain Skirt
In mild weather or light rain, I opt to wear a rain skirt. (These are also sometimes called rain kilts to make macho men feel better about wearing a skirt.) I wear the Enlightened Equipment Rain Wrap. Underneath it, I wear quick-drying hiking pants or leggings and a pair of gaiters.
I like that a rain skirt offers more ventilation than rain pants and more freedom of movement. It's also easier to take on and off and packs down super small. (Mine is a bit bigger than a deck of cards when it's in its stuff sack.)
Wear Quick-Drying Base Layers
What you wear under your rain gear matters. I always wear a long-sleeved shirt and pants since the feeling of clammy rain gear against my skin is gross.
Choose quick-dry base layers made of synthetics or merino wool. These fabrics help wick sweat away from your body and dry quickly.
I usually wear a long-sleeved hiking shirt or a lightweight base-layer shirt. My favourite for warm temperatures is the Patagonia Capilene Cool Daily Long-Sleeve. If it's cold out, I wear a warmer shirt like the Patagonia Capilene Midweight Zip-Neck.
On the bottom, I prefer to wear hiking leggings like the merino wool Ibex Lizzi Tights or close-fitting hiking pants that won't bunch up under my rain pants like the Mountain Hardwear Dynama/2 Ankle Pants.
Read more about my favourite leggings in my guide to the best hiking leggings and my favourite hiking pants in my guide to the best women's hiking pants.
Wear a Fleece or Synthetic Puffy Mid-Layer
It's important to have warm layers when hiking in the rain since you can get cold easily. Bring a fleece jacket or synthetic puffy jacket to wear as your mid-layer between your rain jacket and your base layer. I often carry my mid-layer in my pack while I'm hiking, then put it on when I take breaks.
Both fleece and synthetic puffy jackets will keep you warm even when they get wet, unlike down which loses all of its insulating properties once it gets damp.
Fleece has the added advantage of being fairly breathable too, which is good if you are wearing it while you hike. My favourite is the Fjallraven Abisko Trail Fleece.
You can also get synthetic puffy jackets made with breathable fabrics and insulation. They tend to be more expensive, but they are definitely worth it. Lately, I've been wearing the Arc'teryx Proton Hoody as my mid-layer. It breathes incredibly well but still provides lots of warmth.
Wear Waterproof Hiking Boots or Shoes
Unless it's really warm out, you will appreciate having dry feet when hiking in the rain, which makes waterproof hiking boots an obvious choice. You can buy leather boots that are waterproof on their own. Or you can buy hiking boots with an inner waterproof breathable layer.
I wear the Salomon Quest hiking boots since they aren't as heavy as leather boots but they are still waterproof.
Choose Your Socks Carefully
Usually, when I hike in the rain I wear my regular merino wool Smartwool hiking socks. I always recommend wearing synthetic or merino wool socks for hiking since they don't absorb moisture so you are less likely to get blisters. (Read my tips for avoiding blisters!)
If it's really pouring rain, I sometimes wear Seal Skinz waterproof breathable socks. These are regular socks with a waterproof breathable Gore-Tex membrane inside. They are a bit warmer and thicker than regular socks, so I only wear them if it's cold, raining heavily, and I will be hiking for a long time. They do keep my feet dry though!
Another trick I picked up from bike commuting in the rain for years is to wear neoprene paddling socks. They won't keep your feet dry, but they are toasty warm. They actually work by trapping a layer of warm water inside the sock. This is a great solution if your boots aren't waterproof. However, the socks are a bit bulky and aren't as stretchy as regular socks so some people don't find them that comfortable.
I also always bring an extra pair of dry socks just in case.
Add Gaiters
If it's muddy or raining really hard, I wear gaiters. They keep water, mud, and dirt out of your boots. I like waterproof breathable gaiters like the Outdoor Research Crocodile Gaiters, even though they are more expensive since they aren't as hot.
Pro tip: in very heavy rain layer your gaiters under your rain pants. That way rain can't sneak in from the top.
Wear a Baseball Cap
I always wear a baseball cap when I hike in the rain because it fits under the hood of my rain jacket and gives my face a little bit more shelter. Skip the cotton baseball caps as they get cold and soggy fast. Instead, I wear quick-drying running caps that don't absorb water. My favourites are made by Ciele.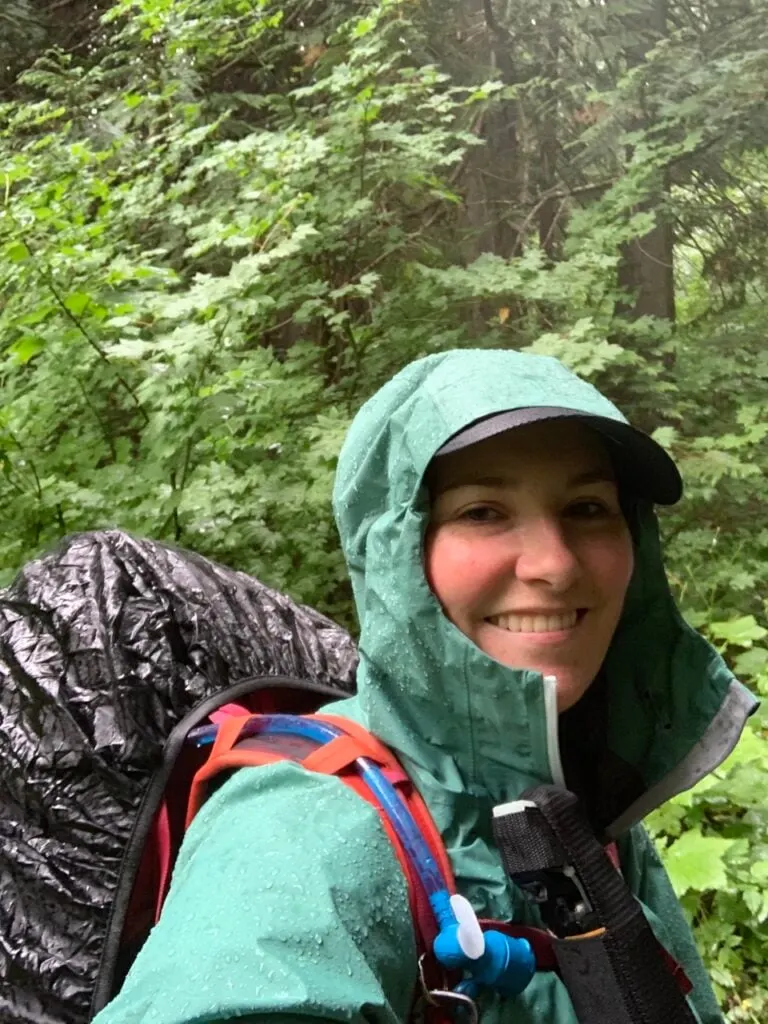 Bring Gloves
I don't always wear gloves in the rain since sometimes it's not that cold. But I always have some in my backpack just in case. Waterproof ski gloves are a good choice, but I often find them too warm. Instead, I usually wear a pair of waterproof cycling gloves – they are made for bike commuters so they are really waterproof. (Before I started working from home, I bike commuted to work year-round.)
Another good option is neoprene paddling gloves. This is another bike commuting trick. Similar to the neoprene paddling socks I mentioned above, they won't keep your hands dry, but they will keep them super warm.
Gear

to Pack for Hiking in the Rain
Things to Keep Your Gear Dry
Keeping your backpack and its contents dry is super important – you don't want your extra layers, snacks, and emergency supplies to get wet!
I usually hike with a simple silnylon rain cover over my pack. They pack down super small so they are easy to stow if it stops raining.
I also use small, lightweight dry bags to organize my gear inside my pack – that way I have at least two layers of protection from the rain. You can also use Ziploc bags to protect your gear.
I often stash a couple of big trash bags inside my pack. You can use them to line your pack, as an emergency rain cover, or even as an improvised rain poncho.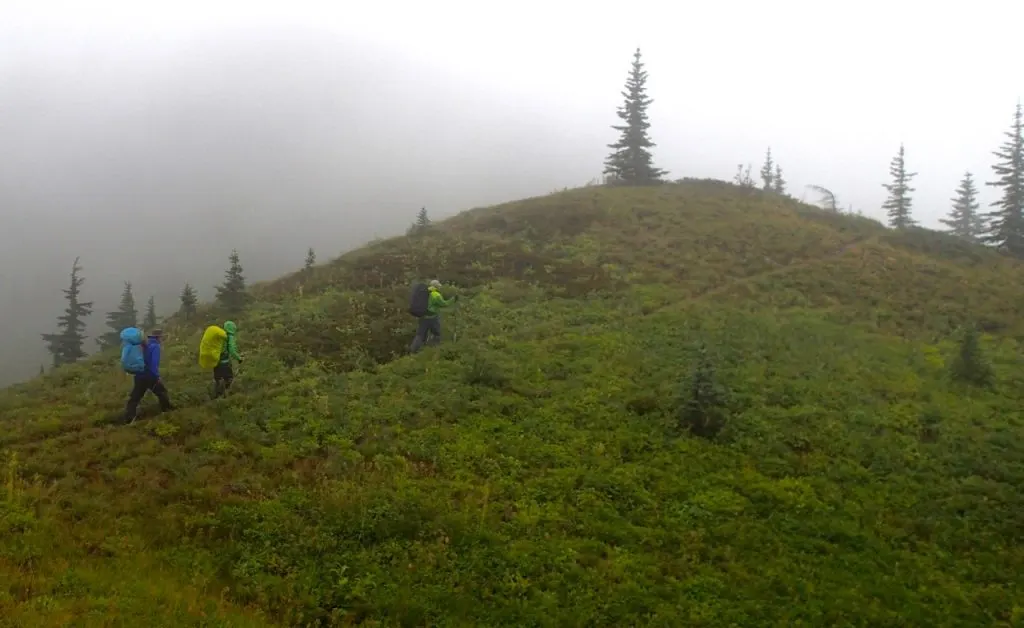 Trekking Poles
In wet weather, I like to use trekking poles. They help me keep my balance on slippery and uneven surfaces. They also are helpful for crossing streams and navigating muddy sections – I use them to probe the bottom to figure out where to step. I use the Black Diamond Alpine Carbon Cork trekking poles.
Warm Layers and Handwarmers
Hiking in the rain can really lower your body temperature. I like to pack warm layers (like an extra long underwear top or lightweight fleece) in addition to my mid-layer. I also bring hand warmers. That way I know I can warm up if I get too chilly.
Blister Treatment Supplies
It's easy to get blisters when you hike in the rain. You are more likely to have wet feet, and the friction can cause chafing and blisters. I always pack some basic blister supplies like blister band-aids. Read my guide to blister treatment for more info.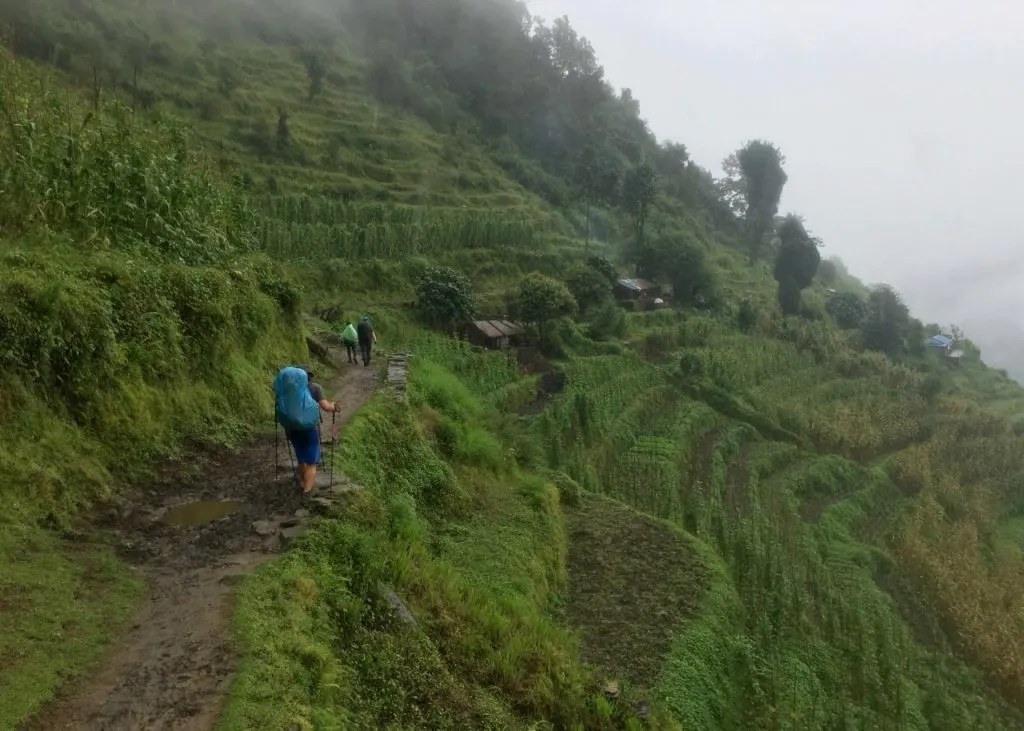 Umbrella
It's unconventional for hiking, but you can use an umbrella. If it's not windy and the trail is wide enough, an umbrella can keep you drier than raingear and can act as a mini shelter to take breaks under.
I find that umbrellas are best in hot and humid conditions – I enjoyed hiking with an umbrella in Nepal and Hong Kong.
You can also get creative and rig the umbrella to sit on the strap of your pack so you can hike hands-free.
Bring

on the Go Snacks

Stopping to have a leisurely picnic isn't going to happen on a rainy hike, so bring foods you can eat on the go. I like to pack granola bars or nuts into my pockets.
Stay Hydrated
It can be easy to get dehydrated in the rain since it's often not that hot out so you forget to drink. I like to use a hydration reservoir so I don't have to stop to drink.
Warm drinks are also nice on a cold and rainy day. I sometimes pack a Thermos of tea or hot chocolate to share.
The 10 Essentials
The 10 Essentials are safety items you should bring on every hike. These items ensure you will be prepared in case you get lost or injured. You should read my full breakdown of the 10 essentials, but in summary, they include
Headlamp or flashlight
Extra food and water
Extra clothing
Map and compass or GPS
Firestarter
First aid kit
Emergency shelter such as a garbage bag, space blanket or emergency bivy bag
Sunscreen and sunglasses
Knife
Emergency communication device such as a satellite messenger or whistle
Tips for Hiking in the Rain
Stay Dry
This might sound impossible since rain is wet and if you go hiking in the rain you are going to get wet. But what I mean is that you should avoid getting your inner layers wet. Once your inner layers get wet, it's really hard to dry them out, and that can make you cold and uncomfortable.
There are two main components to staying dry on rainy hikes. The first is to wear waterproof clothing and boots – put them on before you get too soaked.
The second is to avoid sweating too much since that will soak you from the inside. Wear a waterproof breathable jacket and pants to let sweat out. Open up your pit zips and thigh vents to let your body heat dissipate. And if possible, go at a slightly slower pace so you aren't exerting yourself so much that you sweat.
Watch for Slippery Hazards
When trails get wet, they get slippery and treacherous. Watch out for slippery rocks, tree roots, and steep slopes. Use trekking poles to keep your balance.
Go slow on wet wooden boardwalks and bridges – years ago I watched my father-in-law slip on a slimy wooden bridge on the Cape Scott Trail, then fall six feet into a creek, landing on his head. Thankfully he was fine, but it was terrifying!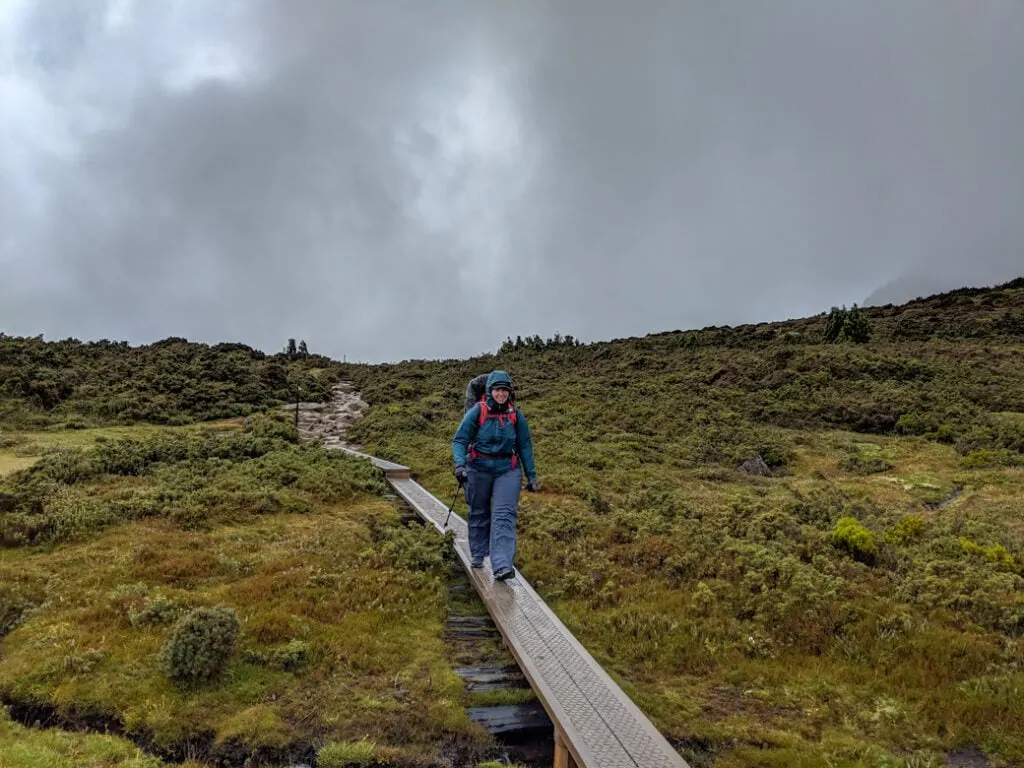 Use Caution Around Creeks and Rivers
Heavy rain can cause watercourses to swell. What was once a gentle creek can become a raging torrent. I avoid hikes with creek crossings in rainy weather since they can become dangerous and unpredictable very quickly.
It's also important to keep in mind that water levels can get higher as a storm rages on. If you crossed a shallow creek in the morning, you may not be able to get back across it later in the day. Read these tips to understand safe river crossing technique.
Flash floods are another hazard to keep in mind. In tight canyons, the water can rise rapidly and trap hikers. Monitor the weather forecast carefully and evacuate at the first sign of danger.
Beware of Lightning
Rainstorms can bring thunder and lightning, which can be deadly. Lightning isn't that common where I live in the Coast Mountains, but it can be an almost everyday occurrence in the Rocky Mountains in the summertime.
Try to avoid being high up in the mountains if a lightning storm is in the forecast. If you do encounter a storm, get inside if possible. If you are stuck outdoors, descend off ridges or mountains. Seek protection in valleys or depressions. Avoid isolated trees. Stay at least 100 feet (30 metres) away from metal objects including your trekking poles, tent poles, and backpack frames. Crouch down on the ground – don't lie down.
A few years ago I was backpacking in Yellowstone National Park when a thunderstorm hit. We spent an unpleasant half hour crouching in a small hollow between hills in the pouring rain. It was scary, but the safest thing to do. You can read more about lightning safety here.
Avoid Hypothermia
Rain and cold temperatures are the perfect recipe for hypothermia. Make sure you stay warm and dry during your rainy hike. In the early stages of hypothermia, people shiver, slur their speech, and act clumsy. These are often called the "umbles": mumbles, stumbles, grumbles. If hypothermia progresses, they can lose consciousness or even die.
Watch your companions for the telltale "umbles", then stop to remove wet clothing, put on warm layers or have a hot drink. Dancing or cuddling can also help to raise body temperature. If the situation is serious, call Search and Rescue for help.
Embrace the Mud
Hiking in the rain pretty much always means hiking in mud. If you have waterproof boots and gaiters, mud isn't a problem. Let go of the idea of staying clean – it's not going to happen. Instead, embrace the mud. Get dirty!
While you might be tempted to skirt around the mud, resist the urge. This widens the trail and causes erosion, which trail maintenance volunteers will have to rehabilitate.
Instead, choose the Leave No Trace route and stay on the trail – walk right through the middle of the mud. You will often find solid ground an inch under the mud or water in the middle of the trail (and a quagmire on the sides), so it's often the best place to walk.
If possible, try to step on rocks to minimize the amount of mud you churn up. You can also use trekking poles to help you keep your balance. I also like to use them to probe in mud puddles – often I can find rocks or roots under the water to stand on.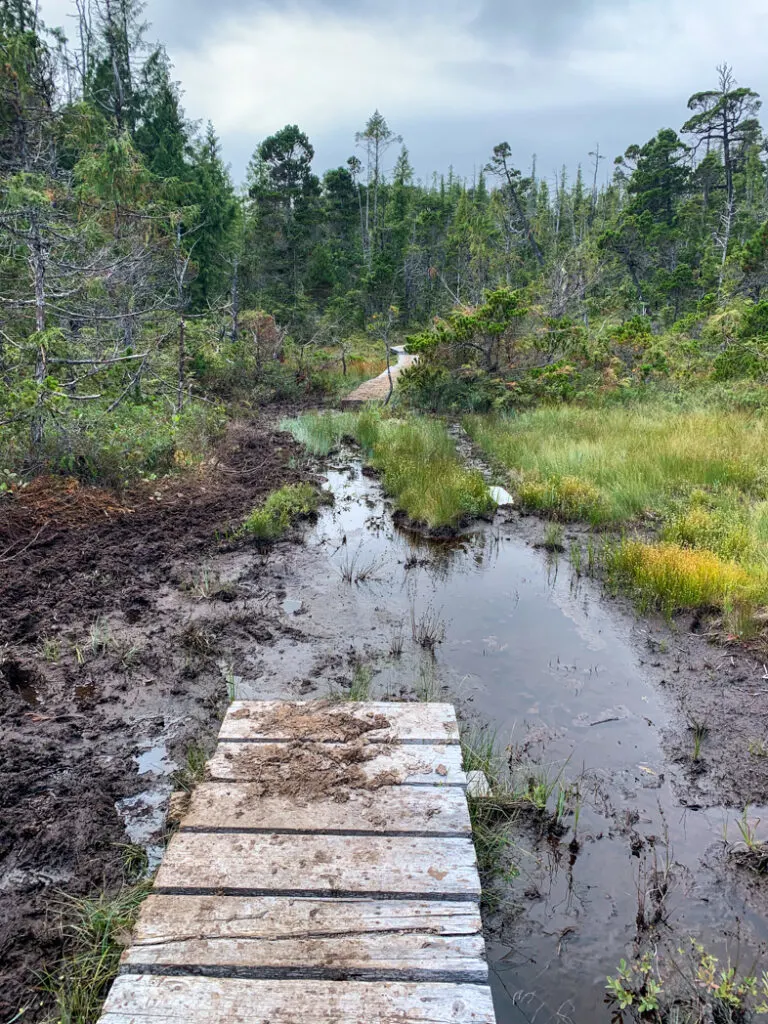 Be Prepared to Turn Around
My goal on a rainy day hike isn't to summit a mountain, reach a viewpoint, or even hike for a certain number of hours. My goal is just to have a good hike. When I go out with that mindset, I find it easy to turn around at any time.
It helps to let go of destination fever. That way you are mentally ready to head back if it's too cold, wet, or dangerous. Often, a series of small errors leads to a big problem in the backcountry. And not wanting to turn around in the rain could be one of those small errors.
Have a Positive Attitude
Learn to love the rain! Here on the Wet Coast, we call it liquid sunshine. If you only go out when the weather is fine, you're only seeing part of the story: In the rain, everything looks greener, the creeks burble louder, the waterfalls gush and you get beautiful misty and moody photo opportunities.
If you set out on a rainy hike thinking that you aren't going to have a good time because it's wet and cold and there are no views, of course, you aren't going to have a good time. Instead, focus on the beauty of what you are seeing. Enjoy a conversation with friends. Get a good workout. Or just focus on how good it's going to feel to take a warm shower later.
Tips for Camping and Backpacking in the Rain
I try to avoid backpacking in the rain and try to alter my itinerary or destination to avoid it, but the weather is unpredictable, so sometimes it happens. Here are my tips for camping and backpacking in the rain.
Bring a Tarp
We bring an ultralight sil-nylon tarp on most multi-day backpacking trips since rain is almost inevitable in coastal BC. It's really helpful to have a dry place to cook, hang-out, and sort gear. It's a huge morale boost to know we have a dry shelter to cook under at the end of the day.
There are tons of different ways to rig a tarp using trees and/or trekking poles and with practice, you'll figure out a few that work for you. We use these great Nite-Ize tensioning carabiners to rig tarps – they allow you to tighten the pitch without tying lots of fancy knots.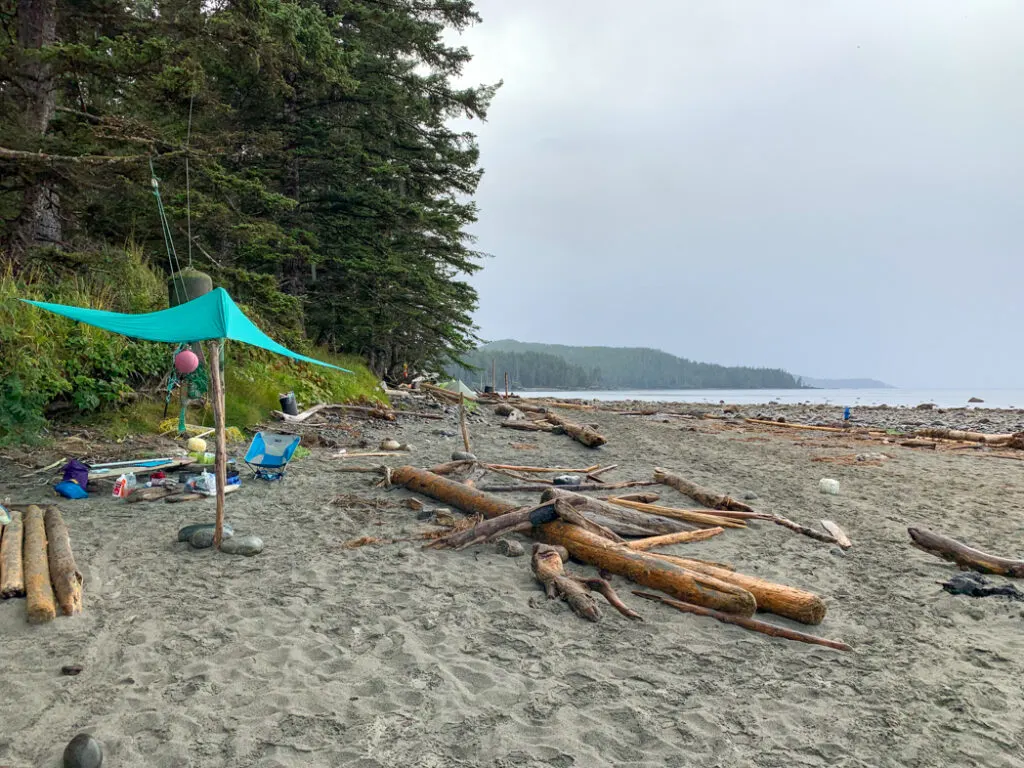 Pack Easy-to-Cook Meals and Lots of Hot Drinks
You don't want to be fussing with a multi-course meal in a rainstorm. You want food that cooks quickly and is easy to eat. I also love hot food on rainy days since it warms you up. Freeze-dried backpacking meals are an easy option but you can also make your own simple meals using rice or pasta. My guide to grocery store backpacking food has lots of meal ideas.
Hot drinks are also key. A mug of hot chocolate, tea, or soup is great for improving food on a cold and wet day. But it also does the important job of warming you up and keeping you hydrated.
Dry Out Your Clothing
Putting cold and wet clothing back on is miserable. If possible, try to dry out your clothing overnight. Hanging wet clothing up under a tarp is the best scenario. You can also rig a small clothesline inside your tent, but this can lead to condensation (more on that below).
It can also be possible to dry out wet clothing with your body heat by wearing them or stuffing them inside your sleeping bag with you. I don't love this method as it can make you colder and can make your other clothing or your sleeping bag wet. However, it does work with items that are slightly damp, rather than soaking wet.
Bring Dedicated Sleeping Clothes
I have sacred sleeping clothes on every backpacking trip – usually thermal long underwear and a pair of warm wool socks. These sacred clothes live inside a waterproof dry bag in my pack and are only ever worn inside my warm, dry tent. Knowing I have a set of warm and dry clothes to change into is an important mood booster and could save my life if I get hypothermic.
Pick a Good Tent Spot
Choose your tent spot carefully to make sure you don't end up in a puddle. Avoid depressions or areas where draining water will pool. You also will want to pay attention to where the water goes when it runs off your tent – you don't want to be channelling it directly underneath you.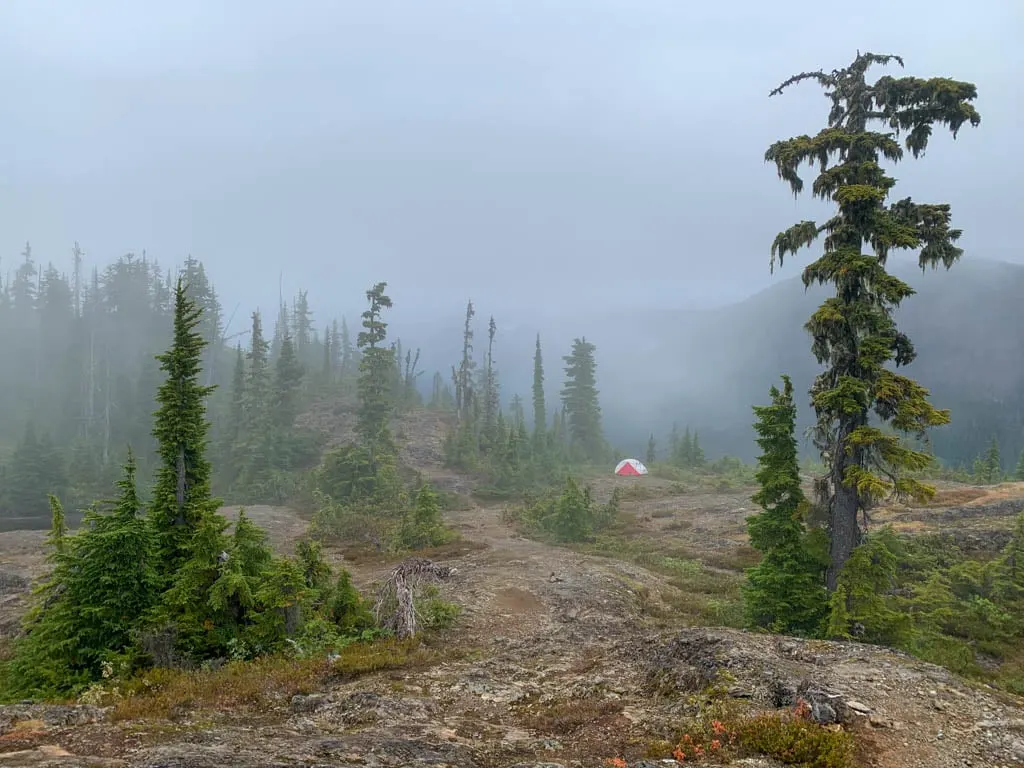 Avoid Condensation
Make sure you pitch peg your tent out well and pitch it tightly. If your tent sags, the fly will touch the inner mesh, which can lead to condensation inside the tent.
Some tents tend to sag once they get wet, especially ones made with nylon. Check the tension on your guy lines and pegs every few hours to make sure it isn't sagging. (I do this when I get up in the night to pee.)
While it might seem counter-intuitive, make sure you keep your tent vents open when it's raining. This lets moisture escape from inside the tent and prevents condensation. You expel moisture with every breath and if it's already humid outside since it's raining, that is a lot of moisture that needs to escape. Most tent vents are safe to leave open unless it is raining sideways.
If possible, avoid bringing wet clothing and gear into your tent – keep them under your tarp instead. The added moisture inside your tent will just cause more condensation and make everything else damp.
Pack a Quick-Dry Towel
I don't go anywhere without a small quick-dry towel. I use the Packtowl Personal Towel. It's super absorbent but really lightweight. It's great for mopping condensation off the inside of my pack or the inside of my jacket. You can also wrap soaking wet soaks or other clothing in a towel and squeeze to get some of the water out.
Things to Do After You Hike in the Rain
Keep a Change of Clothes in the Car
I love being able to change out of my wet clothes for the drive home. I always pack dry clothes in my car. A warm, dry long-sleeved top and cozy dry socks are a top priority for me.
Warm Up at a Cafe or Restaurant
After a soggy hike nothing feels better than wrapping my hands around a hot latte or bowl of soup. Some of my best memories of rainy hikes are not the hike itself (even if it was beautiful) but the time I spent chatting with friends in a cafe afterwards. There's something special about surviving a wet hike that really bonds you!
Having a meal or coffee at a local cafe is also a great way to support local businesses in trail towns. They often depend on hikers for business, and a string of rainy days can mean a big dip in income for them.
Wash and Dry Your Gear
Make sure you wash and dry your wet clothing and gear when you get home. Washing your muddy jackets and boots is important because dirt will clog the pores on waterproof breathable fabrics rendering them less breathable. The dirt can also diminish the DWR (durable water repellency) finish on the outside, making them less waterproof.
Read the label instructions on your waterproof jacket and pants – lots of people think it isn't safe to wash them but that's a myth! They actually benefit from being washed. I like to use Nikwax Techwash since it is formulated specifically for waterproof breathable clothing.
You can hand wash other gear like backpacks and boots in a sink or your tub with dish soap. A scrub brush can be helpful. Just be sure to rinse them really well.
Drying out your gear is also super important because wet gear can grow mold and start to stink! You can hang up wet gear on a drying rack in your garage, on your balcony, or over your tub. I sometimes put an old towel down on the floor to catch drips. (If your gear does start to stink, it's fixable. Read my guide to getting the smell out of hiking clothes for tips.)
To dry boots, remove the insoles and open up the laces as wide as they will go to maximize airflow. You can stuff them with old newspapers or rags to absorb the water. I hike in the rain so much that we invested in an electric boot dryer. It's awesome!
Do you hike in the rain? What other tips for hiking in the rain would you give fairweather hikers to convince them to be all-weather hikers?
READ NEXT: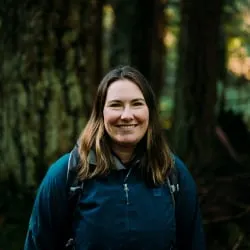 Latest posts by Taryn Eyton
(see all)