Do you NEED to hire a trekking guide in Nepal? No! It's easy to get around on your own. But SHOULD you hire a trekking guide in Nepal? Yes, definitely! I'm an experienced backpacker and have planned dozens of wilderness trips in North America, so at first I was a bit resistant to hiring a guide in Nepal. (I thought guides were just for inexperienced people.) But I was wrong. I'm so glad I hired a guide. It made my trek to Annapurna Base Camp so much less stressful, so much more culturally enriched, and so much more fun. So here are my 6 reasons you should hire a trekking guide in Nepal.
READ NEXT: 8 Things I Wish I Knew Before Going Trekking in Nepal
Navigation and Itineraries
Most trekking routes in Nepal are fairly easy to follow. If you're not sure, you can always ask locals or other trekkers which way to go. Therefore, navigation isn't the main reason to hire a trekking guide in Nepal. But, there can be confusing places with unsigned junctions or areas where new roads have been constructed overtop of trekking routes and your guide can help with that. On my trek, we did meet a couple of trekkers that trekked an extra hour downhill by accident, then had to come all the way back up… in the pouring rain. Oops!
Where your guide is helpful, however, is knowing the trekking route inside-out to design an itinerary that works for you. Within a day or two your guide will know your hiking pace and preferences and can adjust lunch and break stops to accommodate it. You can ask your guide "How long until lunch?" and he will know the route well enough to tell you it is 90 minutes away at your pace, even if the guidebook says it will take more (or less) time.
Hiring a trekking guide in Nepal who knows the area well is also great when the weather doesn't cooperate: Our guide took us to tea stalls to wait out rainstorms. He woke us up at first light when the views of the mountains were best (and let us sleep in when it was cloudy). He also encouraged us to stick around for a few hours at the Poon Hill viewpoint when the sunrise was cloudy, even as other guides led their clients back down to breakfast. He was right: the clouds cleared and we got wonderful views that many others missed (and we didn't mind that breakfast was late).
A trekking guide also has the knowledge to make more drastic changes to the itinerary on the fly: I got heatstroke on my trek and wasn't able to hike as far as we planned. Our guide knew of an out-of-the-way guesthouse along the way we could stop. If we had been on our own we wouldn't have known where to stop and would have walked into the night looking for a place to sleep.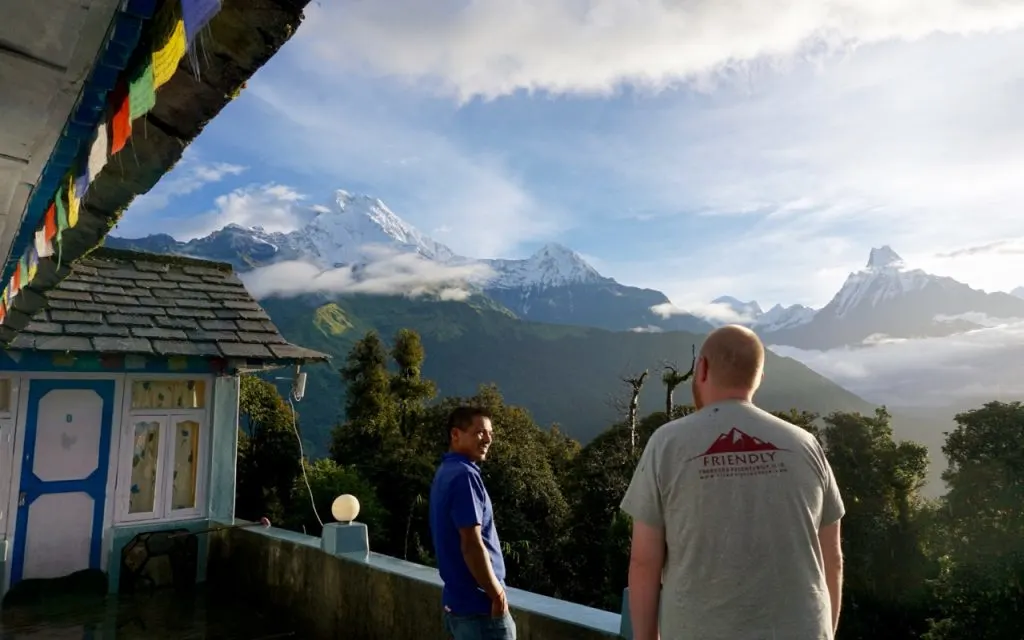 Advanced Bookings and Logistics
When your plane touches down in Kathmandu, all you have to do is put on your boots and go trekking – your guide will take care of everything else. Your trekking guide can take care of all the advanced bookings and logistics for you, including booking hotel rooms for the days before and after your trek in Kathmandu, Pokhara, Lukla or elsewhere, arranging transportation to and from the trailhead (by bus, jeep, airplane, etc.), and picking up trekking permits. You can do all of this yourself of course, but some of it can only be done in person in Nepal, so you will need to take an extra day of your vacation to essentially run errands. It's much better to have a guide to take care of it. You can also email your guide when planning your trip to ask for advice on what to pack or to ask any questions about the trek.
On the trail, your guide will know which guesthouses in the village have better rooms or better food (although they usually all fairly similar). He will also know which guesthouses have Western style toilets and more reliable hot showers (and that's important info!) A guide can also call ahead to the next guesthouse to reserve a room (which only necessary in the busy season). Often your guide will have a good working relationship with the staff at the guesthouses and can arrange for you to get a room with a view or even an ensuite bathroom. At one guesthouse, our guide was friends with the owners family and they shared the wild mushrooms they had harvested that day with us, served on top of a tasty pizza.
If you decide you want to hire a porter rather than carry your own gear, your guide can hire a one for you and determine how many porters your group will need. It will usually be someone from the guide's trekking agency or a person they have worked with before, so you won't have to worry about someone dodgy running off down the trail with all your stuff. As well, while most guides are not porters (that is you are paying them only to guide you, not to carry your things), in a pinch they can help shoulder the load. When I got sick on my trek, our guide carried some of the contents of my bag, and then when I got worse, he carried my whole backpack as well as his own.
READ NEXT: What to Pack for the Annapurna Base Camp Trek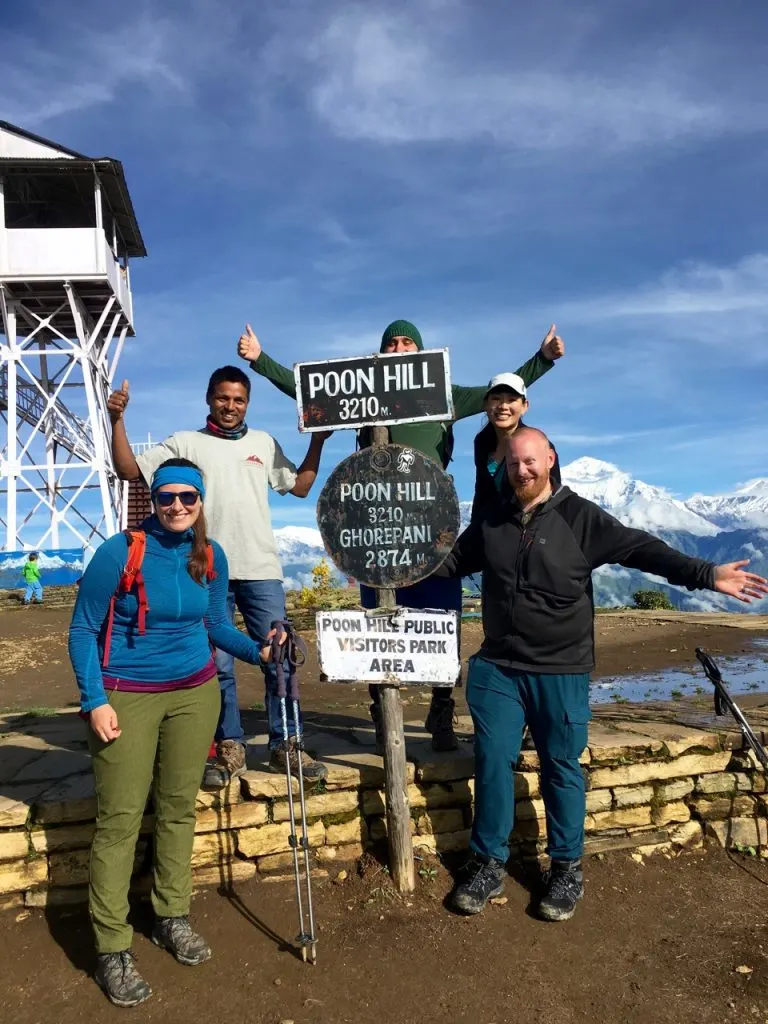 Language
Most people in Nepal speak at least a few words of English (and many speak it quite well) but it is still helpful to hire a trekking guide in Nepal to help translate or to clarify what you want. Our guide helped us order food at guesthouses to ask about menu substitutions or just to see what was fresh that day.
Our guide also taught us a few words in Nepal, which was great for breaking the ice with the locals. When walking through a village I would sometimes call out "Namaste" (Hello) to the farmers who would break out into big smiles when I also said "Namaste cikana! Namaste kukura! Namaste biralo!" (Hello, chicken! Hello, dog! Hello, cat!) to their animals.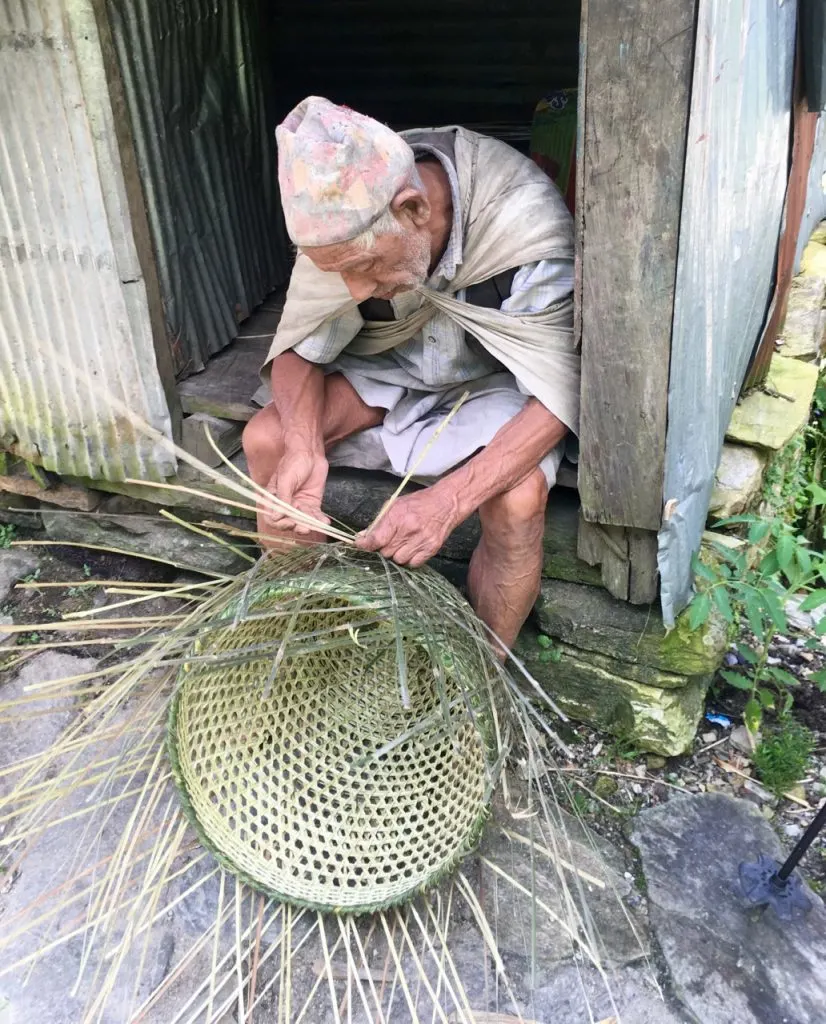 Cultural Experience
Unlike hiking in North America, trekking in Nepal is more of a cultural experience than a wilderness experience. You do get amazing mountain views and wild forest jungles, but mostly you are trekking through villages where local people live and farm, and have done so for generations. And being on the trail for hours a day, you need to pass the time somehow. I found chatting with our guide about what we were seeing and about Nepal in general, made the hours fly by. Our guide patiently answered all my questions about everything Nepali including politics, religion, arranged marriage, geography, and everything in between.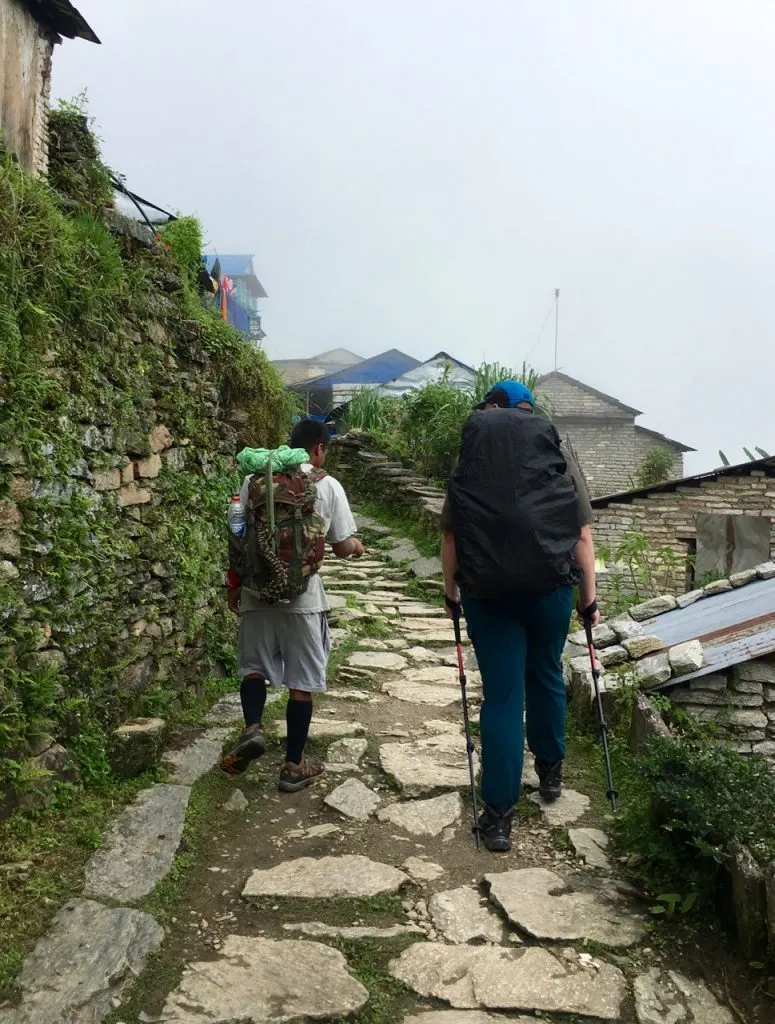 Our guide grew up in the area and told us all about the farming practices there, including which plants were cultivated, when they were harvested, and how they were preserved. And of course, when we ordered meals, he tried to find places that would serve us dishes with plants we had seen growing locally instead of just the standard trekker's fried noodles. At the end of our trek, our guide invited us to his home where we met his wife, children and other members of his family and shared a home-cooked meal. The added cultural experience that our guide gave us was definitely the most valuable part of his services. I really felt like I had experienced the Nepal that locals know, not just the touristy parts of Nepal. And by the end, our guide didn't feel like an employee, but like a friend.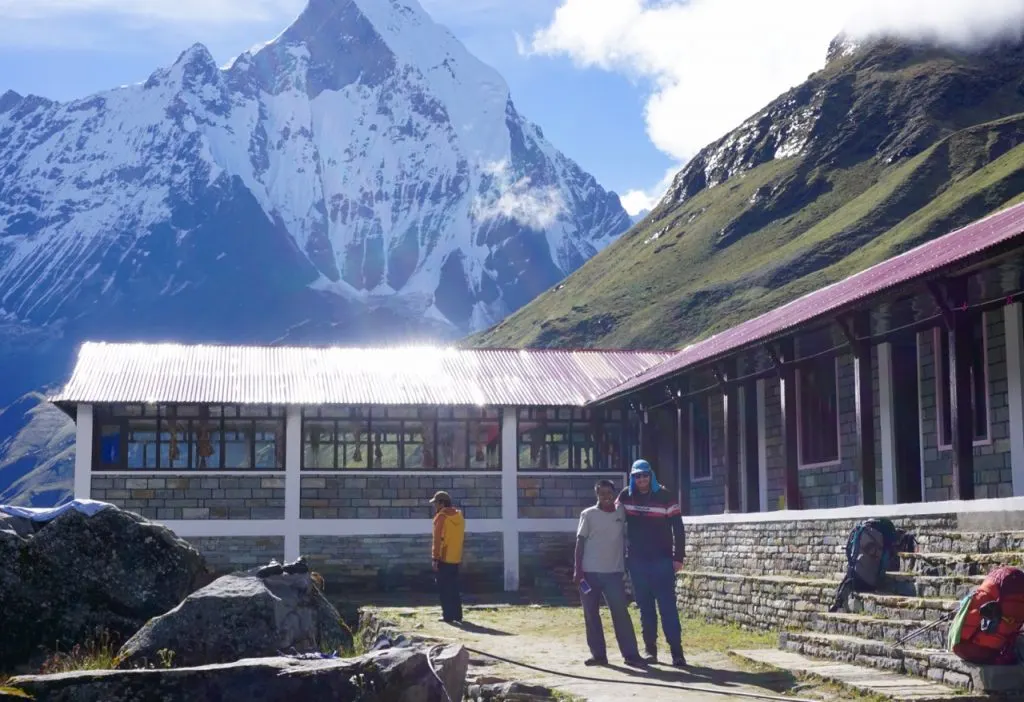 READ NEXT: Trekking to Annapurna Base Camp
Low Cost to You and High Benefit to the Local Economy
Hiring a trekking guide in Nepal might sound expensive, but it is actually really cheap for Westerners. The daily rate (as of fall 2016) for a certified trekking guide in Nepal is around $20-30USD (plus tips of course). If you split the cost between a couple people, it's about the price of a fast food meal back home. From what I can tell, the guides are paid fairly and working as a trekking guide is a well-paying job. Unemployment and poverty are high in Nepal and many men leave Nepal for the Persian Gulf or South East Asia where they work as labourers, sending money home to their families that they can't afford to fly back to visit. By hiring a trekking guide in Nepal, you help provide important jobs for Nepalis that keep them closer to their families.
Tourism is Nepal's largest economic sector. However, the 2015 earthquakes have scared many tourists away from Nepal. The earthquake damaged some of the cultural sites and a few trekking routes, but the majority of the trekking routes (including the Annapurna Base Camp route that I trekked) were largely unaffected. The tourism industry in Nepal is suffering and one of the best things you can do to help Nepal recover is to go visit and spend your money at local businesses, including trekking agencies.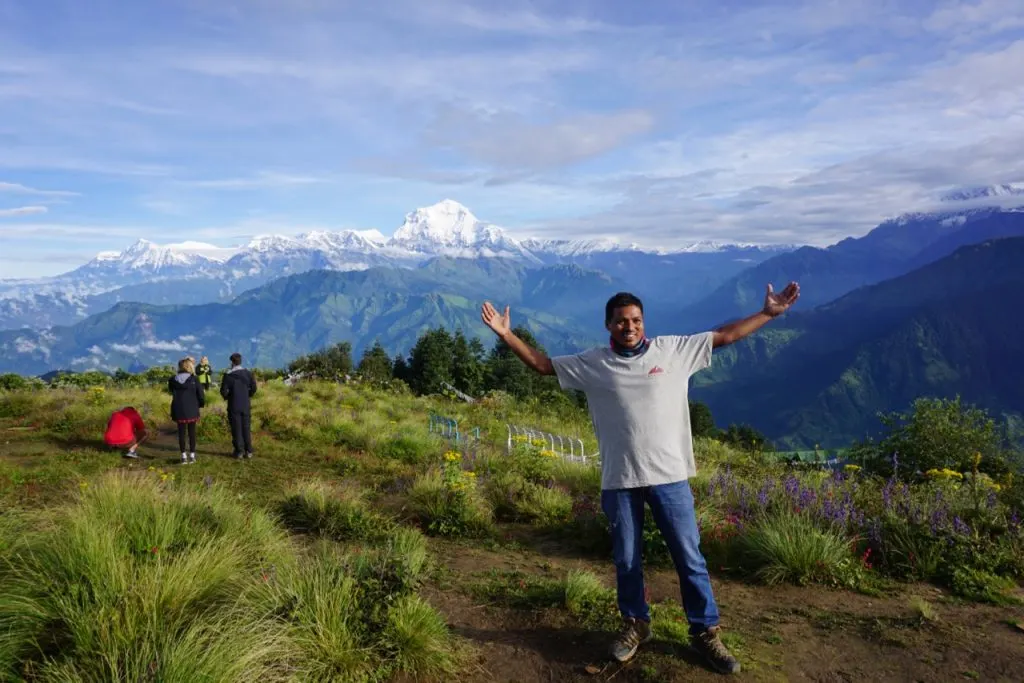 Increased Morale
Trekking in Nepal is beautiful and for the most part, it is not too strenuous, but it is also not easy. The endless stone steps to climb and descend, the temperamental weather, the thin air at altitude and the long days on your feet can all wear on your psyche. A good guide will keep your spirits up, distracting you with cultural facts, suggesting you stop for a hot cup of tea, telling jokes, or pointing out a beautiful waterfall you might have missed while staring at your boots. Our guide Chandra's near constant smile was infectious and I often smiled as well, even if I really wasn't that happy to be walking in the rain. Each day Chandra would find the day's best moment and make sure we commemorated with a group photo where we held up our fingers to show what day of the trek it was.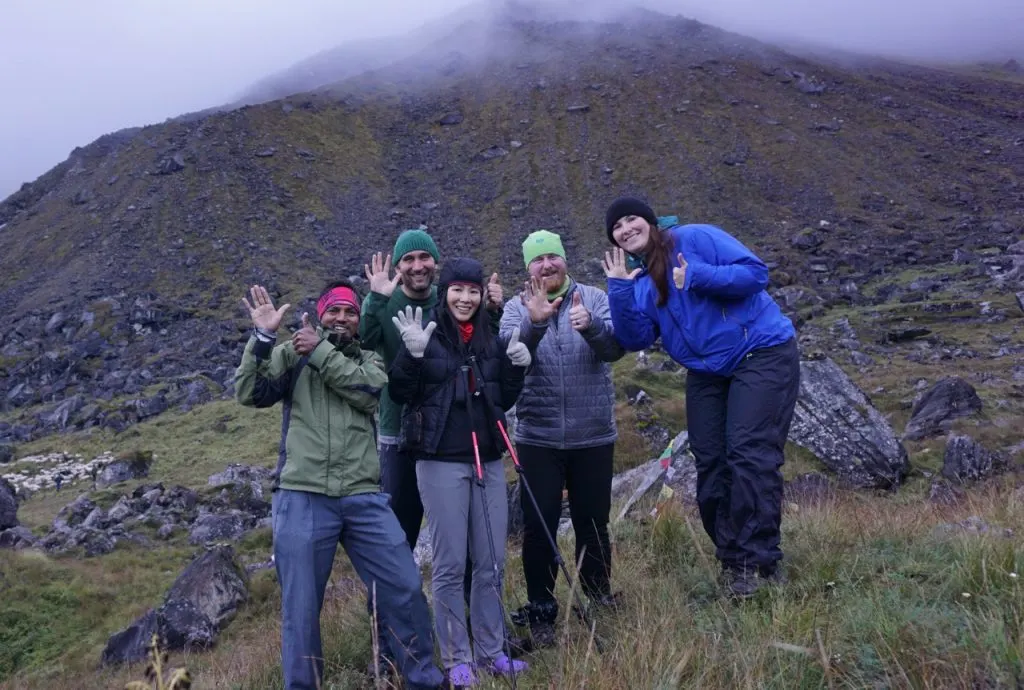 Bonus: Tips for Hiring a Trekking Guide in Nepal
We didn't have to do that much work to find a trekking guide as a co-worker recommended our guide, Chandra of Friendly Trekkers Adventures. Chandra was wonderful (so wonderful that I wrote a whole blog post about why you should hire a trekking guide). I highly recommend him or any of the other guides from his trekking agency.
My advice for hiring a trekking guide in Nepal is to ask people who have hired a guide in the past. If you don't know anyone personally, ask on travel message boards or read TripAdvisor reviews of trekking companies in Pokhara and Kathmandu. Choose a guide who is familiar with the trekking area and speaks Nepali and English well. Hire a local Nepali guide from a Nepali trekking agency that is registered with TAAN, the trekking guide regulatory body. Correspond with your guide by phone or email to ensure you have a good fit before booking. Many Western tour operators offer guided packages that use both Western and Nepali guides. These packages can be very expensive and may not give you the same local cultural experience as hiring a Nepali. (As well, much of your money stays with the Western tour operator instead of going to the local economy.)
Do you have more questions about what it's like to trek with a guide? Ask me in the comments!
Read Next: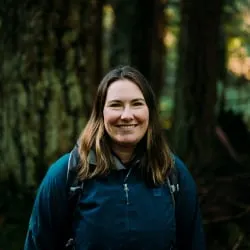 Latest posts by Taryn Eyton
(see all)