Earlier this year I spent 10 days in Yellowstone National Park. It's a big park and there is a LOT to see and do. Even in 10 days, I didn't manage to see everything. Before my trip, I did a bunch of research to figure out what there is to do in Yellowstone and which things were a priority for me. (Spoiler: hiking and wildlife.) Now that I'm home I'm combining all that pre-trip research with lots of literal boots-on-the-ground research in this GIANT list of 70 things to do in Yellowstone National Park. There's something for every visitor on this list including hiking, boating, history, wildlife, waterfalls, geysers, nature education, winter activities, and cowboy stuff.
Hey there: Some of the links in this post are affiliate links, which means I earn a small commission at no extra cost to you if you make a purchase. Thanks for supporting my website! -Taryn
This is a sensitive wilderness area. Learn how to Leave No Trace to keep the wilderness wild. Make sure you are prepared by bringing the 10 Essentials. Get ready for adventure with this checklist of things to do before every hike.
WANT MORE YELLOWSTONE INFO? Check out these posts:
Top 5 Things to do in Yellowstone You Shouldn't Miss
It's not really a trip to Yellowstone unless you see these five things! No matter what you do on your trip, or how long you spend in the park, make sure you see these. There are tons of things to do in Yellowstone in this post, so if you're trying to decide where to start, make it these 5 things.
1. Visit Mammoth Hot Springs
The geothermal Mammoth Hot Springs in the northern part of Yellowstone don't look like the hot springs anywhere else in the park. They are uniquely stair-stepped travertine terraces, formed when hot water bubbles up through limestone rock. The hot water dissolves the limestone into calcium carbonate, which then re-solidifies into new shapes, formed by water. The Mammoth Hot Springs area is really big, so be sure to explore different parts of it. There are lots of boardwalk paths winding through it, or you can drive the Upper Loop road and see some of the features from your car.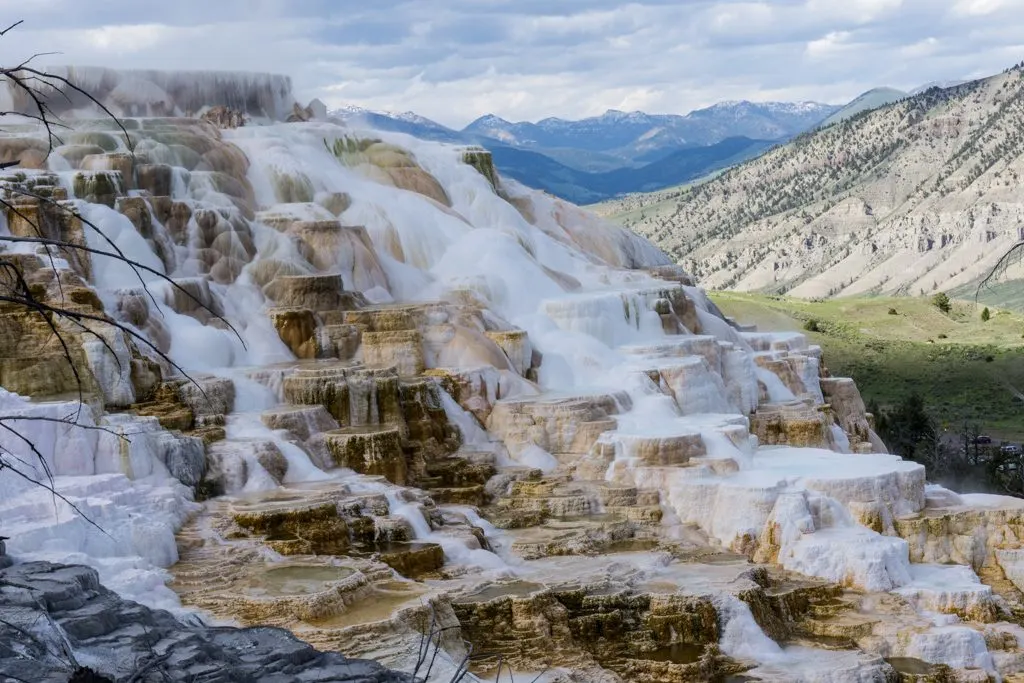 2. Watch a Geyser Erupt
For most visitors, watching Old Faithful erupt is a Yellowstone must-see. Old Faithful is pretty spectacular, so it's definitely worth visiting. However, there are literally hundreds of other geysers in the park. In fact, there are more geysers in Yellowstone than in any other place on Earth! A few of the large geysers erupt regularly. You can get info on when they are next predicted to erupt at ranger stations or online. But you're likely to stumble across an erupting geyser in any of the geothermal basins in the park. We were lucky enough to see Steamboat Geyser at the tail end of of one it's enormous eruptions.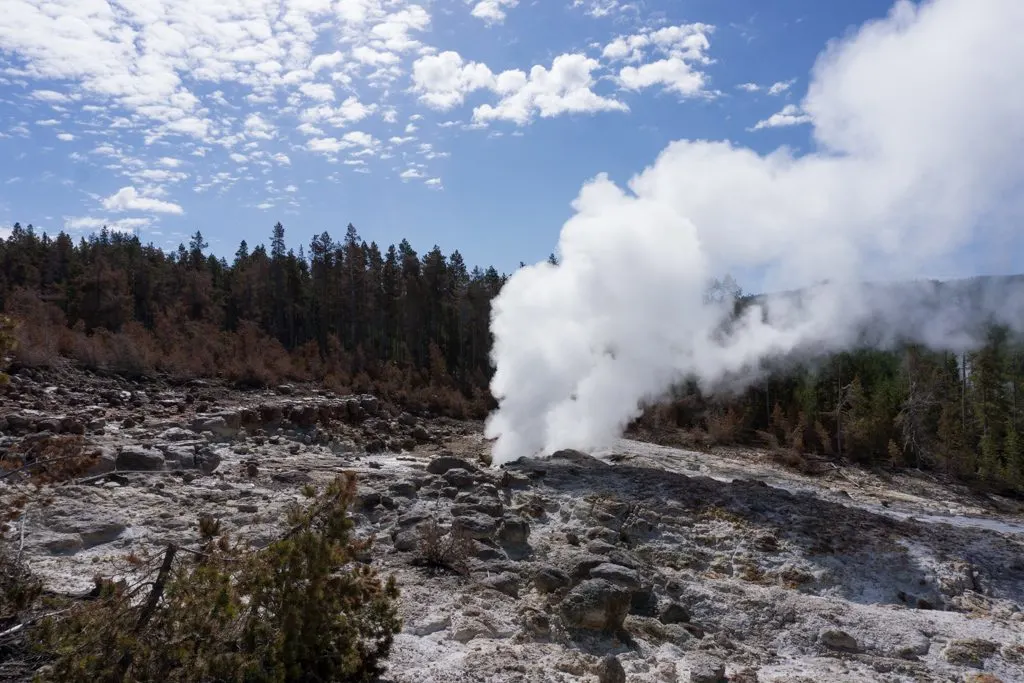 3. See the Rainbow Colors of Grand Prismatic Spring
As one of the biggest hot springs in the world, and one of the deepest, Grand Prismatic Spring is pretty… grand! But the real reason it is so popular is the beautiful rainbow colors around its edges. The colors actually come from different types of heat-loving bacteria growing around the rim of the spring. (Fun fact: heat-loving organisms are called "thermophiles".) The rainbow colors come from the differences in water temperature. You can find Grand Prismatic Spring in the Midway Thermal Basin. But if you want to see the spring from above, be sure to hike to the overlook on the Fairy Falls Trail.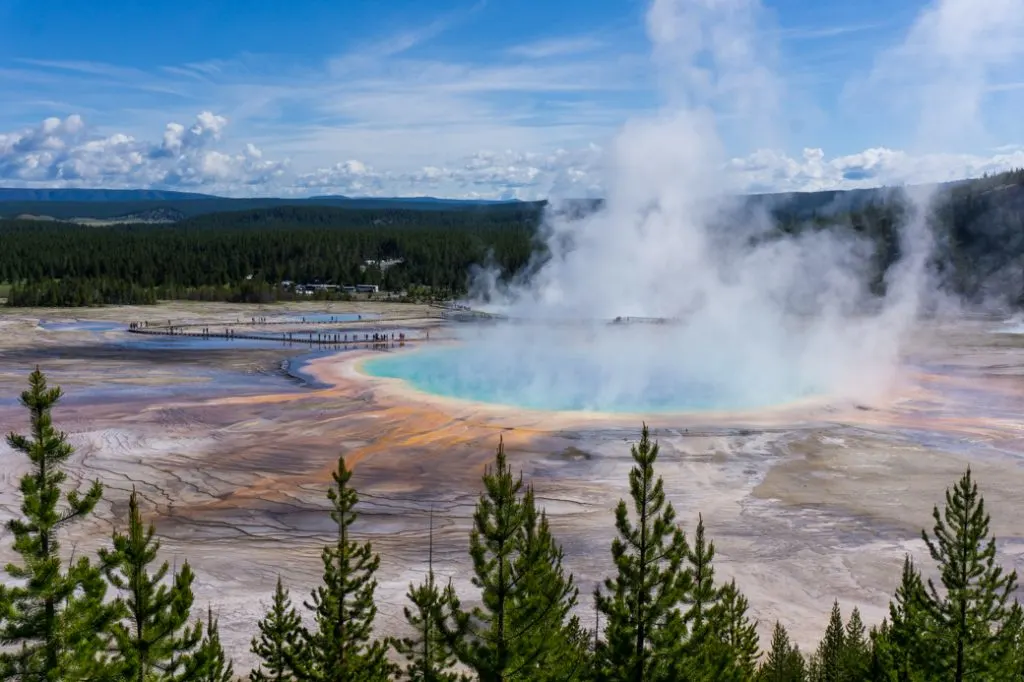 4. Stand on the Edge of the Grand Canyon of the Yellowstone
Before visiting, I had no idea that Yellowstone has its own Grand Canyon. The Yellowstone River has carved a deep canyon in the volcanic rock. Ongoing geothermal activity leaves colorful mineral deposits on the canyon walls and you can spot puffs of steam here and there.
The entire canyon is about 20 miles long, but you can see the best parts by visiting viewpoints on the rim. My favorites were Inspiration Point and Grand View. You can also climb stairs down into the canyon for a closer view at Red Rock Point, Brink of the Lower Falls and Uncle Tom's Trail. For a different view without the crowds, try the hike to Point Sublime.
One of the best ways to learn about the unique geology is to go with a naturalist. Sign up for this Grand Canyon of the Yellowstone loop hike that includes a guide, snacks, lunch, and tons of views.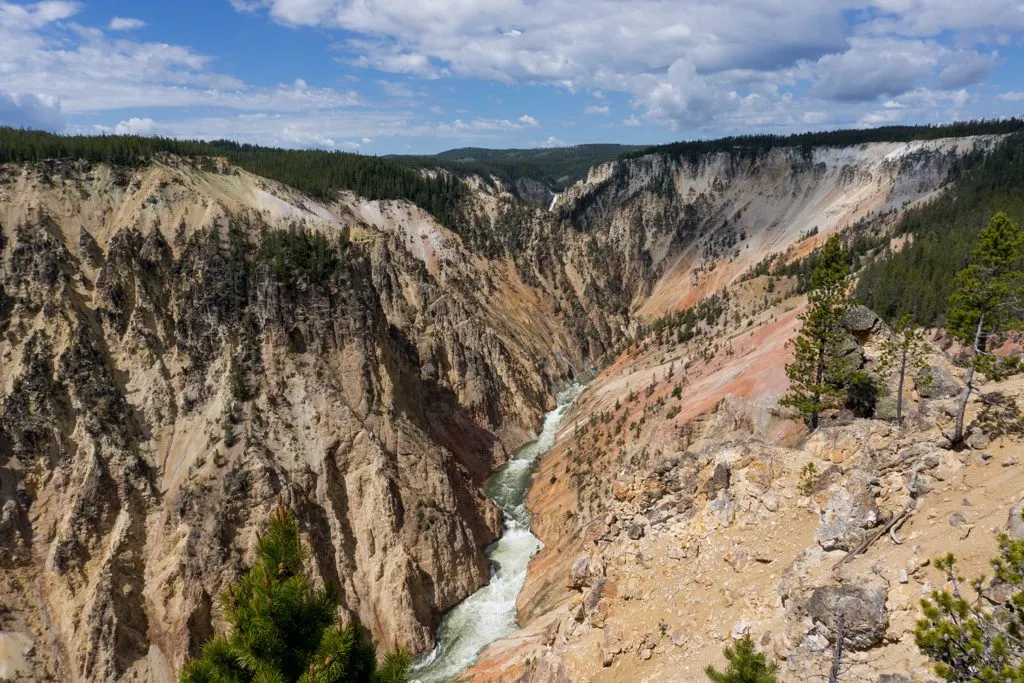 5. Spot Some Wildlife
Before Europeans settled the American West, it was home to a multitude of animals. Yellowstone National Park is one of the few places that has preserved the ecosystem and allowed indigenous wildlife to thrive. And that makes it one of the best places to watch wildlife in America. You can spot grizzly bears, black bears, elk, pronghorn, buffalo, wolves, coyotes and more. Hands down, wildlife watching was my favorite thing to do in Yellowstone. The best wildlife watching is usually near dawn. I recommend binoculars or a spotting scope to get a better look. (Check out all my gear recommendations in my Yellowstone packing list.)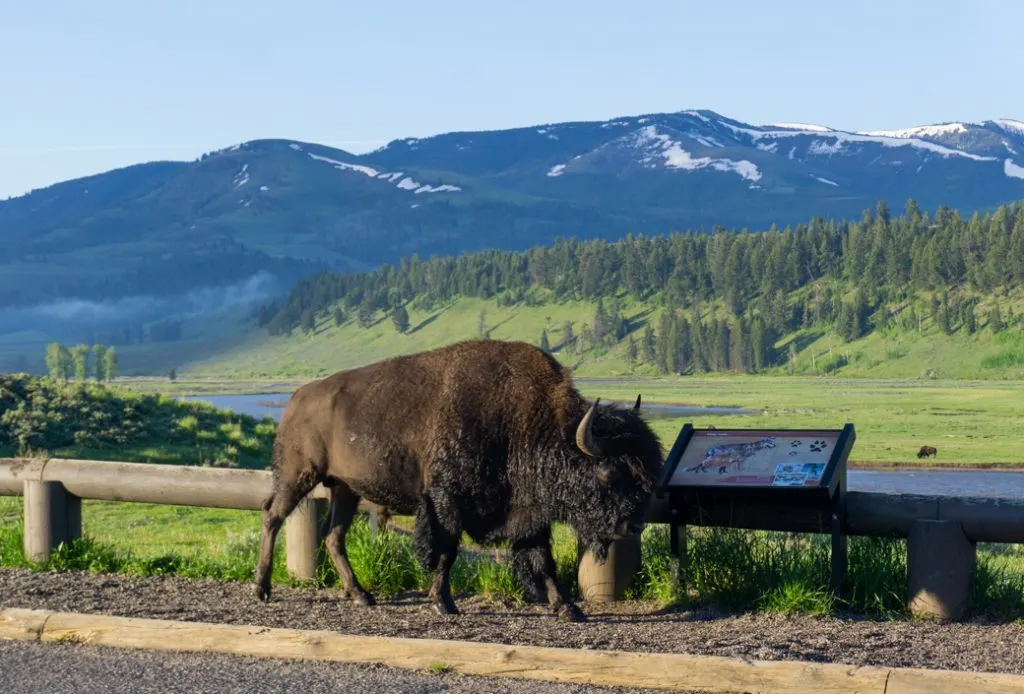 Visit a Hydrothermal Area
Yellowstone has one of the largest concentrations of hydrothermal features on earth. There are over 10,000 features including hot springs, geysers, mudpots, and fumaroles. Here's a list of the 12 main places to see them.
Norris Geyser Basin
The Norris Geyser Basin contains the oldest, hottest and most active thermal features in Yellowstone. There are two main areas: Porcelain Basin and Back Basin. A network of paths and boardwalks snakes through them both. Be sure to check out Steamboat Geyser. It's the world's tallest geyser at 300+ feet. I was lucky enough to see the tail end of a major eruption on my visit.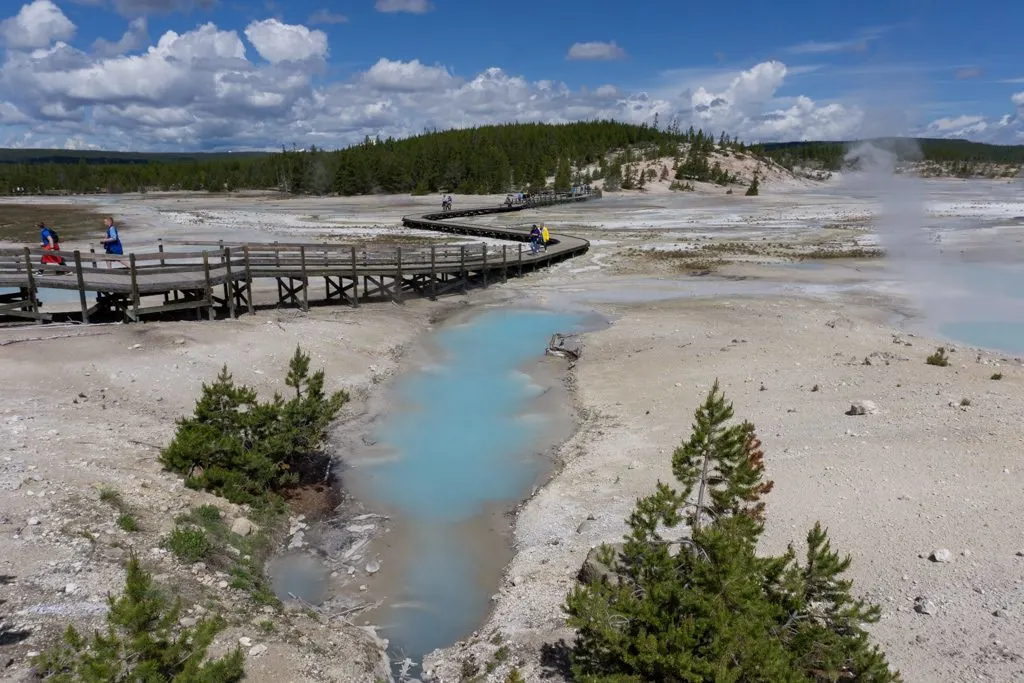 Upper Geyser Basin
Most people head to Upper Geyser Basin to see Old Faithful. And while it is spectacular, there are tons of other geysers in the area. In fact, the Upper Geyser Basin has the highest concentration of geysers in the park. Don't miss Castle, Grand, Daisy, and Riverside Geysers. And be sure to walk the easy Upper Geyser Basin trail as it passes by numerous thermal features.
To get the most out of your visit, sign-up for this Upper Geyser Basin tour. The easy hike is led by a naturalist who will explain the geothermal phenomenon, plus it includes lunch.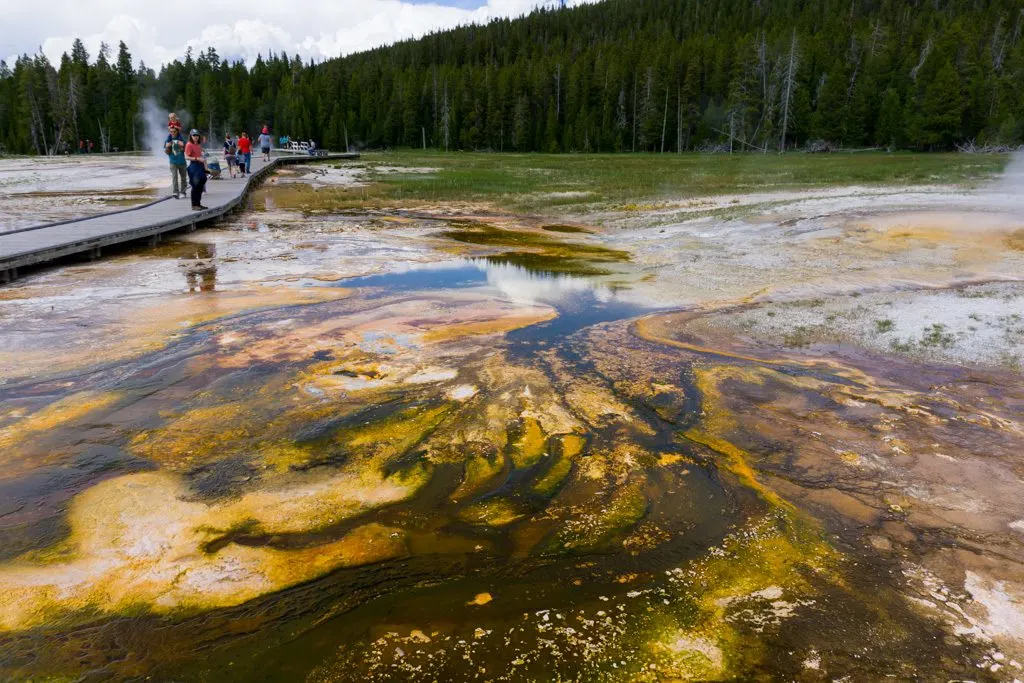 Biscuit Basin
This small thermal area near Old Faithful used to have biscuit-like deposits around the pools. But an earthquake in 1959 changed that quickly! If you visit today, check out the deep blue Sapphire Pool and the bright yellow Mustard Spring. Stick around for at least 10 minutes to see the Jewel Geyser erupt.
Black Sand Basin
Black Sand Basin is another small thermal area next to Old Faithful. It's an easy 1-mile walk and it also has limited parking. Key features are the colorful Emerald Pool, Rainbow Pool, and Sunset Lake. You can also watch Cliff Geyser erupt on the banks of the creek every few minutes.
Midway Geyser Basin
The star of the show at Midway Geyser Basin is rainbow-colored Grand Prismatic Spring. While it's cool to see the colors of the spring up close from the boardwalk paths, you'll get a better view of it from the Fairy Falls trail.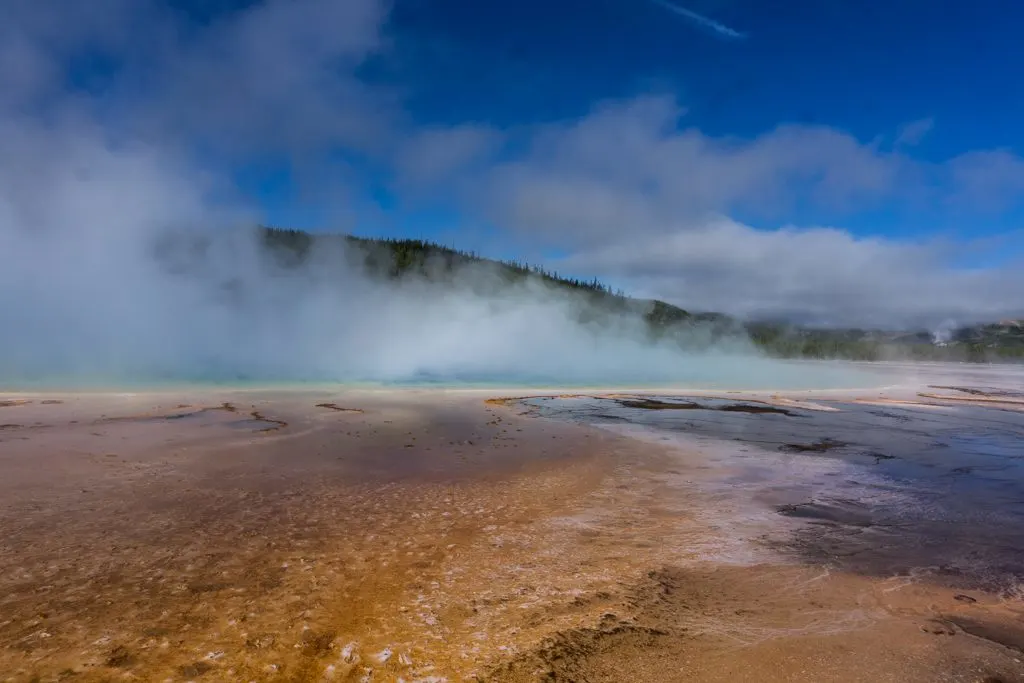 Firehole Lake Drive
The 2-mile long, one-way Firehole Lake Drive is part of the Lower Geyser Basin thermal area. Along the drive, you'll pass geysers, hot lakes, and hot springs. There are a few parking areas where you can get out to take photos. Check the eruption schedule for the Great Fountain Geyser ahead of time to see if you can watch it go off.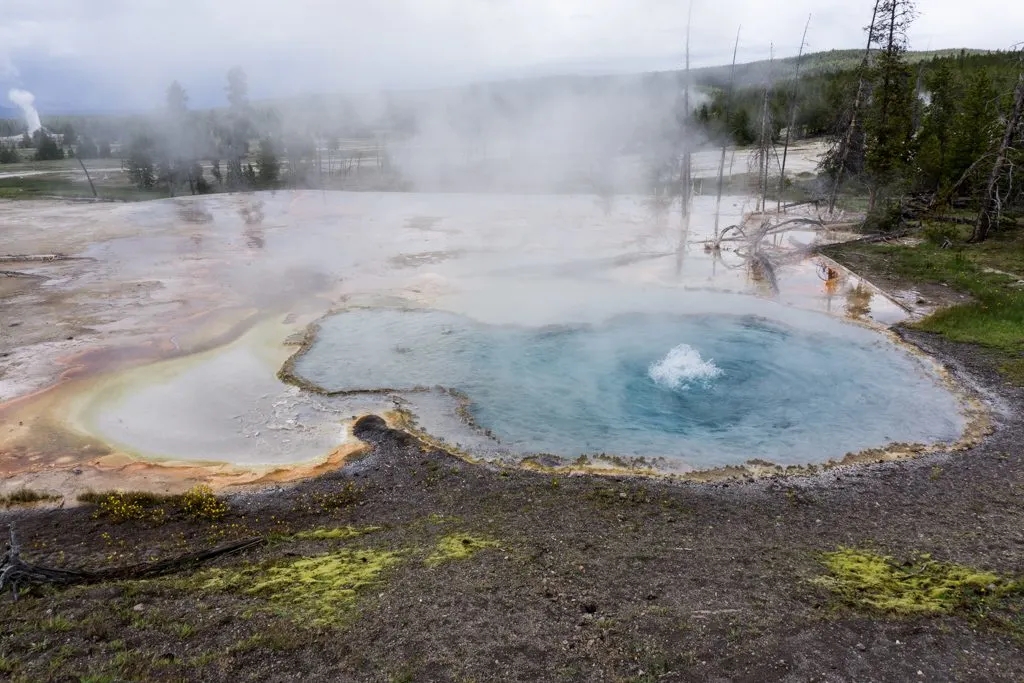 Fountain Paint Pots
The Fountain Paint Pots are also in the Lower Geyser Basin. A half-mile boardwalk loop takes you through the area. You will see geysers, hot springs, mudpots, and fumaroles.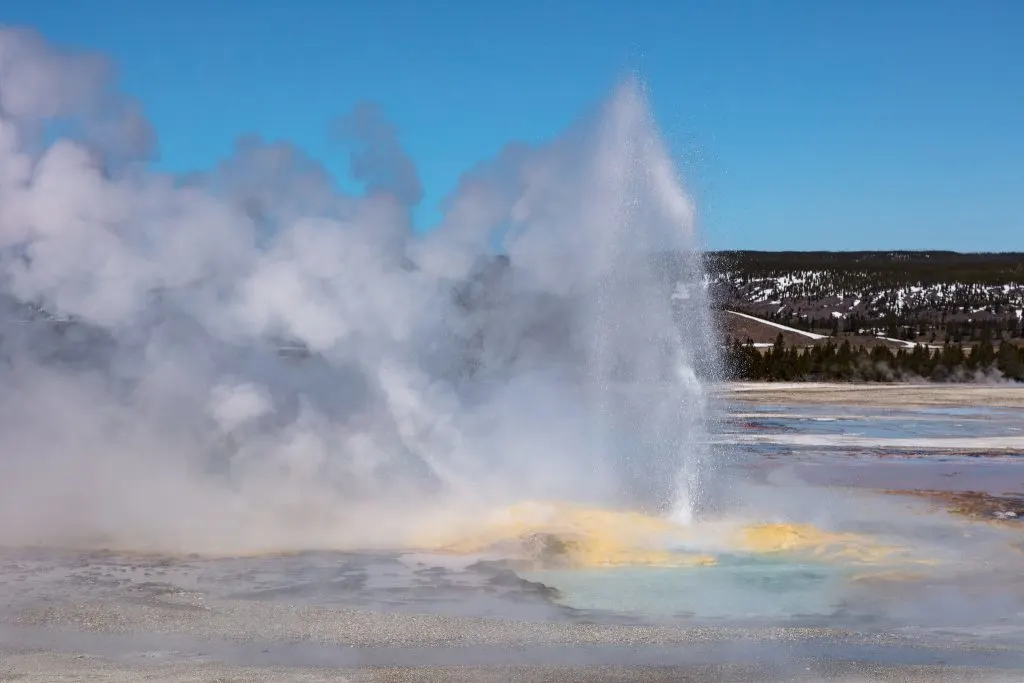 West Thumb Basin
The West Thumb Basin sits on and under the shores of Yellowstone Lake. The entire West Thumb of Yellowstone Lake is an old volcanic caldera, which explains the thermal activity here. The half-mile loop trail takes you past lots of springs, mudpots, and pools. Near the lakeshore, you'll find Fishing Cone. In the early days of the National Park, visitors would catch trout in the lake, then swing their line into the mouth of the geyser to cook their fish!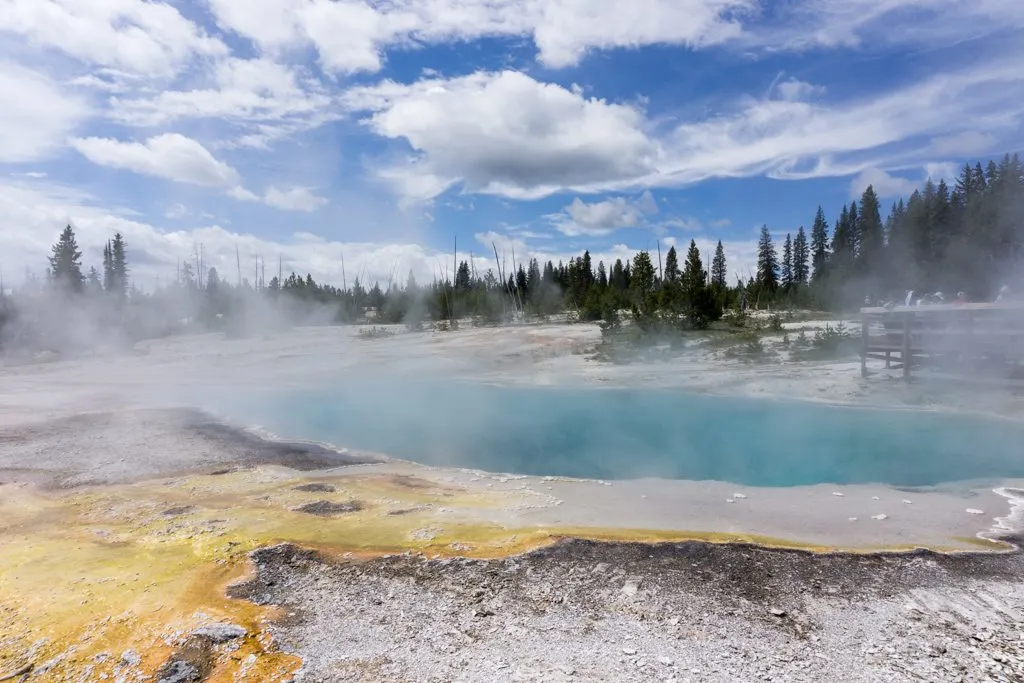 Mud Volcano
If you have a sensitive nose, you won't like the smell at the Mud Volcano. Mud and pungent hydrogen sulfide gas burble up from the depths, making the whole place smell like rotten eggs. A 0.6-mile path winds through the features. Be sure to head across the road to visit Sulphur Caldron too. It's the most acidic spring in Yellowstone.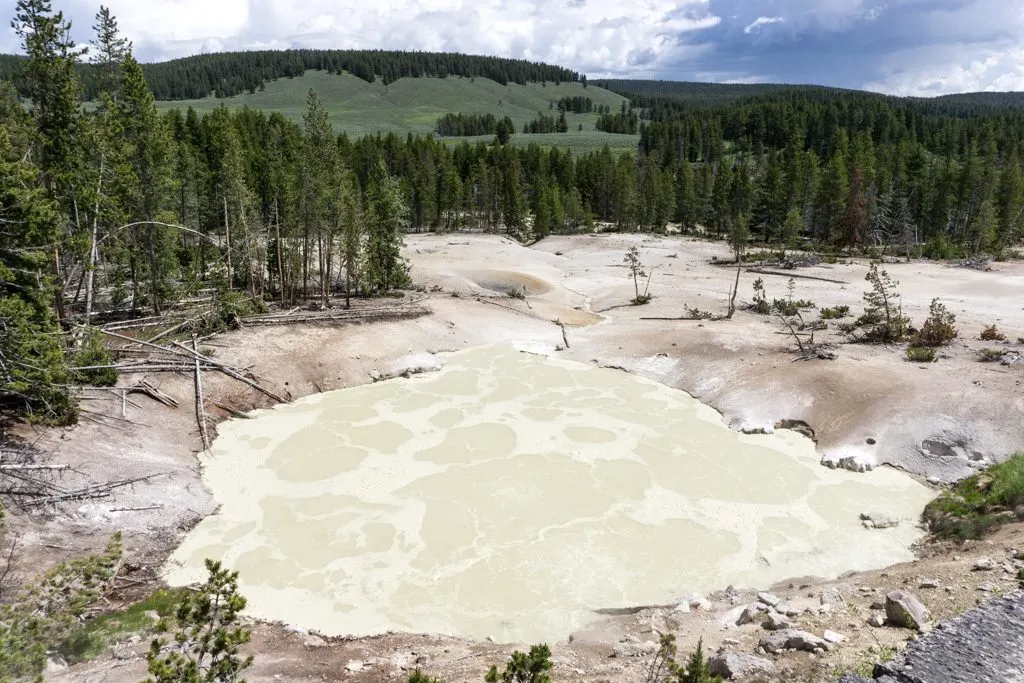 Artists Paint Pots
This small thermal area is just south of the Norris Junction. It's less popular than some of the other thermal basins, so it's great for escaping the crowds. There's a 1.6-mile loop trail that goes past colorful hot springs and mudpots.
Terrace Spring
Another small, and off-the-beaten-path thermal area, you will find Terrace Spring just north of Madison Junction. There's a short boardwalk to a few springs in a grassy meadow.
Beryl Spring
Boiling Beryl Spring is one of the hottest springs in Yellowstone National Park with temperatures up to 196 °F (91 °C). It's a quick stop along the road between Norris and Madison. Just look for the steam!
Go Chasin' Waterfalls
Thanks to the interplay of glaciers and volcanoes, Yellowstone National Park is home to lots of waterfalls. Here are 8 Yellowstone waterfalls you can visit without going on a long hike.
Tower Fall
Tower Fall plummets 132 feet (40m) down Tower Creek towards the Yellowstone River. There are some eroded rock pinnacles at the top of the falls, giving it its name. You can see the falls from a short path. Years ago, you could take a trail all the way down to the bottom of the falls, but erosion damaged it beyond repair. You may have seen a famous painting of Tower Fall by American artist Thomas Moran. This painting was one of the key factors in persuading Congress to create Yellowstone National Park.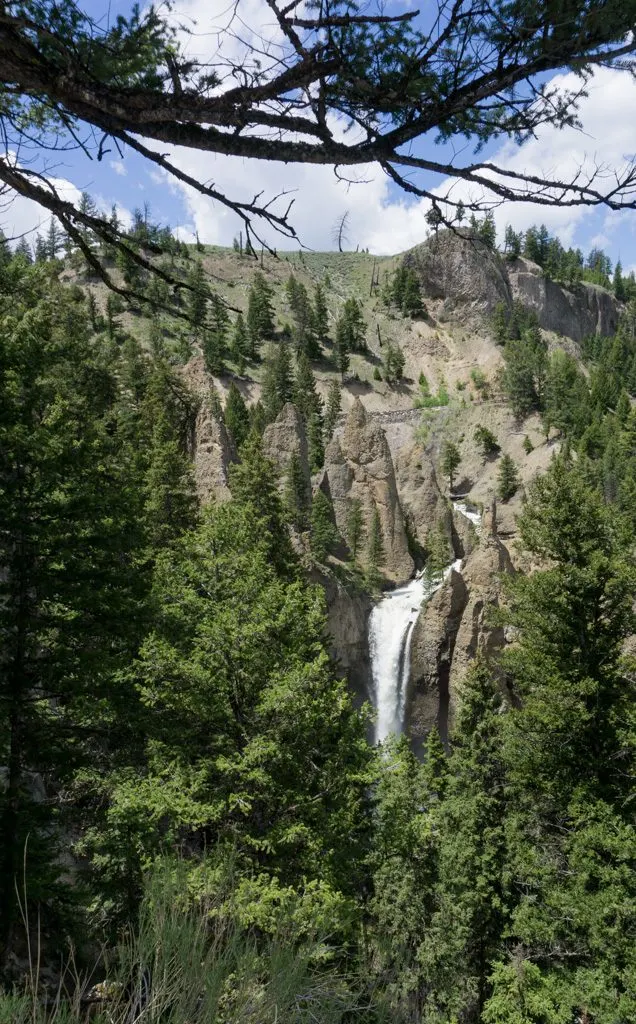 Upper Falls
Upper Falls is one of two show-stopper waterfalls in the Grand Canyon of the Yellowstone. It drops 109 feet (33m). The best places to see Upper Falls are from the Brink of Upper Falls viewpoint or Uncle Tom's Trail. Unfortunately, both were closed for construction during my visit. However, you can also see Upper Falls from a viewpoint on the South Rim Trail near Uncle Tom's Point.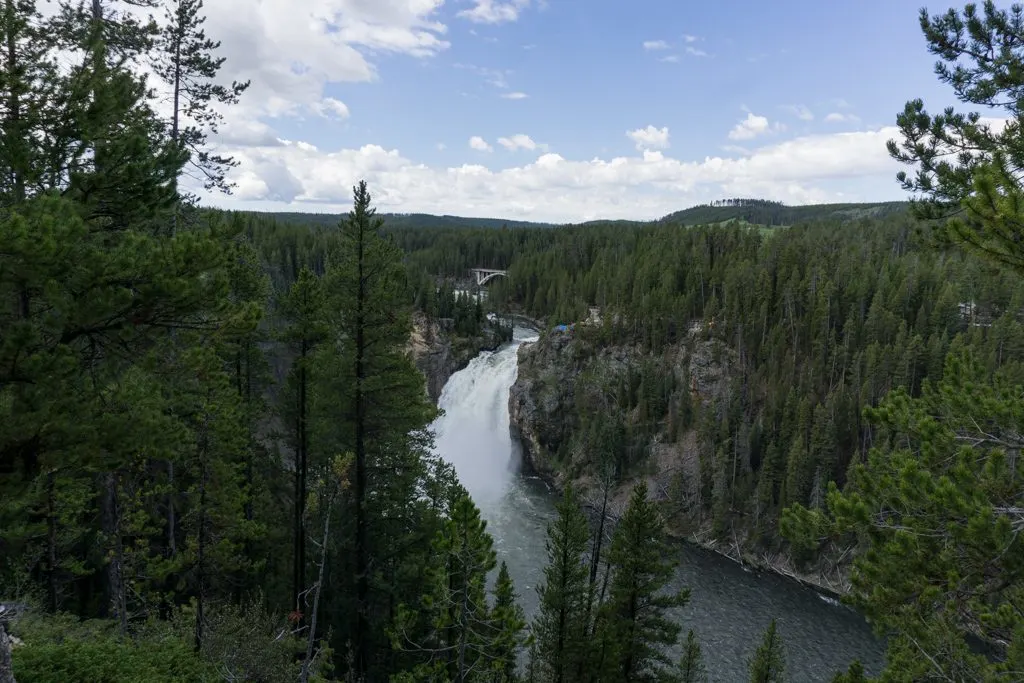 Lower Falls
The other major waterfall in the Grand Canyon of the Yellowstone is called… you guessed it… Lower Falls. It's 308 feet (94m) high. You can see it from Lookout Point on the North Rim Drive. But I think you can get a much better view by descending the stairs and switchbacks to Red Rock Point or Brink of the Lower Falls Viewpoint. Just remember that you'll have to climb all the way up again!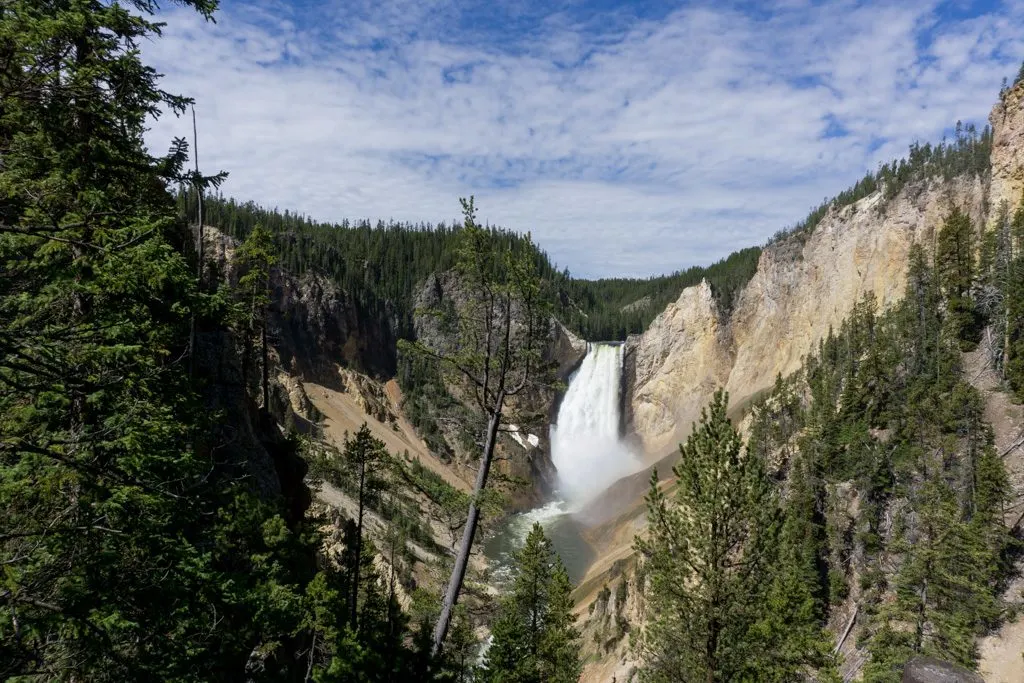 Firehole Falls
If you drive the one-way scenic Firehole Canyon Drive, be sure to stop to see Firehole Falls. It's 40 feet (12m) high.
Gibbon Falls
If you slow down, you can see Gibbon Falls from the road between Norris and Madison. But take the time to pull into the parking lot and walk the short paved trail. It leads to several viewpoints of the 84 foot (26m) falls.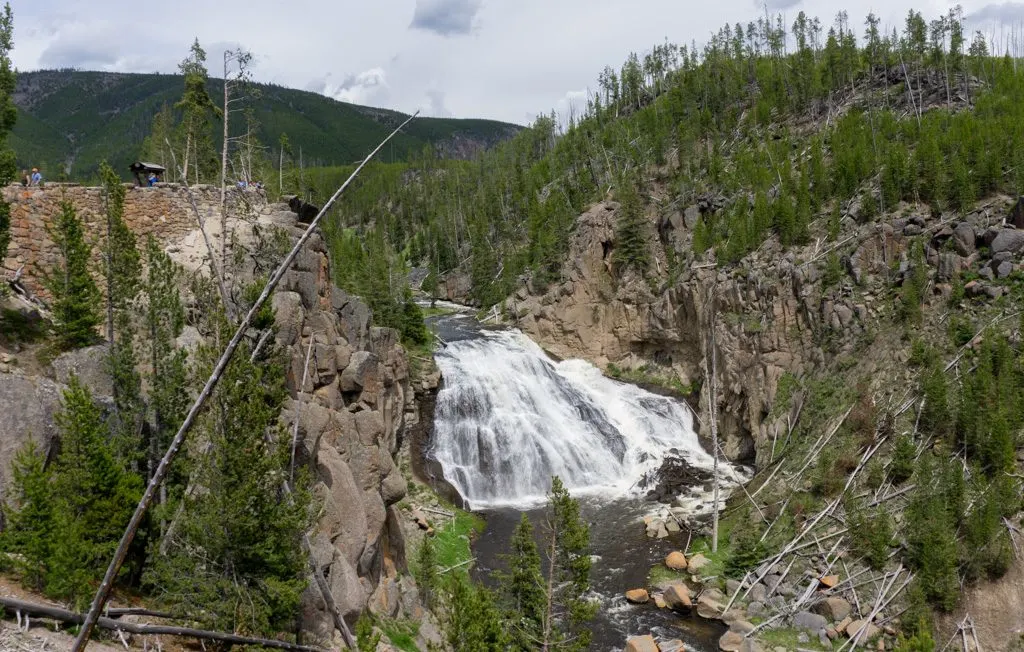 Undine Falls
Pull over on the road between Mammoth and Tower Junction to see 60 foot high Undine Falls. There's a viewpoint right next to the parking lot where you can take photos of the double-tiered falls.
Wraith Falls
In order to see Wraith Falls, you will have to go hiking. But it's barely a hike at 0.5 miles each way. The reward is 79 foot high (24m) Wraith Falls, tumbling down a rock face on Lupine Creek.
Kepler Cascades
This waterfall drops in several different cascades down the canyon of the Firehole River. In total, the Kepler Cascades falls about 150 feet. You can view it from a pullout just south of Old Faithful.
Find the Best Places to Spot Wildlife
In Yellowstone National Park it's really easy to spot wildlife, as long as you head to the right places. In fact, it's one of the most popular things to do in Yellowstone. Here are 6 sure-fire ways to see wild animals.
Go on a Safari in the Lamar Valley
The Lamar Valley in the northeast corner of the park has been called the American Serengeti. It's a large, open valley with lots of grassy slopes so it is the easiest place to spot wildlife in Yellowstone. Drive the Northeast Entrance Road, then park at a pull out when you see animals. There are large herds of bison, groups of elk, deer, and pronghorn. The Lamar Valley is also home to the park's largest concentration of wolves. You may also spy black bears, grizzly bears, bighorn sheep, and mountain lions.
You see the Lamar Valley on your own, but for the best experience, go on a Lamar Valley Safari hiking tour. The guides know the best places to see the animals. They also supply binoculars and spotting scopes to help you get a better look.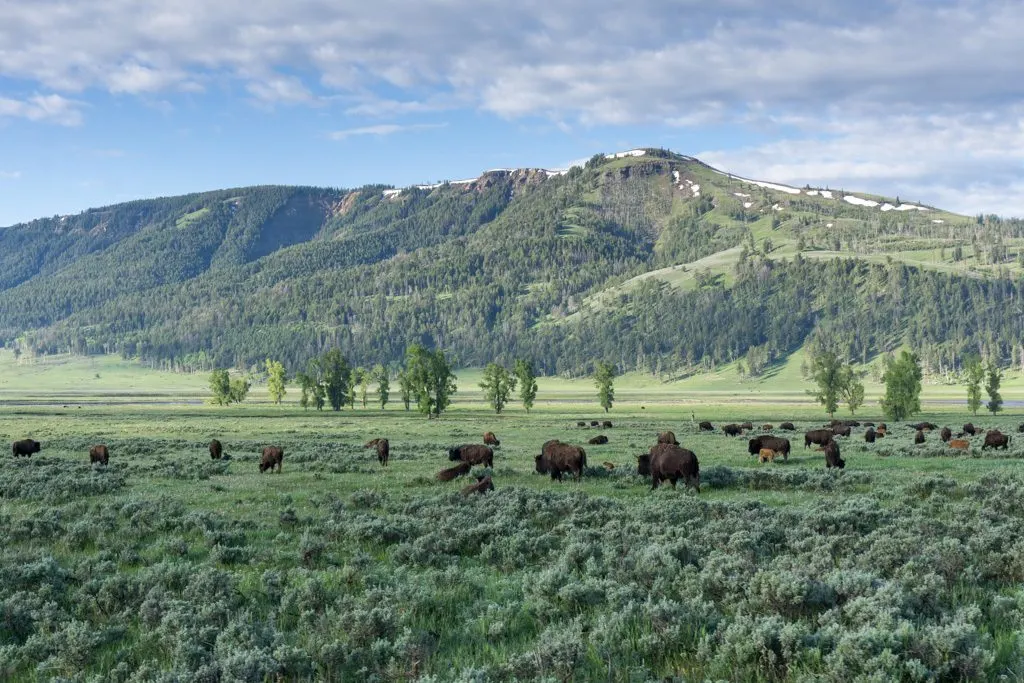 Get out the Binoculars at Hayden Valley
Although not as big as the Lamar Valley, the Hayden Valley is another wildlife hot spot. It is located on the Yellowstone River midway along the road between Fishing Bridge and Canyon Village. Hayden Valley is a great place to spot bison. There are also a few wolf packs in the area. You might also see elk, black bears, and grizzly bears.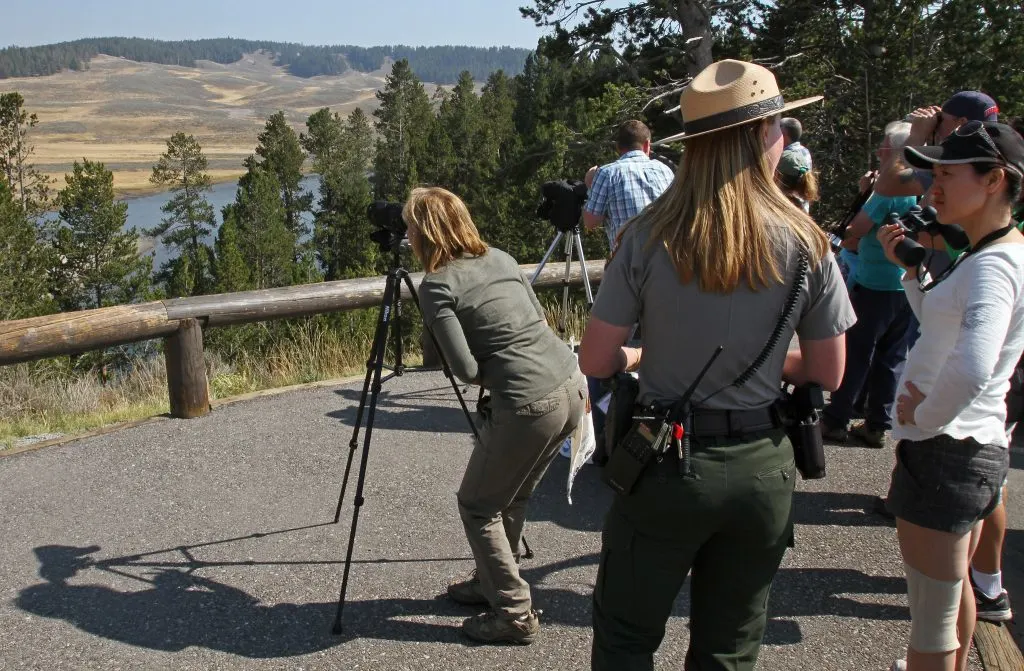 Watch for Elk in Mammoth
The area around Mammoth is teeming with elk. They like to hang out there since predators are unlikely to attack near so many people. It's definitely the easiest place to spot elk in the park. However, you might also see some bold black and grizzly bears wandering through.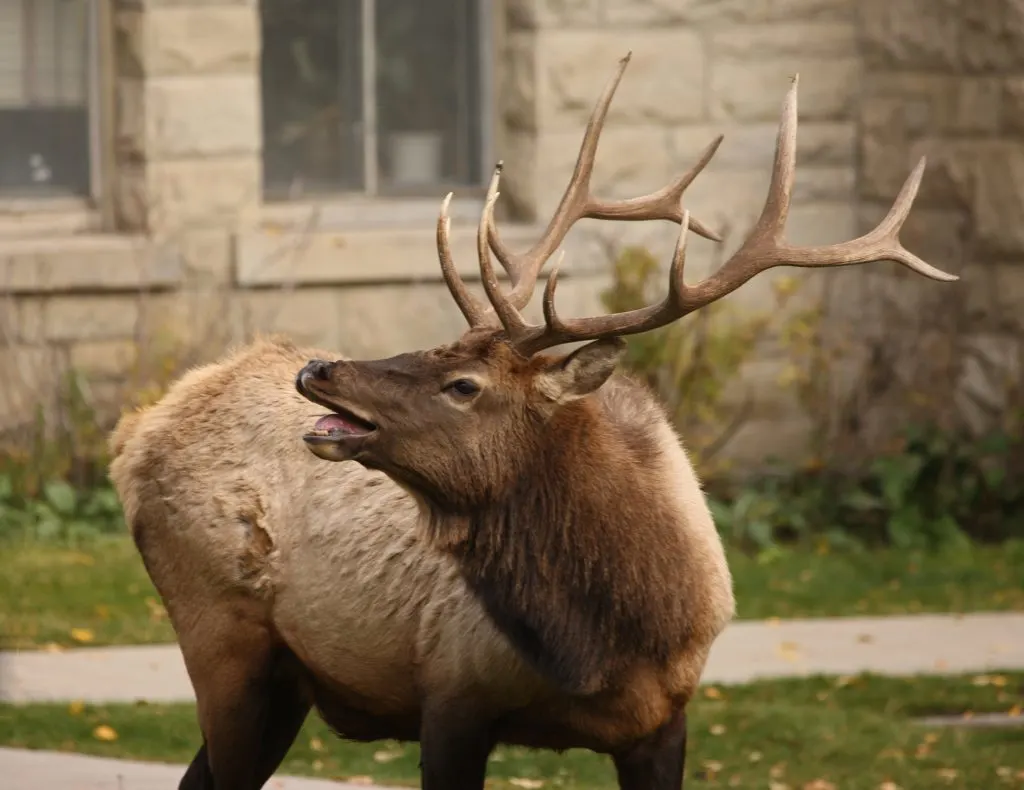 Get Caught in a Bison Jam
Yellowstone's bison seem to believe that the grass is always greener on the other side. They are often on the move in the park, walking from one green valley to another in search of fresh grass. They use the park's roads as travel corridors and don't seem to care about cars. This means that you may get stuck in a bison jam, waiting for hours for the bison to clear the road. However, if you are lucky enough to be ahead of the bison, rather than behind them, you will get to have an exceptionally close encounter with these huge animals as they stampede past your car!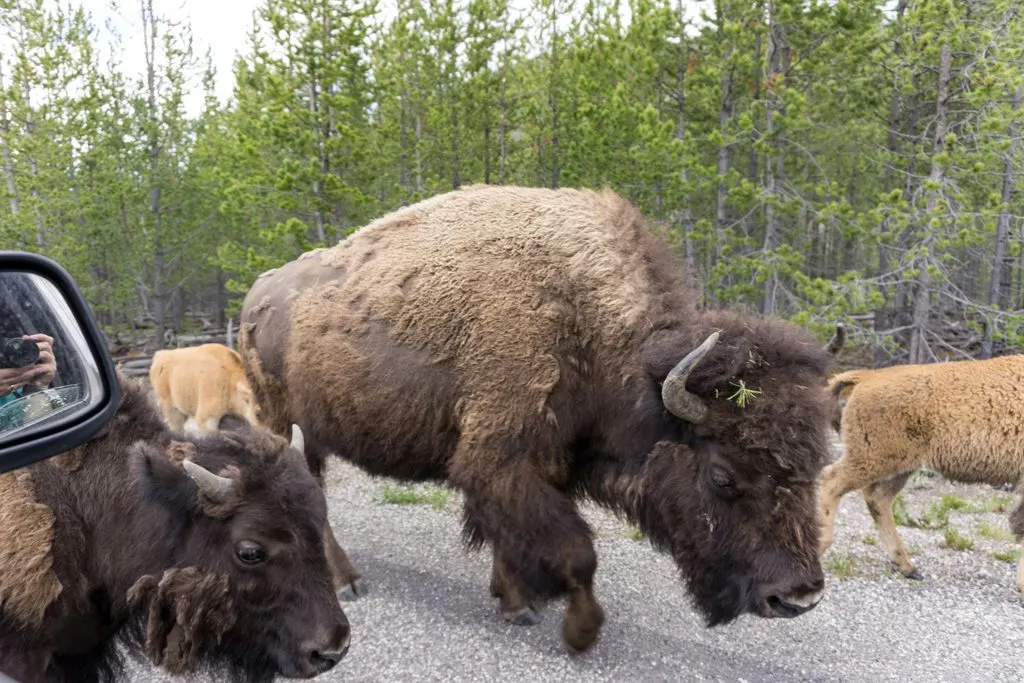 Spot Wildlife in the Backcountry
Most of Yellowstone's wildlife prefers to hang out away from people and cars. If you leave the park roads and head into the backcountry, you have a much higher chance of spotting wildlife. Going for a day hike improves your chances, but camping out in the backcountry really helps since animals are more active at dawn and dusk. On my 4-day backcountry hike in Yellowstone, we spotted pronghorn, elk, deer, marmots, bison, numerous birds of prey and a grizzly bear!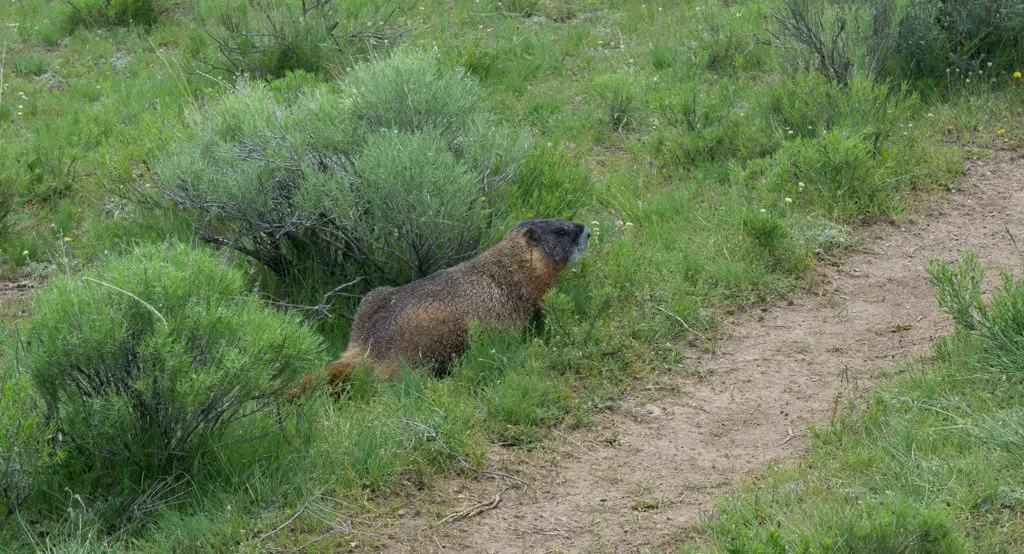 Take a Wildlife Tour
If you visit Yellowstone on your own, you'll definitely see some wildlife. But you may only see a few animals if you don't know where to look or what time to be there. For much more meaningful animal spotting, you may want to take a wildlife tour. The professional guides can help you spot hard to find animals like wolves and grizzly bears. And they may even be familiar with individual animals and their families.
Outdoorsy Things to do in Yellowstone
Many visitors to Yellowstone explore the park by car, walk around a short paved trail, read an interpretive sign, and then leave. If you're willing to get a little sweaty, and travel a little further, so much more of the park opens up to you. Here are 8 outdoorsy things to do in Yellowstone.
Go Hiking
There are over 900 miles of trails in Yellowstone National Park, which gives you waaay too many options for both day hikes and multi-day trips. However, the majority of visitors to the park never venture more than a few hundred feet from their cars, so you will get most trails all to yourself. Check out my guide to the best hikes in Yellowstone.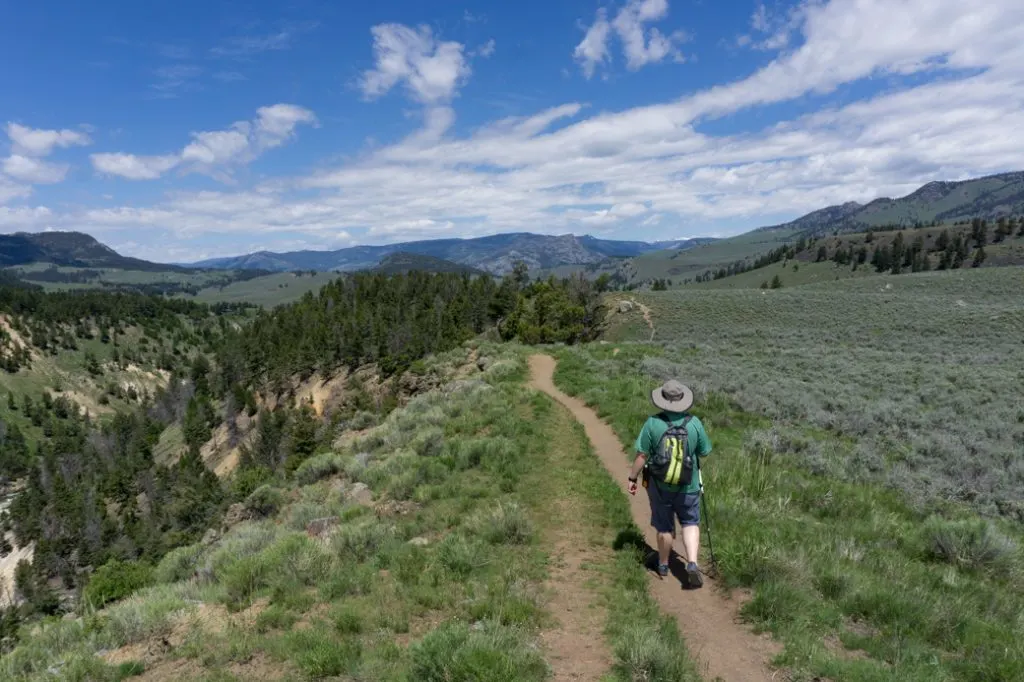 Camp in the Park
On my trip to Yellowstone, I spent 10 nights camping in the park. It made getting out to see the sights or going for a hike MUCH easier since we didn't have to commute and could experience Yellowstone early in the morning or in the evening. It's also a great way to connect with nature. If you want to stay at one of the national park campgrounds, I put together a MASSIVE guide to camping in Yellowstone for you.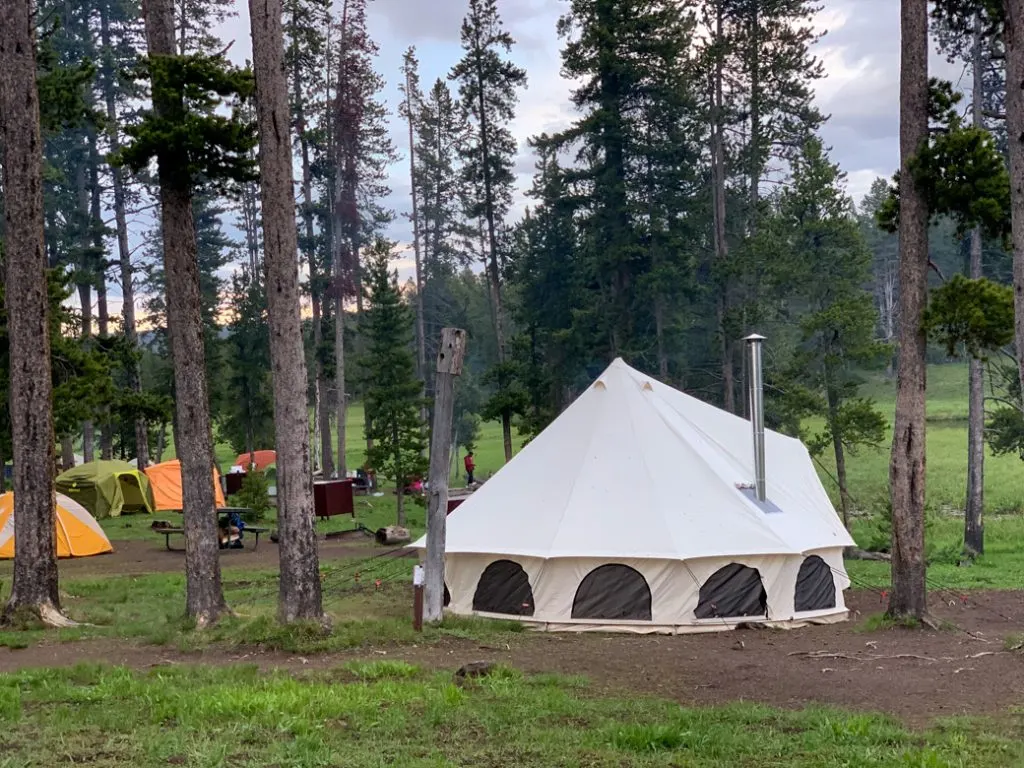 Try Glamping
If you don't feel like roughing it, try glamping. You can stay in a luxury tent with heating, bathrooms and real beds! Check out Under Canvas Yellowstone, located in West Yellowstone.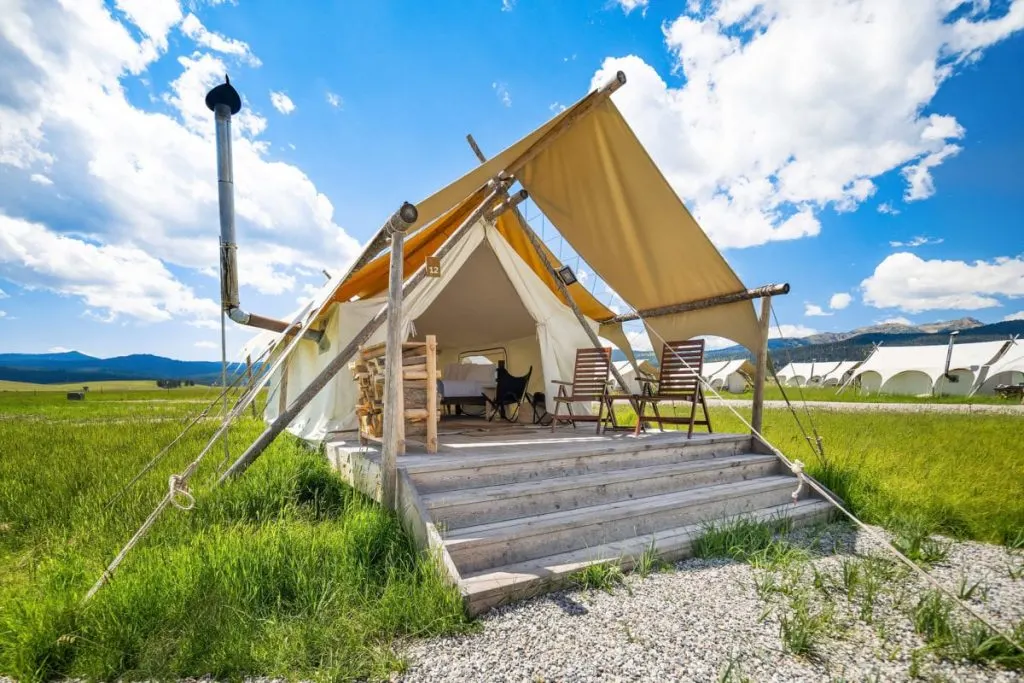 Go on a Backpacking Trip
However, if you are up to roughing it, explore Yellowstone's backcountry on a backpacking trip. Yellowstone has over 300 backcountry campsites. They all have food storage poles and many of them come with outhouses and fire pits. You need to obtain a backcountry permit before your trip. If you're looking or an easy trip, I recommend the Yellowstone River Trail.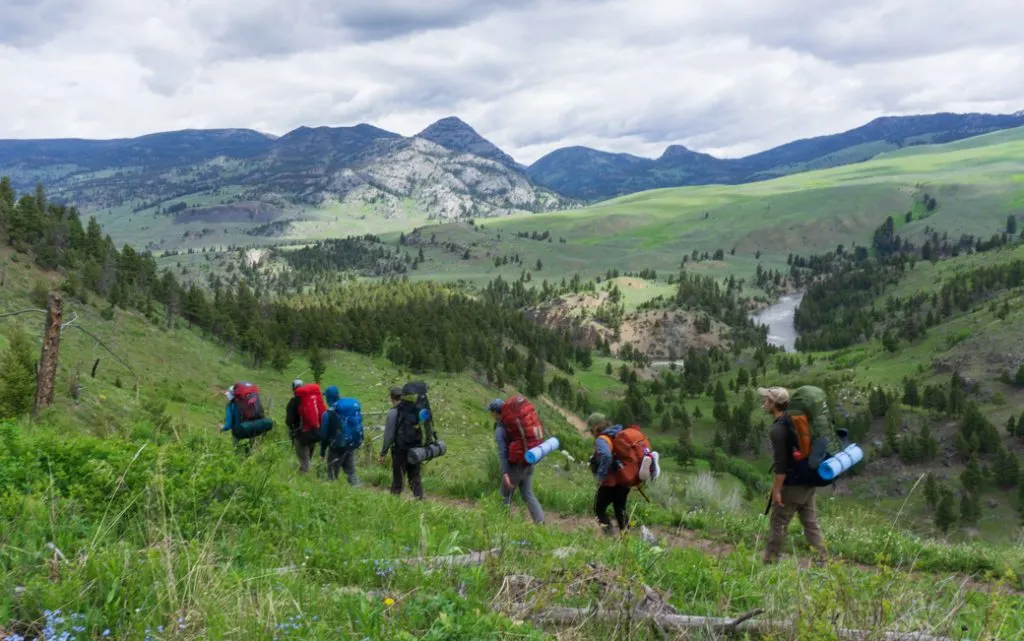 Go for a Mountain Bike Ride
If you prefer to explore on two-wheels, there are a few gravel trails in the park you can explore. Many of them are old roads that are now closed to cars so you may be able to use a regular bike instead of a hardcore mountain bike with suspension. The National Park has a full list of all the bike trails in Yellowstone.
Bike to Geysers
An easy paved 2-mile trail leads from Old Faithful to Morning Glory Pool. It's great for kids! There are racks along the way where you can leave your bike as you explore each of the geysers and thermal pools. Highlights include the impressive Castle, Riverside and Daisy Geysers.
Cycle Tour in Yellowstone
All the roads in Yellowstone National Park are open to bikes, however, there are no bike lanes and in some places, the shoulder can be narrow. But for adventurous bikers, cycle touring in Yellowstone National Park can be lots of fun. And best of all, most of the park's campgrounds have first-come, first-served sites set aside for cyclists. Apparently, they are never full so unlike the rest of us, cyclists don't have to stress about where to camp in Yellowstone!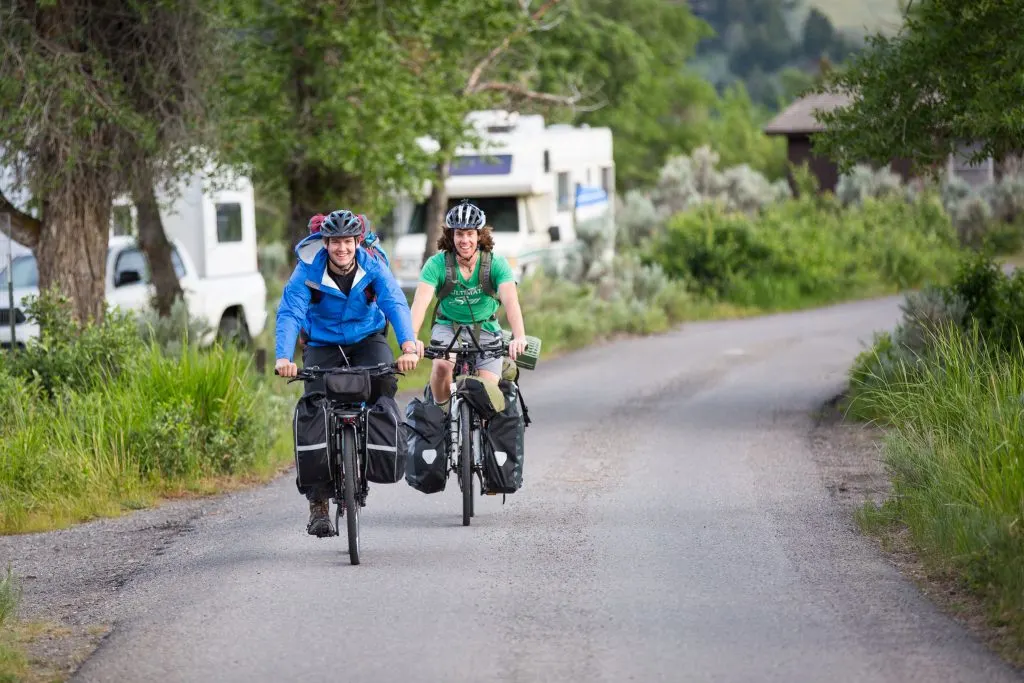 Brave the Weather to Bike Without Cars
For a few weeks each spring and fall, Yellowstone National Park allows cyclists to roam some of the park's roads while they are closed to cars for the winter season. There may be snow on the road, the weather is often cold, but you'll have the place to yourself. And without cars, the likelihood of seeing wildlife is higher. The exact dates for spring and fall biking in Yellowstone vary each year with the snowfall, but in general, they occur in early April and early November.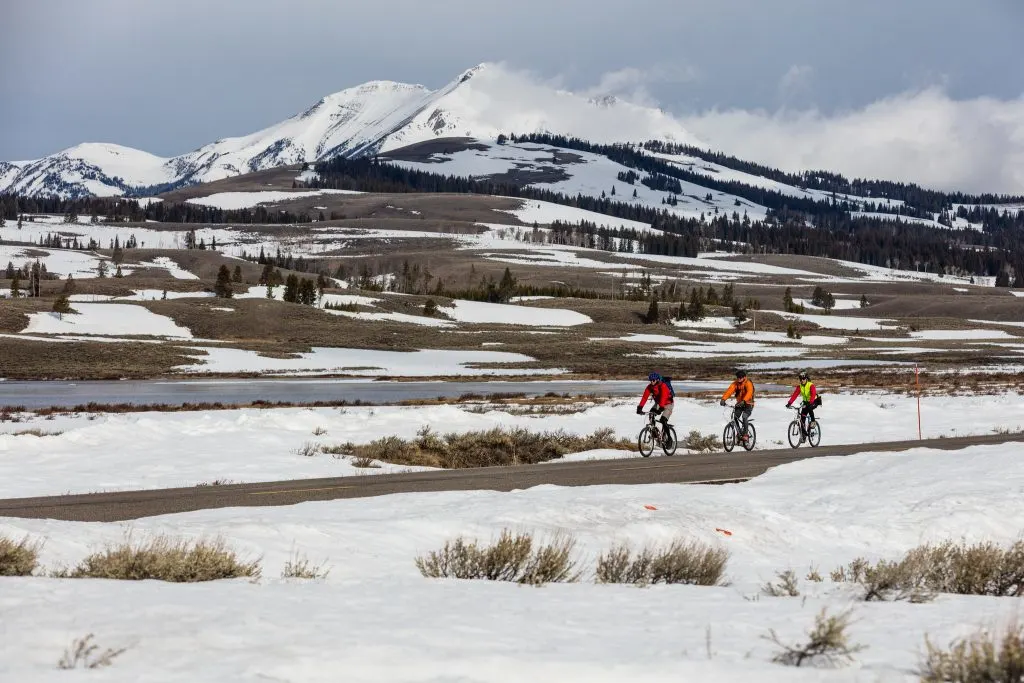 Learn About Nature
Yellowstone's landscape has some complex and super fascinating origins. There are all kinds of factors at play here including volcanoes, earthquakes, glaciers, rivers, animals and of course humans. Here are nine key places to learn about nature in Yellowstone National Park.
See a Petrified Tree
Until I visited, I had no idea that there were petrified trees in Yellowstone. About 50 million years ago, ash from nearby volcanoes buried trees. The wood of the trees started to decay, but mineral-rich water seeped in leaving rock deposits behind. Over time, the trees decomposed entirely, leaving a rock deposit in the shape of the trees. The easiest place to see a petrified tree in Yellowstone is at the Lost Lake trailhead near Tower Junction.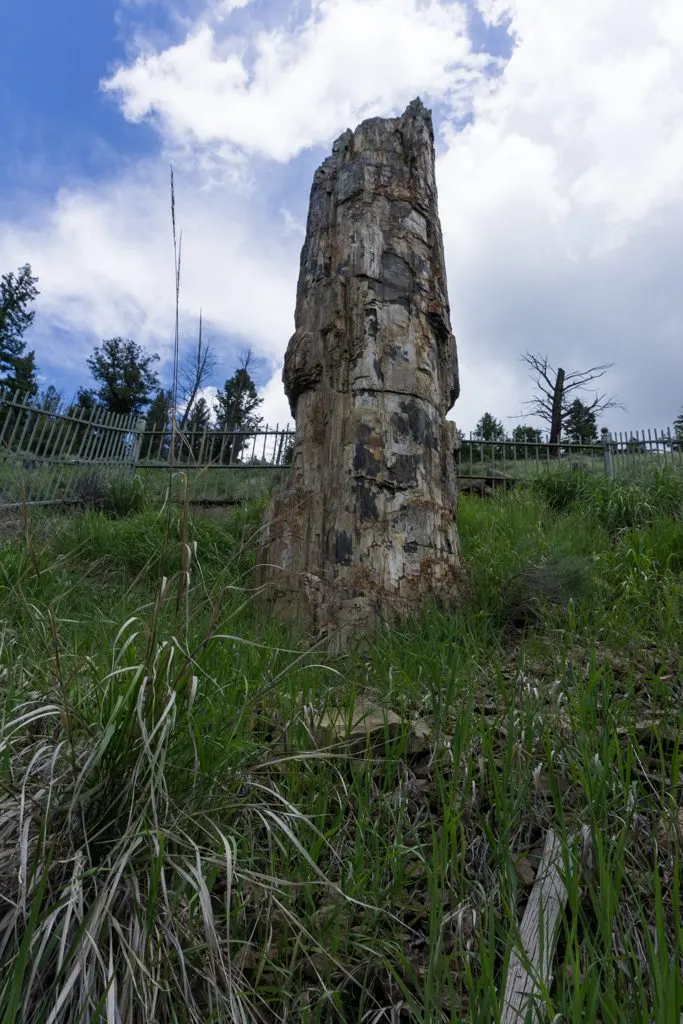 Visit the Norris Basin Museum
If you are interested in the geothermal activity in the park, be sure to pay a visit to the Norris Basin Museum. It's located in a historic stone building at the entrance to Norris Basin. It has lots of interpretive panels about geothermal activity, plus a ranger on hand to answer your questions.
Find Some Wildflowers
In June and July, the park's open slopes explode with wildflowers. The best way to see them is to go on a hike, but you can also drive through Dunraven Pass between Tower and Canyon to spot them on the roadside. Remember to stay on the trail so you don't trample the wildflowers as they live in a fragile ecosystem and take years to grow. And of course never pick them so there are lots left for other visitors to enjoy. (You can read more about to respect wildflowers in my post about Leave No Trace.)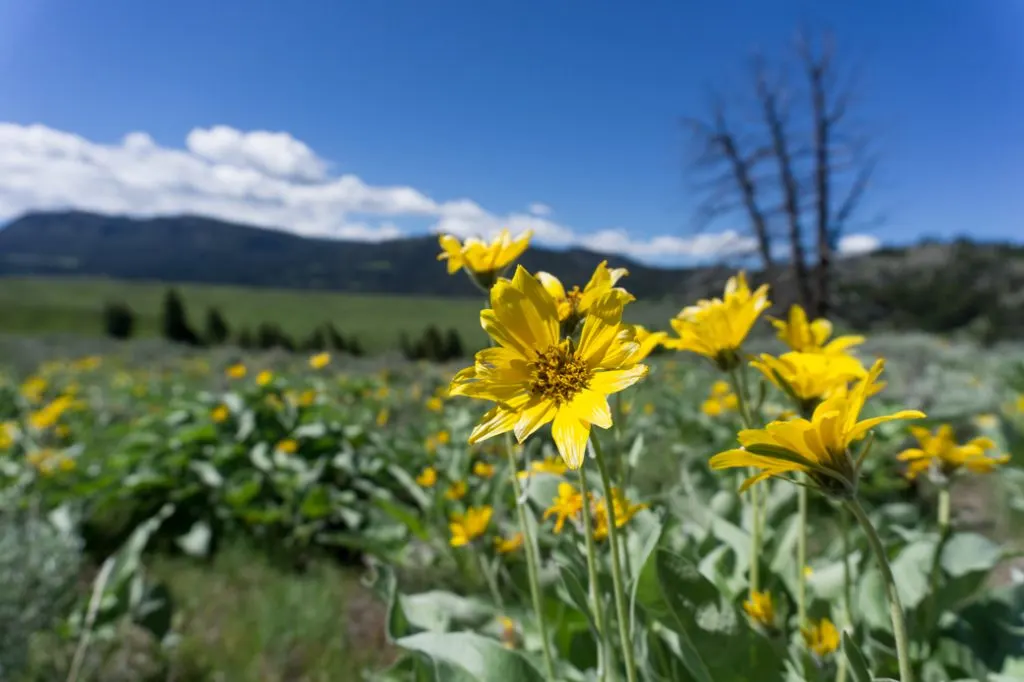 Learn About Geysers at the Old Faithful Visitor Education Center
The giant visitor center at Old Faithful has tons of educational info about geothermal activity, the supervolcano that formed Yellowstone, and how geysers work. Be sure to check out the Young Scientist section which has a model of a geyser and some hands-on exhibits. There's also a theater showing Yellowstone related films. The best part of the center is the geyser prediction board that tells you when one of the big geysers will erupt next.
Check Out the Relief Map at Canyon Visitor Education Center
I think that the easiest way to get an overview of a place is to look at a model. Head to the Canyon Visitor Education Center to see the room-sized relief map of Yellowstone National Park. It has cool overlays that show how volcanic eruptions, lava, glaciers, and earthquakes have shaped the park. There are also lots of other volcano-themed exhibits to see and a film about the geology of Yellowstone.
Learn About Wildlife at the Albright Visitor Center
This recently refurbished visitor center has a few exhibits about the park's history and wildlife, including lots of taxidermied animals. It's also one of the only places in the park with free (and fast) wifi. The Albright Visitor Center is housed in a historic building from 1909 that used to serve as army officer's quarters before the creation of the National Park Service.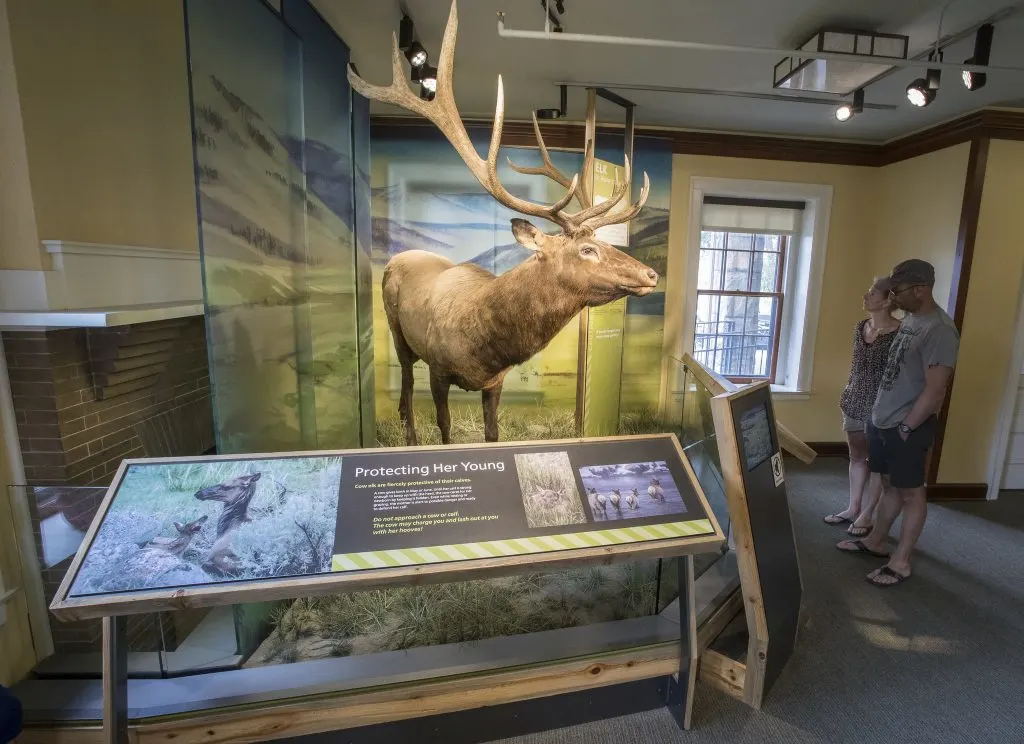 Become a Junior Ranger
If you've got kids with you, be sure to participate in the Junior Ranger Program. Pick up a booklet at a visitor center, then complete the educational activities inside. Take the completed booklet back to a visitor center to get an official Yellowstone Junior Ranger badge. And in case you didn't know, you don't have to be a kid to take part – you just need to be "young at heart". All ages welcome.
Go on a Guided Walk with a Ranger
One of the best ways to learn more about the park is to take a guided walk with a park ranger. I definitely got much more out of my visit to Norris Geyser Basin thanks to the ranger walk. There are walks scheduled in several locations every day all summer long.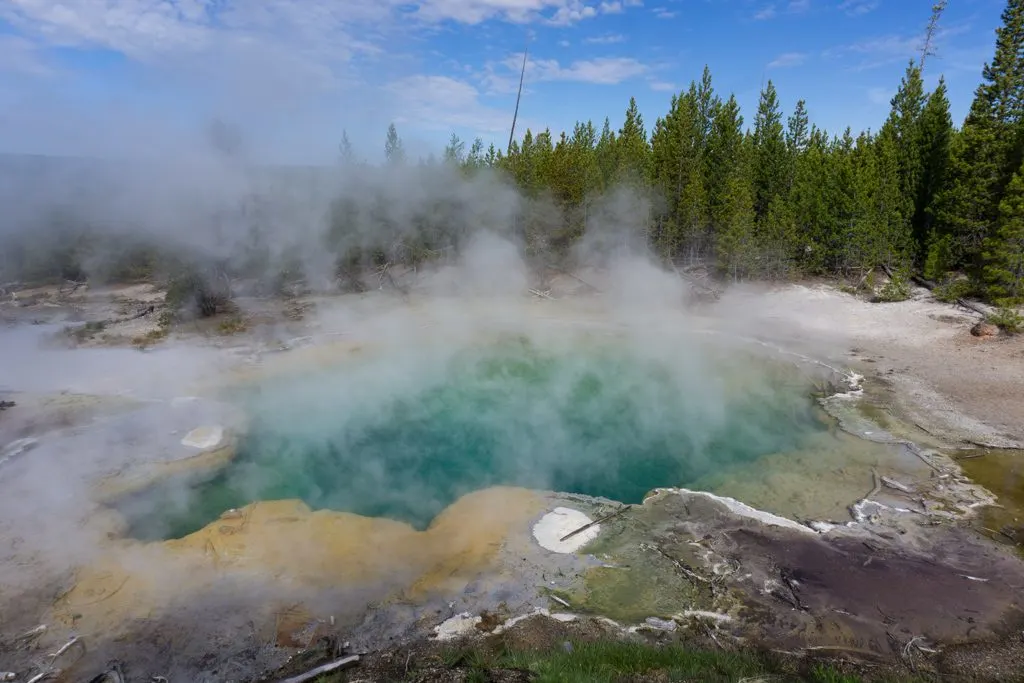 Attend a Ranger Talk
Going to a ranger talk is a great way to learn more about a specific part of the park. There are talks on a wide range of subjects from animals to geology. Check the ranger program schedule to find a talk that interests you.
Take a Guided Tour
Seeing Yellowstone with a professional guide can give you insight into the park that you wouldn't otherwise get. Guides often know of off-the-beaten-path spots to stop or where to see animals. They can also answer your questions about wildlife, geology, plants, history and more. One-day tours of Yellowstone are popular, but if you really want to see the whole park, you'll need to book a multi-day tour.
Get in the Water
Yellowstone has lots of lakes, rivers, and creeks to explore. Here are 7 water-related things to do in Yellowstone including swimming, fishing, and boating.
Go Swimming at Boiling River or Firehole River
While there are countless water bodies in Yellowstone National Park, most of them are too cold or too swift for swimming. However, there are two designated swimming locations in the park: Boiling River and Firehole River. Both sites don't open until early July when river levels drop enough for it to be safe. There are no lifeguards on duty, so you need to be a strong swimmer. The Firehole River is a bit warmer than the rest of the water in Yellowstone, but it's not hot enough to live up to its name. But Boing River DOES live up to it's name… sort of. It is a hot spring, but thankfully it's not actually boiling or it would be too hot to get in! The water temperature varies from 100 to 140 degrees (38-54°C).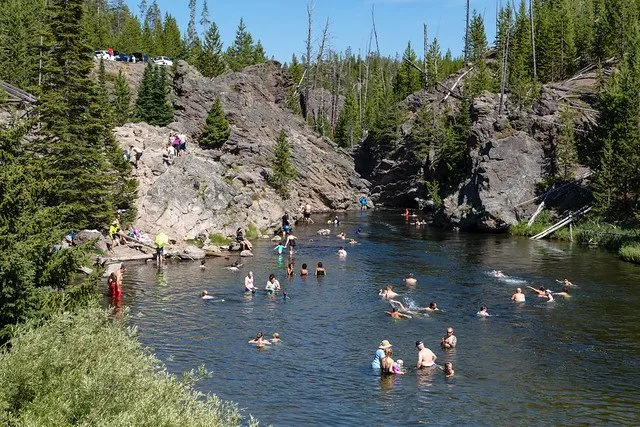 Soak in a Hot Spring
Visit Yellowstone Hot Springs just 8 miles north of the park to soak in naturally heated mineral water in a spa-like pool. The water is 104F, and rich in calcium, magnesium, and sodium, amongst other minerals.
Go Kayaking or Canoeing
There are lots of lakes and rivers to explore by canoe or kayak in Yellowstone National Park. Most visitors stop for a few minutes to look at the huge expanse of Yellowstone Lake, but few actually experience it first hand. On my trip, we spotted a guided kayak tour cruising past the geysers at West Thumb. It looked like a great way to see the geothermal features along the shoreline. If you are an experienced paddler you can also rent boats outside the park (or bring your own) and explore popular backcountry paddling routes on Lewis and Shoshone Lakes.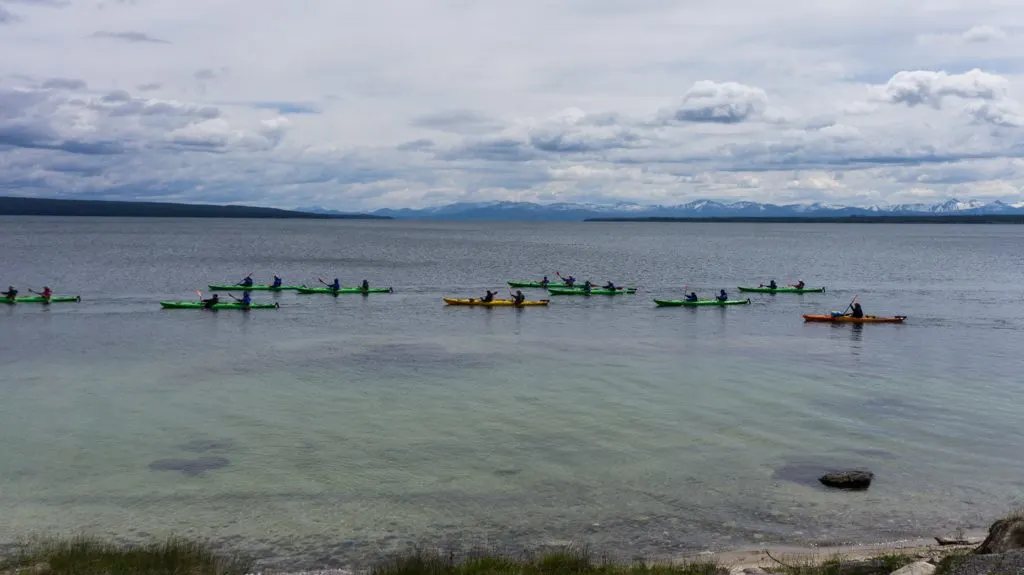 Take a Boat Tour
Yellowstone Park Lodges offers 1-hour guided boat tours of Yellowstone Lake. Rangers or interpretive guides explain the geology and history of the lake. They'll also help point out eagles, osprey, and other water birds.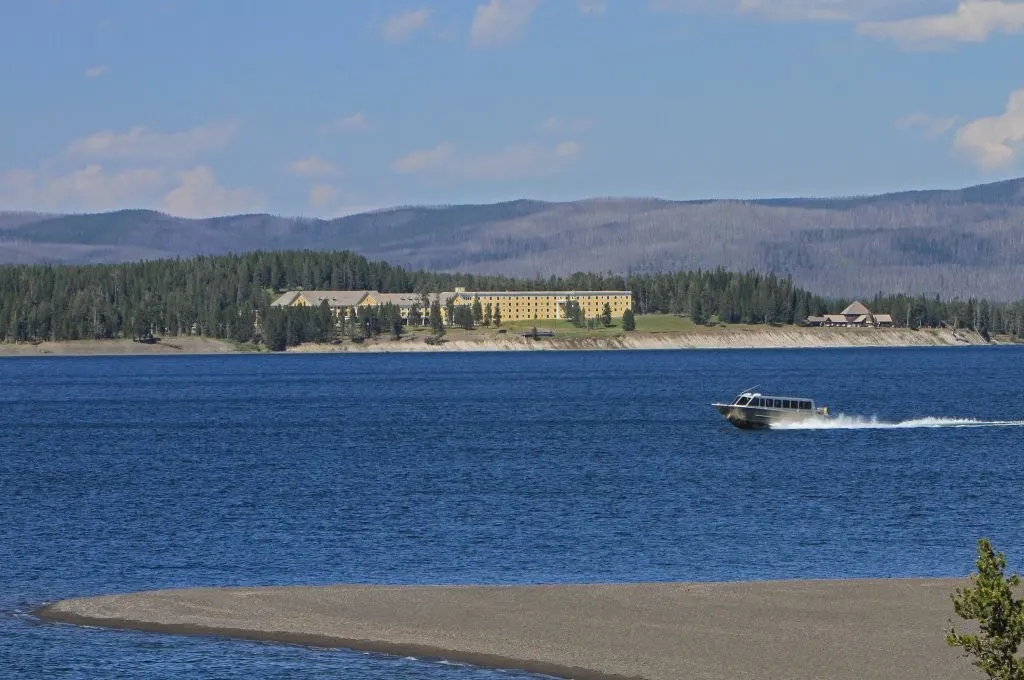 Rent a Boat
If you'd rather pilot your own ship, you can rent a boat at the Bridge Bay Marina on Yellowstone Lake. You can fish for trout or just explore the lake.
Catch a Fish
Fishing in Yellowstone National Park is world-renowned. You need a permit to fish any of Yellowstone's waterways and there are restrictions on what kind of tackle, hooks, and lures you may use. If you've got your own gear, Yellowstone National Park's website has tons of info on where you are allowed to fish and which species you can catch. If you'd prefer to have someone else set you up for success, sign up for a guided fishing trip with all the gear included.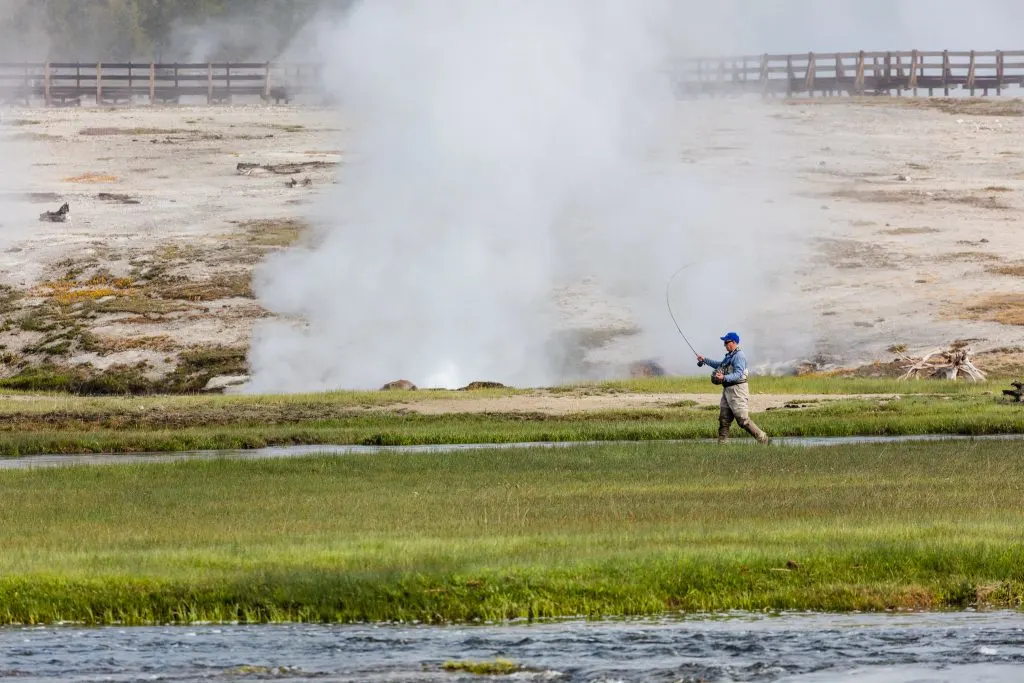 Rafting the Yellowstone River
You can't raft any of the rivers inside the park, but you can take on the mighty whitewater of the Yellowstone River outside the North Entrance to the park in Gardiner, Montana. If whitewater seems like too much, there are also more mellow float trips on calmer sections of the river.
Learn about Yellowstone's History
As America's first national park, Yellowstone has a LOT of history. Each of the old buildings and museums has a story to tell about what Yellowstone used to be like. Here are 7 places to dive into Yellowstone's past.
Old Faithful Inn
The historic Old Faithful Inn is one of the largest log structures in the world. The lobby has a 100-foot-high atrium with a huge stone fireplace. You don't have to stay at the hotel to visit. Stop in to eat at the restaurant, or if you're cheap like me, head up to the coffee shop on the second floor.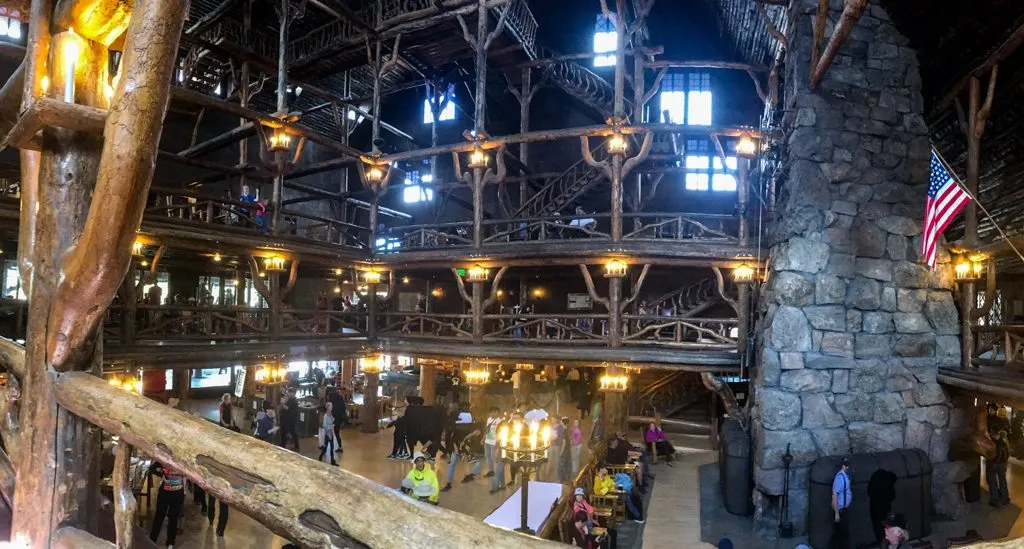 Fort Yellowstone
Many people don't know that the US Army originally managed Yellowstone National Park, mostly to help prevent poaching. They built a complex of stone buildings at Mammoth Hot Springs called Fort Yellowstone. Many of the buildings survive today and you can visit them on a self-guided tour.
Museum of the National Park Ranger
This little museum near the entrance to the Norris Campground was originally one of the remote soldier stations used to protect the park from poachers. Now it has exhibits about the history of park rangers across the National Parks Service.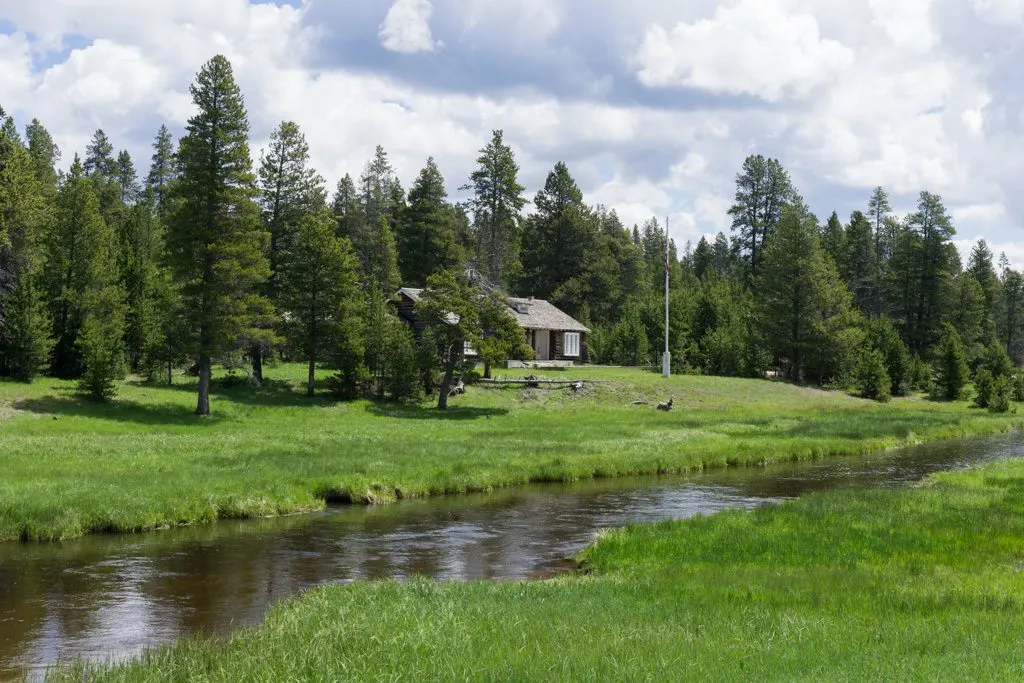 Roosevelt Lodge
The low-slung Roosevelt Lodge and surrounding log cabins are part of the dude ranch history of Yellowstone. Despite the name, Roosevelt never stayed at the lodge. However, it's believed that he did camp in the area before the lodge was built.
Yellowstone Heritage and Research Center
The Yellowstone Heritage and Research Centre at the north entrance of the park in Gardiner houses a huge collection of historical documents, archeological items, and specimens. They have rotating exhibits in the lobby, and a library, but the main part of the center is only open to the public on guided tours.
Roosevelt Arch
Find this huge stone arch at the north entrance to Yellowstone National Park. The current park road bypasses the arch, but for a century, most park visitors passed through the arch to enter the park.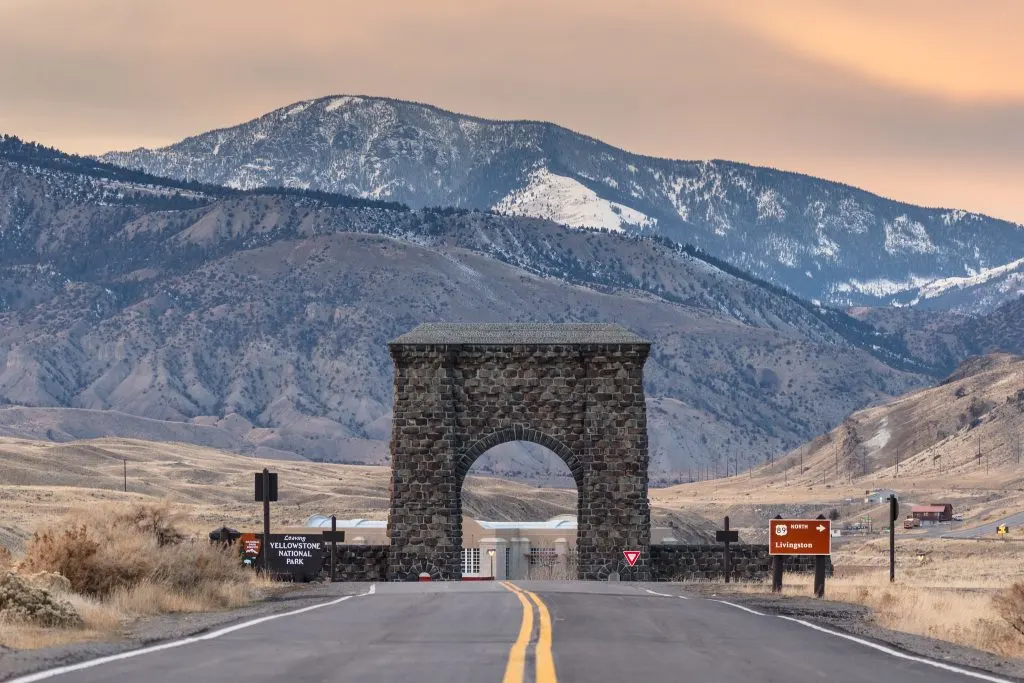 Lake Hotel
The Lake Hotel is the oldest operating hotel in Yellowstone National Park. It's been restored to the colonial appearance it had in the 1920s.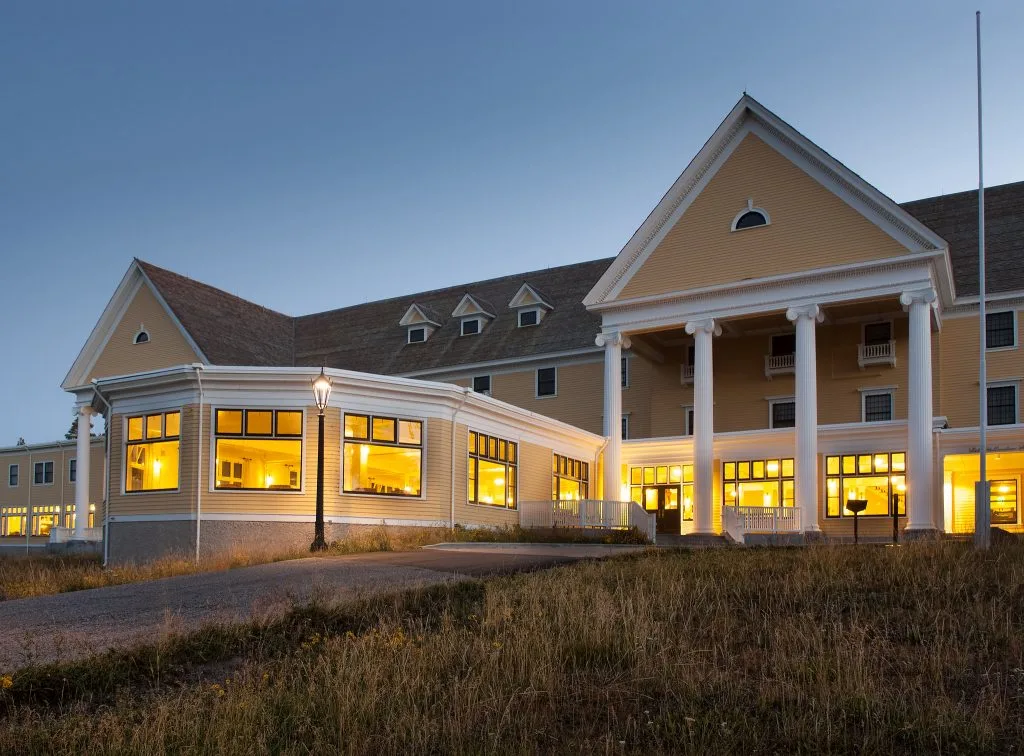 Experience Yellowstone's Old West Atmosphere
In the early days of Yellowstone, everyone explored the park by horse or stagecoach. Cowboy culture was big and many city-slicker visitors wanted to visit the park to have a dude ranch experience. That tradition lives on today. Here are 3 ways to experience the Old West in Yellowstone.
Ride a Horse
Yellowstone is in the heart of cowboy country and horse culture has a long history in the park. Sign up for a trail ride in the Roosevelt or Canyon areas to see what it's like to be a cowboy.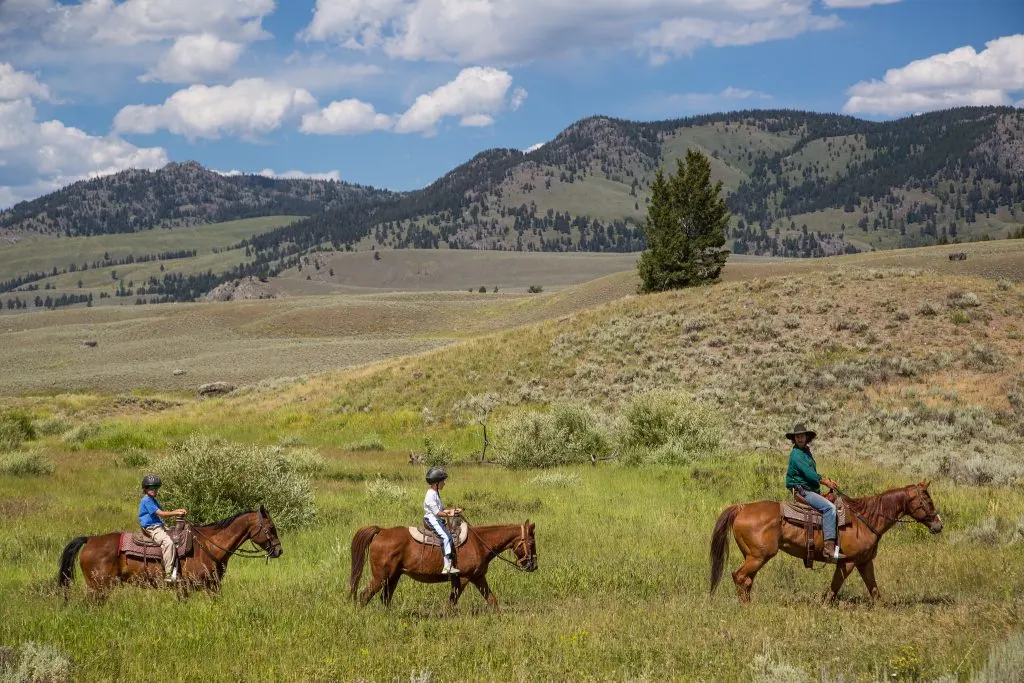 Travel by Stagecoach
In the early days, most visitors to Yellowstone travelled in horse-drawn stagecoaches. You can still experience that today by taking a trip back in time on a stagecoach tour. These short excursions explain a bit about the history of Yellowstone while giving you a look at some breathtaking scenery.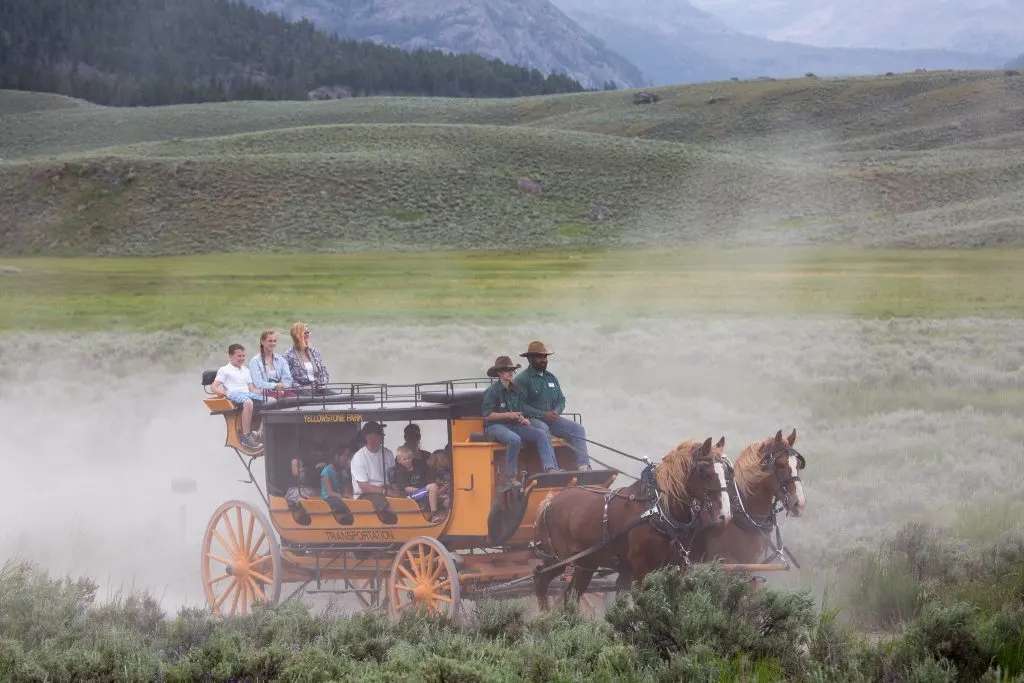 Visit Yellowstone in Winter
From November to April, Yellowstone is blanketed in deep snow. Many of the roads, visitor centers and lodges in the park close, but Yellowstone is still accessible to visitors who are prepared for the cold. Here are 4 things you don't want to miss on a winter visit to Yellowstone.
Go Cross Country Skiing or Snowshoeing
In the winter many of Yellowstone's roads are closed. That means one of the best ways to see the park is on cross country skis or snowshoes. There are also tons of trails in the park perfect for winter travel. Some of the trails have tracks set for skiers, but on most of them, you'll be breaking your own trail. Bring your skis or snowshoes, or rent them at shops in Gardiner, MT or West Yellowstone, WY.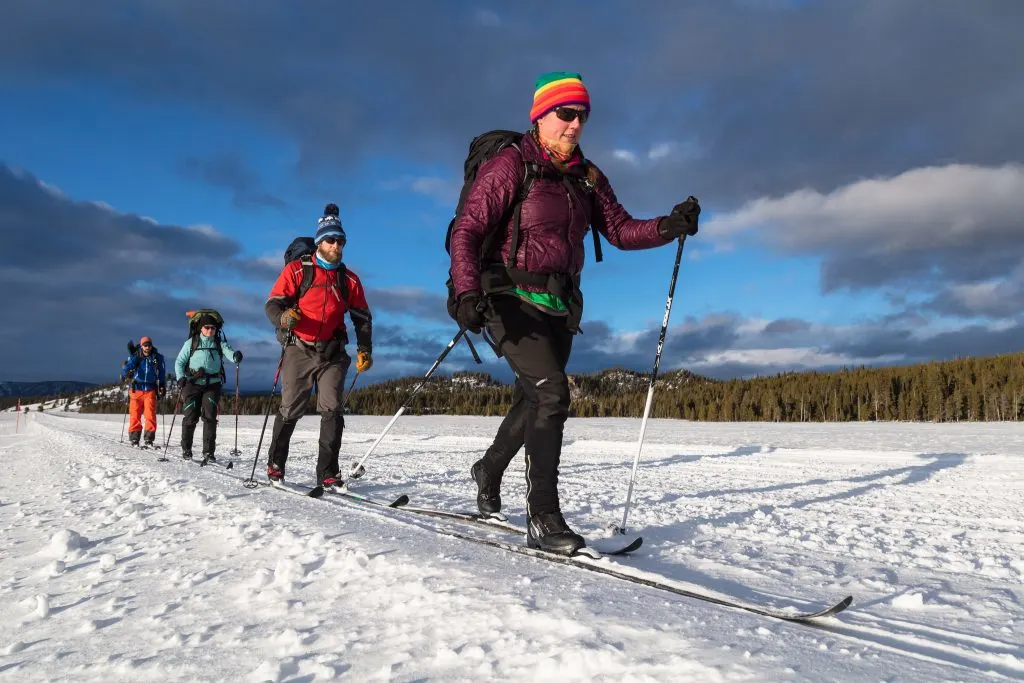 Take a Snow Coach Tour
While the park's roads might be closed to cars, they are still open to snow coaches. These giant vans have burly snow tires or tank-like tracks for getting around in the snow. Sign up for a snow coach tour to see Old Faithful erupt in the winter, as well as other snowy park sights.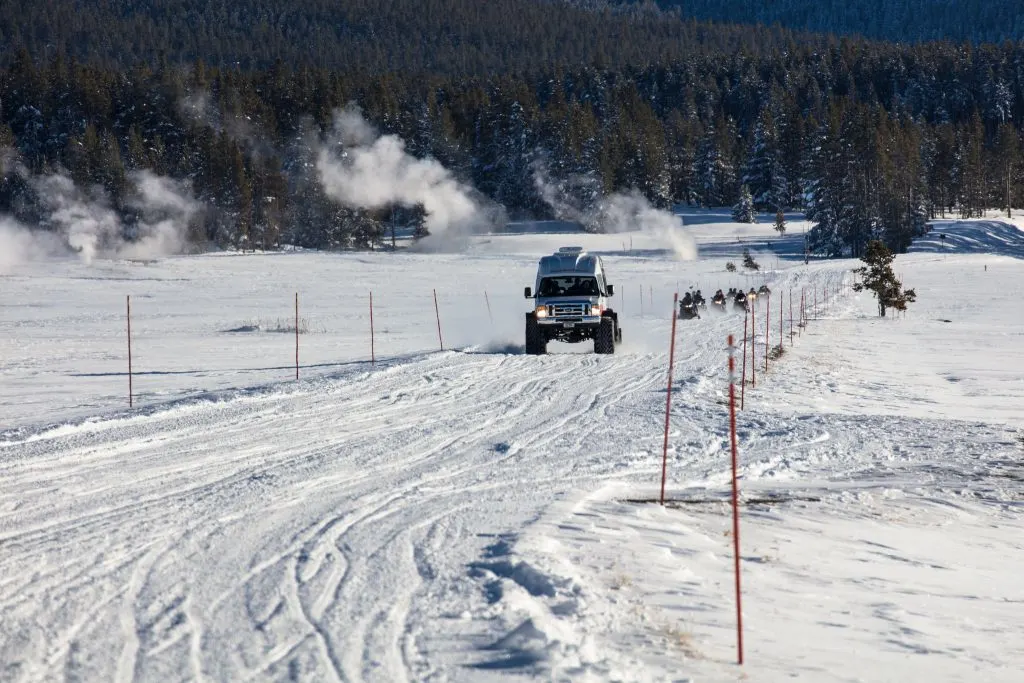 Drive a Snowmobile
Besides, skis, snowshoes and snow coaches, there is one more way to get around Yellowstone in the winter: snowmobile! With a few exceptions, the only way to snowmobile in the park is on a guided snowmobile tour. You'll get geared up with a helmet, snowmobile suit, boots, and gloves, then drive yourself to Old Faithful and other landmarks.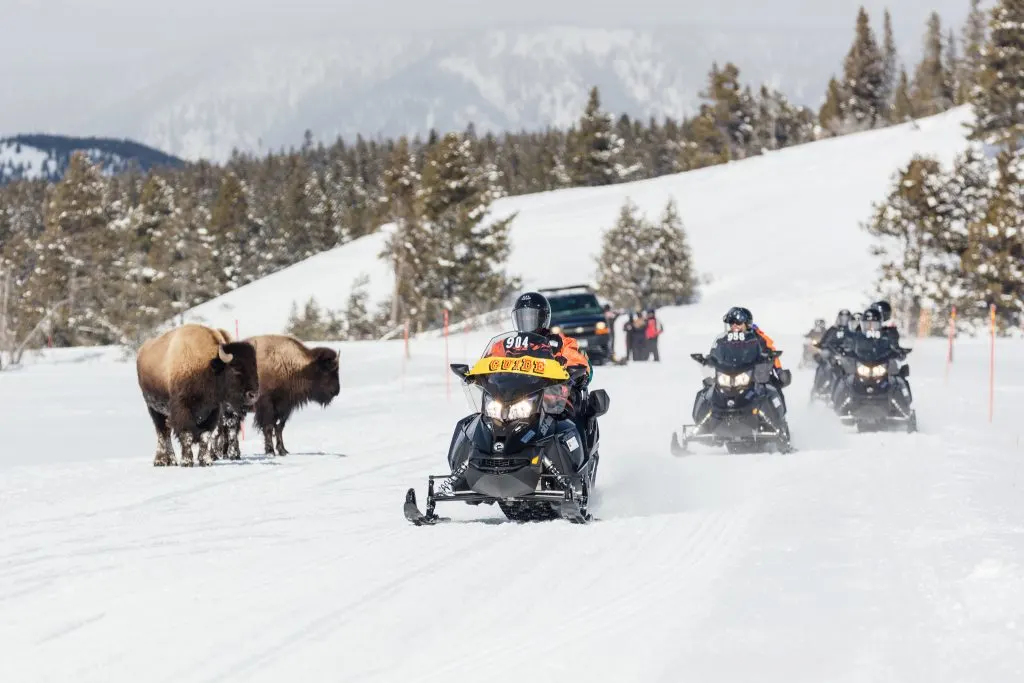 Go on a Winter Wildlife Safari
Winter is one of the best times to spot wildlife in Yellowstone. The grazing animals including elk, deer, bison, pronghorn and moose head down out of the mountains in search of food. That brings them closer to the roads, making them easier to spot. Keep an eye out for wolves, coyotes and mountain lions too. (Unfortunately, the bears hibernate all winter, so you won't see them.) If you have your own car, you can drive the road from the Northeast entrance to Mammoth since it stays open. But for the best chances of seeing wildlife, go with a wildlife guide who will know the best spots to hit and what time to be there.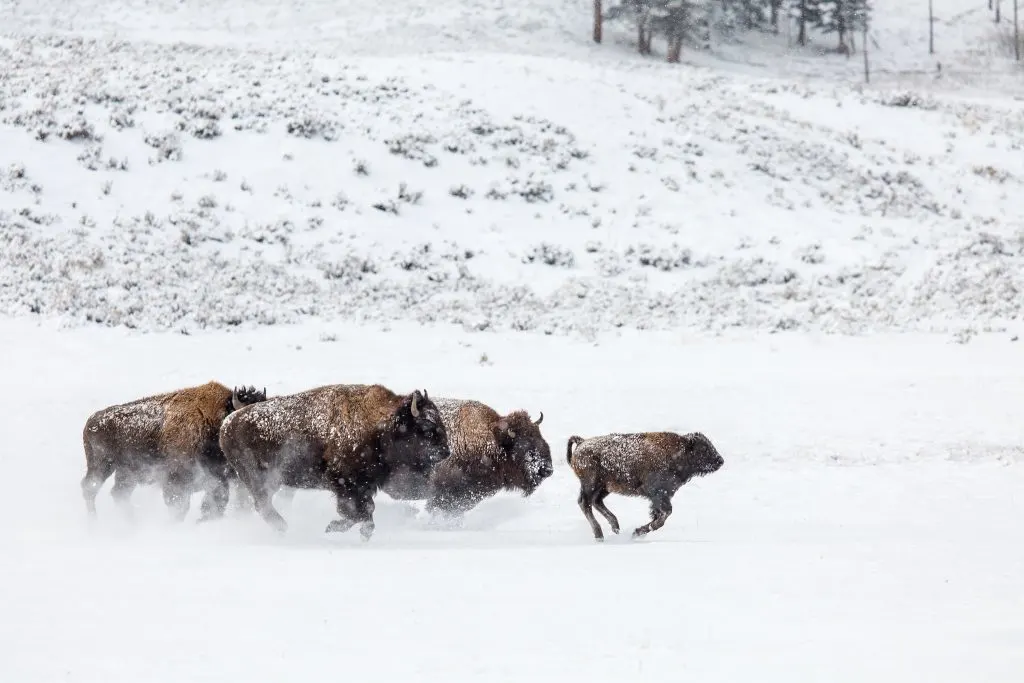 So that's my giant list of 70 things to do in Yellowstone National Park. I hope it helps you plan your trip. If you're already visited, leave your Yellowstone favorites in the comments.
MORE YELLOWSTONE POSTS:
MORE NATIONAL PARKS POSTS: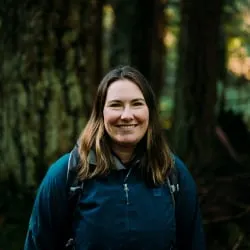 Latest posts by Taryn Eyton
(see all)