Have you seen the price of prepackaged backpacking meals lately? I can't believe how expensive they have gotten. It is so much cheaper to make your own grocery store backpacking meals.
It takes a little bit much planning to put together your own hiking dinners, but I think it's worth it. You save money, you get to choose what goes into your food, and often, they taste better.
I've been backpacking for nearly 20 years (I even wrote a backpacking guidebook) and at this point, I've eaten literally hundreds of backpacking meals.
Here's my guide to making grocery store backpacking meals. It includes:
Hey there: Some of the links in this post are affiliate links, which means I earn a small commission at no cost to you. Thanks for your support. -Taryn
How to Choose Grocery Store Food for Backpacking
Unlike buying a packaged freeze-dried dinner, if you put together your own backpacking meals from the grocery store, you will need to evaluate each ingredient and figure out if it is worth adding to your food.
If you're new to backpacking, check out my post about how to choose backpacking food. It's got lots of tips for food planning.
Here are the "rules" I use when grocery shopping for backpacking:
Non-perishable/Shelf-stable
In general, I look for food that is non-perishable and shelf-stable. That means that it doesn't require refrigeration and can handle being in my pack for a few days without going bad. I mostly stick to the aisles in the center of the store instead of the produce, dairy, and meat sections around the outside.
Lightweight
It can be easy to end up carrying a lot of heavy food since it often is pretty tasty. I try to reign myself in and choose mostly lightweight foods. In general, try to avoid foods that contain liquid since water is heavy and you can always add water at camp.
Easy to Pack
Look for things that are compact rather than bulky. Avoid fragile foods that can get squished or crumbled. I also skip foods that are messy to pack or prepare.
Easy to Cook
Ideally, the foods you choose should just require boiling water or heating something up. I try to stick to things that only require one pot.
Quick to Cook
Some foods have long boiling or simmering times and will use up your fuel. Look for meals that you just have to add boiling water or where you have to boil or simmer something for just a few minutes. My personal limit for cook time is 10 minutes – I won't bring anything that takes longer than that.
Calorie-Dense
Read the labels to understand how many calories you are bringing. You want to make sure you have enough. You also want to make sure you are choosing calorie-dense food – it should provide a lot of calories for its weight. Look for foods that provide at least 100 calories per ounce (25 g).
READ NEXT: How to Choose the Best Backpacking Meals
Where to Shop
If you don't have a lot of time, it's easy to put together a backpacking menu from your local grocery store. But it can be fun to venture to a few different stores to find more interesting ingredients. Since most items are shelf stable, you can stock up on things to keep in your pantry for upcoming trips.
Here are a few suggestions on where to shop:
Health Food Stores: Look for freeze-dried and dehydrated fruits and veggies, meat alternatives like TVP and soy curls, vegan jerky, and nut butter.
Ethnic Stores: I love shopping at Asian markets. They have an incredible selection of ramen and other noodles, miso soup, dried fish and jerky, shelf-stable tofu and soy products, dried mushrooms, and great snacks.
Trader Joe's: I make a special trip to get jerky, nuts, snacks, and dried fruit. I love their dried mango!
Costco: I don't have a membership anymore, but they are great for bulk-size boxes of granola bars, oatmeal, instant rice, pasta, and more.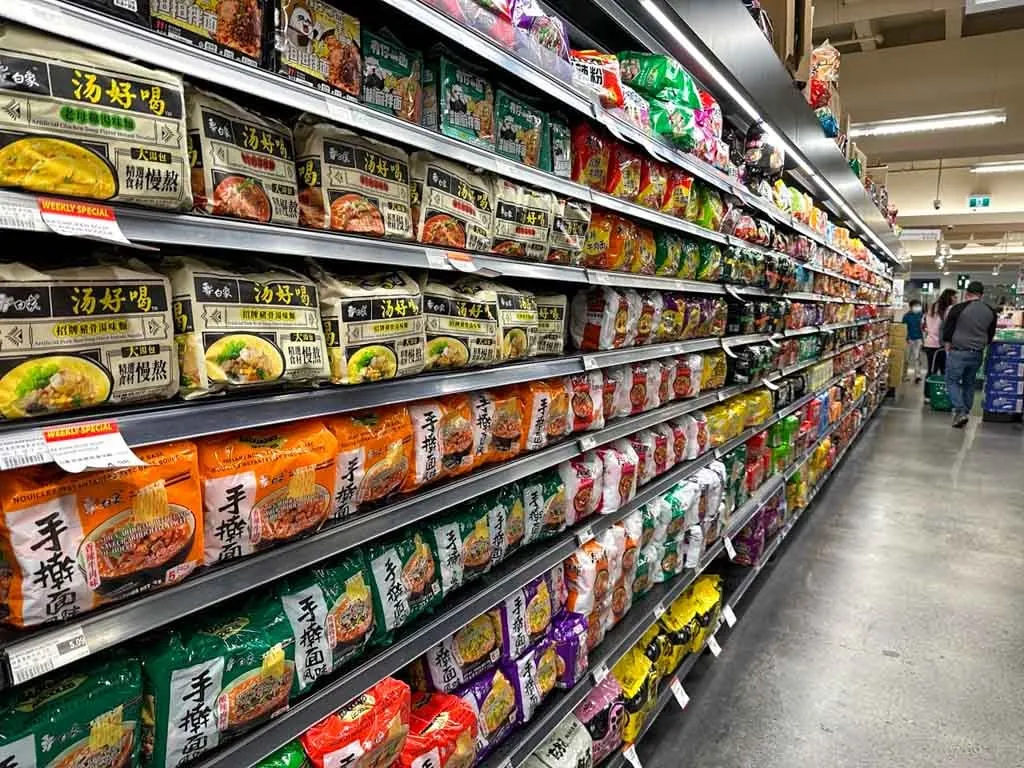 Backpacking Breakfast Ideas
Breakfast is one of the easiest backpacking meals to buy at the grocery store. Here are a few ideas:
Oatmeal: Available as instant oatmeal in packets or as quick-cook rolled oats.
Cereal or Granola With Powdered Milk: If possible, buy full-fat milk as powdered skim is disgusting. You can also buy powdered plant-based milks. In my experience, powdered coconut milk is the easiest to find.
Quinoa Porridge With Dried Fruit or Nuts: Make it with quinoa flakes, which just require adding hot water.
Instant Grits: I like to add cheese and bacon bits.
Pop Tarts: My friend's kids love these on the trail.
Bagels or Tortillas With Nut Butter: Nutella and honey are also great.
Carnation Instant Breakfast: Remember to bring powdered milk to add to it.
Granola Bars or Energy Bars: These are kind of a no-brainer.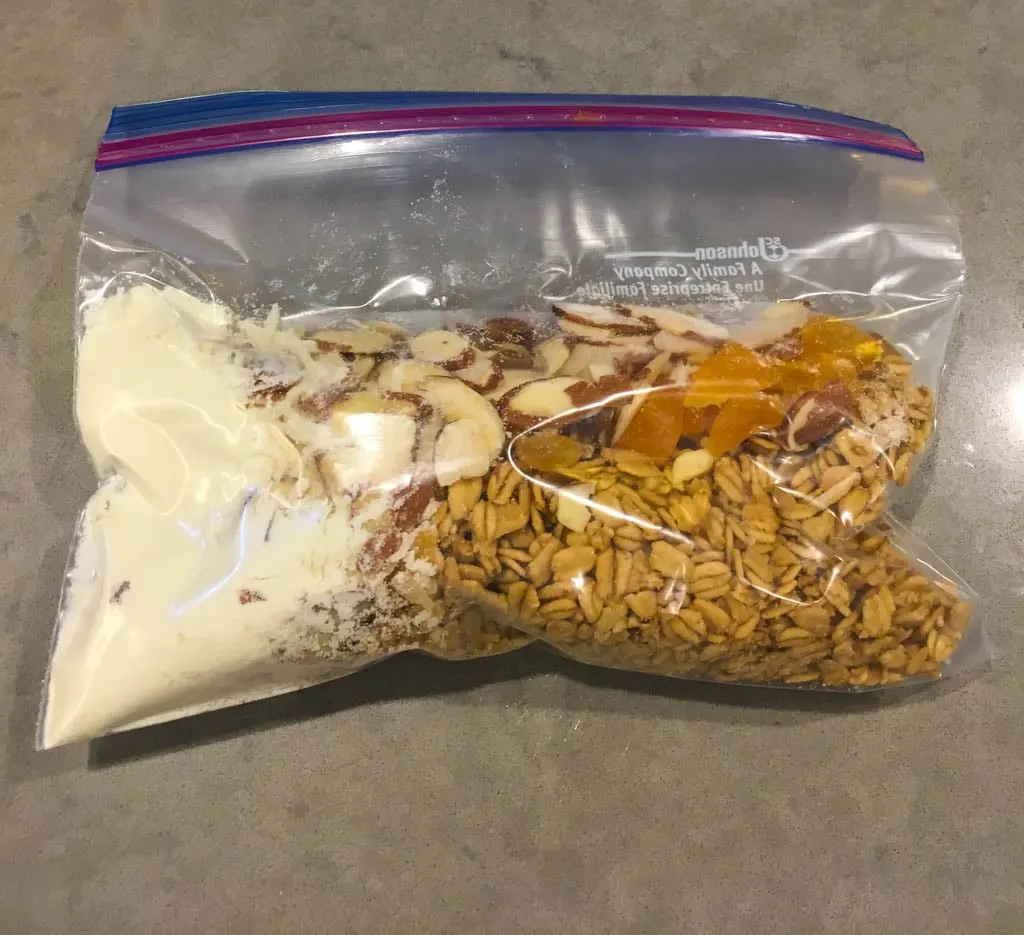 READ NEXT: Beyond Oatmeal: 6 Hot Backpacking Breakfasts
Backpacking Dinner Ideas
When it comes to backpacking dinners, I think about what the base of a meal is (pasta, rice, etc.) and then what I'm going to add to it (protein, sides, sauce, and seasoning). That way you can mix and match different ingredients to suit your tastes.
Dinner Bases
This is the heart of the meal and is usually carbohydrates. Here are some grocery store dinner base ideas:
Ramen or Cup of Noodles: I like the ones that you just add hot water to rather than the ones that have to cook for a few minutes. You can also find some really great options at Asian grocery stores. My favourite is Malaysian laksa.
Pasta: Choose thin/small pasta like angel hair (capellini) or spaghetti. Skip thick or big shapes since they take longer to cook.
Gnocchi: These shelf-stable potato noodle balls cook really quickly and are pretty filling. They are a bit heavy though.
Asian Noodles: Many Asian noodles cook just by adding boiling water – no simmering required. Read package directions to be sure. Rice noodles generally cook the fastest.
Boxed Mac and Cheese: The regular Kraft version cooks pretty quickly, but to save fuel, buy the microwavable Easy Mac version which just needs to be heated up with boiling water rather than simmered for 8 minutes.
Hamburger Helper: Add your own protein to these pasta and sauce mixes. Heads up: some of them require up to 12 minutes of cooking time.
Stove Top Stuffing: This is one of my favourite backpacking meals since it is delicious and you just have to add boiling water.
Instant Mashed Potatoes: I often pair these with Stove Top Stuffing and a packet of gravy for backcountry Thanksgiving vibes. I love the Idahoan brand since they have garlic, cheese, and other flavours.
Instant Polenta: This Italian-style cornmeal cooks in just a few minutes and is great with cheese and herbs.
Powdered Soup Mix: Soup mixes from Knorr, Lipton, and others can be a good base for a meal, especially on a cold day. But read calorie counts carefully as they often aren't very filling so you have to add in lots of other stuff.
Knorr Sides: These are a favourite for backpackers on a budget since they cost less than $2. They are marketed as side dishes, but with some protein added in, can easily be a meal for one. Read the package as some require milk and/or butter (which you can bring in powdered form) and many require 7-10 minutes of cooking.
Couscous: It cooks super quickly (just let it sit with boiling water). I like Casbah brand couscous since you can get flavoured versions like garlic and olive oil.
Instant Rice: Just add boiling water – no cooking required.
Microwavable Rice Packets: Ben's and Zatarain's make microwavable flavoured rice packets that you can heat up in a camping pot in a couple of minutes. They taste pretty good, but they are fairly heavy.
Flat Bread (Tortillas, Pitas, Wraps, Naan Bread): These travel well and are great for wrapping around all kinds of fillings. You can also fry them to make quesadillas or pizza.
Ready to Eat Curry: These Indian meals are cheap and super tasty. Some of them are designed so you immerse the package in boiling water while others need to be dumped out and heated in a pot. They are pretty heavy, so I only take them for the first night of a trip.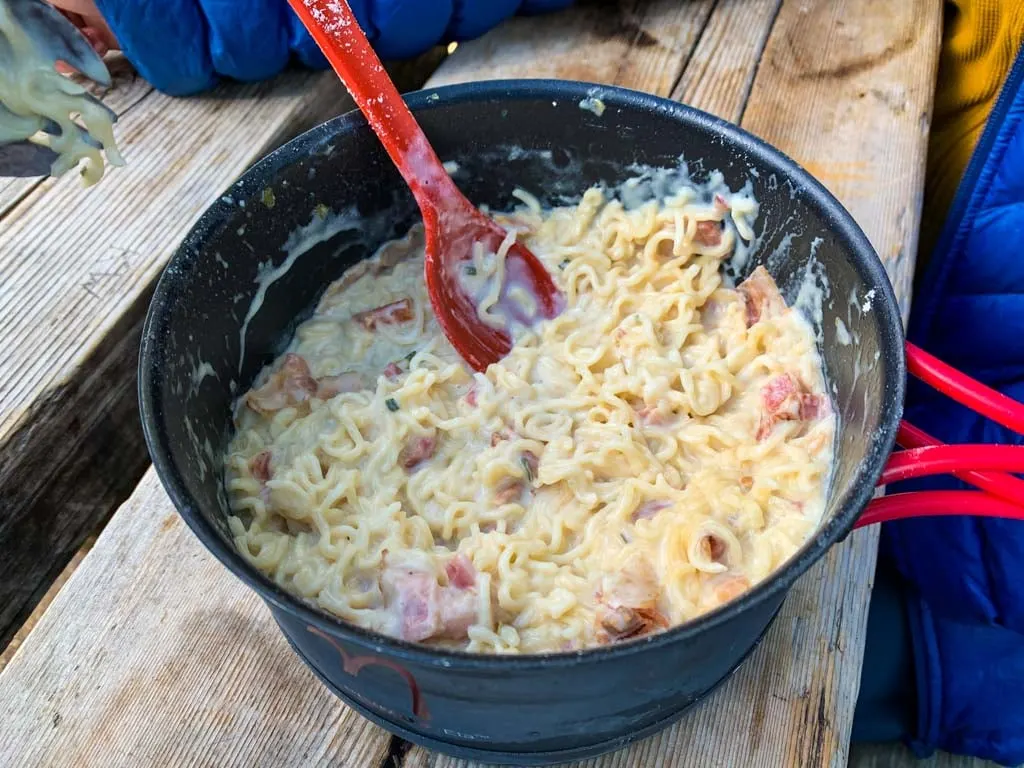 Proteins
Make sure your backpacking meals have protein as it will help you feel full. It also helps repair tired muscles. Carbs give you fast energy, but you'll crash quickly without protein.
Jerky: There are tons of delicious jerky options on the market so you don't have to settle for the leathery stuff from the gas station. Pro-tip: you can cut or tear it into small pieces and mix it with your pasta or rice while it cooks. It rehydrates a little bit and tastes more like meat.
Vegan or Tofu Jerky: I'm not a vegan, but some of this stuff is delicious. I also love the spicy tofu jerky you can buy at Asian supermarkets.
Shelf-Stable Bacon: You can buy precooked shelf-stable bacon in a box. I've used it lots of times to make a very high-calorie backcountry carbonara.
Bacon Bits: These are an easy add-in to lots of meals. I even add them to ramen.
Salami, Pepperoni or Cured Meats: These are shelf-stable so they don't need to be refrigerated.
Tuna or Chicken Pouches: A much lighter-weight option than cans. You can also get flavoured versions.
Canned Meats and Fish: These are bulkier and heavier, but there are tons of options available. They can be worth it if you are ok crushing and packing out the cans.
Powdered Eggs: You can buy OvaEasy and other powdered egg brands at some grocery stores. Mix with water, scramble, then add to your meal.
Cheese: Hard cheeses can last a few days in your backpack in mild weather. You can also pack sealed wax wheels of cheese like Babybels. Unopened Velveeta is also shelf-stable.
TVP: Textured vegetable protein is made from soy and is a great meat substitute. It also looks a bit like ground beef once it is rehydrated.
Soy Curls: These dried soy strips just need to soak in water to rehydrate. Then you can use them in lots of recipes where they mimic chicken.
Bean Curd: Also called tofu skin, you can find bean curd in strips, sheets, knots, and more at Asian grocery stores. They need to be soaked before eating to rehydrate. I love them in soups.
Instant Hummus Mix: Sold as a powder, this is a bit hard to find, but it rehydrates with cold water and is super filling.
Nuts or Nut Butter: I like to add nuts to my meals for some added protein. Pine nuts, cashews, peanuts, walnuts, and almonds are tasty in couscous, pasta, and curries. A few spoonfuls of peanut butter are great in Asian dishes.
Sauces, Seasonings and Sides
If you spend some time in the seasoning aisle at the grocery store you will be surprised at all the good stuff you can find. It's also worth looking in the soup, ethnic food, and produce sections to find other sauces, seasonings, and sides.
If you are buying a mix, read the directions carefully as some require milk, butter or oil. But you can always bring powdered milk and butter or a small container of oil. Some sauces will also work with just water but they may not taste as rich.
Here are a few ideas for sauces, seasonings, and sides:
Pasta Sauce Mix: You can find powdered bases to make lots of cream-based pasta sauces. However, most require you to add milk.
Pesto Sauce: It's not that light, but it's very high calorie and a little bit goes a long way.
Gravy Mix: Great for mashed potatoes.
Mexican Spice Mix: Taco seasoning or burrito seasoning packets add a kick to rice.
Asian Spice Mix: Packets of stir-fry seasoning or chow mein seasoning are great in rice or noodles. Most require you to add soy sauce so save the ones you get with take-out Chinese food or sushi.
Curry Paste: You don't need much to make a flavourful Thai meal. You can sometimes find it in small pouches or use a reusable container to pack a few tablespoons from a larger jar.
Bouillon Cubes or Powder: These add lots of flavour to otherwise bland dishes. Just be careful as some are very salty.
Butter Powder: Butter makes it better! Great for adding to meals that call for butter like Knorr sides or mac and cheese.
Fast Food Sauce Packets: Collect soy sauce, hot sauce, ketchup, vinegar, and more from fast food restaurants, then bring them along to add to backpacking meals.
Freeze-Dried Herbs: You can find little jars of freeze-dried herbs (chives, garlic, etc.) in the produce section. They rehydrate well and taste better than the dried versions in your spice cabinet.
Dried Mushrooms: These add an incredible amount of umami to your meal. Great in Asian dishes, pasta, and couscous. Some need a lot of rehydration time, so you may need to soak them for an hour before dinner.
Sundried Tomatoes: Buy the dry ones, not the messy oil-packed ones. Great in pastas and couscous. My tip – cut them into smaller pieces for faster rehydration.
Dehydrated Veggies: You can sometimes find dried vegetables at the grocery store and they make great add-ins for all kinds of dishes. But if you see them, buy them as can be hard to find!
Grocery Store Backpacking Dinner Recipes
Here are a few of my go-to grocery backpacking dinner recipes. They each have four ingredients or less!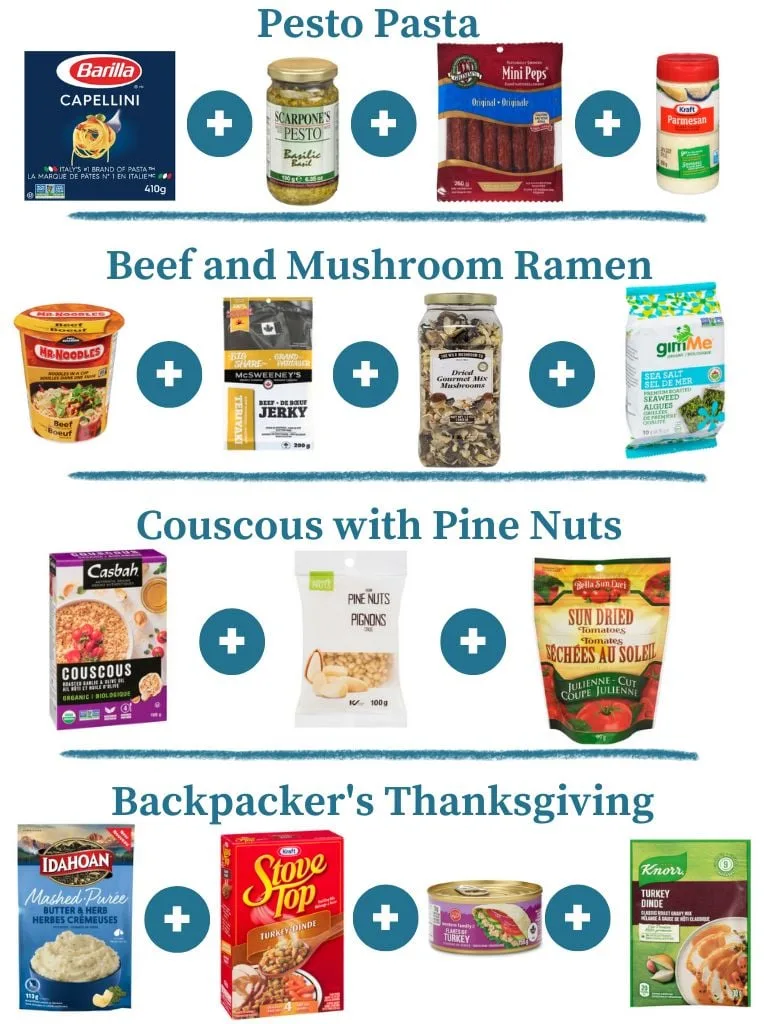 Backpacking Dessert Ideas
For me, dessert is usually chocolate or some durable high-calorie cookies like stroopwafels. But it can be nice to treat yourself to a more elaborate dessert sometimes. Here are a few of my favourite ideas:
Instant Pudding: Easy to make since you just combine pudding mix, powdered milk, and water, then whisk. I like to eat it with Oreo cookies crumbled on top.
Jello No-Bake Cheesecake: These mixes are fun to make individual cheesecakes in camping mugs. If it's really hot out, put the cups in a shallow stream or lake to help them set faster.
Mug Cake Mix: While these are designed to be made in the microwave, you can also make them on a camping stove set to its lowest temperature. If your pot is wide, make 2 or 3 mug cake mixes at once otherwise your cake will be really thin and burn quickly.
Chocolate Fondue: You can melt chocolate, add a bit of liqueur, then dip in cookies, dried fruit, pretzels and whatever else you like. My backpacking chocolate fondue recipe has the details.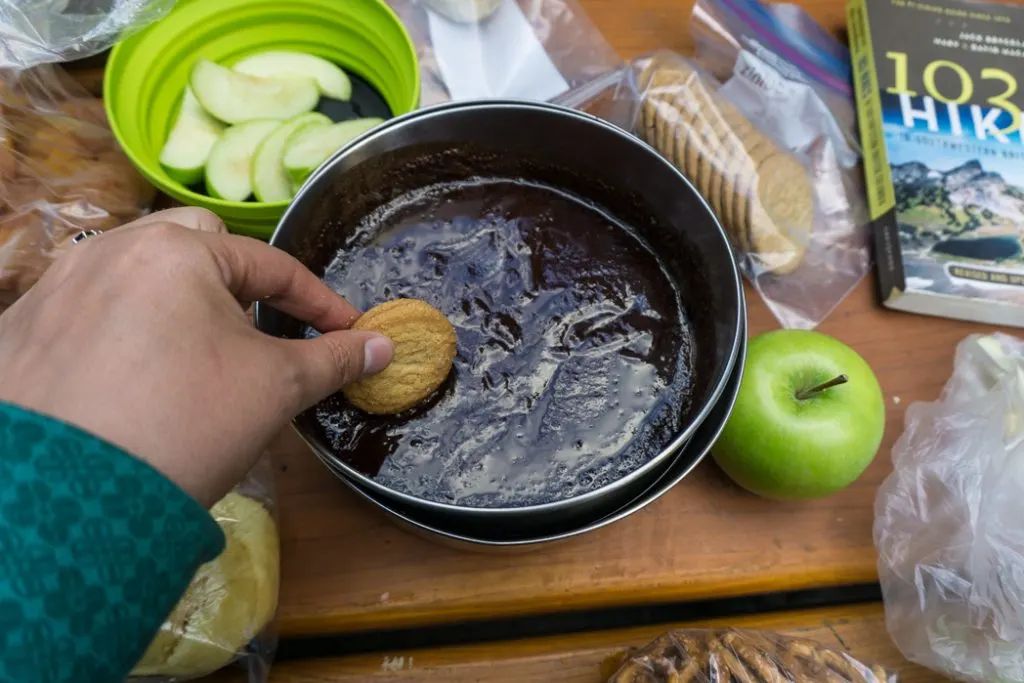 How to Pack Food for Backpacking
I like to repackage food for the trail so that it is lightweight, compact, and doesn't leak. It's much easier to deal with than the packaging that grocery store food comes with. Here's what I use:
Ziploc bags
I pack most of my backpacking in medium and large Ziploc freezer bags. They are more durable than the regular kind. I bring them home from my trip, wash them, then use them again to avoid creating waste.
If you want to save money and reduce waste, you can also reuse resealable bags that grocery store items come in – just give them a wash first. I also own a few reusable silicone Stasher bags. They are a bit heavier and bulkier than Ziplocs, but they last a long time and are dishwasher-safe.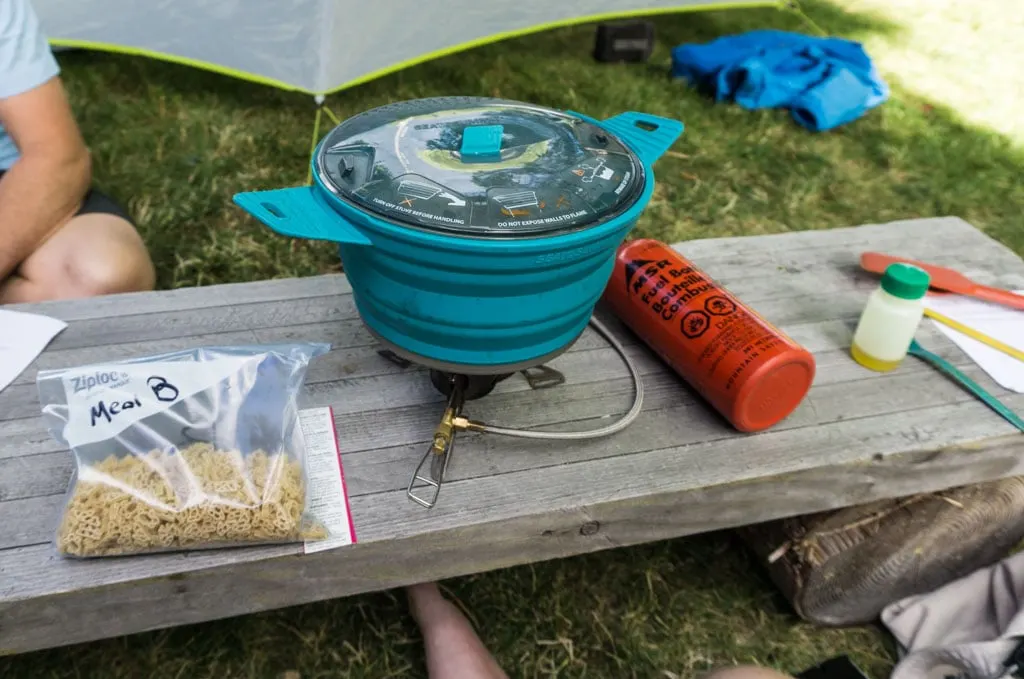 Vacuum Sealer
I also own a vacuum sealer, which I bought to keep my home dehydrated food fresh for as long as possible. But you can also use it to repackage grocery store food for backpacking.
Using a vacuum sealer is a great way to compress your food as small as possible. That feature is really helpful when you're trying to pack your food into a bear canister or heading out on a long trip.
Unfortunately, the bags are not reusable, so using a vacuum sealer can be a bit wasteful. I have a basic Nesco VS-12 Vacuum Sealer which came with bags. The version I have is pretty affordable and I don't feel the need to upgrade to a fancy one.
Resealable Containers
If I'm carrying liquids, I pack them inside small resealable containers. My favourites are the humangear Gotoob+ silicone bottles. They're mini squeeze bottles with a locking cap and they come in a few different sizes.
I also like the Nalgene mini containers and jars. They have secure screw-on lids and also come in lots of sizes. You can also find tons of small containers on Amazon. Read reviews carefully as some don't seal very well!
No matter what kind of container I use, I always bag it inside a Ziploc for extra protection. I've had leaks, and they aren't fun!
Bring Cooking Instructions
Don't forget to include cooking instructions for the food you bring. It's important to know how much water to add! I sometimes write the instructions on the outside of a Ziploc bag using a Sharpie marker. But that method makes it harder to reuse the bags.
Instead, I cut out the part of the package that has the instructions and pack it along with my food. You can also take a photo of the packaging and store it on your phone.
What's your favourite grocery store backpacking meal? Leave your recipes in the comments as I'm always looking for new things to try.
READ NEXT: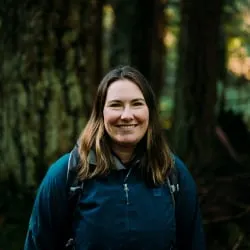 Latest posts by Taryn Eyton
(see all)