When I was planning my trip to Tasmania, I knew I wanted to experience some of the beautiful wilderness that the state is known for. The obvious choice was the Overland Track. It's a 65+km multi-day traverse through the high mountains of Cradle Mountain-Lake St Clair National Park in the centre of the island.
I knew the Overland Track would be the highlight of my trip to Tasmania. And I was not wrong. Despite getting pelted by snow in the middle of summer, my early February hike was amazing. I loved the high alpine plateau scenery, the craggy peaks and the moss covered forest.
As usual, I did a ton of research before my trip so I've put together an incredibly comprehensive guide to the Overland Track just for you.
This guide includes:
Hey there: Some of the links in this post are affiliate links, which means I earn a small commission at no cost to you. Thanks for your support. -Taryn
Want more Overland Track details? Check out these posts:
Overland Track Description
The Overland Track is probably the most famous long-distance track in Australia. It covers 65km across the high mountains in the centre of Tasmania's World Heritage Wilderness Area.
Your hike starts at Cradle Mountain National Park in the north and climbs over the shoulder of Cradle Mountain. It then drops down onto an undulating plateau speckled with lakes.
Next you climb up out to Pelion Gap at the foot of Mount Ossa, Tasmania's highest mountain, then descend to another high alpine plateau with many waterfalls.
After crossing Du Cane Gap it's all downhill to the finish line on the shore of Lake St Clair, Australia's deepest lake. There are huts and campsites situated along the way, plus lots of options for side trips.
Want more details? I've got a whole post with a kilometre-by-kilometre description of exactly what to expect along the Overland Track. Read my Overland Track Section-by-Section Overview
Overland Track Maps
I've put together a quick Google Map overview of the Overland Track below. It includes all the campgrounds, huts and points of interest on the main track. There's also a separate layer that shows all the side trip tracks. You can toggle that layer on and off.
On the trail you'll want to bring the Cradle Mountain and Lake St. Clair Waterproof map by TASMAP. You can buy it at shops in Tasmania, at the national park, or online when you make your Overland Track reservations.
It's a great map with a topographic map on one side showing the Overland Track, campgrounds, huts and all trails. The other side has abbreviated track notes for the Overland Track so you can carry only the map on your trip and don't have to be weighed down by a guidebook.
How Long is the Overland Track? How Many Days Does it Take?
The Overland Track is 65km long. However, some people choose to extend their trip another day by walking along the shores of Lake St Clair instead of taking a ferry across. This brings the total to 80km.
There are also lots of optional side trips that will add to the distance.
Without taking any side trips or rest days, it takes most people six days to walk the Overland Track from Ronny Creek to the Narcissus ferry landing. If you choose to skip the ferry and walk all the way the Lake St. Clair Lodge, it will take 7 days.
The typical day-by-day itinerary is as follows:
Depending on your fitness, experience, or interest in side trips, you could complete the Overland Track in as little as 4 days or as many as 12.
READ NEXT: 6-Day Overland Track Itinerary (Plus More Itinerary Options)
READ NEXT: Your Guide to All the Overland Track Side Trips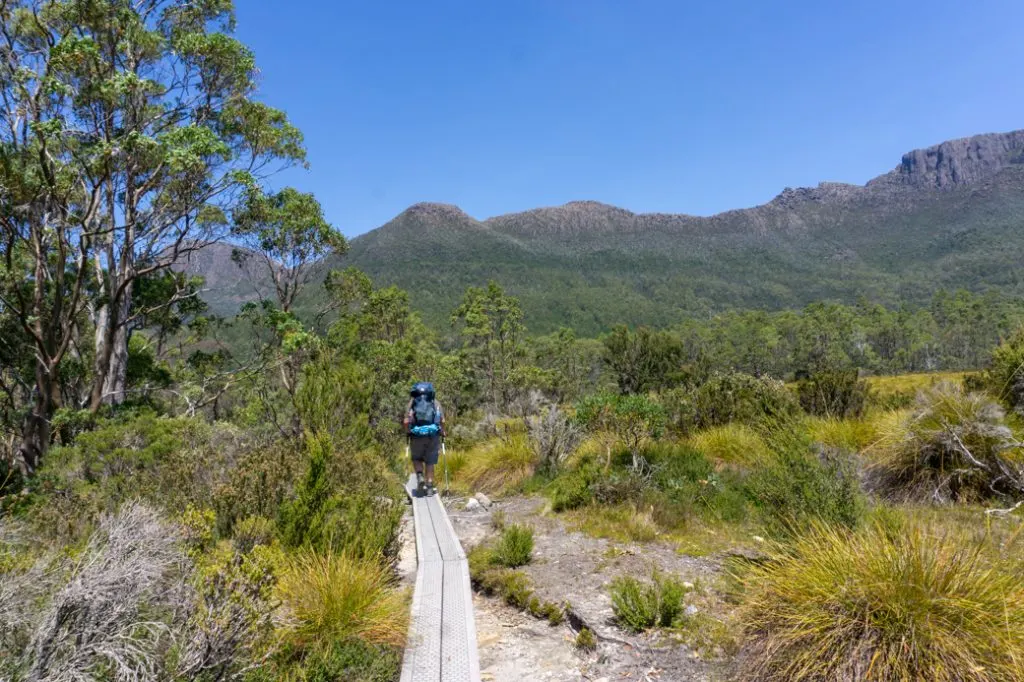 How Difficult is the Overland Track?
If you've never done a multi-day hike before, you may find the Overland Track quite difficult. But for most fit people and experienced hikers, I'd say the Overland Track is a moderate hike. However, adverse weather conditions can quickly turn it into a difficult one.
As well, while the main Overland Track is fairly easy, some of the side trips are quite difficult.
In general, to walk the Overland Track you will need to be able to walk about 12km a day or more while carrying about 18kg/40lbs in your backpack.
The track is uneven and very slippery in places, with lots of climbs and descents. You will need to make sure you are prepared with the right gear to keep you warm and dry. And of course you need to be okay with going without a shower for the entire trip!
READ NEXT: Overland Track Section-by-Section Overview
Overland Track Walk Options
There are four ways to hike the Overland Track:
Guided in Private Huts: If roughing it isn't your thing, you can still hike the Overland Track. Sign up for the Cradle Mountain Huts Walk. It's a guided version of the Overland Track where you stay in private huts that have hot showers and provide all meals. This is the most expensive option.
Guided with Camping: If you're new to bushwalking, you may want to go with a guided group. You will walk with your guide and group each day, then camp in the designated group campgrounds each night. The guides carry the bulk of the group gear and prepare all meals. Some companies may use helicopter-delivered food to reduce weight.
Un-Guided Group with Camping: Groups of 8-13 people can walk the track as a group. Typically these groups are school groups, clubs or community organizations. Groups must stay at designated group campsites reserved for them.
Self-Guided with Camping and/or Public Huts: Most people (including me) walk the track independently staying at public huts and campgrounds. All of the information I have included in this post is specific to self-guided walkers.
READ NEXT: The Complete Guide to Overland Track Huts and Camping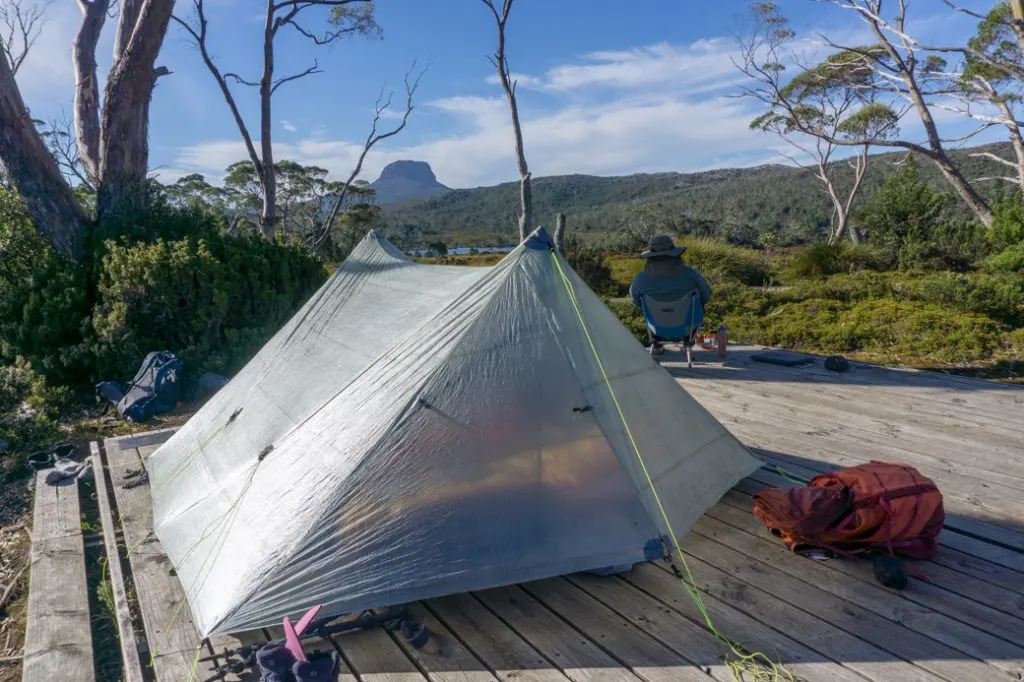 When To Hike the Overland Track
The best time to hike the Overland Track is in the Tasmanian summer and fall between December and April. At that time the weather is warmest, there is no snow and there is a lot of daylight. However, it can still get quite cold and rainy.
The permit season for the Overland Track runs from October 1 to May 31. During this period you have to pay the Overland Track fee, book in advance and are only permitted to walk from north to south. (See Permits section below for more info.)
In the winter and early spring from June 1 to September 30th there is no track fee and no reservations. You only have to buy a national park entry pass. During this period you are also permitted to walk in either direction. However, since it is winter and the area gets a lot of snow, you'll need to be prepared with snowshoes, winter gear, navigation experience and excellent winter survival skills.
How Much Does the Overland Track Cost?
The short answer: At least $241.20AUD, but probably more. The typical self-guided hiker will pay at least $471.20.
The long answer: The total cost of your Overland Track walk will vary depending on which transportation options you choose and whether you decide to take the Lake St Clair ferry or not. (See below for more info on transport.) Here's a simple breakdown of costs for a typical Overland Track trip for one person:
Overland Track Permit Fee: $200
National Parks Pass: $41.20
Lake St. Clair Ferry: $55
Shuttle Bus Launceston to Cradle Mountain: $87.50
Shuttle Bus Lake St. Clair to Launceston: $87.50
Typical Cost to Walk the Overland Track without a guide: $471.20AUD
Psst! Think the Overland Track is too expensive? Check out nearby Walls of Jerusalem National Park instead. You can go bushwalking there for just the cost of a National Parks pass.
How to Book the Overland Track
For trips between October 1 and May 31, you must purchase an Overland Track permit. As of 2022, permits are $200 for adults and $160 for children and seniors. The fee pays for track maintenance and management including huts, toilets and rangers.
You must make your Overland Track booking in advance on the Tasmania Parks & Wildlife Service website. You can make reservations for the season each year starting on July 1st.
The National Park allows 34 independent walkers to start the Overland Track each day. The maximum group size is 8.
Book well in advance for dates in late December and all of January as they sell out fast. When you make your booking, you are confirming your Overland Track start date only. You can take as long as you like on the trail and cannot reserve huts or campsites.
If you don't get a reservation, you can add your name to the wait list.
In addition to an Overland Track permit, you'll also need to purchase a National Parks pass. There are several types of passes available. The best value for Overland Track walkers is the 8 week holiday pass that is $41.20/person or $82.40 for a group of up to 8 people travelling in the same vehicle. Annual passes are also available. You can buy your pass when you start the track.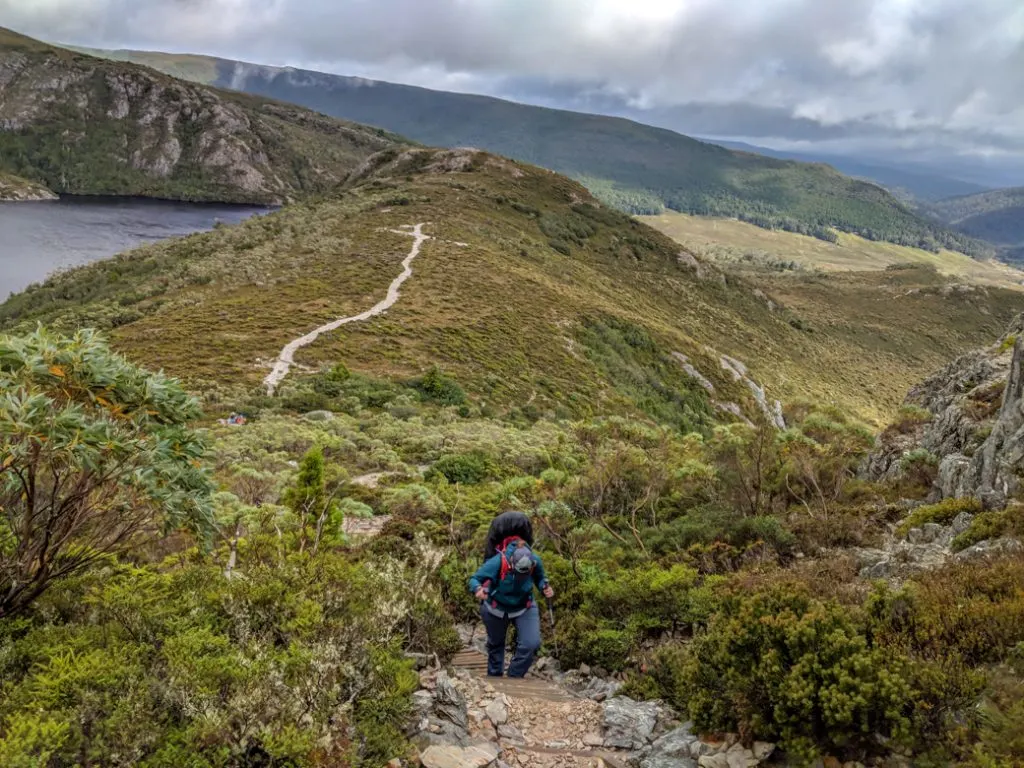 Transportation to the Overland Track
When I was planning my trip I didn't give that much thought to booking transportation. It actually turned out to be one of the most complicated parts of the trip since the Overland Track starts and ends in different places.
You can drive yourself to and from the track, but booking a bus is more convenient. My advice is to book your transport as far in advance as possible. You will need to decide how you are getting to and from the track and whether you want to take the Lake St Clair ferry or not.
I've got a whole guide to Overland Track transportation, so go check that out. It includes info on shuttle buses, car shuffles, the Lake St Clair ferry and even where to stay before and after your walk.
READ NEXT: Overland Track Transport: How to get there and where to stay before and after your walk
What is the Weather Like on the Overland Track?
Most of the Overland Track is above 1000m elevation in the high mountains of Tasmania's central plateau. This means that it can be quite cold up there, even in the middle of summer.
Temperatures in December, January and February are typically between 5 and 18C. However it can get even colder. On my trip, we actually had quite a bit of snow and hail on January 31!
It also rains quite a bit on the Overland Track. The driest months are January, February and March. The wettest months are May to October. It's important to go prepared for cold weather and rain, no matter what the weather forecast says.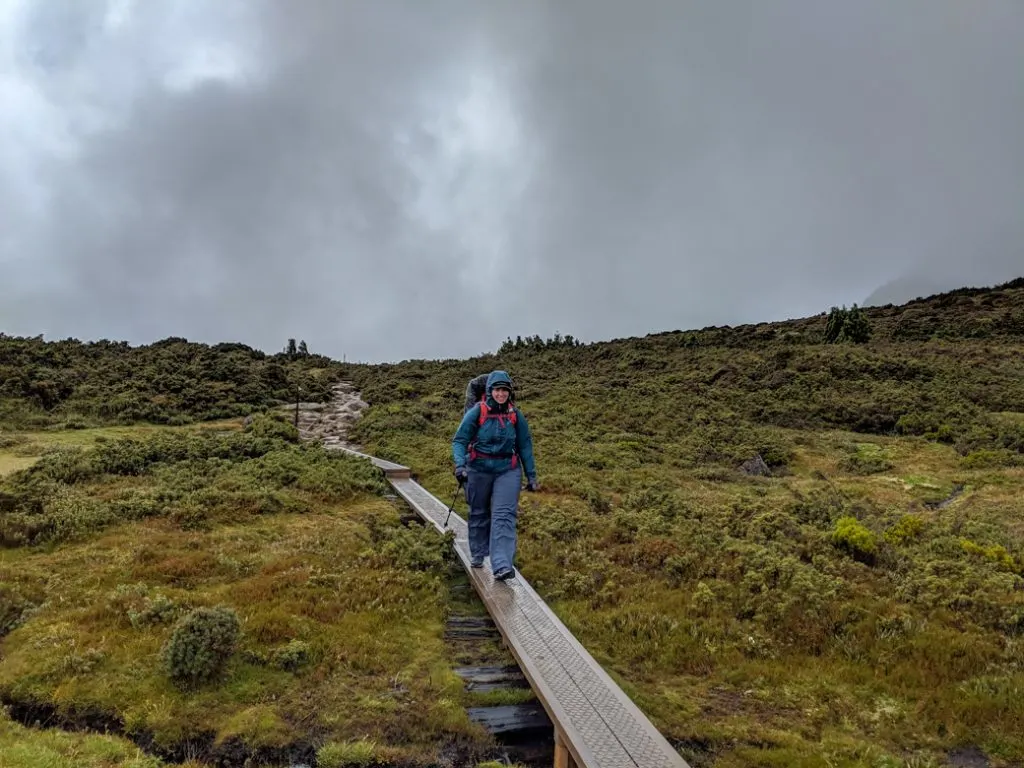 What to Bring
You will need to be totally self-sufficient on the trail and carry in everything you will need for your trip – right down to the toilet paper! For a full run-down on what to bring on the Overland Track, see my detailed packing list.
The last place to buy supplies is the visitor centre at Cradle Mountain. There are no shops anywhere on the track.
To avoid carrying a stupidly heavy pack, choose lightweight hiking gear rather than heavy conventional camping gear. The weather in the mountains is also often very cold and wet so be sure to pack accordingly. Bring sturdy waterproof boots since the track can be very wet.
Even if you plan to sleep in the huts, bring a tent just in case. And since campfires are banned, you need to bring a stove for cooking.
READ NEXT: Overland Track Packing List: Everything You Need to Bring
Safety
The Overland Track is in a remote area where getting help is difficult. Make sure you are physically and mentally prepared.
Take a first aid kit and consider bringing a Personal Locator Beacon (PLB) or satellite messenger. You can hire them from the Cradle Mountain Visitor Centre, gear shops and some Service Tasmania locations. I brought my Garmin inReach Mini on my Overland Track walk.
There are log books along the track at the start, finish, and huts. Be sure to sign each book so park rangers can locate you in case of an emergency.
Be prepared to turn back to the nearest hut or stop and make camp if the weather gets too bad or you are having difficulty with the hike. If you keep pushing forward, you may just make your situation worse by injuring yourself. In particular, be alert for signs of hypothermia.
Gastro problems are one of the most common ailments on the Overland Track. Be sure to wash your hands or use hand sanitizer after using the toilet and before eating.
Be careful with drinking water. The rainwater in the barrels at the huts is not treated. In general it should be safe to drink but I always filtered it. While the water quality in Tasmania's highlands is excellent, you never know if there is a dead animal or their poo upstream.
Filter or treat all water you collect from streams. Due to high human use, avoid collecting water in the Cradle Mountain day use zone before Waterfall Valley. (Check out my packing list for more info on filtering water.)
Wildlife on the Overland Track
The Overland Track provides some of the best opportunities to see wildlife in Tasmania. Many of the campgrounds and huts have possums, mice, wombats, pademelons and wallabies hanging around. As you walk the track you may spot echidnas, snakes, skinks and many species of birds.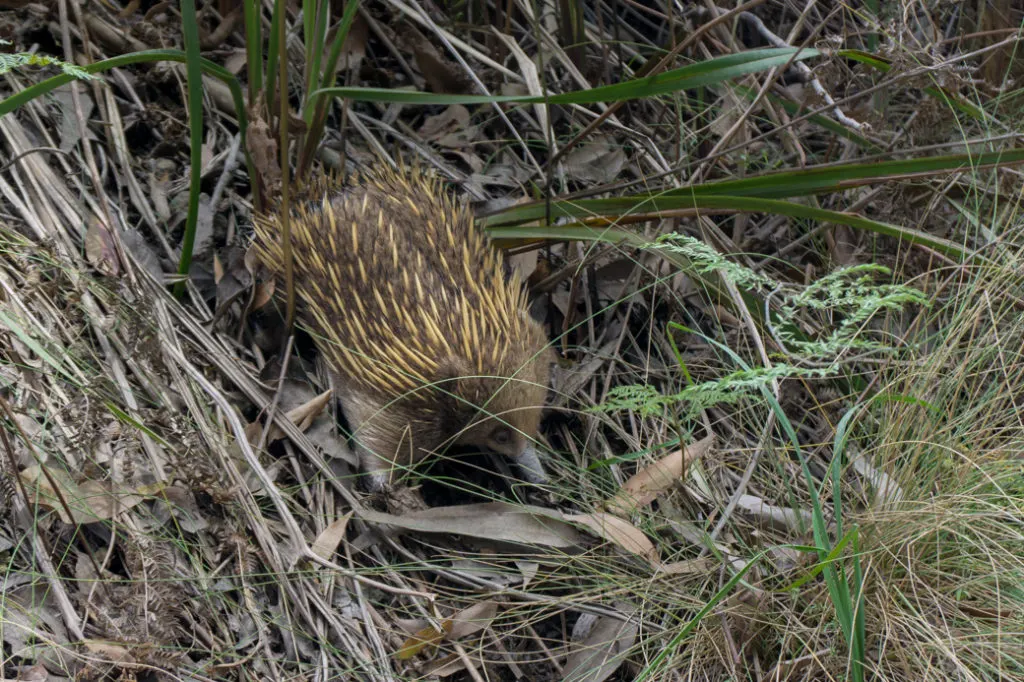 In general, most wildlife encounters are positive (and super cute!) However, you do need to protect your food from marauding possums and currawongs and avoid snakebite.
Birds and other animals have learned that they can get food from hikers. Currawongs (a black bird in the crow family), possums (a cat-sized nocturnal marsupial) and mice are particularly brazen. Never feed animals.
Always store all food and rubbish deep inside your pack or store it inside the huts. Remember to check all your pockets! I like to seal mine inside a dry bag that is difficult to chew through and always store it inside the huts, not in my pack or tent.
We actually had a possum try to get into our backpacks one night while we slept, despite the fact that there was no food in them. It seemed she had learned that hiker's packs always contain food!
If you leave your pack to go on a day hike, be sure to cover the zips with a rain cover or tie them shut. Currawongs have learned how to undo zippers to get at food!
There are three types of snakes in Tasmania and two of them live along the Overland Track: tiger snakes and white-lipped snakes. They are both poisonous but bites can be treated with the same anti-venom.
Watch for snakes sunning themselves on or near the track on warm days. They usually slither off if you approach. Most snake-bite victims were trying to kill or catch a snake, so as long as you steer clear of them, you'll be fine. I saw four snakes on my walk, most of them between Windy Ridge and Narcissus. They all slithered off before I could get a good look at them.
READ NEXT: Best Places to See Wildlife in Tasmania
Overland Track Rules
The Overland Track is a popular walk and it is also environmentally sensitive. As always, be sure to Leave No Trace and pack the 10 Essentials. The park rangers have put a few rules in place to protect the area.
Dogs: No dogs are allowed.
Fires: No fires are allowed. Bring a camp stove for cooking. Cook on metal topped tables or benches inside the hut. If you cook outside, place your stove on the metal plates on the tent platforms. There are heaters in the shelters but they can only be used when it is less than 10C inside the hut. You also can't use the heaters for cooking.
Rubbish: There are no bins on the Overland Track. You must carry out all of your rubbish. You may not burn it in the hut heaters or leave it in the toilets. Food scraps can go down the toilet, but you can't put any other kind of rubbish in, including tampons, sanitary pads and condoms.
More Overland Track Resources
There's lots of helpful info on the Tasmanian Parks & Wildlife website.
I also used The Overland Track: One Walk Many Journeys guidebook from the Tasmania Parks & Wildlife Service. This is the official guidebook to the trail. You can buy it when you make your track booking or at the Cradle Mountain Visitor Centre. It's a paperback so its theoretically light enough to bring on the hike with you (although I didn't bother as I was trying to save weight.)
I've got lots more info on the Overland Track. Check out these posts:
Do you have questions about the Overland Track? Ask them in the comments and I'll help you out.
MORE TASMANIA INFO: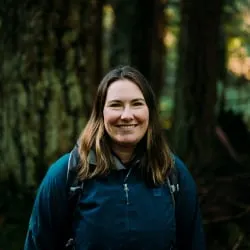 Latest posts by Taryn Eyton
(see all)