The West Coast Trail is a wilderness experience: each night you'll pitch your tent on a remote beach and listen to the waves crash as you fall asleep. I've hiked the West Coast Trail twice and visited all of the campgrounds. And I can tell you… some of them are definitely nicer than others. (And none of them are bad.) I've put together a massive guide for you with everything you need to know about West Coast Trail camping.
WANT MORE WEST COAST TRAIL INFO? Check out these posts:
West Coast Trail Camping Basics
There are 13 official campgrounds on the West Coast Trail. They are all on the coast. With a few exceptions they all have:
composting toilet(s)
access to fresh drinking water from a nearby creek
metal food storage lockers (and sometimes food storage poles too)
a mix of cleared campsites in the forest and campsites on the beach sand. (Be sure to pitch your tent WELL above the high tide line.)
There are also a few other places to camp on the West Coast Trail. Legally, you can camp anywhere along the trail; you don' t have to camp in a designated campground. However, there aren't many good spots to camp outside of campgrounds as flat ground is hard to find. As well, there are two different paid places to camp on First Nations Reserves: Ditidaht Comfort Camping near Tsuquadra Point (closed in 2023) and cabins and tenting at Nitinaht Narrows.
You can't make reservations for any of the free campgrounds on the West Coast Trail – just show up and hope there is room. You also don't have to file an itinerary with Parks Canada so you can change your mind on the fly if you come to a nice campground and want to stay awhile.
Join the Backpacking in BC Facebook Group
Toilets on the West Coast Trail
There are no flush toilets on the West Coast Trail. All the toilets are composting outhouses.
These are typically two-story structures with the waste at the bottom and a cubicle at the top with a toilet seat. Most of them have ladders up to the top level, but a few of them have stairs or a ramp.
They produce compost by combining human waste with wood chips. After you are finished your business, pour a scoop of wood chips down the hole. In general, the toilets don't smell too bad. To me, they smelled a bit like a hamster cage that needs cleaning. (I guess that's the woodchips?)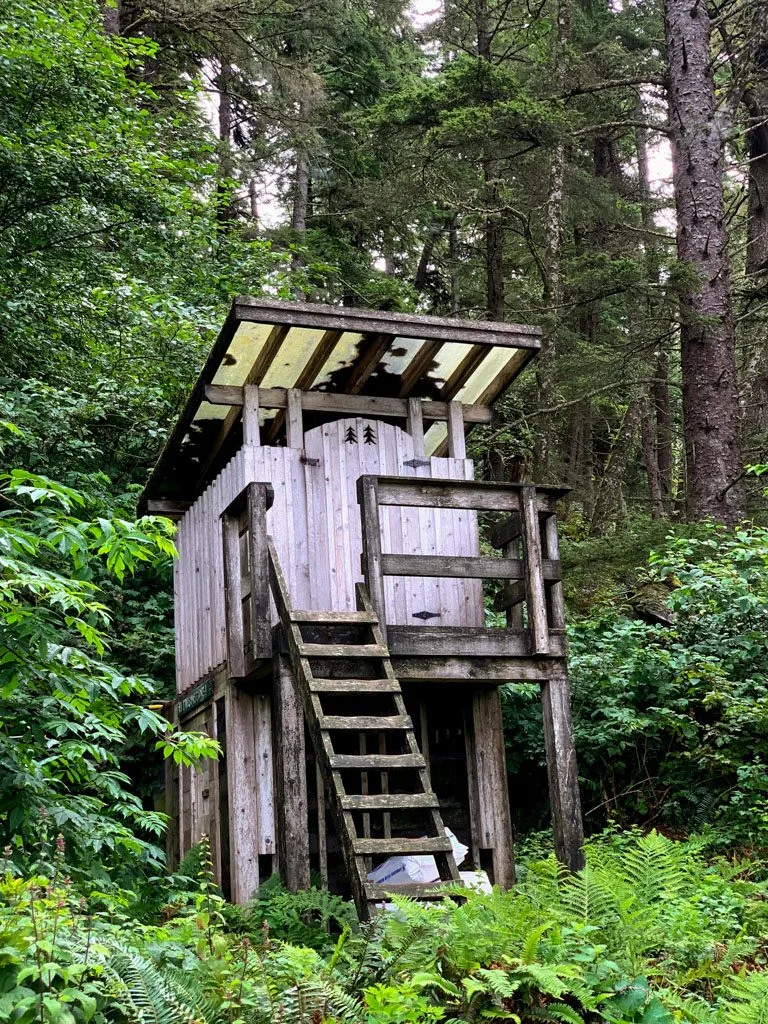 One important thing to note: toilet paper is not supplied! You'll have to bring your own. (They do provide LOTs of wood chips though.)
You can find toilets on the West Coast Trail at every campsite except Orange Juice Creek. There are also toilets at the Pachena Bay trailhead, Gordon River Parks Canada Office, Ditidaht luxury tents and Nitinaht Narrows. There are no public toilets at the Carmanah and Pachena lighthouses.
If you need to go to the bathroom and you aren't near a toilet, use Leave No Trace best practices. Pick a spot 200ft/70m away from trails, campsites and water sources. Dig a hole 6″ (15cm) deep, then bury your poop. You can use a small trowel, a tent peg or a stick to dig. Bring a ziploc bag to pack out your used toilet paper, then dump it in the next outhouse you find.
Drinking-Water on the West Coast Trail
The West Coast Trail is in a wet climate, so there are lots of streams to collect water. The only exception to this is the stretch between the Ditidaht luxury cabins (km30) and Dare beach (km40), which doesn't have a lot of freshwater streams.
Every campsite on the trail has a nearby creek to collect drinking water. However, some of them are tidal so you may have to walk far upstream to collect water at high tide or wait for the tide to go out.
While the water on the West Coast Trail may look pristine, you have no idea what animals and humans may have been doing upstream. Many of the creeks originate outside the park in prime logging territory. You never know – there could be dead animals, human waste or other nastiness in the water. Always use a filter or purifier.
Food Storage on the West Coast Trail
The West Coast Trail is in prime bear, cougar and wolf country. There are also lots of mice, squirrels and other little critters that want to eat your food. It's important to store your food out of the reach of animals. That way you won't go hungry for the rest of your trip. And also animals won't get used to human food (which is bad for their health) and start harassing people. Because that can be scary!
Most campgrounds on the West Coast Trail have food storage boxes or poles. (The only exception is the Orange Juice Creek campground.) Store your food inside the boxes to keep it out of reach of animals. Make sure you do up the latches.
And make sure you take all your food and garbage with you when you leave. Apparently, some hikers have left food in the boxes thinking they are being helpful. But then no one eats the food, it rots, makes the food boxes smell disgusting, and then they attract animals. Gross.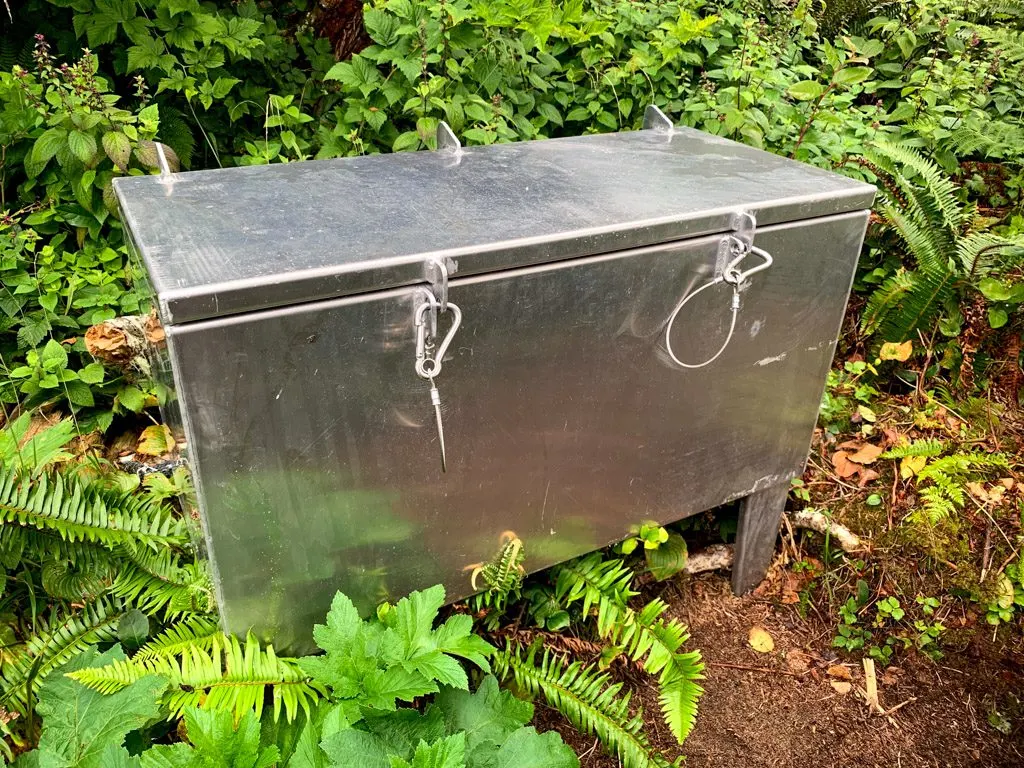 Two of the campgrounds on the West Coast Trail also have food poles. (As of 2019, you can find them at Michigan Creek and Thrasher Cove. Parks Canada plans to install them at other campgrounds soon.) These are metal poles with prongs on the top. You throw a rope up over the prongs, tie one end to your food bag, haul it up high, then use the cleats to secure the other end to the bottom of the pole. The slippery metal poles are impossible for animals to climb, so your food stays safe.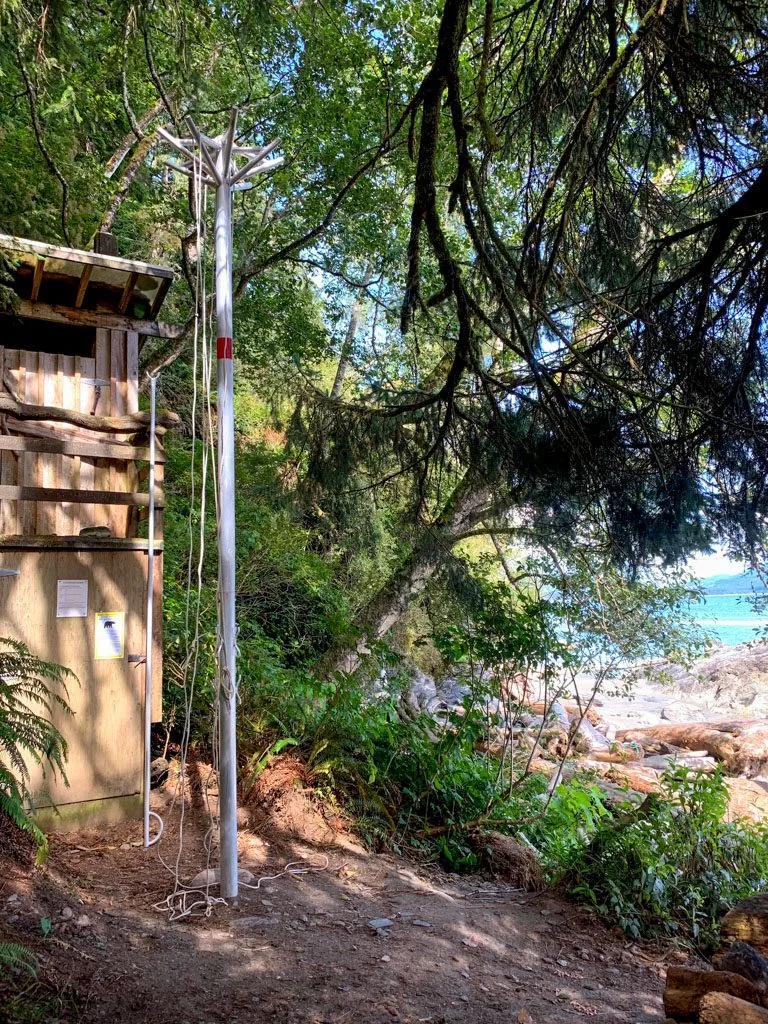 Sometimes the food storage boxes get full. Or maybe you are choosing to camp at a place without food storage. In that case, you'll need to hang your food in a tree. It needs to be 2 meters (6 feet) from the branch you hang it off it, 2 meters (6 feet) from the tree trunk and 4 meters (12 feet) off the ground.
Bring some rope, a carabiner, and a secure bag for your food just in case you need to use this method. It can be a bit challenging to get the hang right, so it helps to practice at home first. You can read more about safe food storage in bear country on in my post about Bear Safety Tips for Backpackers.
Campgrounds on the West Coast Trail
Michigan Creek Camp (KM12)
The Michigan Creek campground is often used as a first-night or last-night camp since it is the closest campground to the Pachena Bay trailhead. You can camp on the sloping beach, but there isn't that much room above the high tide line. There are also campsites in the forest near where the trail meets the beach, as well as on the other side of the creek. There is often not very much driftwood at this site, so it's not great if you are determined to have a campfire.
Darling River Camp (KM14)
The campground at Darling River is nicer than the one at Michigan Creek. We wanted to stay there on our August 2019 West Coast Trail hike, but there was a bear in area warning at the time, so we stayed at Michigan 🙁 The Darling River campground has nice soft sand to camp on and lots of driftwood for fires. The main campsite is on the south side of the Darling River, which is usually easy to wade across.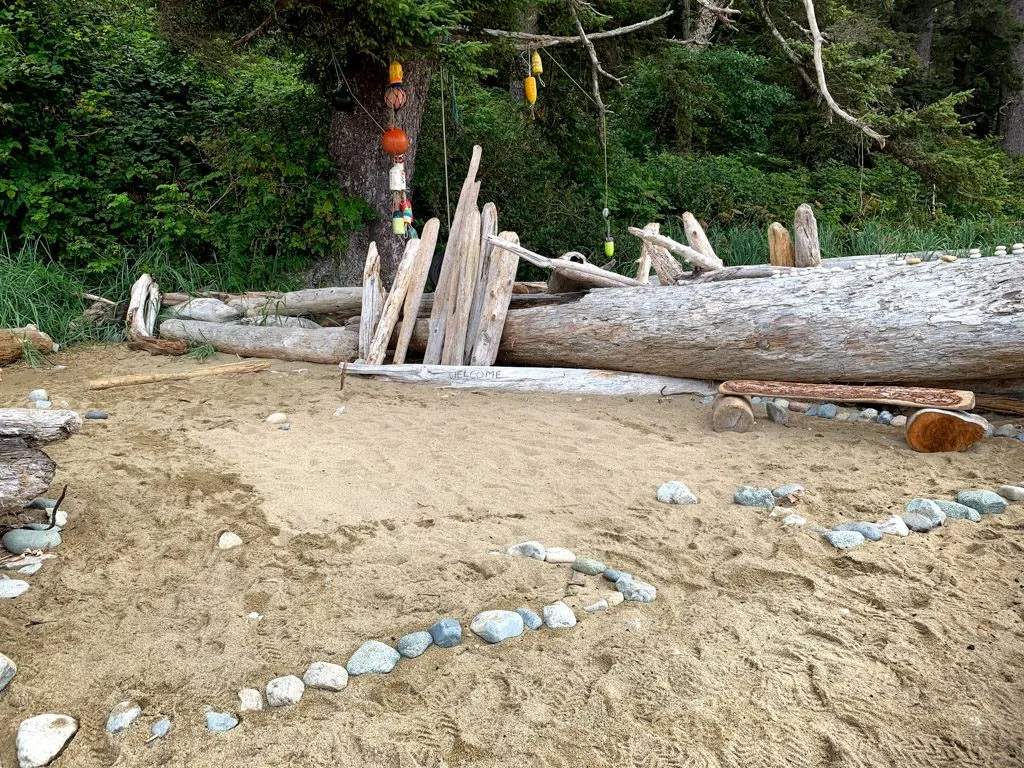 Orange Juice Creek Camp (KM15)
This is the only official campground on the West Coast Trail that doesn't have an outhouse or a food storage locker. Therefore, it doesn't get used that frequently. There are some campsites in the forest and a bit of room on the sandy beach above the high tide line. Orange Juice Creek flows out to the beach through a lot of driftwood.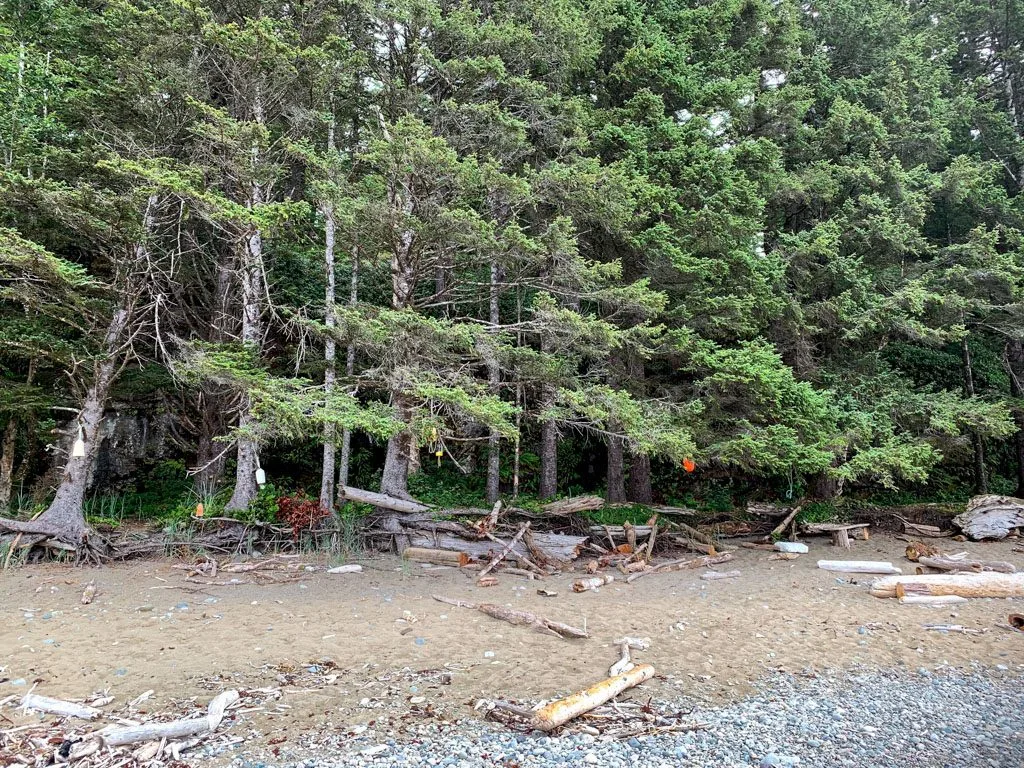 Tsocowis Creek Camp (KM17)
The campground at Tsocowis Creek is another seldom-used campground. It's got a beautiful sandy beach. There are a few tent spots on the main beach and more tucked around the corner near the creek. There is a Guardian cabin here for the First Nations trail guardians who do maintenance.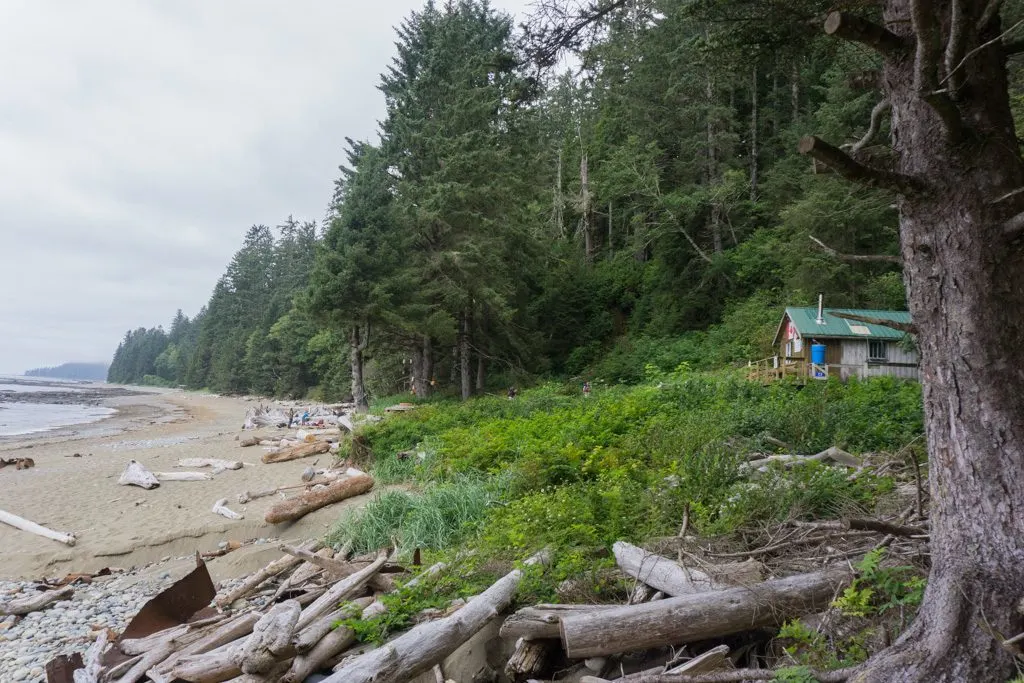 Klanawa River Camp (KM23)
There is a wide, sandy beach on the north side of the Klanawa River, plus more spots in the forest for camping. However, the Klanawa River is tidal so you can't get drinking water from it, even at low tide. The easiest place to get water is at a creek on the south side of the river. But unfortunately, the only way to get there is via the cable car!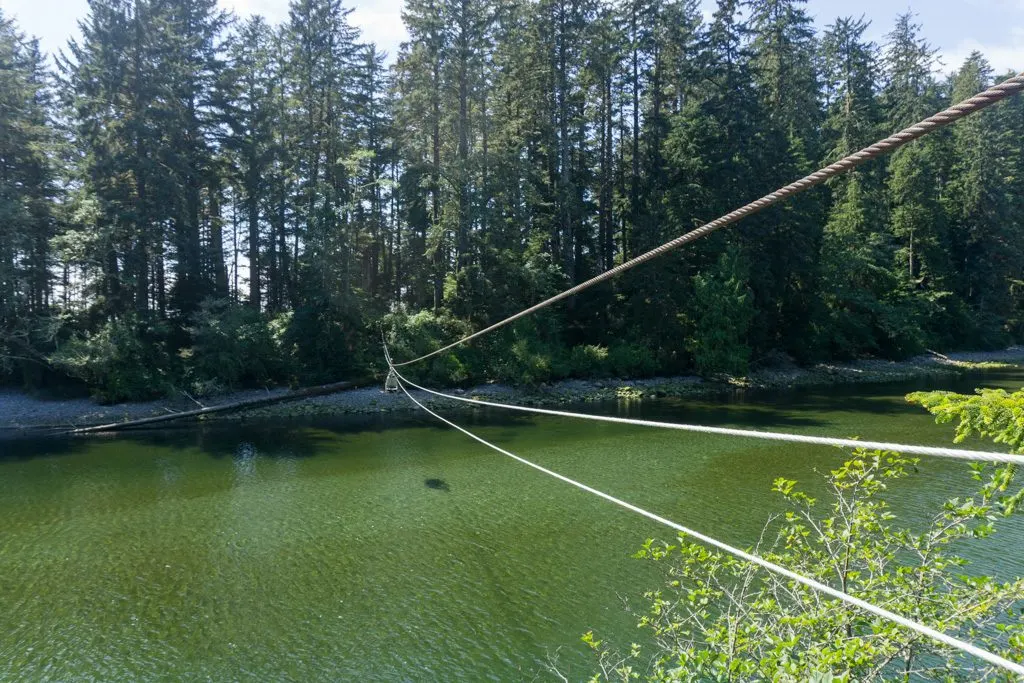 Tsusiat Falls Camp (KM25)
This is the most popular campsite on the West Coast Trail, and for good reason. Beautiful Tsusiat Falls cascades down the cliffs from the forest into a gorgeous swimming hole. It's a great place to cool off on a hot day. There are lots of spots to camp on the sand above the high tide line, but even with all the room, it gets crowded here. If you don't like drinking water that other people have been swimming and bathing in, collect water from the river at the top of the falls before you descend the ladders to camp.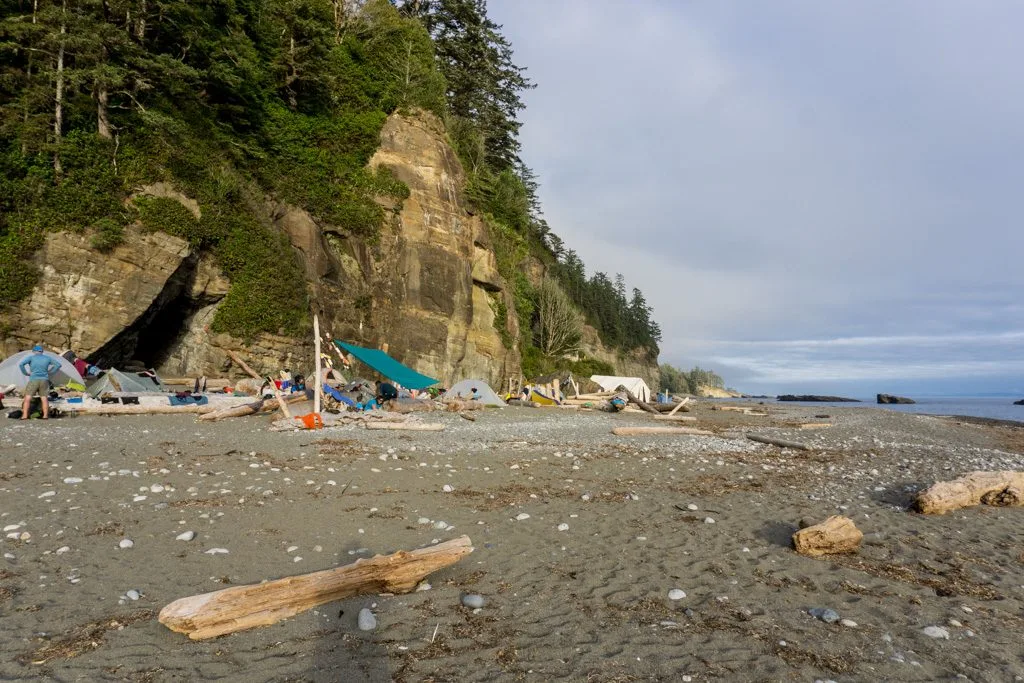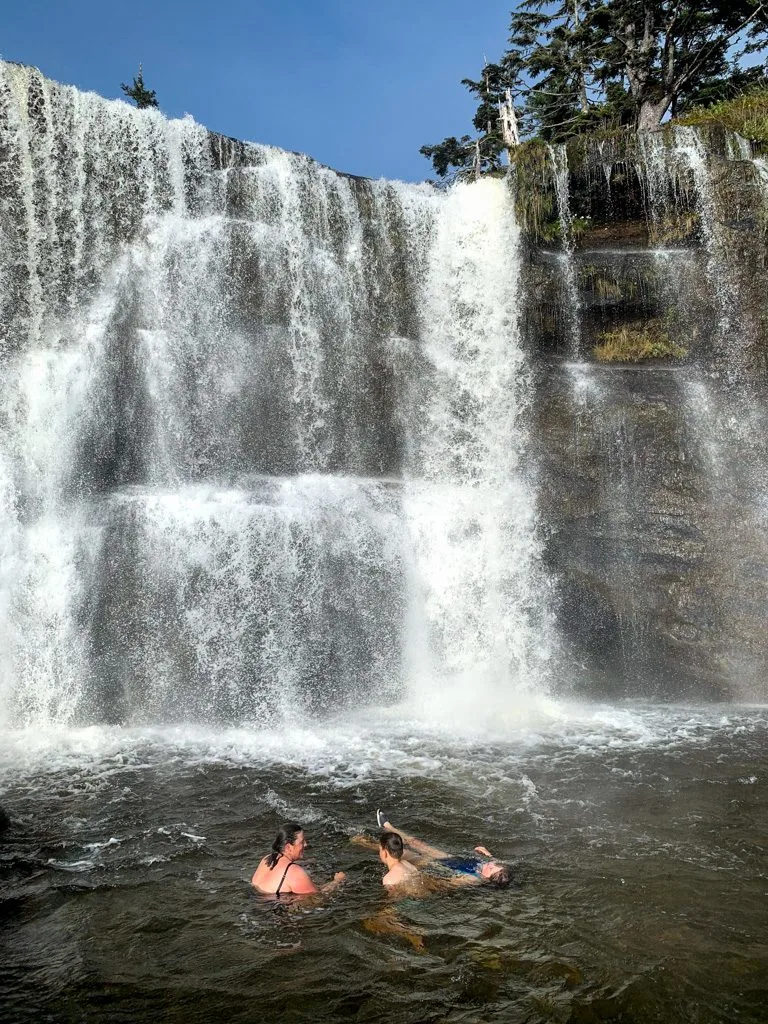 Cribs Creek Camp (KM41.5)
Cribs Creek is another popular campsite even though it doesn't have any stand-out scenery. The real reason many people camp here is because there are no official campsites between KM25 and Cribs at KM41.5.
It does have a rather unique feature though: there's a band of rocks stretching across the mouth of the bay. At high tides waves crash across them, which is fun to watch. There are lots of spots on the sand on both sides of the creek. Be careful of the tides here though. It's a shallow beach so it can be hard to make sure you are well above the high tide line at higher tides. On my first West Coast Trail hike in 2004, our tent was inches from the ocean at high tide!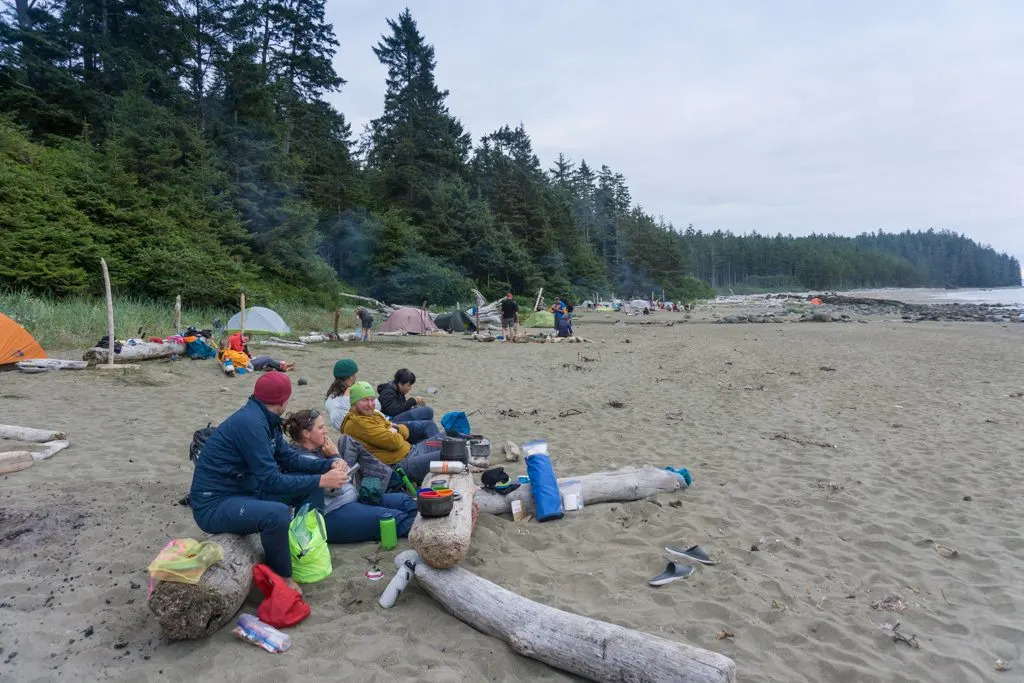 Join the Backpacking in BC Facebook Group
Carmanah Creek Camp (KM46)
The Carmanah Creek campground is beautiful! Lots of fine sand with driftwood, plus spots in the forest. However, most hikers march right past it since it isn't on the usual 7-day itinerary. The best camping is on the north side of the creek. You can wade across or take the cable car. Try to get your drinking water at low tide or go far upstream as the creek gets salty otherwise.
Bonilla Point Camp (KM48)
In my opinion, the campground at Bonilla Point is the nicest one on the entire West Coast Trail. It has a beautiful fine sand beach. The campsites are set back amongst the trees for a bit of shade, but they still have soft sand to pitch on. And a creek runs next to the campsite with a gorgeous little waterfall. It's a smaller campground, but since it doesn't get used that often, you might get it to yourself.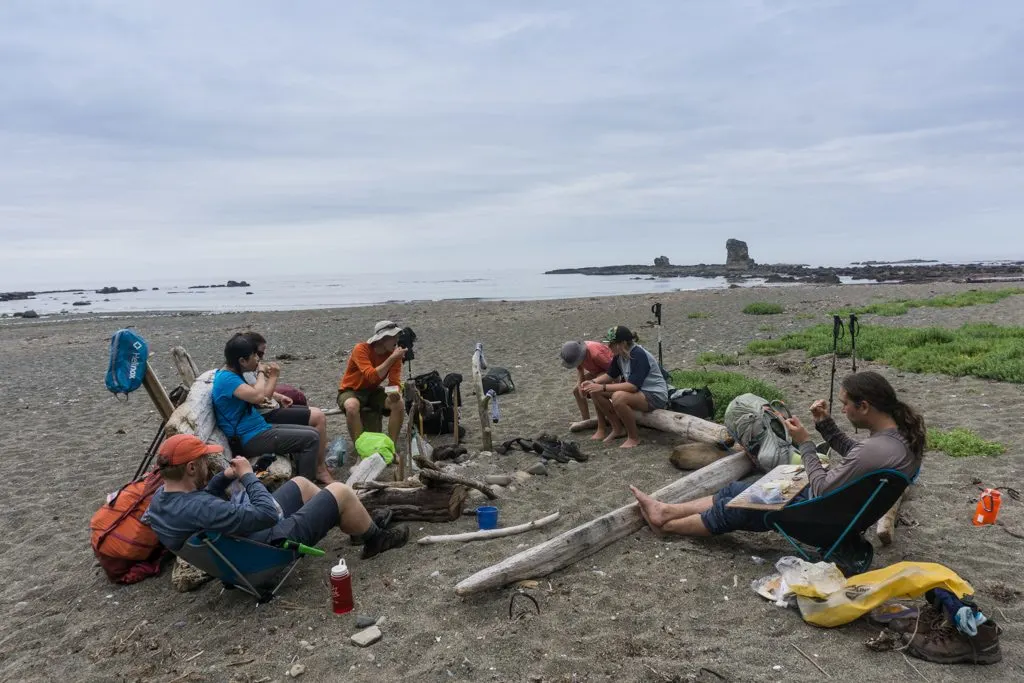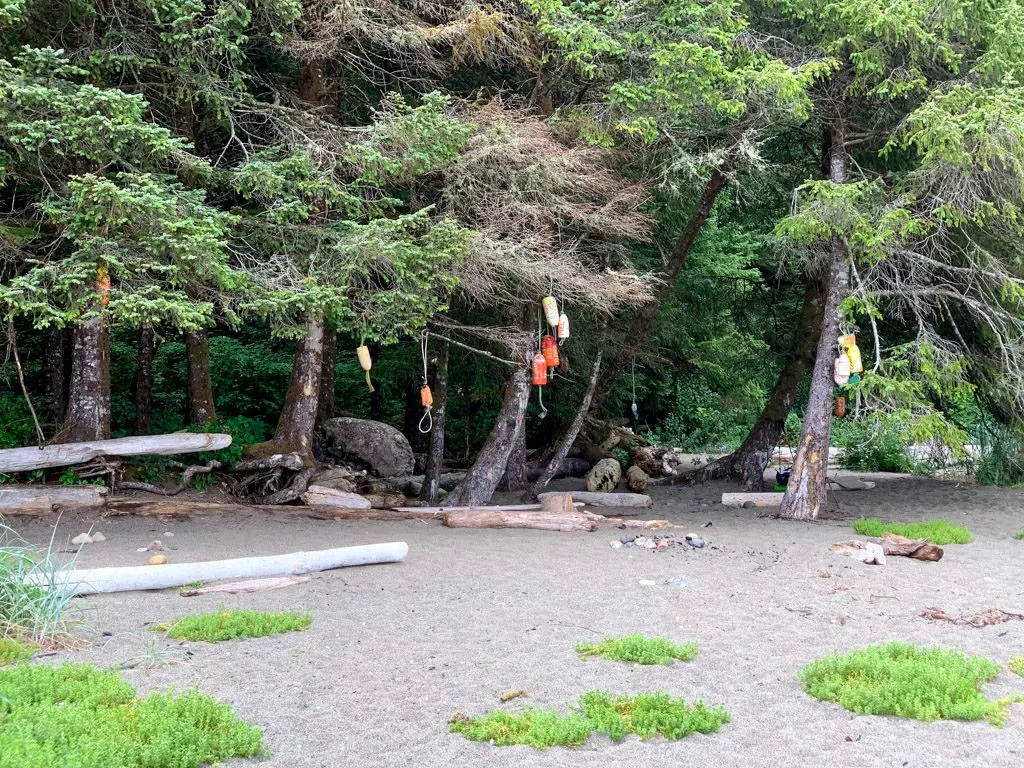 Walbran Creek Camp (KM53)
Walbran Creek is many hiker's pick for the best campsite on the West Coast Trail. The creek forms a deep (and cold!) swimming hole against the cliffs as it flows out to the ocean. There are a bunch of campsites in the sandy gravel, plus a few more in the forest. The beach campsites are quite close together and it can get crowded.
Collect water far upstream and at low tide to avoid salty water. If you're arriving from the north you'll need to use the cable car to access the campground from the forest route or wade across Walbran Creek if you used the beach route.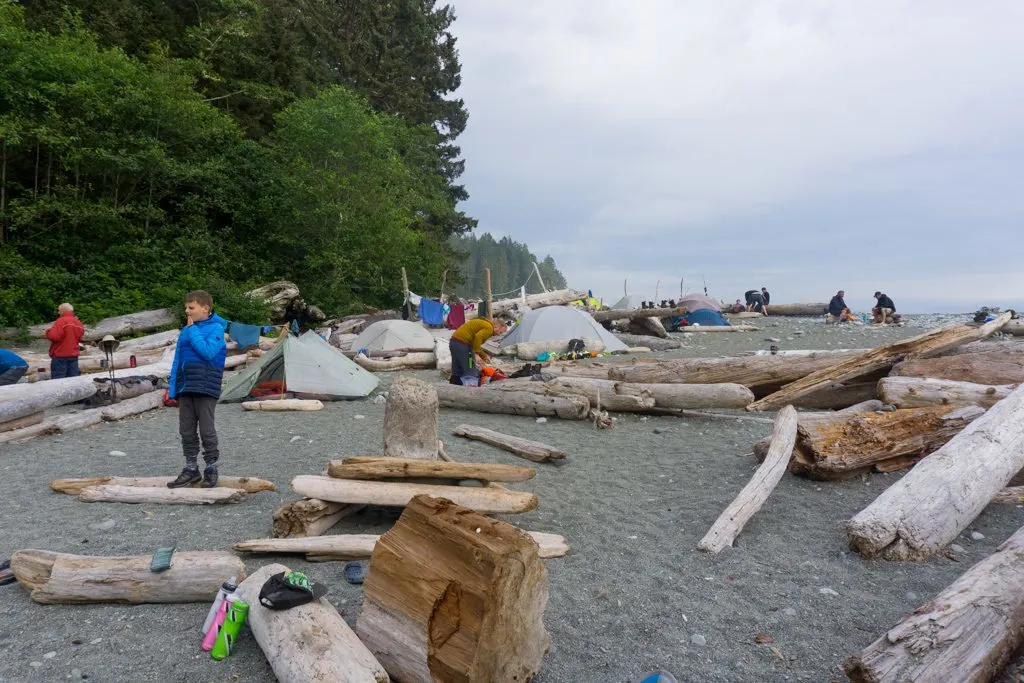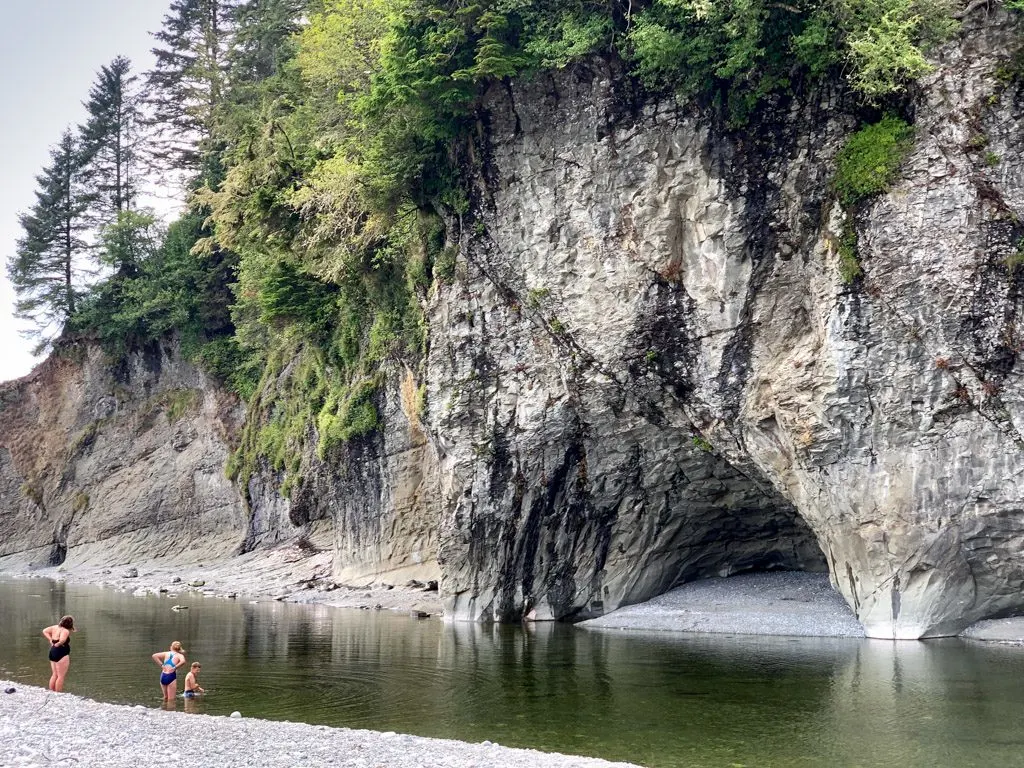 Cullite Creek Camp (KM58)
The little campsite at Cullite Creek has room for only 4 or 5 tents in the forest and the beach is quite rocky. But it's in a pretty little cove that provides a beautiful setting. You can reach the campsite via a short and rough side trail on the south side of the creek. It's been washed out a few times so you may have to walk in the creek bed, then scramble up into the forest. Since it is in a deep gorge, the Cullite Creek Campground doesn't get a lot of direct sunlight.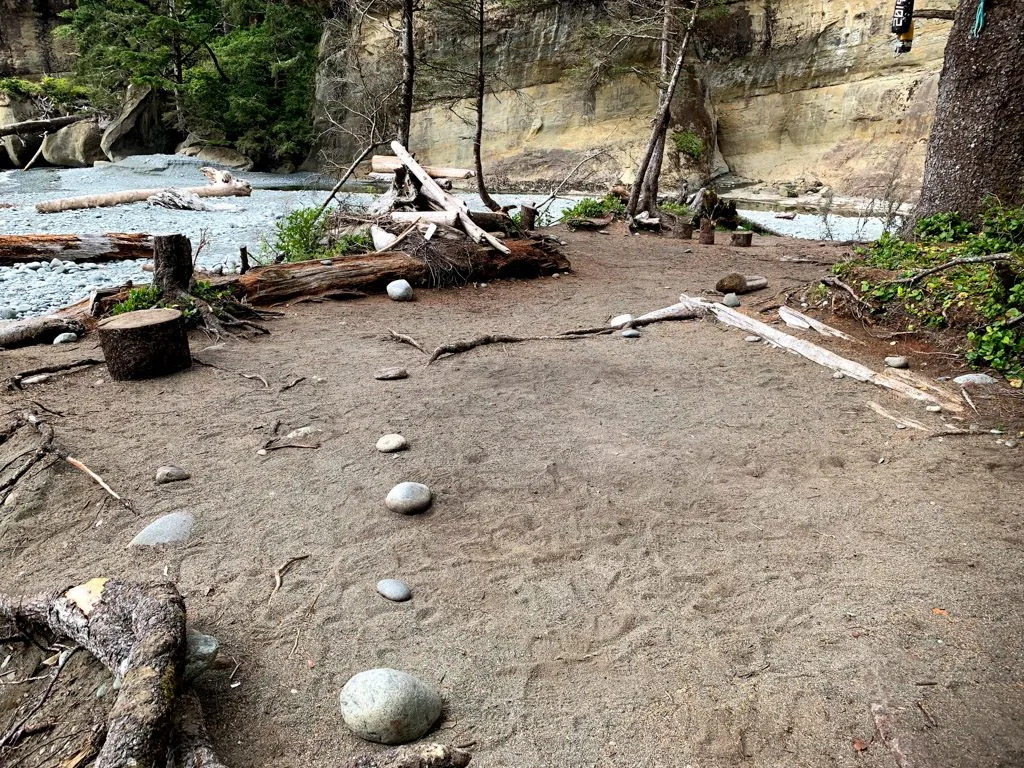 Camper Bay Camp (KM 62)
The campground at Camper Bay is usually quite busy. The tent sites are along the edge of the beach, up against the forest edge. Some sites face the creek as well. Don't camp too close to the creek as it floods during times of heavy rain! The creek does a long meander in front of the campground, and there's a large gravel berm in front of that. That means that you can't really see the ocean from the campground unless you cross the creek and climb up the berm.
There's also a First Nations Guardian cabin hidden amongst the trees here. If you're arriving from the south you'll need to take the cable car across the creek or wade.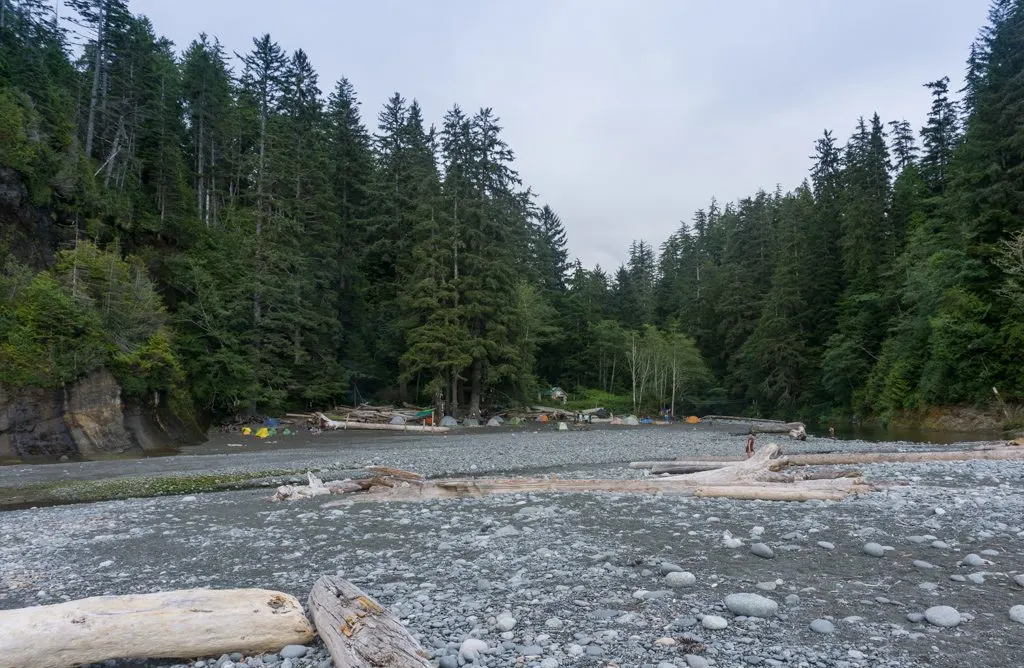 Thrasher Cove Camp (KM70+1)
Thrasher Cove is a very popular first-night or last-night camp on the West Coast Trail. It is located down a steep 1-kilometre-long trail from the main trail. The cove itself is quite small, but it has lots of beautiful fine sand.
Since the cove is inside Port San Juan (the big bay at Port Renfrew) the water is calmer and warmer, which makes it great for swimming. However, you can literally see Port Renfrew across the bay, so it doesn't have much of a wilderness feel. This campground can get crowded, with tents close to each other on the limited sand. There are also a couple of small sites in the forest.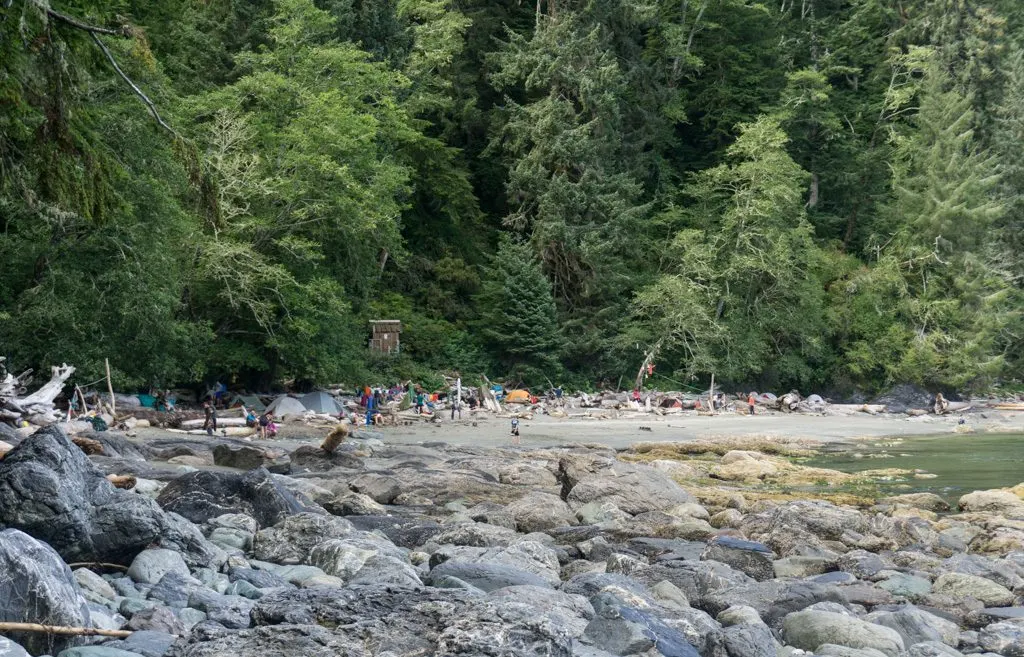 Join the Backpacking in BC Facebook Group
Paid Campgrounds and Cabins on the West Coast Trail
Ditidaht Comfort Camping at Tsuquadra Point (KM30)
Note: Ditidaht Comfort Camping is not operating in 2023.
The Ditidaht First Nation used to offer a comfort camping experience at Tsuquadra Point (KM30) with cabins and luxury tents. However, they have not operated this service since 2021, their website is down, and reportedly, the tents and cabins have been removed.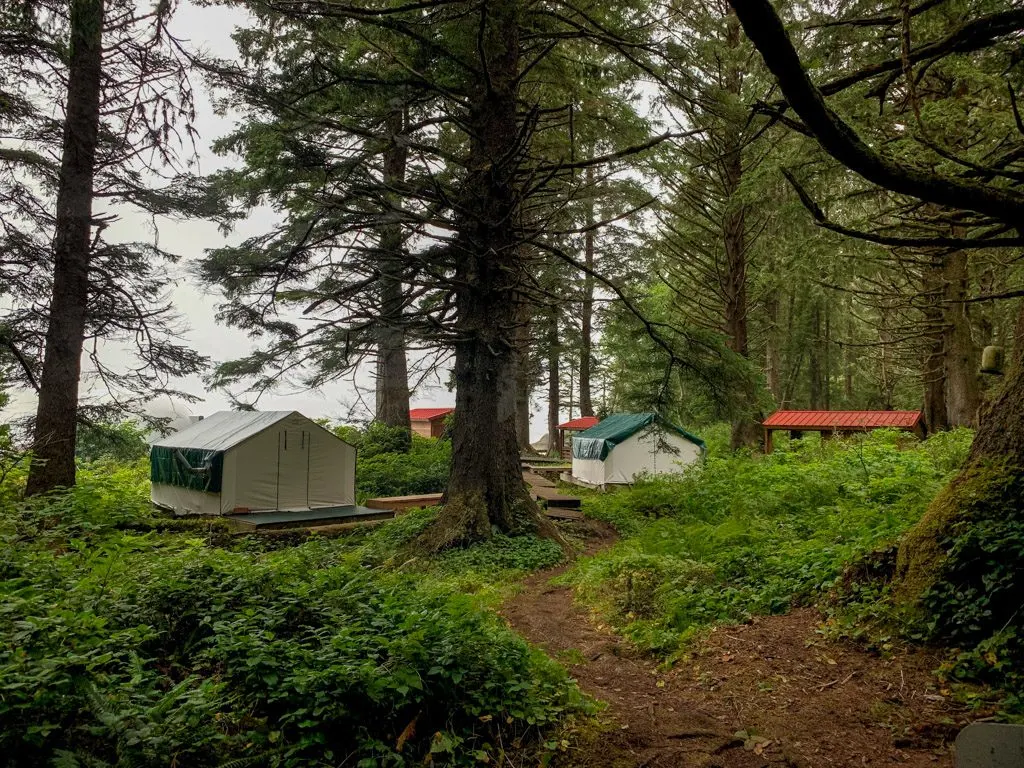 Nitinaht Narrows Cabins and Camping (KM32)
The Edgar family runs The Crab Shack restaurant and water taxi service from their floating dock on the south side of Nitinaht Narrows. They also have a couple of heated cabins you can rent just up the hill. If you want to camp, they have a covered deck where you can pitch your tent on while staying out of the rain. As of 2019, it's $100-200/night for the cabins (depending on which one you book) and $30/night for a tent. You can book by contacting them on Facebook.
Other Places to Camp on the West Coast Trail
You are allowed to camp anywhere you like on the West Coast Trail. You don't have to camp in an official campground. The only exception is that no camping is allowed between KM 34 and KM 38 due to high wildlife activity.
However, if you choose to wild camp, you need to keep a few things in mind: There won't be a food locker so you'll need to hang your food. You'll also have to use your best bear safety practices, like cooking away from your campsite. There also won't be a toilet, so you will need to go to the bathroom the Leave No Trace way: dig a cat hole, bury your poop, and pack out your toilet paper. You also will need to keep an eye on the tides and water levels in the creeks. You don't want to wake up in the water!
If you're looking for solitude, wild camping on the West Coast Trail is a good way to find it. Pick an empty stretch of beach and pitch your tent.
However, sometimes people also camp outside of the official campgrounds because the camps aren't spaced in a way that works for their itinerary. It's worth noting that there are not a lot of good places to camp outside of campgrounds. The forest is thick and often not flat. And many of the beaches are sloped or inundated at high tide.
Here are a couple of places on the West Coast Trail where people commonly camp.
Dare Beach (KM40): There's a stream here and a bit of room to camp above the high tide mark. Hikers often camp here since it is the first/last place you can camp before the long stretch with no official campsites between Tsusiat Falls (KM25) and Cribs Creek (KM41.5).
Beach Access A (KM65): There is a large clearing in the forest at the junction with the Beach Access A trail that goes down to the shelf near Owen Point. Hikers sometimes camp here to get an early start for the Owen Point section if they are going south, or if they finish the Owen Point section late in the day when going north.
150 Yard Creek Beach (KM66): Apparently there is a small, wet campsite where 150 Yard creek meets the ocean on the beach route to Owen Point. I've never taken the beach route around Owen Point (damn tides never work for me!) so I haven't visited this site. Hikers camp here in an emergency or as part of an early/late Owen Point strategy.
WCT Highpoint (KM 71): There's a clearing at the high point that can hold a few tents. A few meters off the trail there's another clearing for camping. I've heard there's a stream nearby, but that it runs dry later in the year. Hikers camp here to break up the section between Gordon River and Thrasher Cove if they got a late start on the trail or they want to get to an early morning Gordon River ferry.
I hope I answered all the questions you might have camping on the West Coast Trail. If there's anything I missed, let me know in the comments.
MORE WEST COAST TRAIL POSTS:
MORE VANCOUVER ISLAND POSTS: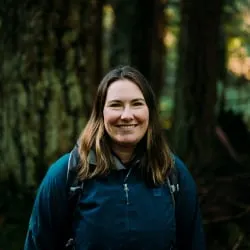 Latest posts by Taryn Eyton
(see all)