Despite being a meticulous planner, sometimes I don't end up making camping reservations as early as I should. And that means the dates I want are often sold out. Recently I've been testing out some camping cancellation apps, and have been pleasantly surprised with the results.
If you haven't heard, these camping reservation notifiers send you a text or an email when a campground you want to stay at gets a cancellation. Then you can go online and book it.
Read on for my full run-down on camping cancellation apps. It includes a head-to-head comparison of two popular Canadian options, Campnab and Schnerp.
Hey there: Both Campnab and Schnerp gifted me subscriptions to their service. But all opinions in this post are completely my own. Some of the links in this post are affiliate links, which means I earn a small commission at no cost to you. Thanks for your support. -Taryn
Why Use a Camping Cancellation App?
Camping is more popular than ever. While you used to be able to roll up to a campground on a Saturday afternoon and get a campsite, that is no longer the norm. Instead, you need to make a camping reservation online months in advance and everything gets fully booked up.
And that can suck for a couple of reasons: You may not know your schedule ahead of time. Or you might not get the campsite reservation you want even if you did try to book right when they opened.
The solution is a campsite availability checker. Read on to find out how they work and which one I recommend.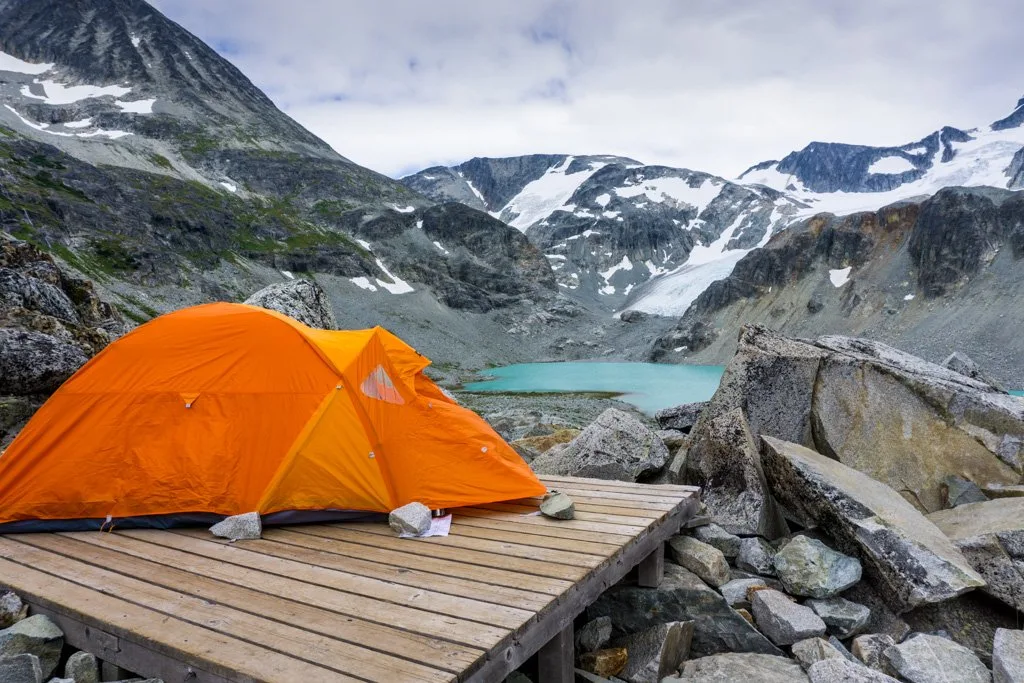 How Do Camping Cancellation Apps Work?
Before campsite cancellation notifiers came along, you didn't have a lot of options if the campgrounds you wanted to stay at were fully booked up.
We all know that sometimes plans change and people have to cancel their reservation, leaving a campsite empty. You could refresh the booking website a few (dozen) times a day to see if anyone cancelled and a spot opened up. But that rarely worked and was super time-consuming, especially if you had to check more than one park or campground.
Campground cancellation apps do the checking for you. You sign up and input the campgrounds and dates you are looking for. The campsite availability checker uses an algorithm to automatically scan campground booking websites. Then it sends you a text or email when a campsite is available to book.
Once you get a notification, you have to act fast. Click the link in your text or email to go to the park website and reserve the site that just became available. Often, the campsite will get snapped up by someone else within seconds. But sometimes the site will be available for a few hours before it gets re-booked.
When I was trying to book a super popular campsite (Porteau Cove Provincial Park for those British Columbians in the know) it took dozens of notifications coming in before I was able to get a spot. Sometimes I missed the notification because I wasn't paying attention to my phone or I was doing something more important (like working or sleeping). But sometimes I just didn't click fast enough and someone else got there first.
Campground cancellation apps don't book the campsite for you – you still have to make the reservation. That's because using a campground reservation bot isn't allowed. However, campground cancellation apps are legal since they just tell you when something is available, then you can book it yourself.
The Best Camping Cancellation Apps
There are lots of camping cancellation apps on the market right now. Some, like Arvie and RVSpot Drop, are aimed only at RVers and focus on private RV parks. Campsite Assist, Campflare, and Campsite Notifier all scan American National Parks, State Parks, and forest service campgrounds. (However, each app has a slightly different list of parks they scan.
So far, only Campnab and Schnerp work in Canada. Since I'm Canadian, I'm going to focus on these two apps. Below you'll find a head-to-head comparison of Campnab vs. Schnerp. I've been using both of these apps for a couple of months and have run lots of different searches through them to see what kind of results I get. Read on for the full review.
Campnab vs. Schnerp – What Campgrounds Do They Cover?
Right now Schnerp covers Parks Canada (national parks), Alberta Parks, BC Parks, and Ontario Parks. Between those four, they have the most popular places to camp in Canada covered. They also scan backcountry campgrounds and day-use activities like the bus to Lake O'Hara.
Campnab covers waaaay more campgrounds. In Canada, they cover Alberta Parks, BC Parks, Ontario Parks, Nova Scotia Parks, and Parks Canada (national parks). They also scan American National Parks, many state parks, and other campgrounds available to book through recreation.gov. They also cover backcountry campgrounds, day-use buses, and wilderness permits in both countries.
Winner: Campnab
They just cover way more campgrounds.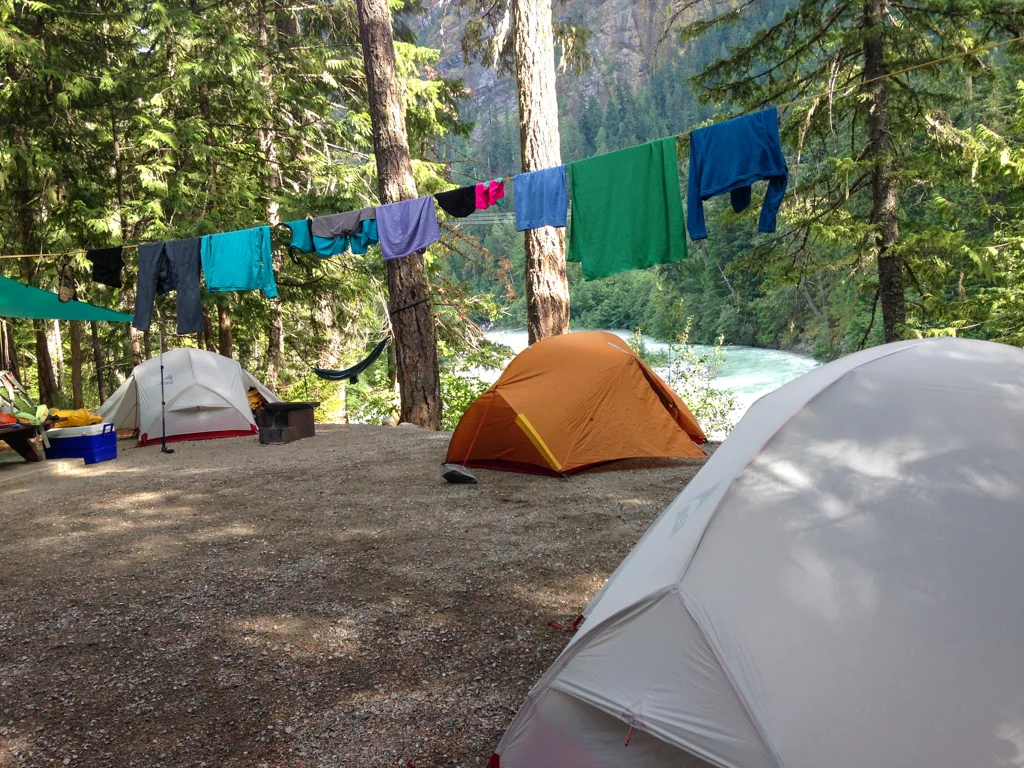 Campnab vs. Schnerp – Price
The pricing models for both Campnab and Schnerp are pretty simple.
Schnerp gives you a free trial – they will send you 10 notifications for free. After that, it is $15 a month (plus tax) for up to seven active scans. And since Schnerp's scan set-up is really flexible, that means you can watch up to seven different campgrounds for a ton of different dates. (See the Setting Up a Scan section below to see what I mean.) It's worth noting that Schnerp scans approximately every five minutes.
Campnab doesn't have a free trial. Instead, they have pay-per-use scans and monthly plans. The pay-per-use scans can be a good deal if you only care about getting a site at one campground. They range in price from $10-$20. (If you pay more you get more frequent scans – 60 minutes on the $10 plan, 20 minutes on the $15 plan, and 5 minutes on the $20 plan).
Campnab also has three monthly plans that cost $10-30. The more you pay, the more often they scan. As well, you get seven scans on the $30 plan, five on the $20 plan, and three on the $10 plan. There is a 25% discount if you sign up for an annual plan.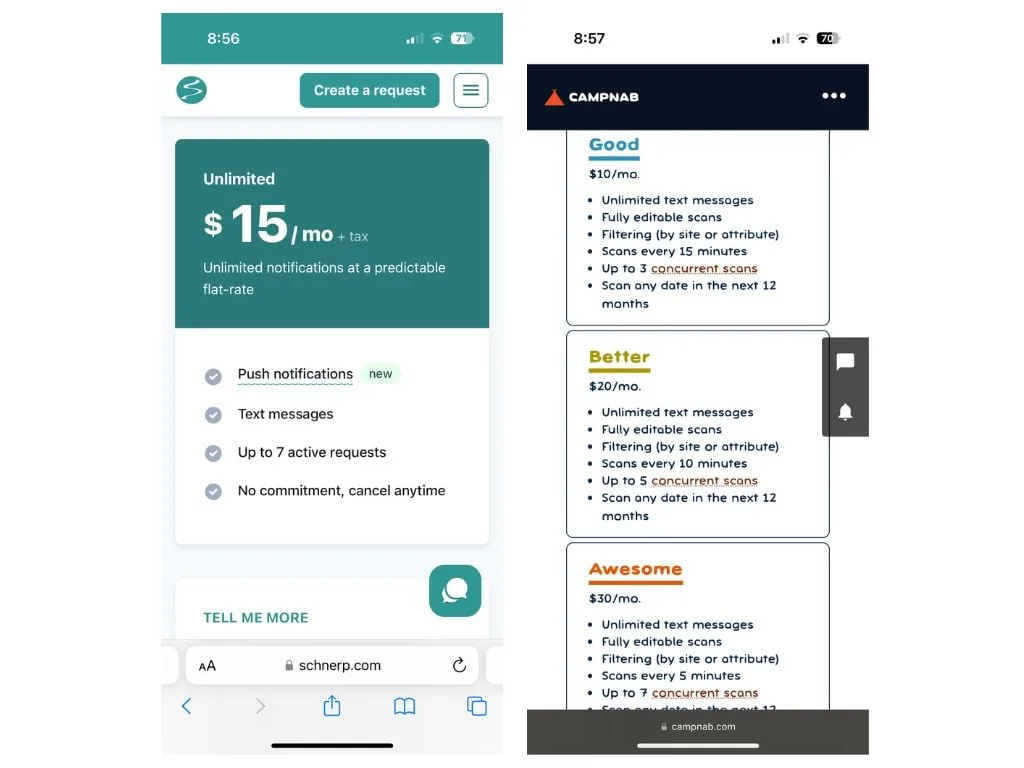 Winner: Schnerp
Schnerp is a winner across the board here. Not only do they have a free trial, but their $15/month plan is equivalent to Campnab's $30/month plan. And since Schnerp has a better scan setup (see below), their $15 plan is actually even better than Campnab's $30 plan.
Campnab vs. Schnerp – Setting Up a Scan
The process to set up a new scan is pretty similar between Campnab and Schnerp. However, there are a few key differences that you will want to pay attention to because they can affect the price.
On both services, you start by plugging in a park or campground. From there, you can select what type of site you want (RV vs. tent, which loops of the campground, if you are ok with a walk-in site, etc.) While Schnerp lets you specify that you want electric hook-ups or wheelchair accessibility, Campnab does not.
If you know the campground well, you can also select a specific site or set of sites. Schnerp lets you do this as part of a standard request. On Campnab, you need to have a monthly subscription plan to use this feature.
The other way that the two services differ is when it comes to date selection windows. On Schnerp you can set up a scan that covers weeks or months at a time, then refine which days of the week within that window you want to arrive and how many days you want to stay. That counts as one scan. So for example, if you know you want to go camping a weekend in August, you can set up a scan that covers the whole month but then specify that you only want to arrive on Saturdays and stay for one night.
Campnab requires you to set up much smaller scans. You pick an arrival day and can say you are flexible up to six days after that date. Effectively, this means that each scan is a maximum of a week long. And in the August camping example I gave for Schnerp, you would have to set up four scans with Campnab, one for each weekend.
Winner: Schnerp
Since Schnerp allows you to have a much longer window of dates you are watching, you can create way more scans within their monthly plans than you can with Campnab. As well, Schnerp lets you select sites with electrical hookups and wheelchair accessibility, which is a feature that Campnab doesn't offer.
Campnab vs. Schnerp – Receiving Notifications
Both Campnab and Schnerp send notifications by text message and email (you choose which method). The notification comes with a link directly to the park site to start your reservation.
In practice, receiving notifications from both services is pretty similar. They both tell you the campground name, date, and campsite number that is available.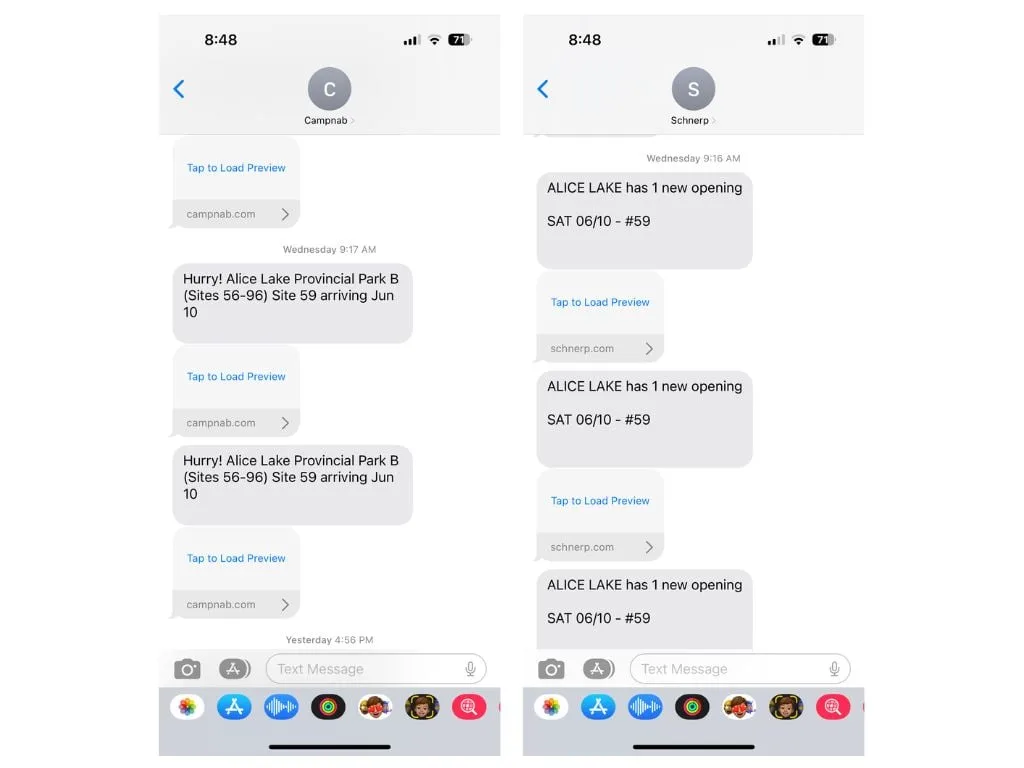 Since I was testing Schnerp and Campnab at the same time for the same dates and campgrounds, I was able to see which service was faster. I had dozens of notifications come in over a two-month stretch and most of the time, I got a notification from Schnerp a minute or so before I got one from Campnab.
On both sites, you can review your scans to see how many notifications you have been sent. Schnerp also has the added advantage of telling you how long a site was available before it got rebooked. It also tells you how many times it has scanned for you – my scans are all in the tens of thousands. There is no way I could have checked the booking sites that many times.
Winner: Schnerp
It's often a bit faster than Campnab. I also like that you can dig into the history of your notifications and scans a bit more.
Campnab vs. Schnerp – Customer Support and Information
It can take a bit of trial and error to figure out how to configure scans with both Campnab and Schnerp. Or you might be wondering how these campsite availability checkers work or which pricing plan to choose.
Campnab has a huge FAQ page, full of answers to common questions including in-depth answers about how to set up scans and optimize the service. They also have a chat service you can contact if you need help or have questions. Their blog also has a few articles with great tips about how to use Campnab.
Schnerp has a bare-bones FAQ page that answers the basic questions but doesn't go into any depth. They also have a chat service.
Winner: Campnab
Their FAQ page and blog have all the info you could ever need about using their camping cancellation app. I also love their optimization tips.
Campnab vs. Schnerp – Backstory
Both Campnab and Schnerp are Canadian companies with similar origin stories.
Campnab is run by two Vancouver-based software developers, Eric Karjaluoto and Eric Shelkie. They started Campnab in 2017 after having a hard time booking camping for families at BC Provincial Parks.
Canmore-based Dan Thareja started Schnerp in 2022. As a software developer, he wrote code to automatically scan Parks Canada reservations for himself. But when his friends wanted to use it, he thought it might also be a good business idea.
Dan chose the name "Schnerp" after a slang word that a friend used for hunting down powder stashes at a ski resort. To Dan's friends, the term Schnerp could also be applied to any other scarce resource you worked hard to get.
Winner: Tie between Campnab and Schnerp
Both Campnab and Schnerp have similar backstories and both apps are made in Canada.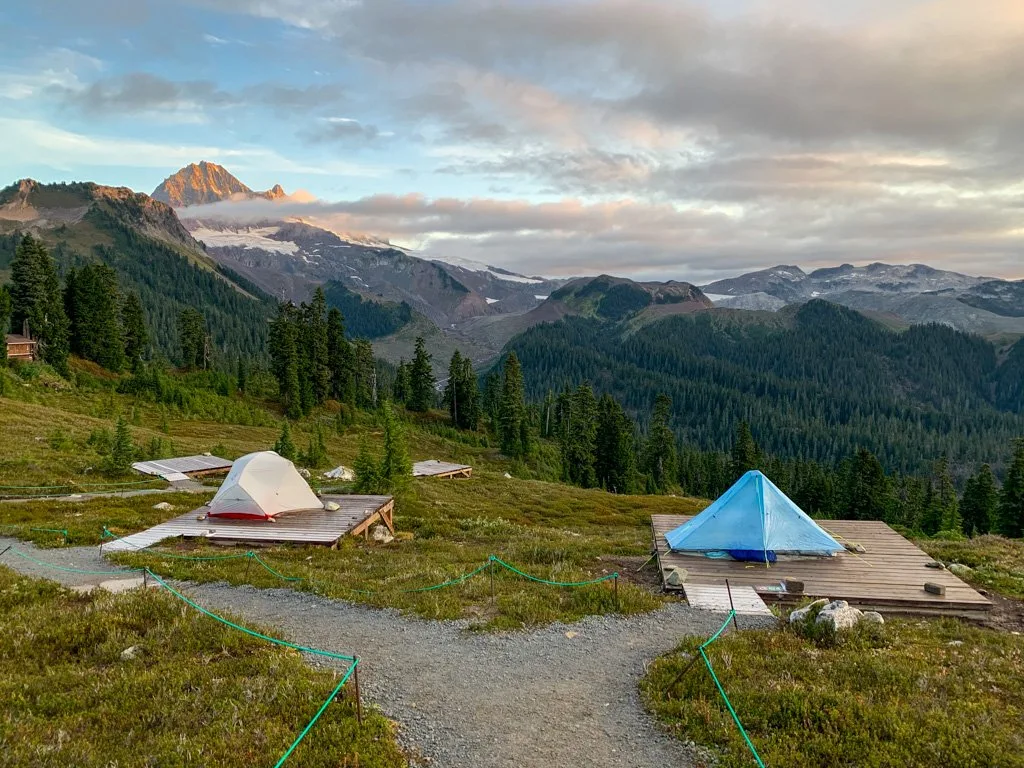 Campnab vs Schnerp – The Final Rating
After using both Campnab and Schnerp for a few months and running tons of scans, I would say that I'm happy with both camping reservation notification services and recommend both of them.
However, I think the overall winner is Schnerp because their subscription is cheaper and provides more scans for your money. But if you only want to scan one campground on a specific date using Campnab's $10 pay-per-use or $10 subscription or you want to scan campgrounds in the United States, Campnab is still a great option.
So that's everything you need to know about camping cancellation apps. If you're looking to find a campsite this summer, I definitely recommend both Schnerp (and to a slightly lesser extent Campnab). They are so helpful! Do you have other camping cancellation apps to recommend? Tell me in the comments.
READ NEXT: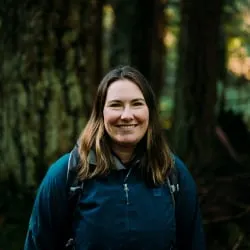 Latest posts by Taryn Eyton
(see all)