Arizona is an incredible state full of endless outdoor adventures and incredible scenery. To really see everything the state has to offer, it's totally worth it to go on an Arizona road trip. You can visit beautiful destinations such as Sedona and the Grand Canyon.
In this epic outdoors Arizona road trip itinerary, you will learn the best places to hike, kayak, eat, camp, and more as you make your way from Phoenix all the way to northern Arizona.
Happiest Outdoors contributor Jess from Unearth the Voyage has spent tons of time road tripping, hiking, and camping in the American Southwest, so you can trust that she's got all the inside info on the places to stop on an Arizona road trip.
This is a sensitive wilderness area. Learn how to Leave No Trace to keep the wilderness wild. Make sure you are prepared by bringing the 10 Essentials. Get ready for adventure with this checklist of things to do before every hike.
Hey there: Some of the links in this post are affiliate links, which means I earn a small commission at no cost to you. Thanks for your support. -Taryn
Arizona Road Trip Itinerary
This epic outdoor-focused Arizona road trip starts in the capital of Phoenix. This is where you can rent a car or campervan/RV for your trip. I use Discover Cars to book rental cars since it lets you compare rates across tons of rental companies.
Along the way you'll stop in:
I've put together a custom Arizona Road Trip Map in Google Maps for you that includes every single place Jess recommends in this post. Click through to zoom in.
This road trip across Arizona covers about 400 miles. You could see some of the sights in as little as five days, but to really savor the trip and see everything, Jess recommends taking at least 10 days.
This road trip itinerary is designed to do on your own with a rental car. But if you prefer, you can book a guided tour. This five-star-rated small-group tour goes to both Sedona and the Grand Canyon from Phoenix.
Things to Do on This Epic Arizona Road Trip
Sedona
Your first stop on your outdoor Arizona road trip will be Sedona. There are so many fun outdoor adventures to be had in Sedona including hiking, swimming in swimming holes, off-roading, and visiting vortexes.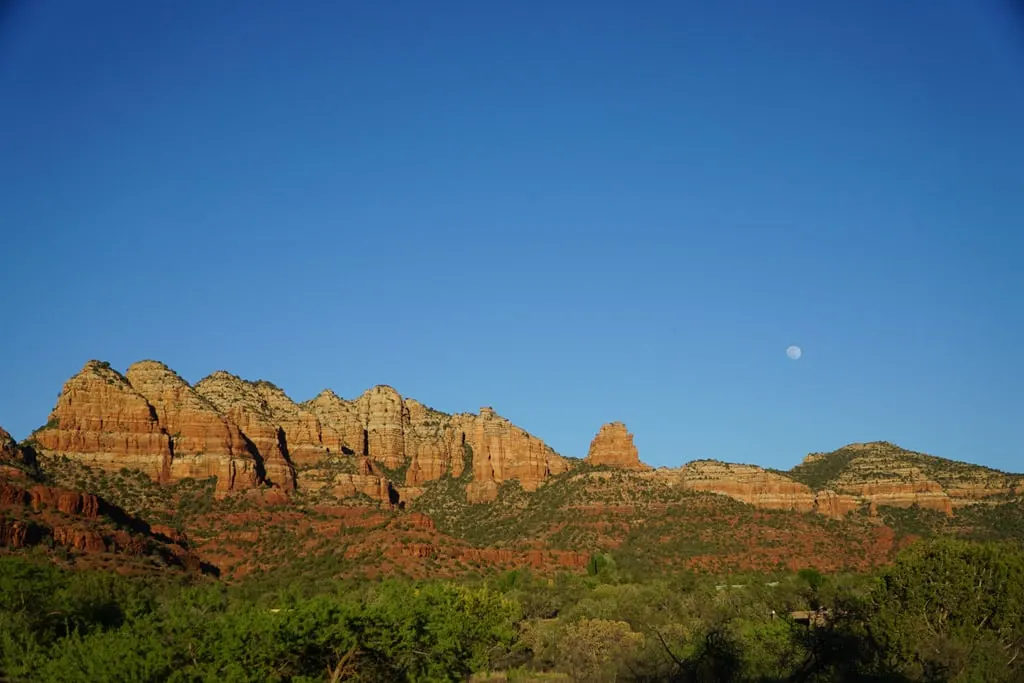 Soldier Pass Trail
There are a crazy amount of incredible trails to choose from in Sedona, but one of the best hikes is the Soldier Pass Trail. This hike is a total of 4.5 miles. But if you want to add an off-shoot to the really neat cave along the way add an extra mile to your hiking stats.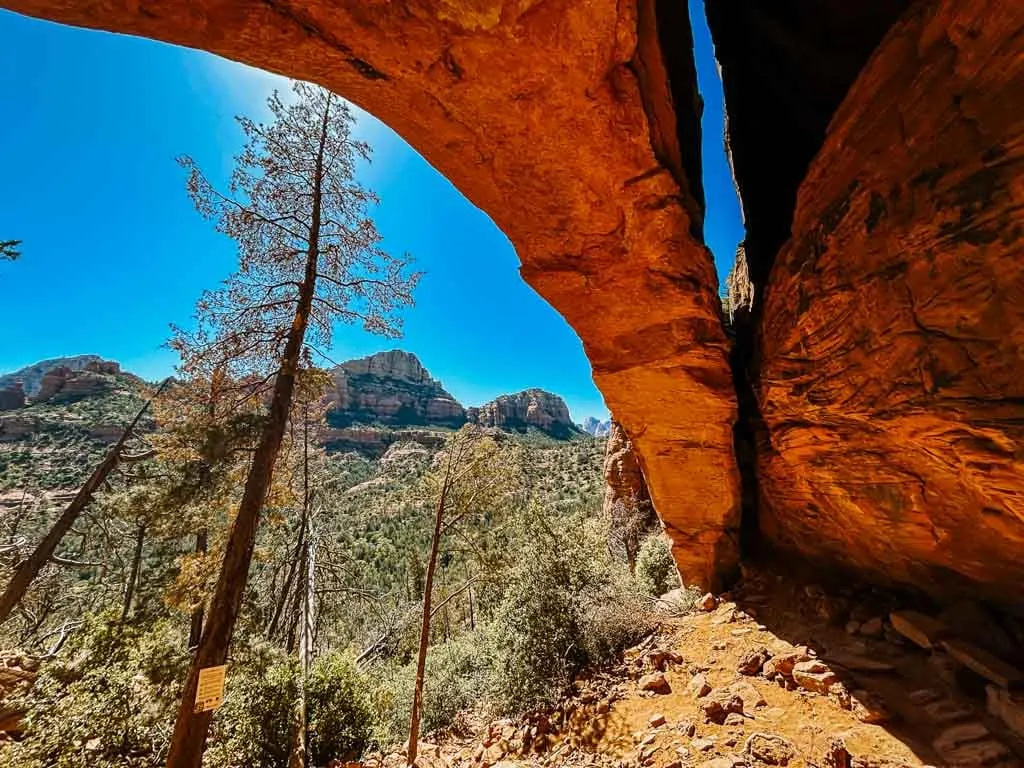 It's also important to know that the parking lot for this trail is really small and fills up quickly. Jess recommends either getting there really early in the morning, or parking at ​​Jordan Road Trailhead. It has a few more spots but will add another 0.5 miles to your overall hike.
The hike itself starts out with incredible views over the red cliffs Sedona is famous for. You will also pass by the Devil's Sinkhole which is a really cool feature of this trail as well.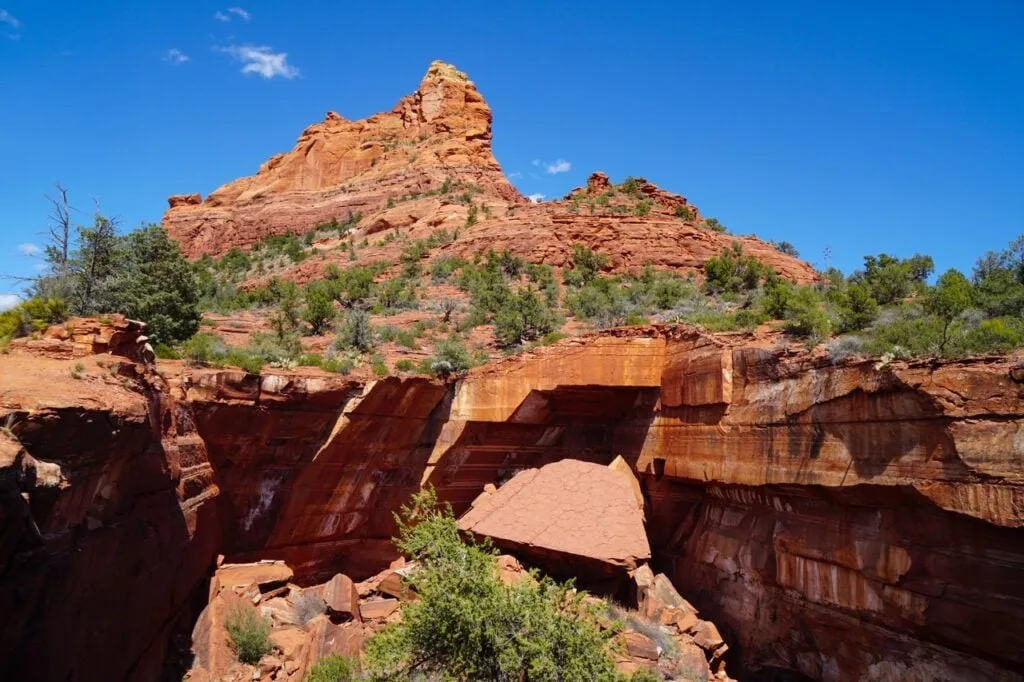 Grasshopper Point Swimming Hole
After you work up a sweat from your hike, head to Grasshopper Point for a dip in the cool Oak Creek. This area of Oak Creek is absolutely gorgeous and has some outstanding views that are a bit different from the red rock scenery you see in Sedona.
It's a short hike down to the water. Once you get to the bottom of the hill you'll have to do some hopping about on some small boulders to make it to the river. Make sure you bring some good water shoes or hiking boots.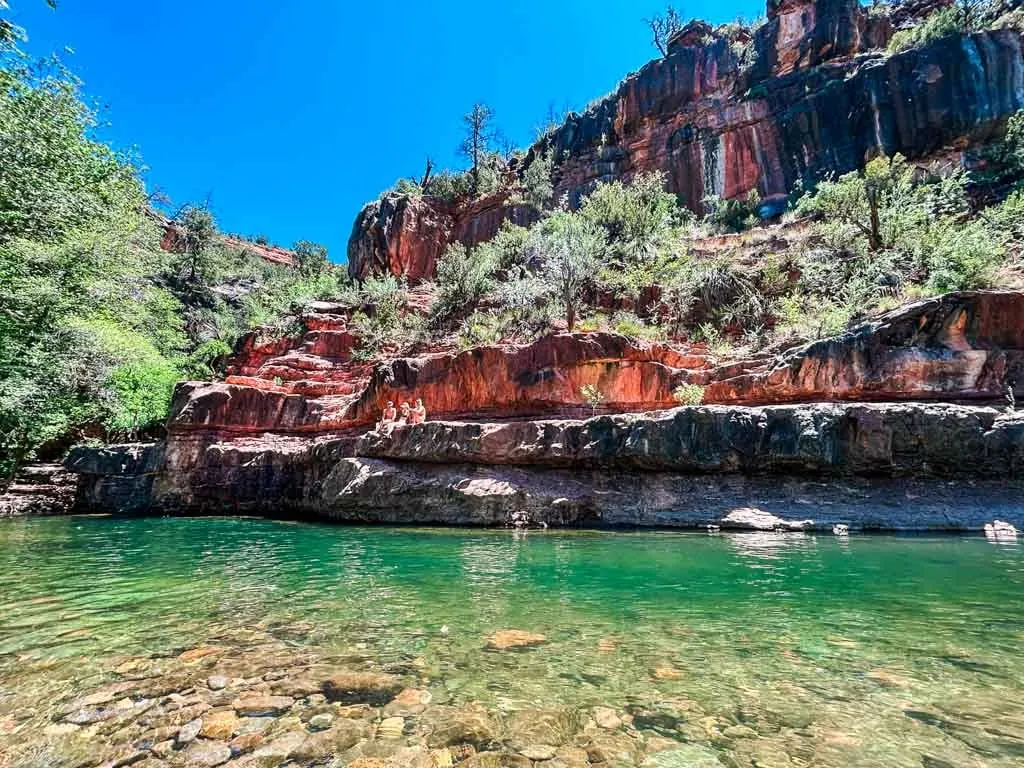 Schnebly Hill Road
Schnebly Hill Road is one of the best 4×4 roads in Sedona to see some really spectacular views and enjoy the challenge of driving a tough 4×4 road.
This road also takes you to one of the strongest vortexes in Sedona, the Schnebly Hill vortex. The vortex is located at the top of one of the highest plateaus in Sedona where you can look out and see views for miles.
What is a vortex? These special spots are places where energy is believed to be either entering into or projecting out of the earth. They are found in sacred sites around the world like Machu Picchu, Stonehenge, and the Great Pyramids. Some people believe that the spiralling energy at these vortexes can lead to spiritual transformations. There are several vortexes around Sedona.
If you don't have a 4×4, you can go on a jeep adventure tour with a local guide instead. This five-star-rated jeep tour visits Cathedral Rock, Thunder Mountain, Bear Mountain, and more.
Flagstaff
Flagstaff is a great town to stop off in and fuel up for the rest of your adventures to come. It is a fairly large town so there are lots of groceries stores and outdoor stores to grab anything you might need for the rest of your trip.
Flagstaff also has an array of delicious restaurants and breweries. Head to Mother Road Brewing for lunch and a taste of beer before continuing on to the Grand Canyon for your next stop.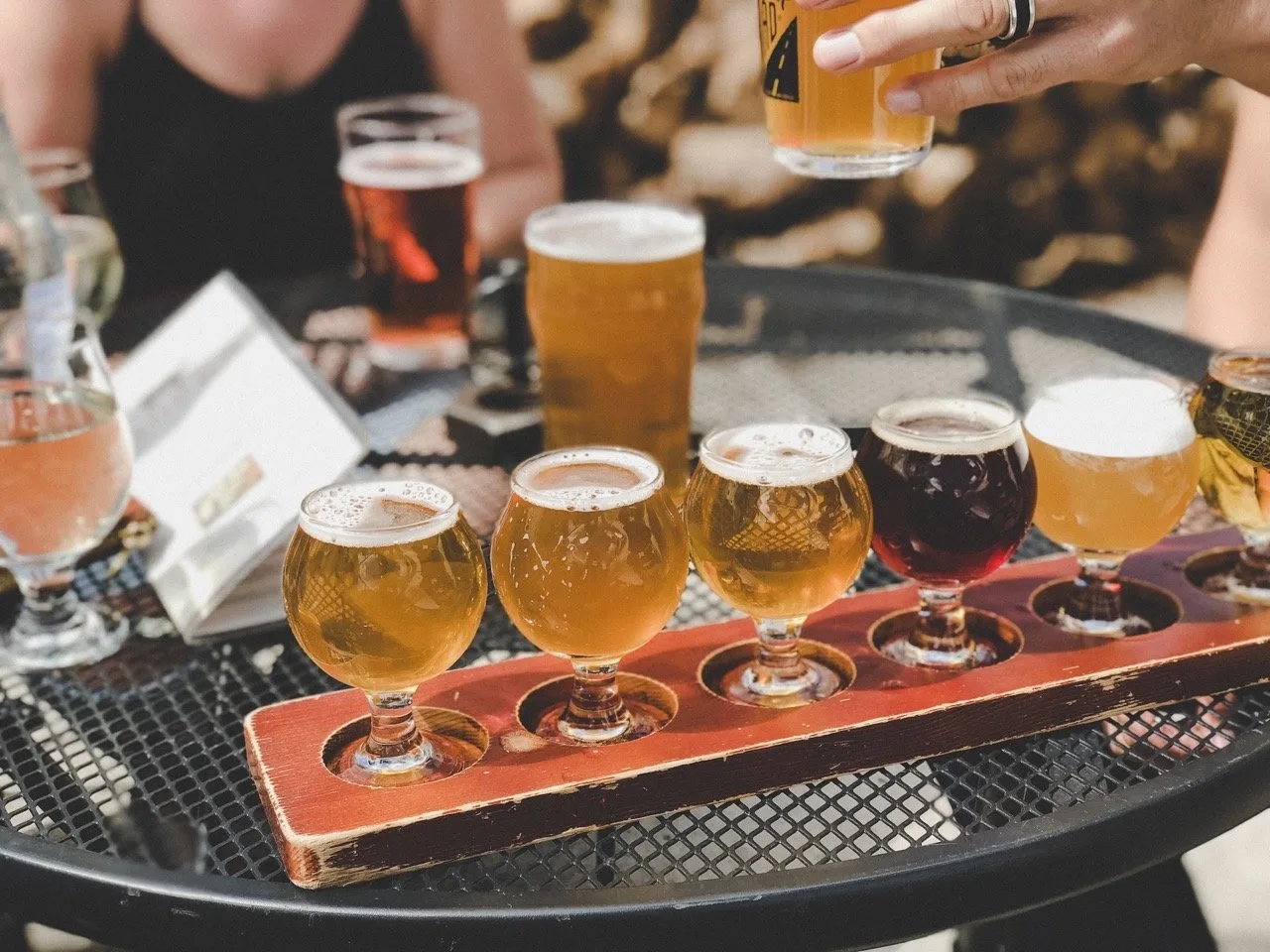 Historic downtown Flagstaff also has a reputation for being haunted! The best way to explore Flagstaff's creepy past is with a local guide. The popular hour-long Downtown Flagstaff Haunted History tour visits all the best ghost-vibe sites.
Grand Canyon National Park
The next fantastic stop on this road trip is the Grand Canyon. Grand Canyon National Park is located 1.5 hours north of Flagstaff and is a beautiful scenic drive to get there.
Once you're at the Grand Canyon, some of the best things to do is head out on a hike and/or rent bikes and bike along the rim of the canyon.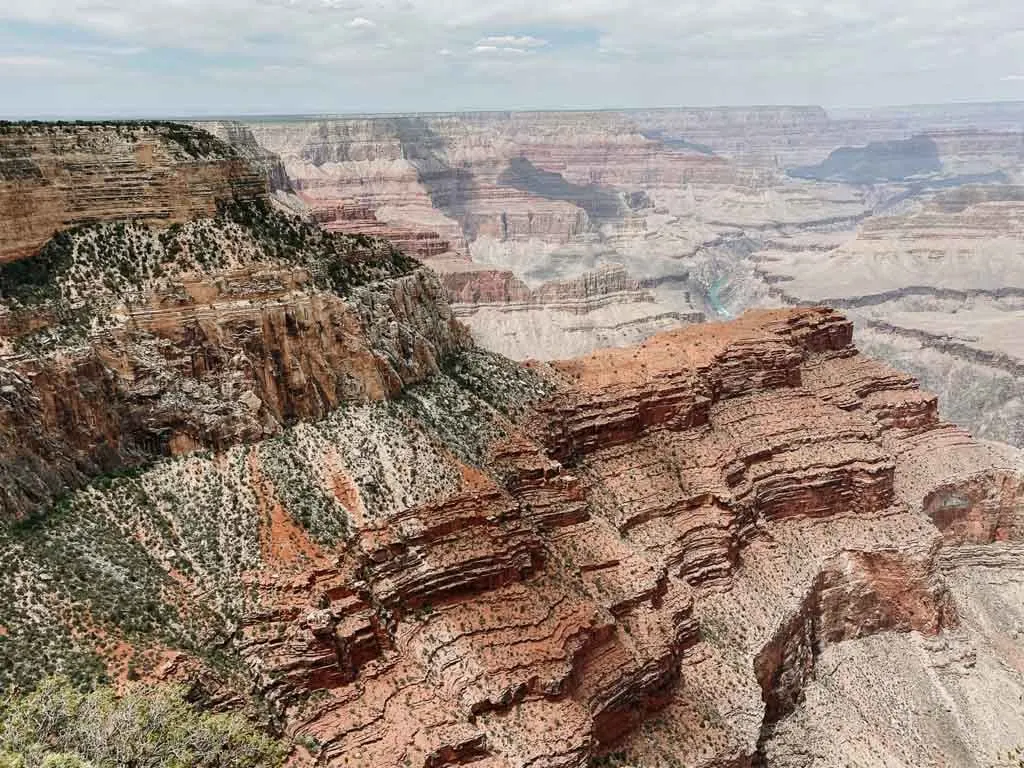 Bright Angel Trail
The Bright Angel Trail is the most popular hike at the Grand Canyon's south rim. It's a trail that leads down to the bottom of the magnificent canyon straight to the Colorado River. It's 9.8 miles (one way) to get to the bottom of the canyon. Many people will do this trail as an overnight hike to camp at the bottom at Bright Angel Campground. Then, they hike back up the next day.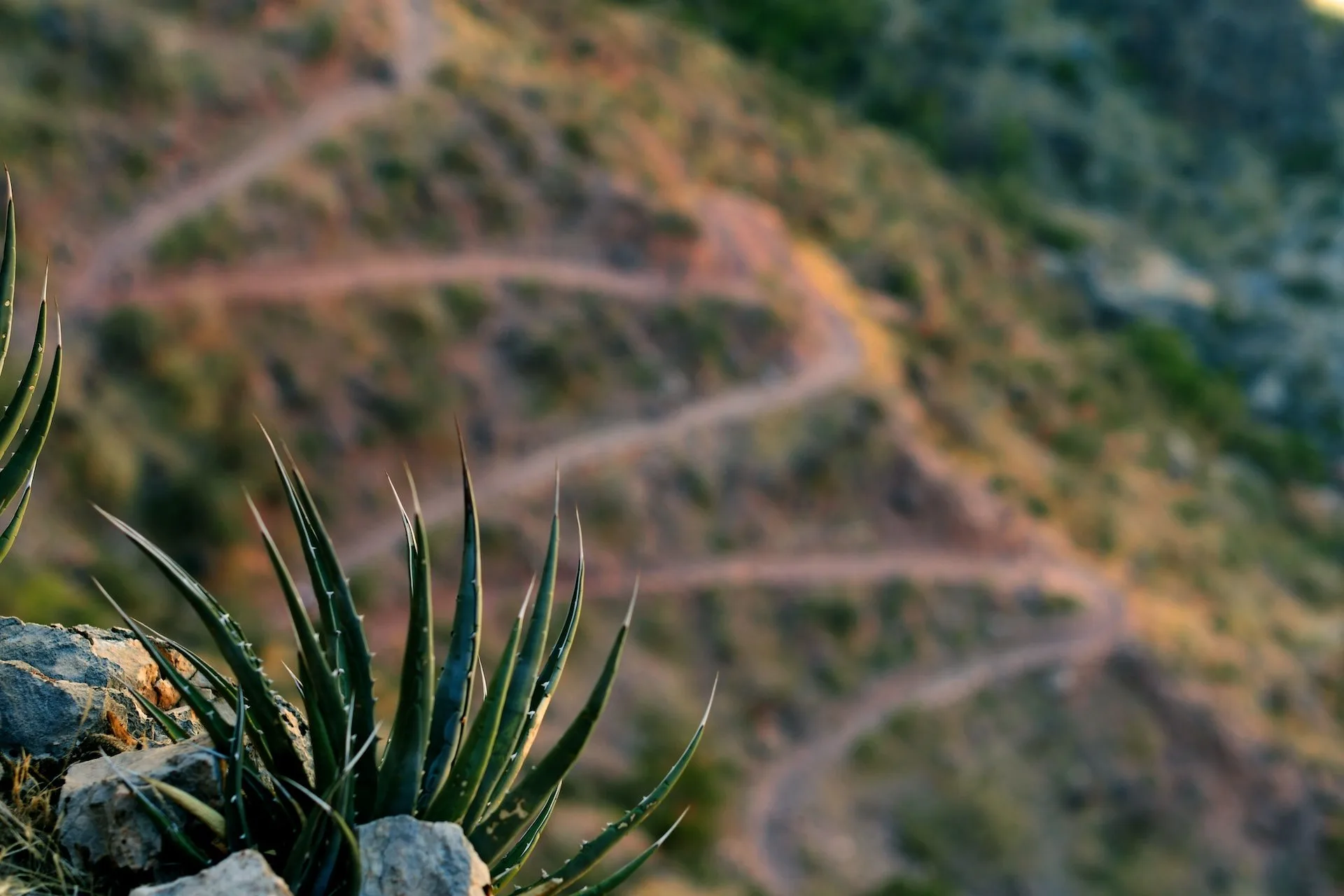 If you're not into the idea of hiking so much, it's totally possible to hike just a small section of the Bright Angel trail. There is actually a great turn-around point at 1.5 miles down the trail at a resthouse. This still offers incredible views out, over, and down into the canyon without having to hike nearly 10 miles straight up a very steep trail.
The terrain and heat can be challenging, so going with a guide is a great option. This day-long Bright Angel Trail guided hike can be customized to suit your ability and preferences.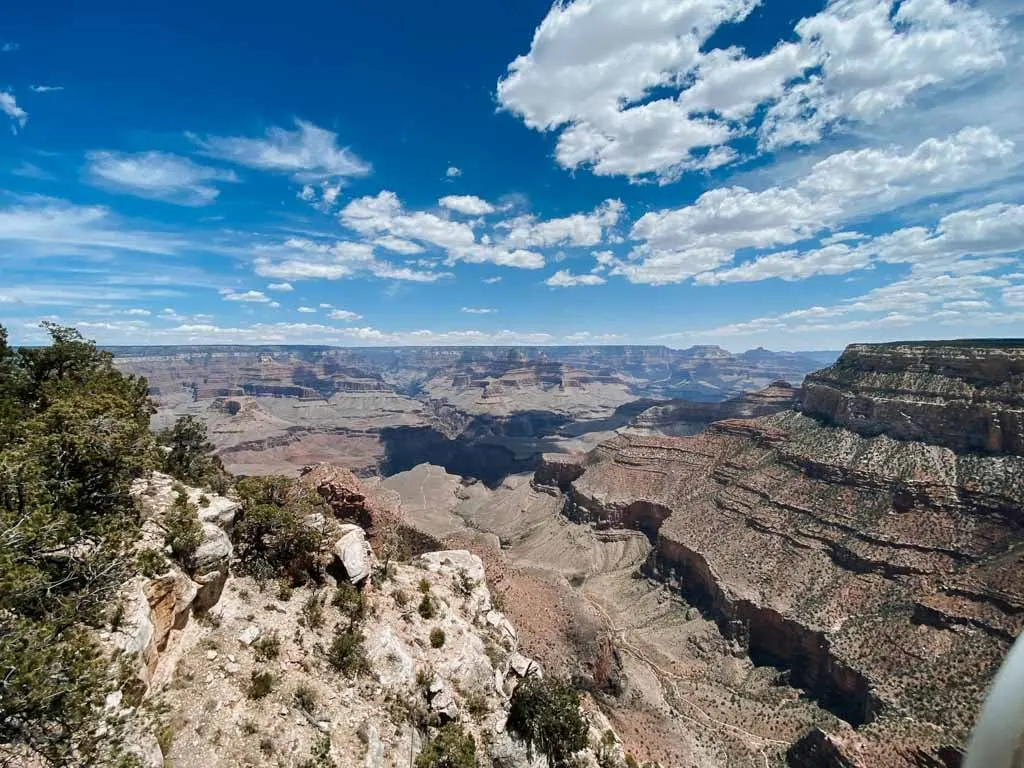 Biking Hermit Road
Renting a bike and biking along Hermit Road is another one of the best things you can do at the Grand Canyon. This 7-mile paved road has a bike trail that meanders along the rim of the Grand Canyon. The road is actually closed to traffic besides the Grand Canyon shuttle, so you won't have to worry about any traffic while you're enjoying your views.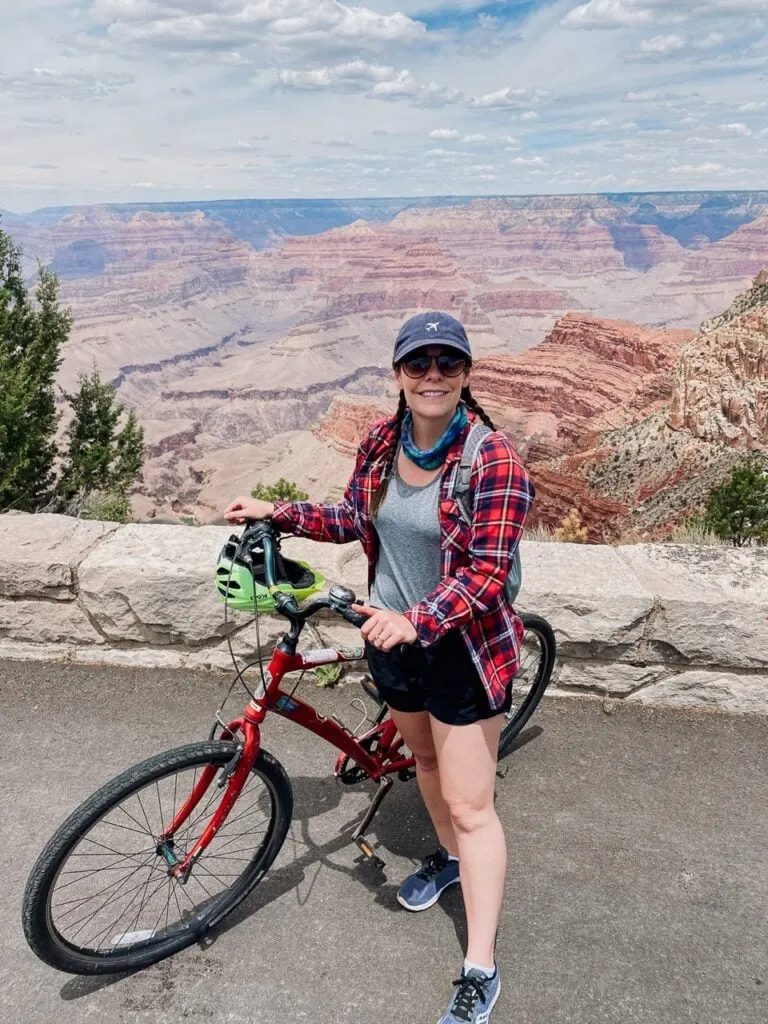 Once you get to the end of the road make sure to check out Hermit's Rest. It's a cute little shop and viewpoint area where you can grab an ice cream. From here you can decide to either bike back or put your bikes on the shuttle and ride back.
Page
Next up on this epic Arizona road trip is Page, a small town in northern Arizona right next to the Utah border. Page is 2.5 hours north of the south rim of the Grand Canyon and is a fairly easy scenic drive to get there.
Even though it may not seem like it, there are a ton of outdoor things to do in Page. Jess recommends hiking to the Horseshoe Bend overlook, checking out the incredible Upper or Lower Antelope Canyon, and kayaking on Lake Powell.
Horseshoe Bend
Horseshoe Bend is a huge canyon carved by the Colorado River that flows in the shape of, you guessed it, a horseshoe. The hike to see the overlook is 1.5 miles round trip and is fairly flat. However, it can get brutally hot in this area of the country so it's best to check out Horseshoe Bend early in the morning before the sun is high in the sky.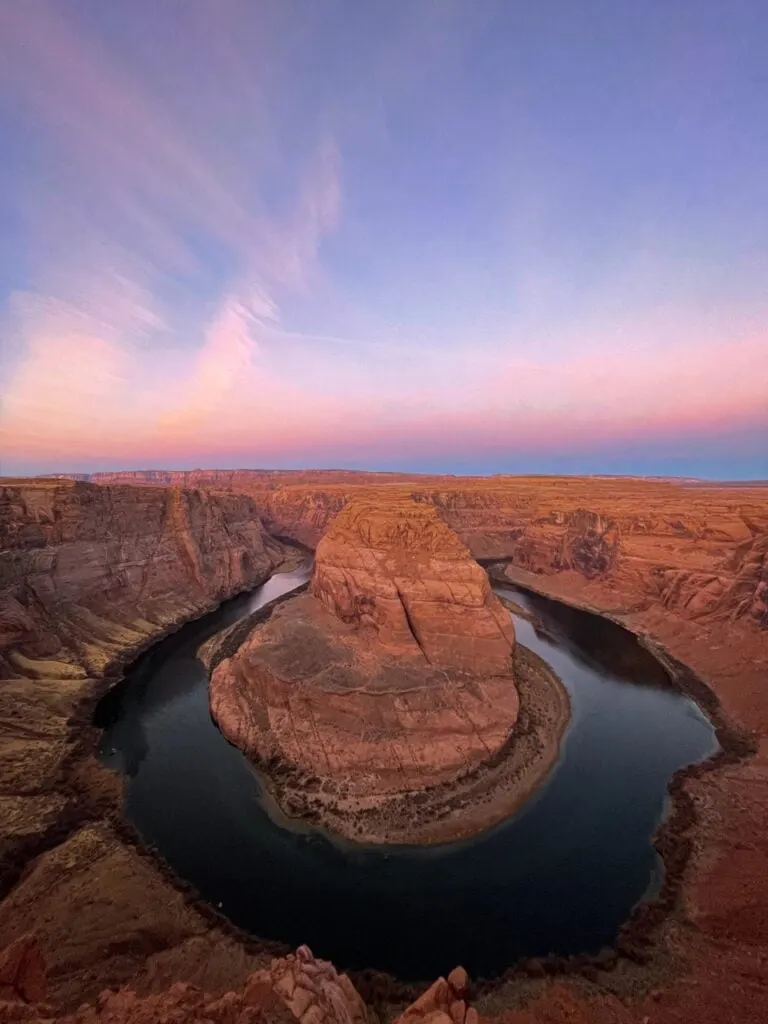 Antelope Canyon
Antelope Canyon is one of the most incredible slot canyons in the entire world and is definitely something to not miss when on an Arizona road trip. The slot canyon is formed by flash floods, which created the crack in the ground with the classic smooth, tall walls you can see today.
Antelope Canyon is located on Navajo land and is sacred to the Navajo people. To avoid the canyon being vandalized and for safety reasons (flash floods are very common in this area) you have to go on a tour to see the slot canyons. There are a ton of amazing Antelope Canyon tours to choose from. Be sure to make reservations in advance as they book up quickly.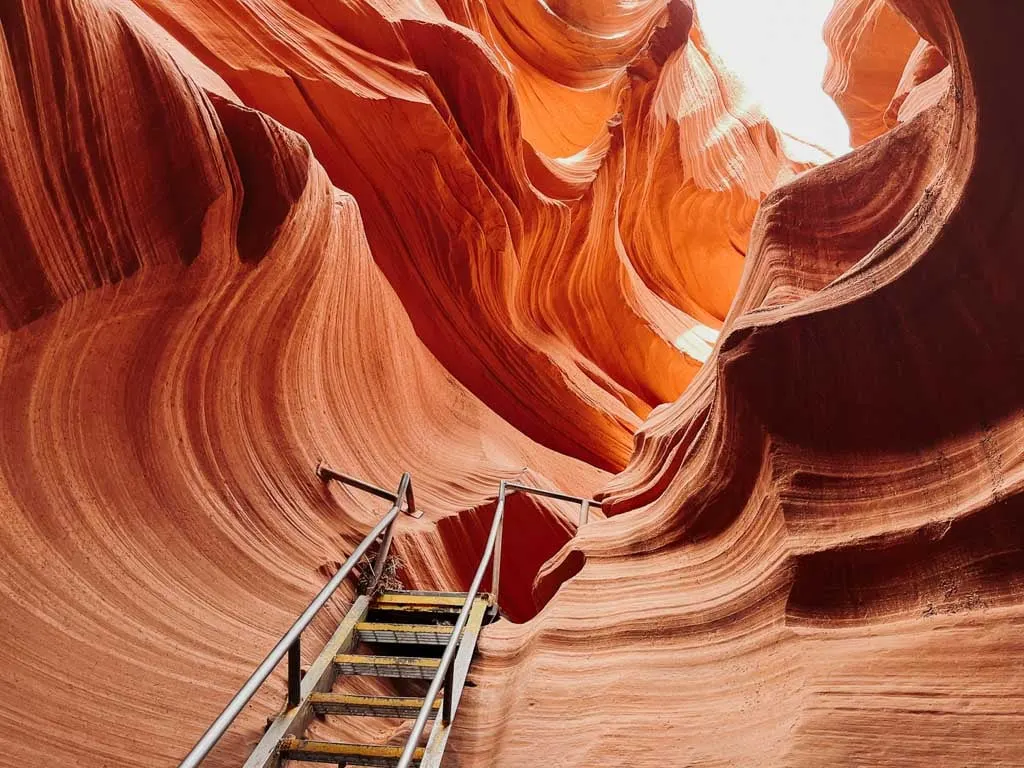 Kayaking Lake Powell
If you are looking for a different kind of adventure, you can actually kayak to Antelope Canyon from the Antelope Point Marina on Lake Powell. The trip to get to Antelope Canyon isn't the easiest, so make sure that everyone in your group is able to kayak a long distance.
Once you reach the mouth of where Antelope Canyon connects to Lake Powell, you can park your kayak and hike up into the canyon to see some beautiful slot canyons without a guided tour.
Where To Stay on this Arizona Road Trip
Sedona
There are a ton of places to stay in Sedona, but The Wilde Resort and Spa is one of the best places in the whole area. The views from the rooms are incredible and the hotel has a small boutique-like feel to it.
If you're looking to camp while in Sedona, one of the best campgrounds is Pine Flat Campground. It's located right outside of Sedona in Oak Creek Canyon. This campground is surrounded by incredible scenery and has some really neat hiking trails nearby.
Grand Canyon
The south rim of the Grand Canyon has a ton of options for places to stay. One of the best places to stay is The Grand Hotel. It has a ton of amenities such as a workout room, a restaurant and bar, and a gorgeous lodge-like atmosphere.
If you're looking to camp while visiting the Grand Canyon there aren't a ton of options besides RV parks or the National Park campgrounds. Mather Campground located inside the park is the largest campground and has some great sites. Campgrounds here can book up really far in advance to make sure to grab reservations early.
Page
Page doesn't have a ton of unique properties to stay at, but they do have some nice new hotels located in town. One of the best hotels is Hyatt Place. It has really nice views from the rooms as well as the pool. They have a nice bar on site as well.
If you're looking to camp while in Page you can camp right next to Lake Powell at Lone Rock Beach just over the Utah border. Just make sure your camper/car can make it through deep sand.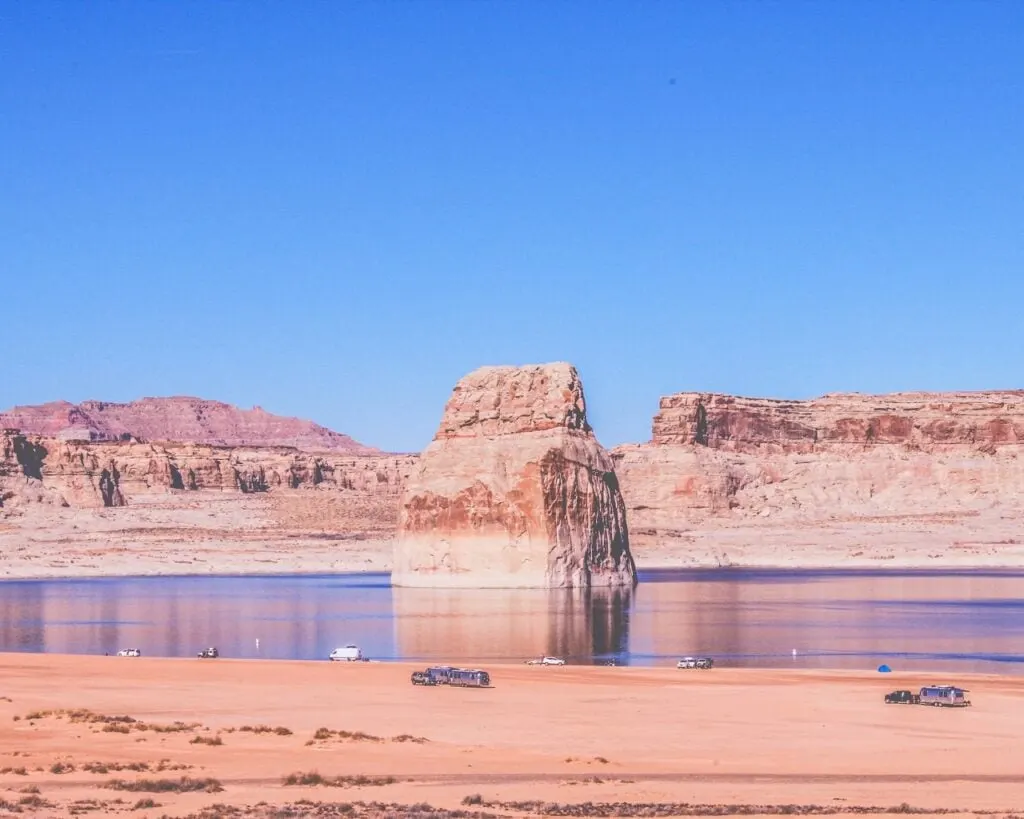 If you're looking for another option, check out The Canyons RV Park located right in town and only 10 minutes from Antelope Canyon.
Thanks to Jess for sharing this incredible Arizona road trip itinerary. You can read more of Jess' adventures on her website, Unearth the Voyage.
READ NEXT:
Latest posts by Happiest Outdoors Contributor
(see all)