You might know Death Valley as the lowest and hottest place in North America. But there are so many other incredible things to do in Death Valley National Park. It is famous for its diverse and interesting landscapes, from rocky mountains to sand dunes, salt flats, and canyons.
Death Valley National Park is the perfect stop to add to a Nevada or California road trip itinerary. The park is close to Las Vegas and Los Angeles. Nearby Death Valley are some of Nevada and California's famous ghost towns. And, other epic parks like Sequoia National Forest aren't too far away.
Happiest Outdoors contributor Erin from Pina Travels recently spent a few days in the park and wrote a comprehensive guide for you.
This guide to Death Valley National Park includes:
This is a sensitive wilderness area. Learn how to Leave No Trace to keep the wilderness wild. Make sure you are prepared by bringing the 10 Essentials. Get ready for adventure with this checklist of things to do before every hike.
Hey there: Some of the links in this post are affiliate links, which means I earn a small commission at no cost to you. Thanks for your support. -Taryn
Death Valley National Park Map
Are you curious about where to find all the places I recommend in this post? I made a custom Death Valley National Park Google Map for you. Click on the map to zoom in.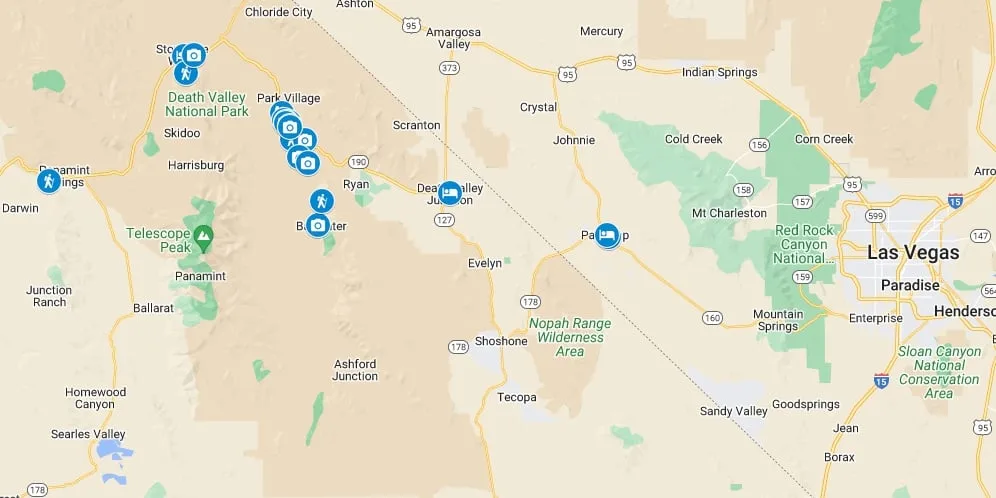 When to Visit Death Valley National Park
Before we dive into the best things to do in Death Valley, it's important to note that the best time to hike in Death Valley is from November through March.
During spring, summer, and early fall, temperatures are so high it's important to be extremely cautious when hiking. I visited Death Valley in early May and found it taxing to be outdoors at midday.
If you plan to hike in Death Valley, prepare properly. Bring lots of water, wear good footwear, wear a hat, wear sunscreen, and watch yourself and others for signs of overheating. Read these tips for hiking in the desert and hiking in hot weather before you go.

I found that the best time to hike in Death Valley is early in the morning, or in the late afternoon. At these times of day, the sun is lower in the sky, which means there's less direct sun on you.
The good news about Death Valley? You can do a lot of fun things that don't involve long hikes! This list covers some hikes, yes, but I'll also cover activities that aren't as physically demanding.
Why is Death Valley So Hot?
Death Valley National Park is the lowest point in all of North America! The lowest region of the park, Badwater Basin, is 282 feet below sea level.
It's the fact that Death Valley is so low, and shaped like a big valley, that makes this park so hot. Sunlight heats the surface of the desert, and the heat radiates from the rocks. Because the park is a valley, heat settles and becomes trapped. As a result, Death Valley is famous for its record-breaking temperatures.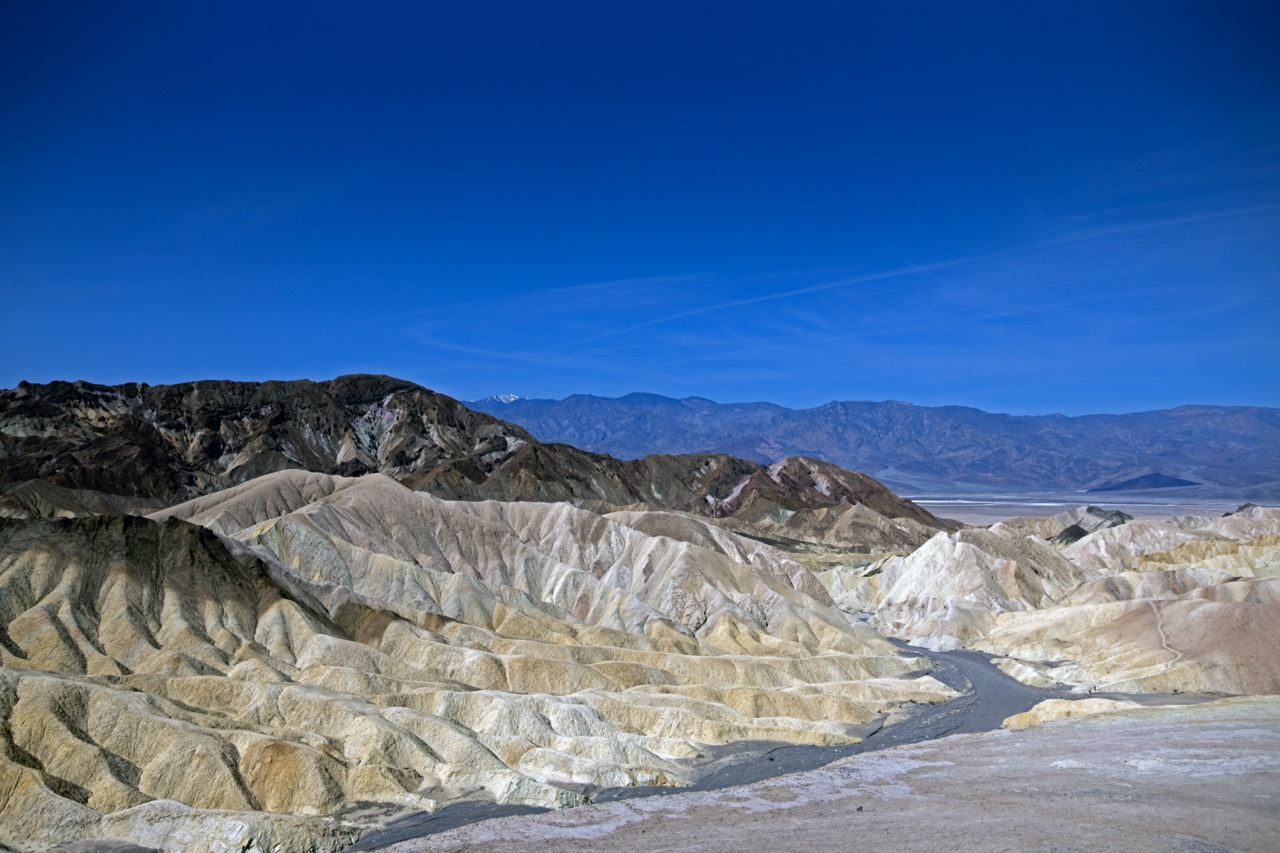 How Long to Spend in Death Valley National Park
There's a lot to do in Death Valley National Park. Especially because it's so hot, it's difficult to fit several activities into one day. You can easily spend 4 days seeing the park's highlights, watching epic sunsets, and hiking.
If you've only got 1 or 2 days I recommend seeing the main highlights: Zabriskie Point, Artist's Drive, Badwater Basin, and the Mesquite Flats. (More on these below!)
Death Valley National Park Fees, Passes, and Reservations
Admission to Death Valley National Park costs $30 per vehicle and is valid for one week. You can pay at park entrance kiosks or automated fee machines.
If you plan to visit more than one National Park, consider buying an America the Beautiful Pass for $80. It covers over 2000 federal recreation sites and all National Parks. It's valid for one year.
While you need reservations to visit some popular National Parks, you do NOT need reservations to visit Death Valley. Just show up!
How to Get to Death Valley National Park
The largest cities near Death Valley National Park are Las Vegas and Los Angeles. Las Vegas is the closest, making it a popular city to fly into to access the park.
Psst! If you're staying in Vegas, don't miss our guide to Incredible Outdoor Activities Near Las Vegas!
From Las Vegas: 2-Hour Drive
Take the NV-160 through Pahrump and Death Valley Junction. Alternatively, you can take the US-95 through Indian Springs and Amargosa Valley, which takes a bit more time.
From Los Angeles: 4.5 Hour Drive
Take Interstate 10 or 210 to Interstate 15 north to Baker, then California 127 to California 190 E into the park. The alternative option is to take California 14, then U.S. 395, then California 190 E.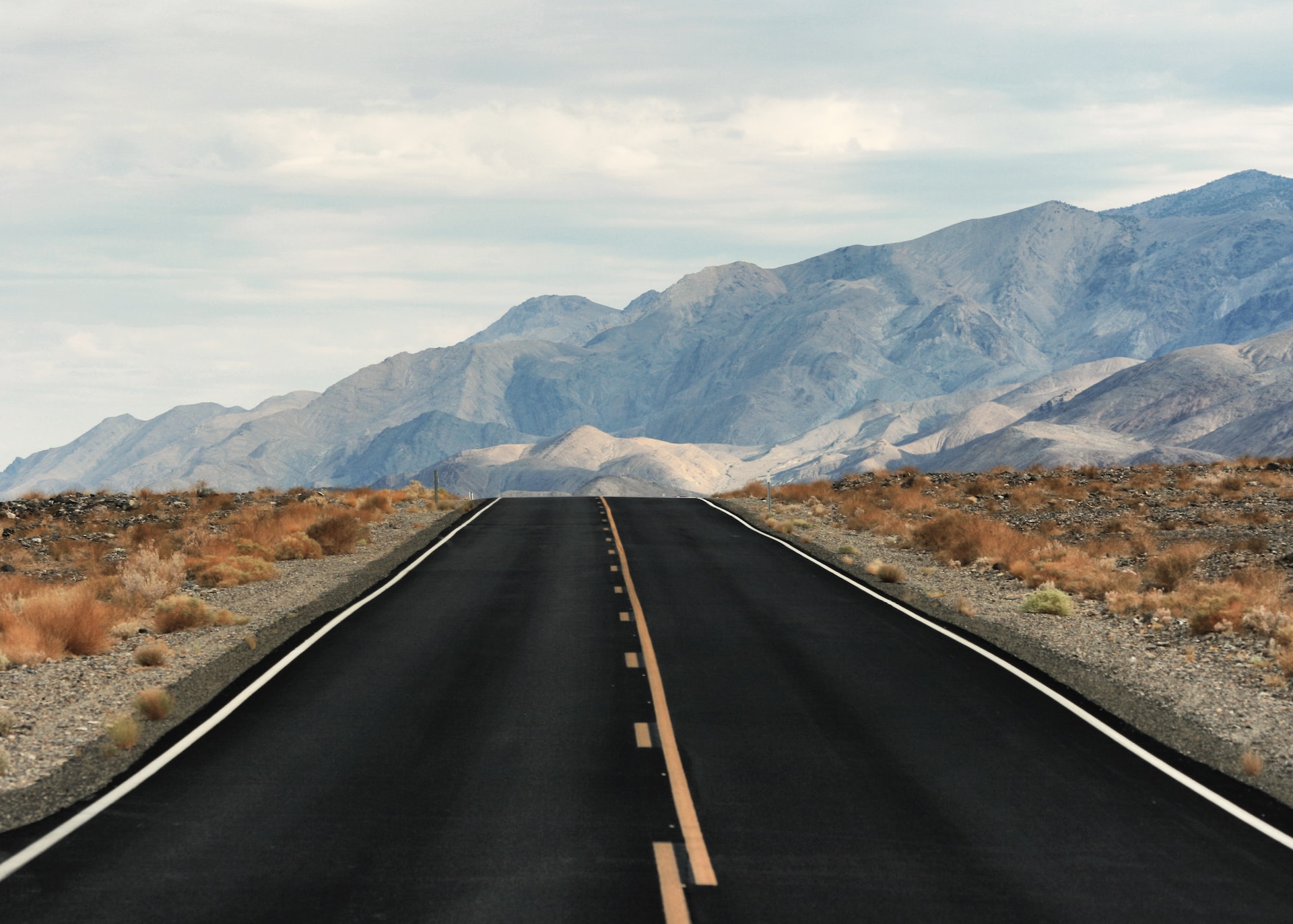 Getting Around Death Valley: Self-Drive or Tours
You will need a car to explore Death Valley National Park since there is no public transportation in the park. The easiest places to rent a car nearby are Las Vegas and Los Angeles. I use Discover Cars to search for car rentals since it compares prices across tons of different companies.
Keep in mind that many of the roads in the park are dirt with no cell phone reception or services. If you aren't experienced in off-road driving, stick to the main park roads.
Another option is to visit Death Valley with a tour. There are lots of options leaving from Las Vegas. This five-star-rated small-group tour takes you through the park's highlights as a day trip. Or book this full-day tour from Las Vegas that includes an incredible evening of stargazing.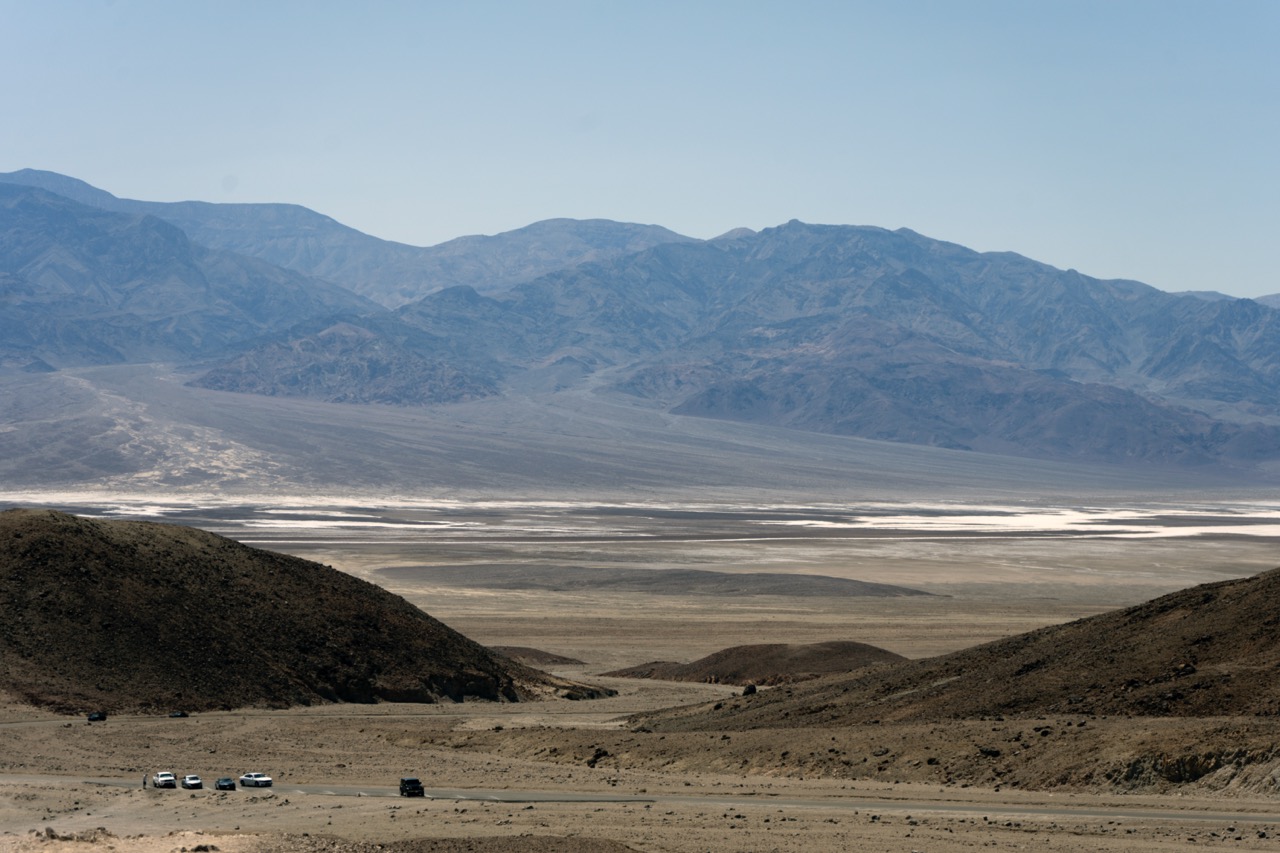 Where to Stay in Death Valley
There are two options for staying within Death Valley National Park. You can camp or book a hotel. Furnace Creek and Stovepipe Wells are the two villages within Death Valley, and it's in these villages that you'll find the park's hotels and campgrounds.
Camping in Death Valley
The two most popular campgrounds within the park are Furnace Creek and Texas Springs. Sunset, Death Valley's largest campground, almost always has sites available, even in the busy season. Furnace Creek campground requires reservations while the others are first-come, first-served. There are also several smaller campgrounds.
It's worth noting that most campgrounds are open from October to April only. They close in the hot months.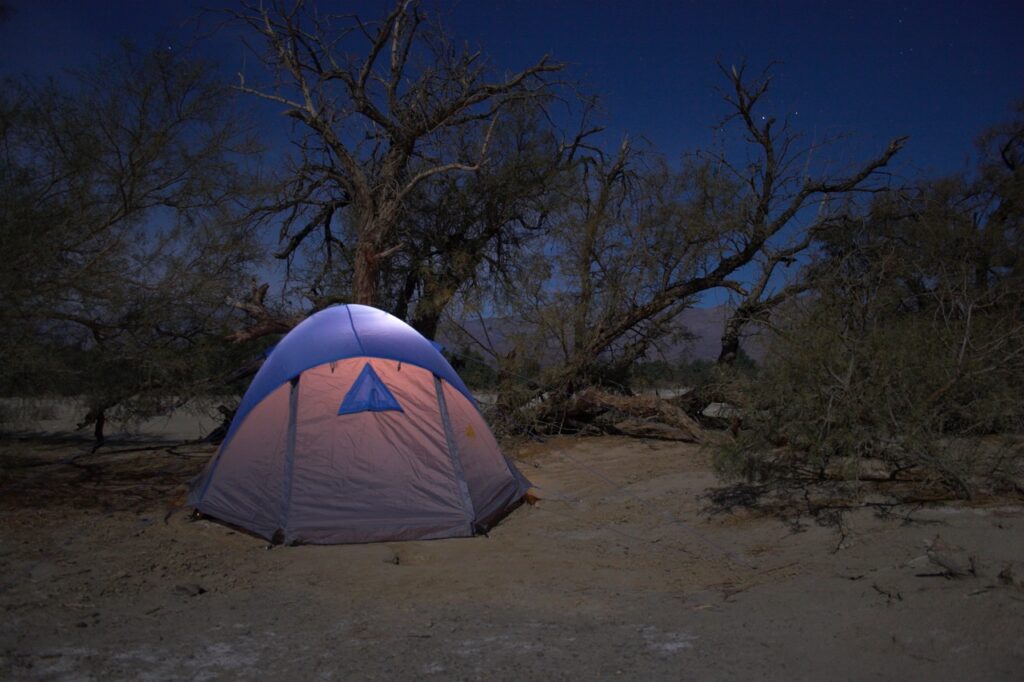 Hotels in Death Valley
Now, let's talk about hotels. There are three hotels inside Death Valley National Park:
The Ranch at Death Valley has air-conditioned rooms with hot showers, an outdoor swimming pool, a playground, a tennis court, a bar, a restaurant, and a general store. Check prices.
The Inn at Death Valley is a historic hotel that's been in operation since 1927. This hotel has a spring-fed pool, a bar, a restaurant, a gym, and gardens to enjoy. It was renovated recently, and so it tends to be a bit more expensive than The Ranch at Death Valley. Check prices.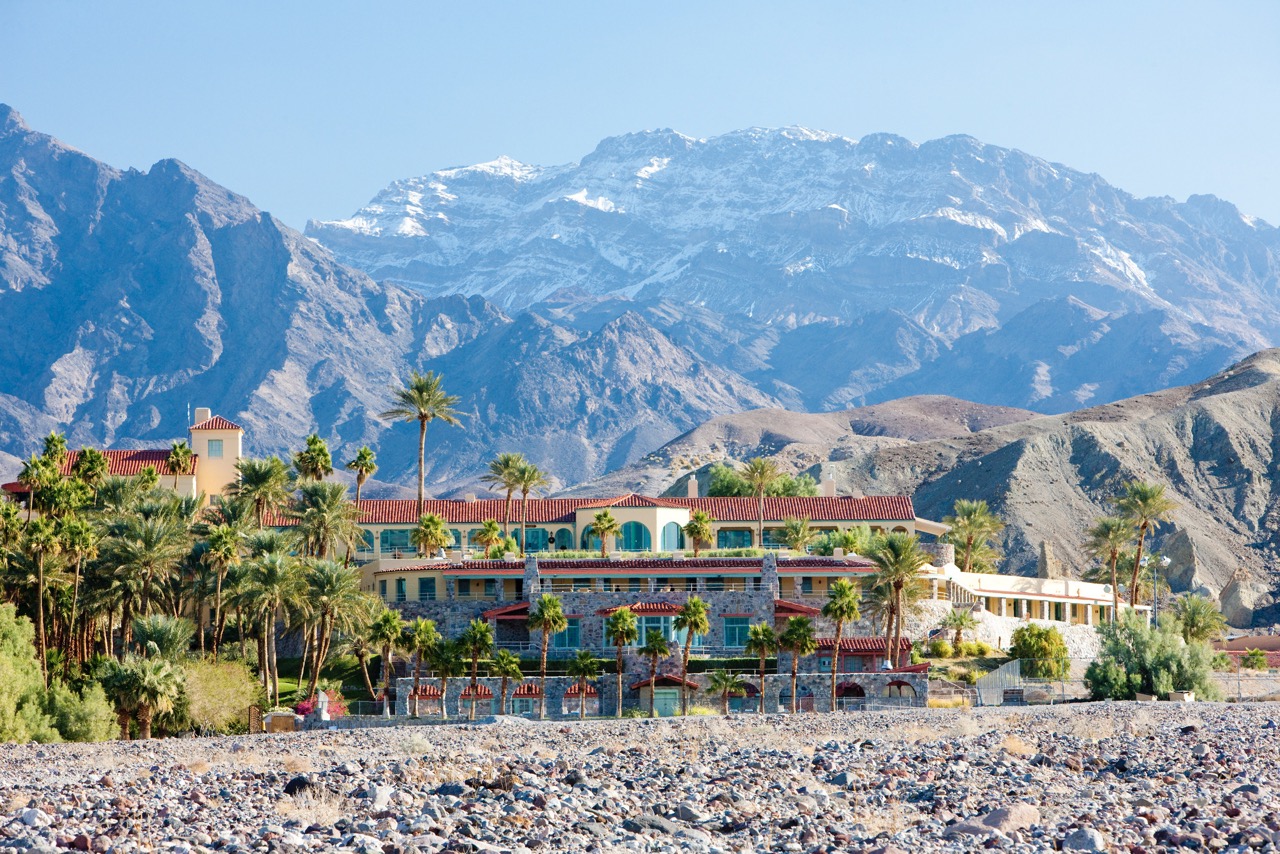 Stovepipe Wells Village Hotel is at the northern end of Death Valley, so it's in a less convenient location. But this is your budget option! Here you'll find simple rooms, and lots of amenities on-site, including a Western-style saloon, restaurant, general store, and pool. Check prices.
You can also book a hotel just outside the park. The closest option is the eclectic Amargosa Opera House and Hotel in Death Valley Junction. You will also find a Best Western and a Holiday Inn Express in nearby Pahrump, about an hour from the park entrance.
Because there are so few hotels in the park, they book up quickly. Be sure to reserve your hotel in advance.
Best Things to Do in Death Valley
Golden Canyon Trail
The Golden Canyon trail is one of the most popular hikes in the park. It's a 4.3-mile (6.9 km) loop trail that takes you through surreal landscapes.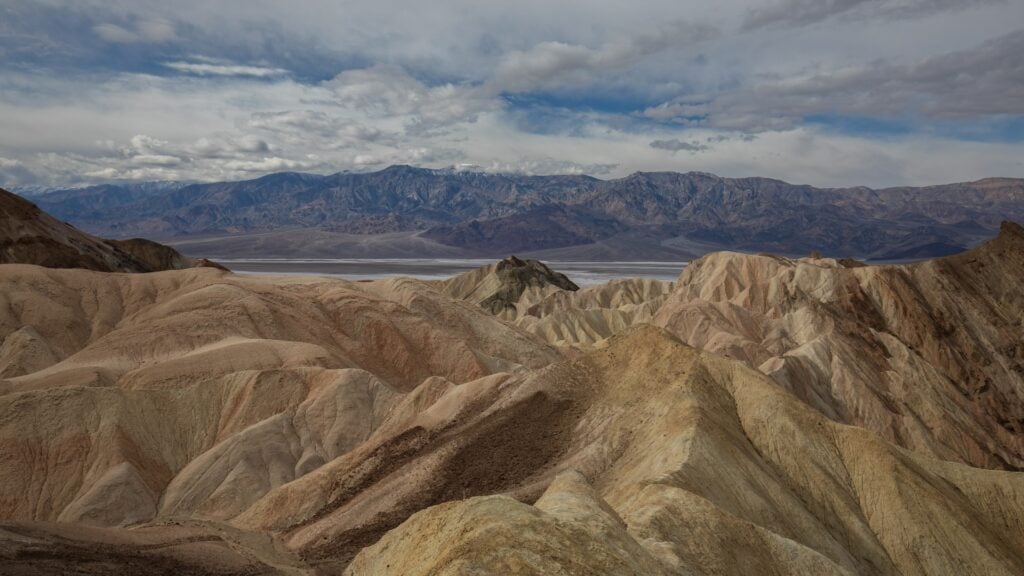 Golden Canyon is an easy to moderate trail that takes most people 2-3 hours. It starts by taking you through a beautiful canyon, Golden Canyon, and then onward to Red Cathedral, Manly Beacon, and Gower Gulch. Along the hike, you'll see tall rock walls, narrow slots, badlands, and desert.
This is a popular trail because it's not too difficult (particularly if you do it at a cooler time of day), and it gives you a taste of Death Valley's various landscapes.
Zabriskie Point
Zabriskie Point is one of the best lookout points in Death Valley National Park. To reach the lookout point, you'll park in a big parking lot, and then walk about a quarter mile up a paved path that's on an incline.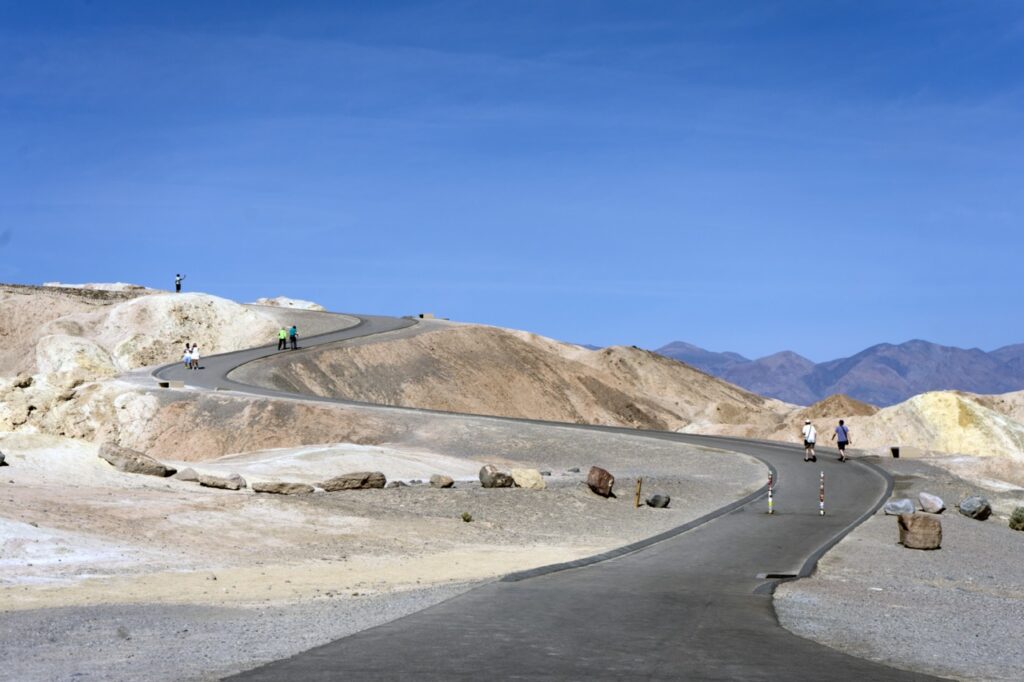 At the top there is signage explaining what you're seeing, and benches where you can rest. You can see the badlands as well as incredible jutting stone faces in the distance. From this viewpoint, you can really see the diversity of Death Valley's landscapes.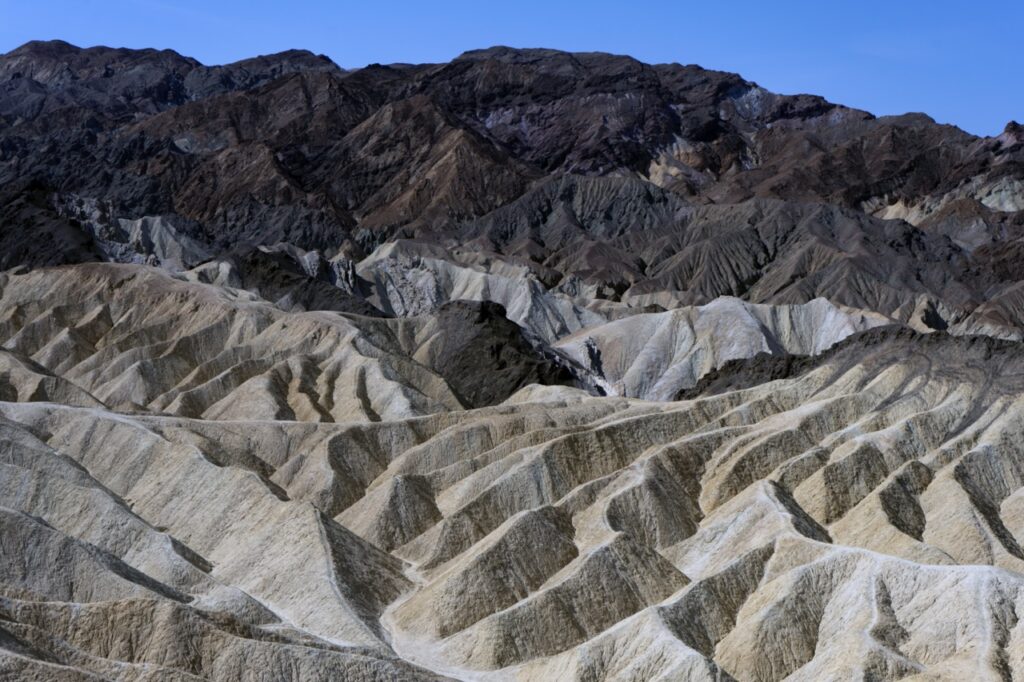 Zabriskie Point is one of the best spots in the park to watch sunrise and sunset, so it's worth planning this stop on your itinerary as either an early morning start to the day or for when the sun goes down.
Artists Drive
Artists Drive is a scenic 9-mile (14 km) drive that takes you through hills that are famous for their pastel hues. This is the perfect activity to do when it's especially hot because you can take in the beautiful Death Valley views from the comfort of your air-conditioned car.
As you drive, you'll see hills that have shades of green, pink, red, yellow and more colours. This rainbow phenomenon on the rocks is caused by volcanic deposits rich in compounds such as iron oxides and chlorite.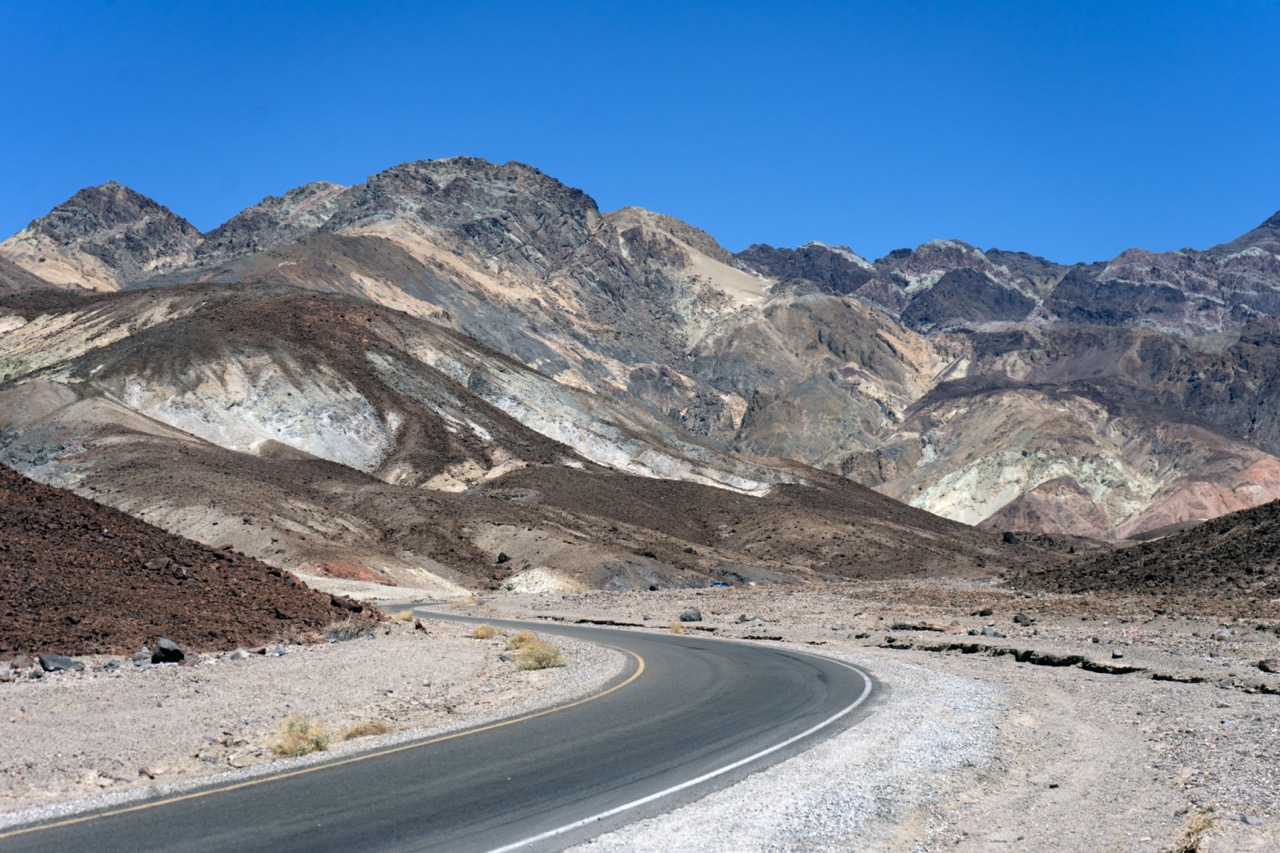 Artist's Drive is just off Badwater Road, south of Furnace Creek. The start of the drive is clearly marked. It's a loop drive that brings you back out to Badwater Road. The road is well-paved and single-lane. It's best to drive slowly, so you can really take in everything around you!
Throughout the drive, there are pull-offs with parking lots, where you can get out of your car to take a closer look at the rocks and the view.
Artist's Palette is the most popular pull-off. From this viewpoint, you can see some of the park's most vibrant, colorful rocks.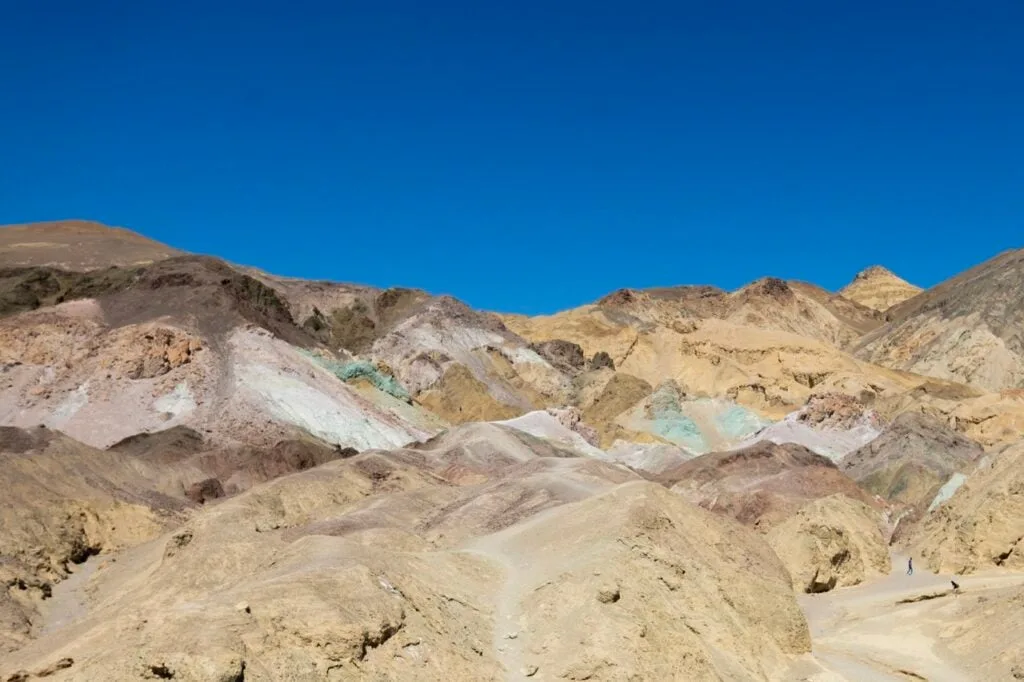 Artist's Drive takes the average person 30 minutes to an hour. It all depends on how fast you drive, and how many stops you make along the way.
Badwater Basin
Badwater Basin is a massive salt flat, the lowest point in the park. At 282 feet below sea level, it's the lowest point in all of North America.
A few thousand years ago, Badwater Basin was a big lake, about 30 feet deep. Over time, the lake evaporated, leaving a 1-5 foot layer of salt, which created the salt flat that's there today.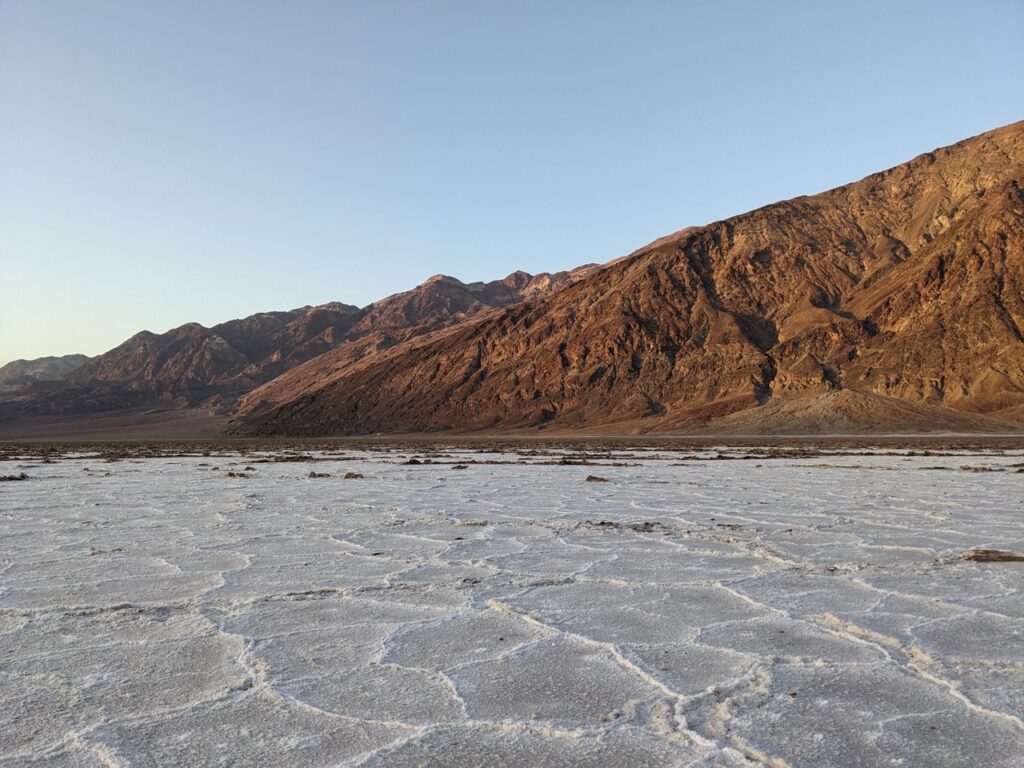 Because Badwater Basin is at such a low elevation, it's one of the hottest parts of the park, and there's no shade to shield you from the sun. Given this, the best time to visit Badwater Basin is at sunrise or sunset. Coming at these times means you'll also get treated to beautiful lighting as the sun rises, or goes down.
Due to years of visitors, the salt flat area near the parking lot has been flattened. You'll need to walk 15-20 minutes out into the basin to reach the area where you can see the intricate salt crystals that form the cracked patterns that Badwater Basin is known for.
Be sure to bring lots of water out into the basin with you – I found that the salt made me very thirsty!
And, before you leave the basin, look up at the rock face opposite the parking lot. Up on the rock face is a sign that marks sea level. Seeing the sign, high up on the rock face, helps you understand how low below sea level the basin truly is.
Natural Bridge Trail
The Natural Bridge Trail is a 1.4-mile (2.3 km) there-and-back hike through the Amargosa Mountain foothills. It takes you through a canyon, to a massive natural bridge that's 35 feet tall.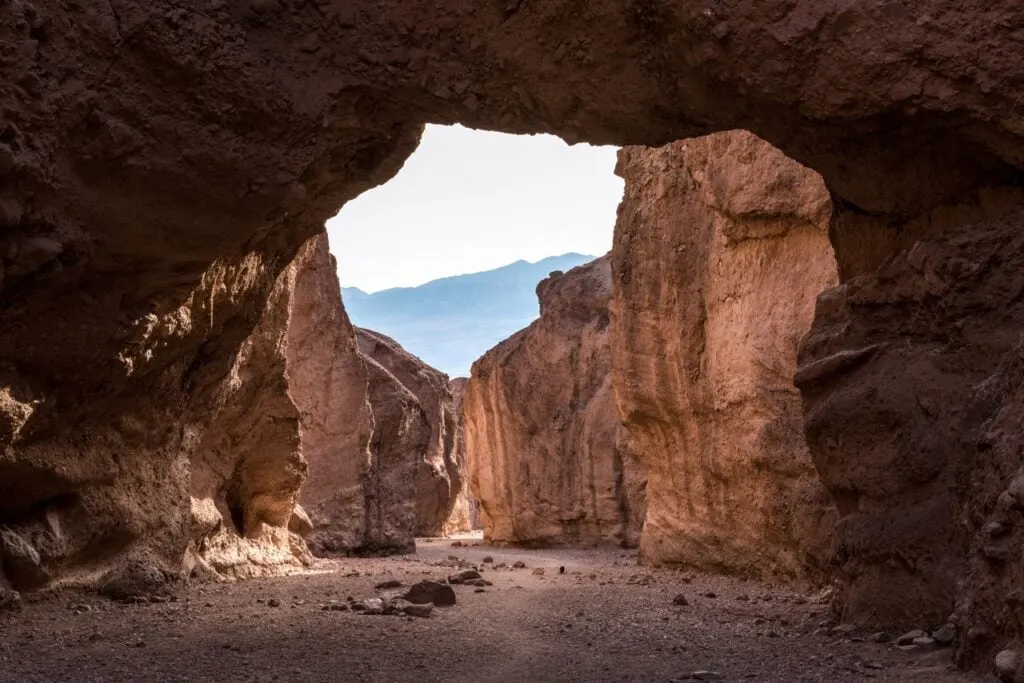 This is a great trail to do on a hot day because it's easy and short. It usually takes 45 minutes – 1 hour to complete.
Before starting the trail, be sure to look at the information panel at the trailhead. It provides illustrations of the geological features that you'll see in the canyon, making it easy to spot features like faults, chutes, and mud drippings as you hike.
Harmony Borax Works
At Harmony Borax Works, you can explore the remains of a mining operation that dates back more than 120 years. Back in 1883, William Tell Coleman built the Harmony plant to process ore.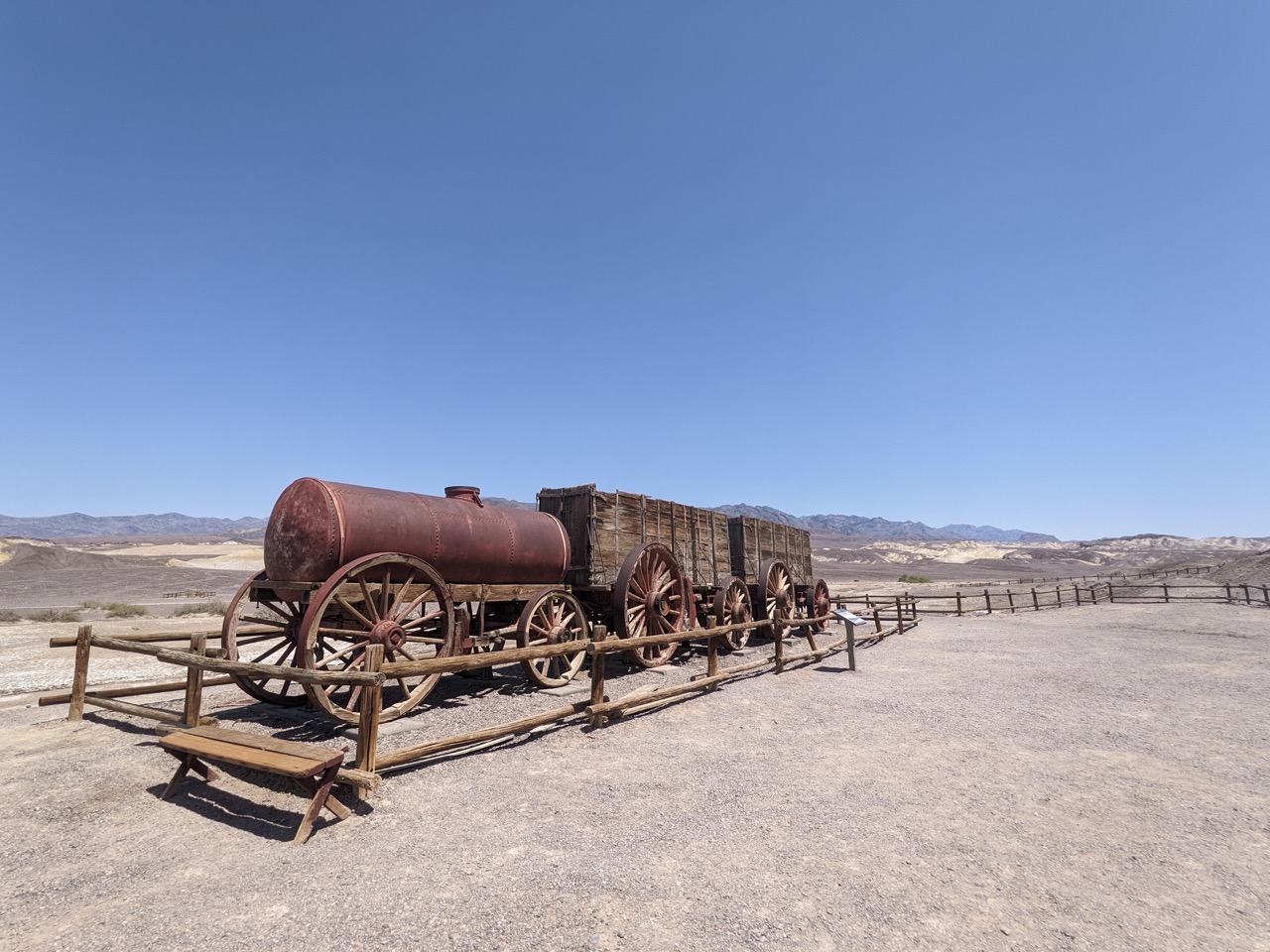 Harmony Borax Works employed around 40 people to extract and produce three tons of borax every day. However, the plant didn't last long. It was only in use for about 5 years, going out of operation in 1888.
A short walk from the Harmony Borax Works parking lot, you can see remnants of the mining operation. You also have views of the area of the park where borax was extracted – and you can still see borax out on the plains.
There is signage at Harmony Borax Works that explains the history of the mining operation, and how it worked. For example, miners used 20-mule teams to haul borax 165 miles to the railroad town of Mojave!
Mosaic Canyon Trail
Mosaic Canyon Trail is a 4-mile (6.4 km) out-and-back hike. It's considered moderately difficult because there are some areas where you need to scramble up rocks that can be quite slippery.
The best part of this hike comes right at the beginning. You'll walk through narrow canyon walls that are made of wavy rock, which over time has been smoothed out by flash floods.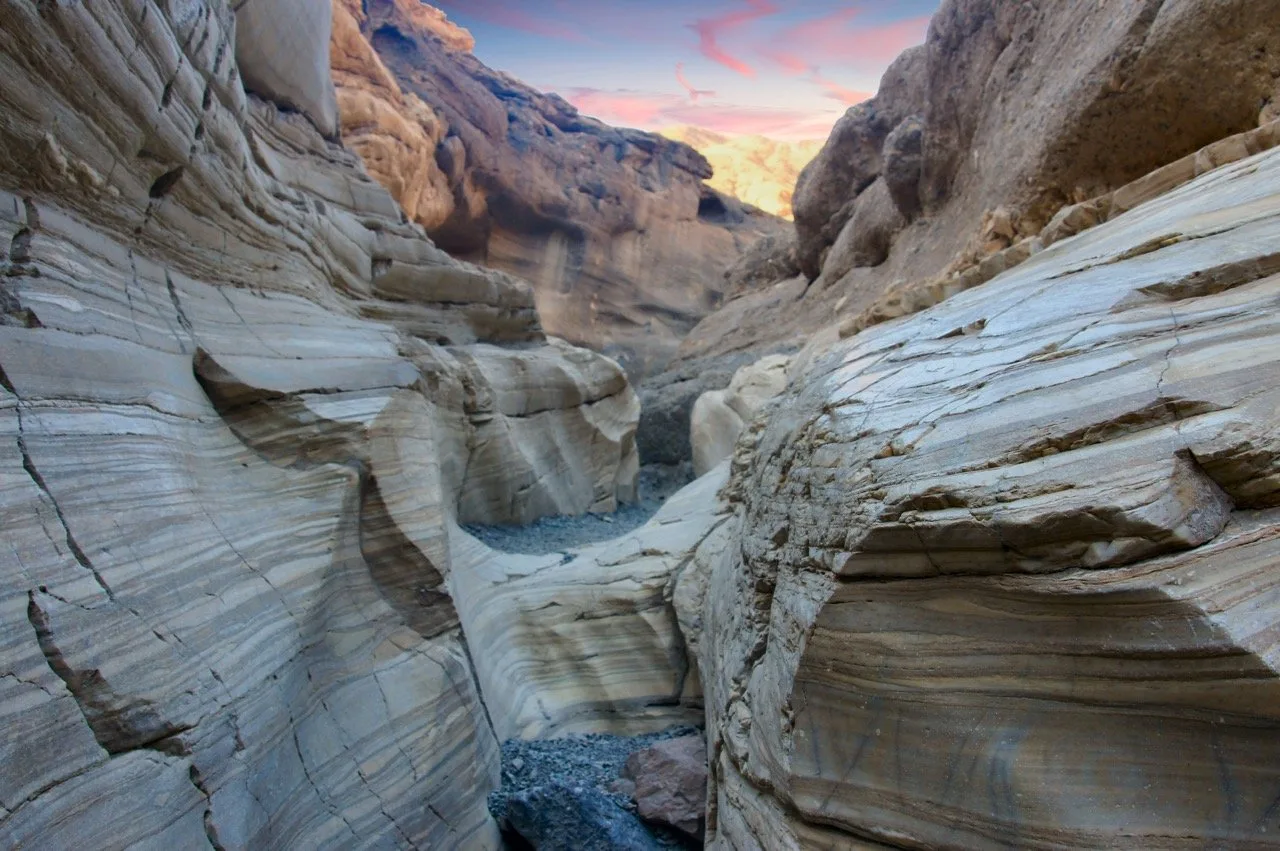 It's best to do this trail first thing in the morning. For most of the trail, there's very little sun coverage, and so doing it midday is too hot. It takes most people 2-3 hours to complete.
If you aren't up for a few hours of hiking, you can still stop by Mosaic Canyon Trail to walk the beginning part, which takes you through the canyon. This is a particularly beautiful part of the trail, and since it's right at the trailhead, you can spend 30 minutes to an hour exploring just this portion.
Mesquite Flats Sand Dunes
Mesquite Flats Sand Dunes are a fascinating part of Death Valley National Park. These sand dunes were created through a combination of sand, wind, and surrounding mountains. The dunes are named for the mesquite tree that grows throughout the area.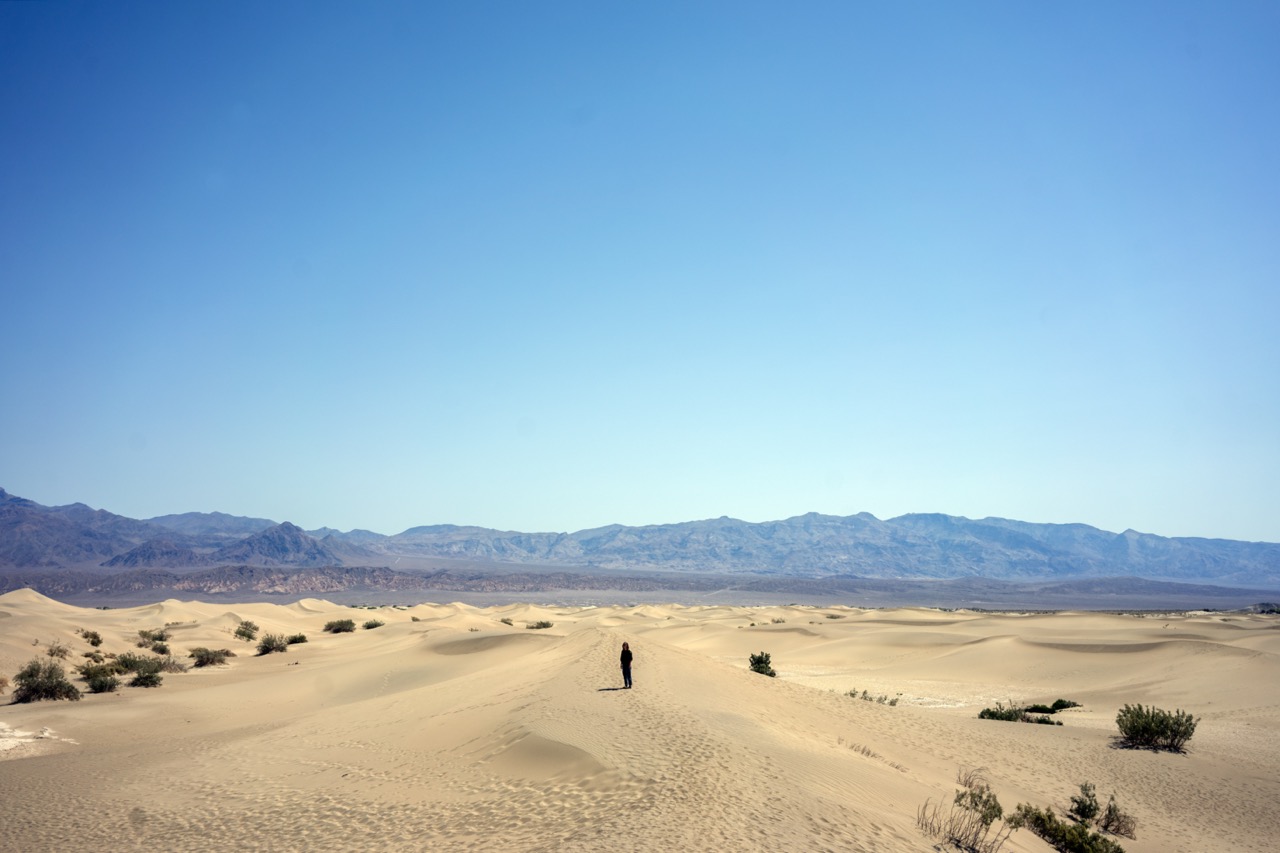 Because Mesquite Flats are sand dunes, there's very little sun cover, so it's best to visit the dunes either first thing in the morning, or at sunset time. The views of the desert and mountains in the distance are gorgeous as the sun disappears.
No official trails lead out into the dunes. You're free to wander wherever you like. Just be sure to watch your step as you walk, and try not to disturb any wildlife. Be careful of wandering out too far – Walking in sand can be very taxing.
Elevation Sea Level Sign
The Elevation Sea Level signs display the elevation level in the park. You'll actually notice them all throughout the park, but the one worth stopping at is near Furnace Creek, right where Badwater Road intersects with California State Route 190.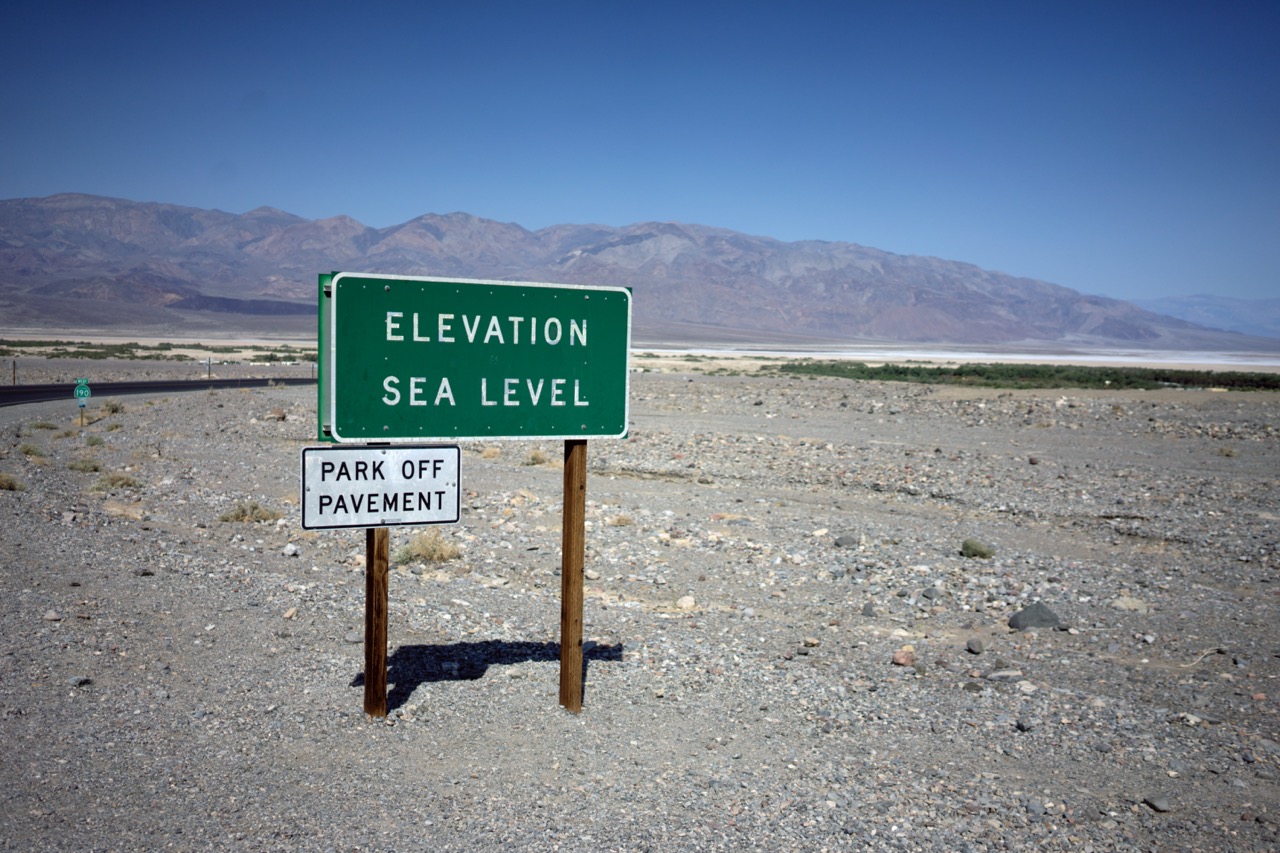 This particular elevation sign has a shoulder where you can safely pull off the road and stop to take a photo with it. Although this isn't the most necessary stop in Death Valley, it makes for a very memorable photo opp!
Darwin Falls
Darwin Falls is one of the few year-round waterfalls in Death Valley National Park. These falls are 18 feet tall, and they create a small oasis inside a rocky canyon.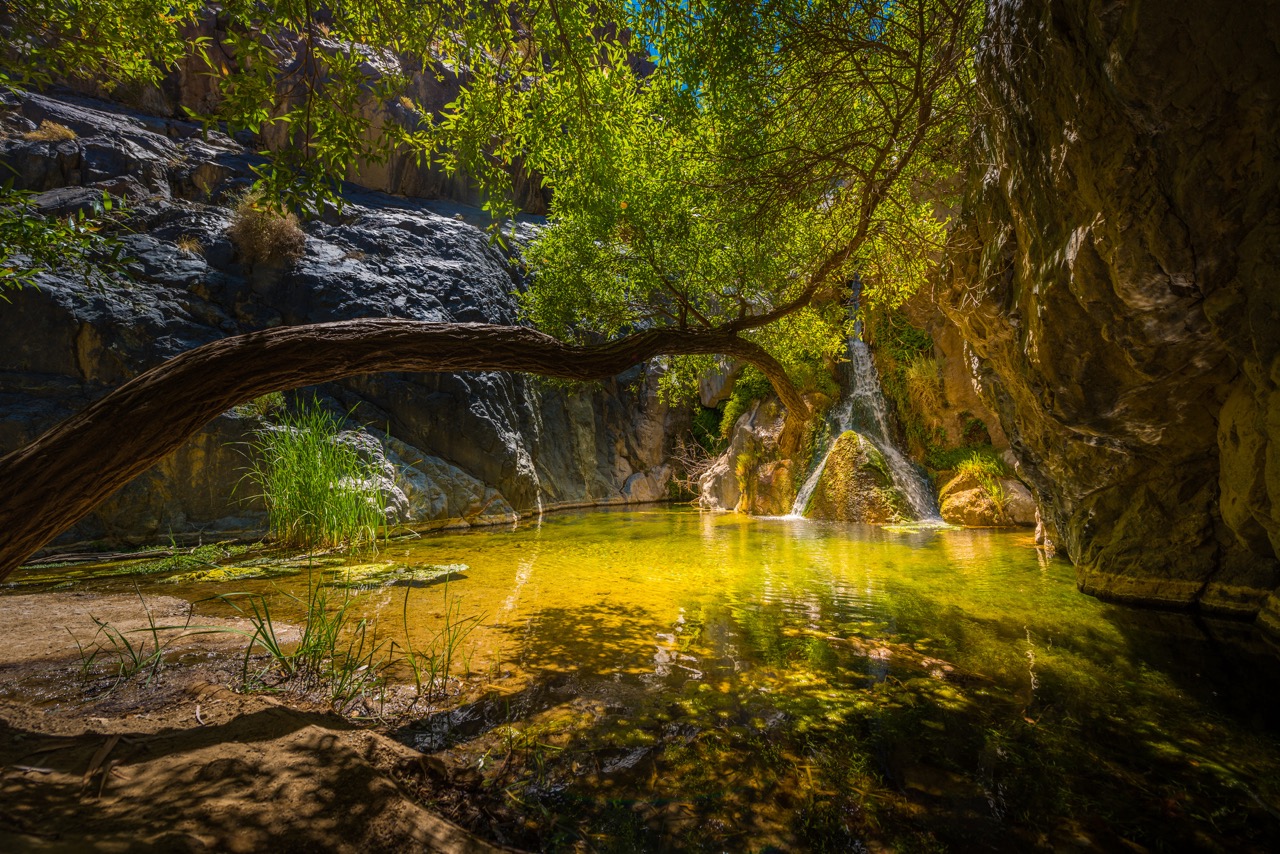 At the bottom of Darwin Falls is a small pool that has served as a water source for people and wildlife in Death Valley for hundreds of years. It might be tempting to go for a swim in the pool at the bottom of the falls – but don't! This water is used as a drinking source for a nearby hotel.
To reach Darwin Falls, you'll take a 2-mile (3.2 km) out-and-back trail. It takes 1.5 to 2 hours to finish this hike. It's considered an easy trail to follow, and easy to walk.
Thanks to Erin for sharing this incredible guide to the best things to do in Death Valley National Park. You can read more about Erin's adventures on her website, Pina Travels. She also hosts the travel podcast, Curious Tourism, where she interviews travel industry thought leaders and experts about responsible tourism.
READ NEXT:
Latest posts by Happiest Outdoors Contributor
(see all)