Looking for exciting outdoor activities near Las Vegas, beyond the casinos and bustling nightlife? This vibrant city is surrounded by sprawling natural beauty, from red sandstone peaks at Red Rock Canyon to tranquil waters at Lake Mead.
In this post, Happiest Outdoors Contributor Shannon will guide you through the best outdoor adventures around Vegas. It includes thrilling hiking trails, serene water bodies, and adrenaline-fueled desert adventures. She is a Vegas local, so she knows all the best spots. Get ready to uncover a wilder side of Sin City!
This list of incredible outdoor adventures around Las Vegas includes:
This is a sensitive wilderness area. Learn how to Leave No Trace to keep the wilderness wild. Make sure you are prepared by bringing the 10 Essentials. Get ready for adventure with this checklist of things to do before every hike.
Hey there: Some of the links in this post are affiliate links, which means I earn a small commission at no cost to you. Thanks for your support. -Taryn
Las Vegas Outdoor Activities Map
If you're staying in Las Vegas, you're probably wondering how far out of town you will need to go to get to outdoor adventures spots. We made a custom Las Vegas Outdoor Activities Google Map just for you that shows you all the places Shannon recommends in this post.
For some of these activities you can arrange transportation with a tour company, but for others, you'll need to drive yourself. I like to use Discover Cars to book rental cars since it lets me compare prices across tons of companies.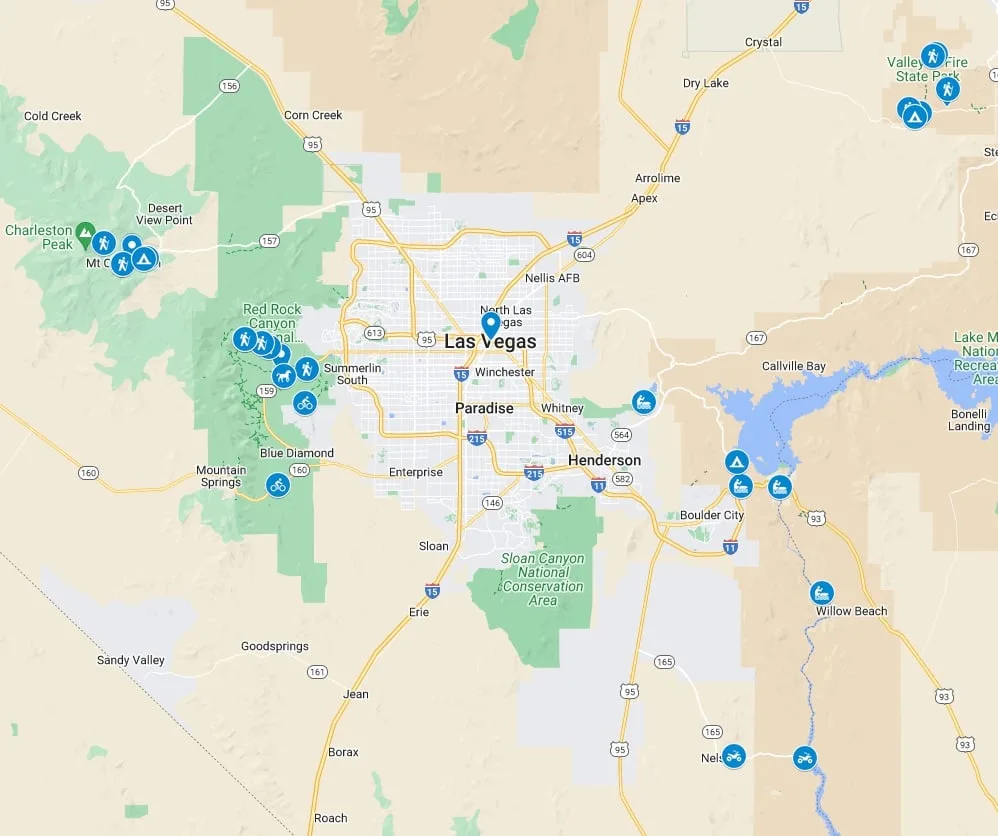 Hiking and Nature Trails Near Las Vegas
Hiking at Red Rock Canyon National Conservation Area
Red Rock Canyon National Conservation Area offers a breathtaking landscape for avid hikers. This area, located just 30 minutes from Las Vegas, hosts some of the best hiking trails near the city.
Once you enter the park, you'll find a one-way 13-mile scenic drive that leads you to many of the trailheads for hiking and exploring. The trails range in difficulty so it's easy to pick one suited to your fitness level or desired challenge.
For first-time visitors, swing by the Visitor Center. The friendly staff provide information about various recreation opportunities tailored specifically for outdoor enthusiasts like you!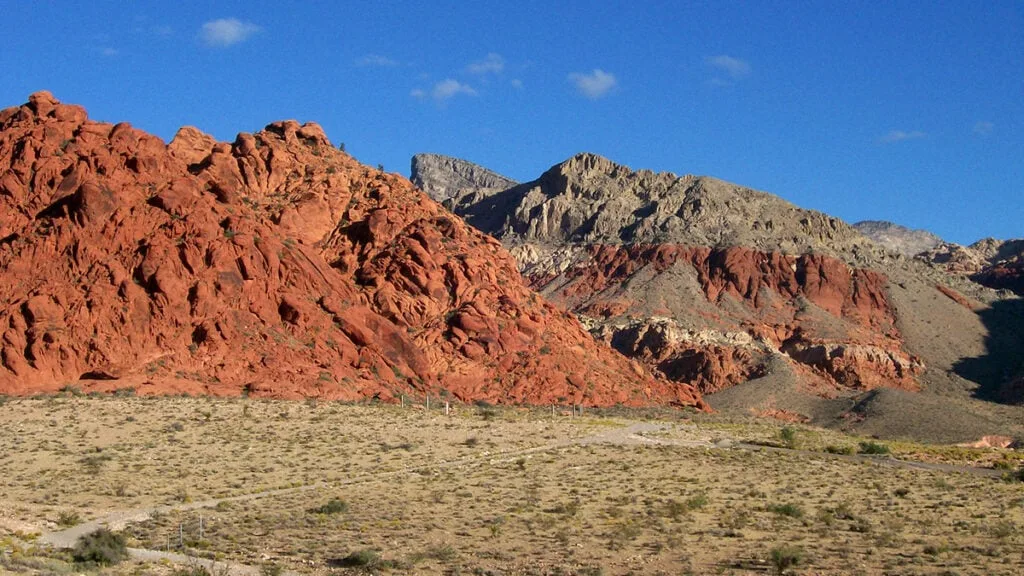 Here's a quick rundown of some of the more popular trails:
Moenkopi Loop is a popular pick. It offers varied terrain and stunning desert vistas on an easy trail.
Calico Hills Trail gives hikers up-close views of brightly colored sandstone formations and hidden slot canyons.
The Calico Tanks Trail includes a hidden water tank at the finish line – a true oasis in the desert. Explore further along this strenuous trail for amazing views of the Las Vegas Strip.
Hiking to Turtlehead Peak gets your heart pumping while rewarding you with panoramic views of Las Vegas.
Keystone Thrust Trail brings geology to life as it passes through an exposed fault line.
The White Rock Mountain Loop is a strenuous trail that stands out with its different scenery, cooler temperatures, and tranquil picnic spots under pine trees.
Or go with an experienced guide to learn about the ecology and culture of the unique red rocks. This guided hiking tour offers you a choice between three different trails to suit your ability.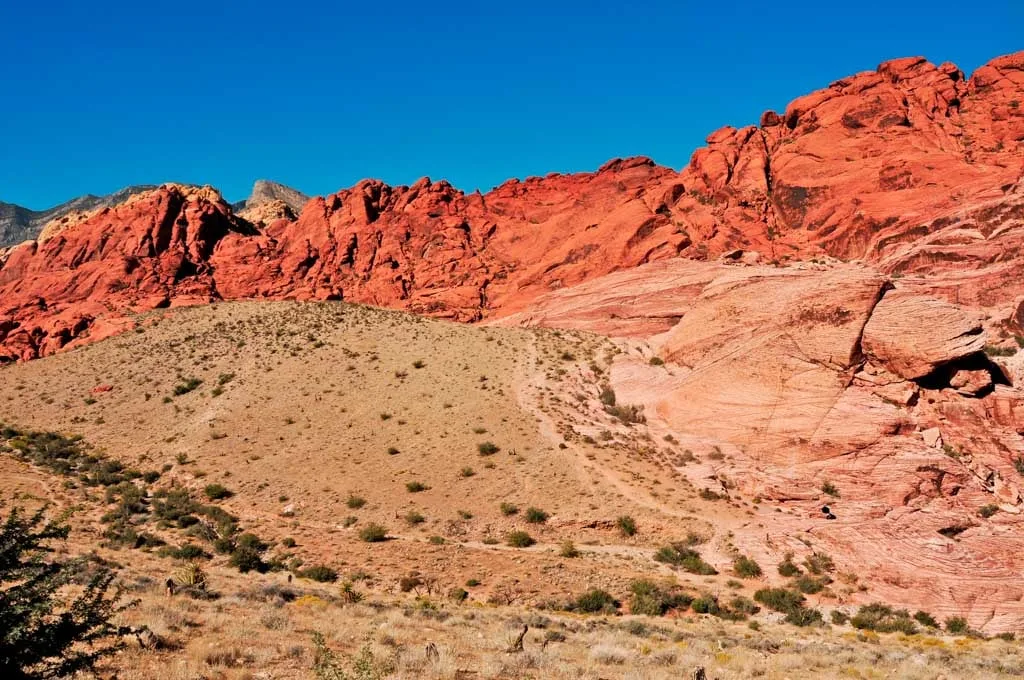 Exploring Valley of Fire State Park
Valley of Fire State Park provides a magnificent break from the city lights of Las Vegas. It stretches over a large area located in the Mojave Desert. The red and pink rock formations will catch your eye from miles away.
As you hike through the park, you're likely to encounter 2000-year-old petroglyphs etched into massive red sandstone walls.
There numerous hikes and scenic drives here, but if you wish to indulge in more than just a day trip, there are lots of camping opportunities too.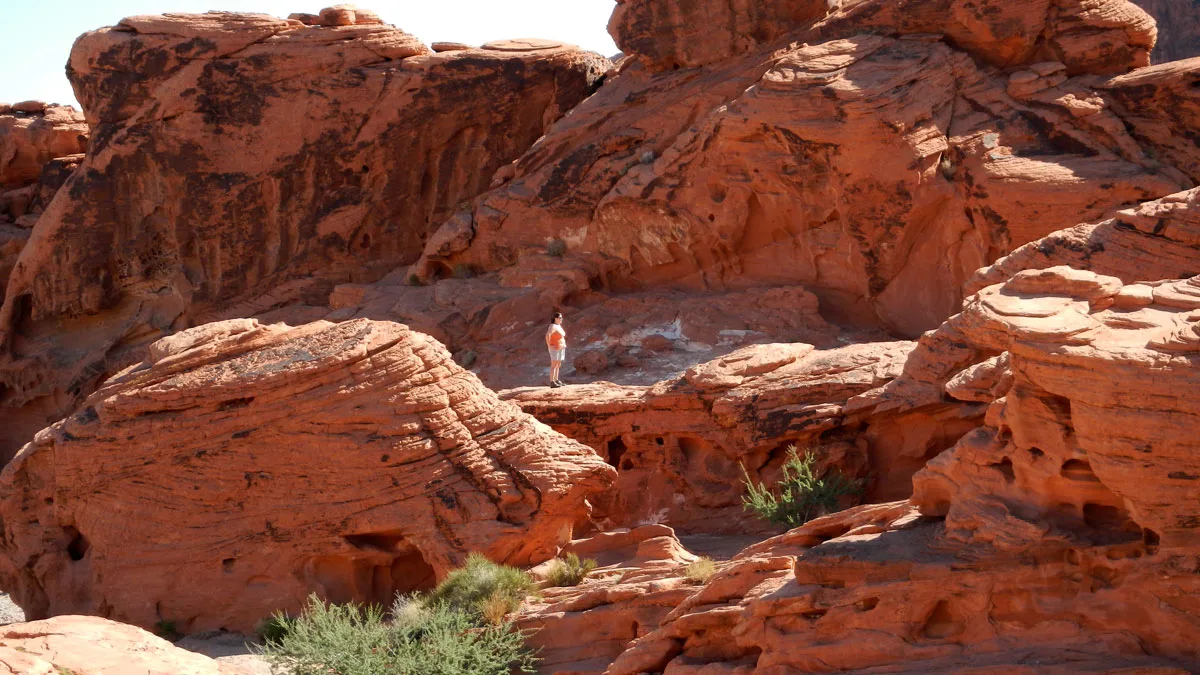 Some of the popular attractions include:
Atlatl Rock Trail: Wander along this short trail through the unique landscape and get a close-up view of ancient petroglyphs.
Fire Wave Trail: A must-visit trail which is popular among hikers and photographers for its multicolored sandstone waves. (Note: This trail is closed between June and October each year due to extreme heat.)
Rainbow Vista: A short yet rewarding hike with mesmerizing panoramic vistas of multi-colored sandstone.
Pinnacles Loop: Dive deep into the heart of the park to witness breathtaking geological formations.
White Domes: Engage in a moderate-level hiking experience with scenic views of canyon walls.
If you want the insider scoop on the best things to see, book a guided hiking tour. This Valley of Fire guided hike can be customized to your ablities and preferences.
Hiking at Mount Charleston
Mount Charleston, just outside Las Vegas, boasts an extensive network of over 60 well-maintained hiking trails. Starting from elevations above 6000 ft, these trails feature waterfalls, panoramic mountain views and the chance to see local wildlife along the trail.
Each hike provides unique encounters with Mount Charleston's natural beauty while catering to different skill levels, ensuring that everyone can hike near Las Vegas.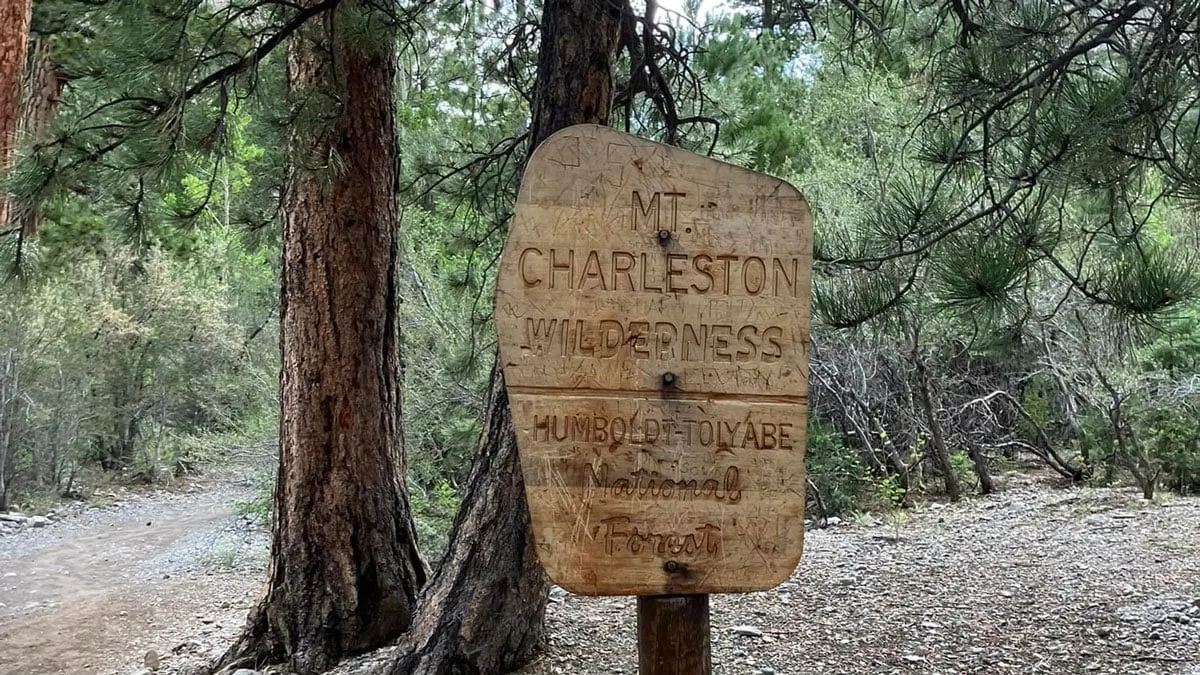 Here is a quick guide to some of the hiking trails at Mt. Charleston:
The Cathedral Rock Trail takes hikers on a scenic but challenging journey to the mountain's summit with panoramic views of the countryside.
Mary Jane Falls is a fan-favorite amongst locals and tourists alike due to its beautiful waterfall view at the end of the trail.
Fletcher Canyon Trail presents beginners with a comfortable start into their hiking adventures around Mt Charleston. This trail is relatively easy and leads through picturesque scenery.
The South Loop Trail is one of the more challenging hikes on Mount Charleston with its 8.5-mile climb. Even seasoned outdoors enthusiasts may find this half-above-10,000-feet hike demanding but rewarding with its stunning vistas.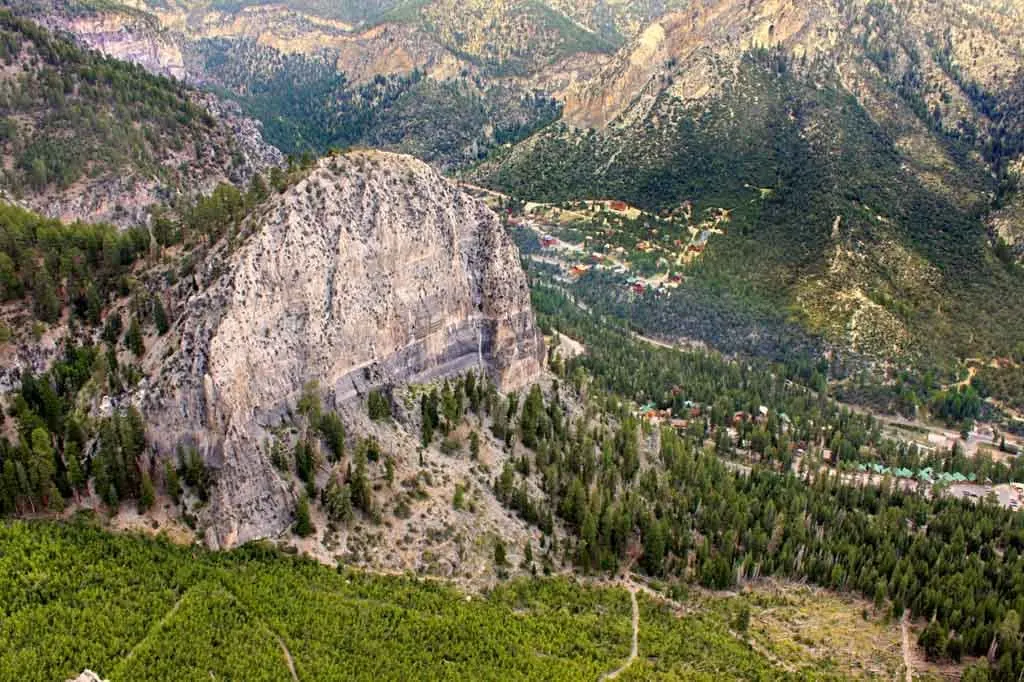 Water Activities Near Las Vegas
Lake Mead National Recreation Area
Lake Mead National Recreation Area is a must-visit destination for outdoor enthusiasts in Las Vegas. Spanning 1.5 million acres and located in the Mojave Desert, the area offers a wide range of year-round activities.
Whether you enjoy boating, fishing, kayaking, or scuba diving, Lake Mead has it all. With its enormous size and beautiful surroundings, this recreation area is perfect for those looking to make the most of their outdoor adventure in Las Vegas.
This Lake Mead kayaking tour lets you explore the Boulder Islands and includes hotel pickup in Las Vegas.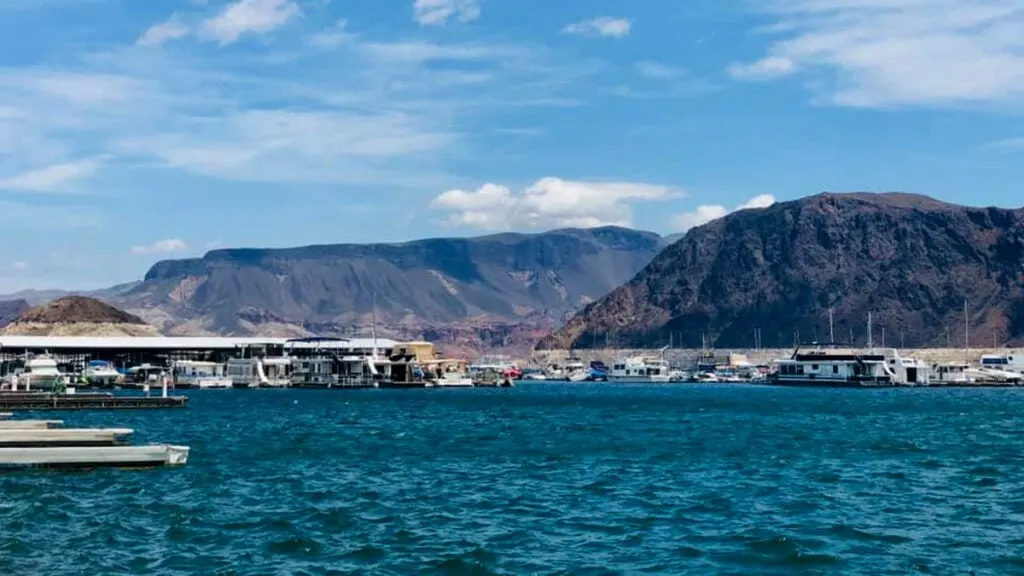 Colorado River Rafting and Kayaking
The Colorado River near Las Vegas offers thrilling opportunities for outdoor enthusiasts. Here you can enjoy the stunning views of the Hoover Dam as you paddle down the Colorado River. This guided rafting tour takes you right to the base of the Hoover Dam.
You can also experience the adrenaline rush of whitewater rafting on the Colorado River. Book a day-long white water rafting tour in the Grand Canyon with pick-up from the Vegas Strip.
Here are a couple of other outdoor activities on the Colorado River.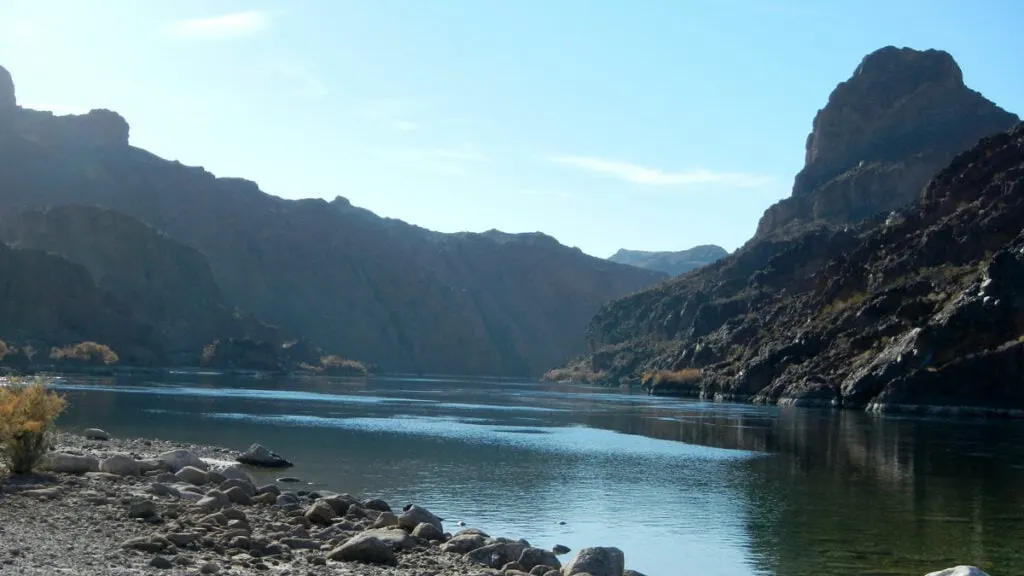 Black Canyon National Water Trail
The Black Canyon National Water Trail, located just 45 minutes from Las Vegas, is a must-visit for outdoor enthusiasts. Stretching for 12 miles along the Colorado River, this trail offers paddlers an incredible opportunity to immerse themselves in solitude.
The route stars at the Hoover Dam. Along the way, you'll encounter breathtaking scenery with sandy beaches, colorful caves, and even secluded hot springs. And if you're up for more than just kayaking, there are plenty of opportunities for hiking and camping along the trail as well.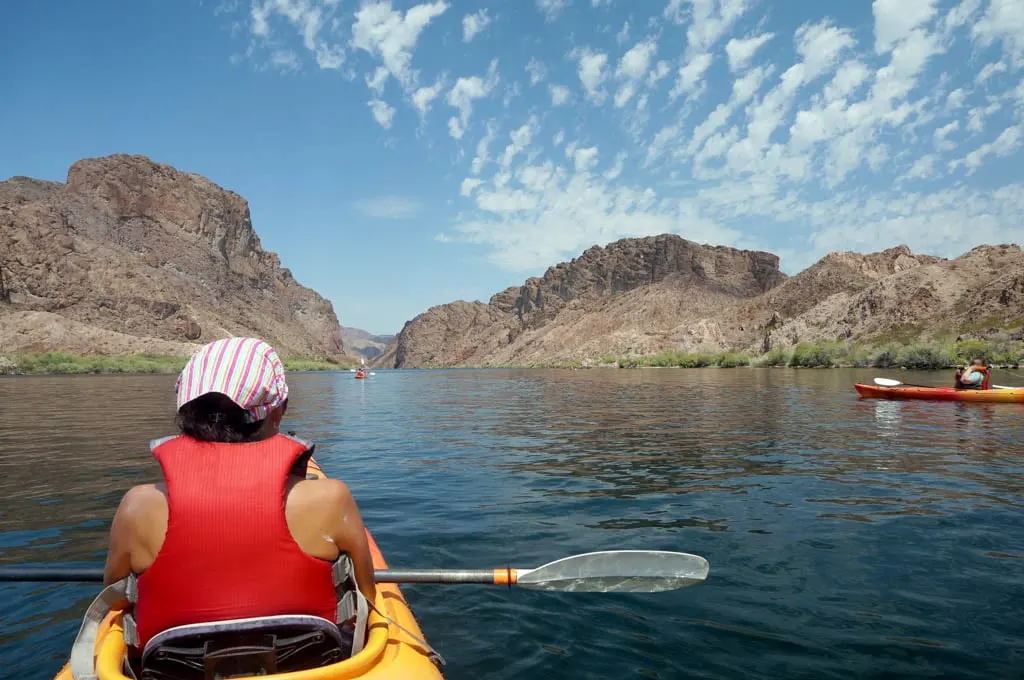 Emerald Cave
The Emerald Cave is a stunning natural wonder located on the Black Canyon Water Trail of the Colorado River. The only way to access the cave is by boat, whether it's kayaking, canoeing, using a stand-up paddleboard (SUP), or your own motorized boat.
It is situated about 2 miles North of Willow Beach. If you don't have your own kayak or boat, kayak tours to the Emerald Cave are highly recommended.
This beginner-friendly Emerald Cave kayak tour launches from Willow Beach includes transportation to and from the Strip.
Kayaking and Paddleboarding at Lake Las Vegas
Lake Las Vegas offers a range of exciting water activities, including kayaking and paddleboarding. You can rent kayaks or paddle boards from Lake Las Vegas Water Sports and spend a fun-filled day exploring the beautiful lake.
Whether you're a beginner or an experienced paddler, this is the perfect place to enjoy these popular water sports.
Camping Near Las Vegas
Boulder Beach Campground
Boulder Beach Campground is a fantastic camping spot near Las Vegas, located in the Lake Mead National Recreation Area. With its convenient location and stunning views of Lake Mead, this campground offers 154 spacious campsites that are perfect for both tents and large RVs.
You'll be surrounded by picturesque desert vistas, creating a truly unforgettable outdoor experience. In addition to camping, visitors can also enjoy activities like boating, hiking, and kayaking right from the campground.
Camping at Valley of Fire State Park
Valley of Fire State Park is a great destination for camping near Las Vegas. With two campgrounds and 72 campsites, there are plenty of options to choose from. If you prefer RV camping, you'll find sites with power and water hookups available at the park.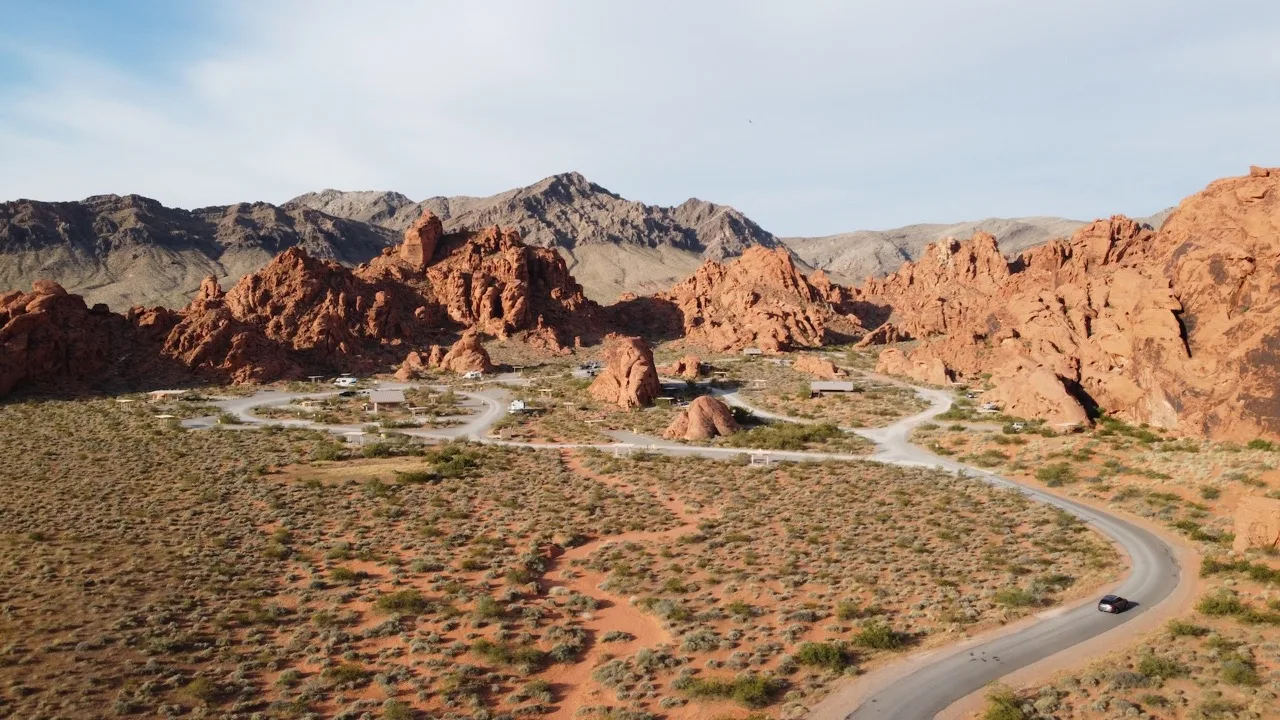 For those who enjoy tent camping, Arch Rock Campground is a popular choice. You can even go backcountry camping on approved roads within the park.
If you're looking for information on when to go or how to book the best campsites, the Valley of Fire State Park website has everything you need for a memorable outdoor experience.
Mount Charleston Camping
Mount Charleston is an excellent choice for those looking to escape the Las Vegas summer heat. Located in the Spring Mountains National Recreation Area, Mount Charleston has four campgrounds, seven picnic areas, and remote areas for dispersed camping.
With its stunning mountain landscapes, well-maintained trails, and temps that are 20 degrees cooler than the Las Vegas Valley, it's a paradise for hikers and nature lovers.
The campgrounds provide various amenities, including picnic tables, fire pits, and clean restroom facilities. You can explore the surrounding area by exploring the many hiking trails or simply relax in the peaceful alpine atmosphere of this beautiful spot.
Whether you prefer tent camping or RV camping, Mount Charleston has something to offer for everyone looking to escape Las Vegas.
Adventure and Extreme Sports Near Las Vegas
Mountain Biking Near Red Rock Canyon
Looking for an adrenaline-pumping outdoor adventure near Las Vegas? Look no further than mountain biking near Red Rock Canyon. With over 20 mountain bike trails of varying difficulty levels, there's something for everyone.
From scenic rides through the stunning landscapes of Red Rock Canyon to heart-pounding downhill descents, this area offers a range of experiences. Some popular trails include the Mustang Trail, perfect for beginners, and the Blue Diamond Hill Trail, known for its breathtaking views.
The easiest way to go mountain biking is with a guide. This half-day tour takes you along the Mustang Trail in Red Rock Canyon.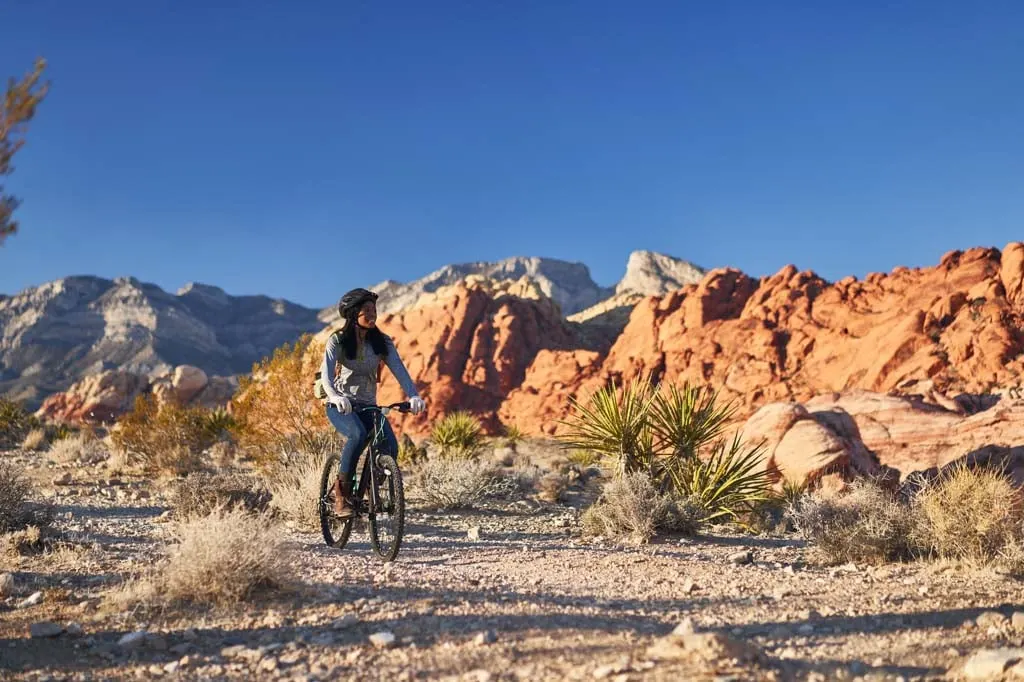 ATV Tours in the Desert
ATV tours in the desert surrounding Las Vegas are a thrilling option for adventure seekers. These tours provide an exciting outdoor experience, allowing you to explore the beautiful southwest desert on an ATV.
You can choose from different options, such as riding a 450cc or 700cc ATV, with certified guides available to help you select the appropriate vehicle based on your experience and size.
Most tours include complimentary pick-up and drop-off services from your hotel. The tours also include lunch, refreshments, and safety gear to ensure a comfortable and secure adventure.
Popular destinations for off-road ATV tours include Eldorado Canyon and the Techatticup Gold Mine, offering an opportunity to combine adrenaline-pumping rides with historical exploration.
Here's a few tours we recommend:
Horseback riding
Horseback riding is another fun outdoor adventure that you can enjoy during your trip to Las Vegas. It offers a unique way to explore the scenic desert landscapes surrounding the city. Whether you're an experienced rider or a beginner, horseback riding in Las Vegas is a great option for outdoor enthusiasts of all ages.
One of the most popular tours is a sunset horseback ride with a barbecue after. You'll ride through Red Rock Canyon, then watch the sunset while you chow down on BBQ around the campfire.
If you want to start your day on horseback, book the Morning Maverick Ride. It includes a cowboy-style breakfast after your ride.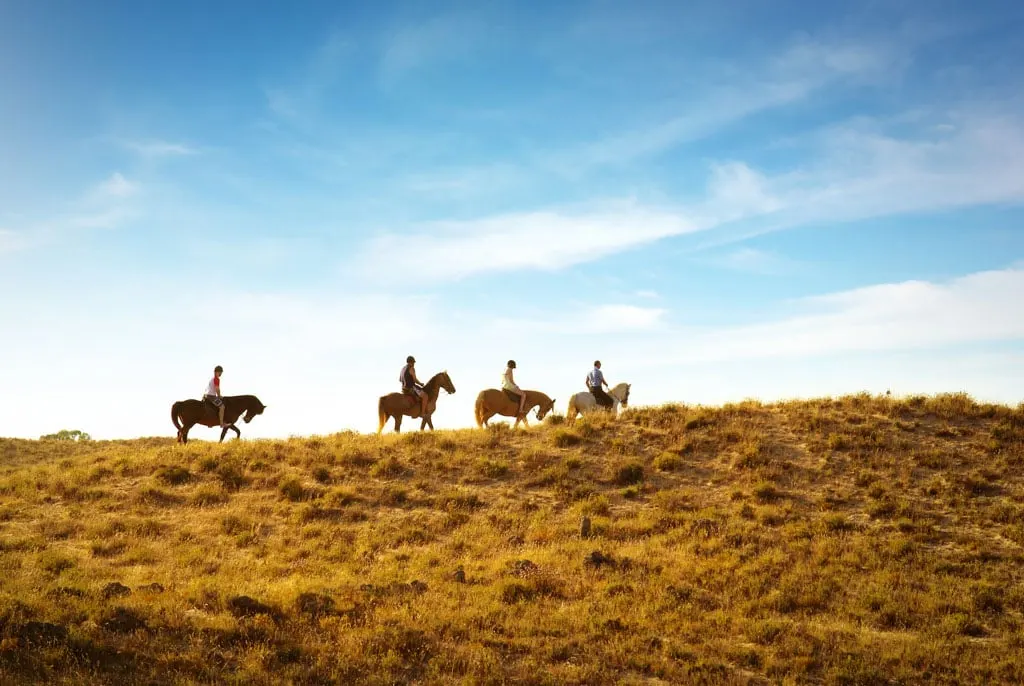 Las Vegas offers an abundance of outdoor activities that cater to every adventurous spirit. With its central location and easy access to national parks and hot springs, Las Vegas truly is a haven for outdoor enthusiasts.
Thanks to Shannon for sharing this great list of the best outdoor activities near Las Vegas. For more Vegas insider knowledge, check out ThreeDaysinVegas.com where Shannon is a regular contributor.
READ NEXT:
Latest posts by Happiest Outdoors Contributor
(see all)