This summer I spent 4 days in Grand Teton National Park. Grand Teton tends to get overshadowed by its more famous neighbour to the north, Yellowstone National Park. But after spending a few days there, I discovered that there are so many great things to do in Grand Teton! My favourites were the mountain viewpoints and hiking, but there's also history, wildlife, boating, cowboy culture, and beautiful scenic drives. Here's my list of 25 things to do in Grand Teton National Park.
Hey there: Some of the links in this post are affiliate links, which means I earn a small commission at no extra cost to you if you make a purchase. Thanks for supporting my website! -Taryn
This is a sensitive wilderness area. Learn how to Leave No Trace to keep the wilderness wild. Make sure you are prepared by bringing the 10 Essentials. Get ready for adventure with this checklist of things to do before every hike.
Grand Teton National Park Basics
Location: Grand Teton National Park is located in Wyoming just south of Yellowstone National Park. The closest town is Jackson, Wyoming.
Getting Around: There is no public transit inside the park so if you want to travel independently, you'll need a car. Rent one in Jackson and use Discover Cars to compare prices and get the best deal. If you prefer to let someone else do the driving, there are lots of great tours to Grand Teton National Park from Jackson.
Fees: Admission to the park is $35 per vehicle, per week. If you plan to visit any other National Parks (like nearby Yellowstone) the America the Beautiful annual pass is a great deal since it gives you entry at all national parks and federal recreation sites for an entire year for just $80.
When to Visit: Since the park is at a high elevation, the summer months are the only snow-free time to visit. High season is June, July, and August. You can also visit in May, September, and October, but expect colder temperatures. Many of the park's facilities close from November to April.
Weather and Climate: Grand Teton has a mountain climate with generally cool temperatures. Highs of 68-77F and lows of 36-41F are common in the summer. July, August, and September have the least rain, but afternoon thunderstorms are common.
READ NEXT: The Best Weather Apps for Hiking
Where to Stay in Grand Teton National Park: There are six campgrounds in the park. You can also book a stay at one of the beautiful lodges in the park including the Jenny Lake Lodge, Jackson Lake Lodge and the cabins at Colter Bay Village. The town of Jackson, Wyoming is a short drive outside the park and has tons of hotel options and some gorgeous log cabin-style homes.
Guide Books and Maps: If you're looking for a guide book, you can't go wrong with the Lonely Planet Guide to Yellowstone and Grand Teton National Parks. I also used this excellent National Geographic Illustrated Trails map on my trip.
Things to do in Grand Teton National Park
Drive the 42-Mile Scenic Loop
If you combine Teton Park Road and Jackson Hole Highway, you end up with a gorgeously scenic 42-mile loop road trip. You can visit most of the park's major sights on this loop. But be sure to stop at the turnouts along the way for the best photo ops.
The loop starts at the Craig Thomas Visitor Center in Moose and heads north to Jackson Lake on the Jackson Hole Highway (also known as Highway 191). Then it veers south on Teton Park Road back to Moose. Here are my picks for the best places to stop along the way. I've listed them in the order you'll pass them.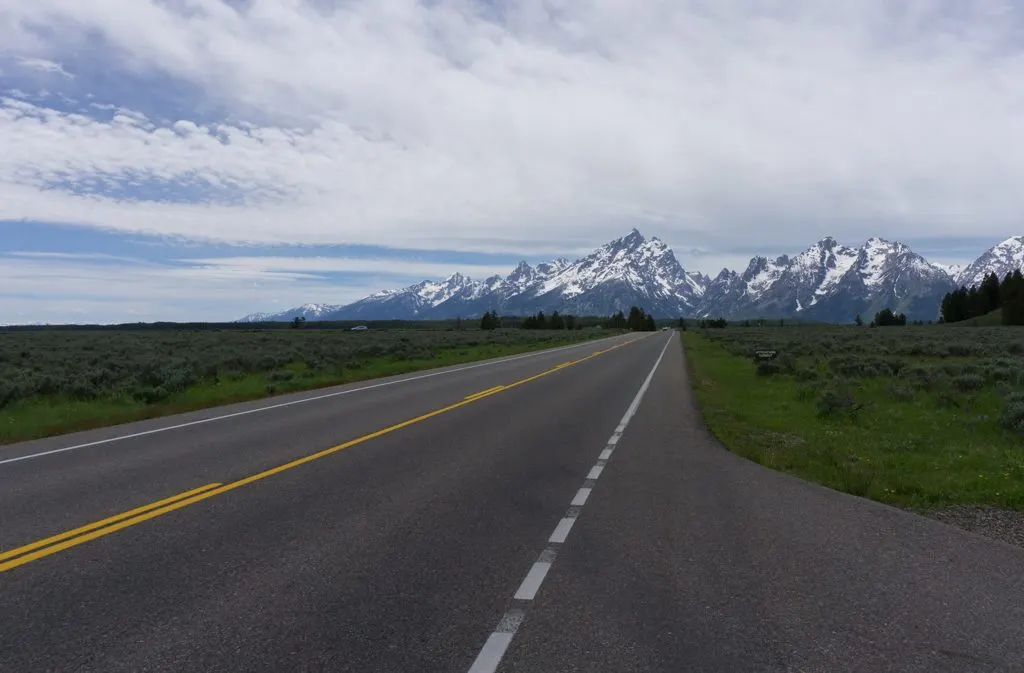 The first two turnouts after leaving Moose have spectacular views. Be sure to stop at both Glacier View and Teton Point turnouts.
You can also take a short detour to Schwabacher Landing. It's a calm side channel of the Snake River with incredible views of the mountains. If you time it right, they will reflect in the still waters.
Ansel Adams took his famous photo of the Teton Range from the Snake River Overlook in the 1940s. It's still a great photo op today, but the trees have grown considerably so you can't get the exact same shot.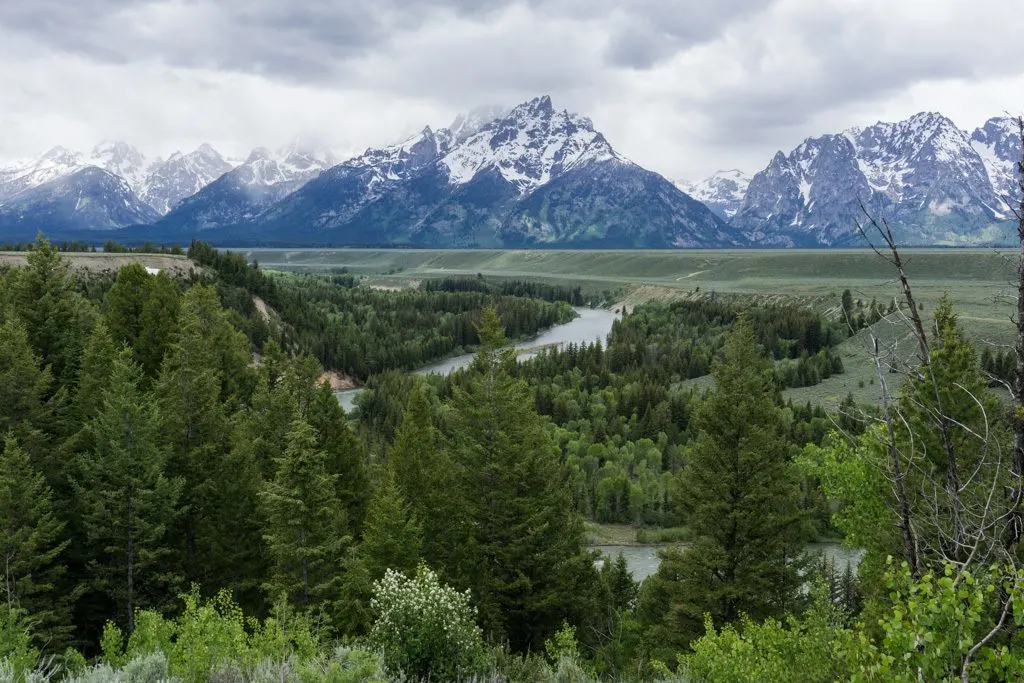 If you want to spot some bison, pull over at the Elk Ranch Flats turnout. Even though I had seen tons of bison on my trip to Yellowstone National Park, it was still so beautiful to see the herds of bison here with the Tetons in the background.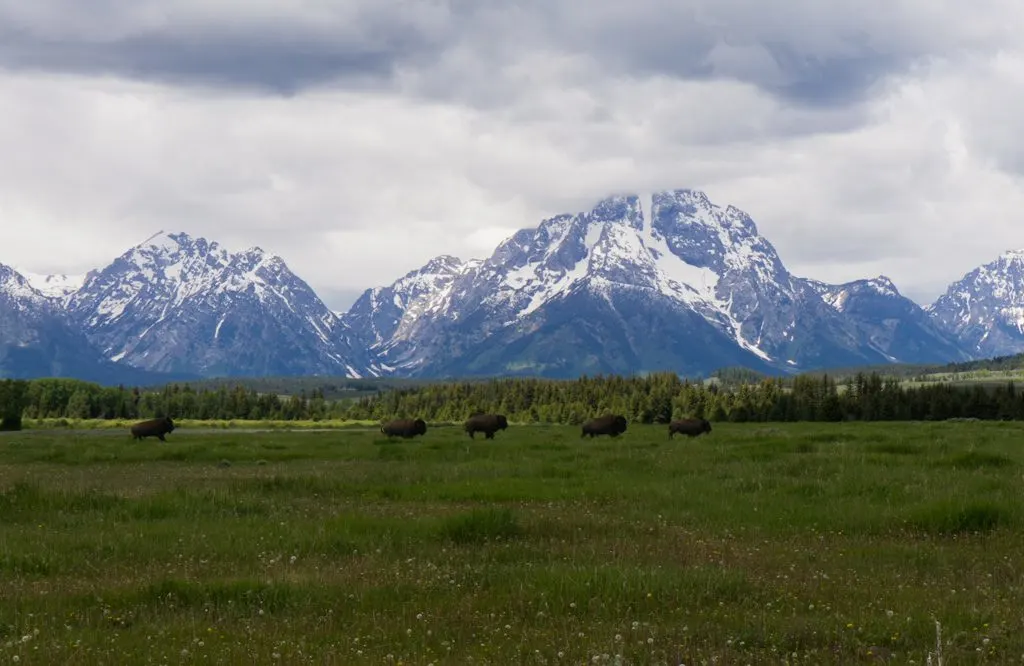 Don't miss the Oxbow Bend Turnout near Jackson Lake Junction. It's one of the best places for photos in the entire park. If the water is calm, you can see Mount Moran reflected in the bend of the Snake River.
Once you turn on to Teton Park Drive, be sure to stop at the Mount Moran, Mountain View, Cascade Canyon, and Teton Glacier turnouts. They all have great views of the Teton Range.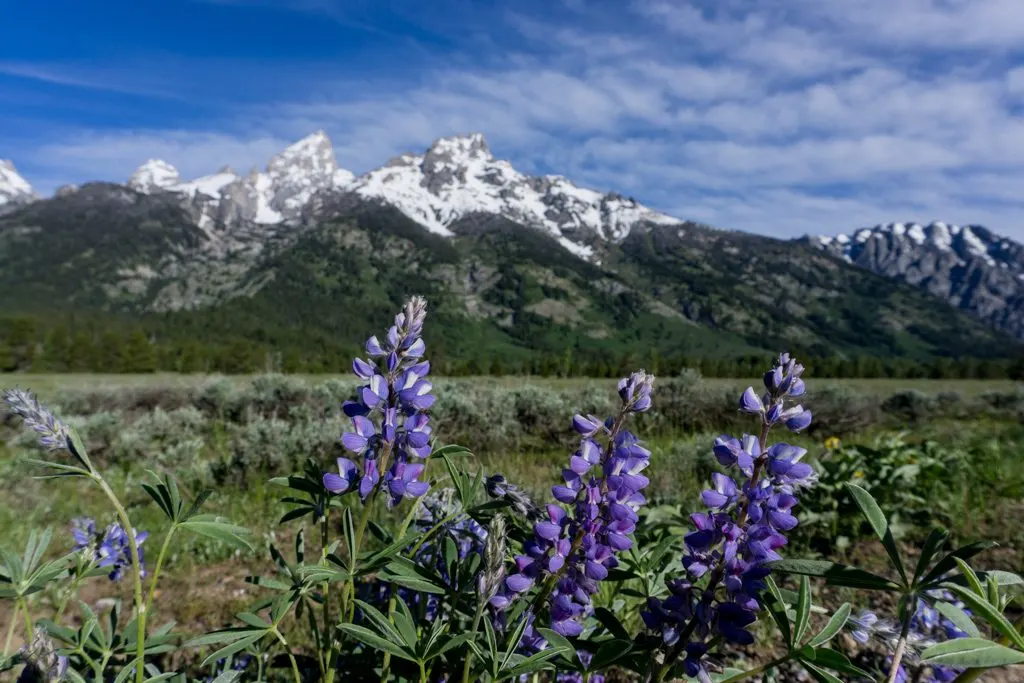 Take a Hike
There are dozens of hiking trails in Grand Teton National Park ranging from flat and easy strolls to multi-day treks through the mountains. If you have time, try to squeeze in at least one hike. One of the most popular hikes is Inspiration Point and Hidden Falls in the Jenny Lake area. If you need hiking trail ideas, pick up a copy of Hiking Grand Teton National Park.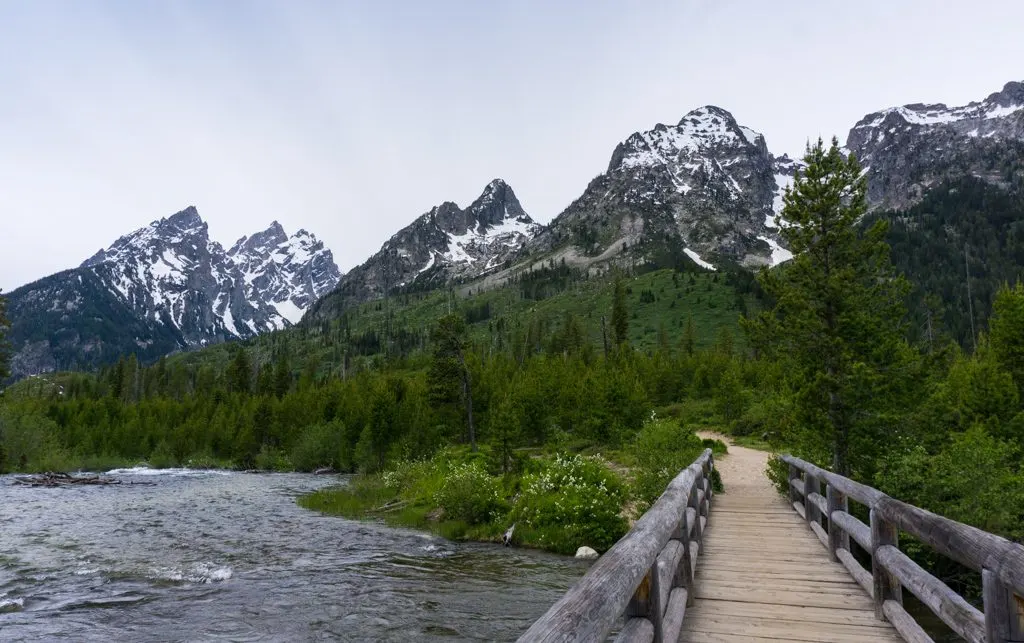 Go on a Boat Cruise
Although it's known for its mountains, Grand Teton National Park also has lots of lakes. One of the best ways to experience the lakes is to go on a cruise. You can take a boat tour on Jenny Lake to get great photo ops while learning about the local geology and history. If you want to DIY the experience, you can rent a motorboat at Colter Bay on Jackson Lake.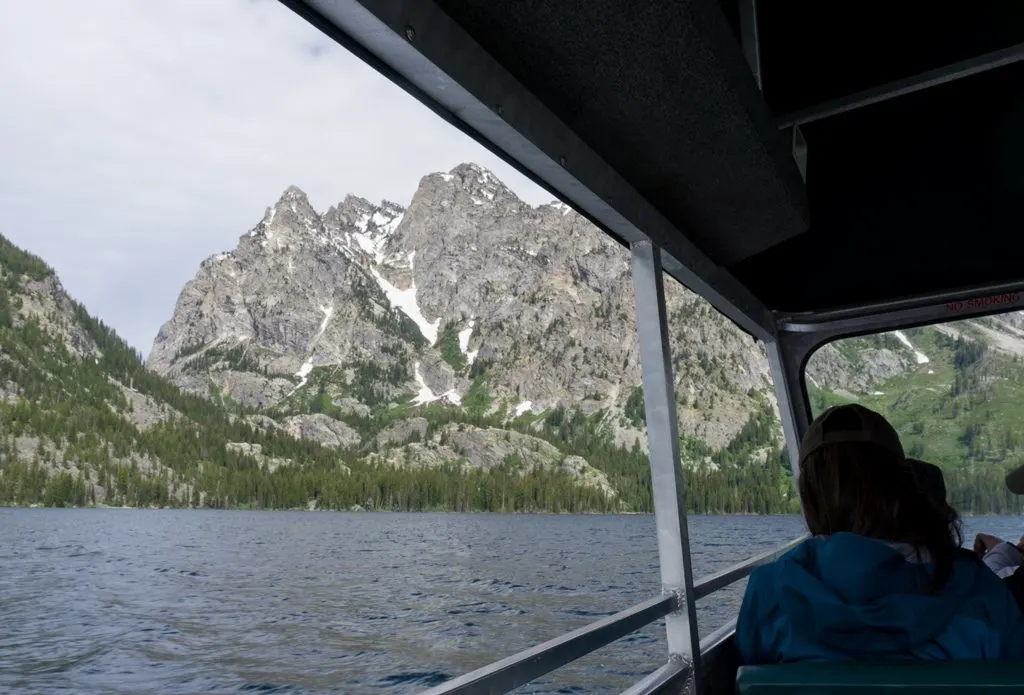 Learn About the Park at a Visitor Center
Grand Teton National Park has several visitor centers. If you're in the area, they are all worth visiting.
The Craig Thomas Discovery and Visitor Center in Moose is housed in a brand new building. It has lots of exhibits about the park's history, but my favourite part was the wildlife section. It includes fur swatches you can touch.
The Jenny Lake visitor center is inside a historic cabin that belonged to the artist Henry Crandall. At Colter Bay, the visitor center has an interesting collection of Native American art.
Explore Mormon Row Historic District
Starting in the 1890s, several Mormon families settled in the Jackson Hole area and began farming. Today, the families and their farms are long gone, but several historic barns remain. They are a favourite subject for photographers who love to shoot the barns with the Teton range in the background.
To reach Mormon Row, head north on Highway 191, then turn right onto Antelope Flats Road. Follow the road to the intersection with Mormon Row. There are historic structures along Mormon Row on both sides of the intersection.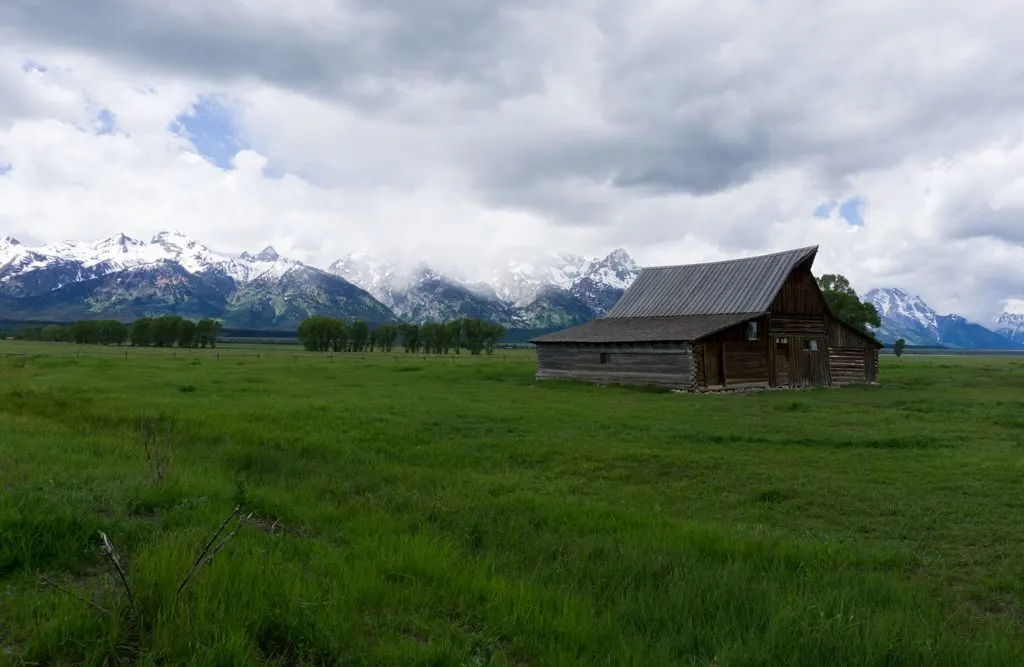 Enjoy the Views on the Jenny Lake Scenic Drive
This one-way road is only about 3 miles long. However, it's the best way to get views of Jenny Lake and the nearby peaks without hiking. The speed limit is 25 mph, but you may want to go much slower to enjoy the views. Be sure to pull over at the Cathedral Group turnout and the Jenny Lake Overlook for the best photos.
You'll find the entrance to the Jenny Lake Loop on Teton Park Road 10 miles north of the Craig Thomas Visitor Centre.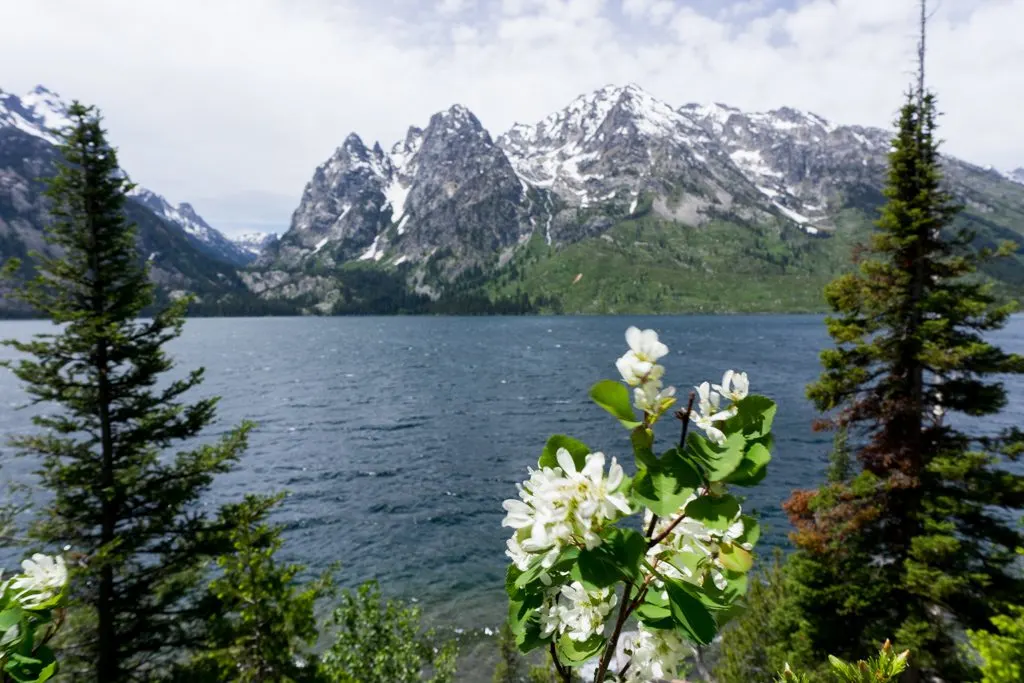 Watch Wildlife
Grand Teton National Park and the greater Yellowstone area are some of the best places to see wildlife in America. You can spot grizzly bears, black bears, elk, pronghorn, buffalo, wolves, coyotes, moose and more. The best wildlife watching is usually near dusk and dawn. I recommend binoculars or a spotting scope to get a better look.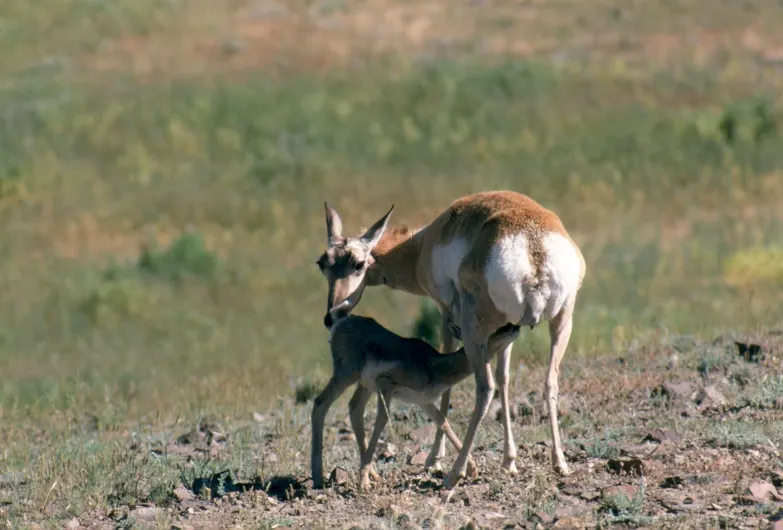 You can spot wildlife pretty much anywhere in the park, so keep your eyes peeled. We saw marmots on the hiking trails, black bears in the campground and buffalo from a highway turnout. If you're looking for wildlife, here are the best places to find them in Grand Teton: Moose-Wilson Road, Oxbow Bend Turnout, Elk Ranch Flats Turnout, and Willow Flats Turnout.
Another great way to see wildlife is to take a tour. There are lots of safari-style tours of Grand Teton National Park that focus on seeing animals in the wild.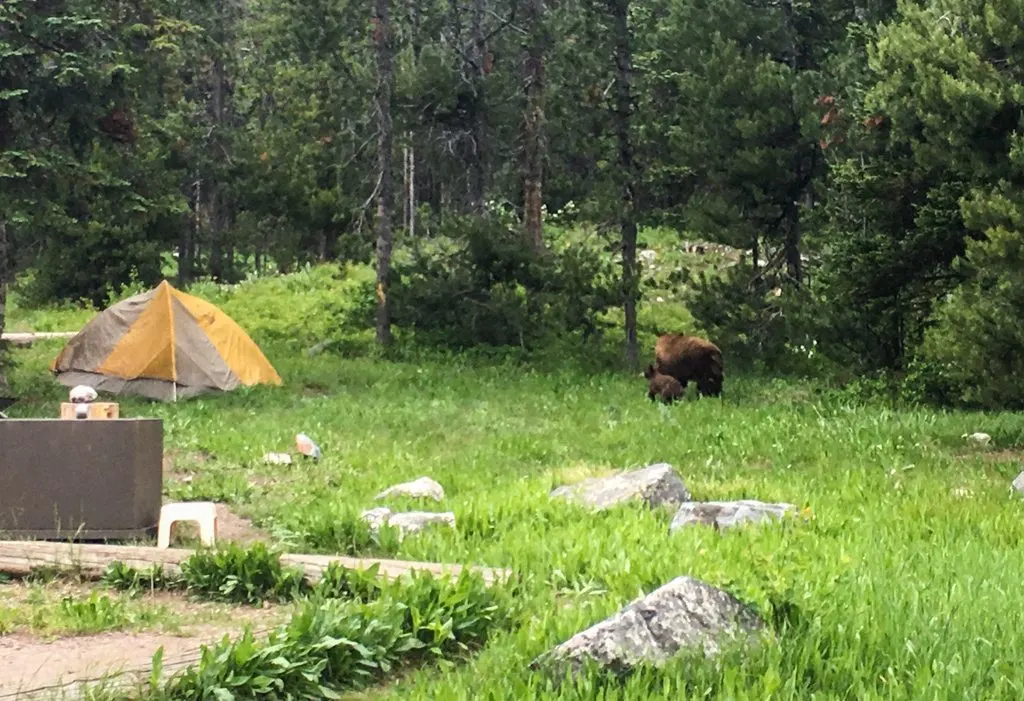 Catch a Fish
Fishing in Wyoming is world-famous and apparently, some of the best fishing is in Grand Teton National Park. You need a Wyoming fishing license to fish in the park and there are restrictions on what kind of tackle, hooks, and lures you may use. If you'd prefer to have someone else set you up for success, sign up for a guided fishing trip with all the gear included.
Drive up the Signal Mountain Summit Road
This narrow road winds up several switchbacks to the top of Signal Mountain. At the top, there are views in multiple directions. You can look east towards the Snake River or west towards Jackson Lake and the Teton Range. Allow lots of time for photos. Bring your binoculars or spotting scope as its also a great place to watch herds of pronghorn and elk in the valley far below.
The road is 5 miles long and gains 800ft. Trailers and RVs are not allowed. The entrance to the road is on Teton Park Road just south of the Jackson Lake Dam.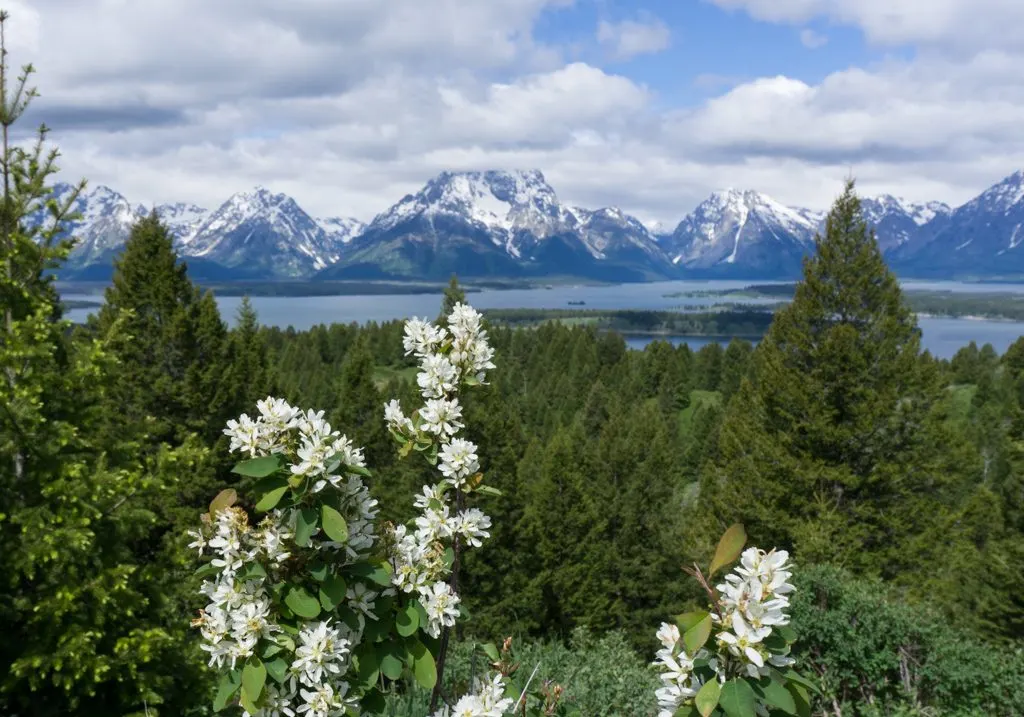 Enjoy the Views at Jackson Lake Lodge
Built in the 1950s, the Jackson Lake Lodge was one of the first modern-style buildings to be built in a National Park. It's definitely an interesting looking building, but by far the best feature is the windows. It has HUUUUGE floor to ceiling windows that look out over Jackson Lake. If you look carefully, you'll see elk browsing in the willows by the lakeshore.
To get this view you can book a room at the lodge or eat at one of the restaurants. But if you're on a budget like me, you can order a drink from the coffee shop in the lobby, then settle into one of the comfy couches to soak up the scenery.
The Jackson Lake Lodge is located on Jackson Lake (surprise) just north of Jackson Lake Junction on Highway 191.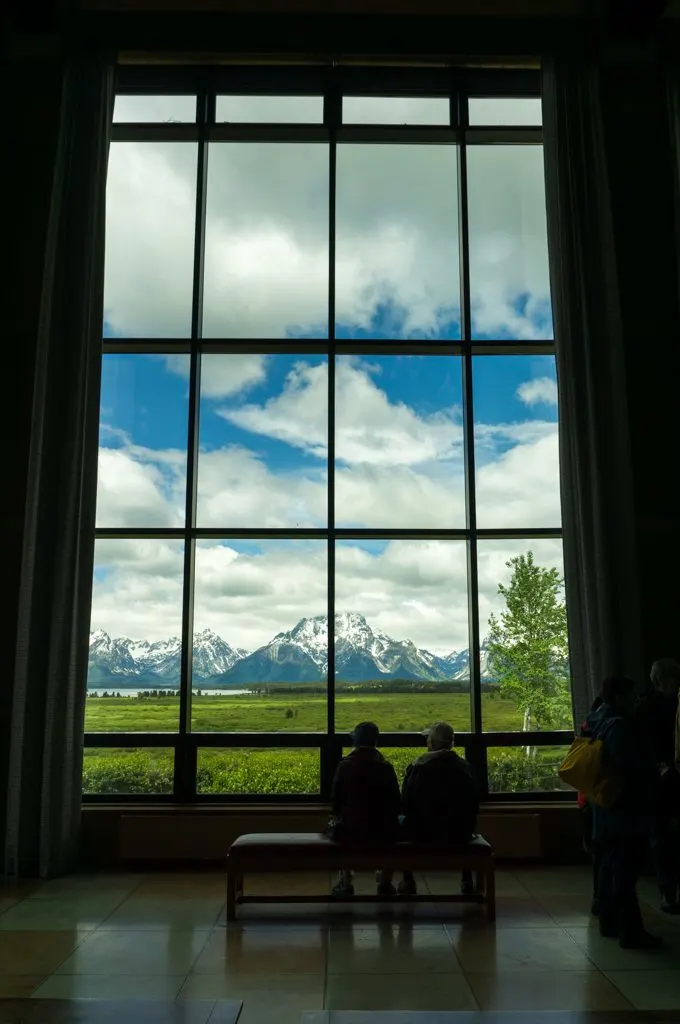 Go Horseback Riding
The Jackson Hole area is cowboy country. If you really want to experience cowboy culture first hand, go horseback riding. There are lots of dude ranches just outside the park, or you can book a guided horseback riding trip with a licensed outfitter inside the park.
Sightsee on the John D. Rockefeller Jr. Memorial Parkway
Also known as Highway 89 and Highway 191, this road connects Yellowstone National Park with the northern part of Grand Teton National Park. The parkway travels through the forest, then along the shores of Jackson Lake. Be sure to stop at the Jackson Lake Overlook for the best views. Willow Flats Turnout just north of Jackson Lake Junction is also a great place to stop. Bring your binoculars and try to spot elk on the flats below.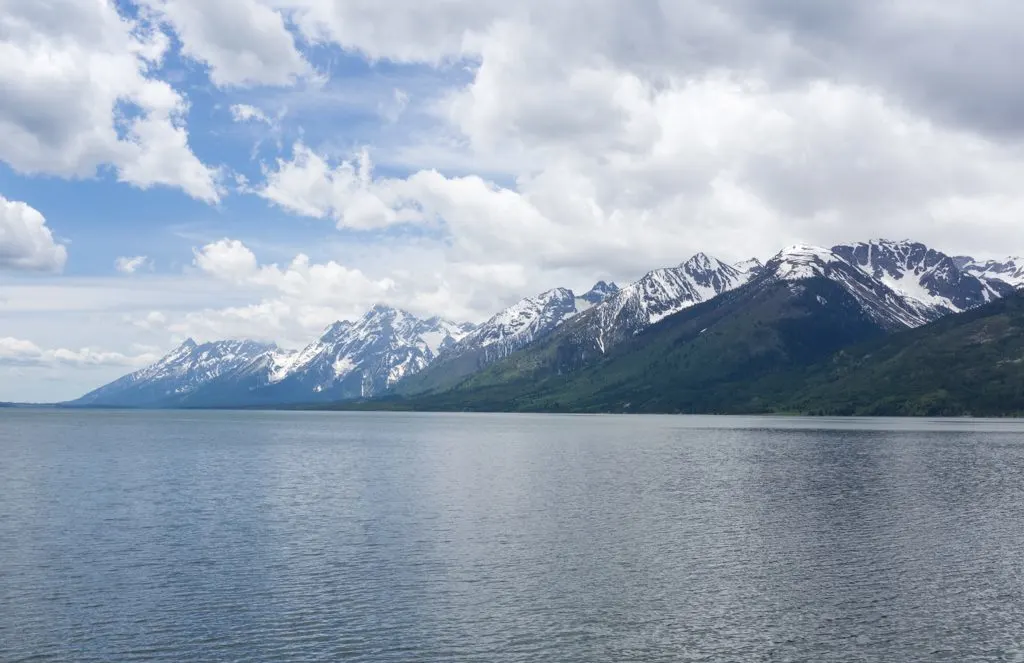 Attend a Ranger Program
Park Rangers offer guided hikes and talks throughout the season. It's a great way to learn more about the park on a wide range of subjects from animals to geology. There are campfire programs in the evenings too. Check the schedule to see what's happening during your trip.
Paddle a Canoe or Kayak
Rent a canoe or kayak and explore one of Grand Teton's Lakes. You can rent boats at Jenny Lake or Colter Bay on Jackson Lake. Unless you are experienced, plan to stick close to shore. The water is very cold and the lakes can get really windy.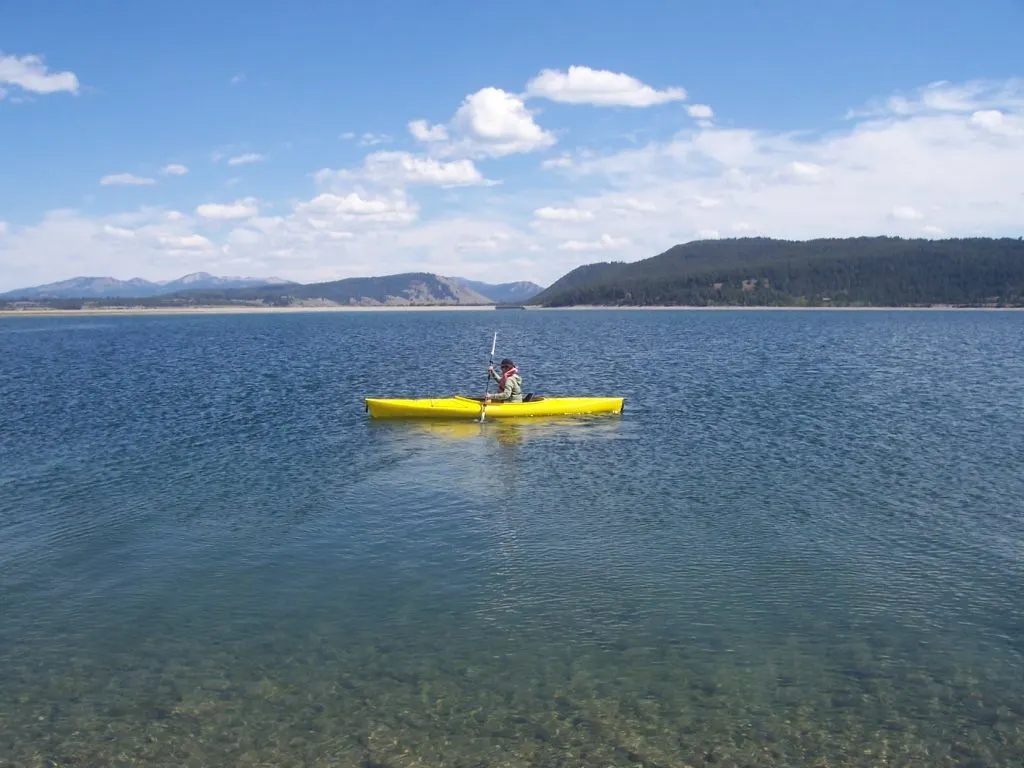 Go White Water Rafting
The Snake River runs through Grand Teton National Park. It has some sections of gnarly white water for adrenaline junkies and some more mellow flat water sections for those who want a more tame experience. Either way, you'll be surrounded by some beautiful scenery. Local outfitters offer both white water trips and family-friendly scenic float trips all summer long.
Explore the Jenny Lake Discovery Trail
You don't need to be a hardcore hiker to walk this trail. It's paved, accessible for wheelchairs and strollers, and less than half a mile long. The path leads from the Jenny Lake visitor center to the shores of Jenny Lake. Along the way, there are lots of newly-installed interpretive signs about wildlife, history, and geology.
Step Back in Time Menors Ferry Historic District
Bill Menor settled here in 1892 since it was a good place to operate a ferry across the Snake River. Some of the original buildings remain today. Stop into Bill Menor's General Store to see a mix of historical artifacts and perhaps buy some jam. In the summertime when the water is low enough, you can even ride a replica ferry across the Snake River.
Nearby you'll find Maud Noble's cabin. Maud was a tourist who arrived in the area in 1916 and never really left. She took over the ferry operation from the Menor family in 1918. In 1923 she hosted an important meeting in her cabin: local businessmen and ranchers met to begin planning the formation of Grand Teton National Park.
Menor's Ferry is located on Teton Park Road just north of Moose.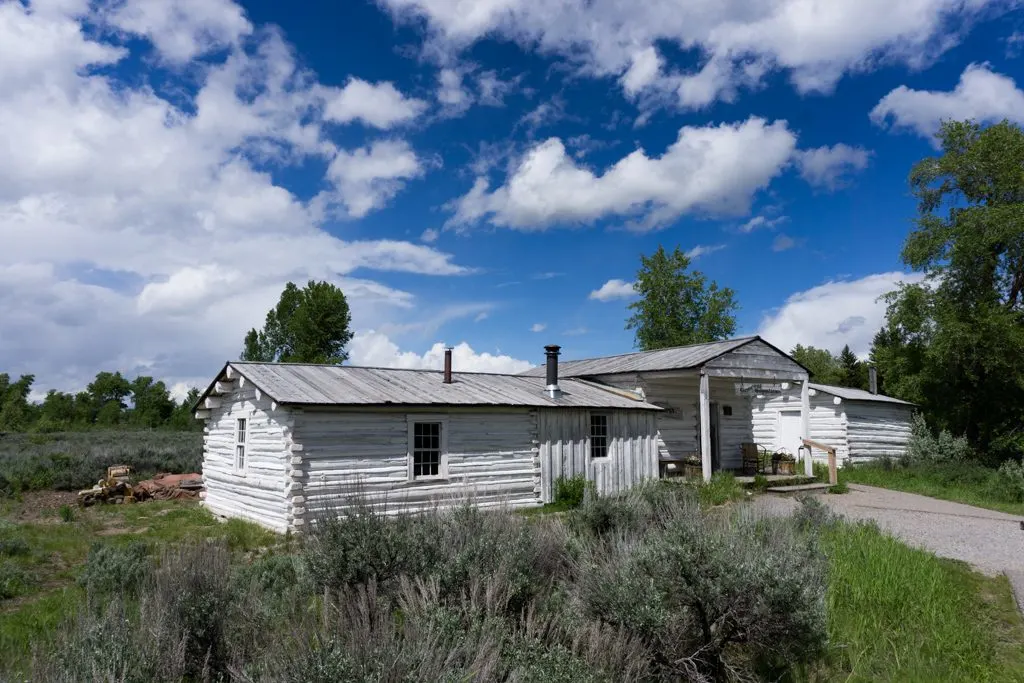 Visit the Chapel of the Transfiguration
I'm not a religious person, but I loved visiting the Chapel of the Transfiguration. It's a tiny log cabin-style church that was specifically built to frame the peaks of the Tetons in the window behind the altar. The beauty of nature takes center stage in worship. It dates back to 1925 and you can still attend services here every Sunday. If it's nice out, they even have additional pews outside!
The chapel is located near Menors Ferry and shares the same parking lot.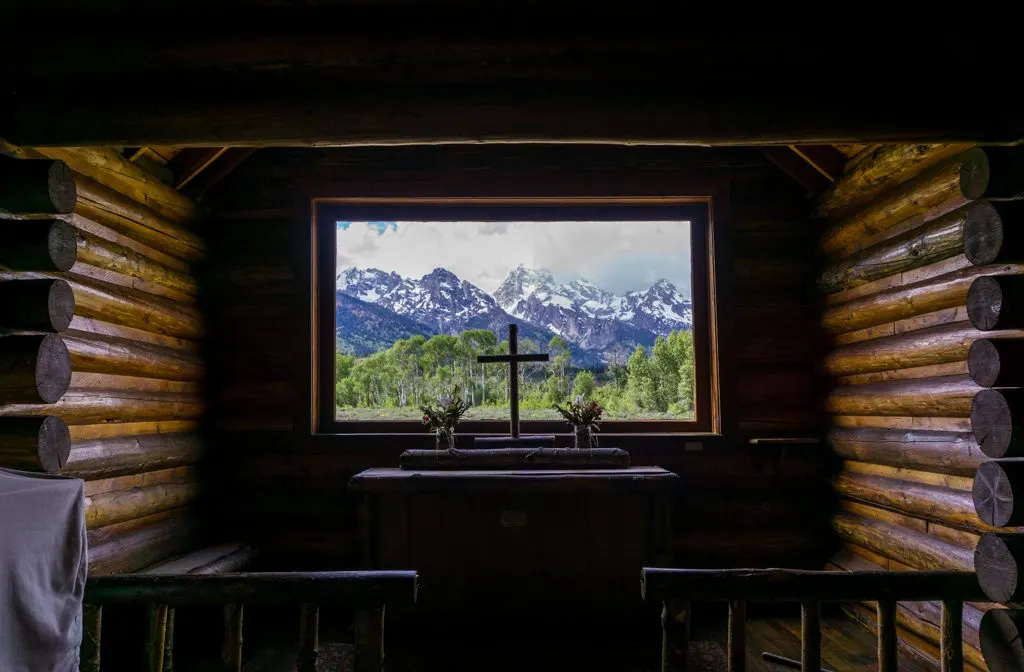 Learn About Homesteading at the Cunningham Cabin Historic Site
This historic log cabin was built in the 1880s by J.P. Cunningham, one of the original homesteaders in the Jackson Hole Valley. You can take a self-guided walk around the property using interpretive brochures available on site. To get to Cunningham Cabin go north on Highway 191 from Moose and turn left into the parking lot.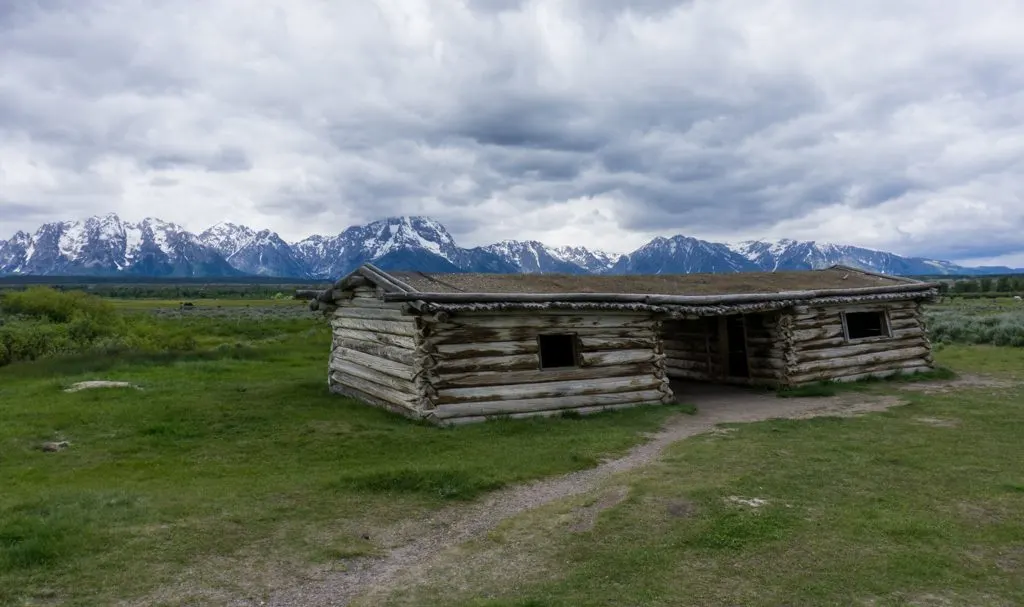 Go for a Swim
Most of the lakes in Grand Teton National Park are icy cold. But String Lake is small and shallow enough to have warm(ish) water. The bottom of the lake is sandy too! There's a picnic area here if you want to make a day of it. String Lake is located at the north end of Jenny Lake Loop Road.
Bike the Multi-Use Pathway
I didn't have my bike with me on my trip to Grand Teton National Park, but I wish I did. There's a fabulous paved multi-use pathway in the park that is perfect for bikes. It stretches from the town of Jackson in the south, all the way to Jenny Lake. If you didn't bring a bike, you can rent one in Jackson.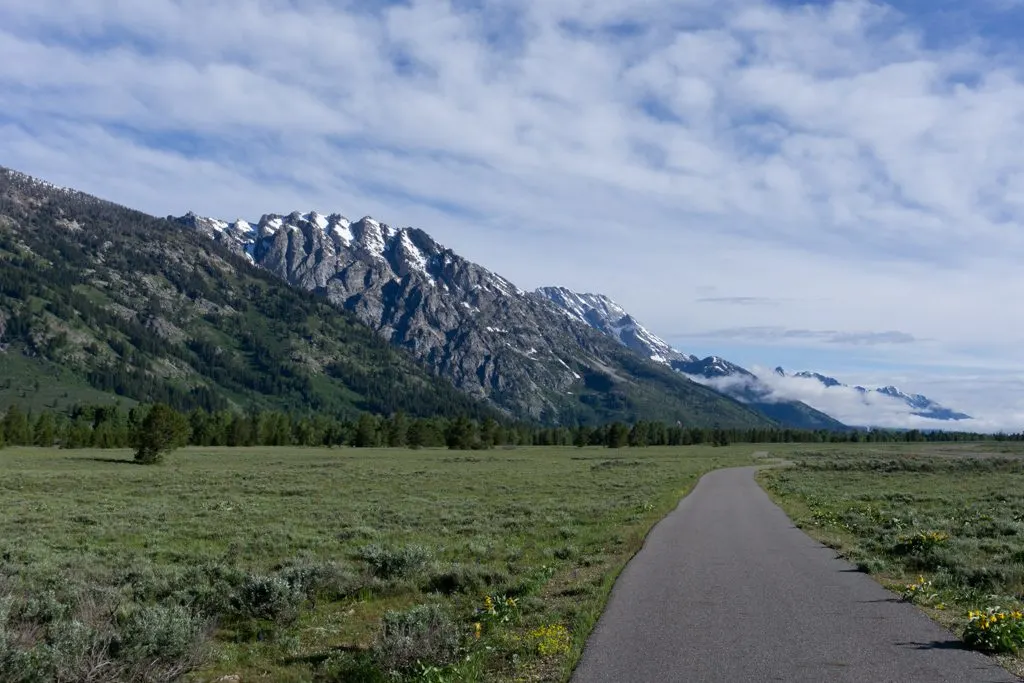 Climb a Mountain
You need ropes and climbing gear to get to the top of most of Grand Teton's mountains. If you've got your own gear, check out the Climber's Guide to the Teton Range. It has lots of ideas for routes. If you'd rather have someone else show you the ropes (literally), there are lots of local guiding companies who can help.
Camp in the Park
On my trip to Grand Teton, I spent 3 nights camping in the park. It made getting out to see the sights or going for a hike MUCH easier since we didn't have to commute and could experience the park early in the morning or in the evening. It's also a great way to connect with nature. Grand Teton National Park has six campgrounds to choose from.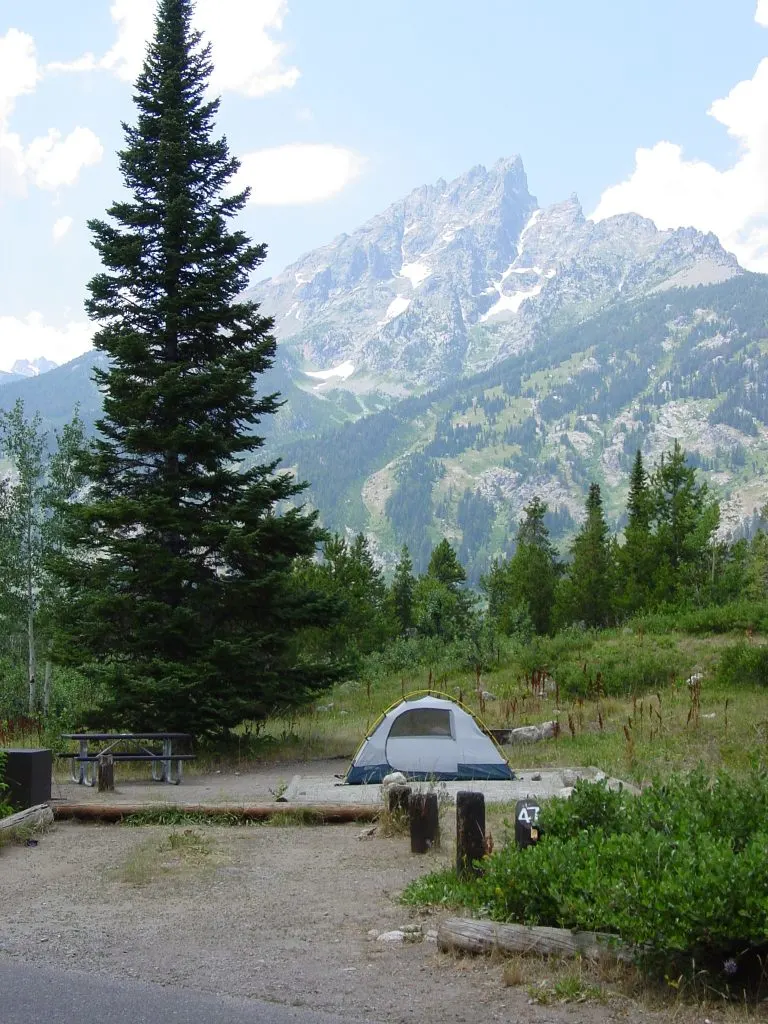 Drive the Moose-Wilson Road
This partially-paved road connects the town of Moose inside the park with the town of Wilson, southwest of the park. It travels through forests and marshes and is one of the best places to spot wildlife in the area. Keep an eye out for beavers, moose, and bears.
The road is 15 miles long and is closed to RVs and trailers. The road also has periodic closures if there is too much bear activity.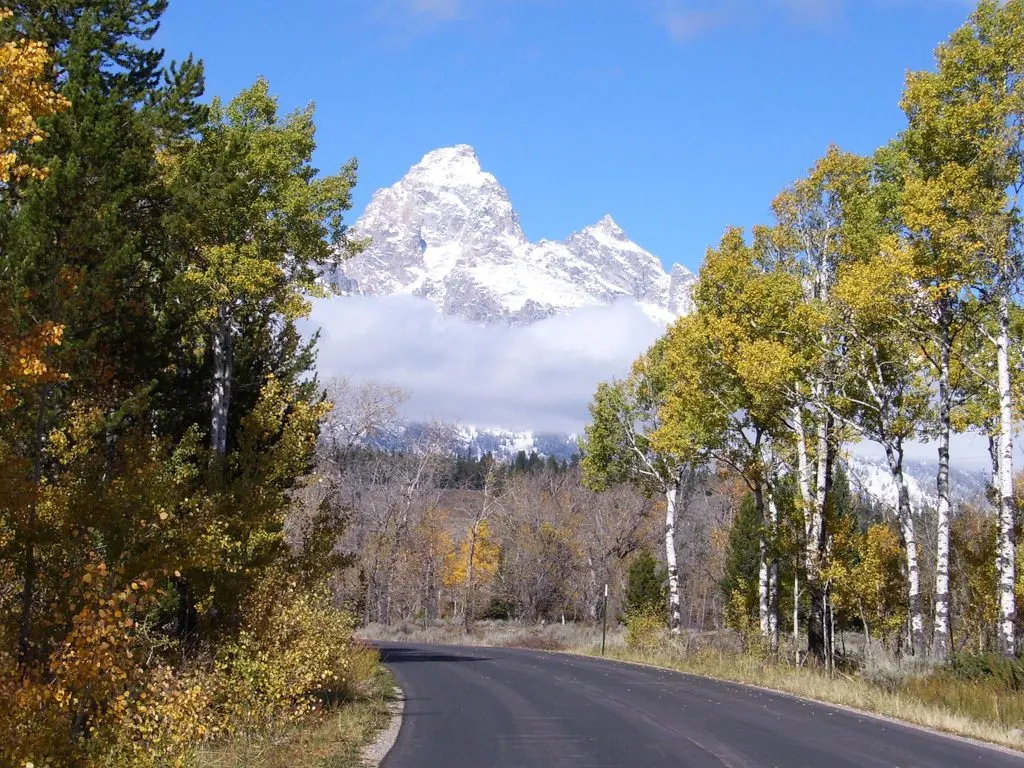 See the Park from the Air
It's a bit of a splurge, but flight-seeing in Grand Teton National Park looks amazing. The Tetons are a gorgeous mountain range, and the best way to see them is from the air. Scenic flight tours leave from the Jackson Hole airport, located in between Grand Teton National Park and the town of Jackson.
I'm sure with this big list of things to do in Grand Teton National Park, you won't have trouble spending a few days there. As I discovered, it's definitely worthwhile. What's on your Grand Teton National Park must-see list? Tell me in the comments.
MORE NATIONAL PARKS POSTS: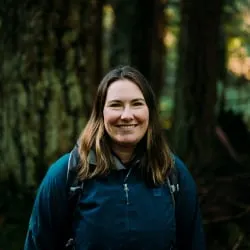 Latest posts by Taryn Eyton
(see all)