In June, I spent a week in Yellowstone National Park. OMG, what an incredible place! I did a bunch of research about what to see before I went, but what I forgot to do was figure out what to bring. Yellowstone presents some unique challenges for visitors.
It is located in the Rocky Mountains and the park is at a high elevation. Most of it is over 7000 feet (2100m) above sea level and subject to unpredictable mountain weather.
I saw lots of unprepared people shivering in the cold, soaking wet in rainstorms or with lobster-like sunburned skin. (And to be honest, sometimes I was one of them.) Even though June, July, and August are summer in Yellowstone, it's not like summer everywhere else in America!
To have an awesome time on your summer trip to Yellowstone, you should pack a few key items along with your regular travel gear. Below you'll find a complete Yellowstone packing list for all visitors.
I also have a bonus list of what hikers should bring to Yellowstone and one for campers too. AND, I've got a Yellowstone packing list for picnickers. (Since I think picnicking in Yellowstone National Park is way better than eating at restaurants every day, and cheaper too.) [Insert your own Yogi Bear picnic basket joke here ;)]
Hey there: Some of the links in this post are affiliate links, which means I earn a small commission at no cost to you. Thanks for your support. -Taryn
WANT MORE YELLOWSTONE INFO? Check out these posts:
The Basics: Things Everyone Needs to Bring to Yellowstone
Yellowstone is a unique place. It can be brutally sunny, cold and wet… all in the same afternoon. The wildlife watching is spectacular… and they are also not to be messed with. It's also pretty remote. While there are a few small stores in the park, they don't have everything. I found it helped to be self-sufficient. Here's my list of the things I think every single visitor to Yellowstone should pack.
Sun Protection
The sun can be really harsh in Yellowstone since it's at such a high elevation. Bring a wide-brimmed hat or baseball cap for protection. You'll also want lots of high SPF sunscreen and some SPF lip balm to avoid burned lips.
I used my Outdoor Research Oasis Sun Sombrero in Yellowstone since it has a wide brim and I can fold it up into my pack when I'm not wearing it.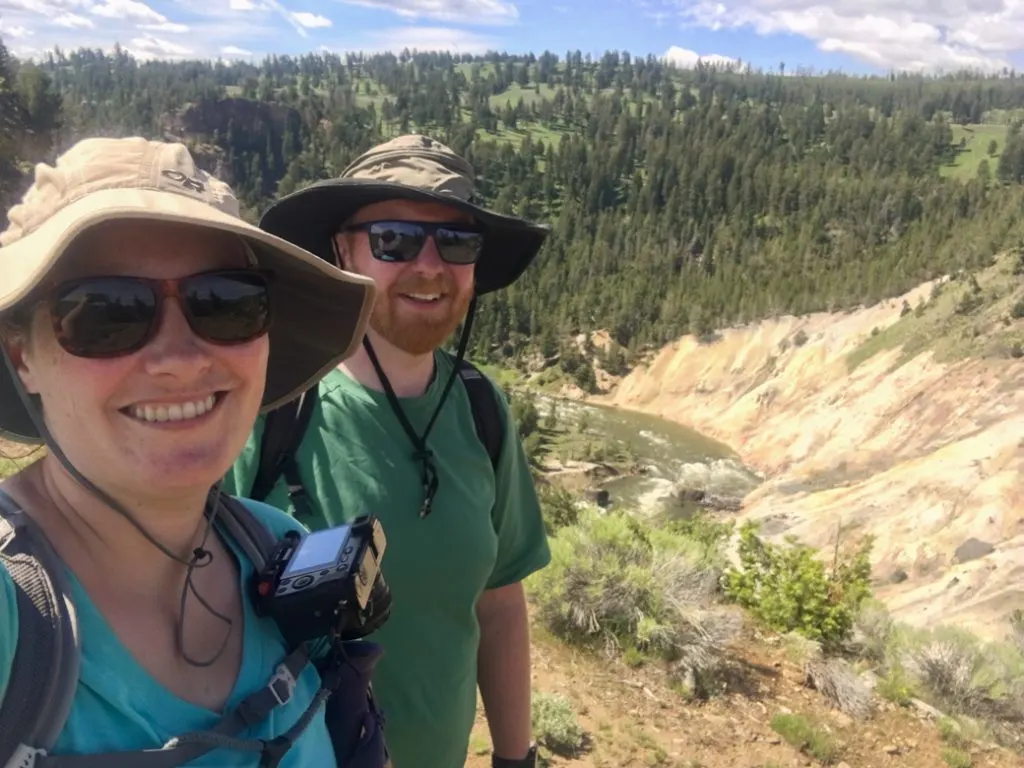 READ NEXT: Tips for Hiking in Hot Weather
Polarized Sunglasses
I like to wear polarized sunglasses as they let you see colours that are truer to reality than what you get with regular sunglasses. They also help you see into the water.
In Yellowstone, that lets you see deeper into the hot pools and lakes, which is really cool. I like Sunskis since they have fun frame options and they aren't too expensive for polarized glasses.
Camera with a Long Lens
The main reasons people come to Yellowstone are the amazing scenery and abundant wildlife. And of course, you'll want photos of both. Your phone is fine for shots of scenery, but for wildlife, you'll want an SLR camera with a long lens.
I'm the biggest idiot and forgot mine at home! I was cursing myself the whole time I was in Yellowstone as I missed out on some amazing wildlife shots. And if you are shooting with a long lens, you'll want a tripod for stability. (I forgot that at home too! FML)
I did remember to bring my Sony A6000 camera. It's a mirrorless camera which is more compact than a full DSLR but still produces high-quality images. I find it easy to use, plus it's not that expensive. When I remember to bring it, I use a budget Sony 55-200m lens to shoot wildlife. I also have a lightweight Sirui T-025SK carbon fiber tripod.
Binoculars or Spotting Scope
I've never seen more people carrying binoculars than I did in Yosemite. They are essential for watching wildlife since you need to stay so far away from them for safety. My advice would be to get the most powerful binoculars or spotting scope you can afford. It really makes a difference.
If you're like me and know nothing about shopping for binoculars, check out this post on the best travel binoculars for wildlife watching.
We brought a compact GoSky Titan monocular that my husband found on Amazon. It's pretty compact and not too expensive, but it still has 12×50 magnification. Our favourite part is that it comes with an adapter to attach your phone. That way you can turn it into a giant zoom lens for your cell phone. Pretty cool!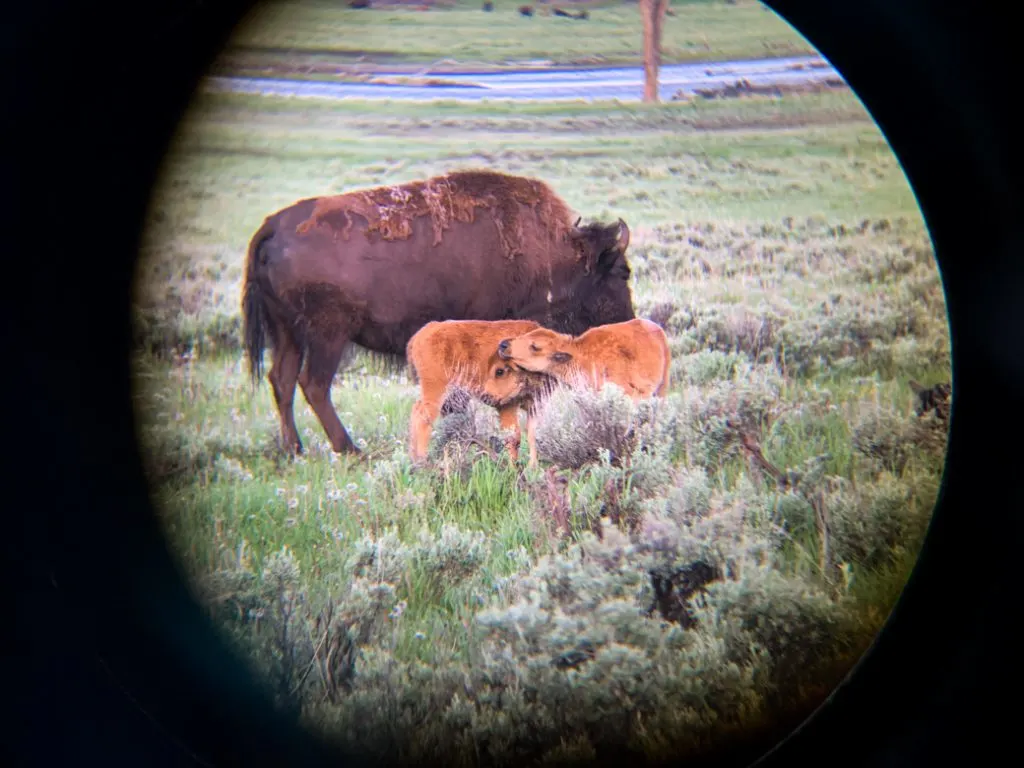 Bear Spray
Yellowstone has a very high population of both grizzly bears and black bears. While both species usually stay away from people, they have been known to prowl through campgrounds, defend their cubs, or surprise people on trails.
Carry bear spray and make lots of noise when hiking. You can buy bear spray at most stores inside Yellowstone National Park, but it's MUCH more expensive compared to buying it beforehand. Buy a bear spray canister that comes with a holster so you can attach it to your backpack or belt. I've got lots more tips for hiking and camping in bear country in this post.
READ NEXT: Bear Safety for Hikers, Campers and Backpackers
Fleece Jacket
Even if you visit in the middle of summer, Yellowstone can be chilly since it's over 6000 feet (1800 meters) above sea level. Pack a cozy fleece jacket to wear for chilly mornings and evenings. On my visit in mid-June, I ended up wearing mine at some point every day.
Reusable Water Bottle and Travel Mug
You need to stay hydrated at high elevations. But adding plastic waste to our world sucks. Bring your own reusable water bottle and fill up at visitor centres, hotels, and campgrounds. I use basic 1 litre Nalgene bottles because they come in fun colors.
If you're a coffee drinker, it also makes sense to bring your own mug to avoid a throw-away paper cup. Plus that way your coffee stays warm longer. My husband has an awesome Kleen Kanteen Double Wall Insulated Tumbler that I keep "borrowing" from him. It might be time to get my own.
Phone and Power Bank
These days, we all take our phones everywhere. So, of course, you'll want yours in Yellowstone. Keep in mind that there is no cell service in most of the park, and in the areas where there is coverage, it can get spotty.
This means that your phone battery will die quickly while it keeps looking for a signal. (And also because of all those geyser videos you'll be taking!) Make sure you bring a portable power bank so you can charge your phone on the go. I use a tiny power bank that charges my phone a couple of times.
Toilet Paper and Hand Sanitizer
There are lots of toilets around Yellowstone National Park. Most parking lots and trailheads have one. However, they don't always have a good supply of toilet paper and hand sanitizer. Keep some with you just in case.
And if you really need to go and can't make it to a toilet, go to the bathroom the Leave No Trace way: Dig a small hole 70 big steps away from trails, roads, campsites, and water. Then bury your waste, and pack out your toilet paper in a plastic bag. I carry a super lightweight titanium trowel for backcountry poo-mergencies. Hilariously, it's called the Deuce of Spades.
Bug Spray
At some times of the year, especially in early summer, the mosquitos in Yellowstone can be bad. If you're sensitive to bites, bring some insect repellent.
Rain Jacket
Yellowstone still gets rain in the summertime. It's very common for thunderstorms to spring up in the afternoon, leading to a quick (and intense) rain showers. Bring a lightweight rain jacket just in case you get caught in the rain. My husband and I both really love our 3-layer Gore-Tex MEC Synergy Jackets. If you want something lighter and more compact, the Outdoor Research Helium II is a great option.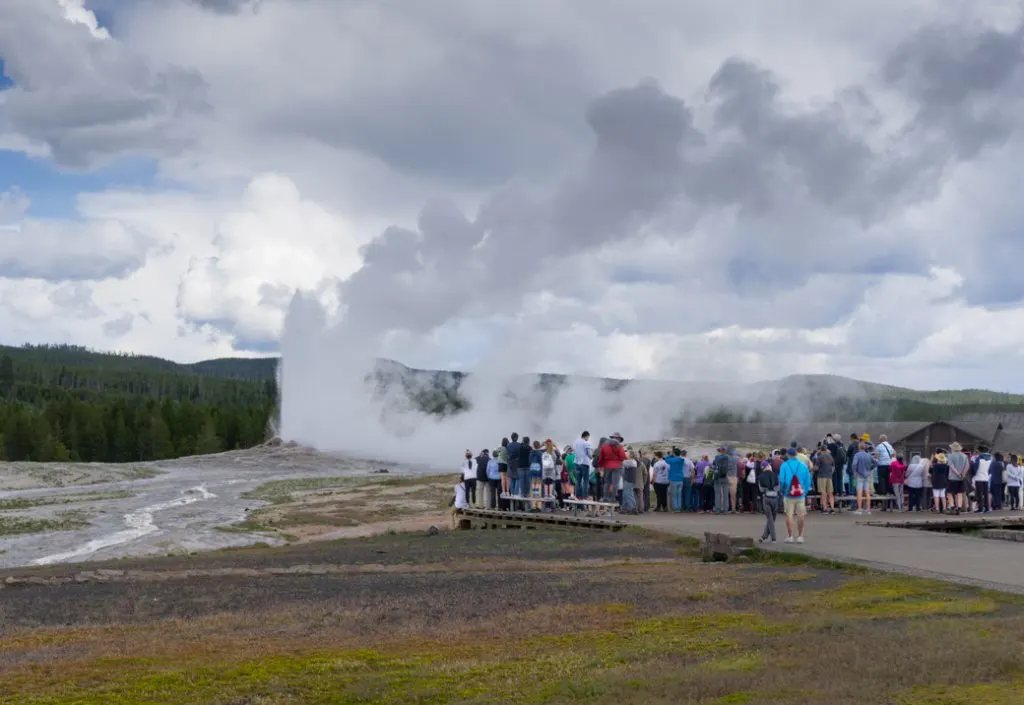 READ NEXT: 5 Tips for Hiking in the Rain
First Aid Kit
You can buy basic first aid supplies at stores in the park. But that won't seem like a good option when the nearest one is 30 minutes away and someone needs a bandaid or a Tylenol. Pack a basic first aid kit. Make sure it includes bandages, gauze, and medical tape.
You'll also want to have lots of foot care supplies such as Moleskin or Second Skin for blisters. (Check out my full list of blister care and prevention tips and tricks.) Bring anti-inflammatory painkillers like Advil, and anti-diarrhea pills like Immodium just in case. And don't forget your usual prescription medications.
I like the Adventure Medical Ultralight first aid kits since they come in a water-resistant pouch. I always add more stuff to them, like more blister care and bandaids.
Bathing Suit and Quick-Dry Towel (Optional)
If you're visiting during the warm summer months, bring a bathing suit so you can cool off in one of Yellowstone's two swimming areas: Boiling River and Firehole River. Due to high water levels and strong currents, both of these spots are usually closed until early July, so I wasn't able to swim on my mid-June visit. Some of the hotels in the area also have pools or hot tubs.
Don't bring a traditional cotton beach towel – they take up tons of space and take forever to dry. I use a quick-drying microfibre travel towel from PackTowl. It absorbs lots of water and dries really fast.
Moisturizer (Optional)
If you come from a humid, coastal climate like me, you will find the high mountain air really drying. My skin complained for our entire visit! I wish I had brought some good moisturizer.
Fishing Gear (Optional)
Fishing is REALLY popular in Yellowstone. If you want to fish, you need to get a special Yellowstone fishing permit and comply with tackle restrictions. My husband didn't bring his fishing gear since we didn't think we'd have time to fish. He was definitely jealous of all the fly fishers we saw!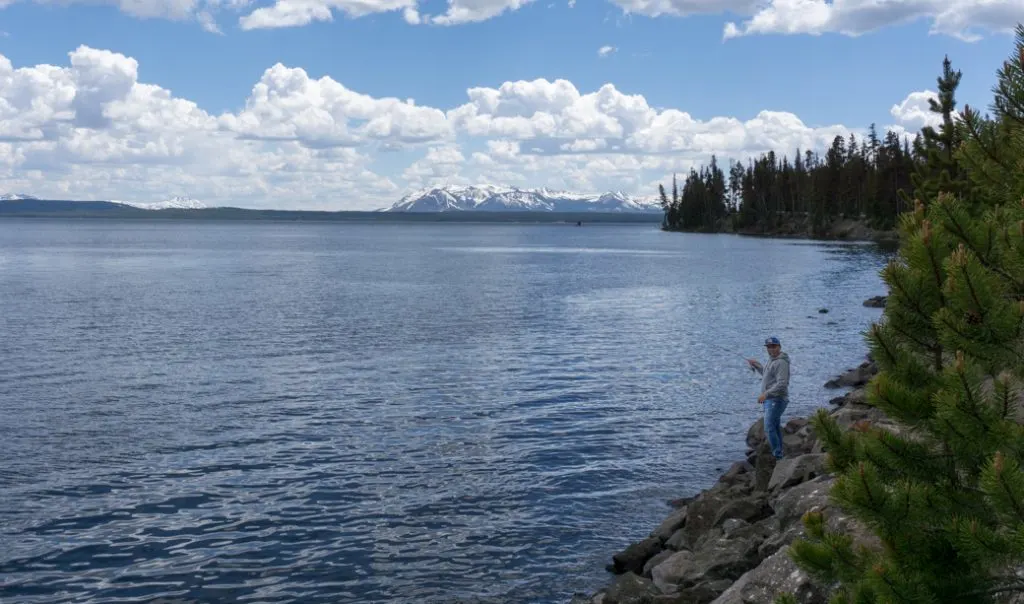 Dog Leash (If Applicable)
You can bring your dog to Yellowstone, but it has to be on a short leash (less than 6 feet) at all times. Dogs must also stay within 100 feet of roads, parking lots and campgrounds. That means your dog can't hike with you or visit any of the thermal features. You can find more info about visiting Yellowstone with dogs on the National Park website.
Hiking Gear to Pack for Yellowstone National Park
Yellowstone has TONS of hiking trails. Most visitors stick to the roadside pullouts and never venture on to a trail. That means the hiking trails are MUCH less crowded than the rest of the park. If you're planning to go hiking in Yellowstone, you'll need to pack the 10 essentials, just as you would on any hike. But here are a few other things you should bring for your Yellowstone hike.
READ NEXT: The 10 Essentials: Things You Should Bring on Every Hike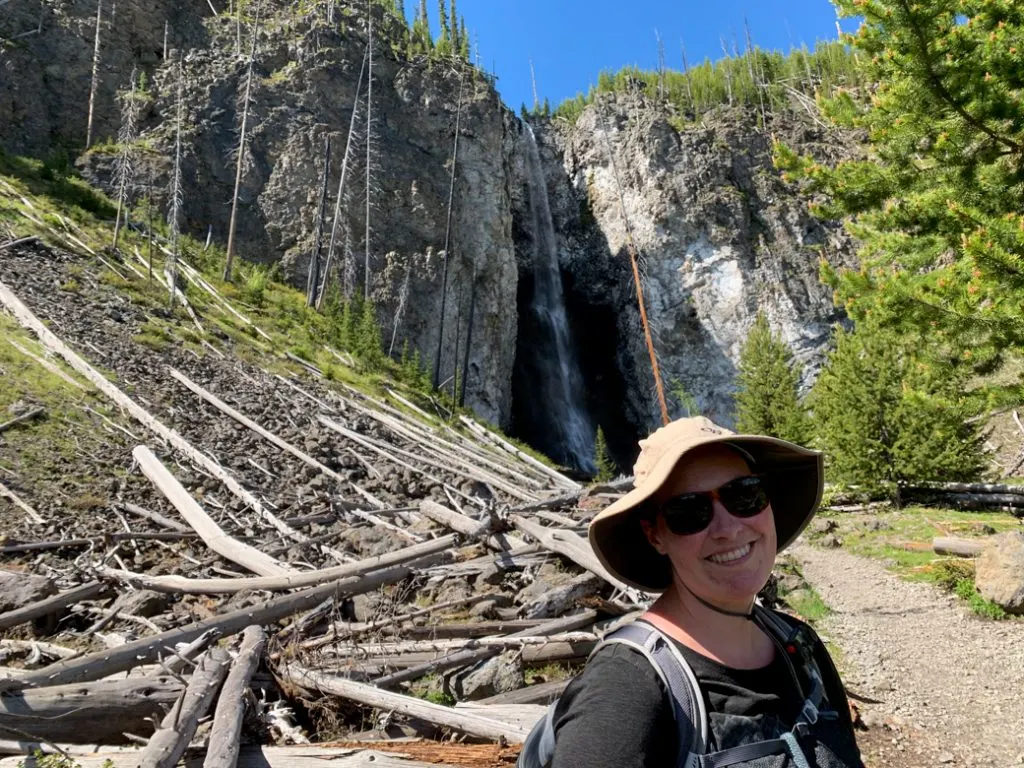 Day Pack
If you're going hiking, you'll need a backpack to carry your gear. You can use any old backpack you have lying around the house. But I find it much more comfortable to hike with a dedicated hiking backpack.
For day hikes, I like ones that have about 20 litres of capacity and have a spot to hold my hydration reservoir. I also love ones with hip belt pockets so I can easily grab snacks, lip balm or my phone without taking the pack off. I've been using a Gregory Maya for years and absolutely love it! It's a women's pack but it comes in a men's version too called the Miwok.
Hiking Boots
The trails in Yellowstone are pretty well maintained, but they can be steep or muddy. Wearing hiking boots gives you ankle support and keeps your feet dry in wet conditions. The tread on hiking boots also gives you better traction on steep slopes so you won't skid out the way you might in running shoes.
I brought my trusty Salomon X Ultra Mid hiking boots to Yellowstone and wore them a LOT. They're pretty lightweight and breathable, so they don't get too hot.
Hiking Socks
One of the biggest mistakes new hikers make is wearing their regular cotton socks on a hike. Cotton socks hold in your sweat. That's a surefire way to get blisters! Wearing proper hiking socks made of wool or synthetics will help keep your feet dry.
I love Darn Tough Light Hiker Micro Crew socks. They're comfortable and seem to last forever. (Want more tips on fighting blisters? I've got a whole post about how to prevent blisters while hiking.)
READ NEXT: How to Prevent Blisters When Hiking
Quick-drying Hiking Clothing
You can definitely hike in your regular clothes, but they won't be as comfortable. Bring some hiking pants or shorts and a hiking shirt made of quick-drying synthetic material. They'll keep you cool and dry when you get sweaty!
My current hiking favorites are the Patagonia Capilene Cool Trail t-shirt and the Black Diamond Valley shorts. In hot weather, quick-drying hiking underwear are a must have. Read my guide to hiking underwear to see my top picks.
READ NEXT: 12 Best Women's Hiking Pants (Picks for Every Body Type)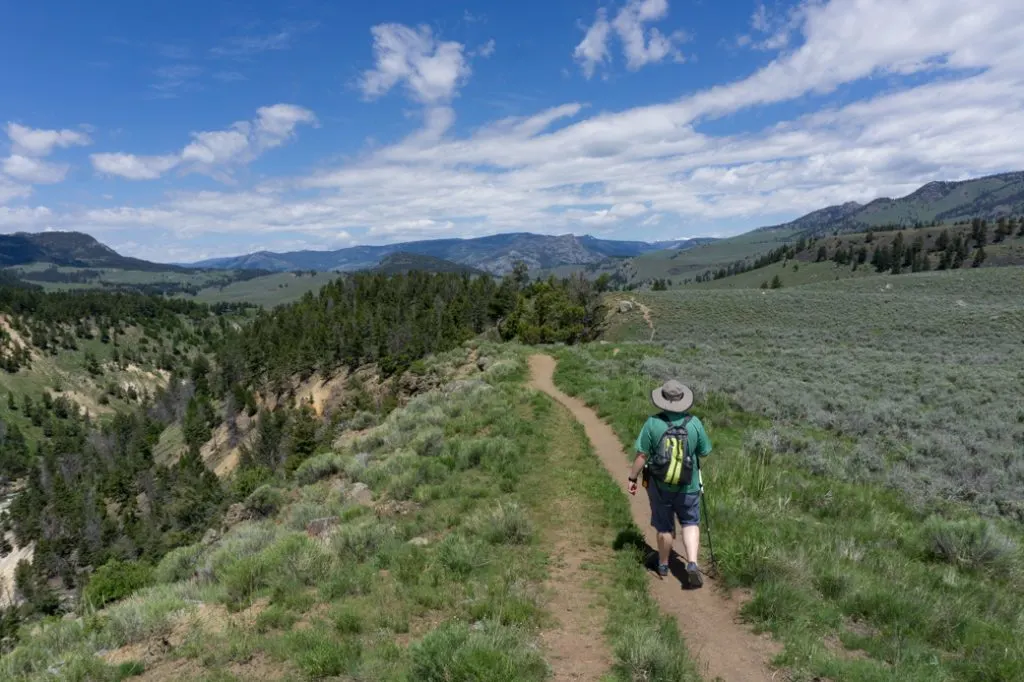 Guidebook and Maps (Optional)
You can get ideas about where to hike from the visitor centres or the park brochure, but I found having a guidebook really helpful. It was great to see all the hike options, then choose one that sounded best to us. We bought the Yellowstone Trails guide from Yellowstone Forever. (It's a non-profit organization that supports the park.) Another option is A Ranger's Guide to Yellowstone Day Hikes.
National Geographic makes the best topographic maps of Yellowstone National Park. They show all the trails. We just brought the general Yellowstone National Park map, but there are smaller, more detailed maps for various park regions too.
Trekking Poles (Optional)
Some trails in Yellowstone have a lot of steep ascents and descents as well as some uneven terrain. Trekking poles can be really helpful for saving your joints on the downhills or keeping your balance in the mud. I've been hiking with poles for the last 15 years and can't imagine going without them. So of course, I brought my Black Diamond Trail trekking poles to Yellowstone.
Yellowstone National Park Picnic Gear
Yes, Yellowstone does have restaurants. But they are expensive and many of the attractions are a bit of a drive from the nearest restaurant. We packed a picnic for most of our days in the park. It was a fun way to slow down in the middle of the day and just chill out at a beautiful spot. It was also MUCH less expensive than eating out every day.
Yellowstone National Park has lots of picnic areas with tables and restrooms. Many of them are a little bit off-the-beaten-path so you get to explore some of the quieter parts of the park. Here's my picnic packing list for Yellowstone:
Groceries and Snacks
There are a few small stores in Yellowstone, but they have very limited groceries. And the prices are pretty high! If possible, stock up before you get to the park. During our trip, we shopped at grocery stores in Gardiner, MT, West Yellowstone, MT and Jackson, WY. They all had a pretty good selection of things at reasonable prices.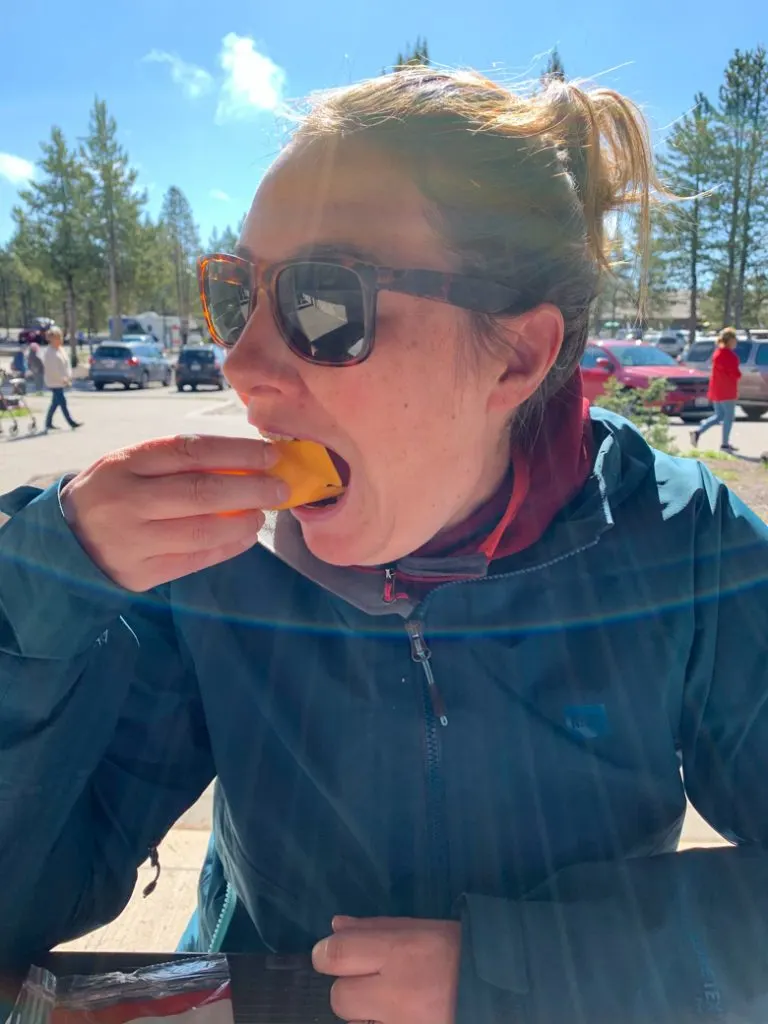 Cooler
It can get really warm in the afternoon in Yellowstone, so a cooler is a must. You don't need anything super fancy. We have a small 18 quart Coleman cooler. It held ice for a day or so, then we just bought more at the park store. Pro tip: To make your ice last longer, cover your cooler with a warm jacket to provide more insulation and shade when you leave it in a hot car.
Plates, Forks, Cutting Board, and Knife
We brought a couple of camping plates and our trusty camping sporks to eat off of. Having a cutting board and knife to cut up veggies, sausage and cheese was also helpful. We have this fancy (and amazing) Snow Peak cutting board and knife set. It folds down so it doesn't take up much space.
Reusable Food Containers and Ziploc Bags
We brought a couple of plastic food containers and a handful of Ziploc bags and they were so helpful. We stored leftovers in them and used them to protect groceries from getting soggy in the cooler.
Table Cloth (Optional)
The one piece of picnic gear that I forgot to bring was a table cloth. I was definitely jealous when I saw other groups using one. They are handy to have to cover less-than-clean picnic tables. And they are easy to wipe down when you're done. Plus they make you feel a bit fancy!
Yellowstone National Park Camping Gear
One of the best ways to experience Yellowstone National Park is to camp. (I liked it so much I wrote a whole guide with everything you need to know about camping in Yellowstone.) Most of the crowds go back to their hotels in the evenings and the park really quiets down. You may also get to see more wildlife as some animals like to hang around the campgrounds.
When planning to camp in Yellowstone, keep in mind that all the campsites are above 6000 feet (1800 meters), which means they can be chilly at night, even in the summer. The average low temperature in June, July, and August is between 34 and 39F (1-4C). Brrrr!
As well, afternoon and evening thunderstorms are common, so you'll want to make sure you are prepared for rain. Use these tips for camping in the rain to make sure you stay dry.
For camping in Yellowstone, bring all the things on my picnic gear list above, plus these items:
Tent
Bring a waterproof tent that can stand up to rain and wind. If possible, choose one with a full-length rain fly that reaches all the way to the ground and covers the door. That offers MUCH more protection than the ones with a little fly on the top. We brought our MEC Volt 4 tent to Yellowstone and it held up well. Another good option is the REI Base Camp.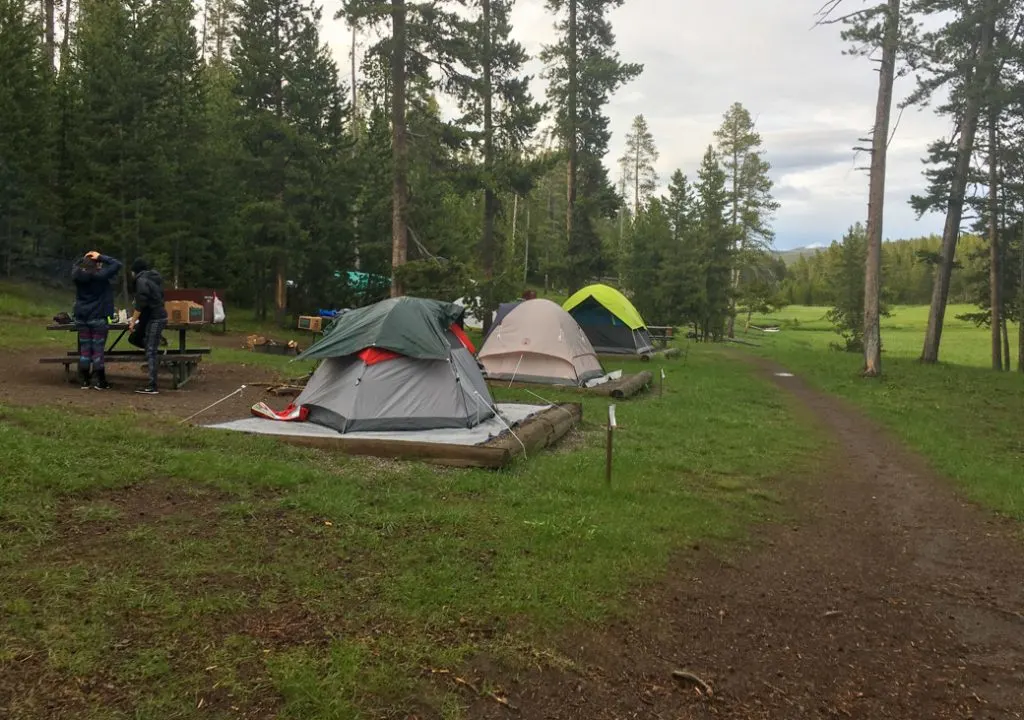 Warm Sleeping Bag and Insulated Sleeping Pad
The campsites in Yellowstone are all over 6000 feet (1800m) elevation. Many of them are over 7000 feet (2100m). It can be cold at night up there. Pack a sleeping bag rated at least 32F (0C). Choose one with a hood for extra warmth. I brought my winter sleeping bag, the Therm-a-Rest Oberon 0F. It was overkill, but I was definitely toasty warm!
Even the warmest sleeping bag can't protect you from the cold ground. Sleeping pads don't just provide comfort – they also provide insulation since you lose heat to the ground. Choose a sleeping pad that has an R-value of at least 2.5. (R-value measures insulation and warmth).
If you expect really cold weather or know you feel the cold at night, pick a pad with an even higher R-value. I use a Therm-a-rest NeoAir Xtherm since I sleep really cold. My husband likes his NeoAir XLite which weighs less but isn't quite as warm.
READ NEXT: How to Stay Warm in a Tent: Over 40 Tips
Thermal Base Layer Top and Bottoms
When it's chilly, I sleep in thermal base layers while camping. They keep me way warmer than regular PJs. They are also nice to wear around the campsite under my clothes on cold evenings and mornings.
Choose mid-weight thermals made of polyester or merino wool and be sure to pack both bottoms and a long sleeved top. I sleep cold so I wear a MEC T3 base layer top with a hood and matching bottoms. My husband likes Patagonia's Capilene Midweight long underwear.
Warm Hat and Gloves
You lose a lot of heat through your head and hands. Pack a cozy beanie and some gloves to wear in the evenings.
Headlamp or Flashlight
Pack a headlamp or flashlight to find your way around at night. I like using a headlamp since it keeps my hands free. I use a Petzl Actik. It's super bright and easy to use. Plus the batteries last a long time on low power.
Stove, Fuel, Pots and Cooking Utensils
Most campsites in Yellowstone have fire pits, but there can be campfire bans in dry weather. Cooking on a campfire can be fun, but using a stove is much easier and more reliable. We used our tiny backpacking stove in Yellowstone, but we want to upgrade to Coleman 2 burner stove for our next trip. Seems so much more civilized!
Dishwashing Basin, Soap and Scrubber
Most of the Yellowstone campgrounds don't have dishwashing sinks and you aren't allowed to wash dishes in the restrooms or at the water taps. Instead, they ask you to wash dishes at a basin in your campsite, then dump the soapy water in the restroom toilet.
We didn't bring a basin so we had to wash our dishes in our largest pot. Next time I'll definitely bring a wash basin. We saw some campers with this nifty collapsible dish basin. It stows flat when you aren't using it and has handles for carrying it to a place where you can dump it out. I think I'll definitely be picking one up for our next trip.
Camping Chairs
Sure, you could sit around your picnic table. But that means you can't get close your to campfire! You need chairs. We brought our Helinox camping chairs since they pack up super small and are pretty comfortable.
Kitchen Tarp
Most of the campers we saw in Yellowstone didn't have a kitchen tarp. That meant that on the stormy evenings, they were cooking dinner in the rain. We brought our lightweight backpacking sil-nylon tarp and strung it up on ropes over our picnic table. It gave us a dry place to eat and cook, which was so nice during the storms.
A few groups had fancy free standing kitchen shelters with bug screens. One of those is definitely going on my wish list.
READ NEXT: Camping in Yellowstone: Everything You Need to Know
Things You Shouldn't Bring to Yellowstone
With these Yellowstone packing lists, you should have everything you need to have an awesome trip, whether you are hiking, camping, picnicking or just touring around. If you've already been to Yellowstone, what was your one "must-have" item you brought? Tell me in the comments.
MORE YELLOWSTONE POSTS:
MORE ADVICE FOR CAMPERS AND HIKERS: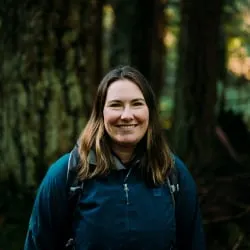 Latest posts by Taryn Eyton
(see all)