In 2019, I spent 10 days in Yellowstone National Park. Of course, we drove around and saw all the geysers, hot springs, and wildlife. But we also did a LOT of hiking. However, Yellowstone is huge. There are too many trails and I couldn't hike them all. So I've teamed up with some other travel bloggers to bring you our recommendations for the best hikes in Yellowstone National Park. There's something for everyone on this list: easy and flat hikes, moderate hikes with great views and difficult hikes that take all day (or even two days!). With so many hiking trails in Yellowstone, it can be hard to know which hike to choose, but I hope with our picks, you'll find the perfect Yellowstone trail for you.
Hey there: Some of the links in this post are affiliate links, which means I earn a small commission at no extra cost to you if you make a purchase. Thanks for supporting my website! -Taryn
WANT MORE YELLOWSTONE INFO? Check out these posts:
Yellowstone Hiking Basics
Hiking season in Yellowstone: Since it's high in the Rocky Mountains, Yellowstone National Park has a short summer hiking season from June to September. Generally, the trails start to be snow-free in June with higher elevation trails staying snowy into July. By late September, it has started to snow again in the mountains. No matter what time of year you hike, check the weather forecast before you head out. Checking the weather is just one of the things you should do before every hike.
READ NEXT: The Best Weather Apps for Hiking
What to bring hiking in Yellowstone: Even if you are just going for a short hike, you need to be prepared for the weather and conditions. Don't forget the 10 essentials. (Rain gear is especially important.) I've got a whole Yellowstone hiking gear packing list to make sure you've got everything you need.
Bear Safety: Yellowstone is home to both black bears and grizzly bears. Carry bear spray and make noise while you hike to reduce your risk of a negative bear encounter. For more info about hiking in bear country, read my post about bear safety for hikers.
Leave No Trace: Yellowstone National Park is a sensitive wilderness area. Learn about Leave No Trace principles to help keep the wilderness wild.
More Resources: You can find more info about hiking in Yellowstone on the National Park's website. I definitely recommend bringing a map on your Yellowstone hikes. We used the National Geographic Yellowstone Trail map on our trip. It's really easy to read and has ALL the trails. You may also want to pick up a hiking guidebook for more hike ideas.
Storm Point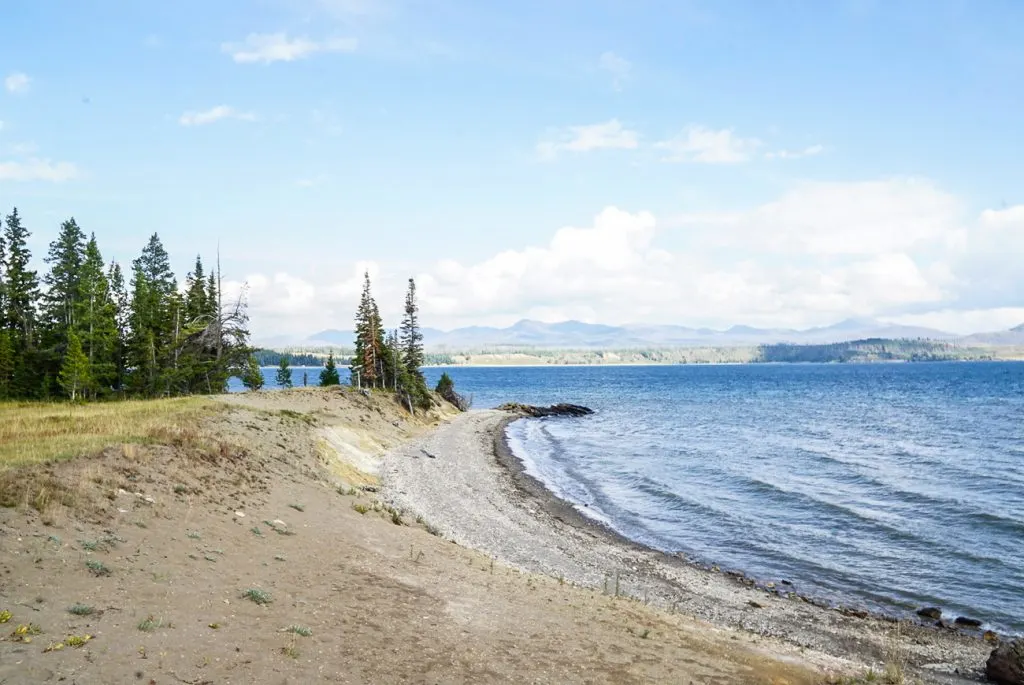 Difficulty: Easy | Distance: 2.3 miles (3.7 km) roundtrip | Estimated Time: 45 minutes to 1 hour
The Storm Point hike is located in the Yellowstone Lake area, just east of the Fishing Bridge Visitor's Center. The hike is perfect for those that want expansive views of the lake and surrounding areas. It's easy to fit in as part of a 4-day Yellowstone itinerary.
You'll start by walking through a meadow then into the forest. The trail then winds through the pine trees while hugging the coast, with glimpses out over the water. Eventually, it opens up with gorgeous views over small beaches where you may see a marmot or two playing.
The trail winds back through the forest and meets back up with the loop again in the meadow. If you don't want to do the entire loop, you can always do an out and back from the beach area.
The trail is great for those who want a moderate length trail without a strenuous workout, as it is all completely flat. You'll have the opportunity to see a variety of wildlife. While doing this hike we saw chipmunks, a bison, a variety of birds, a marmot, and we even heard an elk nearby.
Make sure to bundle up if doing this trail, especially in the cooler seasons. The wind on Storm Point and the rest of the trail can be tough and extremely cold coming off of the lake.
Recommended by Heather of Evado Travel
Point Sublime
Difficulty: Easy | Distance: 3 miles (4.8km) round trip | Estimated Time: 1.5 -2 hours
One of the top tourist attractions in Yellowstone is the so-called Grand Canyon of Yellowstone. There are many different places to see it including the South Rim and the North Rim. My recommendation is a viewpoint called Artist Point. Artist Point is not only one of the best viewpoints there is to see the Grand Canyon of Yellowstone, but it also contains a scenic trail called the Point Sublime trail. The Point Sublime trail offers views beyond what can be seen at Artist Point. Jaw-dropping views of the canyon and dramatic cliffs will take your breath away if the trail isn't doing so already.
The trail itself isn't quite technical. However, the cliffs are unguarded and even Tom Cruise can't save you if you fall off one of them. If you have vertigo, this is the worst trail you can ever do. There are parts of the trail that can get quite narrow so take your time and resist the urge to push someone off the cliff. When hiking in Yellowstone, make sure you also have bear spray with you, you are in bear country after all.
You'll be hungry after your hike, so head to one of my picks for the best restaurants in West Yellowstone.
Recommended by Sean of Living Out Lau
Fairy Falls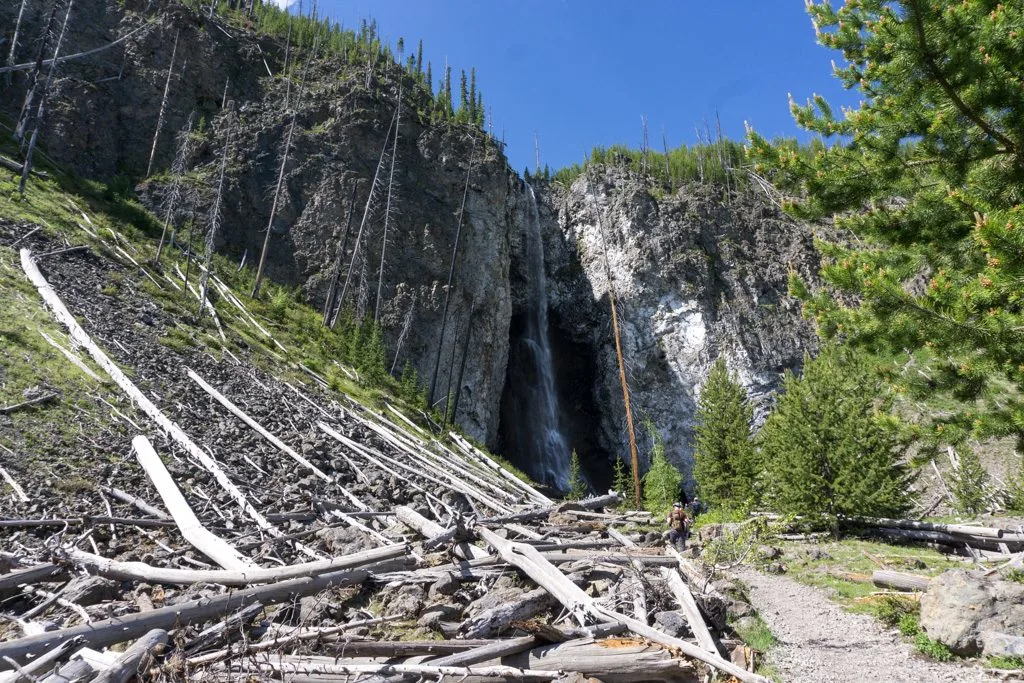 Difficulty: Easy | Distance: 5 miles (8 km) round trip | Estimated Time: 2-3 hours
The Fairy Falls trail is quite flat, so it's an easy walk. It's one of the more popular trails in Yellowstone, but it still won't be nearly as crowded as some of the roadside attractions. The trail starts at a parking lot 1 mile south of Midway Geyser Basin. It's not a big parking lot, so get there early. The first mile of the trail is on an old gravel road called the Firehole Flats Road. Right after the parking lot, the trail crosses a wide bridge over the Firehole River.
About 0.6 miles from the start you'll see a trail branching uphill to the left. This short trail climbs up to a viewpoint where you can see Grand Prismatic Spring from above. I highly recommend taking this detour. It adds only a few hundred yards to your hike and includes one of the best views in the whole park.
After the turnoff to the Grand Prismatic Spring viewpoint, the trail continues on the old road for a few more minutes. Look for a junction with a trail turning left into the trees. This is the Fairy Falls Trail. The next 1.5 miles of trail are through young lodgepole pine trees. A forest fire burned this entire area in 1988 so all the trees are the same age.
When you reach a more open area alongside a steep slope, you're almost there. Fairy Falls tumbles 200ft down a cleft in a steep rock face. You can scramble over rocks and logs to get close to the base of the falls, but wear rain gear as the spray from the falls will drench you!
Yellowstone River Picnic Area Trail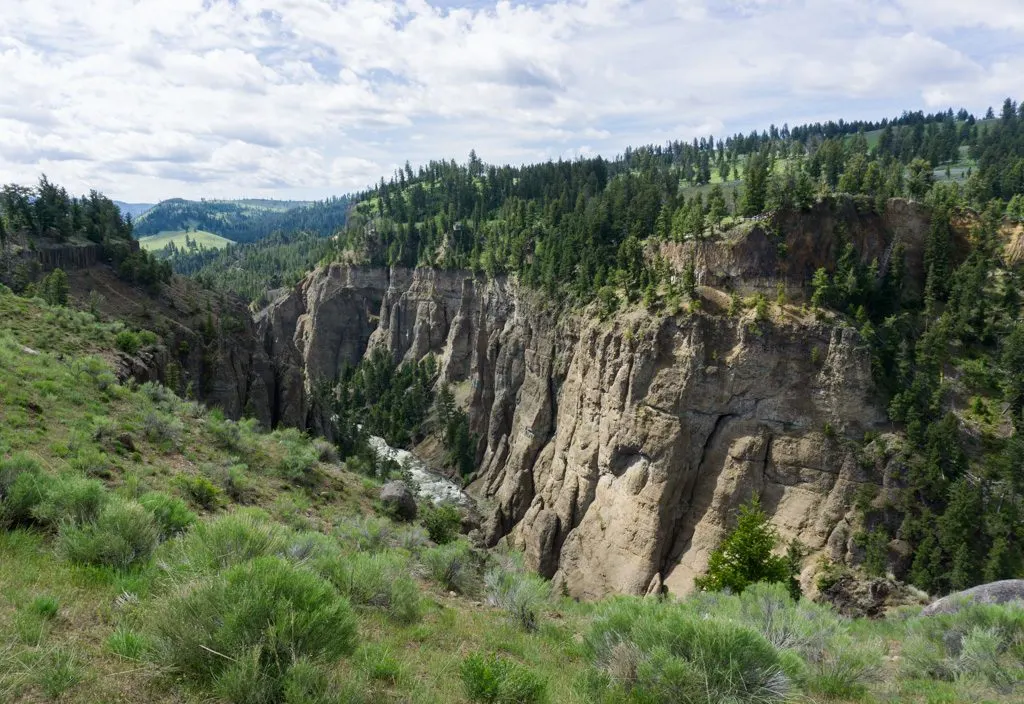 Difficulty: Easy | Distance: 3.7 miles (6 km) | Estimated Time: 2-3 hours
This lightly trafficked trail was one of my favourite hikes in Yellowstone. It starts at a small picnic area on the Northeast Entrance Road just east of Tower Junction.
The first quarter-mile of trail climbs steeply up the side of a ridge. Once you reach the top, the remainder of the hike is gently rolling. The trail follows the ridge top for its entire length. To your right is the Grand Canyon of the Yellowstone. You get views of the canyon the entire way. The walls on the opposite side have unique and intricate hoodoo formations. You can look across the canyon to a few different roadside pullouts, but in my opinion, the views are much better from the trail!
As you wander along the ridge, keep an eye out for wildlife. On my hike, we spotted numerous marmots, some of whom were not shy and stayed right near the trail as we walked by. We also spotted a big horned sheep! They live along the rim of the canyon so this is one of the best places in the park to see them.
The trail ends at the junction with the Specimen Ridge trail. There is a great viewpoint south into the Yellowstone River valley and east to the rolling hills of Specimen Ridge. If you want a longer hike, you can continue on to the top of Specimen Ridge for views back into the Lamar Valley.
Mount Washburn (from Dunraven Pass)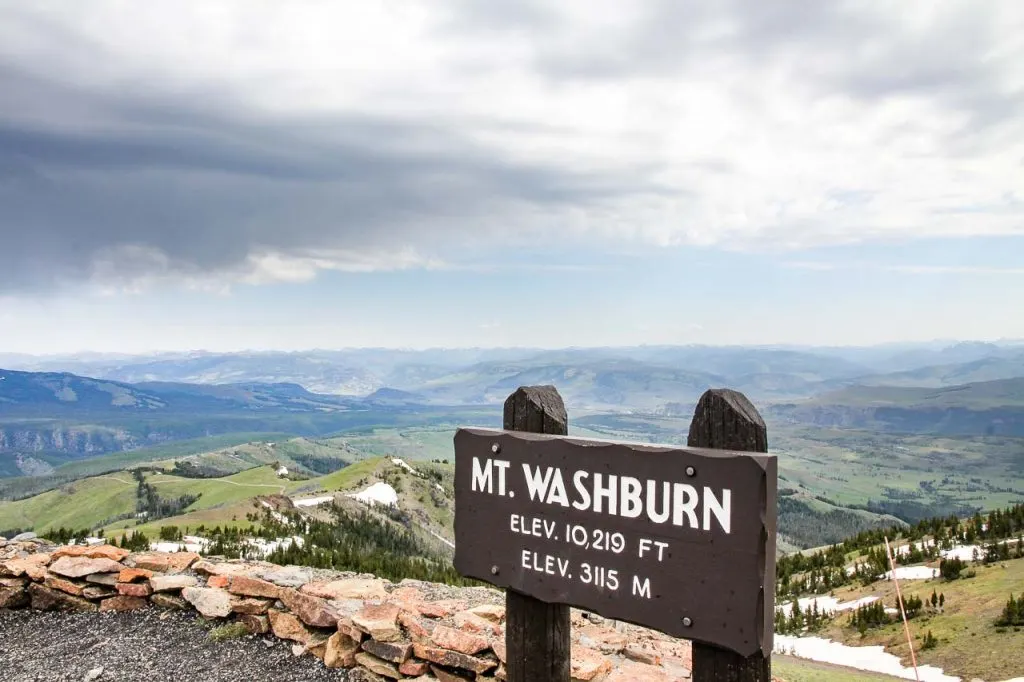 Difficulty: Moderate | Distance: 6 miles (9.7km) with roughly 1400ft (455m) elevation gain | Estimated Time: 3-5 hours
If you're hiking in Yellowstone from May through August, the Mount Washburn Trail offers bighorn sheep sightings, gorgeous wildflowers, and panoramic vistas. The trail follows an old vehicle route to the fire lookout at Mount Washburn's summit. You know that if they're spotting fires up there, it's going to have some fantastic, unhindered views of the surrounding landscape.
The trail begins at the Dunraven Pass Trailhead. The former road is wide and not overly steep. It climbs steadily over a number of long switchbacks. Though Mount Washburn is a very popular hike, the wide track offers plenty of room for everyone.
Start out first thing in the morning to avoid regular storms that pass over the peak. There is shelter inside the lookout tower at the top, however, be wary of lightening if you're on the trail during a storm. Mount Washburn is generally windy when you reach the summit, so make sure you have warm layers and wet weather gear.
Grizzly bears like the area during autumn, for foraging Whitebark pine nuts. The National Parks Service recommends steering clear of the trail during September and October for this reason.
Recommended by Zoë of Duende by Madam ZoZo
Avalanche Peak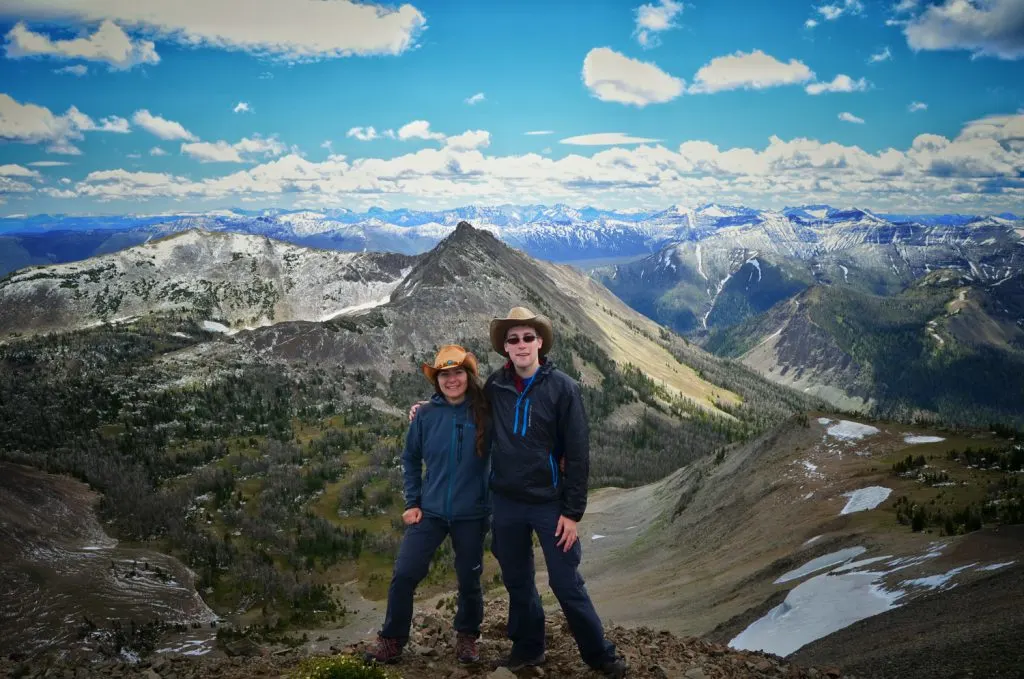 Difficulty: moderate | Distance: 4.6 miles (7.4km) round-trip with 2,017 feet (615m) elevation gain | Estimated Time: 3-5 hours
Avalanche Peak is a very nice hike in the south-east part of Yellowstone National Park. I would say that this hike has one of the best difficulty to reward ratios because it's quite short and the views from the top are spectacular. It's also not that crowded because it's located outside of the main Yellowstone loop.
The first half of the trail leads through the forest, where you could see some wildlife (elk or even bears). Therefore, it's a good idea to follow the bear safety rules and carry bear spray. The second half leads through open terrain, where the views start to show up. Because of the high elevation, there is usually at least some snow. If you hike anytime between October and April, expect a lot of snow.
The views from the top are spectacular and it's definitely one of the best things to see in Yellowstone. You can see the huge Yellowstone Lake on one side and snow-covered mountain ranges on the other side.
The best time to visit is from May to October, however, there is a frequent occurrence of grizzly bears in September and October.
If you plan to hike Avalanche Peak, you should be prepared for quick weather changes. Definitely bring rain gear, a wind jacket (it's very windy at the top), and good hiking shoes (the terrain is pretty rough and I don't recommend hiking in sandals or flip-flops).
Recommended by Matěj of Czech the World. Yellowstone National Park is one of the stops he recommends on a USA Road Trip.
Sepulcher Mountain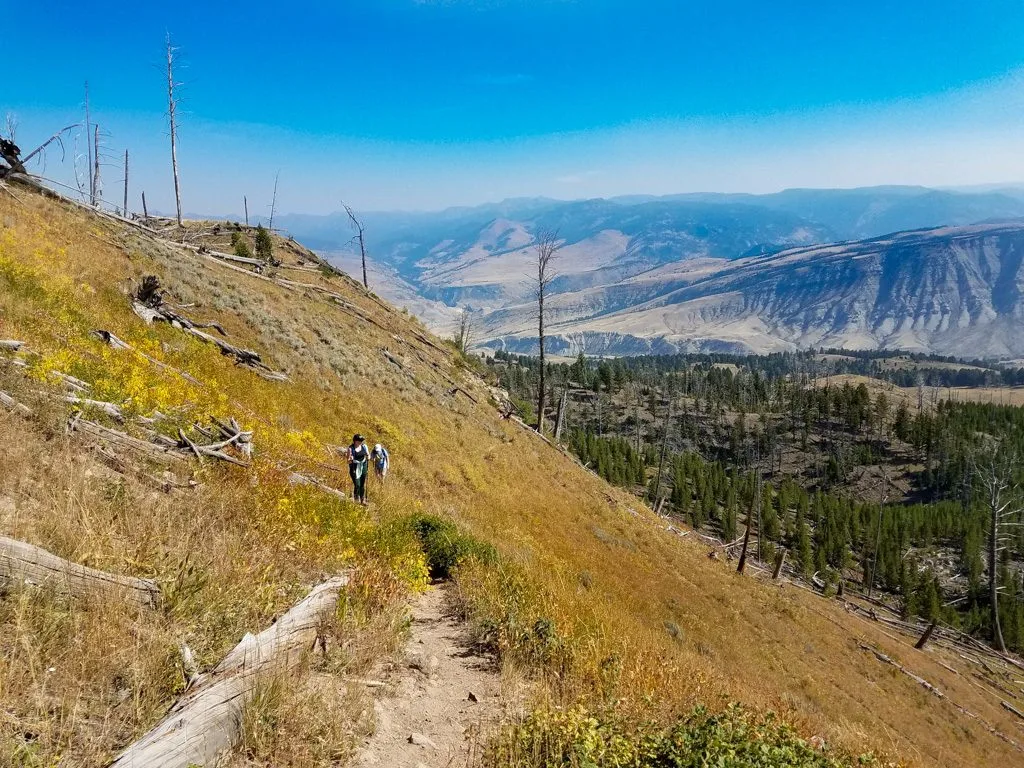 Difficulty: Difficult| Distance: 11.2 mile (18km) loop | Estimated Time: 7-9 hours
The Sepulcher Mountain hike is a tough one; in the first five miles, it rises almost 3,000 feet. This makes it ideal for hikers who like to climb mountains, but don't want to do climbs that require ropes or climbing gear. To me, it's the perfect introduction to Yellowstone's backcountry. Unlike some hikes in Yellowstone, this trailhead (located near Mammoth Hot Springs) is easy to access and parking is ample. Over the course of the hike, incredible views await at every turn … as well as the varying flora and fauna (alpine wildflowers, forests, and open meadows).
Another great feature of this trail is that it is very lightly trafficked, so there's a good chance that you'll have it all to yourself … except for a mountain goat, elk, or maybe even a bear. In fact, when I hiked Sepulcher Mountain with my husband and 72-year-old dad, we saw just one other person (who was doing the hike shoeless…) and a fleeting glimpse of a grey wolf. The last few miles of the hike intersect several other trails. Keep your map or GPS nearby to make sure that you stay on the right path. (It's easy to get off on the wrong trail like we did!)
As with all hikes in Yellowstone, bring plenty of water because that mountain air sure is dry and pack a few layers. Hitting Sepulcher Mountain in the warmer months (July-September) is ideal for access and wildflower viewing.
Recommended by Sarah of YouFoundSarah.com
Yellowstone River Trail via Hellroaring Creek and Blacktail Deer Creek Trails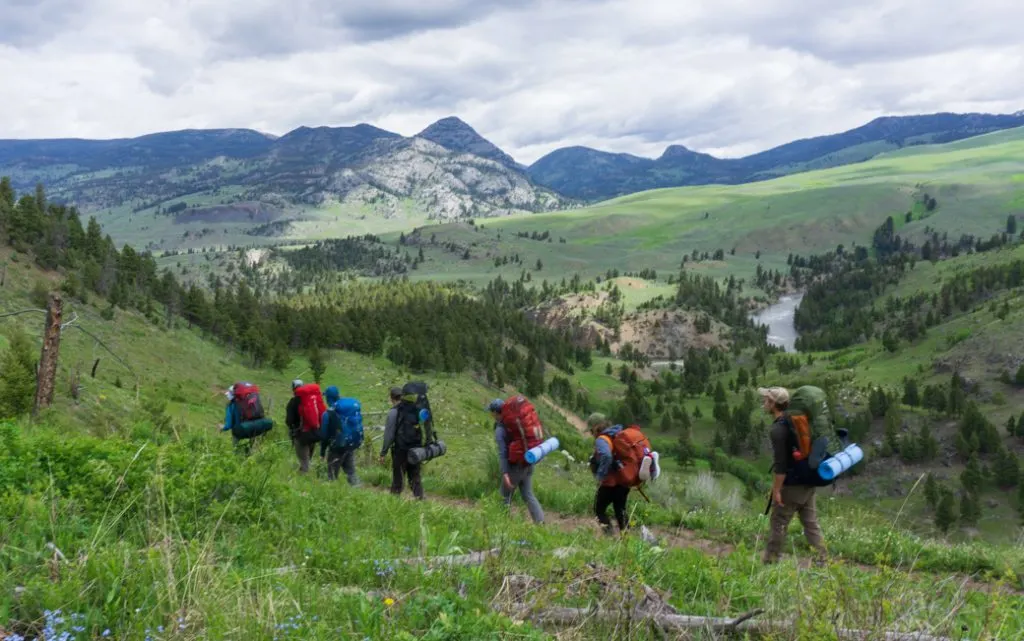 Difficulty: Difficult| Distance: 16.4 mile (26.4km) point to point hike | Estimated Time: 9-11 hours or two days
This backcountry route travels along the Yellowstone River. It's at a slightly lower elevation than many other parts of the park, making it a great hike for early in the summer season. The rolling terrain and rushing river provide great scenery, especially when the wildflowers bloom in June. It's also a great place to spot wildlife. I saw pronghorn, marmots, osprey, waterfowl, bison and a grizzly bear!
This hike doesn't tackle too much challenging terrain: it earns its difficulty rating through distance alone. You can hike this trail in one long day, but an easier and more pleasant alternative is to split it up into two days by camping at one of the many backcountry sites along this trail. I actually did this hike over 4 days and 3 nights as part of my Leave No Trace Master Educator course. Since we stopped for learning sessions each day, we didn't cover too many miles. If you plan to camp in the backcountry, you'll need to make a reservation and get a permit.
The trail starts at the Hellroaring Creek trailhead on the Grand Loop Road. It begins by descending about 560 feet (170m) to a bridge over the Yellowstone River. Then it climbs over a rolling plateau before taking a detour for a few miles up Hellroaring Creek to a bridge, then back down the other side.
The middle section of the hike roughly follows the north bank of the Yellowstone River. Sometimes the trail is high above the river, but eventually, it descends to river level and crosses another large bridge.
The last section is a steady uphill climb on the Blacktail Deer Creek trail. The trail finishes at the Blacktail Creek trailhead on Grand Loop road. This trailhead is 8 miles west of the Hellroaring Creek trailhead, so you'll need to leave a second car here or try hitchhiking.
So there you have it: our picks for the best hikes in Yellowstone. Do you have another Yellowstone hiking trail to recommend? Tell me in the comments.
More Yellowstone Info:
More National Parks Posts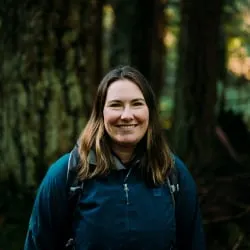 Latest posts by Taryn Eyton
(see all)