The Little Huson Caves are a hidden gem on Northern Vancouver Island. It's a spectacular location where a rushing creek funnels through a steep canyon into a cave, then comes out the other side. You can reach the caves via a short and easy trail.
I'm surprised that few people know about Little Huson Caves. They are only 20 minutes from Highway 19 and easy to reach on a short trail, but since they are on sparsely populated Northern Vancouver Island, they aren't busy.
It took me nine trips to the North Island to get around to visiting. But I don't know why I waited so long – it's a spectacular spot and I added it to my list of the best things to do on Northern Vancouver Island.
I visited in late April so I saw the creek in full spring flow. But I'd love to go back in the late summer to explore and swim when the water is lower.
In this guide to Little Huson Caves you'll find:
This is a sensitive wilderness area. Learn how to Leave No Trace to keep the wilderness wild. Make sure you are prepared by bringing the 10 Essentials. Get ready for adventure with this checklist of things to do before every hike.
Hey there: Some of the links in this post are affiliate links, which means I earn a small commission at no cost to you. Thanks for your support. -Taryn
Little Huson Caves Basics
The caves are located 20 minutes from Highway 19, accessed via logging roads. A short 0.5 km trail leads to the caves. Unlike other caves on Vancouver Island, you don't need any special equipment to visit the main Cathedral River cave – boardwalks and easy paths lead right up to the edge.
Little Huson Caves are located in the traditional territory of the 'Namgis First Nation.
Geology
Little Huson Caves is a Mount Waddington Regional District Park. It protects a unique area of karst geology. Thousands of years of running water have worn down the Quatsino Limestone formation, forming caves and sinkholes.
The highlight of the area is a large cathedral cave where Atluck Creek runs underground for 60 meters. The hiking trail crosses right above the cave on a natural bridge.
As you explore the area, look for huge boulders in the creek – they were once part of the canyon walls or long-ago cave ceilings. The beautiful water-worn features of the canyon and caves are also interesting to explore.
There are also lots of smaller side caves formed by ground water. If you bring a flashlight and don't mind getting dirty, you can explore a few of these caves too.

Behind the Name
The caves get their name from Huson and Little Huson Lakes, which feed Atluck Creek (the creek that runs through the canyon). Little Huson Caves are sometimes misspelled as Little Huston Caves or Little Houston Caves. They are also known as Atluck Caves since they are on Atluck Creek.
The lakes and caves are named after Alden Westley Huson (1832-1913) who was an American prospector and surveyor who came to Canada for the Fraser Gold Rush, then settled on Vancouver Island to run a cannery at Alert Bay and a nearby quarry. The stone used in the BC legislature in Victoria came from his quarry. Huson was the first settler to visit the Little Huson Caves.
According to the BC Geographical Names Office, Atluck is an anglicization of an Indigenous name for the area, first recorded in 1862. Unfortunately, the meaning of the name is not available.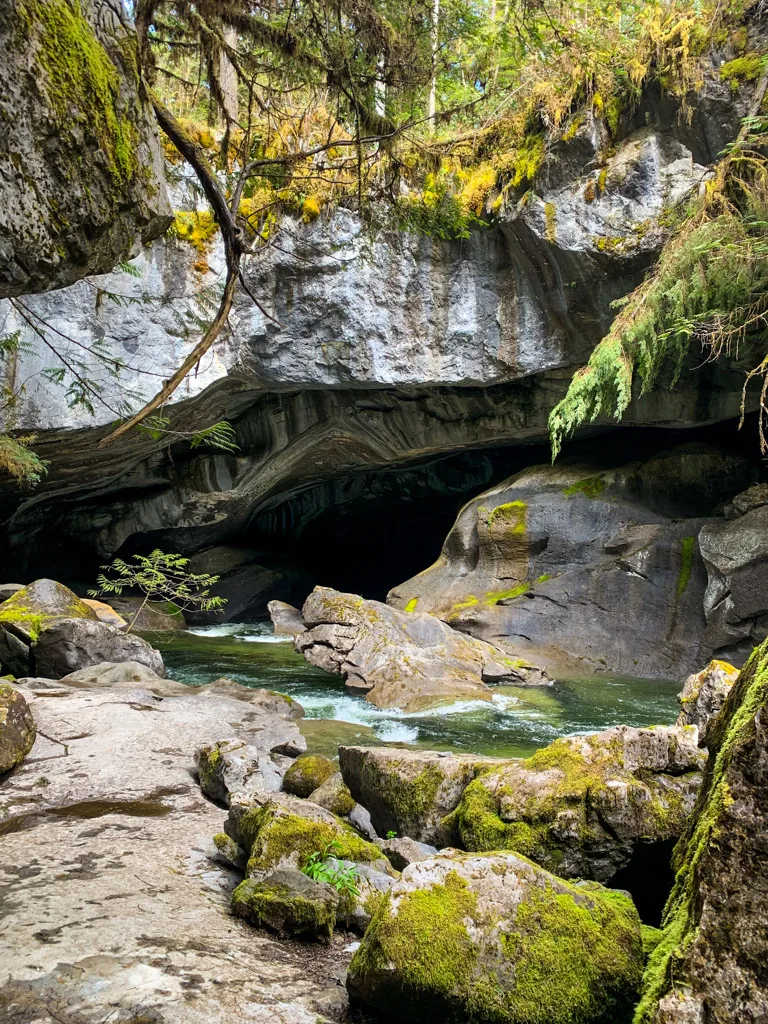 Little Huson Caves Hike Stats
Distance: 1 km round-trip
Duration: 30 minutes
Season: Accessible year-round. Go in late summer if you want to explore the inside of the cave or swim.
Elevation Gain: 20 meters elevation gain
Difficulty: Easy
Little Huson Caves Map
The Little Huson Caves area is small and easy to navigate so you don't need a complicated map. There is a large map on the info sign at the trailhead. I've also included a map of the Little Huson Caves here.
How to Get to Little Huson Caves
Little Huson Caves are a 20-minute drive from Highway 19. However, the entire route is on gravel logging roads. The last few kilometres are narrower and bumpy but passable for 2WD vehicles.
The route has signs at major intersections but to make sure you stay on track, I recommend using the Gaia GPS app. It shows all of the logging roads as well as the trail and works in areas without cell service. If you prefer a paper map, I use the Vancouver Island Backroad Mapbook.
Psst! Want to save 20% off a premium Gaia GPS annual membership, which includes the maps I use on my trips? Use this link.
Here are my step-by-step directions for driving to Little Huson Caves. You can also use Google maps directions but be warned that there is no cell service in this area.
Take the Zeballos Road turn-off from Highway 19. (If you are coming from the south, it is located on your left about 21 km past Woss. If you are coming from the north, look for the turn-off on your right about 39 km south of the junction with the road to Telegraph Cove.)
Follow Zeballos Road for 2.5 km across a bridge over the Nimpish River
At a fork, go right to stay on Zeballos Road for 0.5 km.
At the next fork, take the downhill road to the right. This is Atluck Forest Service Road.
About 2.5 km later, go left at a 4-way intersection to stay on Atluck FSR. (Continuing straight will take you to the Atluck Lake Recreation Site which has a beach and camping.)
Stay on Atluck FSR for 1.8 km.
At a fork, go left to stay on Atluck. (Right is the Tlakwa Main FSR.)
About 300 m later, turn right onto HU1000 Branch Road. This road is narrower and bumpier.
Follow HU1000 for 2.3 km as it travels through a regenerating clearcut, then into an older second-growth forest.
Arrive at the parking area and trailhead about 10 km from the Highway. Park on the right by the signboard so you don't block the road.
Little Huson Caves Hiking Directions
Find the trailhead in between the info sign and outhouse. The trail heads steadily downhill, then curves around to the right. You may spot some faint trails heading off to the left, but ignore them for now.
Follow the trail as it travels through the forest past second-growth cedar and fir trees with lots of huckleberry bushes, salal, ferns and moss. As you approach a rockier area, a spur-trail curves away to the right. Follow this trail down some stairs and across some slippery roots and rocks to a viewing platform.
You have arrived at your first view of the Cathedral River Cave. Altuck Creek comes rushing out of the cave and flows past the platform as it heads downstream to Atluck Lake. The platform is on a steep outcrop and doesn't have the best view. Stay behind the railings for safety.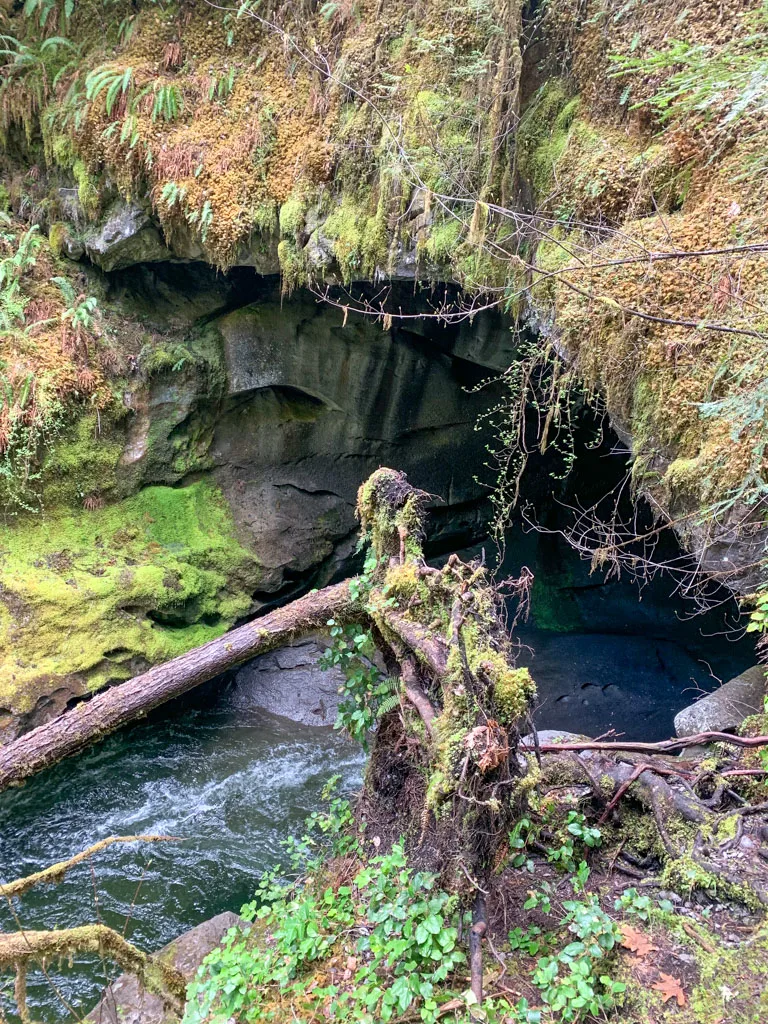 Head back up the stairs to the main trail and turn right. Follow another set of stairs downhill as the trail curls around to the left. Descend to river level on a few concrete steps to see the other side of the Cathedral River Cave. This side is much more spectacular as Atluck Creek swirls around in its canyon and then rushes into the cave.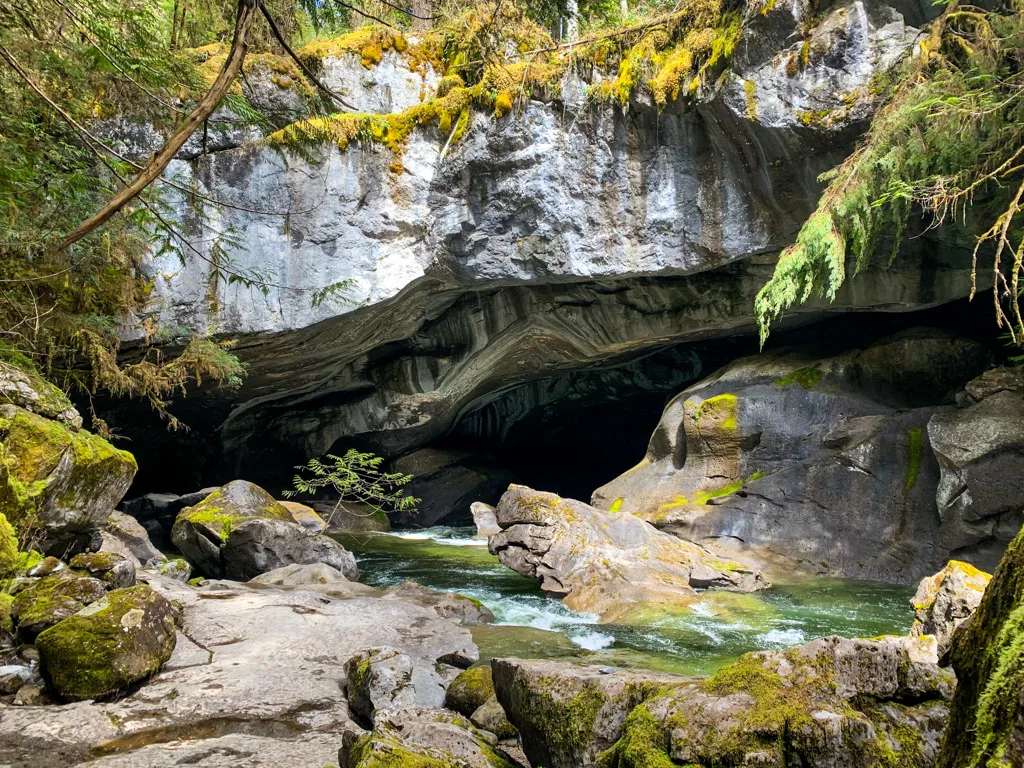 Depending on the water level, you may be able to walk into the cave and see it up close. In the summer months when levels are low and the water is not as cold, this is a popular spot to go for a swim. Be sure to clamber around on the rocks as there are many vantage points and water-worn rock formations to explore.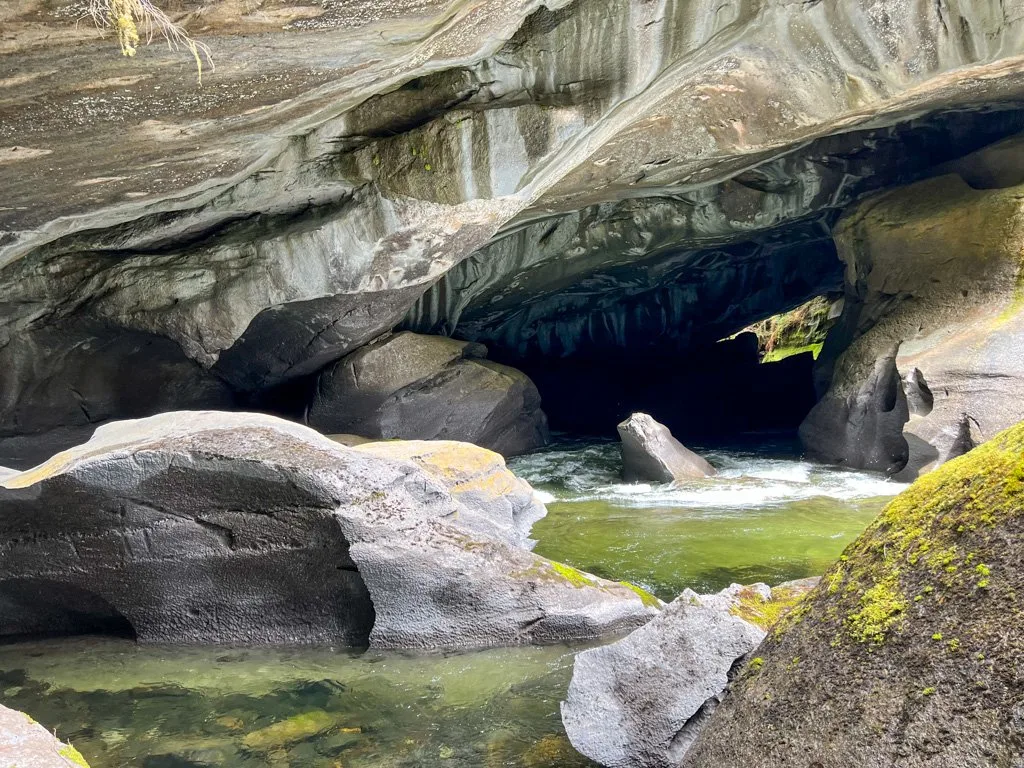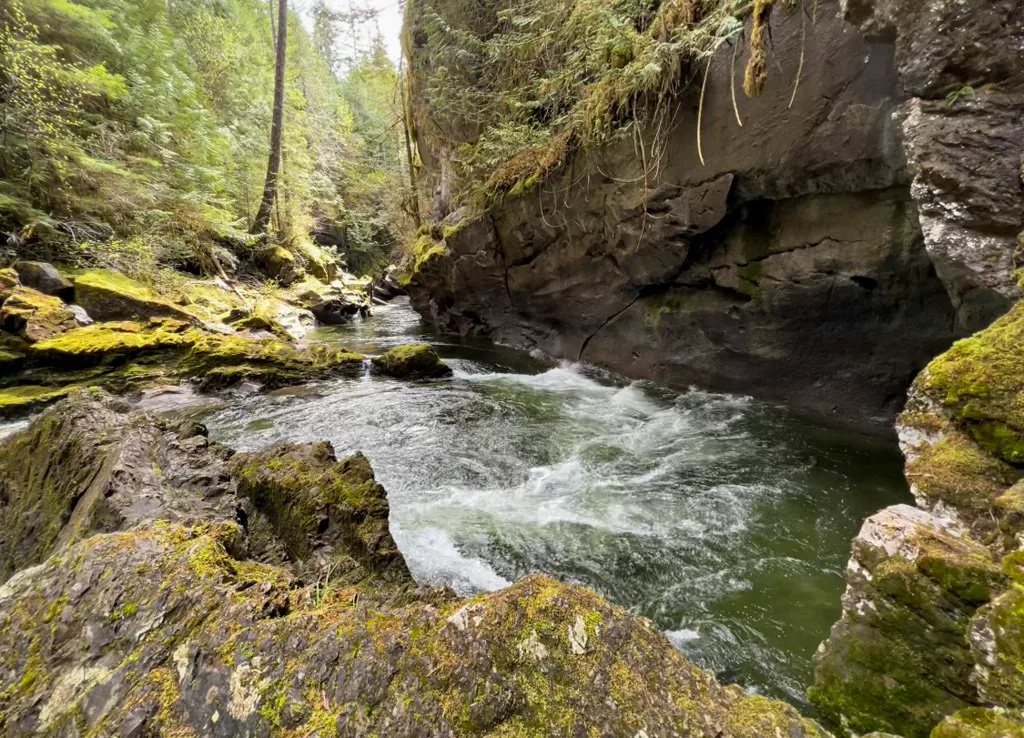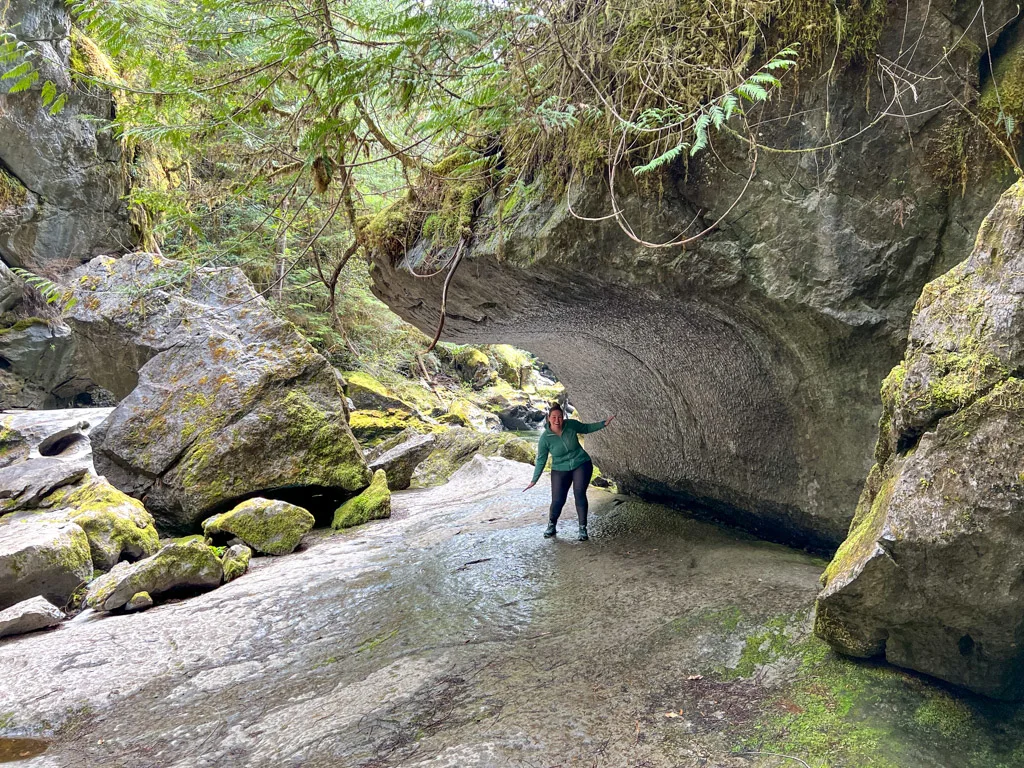 If you want to go underground, there is a small cave set into the stream bank. Bring a flashlight if you go inside and be prepared to get dirty. The cave floor slopes steeply so be careful when climbing down. Please pack out any garbage – don't leave it in the cave. There are other small caves in the park, but this one is the easiest to access.
When you've finished exploring, retrace your steps back to the trailhead.
If you want to explore a little bit more, you can follow the faint trails branching off to the right towards the canyon rim. Be careful as some are very close to the edge. These trails lead to a rock arch that collapsed in 1997.
The trails are officially closed, but you can still follow them to get views of the steep-sided canyon, choked with logs. At low water you can scramble in the creek bed around the rocks from the collapsed arch. You can also go inside some other small caves.
So that's everything you need to know to visit Little Huson Caves on Northern Vancouver Island. Do you have questions about this incredible cave? Ask them in the comments – I'm happy to help.
MORE Northern Vancouver Island guides:
Southern Vancouver Island guides: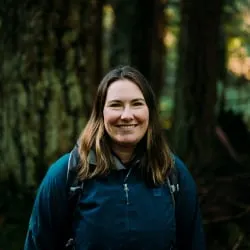 Latest posts by Taryn Eyton
(see all)