Prince Rupert is a small city in Northern BC known as the City of Rainbows. It's a gorgeous spot with great scenery, museums, seafood, and Indigenous culture. There are so many things to do in Prince Rupert.
I spent a few days in the city on a recent trip to the northwest coast of BC. I wish I had been able to stay longer because we didn't have time to visit the grizzly bear sanctuary (more on that below!) or eat at more amazing seafood restaurants.
Many people breeze through Prince Rupert, but I think it's worth spending a bit more time here. I put together a big guide to Prince Rupert for you.
This guide to things to do in Prince Rupert includes:
This is a sensitive wilderness area. Learn how to Leave No Trace to keep the wilderness wild. Make sure you are prepared by bringing the 10 Essentials. Get ready for adventure with this checklist of things to do before every hike.
Hey there: Thanks so much to Northern BC Tourism for hosting me on this trip. All opinions in this post are my own. Some of the links in this post are affiliate links, which means I earn a small commission at no cost to you. Thanks for supporting my website! -Taryn
Prince Rupert Basics
Why visit Prince Rupert? Is Prince Rupert worth visiting?
Prince Rupert is the jumping-off point for the famous Inside Passage ferry and trips to Haida Gwaii. It's also a popular port on many Alaska cruise itineraries. But Prince Rupert is a worthy destination on its own.
While the city isn't as prosperous as it used to be, there are still lots of things to recommend it. It has a great Indigenous-focused museum, amazing seafood, and beautiful coast and rainforest scenery. Prince Rupert is also a great place to go whale watching, fishing, or grizzly bear watching. And unlike southern BC, it's much less busy.
How to get to Prince Rupert
Prince Rupert is located on British Columbia's northwest coast. It's a fairly remote place – the closest towns is Terrace 1.5 hours drive away. You can get to Prince Rupert by plane, car, or ferry.
You can fly to Prince Rupert from Vancouver with Air Canada. The flight takes about three hours. Fun Fact: Prince Rupert's airport is actually on an island (Digby Island) so after you deplane, you will need to take a bus and then a ferry to Prince Rupert. It takes about 20 minutes to get from the airport to the city, and it's free.
You can also drive to Prince Rupert. The 1500 km (932 mile) trip takes about 17 hours non-stop from Vancouver, so it's best to split it up over a few days. I've driven the route twice and it's gorgeous. Be sure to stop in Prince George, Smithers, and Terrace along the way.
But hands down my favourite way to get to Prince Rupert is to take the Inside Passage ferry. The scenic cruise is part of the provincial ferry system. It's a 16-hour trip up the coast from Port Hardy to Prince Rupert with almost guaranteed whale sightings – I lost count of how many we saw. Read my Inside Passage ferry guide for more info.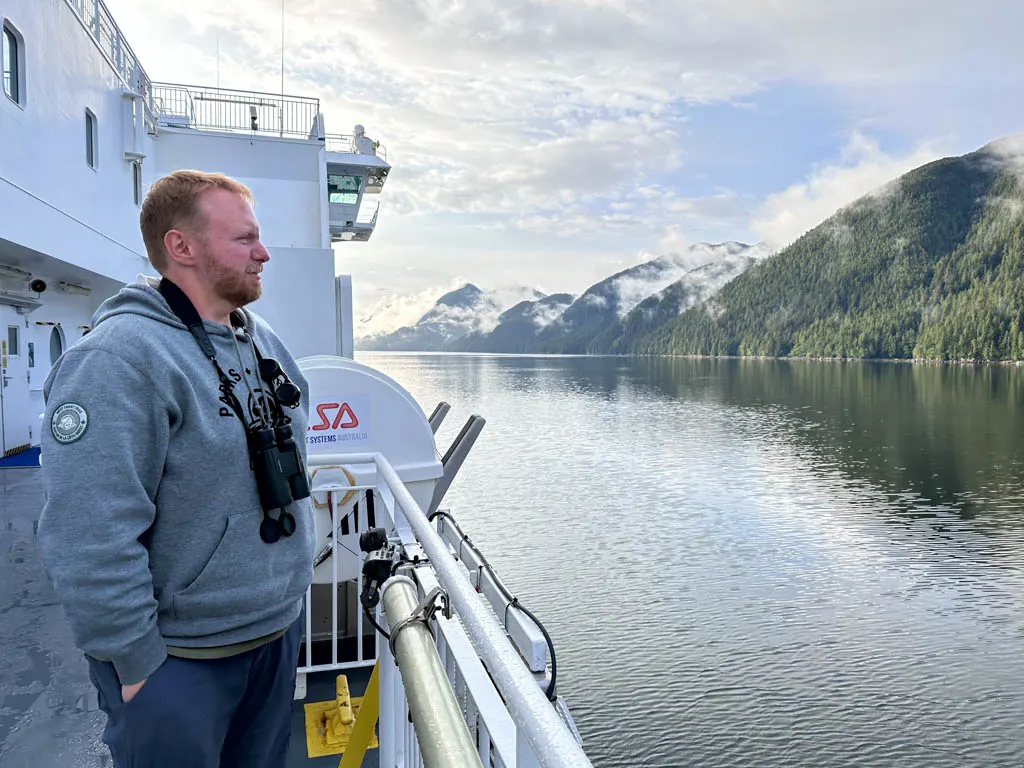 How Long Should You Spend in Prince Rupert?
Many people try to squeeze a visit to Prince Rupert into a single day. And you can definitely see the main sights in one long day. However, if you want to go fishing or on a wildlife tour, budget at least two or three days.
Best Time to Go to Prince Rupert
The best time to go to Prince Rupert is June, July, and August since the weather is nicest and all the seasonal businesses will be open including whale watching. May and September are a bit quieter, but can be nice too. Winters in Prince Rupert are very wet, but it is rarely below freezing.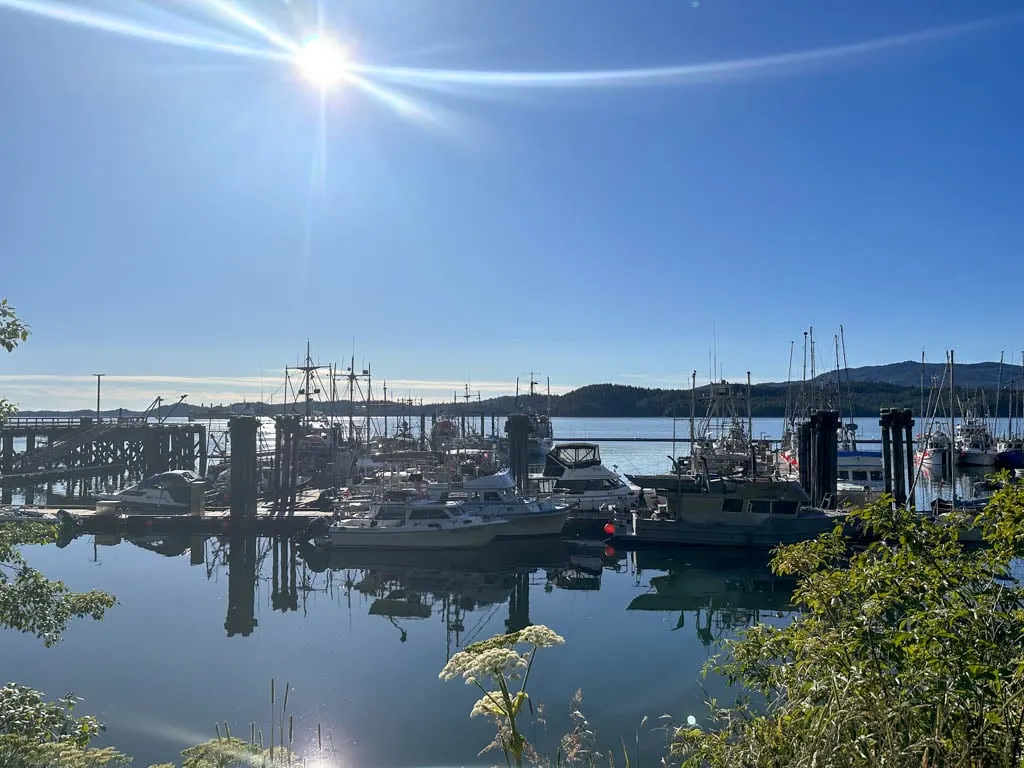 Weather in Prince Rupert
Prince Rupert is known as one of the rainiest cities in Canada with an average of 166 rainy days each year. However, most of that rain falls in the spring, fall, and winter. Summer has much less rain and a fair amount of sunny days.
But you should expect rain on any day of the year in Prince Rupert. It's also known as the city of rainbows, and you can't get a rainbow without rain!
Since it is fairly far north, Prince Rupert is never too hot. Summer temperatures average between 9-18°C (48-64°F).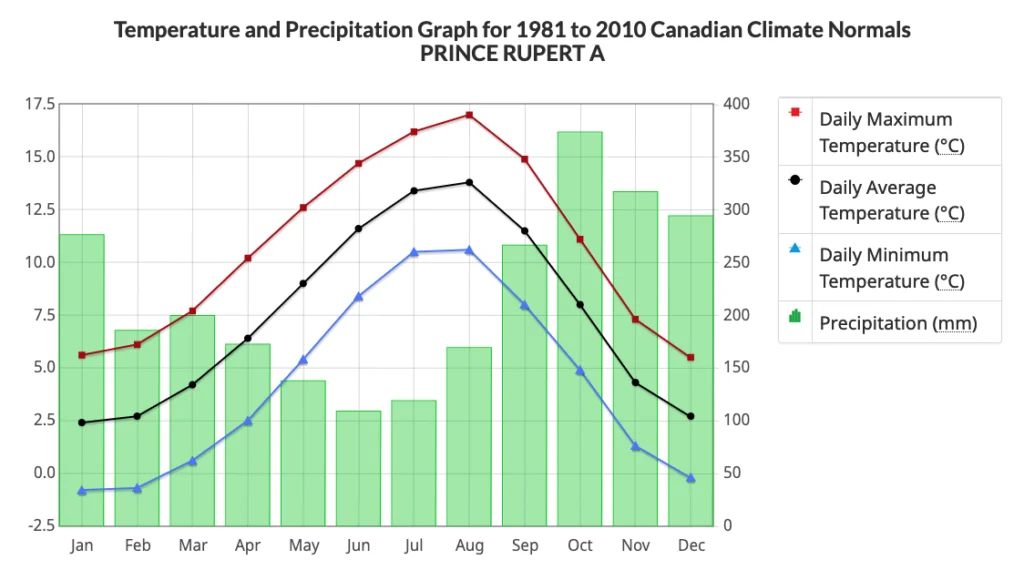 Getting Around in Prince Rupert
Prince Rupert is a small city and the downtown and Cow Bay area are very walkable so you won't need a car. If you want to go further afield, you can take a taxi to the Butze Rapids trailhead or all the way to the North Pacific Cannery. But if you do have a car with you, there is a plenty of free parking.
What's with the name? Why is it Called Prince Rupert?
Prince Rupert was built as a planned community in 1906 to serve as the western terminus of the Grand Truck Pacific Railway. The railway held a naming contest and the winner was Prince Rupert to honour Rupert of the Rhine, who founded the Hudson's Bay Company in 1670
Known as HBC or "The Bay" today, the Hudson's Bay Company began as a fur-trading company and was responsible for most of the first colonial settlements across Canada. These settlements often had negative cultural and health impacts on Indigenous people. The Hudson Bay Company is the oldest company in Canada – now it is a chain of department stores.
Like many nobles of his time, Rupert of the Rhine was also engaged in the slave trade in West Africa. Given Rupert's association with the slave trade and the troubled history of colonization in Canada, as well as the fact that he never visited Canada, perhaps it is time for the city of Prince Rupert to get a new name?
Indigenous Context
Prince Rupert is the traditional territory of the Tsimshian Nation (also spelled Ts'msyen), who had winter villages in the Prince Rupert area. In the summer, they would migrate up the Skeena River with the spawning salmon.
When European colonists moved into the area as part of the fur trade in the 1830s, many Tsimshian groups moved to be closer to the main trading post at Port Simpson (now known as Lax Kw'alaams). Like many other coastal people, their population was decimated by smallpox and other diseases in the 1880s.
Today the Tsimshian population has rebounded and there are about 8000 Tsimshian, most of whom live near Prince Rupert or in the Skeena Valley. You can learn more about their culture at the Museum of Northern British Columbia. Please respect the land and people as you travel to Prince Rupert. Remember that you are a guest on Tsimshian land.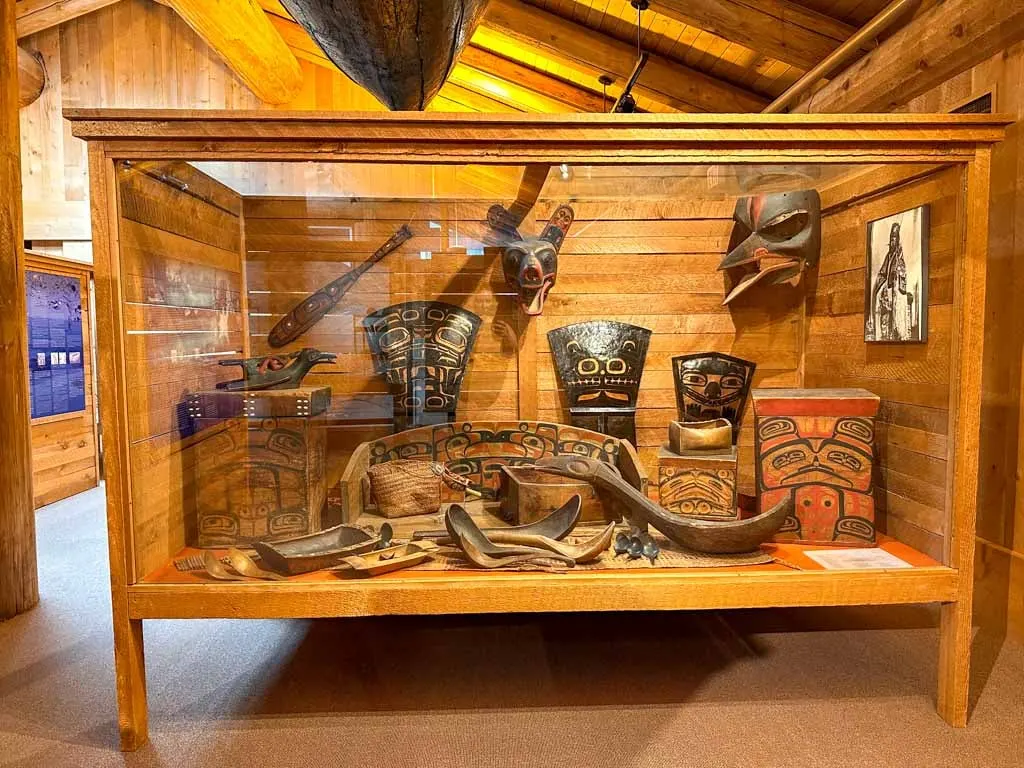 Prince Rupert Travel Pledge
To help visitors respect the beautiful nature and the Indigenous Tsimshian culture, the local tourism organization developed the Prince Rupert Travel Pledge. The six tenets of the pledge come from the Sm'algyax language of the Tsimshian (Ts'msyen) Nation.
Prince Rupert Map
To help you find your way around, I made this custom Google Map of Prince Rupert for you. It includes every single place I mention in this post.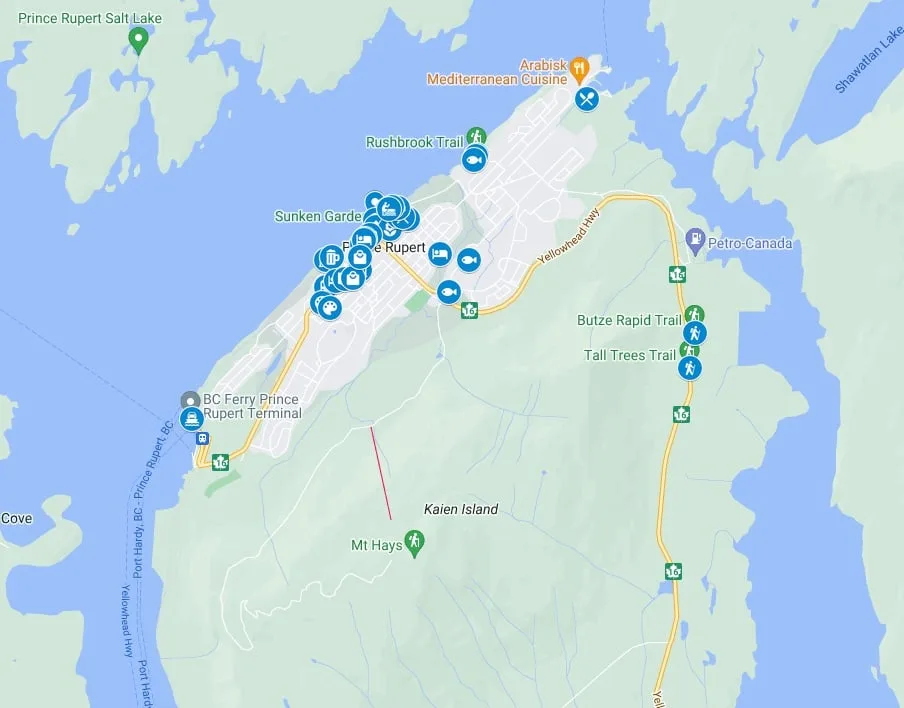 Best things to do in Prince Rupert
Explore Cow Bay
The Cow Bay area is full of historical fishing buildings that have been converted into cute shops and restaurants. You can find this waterfront district on Cow Bay Road at the east end of 1st Avenue.
It was originally called Cameron Cove but got its current name after a dairy opened in 1908. The dairy didn't last long as it was too expensive to keep importing feed for the cows, but the cow theme persisted. Today you can find cowprint painted on trash cans, bollards, and businesses.
Grab a coffee at Cowpuccino's then, have fun browsing the shops along the waterfront. I loved the cute gifts at Homework.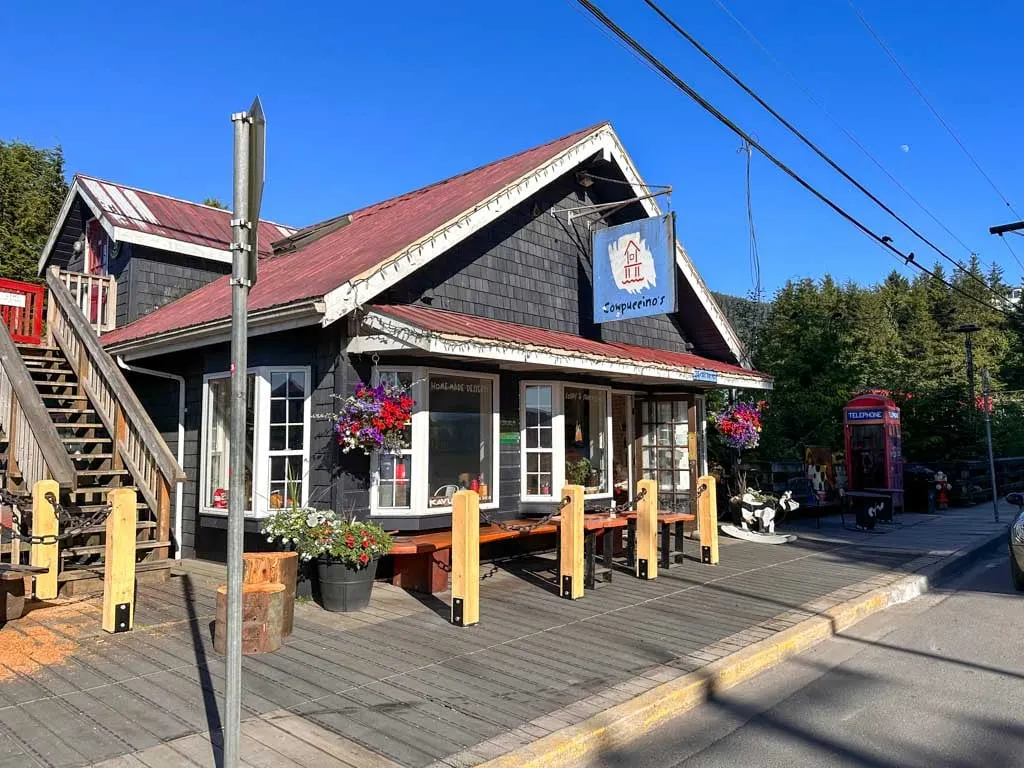 There are also lots of great restaurants in Cow Bay including the famous Fukasaku, and Smile's Seafood, the oldest restaurant in Prince Rupert. (Find more details on these in the seafood section below.)
Cow Bay is also home to the Northland Cruise Terminal and hosts dozens of cruise ships each year. Cow Bay bustles when there is a ship in port and feels a little sleepy when there isn't. Check the cruise schedule to see which ships will be in Prince Rupert during your visit.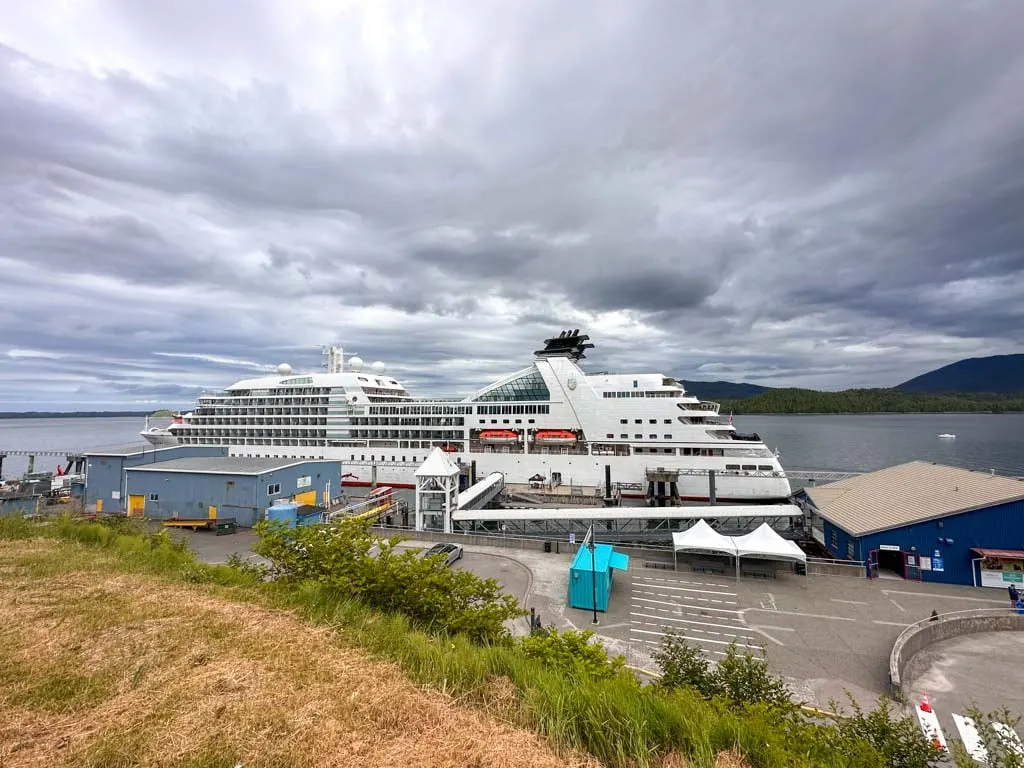 Browse the Art at the Ice House Gallery
This artists' cooperative showcases local art from British Columbia's northwest. They have lots of paintings, sculptures, clothing, crafts, jewelry and gifts. I really liked how accessible the art was here – most things were reasonably priced.
On my visit, the Ice House Gallery was located in the bright blue Prince Rupert Port Interpretive Centre building in Cow Bay. The gallery's name comes from the building's history as a fish processing plant. However, they recently announced they are moving to a new location in late 2023.
Wander through Pacific Mariner's Memorial Park and Waterfront Parks
You can find these two parks near Cow Bay in downtown Prince Rupert. They both have great views of the ocean. And you can easily walk between them using the Millennium Walkway that extends from the southwest end of Manson Way to Waterfront Park.
Pacific Mariners Memorial Park sits on the top of a rocky bluff above Cow Bay and the cruise ship terminal. It has great views of the water, which is fitting since the park commemorates mariners lost at sea with a statue and memorial wall. There is also a dinghy on display that drifted here all the way from Japan.
Nearby Waterfront Park includes the Kwinitsa Railway Station Museum and the Wheelhouse Brewing Company, which is inside the former train station. There are beautiful ocean views from here too, along with a huge whale statue.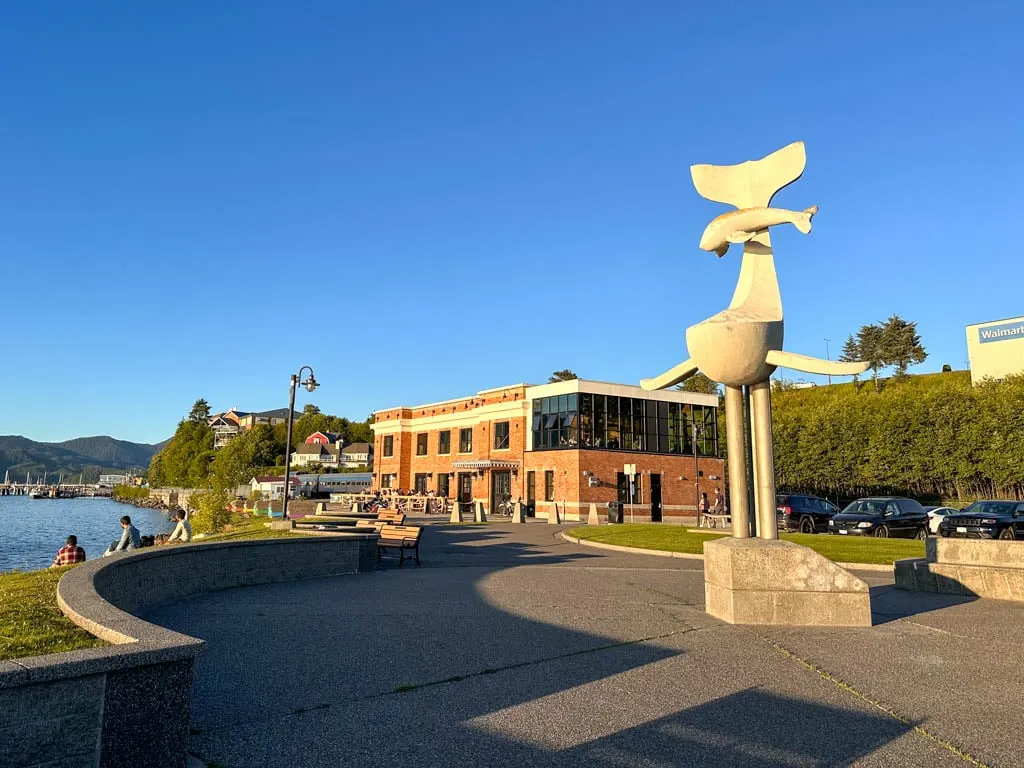 Enjoy the Flowers at the Sunken Gardens
If you don't know where to look, you will miss the Sunken Gardens. They are hidden away on Market Place behind the courthouse. You can also access them from hidden tunnels on 1st Avenue and 3rd Avenue.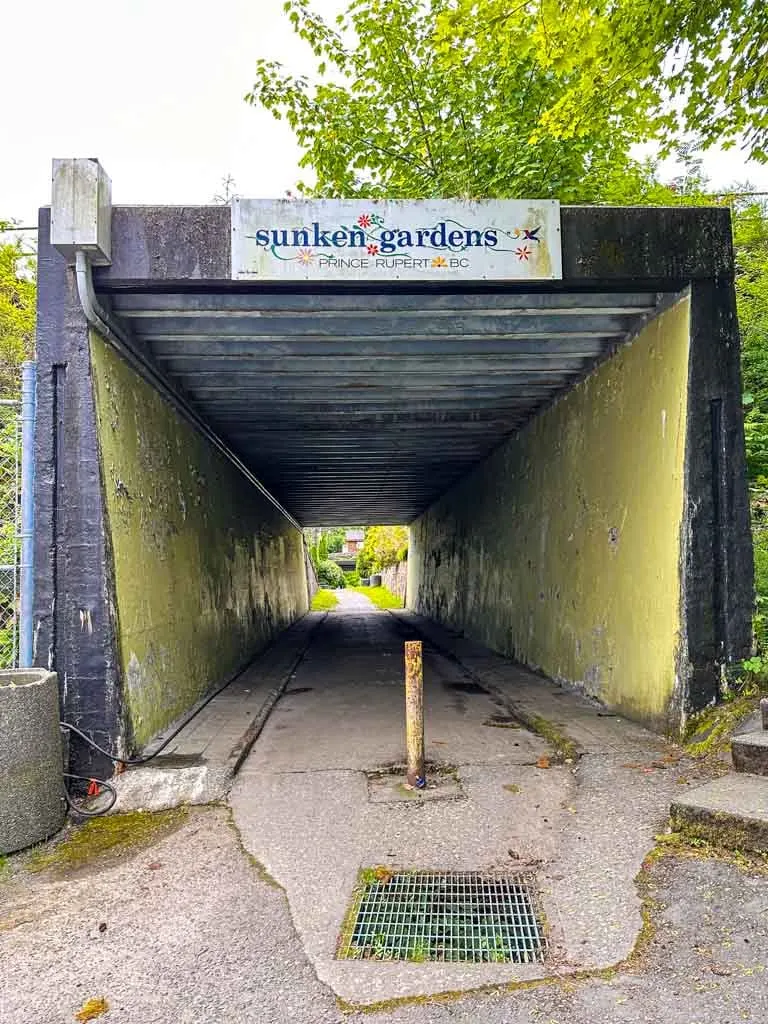 The gardens sit below street level (hence the "sunken" part of the name) in an old WWII bunker. Volunteers from the Prince Rupert Garden Club have maintained the gardens for decades. With different people volunteering, the garden changes from season to season.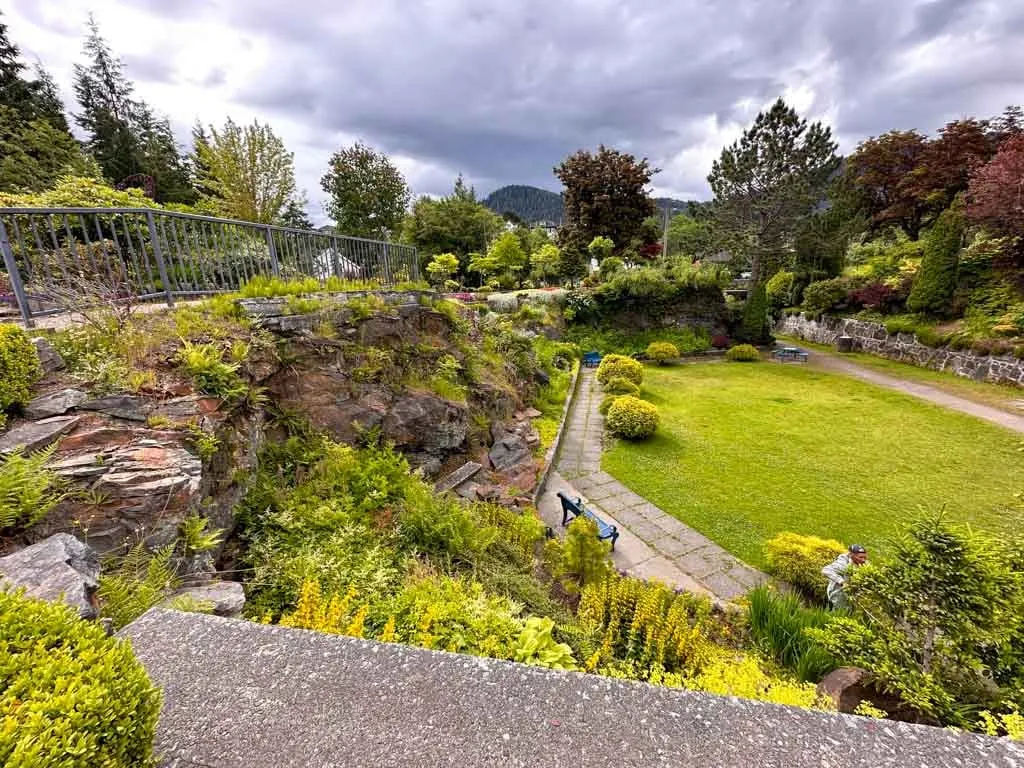 Learn about Indigenous Culture and History at the Museum of Northern BC
The exterior of the Museum of Northern BC echoes the design of an Indigenous longhouse. Inside, the galleries include exhibits about the history and culture of the Northwest Coast Indigenous people and settlers. I really enjoyed the Hall of Nations section, which highlights history and contemporary art from the Tsimshian, Haida, Kwawakawakw and Tlingit Nations.
The museum is a must-see for any visitor to Prince Rupert. Allow a few hours to take in the exhibits. It's an ideal rainy-day activity.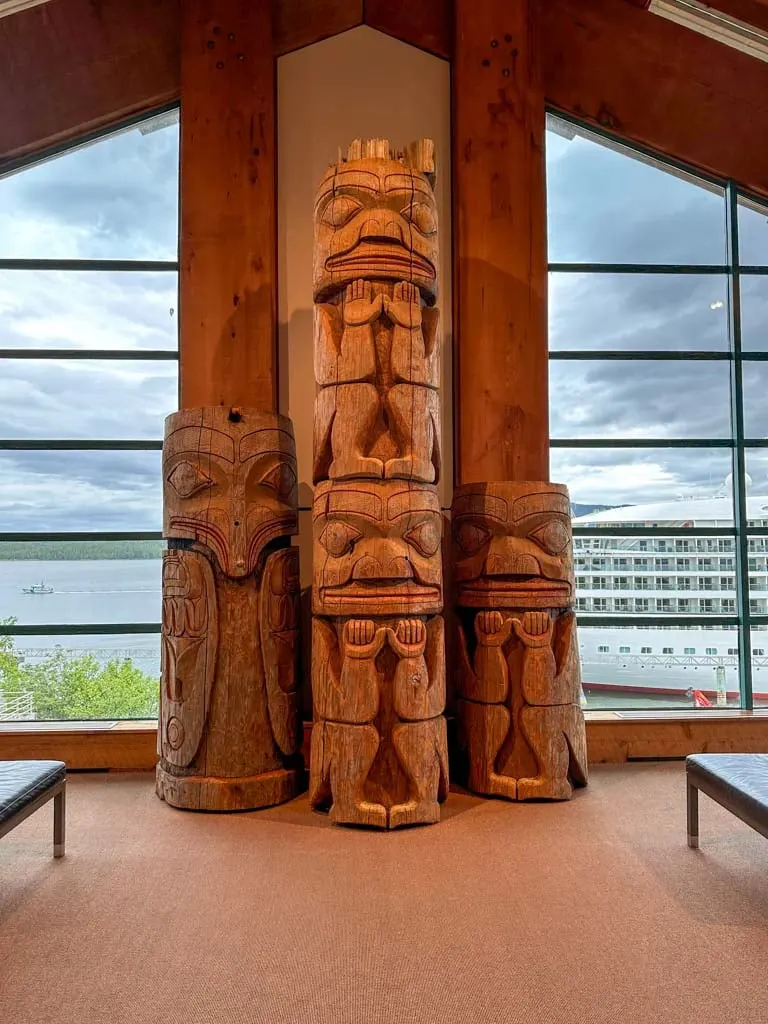 Dig into History at Quirky Museums
Prince Rupert has several other museums besides the Museum of Northern BC. Find the Kwinitsa Railway Museum at Waterfront Park. This former railway station has exhibits that explain the history of the railway in Canada's north. Parts of the station are preserved as the stationmaster's quarters and offices.
If you like old fire trucks and equipment, visit the Prince Rupert Fire and BC Police Museum on 1st Avenue next to the fire hall. They have restored fire trucks and fire fighting equipment along with all kinds of police and fire badges and uniforms.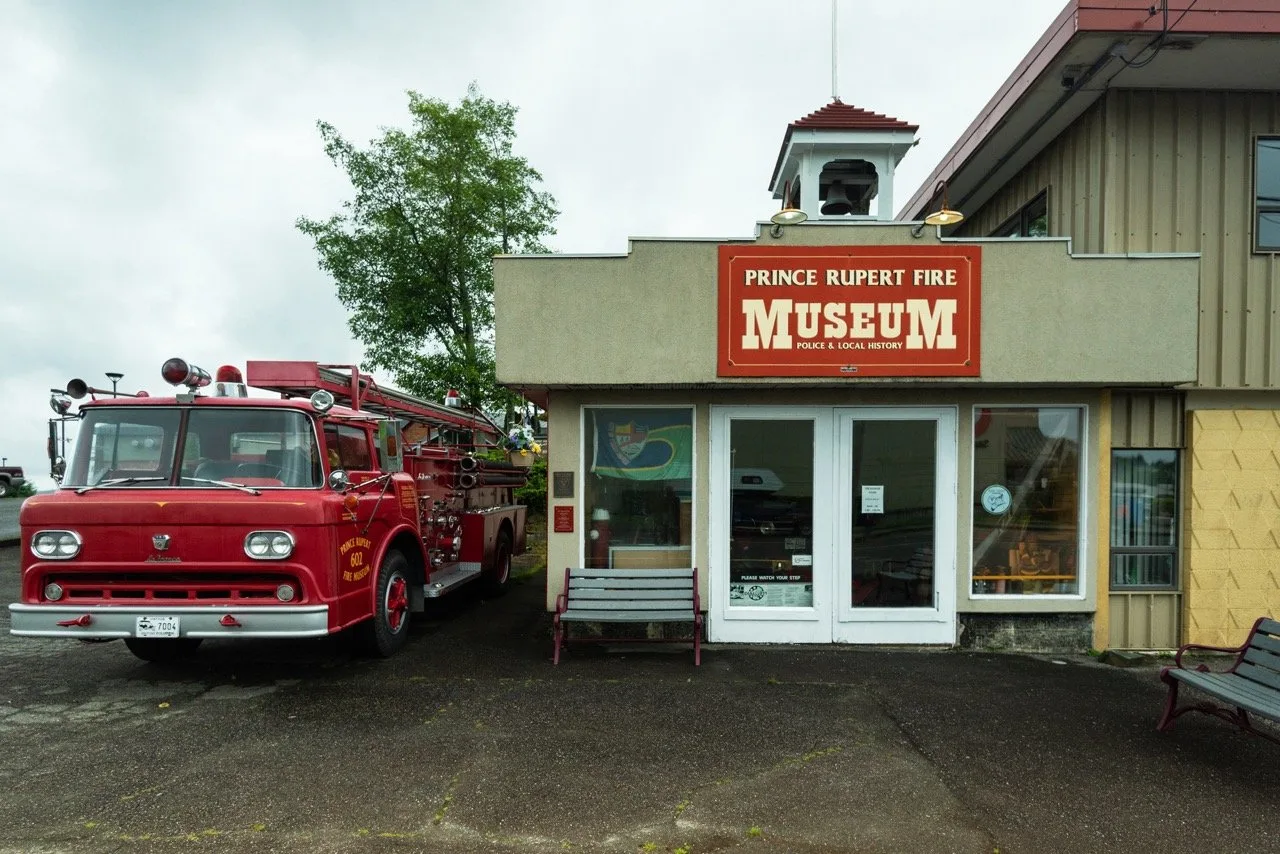 To learn about local history, stop in to the Prince Rupert City and Regional Archives on 3rd Avenue. They have a huge collection of historical photographs and documents. You can also search through their archives online.
Stroll Along the Rushbrook Trail
Taking an evening walk along the Rushbrook Trail was one of my favourite parts of my visit to Prince Rupert. The path follows the water's edge at the base of a bluff and has great views. The route is a former railway line that reopened as a walking trail in 2018. The flat trail has several bridges that take you out over the water.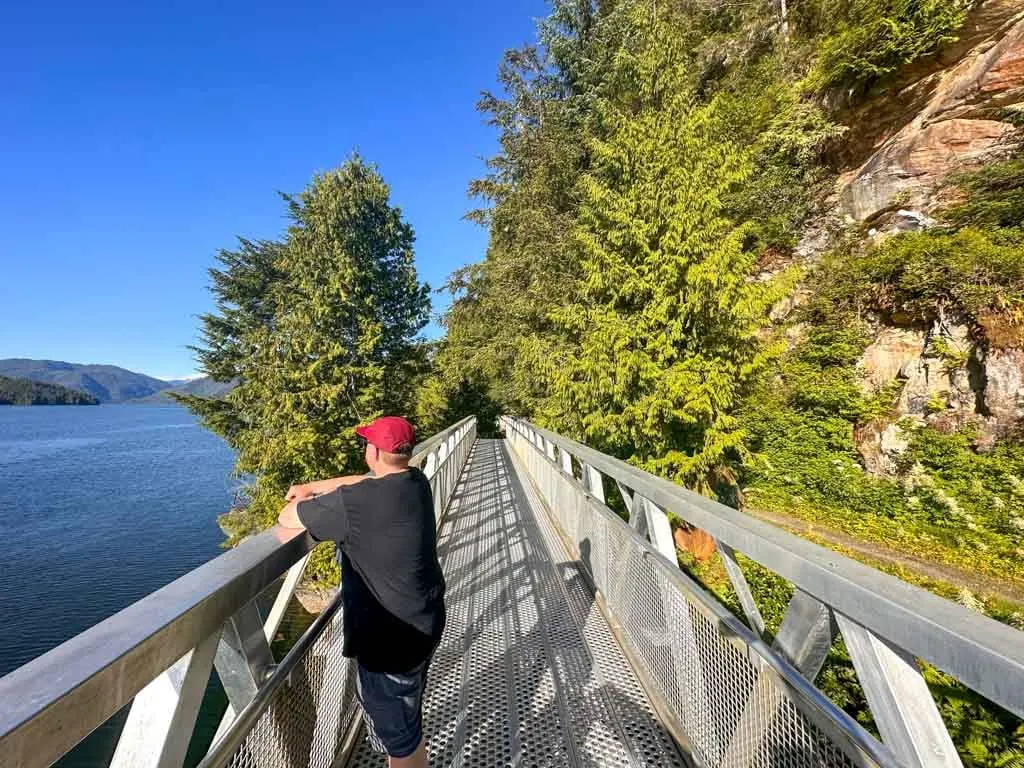 The walk ends at Seal Cove where you can grab a coffee and treat at Yaga Cafe and Garden Co before walking back. The Yaga Cafe is owned by an Indigenous non-profit business.
The Rushbrook Trail is a 2.4-kilometre-long (1.5 mile) round-trip walk that takes 45 minutes to an hour. You can walk there from Cow Bay on the pedestrian Rotary path that parallels George Hills Way. This will add 1 km (0.6 miles) each way to your walk.
Ride the Olde Time Trolley
Hop on board a vintage trolley for a guided tour with the Olde Time Trolley Company. The tour explains the city's history as it cruises past Prince Rupert's famous and lesser-known landmarks. Unfortunately, the trolley wasn't open on my visit but it looks super fun.
Check out the Murals
There are about a dozen huge murals in Prince Rupert. The huge art pieces feature local wildlife including eagles, salmon, otters, and lots of whales. Artist Jeff King of Nanaimo painted most of them between 2011 and 2014. Keep an eye out for them as you explore the city. Some of the most obvious ones are on the Crest Hotel, Rona Hardware Store, Moby Dick Inn, and Pacific Inn.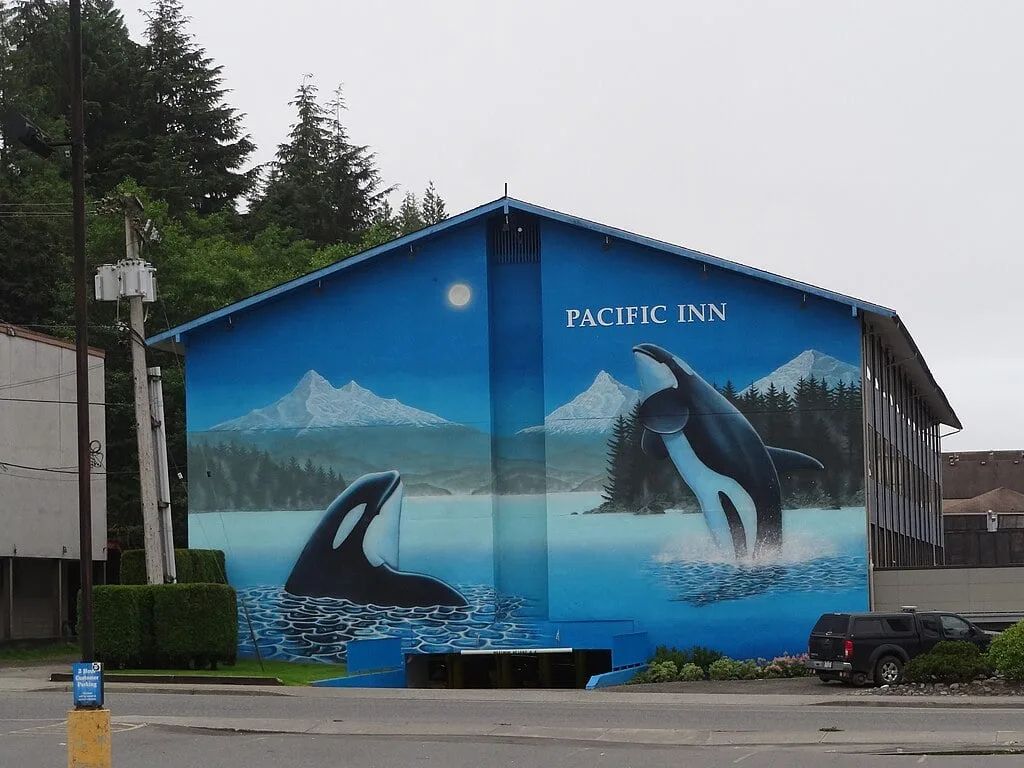 Eat Some Seafood
Prince Rupert is famous for fishing, so it should be no surprise that it has tons of good seafood restaurants. Here are a few you should check out:
Smile's Seafood Cafe: Opened in 1922, this Cow Bay restaurant is the oldest eatery in Prince Rupert. Their fish and chips are famously good. The waterfront restaurant is built on pilings right over the ocean.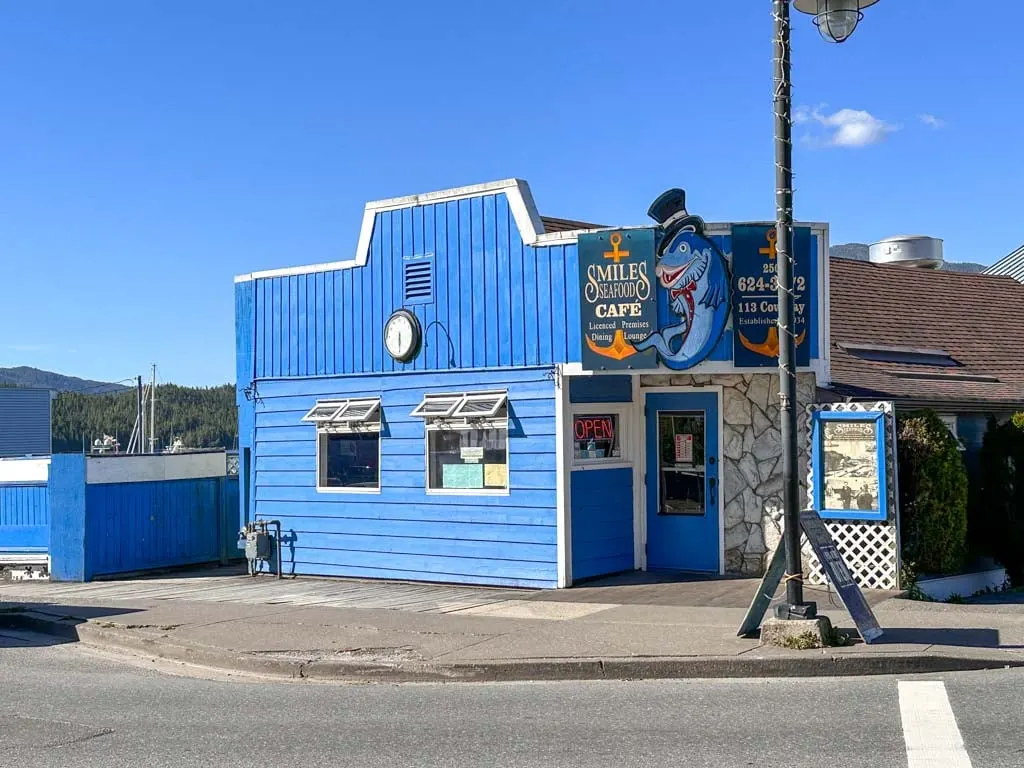 Fukasaku: This high-end sushi spot is dedicated to sustainability and was the first restaurant in BC to be certified as Ocean Wise. It's a small restaurant in Cow Bay with limited hours, so be sure to make reservations well in advance.
Opa Sushi: If you can't get a table at Fukasaku (or it's out of your budget) head to nearby Opa Sushi. We loved the sushi there. Plus their patio feels a bit like a treehouse.
Dolly's Fish Market: Also located in Cow Bay, Dolly's has a restaurant as well as a fish market. You can't go wrong with their crab cakes, chowder, or fish and chips.
Bob's On the Rocks: Find this simple fish and chips shack at Rushbrook Brook Harbour at the end of George Hills Way. They are open from May to September and on nice days, there's usually a line-up for their fish and chips and soft serve ice cream.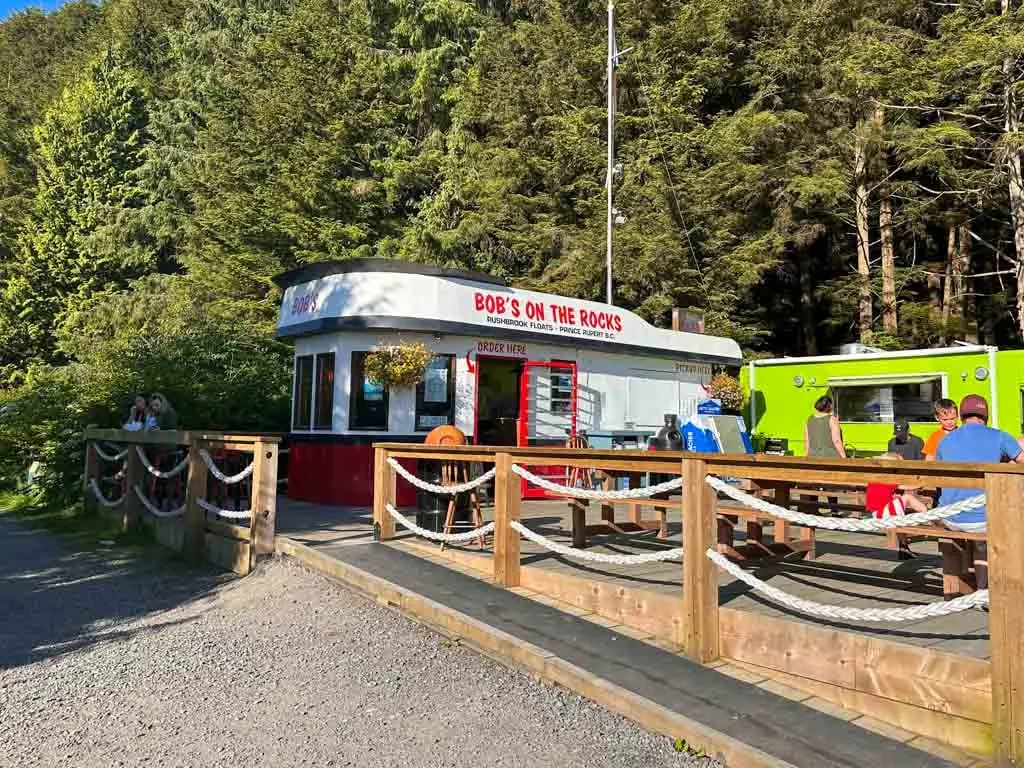 Drink Craft Beer
When I visited Prince Rupert, Wheelhouse Brewing had just moved into its new location in the former train station at Waterfront Park. The huge brick building has a fun old-school vibe with seating downstairs, in the new glass atrium upstairs, and outside on the sunny patio.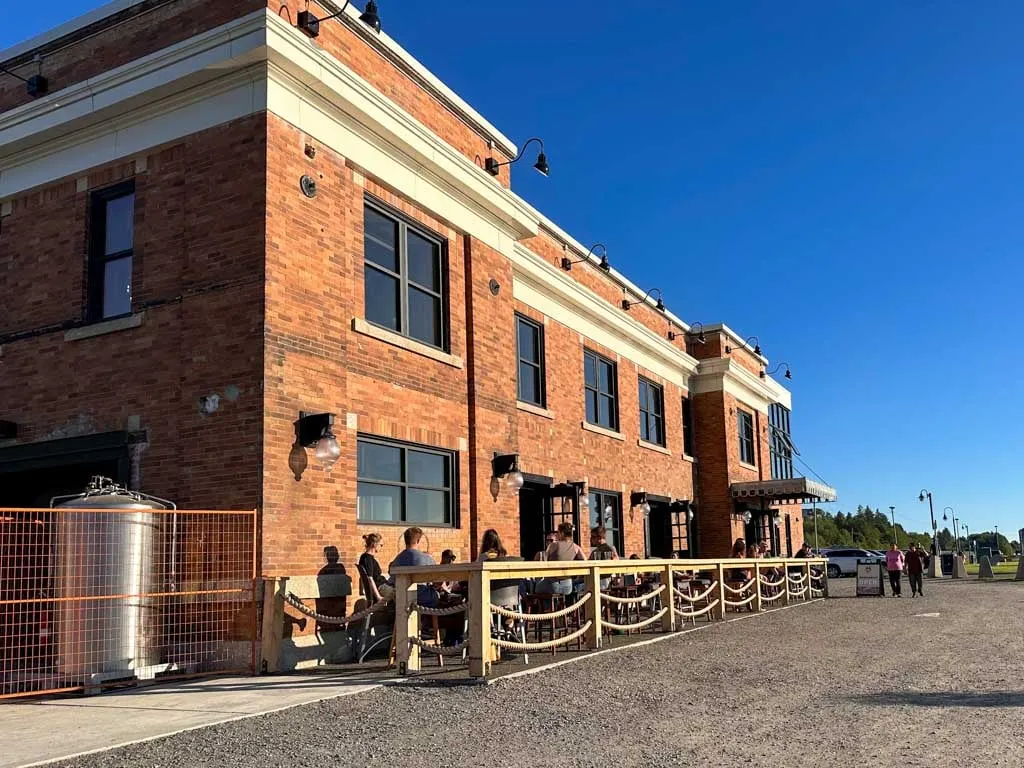 They make beer in a variety of styles from IPAs to sours to classics like pale ale. With seasonal taps and small-batch brews in the rotation, you'll always find something new to try. They also have a small food menu with wood fired-pizzas and appetizers.
If you want to try beer from other breweries around BC, head to Breaker's Pub. They have been serving beer and pub food (including great fish and chips) from the former Fisherman's Co-op building since 1985. You can enjoy views of the harbour while sipping bears from Terrace's Sherwood Mountain Brewhouse or Vancouver's Stanley Park Brewing.
Browse the Shops on 2nd and 3rd Avenue
Get out of touristy Cow Bay and browse the Prince Rupert that locals know. There aren't as many businesses as there were in the town's heyday, but you can still find some gems.
Stop by Eddie's News on 2nd Ave to browse through the books and the huge selection of magazines. They have ice cream too! Or see what treasures you can uncover at The Argosy on 3rd Avenue. They have tons of vintage and antique furniture, home goods, and collectibles. And I was pleasantly surprised to discover Good Times Games, a fully-stocked games store on 2nd Ave. We bought a new board game that I'm excited to play.
Visit the Khutzeymateen Grizzly Bear Sanctuary.
Prince Rupert is the closest town to the famous Khutzeymateen Grizzly Bear Sanctuary. The sanctuary was protected as Khutzeymateen Provincial Park in 1994 at the urging of Prince Philip (the husband of Queen Elizabeth II) along with conservationists and the Lax-kw'alaams Nation to protect unique grizzly bear habitat and old-growth forests.
The only way to visit the sanctuary is by boat on a guided tour. Several companies offer day tours from Prince Rupert to see the grizzly bears. A friend of mine has made several trips to the Khutzeymateen Wilderness Lodge and it sounds amazing. It's a floating lodge right in the sanctuary that includes three days of guided bear-watching.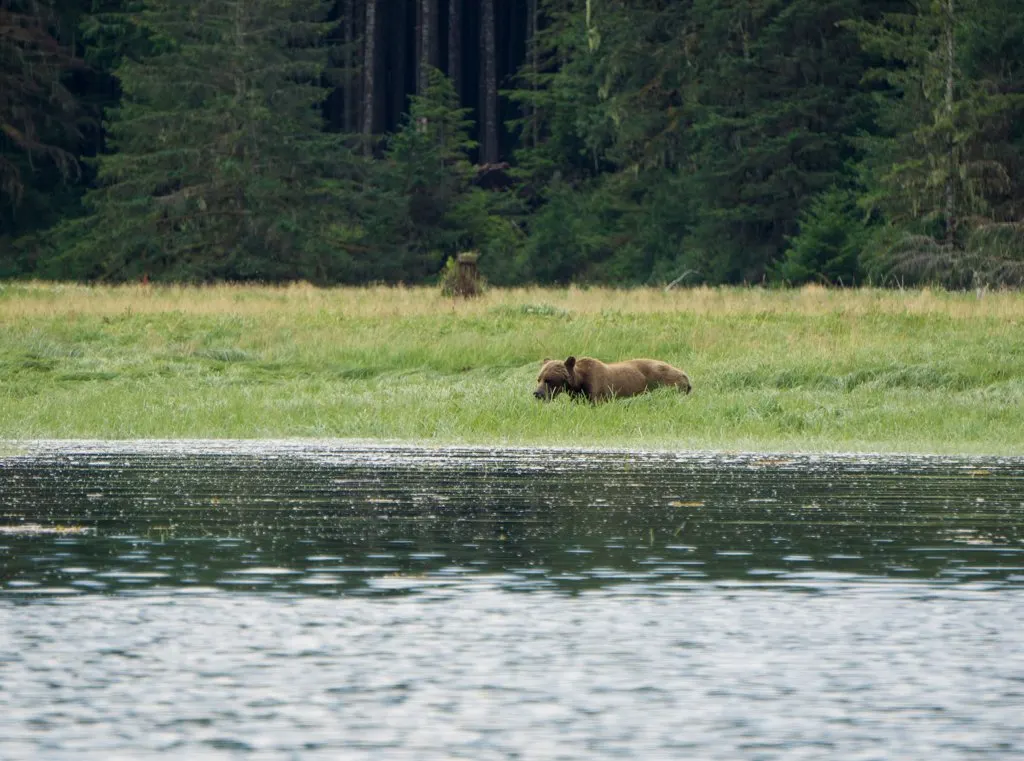 Go Whale Watching
Prince Rupert is a great place to go whale watching since whales migrate through its waters between July and September on their journey between their summer feeding grounds in Alaska and their wintering grounds further south. Nearby Chatham Sound is the best place to see whales including orcas and humpbacks. There are several whale-watching companies in town. I didn't have time to go on my trip, but it's on my list for next time.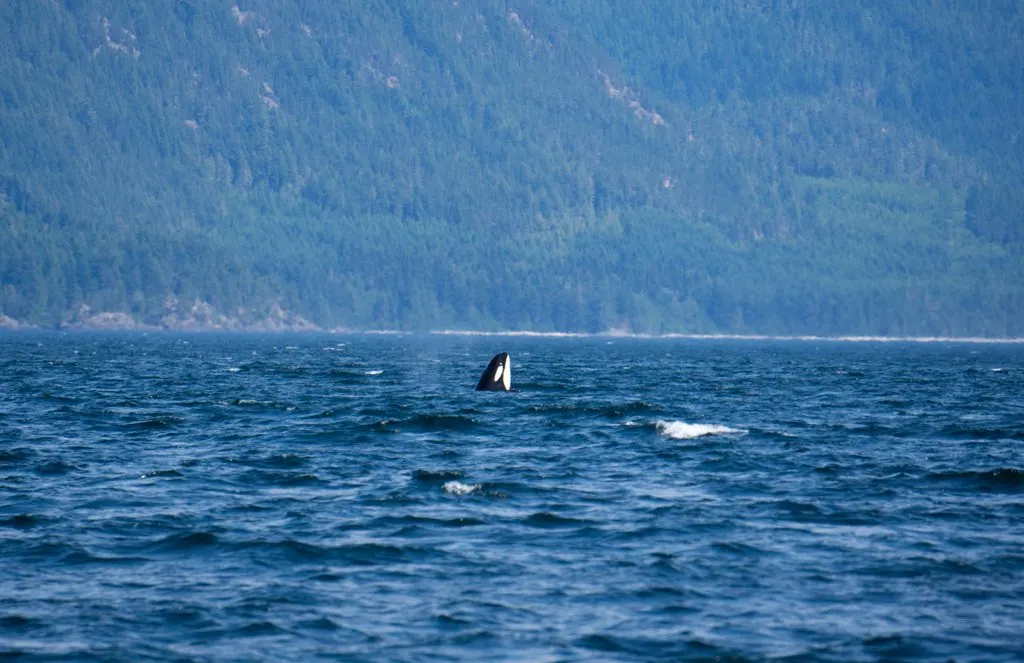 Take a Fishing Charter
Anglers come from all over the world to fish in the waters near Prince Rupert. You can catch salmon, halibut, and cod. Charter boats can take you out for a single day or you can book a multi-day live-aboard fishing tour.
Go Kayaking
I really wanted to go kayaking while I was in Prince Rupert, but I just didn't have the time. From the ferry, I could see all kinds of little islands and inlets that looked like they would be really fun to explore. Skeena Kayaking offers kayak rentals and tours from their office in Cow Bay and their Kloiya Bay location 15 minutes outside of town.
Hike to Butze Rapids
This easy hike leads from a parking lot by the highway down to the coast at Butze Rapids. Similar to Skookumchuck Narrows Rapids on BC's Sunshine Coast, the rapids form when the tide pushes water around Kaien Island. The best time to visit is during the highest tides of the month. Check the Prince Rupert Tide Table before you go.
The hike is 5.4 km (3.6 mi) round-trip. You descend through the forest to a viewing platform at the rapids, and then loop back along the coastline and then up the hill again. Allow about 1.5 to 2 hours for the hike.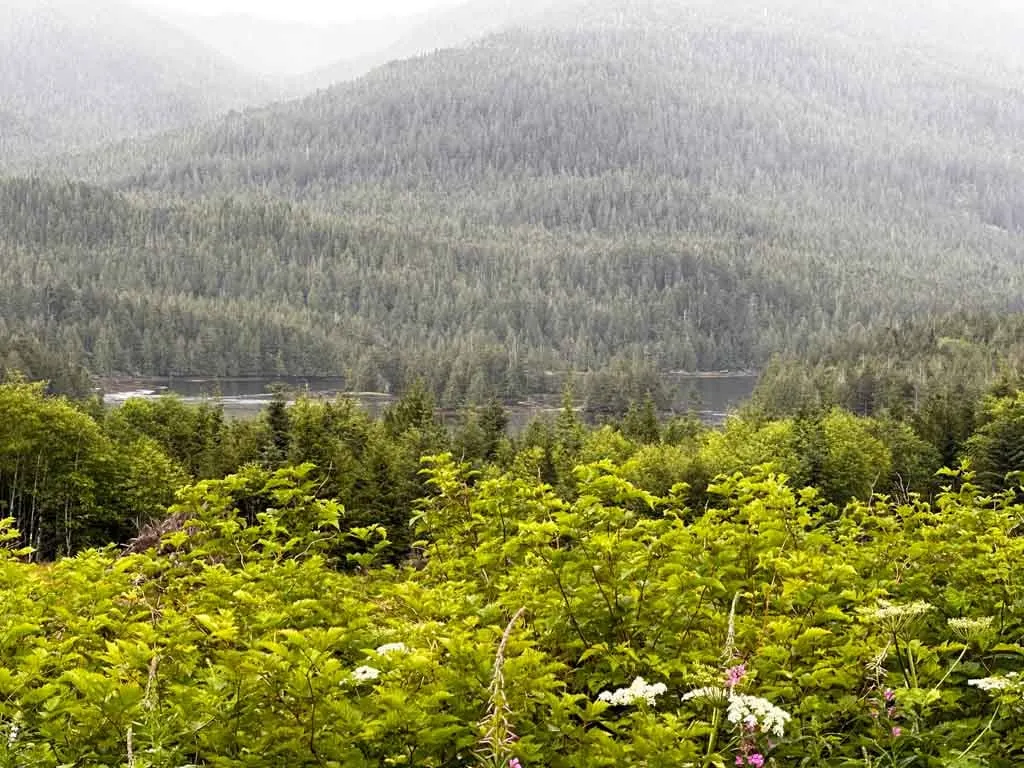 Hike the Tall Trees Trail
Prince Rupert's rainy climate creates some giant trees. Walk through the rainforest on the Tall Trees Trail, located near the Butze Rapids trailhead. The boardwalk trail climbs up through the trees to a viewpoint.
The first 1.5 km is quite gentle and can be done as an out-and-back hike that takes around one hour, but the trail gets tougher after that. The entire trail is 7.7 km (4.8 mi) return with 530 metres (1739 ft) of elevation gain.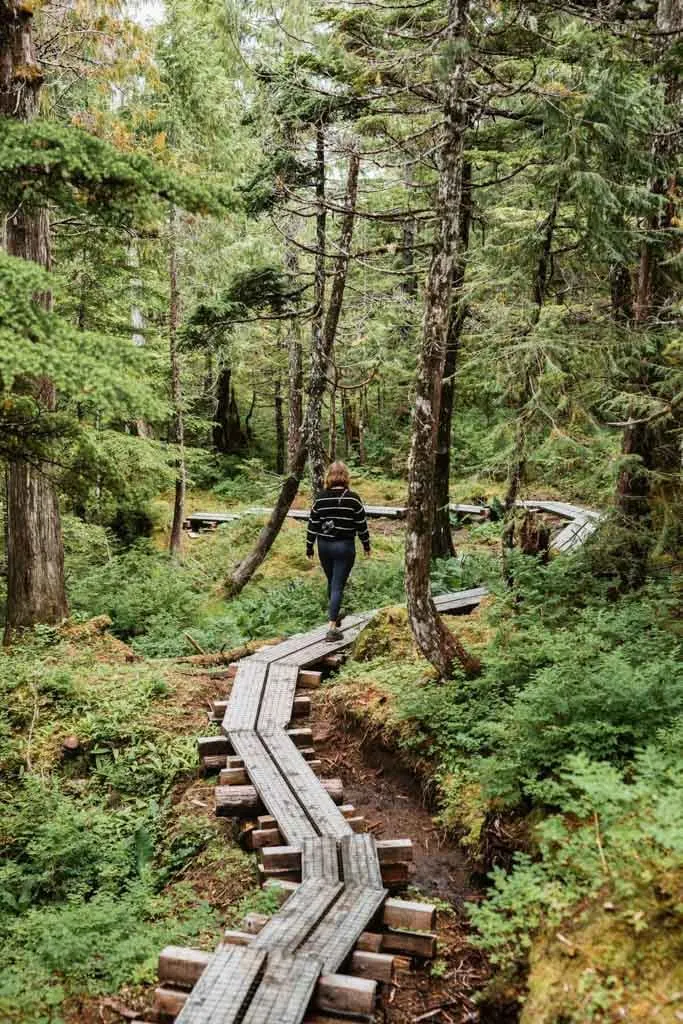 Visit the North Pacific Cannery National Historic Site of Canada
The North Pacific Cannery is a short drive away from Prince Rupert near the tiny town of Port Edward. The huge cannery site includes dozens of historic buildings connected by wooden boardwalks. At one time, there were dozens of canneries like this one up and down the Pacific Coast.
I really enjoyed my visit here. I definitely recommend the guided tour (which is included with admission) because it gets you into some of the buildings that are closed to the public. The best part is that the tour guide will turn on some of the old fish processing assembly line machinery. It's crazy to see it in action.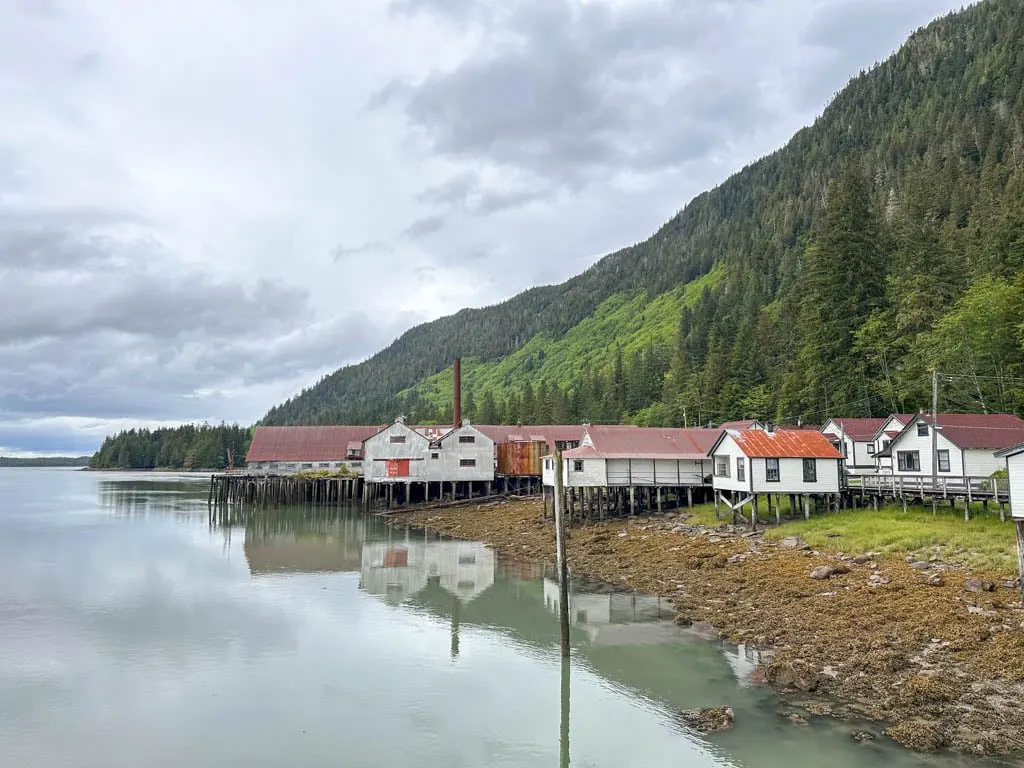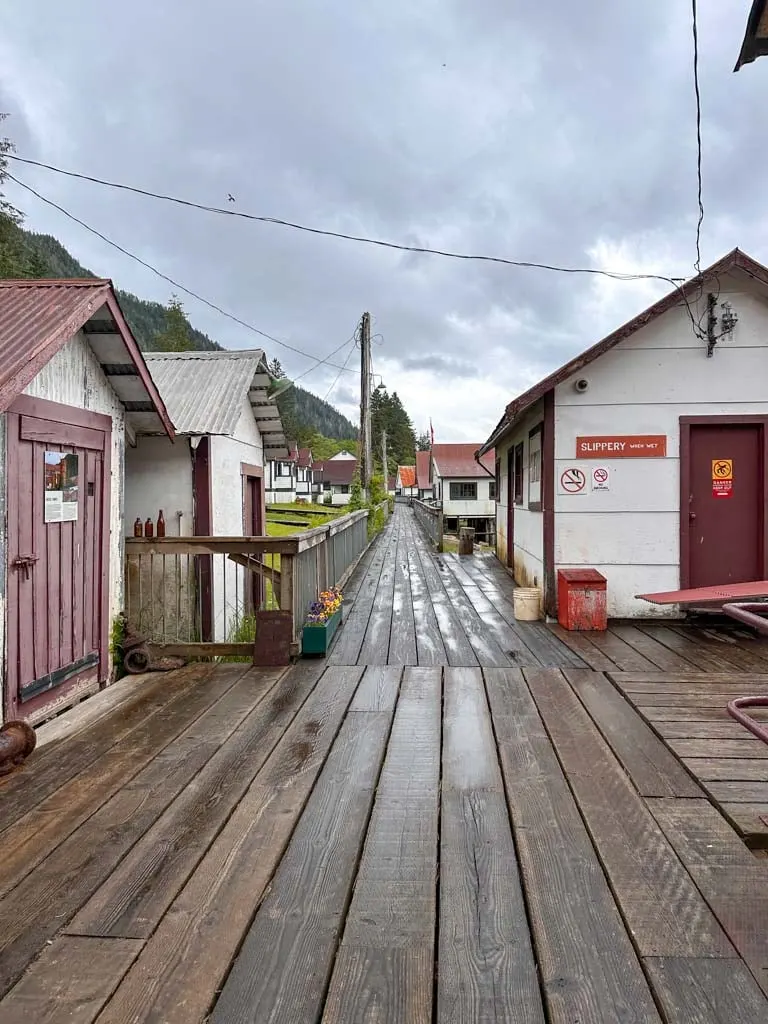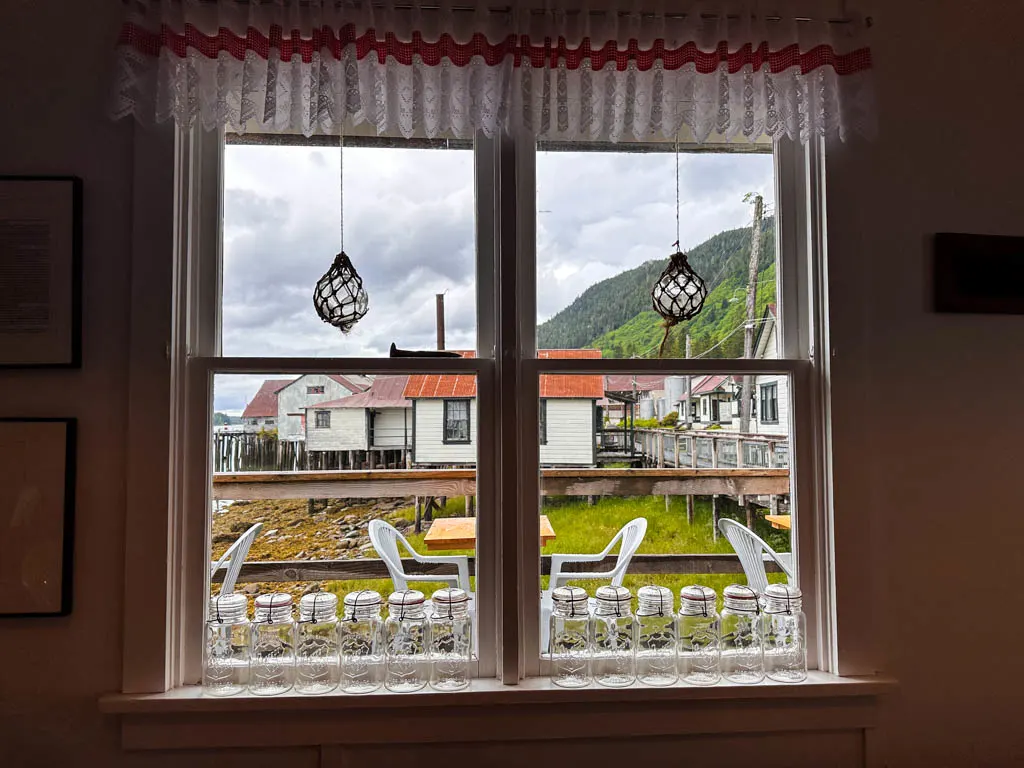 Take a Trip to Haida Gwaii
If you are already in Prince Rupert, you are almost in Haida Gwaii. This group of islands off of BC's northwest coast has been called Canada's Galapagos.
Haida Gwaii is known for incredible wildlife, beautiful rainforests, stunning coastlines, and powerful Indigenous Haida culture and art. It's also home to the incredible Gwaii Haanas National Park. Haida Gwaii is one of my favourite places in BC and should be on everyone's bucket list.
Ready my Haida Gwaii travel guide for all the details.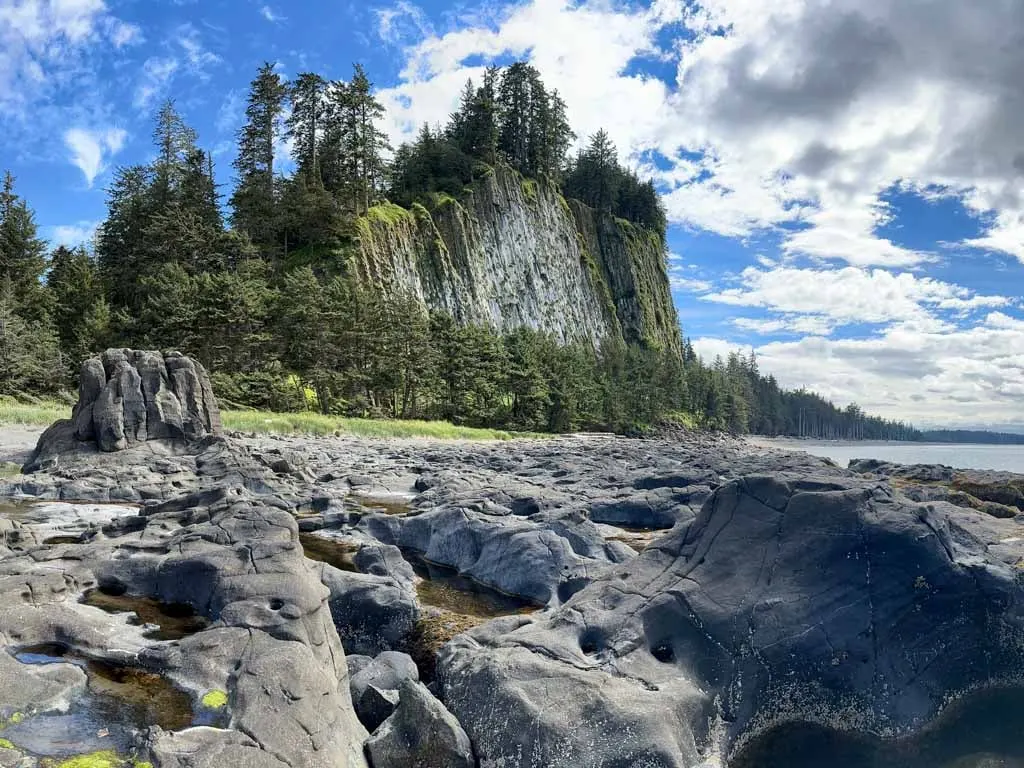 Take a Cruise on the Inside Passage Ferry
The Inside Passage ferry from Port Hardy to Prince Rupert in British Columbia is one of the most scenic boat trips I've ever taken. And the funny part is, it's just part of the provincial ferry system – it's not a tourist boat trip or a cruise!
I definitely recommend taking the Inside Passage Ferry either to or from Prince Rupert. The route goes up the coast of British Columbia through narrow inlets between mountainous islands. It's called the "Inside Passage" because it avoids the rough open ocean. Along the way, you can spot whales, dolphins, rainbows, and lots of spectacular scenery.
Read my Inside Passage ferry guide for all the details.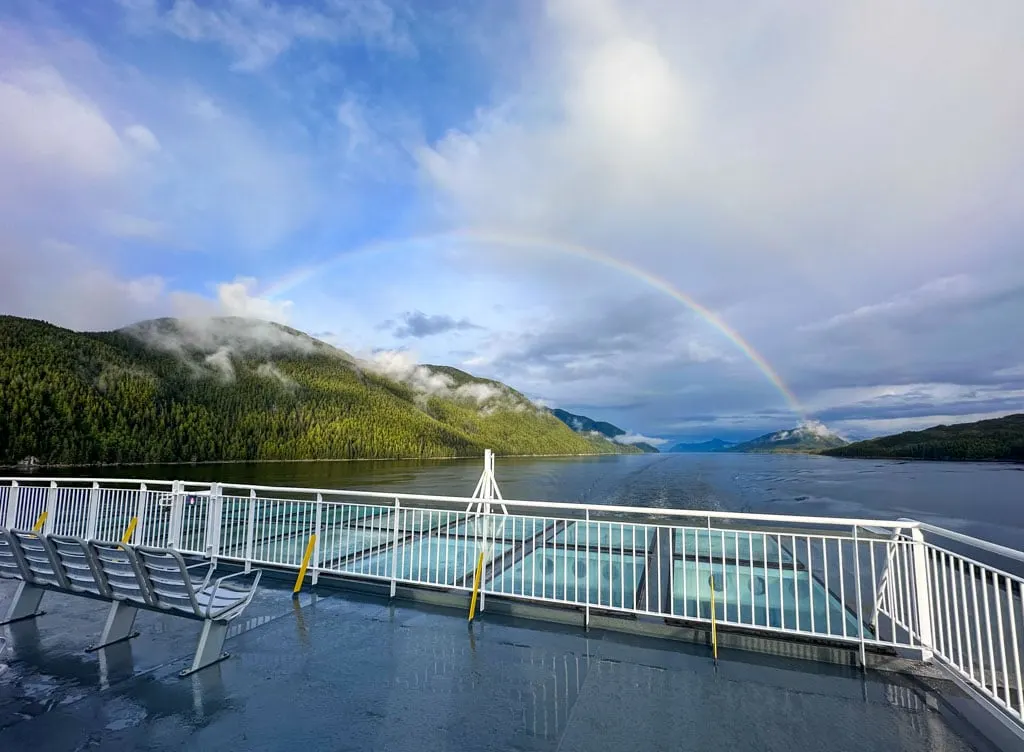 Where to Stay in Prince Rupert
I stayed at the Crest Hotel, which is the nicest hotel in town but won't break the bank. Be sure to book a sea view room – each one has a bay window with a panoramic view of the ocean. I've actually stayed here twice and have loved waking up to the incredible scenery each morning. The rooms even come with binoculars!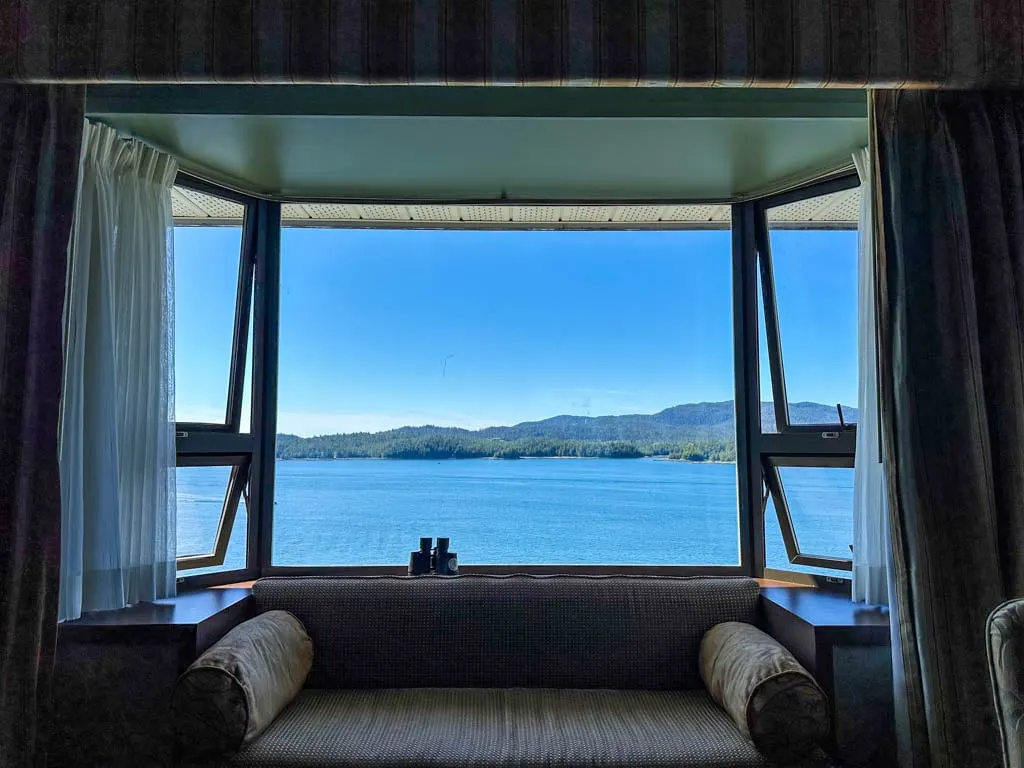 If you're looking for a moderately-priced hotel, check out Prestige Prince Rupert. It gets great reviews and breakfast is included.
Or book a room at the Tall Trees Bed & Breakfast. It's a few blocks from downtown in a quiet neighbourhood with trails nearby. The recently renovated rooms are pretty big.
I hope I've convinced you to spend some time in Prince Rupert – there are so many worthwhile things to do! Have you been to Prince Rupert already? Tell me about it in the comments.
READ NEXT: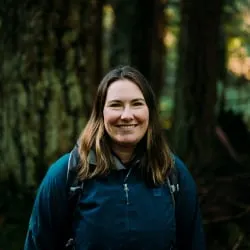 Latest posts by Taryn Eyton
(see all)