Whistler in the winter is basically Disneyland for skiers – a huge world-class resort with seemingly endless terrain. But on this list of the best things to do in Whistler, I'll prove to you that there is so much more to Whistler in winter than skiing.
I live just up the road from Whistler in Squamish so I've been going to Whistler for day trips and weekend getaways for decades… and I'm not a skier!
In this list of over 40 things to do in Whistler in winter I've got something for everyone:
Read on get the locals low-down on the best things to do in Whistler in winter.
Psst: Looking for a full list of Whistler activities? Check out my list of the best things to do in Whistler. It includes over 80 ideas!
Hey there: Some of the links in this post are affiliate links, which means I earn a small commission at no cost to you. Thanks for your support. -Taryn
Best Things to Do in Whistler in Winter: Skiing and Snowboarding
Ok, let's get the skiing stuff out of the way first. Yes, Whistler has amazing downhill skiing and snowboarding. But did you know it you can backcountry ski, country country ski, heli-ski, and cat ski in Whistler too?
1. Downhill Ski or Snowboard at Whistler Blackcomb
Skiing and snowboarding is the reason most people come to Whistler in the winter. Whistler Blackcomb is the largest ski resort in North America with the most uphill capacity. It has been named the best ski resort by ski magazines countless times.
With over 200 runs and lots of terrain for both beginners and experienced skiers, there's something for everyone.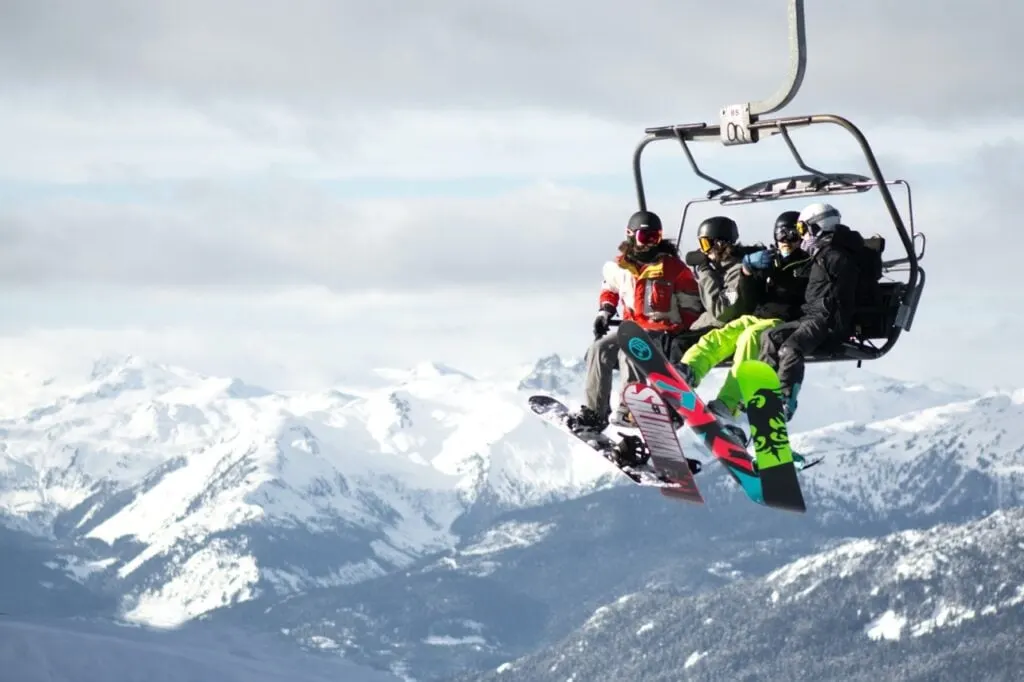 2. Heli-skiing and Cat skiing near Whistler
Riding the lifts isn't the only way to ski and ride in Whistler. There are several heli-ski and cat ski companies in the area who will transport you deep into the backcountry, then guide you down untracked slopes.
You need to be at least an intermediate skier (and have some $$$) for this splurge experience.
3. Backcountry Skiing
If you want to explore the backcountry, there are tons of places near Whistler to ski and snowboard. You can access "sidecountry" from the lifts, or explore the backcountry in the mountains around town. Duffey Road (part of Highway 99) north of Pemberton is a very popular place for backcountry skiing.
However, you'll need experience and avalanche training to go backcountry skiing in Whistler. Or you can go with a guide to show you the best spots and take care of your safety.
Beginners should book an Intro to Backcountry Ski Class.
Experienced backcountry skiers can check out the South Coast Touring Facebook group to find trip partners, current conditions, and route advice.
4. Cross Country Skiing
Whistler is also home to lots of excellent cross country skiing. You can explore 30 km of cross country ski trails next to Whistler village at Lost Lake.
Or venture a bit out of town to Whistler Olympic Park in the Callaghan Valley. They have 90 km of trails and you can even take biathlon lessons.
If you have your own skis, you can even cross country ski for free on Whistler's Valley Trail. It connects neighbourhoods in the town by bike and on foot in the summer. In the winter, a portion of the trail is groomed for cross country skiing and free to use.
Best Things to Do in Whistler in Winter: Other Ways to Have Fun in the Snow
If you don't ski, you can still have fun in Whistler in the winter. Here are my picks for non-skiing snow adventures. The best part: all of these options are beginner-friendly.
5. Snowshoeing
Snowshoeing is my go-to snow sport, and the reason I end up in Whistler a few times each winter. There are lots of great snowshoe trails in Whistler, ranging from beginner to expert, and most of them are free. You can even snowshoe to frozen waterfalls!
In my opinion, snowshoeing is the best thing to do in Whistler for non-skiers since you can get out into the snow and don't need any skills or experience to try easy trails.
Use my guide to Whistler snowshoe trails to plan your adventure or book a guided snowshoe tour.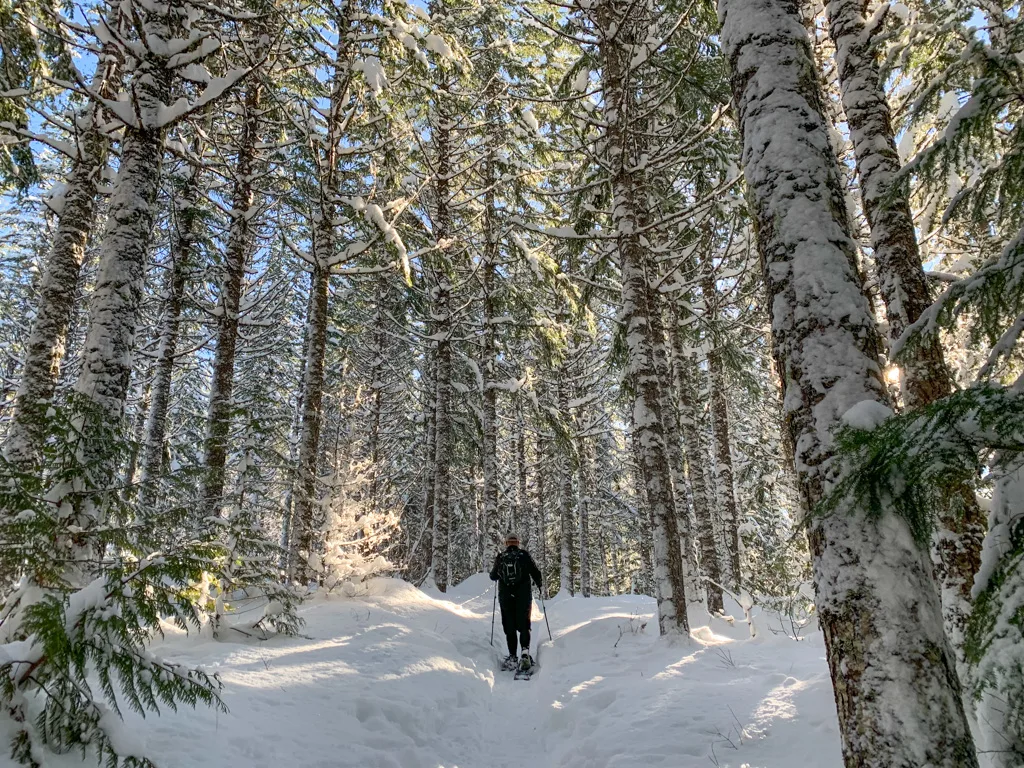 6. Dogsledding
Let a team of adorable dogs pull you through the snowy landscape. Whistler is home to two different dog sledding companies: Blackcomb Dog Sled and Canadian Wilderness Adventures. Both offer tours through the wilderness outside of town.
Settle into the cozy sled and enjoy the ride, or step on to the runners and learn how to drive. This is definitely one of the most unique winter activities in Whistler.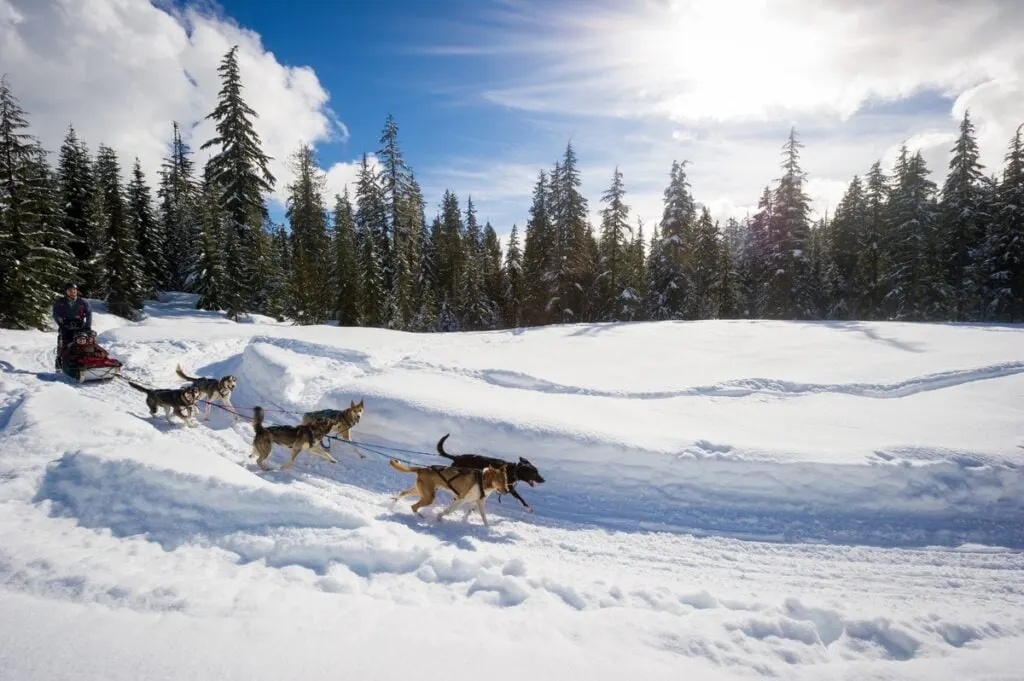 7. Snowmobiling
Drive yourself through a winter wonderland. If you've never driven a snowmobile before, there are scenic tour options for beginners and families. Experienced riders can opt for extreme backcountry tours into the mountains.
There are a few different snowmobile tour companies in Whistler. Book a Wilderness Snowmobile Tour or a Family Snowmobile Tour
8. Sledding and Snow Tubing
Nothing says winter quite like a day of sledding. Head to the bubly Tube Park at Whistler Blackcomb and rent a tube. You'll slide down the curving lanes, then ride the conveyor belt back to the top.
For some low tech (and free) fun, bring your own sled to the gentle hill at Whistler Olympic Plaza in the village.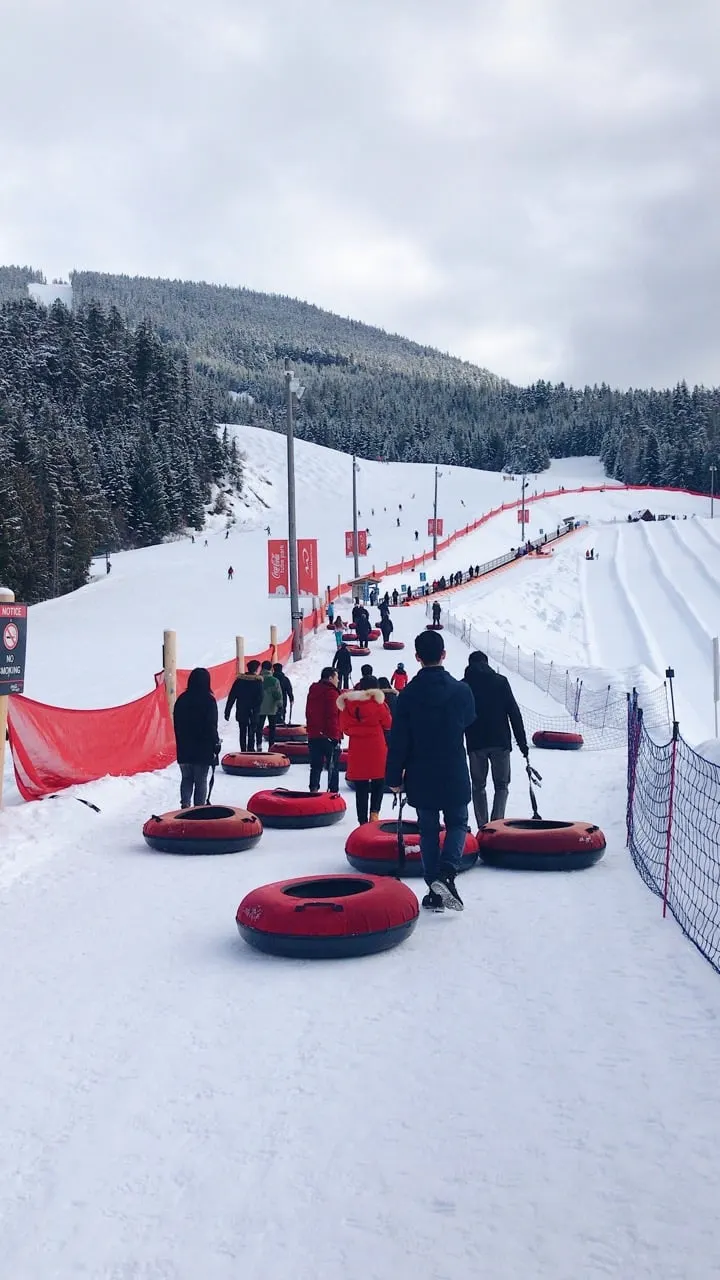 9. Play in the Snow
You don't have to be a little kid to head outside and play in the snow. Build a snowman, make snow angels, or have a snowball fight. Popular places to play in the snow in Whistler are Whistler Olympic Plaza in the village, Rebagliati Park near Blackcomb Base, or anywhere along the Valley Trail.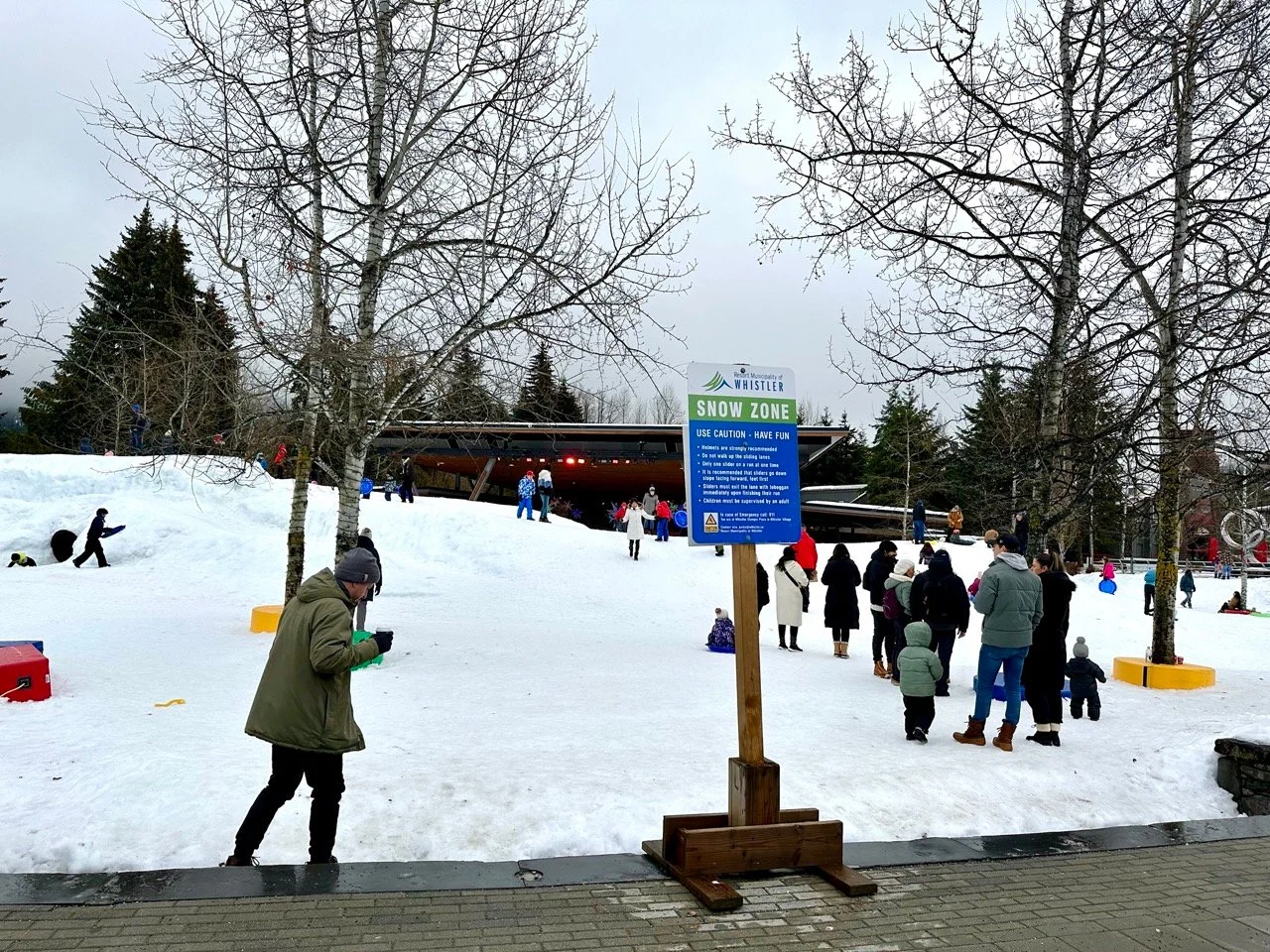 Best Things to Do in Whistler in Winter: Extreme Sports
If you like to go fast, feel your heart beat through your chest, and get your adrenaline pumping, these extreme Whistler winter sports are for you. You also don't need any experience to try these exciting (or scary) activities.
10. Ziplining
In Whistler, you can zipline all year-long. In the winter, you'll enjoy winter wonderland views and snowflakes falling all around you.
Ziptrek Ecotours lets you soar like an eagle over Fitzsimmons Creek between Whistler and Blackcomb Mountains.
Superfly Ziplines is located 10 minutes north of the village and has ziplines deep in the wilderness
11. Bungee Jumping
3… 2… 1… Bungee! Jump off a bridge 50 metres (164 feet) above the Cheakamus River at Whistler Bungee just south of Whistler. In the winter, the river freezes, the surrounding cliffs are covered in ice and snow, and you'll jump into a postcard-perfect winter landscape.
12. Ice Climbing
Have you ever dreamed of climbing a frozen waterfall? Strap on some crampons, pick up an ice axe, and make it happen in Whistler. Several local guiding companies offer ice climbing trips.
If you're a beginner, they'll show you the ropes (literally… sorry couldn't resist). But there are also trips for experienced climbers. Book an ice climbing trip
13. Bobsleigh, Luge, and Skeleton
As host of the 2010 Winter Olympics, Whistler is home to one the two bobsleigh tracks in Canada. Sign up for a one-day bobsleigh, luge, or skeleton lesson to try out the sport.
If you just want to go for a high-speed ride, they offer passenger bobsleigh rides too. You'll go up to 125 km/hour!! Book a Passenger Bobsleigh Ride. You can also watch the action for free!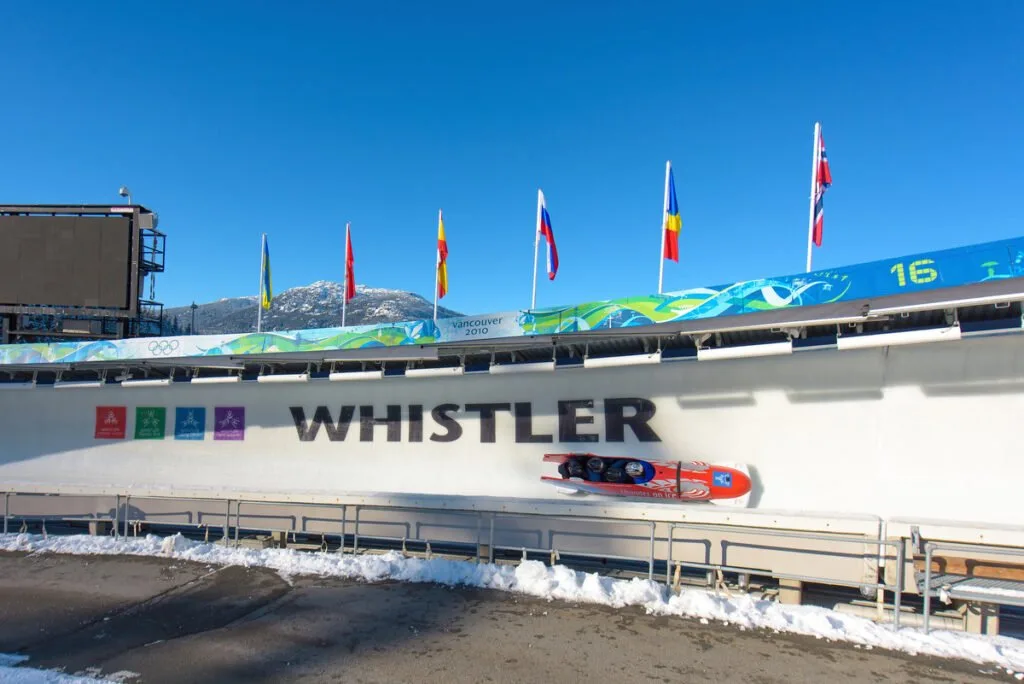 Best Things to Do in Whistler in Winter: Sightseeing and Tours
14. Peak 2 Peak Gondola
Even if you're not a skier, it's worth riding the gondola up into the mountains. The views from the top are spectacular. Your lift ticket includes the Peak 2 Peak Experience.
This spectacular gondola connects Whistler and Blackcomb Mountains with a cable that is 436 meters above the valley floor – a world record. Gaze out the windows at the gorgeous mountain views, or ride a special glass-bottomed gondola for an adrenaline-pumping bird's-eye view.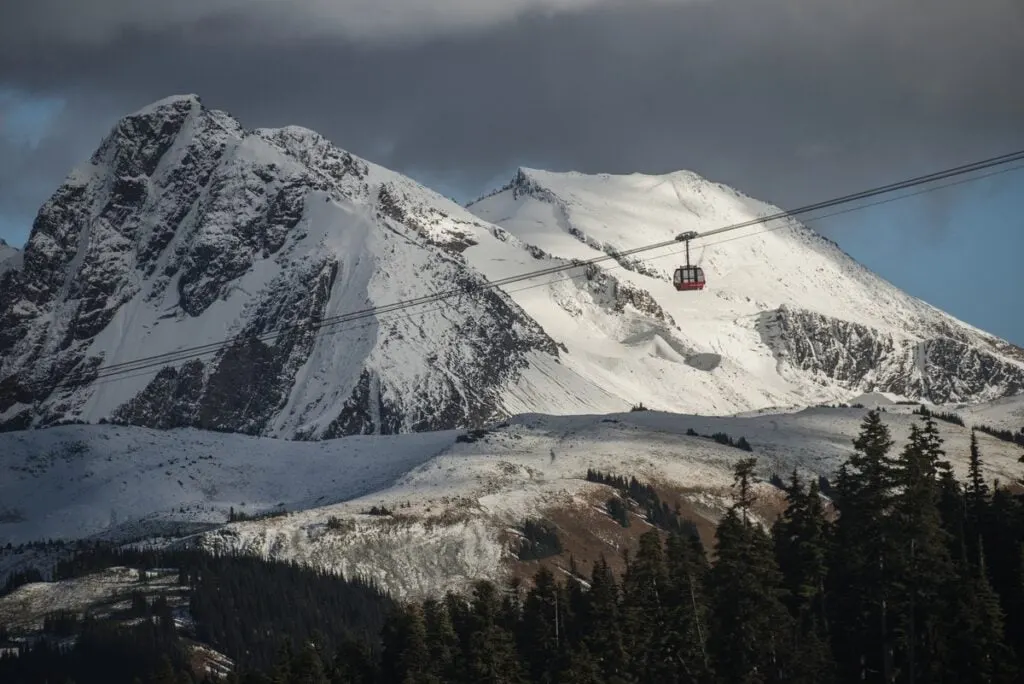 15. Flightseeing Tours
Fly high above Whistler's glaciers and peaks on a helicopter or floatplane tour. There are lots of tours to choose from: glide over Whistler Peak, see Whistler village from above, or head into the backcountry to see mountain peaks and tumbling glaciers. Some tours even let you land on a glacier and explore an ice cave!
I did a flightseeing tour last year for my birthday as a splurge, special-occasion experience and it was so cool! Book a Scenic Helicopter Flight or a Glacier Floatplane Tour
16. Sleigh Rides
Go dashing through the snow in a two-horse open sleigh. Jingle bells optional. The nightly sleigh ride tours on Blackcomb Mountain are a magical way to enjoy the snowy forest. They include lots of blankets and a short stop at a cozy cabin to enjoy hot chocolate.
17. Ice Fishing
Walk out onto a frozen lake and fish for trout through a hole in the ice. It's definitely a bucket list experience. In cold weather, you'll sit inside a portable ice hut or beside a heater, but in milder temps, you can enjoy the scenery around you. Book an Ice Fishing Adventure
18. Snowcat Tours
If you aren't sure what a snowcat is, you're aren't alone. It's a truck-sized vehicle that uses tank-style tracks to move across the snow. Take a scenic snowcat tour to see the twinkling lights of Whistler Valley at night from above. The tours include warm drinks in a glass-topped igloo or fondue at a charming log cabin.
19. Sightseeing Tours
Take a guided tour to see all of Whistler's highlights in one easy tour. It includes scenic viewpoints, a museum, local food, Olympic sites, and more. This small-group van tour hits all the sights and is led by a knowledgeable local guide. Book a Whistler Sightseeing Tour.
20. 2010 Olympic Self-Guided Tour
In 2010, Whistler and Vancouver hosted the Winter Olympics and Paralympics. I went to tons of events in Vancouver and managed to get tickets for the Paralympic biathlon in Whistler too. So fun!
You can relive the glory and excitement of the games on a self-guided walking tour. It includes event venues and other legacy buildings from the Olympics like the bobsleigh track and medal ceremony location.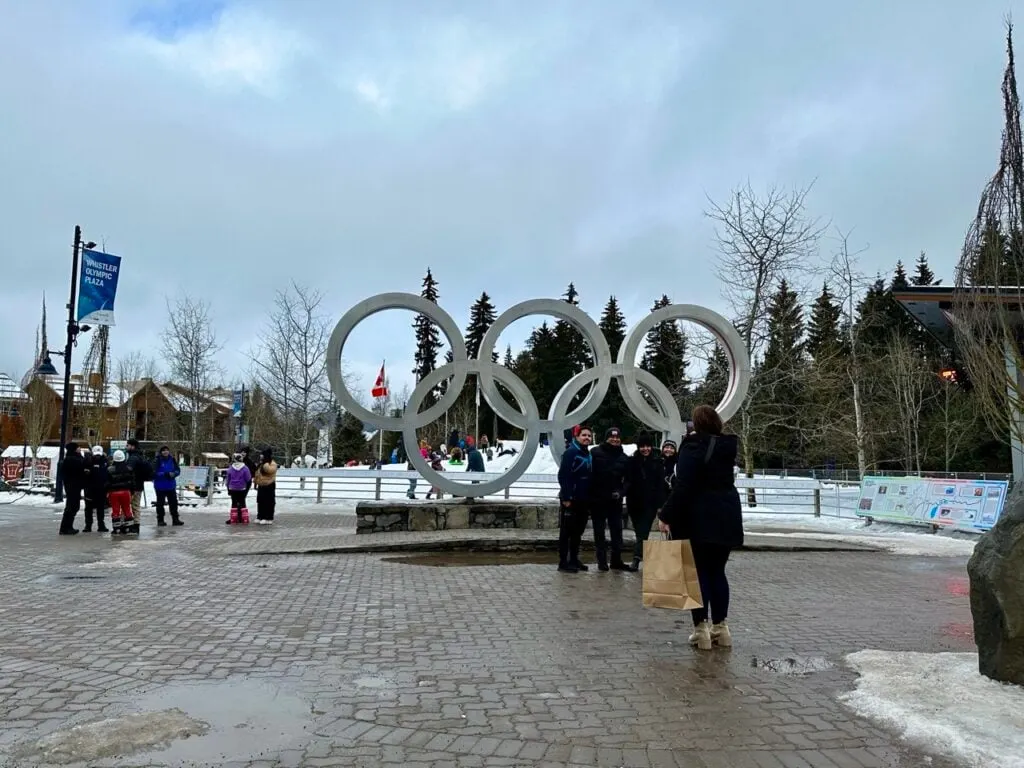 21. Vallea Lumina
This multimedia and light experience is truly unique. It's a story-based journey where you walk through the snowy forest encountering lights, sound, and lasers that create a sense of magic in the landscape. I haven't been, but I've heard it is the kind of thing you can't really understand unless you've experienced it. Book a Vallea Lumina experience.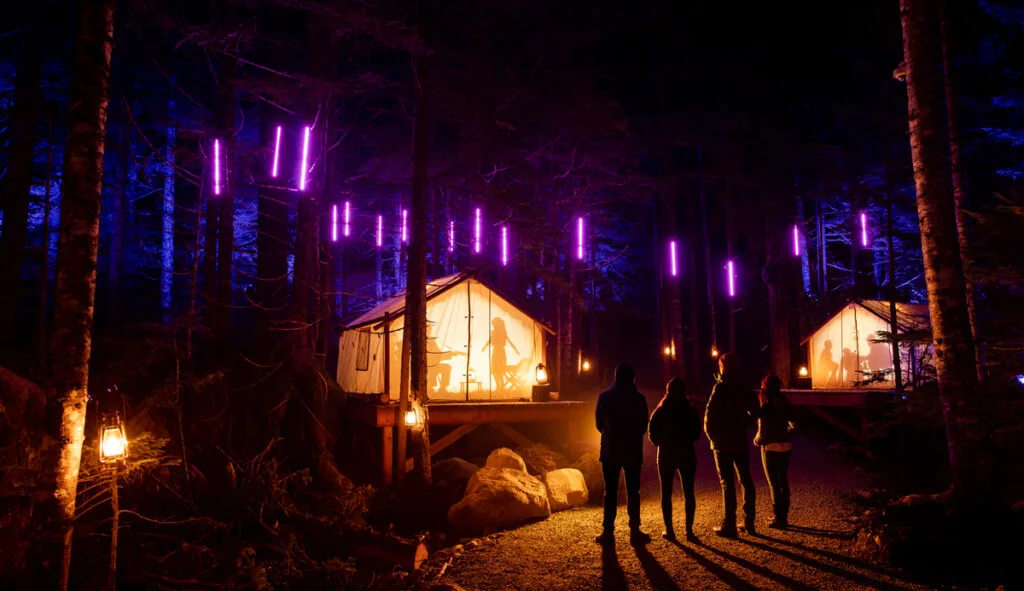 Best Things to Do in Whistler in Winter: Explore the Village
You don't need to leave the village to find lots of things to do in Whistler. You could easily spend a day or two exploring the winding pedestrian friendly streets. Just be sure to wear your winter boots and as it gets pretty snowy!
22. Wander through Whistler Village
Whistler's core is a purpose-built pedestrian village. I think it looks a bit like alpine Disneyland. In the winter it's covered in snow and charming twinkling lights. If I have downtime in Whistler, I love to take a walk through the village to people-watch.
Take a walk on the Village Stroll, a pedestrian-only street that winds past cafes, boutiques, and ski shops. It's a great place to window-shop or just enjoy a walk. Use this map of Whistler Village to find your way.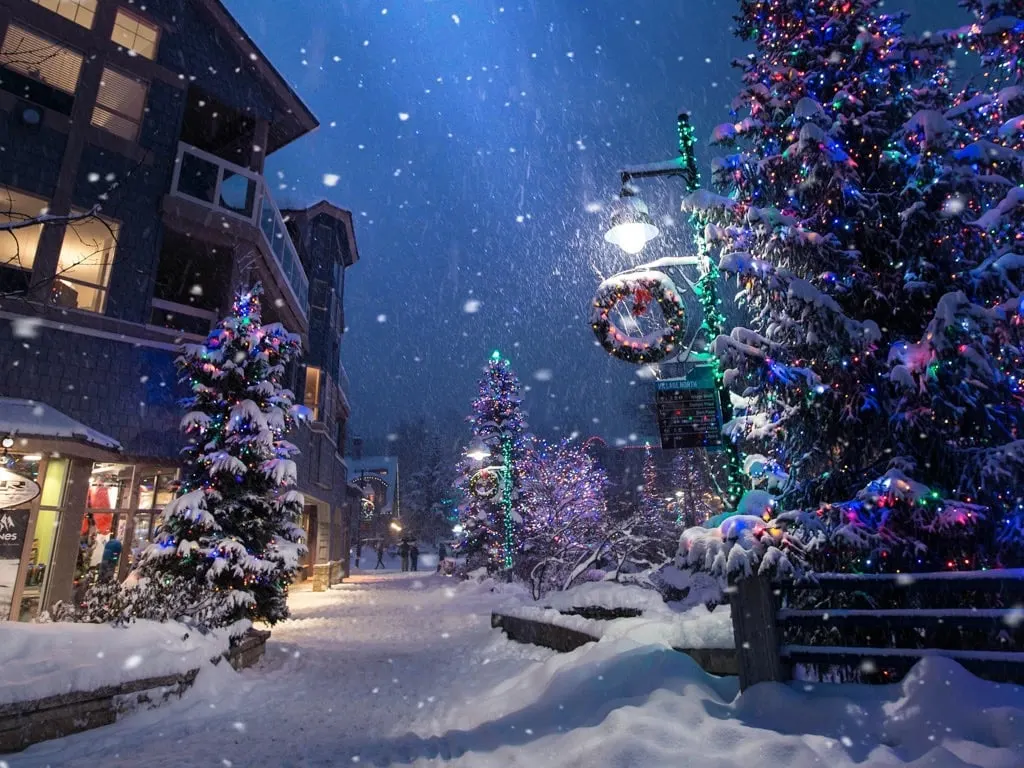 23. Go Shopping
Since it is an international ski destination, Whistler has surprisingly good shopping for such a small town, and most of it is concentrated around the pedestrian-friendly Village Stroll. You can find your favourite chain stores like The Gap and Lululemon alongside fine jewelry and tons of outdoor and ski shops.
But the real gems are boutiques selling local goods. Check out 3 Singing Birds for locally designed and made clothing and home decor. Find local art at several galleries. Or pick up a local book at Armchair Books. (They carry my book, Backpacking in Southwestern British Columbia, so I think they're pretty awesome!)
24. Ice Skating
What could be more magical than ice skating outdoors? Each winter Whistler transforms part of the Whistler Olympic Plaza into an outdoor ice rink. It's especially phenomenal at night when the nearby trees are lit up with twinkly lights. You can rent skates on-site or bring your own.
If you'd rather skate indoors, head to the rink at Meadow Park Sports Centre.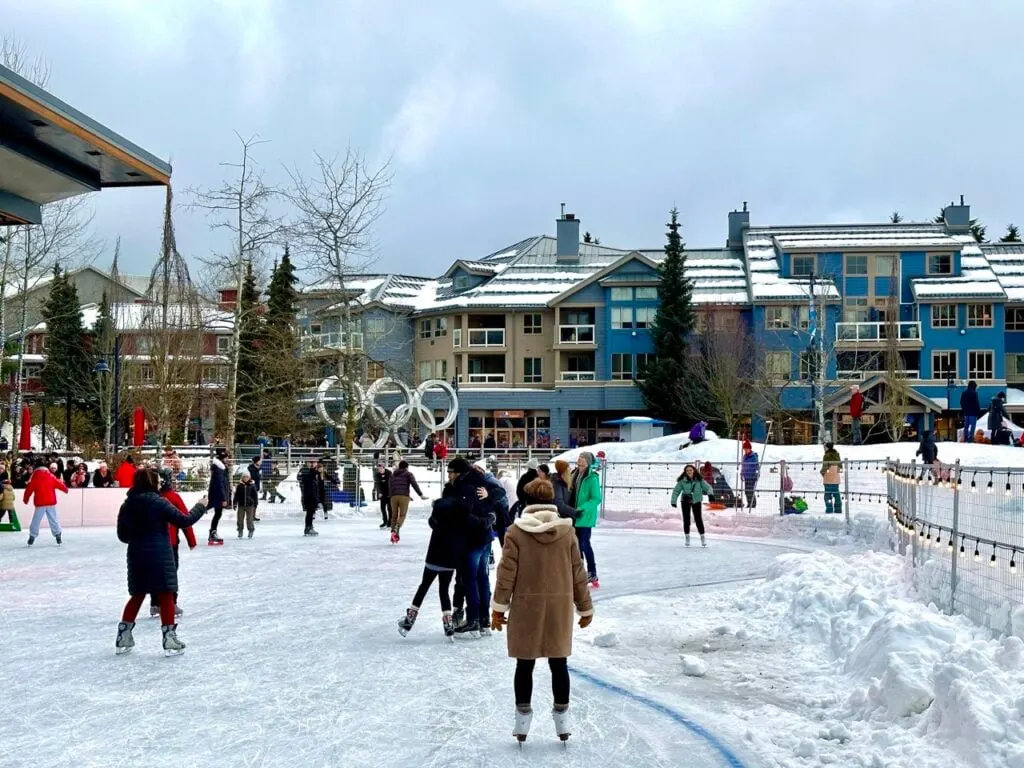 25. Valley Trail
Spend a few hours exploring the Valley Trail. It's a 43 km-long network of pathways that connects Whistler's neighbourhoods. In winter, many of the sections are plowed for easy walking. Wander through the snowy landscape and discover the Whistler that locals know. I love the covered bridge in Rebagliatti Park.
This map of the Valley Trail has all the info you need.
Best Things to Do in Whistler in Winter: Food and Drink
Although it is a small town, Whistler is an international destination, which means it has great food. It has some great fine dining options and lots of fun, casual places to eat too. There's also a great cocktail and craft beer scene.
26. Eat Amazing Food
Whistler has an amazing restaurant scene. It's home to upscale fine-dining at places like Alta Bistro, The Rimrock Cafe and Araxi Restaurant, but there are also lots of amazing casual places where you can show up in your sweaty ski clothes and no one cares.
We often grab beer and burgers at the High Mountain Brewing Co. Brewhouse or burritos at La Cantina Tacos. I also love the sandwiches and bowls at Gone Eatery – they are perfect for a quick lunch. Don't miss the amazing Aussie pies at Peaked Pies. Order it with mashed potatoes, mushy peas, and gravy on top!
For coffee, I highly recommend Mount Currie Coffee Co. And for a sweet treat purebread is to die for.
To sample the best food that Whistler has to offer, Book a Fine Dining Dinner Tour or a Hidden Gems Dinner Tour.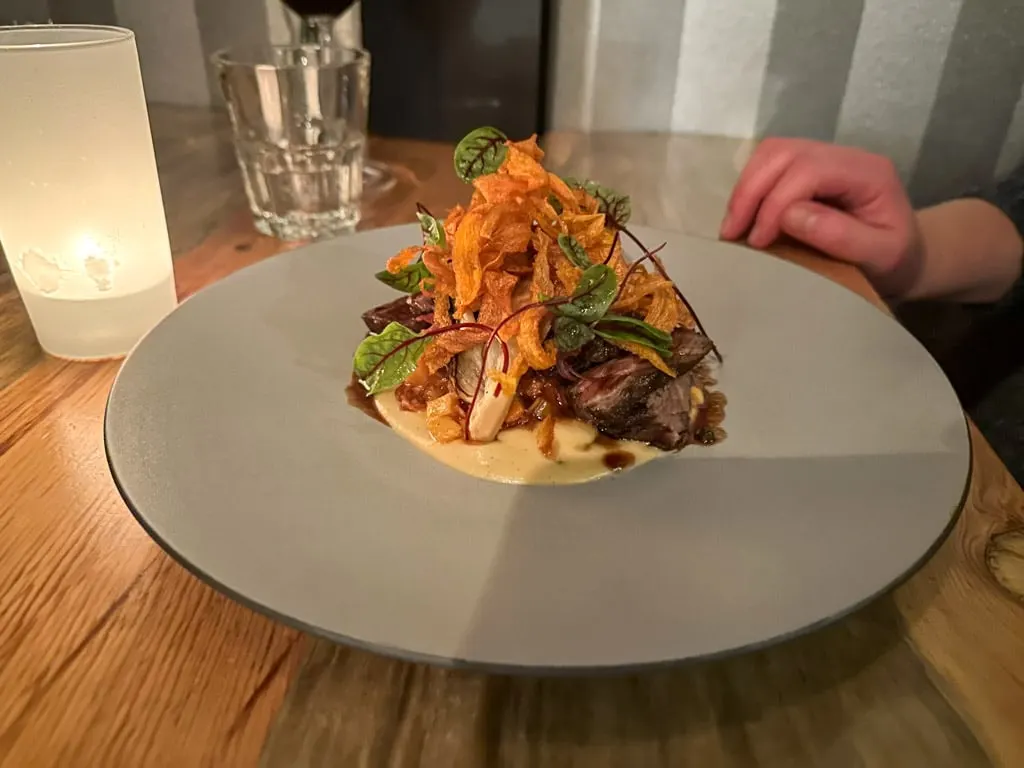 27. Drink Craft Beer
Whistler has a strong craft beer scene. There are three craft breweries in town each with its own tasting room.
High Mountain Brewing is located in the heart of Whistler Village, right next to the Olympic Plaza. It's a huge space with tons of tables and a big food menu. We often end up here with friends.
Whistler Brewing is located south of Whistler village in the industrial Function Junction neighbourhood. Their garage-like space is a great place to have a beer with and it tends to be full of locals.
Coast Mountain Brewing is also located in Function Junction. They have also have an outdoor patio, which is great on sunny days.
Visit all three on a guided Craft Beer Crawl
28. Hit the Apres-Ski Scene
The apres-ski culture is strong in Whistler. There are also tons of pubs around town, perfect for relaxing after a day on the slopes. You can't go wrong with Dusty's Bar and BBQ. It's Whistler's original apres spot, open since the 1970s.
For an upscale experience apres experience, try the Ketel One Ice Room at the Bearfoot Bistro, billed as the coldest vodka tasting room in the world at -32C (-25F). (Don't worry – they'll give you a parka to wear!)
And if you still have energy for dancing, Whistler has several nightclubs. I remember Garfinkel's from my early 20s clubbing days, and they're still going strong (even if I'm not!)
Book a Club Crawl if you really want to let loose.
Best Things to Do in Whistler in Winter: Relax
It's not all go-go-go: Whistler is also a great place to relax. Here are my picks for the most relaxing things to do in Whistler.
29. Go to the Spa
Whistler is home to lots of spas and there's something for everyone. Choose from high-end hotel experiences like The Spa at Four Seasons Resort, classic Swedish massage at Aviva Wellness, or unique experiences like the Javanese style Taman Sari Royal Heritage Spa.
But the one spa all visitors will love is Scandinave Spa Whistler. Their outdoor network of steam rooms, saunas, and hot and cold pools is a great place to relax and enjoy the snow falling. It's one of my favourite things to do in Whistler in winter since it is so pretty in the snow. They also offer several types of massage and have a silence-only policy so you can really zen out.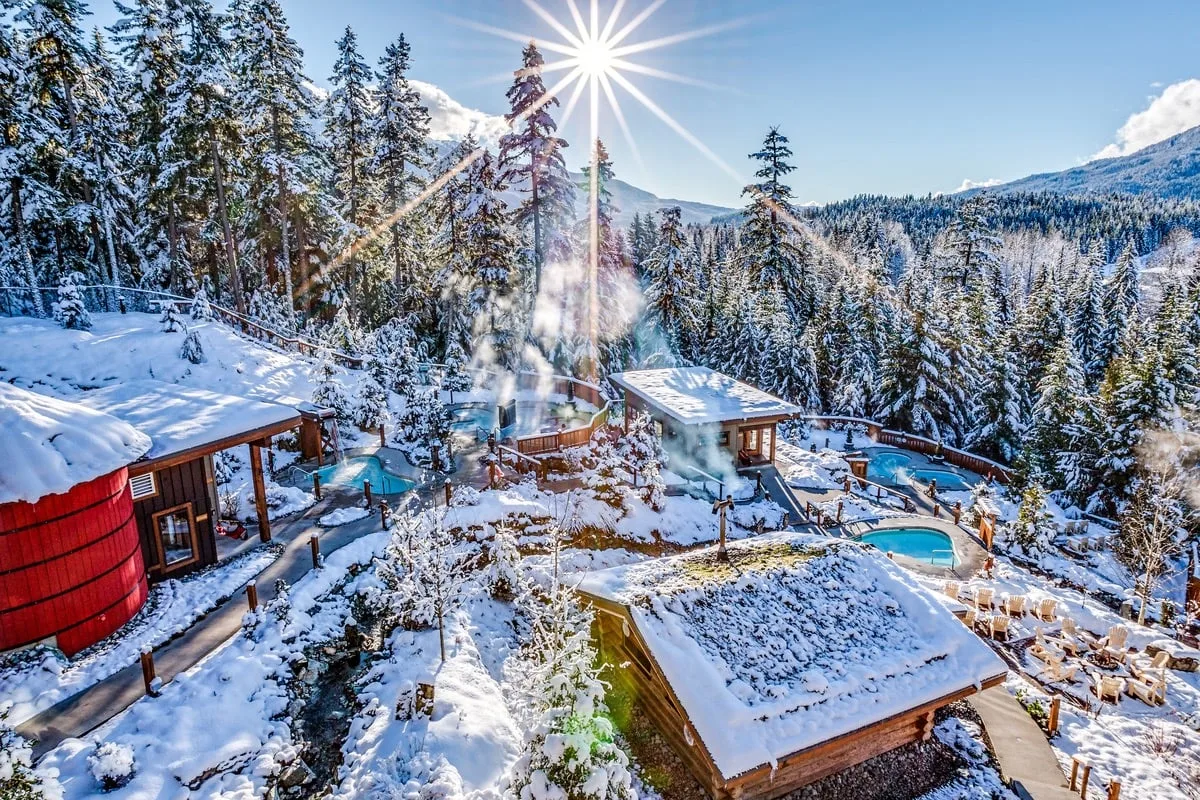 30. Take a Yoga Class
Stretch it out after a day on the slopes. There is one dedicated yoga studio in town: Yogacara. Several gyms around town also offer yoga classes.If you want to do your asanas with locals, head to a budget class at the Meadow Park Sports Centre (the local community centre).And if you're fancy and staying at the Fairmont Chateau Whistler, complimentary yoga classes are included with your stay.
31. Soak in a Hot Tub
Hot tubbing is a way of life in Whistler. Everyone loves an evening soak after a ski day. And it's extra magical to be in a hot tub while it's snowing.
The hot pools at Scandinave Spa are hands down the best place for a soak in Whistler. But there are tons of other hot tub options in town.
Most of the spas in town include access to their hot tubs with entry. The spas at the Four Seasons and Nita Lake Lodge both have gorgeous outdoor tubs with mountain views.
Most hotels in Whistler also have great hot tubs that only guests can access. On a splurge trip, I loved the incredible indoor/outdoor hot tub at The Westin – you can swim through a doorway from inside to outside.
Lots of rental condos also come with hot tubs too. I've stayed at Glacier's Reach a few times – each suite has its own private hot tub!
And lastly, if you're on a budget, head to the hot tubs at the public swimming pool at Meadow Park Sports Centre.
32. Visit a Natural Hot Spring
For a real mountain relaxation experience, visit a natural hot spring. There are several hot springs in the mountains near Whistler. However, to reach them in winter you'll need to be comfortable with some serious winter driving on snowy backroads, or have a snowmobile.
Read my guide to hot springs in Canada for more details.
Best Things to Do in Whistler in Winter: Indoor Activities
Sometimes you just want to stay inside, out of the cold. Thankfully, there are lots of great things to do in Whistler like museums, indoor rock climbing, movies, and more. (Axe throwing anyone?)
33. Audain Art Museum
Opened in 2016, the Audain Art Museum houses a huge collection of British Columbia art in a beautiful and award-winning modern building. Honestly, I think the architecture itself makes it worth a visit. It includes art from the late 18th century to the present.
The museum is home to a large collection of Coastal First Nations masks as well as works by settler artists like Emily Carr, Jack Shadbolt, and E.J. Hughes. The gift shop is also one of the best places in Whistler to pick up beautiful and unique local souvenirs. Buy Museum Tickets in Advance.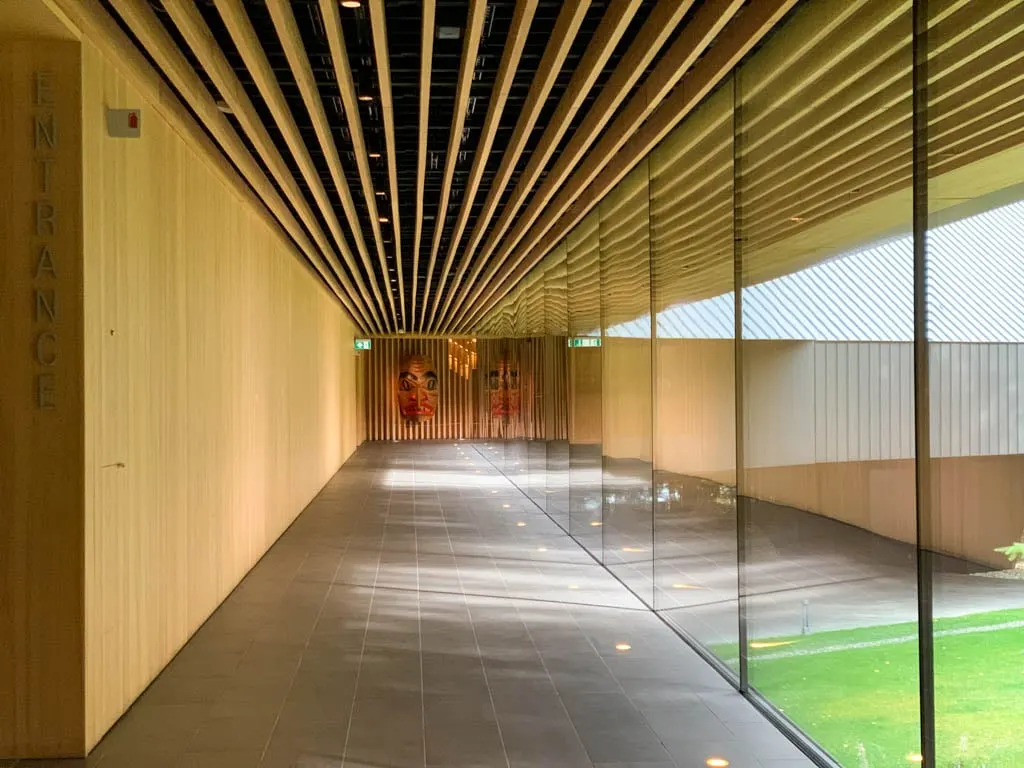 34. Squamish Lil'wat Cultural Centre
The Squamish and Lil'wat Nations have lived in the Whistler valley since time immemorial. Visit the Squamish Lil'wat Cultural Centre to learn about their history, culture, and art. Guides welcome you with drums and song, then take you on a tour of the exhibits including a hand-carved canoe. Visit the Thunderbird Cafe to try indigenous-inspired dishes made with local ingredients.
It's one of the best Indigenous museums I have been to. If you are going to do just one indoor activity in Whistler, I think it should be the Squamish Lil'wat Cultural Centre.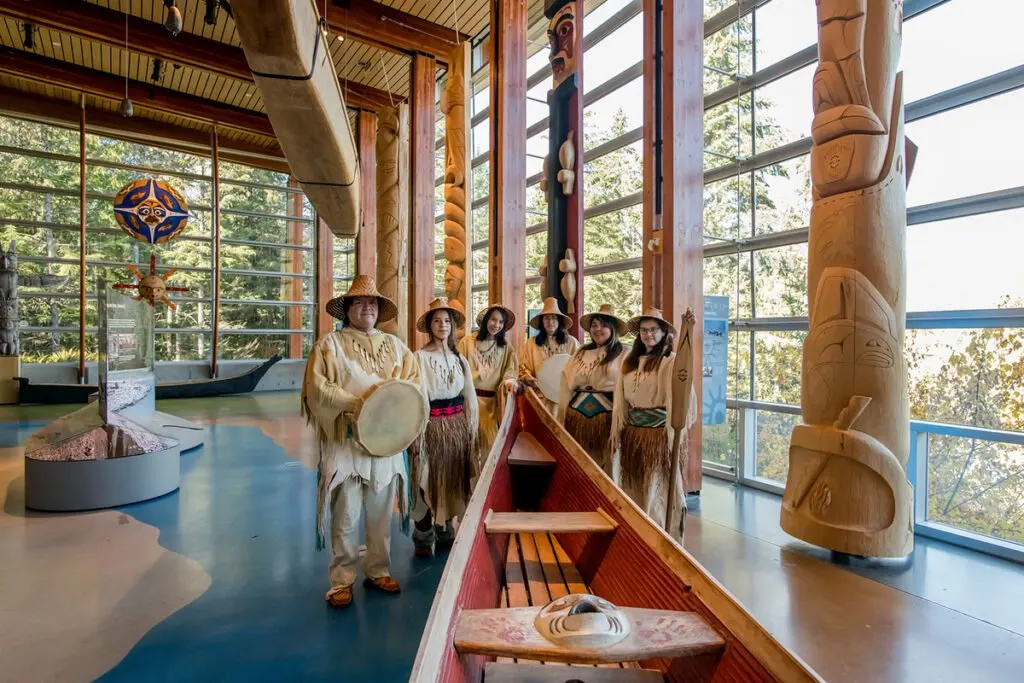 35. Whistler Museum
Learn about Whistler's history at the community-run Whistler Museum. It has exhibits detailing Whistler's history from wilderness to world-class ski resort including vintage ski gondolas, retro photos, the 50-year-long road to the 2010 Olympics, historical furniture and gear from the early days of the Rainbow Lake Lodge, and profiles of local people who shaped the town.
Don't miss a photo op in the vintage gondola. I also love the geology section which explains how the local landscape was shaped by glaciers and volcanoes.
Admission is by donation, so this is a great cheap thing to do in Whistler in winter.
36. Escape! Whistler
Take on challenging puzzles to escape from themed rooms at Escape! Whistler. They have four different scenarios to choose from: Pirate Ship, Buried Cabin, Pinball Machine, or Rabbit Hole. These escape rooms are really fun with groups, but you can also get a private escape room for parties of two. (No sharing with strangers!)
37. Forged Axe Throwing
Let your inner lumber Jack or Jill out at Forged Axe Throwing. If you've never thrown an axe before, don't worry: they'll give you all the pointers you need to help you hit the bullseye. Most visitors go for a one-hour session, but if you're super keen (and competitive) they also have a weekly league night. Book a 1-hour Axe Throwing Session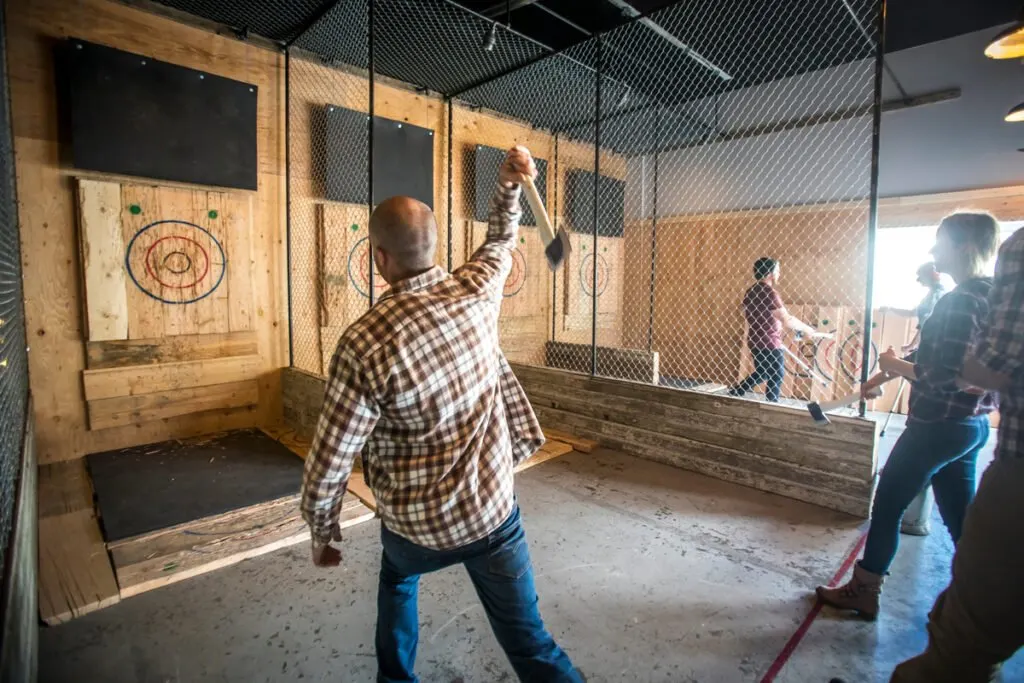 38. Whistler Core Rock Climbing Gym
With 5,500 square feet of indoor rock climbing space, Whistler Core caters to climbers of all ages and abilities. If it's your first time, take one of their classes. If dizzying heights aren't your thing, check out their bouldering zone where you can climb just a few feet above cushy crash mats – no ropes required.
Best Things to Do in Whistler in Winter: Events
From food to films, threre are tons of great festivals and events each winter in Whistler. For some, you'll need to plan ahead and get tickets, but others are free – just show up!
39. Fire and Ice Show
Head to the Whistler Village base between the Whistler and Excalibur gondolas every Sunday night to catch the free Fire and Ice Show. It combines fire spinners and fireworks with insane ski and snowboard flips, jumps, and tricks.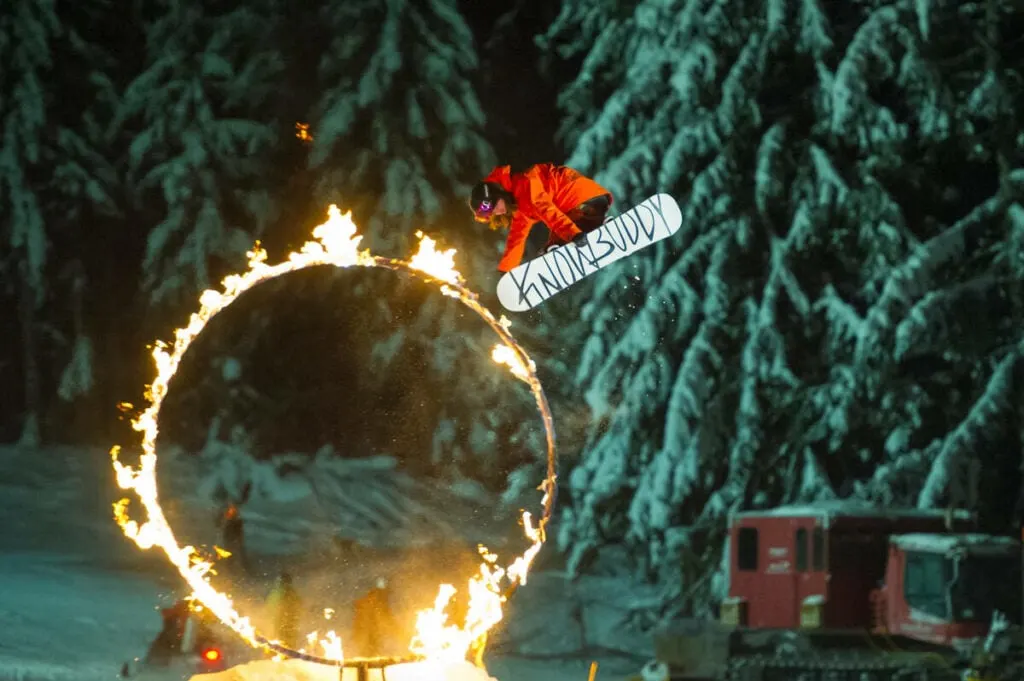 40. World Ski and Snowboard Festival
Celebrate the end of ski season each April at the World Ski and Snowboard Festival. It includes races, parties, live music, and the famous Slush Cup event.
41. Whistler Cornucopia
Foodies, this one is for you. Held each November, the Whistler Cornucopia festival celebrates everything food and drink with tastings, seminars, and special tasting menus at participating restaurants and bars.
42. Whistler Pride and Ski Festival
Whistler welcomes the rainbow each January for the Whistler Pride and Ski Festival. Book a spot in a ski or ride group. Watch (or take-part) in the Rainbow Ski-Out and Parade. And attend queer-focused events and parties in the evening.
43. Whistler Film Festival
Billed as "Canada's Coolest Film Festival", the Whistler Film Festival takes place in late November and early December. It includes film premieres as well as workshops and forums.
44. LUNA Whistler Events
LUNA stands for Late and Unique Nighttime Alternatives. It's a program organized by the municipality of Whistler to provide fun, alcohol-free evening activities at community spaces around town during the winter months.
They organize all kinds of fun events including weekly yoga classes, sound baths, laser tag (at the library!), and treasure hunts. They also have a LUNA lounge night every Tuesday that includes ping pong, pool tables, foose ball, and a skateboard ramp. Check their website to see what's on.
Whistler in Winter FAQ
What is the the weather like in Whistler in winter?
While Whistler gets a ton of snow (about 10.8 metres/35.5 feet per year), it's actually not that cold.
In December, January, and February, the average low temperature is about -5°C/24°F and the average high is about 1°C/34°F.
The snowiest months are December and January, with about 40 inches/101 cm of snow per month. It snows about 25 inches/64 cm in February.
What months can you ski in Whistler?
Whistler Blackcomb ski resort typically opens each year on American Thanksgiving (the fourth Thursday in November).
The last of the season on the Whistler side of the mountain is in mid April. But the glacier runs high on Blackcomb Mountain stay open until the Victoria Day holiday (the Monday before May 25).
In the 2023-2024 season Whistler Blackcomb opens on November 23. Whistler closes on April 14. Blackcomb closes on May 20.
The best skiing is typically in January and February.
What to pack for Whistler in winter?
If you plan to ski or do other snow sports, make sure you pack your ski jacket, pants, gloves, goggles, helmet, etc.
Even if you don't plan to ski, it's a good idea to have a waterproof jacket for walking around the village or wearing for activities. For extra warmth, layer it over a puffy down or synthetic insulated jacket.
Don't forget a pair of warm gloves and and a toque. (That's what Canadians call a beanie.)
Whistler is a pretty casual place so skip the high heels and opt for some insulated winter boots instead. The village can be icy, snowy, and slushy so you will appreciate the protection.
There is no dress code at Whistler restaurants or bars, so you don't have to worry about packing a jacket and tie. You can turn up pretty much everywhere in casual clothes. However, if you plan to go a fine dining restaurant, you might be more comfortable in a nice pair of pants and a sweater or a simple dress.
Hot tubbing and visiting the spa are an important part of the Whistler experience. Don't forget your bathing suit.
What is the best month to visit Whistler in winter?
Late January and February are the best months for skiing since there is a good snow pack. However, look for crowds to spike around Family Day, a local holiday on the third Monday in February. (February 19 in 2023.)
Late November and December have variable skiing conditions so it can be a bit quieter than other times of the year. However, you might luck into some powder. It's also a cheap time to visit in winter.
The holiday season around Christmas and New Year's brings good skiing conditions, and tons of events to Whistler. It's a popular time to visit, and for good reason.
The late season of March and April can have great snow conditions, but they get more variable as the season goes on. It's also a bit quieter and less expensive than other times of the year. However crowds do pick up around Easter. (March 29-31 in 2024.)
How to get to Whistler in winter?
There are several ways to get to Whistler in winter. The easiest and most economical option is to take one of the shuttle bus services: YVR Skylynx, Whistler Shuttle, or Epic Rides. They offer rides from Vancouver or Vancouver Airport to Whistler.
You can also book a private chauffered charter limo or van service.
If you want, you can also drive your yourself. It's a gorgeous road trip on the Sea to Sky Highway. However, keep in mind that you will likely face snowy and icy winter driving conditions. Snow tires are required between October 1 and March 31, so make sure your rental car has them.
Where to stay in Whistler?
There are literally hundreds of places to stay in Whistler, so it can be hard to choose. Here are my picks:
Budget – Pangea Pod Hotel: This unique Japanese style pod hotel is in the heart of the village. There on-site bar has a huge selection of board games you can play. Check prices.
Condo – Glacier's Reach: I've stayed at these condos just north of the village on a lot of trips to Whistler. It's sooo nice to have a kitchen but the best part is the private hot tubs! Check prices.
Boutique Hotel – Summit Lodge: We stayed at this centrally located hotel on our most recent trip to Whistler. It's a boutique property with funky decor and a fun vibe. When we were there they had a pop-up bubble tea shop! Check prices.
Luxury Hotel – Westin Resort & Spa: My now-husband took me here when we were first dating. It was a luxe experience. My favourite part is the huge pool that both indoor and outdoor sections you can swim between. Check prices.
Camping – I love Nairn Falls Provincial Park, a short drive from town. I have more info and camping options in my guide to camping near Whistler.
So that's my big list of winter activities in Whistler. I'm sure you'll find something to do in the Whistler in the winter that you'll love. (Actually, I'm sure you'll find a bunch of things.) What's your favourite Whistler winter activity? Tell me in the comments.
READ NEXT: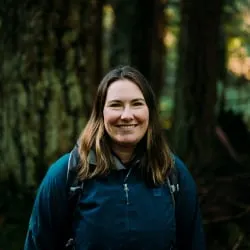 Latest posts by Taryn Eyton
(see all)