It's no secret that Whistler is an expensive place to visit. I've been visiting Whistler my whole life and currently live just down the road in Squamish, so I know all the locals' tricks to find cheap and free things to do in Whistler.
In this list of things to do in Whistler for free or cheap, I've got 42 fun ideas for activities, attractions, and places to go.
Don't you hate recommendations for cheap things to do in Whistler that include activities that cost over $25 per person? Yeah me too. You won't find any of that on this list. Out of the 42 things I recommend, 34 of them are totally free and the rest will cost you $10 or less per person.
Looking for more Whistler activities? Check out my huge list of over 80 things to do in Whistler.
This is a sensitive wilderness area. Learn how to Leave No Trace to keep the wilderness wild. Make sure you are prepared by bringing the 10 Essentials. Get ready for adventure with this checklist of things to do before every hike.
Wander the Whistler Village Stroll
The heart of Whistler is its pedestrianized village. Wandering along the main car-free street, Village Stroll is something I do on every visit to Whistler. The paved stone path curls through the village past a picturesque creek with lots of benches to sit and take it all in.
It's a great place to window shop at lots of boutiques and national chains. Or stop at one of the delicious restaurants, many of which have patios. The people-watching is also excellent.
Cost: Free
Where: Village Stroll, Whistler Village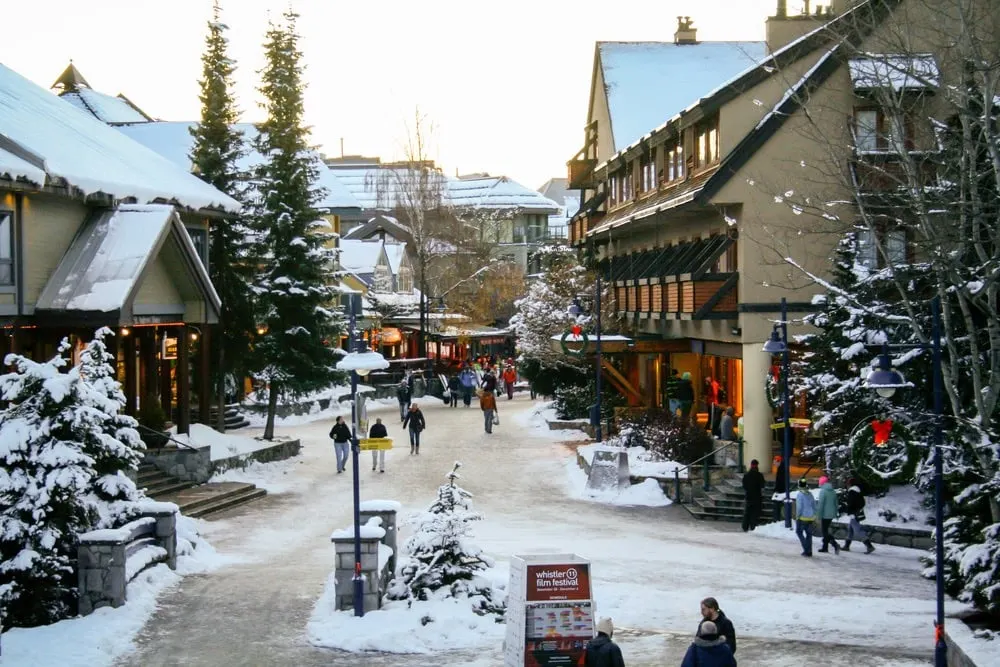 Hang out in Whistler Olympic Plaza
This large grassy plaza has lots of benches and chairs for relaxing and a great playground for kids. The covered bandstand also hosts lots of free live music and events, especially in the summer.
Cost: Free
Where: 4365 Blackcomb Way, Whistler Village
Get a Photo with the Olympic Rings
This is such an iconic spot that you'll often find a short line of people waiting their turn to pose for pictures. A sign warns people not to climb the rings… but lots of people do.
Cost: Free
Where: 4163 Village Stroll, Whistler Village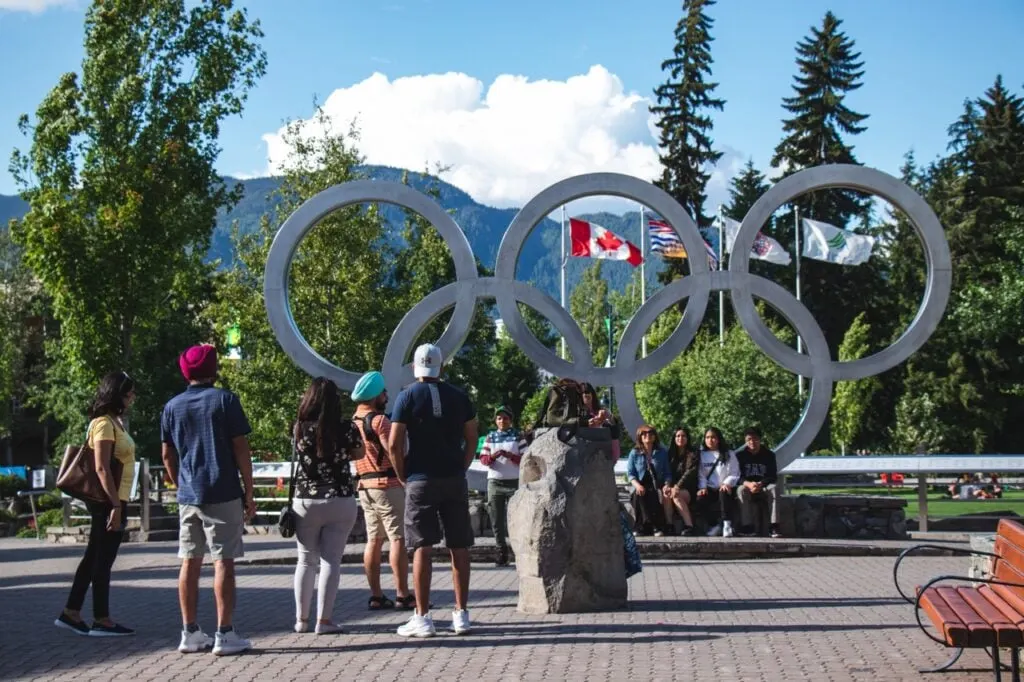 Go Outdoor Ice Skating
Each winter Whistler Olympic Plaza is transformed into a magical outdoor ice rink. It's extra special at night when it is lit up with twinkling lights. (Psst: ice skating made my list of the best things to do in Whistler in winter.)
Cost: $2 if you bring your own skates; $9 to rent skates
Where: 4365 Blackcomb Way, Whistler Village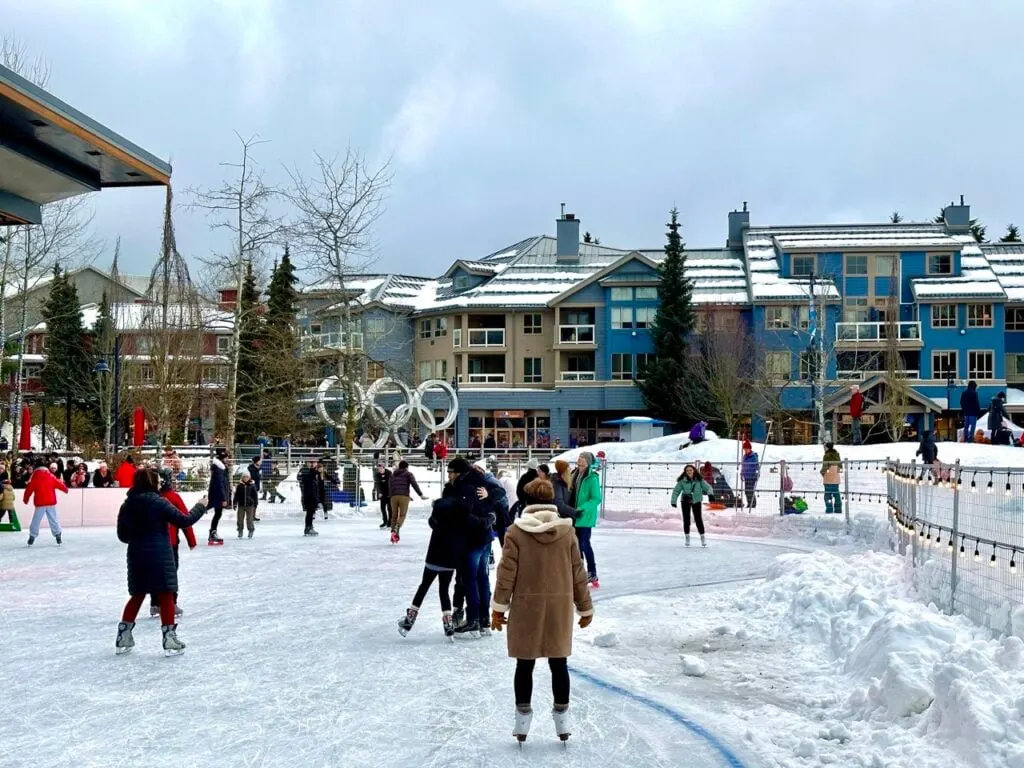 Get a Treat from Purebread Bakery
Getting a sweet treat from Purebread is my favourite way to indulge on a budget. They have a huge display case stuffed with cookies, brownies, squares, mini-cakes, and pastries. Their offerings change with the season, but their berry cheesecake bars are my favourite.
Cost: Most items are between $4 and $8 and many are rich enough that you will want to share
Where: 4338 Main Street, Whistler Village or 1040 Millar Creek Road, Function Junction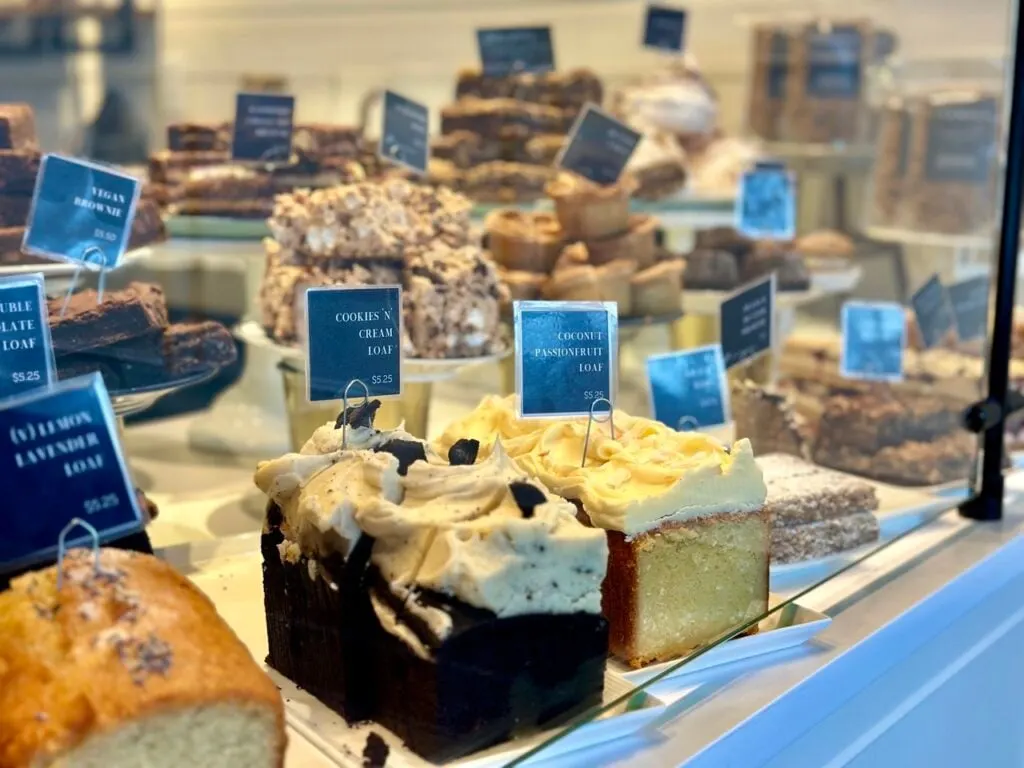 Eat a Cheap Meal at Peaked Pies
After spending a lot of time in Australia, I'm a sucker for Aussie-style meat pies. Peaked Pies is one of my favourite places for cheap eats in Whistler. They have lots of tasty options and the pies are big enough to work as a meal.
Cost: Pies are $7.50-$9.45
Where: 4369 Main Street, Whistler Village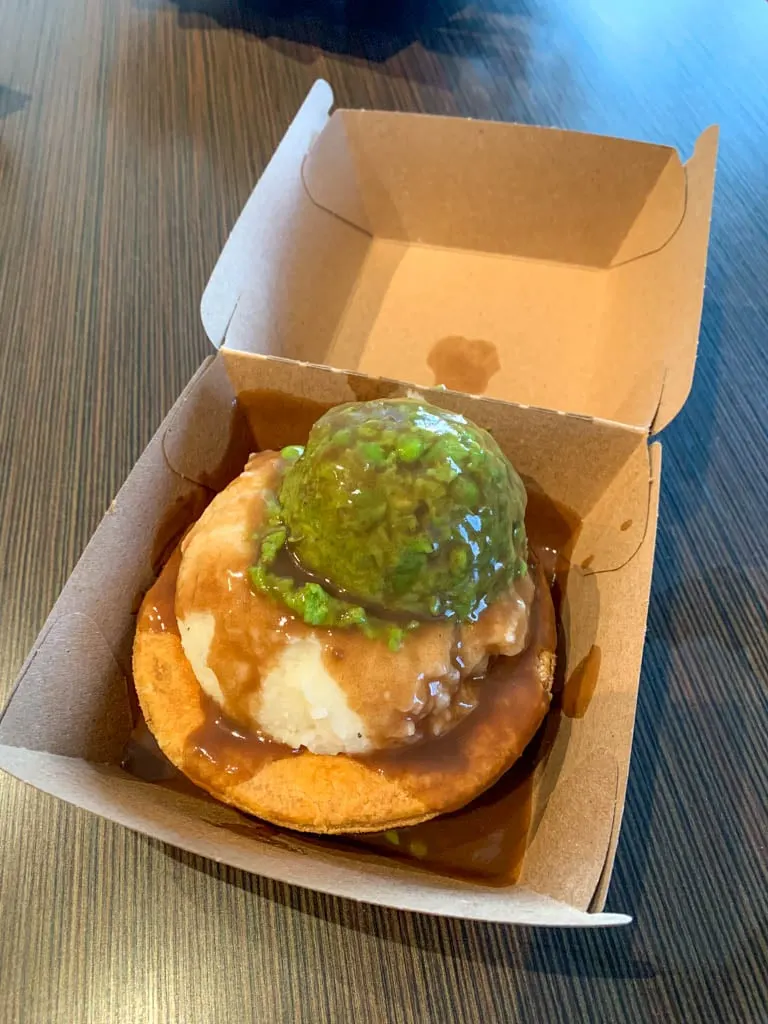 Relax at Florence Peterson Park
This quiet forested park is a bit of a local's secret, hidden away behind Main Street in the heart of the village. It's a great place to have a picnic or chill out next to the pond. You can also pose for photos on a bench made from an old ski lift.
Cost: Free
Where: 4325 Main Street, Whistler Village
Admire Some Art
Whistler has several fine art galleries scattered around town. They showcase the work of local artists and the art often has a mountain or outdoors theme. Buying a piece of art will set you back thousands, but it's always free to look.
Cost: Free
Where:
Learn About Local History at the Whistler Museum
The tiny Whistler Museum is packed with fun exhibits about local flora, fauna, and geology as well as the history of Indigenous people and early pioneers in the Whistler Valley. There are also displays about the 2010 Winter Olympics. Don't miss a photo op in the vintage ski gondola.
Cost: By donation (Suggested donation is $5/person.)
Where: 4333 Main Street, Whistler Village
Attend a Whistler LUNA Event
LUNA stands for Late and Unique Nighttime Alternatives. All winter long the Municipality of Whistler organizes free and cheap alcohol-free events in the evenings at community spaces. The drop-in lounge on Tuesdays has ping pong tables, pool tables, and a skate ramp and costs just $2.
They also host low-cost yoga classes, laser tag, sound baths, ice skating, and more. Check out their site to see what's coming up.
Cost: Most are free or $2 but a few are $10
Where: Various venues around town
Curl Up With a Book at the Whistler Library
The Whistler Public Library is affectionately known as "Whistler's Living Room". Housed in a beautiful timber and glass building, the library has lots of books to borrow, free wifi, and a great lounge area. They also host lots of community events.
Cost: Free
Where: 4329 Main Street, Whistler Village
Eat for Cheap at El Furniture Warehouse
If you're on a budget, head to El Furniture Warehouse for the cheapest food in Whistler. Every single item on their food menu (from burgers to tacos) is under $9.45. They also have a different drink special every day of the week and Power Hour every day from 2 to 5 p.m. with heavily discounted drinks.
Cost: $5.95 to $9.45 per dish
Where: 4314 Main Street, Whistler Village
Catch the Whistler Blackcomb Fire and Ice Show
Head to Skiers Plaza every Sunday night in winter to watch this free show. The entertainment includes fireworks, fire spinners, and talented skiers and snowboards hitting trick jumps and big air. This event is one of the best winter things to do in Whistler.
Cost: Free
Where: Skiers Plaza, Whistler Village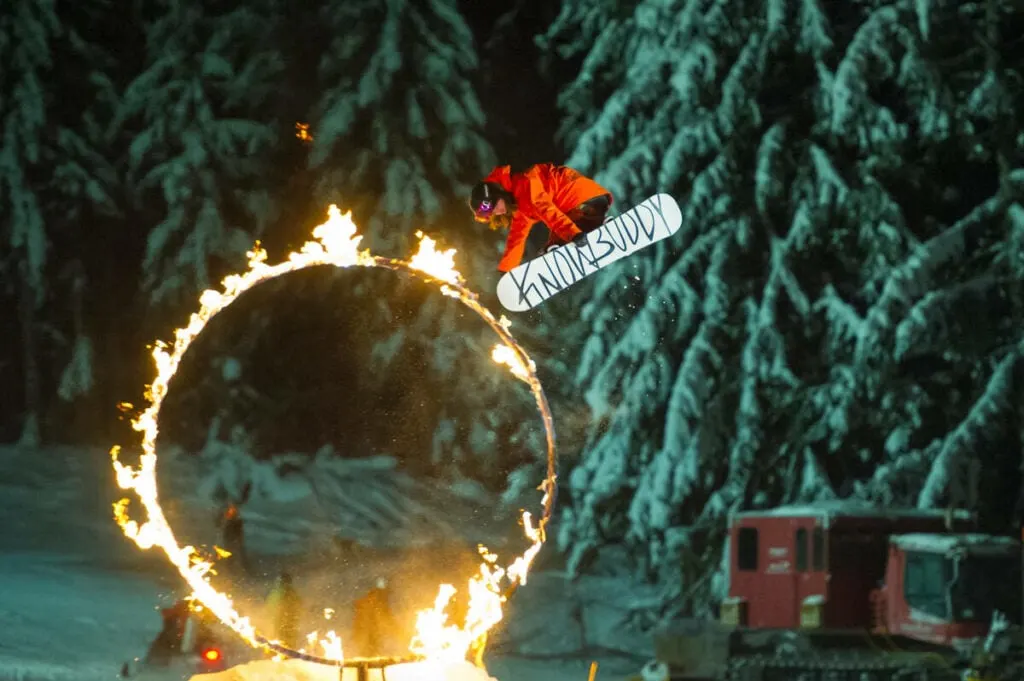 Hit the Fitzsimmons Creek Bike Skills Park
If you want to hone your bike handling skills, head to this community park between the parking lots and Fitzsimmons Creek. You can do laps on the pump track, practice on obstacles, or hit the BMX-style dirt jumps. There is also a skateboard park.
Cost: Free
Where: 4330 Blackcomb Way, Whistler Village
Chill Out at Rebagliati Park
Named for Whistler local Ross Rebagliati, the winner of the first-ever Olympic gold medal in snowboarding, this park next to Fitzsimmons Creek is a great place to relax. Sprawl out on the grass, grab a seat on one of the many benches, or take photos at the covered bridge.
Cost: Free
Where: 4540 Blackcomb Way, Whistler Village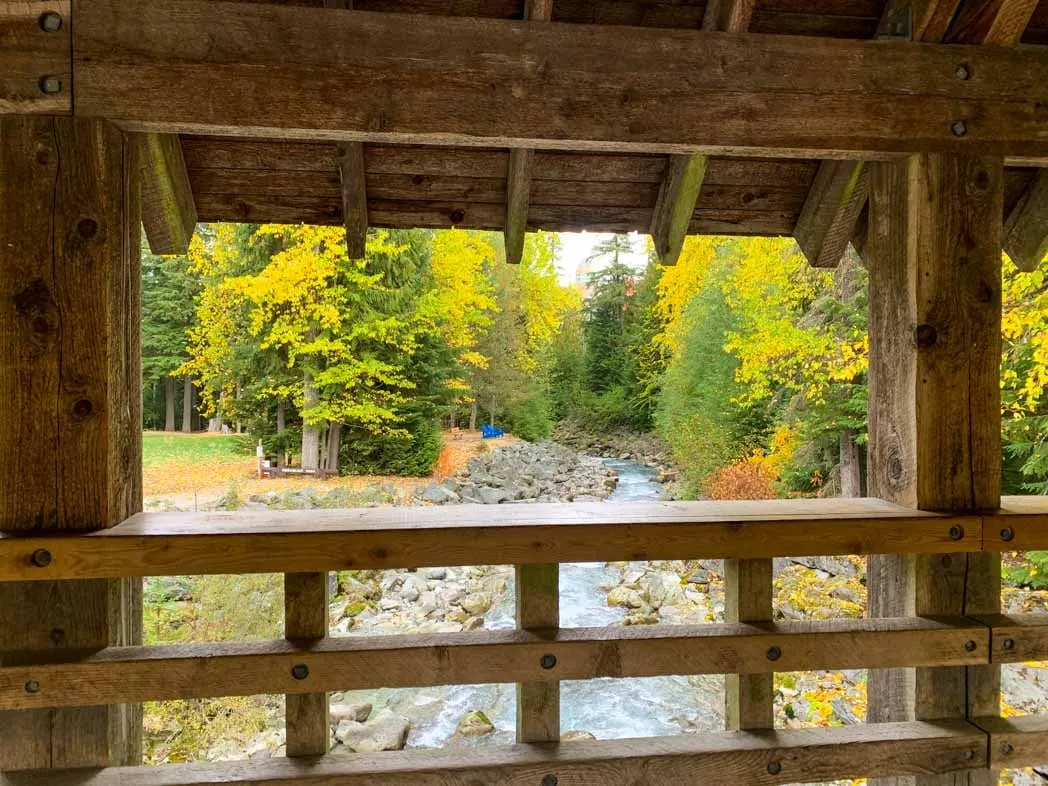 Stroll Through the Whistler Farmers' Market
Admire local produce, crafts, baked goods, and lots more at the Whistler Farmers Market. It runs every Sunday and select Saturdays from May to October.
Cost: Free
Where: Upper Village Stroll, Upper Village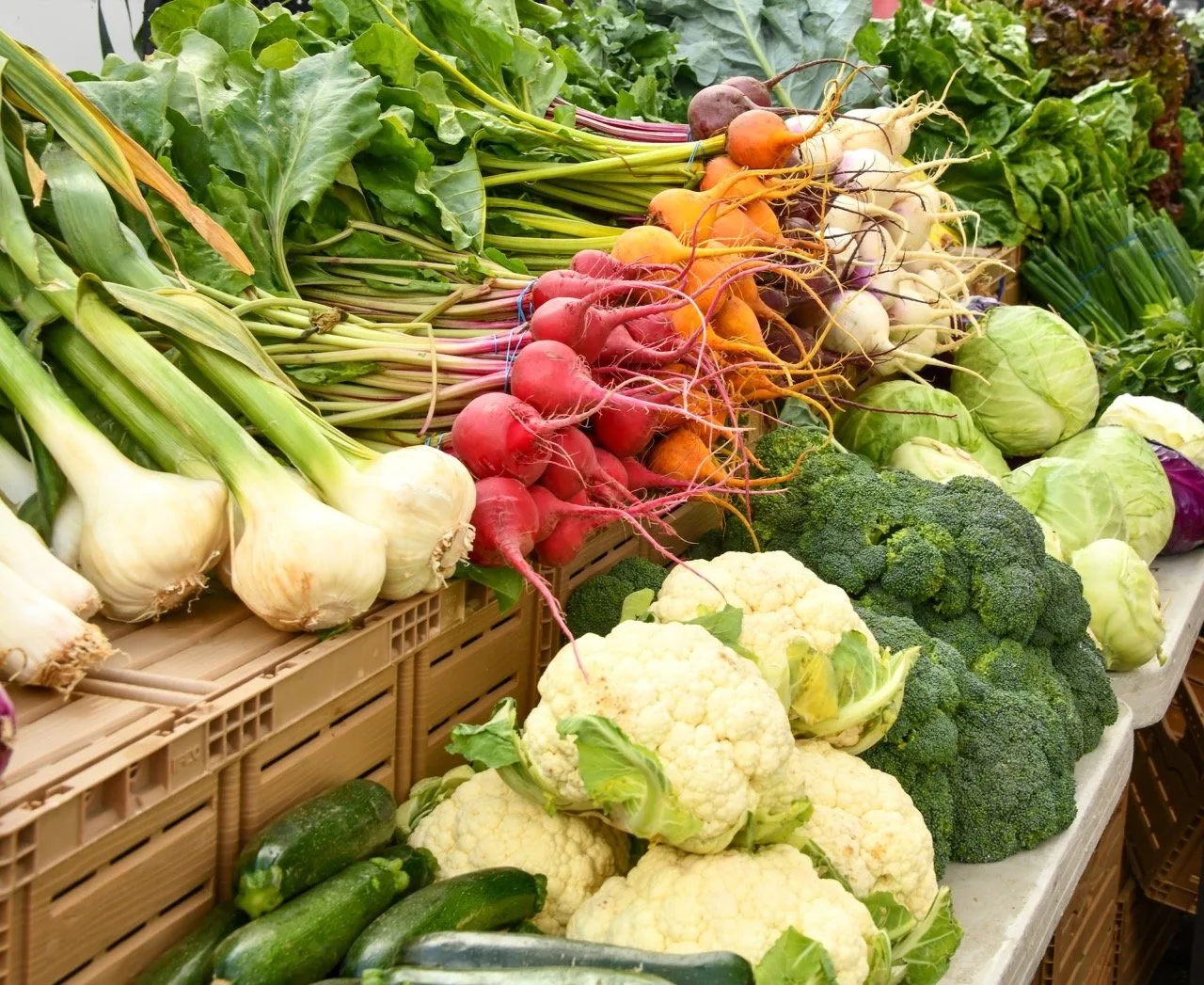 Catch a Free Concert
Each summer you can catch free concerts in Whistler Olympic Plaza. The bands are eclectic with everyone from children's performers to classical musicians to indie bands. Bring a blanket and grab a spot on the grass. Check concert listings to find the next scheduled performance.
Cost: Free
Where: 4365 Blackcomb Way, Whistler Village
Watch the Action at Whistler Sliding Centre
You can't really appreciate how fast a bobsleigh goes until you see it in person. The Whistler Sliding Centre hosted the bobsleigh, skeleton, and luge events at the 2010 Olympics. Today the training centre is open for public viewing – you can walk along the track as athletes from around the world train.
Cost: Free
Where: 4910 Glacier Lane, Upper Village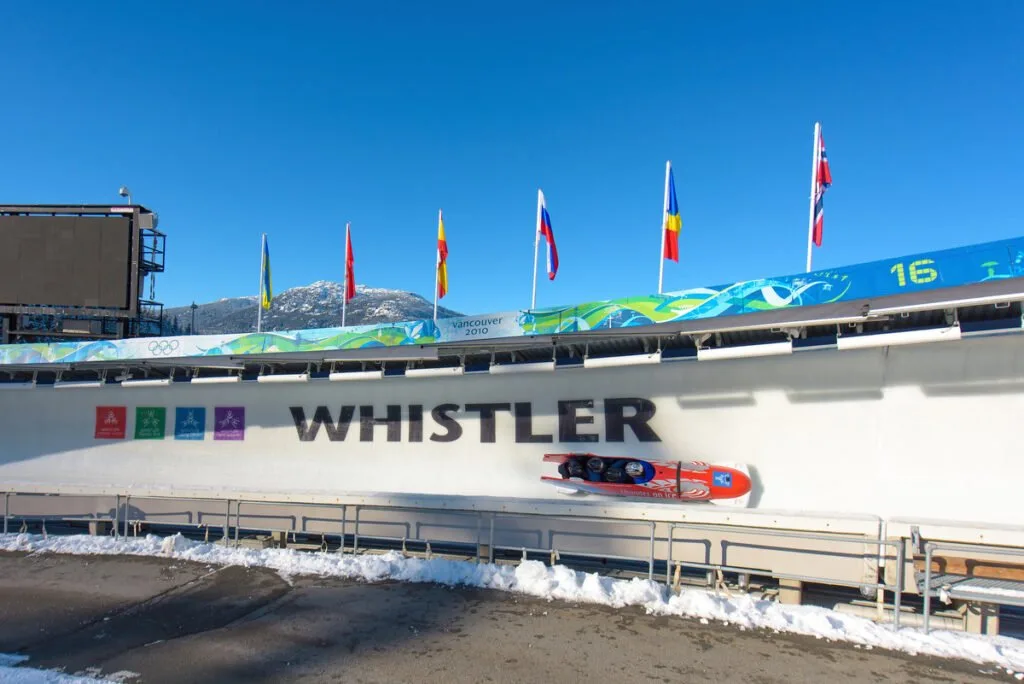 Take a Self-Guided Walking Tour
Download the free Go Whistler Tours app to get access to 10 different self-guided walking tours. You can take nature-focused tours, food tours, one that explores the legacy of the 2010 Olympics, or a tour that takes you to six different cultural centres.
Cost: Free
Where: Throughout Whistler
Go Jump in a Lake
Whistler is home to several lakes, perfect for cooling off on a hot summer day. Lost Lake and Alpha Lake are smaller and warmer. But swimming in Alta Lake is fun too. Each lake has a beachfront park.
Cost: Free
Where: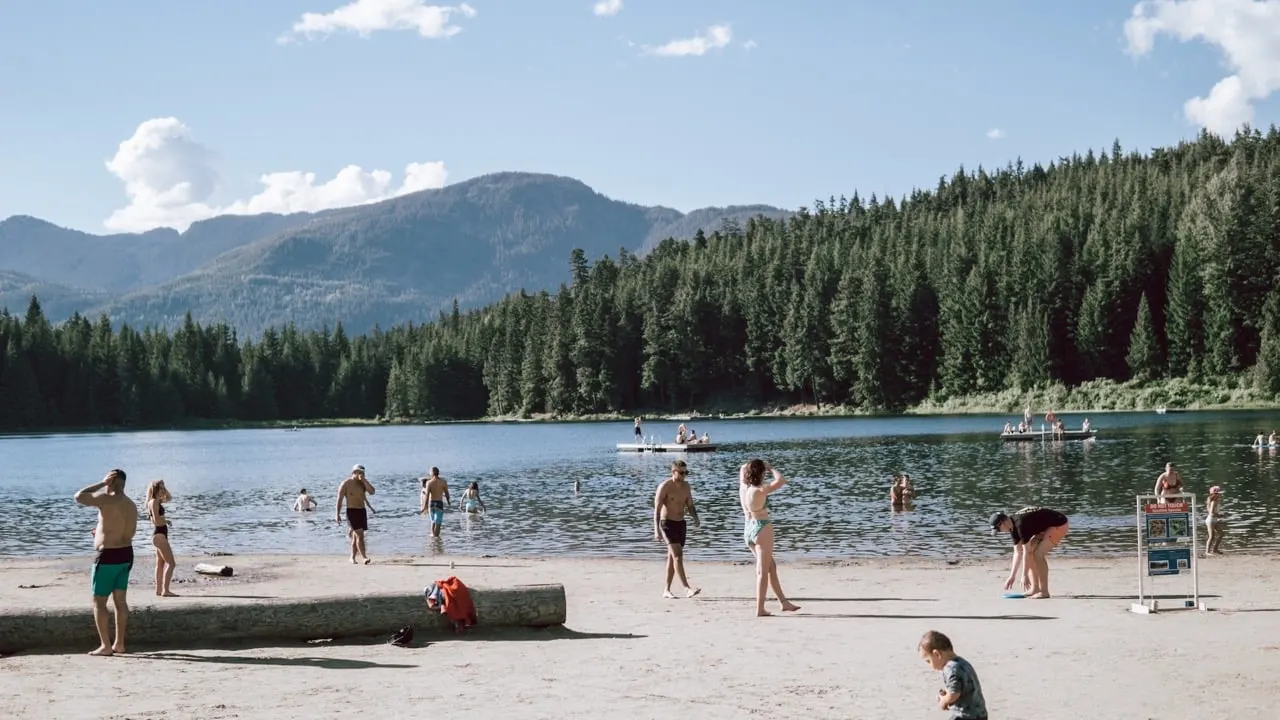 Walk the Trails at Lost Lake Park
Lost Lake Park has over 25 kilometres (15.5 mi) of trails. Most are shared use, so expect to see bikers as well. The easiest option is the 1.7 km (1.1 mi) loop around the lake. Use maps throughout the park to plan longer routes. From December to March the park turns into a paid cross-country ski area. My Lost Lake Park guide has lots more info.
Cost: Free
Where: 4700 Lost Lake Road, Upper Village
Go Mountain Biking
Whistler's famous (and expensive) Whistler Blackcomb mountain bike park gets all the attention. But there are tons of free mountain bike trails around Whistler. You will just have to ride uphill to get to them instead of taking a gondola. Use the Trailforks app to decide which trails to ride.
Cost: Free
Where: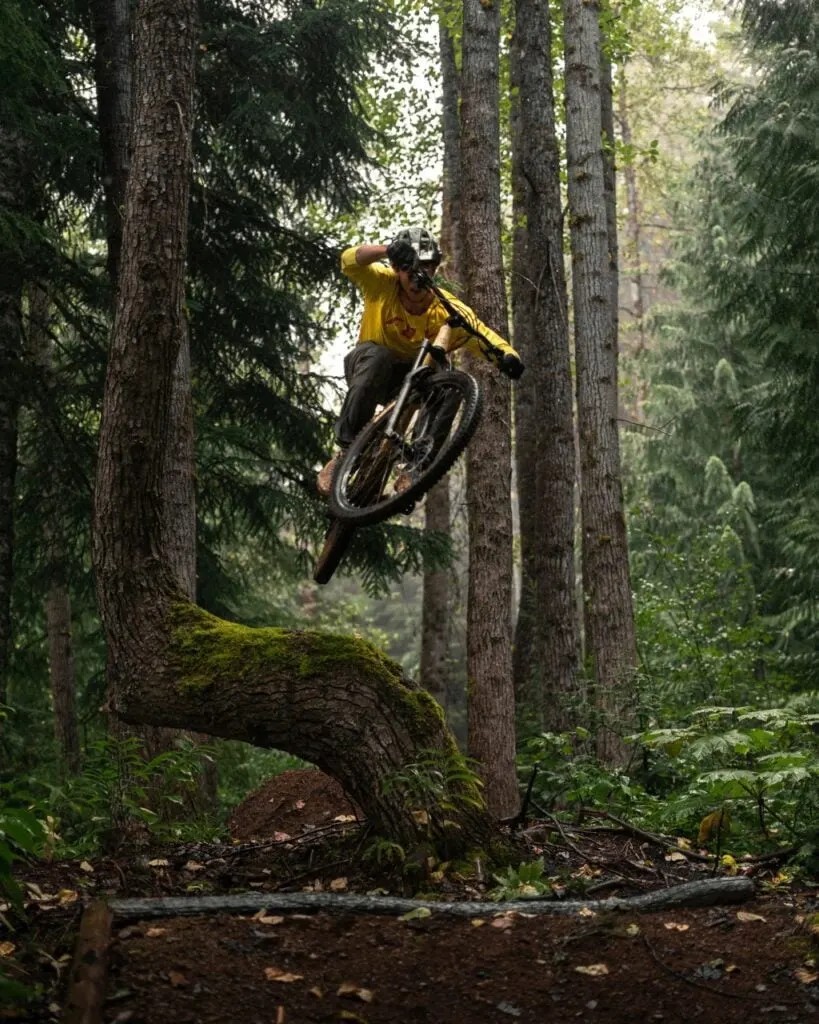 Paddle the Lakes and Rivers
If you have your own canoe, kayak, or SUP, a float down the River of Golden Dreams is a fun free activity on a summer day. This natural lazy river flows through forest and wetlands between Alta and Green Lakes. Keep an eye out for hazards. In times of low water, there is a mandatory portage section. You can also paddle around Alta and Green Lakes.
Cost: Free
Where: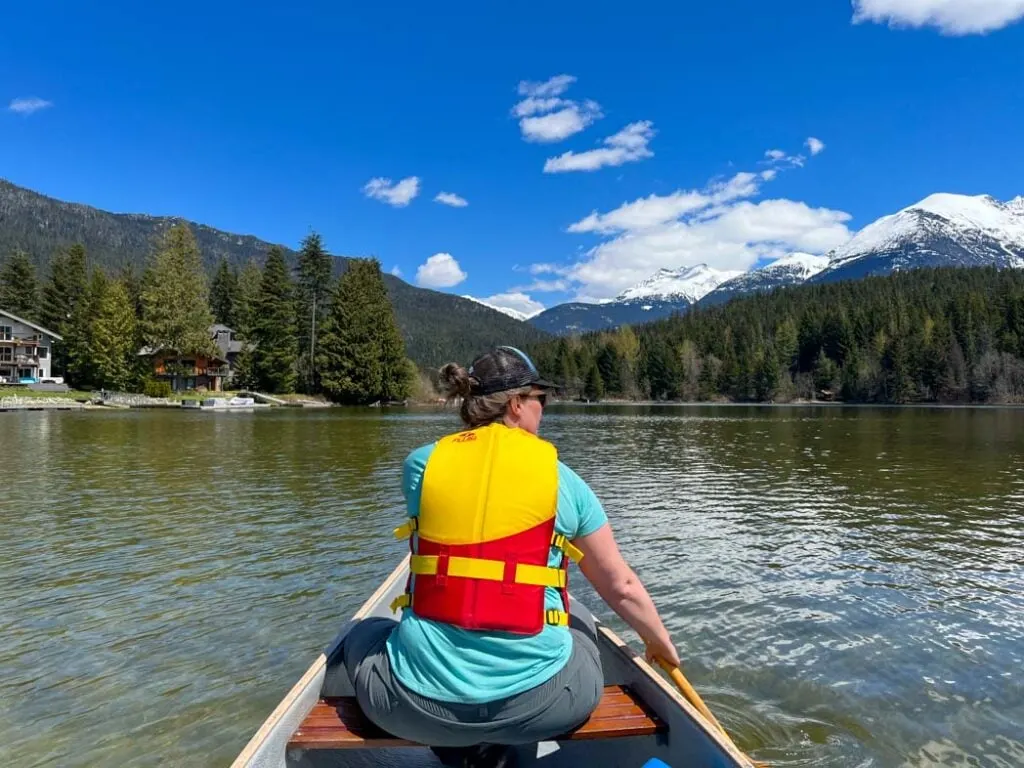 Walk, Run, Bike, or Cross-Country Ski the Valley Trail
This car-free, paved trail network runs for more than 46 km (28.6 mi) throughout the Whistler Valley. There are lots of great parks and viewpoints to stop at along the way. Or you can use it to get between attractions. In the winter, part of the trail is groomed for cross-country skiing.
I love to bring my bike to Whistler so I can bike beside the lakes and through the forest.
Cost: Free
Where: Throughout Whistler. Use the Valley Trail map to find your way.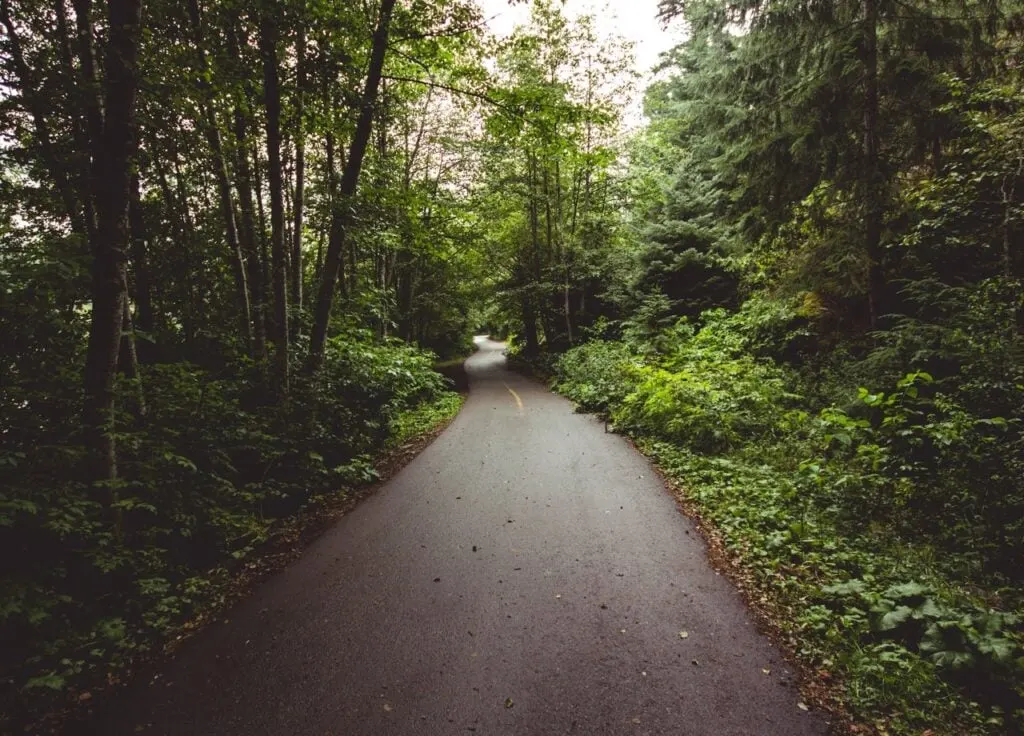 Play Disc Golf
Also known as frisbee golf, Whistler has a free disc golf course. You just need to bring your own disc. The Lost Lake Park course has 27 holes.
Cost: Free
Where: Lost Lake Park course – 8999 Mons Road, Green Lake
Swim, Skate, or Work Out at Meadow Park Sports Centre
Whistler's huge rec centre has a swimming pool, fitness centre, squash courts, indoor skating rink, and group fitness classes. Check their website for hours and schedules.
Cost: $9.25/adult. There are also discounted $7 admission times early in the morning or midday on weekdays.
Where: 8625 Highway 99, Alpine Meadows
Hike to a Ghost Town
Just north of Whistler is the abandoned logging town of Parkhurst. It's a moderate 3-hour loop hike to reach the town where you can explore the area to find rusting cars, falling down buildings, and lots of cool historic junk. Use my Parkhurst hiking guide to find your way.
Cost: Free
Where: Riverside Drive, Wedge Woods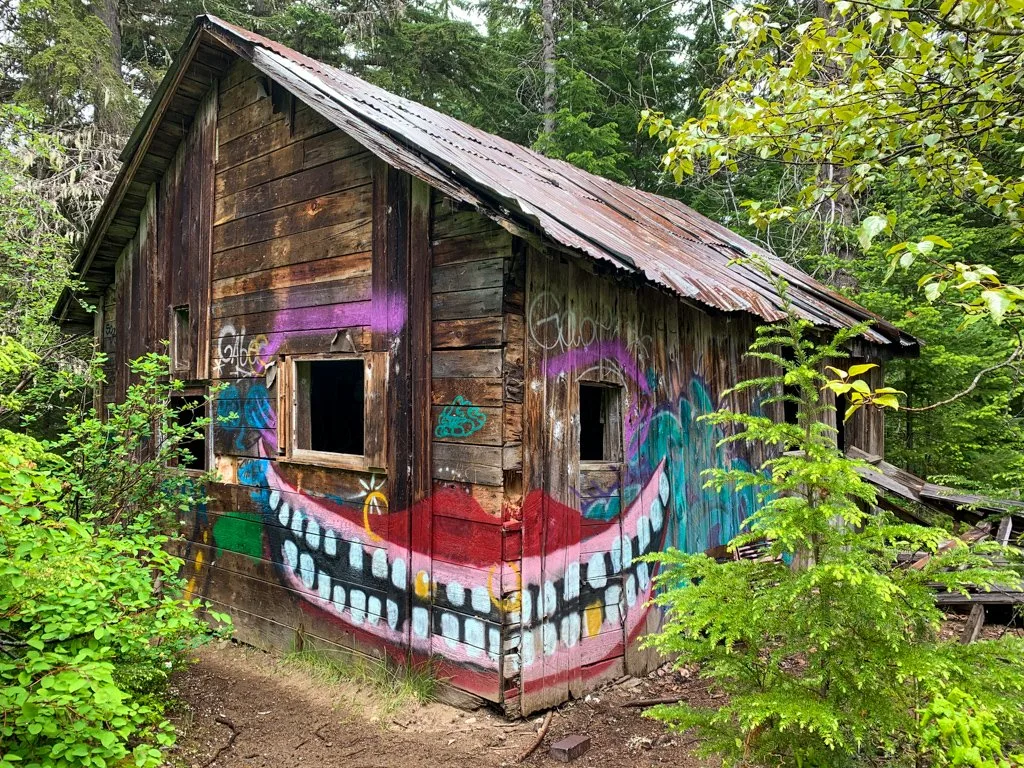 Explore the Whistler Interpretive Forest
Tucked away in the Cheakamus Crossing neighbourhood, the Whistler Interpretive Forest is a bit under the radar. It's one of my favourite places to go for an easy hike or snowshoe. Well-marked trails ramble along both sides of the Cheakamus River. You can also hike a little higher up to viewpoints on the Crater Rim Trail. (In the winter use my Cheakamus River Snowshoe Guide.)
Cost: Free
Where: 1011 Highway 99, Function Junction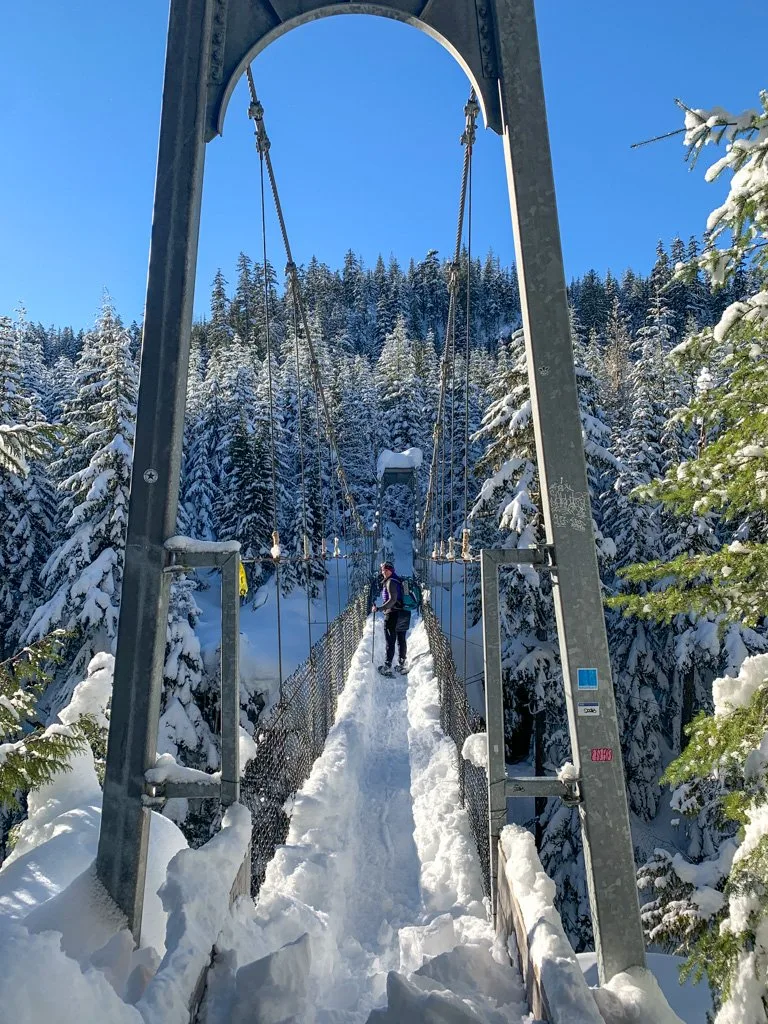 Hike to a Train Wreck
The Train Wreck Trail is the most popular easy hike in Whistler – for good reason. The well-groomed trail leads downhill to a fun suspension bridge over the Cheakamus River. On the other side, you can explore seven graffiti-covered train cars from a derailment in the 1950s.
My Whistler Train Wreck Hiking guide has all the info you need.
Cost: Free
Where: Jane Lakes Road, Cheakamus Crossing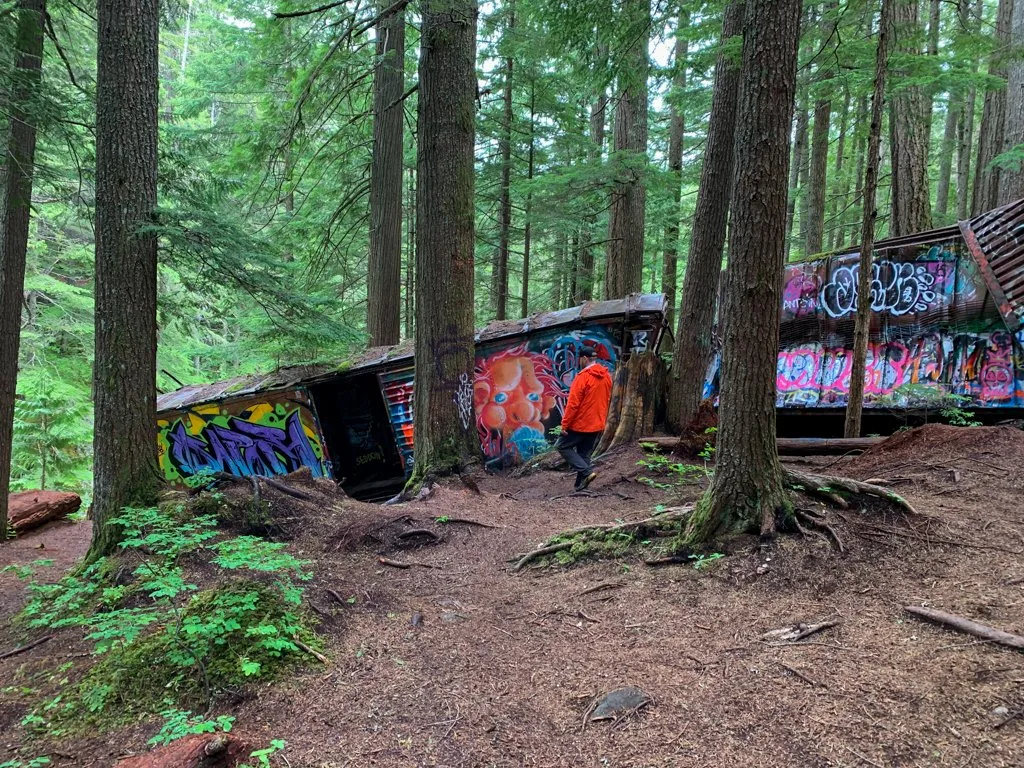 Use Whistler Bites to Find Deals on Food and Drink
Lots of Whistler bars and restaurants have happy hour deals or weekly specials. Visit the Daily Deals section of the Whistler Bites website, to see where to score cheap food and drink.
Cost: Variable, but generally cheap
Where: Throughout Whistler
Play in the Snow
You don't have to buy a lift ticket to enjoy the snow. From December to March (depending on conditions) you can play in the snow right in Whistler Village. Popular spots for snow play include Whistler Olympic Plaza, Rebagliati Park, or anywhere along the Valley Trail.
Cost: Free
Where: Throughout Whistler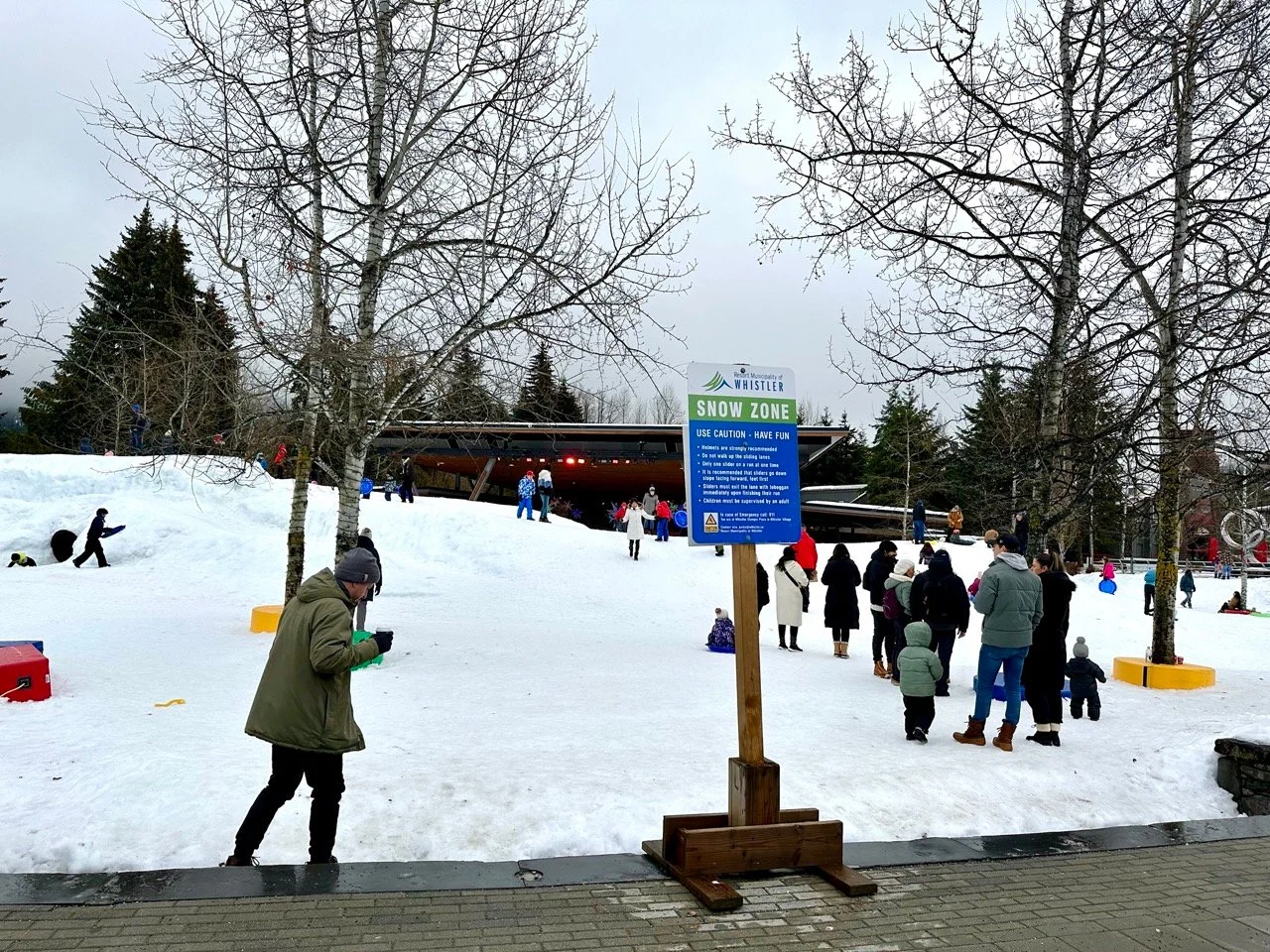 Visit Alexander Falls
The Sea to Sky corridor has plenty of waterfalls, but Alexander Falls is never crowded since it is a little off the beaten path. You'll have to drive up the scenic Callaghan Road to reach it. The viewing platform is right next to the parking lot.
Cost: Free
Where: Callaghan Road, Callaghan Valley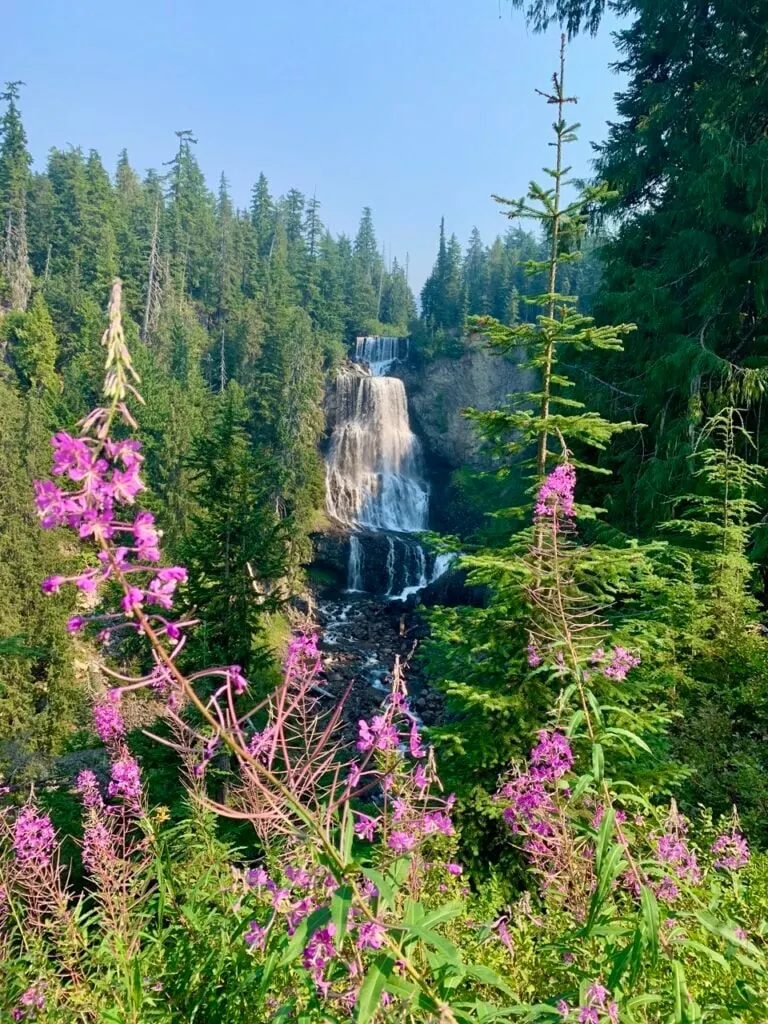 Cross-Country Ski or Snowshoe on Wednesday Nights
Head to Whistler Olympic Park for cheap cross-country skiing or snowshoeing every Wednesday night from 3 to 9 p.m. Glide through the snow by headlamp or stick to the lit trails.
Cost: $10/person
Where: 1500 Callaghan Road, Callaghan Valley
Walk to Brandywine Falls
The short trail to Brandywine Falls is well worth it. From the viewing platforms, you can see the spectacular waterfall plunging off the lava rock cliff into the canyon below.
Cost: Free
Where: Highway 99, between Squamish and Whistler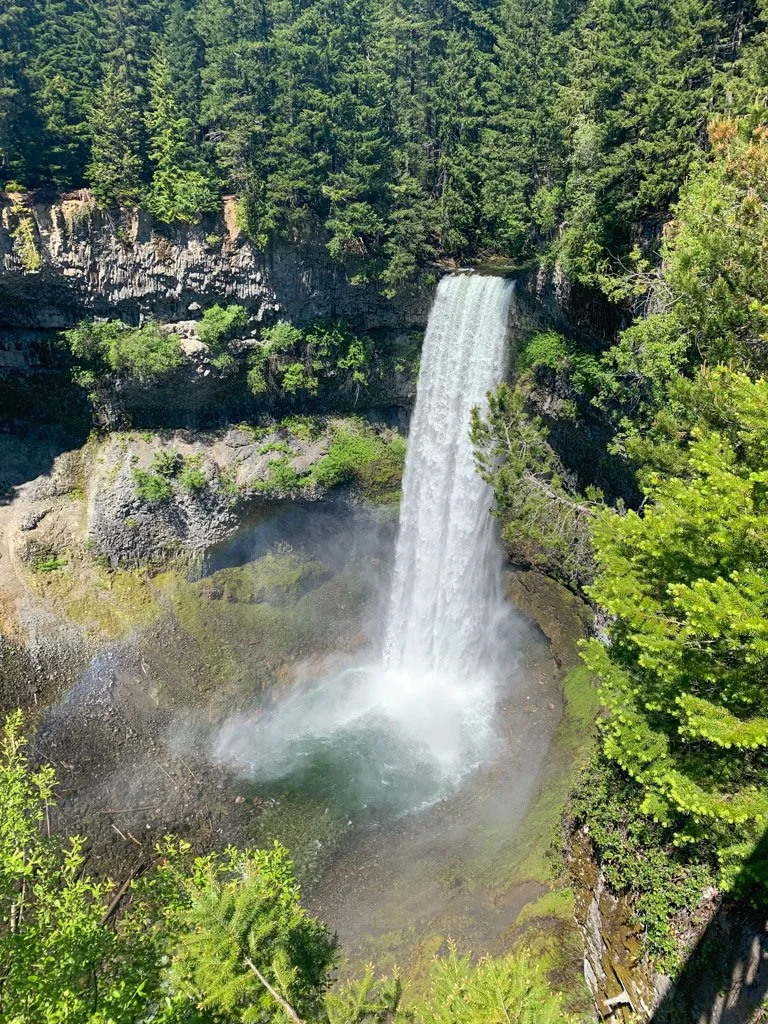 Go Camping
If you're willing to drive rough logging roads and go without amenities there are a few places to camp for free or cheap near Whistler. My guides to camping in Whistler and camping in Squamish have all the details.
Cost: Free or cheap
Where: Various locations around Whistler and Squamish.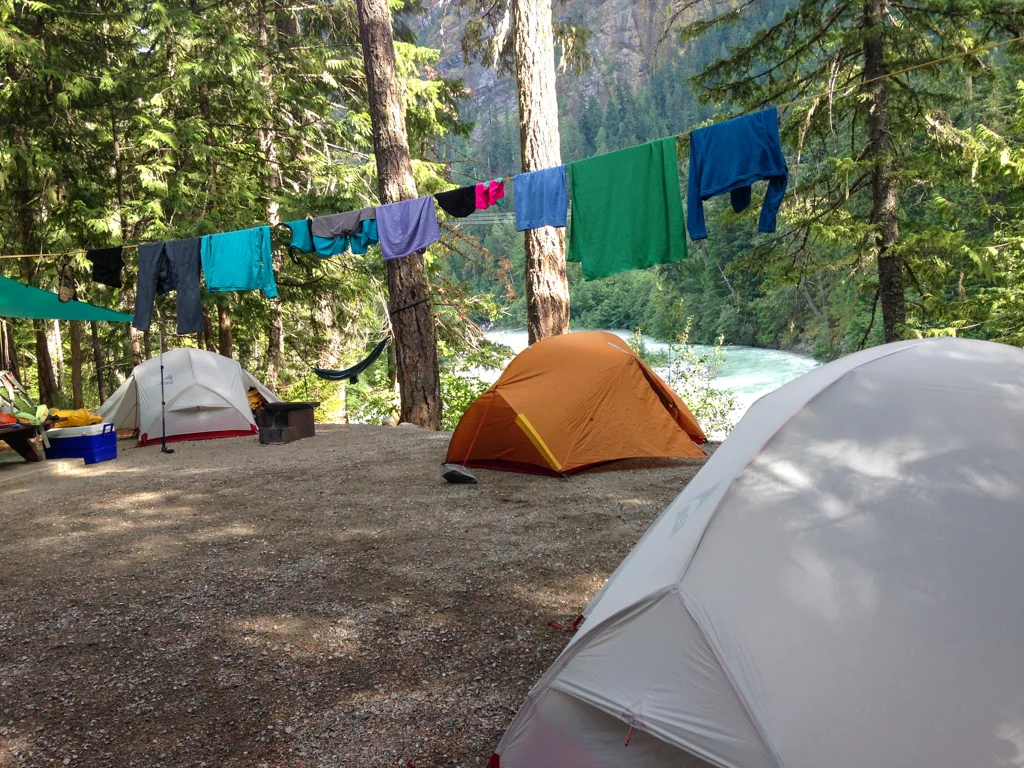 Drive the Scenic Sea to Sky Highway
The twisting curves of Highway 99 between Vancouver and Whistler are worth spending a day or two exploring. Along the way, you can stop at hiking trails, viewpoints, the picturesque Sea to Sky Gondola, the cute town of Squamish, and lots more. Check out my Sea to Sky Highway Road Trip Guide for more info.
Cost: Free
Where: Highway 99 from Vancouver to Squamish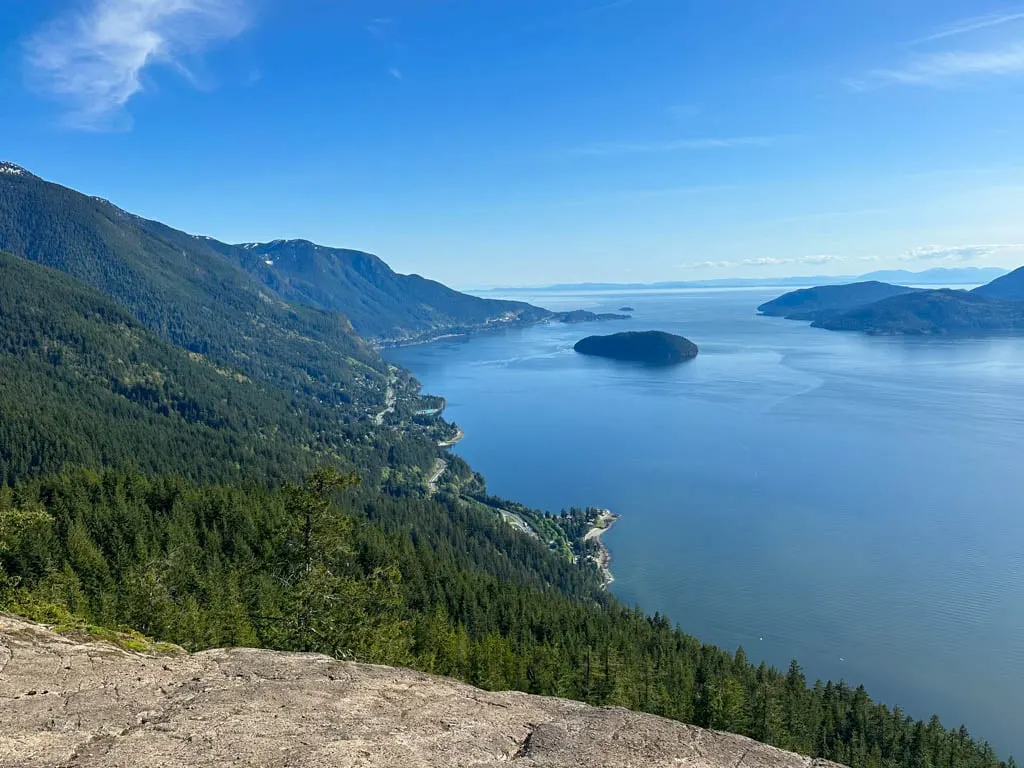 Visit the Town of Squamish
Maybe I'm biased because I live here, but Squamish is pretty awesome. Our little downtown has lots of great restaurants and boutiques. And there are great trails for walking, hiking, and mountain biking. Enjoy the views of the Stawamus Chief granite peak and don't miss a visit to Shannon Falls.
Cost: Free
Where: Cleveland Avenue, Squamish
READ NEXT: 70+ Things to do in Squamish (By a Local)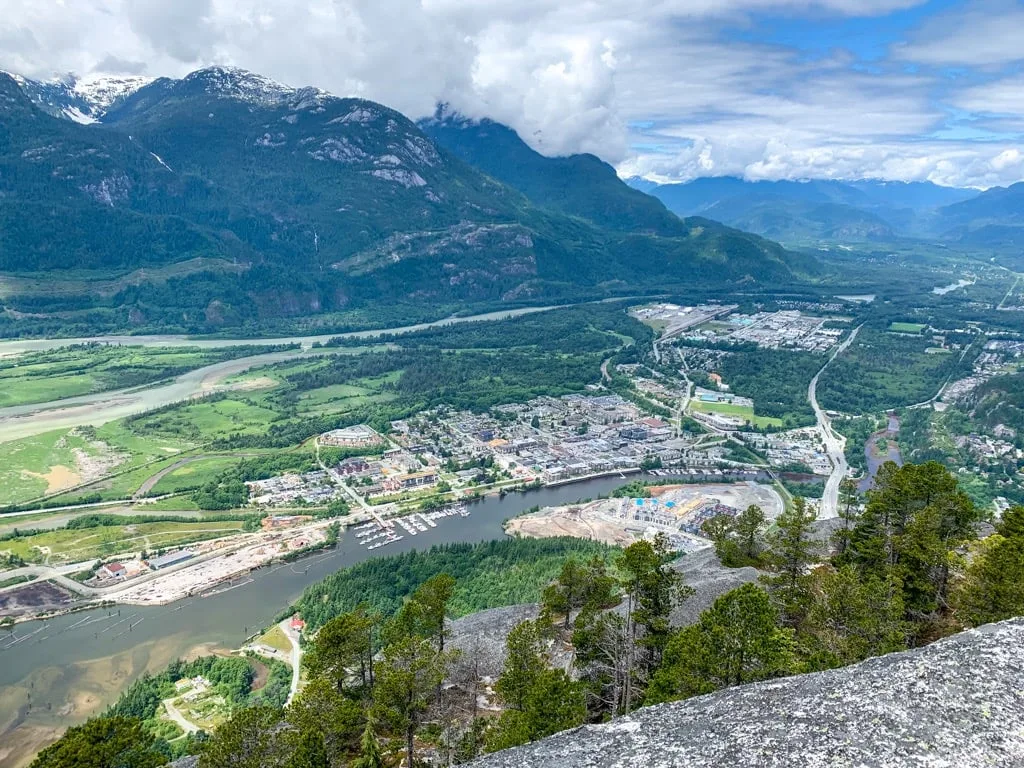 Hike to Nairn Falls
The easy hike to Nairn Falls near Pemberton is a great day outing from Whistler. The hike takes you along the side of the Green River Canyon. It ends at a crashing waterfall in a narrow granite gorge.
Cost: Free
Where: Highway 99 between Whistler and Pemberton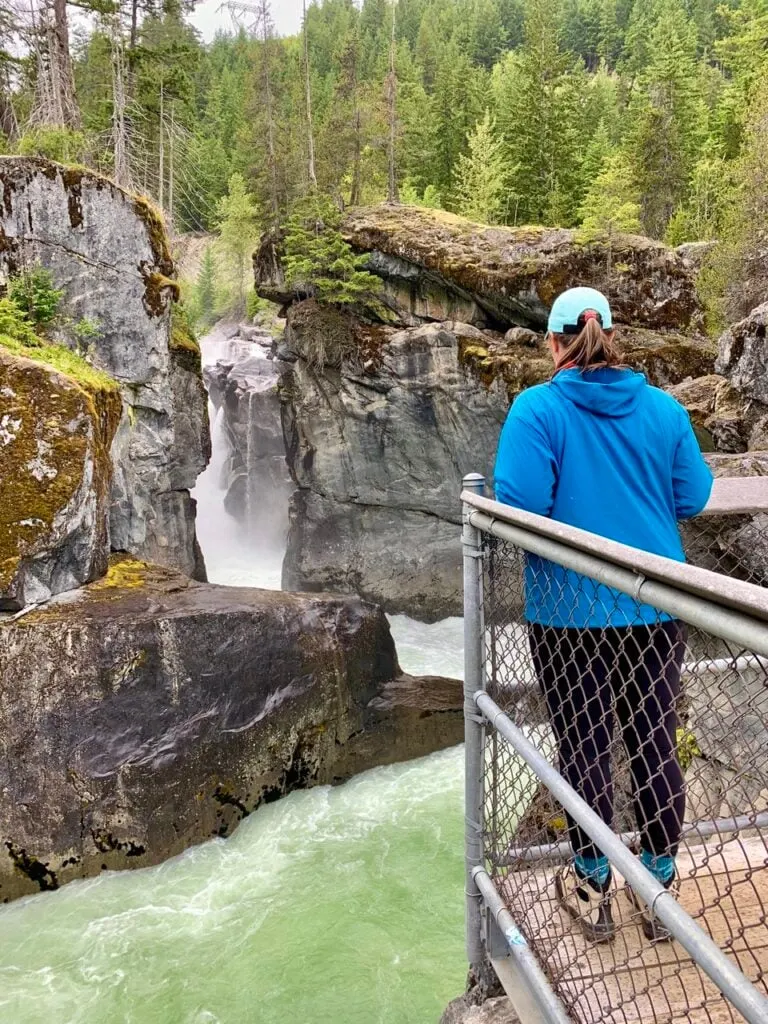 Visit the Town of Pemberton
Located just 30 minutes north of Whistler, the tiny town of Pemberton is known for farming, horseback riding, mountain biking, and hiking. The cute downtown has a few good restaurants and cafes. Don't miss fresh produce and baked goods at North Arm Farm and craft spirits at Pemberton Distillery.
Cost: Free
Where: Pemberton Portage Road, Pemberton
Hike to Joffre Lakes
The three turquoise Joffre Lakes north of Pemberton are social media-famous for their beauty. The hike to get there is moderate, with some steep climbs, but the views are spectacular. In the summer, you may need to reserve parking in advance through the BC Parks website, but there is no charge.
My Joffre Lakes hiking guide has all the details.
Cost: Free
Where: Highway 99 north of Pemberton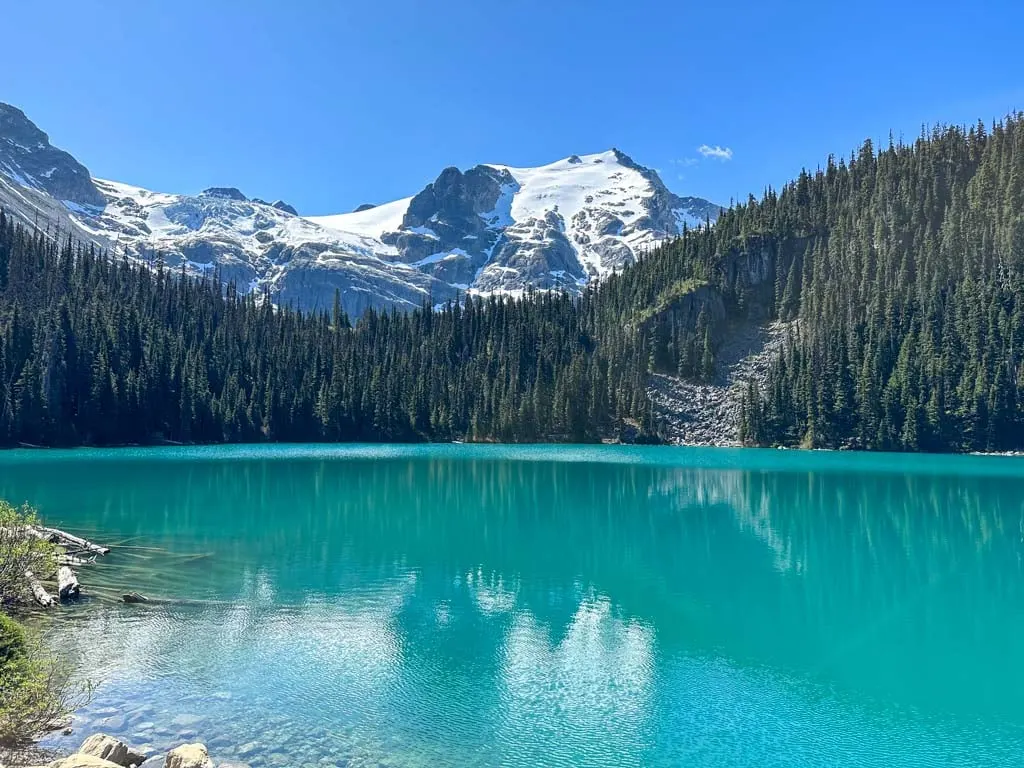 Take a Hike
I've highlighted some of Whistler's most popular hikes already, but there are dozens more hikes around Whistler, and nearby Pemberton and Squamish. Use my guides to the Best Hikes in Whistler and the Best Hikes in Squamish to find a trail.
Cost: Free
Where: Throughout the Sea to Sky region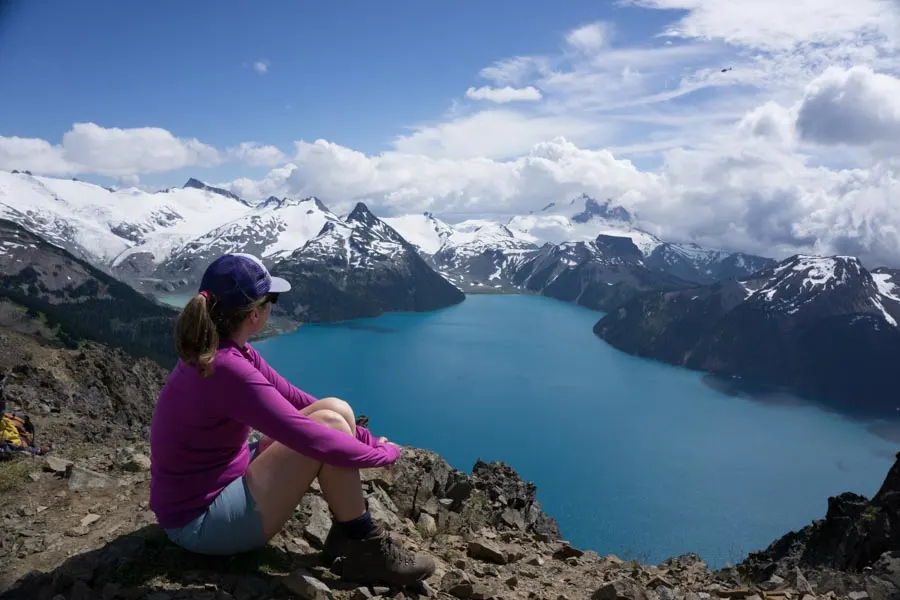 Go Snowshoeing
If you already have your own snowshoes, this is one of the best free things to do in Whistler in winter. You need to buy a pass for some of the trails, but there are lots of free snowshoeing options in Whistler and nearby Squamish. Use my guides to Snowshoeing in Whistler and Snowshoeing in Squamish to choose a trail.
Cost: Free
Where: Throughout the Sea to Sky region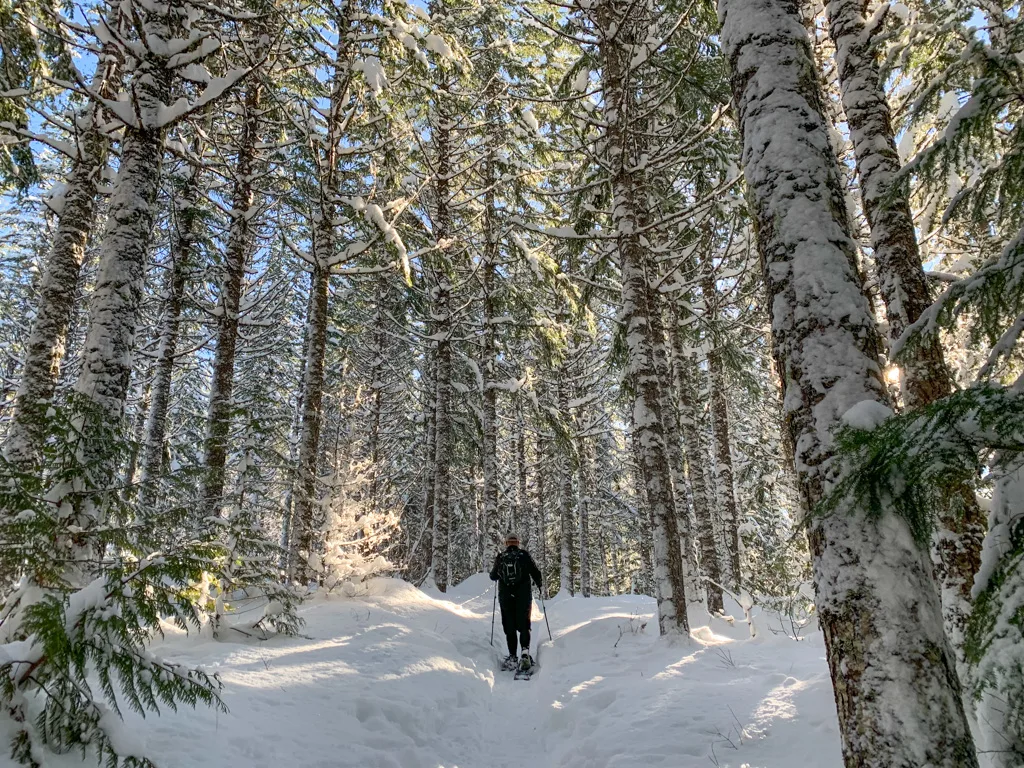 So that's my big list of cheap and free things to do in Whistler. With these tips, you can save some money on your next trip to Whistler while also exploring some parts of the town you might not have known about.
Do you have other free Whistler activities to recommend? Leave them in the comments.
READ NEXT: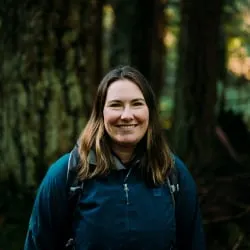 Latest posts by Taryn Eyton
(see all)